8 Best Things to Do with Kids in Incheon
Where are the Fun Places in Incheon to Take Your Family?
When it comes to things to do in Incheon with kids, the city's beaches often come to mind as they're excellent for a day out with the family and admiring beautiful sunsets. Adults can enjoy relax and sunbathe while children can swim in the shallow waters or play on mudflats.
Traditional markets and amusement parks are great options, too. If you're seeking a bit of nature in your travels, Jeondeung Temple and the spacious Incheon Grand Park are must-visits. Read on for our list of Incheon's best family-friendly places.
1
Songwol-dong Fairy Tale Village
Songwol-dong Fairy Tale Village is a bright and colorful place decorated with murals of classic fairy tales. The well-maintained paths are wide enough to walk comfortably. It takes some time to fully explore the entire village, which is divided into several different themes.
So, put on your favorite walking shoes and grab a camera. Chinatown is within walking distance if you get hungry. You can also visit one of the many cafés in the village for a light snack and coffee or tea. It's a delightful place where you can relive your childhood with your loved ones.
Location: 17 Songwol-dong 3-ga, Jung-gu, Incheon, South Korea
Open: 24/7
photo by elenakfronczak (CC BY-SA 4.0) modified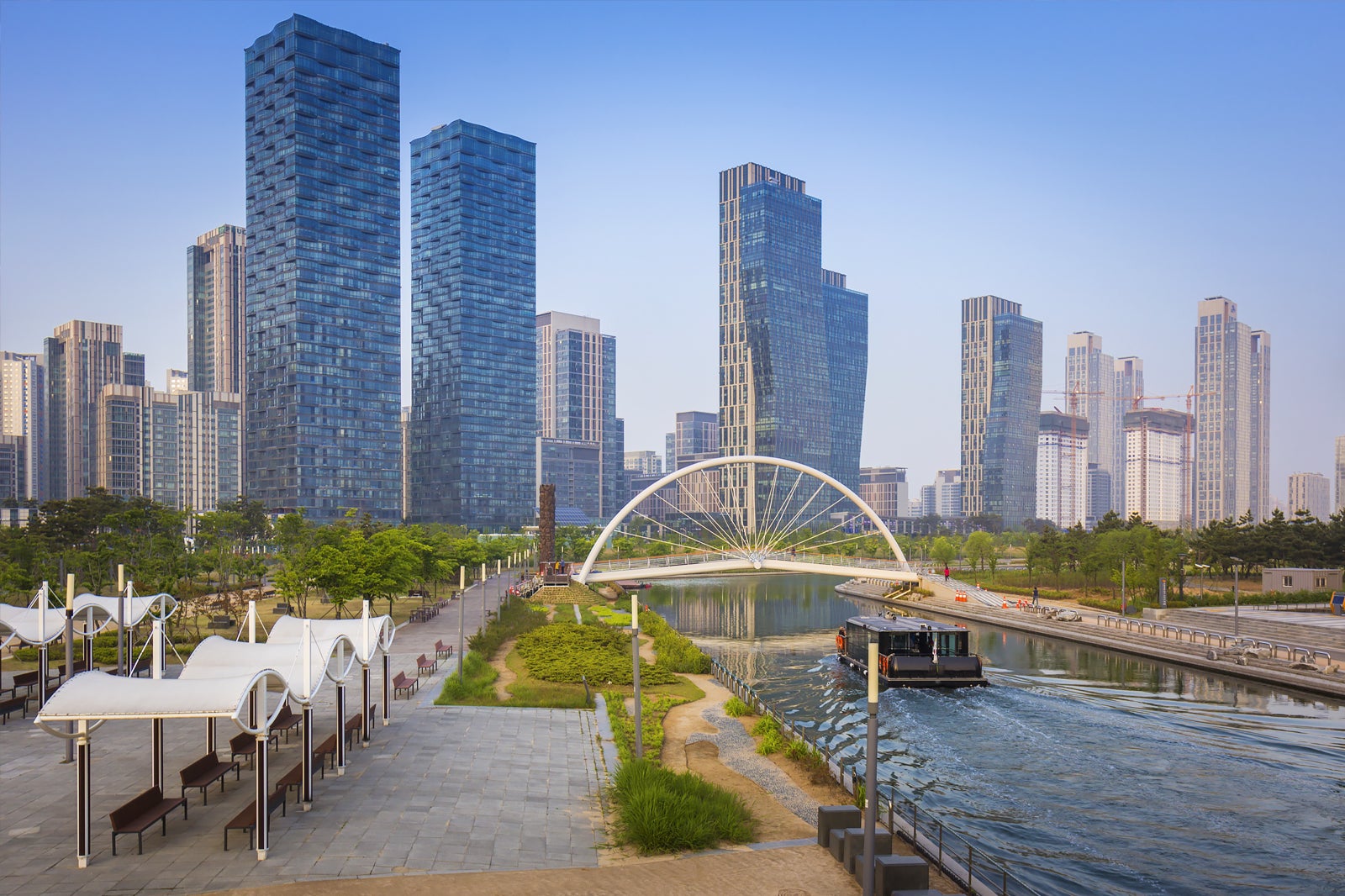 Couples
Families
Single
Group
Songdo Central Park is located in the center of Songdo International City, Yeonsu-gu and is famous for its exotic landscape and beautiful night view. It also has a 1.8-km waterway where you can enjoy activities such as canoeing, kayaking and boating. The park has stroll gardens, sculpture gardens, and terrace gardens with well-prepared trails and bicycle paths and contains great sculptures and photo zones for its visitors.
Sit at the sunset café observatory or on a park bench to enjoy the night view. Skyscrapers, the waterway, dark skies, and airplanes in the sky create memorable scenes. The Free Observation Deck on the 33rd floor of G-Tower offers a panoramic view across the park of the West Sea and Incheon Bridge.
Location: 196 Technopark-ro, Songdo-dong, Yeonsu-gu, Incheon, South Korea
Wolmi Theme Park is a popular amusement park with a long history in Incheon. There are about 20 rides and attractions, but the queues are short, so you should be able to experience everything without any of the exhaustingly-long wait times.
The Ferris wheel, which overlooks the sea, is excellent for those on a special date. It's great for relaxing with your significant other and enjoying a nice view of the sunset.
Location: 81 Wolmimunhwa-ro, Jung-gu, Incheon, South Korea
Open: Monday–Friday from 10 am to 10 pm, Saturday–Sunday from 10 am to 10.30 pm
Phone: +82 (0)32-761-0997
photo by travel oriented (CC BY-SA 2.0) modified
The Neulsolgil Park can be reached in about 15 minutes on foot from Exit #1 of Nonhyeon Station in Incheon. Parking is free, but as it's popular, parking is not easy. There is a sheep ranch that children love next to the shaded shelter in the spacious park. They do not sell sheep feed, but you can feed them with grass and leaves in the park. It's not a fancy and stylish park, but you can feel the effort that was made to enable you to feel nature as it is.
Location: 738-8 Nonhyeon-dong, Namdong-gu, Incheon, South Korea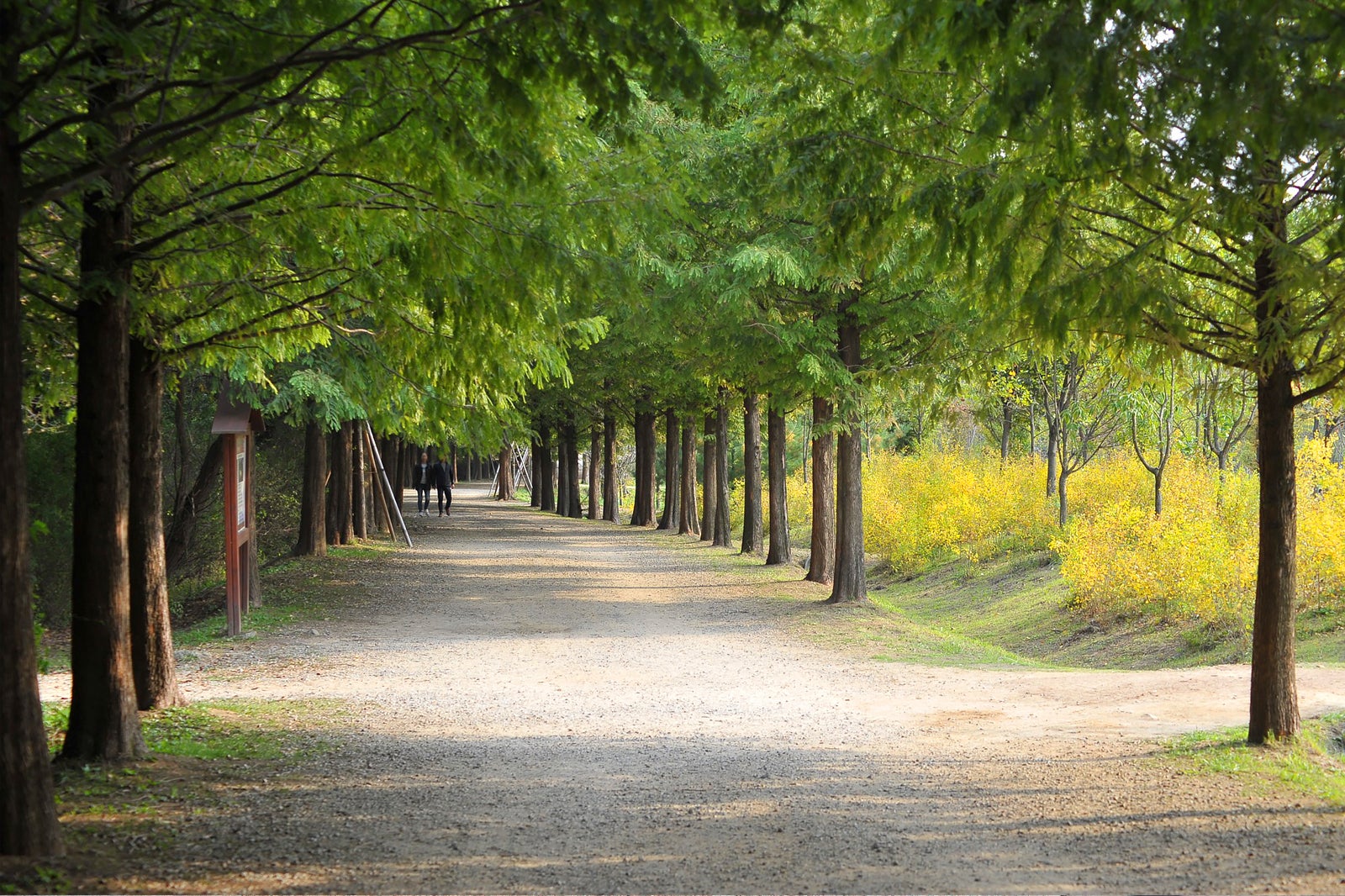 Couples
Families
Single
Group
Incheon Grand Park in Jangsu-dong is a great place for family outings. It's nestled in the wide mountainous area of Gwanmosan and Sangasan. The park offers many things to see and do to its visitors, such as lakes, botanical gardens, rose gardens, a children's zoo, trails, 4-season sledging slopes, sculpture gardens, and sports facilities.
This all-year outing spot is famous for spring cherry blossoms, summer water, autumn foliage, and winter snow. Forests and trails are an ideal place for relaxing holidays and great for kids and bike rides. It's better to plan your routes in advance because the park is quite large.
Location: 180 Jangsu-dong, Namdong-gu, Incheon, South Korea
Eurwangni Beach is a famous sunset-viewing spot year-round, though it's busiest in summer when people flock to sunbathe and enjoy a swim. The long beach is full of white sand, and the scenery is lovely thanks to the surrounding dense pine forest and rock formations. Eurwangni Beach can be conveniently reached via the airport bus. If you're looking for a place to sunbathe in Incheon, this beach comes highly recommended.
Location: 16-15 Yongyuseo-ro 302 beon-gil, Jung-gu, Incheon, South Korea
photo by travel oriented (CC BY-SA 2.0) modified
The centuries-old trees on the path leading to Jeondeungsa Temple create cool and refreshing shade in the summer, but their true beauty is revealed in autumn when the leaves change color. Since the temple is surrounded by mountain fortress walls, the fortress gate doubles as the temple gate, which is highly unusual.
What the temple lacks in size, it makes up for in an amazing atmosphere. If you're a nature lover, be sure to visit and take a stroll around Jeondeungsa Temple.
Location: 37-41 Jeondeungsa-ro, Gilsang-myeon, Ganghwa-gun, Incheon, South Korea
Open: Monday–Friday from 8.30 am to 6 pm, Saturday–Sunday 8 am to 6 pm
Phone: +82 (0)32-937-0125
8
Incheon Children's Museum
The Incheon Children's Museum is located near Munhak Sports Complex. It has a diverse range of attractions, including an exhibition hall full of things geared toward children, immersive experiences that welcome direct participation, and a dinosaur exploration hall. The museum is not entirely for kids, however, as the exhibition hall includes nostalgic exhibits that are stimulating to adults as well.
Location: 618 Maesohol-ro, Michuhol-gu, Incheon, South Korea
Open: Tuesday–Sunday from 10 am to 6 pm (closed on Mondays)
Phone: +82 (0)32-432-5600
Back to top