7 Best Nightlife Attractions in Daejeon
The Best of Daejeon from Both up Close and Afar
Expo Science Park and its famous musical fountain are even more colorful at night. The park is popular thanks to the beautiful lighting and the scenery of Gapcheon (river) creating a romantic atmosphere. You can climb up to Bomunsan Observatory or Sikjangsan Observatory for some spectacular night-time panoramic views of the city. Ppuri Park transforms into something new with colorful lighting that's unimaginable during the day. Here are some of Daejeon's night-time highlights that are worth checking out.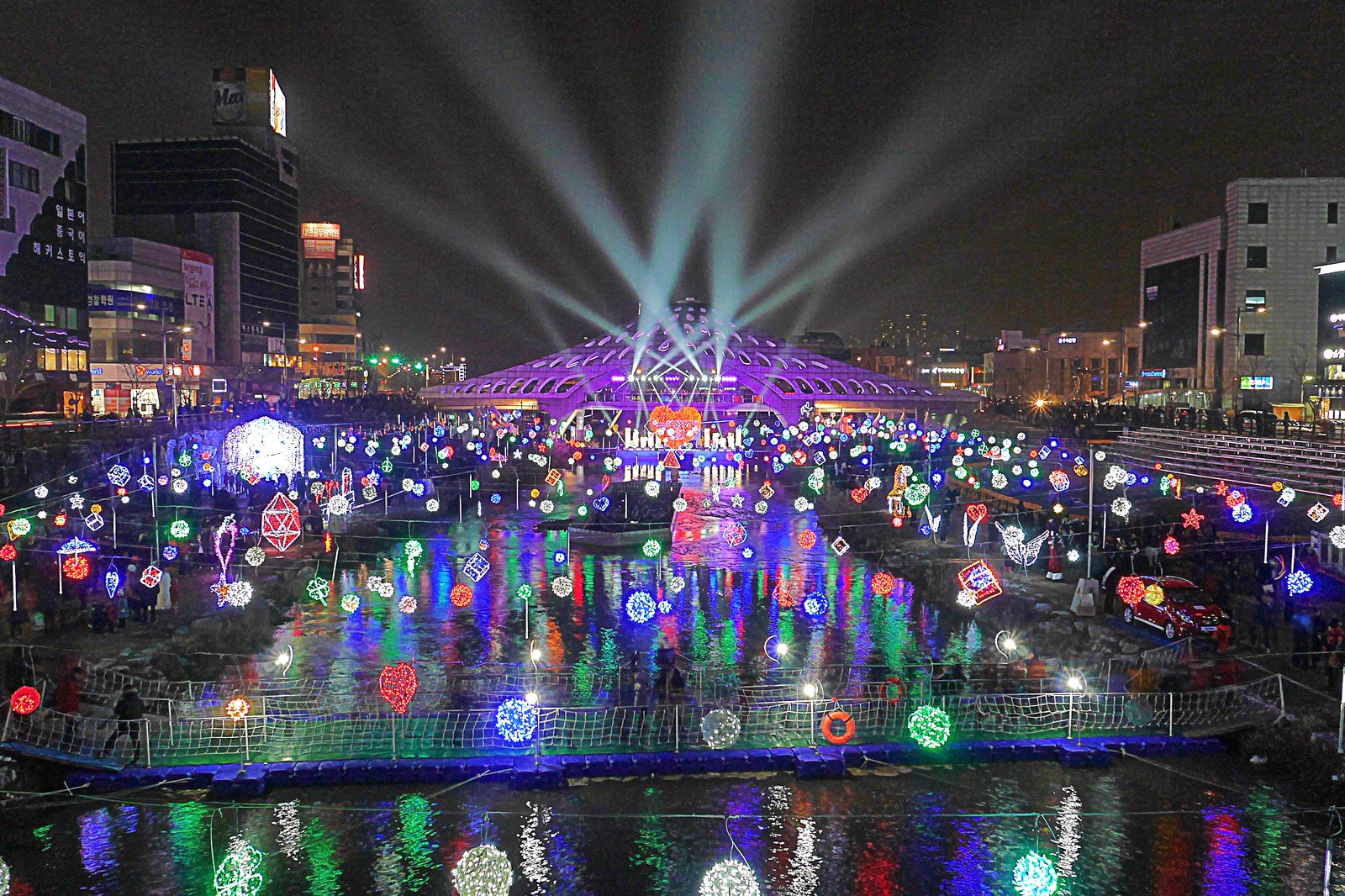 Couples
Families
Nightlife
Budget
Photo
Mokcheok Bridge connects Jungangno and Daejeon Station, while Daejeon River, one of Daejeon's three major rivers, flows underneath. Daejeon River and a famous musical fountain are lit up at night, making this spot quite popular among locals. Daejeon Central Market can be found nearby, while Euneujeongi Culture Street and Daeheung-dong Culture and Art Street are next to Jungangno Station. They're popular with younger crowds looking to enjoy the nightlife until late.
Location: 618-136 Daecheong-ro, Daedeok-gu, Daejeon, South Korea
photo by travel oriented (CC BY-SA 2.0) modified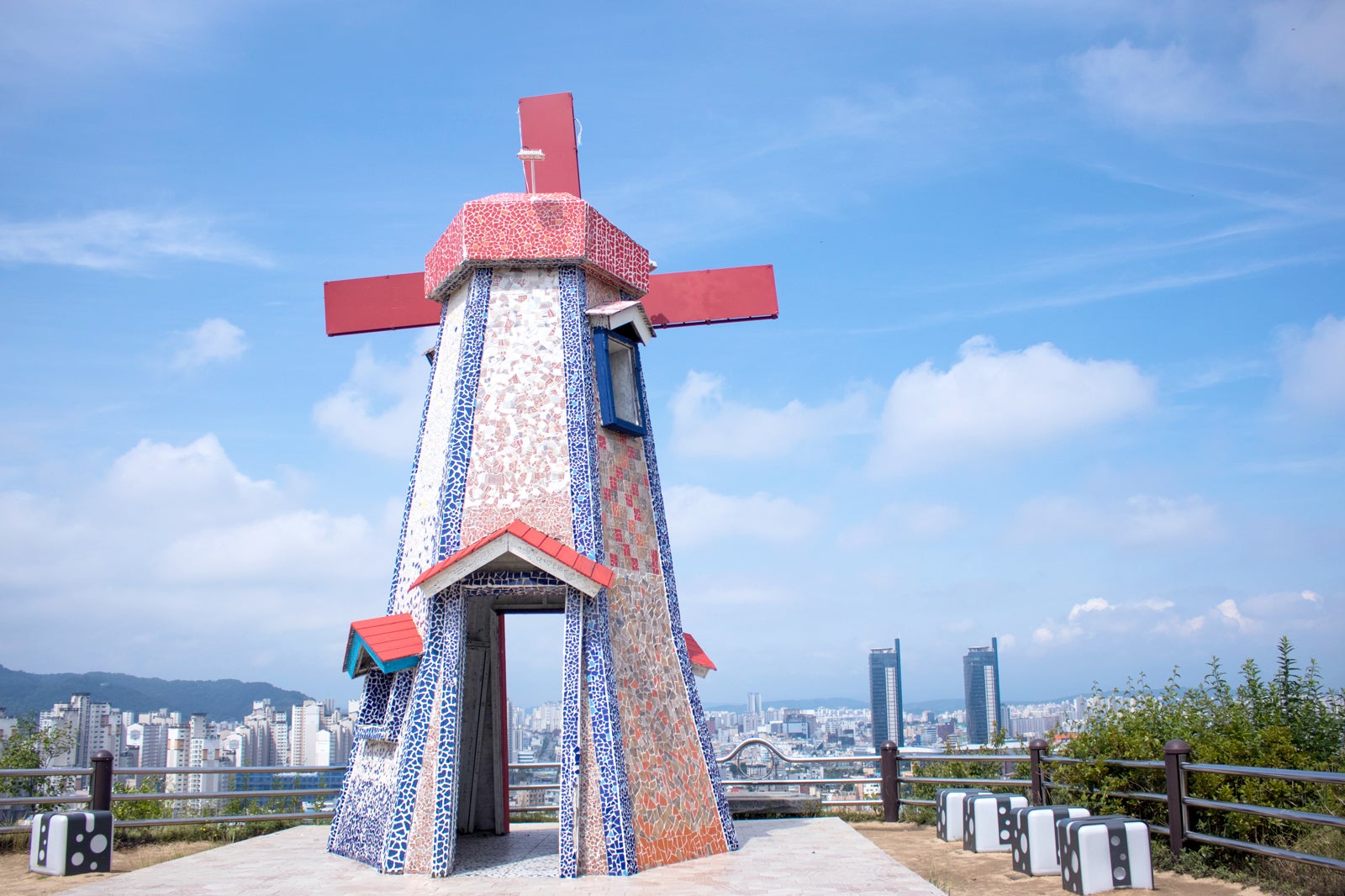 Couples
Families
Nightlife
Photo
Daedong Sky Park is where you can see a beautiful windmill and take in the romantic nightscapes of Daejeon. When the sun goes down and the sky turns from blue to red, the lights start to illuminate the park. The windmill made with pretty pieces of tile begins to sparkle and reflect gorgeous colors. The contrast between the orange street lights illuminating the old residential neighborhoods and the white lights of high-rise buildings is something special that can only be seen here.
Location: 182 Dongdaejeon-ro 110beon-gil, Dong-gu, Daejeon, South Korea
photo by *Youngjin (CC BY-SA 3.0) modified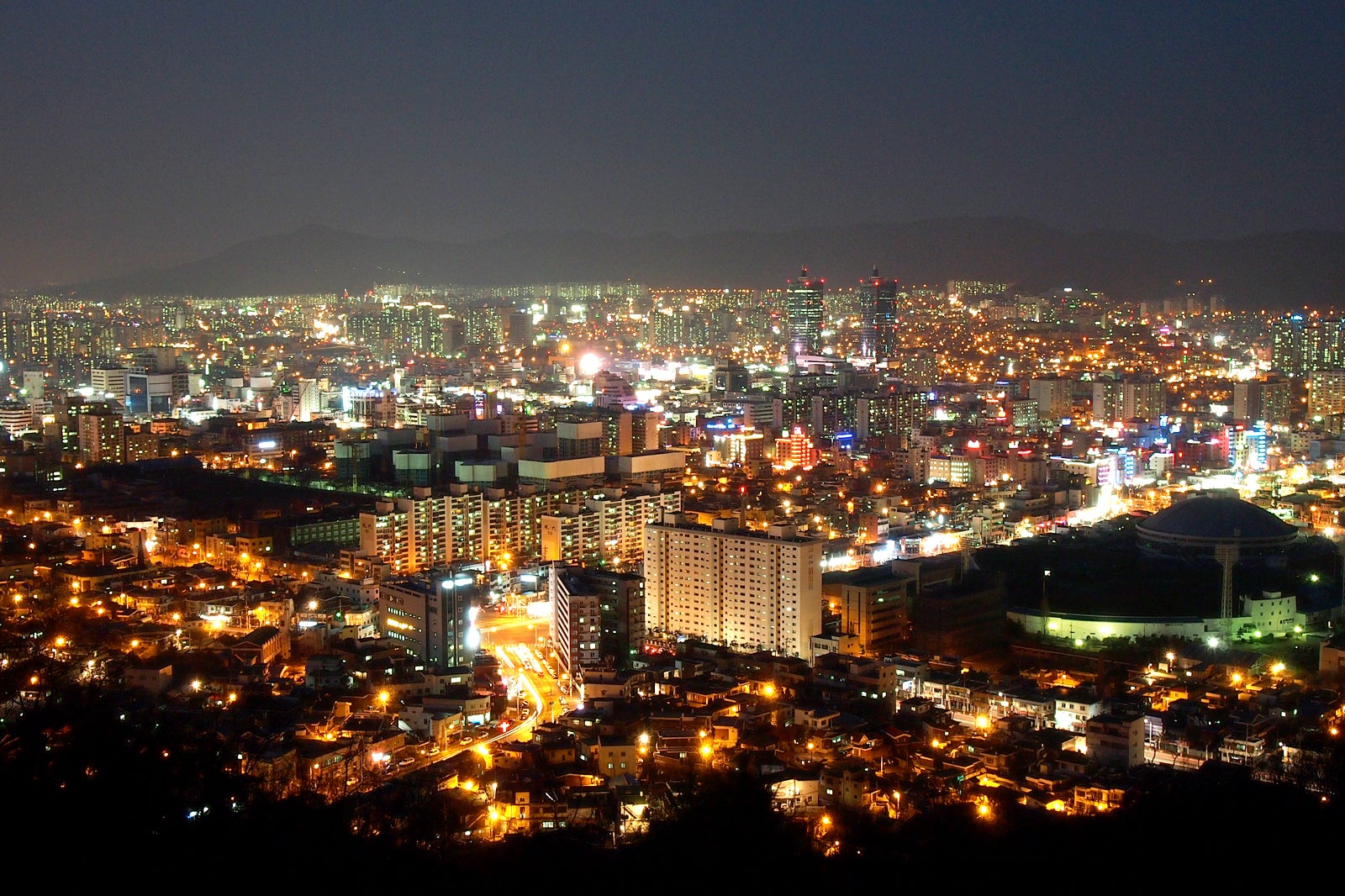 Climb to Bomunsan Observatory while soaking in the lovely natural scent of grass and trees. Thankfully, the trails here aren't at all steep. Daejeon at night looks even more spectacular here thanks to Mt. Bomun, where not even a single light is visible at night. The open view is breathtaking. If you want to fully immerse yourself in the Daejeon nightscape, Bomunsan Observatory is highly recommended.
Location: Daesa-dong, Jung-gu, Daejeon, South Korea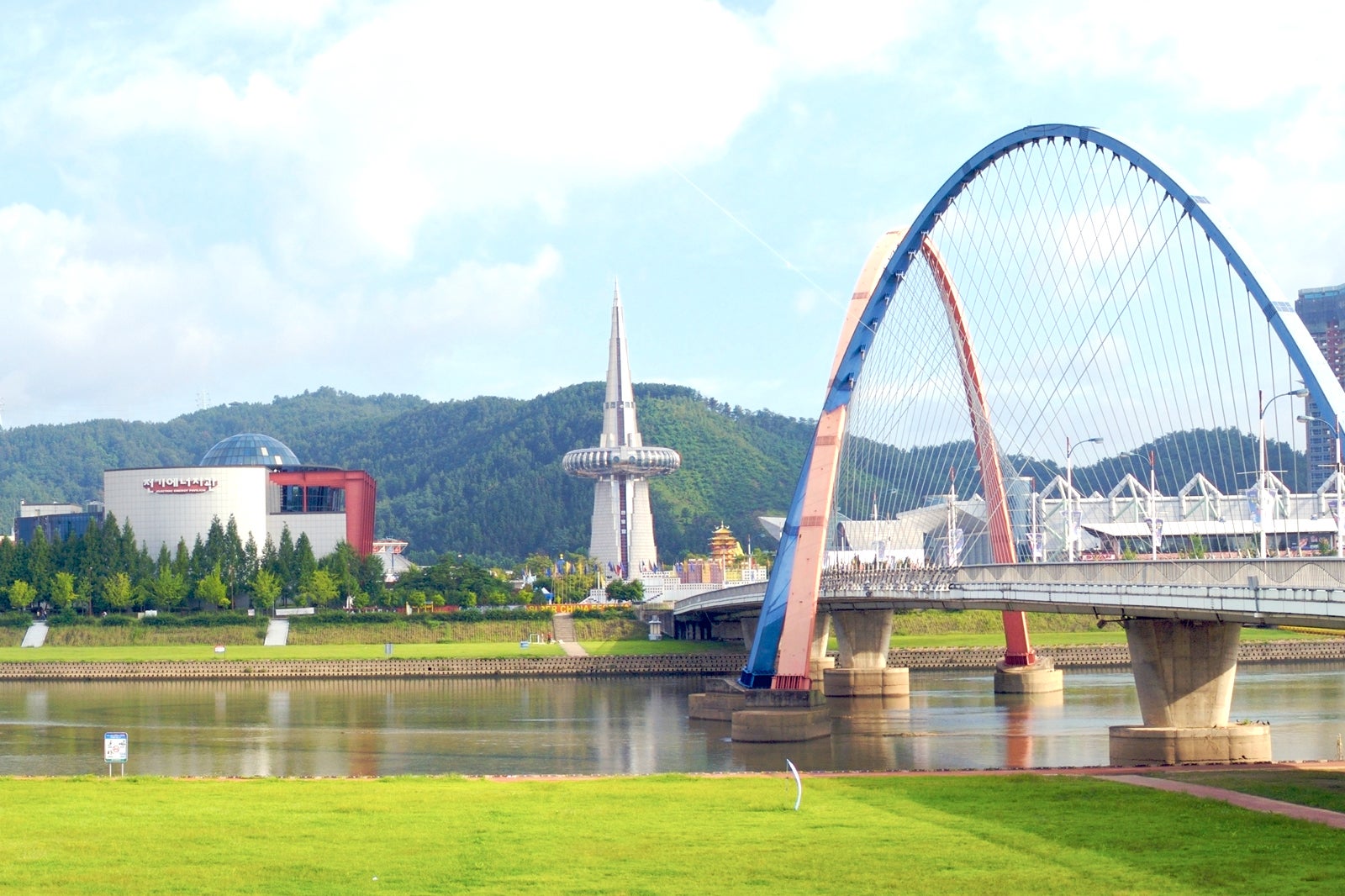 Couples
Families
Nightlife
Photo
Summer nights at Expo Civic Square are something else. The Cowherd and the Weaver Girl Festival is held there, and there's also a musical fountain that has been a favorite among locals for a long time. Twenty minutes will go by in the blink of an eye as you become captivated by the colorful lights and dancing streams of water. If you happen to be traveling when the musical fountain is not in season, don't fret because the Expo Bridge, which is only illuminated on weekends, and the lights of the nearby buildings reflected in the river will mesmerize you with a colorful, peaceful and heartwarming display.
Location: 480 Daedeok-daero, Yuseong-gu, Daejeon, South Korea
photo by Yoo Chung (CC BY-SA 3.0) modified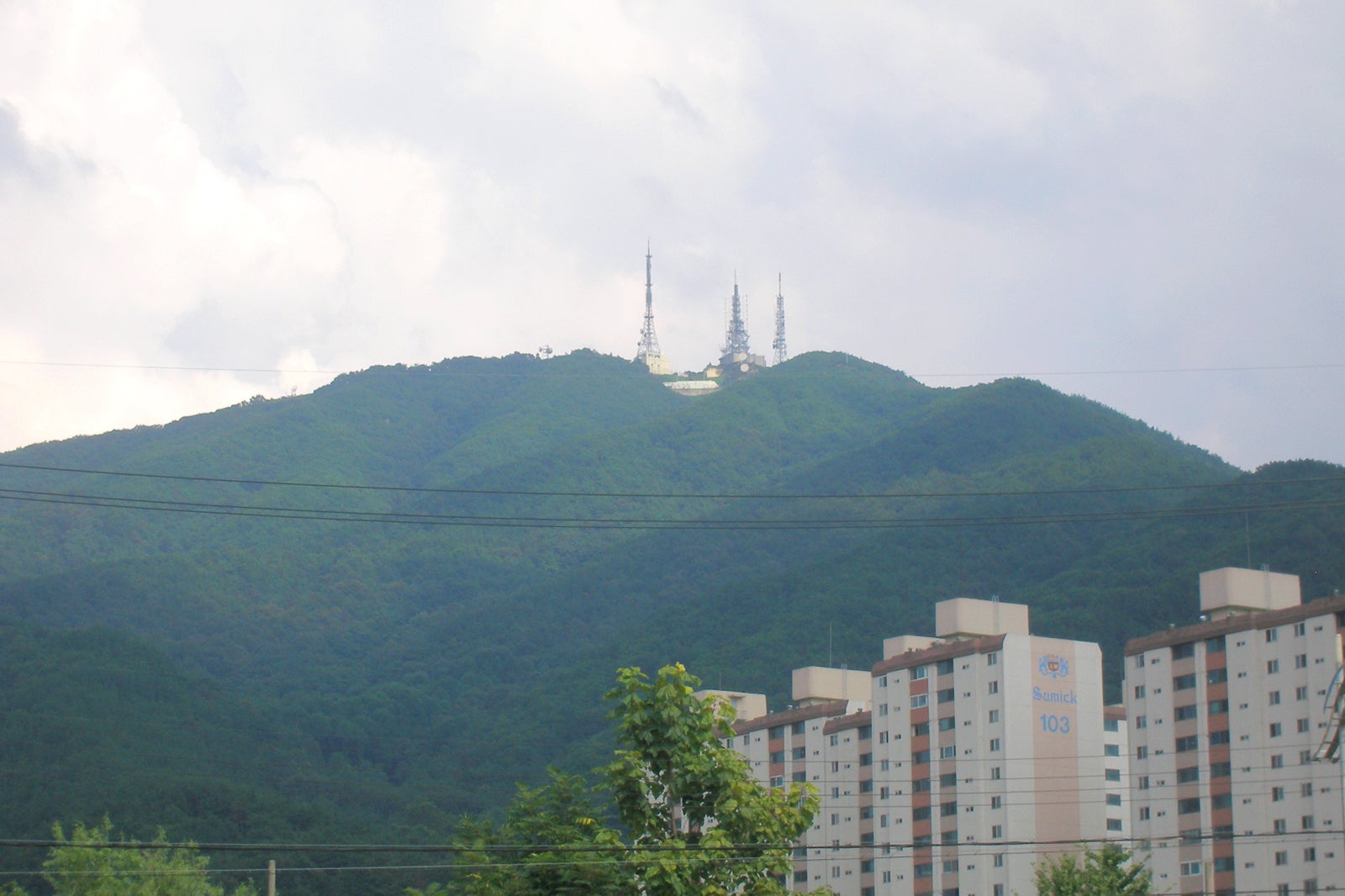 Couples
Families
Nightlife
Photo
Sikjangsan Observatory, which is on the way to Daecheong Lake, is famous for viewing sunsets and the surrounding nightscape. If you climb Mt. Sikjang, one of the tallest mountains in Daejeon, you'll be treated with a panoramic view of the city. You can sit back and enjoy Daejeon as it gradually becomes lit next to a spectacular sunset. The observatory is equally famous for beautiful sunrises, so if you have the opportunity, check out both at Sikjangsan Observatory.
Location: Daejeon Observatory, 213-48 Gwahak-ro, Yuseong-gu, Daejeon, South Korea
Open: Daily from 2 pm to 10 pm. Closed on Mondays, the day after public vacations, national vacations and New Year's Day
photo by Ryuch (CC BY-SA 3.0) modified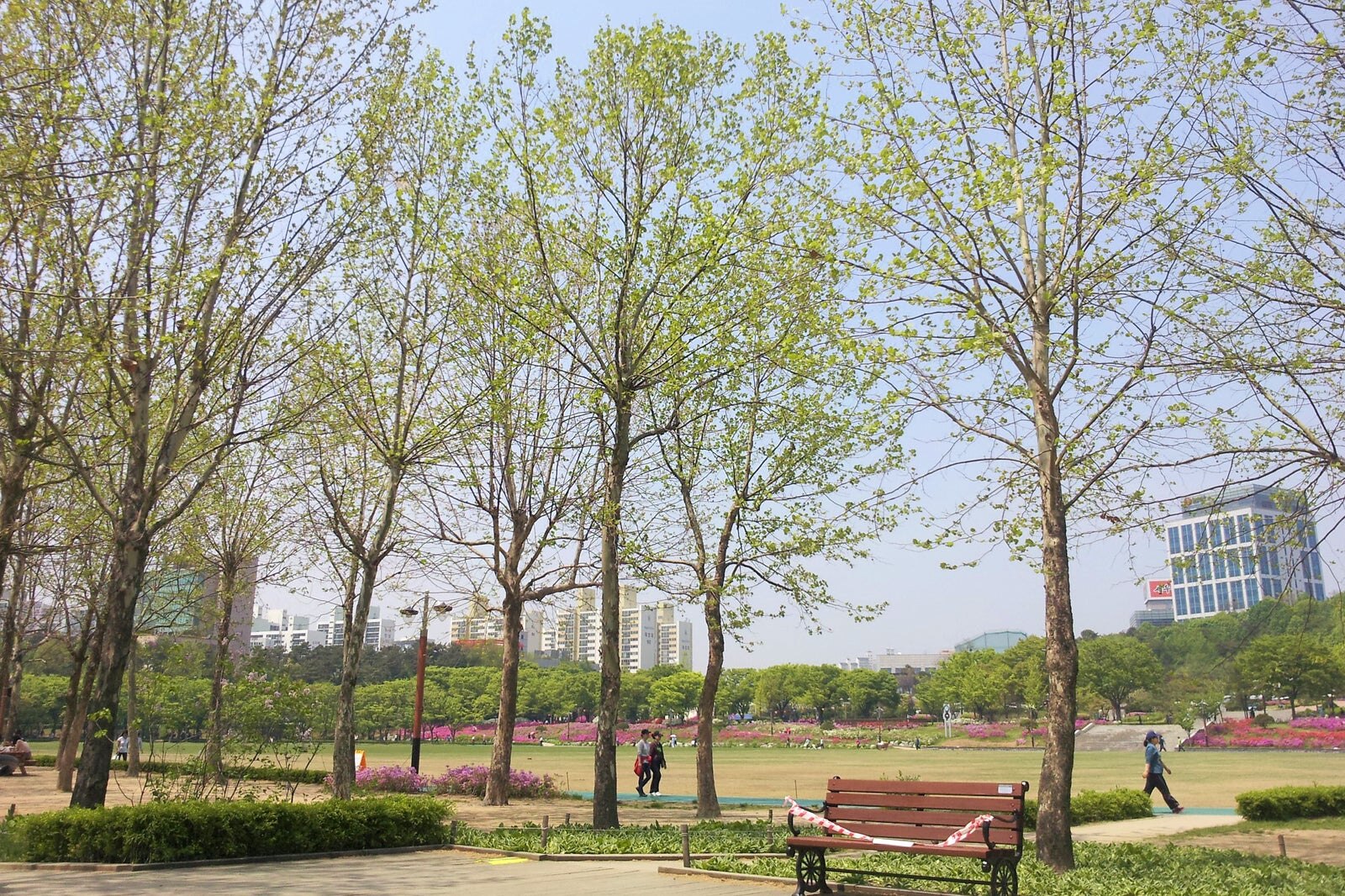 Couples
Families
Nightlife
Photo
Boramae Park, situated behind City Hall, appears to be an unassuming city park, but at certain times of the year, you're treated to colorful and romantic night-time views. At the annual Seo-gu Healing Art Festival held in May, art trees and a light tunnel are installed with a different theme, which is one of the most anticipated events around. Christmas-themed sculptures are installed in December, so don't miss it if you happen to be visiting Daejeon at this time.
Location: 589 Tanbang-dong, Seo-gu, Daejeon, South Korea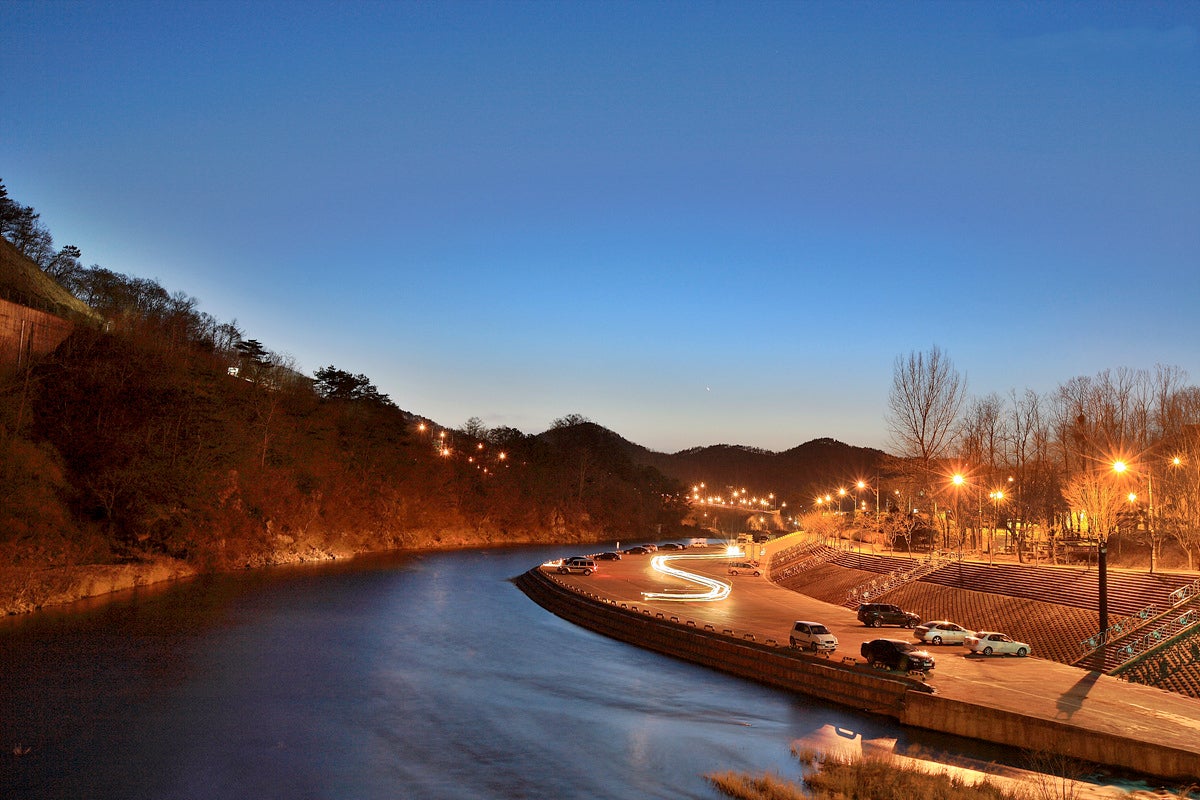 Couples
Families
Nightlife
Photo
Ppuri Park is a park with the theme of filial piety and home to the Korean Genealogical Museum where you can learn about the history and ancestry of Korean last names. This place, which may sound like a slightly stuffy experience already, turns into a park of surprisingly flashy lights that fill the night sky. From Manseong Bridge, which leads to the park entrance, to the trail leading to the nearby mountain and the lanterns floating on the river, you'd be hard-pressed to find a place that isn't pretty. Besides, the admission is free, so you have no excuse to miss this one.
Location: 79 Ppurigongwon-ro, Jung-gu, Daejeon, South Korea, South Korea
Open: March–October: Daily from 6 am to 10 pm. November–February: Daily from 7 am to 9 pm.
Why book with Hotels.com?