10 Places Locals Love to Go in Daegu
Cool Places in Daegu You Might Not Know
Where do locals love to go in Daegu? This South Korean city may not be as glamorous as other tourist destinations, but it does have a remarkable charm. Many cultural heritage sites were preserved because the city was mostly spared from destruction during the Korean War, and forests and parks in the city are terrific spots for walking and relaxation.
Recently, there has been an upsurge in the number of attractions that appeal to young travelers. Daegu is unmatched in its beautiful scenery, nightscapes, various experiences, and even offers a little journey back in time. Here are some places you should check out in the city, including cool places in Daegu you might not know or even heard of.
1
Kim Kwang-seok Street
Take a stroll to admire the murals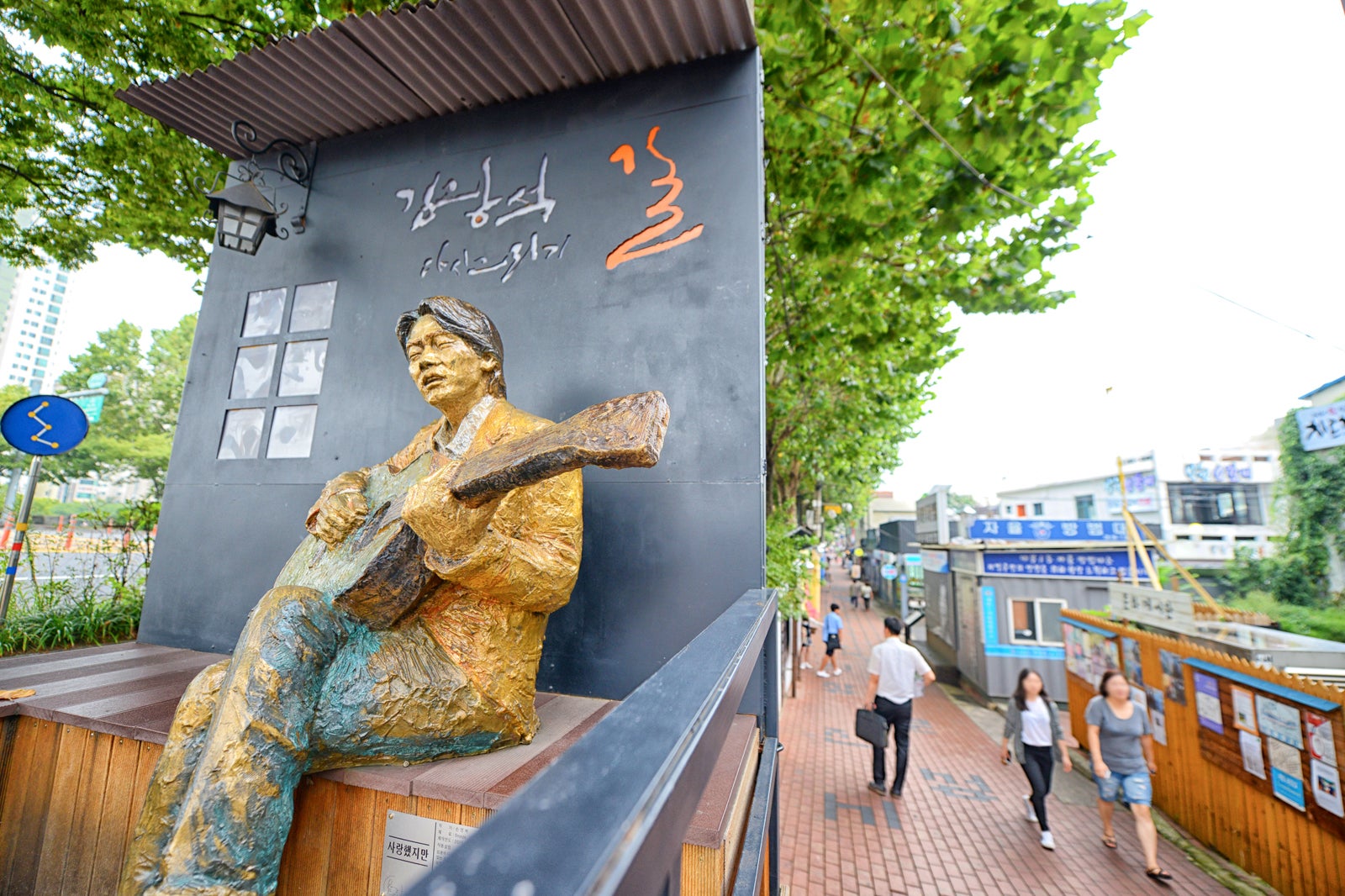 Couples
History
Photo
Single
Group
Kim Kwang-seok Street is a must-see on your travels to Daegu. It's a mural-adorned street celebrating singer Kim Kwang-seok's (1964–1996) life and music, located in his birthplace of Daebong-dong about 350 meters away from Bangcheon Market.
You can view murals and sculptures created in Kim Kwang-seok's image. His masterworks flow gently out into the street, and you can listen to musicians singing his songs at the outdoor venue. Check out any one of the cozy cafés along the street and take a moment to remember a singer whose life was cut tragically short.
Location: Daebong-dong, Jung-gu, Daegu, South Korea
photo by Daegu City Official (CC BY-SA 4.0) modified
2
Gyesan Catholic Cathedral
A gothic landmark on Geundae Alley
Couples
History
Photo
Adventure
Single
Group
Gyesan Catholic Cathedral, which is a part of the Geundae Alley Tour, is one of 3 major cathedrals in Korea, along with Myeongdong Cathedral in Seoul and Jeondong Cathedral in Jeonju. All 3 cathedrals were designed by French priest Victor Louis Poisnel and have similar architecture.
The cathedral was built in a traditional hanok style in 1899 but was rebuilt in 1902 following its destruction. The beautiful Gothic cathedral with 2 spires is Daegu's first Western-style structure. It was even visited by Pope John Paul II in 1984. You may want to schedule your visit for after dark because the cathedral is particularly beautiful at night.
Location: 10 Seoseong-ro, Seongnae 2(i)-dong, Jung-gu, Daegu, South Korea
Phone: +82 (0)53-254-2300
3
Suseong Lake
A scenic and fun spot for the family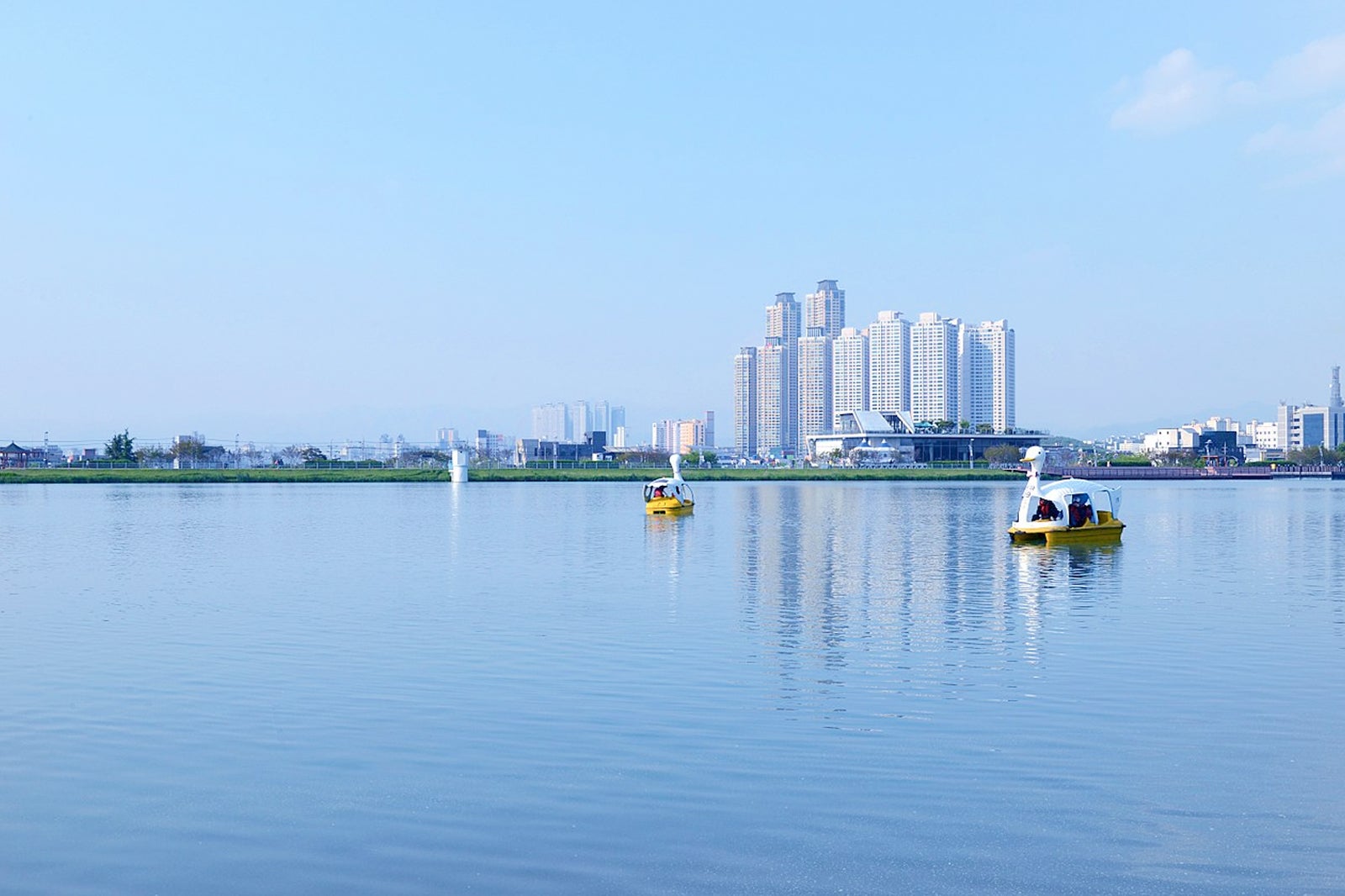 Couples
Budget
Photo
Adventure
Single
Group
Suseong Lake in Dusan-dong is a place for slow walks and relaxation in the heart of the Daegu. The lake, which was created during the Japanese occupation period, has beautiful surroundings and features walking trails and recreational facilities.
Suseong Recreation Area and Arte Suseong Land surround the lake, which was used as a filming location for many films. You can go for a paddle boat ride or enjoy water fountain shows, and there are many restaurants and cafés around the lake that are popular date spots. It's especially charming at night as the sun sets over the lake, and the musical fountains are worth checking out, too.
Location: Dusan-dong, Suseong-gu, Daegu, South Korea
photo by Daegu City Official (CC BY-SA 4.0) modified
4
83 Tower
Take in incredible night-time views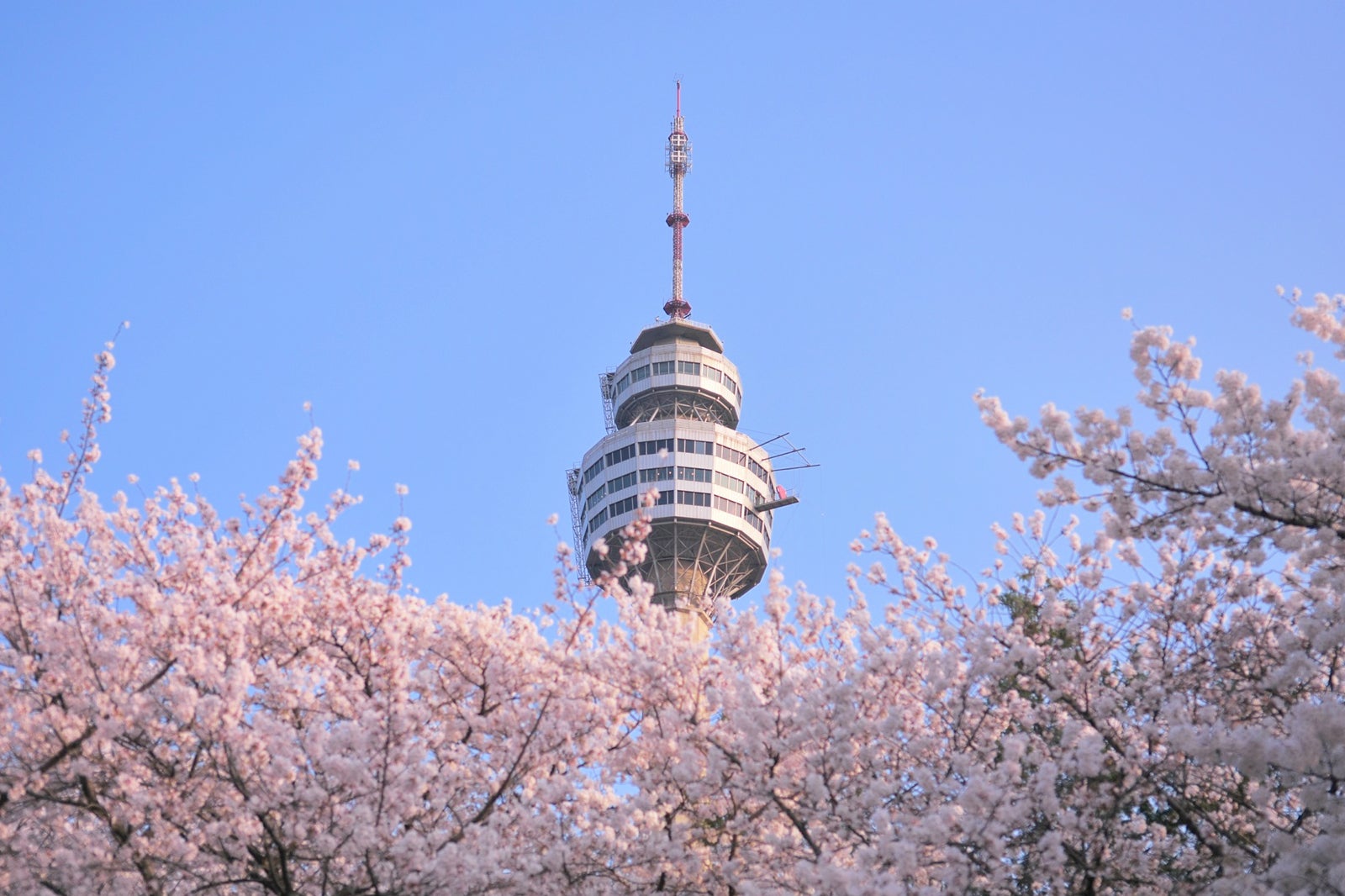 Couples
Photo
Adventure
Single
Group
83 Tower in Duryu-dong is aptly named because this 202-meter tower is equal in height to an 83-storey skyscraper. The tower was completed in 1992 and is now a Daegu landmark with an observatory, ice rink, galleries, and restaurants. You can easily see downtown Daegu and Mt Palgong in the distance from the observation deck.
The sky lounge, famous for having incredible night-time views, is quite the hot spot for marriage proposals. The most famous attraction here is Sky Jump, a bungee-jump platform at an elevation of 123 meters. There's also E-World, a theme park, which makes 83 Tower a great place to explore with the family.
Location: 200 Duryugongwon-ro, Duryu-dong, Daegu, South Korea
Open: Monday–Friday from 10.30 am to 10 pm, Saturday and Sunday from 10 am to 10 pm
5
Apsan Park
A dense forest and gorgeous valley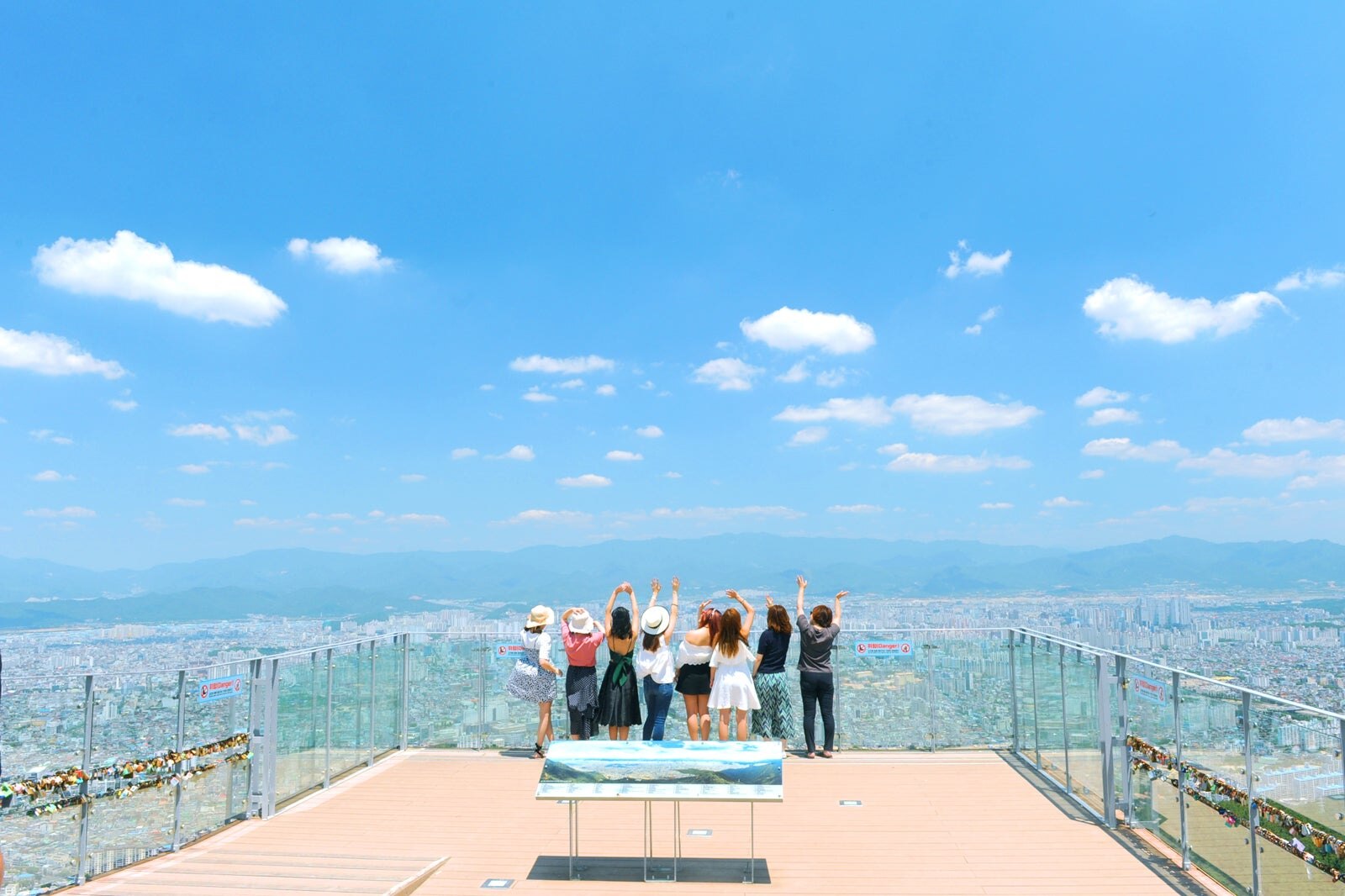 Couples
Photo
Adventure
Single
Group
Mount Ap (660 meters), together with Mount Palgong, is considered a symbol of Daegu and is located in the city center. It was historically known as Mt Seongbul but is now referred to as Mt Ap, which means 'Front Mountain' because it stands 'in front' of Daegu. The dense forest and deep valley form a natural park.
The park has valleys, natural springs, and trails, and is home to the Nakdong River Victory Memorial Hall. Because there's also a swimming pool, library, and botanical garden, Daegu locals consider Mt Ap as their haven away from the city. Take a cable car to the observatory for a panoramic view of Daegu, which looks especially striking at night. And when you're done, check out one of the many restaurants and cafés around Apsan Park.
Location: Daemyeong 9(gu)-dong, Daegu, South Korea
photo by Daegu City Official (CC BY-SA 4.0) modified
6
Palgong Mountain
Ride the cable car for beautiful views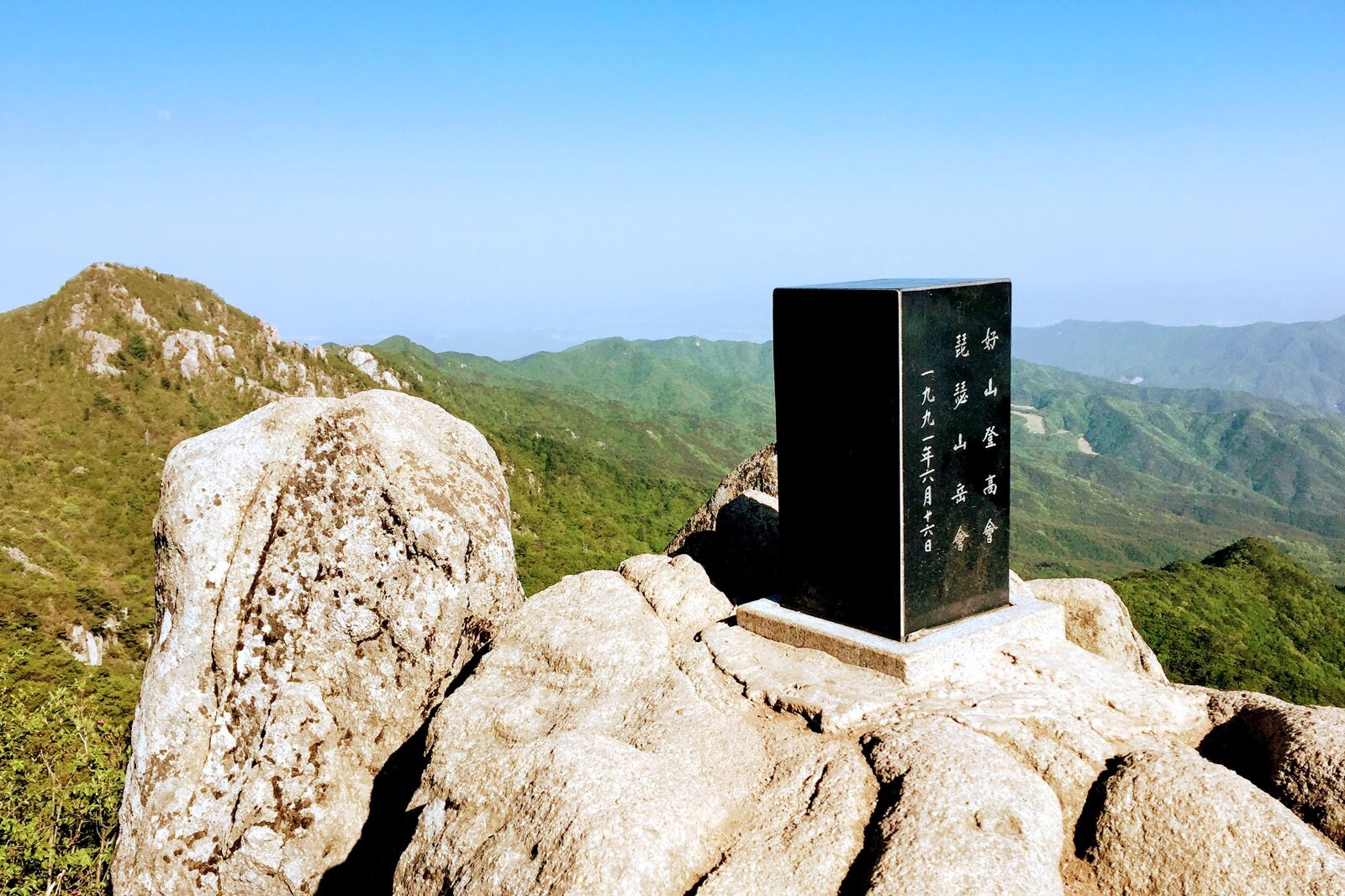 Couples
Adventure
Single
Group
Palgong Mountain in Dong-gu represents Daegu with its peak at 1,192 meters above sea level. The mountain lies on the border between Daegu and North Gyeongsang Province and is home to many temples such as Donghwasa and Pagyesa. What makes Mt Palgong famous is Gatbawi, or the Stone Seated Healing Buddha, at Gwan Peak. Many people visit and pray for well-wishes.
The shape of the traditional hat (gat) is said to resemble a graduation cap, which is why this place is so popular with parents who wish for their children's good luck on their university/college entrance exams. The hiking trails here are quite challenging, so you can ride a cable car to within 820 meters from Donghwa Temple for convenient sightseeing.
Location: Bugye-myeon, Gunwi-gun, Gyeongsangbuk-do, South Korea
photo by Chrisxjohnson (CC BY-SA 3.0) modified
7
Donghwa Temple
Serenity at the foot of Palgong Mountain
Couples
History
Photo
Adventure
Single
Group
Donghwasa is a temple at the southern foot of Mt Palgong and was built in the Silla era. Lush forests and valleys surround the temple entrance, so it's probably a good idea to take your time as you climb up. A variety of state-designated cultural assets can be found on the temple grounds.
Without question, the main attraction here is the 33-meter tall Unification Healing Buddha, among the world's largest stone Buddha sculptures. It's a great place to learn about Buddhist culture, thanks to Donghwasa Museum, which exhibits Buddhist art, the Zen-themed Buddhist Cultural Center, and temple food experience hall. There are many restaurants at the foot of Mt Palgong, and you can even catch a cable car for an easier journey up.
Location: 1 Donghwasa 1-gil, Dohak-dong, Dong-gu, Daegu, South Korea
Phone: +82 (0)53-980-7900
photo by 최옥석 (CC BY-SA 4.0) modified
8
Ayang Railroad Bridge
Go for the dramatic sunsets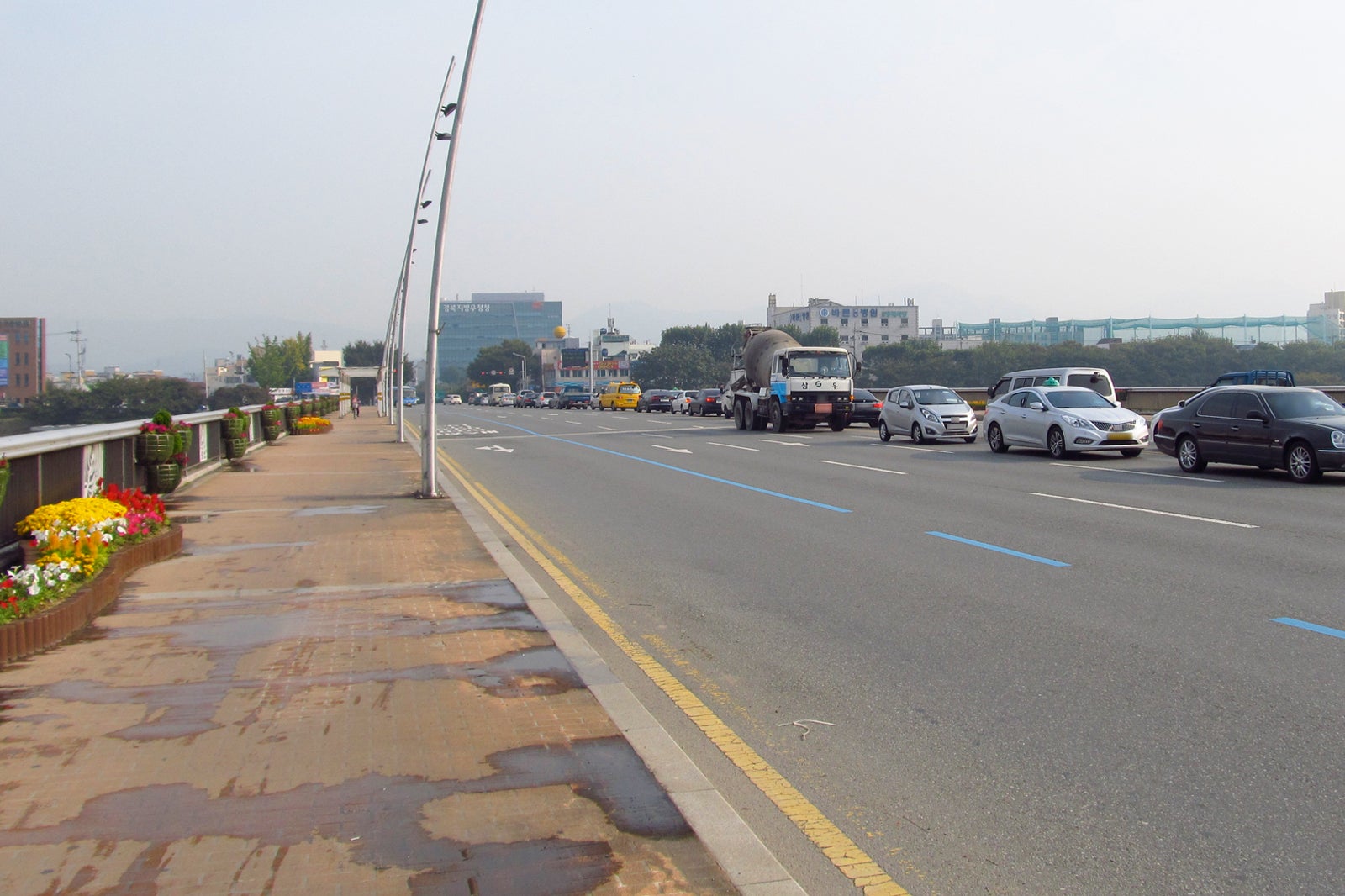 Couples
Photo
Adventure
Single
Group
Ayang Railroad Bridge is an emerging attraction in Daegu, located near Ayanggyo Station of Daegu Metro Line 1. The original railway bridge above Geumho River was under threat of demolition but was renovated to be reborn as a tourist destination. An observatory, café, and gallery were installed at the center of the bridge, and parts of the newly-renovated bridge feature glass floors for a view of the blue river below.
As you'd expect, there are some lovely sunset and night-time views to be had here. Springtime is particularly rewarding when the cherry blossoms along the Geumho River are in full bloom.
Location: 930 Jijeo-dong, Dong-gu, Daegu, South Korea
photo by LERK (CC BY-SA 4.0) modified
9
Geundae Alley
Heritage area with history and hidden beauty
Couples
History
Photo
Single
Group
Geundae Alley is one of the areas in Jung-gu where modern cultural heritage buildings remain intact thanks to having suffered minimal damage during the Korean War. A 5-alley tour for the area was developed under the theme of "modern era travels", and Geundae Alley is undoubtedly the most popular.
It's a short 1.64-km course but requires about 2 hours because there are so many things to see. There's plenty of history and beauty hidden in every nook, like Cheongna Hill, former missionary residences, Independence Movement Street, Gyesan Catholic Cathedral, Jeil Church, the homes of Lee Sang-hwa and Seo Sang-don, and Jin Alley.
10
Daegu Art Factory & Suchang Youth Mansion
View experimental art exhibitions
Couples
Adventure
Single
Group
Daegu Art Factory and Suchang Youth Mansion in Suchang-dong are emerging attractions. They were created through renovations of a tobacco processing plant and a dilapidated apartment complex, respectively, and have since become exhibition spaces for artists.
Both locations provide free entry and are just a short distance away from each other, with Suchang Park in between. You can view experimental works of young and emerging artists, and there are lots of works that are suitable for photo-taking, like 'Moon Flower' in Daegu Art Factory. While you're here, don't forget to check out Geundae Alley and Seomun Market nearby.
Location: 31-12 Dalseong-ro 22-gil, Jung-gu, Daegu, South Korea
Open: April–October: daily from 10 am to 7 pm. November–March: daily from 10 am to 6 pm (closed on Mondays)
Back to top