10 Towns and Villages in Qatar Everyone Should Visit
Charming Qatari Destinations for Your Next Escape
Many villages and towns in Qatar have remained mostly untouched for decades while the nation's capital has developed in leaps and bounds. Some were even abandoned within the last century, and the ruins of homes, mosques and forts tell the story of a nation with a rich history.
If you're planning a trip to Qatar and want to escape the hustle and bustle of Doha, we recommend visiting these charming villages and towns. Some of these destinations have impressive historical landmarks you won't find elsewhere, so get your camera ready for some impressive shots throughout your visit.
Al Khor
Relax on an island or city beach
Al Khor was once a famous center for the pearl industry in Qatar. The town's most popular beach is Al Thakhira Beach, where you can relax under the sun, cooled by the gentle breeze. Fishing and kayaking are some of the most popular activities here. If you prefer some privacy, head over to Farkeh Beach or hop over to Al Khor Island, where Purple Island Beach is the main attraction.
Al Khor's skyline is dominated by 3 watchtowers, some of which have been restored to their original appearance. Nature lovers can enjoy scenic landscapes and birdwatching in the Al Thakira Mangroves. For the best views of unique plant life and bird species (including flamingos), we recommend kayaking through the mangroves.
photo by Vincent van Zeijst (CC BY-SA 3.0) modified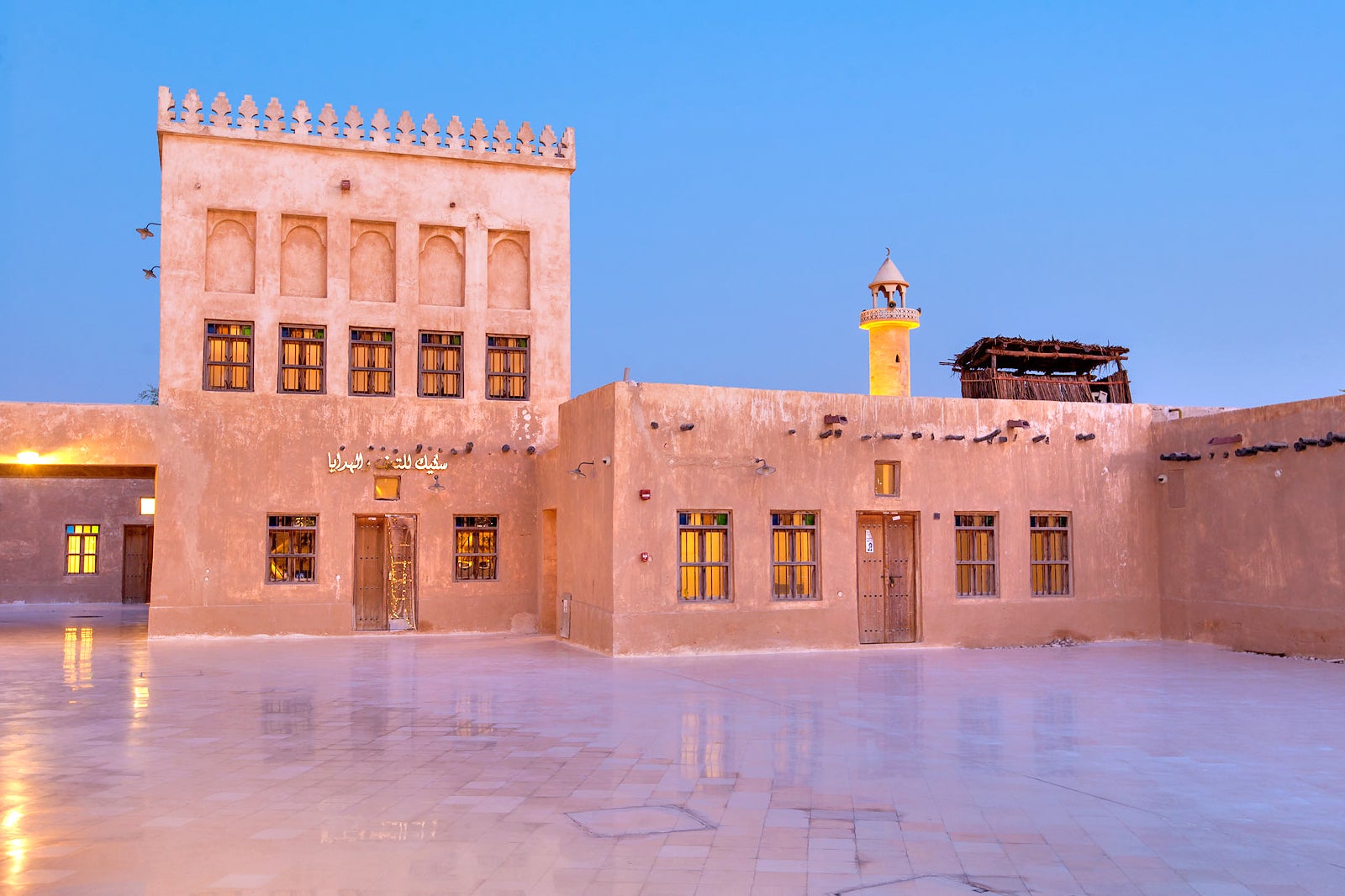 Al Wakrah
Qatar's rapidly growing city
Al Wakrah is exactly what you might imagine when trying to picture a typical Arabian town. Despite its proximity to Doha, it's an excellent place to escape the shadows of the capital's looming skyscrapers. By the pier, you'll find the Al Wakrah Heritage Village, where you can get a taste of medieval life in Qatar.
As you walk around the streets of Al Wakrah, you'll sense the tradition of fishing and pearl farming that transformed the small village into a large port town. Be sure to check out the restored 17th-century mosque and Al Wakrah Fort. On the beach, you can view the house of Sheikh Ghanim Bin Abdulrahman Al-Thani, a structure of historical importance.
photo by Alex Sergeev (CC BY-SA 3.0) modified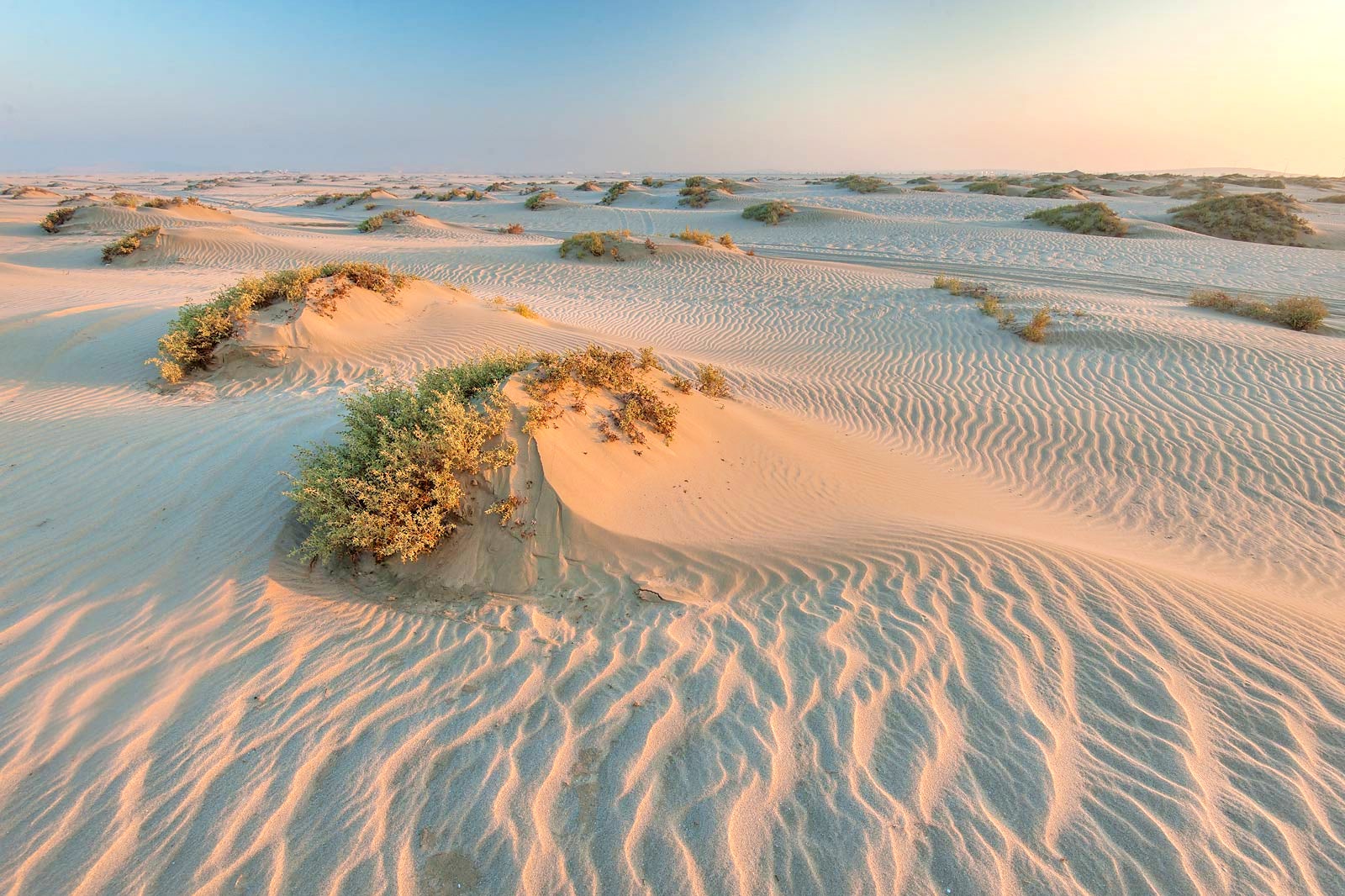 Mesaieed
Paraglide or dune bash in the desert
Mesaieed is a small industrial town between Doha and Al Wakrah, but its sand dune adventures are making it an increasingly popular day-trip destination in Qatar. Here, you can paraglide or bounce over the dunes in a 4x4 as the sun sets over the desert. If you want to relax after a day of adventure, you can have a candlelit traditional dinner under a starry sky before returning to Doha.
Given Mesaieed's small size and industrial nature, you won't find many lodgings in the area. Even so, Qatar's capital is just 40 minutes away and many tour operators offer day tours that include hotel pickup and drop-off. We recommend booking your 8-hour desert safari at least 48 hours in advance.
photo by Alex Sergeev (CC BY-SA 3.0) modified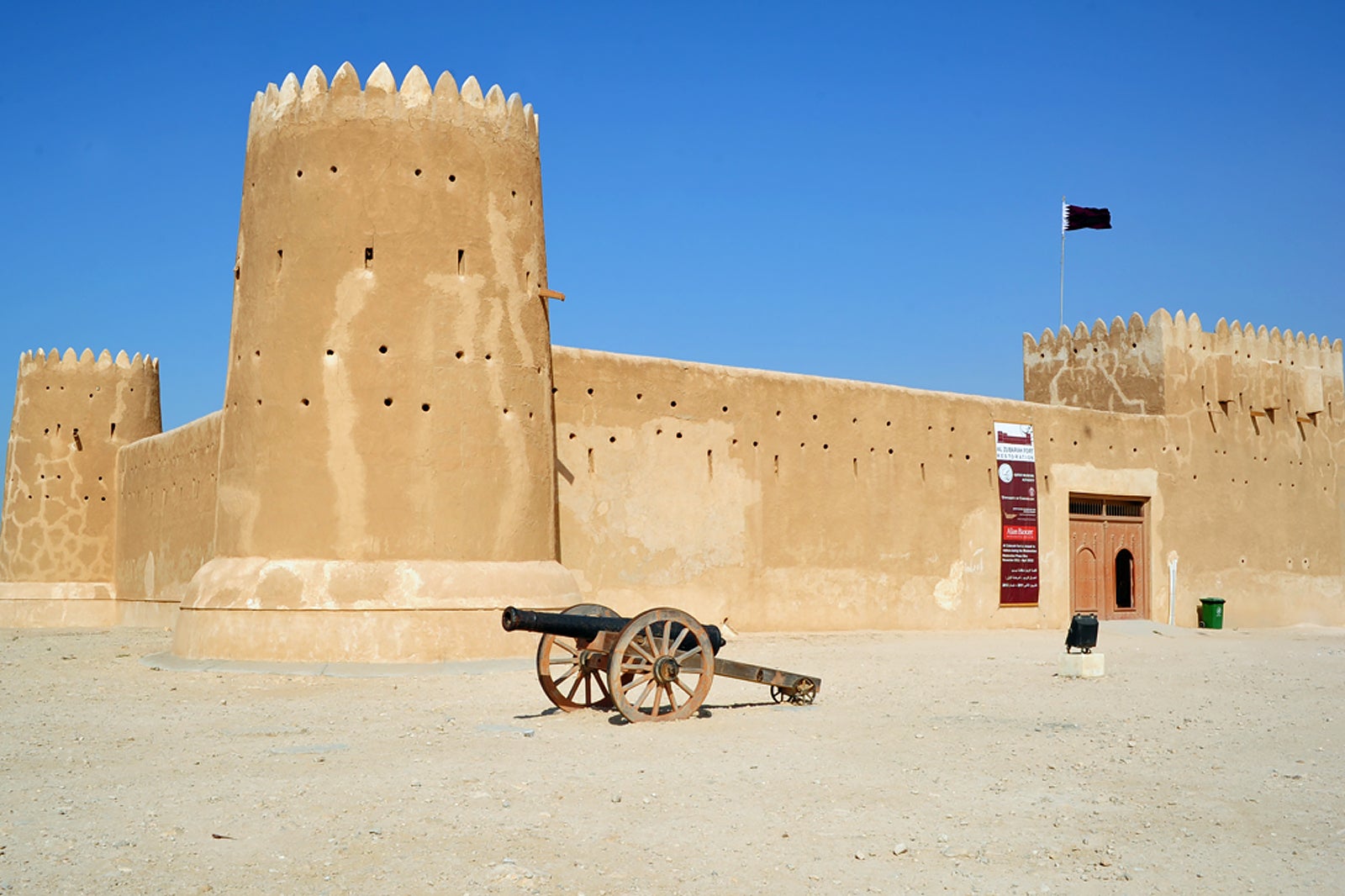 Al Zubarah
Explore a UNESCO World Heritage site
Al Zubarah, a UNESCO World Heritage site since 2013, is one of Qatar's most impressive walled cities. While it flourished as a trading center during the 18th and 19th centuries, it was abandoned in the early 19th century when the pearl trade diminished. Fortunately, sand blown from the desert has preserved the remains of historic buildings such as palaces, courtyard houses, fisherman's huts, and mosques.
While visiting Al Zubarah, check out the nearby fort of Qal'at Murair, where you can admire Islamic architecture at its best and learn about how the desert's water supplies were protected and managed.
photo by Steven Byles (CC BY-SA 2.0) modified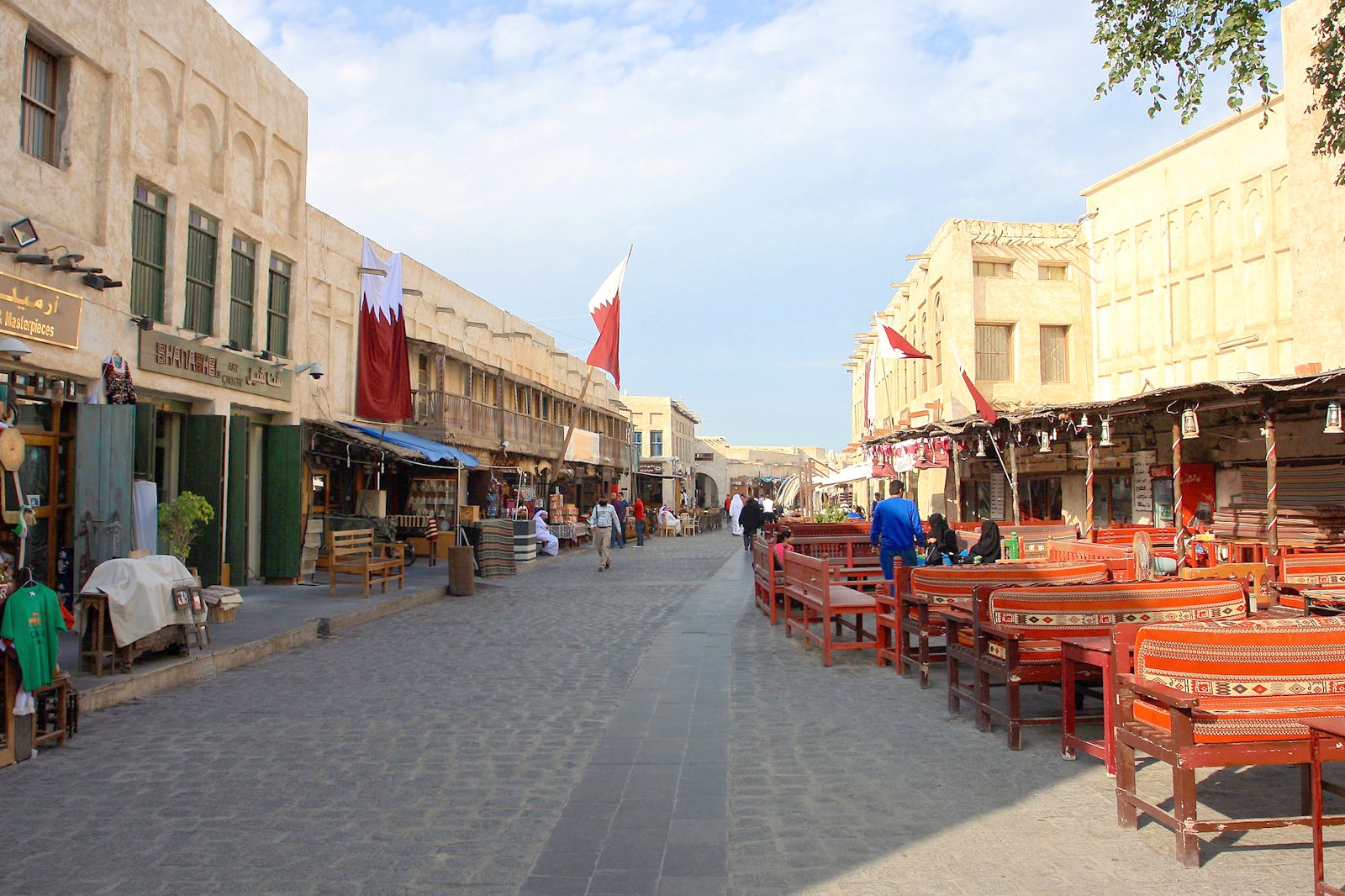 Al Rayyan
Where new meets old in Qatar
Al Rayyan has a historical center with intact fortifications and mosques dating back to the 18th and 19th centuries. Qatar's 2nd most-populous city has an excellent shopping scene, whether you want to buy designer goods at Wathnan Mall or artifacts at the Souq Waqif (which is about 8 km from the center of Al Rayyan).
If you'd rather escape the crowds of shoppers, head to Aspire Park, which is the site of a skyscraper that contains a hotel and a restaurant. Interested in contemporary art? Visit Mathaf: Arab Museum of Modern Art.
photo by TravelingOtter (CC BY-SA 2.0) modified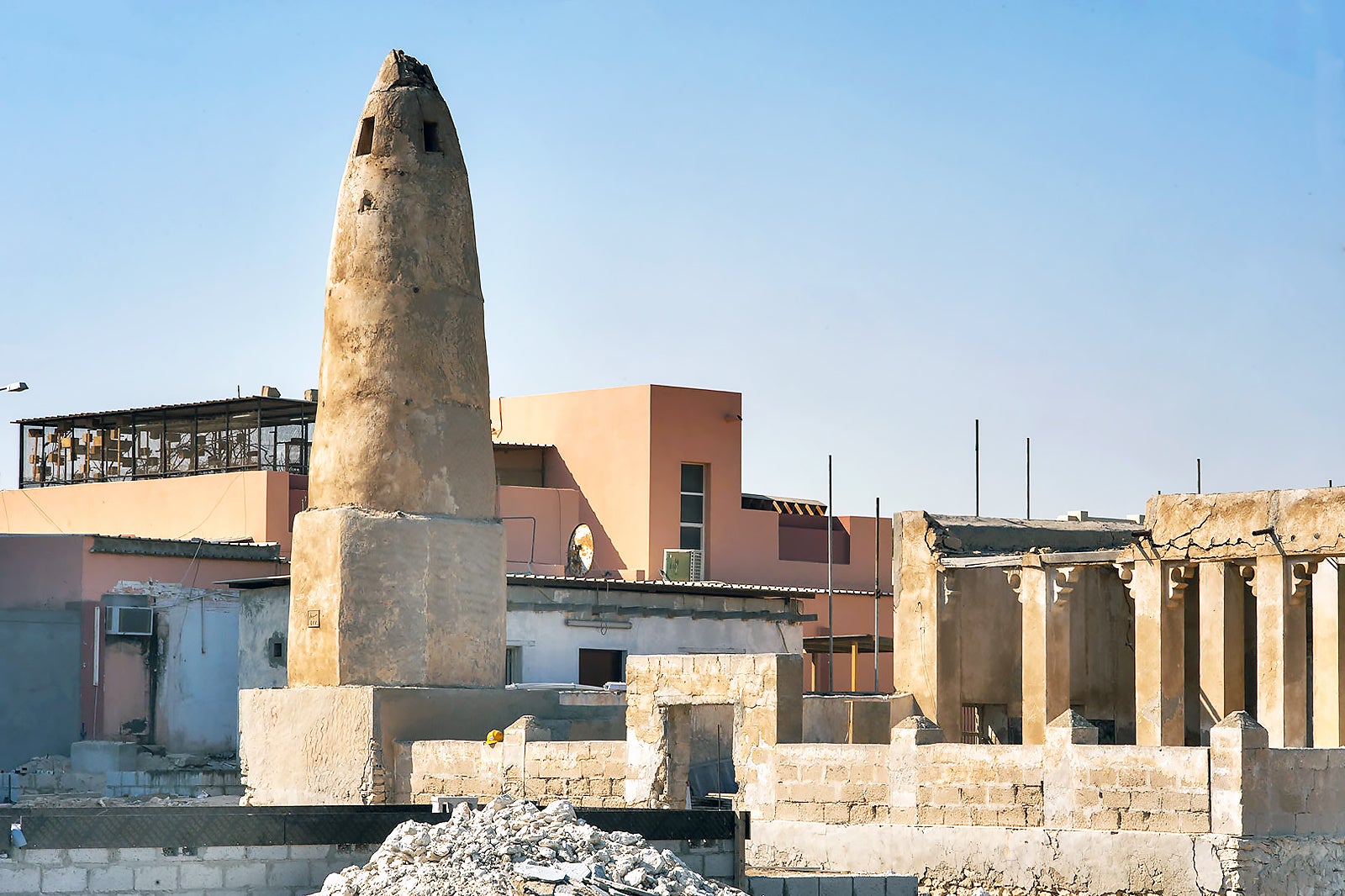 Al Ruwais
Discover the mysterious Al Jassasiya Carvings
Al Ruwais was once one of Qatar's most important fishing centres, which is evidenced by the historical fisherman's huts that take you on a journey back in time. Its namesake 17th-century mosque is believed to be the oldest in the nation. Besides its historical structures and a large port, most travelers visit Al Ruwais for the nearby Al Jassasiya Carvings.
The Al Jassasiya Carvings is around 20 minutes from Al Ruwais. Nearly 900 limestone carvings depict images of cups in rows, ships, rosettes and footprints. While there are dozens of carvings scattered throughout Qatar, the Al Jassasiya Carvings are arguably the most impressive, dating back as far as 1500 BC.
photo by Alex Sergeev (CC BY-SA 3.0) modified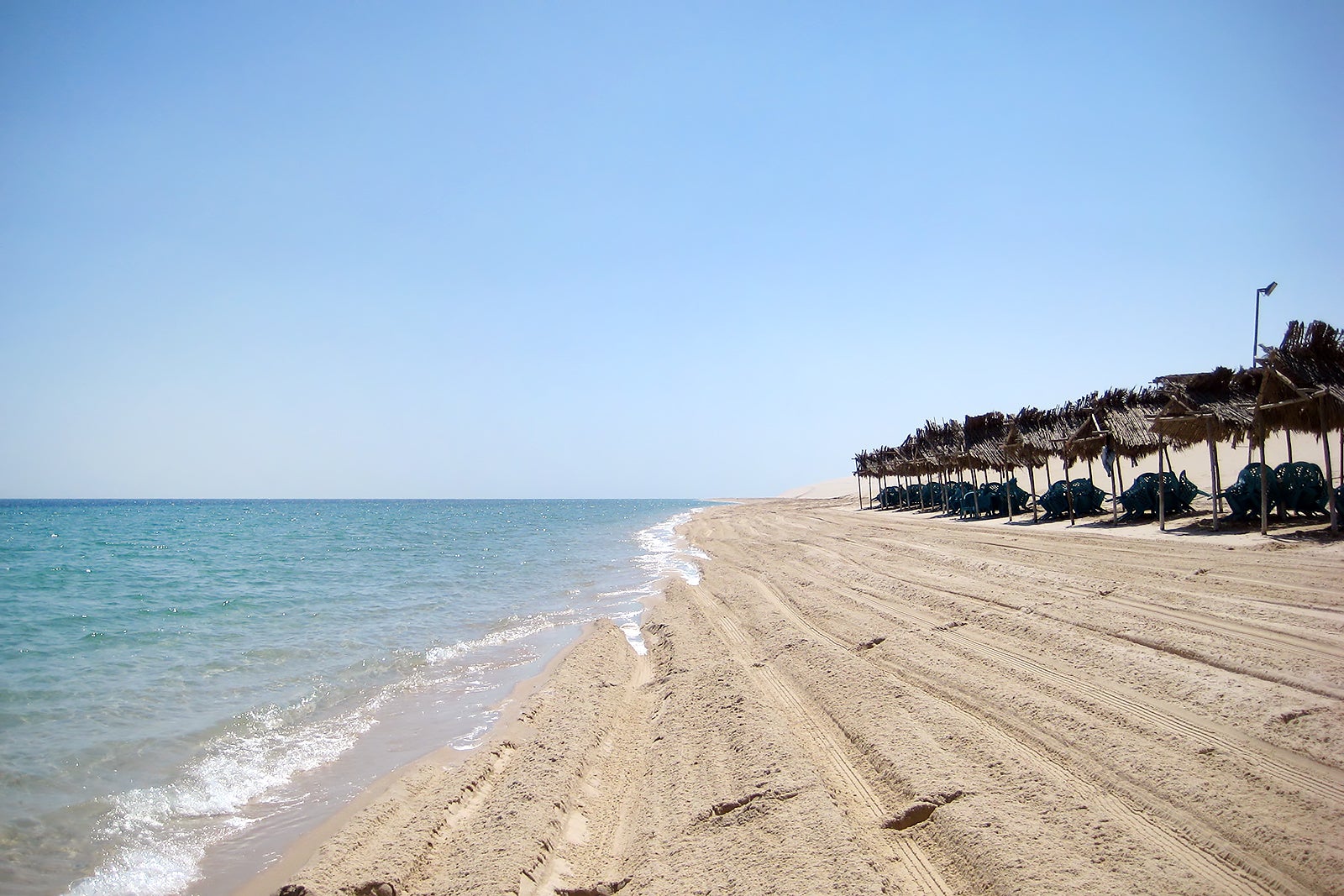 Khawr al Udayd
Go off-roading to Qatar's 'Inland Sea'
Khawr al Udayd lies just next to the border of Saudi Arabia. Nicknamed the 'Inland Sea,' the settlement is one of the few places in the world where the sea encroaches deep into the desert. No roads lead to this Qatari nature reserve, but it's worth driving over the dunes to relax next to the tranquil expanse of water.
Khawr al Udayd is mostly uninhabited by humans, which has allowed its own ecosystem to flourish. In between dune bashing, swimming and sunbathing, watch out for rare animal species like turtles and dugongs. If you're lucky, you might catch a glimpse of the endangered osprey nesting on an islet.
Couples
Families
History
Photo
photo by Isabell Schulz (CC BY-SA 2.0) modified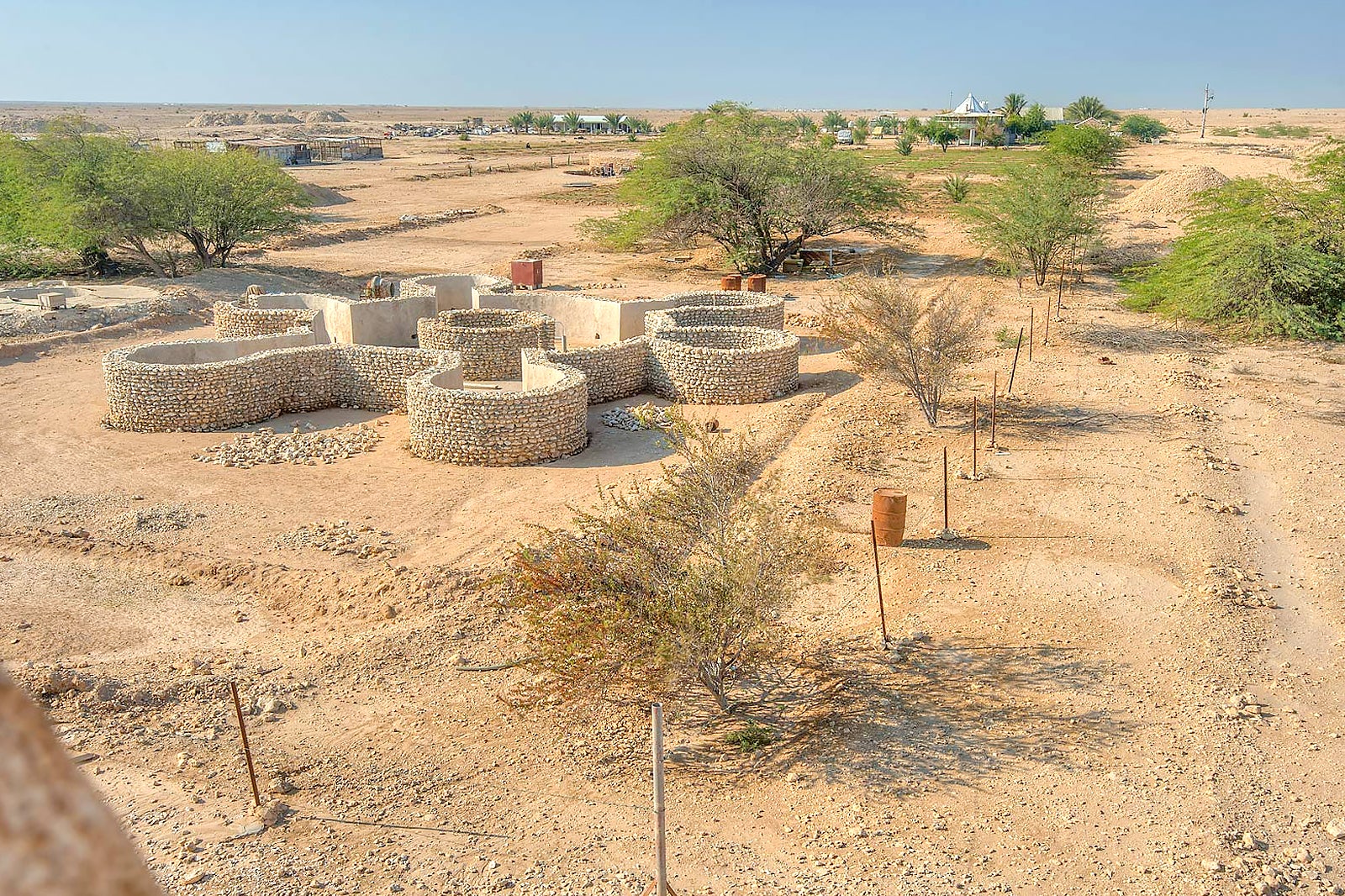 Al Shamal (Madinat ash Shamal)
Tour historic structures and forts in abandoned settlements
Al Shamal's tourist appeal is on the rise thanks to its abundance of historic villages, natural areas and archeological sites. While it has a small population of about 5,000, Al Shamal is known as Madinat ash Shamal or Qatar's 'City of the North.' Surrounded by the Arabian Gulf, Al Shamal has plenty of sandy coastline stretches, but its abandoned settlements and forts are its main draw.
Qalaat al Thaqab is one of the most fascinating deserted villages in Al Shamal, where you can explore the ruins of Islamic-style homes, cemeteries and walled fortifications. Nearby, the iconic Zubarah Fort has been a UNESCO World Heritage site since 2013.
photo by Alex Sergeev (CC BY-SA 3.0) modified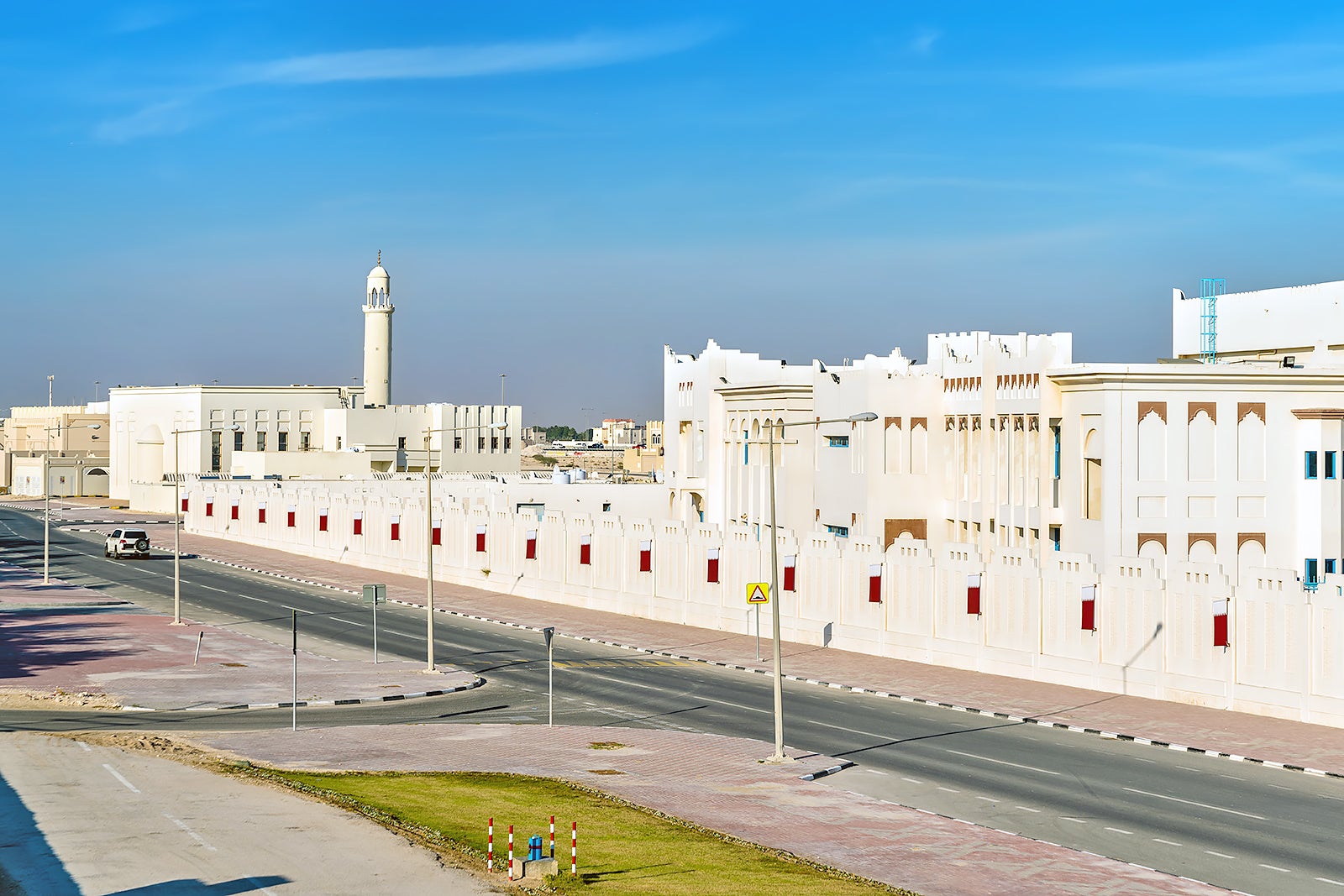 Umm Salal Muhammed
Visit some of Qatar's best nature reserves
Located just 10 km north of Doha, Umm Salal Muhammed is a fortified town full of historic structures and 3 protected environmental areas. In total, the Sunai, Wadi Sultan, and Umm Al Amad reserves span nearly 10 sq km with rich biodiversity and sprawling desert scrub landscapes. Nature lovers will appreciate the fact that the world's largest humanmade forest is set to be established in the area.
If you're more interested in history than nature, don't miss landmarks such as the 19th-century Barzan watchtowers or the Umm Salal Fortress. At Umm Salal Ali, you'll find prehistoric burial grounds that are believed to be over 5,000 years old.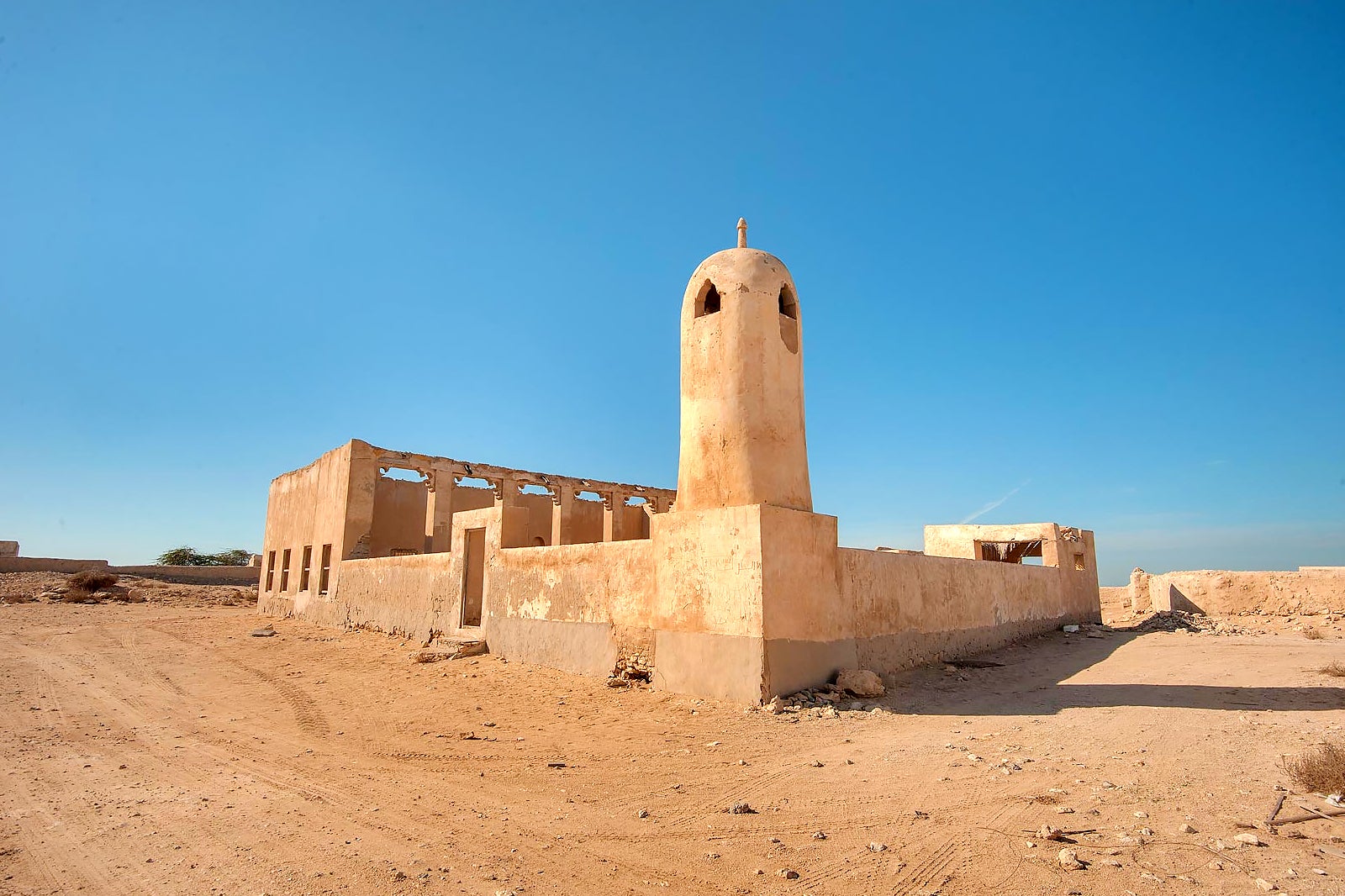 Al Jumail
View ruins of traditional houses, mosques and forts
Al Jumail is an abandoned village between Al Arish and Al Ruwais in Qatar's Al Shamal municipality. Before Qatar's economic boom, the country was largely dependent on the pearl farming and fishing trades. When such trades became obsolete, coastal towns such as Al Jamail were abandoned, leaving a treasure trove of historical structures for tourists to visit.
Mostly, only the walls and doorway tracts of the town's houses remain, but the grounds are peppered with shards of pottery, beads and housewares. Besides the forts, the most impressive structure in Al Jumail is its still-standing Mosque minaret. When you're exhausted from exploring the town's ruins, walk over to the white sandy beach to enjoy a bit of private relaxation.
photo by Alex Sergeev (CC BY-SA 3.0) modified