10 Free Things to Do in Amsterdam
Amsterdam for Budget Travelers
There are plenty of free things to do in Amsterdam if you're traveling on a modest budget. This Dutch city known for its museums and royal buildings, which can be rather expensive if you haven't done proper research prior to your visit. You can save a lot of euros on sightseeing by purchasing an I Amsterdam City Card. This tourist card is a great way to save money on transportation and entrance fees for selected places.
Bike rental is easy and fairly affordable in this cycle-friendly city, though exploring on foot is best if you're looking to save even more euros. The best place to start a short break in Amsterdam is along the concentric 17th-century canals, which are lined with quirky homes and shops. The city also has plenty of beautiful parks, where you get to relax among lush flowers and quirky art. Read on to discover more free things to do in Amsterdam.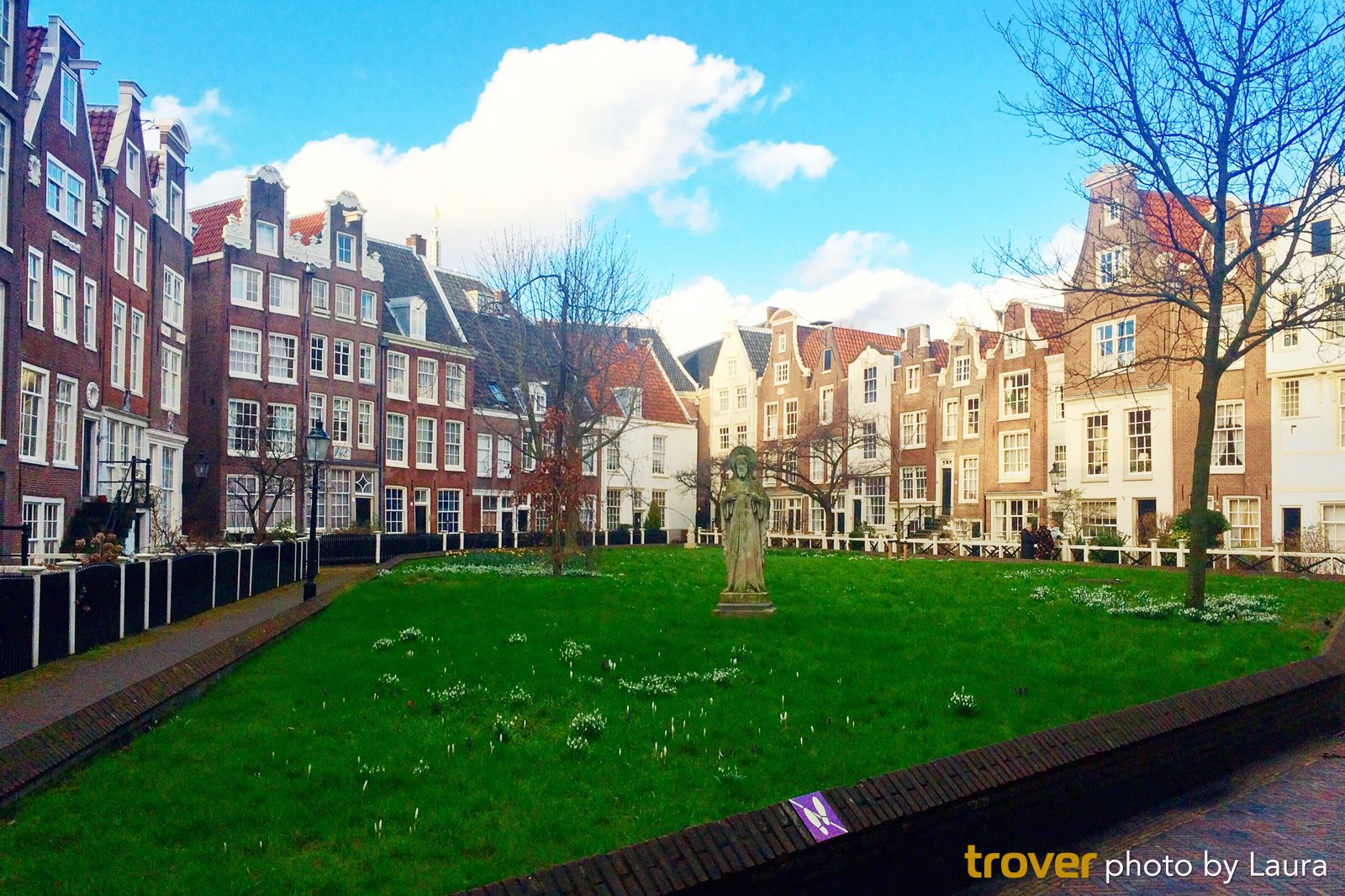 Begijnhof
Enjoy views of 14th-century houses and beautiful gardens
The Begijnhof is a cluster of medieval almshouses that surround a flower-filled courtyard in central Amsterdam. This hidden locale is the home of local beguines, who are Catholic women who live as nuns but aren't bound by vows. The Begijnhof Chapel features beautiful oil paintings depicting the story of the Miracle of Amsterdam in 9 panels. Houten Huys, on Begijnhof 34, was built in 1475, making it the oldest house in Amsterdam.
Location: 1012 AB Amsterdam, Netherlands
Open: Daily from 9am to 5pm
Phone: +31 (0)20 622 1918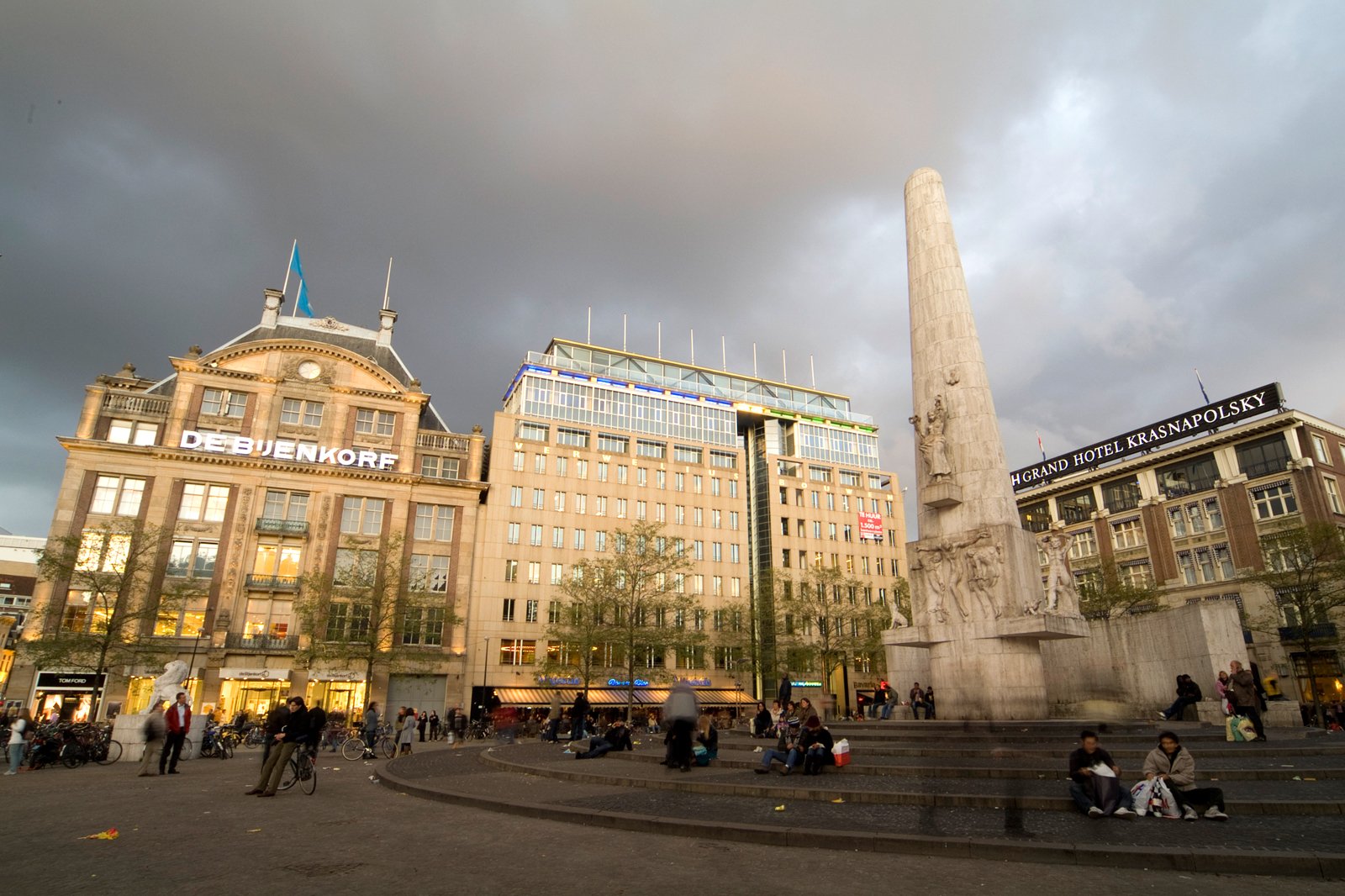 Dam Square
Catch street performances in this public square
Dam Square is an open-air space in front of Amsterdam's Royal Palace (Koninklijk Palace). The public square dates back to the 13th century, and has cobblestoned pathways lined with restaurants, bars, and pubs. It's close to notable landmarks such as the Madame Tussauds Wax Museum, Beurs van Berlage Hall, and New Church (Nieuwe Kerk). A free thing to do in Amsterdam can be found in the middle of Dam Square – street performances and concerts take place almost every day, especially in the summer. Be aware of your surroundings as pickpockets often target the unsuspecting tourists here.
Location: Dam, 1012 JS Amsterdam, Netherlands
Bloemenmarkt
See colorful tulips and daffodils at this floating market
Bloemenmarkt is a floating flower market located on Amsterdam's southern Canal Belt. Since 1862, the market has been supplying flowers to central Amsterdam. It has around 15 stalls inside a row of floating barges, where you can see a variety of flowers, including tulips, roses, daffodils, and lilies. There are several vendors selling gardening tools, decorations, and seeds, too. Entrance for the Bloemenmarkt is free, but you may be tempted to buy a bouquet during your visit.
Open: Monday–Saturday from 9am to 5.30pm, Sundays from 11.30am to 5.30pm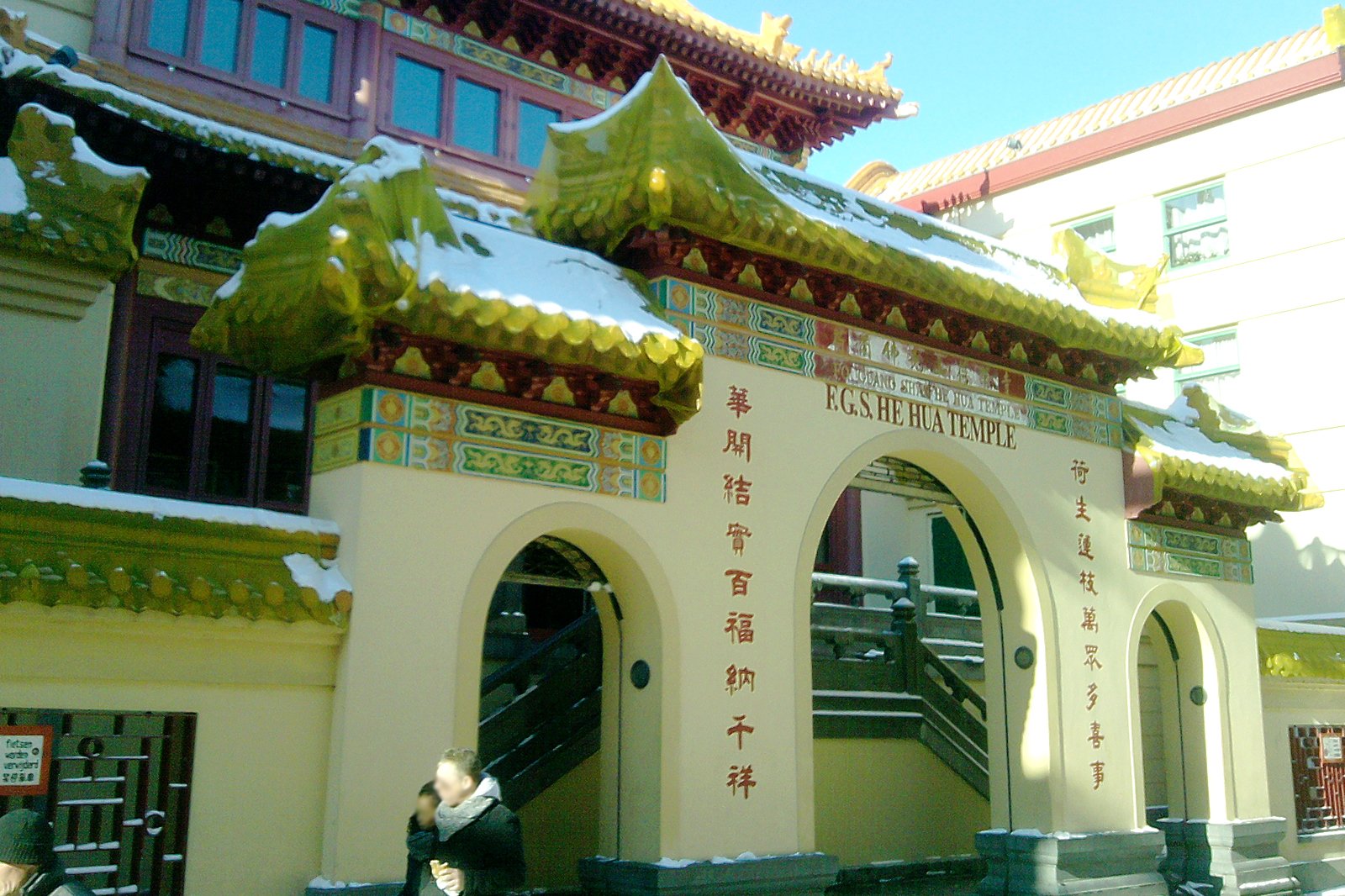 Fo Guang Shan Temple
Join a free calligraphy workshop on Tuesday afternoons
Fo Guang Shan Temple, located in Chinatown Amsterdam, is one of Europe's largest Buddhist shrines. The rooftop is decorated with animals representing the Chinese Zodiac, and the main hall has an altar dedicated to the Goddess of Mercy. Known as Zeedijk Tempel, it serves the local Buddhist community. There are also several free things to do in Amsterdam at this temple – it gets especially lively with firecrackers and traditional lion dances during Chinese New Year. On Tuesdays from 1.30pm to 3.30pm, Fo Guang Shan Temple offers Chinese calligraphy lessons for free.
Location: Zeedijk 106 -118, 1012 BB Amsterdam, Netherlands
Open: Tuesday–Saturday from 12pm to 5pm, Sunday from 10am to 5pm (closed on Mondays)
Phone: +31 (0)20 420 2357
photo by Cookie Nguyen (CC BY-SA 4.0) modified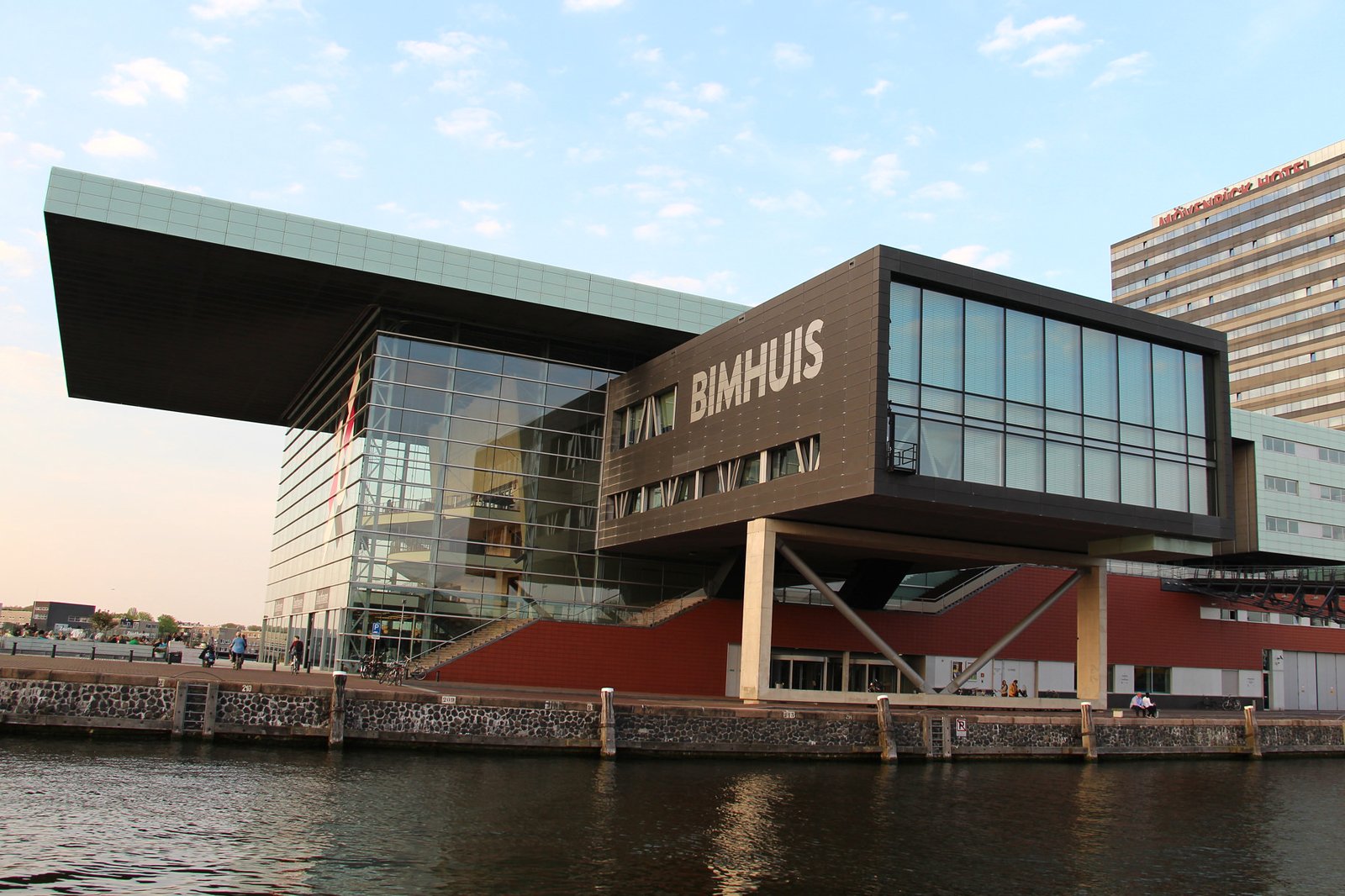 Visit Bimhuis on Tuesdays
Watch impromptu jazz sessions at 10pm
Bimhuis hosts over 300 live jazz and improvised music concerts every year, making it one of Amsterdam's most influential music venues. It occupies a riverfront building at Piet Heinkade 3, next to the Muziekgebouw Complex. Every Tuesday, Bimhuis Café hosts an improvisation workshop at 8pm, followed with a jamming session at 10pm. Both sessions are free for all to enjoy, whether you're a budding musician or simply a fan of jazz.
Location: Piet Heinkade 3, 1019 BR Amsterdam, Netherlands
Open: Daily from 6.30pm to late
Phone: +31 (0)20 788 2150
Couples
Nightlife
Budget
Single
photo by Fred Romero (CC BY 2.0) modified
Westerkerk
Enjoy Westertoren carillon concerts in the afternoon
Westerkerk (Western Church) towers over Amsterdam's city center with its 85-meter-tall bell tower. Step inside this 17th-century church, and you'll see a grand organ above the entrance, with panels painted by Flemish painter Gerard de Lairesse. The church serves the local Protestant community, with religious services taking place on Sundays from 10.30am till noon. Westerkerk is typically busy on Tuesdays from midday to 1pm, when you can enjoy carillon concerts.
Location: Prinsengracht 279, 1016 GW Amsterdam, Netherlands
Open: April–November: daily from 10am to 3pm. December–March: Monday – Friday from 10am to 3pm
Phone: +31 (0)20 624 7766
Couples
History
Photo
Budget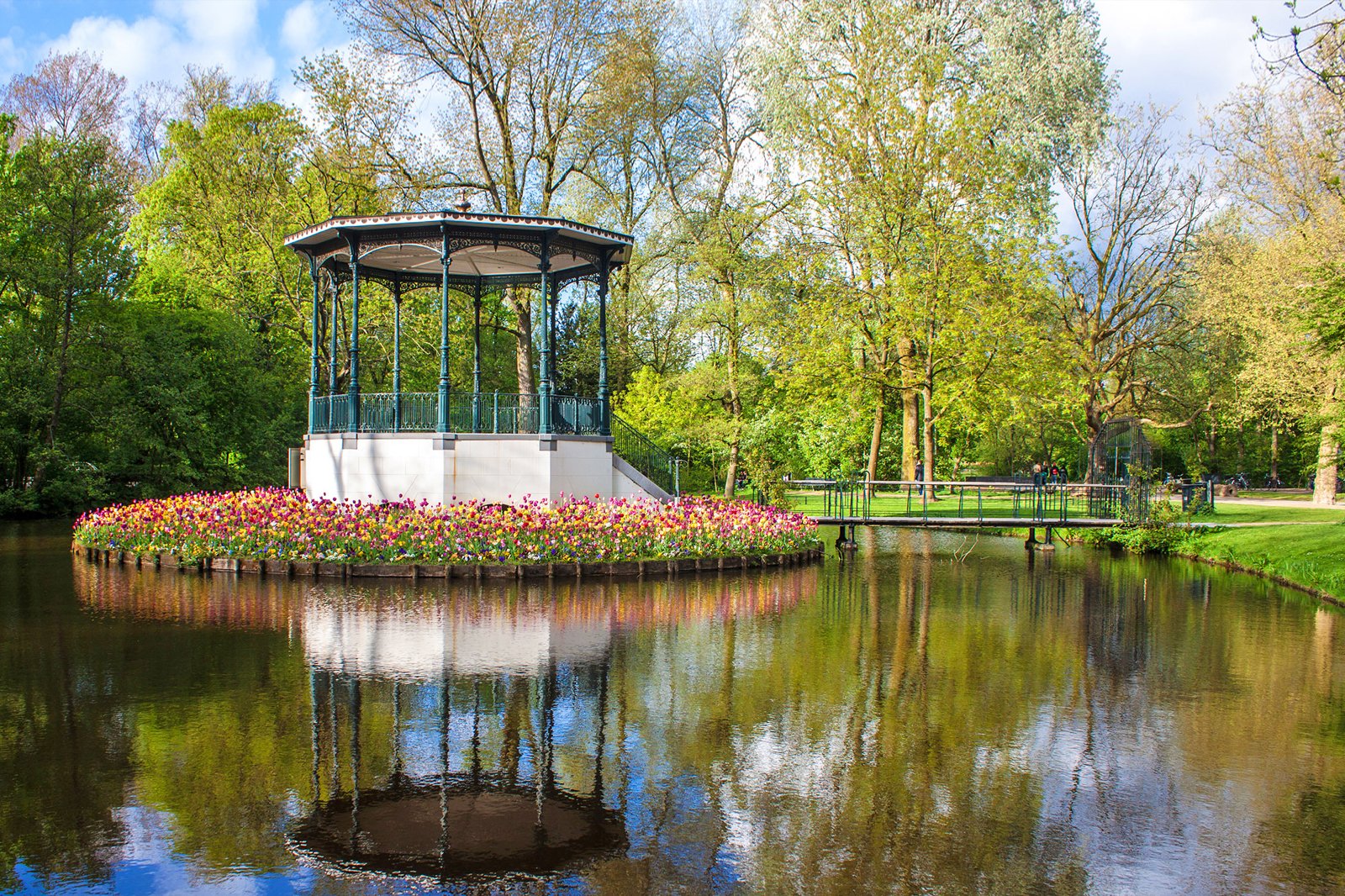 Vondelpark
Catch dance and music concerts in summer
Vondelpark is the city's equivalent to Central Park in New York, and offers plenty of free things to do in Amsterdam. The park spans about 50 hectares of green space filled with flowery lawns, ponds, playgrounds, and pathways. Families get to frolic about in the park's 6 play areas, rent skateboards or bicycles, and enjoy picnics with views of a large pond. Vondelpark is particularly special in summer, when a never-ending festival vibe takes place at the Openluchttheater, an open-air theatre in the middle of the park.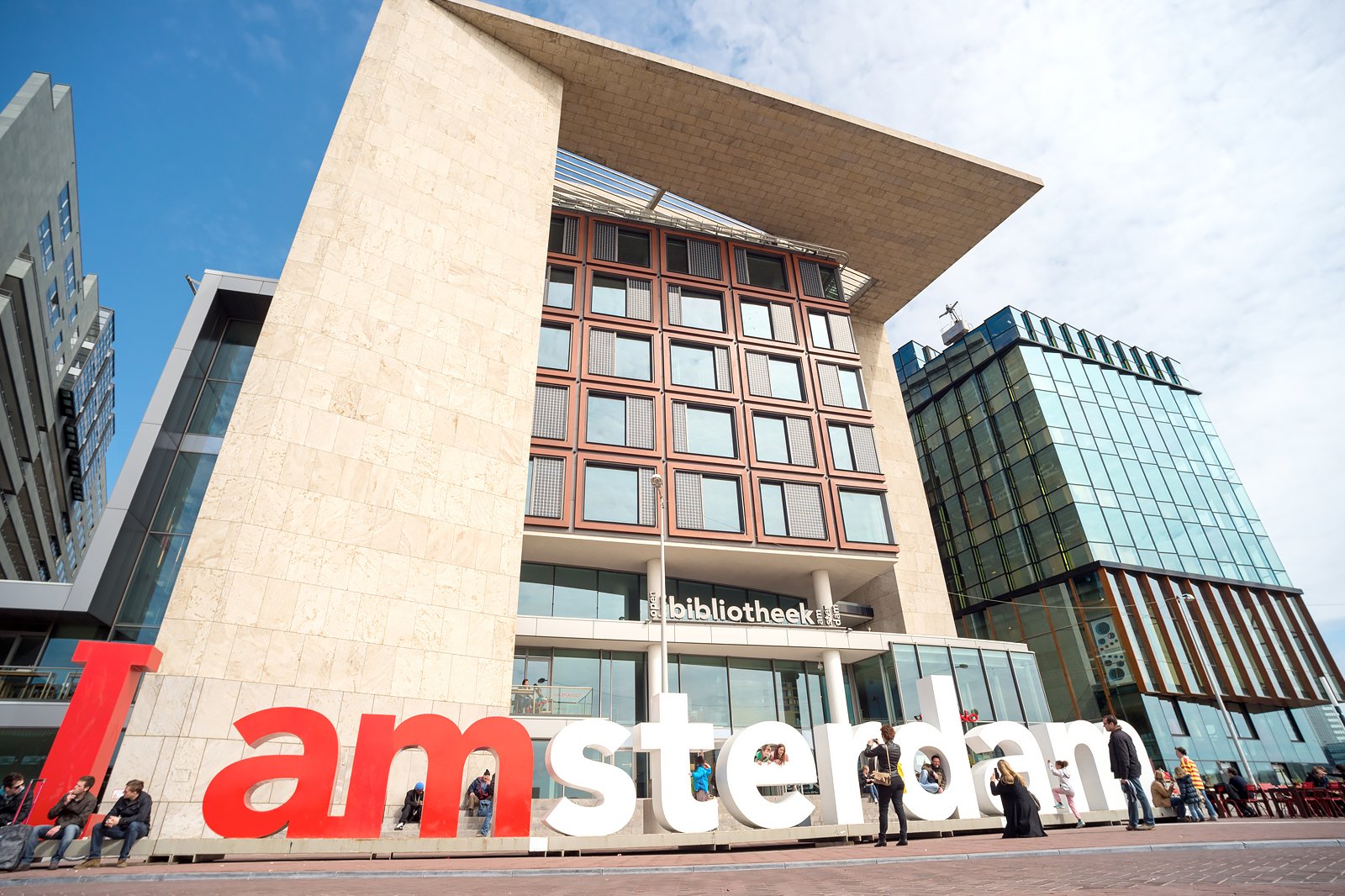 Amsterdam Public Library (OBA)
See expansive views of Amsterdam from the top floor
The Amsterdam Public Library (OBA) offers book lovers over 1 million reading materials, most of which are in Dutch and English. Reading a book is one of the best free things to do in Amsterdam, and this library fits the bill rather well. It accommodates over 1,000 people, with a separate floor for temporary exhibits, reading sessions, and concerts. The library has an onsite restaurant on the 7th floor, which has a terrace with panoramic views of Amsterdam. Occupying a riverfront building in Oosterdokskade, the Amsterdam Public Library is about 700 meters east of Amsterdam's Centraal Station.
Location: Oosterdokskade 143, 1011 DL Amsterdam, Netherlands
Open: Monday–Friday from 8am to 10pm, Saturday–Sunday from 10am to 10pm
Phone: +31 (0)20 523 0900
photo by Gkamiya (CC BY-SA 3.0) modified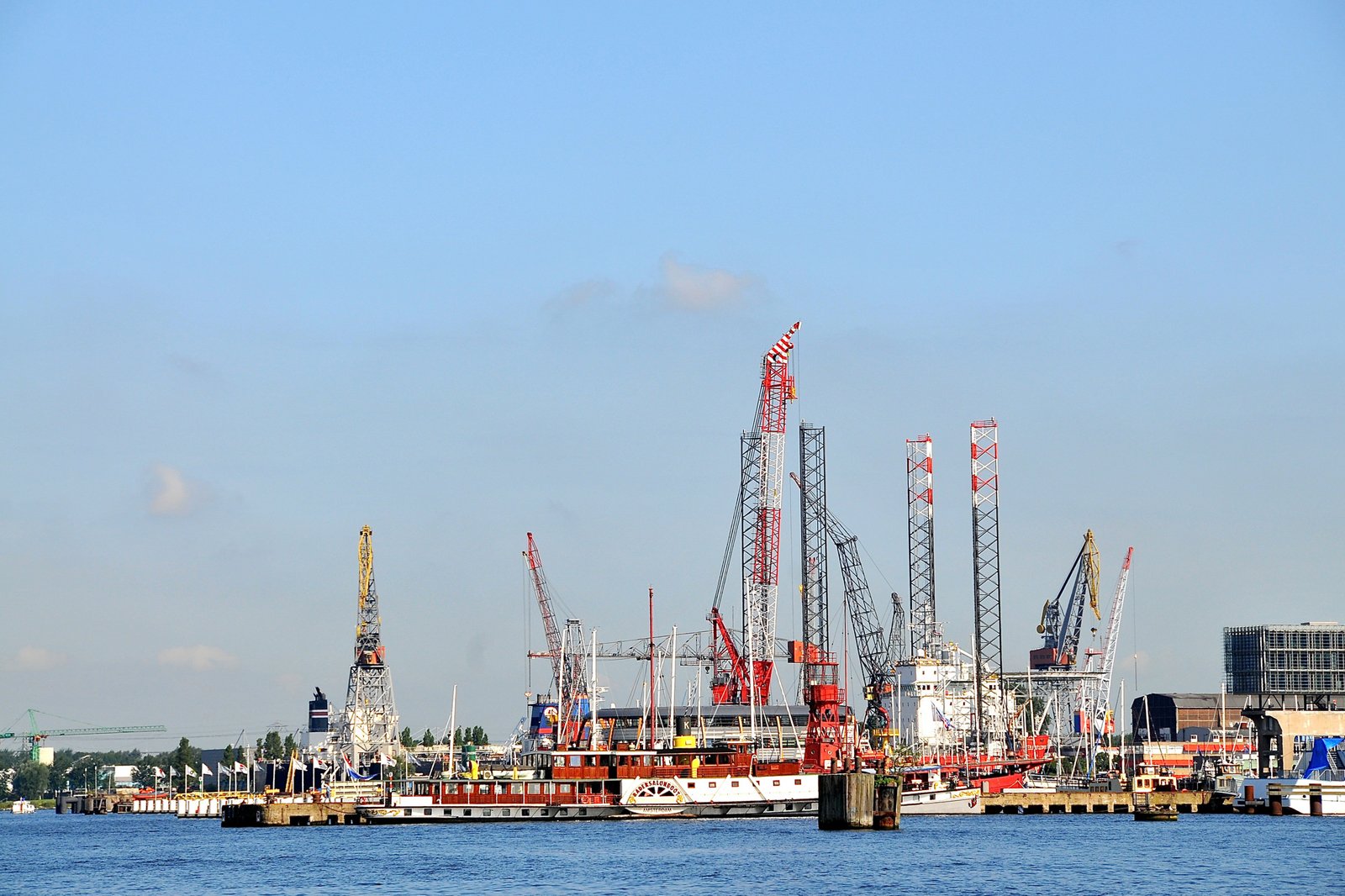 NDSM Werf
Ride a free ferry to this artsy waterfront
NDSM Werf is an artsy waterfront where you can enjoy quirky art installations and workshops by local artists. From impressive wall murals to sculptures made with recycled materials, you'll find plenty of free things to do in Amsterdam's trendy art scene. The NDSM-Werf Museum displays artifacts dating back to between the 1920s and 1980s, when the wharf was one of the largest shipyards in the world. A free public ferry departs for NDSM Werf every day from the port behind Centraal Station.
Location: NDSM-Plein 28, 1033 WB Amsterdam, Netherlands
Phone: +31 (0)20 493 1070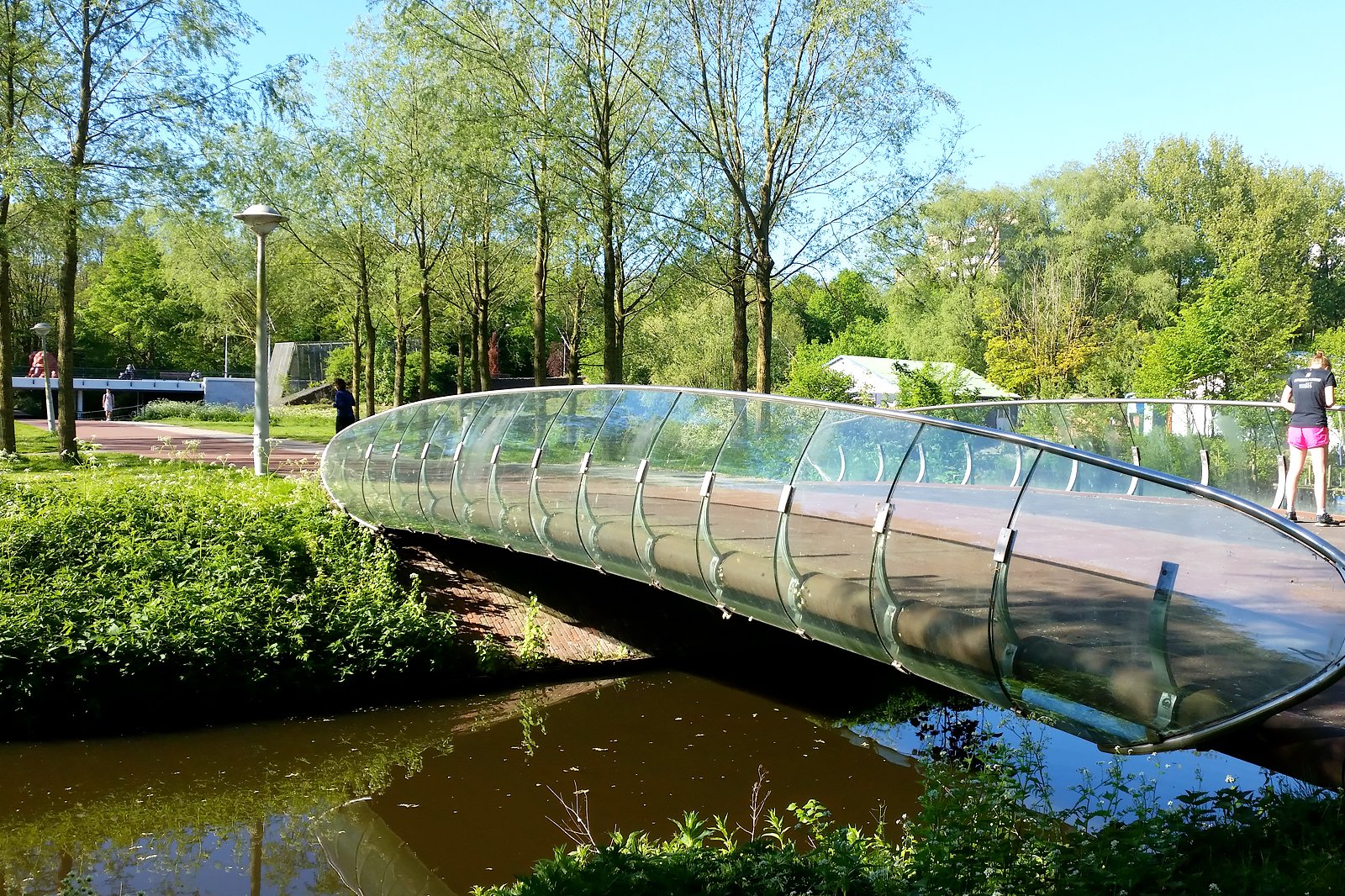 Rembrandtpark
Play with animals at the De Uylenburg petting zoo
Rembrandtpark is a city park with idyllic ponds, paved pathways, playgrounds, and children's centres. It's located in Amsterdam West, about 1.7 km northwest of Vondelpark. One of the most popular free things to do in Amsterdam is visiting horses, peacocks, and chickens at De Uylenburg, a petting zoo named after Rembrandt's wife. The park also has a children's amusement center, where they get to learn how to build cabins, ride horses, and make jewelry.
Location: Orteliuskade 57, 1057 Al Amsterdam, Netherlands
Couples
Families
Budget
Group
photo by Ceescamel (CC BY-SA 4.0) modified