10 Best Things to Do in Monaco
What is Monaco Most Famous For?
Monaco is famously the playground of the rich and famous, despite being the world's 2nd-smallest nation. Spanning just 200 hectares, this historic principality features grand casinos, designer malls, opulent bars and clubs, and a human-made beach, attracting celebrities and vacationers year-round.
Located along the French Riviera, Monaco enjoys a warm climate during most of the year, though we recommend visiting in April or early autumn if you want to avoid hoards of crowds and get discounted hotel rates. Check out some of the best things to see and do during your stay in Monaco.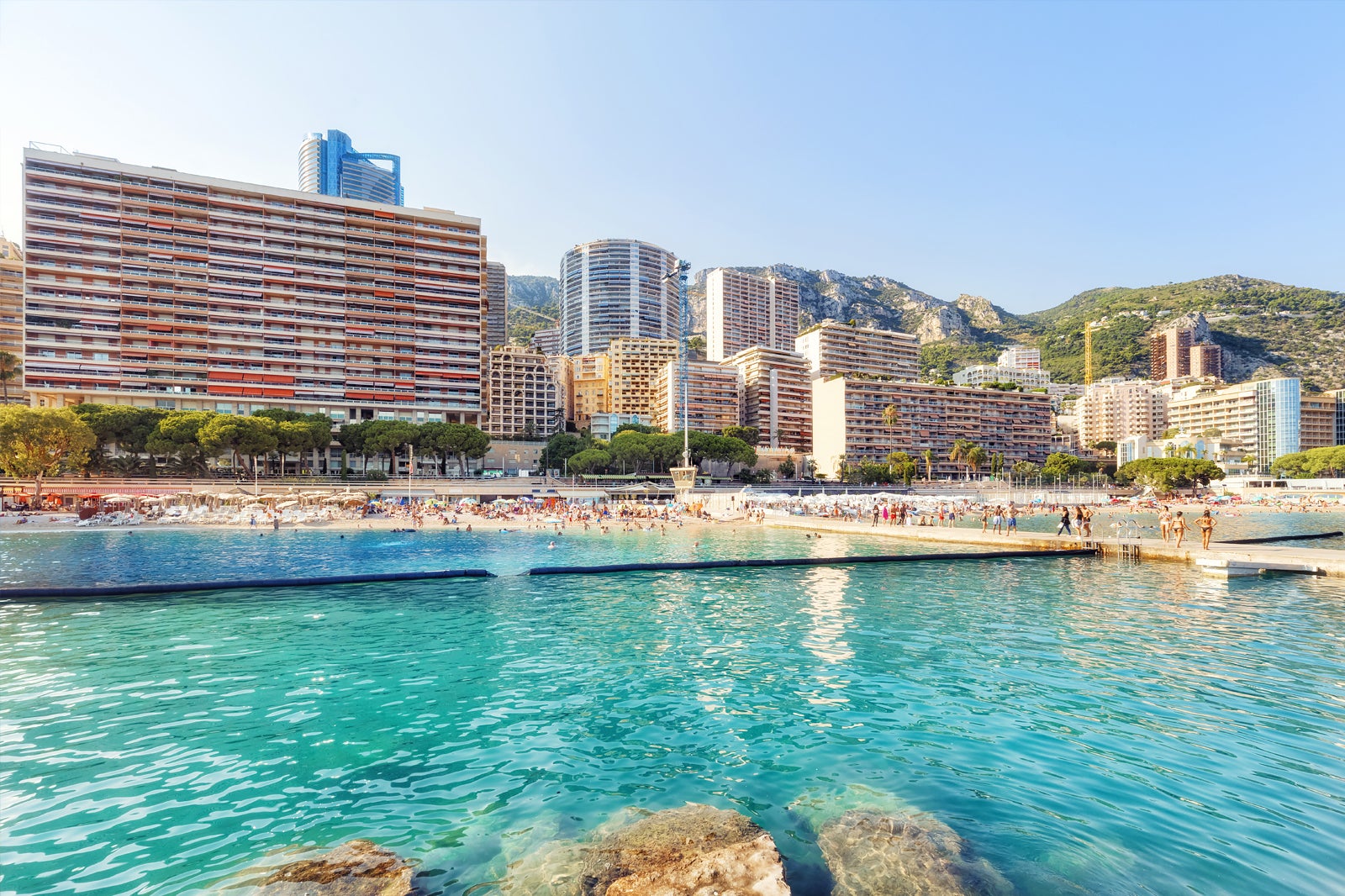 Start the day at the beach
Only one is open to the public
Whether you want to soak up the sun or enjoy waters sports, there's really no better place to go than Larvotto Beach, which happens to be the only Monaco beach that's open to the public. The sea is surrounded by nets to protect tourists from jellyfish, and the long strip of golden sand provides ample space to sunbathe.
Expect to face crowds of tourists during the peak tourist season. We recommend laying down your towel or paying a few euros for a lounger early to secure a comfortable spot. The beach itself is surrounded by plenty of restaurants and offers facilities like free toilets, changing rooms and showers.
Location: Larvotto Beach, Monaco-Ville, 98000 Monaco
Must-See: Palais du Prince
Tour the head of state's home
The Palais du Prince is the official residence of Prince Albert II, Monaco's current head of state. The building dates back to the 13th century and thanks to its hilltop location, this elegant building can be seen from almost anywhere in Monaco.
Tours are available to the public. Inside the palace, you can view the ornate Throne Room, Italianate-style gallery, the famous Blue Room and a Palatine Chapel. Tickets cost around €8 per adult and €4 per child. Twin tickets are available if you also want to combine a visit to Palais du Prince with the Oceanographic Museum or the prince's car collection.
Location: Palais du Prince, Monaco-Ville, 98015 Monaco
Open: April–mid-October: daily from 10am to 6pm
Phone: +377 93 25 18 31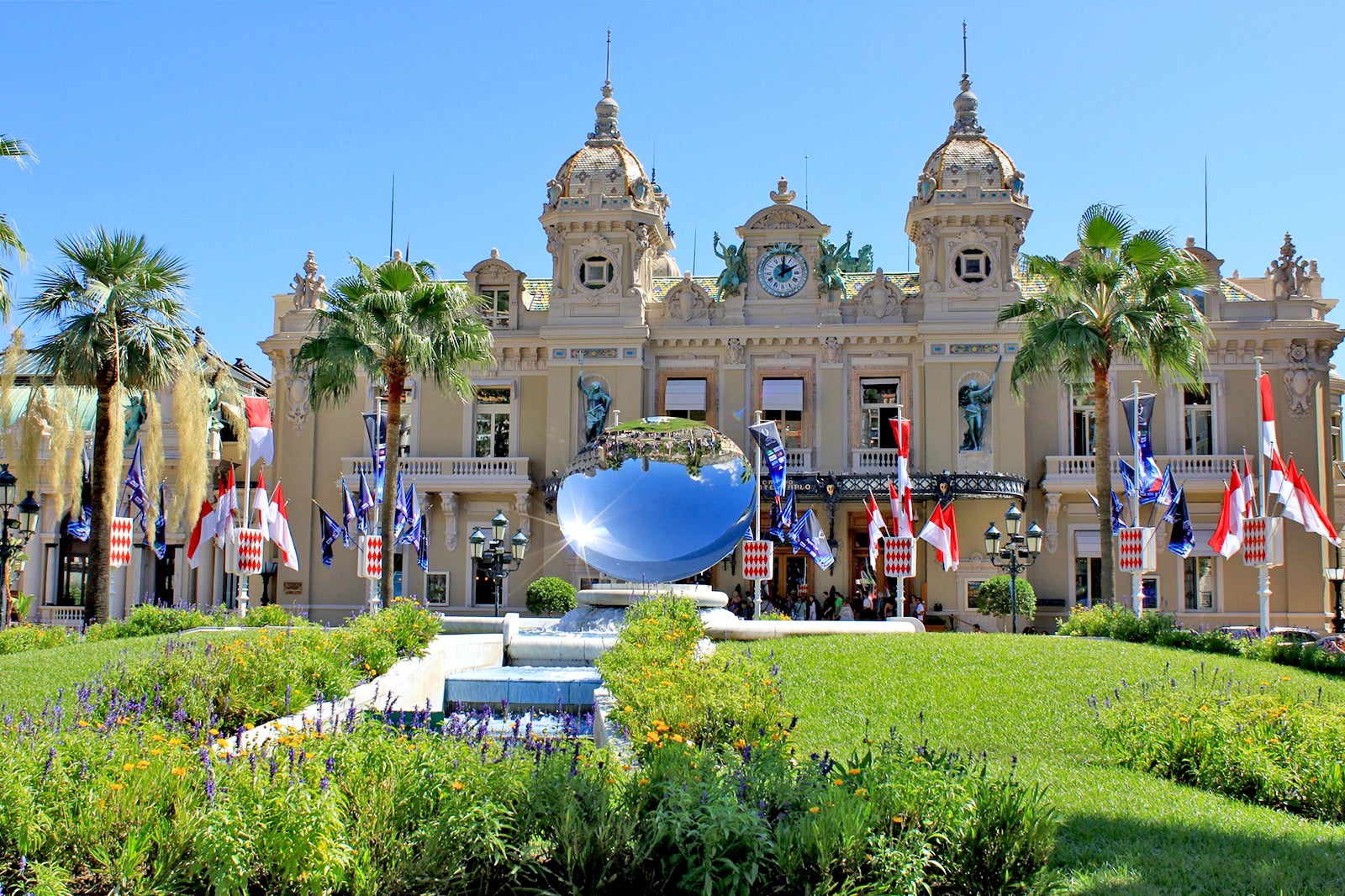 Visit the casinos
Gamble with the nation's high-rollers
Monaco is perhaps most famous for being a playground for the rich and famous, which is reflected by its numerous casinos in the Monte Carlo ward. Casino de Monte Carlo is arguably the most popular gambling hotspot, though the Casino Le Café de Paris is the largest venue in the principality, with over 400 gaming and video poker machines.
If you fancy placing wagers amid celebrities and business magnates, Monte Carlo is the place to go. You'll find around 100 table games and 1,000 slot, gaming and video machines spread across the city's 4 casinos.
Location: Place du Casino, 98000 Monaco
Open: Daily from 2pm to 4am
Phone: +377 98 06 41 51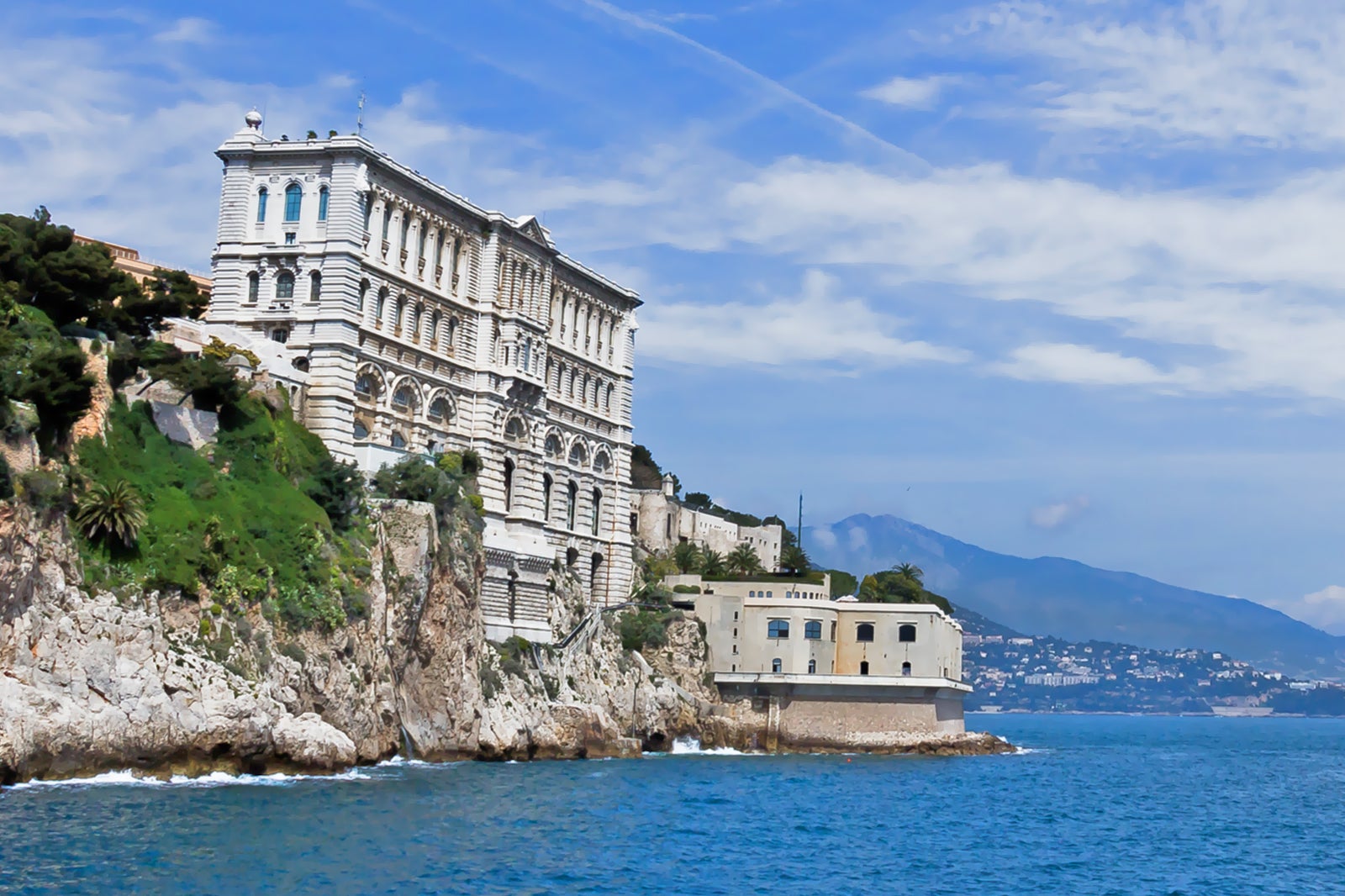 Explore Musée Oceanographique
Get close to over 6,000 marine life
Musée Oceanographique houses over 6,000 marine life and reconstructed coral reefs, and around 100 pools designed to replicate the natural environment of the animals that live in them. Officially opened in 1910, it's one of the oldest aquariums in the world.
If you want to get close to sharks, sea urchins and a vast array of tropical and Mediterranean sea creatures, head to Musée Oceanographique at 10am to beat the queues and view the aquariums before swarms of crowds flood the building. By paying around €8, you get a ticket that grants you entry to the museum and the Palais du Prince.
Location: Avenue Saint-Martin, 98000 Monaco
Open: Daily from 10am to 7pm
Phone: +377 93 15 36 00
photo by Loïc (CC BY-SA 2.0) modified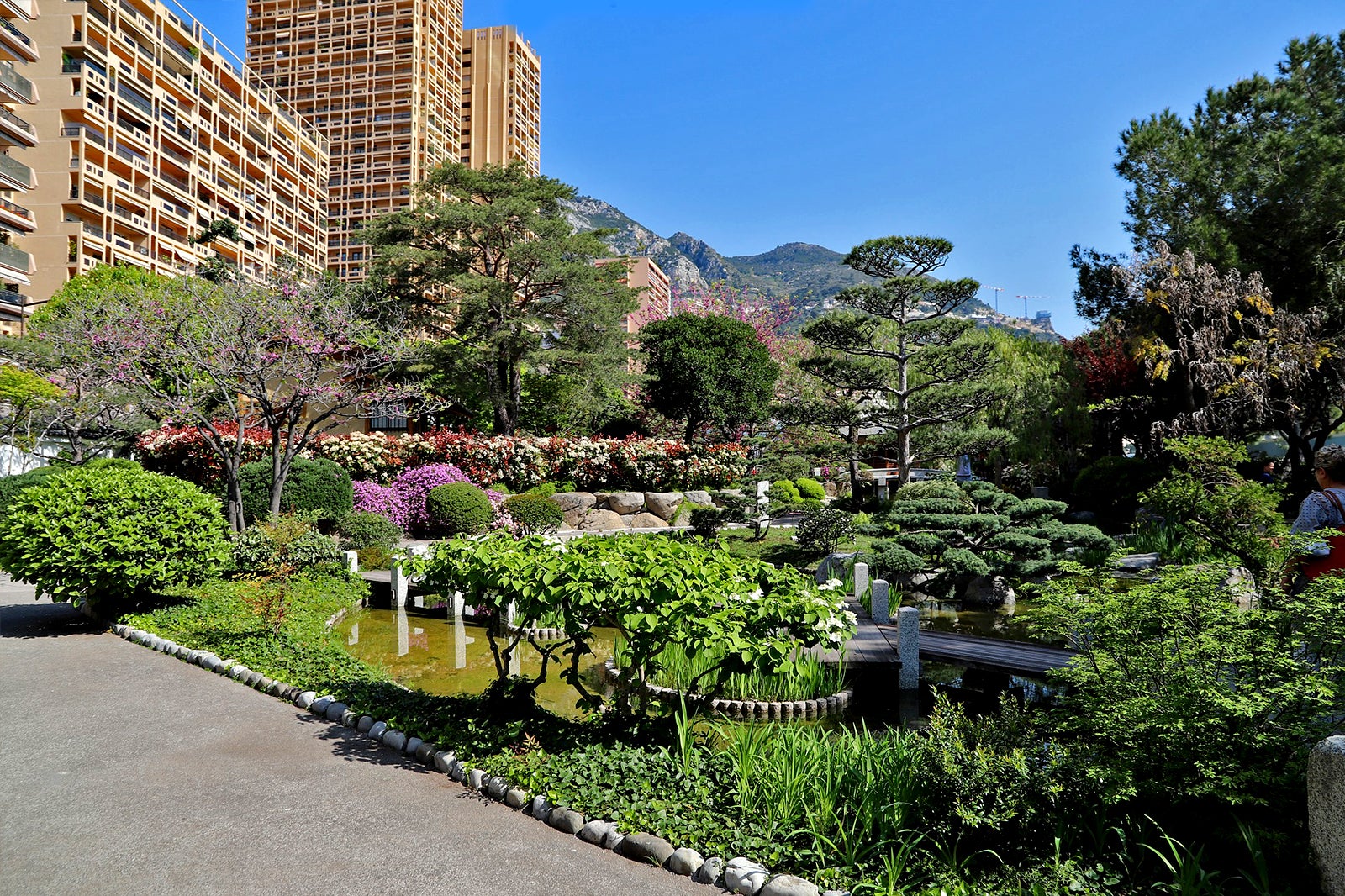 Explore Monaco's gardens
Become one with nature and relish in stunning vistas
Monaco may be the world's 2nd-smallest sovereign state, but it boasts plenty of green spaces that offer a break from the hustle and bustle of the casino and shopping districts. Head to Fontvieille just outside the city center to relax at Jardin Exotique, which overlooks the ocean, offers stunning vistas, and provides a home to over 7,000 species of plants. Nearby, there's an Observatory Cave where you can check out stalactites and stalagmites.
If you want to enjoy some peace and quiet, head to Les Jardins St Martin in the historic Monaco-Ville district. This park is full of snaking paths, shaded benches, sculptures and coastal views, and because it doesn't attract hoards of tourists, it's one of the best places to enjoy a quiet picnic.
Location: Monaco-Ville, 98000 Monaco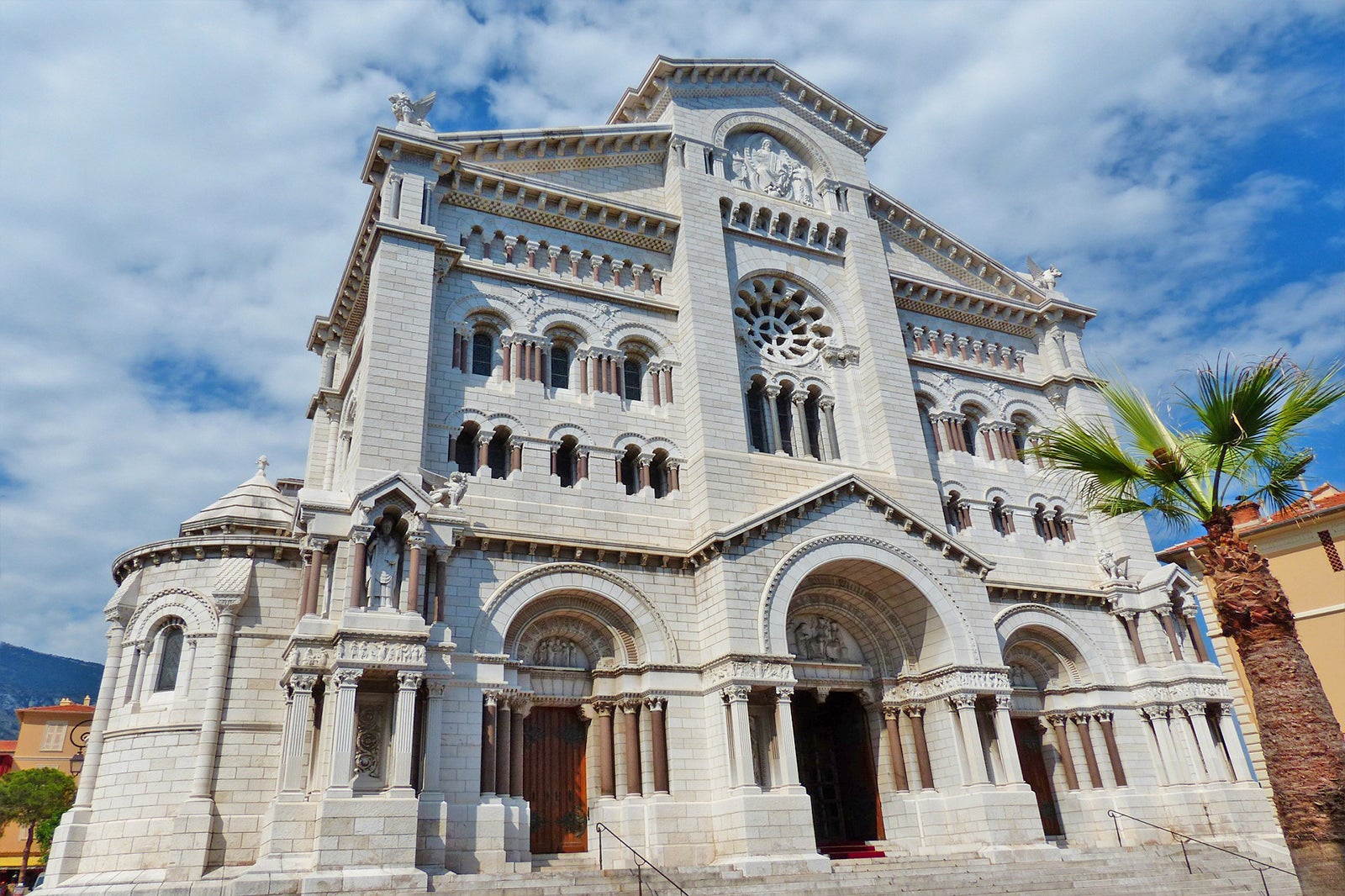 Must-See: Monaco Cathedral
Monaco's iconic place of worship
Explore Monaco-Ville to find Monaco Cathedral, which was constructed using white stones during the 19th century. Inside this Neo-Romanesque structure, you'll find a grand organ, a white marble altar, and ornaments dating back to the 16th century. It also houses the remains of Monaco's princes and princesses.
As a place of worship, there is no entrance fee to Monaco Cathedral. We recommend allocating a couple of hours to tour this iconic religious site, and remember to be respectful by wearing appropriate clothes and exploring this historical building in silence.
Location: 4 Rue Colonel Bellando de Castro, 98000 Monaco
Open: Daily from 8.30am to 7.00pm (except for Mass)
Phone: +377 93 30 87 70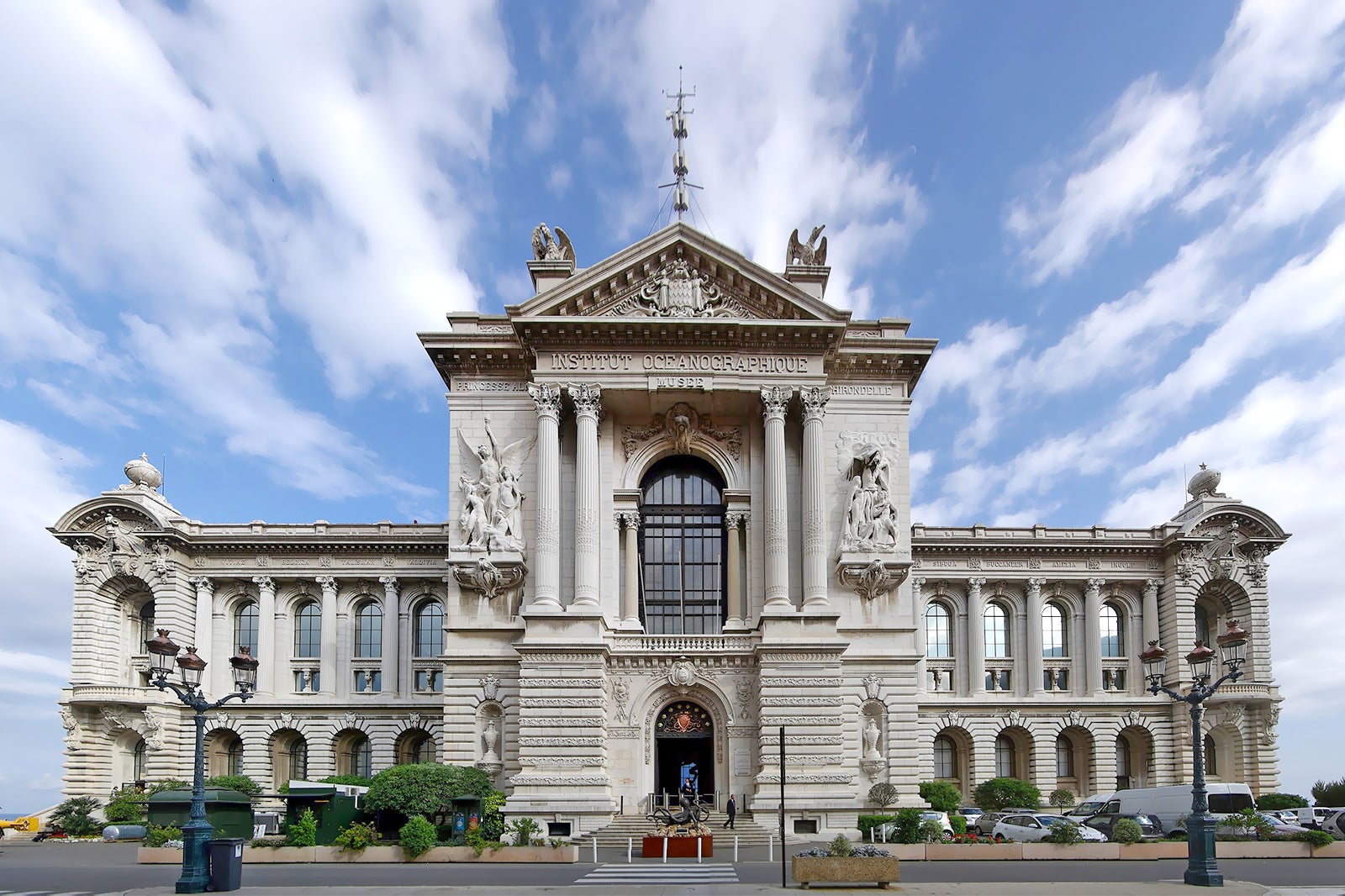 Visit museums
Learn about Monaco's history
Monaco has plenty of fascinating museums, the most visited being the Musée Oceanographique, which is home to over 6,000 sea creatures. However, other museums worth visiting include the Musée de la Chapelle de la Visitation on Le Rocher and the Monaco Naval Museum, which overlooks the marina.
The Naval Museum features Spanish galleons, Roman ships, traditional Viking longboats and a model of the Titanic. In total, there are over 250 model ships and maritime artifacts in this impressive building , taking you on a journey through Monaco's history.
Location: Terrasses de Fontvieille, niveau 2, Avenue Albert II, 98000 Monaco
Open: Daily from 10am to 6pm
Phone: +377 92 05 28 48
photo by Berthold Werner (CC BY-SA 3.0) modified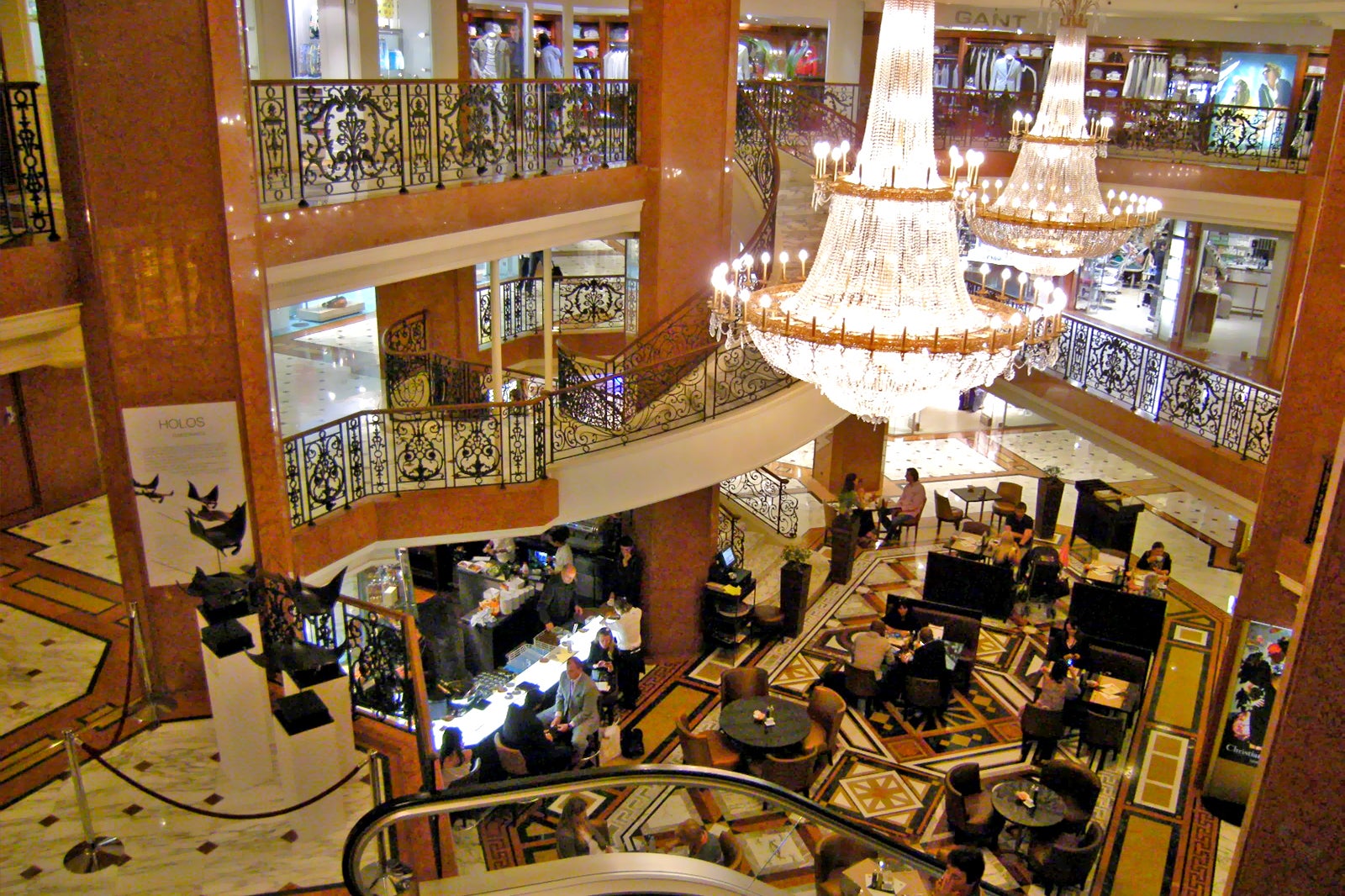 Stock up on designer goods at Métropole Shopping Center
Embrace Monaco's upscale shopping experiences
Given Monaco's status as a playground for the rich and famous, it's no surprise that the principality offers an abundance of high-end shopping opportunities. Located opposite the Casino Gardens, the Métropole Shopping Center houses around 80 designer boutique stores, but its opulent interior makes it worth a visit even if you don't intend to stock up on expensive clothes and goods. You'll be welcomed into a luxurious setting with marble floors and stylish period chandeliers.
Some of the brands you'll find inside the Métropole Shopping Center include Gucci, Giovanni Raspini, Chantelle and Crème de la Mer – make sure you're equipped with plenty of cash if you intend to replenish your collections of clothes, perfumes and jewelry.
Location: 17 Avenue des Spélugues, 98000 Monaco
Open: Monday–Saturday from 10am to 7.30pm (closed on Sundays)
Phone: +377 93 50 15 36
photo by Leandro Neumann Ciuffo (CC BY 2.0) modified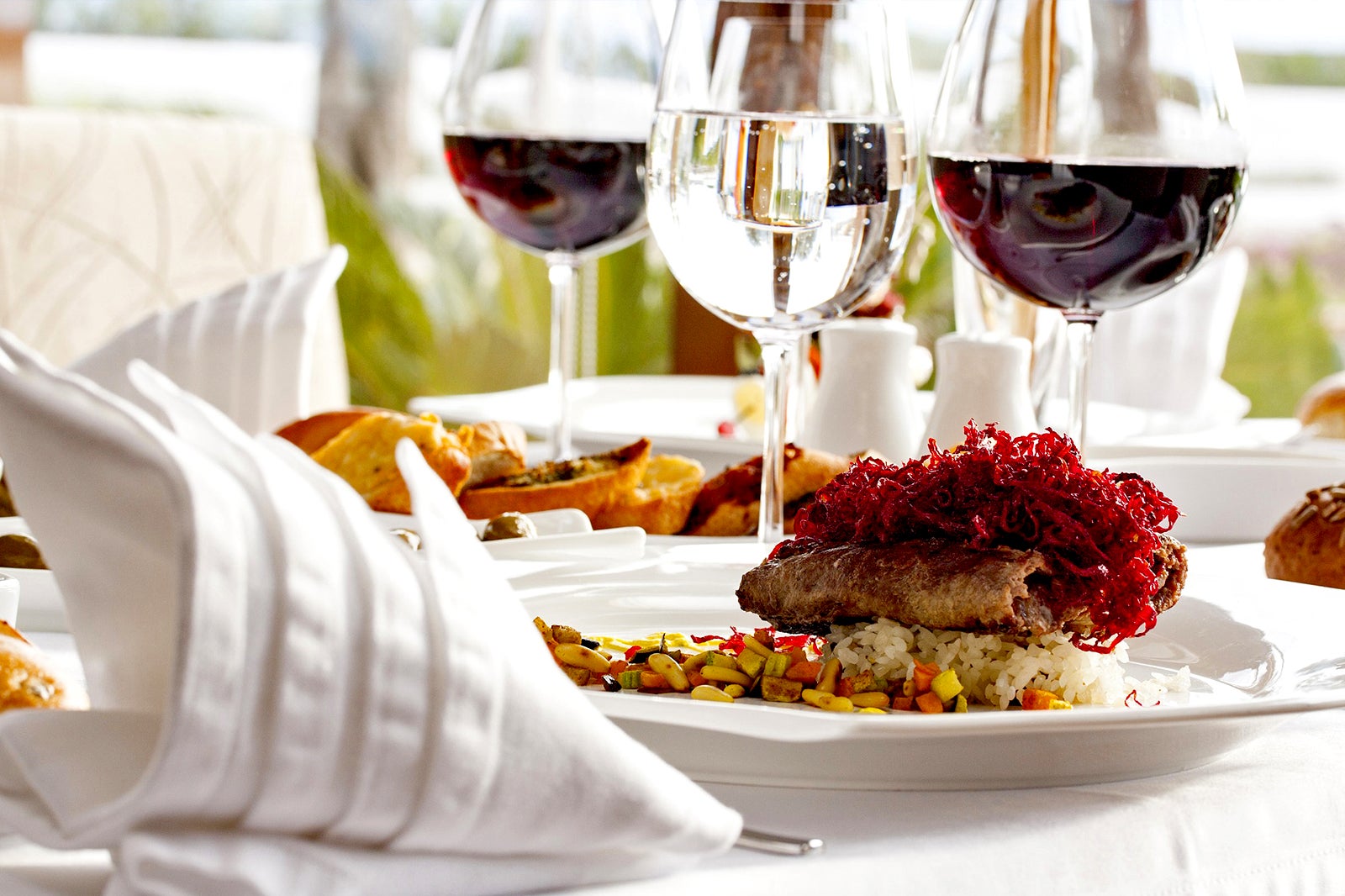 Enjoy fine dining
Eat at Michelin-starred restaurants in Monte Carlo
Many claim that Monaco has more Michelin-starred restaurants per sq m than any other country. These fine-dining establishments are dotted all over the principality, and offer just about any dish you can imagine. You'll find a cluster of them in the Monte Carlo ward that serve Mediterranean delights using the finest ingredients.
Le Louis XV – Alain Ducasse is a trendy restaurant with 3 Michelin stars. It has a wine cellar containing over 400,000 bottles, while its food menu consists of local favorites like ravioli (served with wood mushrooms, avocado and cabbage) and blue lobster (with cime di rapa, baby turnips and pink peppers). Book your table early because this establishment is in high demand.
Location: Hotel de Paris Monte-Carlo, Place du Casino, 98000 Monaco
Open: Friday–Monday from 12.15pm to 1.45pm and from 7.30pm to 9.45pm, Thursday from 7.30pm to 9.45pm (closed on Tuesdays and Wednesdays)
Phone: +377 98 06 88 64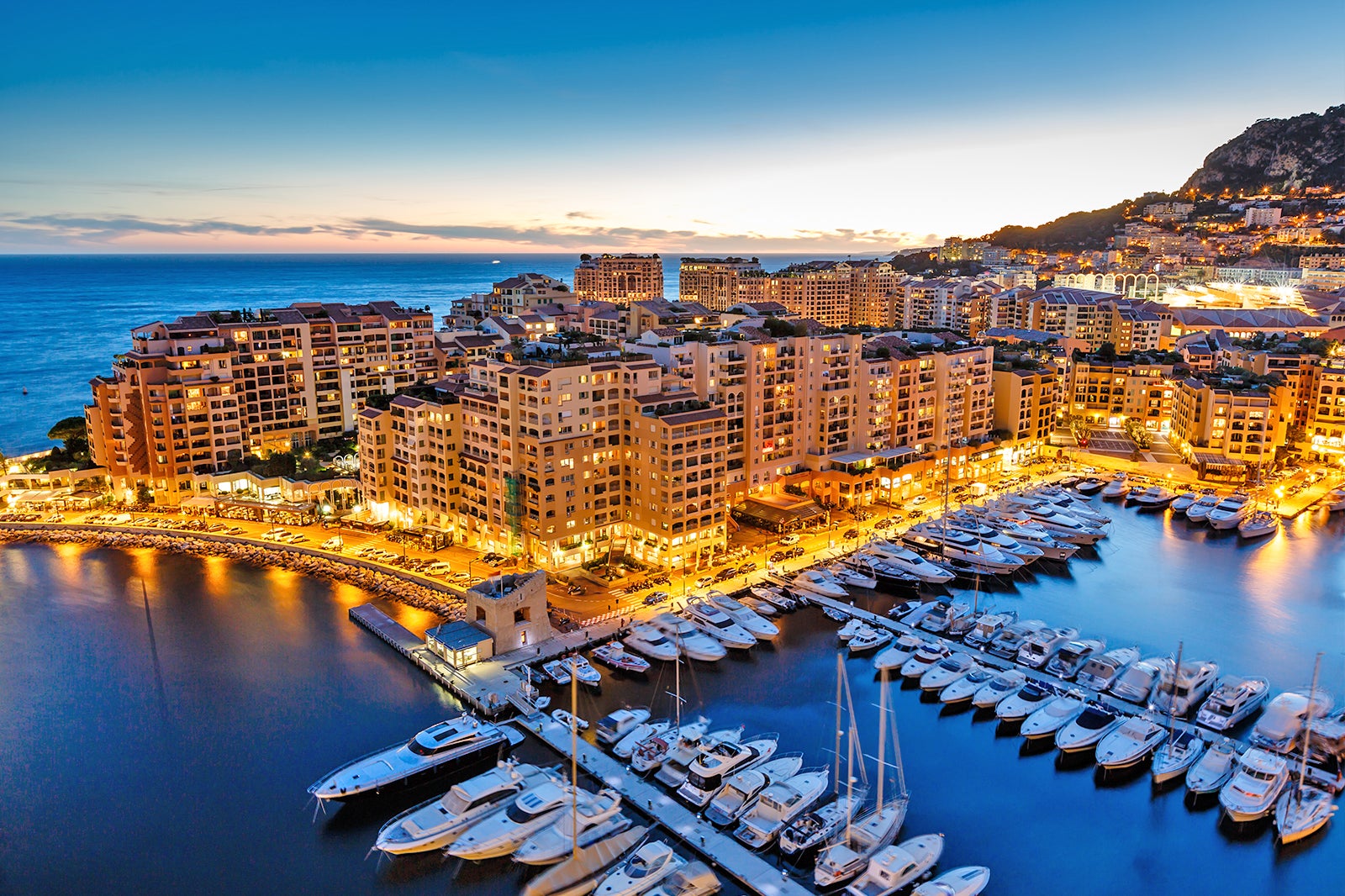 End the day at a waterfront bar
Mingle with the rich and famous at night
You won't struggle to find a place to drink and party after the sun goes down in Monaco, thanks to its dozens of late-night bars and nightclubs – you might even bump into a celebrity or two while you're there. Whether you want to dance until dawn or enjoy a jazz-and-swing night, you'll find something that matches your night-time desires in Monaco.
Jimmy'z Place du Casino is one of the most iconic clubs in Monaco, offering fabulous cocktails, light bites and stunning views over the city and ocean. Its outdoor space, which features circular canopies over its open-air seating area, is what makes it so enchanting. You'll be shoulder to shoulder with affluent partygoers when the sun goes down in Monaco.
Location: 26 Avenue Princesse Grâce, 98000 Monaco
Open: Thursday–Saturday from 11.30pm to 6.30am (closed on Sunday–Wednesday)
Phone: +377 98 06 70 68