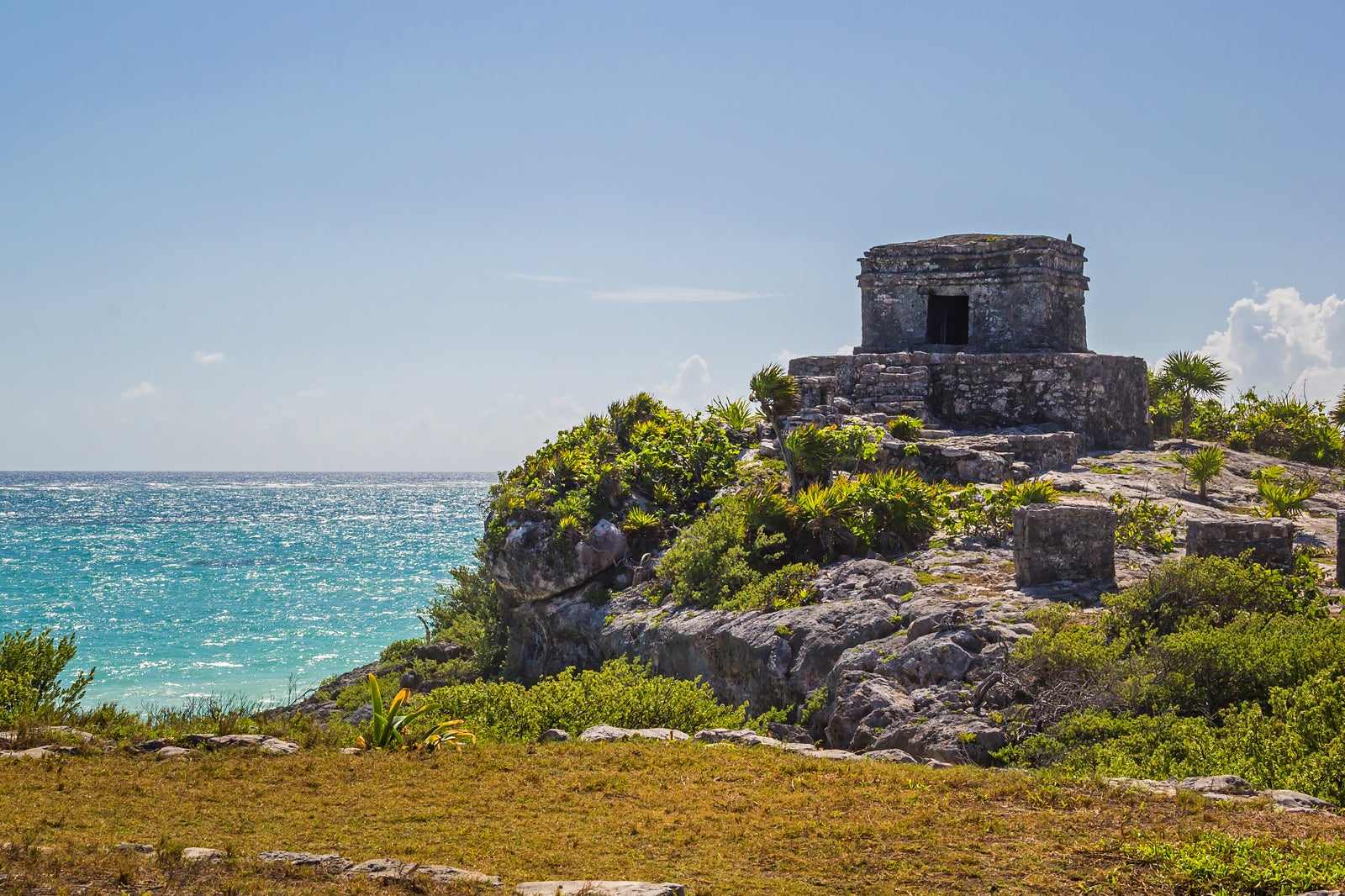 The Tulum Archeological Zone is a centuries-old Mayan city perched on a bluff overlooking Mexico's stunning Caribbean coastline. Although the ruins themselves aren't quite as impressive as Chichen Itza or Teotihuacan, their exotic beachfront setting makes them a major drawcard in the Yucatán Peninsula. Majestic tiered structures, tall swaying palms, sugary white sands, and clear turquoise waters create a picture-perfect scene.
Tulum means "wall" in Mayan – the fortress was formerly enclosed by 3 stone brick walls and a natural reef to defend against invaders. Its previous name, Zama, translates to "The City of Dawn," a reference to the spectacular sunrises that define this east-facing locale.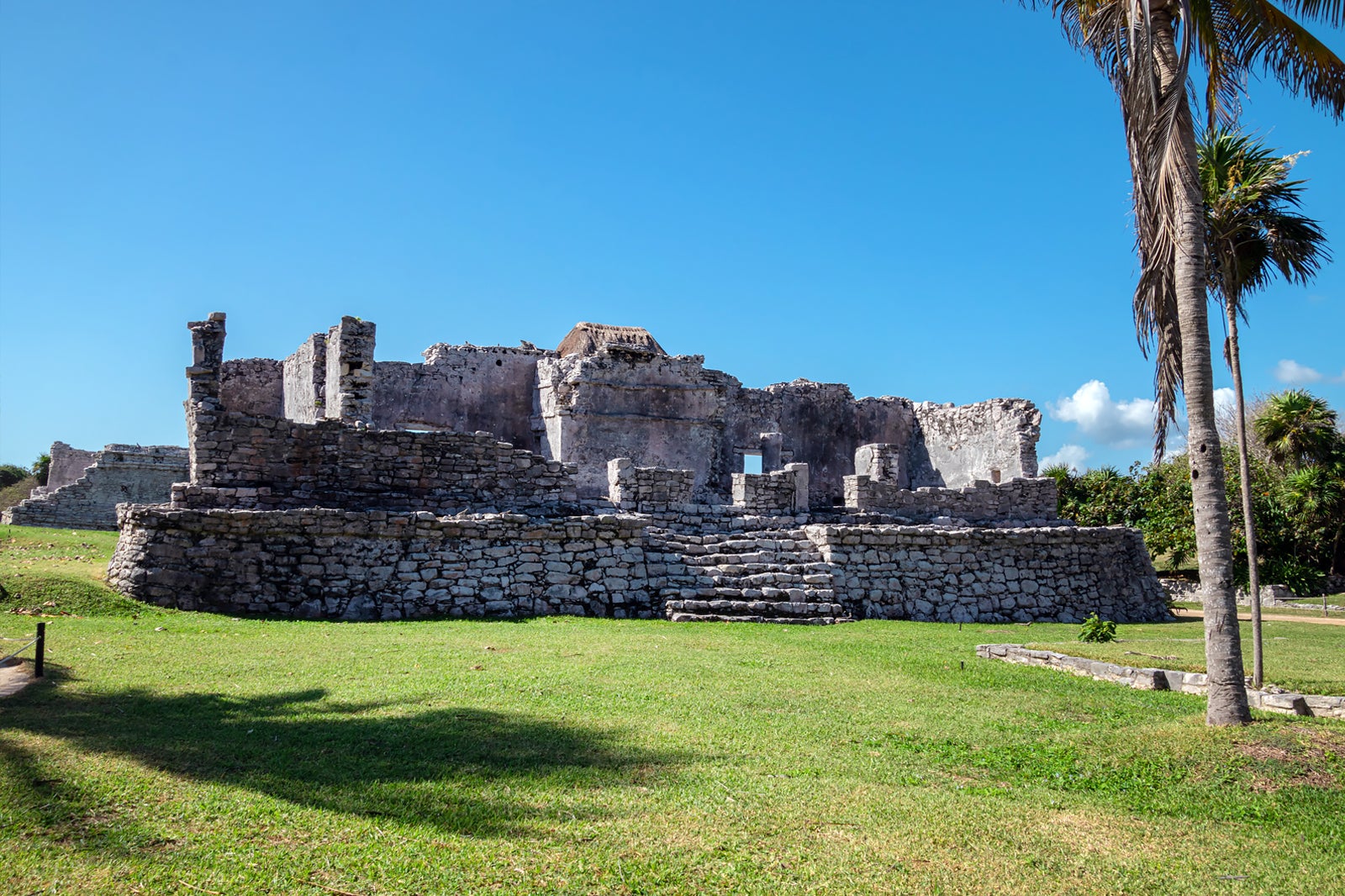 What are the highlights of the Tulum Archeological Zone?
The most prominent structure is The Castle (El Castillo), a photogenic 7.5-metre pyramid that straddles the edge of a cliff. Archaeologists believe the Mayans built it as a lighthouse to guide canoes safely to shore. Merchant sailors would align their vessels with daylight shining through its windows to avoid crashing into the jagged reef below. This ingenious navigational system allowed Tulum to become an important trading port in the Postclassic period.
Opposite El Castillo is the Temple of the Frescos, which once served as an observatory for tracking the stars and the sun. Inside, original carvings and motifs pay homage to Mayan deities. Keep an eye out for the God of Descending stucco figurine that adorns the western wall.
The House of the Columns, with its 4 interconnected rooms, and Halach Uinic, which housed the high priest, are also well worth a look.
Once you're done, meander down the wooden staircase toward Playa Ruinas. This stunning Caribbean beach blends sublime tropical scenery with the ancient wonders above – sunbathing is an experience to remember.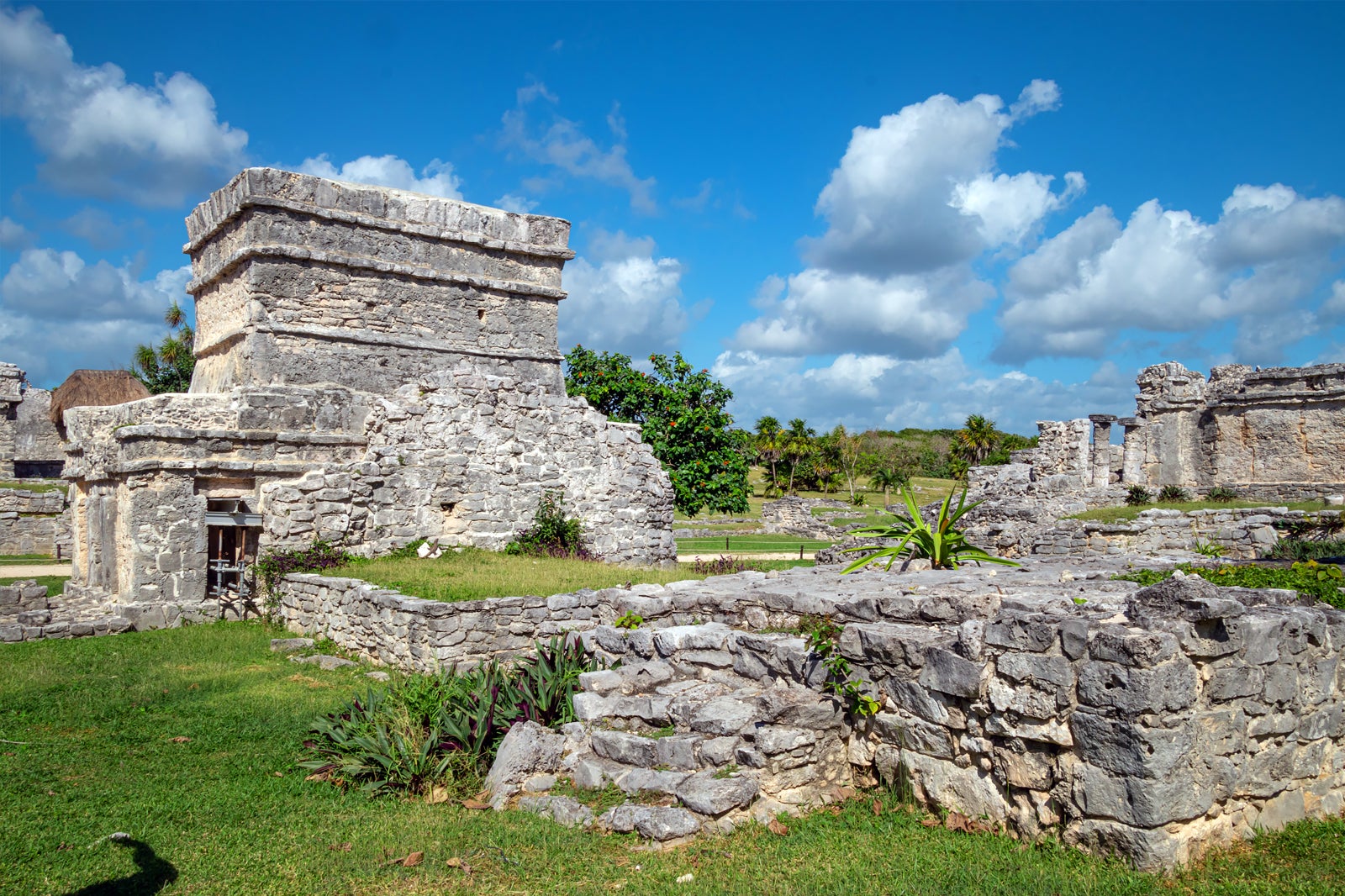 A brief history of the Tulum Archeological Zone
Archaeologists estimate Tulum was built somewhere between 1200 – 1450 AD, making it one of the youngest great Mayan cities in modern-day Mexico.
Unlike other settlements, Tulum managed to prosper for some 70 years after the arrival of the Spanish. However, an influx of old-world diseases eventually caused the population to plummet. The city's remaining inhabitants abandoned it sometime in the late 16th century. The seaport fortress then fell into disrepair, though numerous 20th-century restoration works regained much of their former glory.
With access to both land and sea, Tulum was once a crucial Mayan trading hub. Around 1,600 people occupied the site at its peak (13th – 15th centuries), trading in minerals like copper and obsidian plus precious gems such as turquoise and jade. The original inhabitants paid homage to the Descending God, as well as several Mayan deities.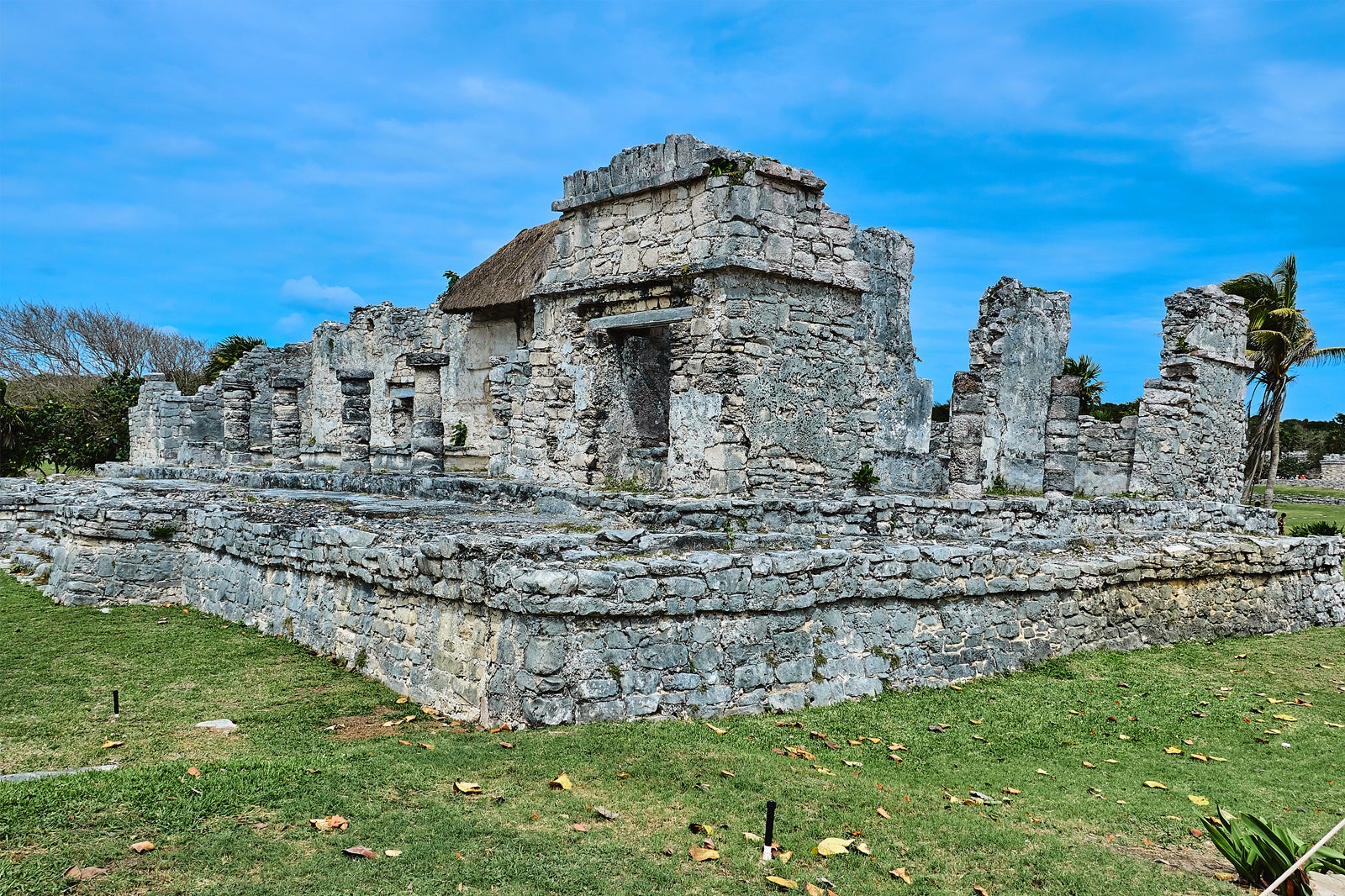 Good to know about the Tulum Archeological Zone
The Tulum Archeological Zone resides in the southern state of Quintana Roo, within easy reach of both Playa del Carmen and Cancun. Tours depart daily from both cities and may include a visit to the stunning Xel-Ha Park (a large natural aquarium that's teeming with marine life).
Consider basing yourself in nearby Tulum Town (or its seaside Hotel Zone) and visiting the site independently to avoid the crowds. Arrive by 9 am, and you'll get to spend several hours wandering around in relative solitude.
Colectivos (shared taxi cabs) and bus services (ADO Bus, for instance) run regularly between Tulum Town and Cancun/Playa del Carmen. From town, you can ride a colectivo (look for signs saying "Ruinas") or taxi cab to get to the ruins. Alternately, hire a bike to cycle the scenic 4-km trip.
Tulum Archeological Zone
Location: Carretera Federal, Cancun - Chetumal Km 230, 307, 77780 Tulum, Q.R., Mexico
Open: Daily from 9 am to 3 pm
Phone: +52 984 802 5405
Back to top