10 Best Things to Do in Playa del Carmen
What is Playa del Carmen Most Famous For?
Playa del Carmen draws visitors with its expansive palm-lined beaches and year-long party vibe. This coastal town runs along the Riviera Maya, where divers and snorkelers can explore one of the world's largest coral reef systems. The central part of Playa del Carmen is a vibrant avenue filled with quirky shops and restaurants, as well as a beachfront park that hosts traditional Mayan performances in the evenings.
Many consider Playa del Carmen to be Cancun's laidback sister, with most activities revolving around the beach. However, if excitement is what you're seeking during your vacation, ancient Mayan ruins, adventure parks, and lush jungles are just a short drive away from the town center. Check out our guide of things to do in Playa del Carmen.
What are the best things to do in Playa del Carmen?
1
Playa del Carmen Beach
Enjoy kitesurfing on the Caribbean Sea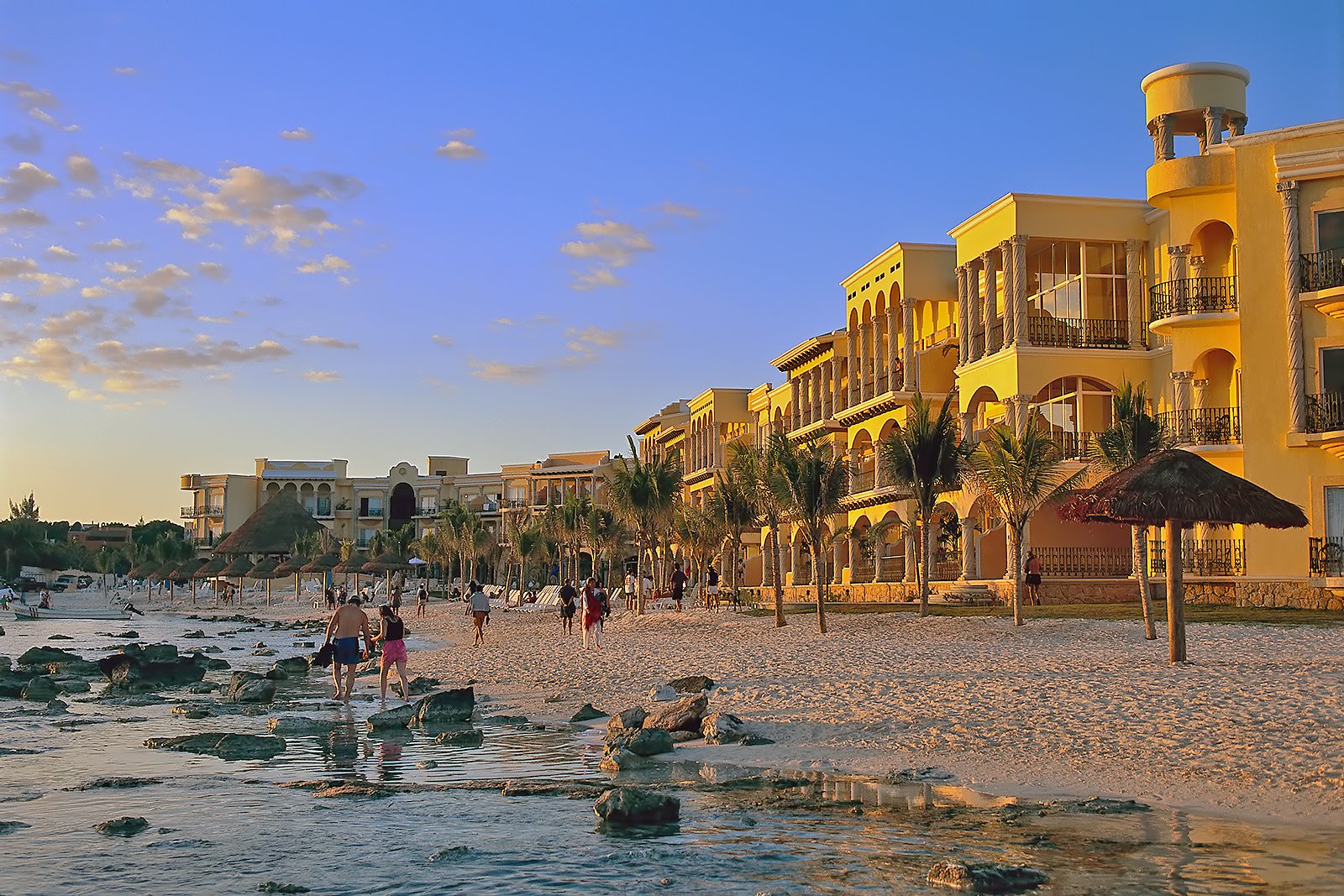 Playa del Carmen Beach is a long expanse of sand that's cut into sections by the town's many beach resorts and clubs. The widest beach here is located in front of Parque Fundadores, which is marked by the whimsical Playa del Carmen Arch. It's often packed with tourists, thanks to its close proximity to Quinta Avenida (Fifth Avenue), and the beach is lined with plenty of beach clubs that rent out sun loungers for a few pesos. You can enjoy some fun on the full-sized volleyball court or try your hand at kitesurfing and paddleboarding on the Caribbean Sea.
Location: Playa del Carmen, Quintana Roo, Mexico
2
Quinta Avenida
Check out the souvenir shops along the beach strip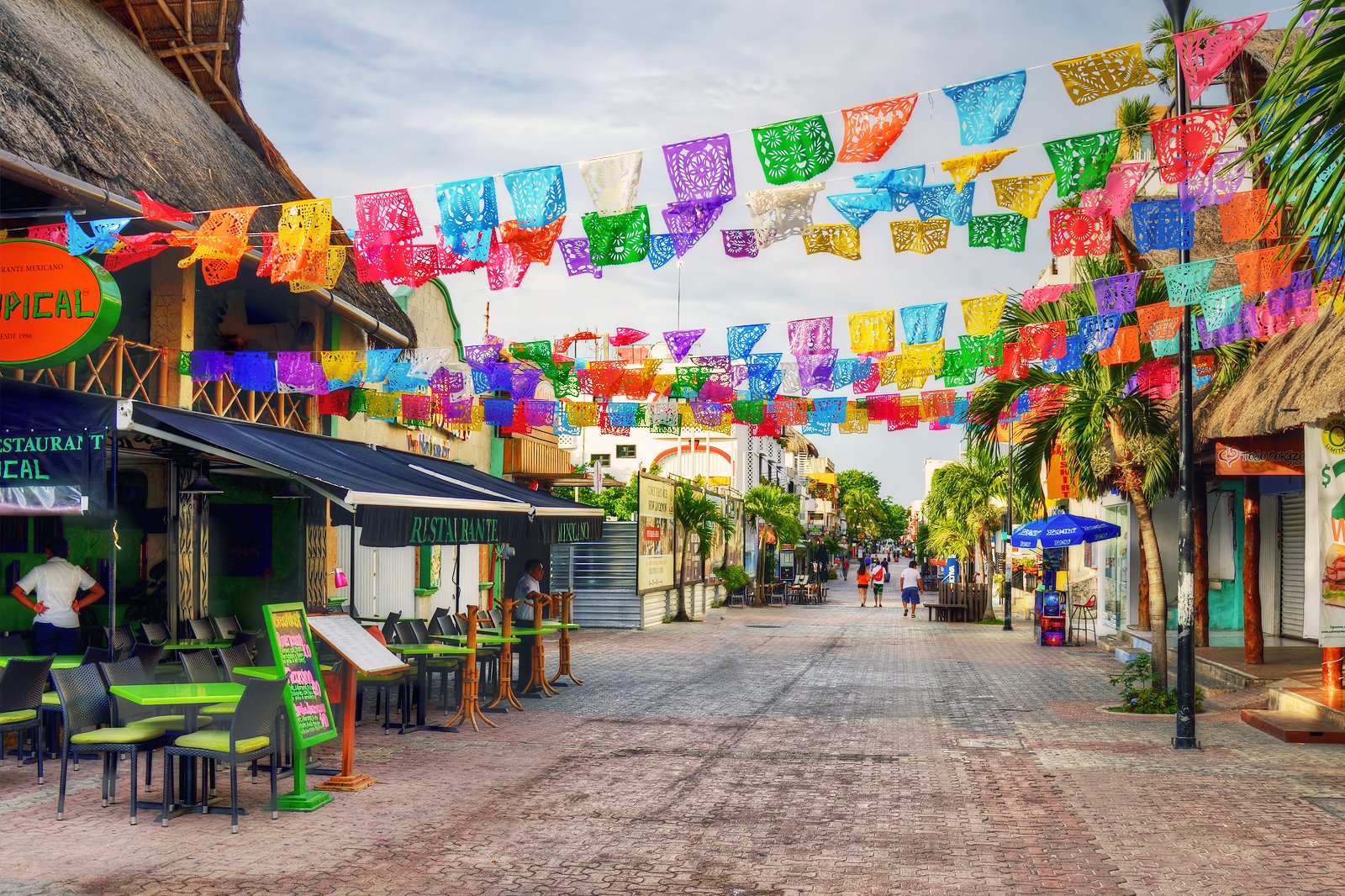 Couples
Families
Photo
Single
Quinta Avenida is a trendy avenue that runs parallel to the main beach of Playa del Carmen. This touristy street has plenty of souvenir stalls, grocery stores, and shops selling beachwear, Cuban cigars and handicrafts. It's also a good place for checking out street performances, such as celebrity impersonators, dancers, and musicians. Come sundown, Quinta Avenida becomes a lively hub of nightclubs and mescal bars with views of the ocean.
Location: Centro, Playa del Carmen, Quintana Roo, Mexico
photo by Giorgio Galeotti (CC BY 4.0) modified
3
Xaman-Ha ruins
See iguanas lounging on this Mayan site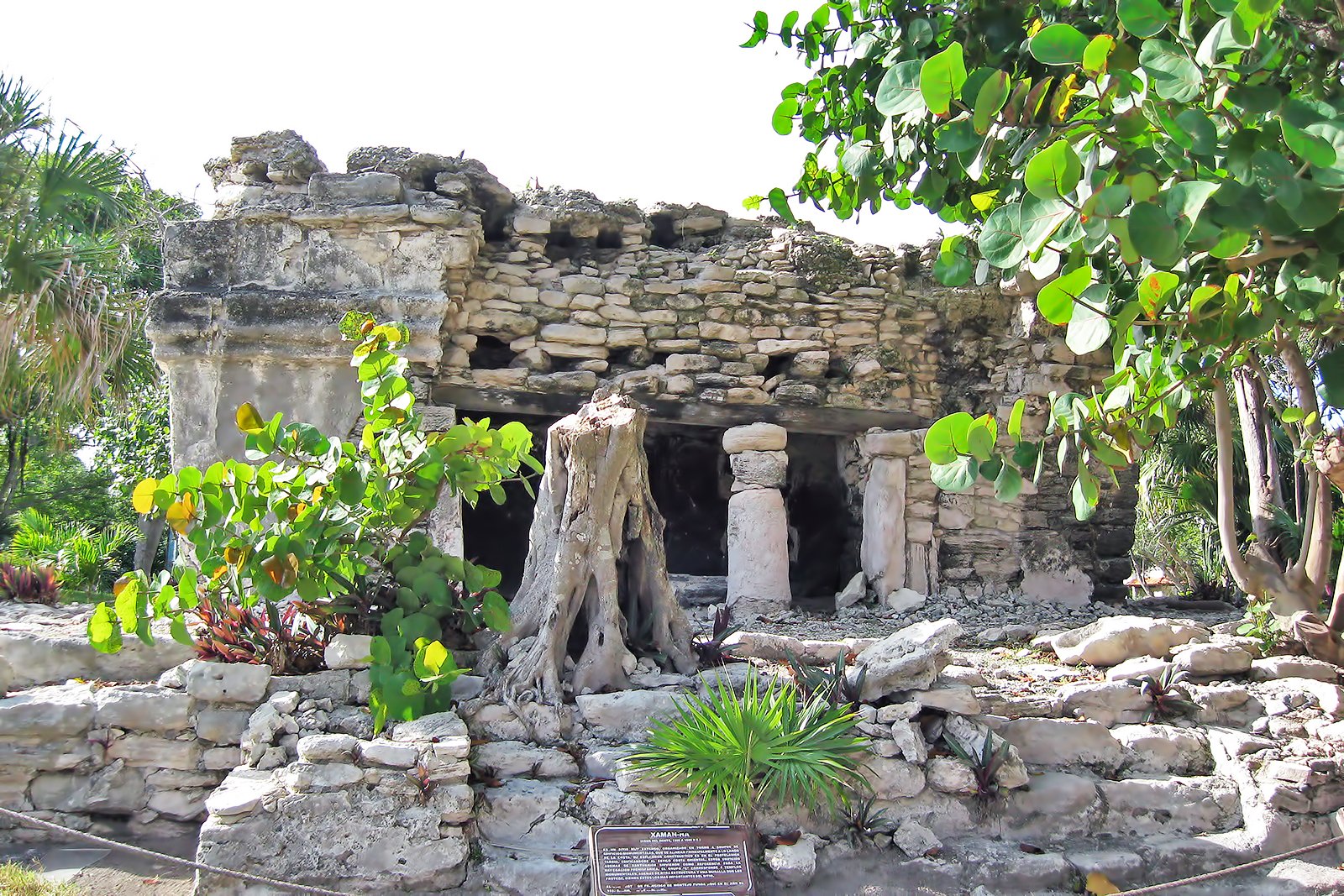 The Xaman-Ha ruins (or Playacar ruins) are a complex of 3 stone structures dating back to AD 1200. This ancient fishing village is where Mayan women departed for Cozumel Island to honor the Goddess Ixchel. Compared to the iconic Chichen Itza and El Rey, Xaman-Ha may seem miniscule, but it's one of the few Mayan sites that's free to explore. This archeological site is just a 10-minute walk from Playa del Carmen Beach, but it's relatively quiet thanks to its jungle surroundings. Look out for iguanas lounging on the stone structures.
Location: Playacar, 77717 Playa del Carmen, Quintana Roo, Mexico
photo by Bill McChesney (CC BY 2.0) modified
4
Parque Fundadores
Watch traditional Mayan performances in the evening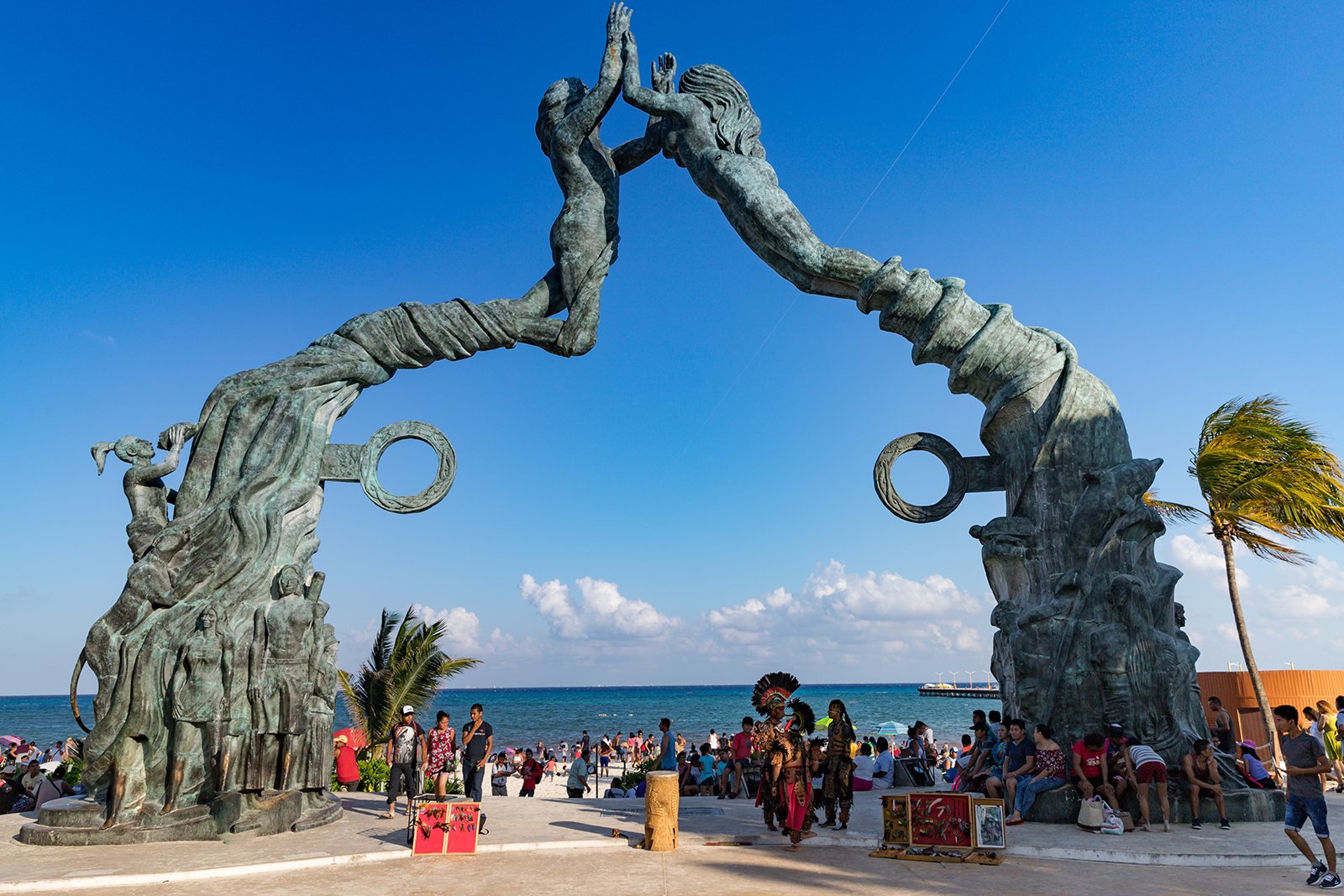 Families
Budget
History
Photo
Parque Fundadores is a recreational park overlooking Playa del Carmen's main beach. It's one of the town's most photographed locations thanks to its 16-meter-tall bronze arch, which has a whimsical design consisting of a man and a women holding hands. There's a playground built in the shape of a pirate ship, and a stage that hosts live shows all year round. A must-see is the the Danza de los Voladores (Dance of the Flyers), which is a Mayan performance featuring acrobatic skills and traditional music.
Location: Av. Benito Juárez, Centro, 77710 Playa del Carmen, Q.R., Mexico
photo by Falco Ermert (CC BY 2.0) modified
5
Xel-Ha Park
Cycle along the jungle path at this theme park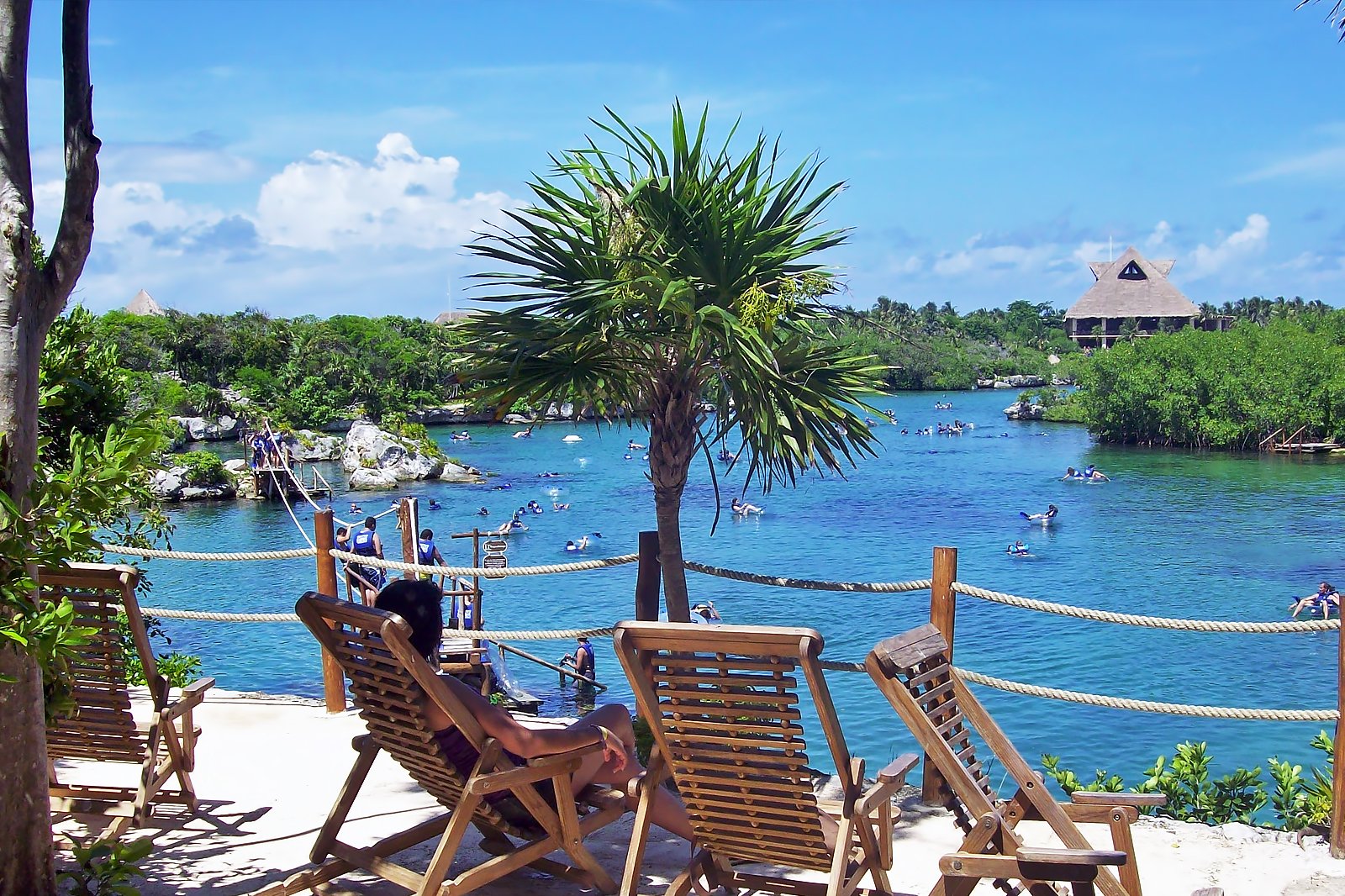 Xel-Ha Park is an all-inclusive aquatic theme park that sits around a natural inlet that's home to many marine animals. You can enjoy a variety of nature activities throughout your visit, including bike rides, zipper-lining, and encounters with manatees and stingrays. The Children's World features a wading pool with waterslides and a playground with rope climbing. For expansive views of Xel-Ha Bay and the Caribbean Sea, climb to the top of Scenic Lighthouse, which is 40 meters tall.
Location: Carretera Chetumal Puerto Juárez Km 240, locales 1 & 2, módulo B, 77780 Quintana Roo, Mexico
Open: Daily from 8.30 am to 6.30 pm
Phone: +52 800 009 3542
photo by Kyttzy (CC BY-SA 3.0) modified
6
Rio Secreto
Swim amid stalactites and stalagmites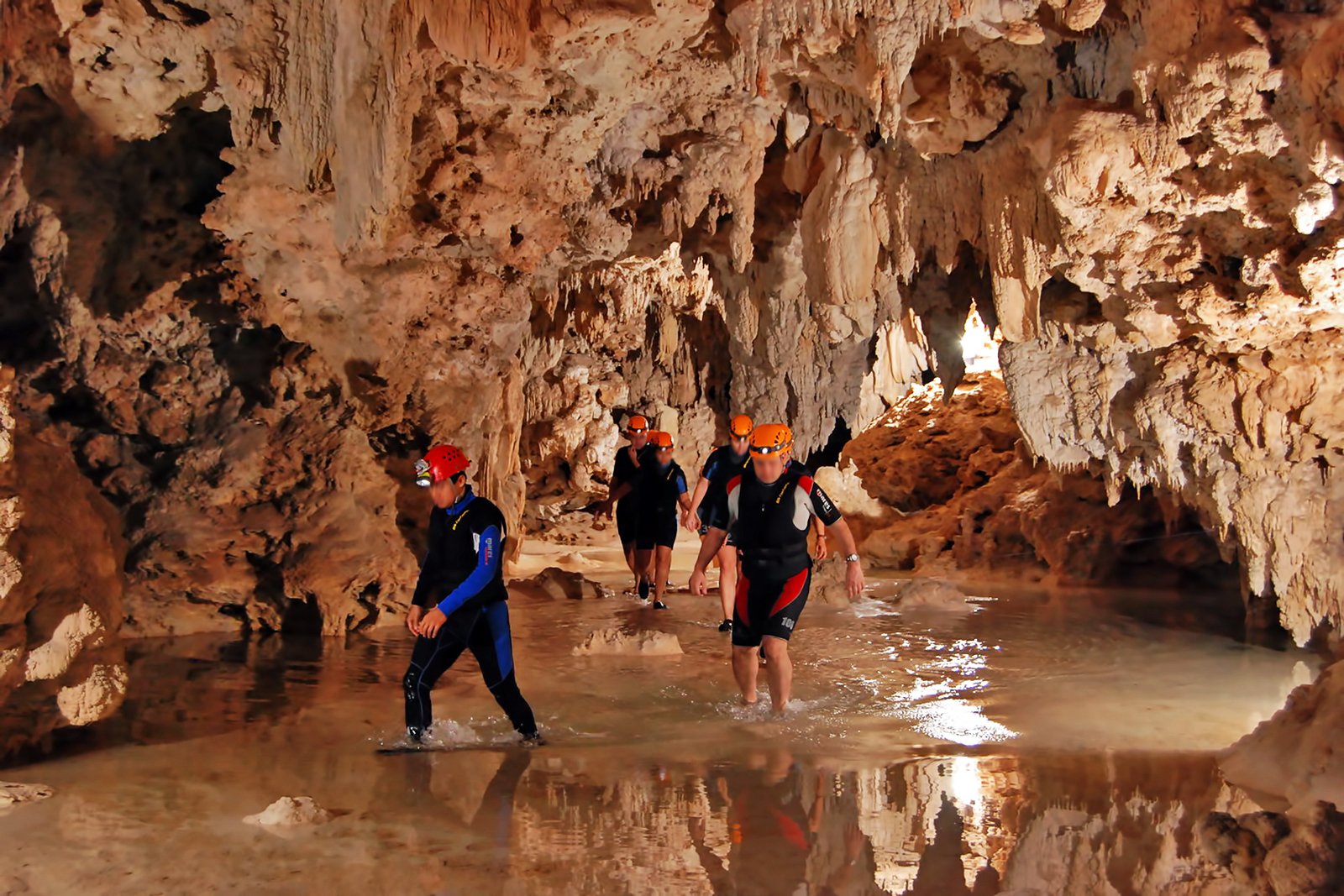 Budget
Photo
Adventure
Unusual
Rio Secreto is a series of semi-sunken caves interconnected with Quintana Roo's longest underground river. This unique cenote attracts swimmers and snorkelers with its bright turquoise waters, and it's large enough to feel as if you have the whole place to yourself. As you swim in the 600-meter-long river, you're bound to see thousands of stalactites and stalagmites above you. Accessible within a 20-minute drive from Playa del Carmen, you can make your way to Rio Secreto on your own or join a guided tour. Admission is free.
Location: Carretera Federal Libre Chetumal- Puerto Juárez Km. 283.5 Ejido Sur, 77712 Playa del Carmen, Quintana Roo, Mexico
photo by PriceTravel pictures (CC BY-SA 2.0) modified
The Frida Kahlo Museum commemorates the life of Mexico's most iconic female artist with a series of photo collages and audiovisual displays. The museum has 9 exhibition rooms, one of which details her personal life and achievements through photos and diagrams in chronological order. There's also a mini theatre, where you can watch a 15-minute video about Frida Kahlo. While there aren't any original works on display, the Frida Kahlo Museum offers an interesting perspective of the style icon.
Read more
Location: 5th Avenue esq. Calle 8, Centro, Playa del Carmen, Solidarity, Quintana Roo, Mexico
Open: Daily from 9 am to 11 pm
Phone: +52 984 980 0595
8
Playa Del Carmen's rooftop pools
Rent a sun lounger and enjoy views of the beach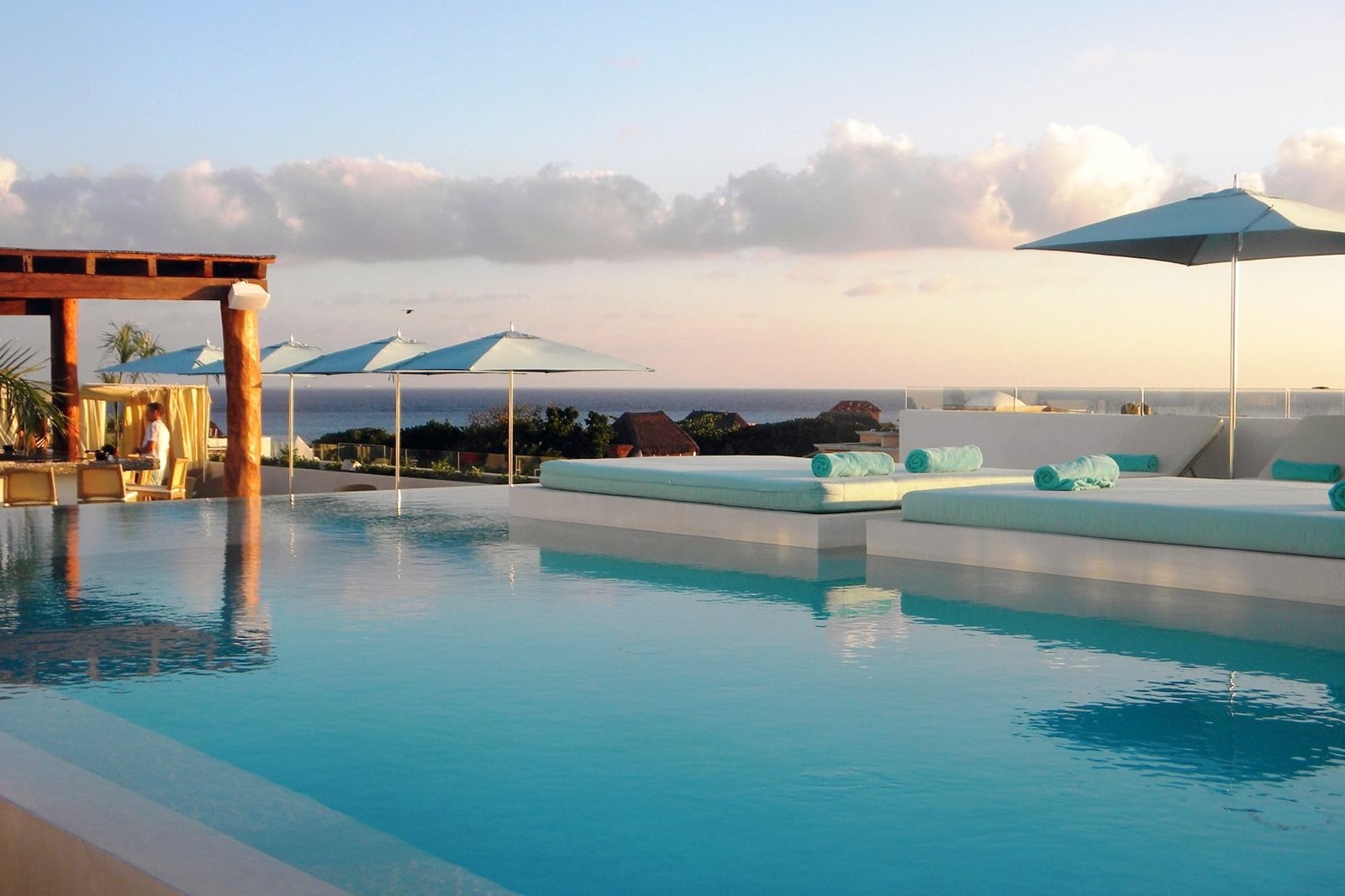 Couples
Nightlife
Single
Group
Playa Del Carmen's rooftop pools attract those looking to enjoy a classy evening with expansive views of the Caribbean Sea. Most of these hotel-owned pools have a cover charge of 100 pesos, though rates may go up during major holidays and special events. Purobeach Rooftop Club offers a laidback vibe with lounge music and sun loungers overlooking Centro Playa del Carmen, while Roof Club at the Palm Hotel features an oceanfront pool with a separate Jacuzzi tub.
9
Hacienda Tequila
Sample a variety of tequilas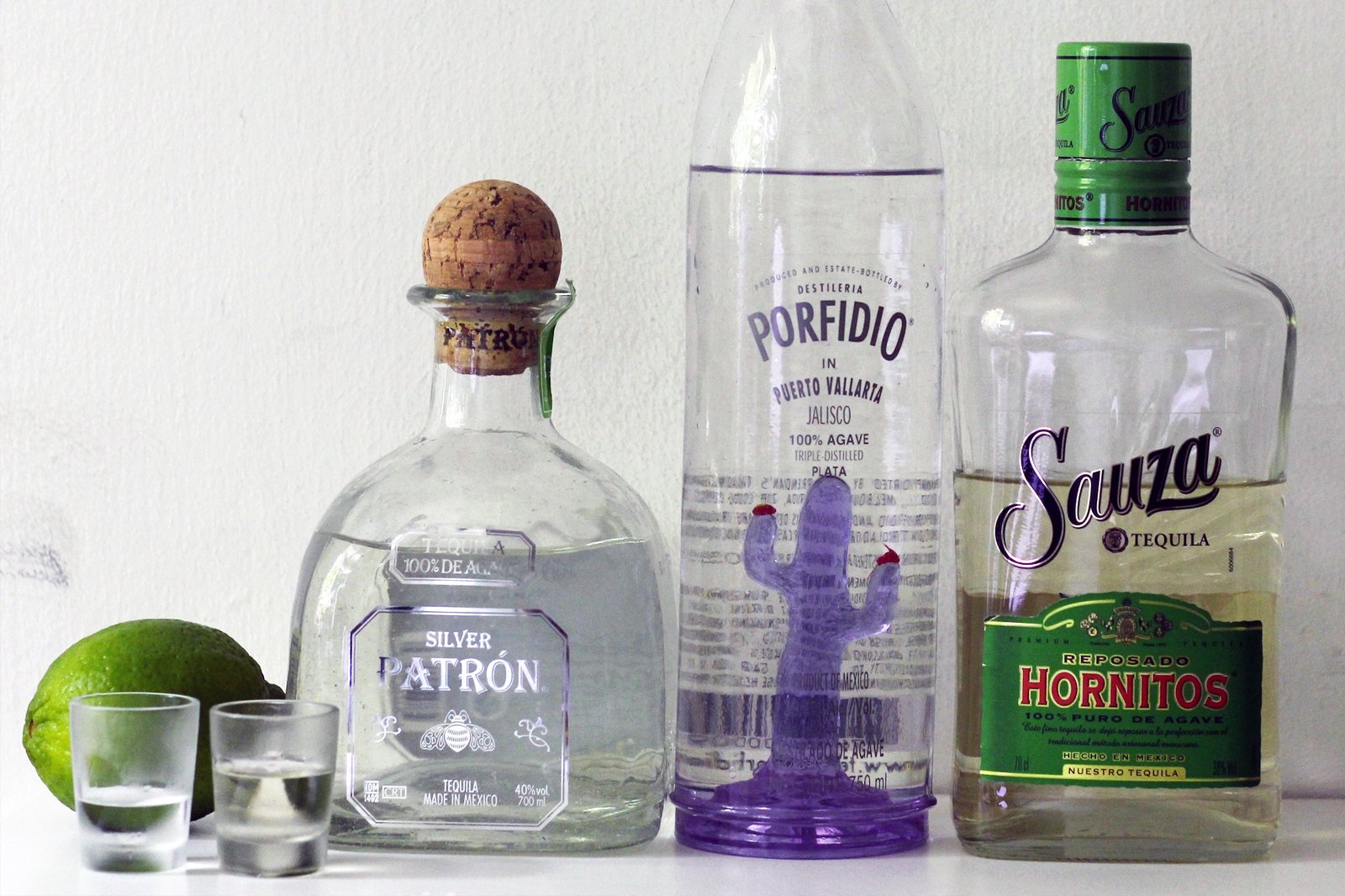 Hacienda Tequila is the go-to source for Mexican liquor in Playa del Carmen. This iconic souvenir shop occupies a bright yellow building on Fifth Avenue. Inside, the unique décor makes for memorable photos, and the extensive collection of tequila, clothes, candies, and coffee are worth splashing a few dollars for. The back of this store features a small-scale Tequila Museum, which details the origins and process of making Mexico's favorite tipple.
Location: Quinta Avenida Mz. 27 Lt. 15, Centro, Gonzalo Guerrero, 77710 Playa del Carmen, Quintana Roo, Mexico
Open: Daily from 8 am to 11 pm
Phone: +52 984 873 1202
10
Tlayuda
Enjoy this street food topped with pork lard, refried beans, and salsa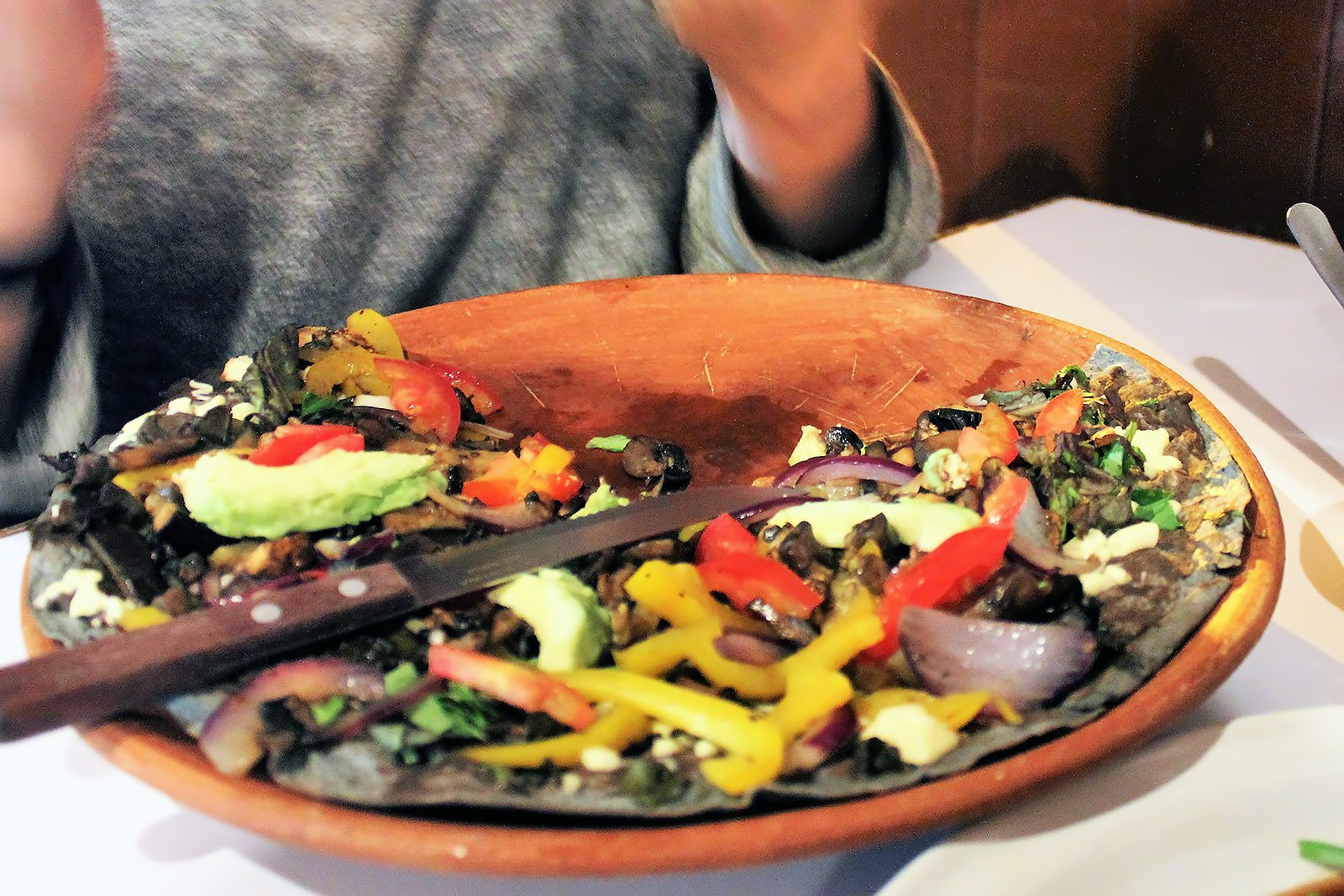 Tlayuda is considered a Mexican version of pizza as it consists of a large tortilla topped with a variety of meats and veggies. Tlayuda is a common staple in most local restaurants in Playa del Carmen. The corn tortilla is first baked on a flat griddle until slightly crispy, then covered with a spread of refried beans. Common toppings include asiento (unrefined pork lard), shredded lettuce, avocado, thin slices of pork or beef, quesillo (Oaxacan string cheese), and a good helping of salsa.
photo by Charlie Marchant (CC BY 2.0) modified
Back to top