10 Ways to Save Money in Cancun
Holidays in Cancun Don't Have to Be Expensive
Visiting Cancun on a budget is very possible, despite its reputation as a luxurious paradise. Bordering the Caribbean Sea, the town's pristine beaches are among its main draws. The main strip may be lined with swanky resorts and beach clubs, but go inland to enjoy cheaper (but equally beautiful) options.
While many travelers are willing to dish out thousands of pounds for a week-long vacation, there are plenty of free and cheap things to do in Cancun if you know where to look. Here's our guide to some of the best ways to save money when visiting Cancun.
1
Pay in Mexican pesos
Avoid paying with credit cards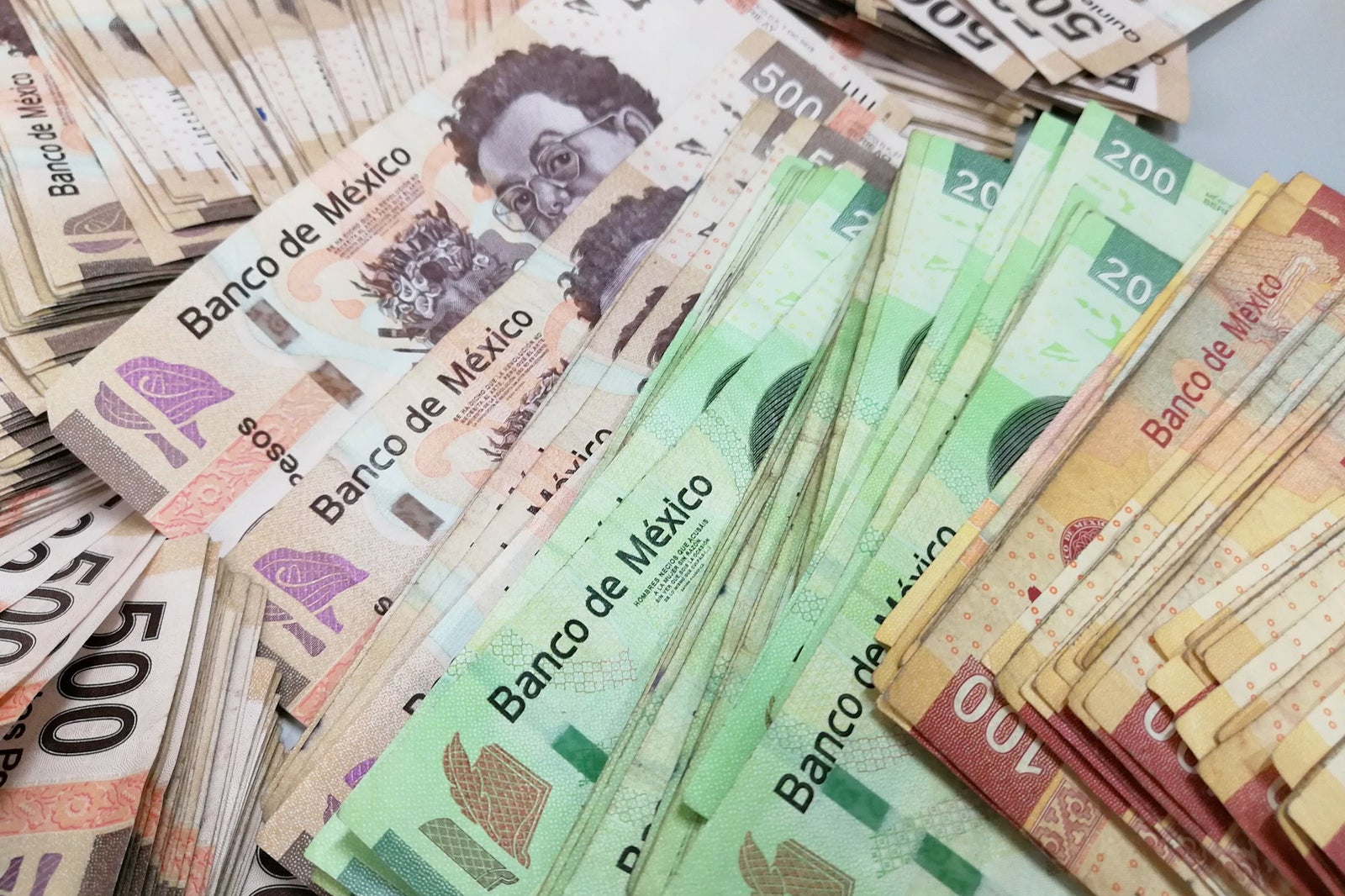 One of the most effective ways to save money in Cancun is by paying for food and souvenirs in the city's national currency: pesos. It gives you a much better rate exchange, and often a better price on your purchase.
There are many ATMs throughout Cancun that allow you to withdraw money without additional fee. Avoid exchanging money at the airport by opting for private currency exchange places in the city, as these will often give you a bigger bang for your buck.
2
Stay in downtown Cancun
Avoid booking your hotel on the main strip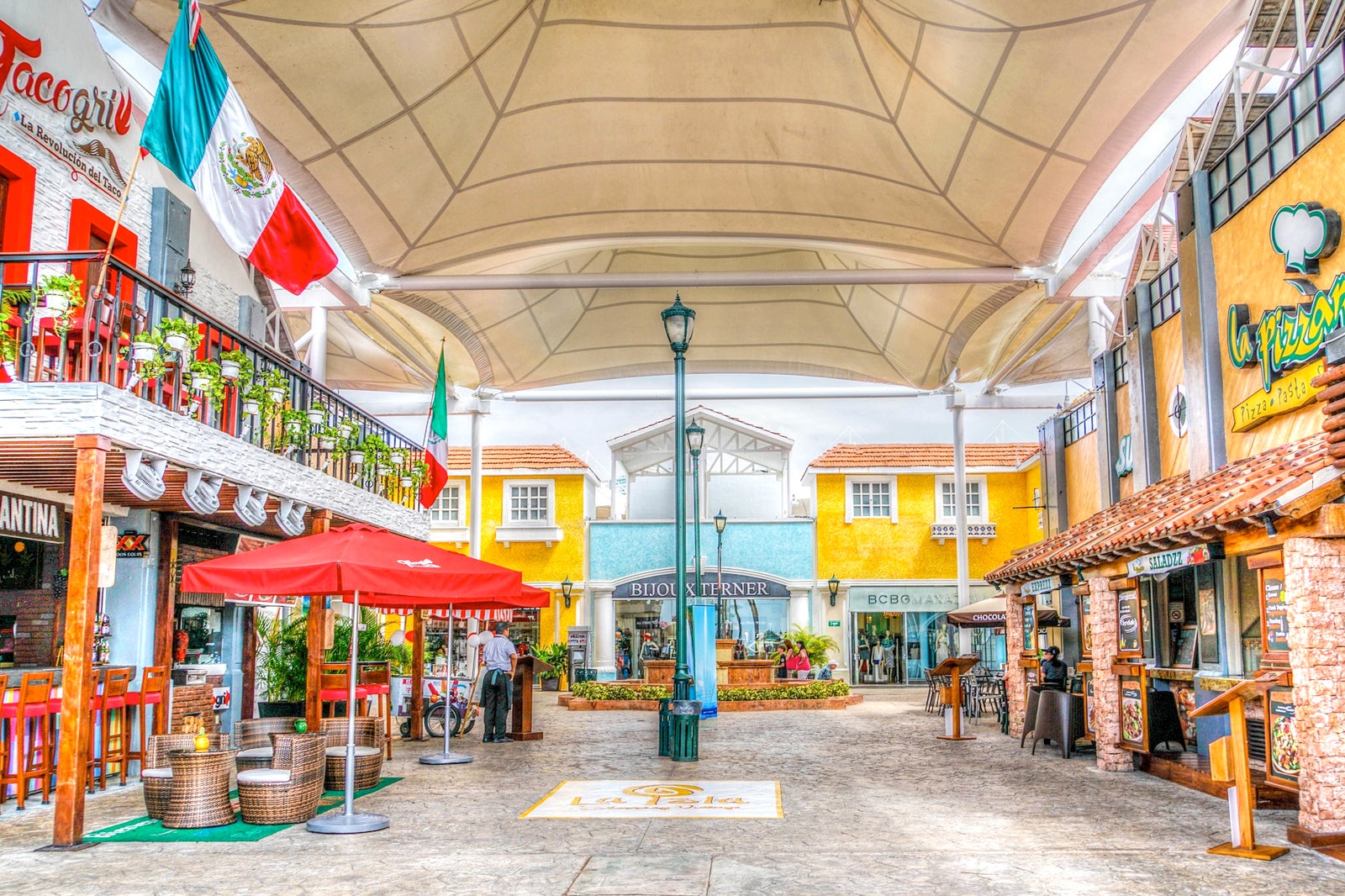 Picture Cancun and you'll often imagine white sand beaches lined with all-inclusive, 5-star resorts. It's called the main strip, and one of the most expensive areas to stay. Save money by booking a hotel in downtown Cancun instead.
The town center is packed with nice restaurants and bars, as well as souvenir shops and markets. . A 15-minute bus ride from Cancun's main strip, it's also very easy to get back to after spending the day at the beach.
3
Stay in a hostel
Hostel Natura is a great choice on the strip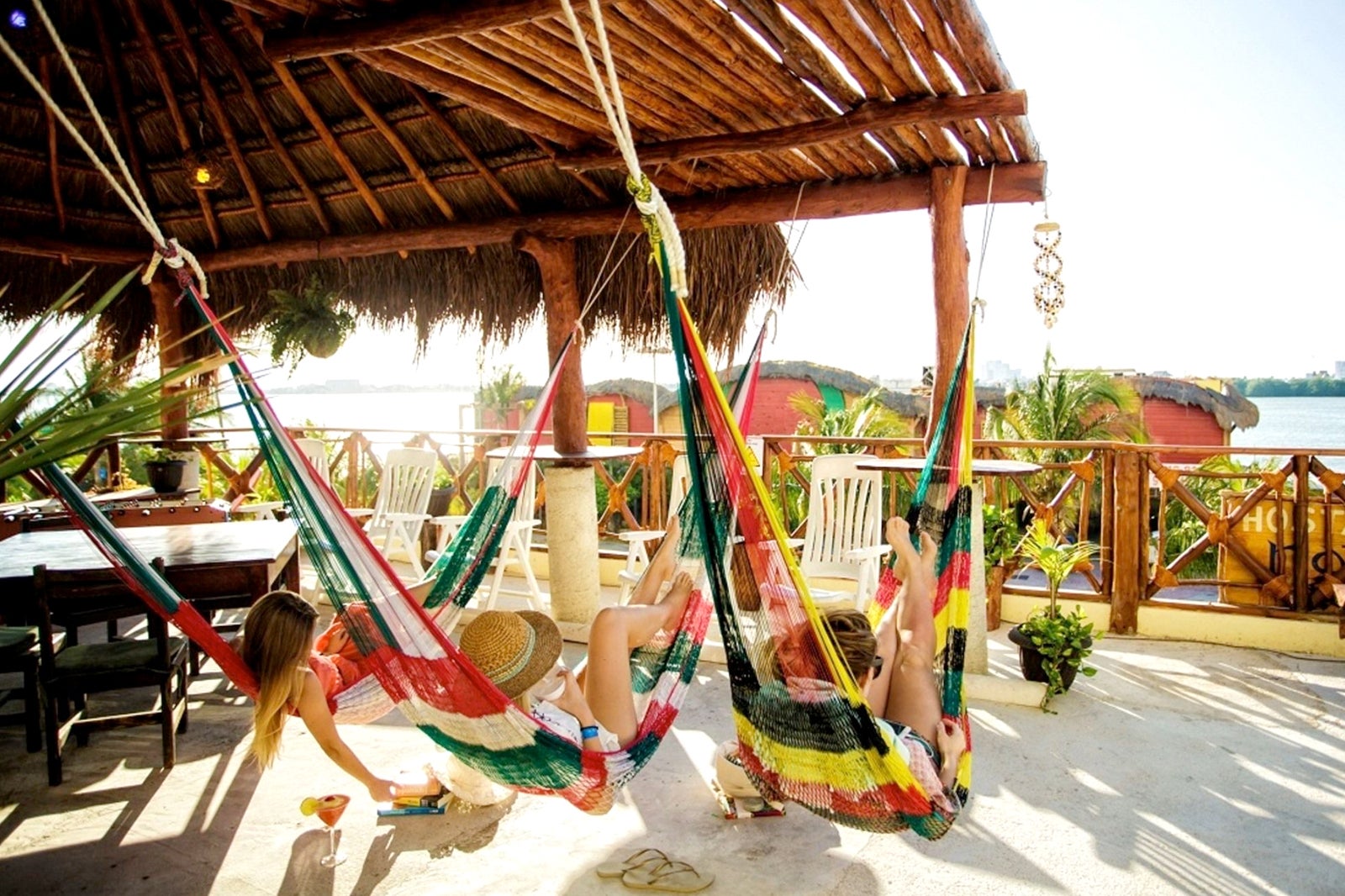 If you choose to stay on the main strip, but lack the budget for a fancy resort, book a Cancun hostel instead. Hostel Natura is the only hostel on the strip, and a great choice for anyone looking for cost-effective comfort.
This eco-friendly hostel is located on the top floor of a café of the same name. There are mixed dormitories with 8 and 10 beds, as well as an all-female dorm with 6 beds. Book your stay at Hostel Natura on Hotels.com.
Location: Blvd. Kukulcan Km 9.5, Zona Hotelera, 77500 Cancun, Mexico
Phone: +52 998 883 0887
4
Visit the Mayan ruins on your own
Do your own research or carry a guide book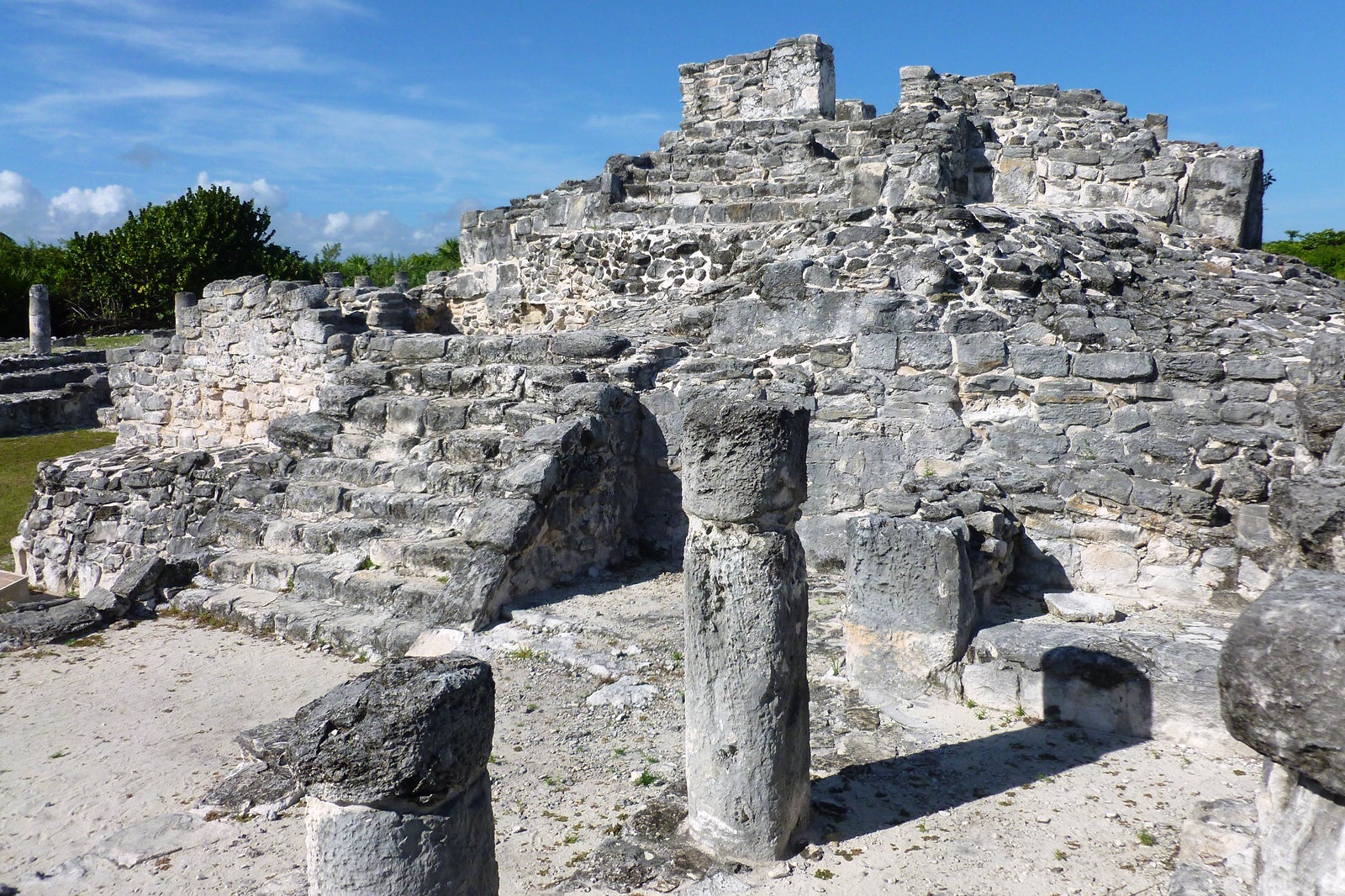 The Mayan ruins are some of the most interesting landmarks you can visit in Cancun. Due to their popularity, many tour companies insist on selling you all-inclusive tours that often come with a hefty price tag.
Save money by doing your own research or bring a guide book along. Visiting the ruins sans-guide is not only budget-friendly, but also allows you a lot of freedom and time to take in these historical structures.
photo by Tristan Higbee (CC BY 2.0) modified
5
Mercado 28
Visit this famous open-air market without spending a dime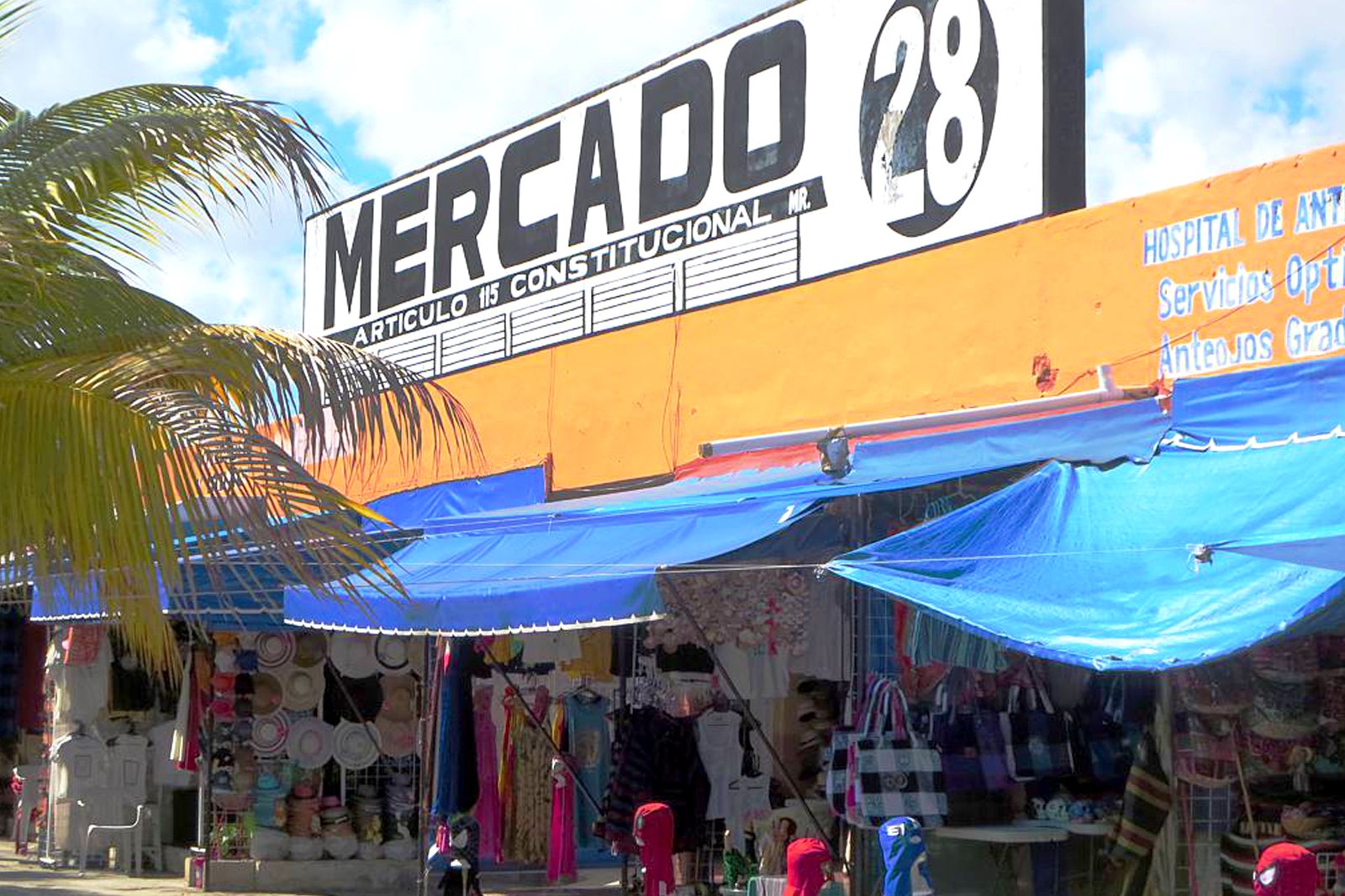 Spend a (free) day immersed in authentic Mexican culture at Mercado 28. The colorful market runs every day, selling everything from tacos and ponchos, to hand-blown glass decorations and authentic musical instruments.
Remember to haggle with store owners as this is a very common practice in Mexico. Always allow the seller to give you a price first, before offering about 40% lesser. Many times, he/she will counteroffer with a price that's somewhere in the middle.
Location: 2 13 Xel-ha M, San Miguel de Allende 28, 77501 Cancun, Mexico
Open: Daily from 8 am to 7 pm
photo by David Stanley (CC BY 2.0) modified
6
ADO public bus
Cancun's public bus system is inexpensive and reliable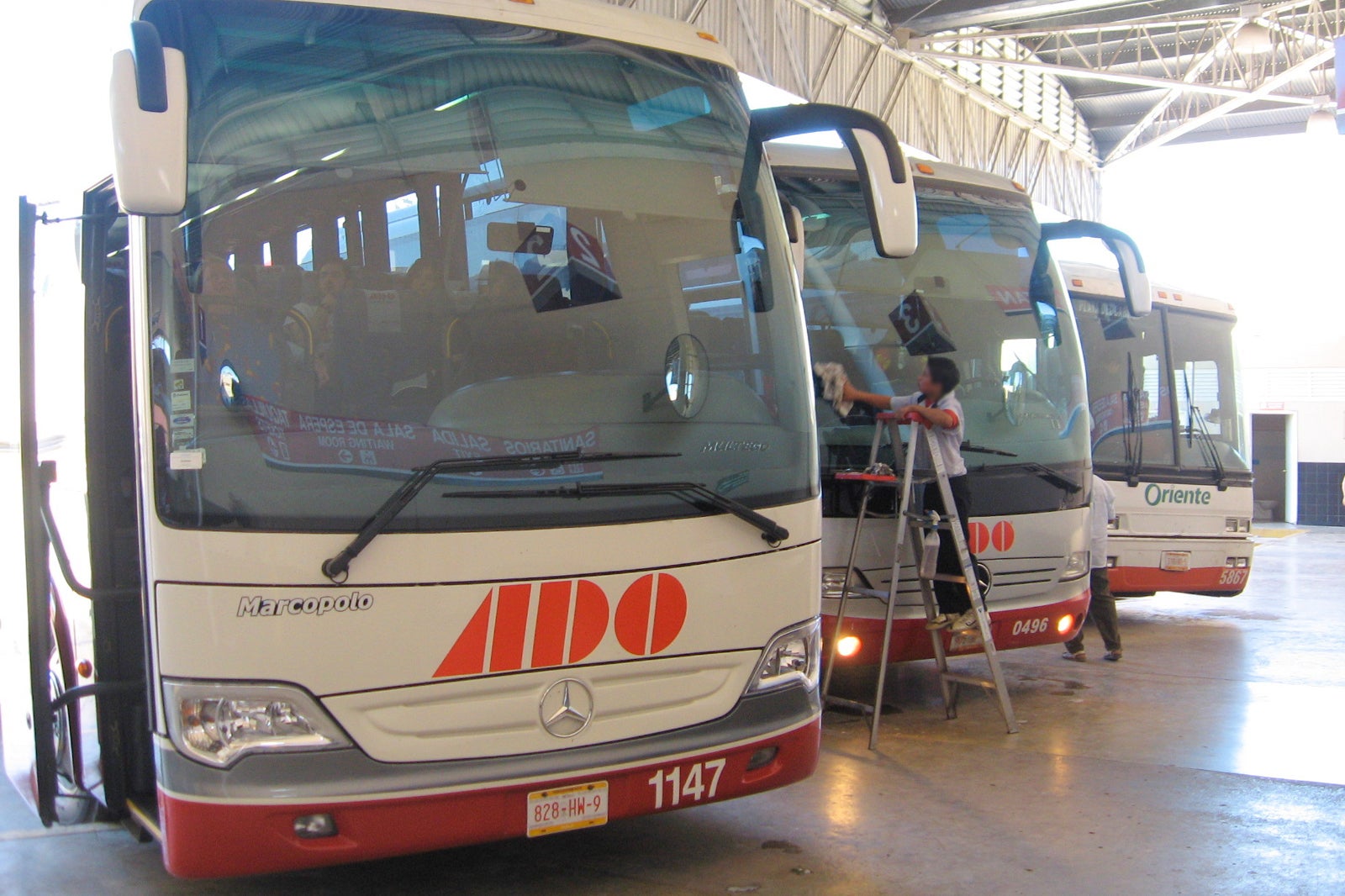 You can get around Cancun inexpensively by taking the ADO public bus. This bus system is reliable and also runs quite frequently, especially during busy travel periods in Cancun.
If you're staying in downtown Cancun, there's an ADO bus that takes you to beaches on the main strip every 15 to 20 minutes. It's way cheaper than renting a car or taking a taxi. While bus drivers are prepared to make change, they might not be able to do so with large bills – carry small notes and coins just to be safe.
photo by Jongleur100 (CC0 1.0) modified
7
Isla Mujeres
A ferry costs only around 129 pesos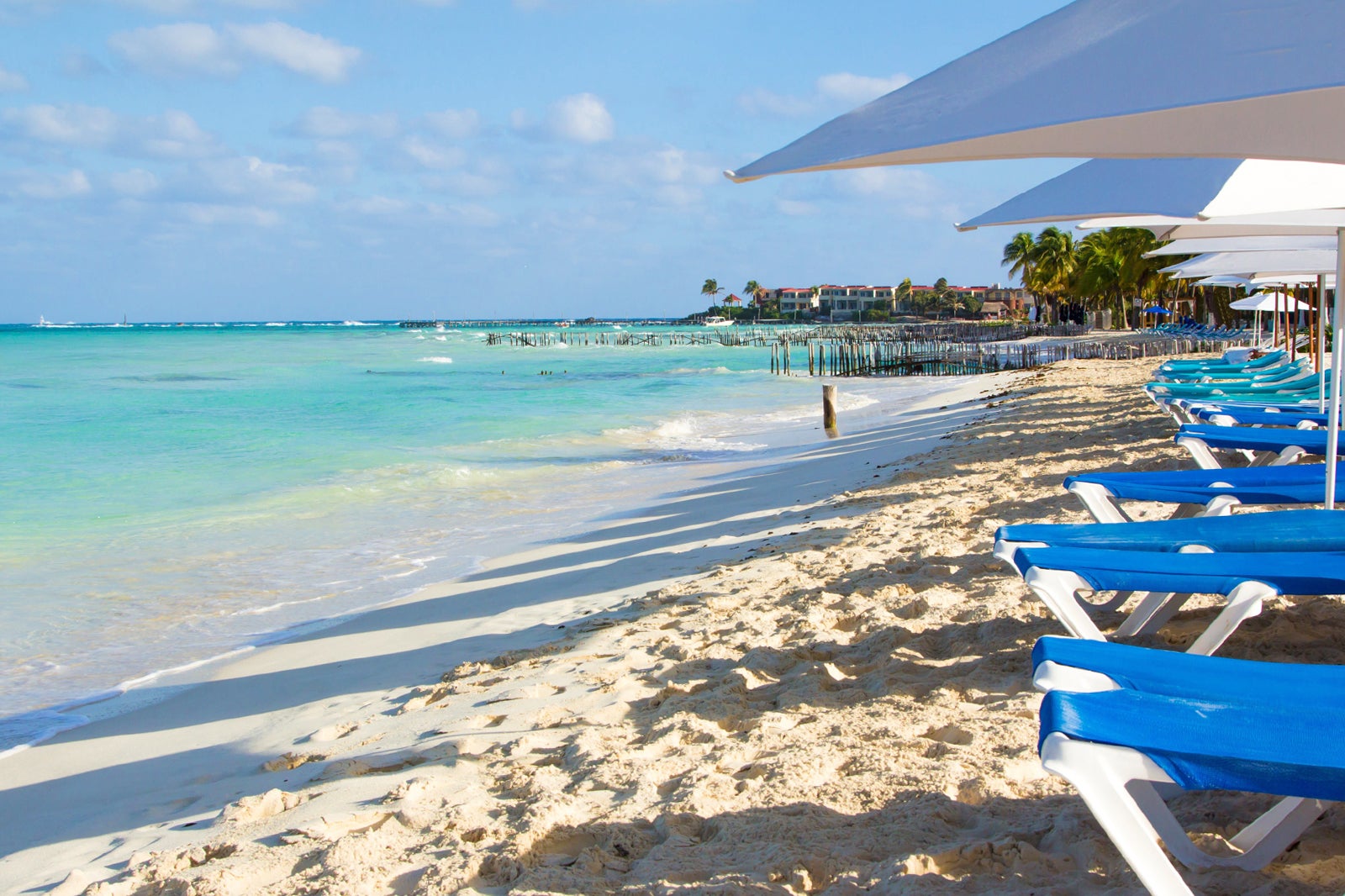 There are plenty of amazing daytrips you can take from Cancun, but they can be rather expensive. A budget-friendly option is a ferry trip to Isla Mujeres, about 8 km off the Yucatan Peninsula coast.
This tiny island has beautiful beaches and green spaces, as well as kayaking and snorkeling and zipper-lining at Garrafon Natural Reef Park. A ferry costs around 129 pesos (£5), departing from the Gran Puerto Cancun pier. Boats leave every 30 minutes between 5am and 9:30pm, and every hour after that.
8
Book your hotel shuttle in advance
And avoid an expensive taxi ride from the airport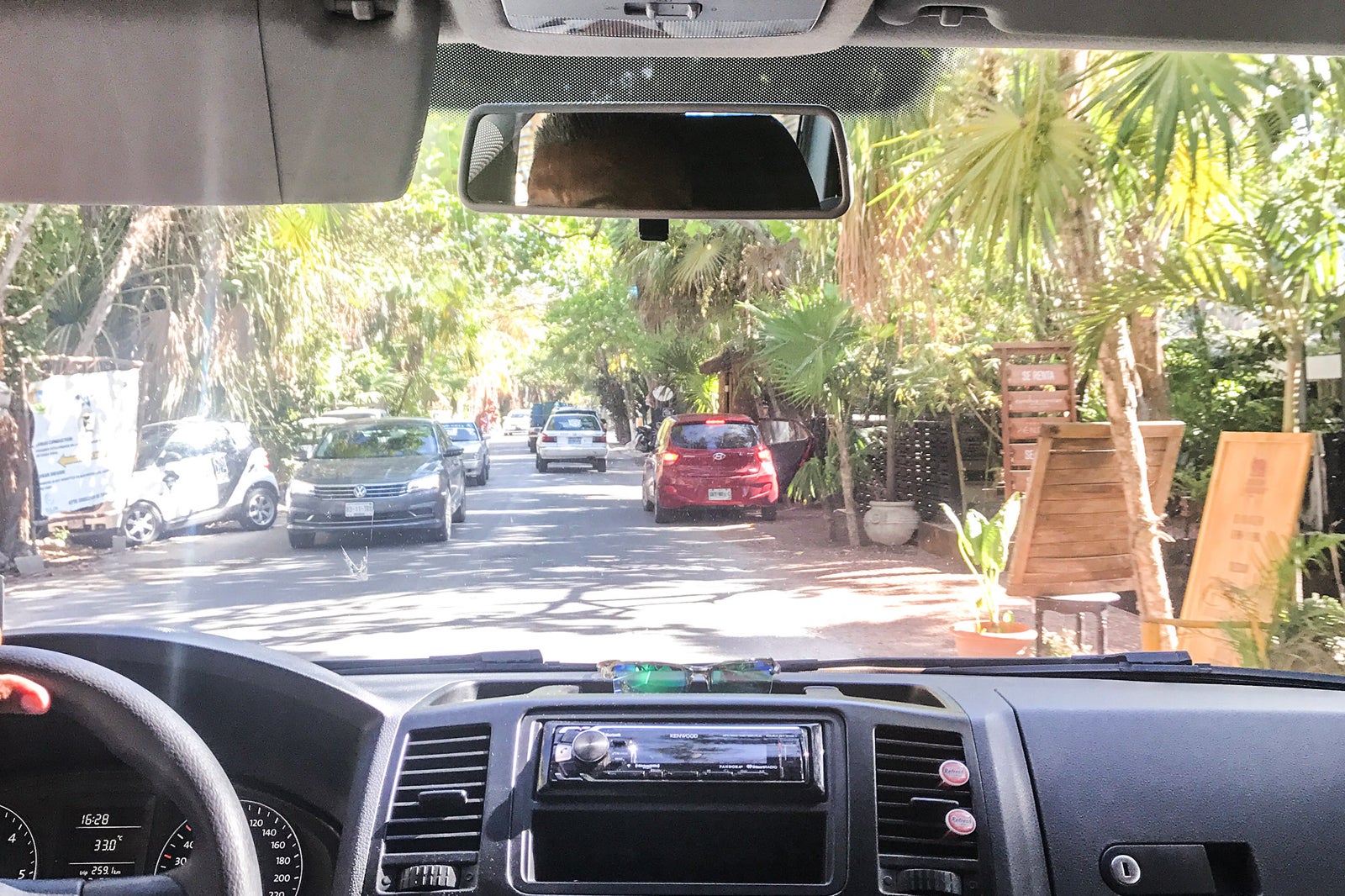 Avoid a hefty taxi bill by calling your resort in advance for a pickup from Cancun International Airport. Almost every hotel in Cancun offer complimentary shuttles, provided that you contact them the day before with your travel details.
If your hotel doesn't offer that service, you can opt for a shared shuttle with Hertz. You'll find the car rental agency immediately to the left when exiting the baggage claim area. These will only cost you around £10, instead of £40 for a private taxi.
photo by Lou Stejskal (CC BY 2.0) modified
9
Buy food at the local supermarket
Try to eat outside the main strip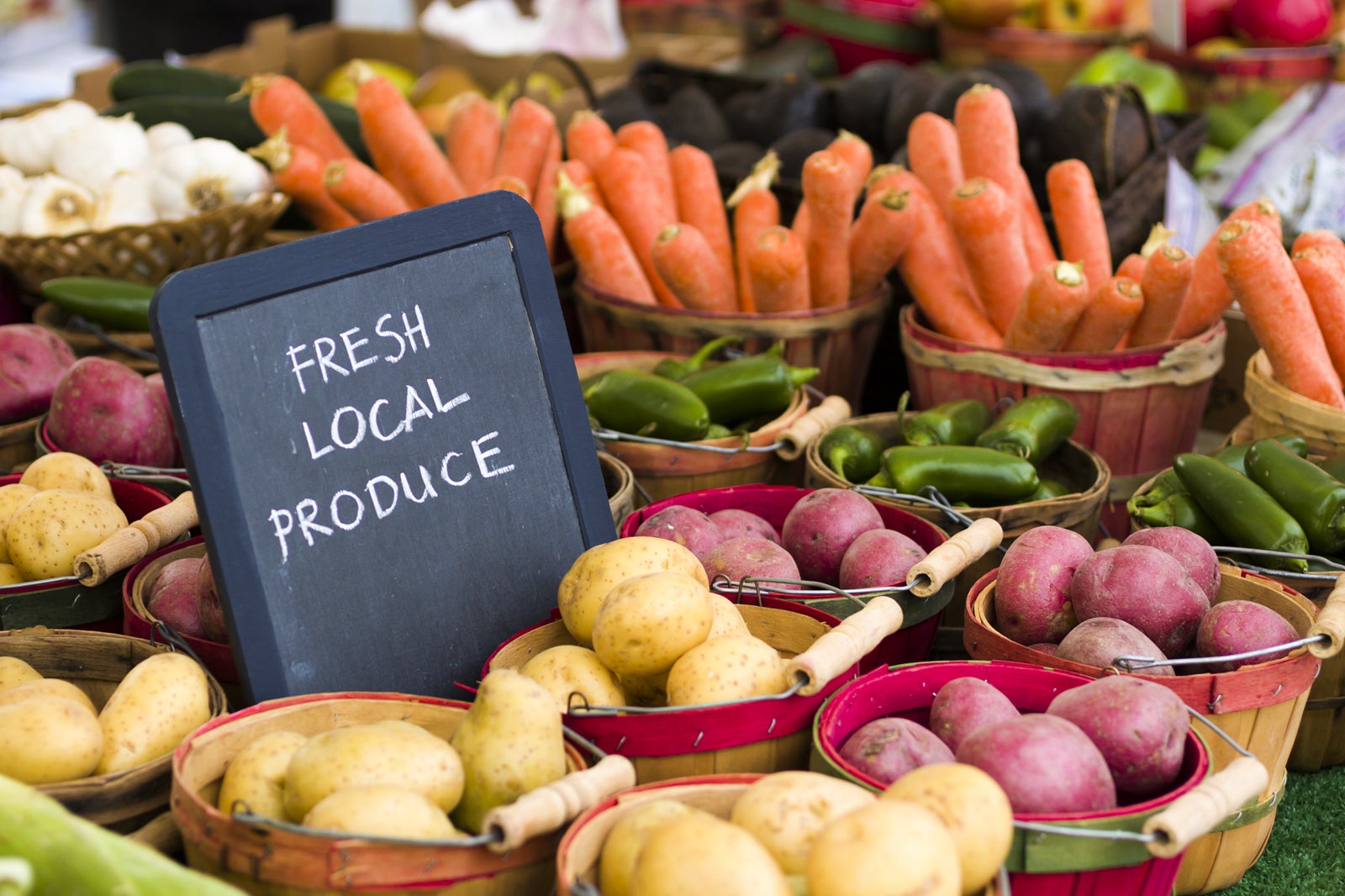 When visiting Cancun on a budget, try to shop for groceries at local stands and supermarkets instead of going to a restaurant. The main strip is known for upmarket restaurants and bars, which can easily drain your wallet if you're staying in this area.
Fresh ingredients or ready-to-eat meals can be purchase from corner stands throughout Cancun. Remember to pay in cash (and pesos) to get the best deal. Not only can you stick to your budget, but you'll also enjoy authentic Mexican meals during your stay.
10
Book tours online for the best price
Prices are often up to 50% cheaper than booking in person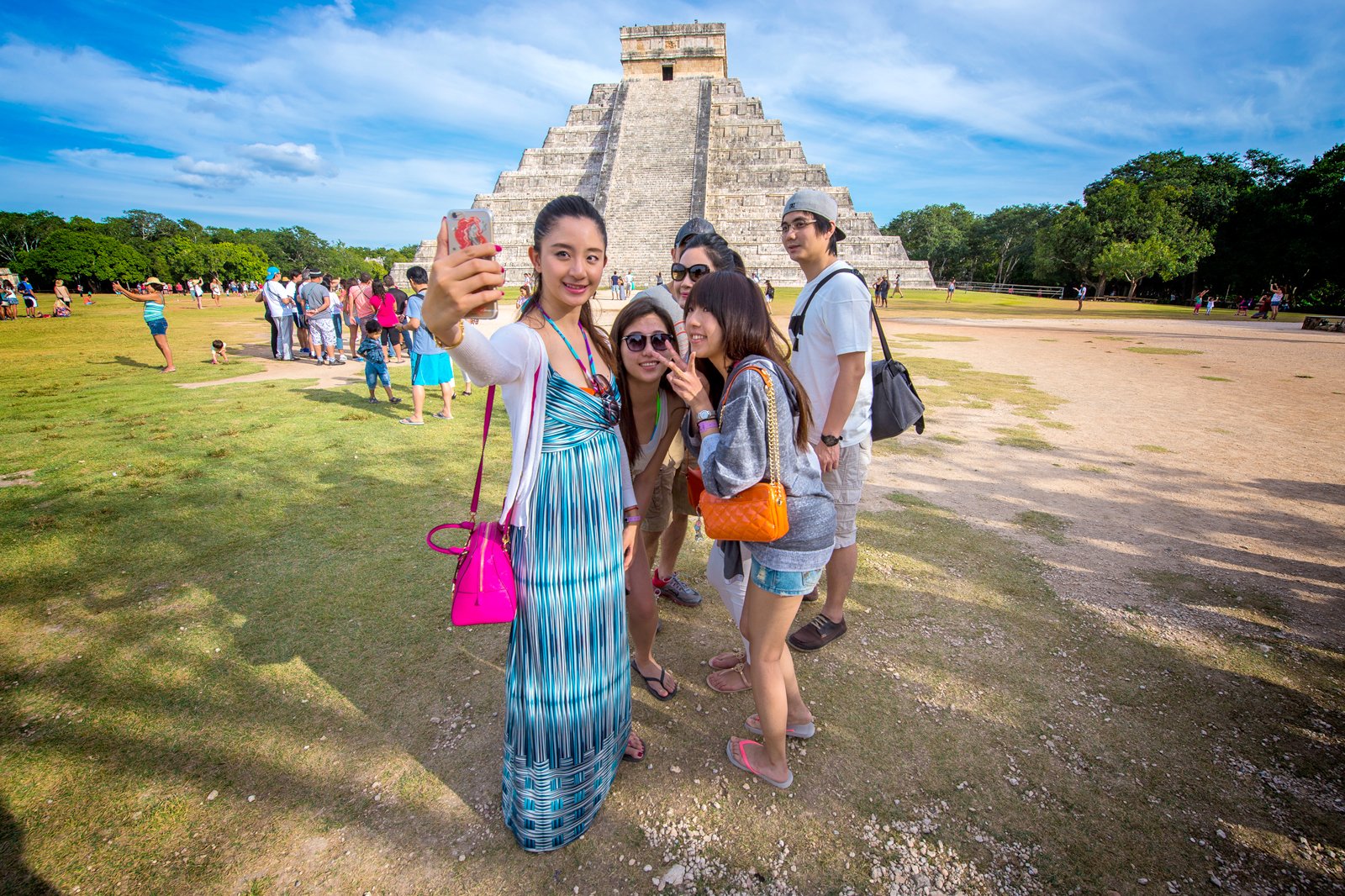 Whether you're planning to visit ancient Mayan ruins, swim in a blue-water cenote, or go snorkeling with whales, it's a good idea to book tours online to get the best price.
Hotels.com is one of the easiest and most economical ways to reserve your tours – rates are often up to 50% cheaper than booking at a tour booth in Cancun. If you book (at least a few weeks) in advance, you'll enjoy better selection and even lower prices.
Back to top