10 Best Free Things to Do in Mexico City
How to Experience Mexico City on a Small Budget
The charm of Mexico City lies in its chaotic beauty that runs wild in its bustling streets. A wander around one of the city's central neighborhoods is a spectacle in itself – so much can be seen from simply walking around. The city is a cultural and artistic stronghold, which is reflected in this list of free things to do, with monuments and museums featuring prominently.
The city sends you into sensory overload with its vibrant colors, mouthwatering smells and ringing sounds of traffic and competing salsa tracks. All you really need to experience Mexico City at its finest is your own 2 feet, a map and a couple of words of Spanish. Take a look at our list of free things to do in Mexico City and start planning a trip full of experience, yet light on the bank account.
1
Bike down Paseo de la Reforma
A Sunday ritual for locals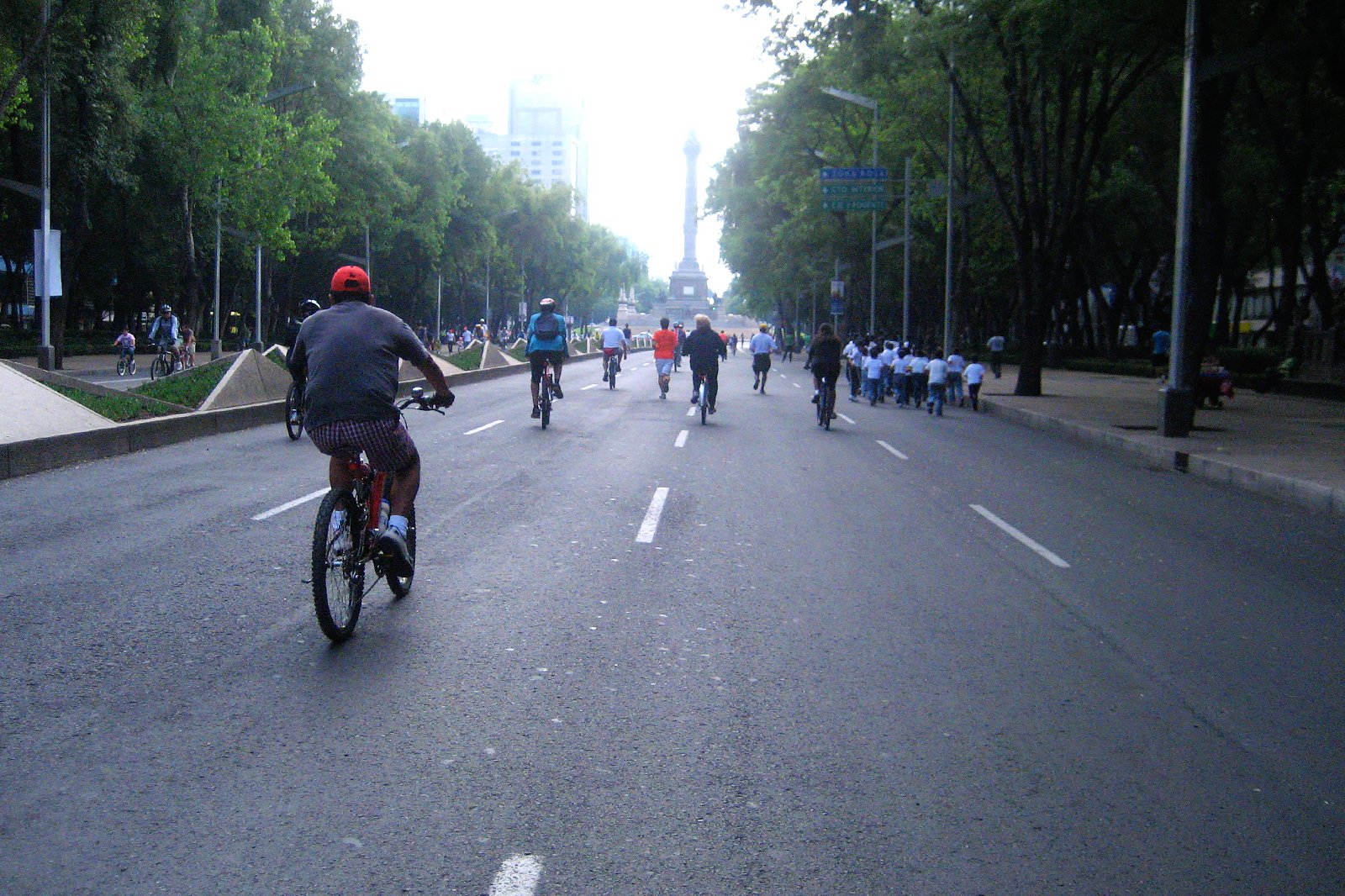 Every Sunday morning, Paseo de la Reforma is shut off to cars to allow floods of young and old, friends and families, students and athletes, to ride their bicycles freely down the leafy avenue. Join the crowds and hop on a bicycle for a few hours and ride from Chapultepec to Zócalo. If you don't fancy cycling, you can walk or skate. Watch as crowds of all types get involved in exercising; there are even Zumba classes attended by hundreds, which often feel like giant dance parties. Enjoy the energetic, festive atmosphere where dogs roam free and children learn how to ride their bicycles. Look out for fruit carts, which sell pots of deliciously sweet mango slices covered in lime juice and chilli powder.
Location: Paseo de la Reforma, Ciudad de México, CDMX, Mexico
See nearby properties
photo by megananne (CC BY-SA 2.0) modified
2
Rivera murals in the Palacio Nacional
See the Mexican painter's work for free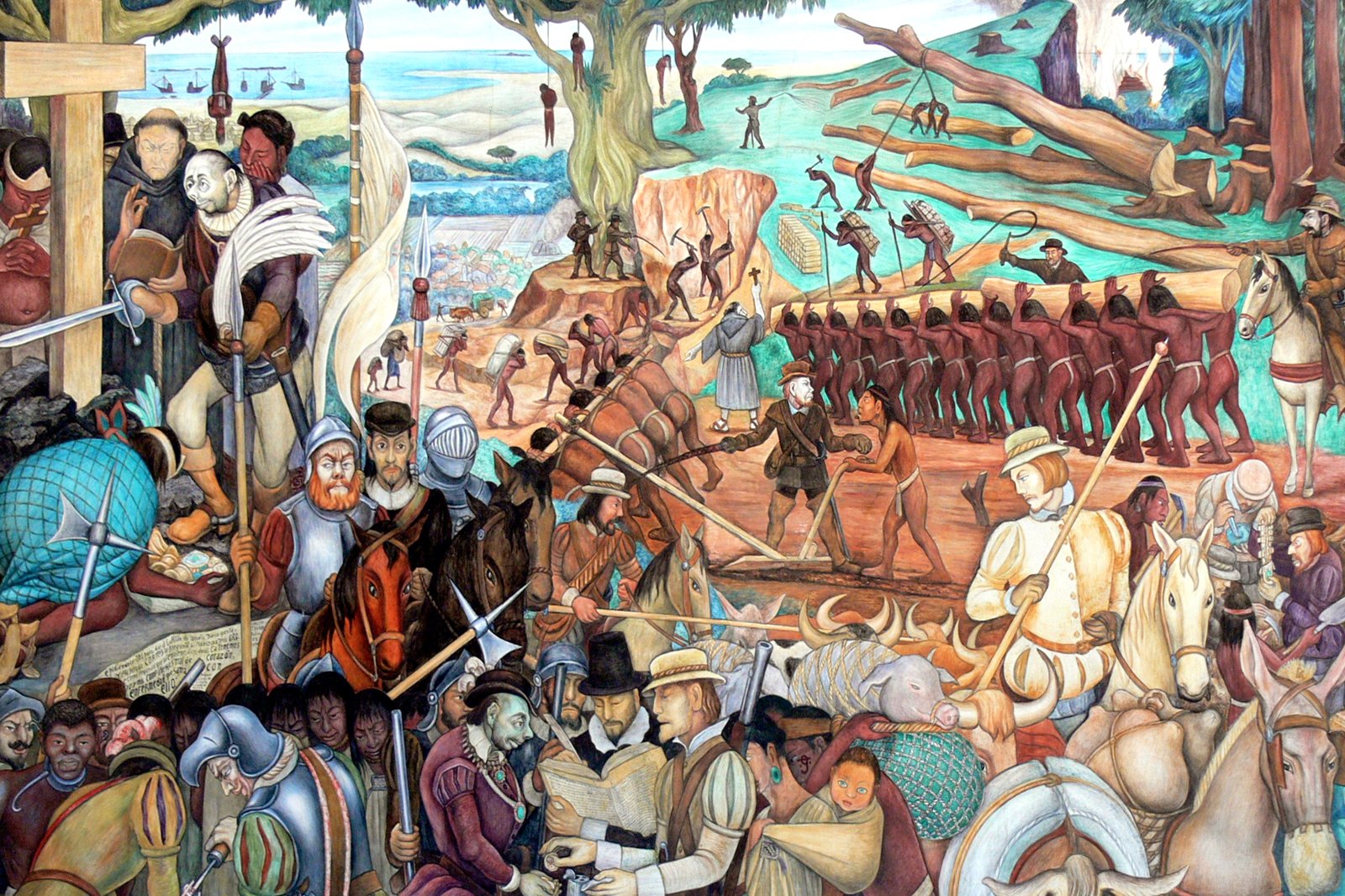 Palacio Nacional, found just off the famous Zócalo, is one of the many places throughout the capital that allow you to marvel at Diego Rivera's iconic murals. Rivera was a true icon, playing a pivotal role in the indigenous cultural heritage of Mexico. Experiencing his murals for yourself is a must-do for travelers visiting the capital. The stairway mural at the Palacio Nacional can only be described as breathtaking, with its illustrious bold colors and monumental size. The mural explains the history of Mexico in 3 parts and was completed in 1935. To avoid crowds, visit early in the morning. The palace is closed every Monday.
Location: Paseo de la Reforma, Ciudad de México, CDMX, Mexico
Open: Tuesday to Sunday from 9 am to 5 pm
Phone: +52 55 3688 1255
See nearby properties
photo by Wolfgang Sauber (CC BY-SA 3.0) modified
3
Museo Soumaya
A piece of art in itself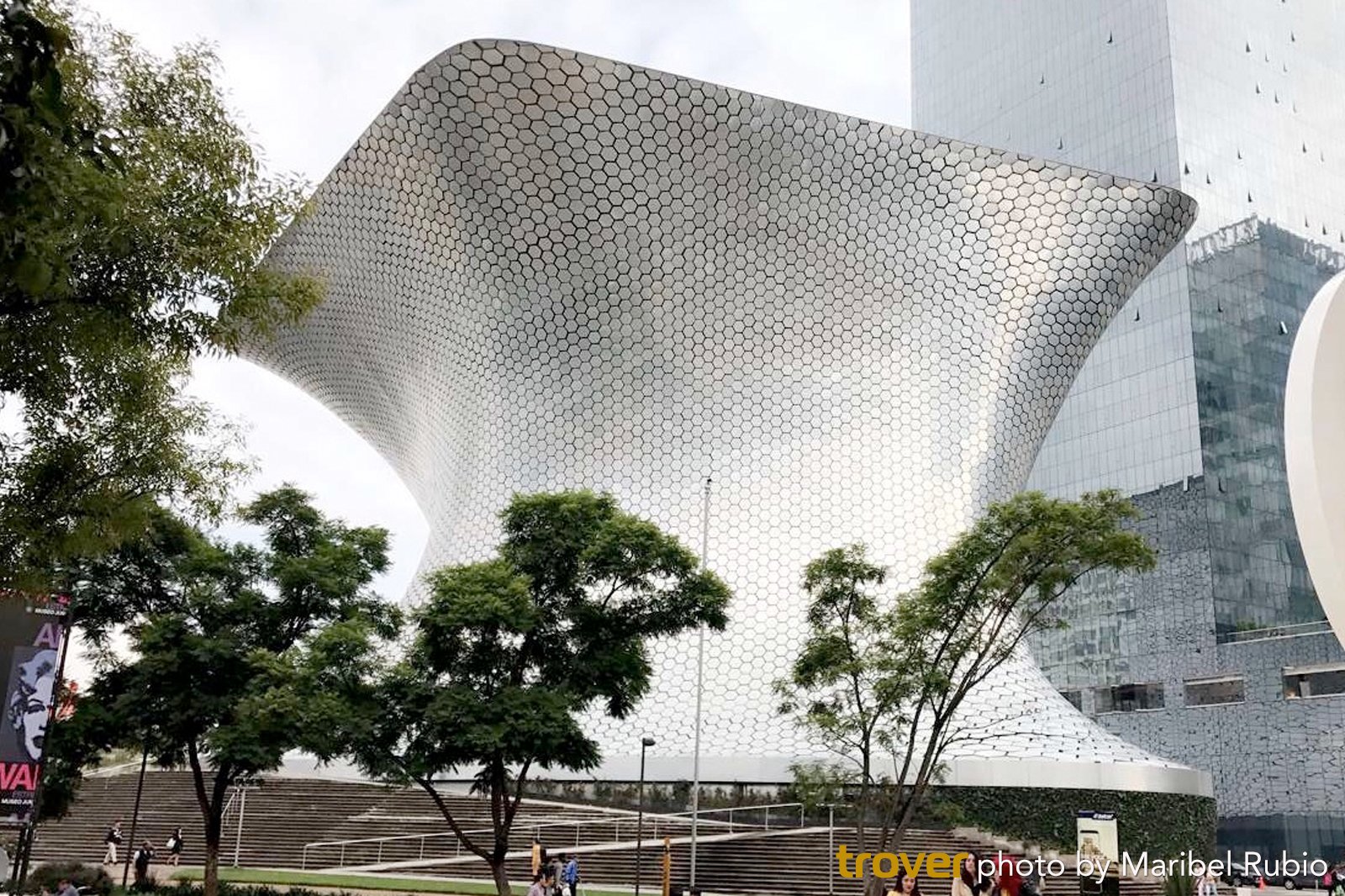 Museo Soumaya is situated in the upscale area of Polanco and certainly fits its modern aesthetic. You'll find yourself in awe of this beautifully crafted building, which is gilded with hexagonal discs of glimmering metal, creating a futuristic sleek shape. Designed by famed architect, Fernando Romero, the private museum is a shimmering highlight of the neighborhood and should not be missed. The art collection is just as impressive as the building, with works from Rodin, Rivera, de Sáenz and Botticelli. The museum is closed every Tuesday.
Location: Bulevar Miguel de Cervantes Saavedra 303, Granada, Miguel Hidalgo, 11529 Ciudad de México, CDMX, Mexico
Open: Sunday to Friday from 10.30 am to 6.30 pm, Saturday from 10.30 am to 8 pm
Phone: +52 55 1103 9800
See nearby properties
4
Basilica de Guadalupe
A place of pilgrimage and worship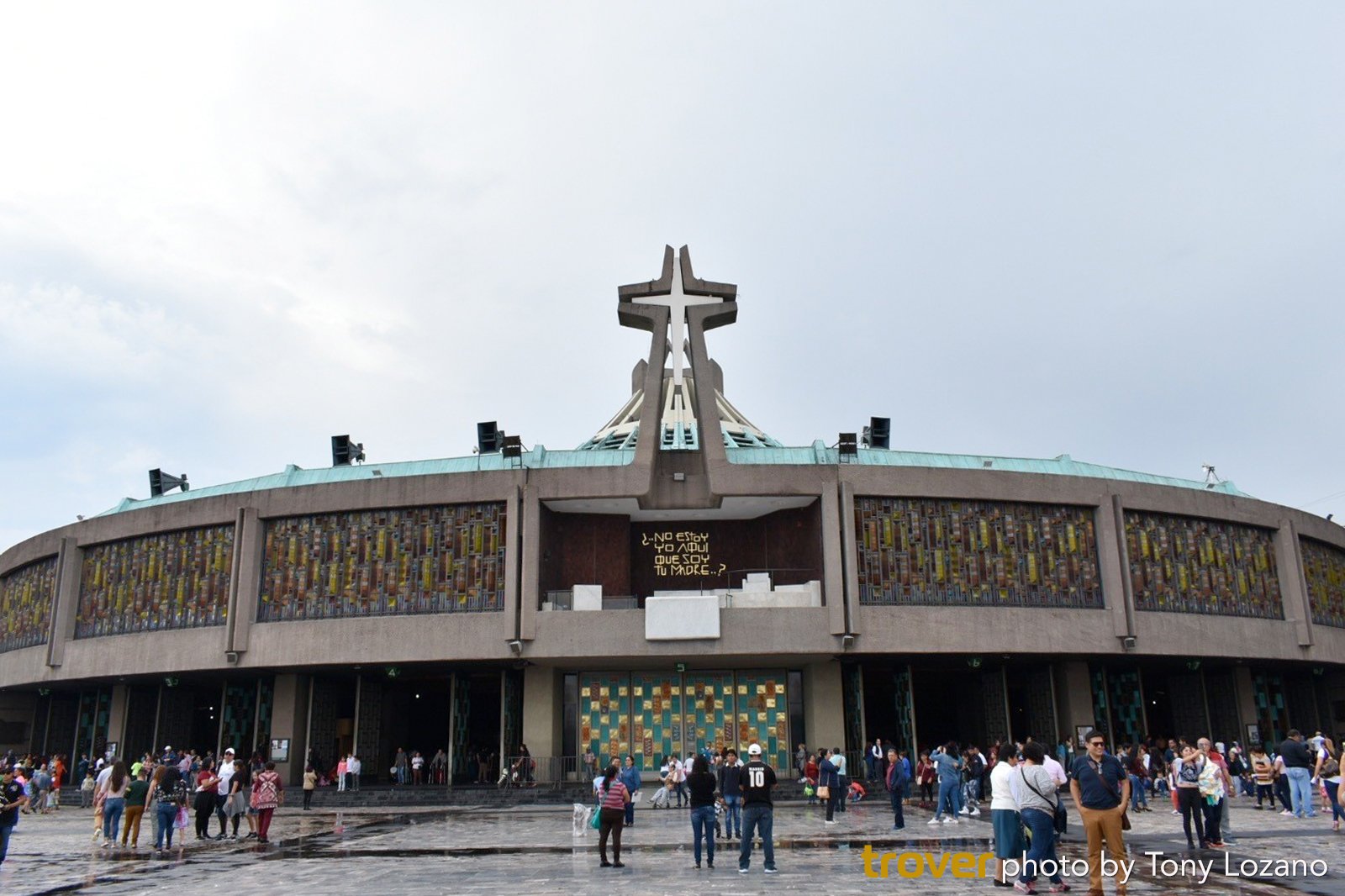 Basilica de Guadalupe is a Roman Catholic church, basilica and national shrine of Mexico. The shrine was built near the Hill of Tepeyec, where the Virgin Mary was believed to have appeared to Saint Juan Diego in 1531, leaving an imprinted image on his cloak. This cloak can be viewed by visitors in the new basilica, which was built in 1974. The old and new basilica are found perpendicular to each other and are visited by millions of people a year, many of whom are on Catholic pilgrimages. The Virgin of Guadalupe is one of the most important Mexican symbols of patriotism and can be found plastered on all sorts of items – from necklaces to posters.
Basilica de Guadalupe gets especially busy around the 12th of December every year, during Our Lady of Guadalupe's Feast Day. The grounds also host a small museum, which is closed every Sunday.
Location: Plaza de las Américas 1, Villa de Guadalupe, Villa Gustavo A. Madero, 07050 Ciudad de México, CDMX, Mexico
Open: Daily from 6 am to 9 pm
Phone: +52 55 5118 0500
5
Parque México
An oasis in the heart of Colonia Condesa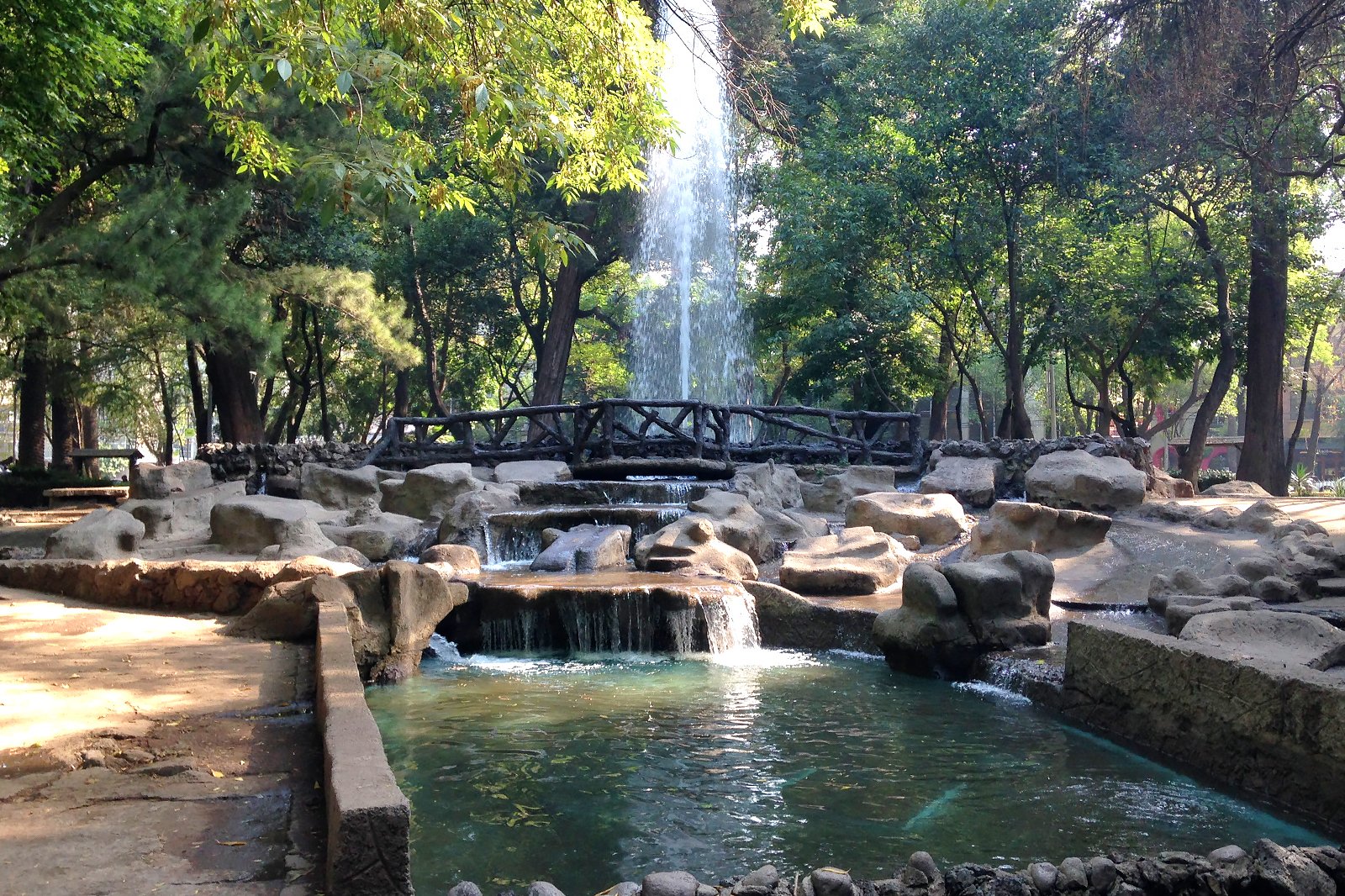 Parque México is a large urban park ideal for taking a break from the city. Grab a picnic and lounge around on the lush grass. Here, you'll find crowds of all sorts, from young teenagers on their phones to elder couples walking hand in hand or sitting on one of the quaint benches. The park features ponds, fountains and Art Deco architecture dotted around this 9-hectare space. Pathways wind in and out from under the cool of the trees and is an ideal place to escape the chaos of the Mexico City. Look out for free tango classes, which take place every Sunday from 5pm onwards.
Location: Avenida México, 06100 Ciudad de México, CDMX, Mexico
Open: Daily, 24 hours
Phone: +52 800 008 9090
See nearby properties
photo by Lorena Chavira Alvarez (CC BY-SA 3.0) modified
6
Explore the UNAM Campus
One of Mexico's UNESCO World Heritage sites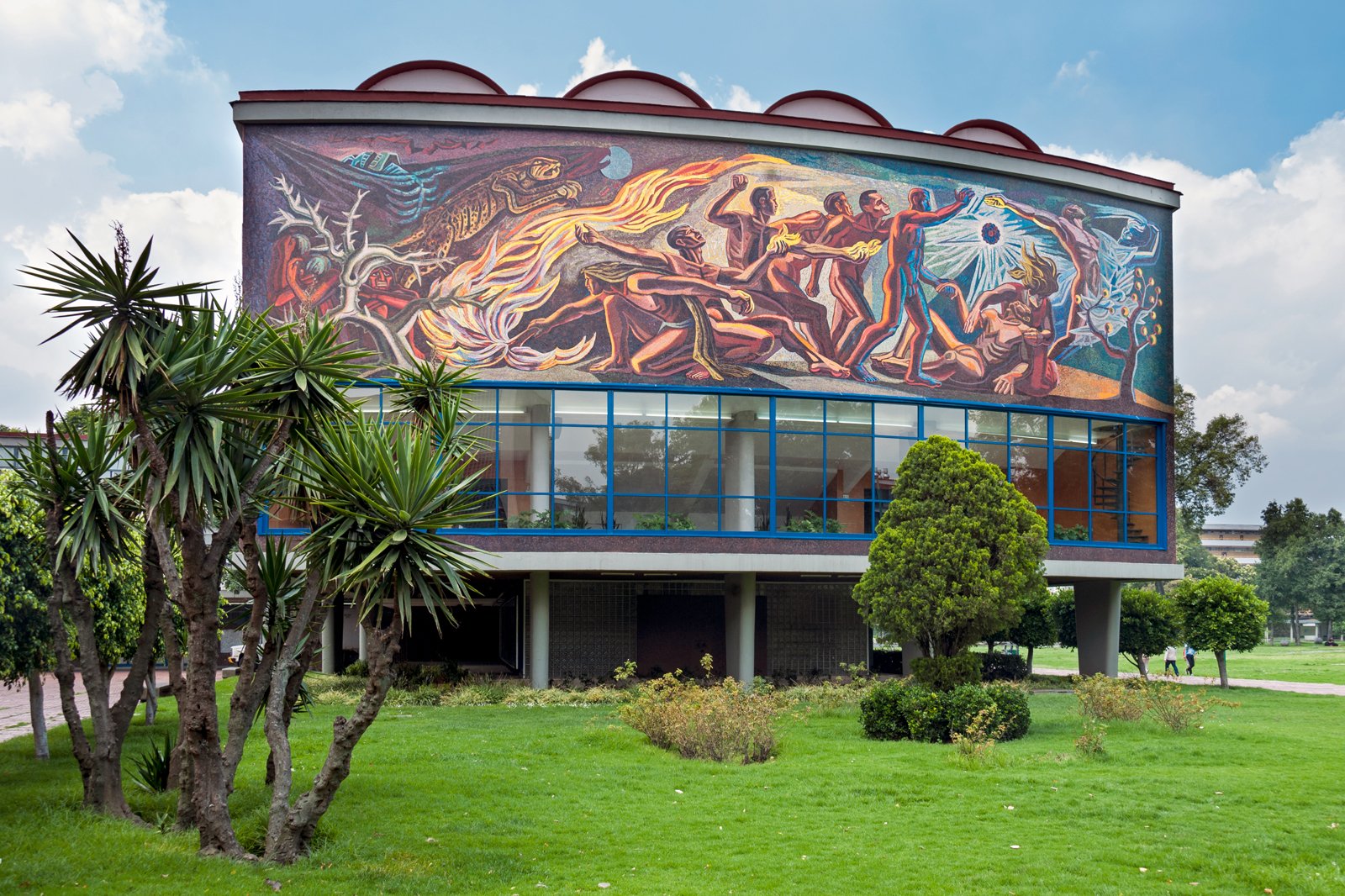 The UNAM Campus is an often-overlooked area of Mexico City as travelers are deceived by its name. The campus hosts a sculptural park - Espacio Escultorico - which is made up of huge, abstract pieces set within an ecological reserve. The reserve is home to an array of animals including rabbits, opossums, cacomixls and gray foxes, and you can spot them easily among the sculptures. The UNAM library is also worth a visit, which is adorned with a giant, gorgeous mosaic painted by Juan O'Gorman.
As the largest and most important university in Mexico and Latin America, it's easy to see why this campus is considered historic, with the institute pushing boundaries in Mexico's education system. Visit the Botanical Garden to learn about Mexico's biodiversity.
Location: Avenida Universidad 3000, Cd. Universitaria, Coyoacán, 04510 Ciudad de México, CDMX, Mexico
Phone: +52 55 5622 1332
See nearby properties
photo by Daniel Case (CC BY-SA 3.0) modified
7
Watch Aztec dancers in Zócalo
Catch 'concheros' performances on the streets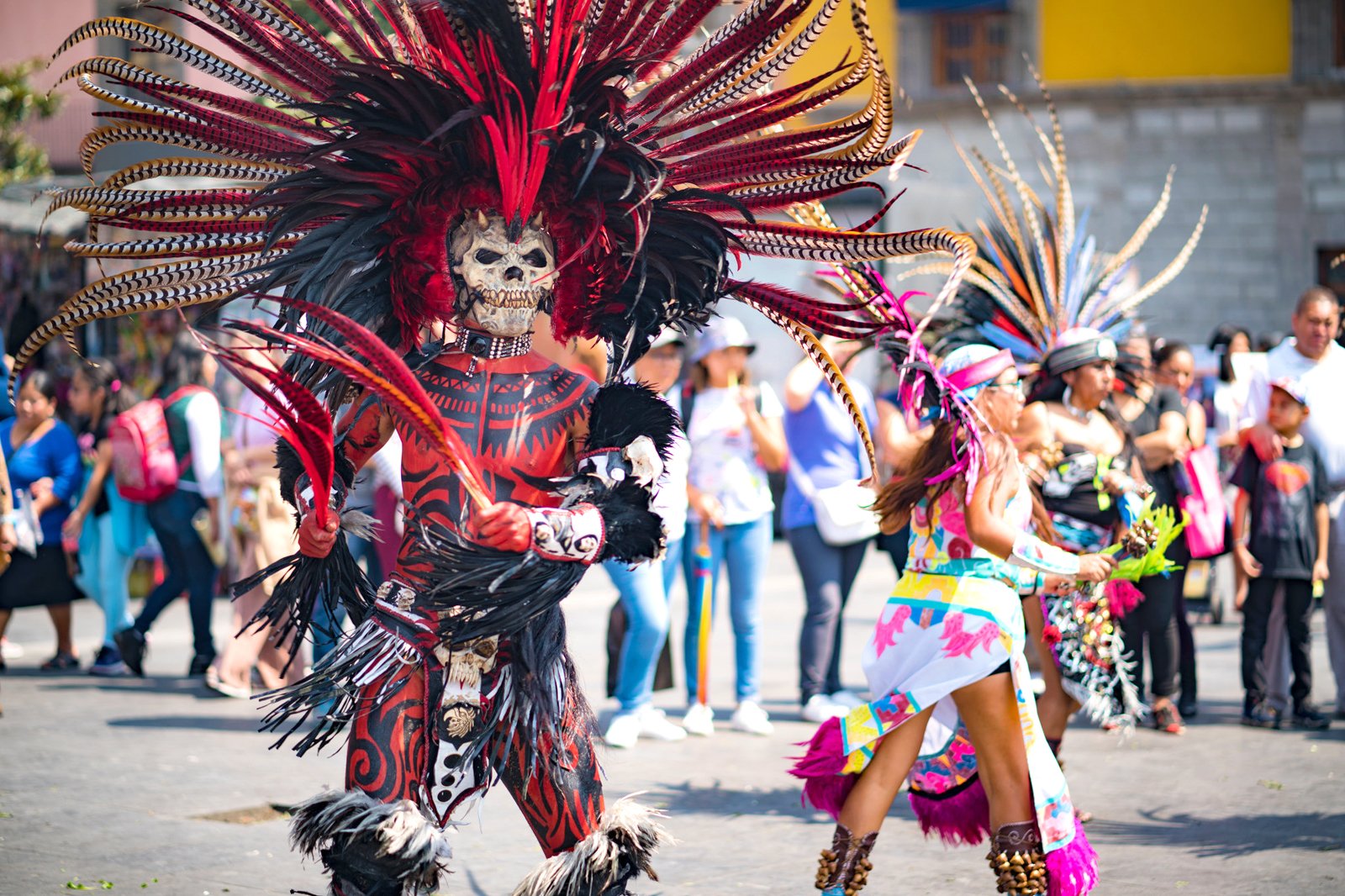 In and around Mexico City's Zócalo public square, you can find Aztec dancers adorned in elaborate clothing and playing percussion-led music. Whilst roaming the cobbled streets, these performances are not hard to find, with crowds of tourists often forming. These dancers offer a modern take on concheros, which is an important traditional religious dance and ceremony that has been performed since the early Colonial times. Stop and adore the beautifully intricate feather headpieces that waver in rhythm with its dancer. You'll find yourself enthralled by this hugely entertaining dance. During festive seasons, the dance is frequently performed.
Location: Plaza de la Constitución, Centro Histórico, Centro, 06000 Ciudad de México, CDMX, Mexico
See nearby properties
photo by Nan Palmero (CC BY 2.0) modified
8
Mariachi bands in Plaza Garibaldi
Listen to Mexican music in a lively plaza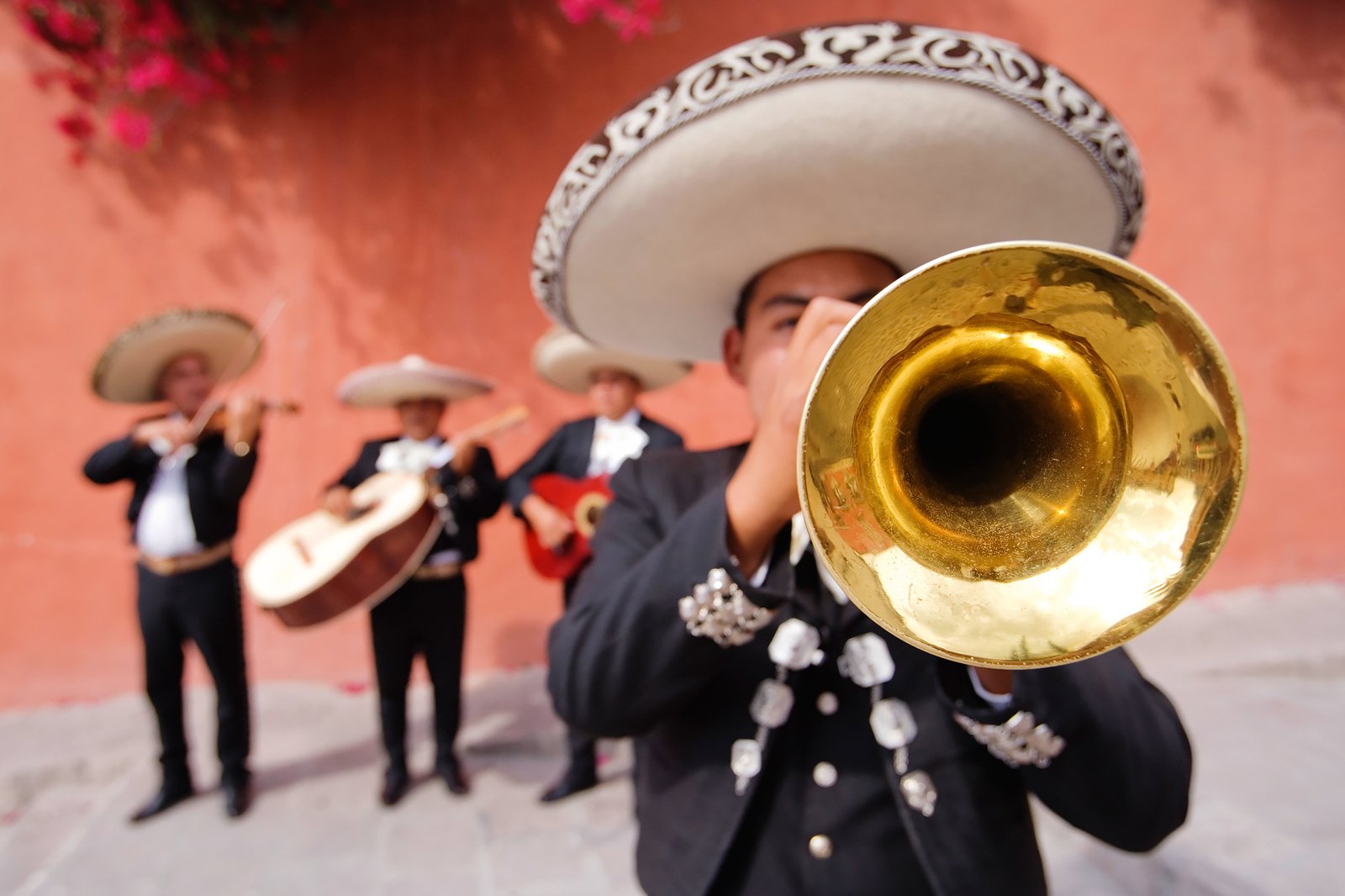 Plaza Garibaldi boasts a raucous atmosphere thanks to the strings of mariachi bands passionately playing in the square. Suited in traditional attire, the mariachi bands play to their hearts content – and the onlookers love it. This tradition is rooted in the Golden Age of Mexican movie theater (1930s-1950s) when a genre named Charro saw male Mexican movie stars serenading their leading ladies with mariachi songs. On one side of the plaza - Salón Tenampa, gentlemen used to pay mariachi musicians to sing Charro-style songs to their partners. Come to the plaza during golden hour for a truly magical atmosphere filled with glorious music and dancing children.
Location: Eje Central Lázaro Cárdenas 43, Centro, 06000 Ciudad de México, CDMX, Mexico
Phone: +52 55 9162 5192
See nearby properties
9
Plaza de las Tres Culturas
Representing the past, present and future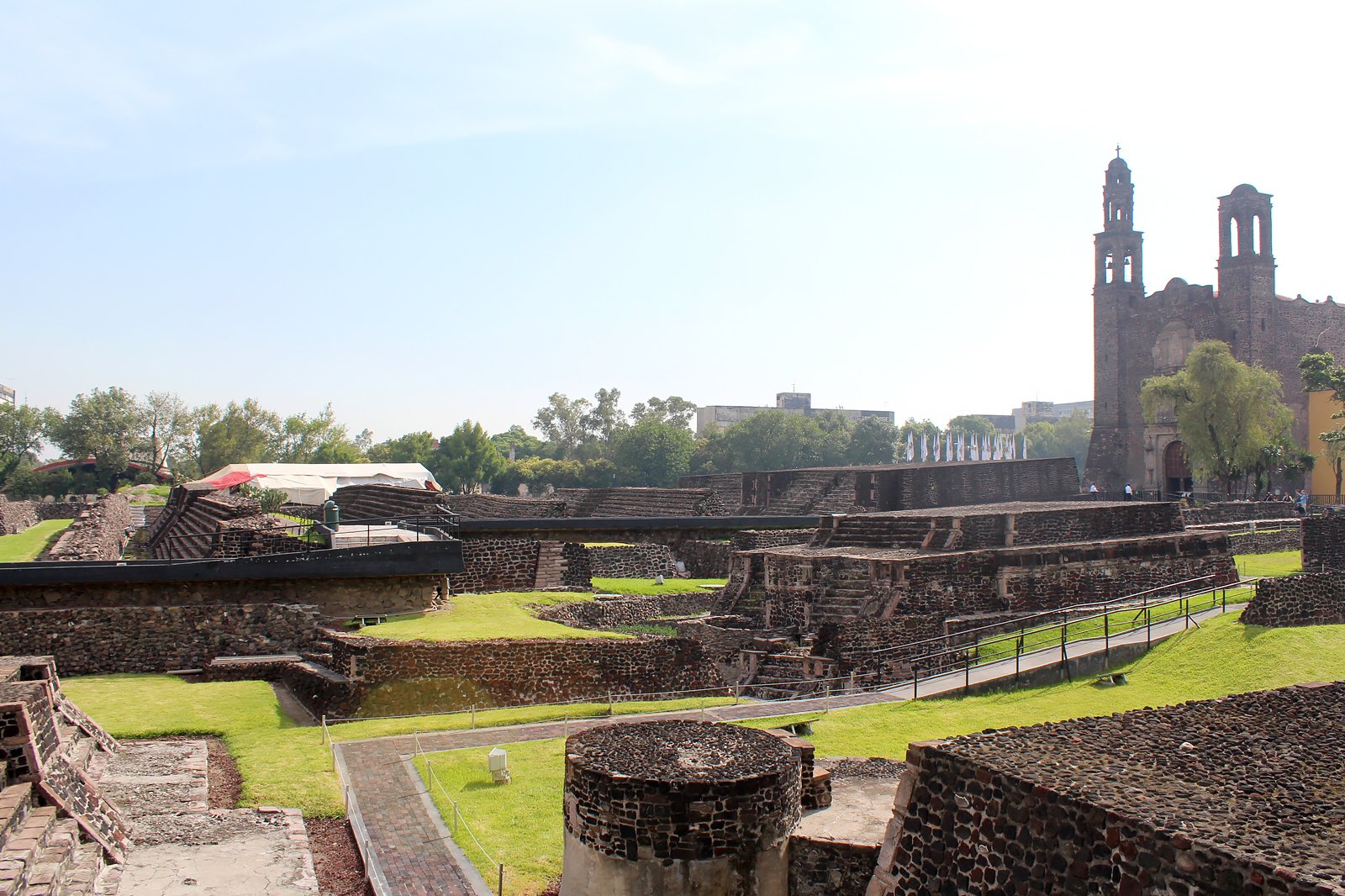 Plaza de las Tres Culturas is a beautifully-maintained ancient plaza located in the Tlatelolco neighborhood. The historic site is where the tragic 1968 Tlatelolco massacre occurred, when hundreds of student protesters were killed by government troops, on the eve of the Mexican Olympics. Equipped with an air of significance, the plaza exhibits the architectural legacies of 3 distinct cultures: the Aztec pyramids of Tlatelolco, the 17th-century Spanish Templo de Santiago and a modern tower that holds Central Culturo Universitario.
Location: Lázaro Cárdenas, Tlatelolco, 06900 Ciudad de México, CDMX, Mexico
Open: Daily from 8 am to 5 pm
See nearby properties
photo by Deror_avi (CC BY-SA 3.0) modified
10
Climb the Ángel de la Independencia
Not an easy task…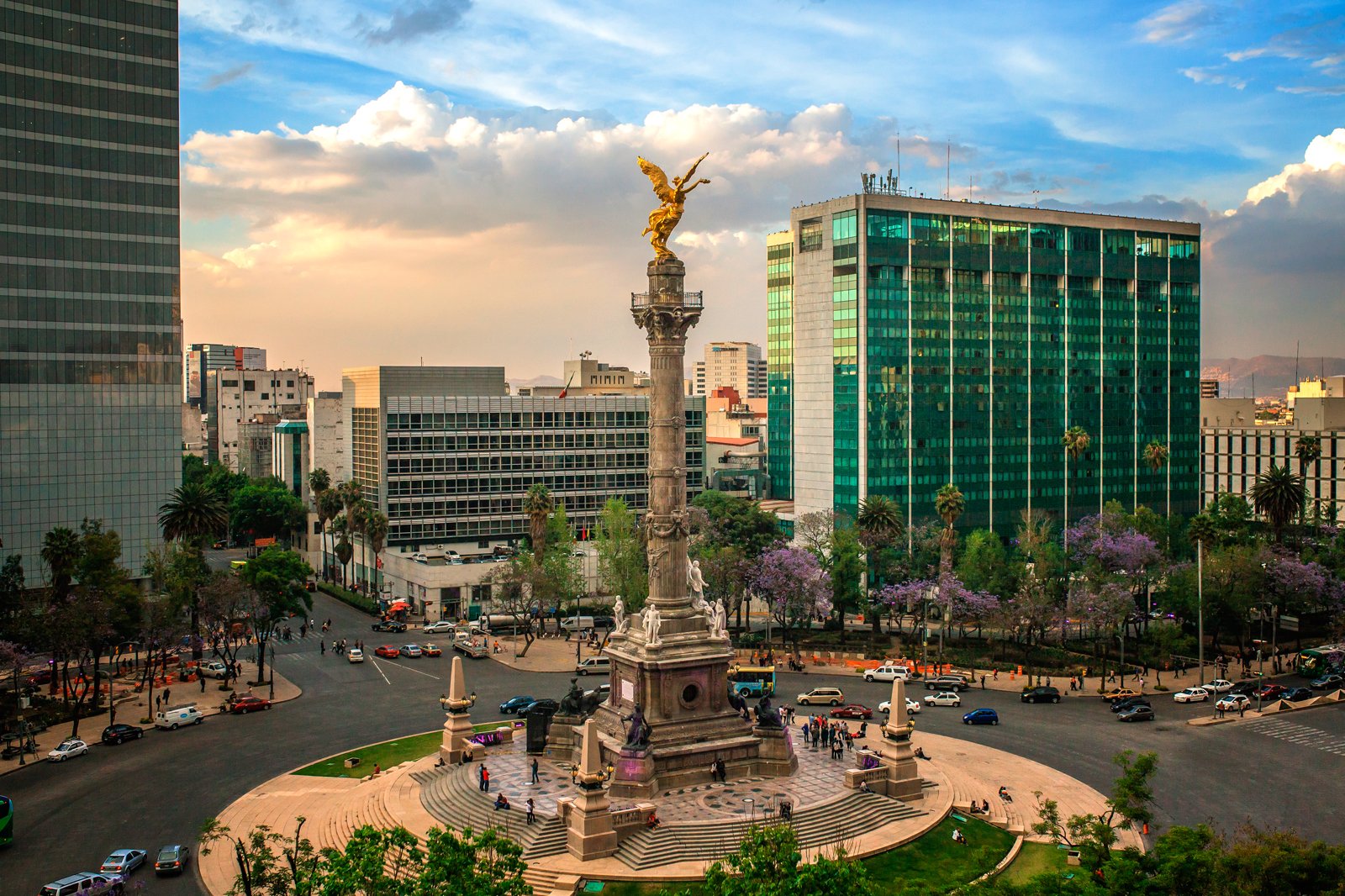 Photo
Budget
History
Unusual
Ángel de la Independencia is a victory column found on the main thoroughfare of Paseo de la Reforma. Built in 1910, the towering column is topped with a saintly golden angel and stands at 45-meters tall in downtown Mexico City. To climb to the top of the monument, you'll have to jump through a number of hoops. First, you have to write a letter explaining your reasons of visiting, your preferred day, time and the group size. Then, you have to present your letter to the Patrimonio Cultural de la Delegación, at a meeting held between 9am and 2.30pm from Monday to Friday. If you're granted permission, you can then climb the column for free and enjoy the pretty views of the city.
Location: Paseo de la Reforma y Eje 2 PTE, Juárez, Cuauhtémoc, Ciudad de México, CDMX, Mexico
See nearby properties