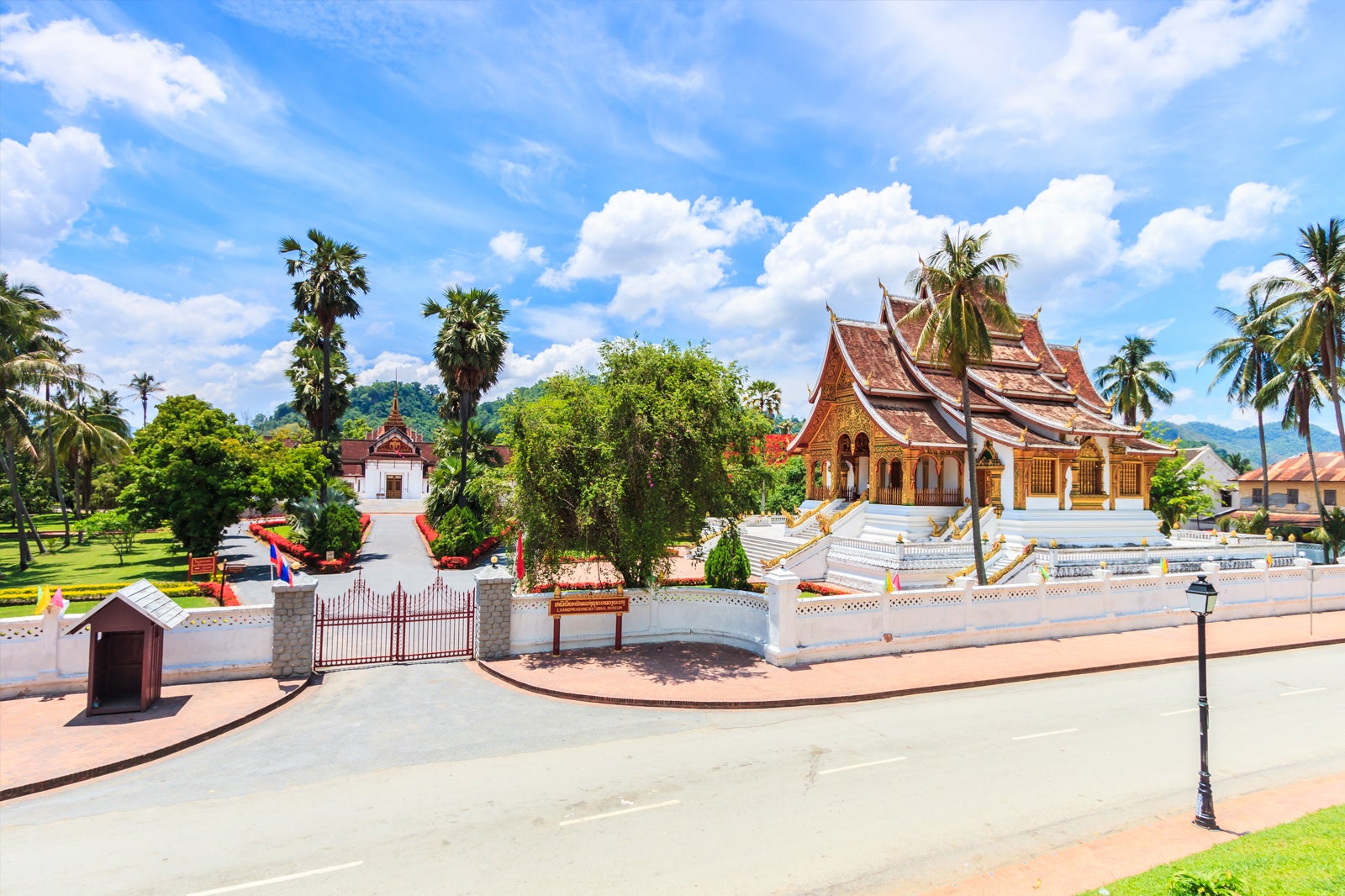 The Royal Palace Museum of Luang Prabang once served as the residence of King Sisavang Vong and his family during the French colonial era. Designed in the French Beaux-Arts style with many tasteful accents of traditional Lao culture, the palace was converted into a museum in 1995.
The grounds have a number of other buildings, including an exhibition hall, a chapel (Haw Prabang), and a statue of King Sisavangvong. The royal quarters have been faithfully preserved and offer a fascinating glimpse into the lifestyle of the king and his family.
The museum exhibits royal religious objects, weapons, statues, screens and paintings from centuries past. In the mirrored Throne Hall, you can see the crown jewels of Laos. Make sure you visit the room that features murals depicting Lao life in the 1930s.
Royal Palace Museum in Luang Prabang - one of the highlights of 18 Best Things to Do in Luang Prabang (Read all about Luang Prabang here)
The Royal Palace Museums is surrounded by a spacious, well-tended garden just off Thanon Sisavangvong. A pavilion houses the 2,000-year-old Prabang Buddha, which is made from solid gold. There's a garage containing the last king's collection of cars. The museum is well worth a couple of hours of your time if you want to learn more about Lao history and culture.
You will have to store your shoes, bags, and cameras inside lockers (free of charge) before entering the exhibit halls. The best time to visit if you want to beat the crowds is early in the morning. Traditional dance performances takes place several evenings a week at the National Theatre next door.
Royal Palace Museum in Luang Prabang
Location: 27 Ounheun Road, Luang Prabang, Laos
Open: Monday–Wednesday and Friday–Saturday from 8am to 11.30pm and from 1pm to 3.30pm, Thursday from 8am to 3pm (closed on Sundays)
Back to top