10 Best Shopping in Vientiane
Where and What to Shop in Vientiane
Some of the best places to go shopping in Vientiane include its traditional markets where you can experience the local lifestyle, shop for authentic souvenirs, and sample delicious Lao dishes. Rows of vendors set up shop along the Mekong River and you get to enjoy sunset views of the Lao capital during your visit too.
Vientiane city center has dozens of quaint gift shops and galleries operating on fair-trade principles. Textiles, crafts, home décor, and jewelry are sourced from various ethnic villages across Laos – all proceeds go towards these artisans and create employment opportunities for the unfortunate.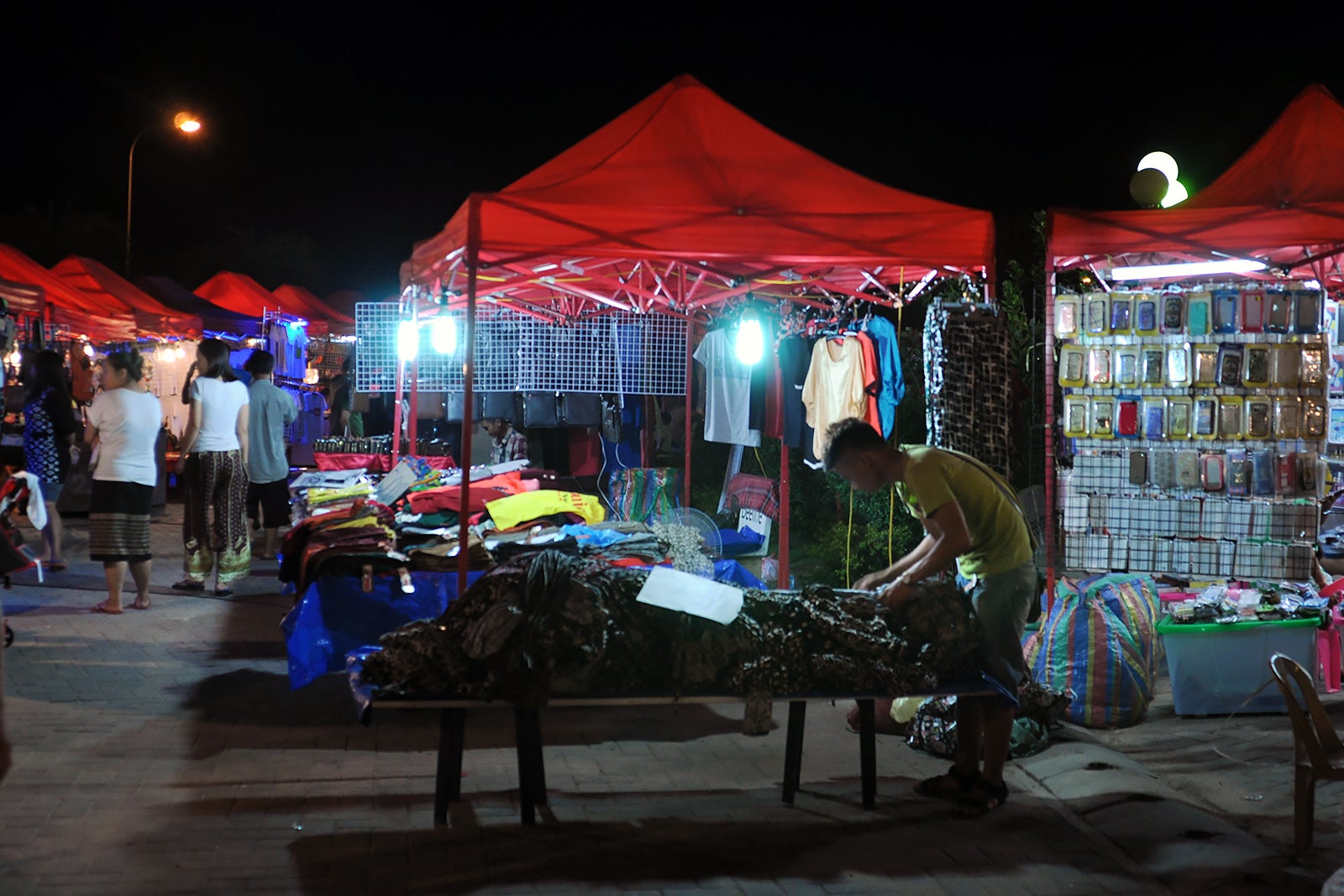 The Vientiane Night Market takes place along the Mekong Riverfront, where you can see rows of red-roofed stalls selling handicraft, clothes, and electronics. Vendors begin to set up their stalls around sunset.
The market is busiest around 8pm, so head there early to avoid the large crowds. The Vientiane Night Market is well worth a visit in the evening for its gorgeous sunset alone, as well as the many street food stalls selling authentic Lao dishes.
Location: Mekong Riverfront, Vientiane, Laos
Open: Daily from 6pm to 9.30pm
photo by shankar s. (CC BY 2.0) modified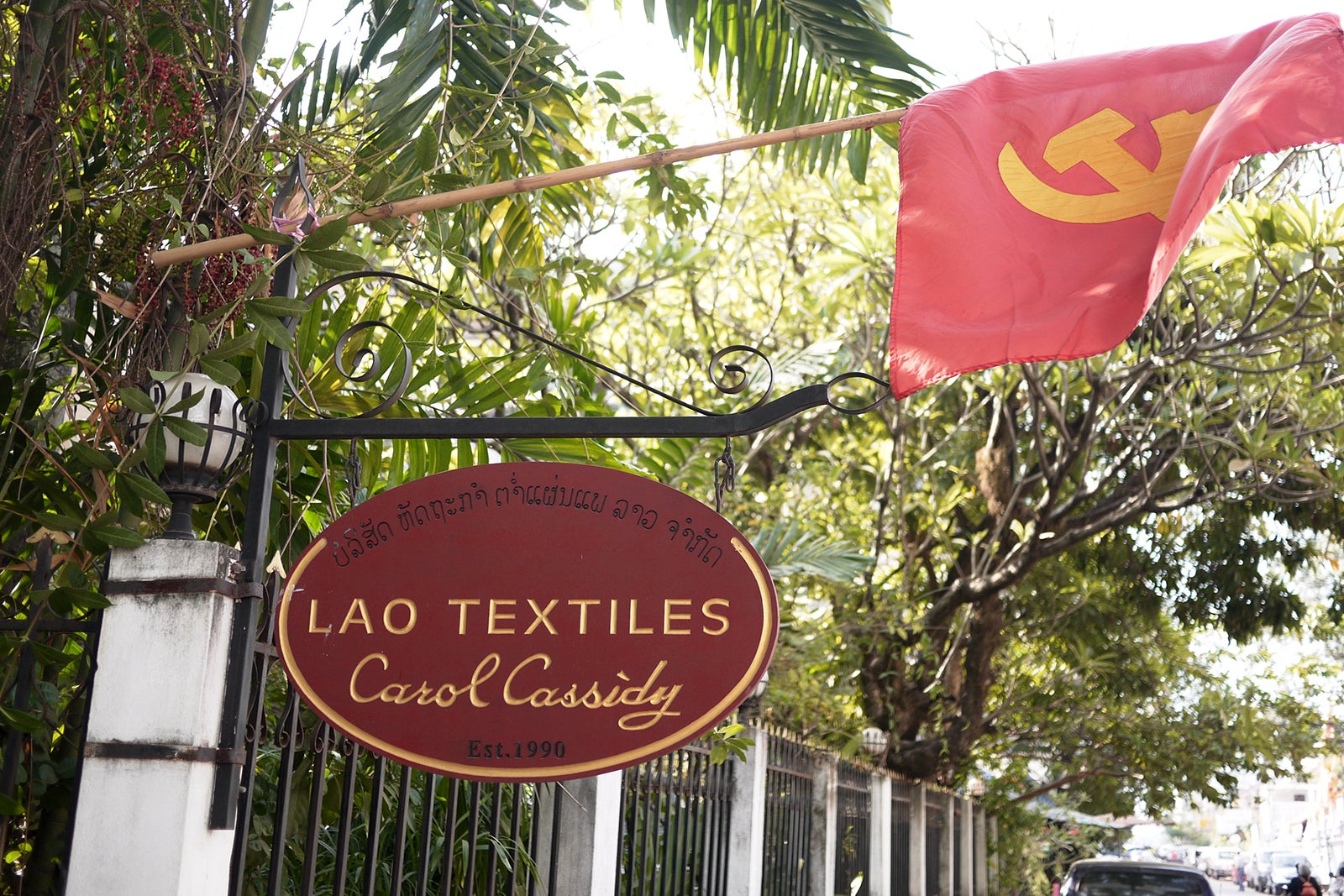 Carol Cassidy's Lao Textiles
Carol Cassidy's Lao Textiles doubles as a workshop and gallery of traditional Laotian textiles. The American designer and a team of 40 local artisans use traditional techniques to produce scarves and home décor with intricate patterns and motifs. All of her works are 100% handwoven silk – note that prices are rather high compared to most shops in Vientiane.
Location: Ban Mixay, Vientiane, Laos
Open: Monday–Friday from 8am to 12pm and from 2pm to 5pm, Saturday from 8am to 12pm (closed on Sundays)
Phone: +856 21 212 123
photo by chinnian (CC BY-SA 2.0) modified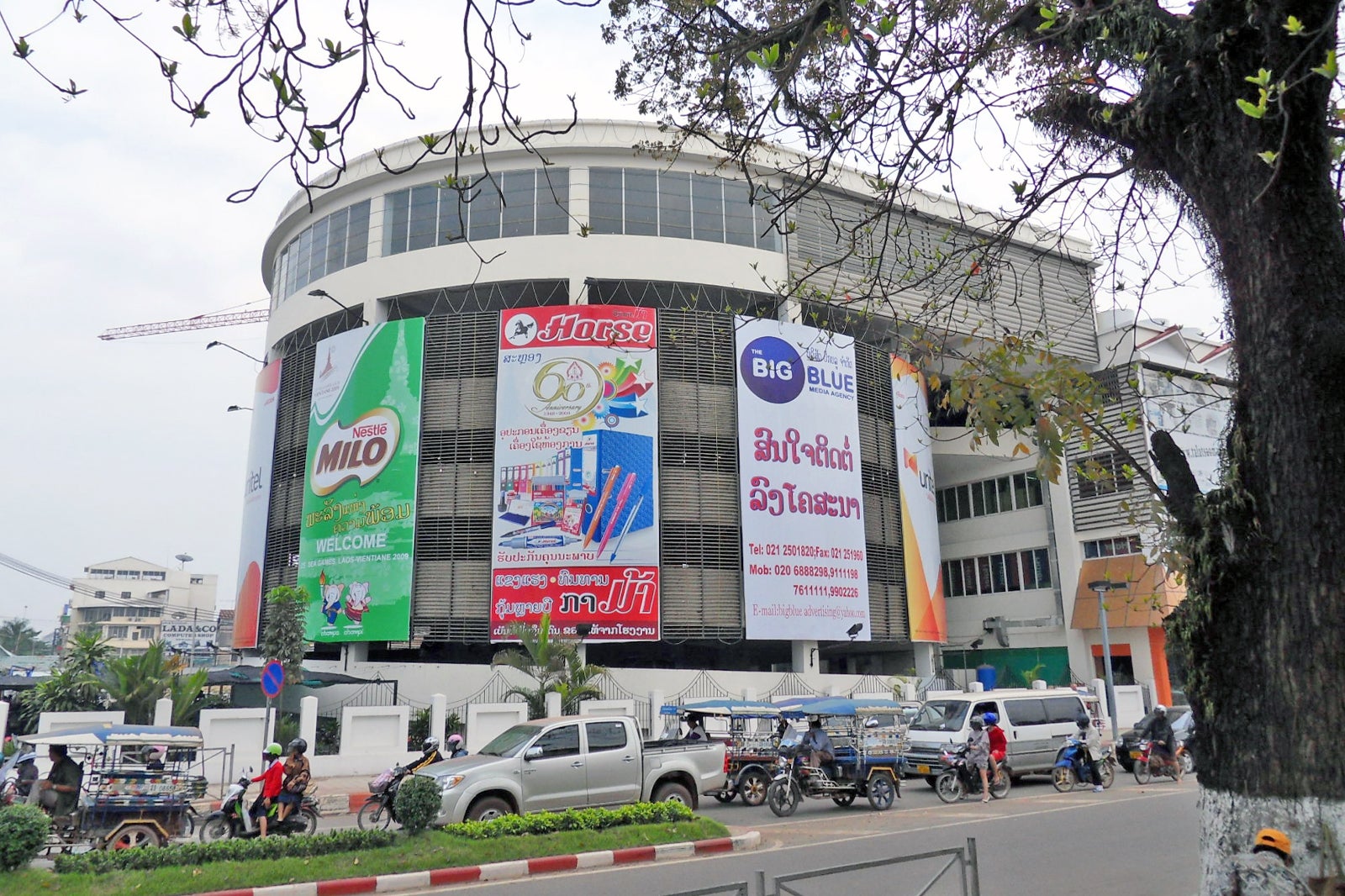 Talat Sao Vientiane is both a shopping mall (with air-conditioning) and morning market in the city center. Its outdoor section has narrow walkways lined with market-style souvenir stalls, while the mall has shops selling clothes, sports equipment, and jewelry. There's also a movie theater and arcade center, both popular among those looking to escape the heat and humidity.
Location: Lane Xang Avenue, Vientiane 0100, Laos
Open: Daily from 8am to 5.30pm
Phone: +856 21 285 001
photo by Chaoborus (CC BY-SA 3.0) modified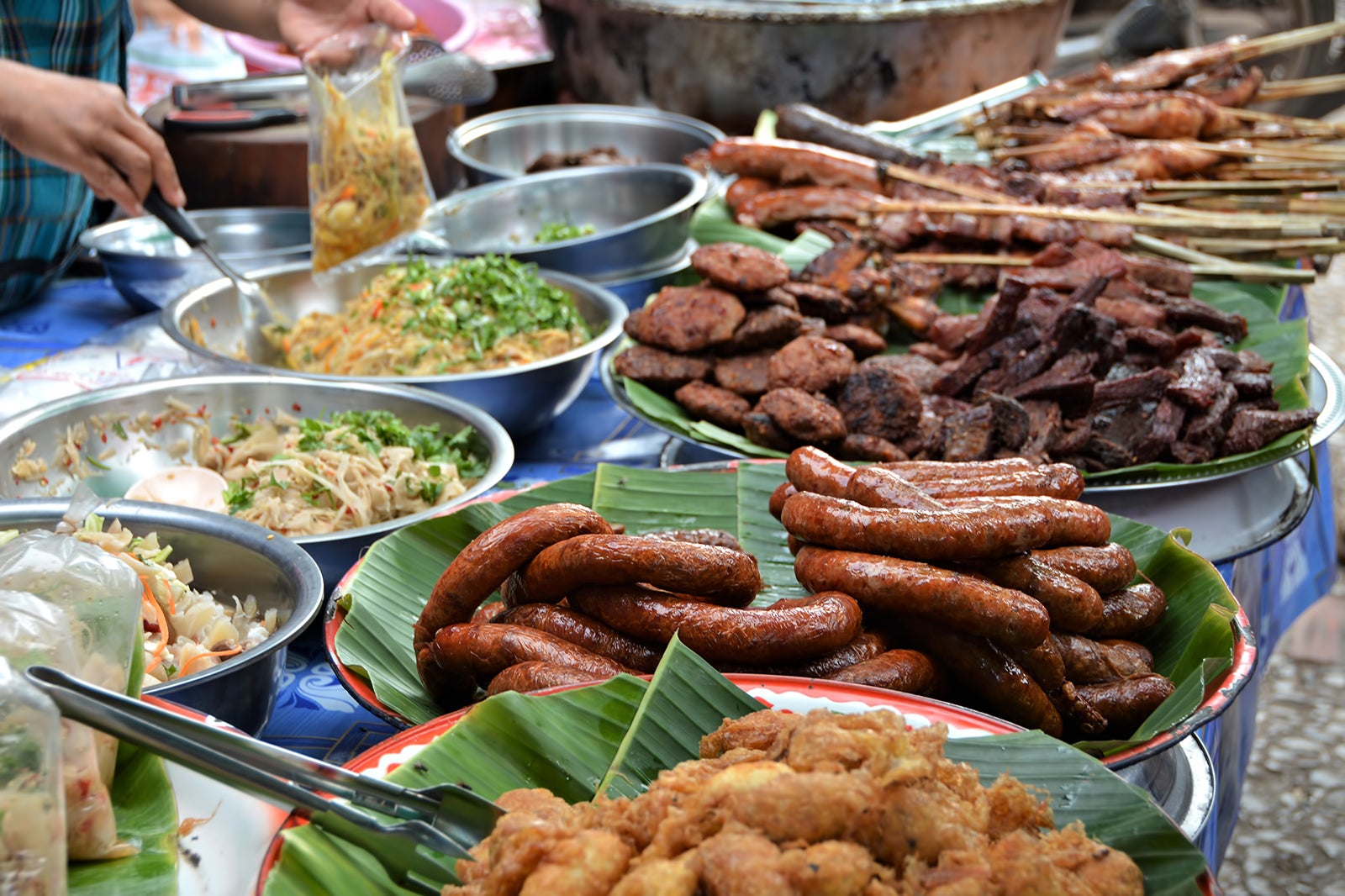 Vangtong Evening Food Market
The Vangthong Evening Food Market attracts locals and tourists looking to enjoy authentic Laotian food at affordable prices. After sunset, the market becomes a hive of activity with dozens of stalls preparing traditional dishes such as bla kan sung (grilled fish), sai oua (Laotian sausage), and bet yang (roasted duck). A walk through Vangthong Evening Food Market also provides plenty of good photo opportunities – just make sure you ask for permission before clicking that shutter.
Location: Rue Phai Nam, Vientiane, Laos
Open: Daily from 5pm to 10pm
Elegant Boutique, founded in 2008, offers quality silk and cotton tailoring services in central Vientiane. Owned by a Laotian designer named Tamong, the store has a mix of eastern and western fashion pieces, from suits and shirts to skirts and dresses.
It takes around 3 days for Tamong to produce your very own bespoke clothes, but shipping services are also available if you're strapped for time. Elegant Boutique also sells silver jewelry made by hill tribes near Vientiane.
Location: 103, Rue Pangkham, Namphu Fountain, Vientiane, Laos
Open: Daily from 9.30am to 8pm
Phone: +856 21 215 437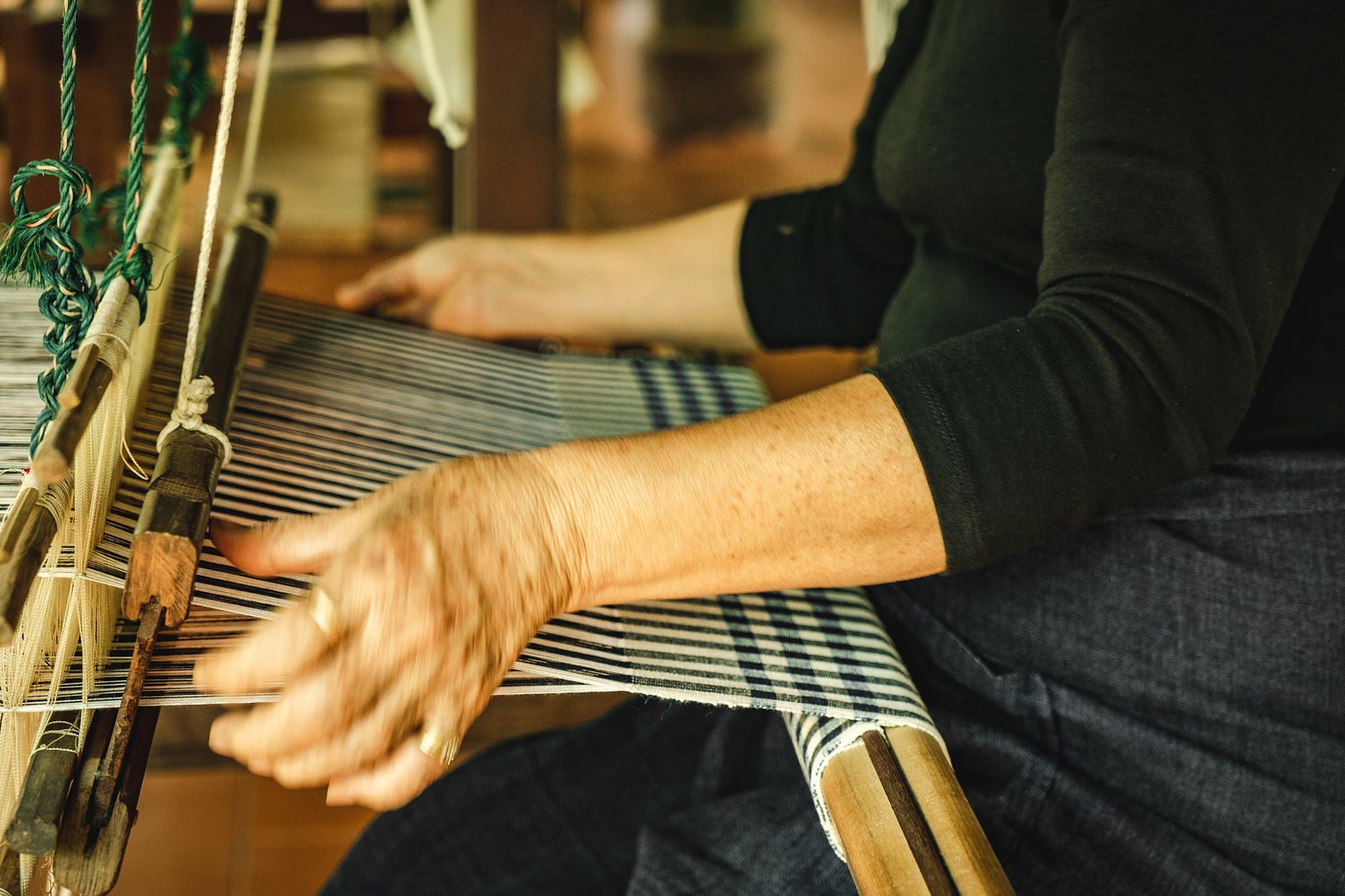 Phaeng Mai Gallery is a traditional weaving village about 4.6 km west of central Vientiane. There are more than 30 local ladies working on a variety of Lao textiles – these fabrics are dyed by hand (using natural coloring) before intricate patterns are woven using on wooden looms. These authentic crafts make for beautiful souvenirs, which you can purchase at the onsite shop.
Location: 110 Nongbouathong Tai Village, Sikottabong District, Vientiane 0100, Laos
Phone: +856 21 217 341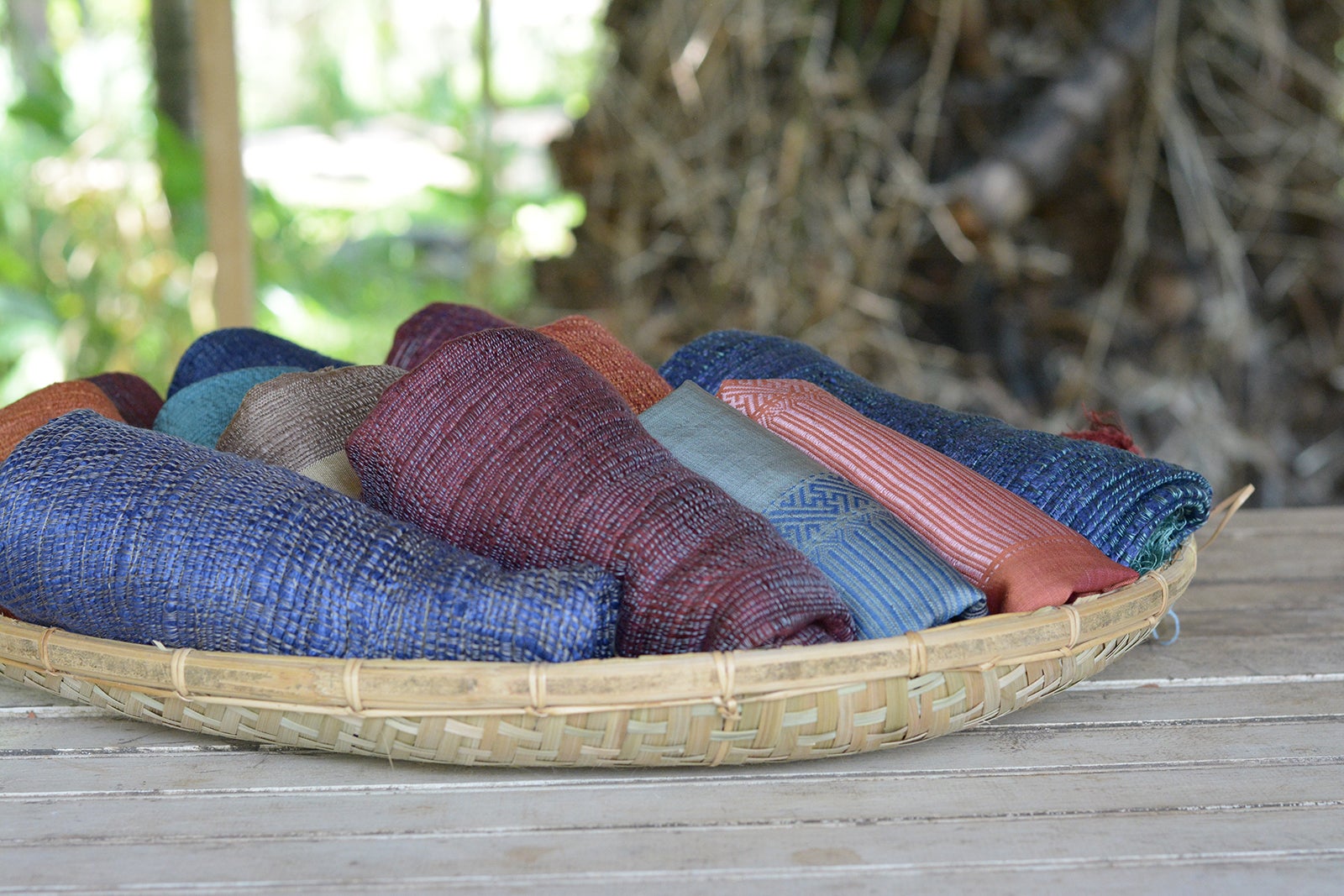 Saoban Craft is an artisan village near Wat Ong Teu in Vientiane – you'll find local craftswomen selling bamboo keepsakes, silver jewelry, and plenty of patterned textiles made from silk and cotton. This fair-trade village aims to preserve and promote ancient Lao crafts, create employment opportunities, and reduce poverty in Laos.
Location: 97/1 Ban Watchan of Rue Chao Anou, Chanthabouly District, Vientiane, Laos
Open: Monday–Saturday from 9am to 8pm (closed on Sundays)
Phone: +856 20 96 345 586
Ministry of Silk offers ready-to-wear clothes with modern Lao designs and a selection traditional jewelry, accessories, and bags. Most are one-of-a-kind pieces made from silk – you'll find cocktail dresses, scarves, overcoats, and business shirts of various styles. You can even have these clothes customized according to your size and preference. Prices are higher at Ministry of Silk compared to most boutiques in Vientiane, but you'll be paying for quality and style.
Location: 99/01 Namphou Square, Vientiane, Laos
Open: Daily from 9am to 9pm
Phone: +856 21 213 776
When you enter T'Shop Lai Gallery, you might feel as if you've stepped into a traditional Laotian home. The store's many cabinets display intricate handmade trinkets, essential oils, perfumes, and organic soaps – all of which are fair-trade and made from locally sourced ingredients. Head upstairs and you'll find an art gallery where you can purchase colorful artwork at reasonable prices.
Location: In Paeng Road, Vientiane, Laos
Open: Monday–Saturday from 8am to 8pm, Sunday from 10am to 6pm
Phone: +856 21 223 178
The Little House Vientiane
The Little House Vientiane is a roastery, café, and souvenir shop beside Wat Si Muang. This charming venue roasts (and sells) coffee sourced from local farms on the Bolevan Plateau, particularly in Paksong. Enjoy handcrafted and full-bodied caffeine such as latte and mocha, together with your choice of pastries or cakes. Little House Vientiane also sells handmade silk and embroidery by ethnic groups across Laos.
Location: Ban Si Meuang, Vientiane, Laos
Open: Tuesday–Sunday from 8.30am to 6pm (closed on Mondays)
Phone: +856 20 55 406 036