Tokyo Travel Essentials
Useful Information to Help You Start Your Trip to Tokyo
Our Tokyo Travel Essentials lays out the essential information you need to help you plan your trip to one of the most popular destinations in Japan. No matter how frequently you travel, some questions will always need answers: What's the weather like? How can I get from Narita and Haneda airports to my hotel? What currency and type of plug do I need?
We have all these answers plus other basic info about the best time to go, getting there, getting around, and a few useful travel tips. You'll also learn about the most popular landmarks in Tokyo such as Tokyo Skytree, Eastern Park of the Imperial Palace, and Meiji Jingu Shrine. It's all compiled in this Tokyo Travel Essentials. After reading this short and easy-to-read guide, you will be a little more prepared to start your trip to Tokyo, Japan.
1
When is the best time to travel to Tokyo?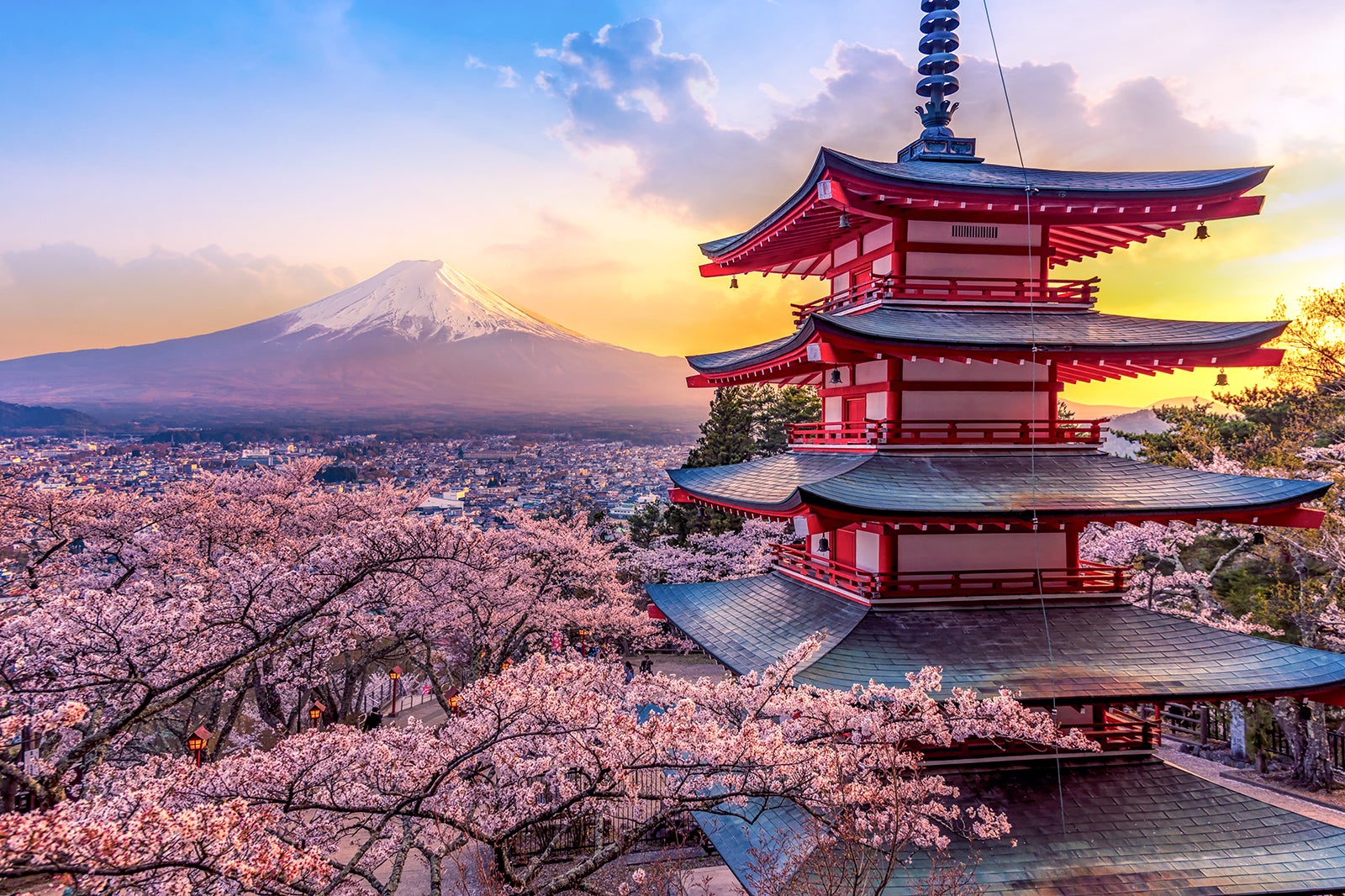 Tokyo is in a humid subtropical zone. It features hot and humid summers and mild to brisk winters. The all-year-round average temperature is 16°C.
With an average temperature of 26°C, the warmest month in Tokyo is August, while January is the coldest month with a daily average of 5°C.
December–February is the driest time of the year with an average of 6 rainy days per month. It rains about 11 days per month in March–November.
The crowds and heat in summer – June–August, and the low temperatures in winter – December–February, make Tokyo lesser traveled at these times of the year.
The best times to visit Tokyo are in spring and autumn. March–May is cherry blossom season while September–November is the time when tree leaves turn yellow and red. Note that hotel prices are fairly stable throughout the year, except for the New Year period when they tend to rise steeply.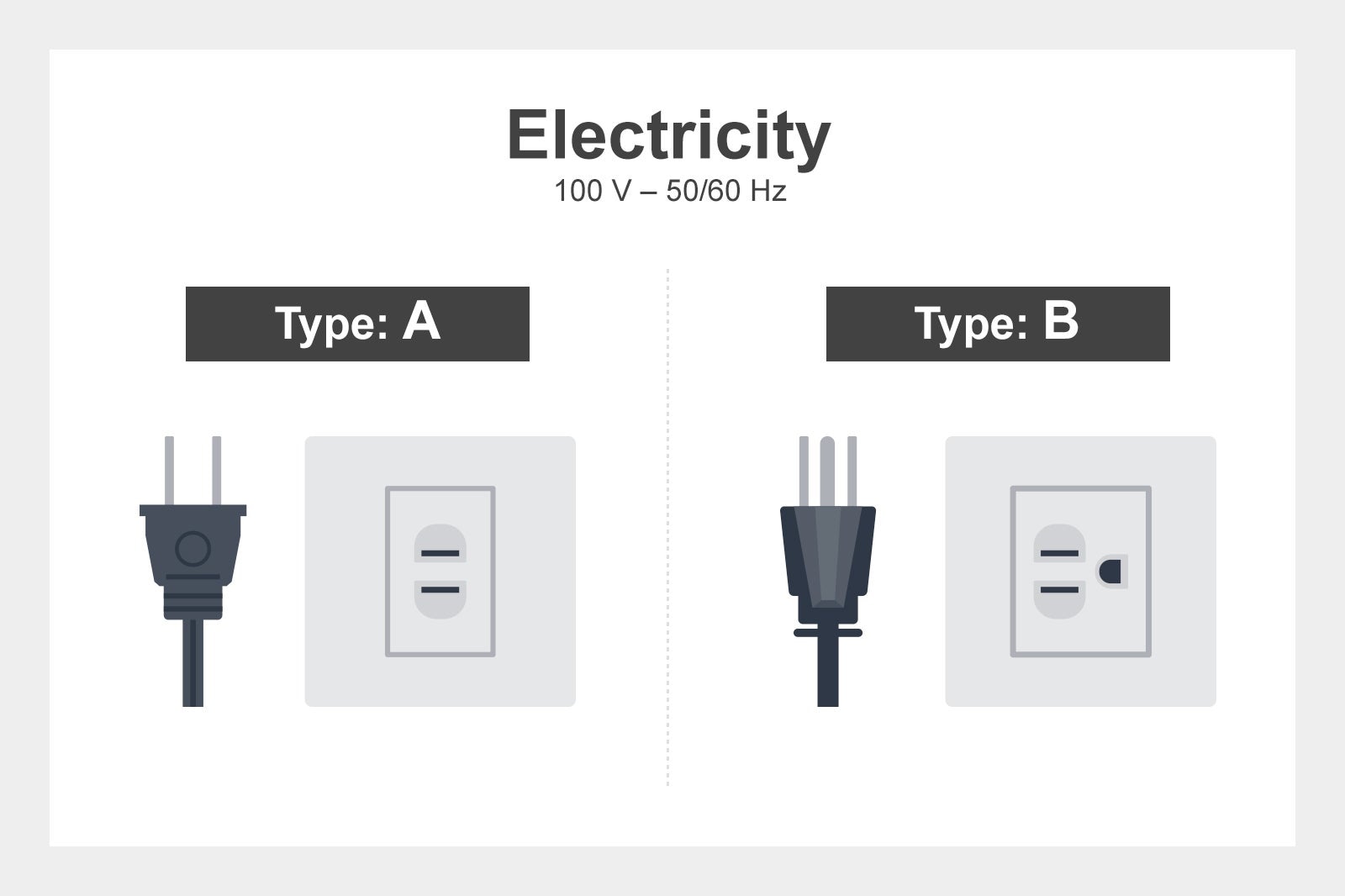 Plug type: A and B
Electricity: 100 V – 50/60 Hz
Currency: Japanese Yen (¥)
International dialing code: +81 3
Emergency telephone number: 119 (medical emergency), 110 (police)
3
How to get to my hotel in Tokyo?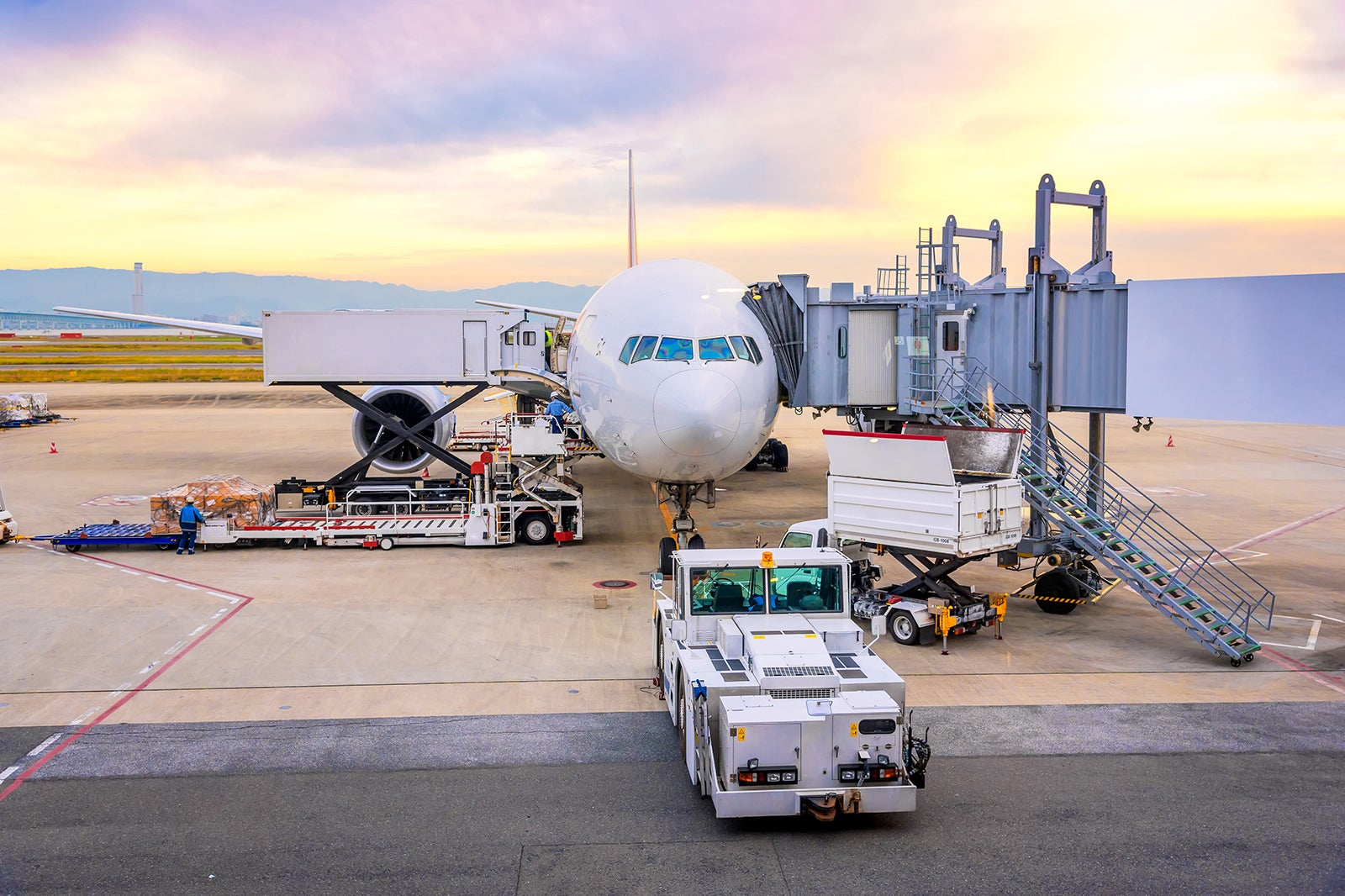 Flying from abroad, you'll land at one of Tokyo's 2 major international airports: Narita or Haneda. If you're already in Japan, you have other options to reach Tokyo, depending on where you depart from. The 4 main islands of Japan – Honshu, Hokkaido, Kyushu, and Shikoku – are connected by bridges, tunnels, and ferry lines. Most major cities in Japan are linked to Tokyo by the Shinkansen (bullet train). Intercity buses are also available for a more moderate price.
Narita International Airport (NRT)
Narita International Airport is one of the busiest airports in Japan. It's served by over 85 international airlines. Narita is 58 km east of downtown Tokyo as the crow flies. Whichever transfer service you choose, the travel time between Narita Airport and Tokyo city centre is at least 1 hour and a half.
Free Wi-Fi is available throughout the airport. Ground transportation options available are as follows:
Metered taxi cabs and fixed-fare taxi cabs are available at Narita Airport. The taxi cab stands are in front of the 3 terminals: between South Exit S1 and S2 in terminal 1; in front of South Exit 1 in Terminal 2; near entrance gate 1 in Terminal 3.
Terminals 1 and 2 host a railroad station served by Keisei and JR lines. If you land in Terminal 3, you'll have to walk through a 650-metre corridor to reach the station in Terminal 2.
The cheapest way to get to Tokyo city centre from Narita is by bus. The bus stops are at the same location as the taxi stands, in front of the 3 terminals.
Automobile rental agencies are found respectively on the 1st floor (Arrivals) of the Central building of Terminal 1, and the 1st floor (Arrivals) of the Main building of Terminal 2. If you arrive at Terminal 3, you'd similarly have to walk to Terminal 2.
Haneda International Airport (HND)
Haneda International Airport was the prime arrival hub to Tokyo until the opening of Narita in 1978. Today, it mostly serves domestic flights and a choice of international flights, many of them from Asia. Haneda is 15 km south of downtown Tokyo. The driving time from the airport to the city centre is about 30 minutes. Haneda Airport features 3 terminals connected by Tokyo Monorail, Keikyu Airport Line, and free shuttle buses.
Free Wi-Fi is available throughout the airport. Ground transportation options available are as follows:
Taxi stands are found in front of the 3 terminals. The taxi cab companies serving Haneda Airport apply flat rates whichever your destination is within and outside of Tokyo.
Haneda is served by 2 rail services, Tokyo Monorail and Keikyu Main Line.
Many bus lines are available for reaching any area of Tokyo inexpensively. Bus stops are found in front of each terminal.
Automobile rental agencies have a desk in the Arrival Lobby of each terminal.
An original transfer mode is also available in Haneda Airport. You can reach locations such as Shibaura, Nihonbashi, Toyosu, and Asakusa by water taxi cab from the Haneda Airport Wharf.
4
How to get around Tokyo?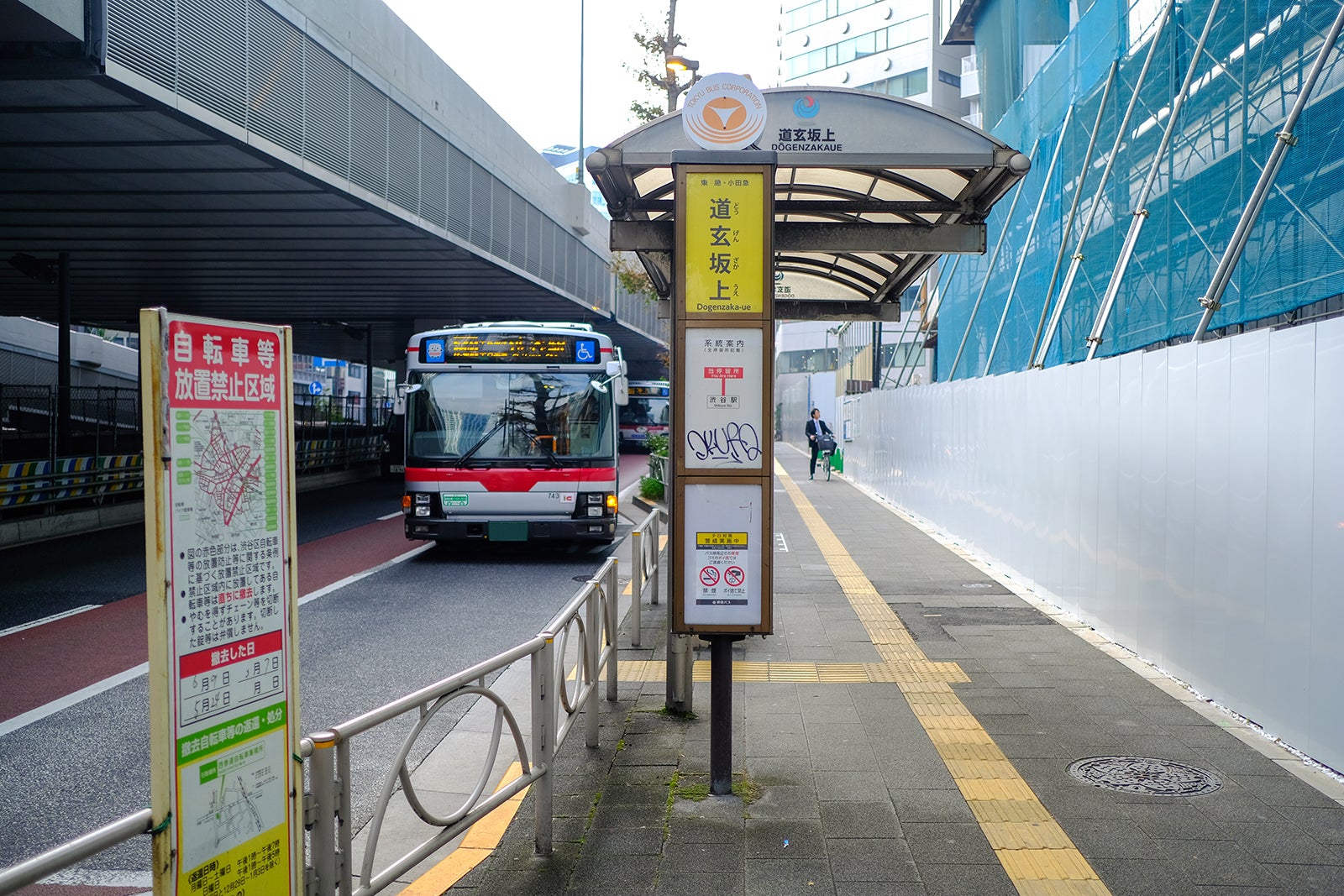 Travel tips
Tokyo is a huge metropolis composed of districts that are like different cities. They're interconnected by top-notch public and private transportation systems that offer very convenient and affordable ways to get around the city. Subway and train are the most recommended ways of transportation in Tokyo, outside rush hours.
The most appropriate way of using train and metro services in Tokyo is by purchasing a prepaid rechargeable transportation pass. Suica and Pasmo cards work on all city trains, metros, and buses. Suica can be purchased at vending machines in Japan Railroads (JR) stations while Pasmo cards are available in Tokyo Metro and Toei Subway stations.
Traveling on the East JR trains
Japan Railroads is the public company that runs a rail network covering the entire country, including the famous Shinkansen (bullet train). Hence its name, East JR serves the east of Japan, including Tokyo. The 2 most popular East JR lines in Tokyo are the Yamanote (loop) and Chuo-Sobu (central) lines. They take you through the most popular neighborhoods of the city.
Traveling on the subway in Tokyo
The Tokyo subway is an extensive network operated by 2 companies, Tokyo Metro and Toei Subway. They feature a total of 13 lines that cover the entire city. Each line is marked in a different color and most of the signage is available in English. This makes the subway the easiest way of getting around at a fair price for gaijin (foreigners).
Traveling by bus in Tokyo
Getting around Tokyo by bus is not as convenient as traveling by subway or train. Although most buses feature digital signage that switches between Japanese and English, it's not the most tourist-friendly mode of transportation.
Taking a taxi cab in Tokyo
Taking a taxi cab is a good way to travel around, but it can be expensive. It makes sense to use a taxi cab in Tokyo for short distances, if you're a group of 4 people, or if there's no subway/train station nearby. As most taxi cab drivers do not speak English, have your destination address written in Japanese on a piece of paper. Taxi cabs can be hailed from the street. They accept payment by credit, Suica, and Pasmo cards.
Renting a automobile in Tokyo
Heavy and congested traffic, confusing roads, as well as unreasonably priced and scarce parking lots make renting a automobile a less recommended option for getting around Tokyo. Anyway, if you decide to go for this choice, you'll need an international drivers license.
5
What are the main annual events in Tokyo?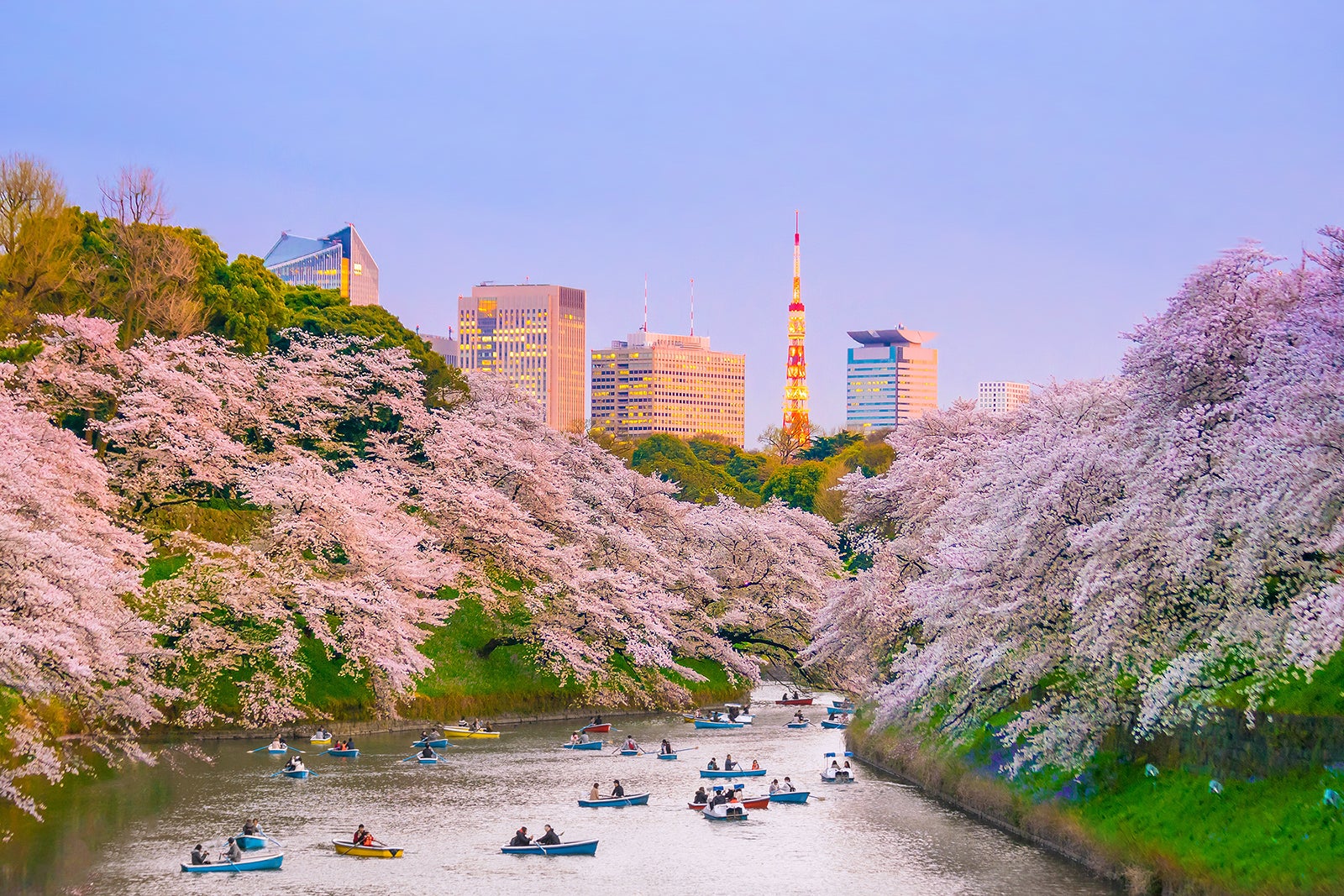 Tokyo Cherry Blossom Festival
Mid-March
Known as sakura in Japanese, the cherry blossom season is a major event celebrated all around the country. It usually starts mid-March and lasts for 10 days. Each park of the city is covered in pink and offers people a splendid décor for a stroll, a picnic, and a photo op.
Where: Rikugien Gardens, Chidorigafuchi Green Way, Nakameguro canals, and many other places
Sumidagawa Fireworks Festival
Last Saturday in July
Established early 19th century, the Sumidagawa Fireworks Festival is a traditional competition between 2 guilds of pyrotechnicians, the Tamaya and the Kagiya. It attracts every year over 1 million attendants who come and enjoy the 20,000 fireworks launched over the Sumida River.
Where: Over the Sumida River near Asakusa
Tokyo Winter Illumination
Mid-November–February
Every year during winter, stunning Christmas lights and illuminations decorate various neighborhoods of Tokyo. Hundreds of thousands of LEDs enhance Ginza district, Omotesando avenue, Caretta Shiodome, and Shinjuku, 4 of the most impressive illuminated spots in Tokyo during the festival.
Where: various places throughout the city
6
What are the main landmarks in Tokyo?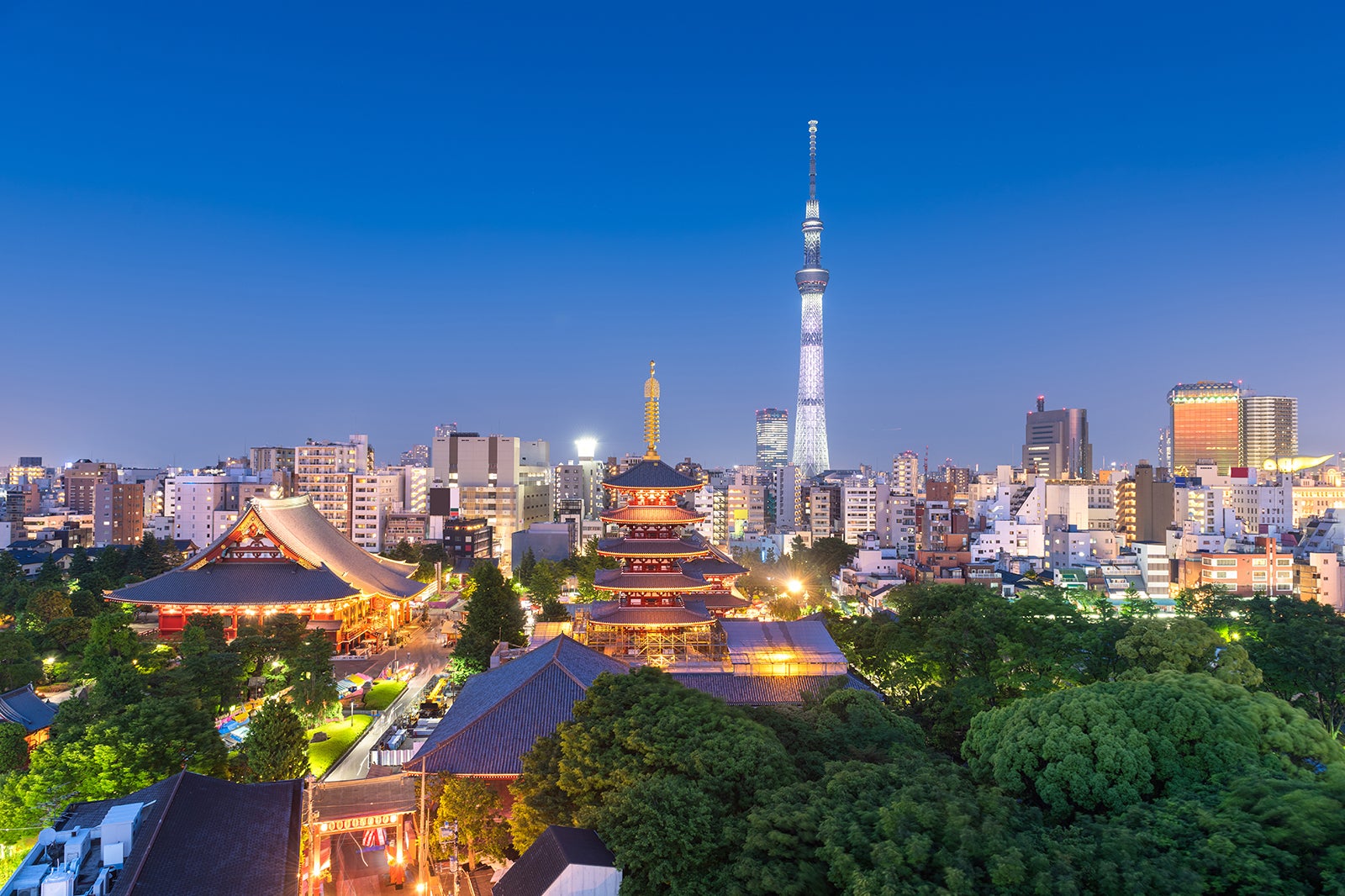 Tokyo Skytree
A modern icon of Japan, Tokyo Skytree stands at 634 meters high, making it one of the tallest structures in the world. The base of the tower, Tokyo Skytree Town, has a shopping mall, an aquarium, an excellent range of restaurants and souvenir outlets.
Eastern Park of the Imperial Palace
The Imperial Palace East Gardens is open to the public for free all year round. Inside, you'll see beautiful Japanese-style gardens and historical ruins such as walls and guardhouses from the Edo period. Also located on the same grounds is the Museum of Imperial Collections.
Meiji Jingu Shrine
Meiji Jingu is a Japanese Shinto shrine that was built in 1920 in honor of Emperor Meiji and his wife. It's located in a beautiful forest covering about 175 acres. The shrine plays a big part in many locals' lives who come here regularly to mark important personal events, such as the birth of a child.
Tokyo National Museum
Tokyo National Museum was founded in 1872 and is one of the most important museums in Japan. Made up of 5 exhibition buildings, it features items from the Jumon period and traditional Japanese arts and crafts, as well as art and archeological findings from other Asian countries.
Back to top