Sapporo Travel Essentials
Useful Information to Help You Start Your Trip to Sapporo
Our Sapporo Travel Essentials lays out the essential information you need to help you plan your trip to one of the most popular destinations in Japan. No matter how frequently you travel, some questions will always need answers: What's the weather like? How can I get from New Chitose Airport to my hotel? What currency and type of plug do I need?
We have all these answers plus other basic info about the best time to go, getting there, getting around, and a few useful travel tips. You'll also learn about the most popular landmarks in Sapporo such as Odori Park, Sapporo Beer Museum, and Sapporo TV Tower. It's all compiled in this Sapporo Travel Essentials. After reading this short and easy-to-read guide, you will be a little more prepared to start your trip to Sapporo, Japan.
1
When is the best time to travel to Sapporo?
Sapporo lies in a humid continental zone and experiences warm and humid summers and snowy winters. The average temperature year-round is 9°C.
The warmest month in Sapporo is August with an average temperature of 23°C, while January is the coldest month with a daily average of -3°C.
Sapporo is humid all year round. The driest time of the year is May–September with an average of 10 rainy days per month. The standard number of precipitation days for the rest of the year ranges between 15 and 22 days per month. This includes the heavy snowfalls that occur November–March.
December–March is peak season in Sapporo. The city is a good base for getting to the many ski resorts around. Held in February, it's also the time of the Snow Festival, the best time to visit Sapporo, despite higher hotel prices. Book your room far ahead if you plan to visit Sapporo around this time of the year.
Summer is also a busy time in Sapporo due to the weather conditions that offer pleasant and mild temperatures and slightly lesser rain than in the rest of Japan.
March–May and September–November are also 2 great times to visit Sapporo and Hokkaido. Cherry blossoms in spring (starting in late April in Hokkaido) and the bright, warm colors of autumn foliage make these 2 periods enjoyable times to visit Sapporo.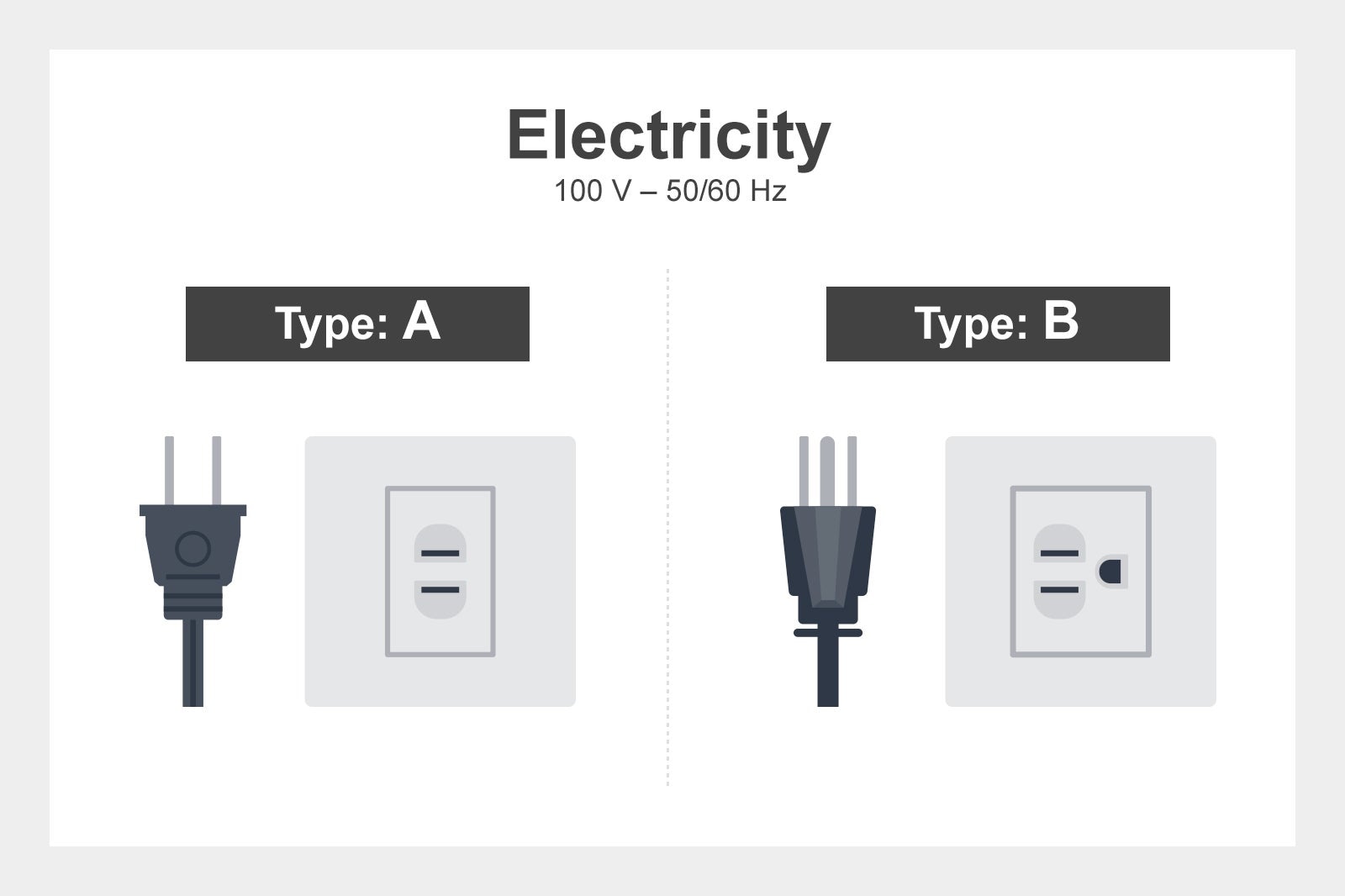 Plug type: A and B
Electricity: 100 V – 50/60 Hz
Currency: Japanese Yen (¥)
International dialing code: +81 11
Emergency telephone number: 119 (medical emergency), 110 (police)
3
How to get to my hotel in Sapporo?
Flying from abroad, New Chitose Airport, the largest airport in Hokkaido, is your main gateway to Sapporo. If you're already in Japan, there are other options to reach Sapporo. The 4 main islands of Japan – Honshu, Hokkaido, Kyushu, and Shikoku – are connected by bridges, tunnels, and ferry lines. Most major cities in Japan are linked to Sapporo by the Shinkansen (bullet train). Intercity buses are also available for a more moderate price.
New Chitose Airport (CTS)
New Chitose Airport is one of the busiest airports in Japan. It's served by over 40 international airlines. New Chitose is 40 km southeast of downtown Sapporo as the crow flies. The travel time between New Chitose Airport and Sapporo city centre is about 30 minutes by railroad and 50 minutes by road.
Free Wi-Fi is available throughout the airport. Ground transportation options available are as follows:
You'll find taxi cab desks in the arrival hall of both international and domestic terminals. The taxi stands are on the 1st floor outside of each terminal.
The JR (Japan Railroads) New Chitose Airport Station is on the 1st basement floor of the domestic terminal.
Buses serving downtown Sapporo can be found at stop 84 on the 1st floor in front of the international terminal and stops 14 and 22 on the 1st floor in front of the domestic terminal.
Automobile rental counters are in the arrival hall on the 1st floor of each terminal. Agencies run shuttle transfers to get customers to their automobiles in Chitose City.
4
How to get around Sapporo?
Travel tips
Sapporo features top-notch public and private transportation systems that offer very convenient and affordable ways to get around the city. Subway, bus, and streetcar (streetcar) are the most recommended ways. For short distances, some neighborhoods of the city centre feature underground paths that offer pleasantly walkable corridors sheltered from the cold and rain. You'll find lively dining and shopping scenes along these underground routes.
The most common way of using public transportation services in Sapporo is by purchasing a prepaid rechargeable transportation pass. If you haven't already purchased a Suica or Pasmo card in Tokyo, get a Sapica card, Sapporo's version of these IC (Internal Chip) passes used throughout Japan. They work on all city trains, metros, streetcars, and buses. Sapica cards can be purchased at vending machines in subway stations, bus offices, and terminal ticket centres.
Traveling on the subway in Sapporo
The Sapporo Municipal Subway features 3 lines stretching 48 km across the city. It hosts 46 stations, the 2 main ones being Sapporo and Odori stations. Each line is marked in a different color: green – Namboku (south-north line); orange – Tozai (east-west line); sky blue – Toho (Higashi-toyoshira line). Most of the signages are in English besides Japanese. This makes the subway an easy way of getting around at a fair price for gaijin (foreigners).
Traveling by bus in Sapporo
The 3 companies that run bus networks in Sapporo are Hokkaido Chuo Bus, JR Hokkaido Bus, and Jotetsu Bus. Their dense networks allow you to reach destinations not served by the subway system. Buses in Sapporo are boarded from the rear door and exited from the front. Although most buses feature digital signage that switches between Japanese and English, it's not the most tourist-friendly mode of transportation. Even so, it's still a good alternate for getting almost anywhere in the city.
Traveling by streetcar in Sapporo
Locally known as the Shiden, the Sapporo Streetcar is an electrified streetcar network that follows a circular route around Chuo-Ku, Sapporo's city centre. Out of 24 stations, 6 are directly linked to subway stations. You enter from the middle of the streetcar and exit through the front. There's only a lapse of 7 minutes between 2 streetcars, making it a very fast way for getting around.
Taking a taxi cab in Sapporo
Taking a taxi cab is convenient, but it can be expensive. It makes sense to use a taxi cab in Sapporo for short distances, especially if you're traveling as a group of 4 or if there's no subway/bus/streetcar station nearby. As most taxi cab drivers do not speak English, it helps to have your destination address written in Japanese on a piece of paper. Taxi cabs can be hailed from the street. They accept payment by credit and IC cards.
Traveling on the East JR trains
Japan Railroads is the public company that runs a rail network covering the entire country, including the famous Shinkansen (bullet train). Hence its name, East JR serves the east of Japan, including Sapporo. Using JR trains is only a good option for traveling around Hokkaido.
Renting a automobile in Sapporo
Renting a automobile is not recommended for getting around Sapporo despite the fact the city was designed on a grid that makes it easier to navigate. However, it still can be a good option for traveling outside the city. Note that you'll need an international driver's license for renting and driving a automobile.
Cycling around Sapporo
Though not the best option in winter, cycling is great for exploring the city on clear days, such as in May–October. Sapporo city centre is rather flat so it's not too challenging. Sapporo has a bike-sharing system called Porocle with electric-assisted bicycles available. There are about 50 designated bike stations across the city. You can get a bike using your IC card.
5
What are the main annual events in Sapporo?
Sapporo Snow Festival
February
Since 1950, the Sapporo Snow Festival has become a major annual event attracting over 2 million people. The week-long festivity features international snow and ice sculpture contests, live music performances, a snow maze, snow and ice slides, and a variety of local dishes to sample.
Where: Odori Park, Susukino, and Tsudome
Yosakoi Soran Festival
June
First held in 1992, the Yosakoi Soran Festival celebrates the local culture through dance and music. Hokkaido's Soran Bushi folksongs give the beat to a colorfully dressed group of dancers marking the rhythm with naruko clappers. Food stalls serve delicious local treats.
Where: Odori Park, Ekimaedori in front of Parco, and in Susukino
Sapporo Autumn Festival
September
Sapporo Autumn Festival is a foodie rendezvous held for the first time in 2008. It allows you to discover and sample the best food from around Hokkaido. There's something for everyone's taste, from local beers to broiled mutton and from zangi fried chicken to bubble tea.
Where: Odori Park
6
What are the main landmarks in Sapporo?
Odori Park
Odori means 'large street' and this park measuring 12 blocks and 105 meters wide runs right through the city centre. In summer, it's home to talented and entertaining street performers, snack vendors, and local beer bars. In winter, snow and ice sculptures feature during the Snow Festival every February.
Sapporo Beer Museum
Sapporo Beer is one of the oldest and largest beer brands in Japan. Sapporo Beer Museum, the only museum of its type in Japan, was opened in July 1987. It provides visitors with knowledge of beer and brewing, including the history of Sapporo Breweries Ltd. and the beer industry in Japan in general.
Sapporo TV Tower
Overlooking the eastern end of Odori Park and downtown Sapporo, the 147-metre-high TV Tower built in 1957 provides views out over the city and the distant mountains. The 90-metre high observation deck is ideal for panoramic photos of the city.
Old Hokkaido Government Building
Known locally as 'Red Bricks', the Old Hokkaido Government Building was built in 1888 in Neo-Baroque style. The building contains the Archives of Hokkaido and the Gallery of Hokkaido's History of the Historical Museum of Hokkaido, providing visitors with an introduction to the local history and culture.
Back to top