Osaka Travel Essentials
Useful Information to Help You Start Your Trip to Osaka
Our Osaka Travel Essentials lays out the essential information you need to help you plan your trip to one of the most popular destinations in Japan. No matter how frequently you travel, some questions will always need answers: What's the weather like? How can I get from Kansai International Airport to my hotel? What currency and type of plug do I need?
We have all these answers plus other basic info about the best time to go, getting there, getting around, and a few useful travel tips. You'll learn about the most popular landmarks in Osaka such as Osaka Castle, Umeda Sky Building, and Tsutenkaku. It's all compiled in this Osaka Travel Essentials. After going through this short and easy-to-read guide, you'll be a little more prepared to start your trip to Osaka.
1
When is the best time to travel to Osaka?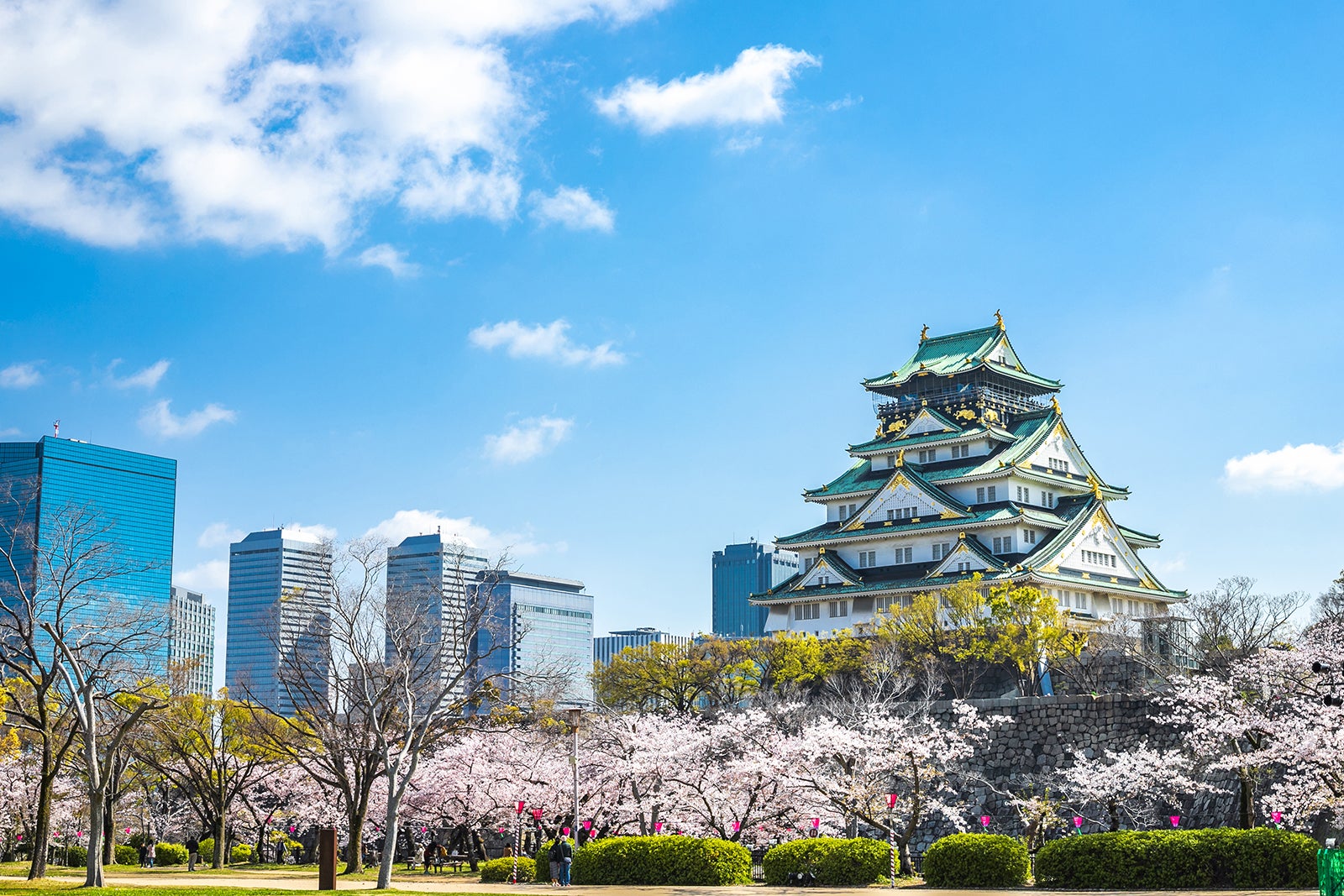 Osaka's subtropical climate brings hot and humid summers and mild winters, with average temperatures of around 16.9°C over the year.
Summer in Osaka spans between June and September with August being the warmest month when temperatures average around 26°C. Wintertime occurs between December and March with January being the coldest month.
Expect rainfall in Osaka between March and October, with June and July being the wettest months. The peak of the typhoon season is in August or September. Expect occasional snowfall from December to February.
The 2 summer months of July and August, as well as the 3 winter months of December, January, and February, are considered the low seasons in Osaka. The heat and rain of summer, as well as the cold of winter, make Osaka less appealing to most travelers. Even so, these periods offer the most affordable hotel prices.
The best times to visit Osaka are in spring (from March to May) and autumn (from September to November) due to the more pleasant weather and temperatures. Spring brings the cherry blossom season in Osaka which draws the most crowds to the city. It's best to book your hotel well in advance if you wish to witness the beauty of the season.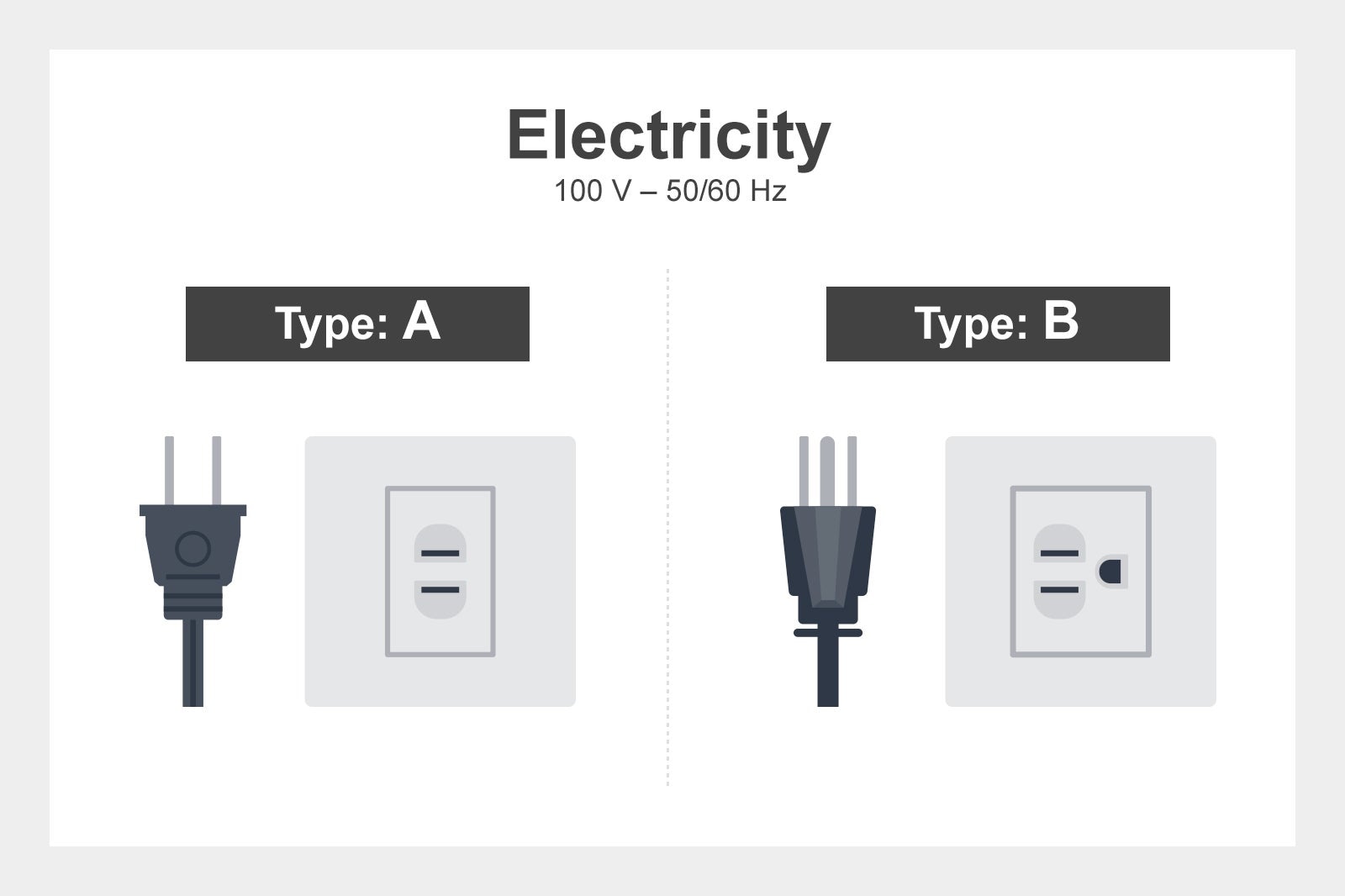 Plug type: A and B
Electricity: 100 V – 50/60 Hz
Currency: Yen (¥)
International dialing code: +81-66
Emergency telephone number: 110 / 119
3
How to get to my hotel in Osaka?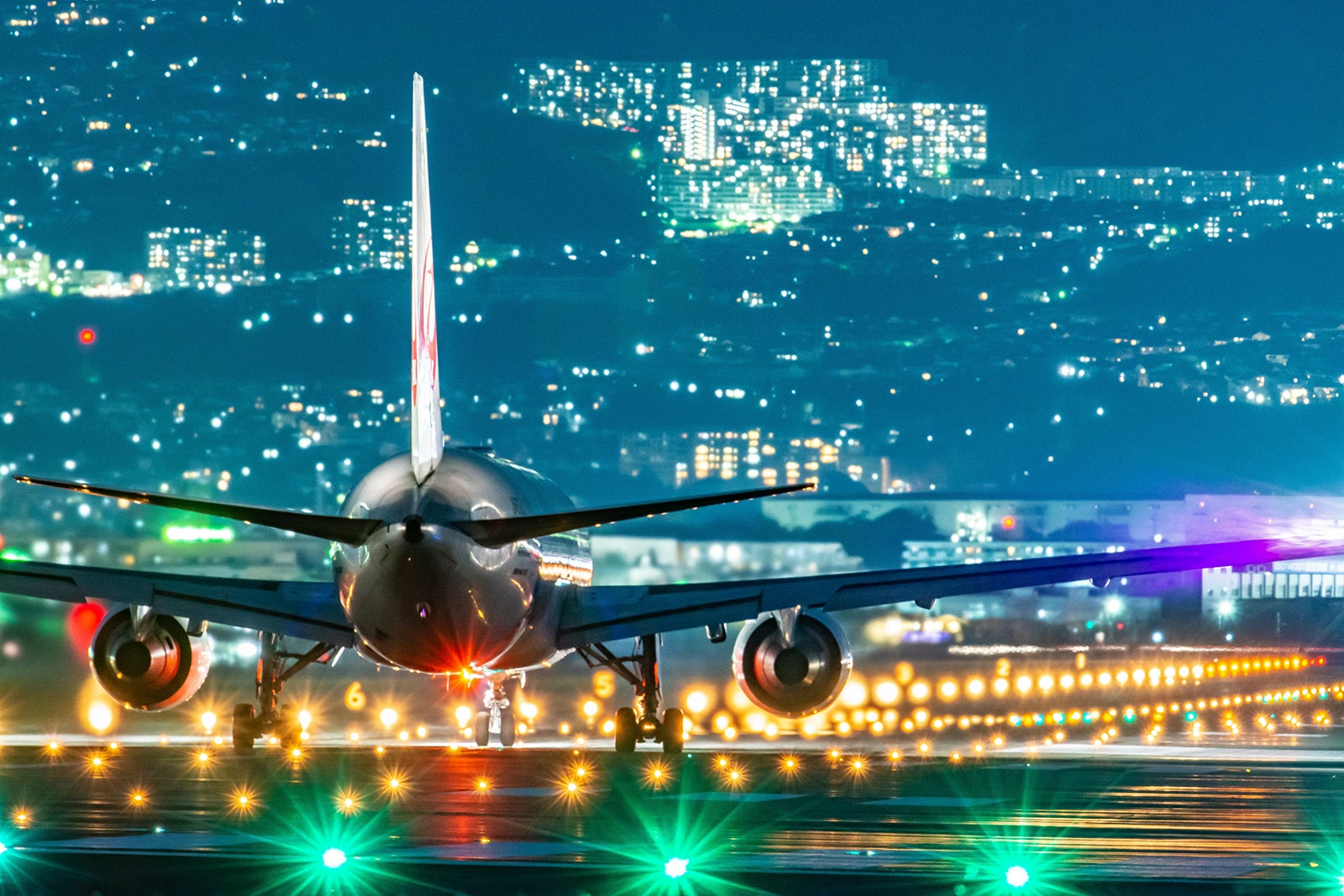 Flying into Osaka, Kansai International Airport (KIX) is your main international gateway to the city. The airport is well connected by 2 railroad lines: the Kansaikuko Line or Kansai Airport Line (connecting the airport and Hineno Station) and the Nankai Line that's run by the Airport Express and rapi:t services.
If you're already in Japan, Kansai International Airport also serves domestic flights. In other cases, you'll fly to Osaka International Airport (ITM), also known as Itami Airport, within half an hour's drive north of the city centre.
By train, most major cities in Japan are linked to Osaka by the Tokaido and Sanyo Shinkansen services. They all arrive at Shin-Osaka station, just north of Osaka's city centre.
Kansai International Airport
Kansai International Airport is on a manmade island in Osaka Bay, about 48 km southwest of Osaka city centre. It's a 45-minute transfer to the heart of the city by automobile or taxi cab via Hanshin Expressway No. 4. By train, it takes only slightly longer – a roughly 48-minute ride from Kansai-Airport Station to Shin-Osaka Station on board the Haruka 12 Limited Express.
Terminal 1 is the main terminal at Kansai International, with international arrivals on the 1st floor, domestic flights on the 2nd floor, and international departures from the 4th floor. Terminal 2 is designated for low-cost airlines and features lesser conveniences.
Trains are the most practical way for getting to Osaka city centre from Kansai International. Kansai Airport Station is just across the road from the Arrivals hall. Train services available include the JR West Haruka limited expresses that run to Shin-Osaka, the JR Rapid Service that stops at Osaka Station, the Nankai rapi:t train service that runs to Namba Station, and the Nankai Airport Express that also heads to Namba.
Taxi cabs to Osaka city from the airport taxi stands can cost a fortune. Trains are the most preferred choice for most travelers to the city, with taxi cabs used only for shorter rides to your hotel from the stations.
Itami Airport
Itami Airport is mainly the regional airport for Osaka and Kyoto, serving only domestic flights. The airport has a single terminal with a northern section dedicated to Japan Airlines (JAL) and Amakusa Airlines (AMX) and a southern section for All Nippon Airways (ANA) and Ibex Airlines.
The airport is about 15 km north of the city centre – a 25-minute drive via Hanshin Expressway 11 or a half-hour bus and/or train ride from Hankyu Toyonaka Station to Osaka-Umeda Station. Taxi cabs to get you to your hotel from the airport are down from the 2nd floor of the Arrivals hall near the monorail station. The Osaka Monorail is the only direct rail service connecting Itami Airport to the northern suburbs of Osaka.
The Shinkansen 'bullet train'
The fastest way to get to Osaka from Tokyo by land is aboard the Nozomi trains on the Tokaido Shinkansen Line. The N700S train runs from Tokyo Station to Shin-Osaka Station in Osaka at record speeds of up to 360 km/h. That's about 2 hours and 30 minutes. You pay a premium ticket price for the speed, the experience, and the bragging rights.
4
How to get around Osaka?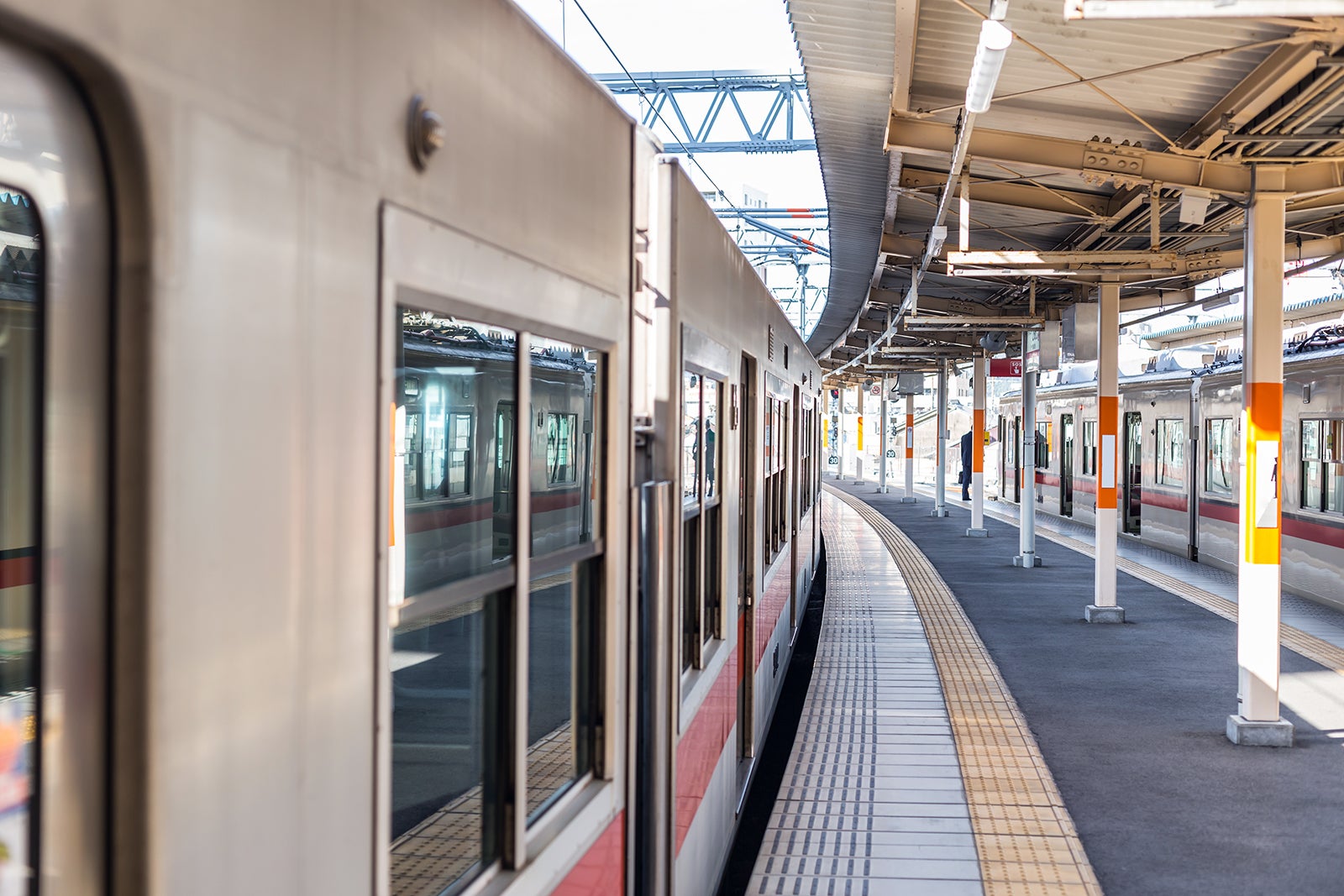 Travel tips
Osaka is a big city with an efficient public transportation system comprising subways and trains that make getting around the city pretty easy. Osaka taxi cab services in the city are also excellent and they're not too expensive, though medium and large taxi cabs cost more and are recommended only for short travels in the city. It's easy to hail one on the street.
Bus services in Osaka are also extensive and efficient, but less ideal for first-time visitors and those on short stays. There are plenty of signs in both Japanese and English on Osaka's roads. Streets run east-west and north-south, making it easy if you're exploring on foot. The best way to get around Osaka, though, is a combination of all the above options.
To use the train, metro, and bus services in Osaka, as in most of the Kansai region, buying a prepaid rechargeable transportation pass known as an IC card (Internal Chip card) promises great convenience. Icoca, Suica, and Pasmo cards work on all city trains, metros, and buses in Osaka. These IC cards can also be used for payments at many vending machines, shops and restaurants. Simply tap the card on a reader.
How does the Osaka Metro subway system work?
The extensive Osaka subway system is one of the best ways to get around the city as trains are regular and they're fast and efficient. Osaka has 9 subway lines, but you'd only need to use two of them for exploring most of the city during your visit. The red-marked Osaka Metro Midosuji Line runs north-south while the green-marked Osaka Metro Chuo Line is east-westerly.
Besides Icoca, Suica or Pasmo cards, you can also use the Amazing Osaka Pass and the Osaka Kaiyu Ticket on Osaka's subway system.
Taking a taxi cab in Osaka
Like the Osaka Metro, taxi cab services in Osaka are regular, in no shortage, and reliable. It makes sense to use a taxi cab in Osaka for traveling short distances when riding the subway is out of the question. They can be economical if traveling as a group, sharing the cost of the fare. All taxi cabs accept cash. Some also accept credit cards while others also accept Icoca, Suica, and Pasmo cards. Tipping is unnecessary.
Having your destination address written in Japanese on a piece of paper may help with non-English speaking drivers. Taxi cabs are plentiful and can be hailed on the street. Taxi stands are available outside most train stations, bus terminals, and major businesses.
Traveling by bus in Osaka
Most of the bus maps are in Japanese, so it may be tricky for non-Japanese speaking travelers to get around by bus in the city. Even though getting around Osaka by bus is not recommended for first-time Osaka visitors, it's still a great bus system used extensively by locals. Buses accept payments for fares using the prepaid Icoca, Pasmo, and Suica cards.
Renting a automobile in Osaka
Due to the heavy traffic and streets that aren't so tourist-friendly, renting a automobile is not recommended for the first-time visitor to the city. Parking in the city can also be a hassle as parking spaces are scarce and can be costly. Even so, you'll need an international driver's license if you do decide to drive in Kyoto.
Cycling around Osaka with Docomo Bike Share
Osaka is relatively bike-friendly. Most of the city is flat and well-signposted (most bearing English alongside Japanese). Osaka's bike-sharing service by Docomo features 6-speed gear city bikes and Mini Velo bikes as well as electric bicycles.
Docomo presents rate plans that range from single-time use to monthly that you can register via their website. Payments are accepted by credit card or IC card and you'll need to download their app to your iPhone or Android smartphone to use the service properly, including for locating the nearest bike station. You'll be charged once you unlock a bike from a station and return it. Extension fees may apply for bikes parked outside a designated bike station.
5
What are the main annual events in Osaka?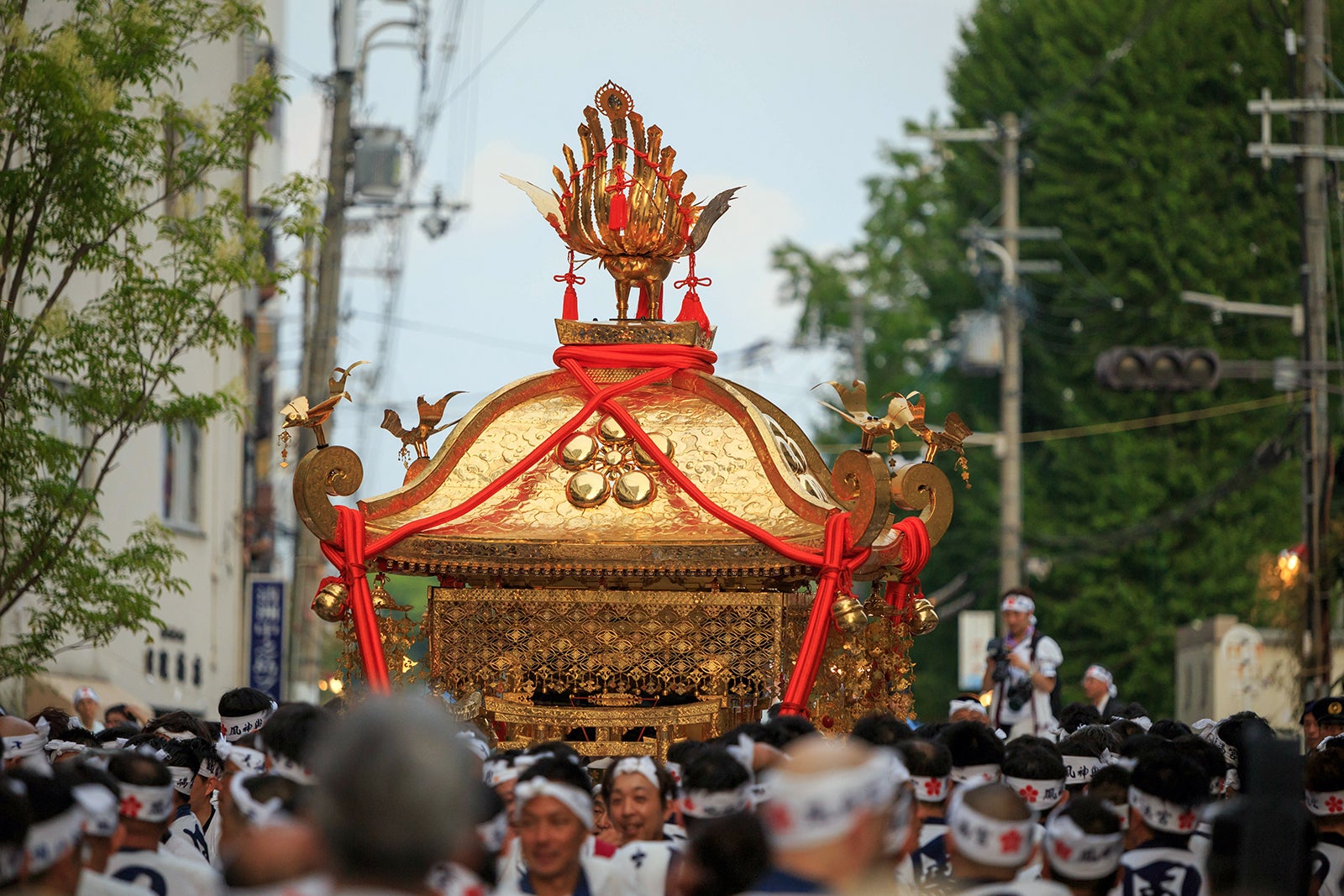 Tenjin Matsuri Festival
July
The vibrant festival of the Tenmangu Shrine that continues with a highly anticipated parade, dance, and music, as well as a long and dazzling fireworks display.
Where: Osaka Tenmangu Shrine
Sakura Festival
March–May
An unmissable seasonal event in Osaka and elsewhere in Japan for hanami (cherry blossom viewing). Popular hanami spots in the city include Osaka Castle and various public parks in the city.
Where: various venues and parks in Osaka
Osaka Hikari Renaissance
December
Also known as Osaka's Festival of Lights, this wintertime event stretches along the waterfront of Nakanoshima, featuring sparkling illuminations and light projections using modern mapping techniques.
Where: Nakanoshima
6
What are the main landmarks in Osaka?
Osaka Castle
The city's impressive castle and among the most famous landmarks in the whole of Japan. The building played a major role in the unification of Japan during the 16th century.
Umeda Sky Building
One of the tallest buildings in Osaka Prefecture, the 40-storey Umeda Sky Building features bridges, an escalator crossing its wide central atrium, and an observatory offering wide city views.
Tsutenkaku
A towering landmark in Osaka's Shinsekai district that features an observation deck 91 meters above street level.
Dōtonbori
A lively district in Osaka that's known for its bright neon-lit streets and signages as well as its huge variety of entertainment spots, and restaurants and bars.
Back to top