Nagoya Travel Essentials
Useful Information to Help You Start Your Trip to Nagoya
Our Nagoya Travel Essentials lays out the essential information you need to help you plan your trip to one of the most popular destinations in Japan. No matter how frequently you travel, some questions will always need answers: What's the weather like? How can I get from Chubu Centrair International Airport to my hotel? What currency and type of plug do I need?
We have all these answers and other basic info about the best time to go, getting there, getting around, and a few helpful travel tips. You'll also learn about the most famous landmarks in Nagoya, such as Nagoya Castle, Atsuta Shrine, and Nagoya Port. It's all compiled in this Nagoya Travel Essentials. After reading this short and easy-to-read guide, you will be more prepared to start your trip to Nagoya, Japan.
1
When is the best time to travel to Nagoya?
Nagoya has a mild, humid subtropical climate with often hot and rainy summers and cold and windy winters. The average temperature is 30°C in summer and 7°C in winter.
The rainiest months are June, July, and September, with an average of 13 rainy days per month. The winter months of December to February are the driest months with the least rainfall.
The hottest months coincide with the yearly rainy season, from June to July, followed by possible typhoons in August and September.
The best time to visit Nagoya is in spring (March–May). However, this is the peak tourist season because of the blooming cherry blossoms.
September–October (autumn) is also a great time to visit. You'll find pleasant weather and affordable flight and hotel prices.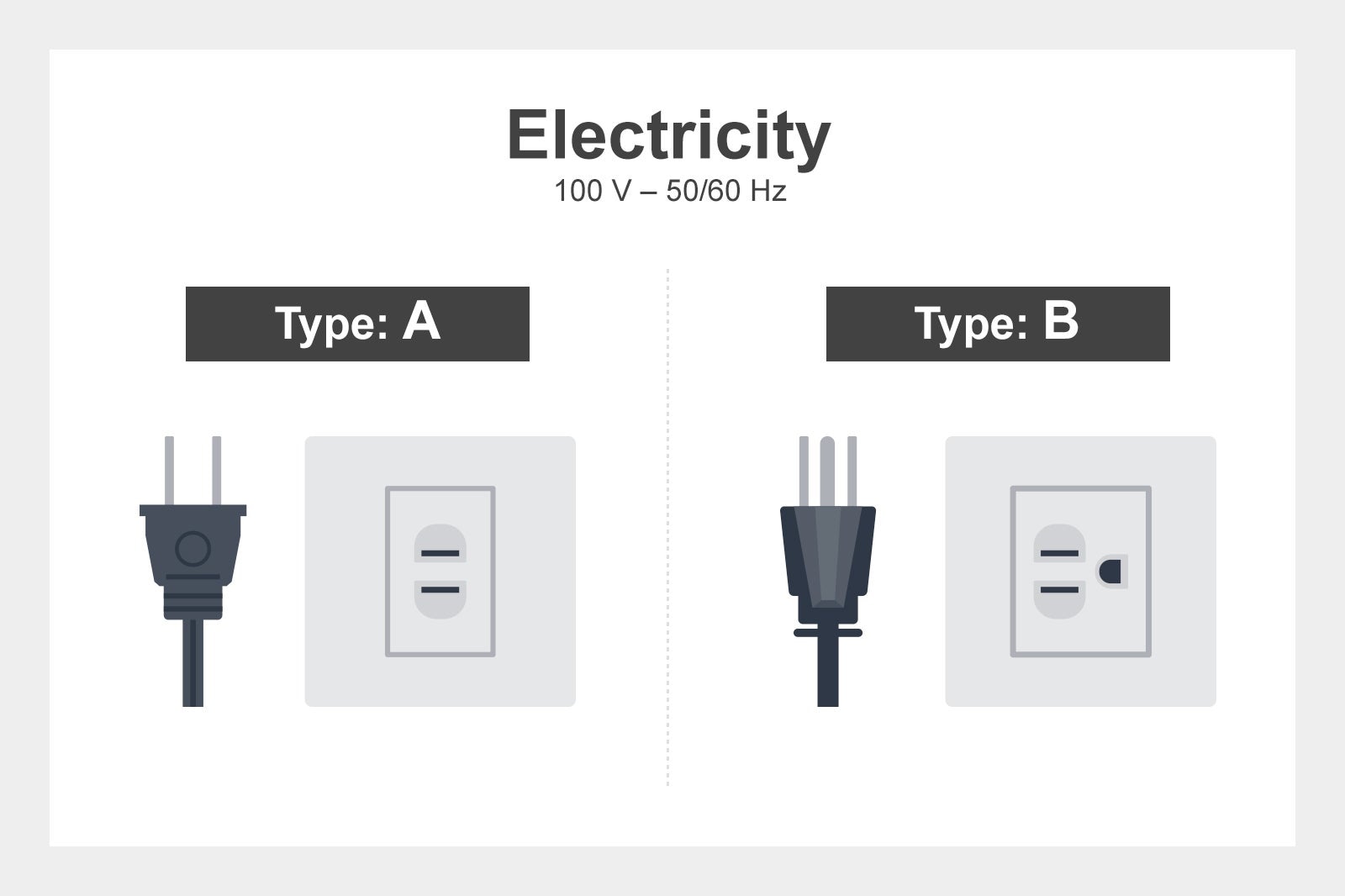 Plug type: A and B
Electricity: 100 V – 50/60 Hz
Currency: Japanese Yen (¥)
International dialing code: +81 52
Emergency telephone number: 119 (medical emergency), 110 (police)
3
How to get to my hotel in Nagoya?
The closest commercial airport to Nagoya is Chubu Centrair International Airport (NGO), located on an artificial island in Ise Bay, 50 km away. The airport is served by Japan's major domestic airlines, plus international carriers such as Delta Airlines, Lufthansa, and Finnair. The world-class airport offers a wide range of dining and duty-free shops, plus Wi-Fi, ATMs, and currency exchange services.
There are several transfer options to reach Nagoya:
The quickest and easiest option is the Meitetsu Limited Express train to Meitetsu Nagoya Station, which takes between 35 and 55 minutes.
The Meitetsu Bus company runs an hourly bus service between Chubu Airport and the Meitetsu Bus Center. The journey takes about 1.5 hours.
Automobile rental agencies are available at the airport. The driving time between the airport and Nagoya takes about 40–50 minutes, and you'll need to pay toll fees.
The airport taxi cab stand is by Access Plaza. You'll need to pay the expressway toll fee.
You can get to Nagoya by train or bus if you're already in Japan. The Tokaido Shinkansen bullet train running from Tokyo to Kyoto and Osaka stops at Nagoya Station. If you're traveling from Central Japan, take the Limited Express Shinano. Meanwhile, the Limited Express Hida will serve you if you're coming from Toyama on the north coast.
Many bus companies operate daytime and overnight services between Tokyo and Nagoya. A oneway trip takes approximately 5-6 hours, and the fares depend on the bus type and travel date.
4
How to get around Nagoya?
Travel tips
Nagoya is Japan's 4th-largest city and is a hub for industry and export. The city centre is compact and home to many of the city's major tourist sites, so exploring on foot or by bicycle is possible and convenient.
If you'd like to explore attractions further away, Nagoya has a good choice of public transportation and ticketing deals like all big Japanese cities. You can also use Meguru, a tourist bus route that passes some of Nagoya's top sights.
A hassle-free way of getting around Nagoya is by buying a 1-day or weekend travel pass. The pass covers both the bus and subway network throughout the city. You can purchase a travel pass at vending machines in subway stations and ticket counters. You can also use a rechargeable IC card to conveniently pay fares on public transportation in Nagoya and other major Japanese cities.
Using the Nagoya Subway
The subway is the most convenient and easiest way of getting around Nagoya. Six colour-coded lines cover almost 100 km. You can get to most places within the city limits on the subway.
Taking the Nagoya City Bus
Nagoya's bus network is extensive and connects all neighborhoods of the city. There are 2 main terminals – Nagoya Station and Sakae Station (Oasis 21) – and smaller bus stops throughout the city.
You'll pay a flat rate either with cash or your IC card when you board the bus. If you're paying with cash, make sure you have the exact amount as no change is given. While it's a cheaper transportation option, it's not that easy to know the correct bus stop if you don't speak Japanese.
Sightseeing on the Meguru Loop Bus
This convenient tourist loop bus line runs Tuesdays to Sundays. It connects Nagoya Station with 11 tourist attractions, including the Toyota Commemorative Museum of Industry and Technology, Nagoya Castle, and the Tokugawa Art Museum and Garden.
Taking a taxi cab in Nagoya
As a automobile city, taking a taxi cab in Nagoya is a good option. There are several taxi stands around the city, and you can hail one anywhere on the street. You can pay with cash or an IC card such as Pasmo, Suica, or Manaca. To use a credit card, check with the driver before starting your ride. Tipping isn't expected.
Renting a bicycle in Nagoya
Nagoya is primarily flat, and with wide boulevards, leafy parks, and cycle paths, it's a great place to get around on 2 wheels. Some hotels and hostels in Nagoya offer their guests complimentary bicycles. Alternately, you can hire one using the Docomo bike-share app, with a convenient English-language sign-up page.
Remember that bicycles, like automobiles and motorcycles, travel on the left side in Japan. And to avoid the risk of the bike being confiscated, be sure to lock the bike in designated places.
5
What are the main annual events in Nagoya?
Atsuta Festival
5 June
The most important religious festival, held at the 1,900-year-old Atsuta Shrine and signals the start of summer. Enjoy food stalls, traditional dance and drum performances, and martial arts contests throughout the day. The festivities continue at night, including lighting 365 lanterns and an impressive fireworks display.
Where: Atsuta Shrine
Nagoya Castle Summer Festival
Early August
A summer festival that usually lasts for around 10 days, where you can enjoy live entertainment, gourmet food vendors, traditional bon dancing, and matchlock firing demonstrations. Strolling the grounds at night, with the magnificent castle lit up, is alone worth a visit.
Where: Nagoya Castle
Nagoya Festival
Early-October
On the first weekend of October, hundreds of participants dress up in period costumes and traditional samurai armor and parade down Nagoya's main streets. Other events include flower parades, marching bands, and kagura music and dance.
Where: Streets of central Nagoya City
6
What are the main landmarks in Nagoya?
Nagoya Castle
A beautiful castle destroyed in WWII raids but has since been restored to its glorious 17th-century wonder. The recently restored Honmaru Palace is a must-see highlight, with stunning wall and screen paintings, intricate carvings, and decorative metal fittings. The castle serves as an enchanting backdrop during cherry blossom season.
Atsuta Shrine
One of the holiest Shinto shrines in Japan dates back 1,900 years and is dedicated to the Sun Goddess Amaterasu. Wander the peaceful grounds and visit the Treasure Hall to see an impressive collection of Edo-era masks, paintings, and swords such as the sacred Kusanagi.
Nagoya Port
One of Japan's biggest ports, about 12 km south of the city centre. A section of the harbor – the Garden Pier – was redeveloped into a leisure district. There are shops and restaurants, as well as an aquarium, Nagoya Port Building, Fuji Antarctic Museum, and Sea Train Land.
Ōsu Kannon
This 14th-century Buddhist temple houses the Shinpukuji Library, which has over 15,000 classic Japanese and Chinese texts and several national treasures. Among them is the oldest copy of the 8th-century Kojiki, a book chronicling Japan's early history and mythological origins.
Back to top