10 Local Nightlife Experiences in Yokohama
Where Do Yokohama Locals Go at Night?
Some of the best nightlife in Yokohama include illuminations spanning from Yokohama Port to Tokyo, with Mount Fuji in the distance. You can take a sea bus for a night-sea cruise or head for the skies on the Yokohama Sky Cruise. One of the city's classic date night options is a romantic stroll around Yamashita Park or Harbour View Park. Nipponmaru Memorial Park has a fantastic illuminated ship that's great for photos.
Yokohama also has many entertainment and recreational facilities that are open till late like movie theaters, karaoke houses, public spas and baths, and impersonation shows. At the end of the night, you can enjoy a drink at Chano-Ma Yokohama, located within the city's famous Red Brick Warehouse. Check out our guide to local nightlife experiences in Yokohama.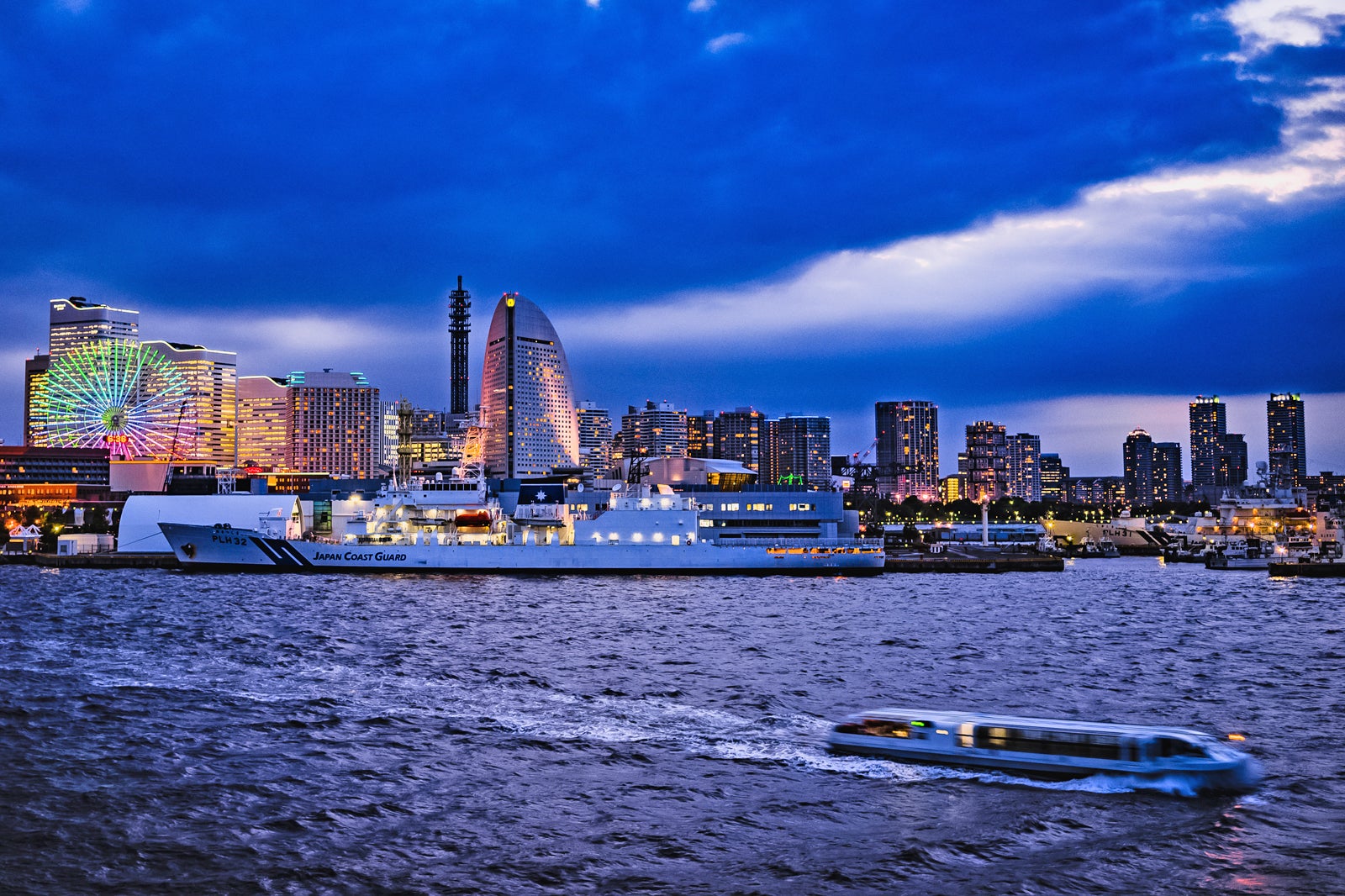 You can enjoy a cruise around Yokohama by boarding a sea bus from various stops in the city, including Yokohama Station East Exit, Minatomirai, Akarenga Soko (Red Brick Warehouse), and Yamashita Park. Taking a boat across the sea is a good way to get to Yokohama Chinatown and sightseeing spots in Motomachi. Observing famous sites in the bay area from the sea gives you a different perspective of the port city.
Funnily enough, the sea bus is emblazoned with the words "SEA BASS" – basically a pun stemming from the fact that it travels from the freshwater area near the mouth of Katabira River (Yokohama Station East Exit) to the sea. From the big-windowed cabin, which is fully equipped with air conditioning, you can admire the water's surface. The deck at the back is an excellent photo spot as you'll have the famous landmarks of Yokohama in the background. A cruise with night illuminations operates on weekends.
Location: Yokohama, Kanagawa 221-0056, Japan
Open: Daily from 10.15 am to 8.35 pm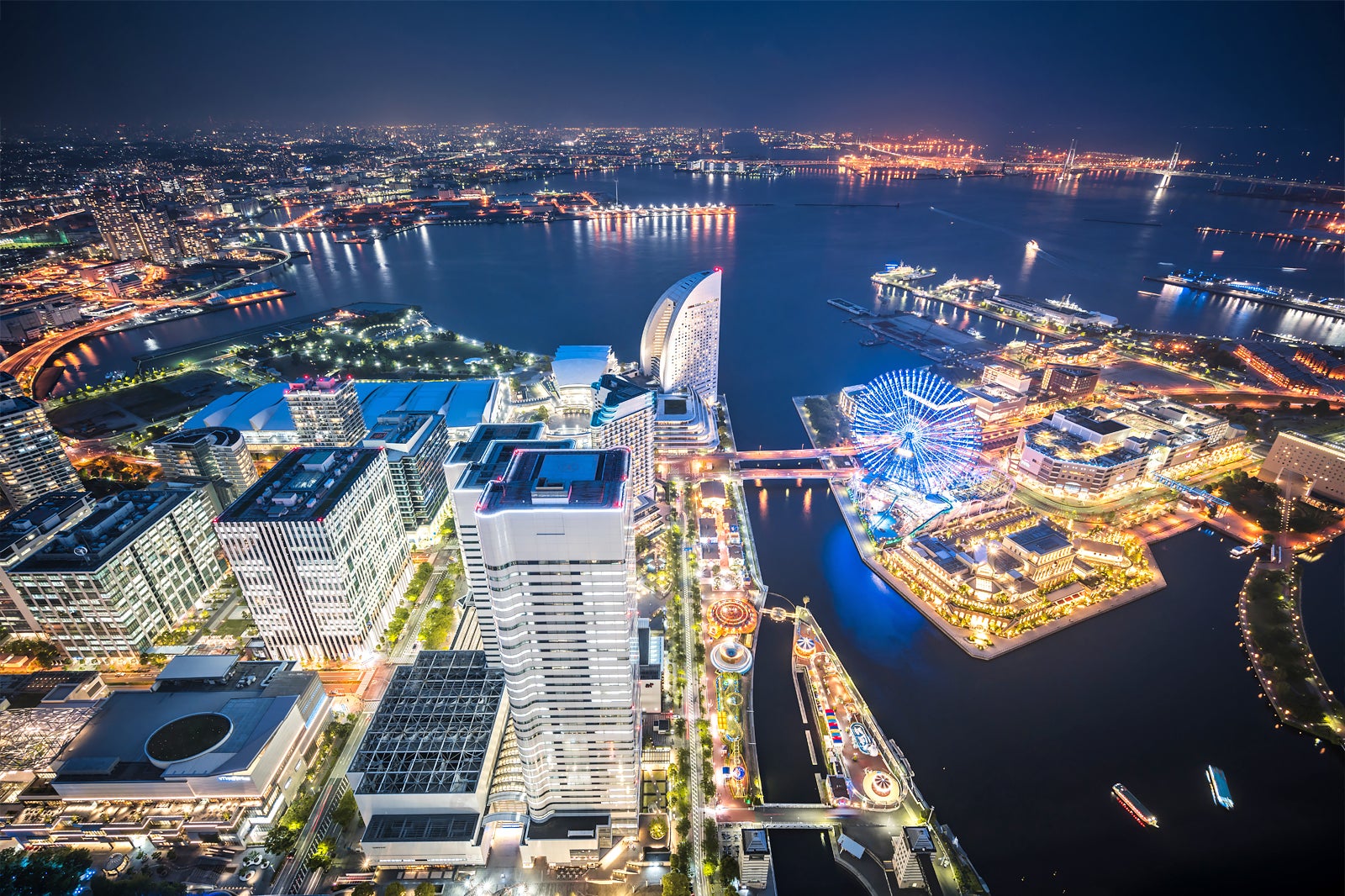 Nightlife
Couples
Luxury
Adventure
The Yokohama Sky Cruise provides a view of the port of Yokohama from high above, even as far as Tokyo Bay on a clear day. Choose your favorite time of day to take off on a 5-minute helicopter ride. If you want to stay longer in the sky to admire the view, opt for the 10-minute course.
For a special night, it's a good idea to take the charter option rather than the standard shared experience. A 20-minute special course flies over to Shibuya on the north circuit and Enoshima Island on the south circuit. The Yokohama Sky Cruise also offers a 30-minute flight that makes a roundtrip encircling the urban area of Tokyo. In summer, you can even admire fireworks from above.
Location: Minatomirairinji Helipad, 1-7 Minatomirai, Nishi Ward, Yokohama, Kanagawa 220-0012, Japan
Phone: +81 (0)45-223-1155
3
Night views from Yamashita Park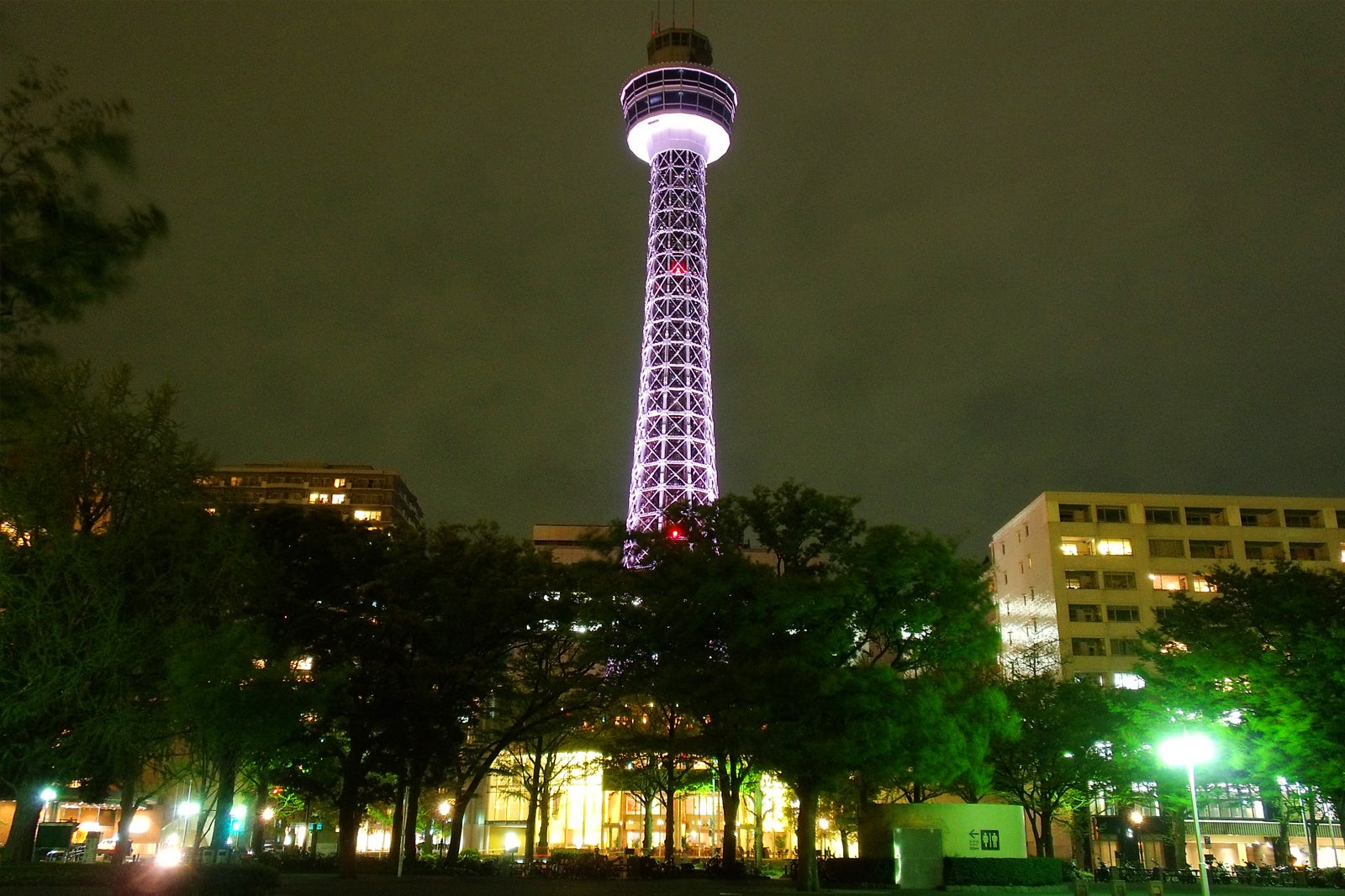 Yamashita Park is a classic dating spot in Yokohama. You can usually spot couples on benches that line the waterfront, which offers views of Yokohama's symbolic Hikawa Maru, Yamashita Pier and Osanbashi Yokohama International Passenger Terminal. After sunset, you have one of the bests night views of Yokohama.
Make sure to check out the attractive designs of the unique Grand Staircase, and World Square, which was created to conceptualise roads stretching across 6 continents. You'll also find numerous statues dotting Yamashita Parl – must-sees include the Little Girl With Red Shoes On and Seagull Sailors sculptures.
Location: 279 Yamashita-cho, Naka Ward, Yokohama, Kanagawa 231-0023, Japan
Phone: +81 (0)45-671-3648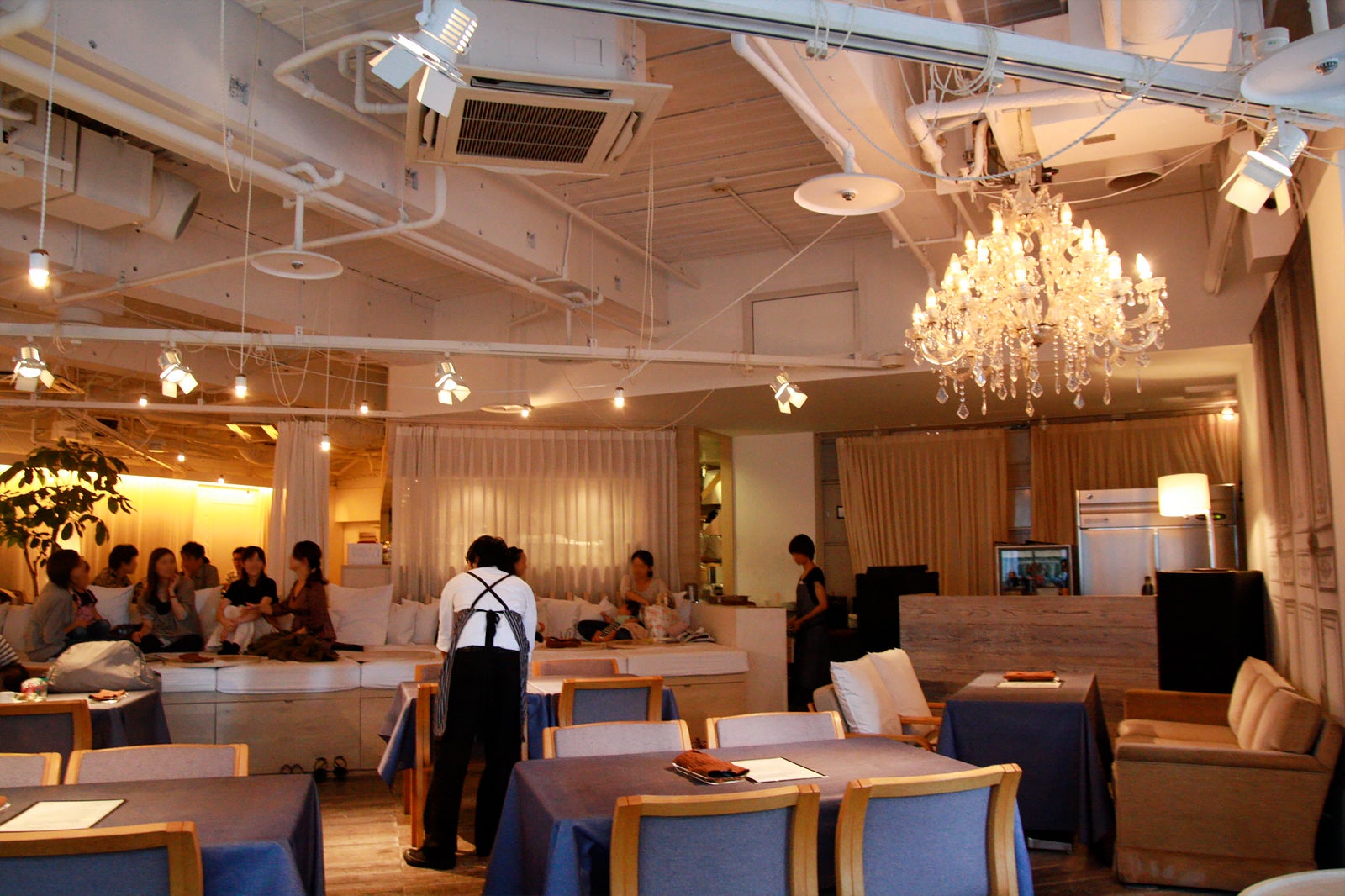 Chano-Ma Yokohama is a chain restaurant within the Red Brick Warehouse, one of Yokohama's leading landmarks. Its interior is inspired by a 21st-century tea ceremony room, with sofas, cushions and bed-style seats. There's a small DJ booth playing soothing music in the background, which can make you feel right at home.
Location: 3rd floor, Yokohama Red Brick Warehouse No. 2, 1-1-2 Shinko, Naka Ward, Yokohama, Kanagawa 231-0001, Japan
Open: Daily from 11 am to 11 pm
Phone: +81 (0)45-650-8228
photo by Tatsuo Yamashita (CC BY 2.0) modified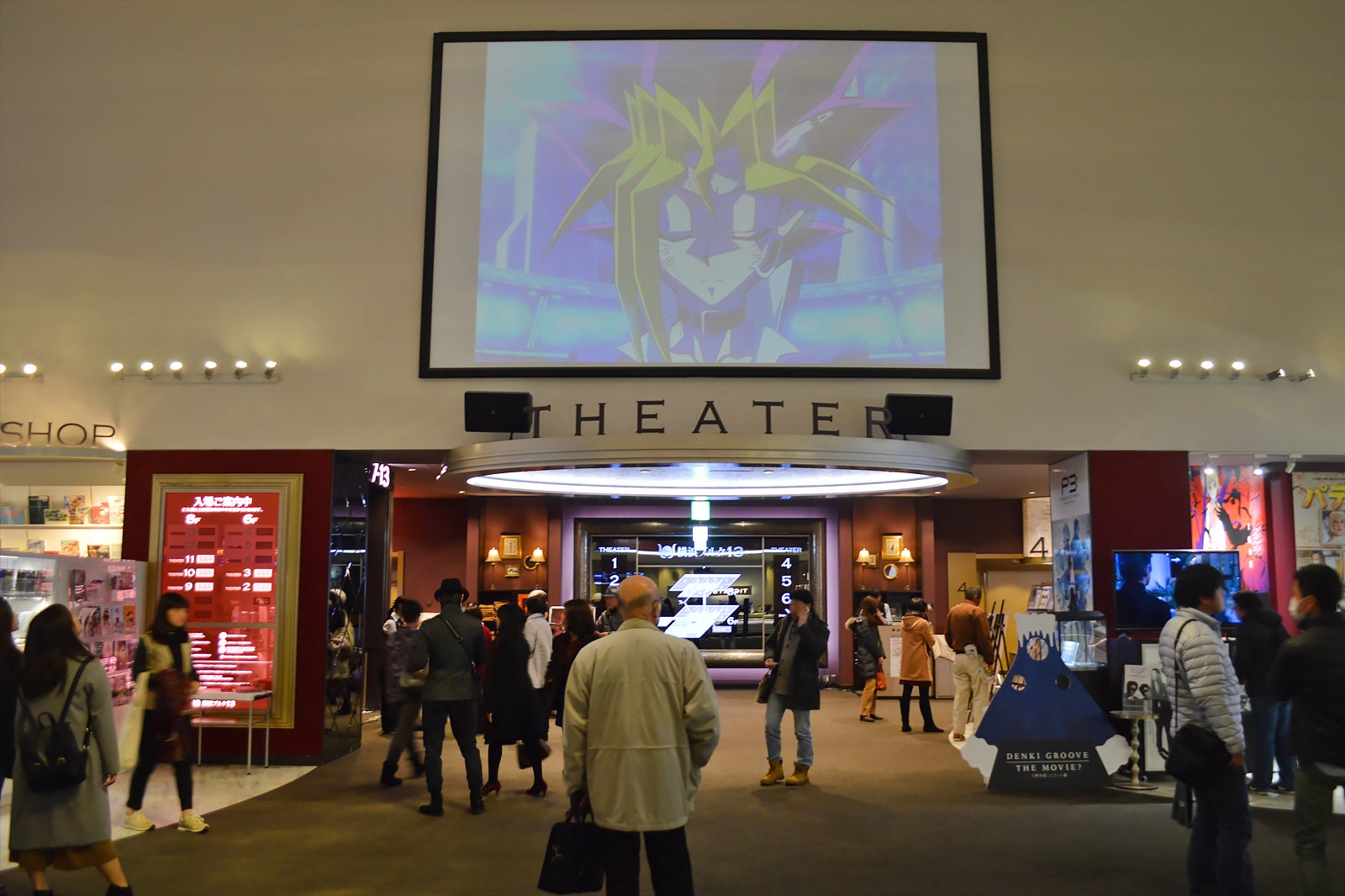 Nightlife
Couples
Single
Group
Yokohama Burg 13 is an IMAX digital theatre in front of Sakuragi Station. It has 13 screens equipped with Digital Screening Installation, with Theatres 1 to 6 supported by 3D Digital Movie theater experiences.
Around 60% of seats in Yokohama Burg 13 are individually equipped with armrests, so you can watch films without worrying about bumping your neighbor's elbows. At the main entrance, concierges are on hand at all times to offer information about tickets and Yokohama tourism. Check out the night views of Minatomirai from OASE Café, located on the 6th floor.
Location: 6th floor, Colette Mare, 1-1-7 Sakuragicho, Naka Ward, Yokohama, Kanagawa 231-0062, Japan
Open: Vary by showtime
Phone: +81 (0)45-222-6222
photo by Razgrad (CC BY-SA 4.0) modified
RAKU SPA Tsurumi is a public onsen, with 14 types of baths and saunas, along with 6 ganban-yoku (bedrock bath). The spa's bedrock baths include a planetarium-style bath and one within a candle-lit room. You can also enjoy body scrubs, massages and aesthetic treatments.
RAKU SPA Tsurumi has a rooftop garden, where you can unwind with a beer after bathing, as well as a manga library and several karaoke rooms.
Location: 2-1-39 Motomiya, Tsurumi Ward, Yokohama, Kanagawa 230-0004, Japan
Open: Daily from 10 am to 2 am
Phone: +81 (0)45-574-4126
7
Views of Yokohama Port from Harbor View Park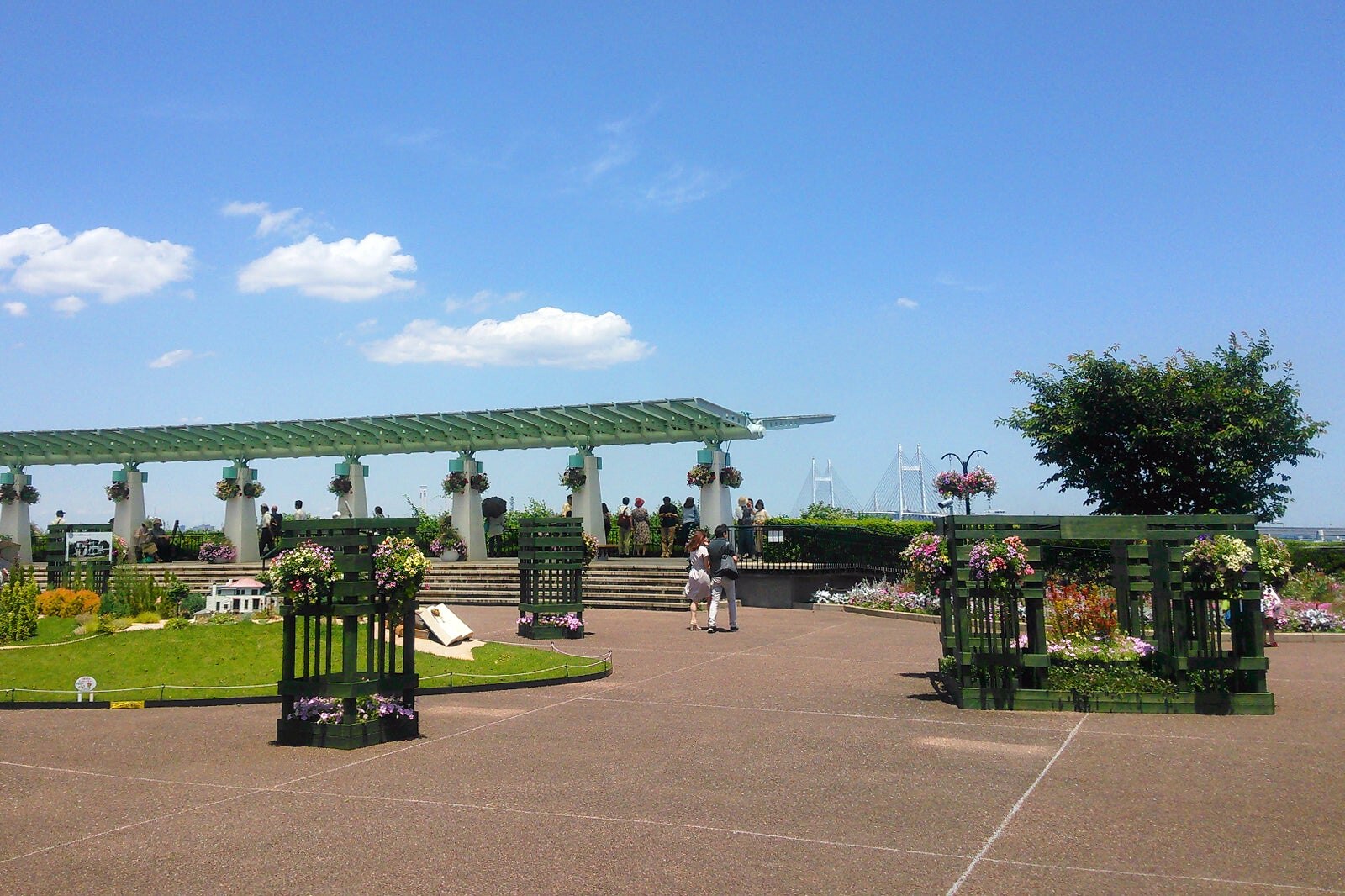 Harbor View Park is a classic sightseeing spot in Yokohama, offering panoramic views of the city and port. There are several gardens throughout the area, including the Yokohama English Garden and the Sunken Flower Bed. You can see more than 2,000 plants from 330 species, including rows of pink, white and red roses.
The flowers are at their peak in spring and autumn. Harbor View Park was once a foreign settlement, with a British army station on top of the hill and a French army station at the bottom.
Location: 114 Yamatecho, Naka Ward, Yokohama, Kanagawa 231-0862, Japan
Phone: +81 (0)45-671-3648
8
Karaoke-Kan Yokohama Nishiguchi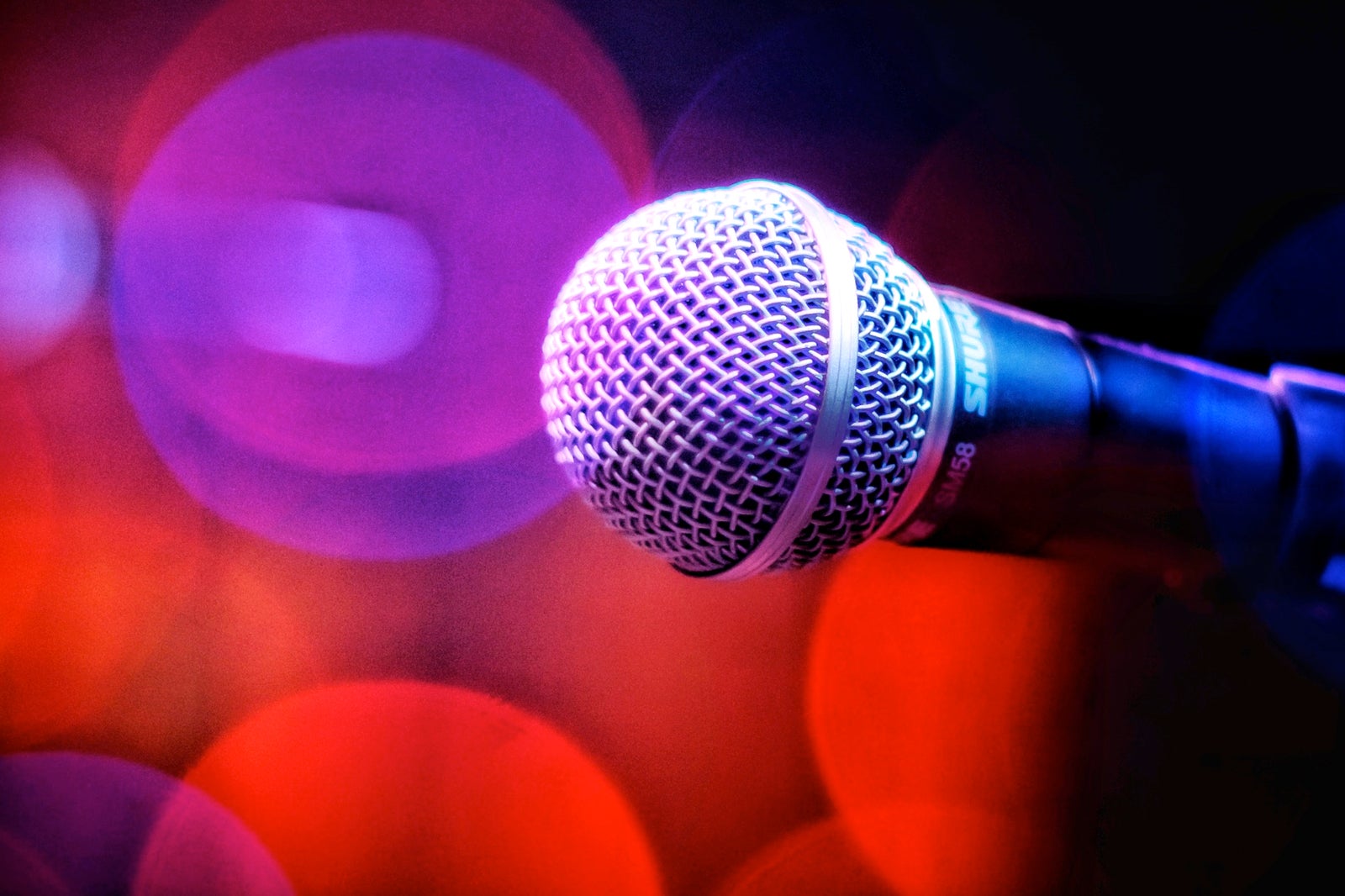 Karaoke-Kan Yokohama Nishiguchi has the highest number of karaoke rooms in the area, including a party room that accommodates up to 31 people. There are 2 pricing options, both of which comes with 1 drink per customer. Drink choices include beers and whiskey highballs. There's an all-you-can-drink plan, along with a wide range of snacks, mains and desserts.
Location: 2-7-17 Minamisaiwai, Nishi Ward, Yokohama, Kanagawa 220-0005, Japan
Open: Daily from 11 am to 6 am
Phone: +81 (0)45-290-6717
9
Nipponmaru Memorial Park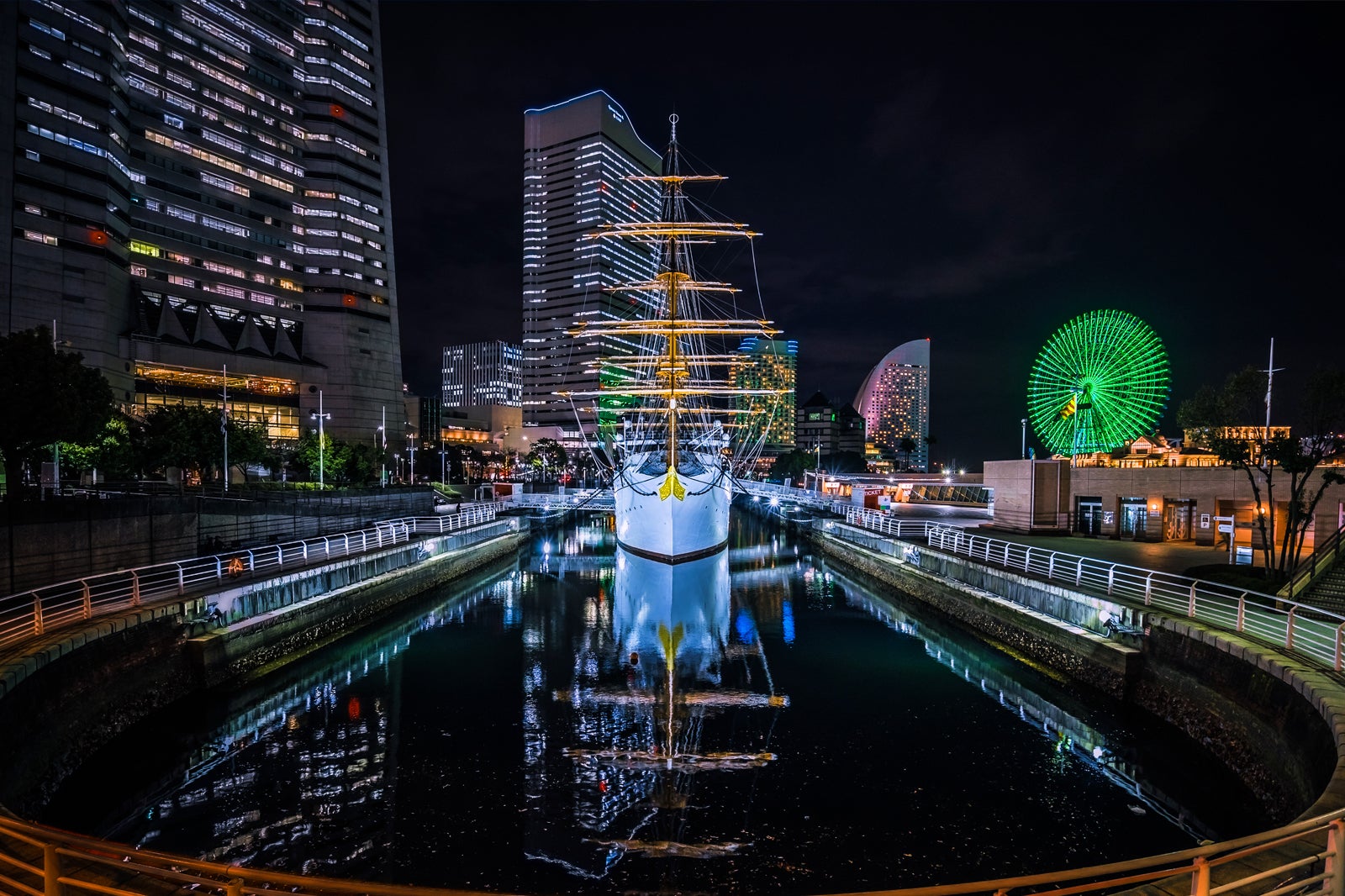 Nipponmaru Memorial Park displays a sailing vessel that's listed as a Nationally Important Cultural Property of Japan. The park was opened to the public in 1985, retaining the same appearance as in its early days at Minatomirai. A tour inside the ship shows what it was like in its heyday, with plenty of photos, ship supplies and commentaries.
In the event space around the dock, flea markets take place from May to early November. There's also an "art release zone", where you can find original goods on sale. This place is bustling, so get along and find something cool to take home as a souvenir.
Location: 2-1-1 Minatomirai, Nishi Ward, Yokohama, Kanagawa 220-0012, Japan
Open: Tuesday–Sunday from 10 am to 5 pm (closed on Mondays)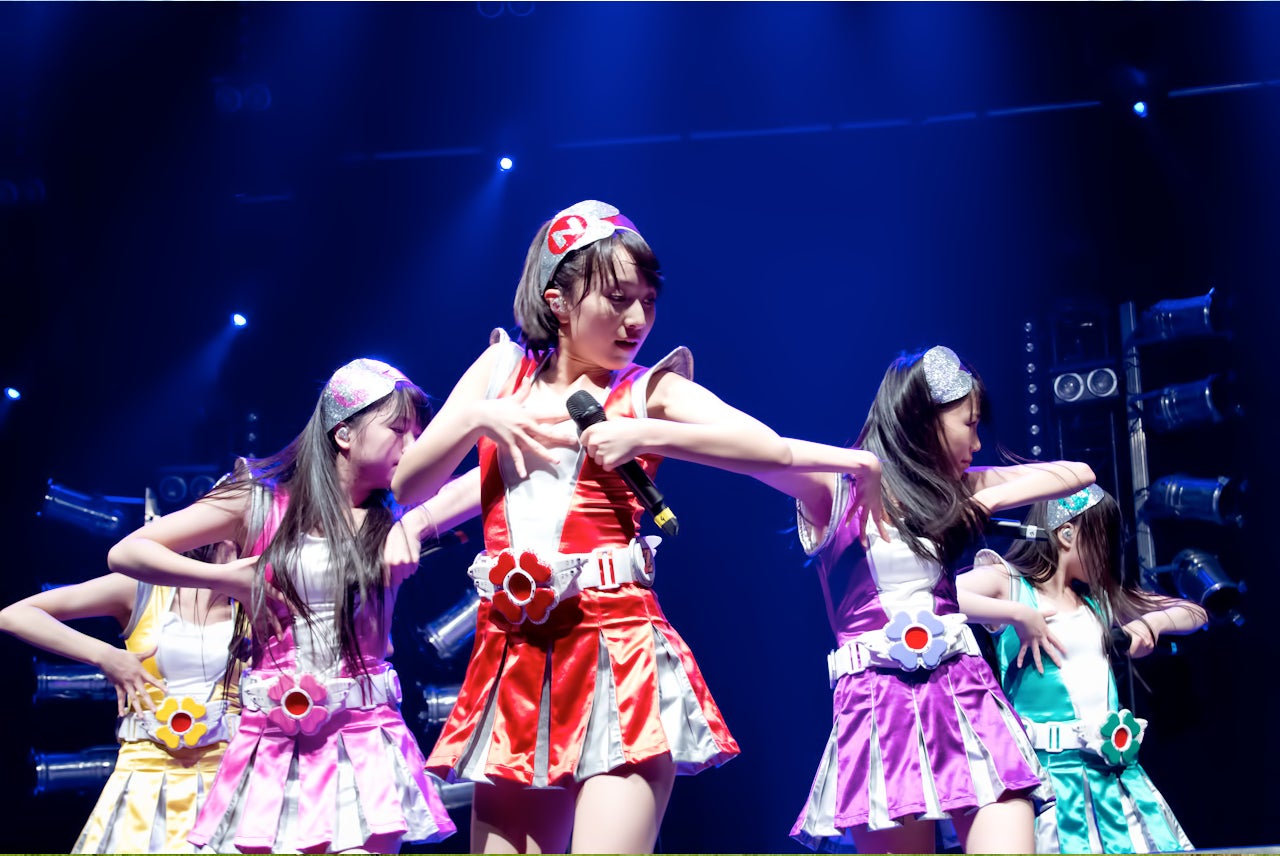 Yokohama Marine Rocket is a restaurant that hosts impersonator dance shows in the evenings. Photo sessions with performers are available before and after the show. While the restaurant serves a wide range of snacks, grilled dishes and pasta, its main attraction is the professional and exciting impersonation, singing and dancing.
Music performances range from nostalgic Japanese ballads to western songs. It's a popular nighttime activity for families, as the dancers really know how to put on a show. Located on the 3rd floor of Hama Yokochou Building, Yokohama Marine Rocket is a 3-minute walk from Yokohama Station North-West Exit.
Location: 3rd Floor, Hama Yokochou Building, 2-11-4 Tsuruyacho, Kanagawa Ward, Yokohama, Kanagawa 221-0835, Japan
Open: Monday–Saturday from 6 pm to midnight (closed on Sundays)
Phone: +81 (0)45-548-5442
photo by Dj ph (CC BY-SA 2.0) modified
Why book with Hotels.com?