10 Best Local Dishes from Yokohama
Famous Food Locals Love to Eat in Yokohama
There's no end to the variety of delicious foods in Yokohama. Home to Japan largest Chinatown district, this multicultural city is the place to be if you want to sample some Chinese specialties. Chinese rice porridge (chuka gayu) is a light meal you can enjoy first thing in the morning. There are the famous and irresistible soup dumplings (shoronpo), mooncakes (geppei) which are also good to take back as souvenirs, and barbecued pork (chashu) which you can use in various dishes. Don't forget to wash it all down with authentic Taiwanese tea!
The local cuisine of the Kanagawa Prefecture is heavy on the veggies, especially in dishes such as tofu and vegetable chowder (kenchin-jiru) and beef hotpot (gyunabe). Whatever you do, don't skip Yokohama's delicious cheap eats such as ramen with bean sprouts (sanmamen) and soy sauce-based pork ramen (iekei ramen). Grab one the famous shumai dumpling bento boxes at Yokohama Station and set out on your very own fine food tour of Yokohama. Let's take a look at some of the best local cuisines in Yokohama.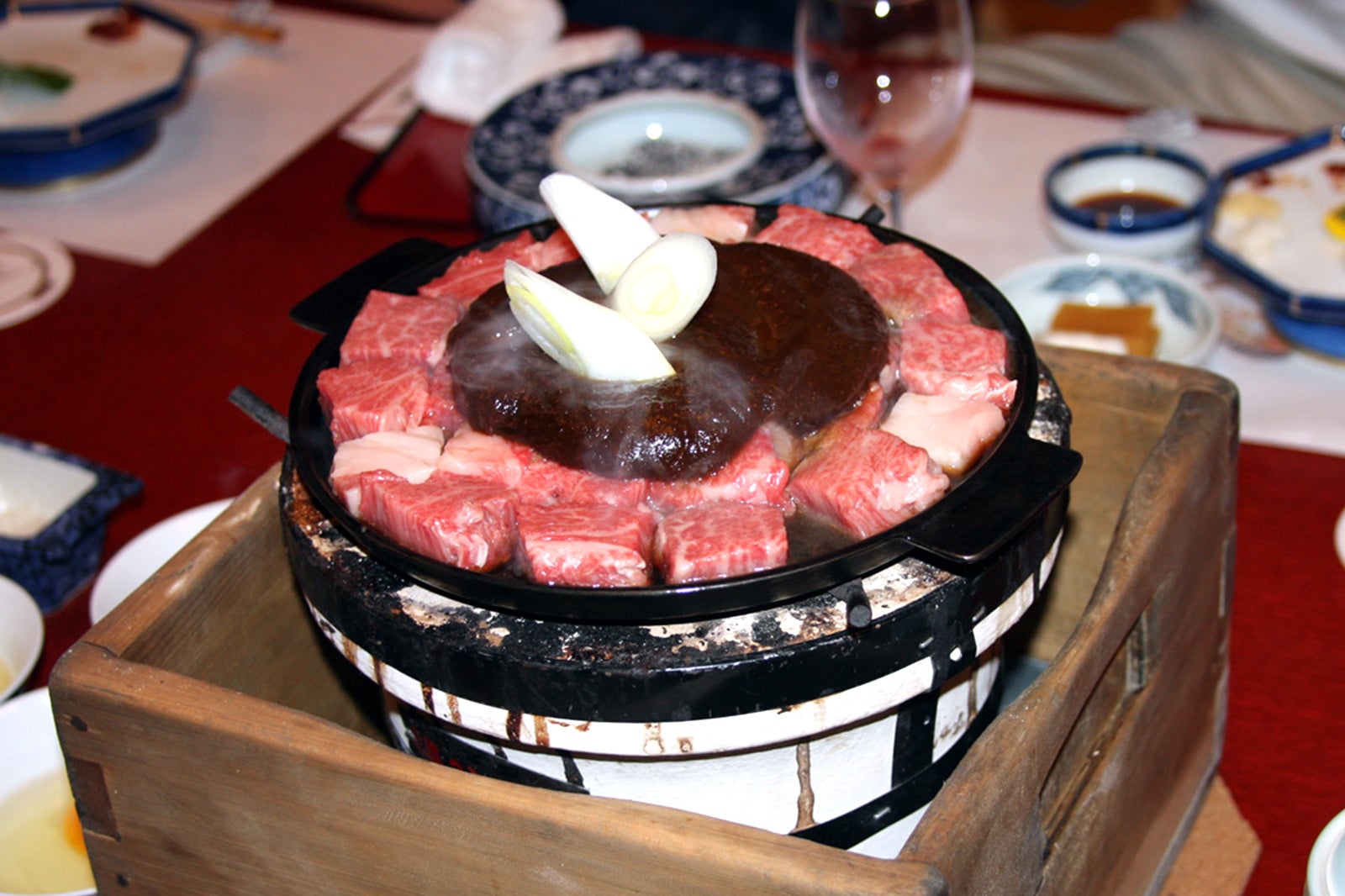 The foreign culture of eating beef began to spread throughout Japan in the early Meiji period. Beef hotpot (gyunabe), which originated in Yokohama, became popular thanks to that culture. In an iron hotpot, beef, green onion, edible chrysanthemum, shiitake mushroom, shirataki konjac, and tofu are stewed together with sukiyaki stock (a mixture of soy sauce, mirin, sugar, sake and stock).
Gyunabe looks just like sukiyaki – the difference between the 2 is that the meat is grilled in sukiyaki but simmered in gyunabe. there are famous old restaurants in the Naka Ward of Yokohama City, many of which were established in the Meiji era.
photo by Danglewis (CC BY-SA 3.0) modified
2
House-style ramen (iekei ramen)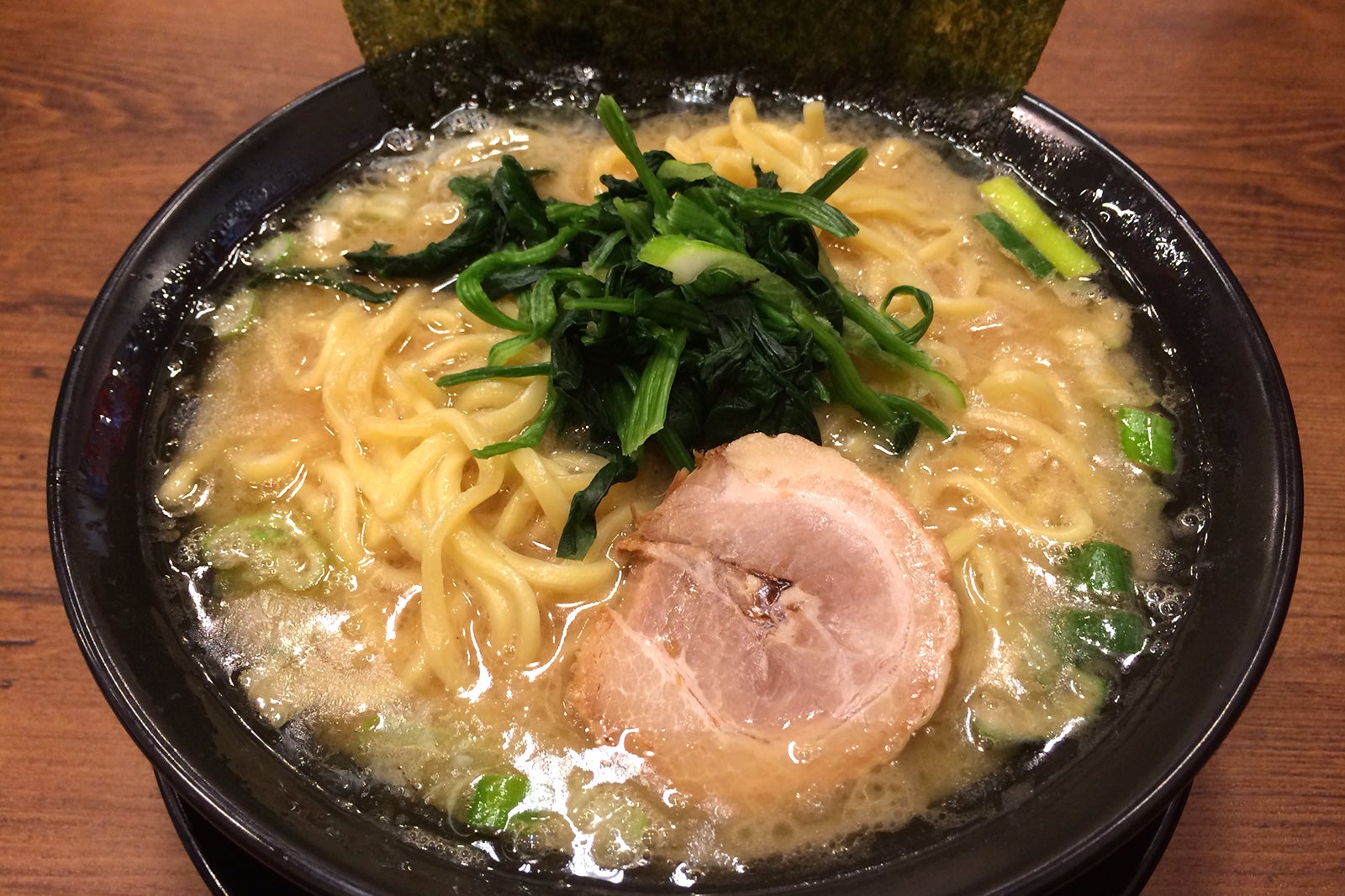 Iekei ramen, which originated in Yokohama City, consists of chewy, straight, thick noodles in a creamy soup made with pork bone and soy sauce. The dish is usually topped with roasted pork fillet, spinach and seaweed. A certain Mr Yoshimura came up with the idea of mixing pork bone broth from Kyushu with soy sauce from Tokyo, which resulted in him establishing Yoshimura-Ya Restaurant in Yokohama.
Ramen shops that established business with his help also named their shops with '-Ya' ('ya' literally means 'house' or 'family', but pronounced as 'ie'). As a result, this type of ramen is called house-style ramen (iekei ramen). You can customize the thickness of the taste, the amount of fat, and the temperature of your noodles at just about every iekei ramen shop in Yokohama City.
photo by Tatsuo Yamashita (CC BY 2.0) modified
3
Edomae sushi (sushi)
Experience how sushi has been made in Kanto for hundreds of years
Edomae sushi is how people in the Kanto region have consumed sushi for hundreds of years. Edomae refers to seafood caught from Tokyo Bay – local anglers would catch eels, tiger prawns, tuna and more. However, with refrigeration scarce in the 1800s, sushi chefs would preserve raw fish in salt, vinegar, soy sauce and other curing products.
This way of curing seafood continues to be used by sushi chefs in Yokohama and around the globe. Head to a top-notch sushi spot to experience this traditional technique and understand why some chefs prefer this method for bringing out certain seafood flavors.
4
Tofu and vegetable chowder (kenchin-jiru)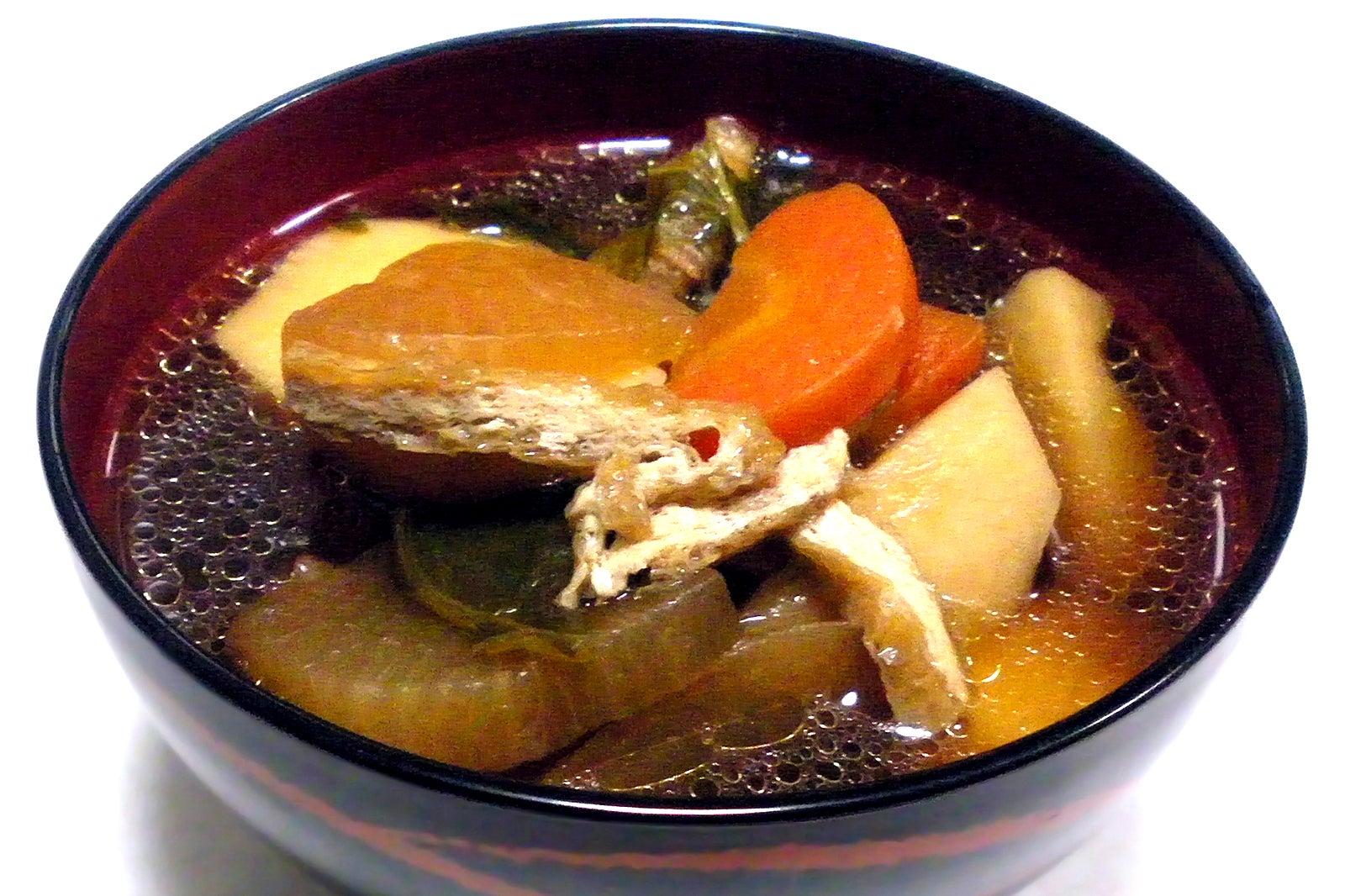 Kenchin-jiru is a popular local dish that originated from Kencho-Ji temple in Kamakura some 700 years ago. Its origin is said to be a soup made by simmering tofu with vegetables to avoid wasting crumbled tofu.
First, you cut root vegetables like carrots, radishes, taro, seasonal vegetables, and konjac into chunks and stir-fry them with sesame oil. Add the broth of kombu (kelp) and shiitake mushrooms and the crushed tofu, simmer, season with soy sauce, and top with chopped green onions. This is a great dish to enjoy as either a set meal or a rice bowl dish at restaurants across the Kanagawa Prefecture.
photo by Kentin (CC BY-SA 3.0) modified
5
Soup dumplings (xiaolongbao)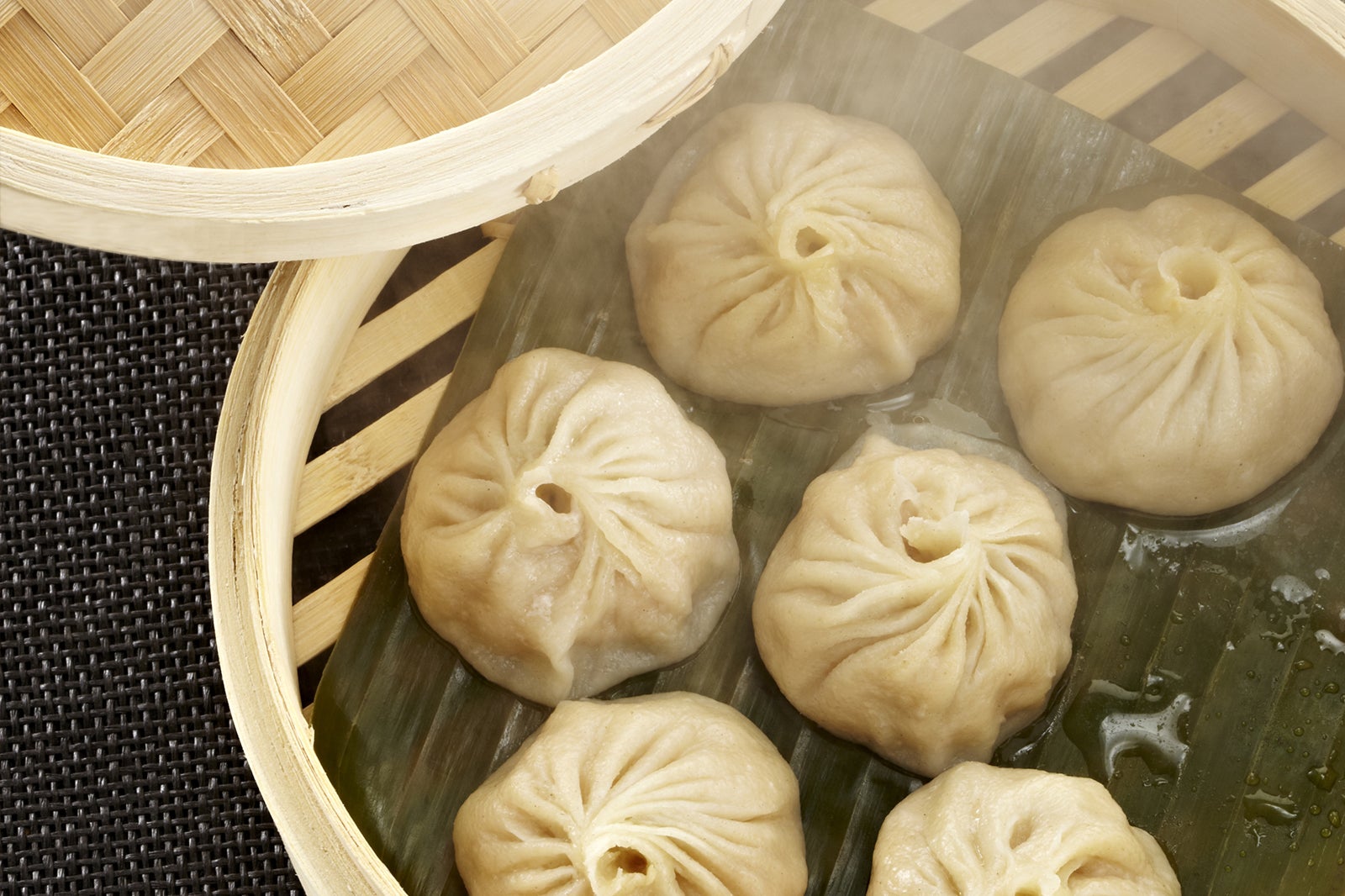 Soup dumplings (xiaolongbao) are one of the most popular Chinese snacks. This delicacy is made with ground pork wrapped in thin flour dough and steamed in a basket steamer (seiro). There are usually around 14 folds in the dough, which are pleated one at a time by skilled cooks, producing beautiful and delicate results. For maximum freshness, we recommend restaurants that steam the soup dumplings only after you place your order.
If you put a steamed soup dumpling on a spoon and break it with your chopsticks, you'll find hot soup oozing out from the inside. Freshly steamed dumplings are best eaten while still hot – just be careful not to burn yourself, of course. While delicious on their own, soup dumplings also go really well with black vinegar and ginger. In Yokohama's Chinatown, you can also enjoy grilled soup dumplings and unique dishes with shrimp and shark fin.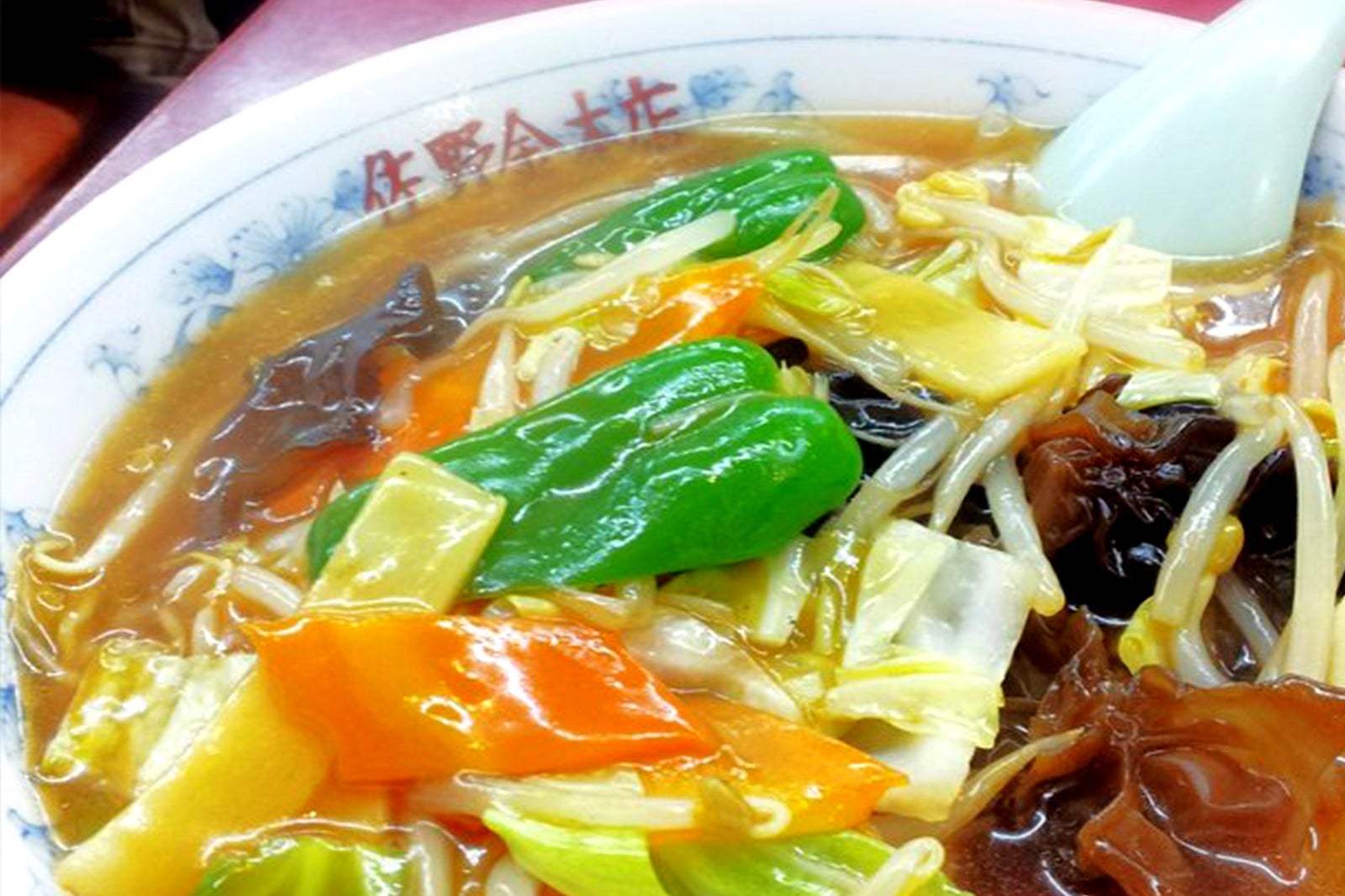 Sanmamen, which is said to have come from the staff meals served at Chinese restaurants, is Yokohama's soul food. Sanma could bring to mind the fish of the same name (mackerel pike), but actually, the kanji characters used are completely different and it means something else entirely. The Chinese characters translate to 'fresh and crisp texture' and 'put on top' which kind of explains the concept of the dish.
Pork, Chinese cabbage, cloud ear mushrooms, carrots, bamboo shoots, Chinese chives, and a lot of bean sprouts (the most characteristic element of this dish) are stir-fried quickly, thickened and poured on top of noodles. The original sanmamen was made with soy sauce-flavored soup, but some restaurants serve salty versions. You can find sanmamen at ramen shops and Chinese restaurants throughout Yokohama City.
7
Steamed Chinese dumplings (shumai)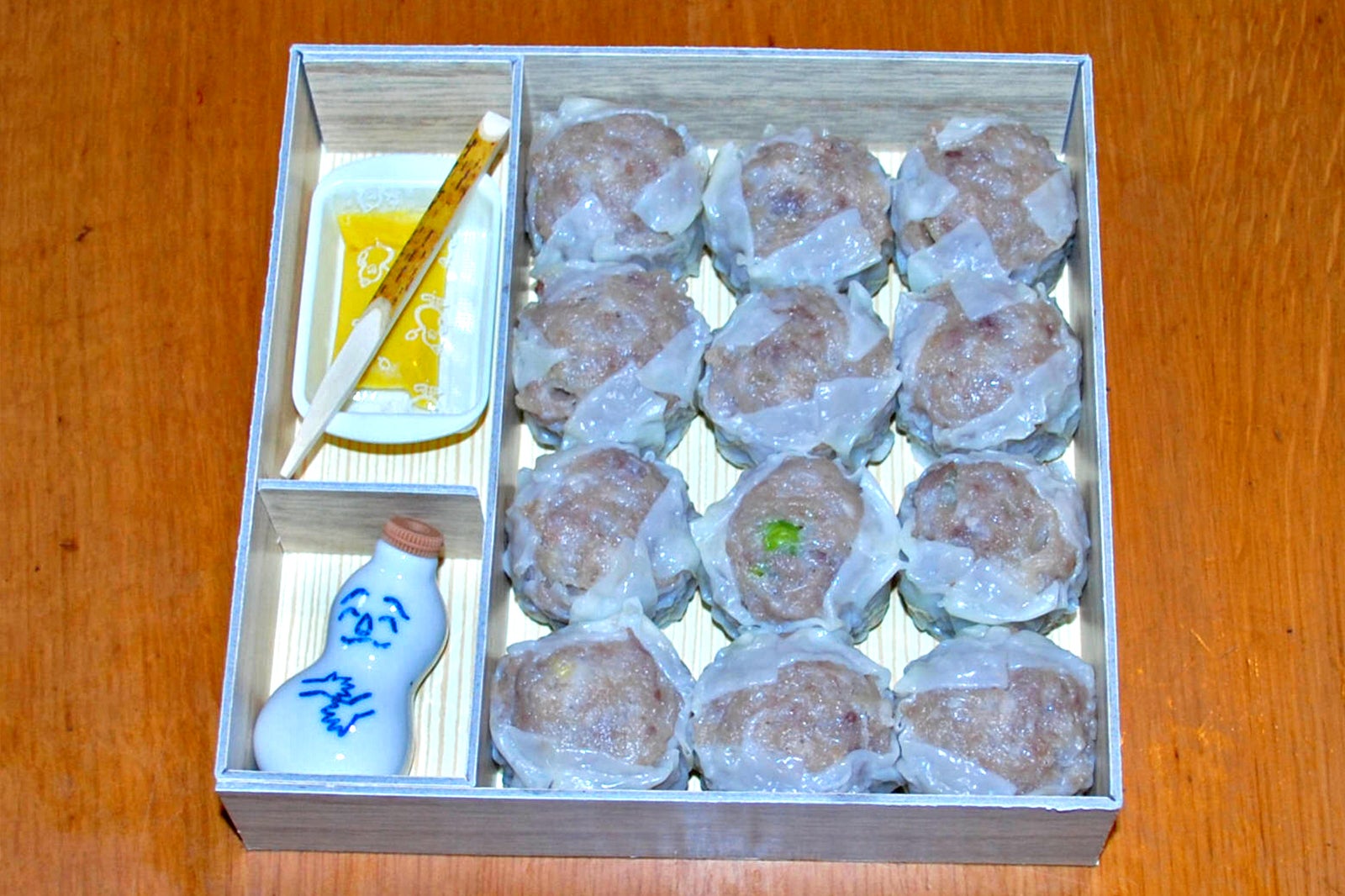 Kiyoken's shumai is a Yokohama specialty that has been loved by the citizens of Yokohama since it was introduced in 1928. Based on the hot, steamed dumplings served in Chinatown, this take on shumai was conceived with the idea of creating a special Yokohama twist on the delicacy, resulting in a dumpling that's still tasty even after it has cooled down.
Shumai traditionally contains a mixture of pork and dried scallops, but there are also shrimp and crab variations that originated from the Heisei era. It's also bite-sized, which means it's easy to enjoy on the go. Kiyoken first sold shumai bento (boxed lunches) at train stations in Yokohama in 1954. It has become so popular that it sells about 20,000 boxes a day. You can enjoy 6 types of dumplings throughout the year, as well as seasonal shumai. Make sure you grab one when sightseeing in Yokohama!
photo by Miya.m (CC BY-SA 3.0) modified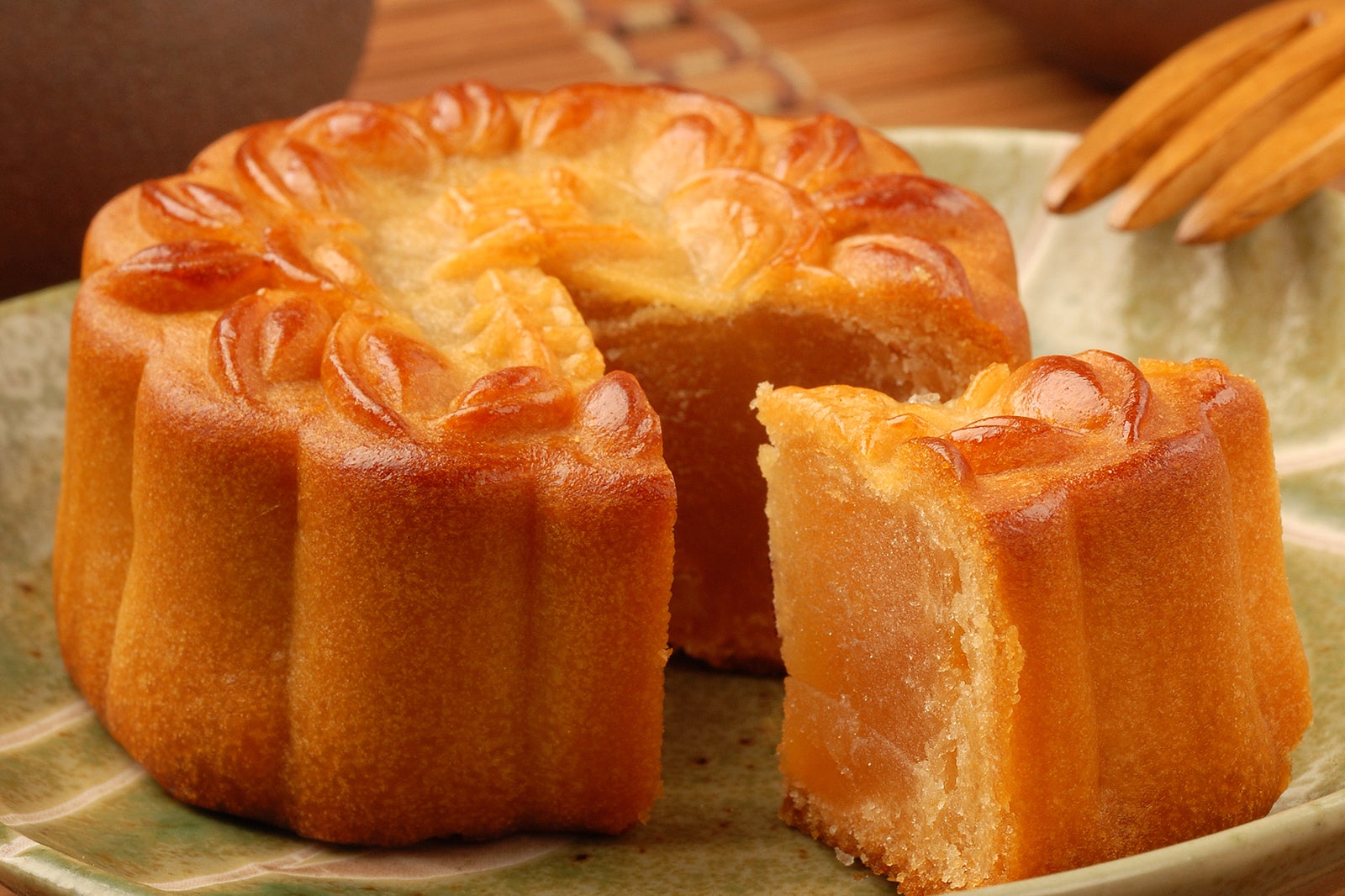 Mooncake (geppei) is one of the most quintessential souvenirs in Yokohama. This Chinese confectionery is made by mixing wheat flour with sugar, lard and hot water until it forms a dough. It's then filled with red beans, lotus seeds, walnuts and Chinese dates hardened with syrup before baked until golden.
In China, it's tradition to eat mooncakes together with the family while watching the harvest moon – locals believe the pastry's circular shape represents family harmony. Originally, large cakes would be cut with a knife and eaten together. Nowadays, bite-sized geppei is available, usually sold as a souvenir in Yokohama's Chinatown. Note that the mooncakes' bean paste filling, size and crust pattern differ from store to store.
9
Chinese rice porridge (chuka gayu)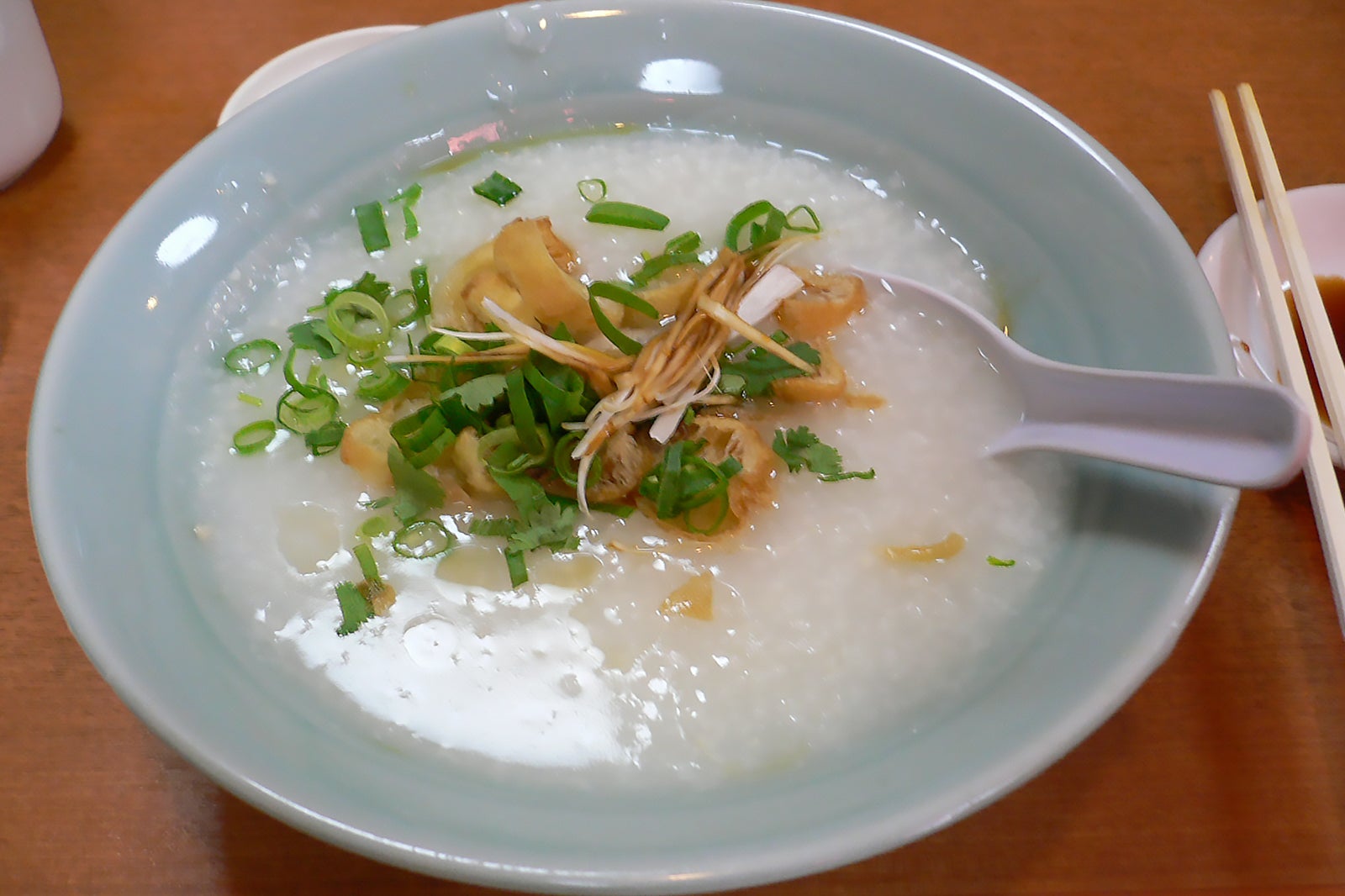 Unlike Japanese rice porridge (okayu), which is made with only rice and water, chuka gayu (Chinese rice porridge) is cooked with chicken broth and meat or seafood. The cooking method varies slightly depending on the region, but the Cantonese version, which is prepared after frying it in oil, is particularly famous in Japan. Another feature is that it's simmered for a long time until it thickens, giving it a lovely smooth texture.
Rice porridge is cooked together with various ingredients, such as chicken wings, thighs and tenderloin, scallops, and whitefish. Condiments such as Szechuan pickles, coriander, and century eggs are added on top. Easily digestible and full of nutrition, Chinese porridge is a breakfast staple for many locals in Yokohama. Why not head for Chinatown first thing in the morning and enjoy the taste of Chinese rice porridge?
photo by hirotomo t (CC BY-SA 2.0) modified
10
Roasted pork fillet (chashu)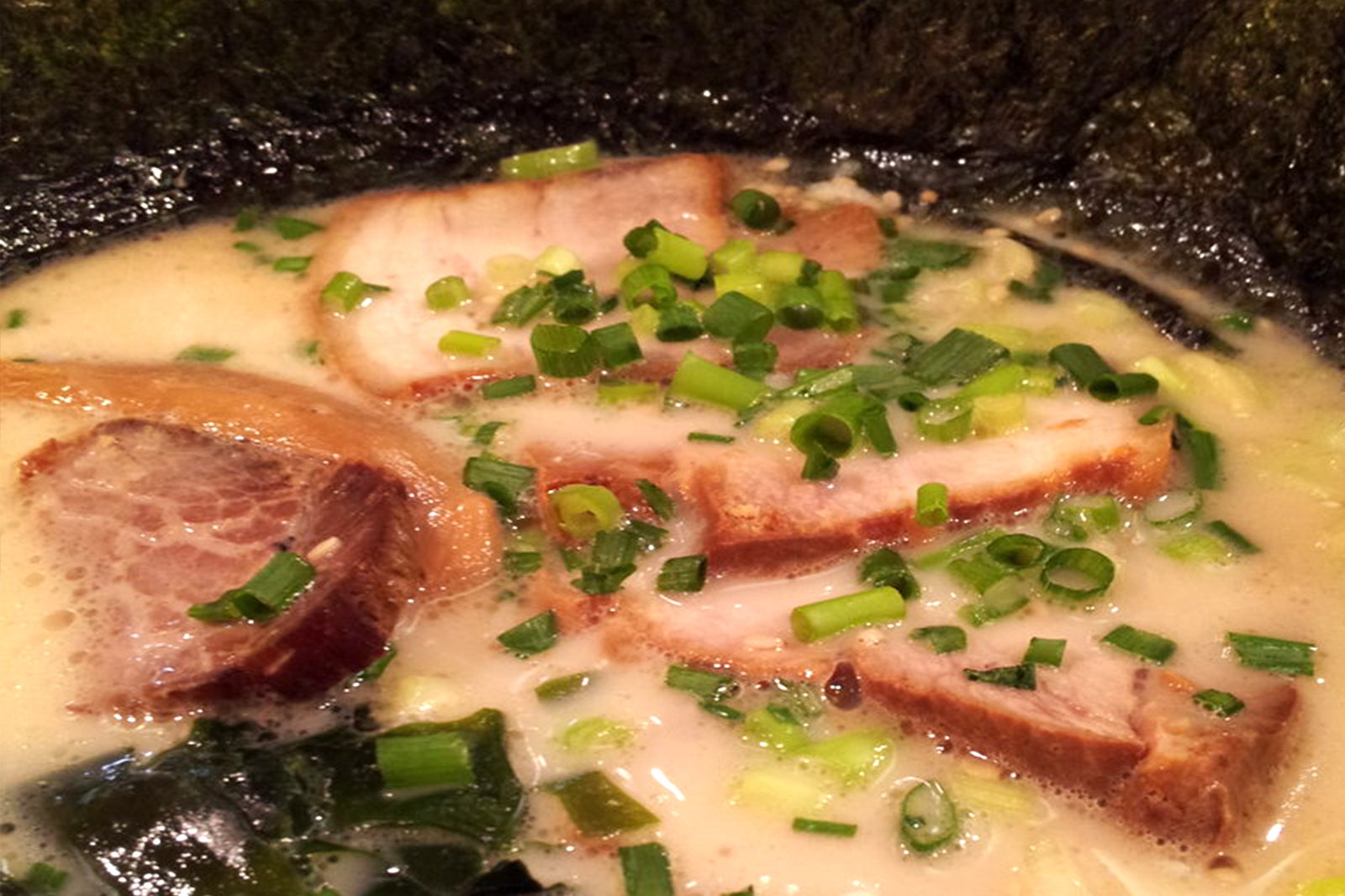 Roasted pork fillet (chashu), made by roasting pork in a stone oven for a long time, is one of the specialties of Yokohama Chinatown. This juicy and fragrant dish is made by marinating tender pork in a sauce overnight, before slowly broiling it over charcoal. The chashu of Chinatown has a distinctive red color because it's prepared in dregs containing red wine (hóng zāo).
You'll find some restaurants where the flavor of chashu has been adapted to suit Japanese tastes by limiting the use of spices, such as star anise. Ultimately, chashu is popular because it appeals to so many people. You can enjoy it in Chinese restaurants, buy it as a souvenir, or enjoy it as a topping for fried rice, gyoza, or ramen. Chashu buns are recommended for those on the go.
Back to top