10 Things to Do in Yokohama on a Small Budget
What are the Cheap Things to Do in Yokohama
While Yokohama has historically been home to many foreigners and has a stylish reputation, it's not all about the classy spots. Even if you're on a small budget, there are plenty of places you can enjoy all day long. For a stroll, why not hit the parks and shopping streets? Motomachi Park, Yokohama Motomachi Shopping Street, Jingashita Valley Park, and Marine Park will bring you a true Yokohama experience of nature and city scenery.
Public facilities are also little-known yet valuable places to visit. Osanbashi International Passenger Terminal offers a spectacular view of Yokohama Port. Yokohama World Porters Roof Garden also has a free observation deck that few people know about. Free or cheap factory tours and corporate museums are also worth a visit.
1
Soji-ji Temple Yokohama
Visit this historic Buddhist temple and roam the pristine grounds
Couples
Families
History
Photo
Soji-ji Temple is a striking Zen Buddhist landmark founded in 1321. This Yokohama attraction features a large-scale complex that includes sprawling gardens and 7 fascinating structures. Once a primary temple for the Soto Sect – a major branch of Japanese Buddhism – it continues to hold a special significance for the religion's followers.
Soji-ji Temple offers guided tours in English, so you can learn all there is to know about this stunning destination. During your visit, there's a good chance you'll come across the monks who live within the temple ground.
Location: 2 Chome-1-1 Tsurumi, Tsurumi Ward, Yokohama, Kanagawa 230-8686, Japan
Open: Daily from 8 am to 5 pm
Phone: +81 (0)45-581-6021
The Yamate area of Yokohama is full of must-see attractions. These include the Mizuyashiki ruins, a waterworks built by Alfred Gérard, and the Ruins of Yamate 80-Ban Kan, a noted foreign residence. A leisurely stroll through Yamate is a walk through history. Yokohama Yamate Western-style buildings including Bluff No. 234, the Ehrismann Residence, and Berrick Hall are all free to visit. Here you can get a glimpse of the history of Yamate, which was once home to a considerable international community. At Bluff No. 234 there's an old-fashioned gramophone concert on the second Saturday of each month, and guided tours on the third Thursday of the month.
Participation is free of charge. Picture book readings for children are held on the third Saturday of every month. During the spring, when the cherry blossoms in the park are in full bloom, the site is full of visitors coming for hanami (flower-viewing). There's also a playground for children. Plus, there's a municipal bathing pool and a Kyudo (Japanese archery) hall in the park.
Location: 1-77-4 Motomachi, Naka Ward, Yokohama, Kanagawa 231-0861, Japan
3
Yokohama Intl Passenger Terminal
This is one of the world's leading cruise ship terminals, with ships from around the world making port calls. Since the opening of Yokohama Port and the initial influx of people from other countries, the terminal has been through construction, expansion and renovation 6 times and is now in its 7th generation. The result is a vibrant atmosphere perfect for the golden age of cruise ships. The vast, pillar-less, dome-like space on the 2nd floor and the natural grass and wooden deck on the rooftop give the impression of an actual ship's wooden deck. Take some time out to relax here and enjoy the sea breeze.
At the end of Osanbashi you'll find the "subzero" restaurant, which has exceptional views of Minatomirai. Overlooking the Ferris wheel and the Red Brick Warehouse, this is a great spot for a romantic night view with neon lights after dark. There are also quintessential Yokohama-style stores here, including a local bag brand store and a gift shop selling marine goods.
Location: 1-1-4 Kaigandori, Naka Ward, Yokohama, Kanagawa 231-0002, Japan
Open: RF: Open 24 hours, 2F: Open from 9 am to 9 pm (Hall use: 9 am to 10 pm)
4
Yokohama Motomachi Shopping Street
This shopping street caters to a wide range of interests, with everything from authentic traditional stores to the latest trends in candies. Motomachi Oasis, a changing room with a nursing room and a nappy-changing room, is now open, making the area more convenient for parents with young children. Motomachi Shopping Street dates back to the time of the opening of Yokohama Port.
In 1860, 90 residents of Yokohama Village were forcibly relocated to the neighboring village of Motomura due to the decision to establish a foreign settlement area, and the village was renamed Yokohama Motomachi. With more and more people starting to do business with foreigners in the foreign settlement area, many Western-style stores began to line the streets. Tourists now come from all across Japan to seek out Motomachi's unique fashion styles. As well as fashion, you'll find plenty of European-style gourmet food here.
Location: Motomachi, Naka Ward, Yokohama, Kanagawa 231-0861, Japan
Open: Hours vary by store.
5
Cup Noodles Museum Yokohama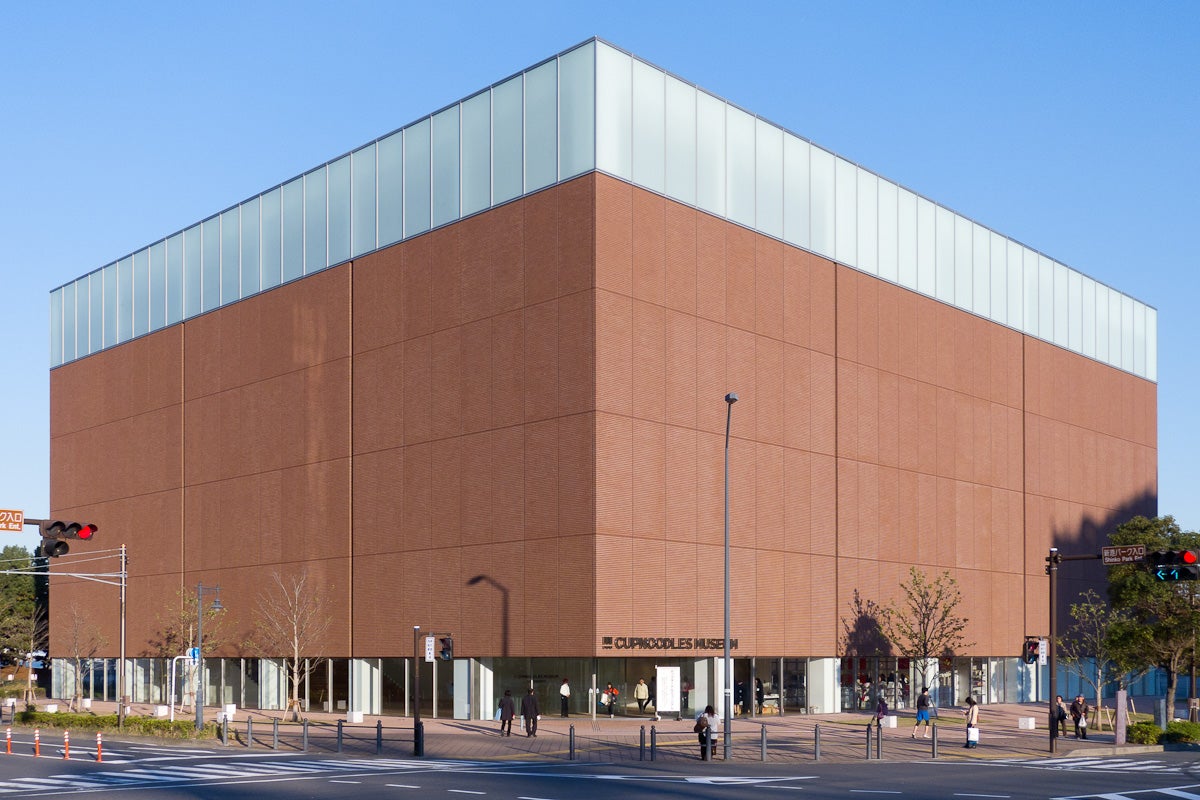 This museum is dedicated to the theme of cup noodles. Momofuku Ando, the inventor of the world's first instant ramen, Chicken Ramen, in 1958, is known as the "Father of Instant Ramen" and his story has become a Japan-wide phenomenon thanks to the NHK TV series Manpuku. The museum is full of creative exhibits that evoke the life, words, deeds and thoughts of the inventor.
Check out the workshop where you can create your own cup noodles by experimenting with combinations of your favorite flavors. The streets of Yokohama are filled with tourists showing off their unique creations. Children can have fun here with activities such as an indoor obstacle course and a chicken ramen hand-making workshop (advance reservation required).
Location: 2-3-4 Shinko, Naka Ward, Yokohama, Kanagawa 231-0001, Japan
Open: Open from 10 am to 6 pm (last entry 5 pm)
photo by Rs1421 (CC BY-SA 3.0) modified
6
Yokohama World Porters Roof Garden
This Roof Garden is on top of World Porters, a shopping mall located in Minatomirai. Take the lift up to the top floor and you'll find yourself on the observation deck, overlooking the Ferris wheel and other landmarks all over Yokohama. Although not widely known, this is a great place to relax on a bench and look out at the night view after a meal at a restaurant or some shopping. With its charming atmosphere, the Roof Garden is the perfect place to include on any date.
What's more, it's open to all and free of charge while the World Porters mall is open. The barbecue terrace here draws a lot of families and groups in the summer. There are all-you-can-drink and all-you-can-eat options, so you can arrive without bringing anything and still have a great time. Enjoy the rooftop breeze as you relax and you'll fell like you're on top of the world!
Location: 2-2-1 Shinko, Naka Ward, Yokohama, Kanagawa 231-0001, Japan
Open: Open from 10.30 am to 10 pm, irregular vacations
A valley rich in nature where you can forget you're even in a city, Jingashita Keikoku Park sprawls along the Katabira River in Yokohama City. From the south exit of Nishiya Station, with the JA Yokohama Hodogaya branch on your right, cross Gakko-hashi Bridge over Katabiragawa River, and walk downstream on your left to Washiyama-bashi Bridge. Then, follow the narrow road with the telephone pole labeled 川島町805 (Kawashima-cho 805) until you see the Kanjo 2 (Loop 2) Line. Cross the waterway, turn right under the overpass, and you'll see the entrance to the park up ahead. It takes about 20 minutes on foot.
The name ''Jingashita'' comes from the fact that Yoshimori Wada, a vassal of Minamoto no Yoritomo, set up his hunting camp (Jin) in this area. You can feel the breath of nature as you follow the trail through the forest, listening to the murmuring of the water. Wear clothes you don't mind getting dirty and comfortable shoes. There's also a picnic space in the park.
Location: Hodogaya Ward, Yokohama City
8
Mitsubishi Minatomirai Industrial Museum
Couples
Families
Budget
Group
This museum was established by Mitsubishi Heavy Industries, Ltd. in 1994 to showcase science and technology. Inside the museum are the SEA Zone, SKY Zone, SPACE Zone, and MHI FUTURE GATE, each of which has a variety of exhibits and hands-on neighborhoods, including a rarely seen rocket engine, the actual manned research submersible Shinkai 6500, and a cockpit model of a passenger plane, as well as a flight simulator.
Various science experiment classes, workshops, and events are also held on a regular basis. The museum is full of exciting things to do for children and grown-ups alike, with a playground for little ones to play with large blocks as well as a museum shop with goods featuring the Techno-kun mascot.
Location: Mitsubishi Heavy Industries Yokohama Building, 3-3-1 Minatomirai, Nishi Ward, Yokohama, Kanagawa 220-8401, Japan
Open: From 10 am to 5 pm (last entry 4.30 pm) *Closed on Tuesdays (or next day if Tuesday is a public vacation)
9
Kiyoken Yokohama Factory
Kiyoken, best known for its special Shiumai dumplings, offers free 90-minute factory tours, limited to 180 people per day, and reservations can be made up to 3 months in advance. Check out the bento (boxed lunch) production line in addition to the Shiumai line. After watching a video presentation on the history of Kiyoken, the tour moves on to the manufacturing process, followed by a display of the Hyo-chan soy sauce container, the history of Ekiben (boxed lunches sold at railroad stations), and an introduction to the secrets behind the Shiumai bento.
Following the boxing line, you can sample freshly made Shiumai, side-dishes for the Shiumai bento, and Chinese snacks. You can visit the Petit Museum Shop (no need to reserve) and enjoy videos and quizzes by operating the train window-style touch panel. There are plenty of discounted and unique items on sale here.
Location: 675-1 Kawamukocho, Tsuzuki Ward, Yokohama, Kanagawa 224-0044, Japan
Open: Tours throughout the day. Open Wednesday, Thursday, Friday and Saturday *Closed at end of month and over New Year vacations
Ever since Marine Park opened in 1988, it's been hugely popular with the people of Yokohama as the only park in the city with a bathing beach. Artificial sandy beach stretches for about a kilometer and it's surrounded by lush greenery. The area is full of life, and in early spring it's a great site for clamming. You can catch clams, trough shells, Japanese venus clams and razor clams, and take home up to 2 kilograms. So bring your own gear and aim for low tide.
Bathing season starts on the second Saturday in July and ends on August 31. During this period, there are tents for resting, changing rooms, and showers available for use. Children can play safely in the shallow water where the waves are gentle. And there's a wide range of beach activities here too, including volleyball, windsurfing and other marine sports. Other facilities include a barbecue site, and there are stores that rent equipment and sell ingredients, so what are you waiting for?
Location: 10 Uminokoen, Kanazawa Ward, Yokohama, Kanagawa 236-0013, Japan
Back to top