11 Most Popular Tourist Sites in Tokyo
Locals' Guide to Must-Visit Sites in Tokyo
Tokyo has plenty of famous spots that give a real sense of Japan's history, but you can also find ultramodern aspects dotting this vibrant capital city.
One of the great things about Tokyo is its variety. There are oases in the city in the form of shrines, temples and gardens, family-friendly theme parks, scenic spots where you can view the Tokyo skyline, important subculture areas, places where you can find the latest art, fashionable shopping areas... the list goes on and on. To help you save some time, we've put together a list of must-see sightseeing spots for every visitor to Tokyo.
1
Tokyo Disneyland and Tokyo DisneySea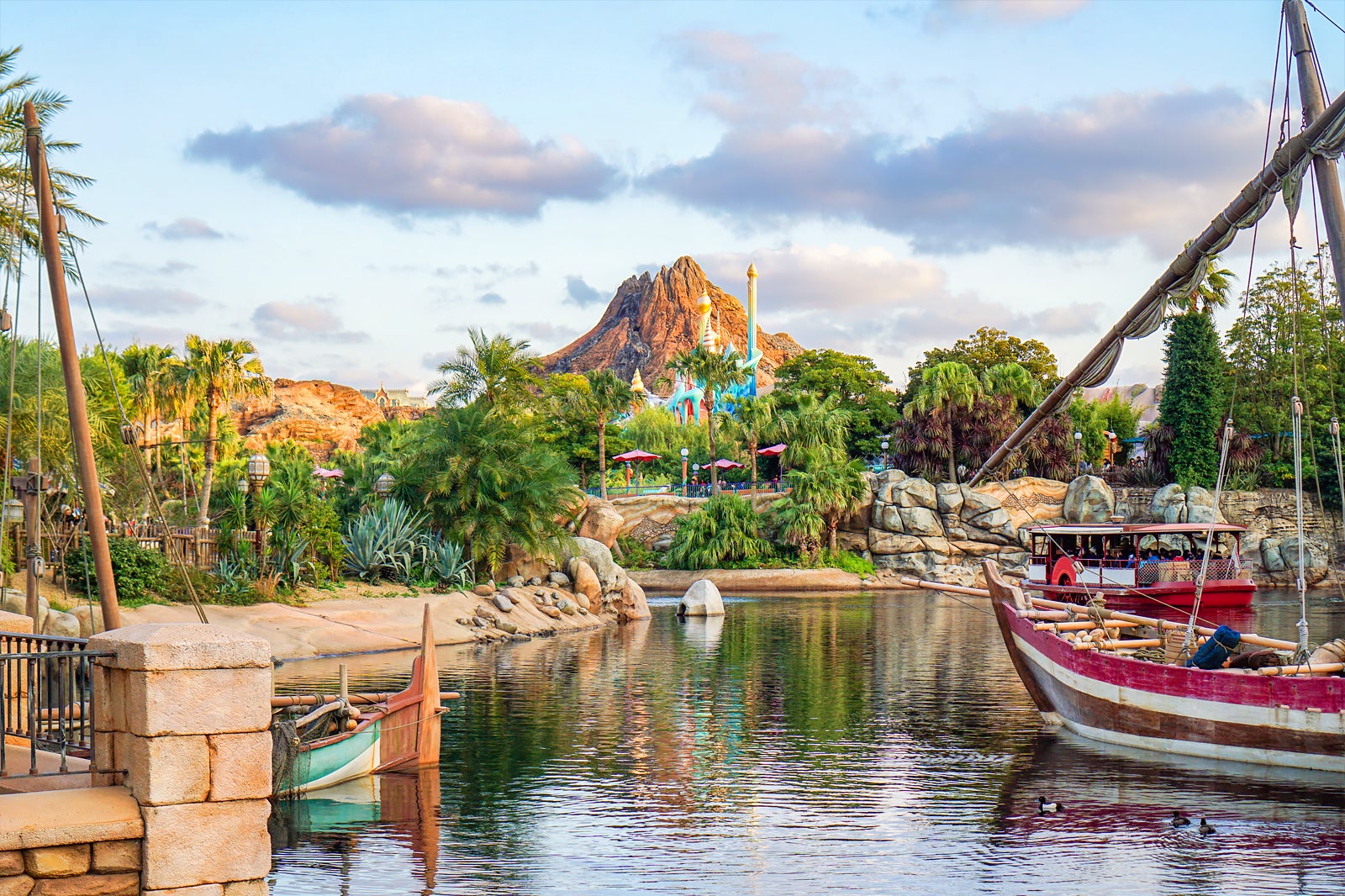 Tokyo Disneyland and Tokyo DisneySea are part of the Tokyo Disney Resort, which is located in in the city of Urayasu, Chiba Prefecture. Inside the 176-acre theme park, you'll find exciting attractions like Pooh's Hunny Hunt, Splash Mountain for white-water rafting on a log boat, and the Jungle Cruise boat expedition. Don't forget to stop by Cinderella's Castle, Tokyo Disneyland's most famous landmark.
DisneySea offers night shows on the water, which include water-screen projections of Cinderella and Aladdin, as well as light reflections of the magical Disney World.
Location: 1-1 Maihama, Urayasu, Chiba 279-0031, Japan
Open: Vary by season, day and theme park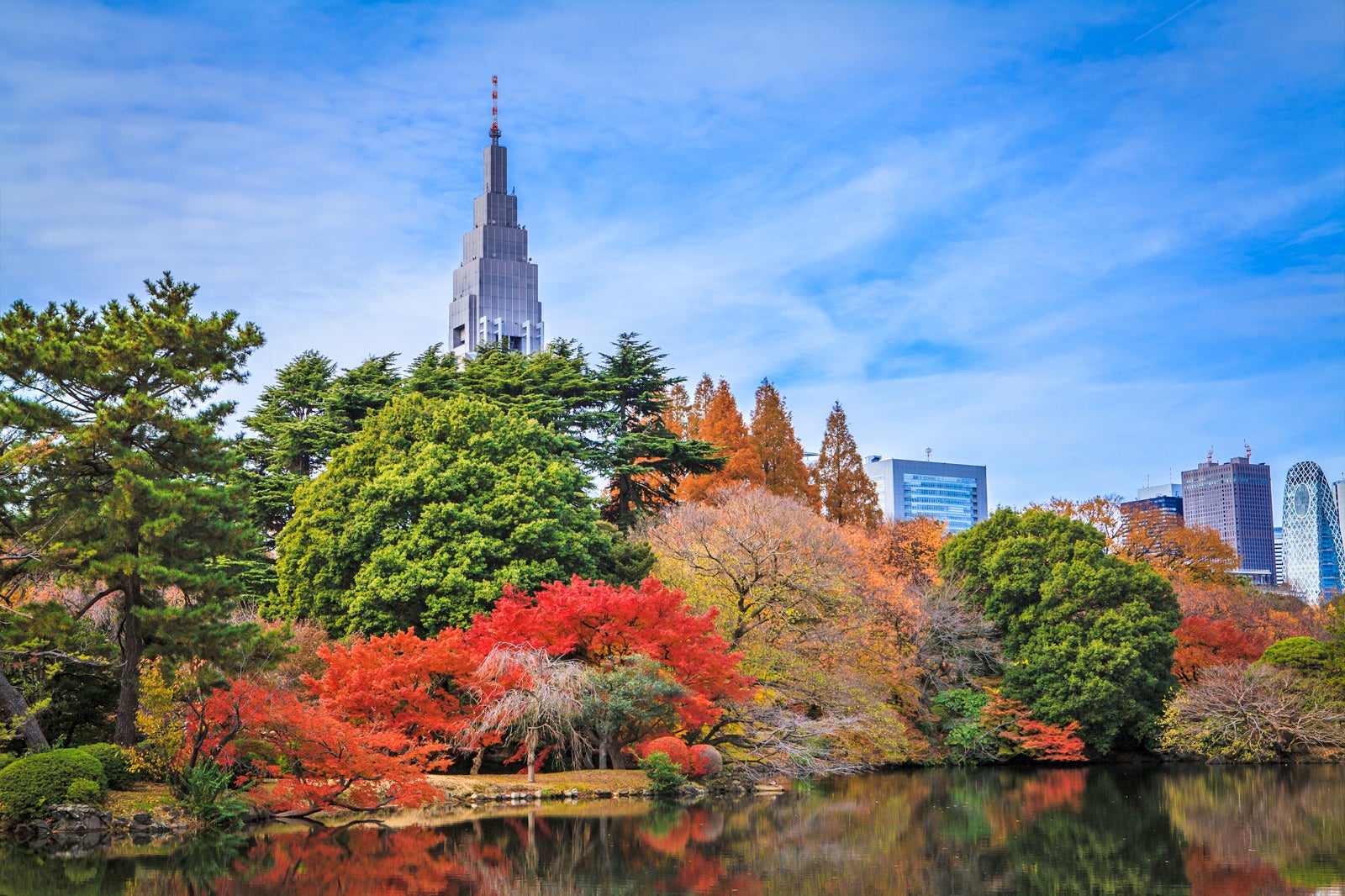 Shinjuku Gyoen was established as Japan's first imperial garden in 1906. It's a landscaped garden typical of the Meiji period. Within the surrounding area of 3.5 sq km, you'll find around 100,000 trees and various flowers from all 4 seasons – cherry blossom in springtime, hydrangeas in summer, cluster-amaryllis and osmanthus in autumn, and Japanese daffodils and camellia in winter.
You can also observe tropical flowers and fruits in Shinjuku Gyoen's onsite greenhouse. There are cafés, resting houses and tearooms as well, allowing you to enjoy a relaxing walk around this green oasis. Shinjuku Gyoen is within a 10-minute walk from Shinjuku Station.
Location: 11 Naitomachi, Shinjuku Ward, Tokyo 160-0014, Japan
Open: Vary by season and facility (closed on Mondays)
3
Tokyo Metropolitan Government Building
The Tokyo Metropolitan Government Building is a free sightseeing spot that's within a 10-minute walk from Shinjuku Station. You can enjoy scenic views of Tokyo from the 45th-floor observatory, which stands 202 meters. On the northeast side you've got views of Tokyo Skytree, Tokyo Tower to the southeast, and, on a clear day, Mt. Fuji to the west.
The Tokyo Tourist Information Center on the 1st floor has plenty of useful information for your trip. You can visit the self-service staff cafeterias on the 4th and 32nd and 4th floors if you check-in at reception. The Tokyo Metropolitan Government Building also has cafés, restaurants, a convenient store, a bookshop, and even a blood donation room.
Location: 2-8-1 Nishishinjuku, Shinjuku Ward, Tokyo 160-0023, Japan
Meiji Shrine (Meiji Jingu) was established in 1920 and dedicated to the deified Emperor Meiji and Empress Shoken. One of the most visited shrines on New Year's Day, the shrine often receives thousands of devotees praying for success in love, exams and business. After passing through the shrine's entrance, you'll be greeted with views od massive oak and camphor trees as you walk towards the main sanctuary building (honden). Here, you should bow once before passing through the large sacred gate (otorii), which was reconstructed in 1975.
To make a wish, bow and clap your hands twice at the main sanctuary building. You can also take and interpret unique fortune slips (omikuji), which are inscribed with waka poems. The Imperial Garden (gyoen) at the southern end of Meiji Shrine has around 1,500 irises that usually bloom in June. There are also 100,000 trees within its grounds, making this spiritual hotspot is a great place to unwind in Tokyo.
Location: 1-1 Yoyogikamizonocho, Shibuya Ward, Tokyo 151-0052, Japan
Open: Daily from 5 am to 6 pm
5
Tokyo Bay Cruise / Sumida River Cruise
Admire the view of Tokyo from the sea by taking a trip on a cruise ship, houseboat or water-bus. These tours depart from various piers in the Japanese capital. Luxury cruise ships departing from Hinode Pier offer dinner while cruising around Tokyo Bay.
You can opt for a houseboat tour, which replicates the ambience of the Edo period. Enjoy edomae tempura (deep-fried shrimp and conger eel) while admiring views of Tokyo Tower and Tokyo Skytree. This tour usually departs from Akarenga Pier and offers night views of factory areas like Rainbow Bridge, Haneda Airport, and industrial canals. Water-bus is a useful means of transportation if you want to visit the city's popular sightseeing spots as it departs from places within the Tokyo Metropolitan Area like Asakusa, Odaiba and Hamarikyu.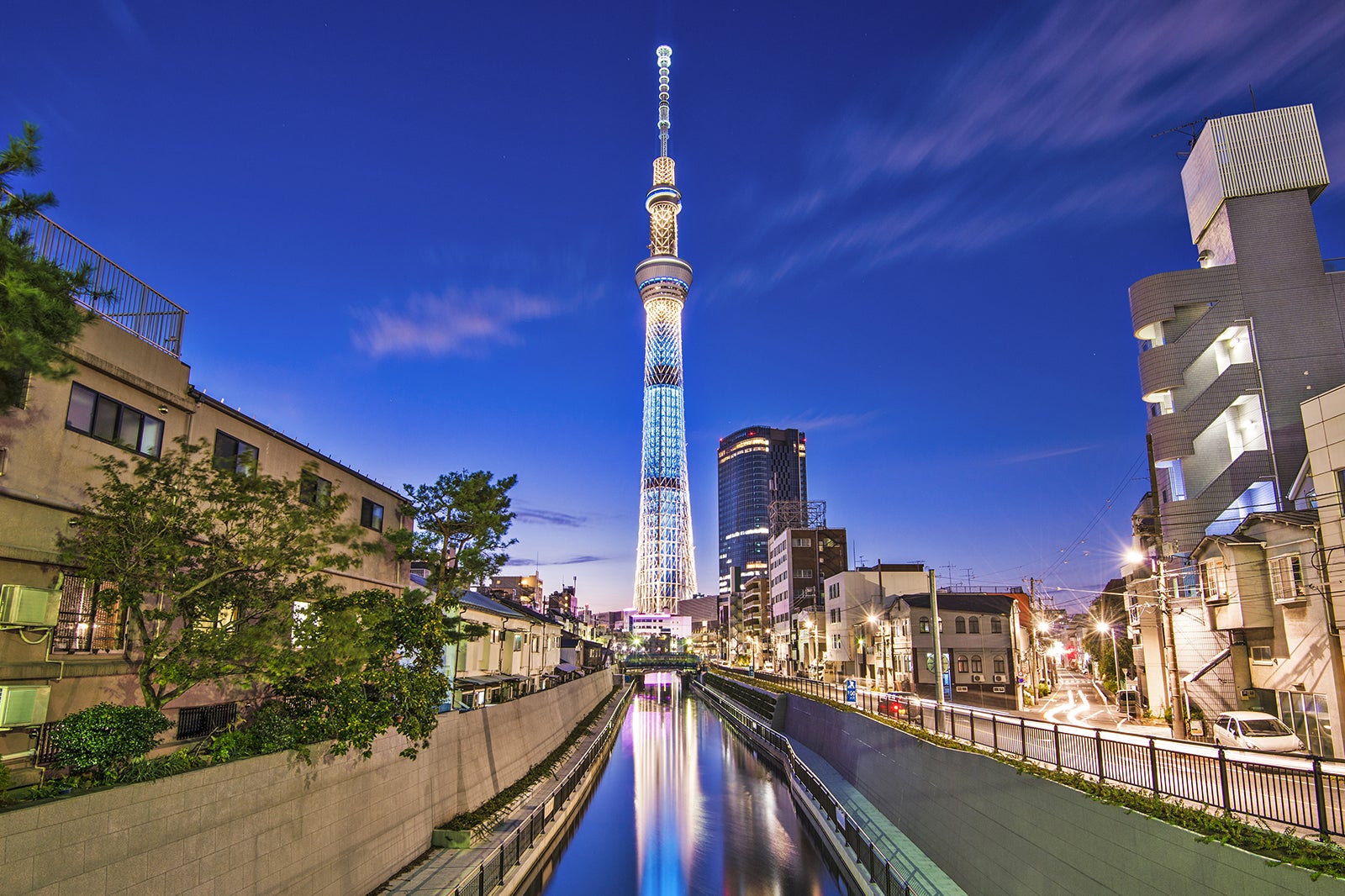 Tokyo Skytree is a radio tower that's around 634 meters in height, with a 350-meter-high observation deck offering excellent views over the Kanto Plain. Completed in 2012, it was constructed in the Oshiage area of Sumida ward to support digital terrestrial broadcasting.
From the observation deck floor, you can take a TENBO Shuttle, which has a see-through ceiling, to the 450-meter-high Tembo Galleria observation corridor. After stepping out from the shuttle, you can walk to Sorakara Point, Tokyo Skytree's highest accessible point. On the ground level, Tokyo Skytree Town offers facilities such as Sumida Aquarium, Planetarium TENKU, as well as several cafés and restaurants.
Location: 1-1-2 Oshiage, Sumida Ward, Tokyo 131-0045, Japan
Open: Observation deck: daily from 8 am to 9.30 pm. 1st and 5th floors: daily from 8.30 am to 9.45 pm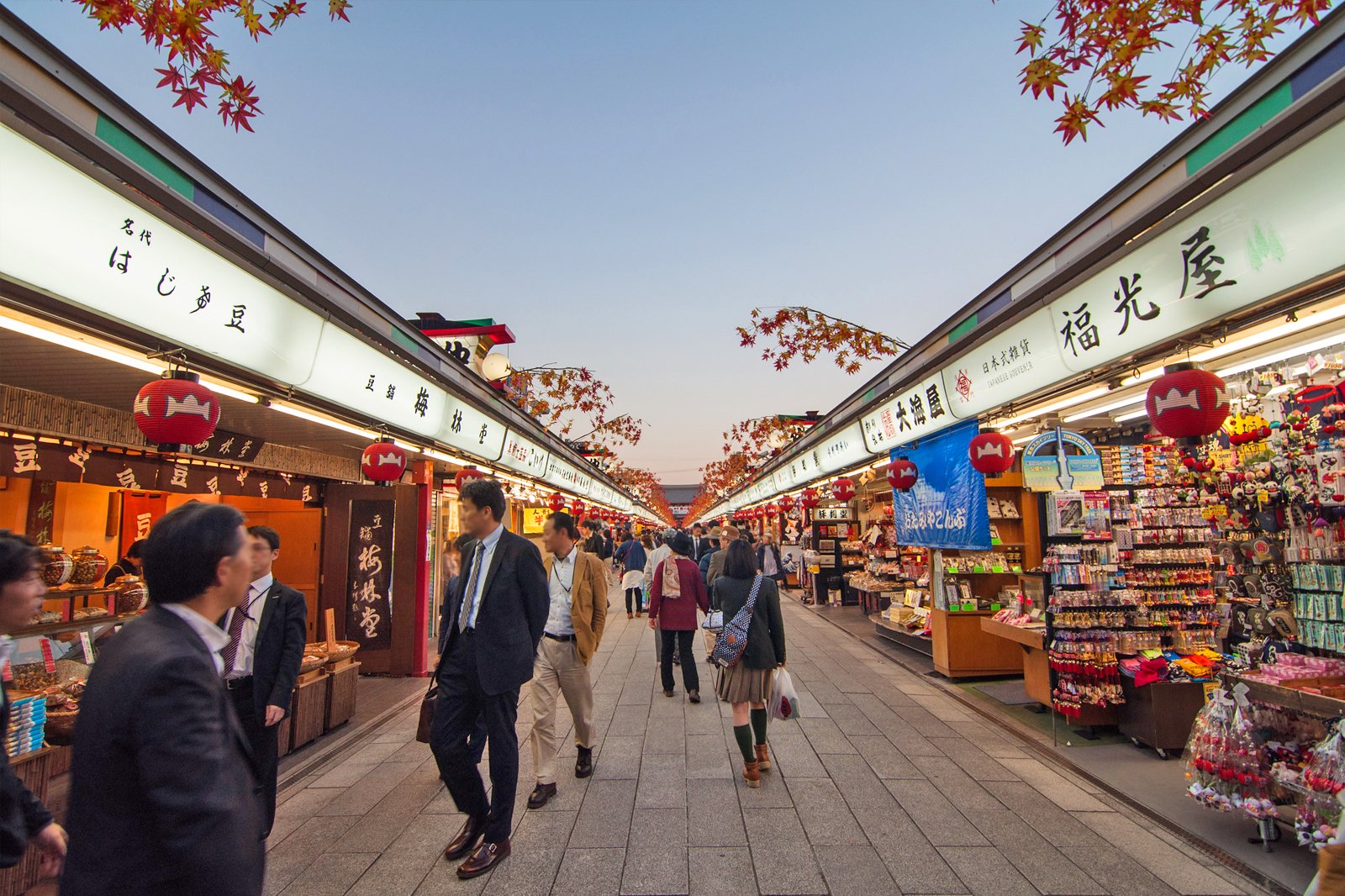 With a history stretching back 300 years, Nakamise in Asakusa is one of the oldest shopping streets in Japan. The row of shops starts from Kaminari-mon Gate – known for its huge 4-meter-long hanging red lantern – and continues for 250 meters to Sensoji, the oldest temple in Japan. On both sides of the street, there are nearly 90 shops and stalls selling regional foods like doll cake (ningyo-yaki), steamed yeast buns (manju) and rice crackers (senbei), as well as Japanese souvenirs such as chopsticks, umbrellas and postcards.
There are festivals and events taking place in Asakusa almost every month. Sanjyamatsuri Festival in May, which has been held for more than 700 years, sees several portable shrines (mikoshi) paraded around the streets of Nakamise. The Chinese Lantern Plant Market in July is one of the main traditional summertime events in downtown Asakusa. During Asakusa Samba Carnival in August, the town buzzes with parades of dancers in colorful costumes.
Location: 1-chome Asakusa, Taito Ward, Tokyo 111-0032, Japan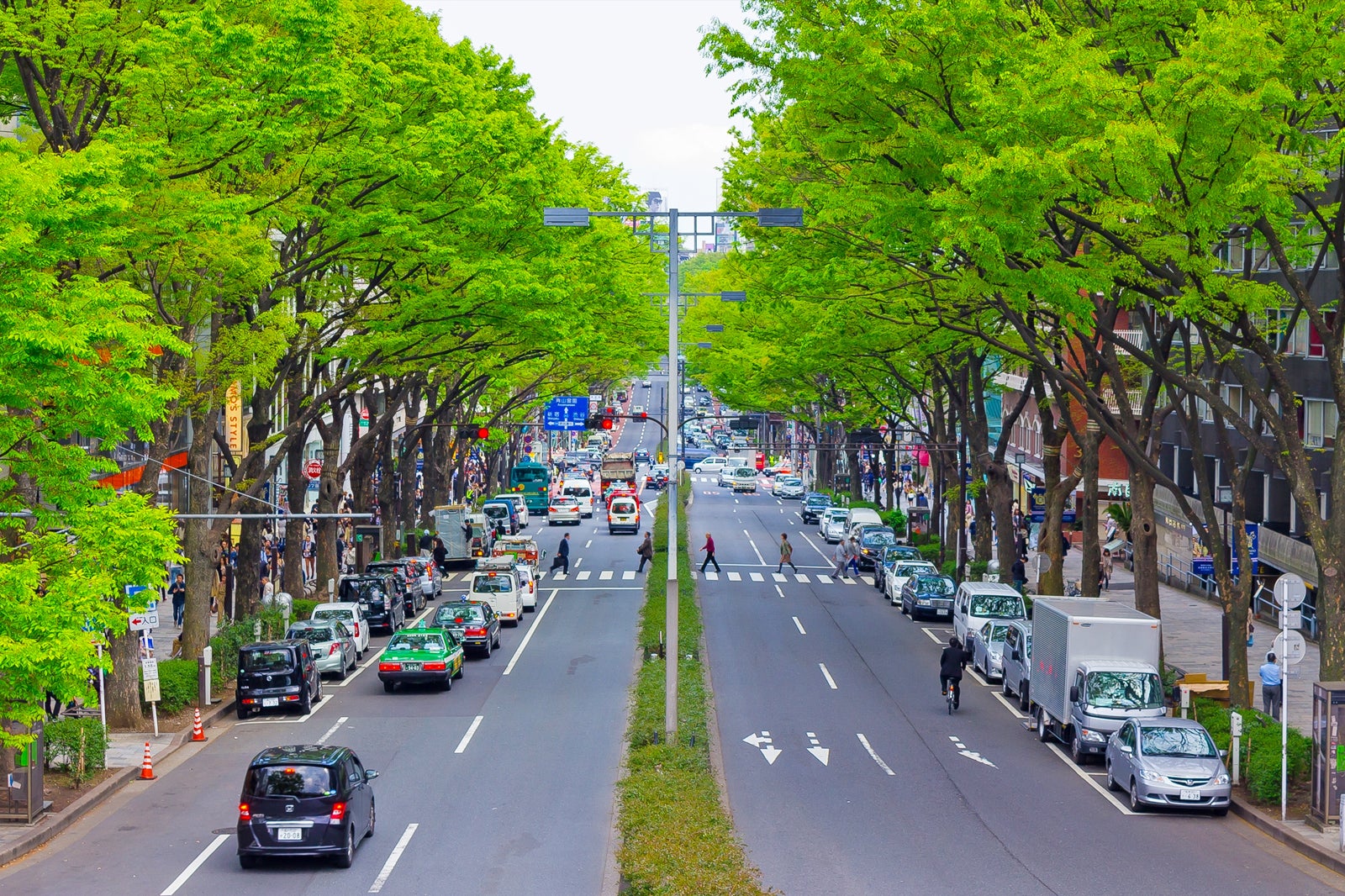 Aoyama is an affluent neighborhood that's centered around Omotesando (the front approach to Meiji Shrine) is a charming and artistic kind of place. Nezu Museum has a collection of over 7,000 Japanese and oriental antiquities, including National Treasures and Nationally Important Cultural Properties. The Taro Okamoto Memorial Museum and the celebrated artist's home studio are located here. Both are definitely worth a visit to check out his abstract drawings and sculptures.
If you're hungry, you can find a wide range of top-quality French, Italian, kaiseki and sushi restaurants. For shopping, check out the Spiral and Omotesando Hills complexes. During Japan's Christmas season, Aoyama becomes even more romantic with a 1-km-long line of Zelkova trees decorated with bright lights.
Location: Aoyama, Minato City, Tokyo, Japan
photo by Kakidai (CC BY-SA 3.0) modified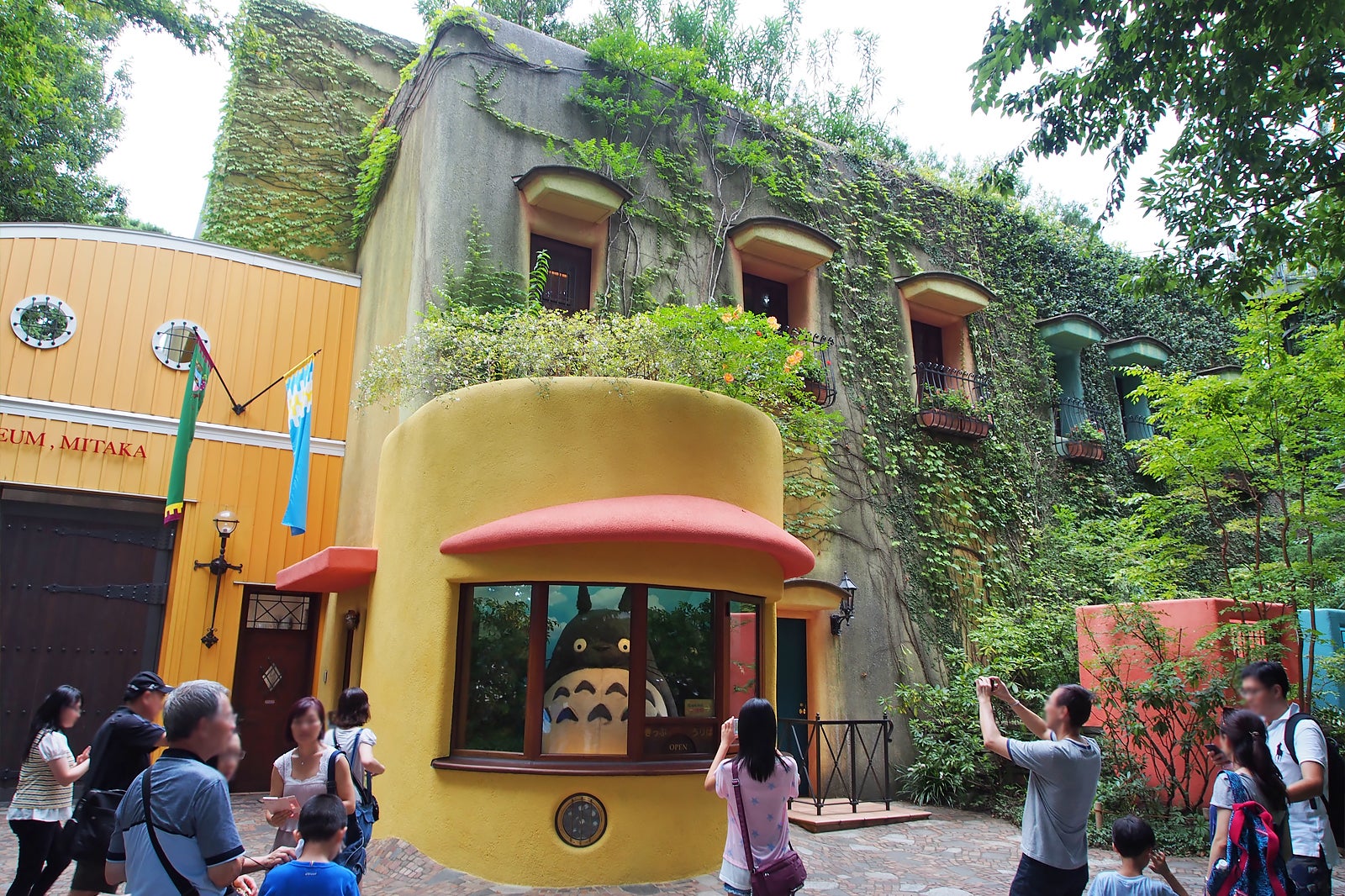 Ghibli Museum lets you immerse yourself in the world of Japanese animation masterpieces like My Neighbor Totoro, Castle in the Sky and Spirited Away. This museum is a dream come true for all Ghibli fans, with original drawings of your favorite scenes and characters in the permanent exhibition room. A giant statue of Totoro welcomes you at reception, which makes for excellent photos.
You can watch Ghibli's original short animated films at Saturn Theatre, while children might enjoy boarding the Cat Bus. A spiral staircase leads you to a rooftop garden, where you can enjoy the greenery of Inokashira Park with its 5-meter-tall soldier robot. There are also cafés and shops. Ghibli Museum is a 15-minute walk along the Tamagawa Josui aqueduct from JR Mitaka Station.
Location: 1-1-83 Shimorenjaku, Mitaka, Tokyo 181-0013, Japan
Open: Daily from 10 am to 6 pm (closed on Tuesdays)
Phone: +81 (0)570-055-777
photo by Naoki Nakashima (CC BY-SA 2.0) modified
10
TeamLab Borderless Tokyo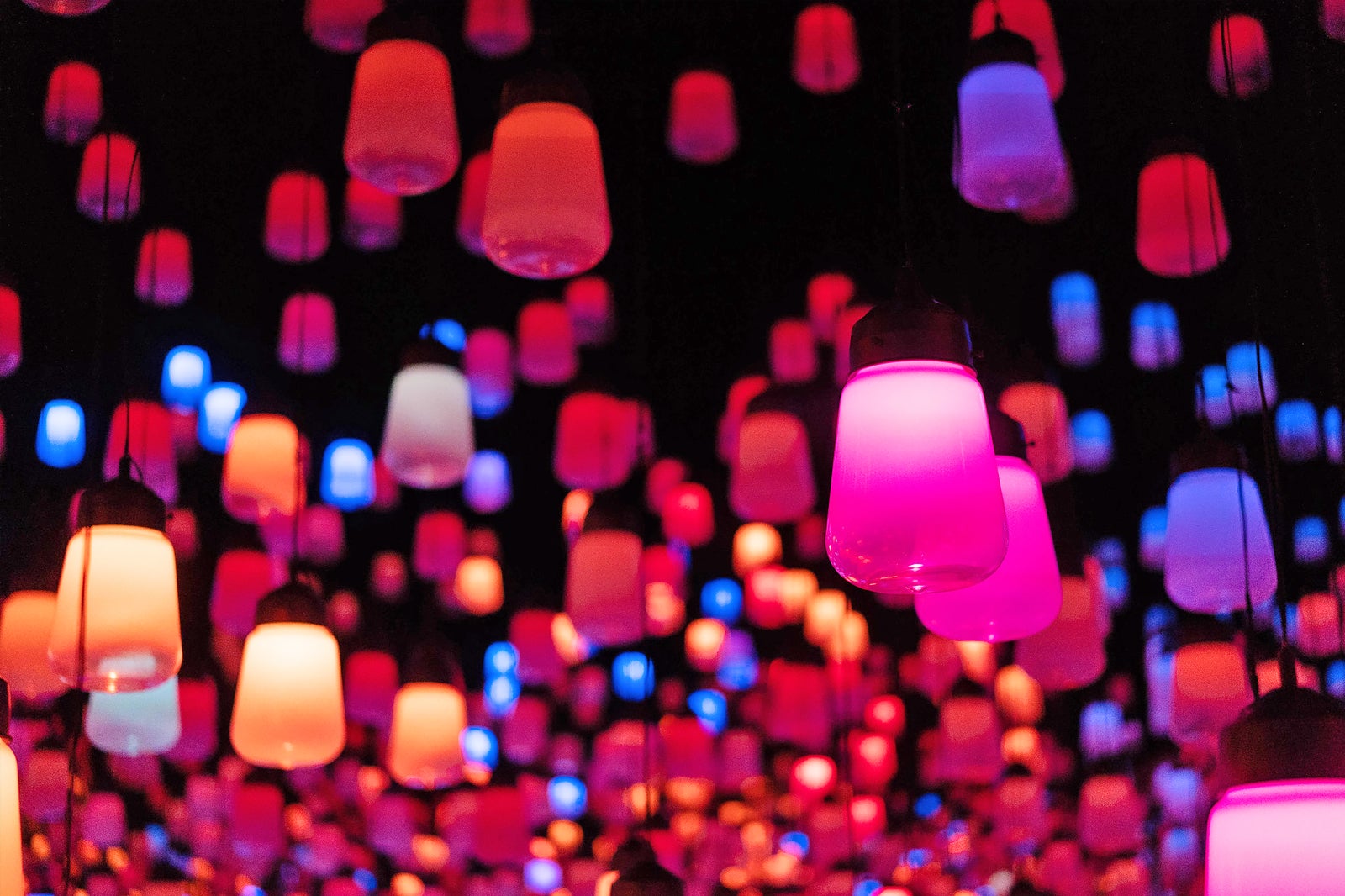 TeamLab Borderless Tokyo is an interactive museum in Tokyo's Odaiba Palette Town. It's jointly run by teamLab, which is made up of professional artists, programmers and animators, and Mori Building Co., Ltd. This vast museum displays 60 artworks on a revolving basis with a line-up that changes every season. Athletic Forest is fun for all ages, allowing you to hop and jump as well as physically interact with digital art.
Must-visits include the instructive Learn & Play! teamLab Future Park and Forest of Resonating Lamps - colorful lights gleam and make sounds when you approach them. In Memory of Topography, you can blend in with the changing scenes of Japan's 4 seasons, which include cherry blossoms, rice terraces, sparrows and rivers.
Location: 1-3-8 Aomi, Koto Ward, Tokyo 135-0064, Japan
Open: Monday–Friday from 10 am to 7 pm, Saturday–Sunday from 10 am to 9 pm
Phone: +81 (0)3-6368-4292
photo by rabbit_akra (CC BY 2.0) modified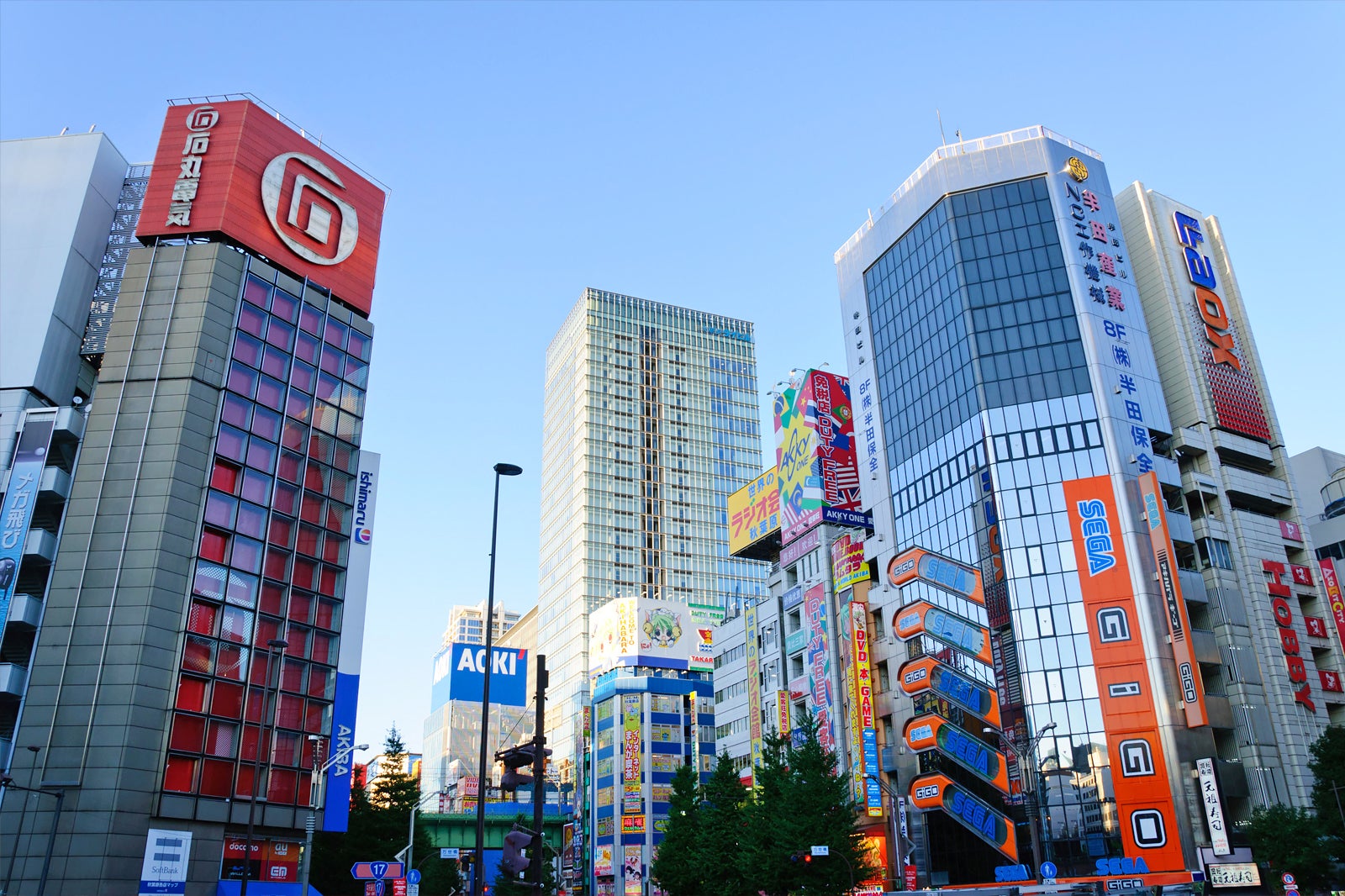 Akiba (short for Akihabara) is the hub of Japan's leading subcultures, such as anime, games and idols. One of its standout buildings is Akibahara UDX, which features all kinds of animation-related attractions, including an exhibition of animation's original drawings, up-to-date animation info, and sales of character goods.
There are 100 concept cafés (including maid cafés) in Akihabara that cater to every interest. A flea market takes place on weekends, with dozens of stalls selling anime-related goods, electric appliances, and handmade accessories. You can find specialized stores for models, robots and card games in the historic Radio Kaikan. For a healthy dose of nostalgia, check out the 500 capsule toy machines at Gachapon Kaikan.
Location: Sotokanda, Chiyoda Ward, Tokyo 101-0021, Japan
Back to top