10 Best Foodie Neighborhoods in Sapporo
Where to Find Sapporo's Best Local Food?
The vast city of Sapporo, the prefectural capital of Hokkaido, covers an area about twice the size of Tokyo. An essential part of sightseeing in Sapporo is knowing where to go when you're feeling hungry. If you fancy going for a drink at night, the best options are the Susukino and Kotoni neighborhoods. On rainy days, head for the shopping arcades in Tanukikoji.
If stylish cafés and restaurants are more your thing, check out the Maruyama area. Odori Park runs through the middle of the city and hosts all kinds of events in beautiful surroundings. It's also ideal for picnics. And if you're searching for fresh seafood, the Sapporo City Central Wholesale Market or Nijo Market will have exactly what you need. We'll also take a look at popular foodie neighborhoods from Sapporo Station to Sapporo Beer Garden.
With more than 4,000 establishments, Susuikino in Sapporo is one of Japan's three major entertainment districts alongside Kabukicho in Tokyo and Nakasu in Fukuoka. For great food on the town at night, Susukino is the place to be. You can get the night started with a drink at one of the izakaya (Japanese pubs) in the Susukino Building at the Susukino Intersection. The building is easy to spot: it has a huge neon Nikka Whiskey sign. If you want to combine night views of Sapporo with exquisite food, check out the NORBESA facility with its eye-catching rooftop Ferris wheel. Inside you'll find a wide range of restaurants covering everything from sushi and Hokkaido seafood buffets to Italian food. There's even a beer garden on the roof in summertime. After drinking, enjoy a bowl of classic Sapporo miso ramen at one of the shops on Ganso Ramen Yokocho (Original Ramen Alley) where ramen has been served since 1951.
Location: Chuo-ku, Sapporo
Open: Hours vary by store. Please check the official websites for details.
photo by Wing1990hk (CC BY 3.0) modified
Opened in 1873, Tanukikoji is the oldest shopping street in Hokkaido and has a really nostalgic atmosphere. It stretches about 900 meters and has around 200 estbalishments, so it's perfect for wandering and finding delicious foods. The popular Miyoshino chain serves gyoza curry, which is certainly worth trying, and on top of that you'll find burger shops, traditional Sapporo ramen stalls, and restaurants specializing in Hokkaido lamb. And after all that savory goodness, you can pop in to one of the many dessert stores for an Instagrammable pud. Of course, there are plenty of souvenir shops selling Hokkaido delicacies too, so don't forget to pick something up for your friends and family back home. Most of the shopping streets here are covered arcades, so there's no need to worry about the weather.
Location: 1-7 Chome, Minami 23 Jonishi, Chuo-ku, Sapporo, Hokkaido 064-0923, Japan
Open: Hours vary by store. Please check the official websites for details.
photo by Mugu-shisai (CC BY-SA 3.0) modified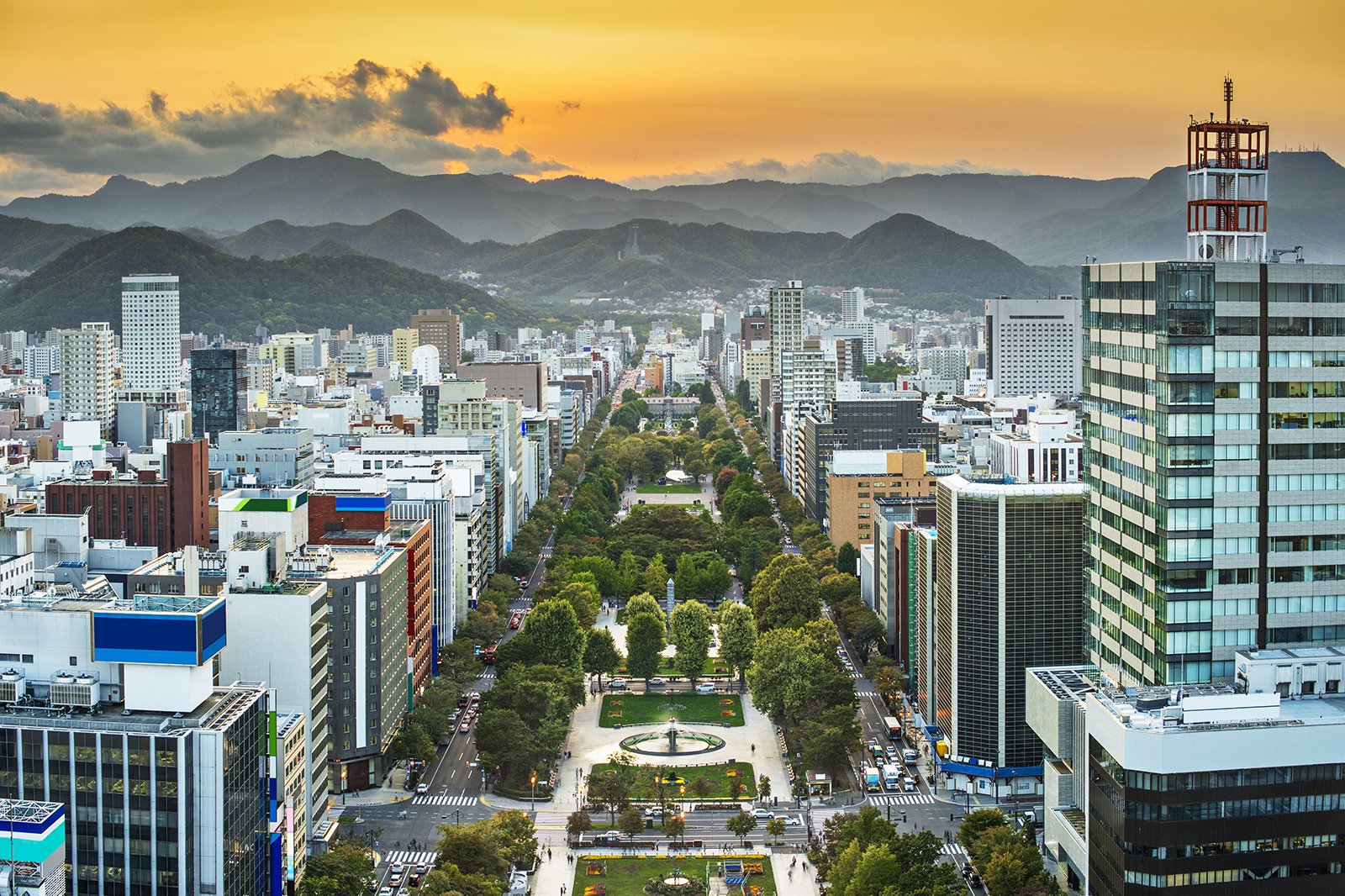 Odori Park is a relaxation zone that runs for about 1.5 kilometers east to west in central Sapporo. In summertime the park host a huge beer garden where you can enjoy draft beer directly from the factory together with a selection of seasonal Hokkaido dishes. At Odori Park's famous "corn wagons", you can buy broiled or boiled corn on the cob and eat it right there in the park. Later in the year, the Sapporo Autumn Fest food festival brings in seasonal flavors and delicacies from all over Hokkaido, as well as local foodie delights such as ramen that can you can eat onsite. Even when there isn't a specific event being held, the park is flanked by countless fashionable cafés and restaurants. If the weather's good, you can always grab a takeout and enjoy it sitting on a park bench. And at night Odori Park becomes the ideal area for dining while gazing at the illuminations of Sapporo TV Tower.
Location: 7-chome Odorinishi, Chuo-ku, Sapporo, Hokkaido 060-0042, Japan
Open: Hours vary by event and facility. Please check the official websites for details.
4
Sapporo Beer Museum & Sapporo Beer Garden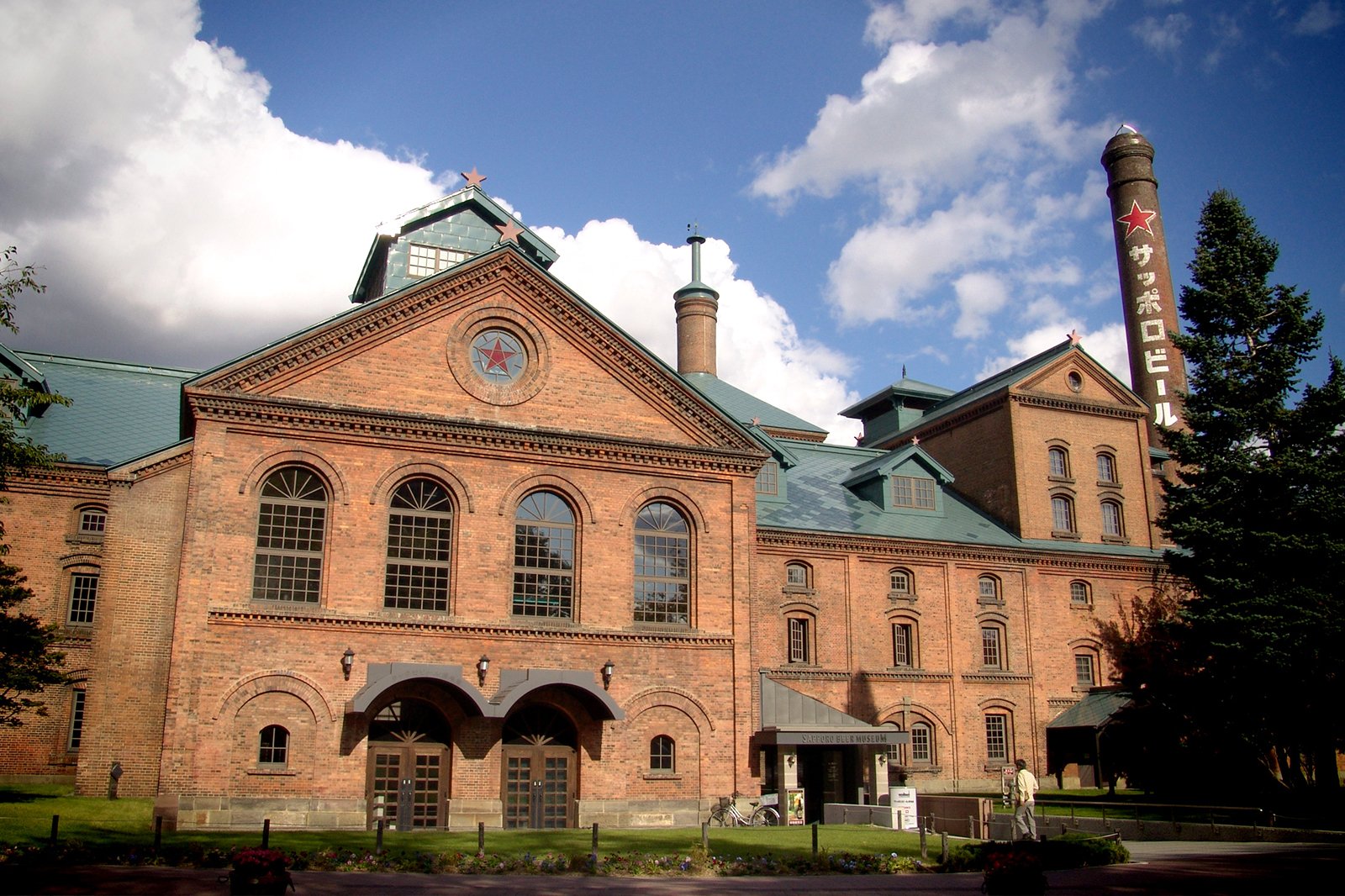 Here at Japan's only beer museum, you can learn (in a fun way) all about the history of Sapporo Beer from the Meiji period down to the present. The Meiji-era brick building itself is a listed Hokkaido heritage site. If you pay to take the premium tour, you can sample Sapporo Beer Kuro Label and the Fukkoku Sapporo-sei Bakushu beer that replicates the flavor of Sapporo Beer from the time of the brewery's founding. There are also free tours available, and you don't even need to book ahead. At Star Hall, there are Hokkaido-exclusive brews such as Sapporo Classic Beer as well as a range of nonalcoholic beverages. And over at Sapporo Beer Garden, you can enjoy the finest draft beer together with Hokkaido's famous "Ghengis Khan" dish of lamb, vegetables and fresh seasonal ingredients girlled and then dipped into an exquisite secret sauce.
Location: Sapporo Beer Museum: 9-1-1, Kita 7 Johigashi, Sapporo, Hokkaido 065-8633, Japan Sapporo Beer Garden: 9-2-10, Kita 7 Johigashi, Sapporo, Hokkaido 065-0007, Japan
Open: Sapporo Beer Museum: Hours vary by facility and tour. Please check the official website for details. Sapporo Beer Garden: open from 11.30 am to 10 pm Open all year round (except December 31)
photo by MIKI Yoshihito (CC BY 2.0) modified
Maruyama is the trendiest part of Sapporo town if you're looking for fashionable and high-quality dining options. And while you can enjoy a full French dinner in sophisticated surroundings should you so wish, you'll get a much more reasonably priced meal if you go at lunchtime. Anyway, there are lots of top Italian and French restaurants to choose from. Maruyama is also full of great cafés. Many of the shops and café here are housed in old buildings that have a dash of retro chic, and you'll be able to find all sorts of delicious Japanese-style parfaits ranging from matcha to red bean paste as well as highly Instagrammable colorful candies. There are even elegant European and British-style tearooms serving black tea and dainty cakes. And to top it all, Maruyama has a great selection of coffee shops where you can select and roast your own beans for a delicious brew.
Location: Chuo-ku, Sapporo, Hokkaido, Japan
Open: Hours vary by store. Please check the official websites for details.
photo by masarujp1976 (CC BY 3.0) modified
JR Sapporo Station and Sapporo Subway Station are like one gargantuan facility linked to department stores and other commercial facilities, including whole floors devoted to gastronomy where you can find delicacies from all over Hokkaido, Japan and indeed the rest of the world. The 6th floor of the Stellar Place complex features Hokkaido specialties such as Butadon (rice covered with pork and vegetables) from Tokashi, sushi, and soup curry. Hokkaido Dosanko Plaza Sapporo at the north exit of Sapporo Station is a shop that specializes in bringing Hokkaido products to market. In fact, it has a line-up of about 2,000 special products from all over Hokkaido, so make sure you drop by if you want to find the latest hit products from this part of Japan. If you're looking for the quintessential Hokkaido souvenirs - namely the candies of Rokkatei, Kinotoya and other brands - head to the basements of department stores such as Daimaru Sapporo, Sapporo Esta, and Sapporo Tokyu. And if you want a simple yet gastronomic lunch, try one of the many bento on offer that are packed with delicious Hokkaido farm produce.
Location: Kita-ku, Sapporo, Hokkaido, Japan
Open: Hours vary by store. Please check the official websites for details.
photo by 663highland (CC BY-SA 3.0) modified
This historic market began life more than 100 years ago during the early Meiji period, when fishermen came here to sell their fresh fish. Nowadays it's hugely popular with tourists from Japan and abroad as a Sapporo foodie location to rival Maruyama and Tanukikoji. There are about 50 stores at the front of the market where you can find everything from fresh Hokkaido seafood such as salmon, crab, scallops and salted salmon roe, to agricultural products such as melons and potatos. You'll have fun if you're just looking, but of course it's even better if you get something to eat onsite. The Noren Yokocho section of the market has everything you could possible want in terms of Hokkaido seafood, with stores selling lawn bowling of rice topped with sea urchin, seafood rice lawn bowling brimming with crab, tuna, shrimp, squid and salmon roe, sashimi, sushi, and broiled fish set meals.
Location: 1-chome Minami 2 Johigashi, Chuo-ku, Sapporo, Hokkaido 060-0052, Japan
Open: Hours vary by store. Please check the official websites for details.
photo by Wing1990hk (CC BY 3.0) modified
8
Sapporo City Wholesale Market
This market has 60 unique stores that sell fresh Hokkaido marine products and agricultural products. Most shops here are open from around 6 am, so this is a great place to enjoy a breakfast full of the flavors of Hokkaido. There are all sorts of Hokkaido seafood products to try, from handmade Ichiyaboshi (fish that's salted and then dried overnight) and salted salmon roe to cod roe, salmon, and crab. You'll also find famous Hokkaido candies and fruits such as melons, which are perfect for souvenirs. Shops will send the souvenirs you buy, and some even offer a service where they'll deliver freshly boiled crab after you place an order. There are also about 20 restaurants on the market premises. As well as seafood rice lawn bowling and sushi, there are restaurants serving reasonably priced seafood set meals, all-you-can-eat establishments where you can have your fill of steamed oysters and scallops, and curry and ramen shops too.
Location: 22-4-1 Kita 11 Johigashi, Chuo-ku, Sapporo, Hokkaido 060-0011, Japan
Open: Open from 6 am to 5 pm. Hours vary by store.
photo by MIKI Yoshihito (CC BY 2.0) modified
The Kotoni area in Nishi-ku, Sapporo, is a really happening foodie place. The Sakaemachi Dori street that runs from JR Kotoni Station to Kotoni Subway Station is lined with izakayas (Japanese pubs), ramen shops, Italian and Thai restaurants, and more, all open until late at night. For lunch, Sapporo's go-to specialty dish is soup curry. Seafood izakaya, teppanyaki and yakitori restaurants are popular choices for dinner with beverages. The popular Donguri bakery chain, which has many shops throughout Sapporo, specializes in Chikuwa bread (Chikuwa is a cylindrical cake of fish paste). Kotoni is full of such local food specialists, so it's not to eat anything before you visit.
Location: Kotoni, Nishi-ku, Sapporo, Hokkaido, Japan
Open: Hours vary by store. Please check the official websites for details.
photo by 禁樹なずな (CC BY-SA 3.0) modified
10
Sapporo Ramen Kyowakoku
This ramen theme park on the 10th floor of the Esta commercial facility in front of JR Sapporo Station has been open since 2004. It brings together 8 ramen shops from all over Hokkaido on a single floor that replicates a typical street scene from the Showa era. The line-up includes famous Sapporo ramen brands as well as representatives from the 3 main local ramen varieties of Hokkaido. Sapporo ramen typically comes in 3 flavors - miso, salt, and soy sauce - with rich soup and vegetable toppings. Hakodate ramen is salty, with a clear soup and simple ingredients. Asahikawa ramen, meanwhile, uses lard and has a turf and surf soup. Stores and opening times vary, so it's a good idea to check the websites before visiting.
Location: 10F Esta, 2-chome, Kita 5 Jonishi, Chuo-ku, Sapporo, Hokkaido 060-0035, Japan
Open: Open from 11 am to 10 pm Open all year round.
photo by K. Takeda (CC BY-SA 2.0) modified
Back to top