10 Places Where Locals Love to Go in Osaka
Cool Places in Osaka You Might Not Know
Osaka is one of the hottest tourist destinations in Japan, with good reason. Many foreign tourists tend to hail Osaka as one of their favorite cities. The streets of Osaka are full of energy and history – a must-see is Osaka Castle, built by the shogun Hideyoshi Toyotomi, along with fascinating places like Tsutenkaku, Osaka Tenmangū Shrine and Shitennō-ji Temple. We'll also explore some of the best places locals love to go in Osaka, including Universal Studios Japan, Kaiyukan, Expo'70 Commemorative Park and the National Museum of Ethnology.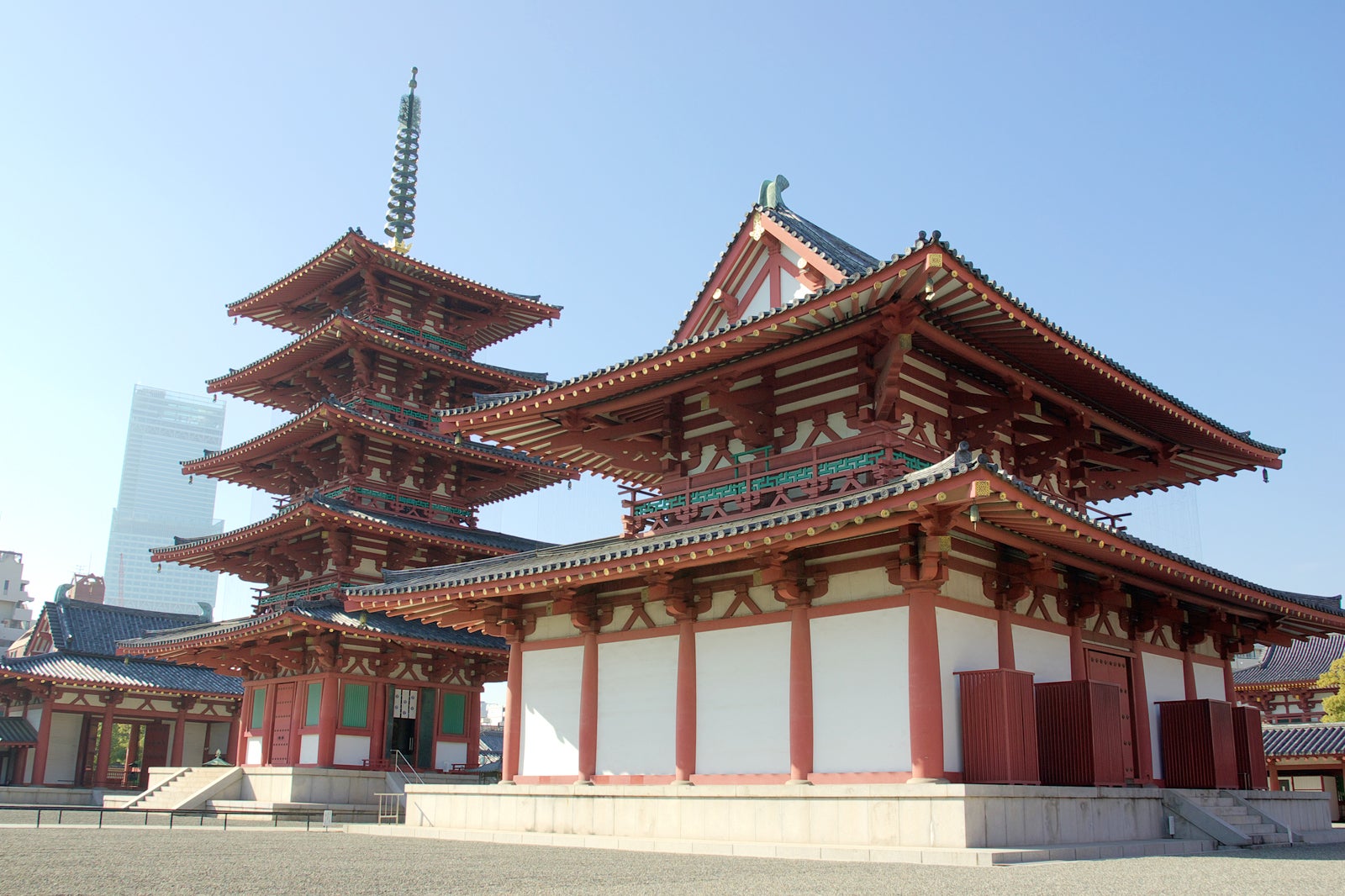 Shitennoji Temple dates back to 593, during the first year of Suiko Emperor's reign by Shotoku Taishi. Known as Japan's first kanji (state-sponsored Buddhist temple), its layout was greatly influenced by China's Buddhist temples built between 6th and 7th centuries.
The temple grounds are based on an architectural style called shitennoji shiki garan", with the nakamon (middle gate), gojyunoto (5-storey pagoda), kondo (main hall) and kodo (lecture hall) aligned in a straight line and encircled with corridors. Shitennoji Temple is within a 12-minute walk from Shitennoji Station on the JR and Subway Lines.
Location: 1-11-18 Shitennoji, Tennoji Ward, Osaka 543-0051, Japan
Open: Daily from 8 am to 4 pm
Phone: +81 (0)6-6771-0066
photo by 名古屋太郎 (CC BY-SA 3.0) modified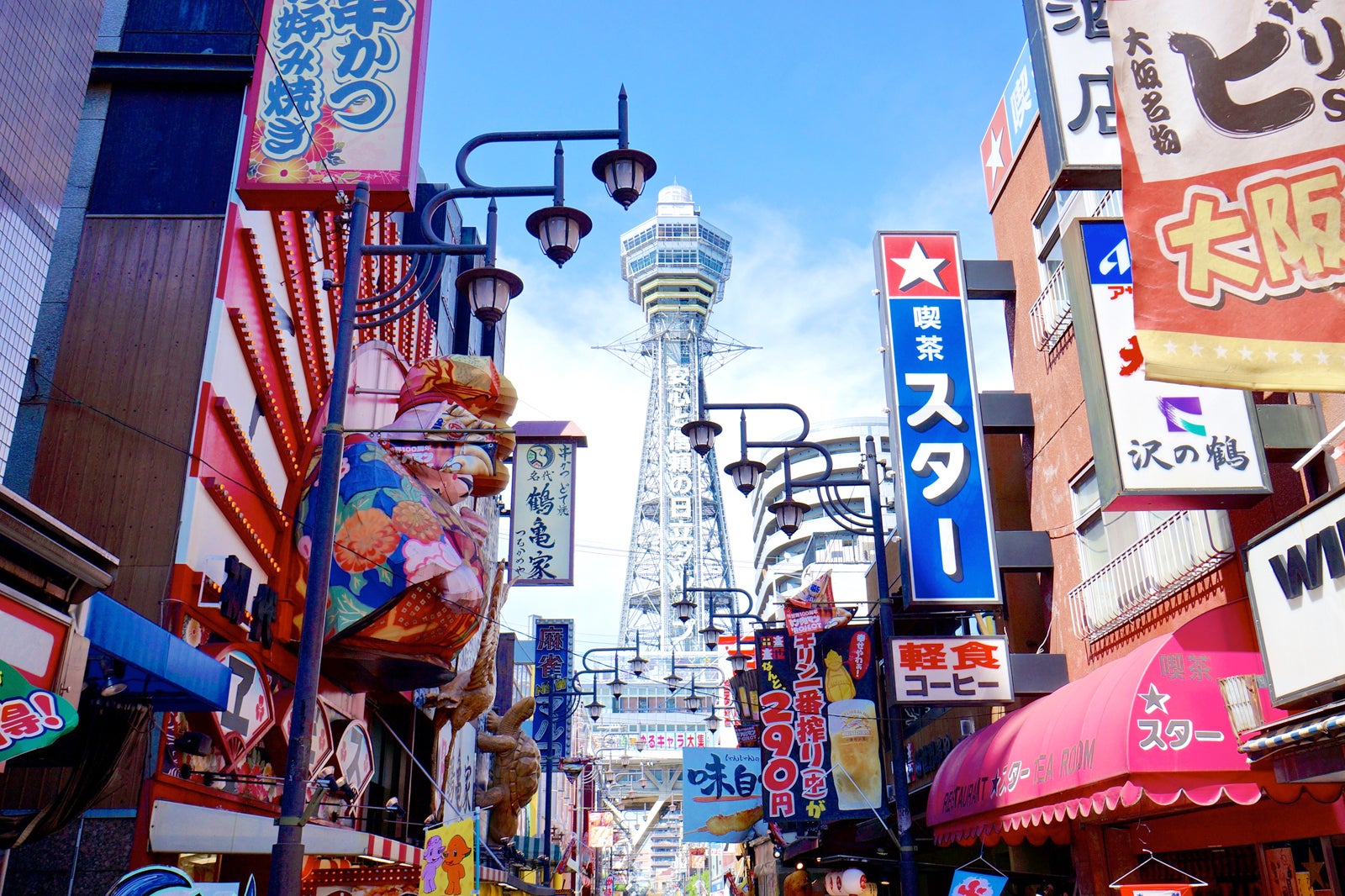 Tsutenkaku Tower serves as a symbol of Shinsekai, one of Osaka's busiest downtown areas. Standing at 103 meters above the ground, the observation deck of Tsutenkaku offers panoramic views of the city. A must-see is Biliken-san, the God of Happiness, which sits on Tsutenkaku's Golden Observation Deck on the 5th floor. Legend has it that rubbing the soles of his feet will bring you good luck.
You'll find the Light Observation Deck on the 4th floor of Tsutenkaku. Tenbo Paradise, located on the top of the building, is a space which you can rent for special occasions, including wedding proposals.
Location: 1-18-6 Ebisuhigashi, Naniwa Ward, Osaka 556-0002, Japan
Open: Daily from 8.30 am to 9.30 pm
Phone: +81 (0)6-6641-9555
3
Osaka City Central Public Hall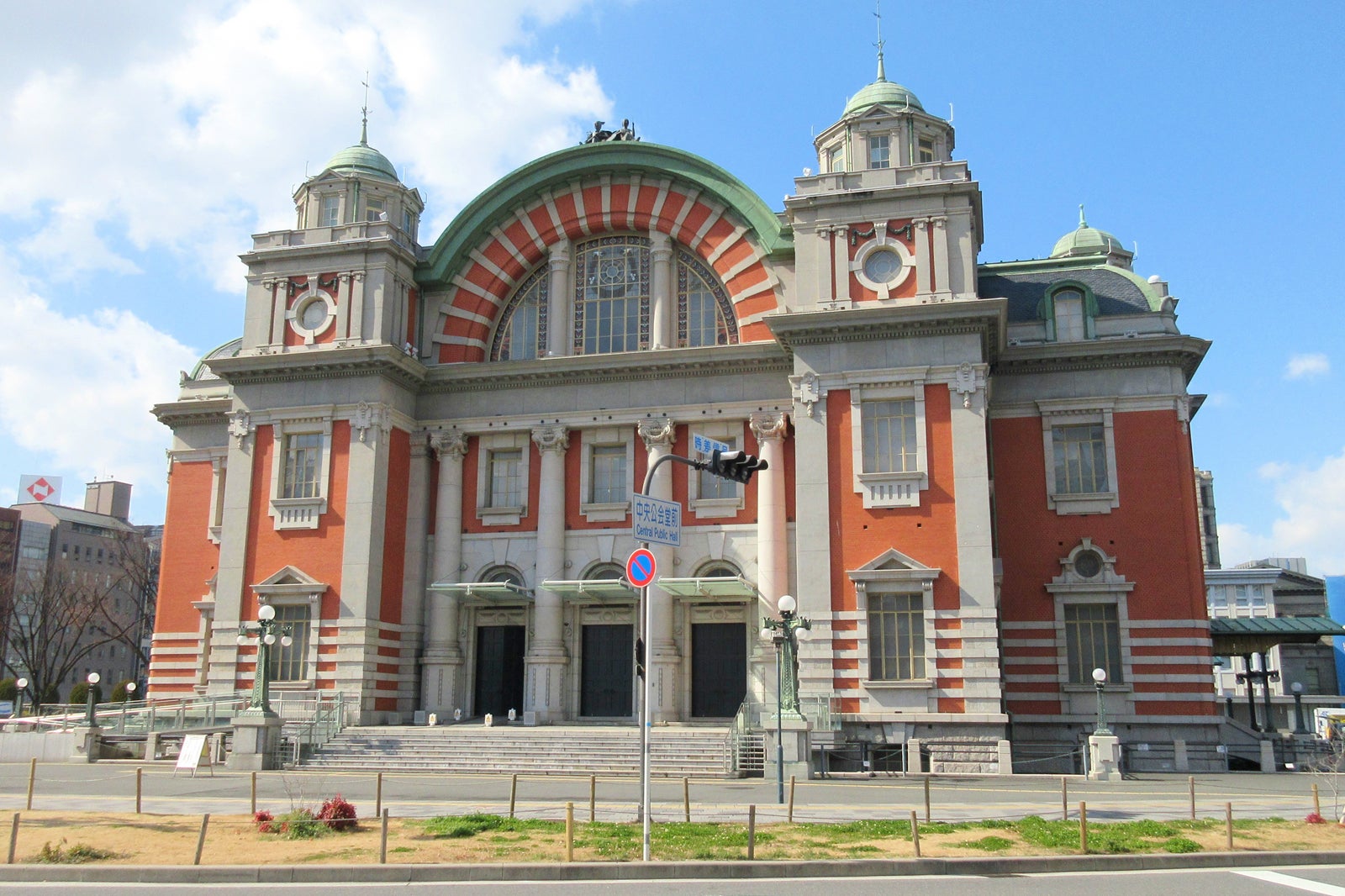 Osaka City Central Public Hall is located in Nakanoshima, an area that's popular for its many western-style buildings that were built between the Meiji and early Showa periods. It occupies a restored redbrick building by Tatsuno Kingo, an architect who also worked on the Tokyo Station Building and Nara Hotel.
Merging neo-renaissance with baroque styles design, the building was designated as a Nationally Important Cultural Property in 2002. Only Osaka City Central Public Hall's exhibition room (1st basement floor) and Free Visit Area are open to the public. There are also regular guided tours, but you'll need to book in advance. Located between Dojima River and Tosabori River, Osaka City Central Public Hall is just a short walk from Yodobashi Subway Station.
Location: 1-1-27 Nakanoshima, Kita Ward, Osaka 530-0005, Japan
Open: Daily from 9.30 am to 9.30 pm (closed every 4th Tuesday of the month)
Phone: +81 (0)6-6208-2002
photo by KishujiRapid (CC BY-SA 4.0) modified
4
Kuchu Teien Observatory Deck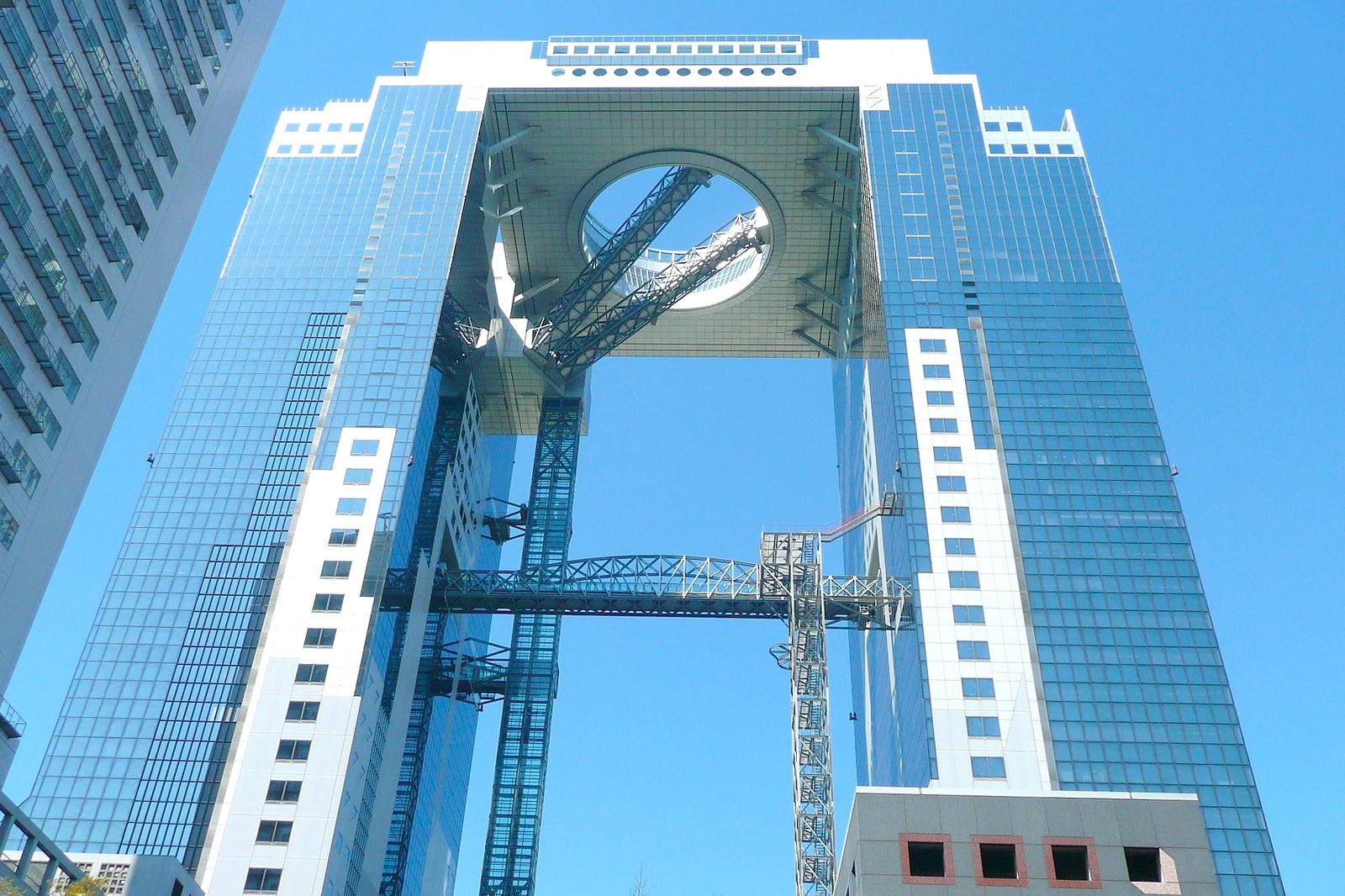 Kuchu Teien Observatory (Floating Garden Observatory) is located on the 40th floor of Umeda Sky Building in Osaka. Take the lift from the Floating Garden gate on the 3rd floor and go straight up to the 35th floor. From there, transfer to the mid-air escalator, which takes you to Floating Garden entrance on the 39th floor. You can buy tickets here before heading to the observatory on the 40th floor.
The north and south sides of the observatory have glass walls, offering uninterrupted views of Osaka. You can take your time and enjoy the view even when on windy days. Check out the Sky Walk if you want to enjoy the sights from an even higher level. This is an amazing point from which to enjoy views of Osaka at night, with its lights sparkling like jewels, at the circular corridor around the top of the 173-meter-high building.
Location: Umeda Sky Building, 1-1-88 Oyodonaka, Kita Ward, Osaka 531-0076, Japan
Open: Daily from 9.30 am to 10.30 pm
Phone: +81 (0)6-6440-3855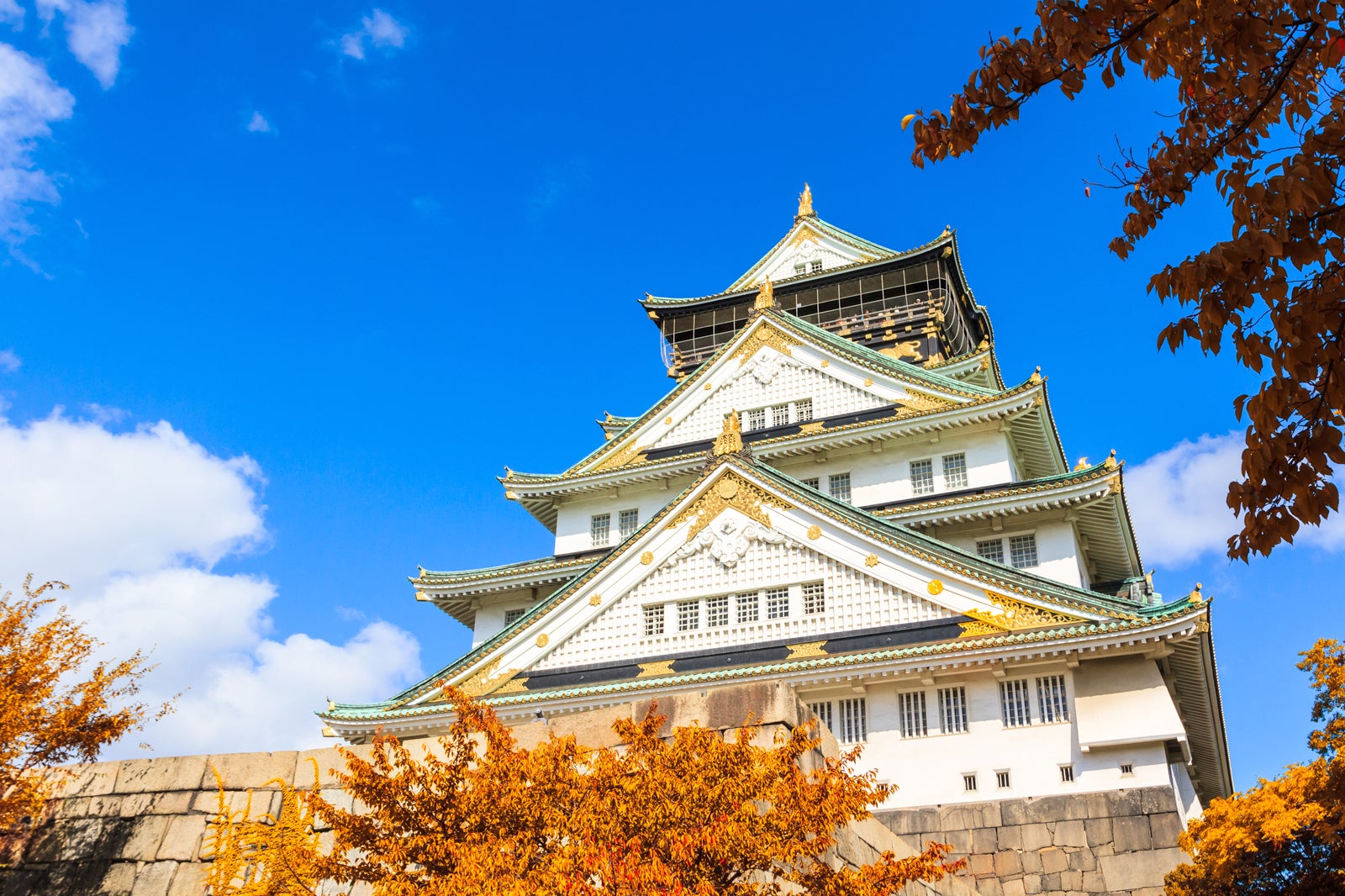 Osaka Castle is the city's most iconic landmark. It was constructed by Toyotomi Hideyoshi in 1583 to unify Japan. Within the 1.056-sq-km premise, you'll find many architectural remains designated as Nationally Important Cultural Properties including the Tenshukaku castle tower, Kinzo Storehouse, Enshogura Gunpowder Magazine, and Otemon entrance gate.
The current castle tower is the 3rd reconstruction, as the original was burnt down during the Siege of Osaka. After the tower was rebuilt, it was struck by lightning and lost in a fire during the Tokugawa period. Inside Osaka Castle, there's a museum exhibiting materials concerning the age of provincial wars and the castle's history. The observatory on the 8th floor offers panoramic views of the Osaka streetscape.
Location: 1-1 Osaka, Chuo Ward, Osaka 542-0002, Japan
Open: Daily from 9 am to 5 pm (extended hours during cherry blossom season, Golden Week and summer)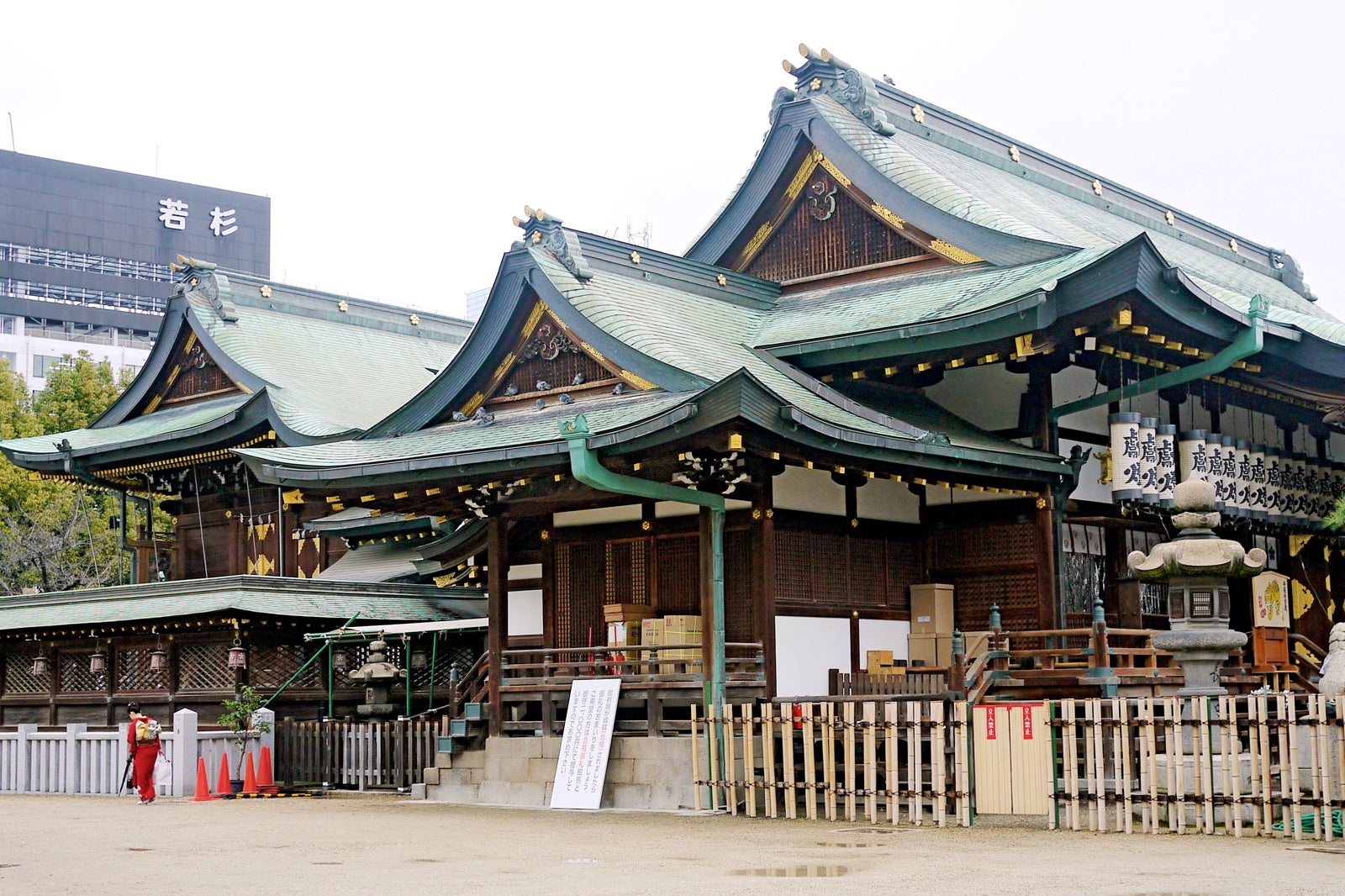 Osaka Tenmangu Shrine, also called Tenma-no-Tenjinsan, worships Sugawara Michizane, the deity of learning. During exam season in Osaka, the Shinto shrine is often packed with students praying for success. Many people come for torinuke sanpai (Japanese for 'passing through prayer') at the Toryuumon gates, located to the east and west of honden (main sanctuary).
Opening days are limited, so it's better to check before you visit. Tenjin Matsuri Festival takes place on 24th and 25th July, bringing a lively atmosphere to Osaka Tenmangu Shrine. Must-sees include funatogyo, in where 100 ships advance in every direction, rikutogyo, a parade of around 3,000 men wearing ancient costumes, fireworks, and dal mikoshi (women's float). Osaka Tenmangu Shrine is within a 5-minute walk from Minamimorimachi Subway Station.
Location: 2-1-8 Tenjinbashi, Kita Ward, Osaka 530-0041, Japan
Open: Daily from 9 am to 5 pm
Phone: +81 (0)6-6353-0025
photo by 663highland (CC BY-SA 3.0) modified
7
Expo '70 Commemorative Park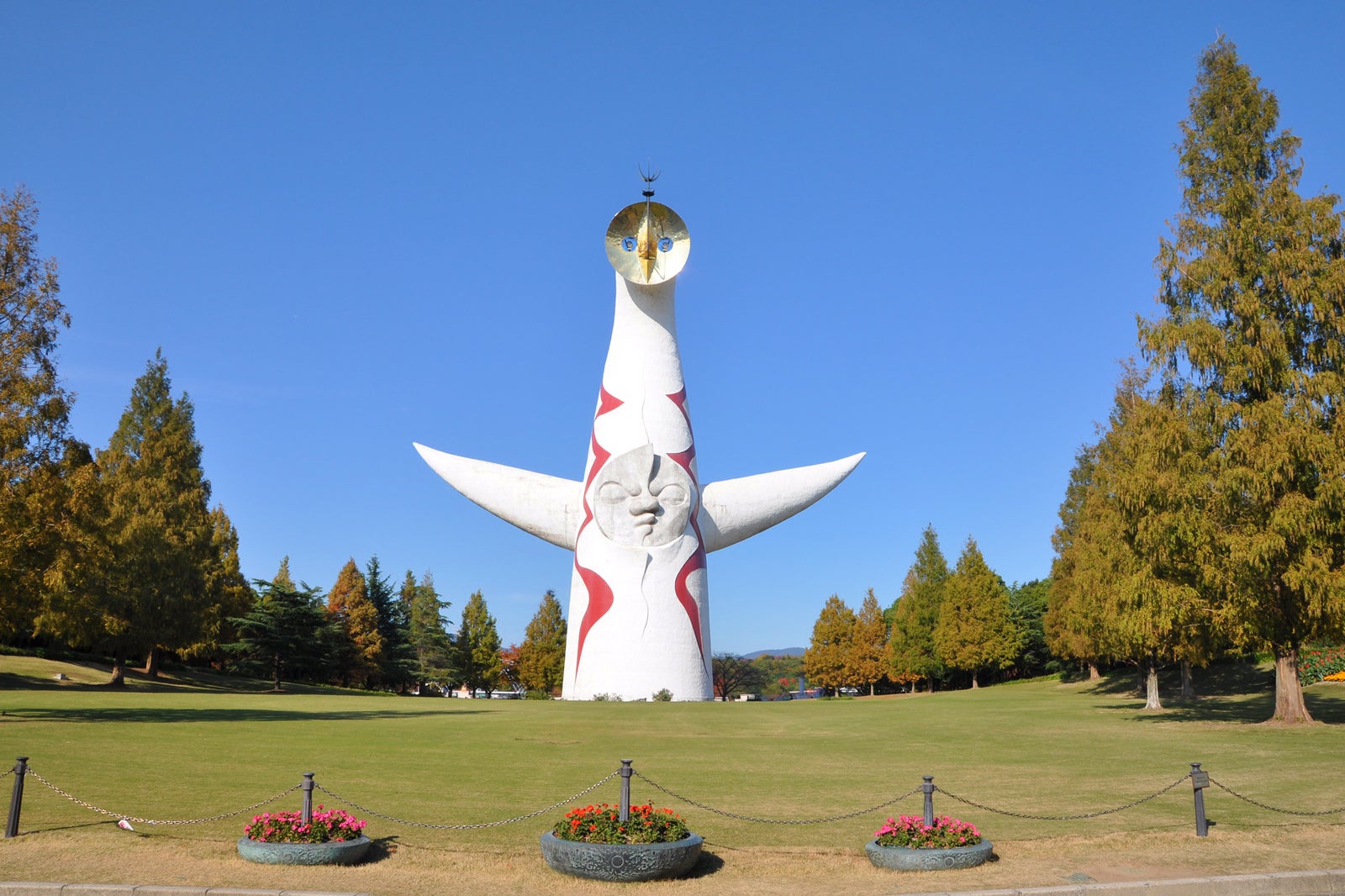 Expo '70 Commemorative Park was built on the site of the World Fair, which took place in 1970. Highlights include the Tower of the Sun art installation and symbol of the park, as well as lush Japanese gardens, museums and hot springs. Start by taking a stroll around the Natural and Cultural Gardens, where you can see various trees and flowers.
The admission fee to the Natural and Cultural Gardens is around ¥250 yen, which includes access to the Japanese Garden, Nature Observational Learning Museum and Modern Art Forest, as well as the Tree of Yattane and Adventure Plaza at Exciting Pond.
Location: Senribanpakukoen, Suita, Osaka 565-0826, Japan
Open: Thursday–Tuesday from 9.30 am to 5 pm (closed on Wednesdays)
Phone: +81 (0)6-6877-7387
photo by TAKA@P.P.R.S (CC BY-SA 2.0) modified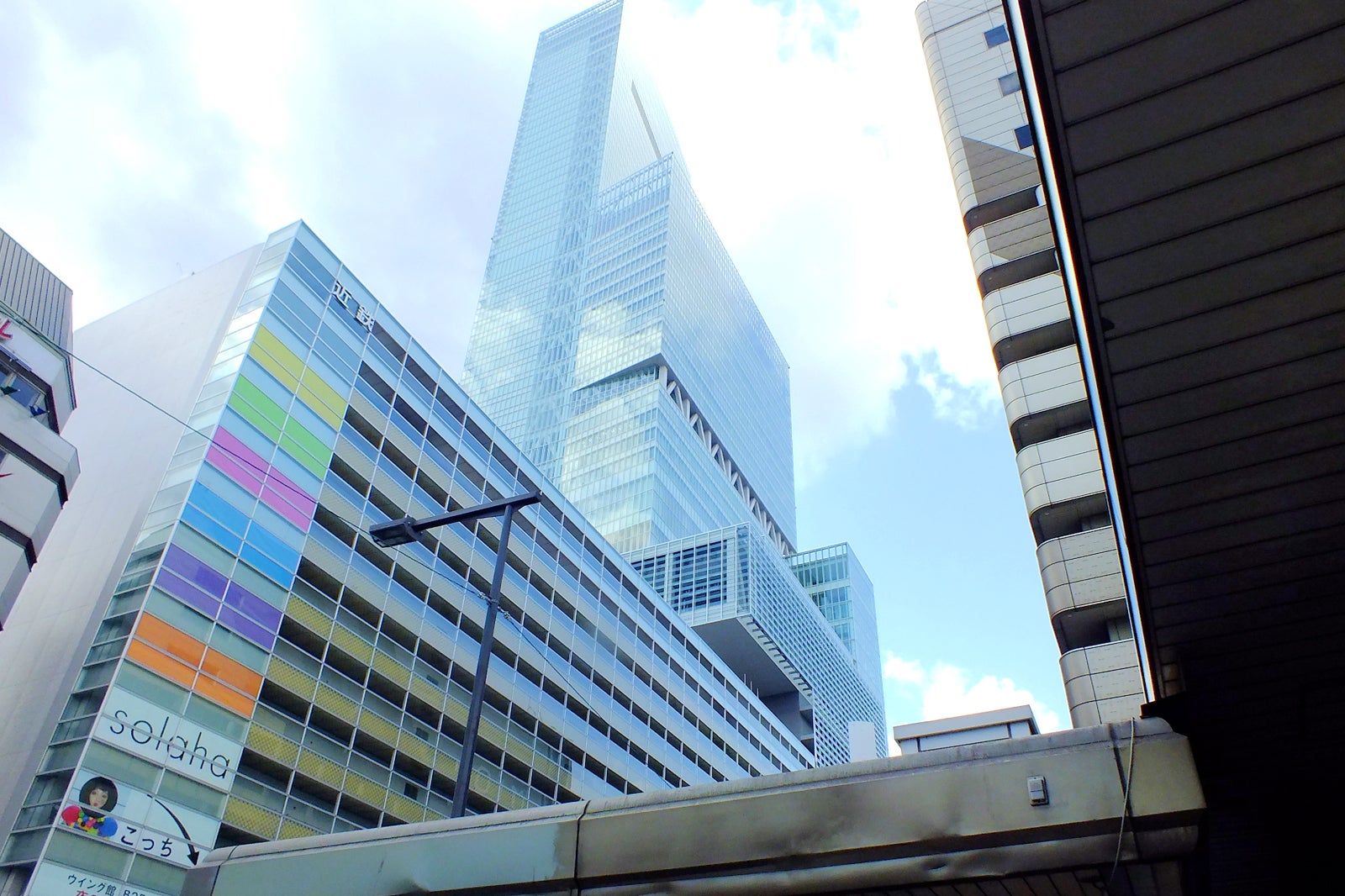 Abeno Harukas is a modern skyscraper spanning 300 meters in height. This Osaka landmark functions as kind of a large-scale 3D city in its own right. Inside, you'll find the Kintetsu Department Store, a museum, an observation deck (Harukas 300), a hotel, offices, and a heliport.
You'll need to buy a ticket to access the ceiling corridor on the 60th floor, but you can enjoy panoramic views of Osaka from the garden on the 16th floor for free. SKY GARDEN 300, a café restaurant on the 58th floor, is a popular spot for taking in the beautiful night views. The nearest station to Abeno Harukas is Osaka Abenobashi Station on the Kintetsu Minami Osaka Line.
Location: 1-1-43 Abenosuji, Abeno Ward, Osaka 545-0052, Japan
Open: Daily from 9 am to 10 pm
photo by 松岡明芳 (CC BY-SA 3.0) modified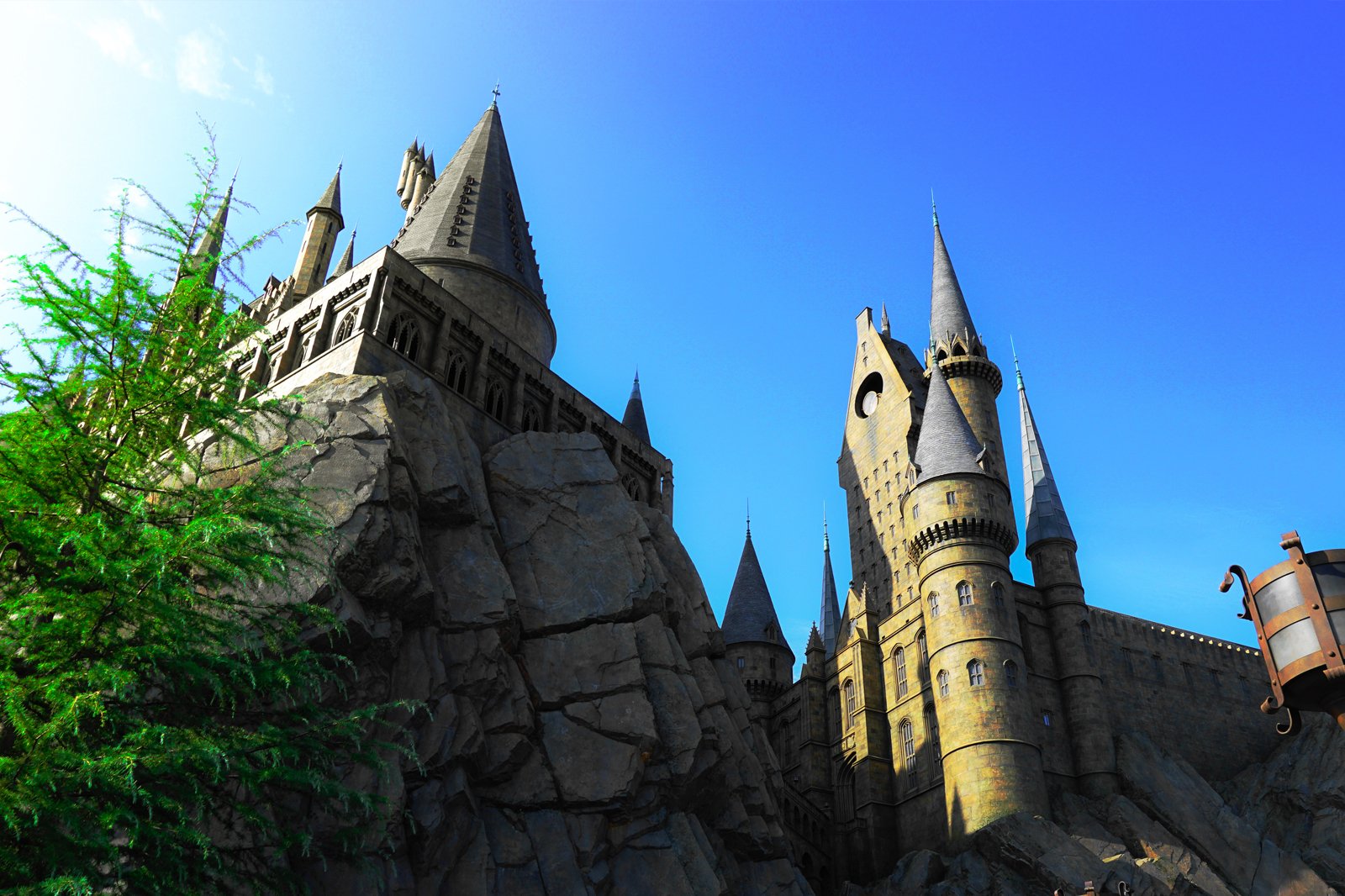 Universal Studios Japan is a fun place for families, especially for the little ones. One of the most popular attractions is the Wizarding World of Harry Potter™ where you can enjoy the magical world at Hogwart's™ Castle, which is an exact replica of the one used in the films. You can also set out on a thrilling adventure tour of Jurassic Park or watch the exciting Water World Show. USJ is a theme park full of fun for the whole family. Expect to queue about 30 minutes per attraction, and longer for the more popular rides – get the Universal Express Pass for reduced waiting times at selected attractions.
Location: 2-1-33 Sakurajima, Konohana Ward, Osaka 554-0031, Japan
Open: Daily from 8.30 am to 10 pm (hours may vary)
Phone: +81 (0)570-200-606
10
Sennichimae Doguyasuji Shotengai
Sennichimae Doguyasuji Shotengai is a shopping street that has many shops selling cooking utensils and kitchen supplies used by professionals. Located in Chuo Ward, you'll find many quality items, including a wide range of kitchen knives, tableware of different materials, colors and shapes, as well as hyperrealistic models of food.
Even if you don't work in the food industry, you'll have an interesting experience just strolling around this food-mad shopping street. There are also shops where you can experience food model making, chalk art, and lantern painting. If you get tired, you can take a break at one of many restaurants serving Osaka dishes. Sennichimae Doguyasuji Shotengai is like a living museum where you can experience everything related to food.
Location: 14-5 Nanbasennichimae, Chuo Ward, Osaka, 542-0075, Japan
photo by BradBeattie (CC BY-SA 3.0) modified
Back to top