10 Best Local Dishes from Osaka
Famous Food Locals Love to Eat in Osaka
Osaka thrived as Japan's center of commerce during the Edo era. With its strong financial background, the city became home to a blossoming tradition of gastronomy. The depth of Japanese cuisine is savored in style at high-class traditional Japanese restaurants known as ryotei and kappo. Don't forget to have your fill of the delicious pufferfish (fugu) dishes and udon hotpot (udon suki).
For good cheap eats, Osaka stands unrivaled over many other cities in Japan. Check out a variety of gastronomical delights, including flour-based foods (konamon) such as octopus balls (takoyaki) and Japanese pancakes (okonomikyaki), deep-fried skewers (kushikatsu) served at stand-and-eat dining spots, and steamed buns (butaman) you can enjoy while strolling around the city.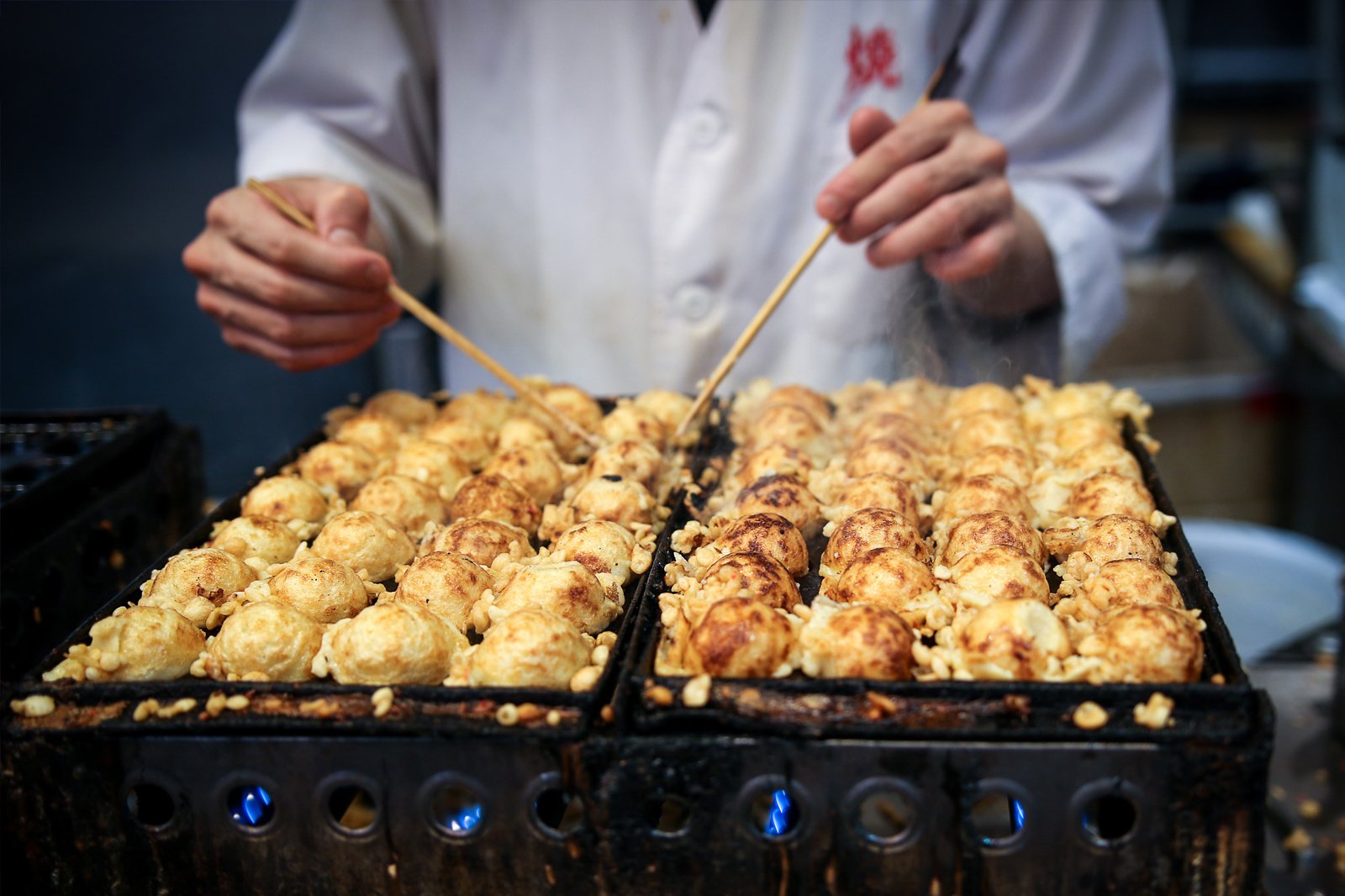 Takoyaki plays an important role at the heart of Osaka's soul food as a street snack that's loved by pretty much everyone. If you're sightseeing in Osaka town, you're destined to eat takoyaki at least once. A mixture of flour and dashi stock is poured into a specialized takoyaki pan. It's then sprinkled with chopped octopus, red pickled ginger and green onion, before being turned frequently to make round balls, all the while frying away.
The classic way to eat takoyaki is with a sweet soy-based sauce, topped with nori seaweed and bonito flakes, but there are other ways such as adding mayonnaise, in a cheese fondue or dipping into a soup. Rajio yaki –said to be the original form of takoyaki – is a fried flour mixture with cooked beef tendon and konjac that can be enjoyed as it is, without any sauce or topping.
2
Stewed beef tendon (doteyaki)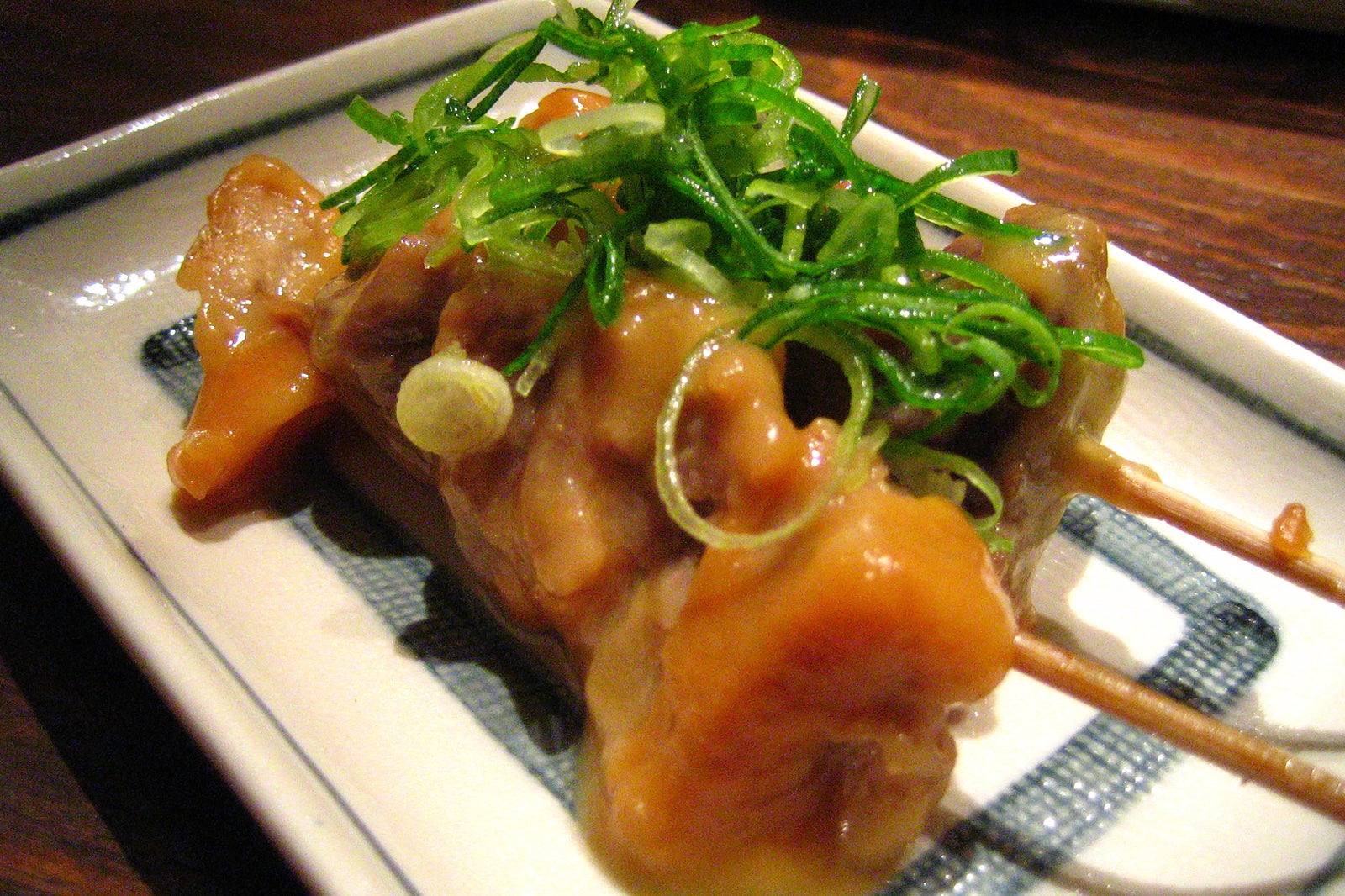 Skewered beef tendon, pre-boiled to remove extra fat and simmered with mirin and white miso, is just as popular as deep-fried skewers (kushikatsu) when it comes to good cheap eats in Shinsekai, Osaka. The name doteyaki – literally meaning 'cooked bank' – is said to come from how the dish is cooked, simmering away while miso paste (placed around the edge of a deep pan to form a bank) is gradually mixed in.
Generally, people eat this super-tender and mild beef tendon stew with condiments such as a Japanese mixture of seven spices (shichimi) or chopped green onions. It goes with bevvies such as beer or shochu highball (chuhai).
photo by ayustety (CC BY-SA 2.0) modified
3
Deep-fried skewers (kushikatsu)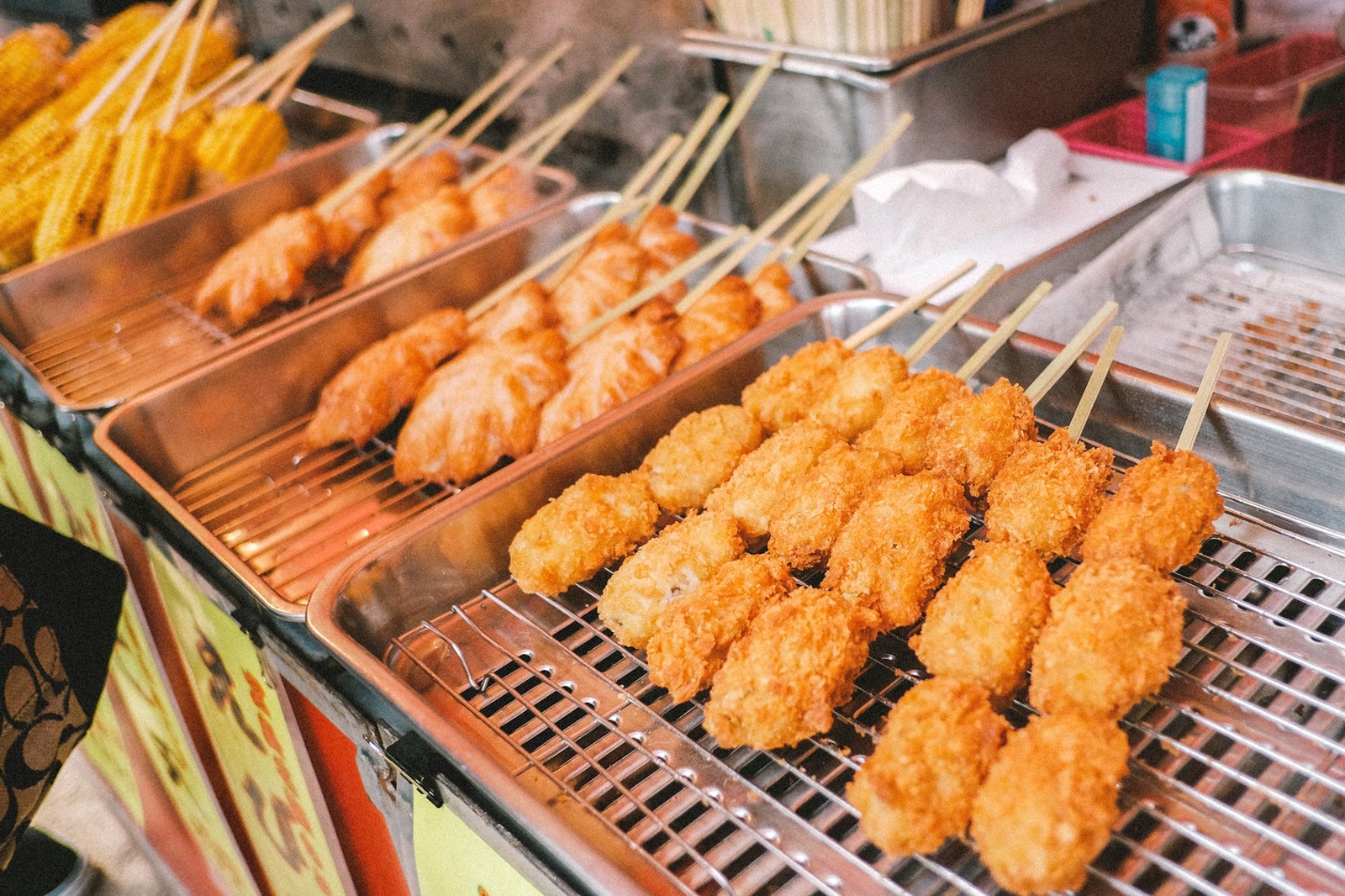 Kushikatsu is a popular downtown dish that locals enjoy just about every day. Its origin dates back to the beginning of the Showa era when the proprietress of the Daruma restaurant in Shinsekai, Osaka, prepared and fried bite-sized beef, vegetables and seafood on skewers for busy workers. For that reason, many Kushikatsu restaurants adopt a stand-up dining style, and also developed unique rules such as "No double-dipping" so that customers can share the sauces.
Usually, raw cabbage is accompanied with the skewers to promote digestion. Cabbage also happens to be good for scooping up the sauce to add onto the skewers just in case you need some more flavor. Unlike kushikatsu in the Kanto region, where meat and vegetables are placed alternately on a skewer, Osaka's version has a single ingredient on each skewer.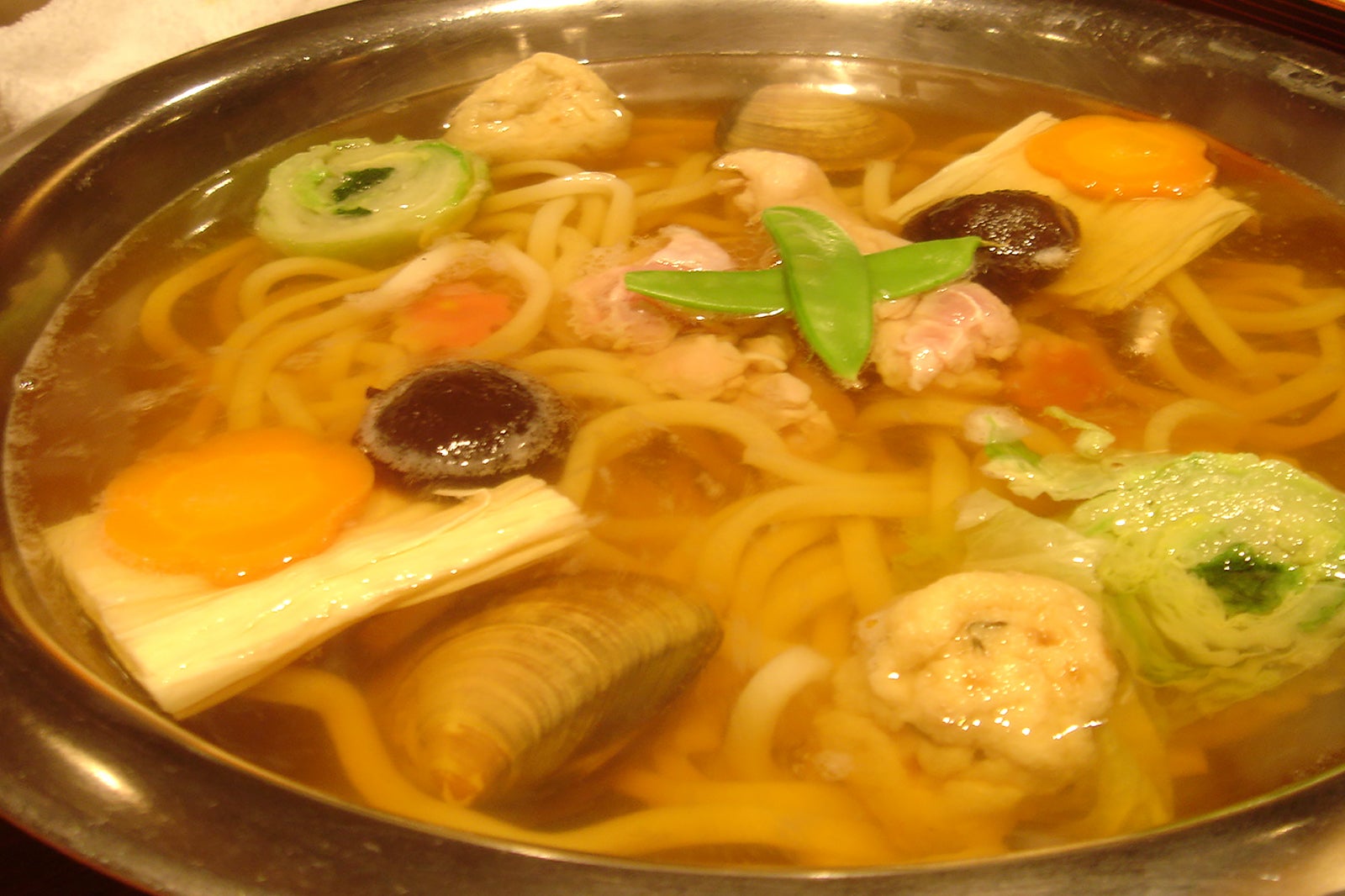 Udon suki is a local dish that was invented in the traditional luxurious Japanese restaurants (ryotei) of Osaka during the early part of the Showa era. While its name may sound similar to sukiyaki (stewed beef seasoned with soy sauce and sugar), this dish is in fact totally different. This is a hotpot of udon noodles and various ingredients stewed together in clear stock.
Specialist udon restaurants offer udon suki with a luxurious hotpot containing fine and fresh ingredients such as shrimp and seafood, chicken, and seasonal vegetables. This is a popular wintertime dish for families at home, who sit together around an earthenware pot (donabe) to partake.
5
Steamed pork buns (butaman)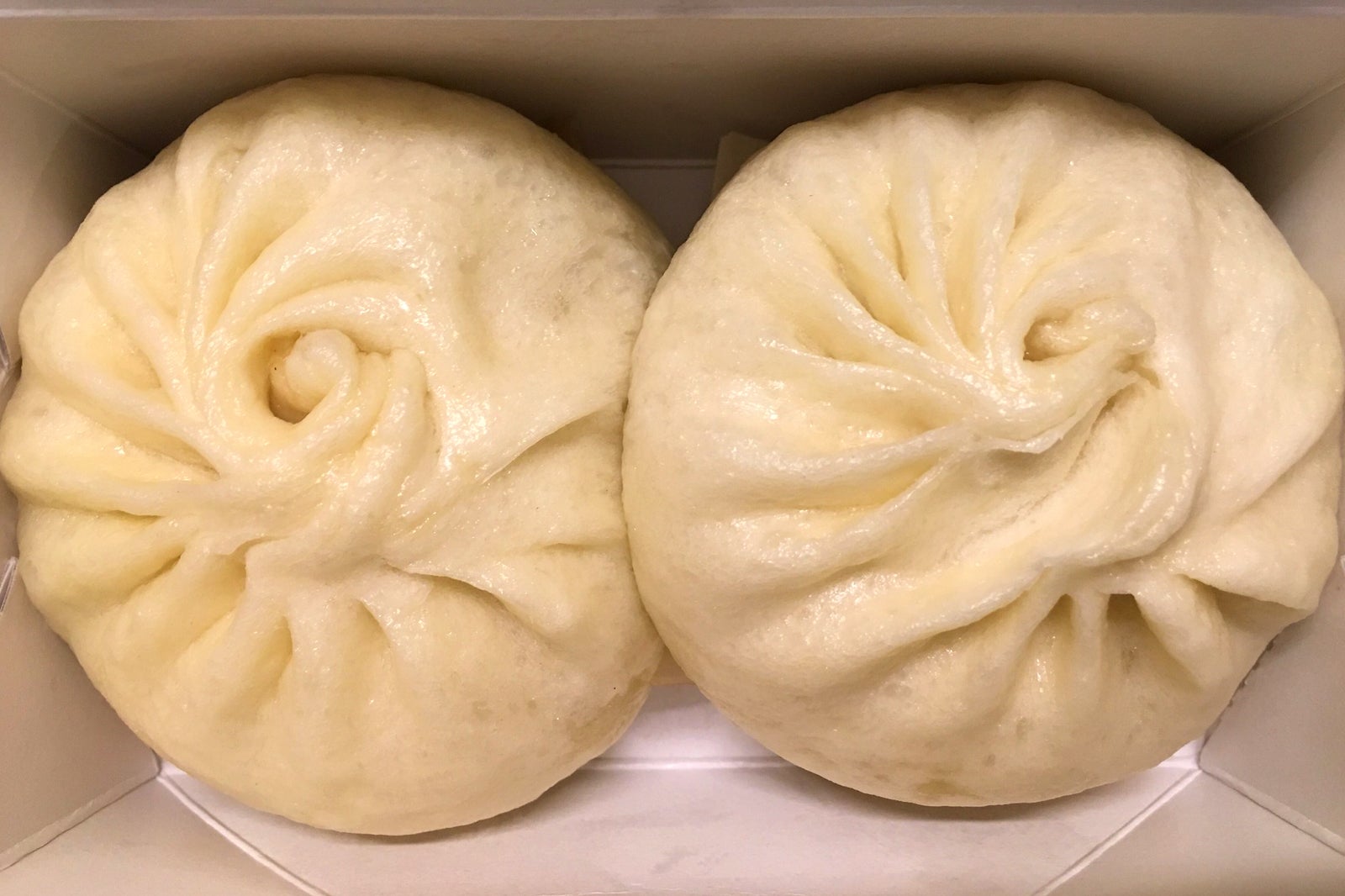 When it comes to Osaka soul foods, butaman is on the same level as okonomiyaki and takoyaki. The steamed pork bun has a natural sweetness that comes from the onions used in the pork filling. It's carefully wrapped in dough by hand before steamed in bamboo baskets. You can buy a couple from a vendor and enjoy them while you're exploring the streets – locals particularly enjoy butaman with mustard or Worcestershire sauce.
photo by bryansjs (CC BY-SA 2.0) modified
6
Pufferfish hotpot (tecchiri) and sashimi (fugusashi)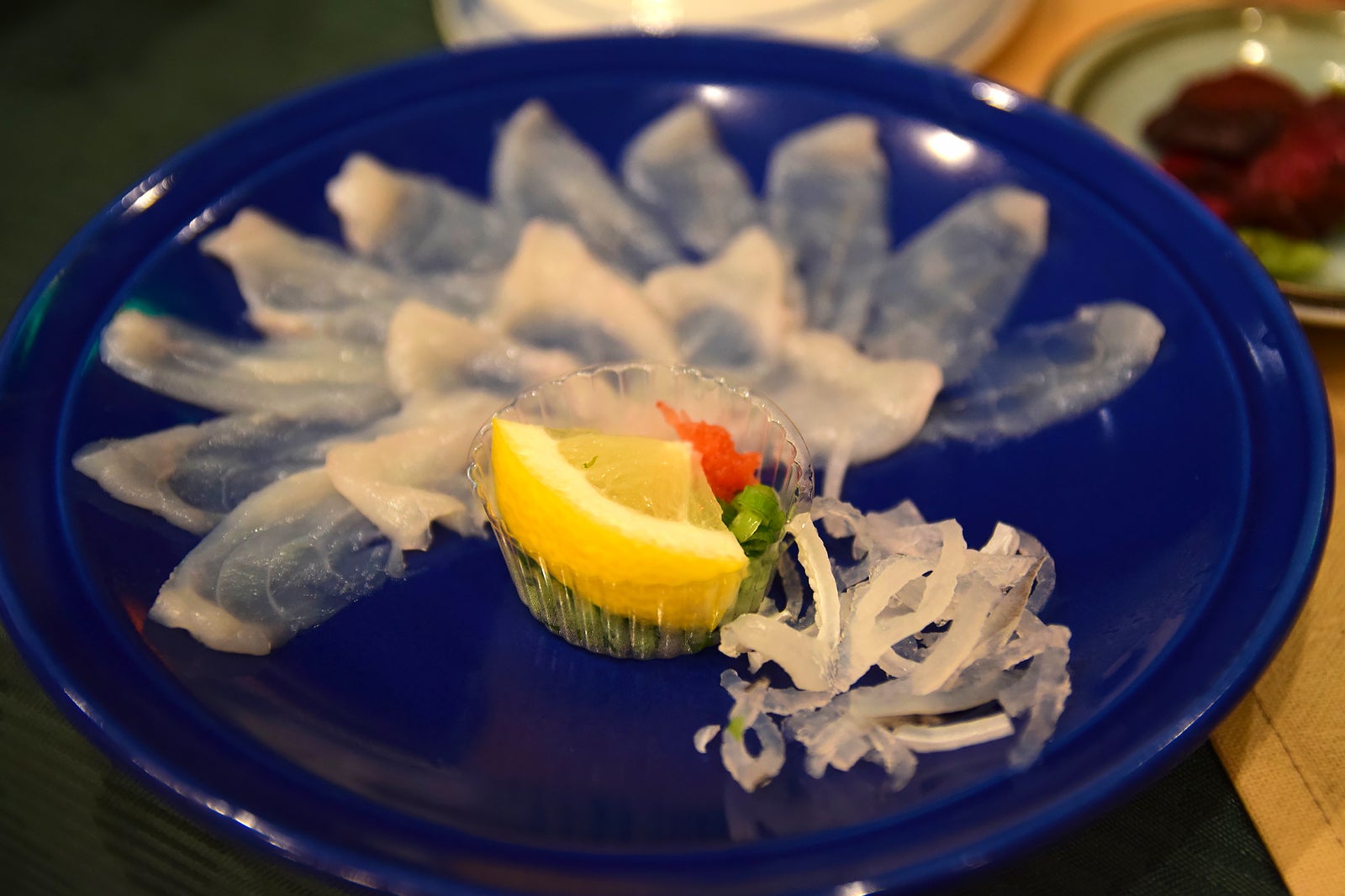 Being geographically close to cities such as Shimonoseki and Kagawa, Osaka is renowned for pufferfish (fugu). It's no surprise that the locals have long appreciated pufferfish-based cuisine. In fact, 60% of pufferfish consumed in Japan is consumed in Osaka alone.
Teppo (Japanese for 'gun') is a term for pufferfish, so pufferfish hotpot is commonly known as tecchiri (gun fish dish), while pufferfish sashimi is called tessa (gun sashimi). Tecchiri is regarded as the typical example of luxurious hotpot cuisine, but many local restaurants serve it at reasonable prices. There's more to pufferfish than hotpots and sashimi – head to a specialist restaurant to sample exquisite dishes such as aromatic hot sake flavored with roasted pufferfish fin (hirezake), deep-fried pufferfish (fugu no karaage), and rice porridge with pufferfish (fugu zosui).
photo by Raita Futo (CC BY 2.0) modified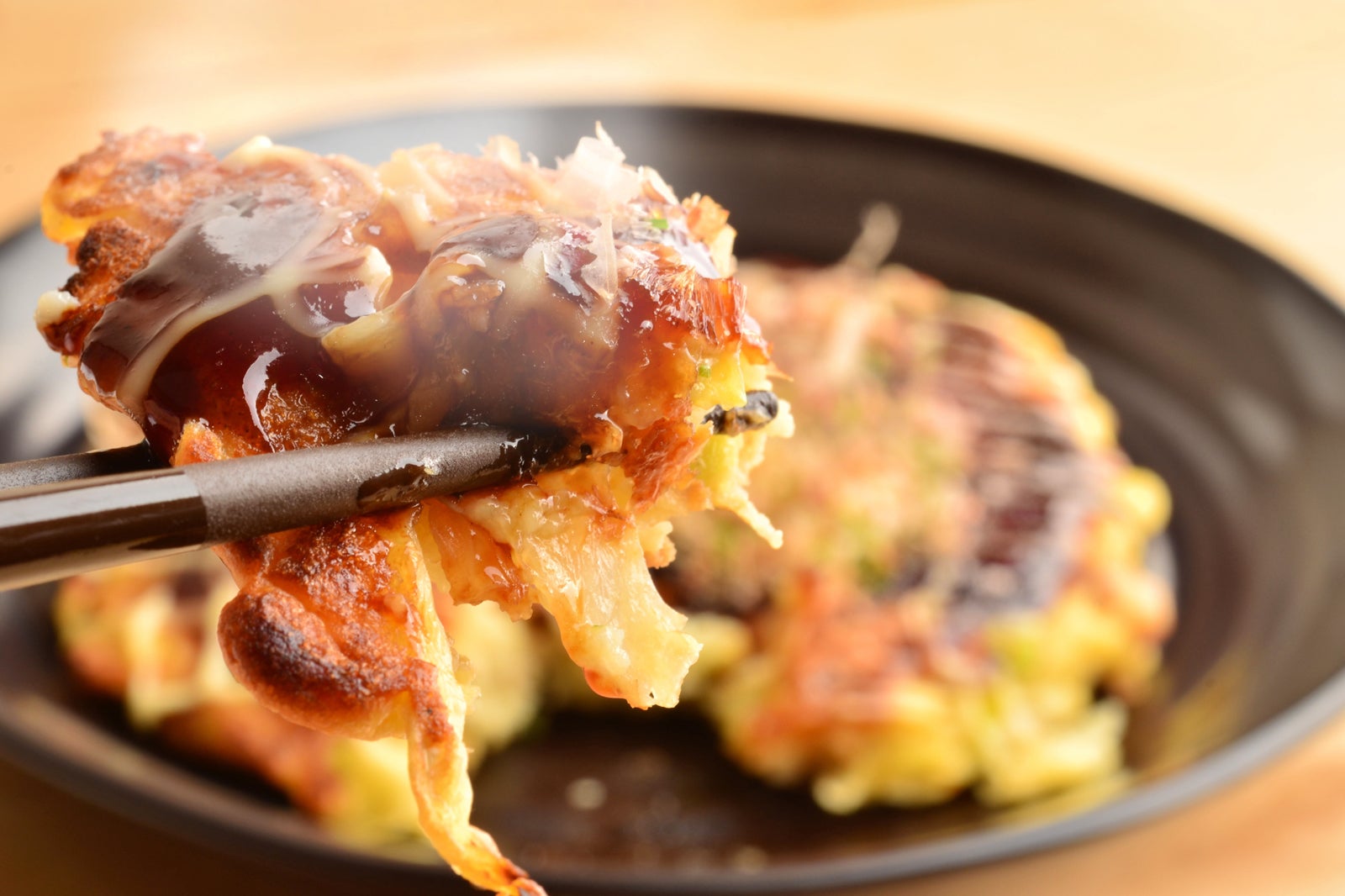 The basic, Osaka-style okonomiyaki is made of flour, grated yam, dashi stock, eggs and shredded cabbage, all mixed together and cooked to a delicately firm consistency. Each restaurant has its own style and method of preparation, so you can have fun trying lots of different places in search of your favorite style.
You will be overwhelmed by the great variety of okonomiyaki to be found in Osaka, a city renowned for the extravagance of its food culture. There are types without flour and simply made with yam and eggs. Negiyaki is a version with lots of green onions and without any binding agent, allowing you to fully enjoy the taste of cabbage. Some types come with generous helpings of seafood and meats. Some restaurants serve raw ingredients for customers to cook okonomiyaki by themselves, while other places serve it fully cooked.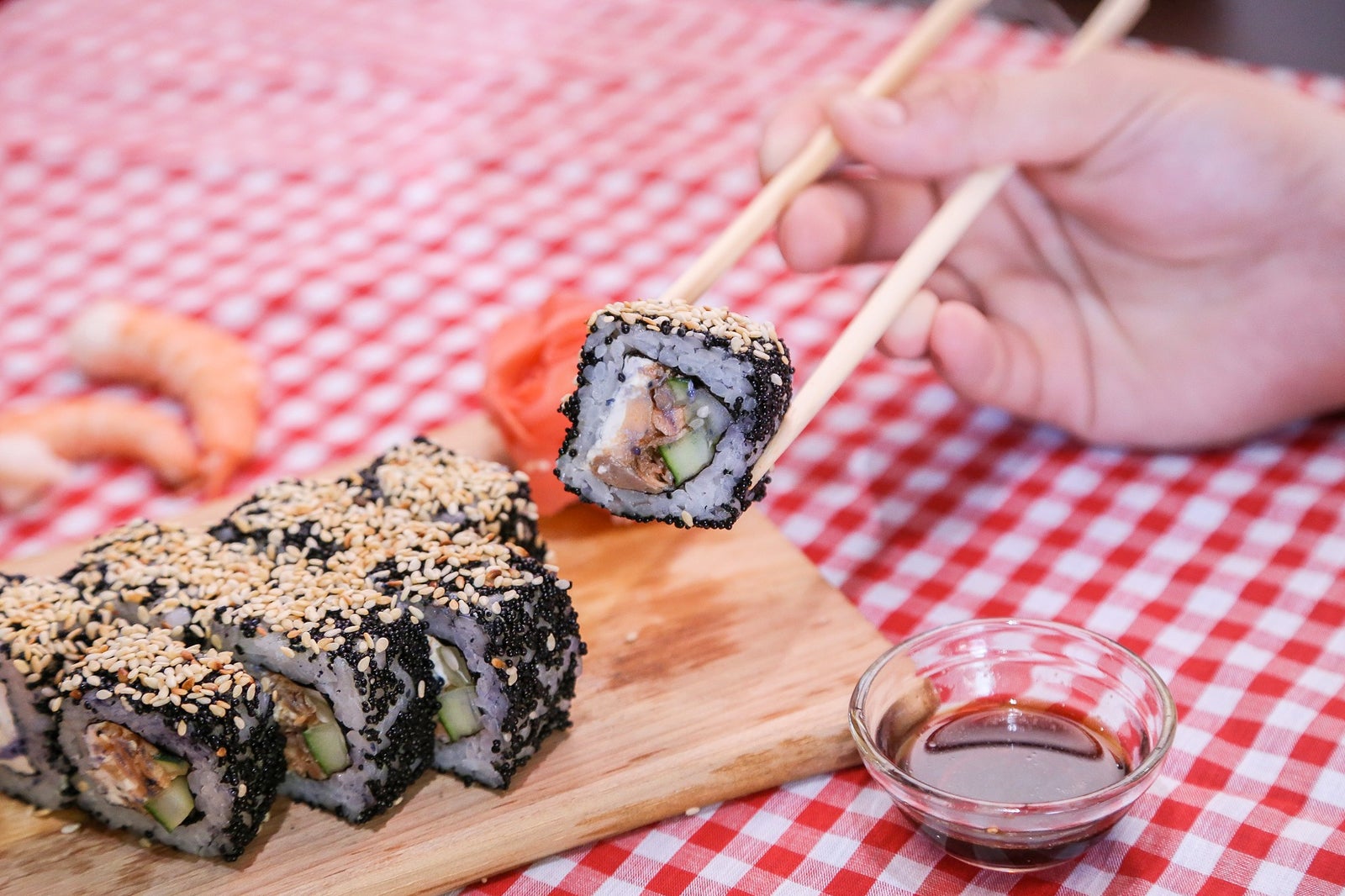 Unlike the typical hand-shaped sushi you'd come across in Japan, Osaka's box sushi is basically made for the purpose of preserving. Hako zushi – also called Osaka sushi – consists of vinegared rice pressed in a wooden frame with seafood marinated in vinegar. This dish is often enjoyed during festive occasions and at theatres, thanks to its beautiful presentation.
You can enjoy box sushi without soy sauce since the rice and ingredients are already seasoned. Unlike Edo-style sushi, where the rank of a sushi restaurant was determined by the flavor of the tuna, hakozushi tends to use white fish from the Seto Inland Sea.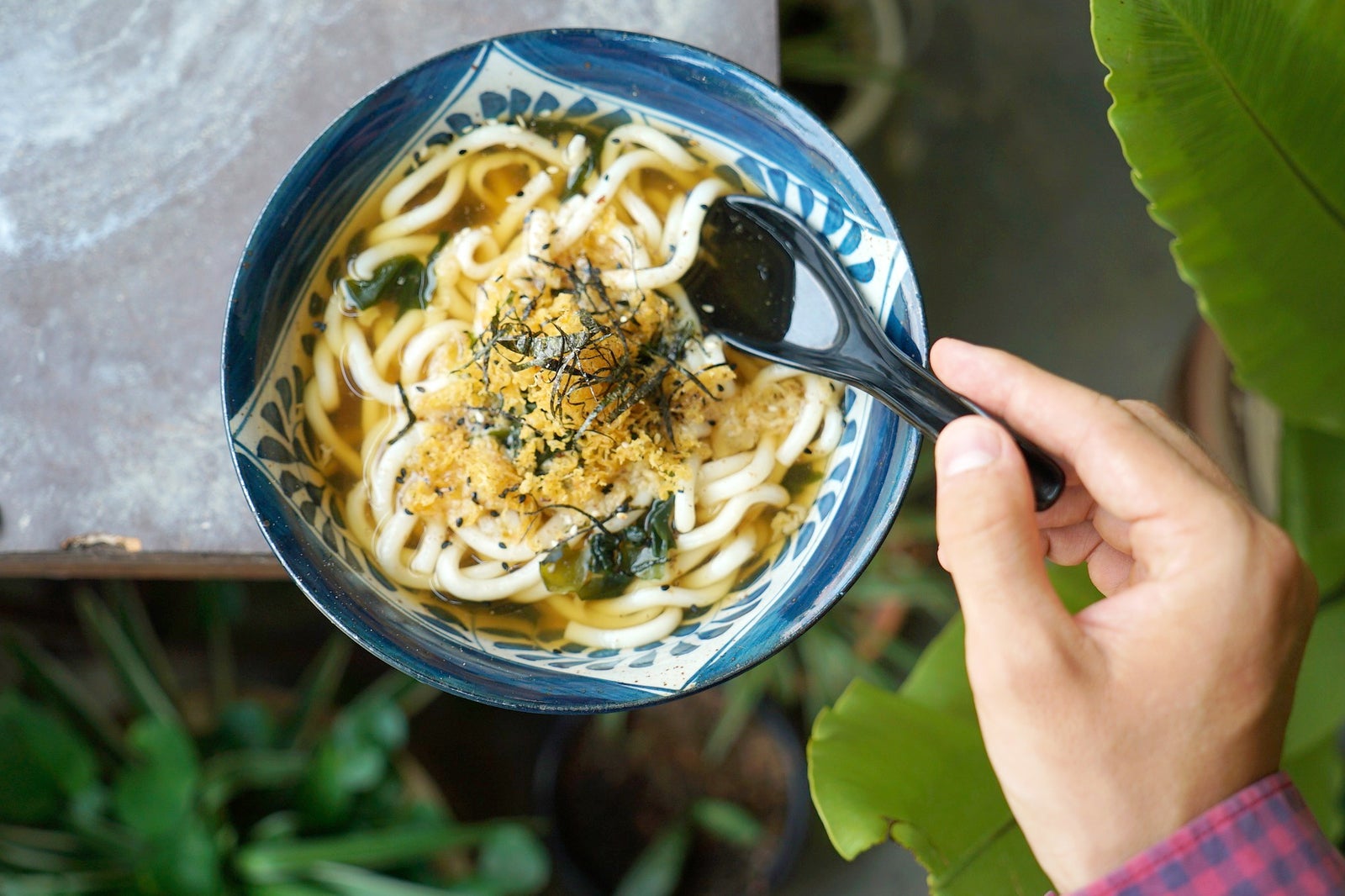 The food culture of dashi (stock made with layered kelp and bonito flakes) comes from Osaka. As the city served as Japan's kitchen during the Edo era, many fine ingredients were brought in from all over Japan,
Udon noodles in Osaka are the perfect dish in which to enjoy umami, a simple yet very intense taste that comes from dashi. Golden dashi with a light soy sauce… is there anything better? Udon in Osaka is softer than Kagawa's firm and chewy Sanuki udon. Enjoy the varieties of udon that the locals love, such as udon with mild deep-fried beancurd simmered in sweet stock (kitsune udon), udon with beef innards fried in lard (kasu udon), and udon in a rich dashi-curry soup.
10
Confectionery of sweetened beans (kintsuba)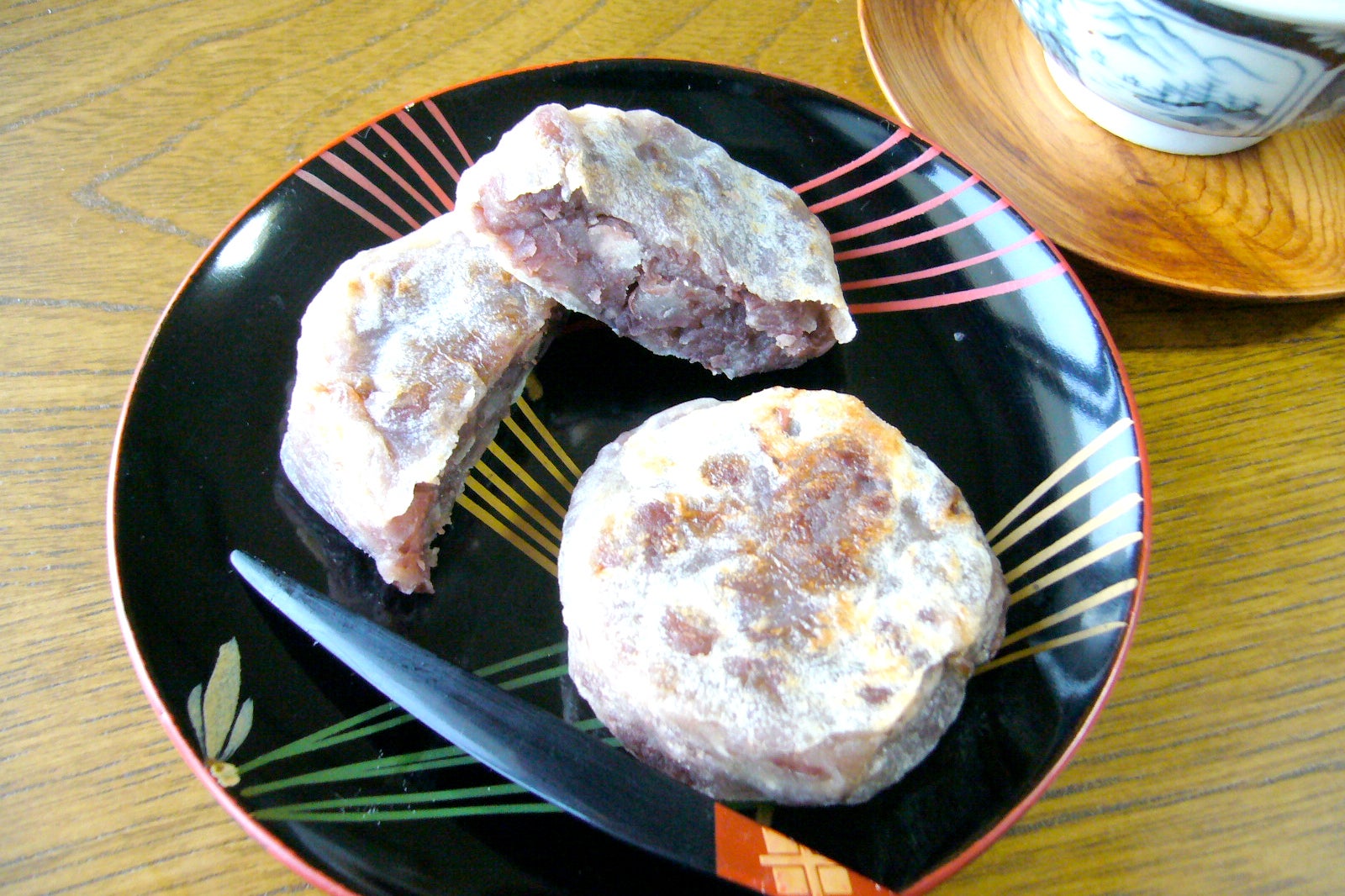 Kintsuba is a Japanese confectionery made in the shape of a sword guard. It originated in the Kansai region during the Edo era, where it was also called gintsuba (Japanese for 'silver sword guard') after its white color. Covered with rice flour when baked, this delicious confectionery has a filling of sweetened and crushed beans.
When it was brought into Edo (modern-day Tokyo), wheat flour dough was used to cover the filings and obtain a golden color when baked, with the belief that gold brings more luck than silver. While you can buy prepackaged kintsuba at station booths, the best ones come freshly baked at popular local shops. The cakes are soft on the outside and a little chewy, accompanied by a memorably rich taste from the filling. Product demonstrations sometimes take place at certain department stores, so keep on the lookout.
Back to top