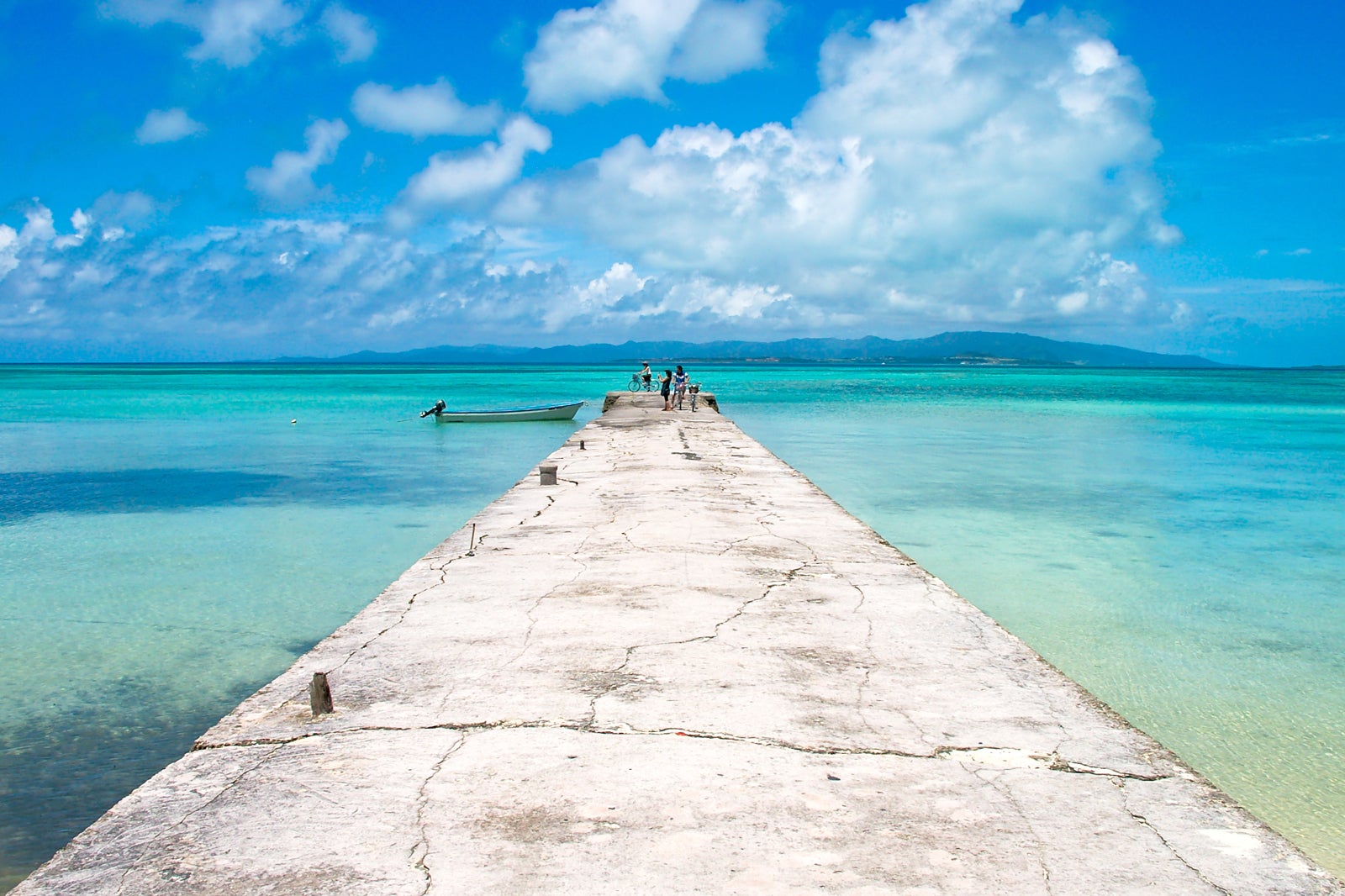 10 Things to Do in Okinawa on a Small Budget
What are the Cheap Things to Do in Okinawa?
If you've been looking forward to a trip to Okinawa, you'll no doubt want to experience all the best parts of Okinawa within your budget. Fortunately, there are many attractions in Okinawa that can be enjoyed at very reasonable prices. Start your day's sightseeing by taking in the sunrise from the cape in the southern part of the main island. After recharging at Sefa Utaki, the highest sanctuary in the Ryukyu Kingdom, head north on the scenic driving route across Nirai Kanai Bridge. After playing in the river that runs through the forest of Yambaru no Mori, take a tour of the Orion Beer factory and try some refreshing samples. Once you've returned to Naha City, stroll along the cobblestone road in Shurikinjocho and check in at your guesthouse. On winter nights, enjoy a romantic drive through the fields of illuminated chrysanthemums. Let's take a look at some of the reasonably priced highlights on the main island of Okinawa, as well as recommendations for Ishigaki Island and Taketomi Island.
1
Visit Sefa Utaki, a World Heritage Site
Sefa Utaki, the most sacred place in the Ryukyu Kingdom, is a site where during the Ryukyu Kingdom era sacred white sand was carried from Kudaka Island (known as "the island of God") and spread all over during festivals. A tour of this lush sanctuary is certainly a spiritual experience. Start off by heading to the Ujo Uguchi entrance, which is about 10 minutes on foot from the carpark. As you go up the cobblestone approach, you'll see the first place of worship, Ufugui, on your left. This is followed by other worship sites such as Yuinchi, where prayers are said for a good harvest, and you'll also pass a jar for collecting holy water dripping from stalactites, before heading to the main attraction, Sangui. At the place of worship at the end of the triangular space created by huge rocks, you can say a prayer as you look out at Kudaka Island across the sea. Admission is 300 yen for adults.
Location: 539 Kudeken, Chinen, Nanjo City, Okinawa Prefecture 901-1511, Japan
Open: March—October: daily from 9 am to 6 pm. November—February: daily from 9 am to 5.30 pm. Hours vary on vacations.
photo by Hideyuki KAMON (CC BY-SA 2.0) modified
2
Walk the stone-paved paths of Shurikinjocho
The cobblestone path in Shurikinjocho, which continues to the south of Shuri Castle, is a castle road that was built during the Ryukyu Kingdom era. This path is easily accessible from Kokusai-dori in the middle of Naha City, making it an ideal spot to visit after touring Shuri Castle. Lined with Ryukyu limestone, the path is surrounded by traditional houses with red tile roofs lined with Okinawan lion statues, beautifully built stone walls, banyan trees, and other elements that give Okinawa its unique charm. In the forest where 6 huge Bishop wood trees miraculously survived wartime destruction, you'll find the magnificent 300-year-old Shurikinjo Big Akagi tree. To take a rest en route you can stop off at the Shurikinjocho Muraya rest area, which is set in a traditional house. And don't forget to drop by the teahouse for a cuppa with some Okinawan zenzai or Sata Andagi candies.
Location: Shurikinjocho, Naha City, Okinawa Prefecture 903-0815, Japan
photo by 663highland (CC BY-SA 3.0) modified
Orion Beer is the go-to beer of Okinawa. This tipple is loved by the locals for its refreshing taste, which is a perfect match for the Okinawan climate. At the popular Orion Happy Park, located in Nago City in the northern part of the main island of Okinawa, you can enjoy a factory tour and free beer tasting. The tour takes approximately 60 minutes and runs every 20 minutes. The spacious lobby features the objects connected to the brewing kiln originally used when Orion Beer was founded. After checking out the production process of preparing raw materials, fermenting, storing, filtering, bottling and canning, you'll be given the long-awaited tasting of Orion beer. There are also sodas so that drivers and children don't feel left out. You'll also find a gallery displaying the history of Orion Beer as well as the Yanbaru no Mori beer garden.
Location: 2-2-1 Agarie, Nago City, Okinawa Prefecture 905-0021, Japan
Open: The museum is open from 9 am, and the factory tours run from 9.20 am to 4.40 pm.
photo by Miyoko-Tour (CC BY 2.0) modified
4
Stay at a guesthouse without breaking the bank
Luxury resort hotels are fine, but guesthouses are the best bet if you're on a budget and still want somewhere cool to stay. Fortunately you'll find plenty of reasonably priced guesthouses on the main island of Okinawa, mainly in Naha City. But these accommodations aren't just cheap. They're also great places to meet people, with shared living rooms where guests gather and forge friendships, exchanging information on travel destinations and culture. The range of options is broad, going from super-cheap inns where you can sleep on tatami mats without meals, to places with female-only dormitories and family rooms, and on to guesthouses with stylish decor. A guesthouse near Kokusai-dori would be ideal for shopping and walking around town, and you'll be conveniently located for the monorail.
Location: Various places throughout the prefecture.
5
Drive across Nirai Kanai Bridge
The best road trip route in the southern part of Okinawa Island goes across the Nirai Kanai Bridge in Nanjo City. This long dual bridge connects Prefectural Route 86 and National Route 331, with the higher bridge called the Nirai Bridge and the lower bridge the Kanai Bridge. Running for a total of 660 meters, the bridge arcs to provide a panoramic view of the Pacific Ocean in front. On clear day, Kudaka Island is visible. The drive itself is enjoyable, but visiting the cafes en route will add something tasty to your trip. Nanjo City has countless trendy cafes with large windows overlooking the sea and terrace seating to make the most of the location. Natural foods using local vegetables are particularly popular menu choices.
Location: Yoshitomi Chinen, Nanjo City, Okinawa Prefecture 901-1512, Japan
photo by Captain76 (CC BY-SA 3.0) modified
6
Sunrise at Cape Chinen Park
Watching the sunrise at the beach is nice, but the popular spots are often crowded. To escape the crowds, head to Cape Chinen Park in Nanjo City in the southern part of the main island. From the cape on the eastern side of the island, you can see the rising sun from the horizon of the Pacific Ocean. Make sure you get up nice and early, and drive here from your hotel. Rest assured that there's free parking onsite. You'll also find an observatory, a footpath, and a gazebo with a red tile roof in the park, which is perfect for a walk while admiring the scenery in the fresh morning air. After taking in the spectacular sunrise, head on over to the nearby Sefa Utaki World Heritage Site to continue your tour of the area.
Location: Kudeken, Chinen, Nanjo City, Okinawa Prefecture 901-1511, Japan
photo by そらみみ (CC BY-SA 4.0) modified
Taketomi Island, which is the closest island to Ishigaki Island, is a popular remote island where you can stroll around and take in the old-fashioned Okinawan townscape. It's only 10 to 15 minutes by boat from the Ishigaki Island Remote Island Terminal, and the boarding fee is just over 1,000 yen for a round trip. When you arrive on the island, it's a good ideas to rent a bicycle to explore. Taketomi Island is full of vivid sights, from white sand alleys running through red-tiled villages to bougainvillea and hibiscus flowers blooming beautifully throughout the year. Head to the west coast of the island and visit Kondoi Beach, a white sand beach with a beautiful shallow sea, and also check out Kaiji Beach, known as the star sand beach for its peculiarly shaped grains of sand. At the center of the village is the Akayama Observatory, where you can enjoy panoramic views not only of the entire island but also the remote islands floating in the surrounding sea.
Location: Taketomi-cho, Yaeyama-gun, Okinawa Prefecture 907-1101, Japan
photo by 松岡明芳 (CC BY-SA 4.0) modified
8
Playing in the river at Ta Falls
After enjoying the sea of Okinawa, why not experience Yambaru's nature-filled river play? In Ogimi Village, known as the village of longevity in the northern part of the main island of Okinawa, Ta Falls is an ideal spot for experiencing the subtropical environment. While walking along the river toward the waterfall, you can see waterside creatures such as the Ryukyu Hagro Dragonfly, which has a glossy turquoise body and black wings, and the Okinawa Hanmyo, which shines in red, blue and green. A 30-minute walk will bring you to Ta Falls. At the waterfall basin, you can enjoy playing in the river to your heart's content - bathing, swinging on ropes, or jumping from rocks. Have fun, but make sure you wear a life-jacket and non-slip shoes.
Location: 1121-1 Uehara, Ogimi Village, Kunigami District, Okinawa Prefecture 905-1308, Japan
photo by Keisotyo (CC BY-SA 4.0) modified
9
Densho Kiku illuminations
In recent years, Okinawa's winter tradition of Densho Kiku (chrysanthemums grown using artificial light) has become a real hit as a tourist spot at night. On winter nights, from about 11 pm through to 4 in the morning, open-air chrysanthemum fields are illuminated to regulate the flowering of the chrysanthemums. Countless light bulbs are arranged neatly above the beautifully lined rows of chrysanthemums, creating a fantastic spectacle. Farmers use a variety of incandescent light bulbs, fluorescent lights, LEDs, and so on. So you can enjoy different "Kikuminations" in each chrysanthemum field, cycling through orange, yellow, red and white. There are many spots on the island where you can see chrysanthemums being cultivated in this way, including Onna Village and Itoman City.
Location: Various places throughout the prefecture.
Open: December—March: daily from 11 pm to 4 am
photo by At by At (CC BY-SA 3.0) modified
10
Enjoy local gourmet food at Shiraho Sunday Market on Ishigaki Island
After enjoying the main island of Okinawa, many people will consider a trip to Ishigaki Island in the Yaeyama Islands. Ishigaki Island is popular as a base island from which you can enjoy visiting nine remote islands such as Iriomote Island, Taketomi Island, and Kohama Island. Shiraho Sunday Market is held every week on Ishigaki Island. Guava, island bananas, papayas, mangoes and locally harvested tropical fruits are lined up at reasonable prices. Live sanshin performances are also held irregularly at the venue, and the charms of stone walls are full of locals' handmade sata andagi, Jimami tofu, and the Yaeyama region oil miso known as "Undermish". Boxed lunches made with colorful island vegetables and "Kanappa", which is made by wrapping black-purple rice balls and juicy cooked rice in banana leaves, are ideal for picnics on the beach.
Location: Inside the Shiraishi Coral Center, 118 Shiraho, Ishigaki City, Okinawa Prefecture 907-0242, Japan
Open: Sundays from 10 am to 1 pm
Back to top