10 Best Places Locals Love to Go in Kyushu and Fukuoka
Locals' Guide to Must-Visit Sites in Kyushu and Fukuoka
Fukuoka is home to many of Japan's famous festivals, including Hakata Gion Yamakasa and Hakata Dontaku Port Festival, which are always the source of much excitement. There are historical buildings such as Dazaifu Tenmangu and Kushida Shrine, along with fascinating museums like the Fukuoka City Museum, where the King of Na Gold Seal, one of Japan's designated National Treasures, is stored.
And that's just to name a few – there are so many more must-see spots in the Fukuoka area. You could explore Karatsu, Japan's top spot for the production of ceramics, or Nokonoshima island, where you can chill on beautiful beaches. Yanagawa is also a must-visit, as it offers an authentic old-fashioned riverside journey. Let's take a look at some of the top spots in Kyushu and Fukuoka.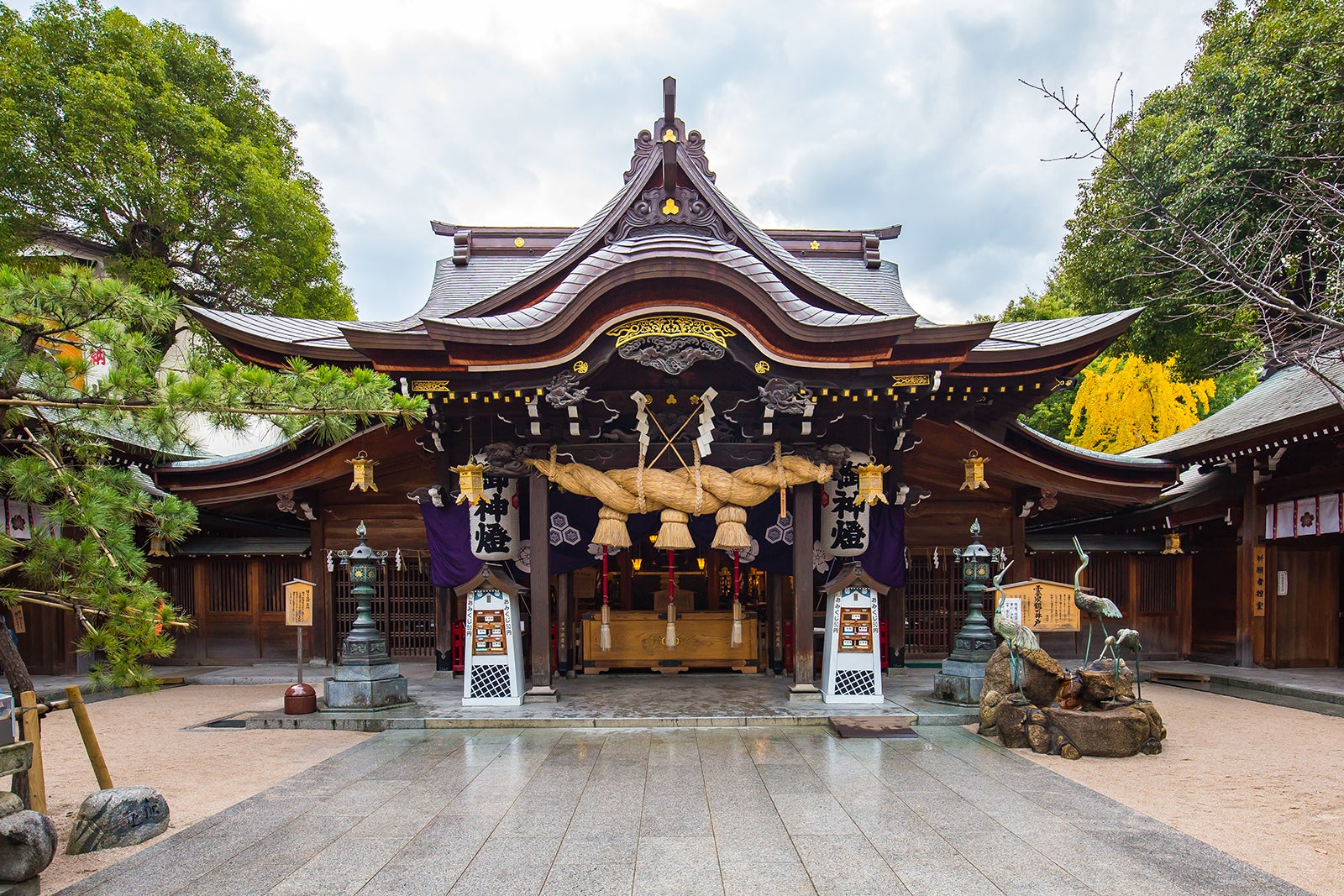 Hakata Gion Yamakasa of Kushida-jinja Shrine
Kushida-jinja Shrine is a 5-minute walk from JR Hakata Station. The shrine, also known as Kushida-san, has gained strong faith among local people as a central place to pray for local gods (Sochinju). Hakata Gion Yamakasa is an annual festival that takes place from 1st to 15th July. The Oiyama, a race between the districts, starts from this shrine on the morning of the 15th, the last day of the festival, which is the highlight of the whole event. This a dedicatory Shinto ritual, in which men wearing happi (straight-sleeved coats) carry a large float ('Kakiyama' in Japanese) and race through the city of Hakata. This brave and powerful performance has been inducted into UNESCO's Cultural Heritage list.
Balcony tickets, which allow you to watch the climax of the festival, often get sold out as soon as they are released every year. For almost the whole year, a Yamakasa with gorgeous decorations is on display in the precinct of Kushida-jinja Shrine, so you can enjoy the atmosphere of this festival at any time.
Location: 1-41 Kamikawabatamachi, Hakata Ward, Fukuoka, 812-0026, Japan
Open: 1st–15th July from 9am to 5pm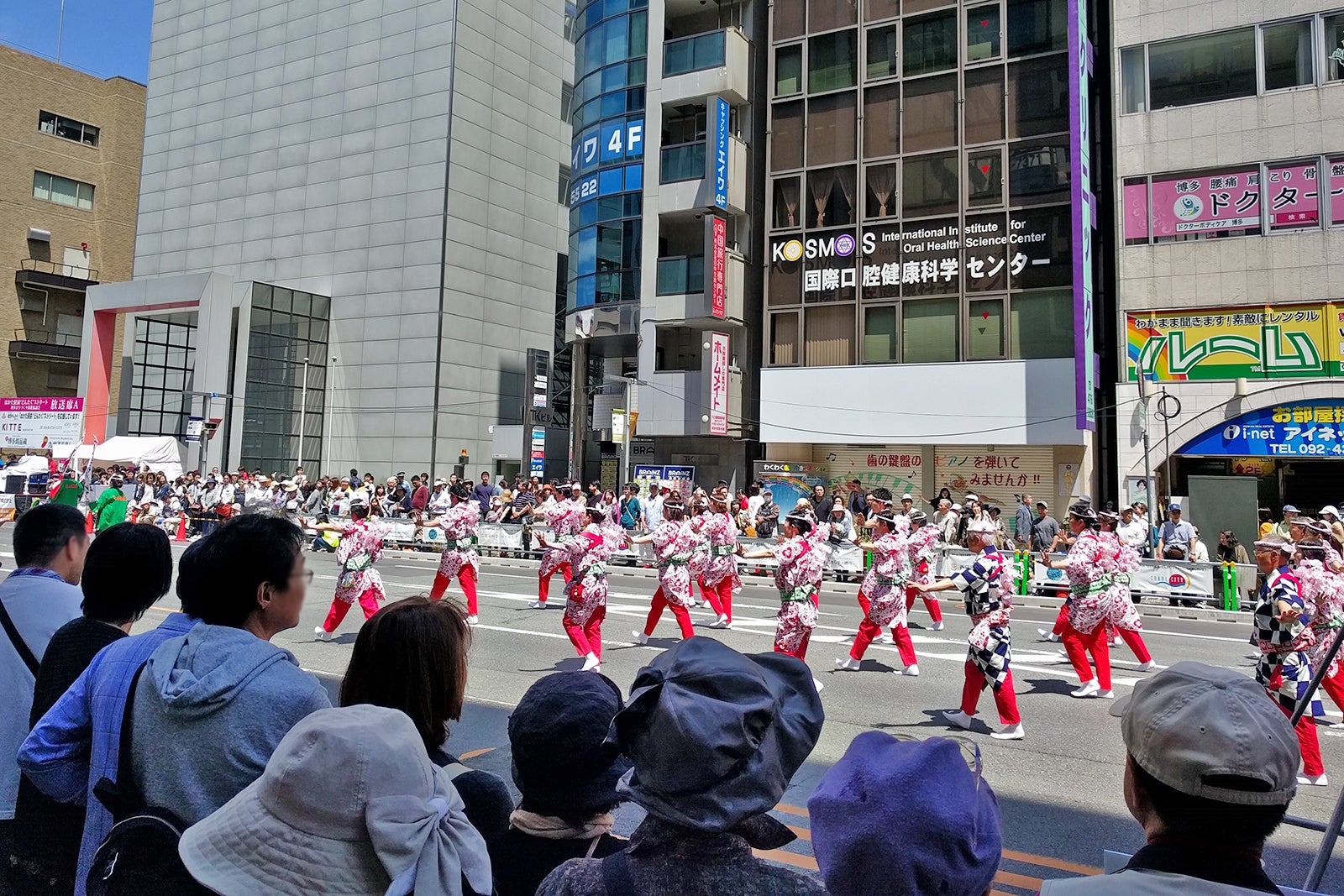 Hakata Dontaku Port Festival
Hakata Dontaku Port Festival is one of the most crowded festivals in Japan. Held every year during Japan's Golden Week on 3rd and 4th May, the event welcomes as many as 2 million spectators each year. Dontaku is said to have originated from the word 'zondag' (Dutch for 'Sunday').
The Dontaku festival was started in an attempt to revive an old event called Hakata Matsubayashi, which was banned during the Meiji era. The event, which sees participants walking around the city while dancing with rice paddles, is featured on TV every year. Hakata Dontaku is attended by international and local celebs, so the best way to enjoy it properly is by reserving balcony seats.
photo by x768 (CC BY-SA 2.0) modified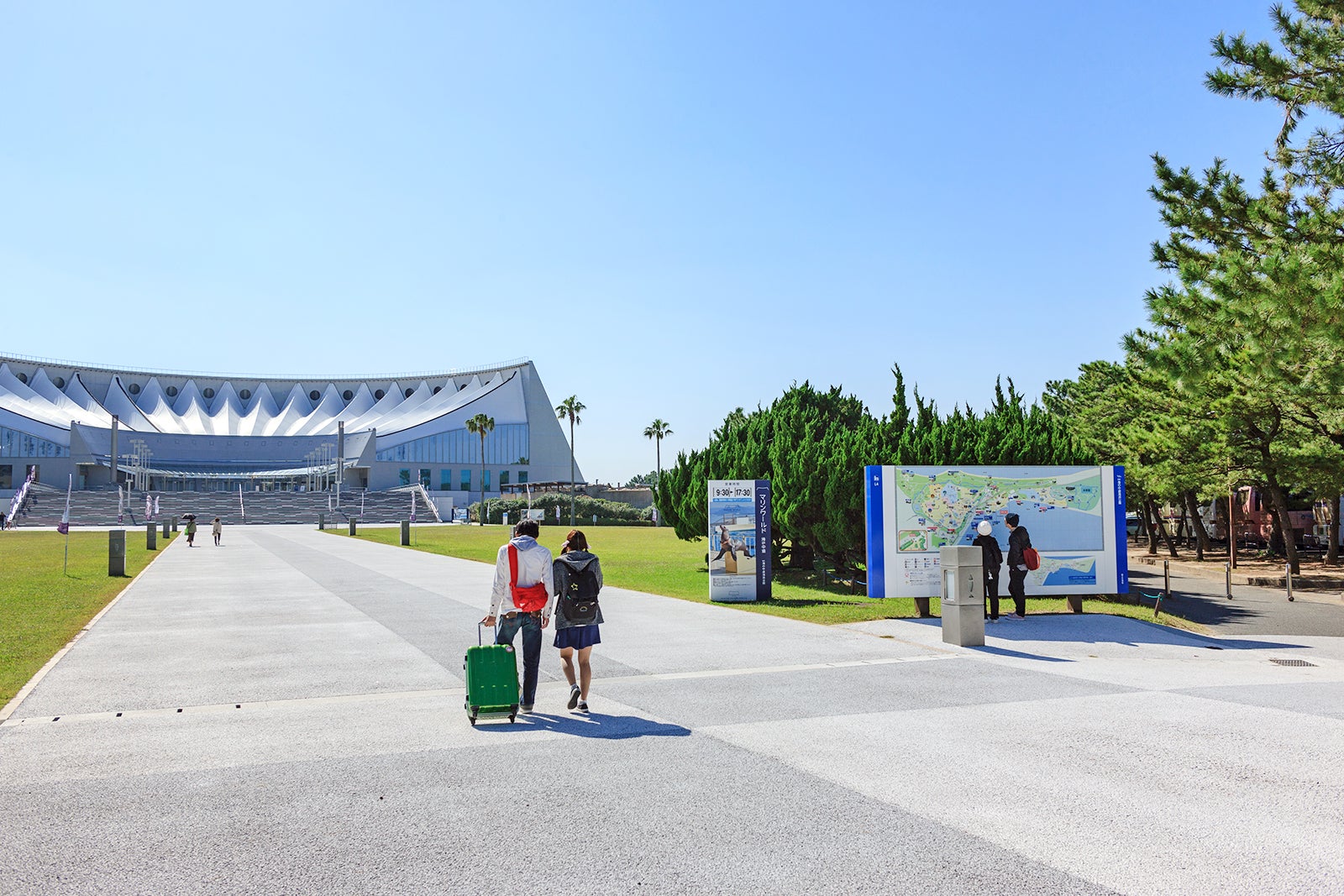 Marine World Uminonakamichi
Marine World Uminonakamichi is an aquarium on a sandbar surrounded by Hakata Bay and the Genkai Sea. It's within a 5-minute walk from JR Uminonakamichi Station, so it's be easily accessed by train or bus from the city of Fukuoka.
This aquarium has a wide range of fish tanks, including tanks that recreate the coastal waters of every prefecture in Kyushu, tanks named after themes such as Coral Reefs of Amami, Jellyfish of Kyushu, and Kyushu's Deep Ocean Waters. The Open Ocean off Kyushu is a 7-meter-deep tank replicating the open ocean where the Japan Current flows through warm waters.
Location: 18-28 Saitozaki, Higashi Ward, Fukuoka, 811-0321, Japan
Open: March–November: daily from 9.30am to 5.30pm. December–February: daily from 10am to 5pm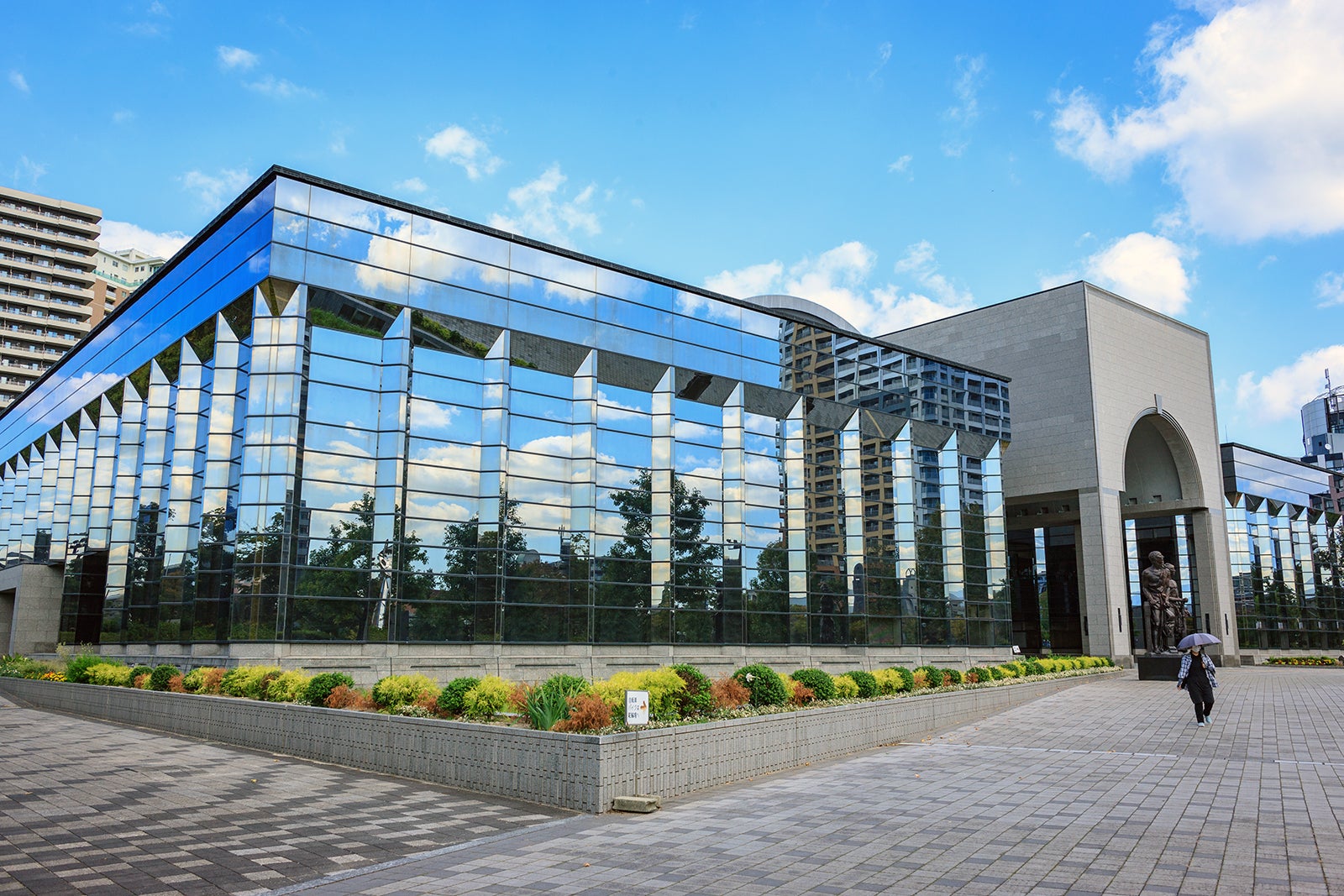 Fukuoka City Museum is an excellent place to learn about the history of Fukuoka, which used to serve as a gateway for interaction with continental Asia, and the lives of people in Fukuoka. It has a permanent exhibition room divided into 11 sections – one of its most important exhibits is the King of Na gold seal.
At Mitaiken Labo, a hands-on facility in the Fukuoka City Museum, you can have your picture taken while wearing ethnic costumes, play with items collected under the theme of Asian games, and try out Asian musical instruments. The admission fee to the permanent exhibition is very cheap – junior high school students and children can enter the museum free of charge. Fukuoka City Museum is easy to access by bus from Subway Nishijin Station or Fujisaki Station.
Location: 3 Chome-1-1 Momochihama, Sawara Ward, Fukuoka, 814-0001, Japan
Open: Tuesday–Sunday from 9.30am to 5.30pm (closed on Mondays)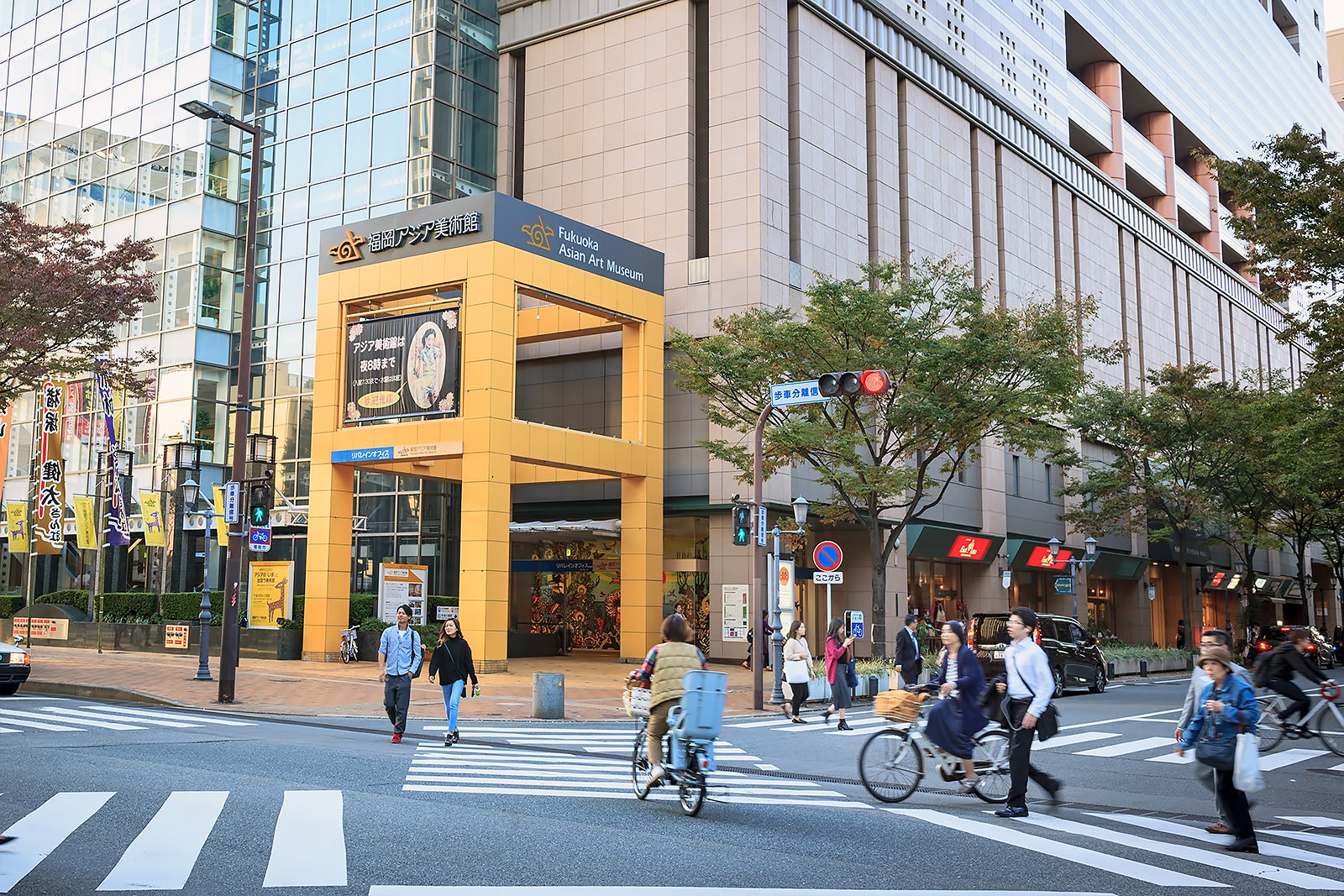 Fukuoka Asian Art Museum is a unique and somewhat rare landmark, as it exclusively collects and exhibits modern Asian art. The museum has a collection of about 2,700 pieces from 22 countries and regions across Asia.
The museum has attracted significant attention for initiatives, such as inviting artists from Asian countries to hold workshops, or by allowing such artists to stay as resident artists and engage in their creative activities on-site. There is a small but stylish cafe that's well worth a stop if you have some spare time. The Fukuoka Asian Art Museum can be easily accessed by subway (Nakasu-Kawabata Station) or bus (Kawabata-machi /Hakataza-mae bus stop).
Location: 7/8F Riverain-Center Building, 3-1 Shimokawabatamachi, Hakata Ward, Fukuoka 812-0027, Japan
Open: Friday–Saturday from 9.30am to 8pm, Sunday–Thursday from 9.30am to 6pm (closed on Wednesday)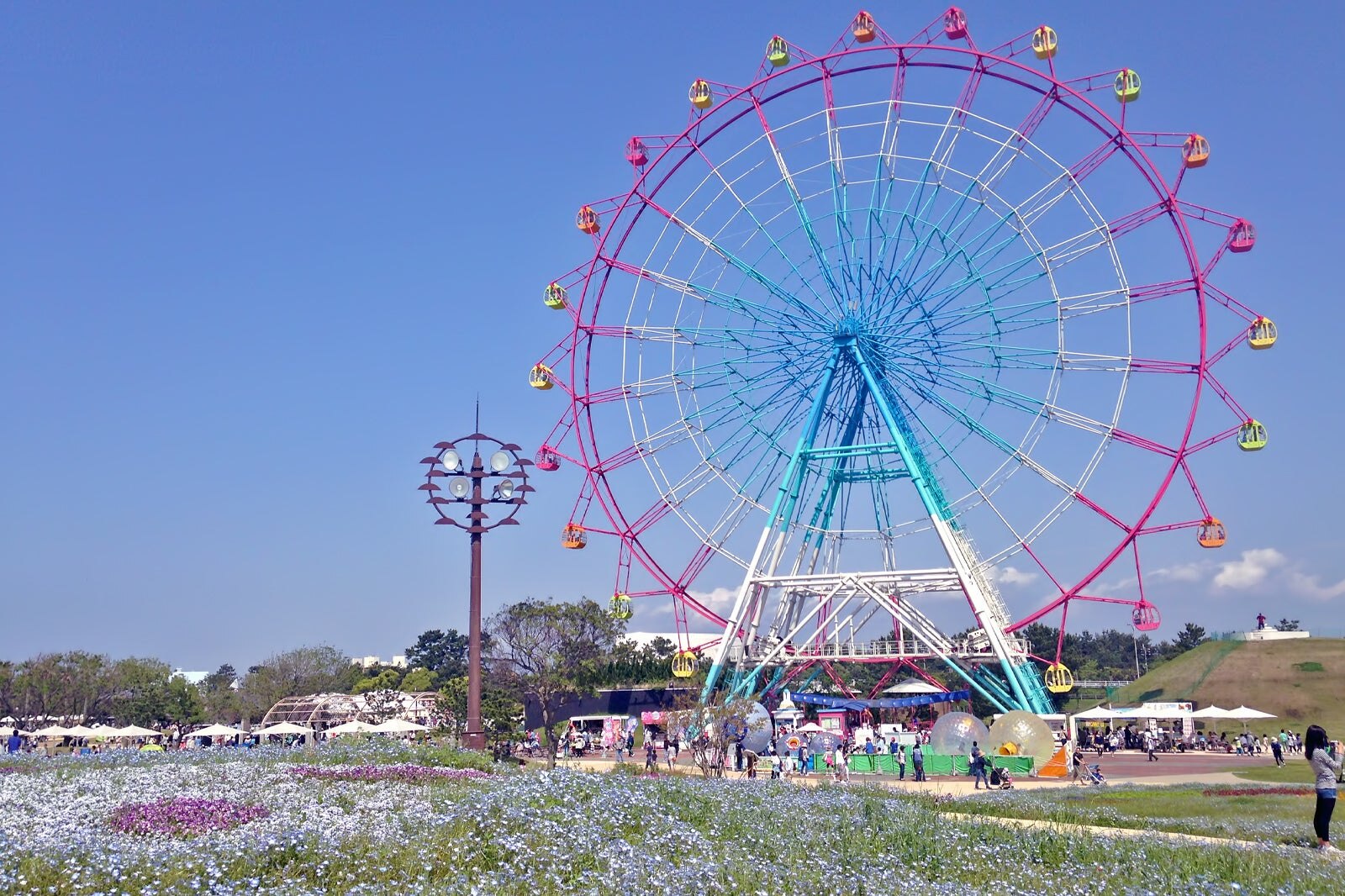 Uminonakamichi Seaside Park
Uminonakamichi Seaside Park is a large national park located in a spacious sandbank area between 2 seas, around a 5-minute walk from JR Uminonakamichi Station. This 300-hectare park has beautiful seasonal flowers blooming year-round, making it an excellent spot for hiking and picnics.
Uminonakamichi Seaside Park is particularly famous for its 1.5 million Nemophila flowers, which completely cover the hill in a light blue shade. The best time to visit is from mid- to late-April. Visit the Animal Forest (highly recommended for families) to see flamingos, peacocks and squirrel monkeys – you're also welcome to feed animals and hold guinea pigs. The park is too big to cover in a day, so it's a good idea to explore it on a rental bicycle. During Christmas time, thousands of candles light up the park, creating a fantastic atmosphere.
Location: 18-25 Saitozaki, Higashi Ward, Fukuoka, 811-0321, Japan
Open: March–October: daily from 9.30am to 5.30pm. November–February: daily from 9.30am to 5pm
photo by そらみみ (CC BY-SA 4.0) modified
Dazaifu Tenmangu Shrine – dedicated to Sugawara no Michizane, the famous deity of learning – is said to be one of the places with the most powerful spiritual energy in the Fukuoka area. As the grand head shrine of all the Tenmangu shrines in the country, it's packed with many worshipers during the New Year's holidays and the entrance exam season.
Prefer to visit the shrine in a serene atmosphere? Your best bet is to go early in the morning. Famous as a plum-blossom viewing spot, the precinct of Dazaifu Tenmangu has about 6,000 plum trees of 200 different varieties, which reach their peak from late-January to early-March. The shrine is beautiful throughout Japan's 4 seasons, thanks to its grand camphor trees, cherry blossoms, irises, chrysanthemums, and autumn leaves. Don't forget to enjoy umegae mochi, a type of rice cake with azuki bean filling. Try to visit the nearby Kyushu National Museum if you have time to spare. Easily accessed from JR Hakata Station, Dazaifu Tenmangu Shrine less than 1 hour from the center of Fukuoka by train or bus.
Location: 4 Chome-7-1 Saifu, Dazaifu, Fukuoka 818-0117, Japan
Open: Daily from 6am to 8pm (hours may vary)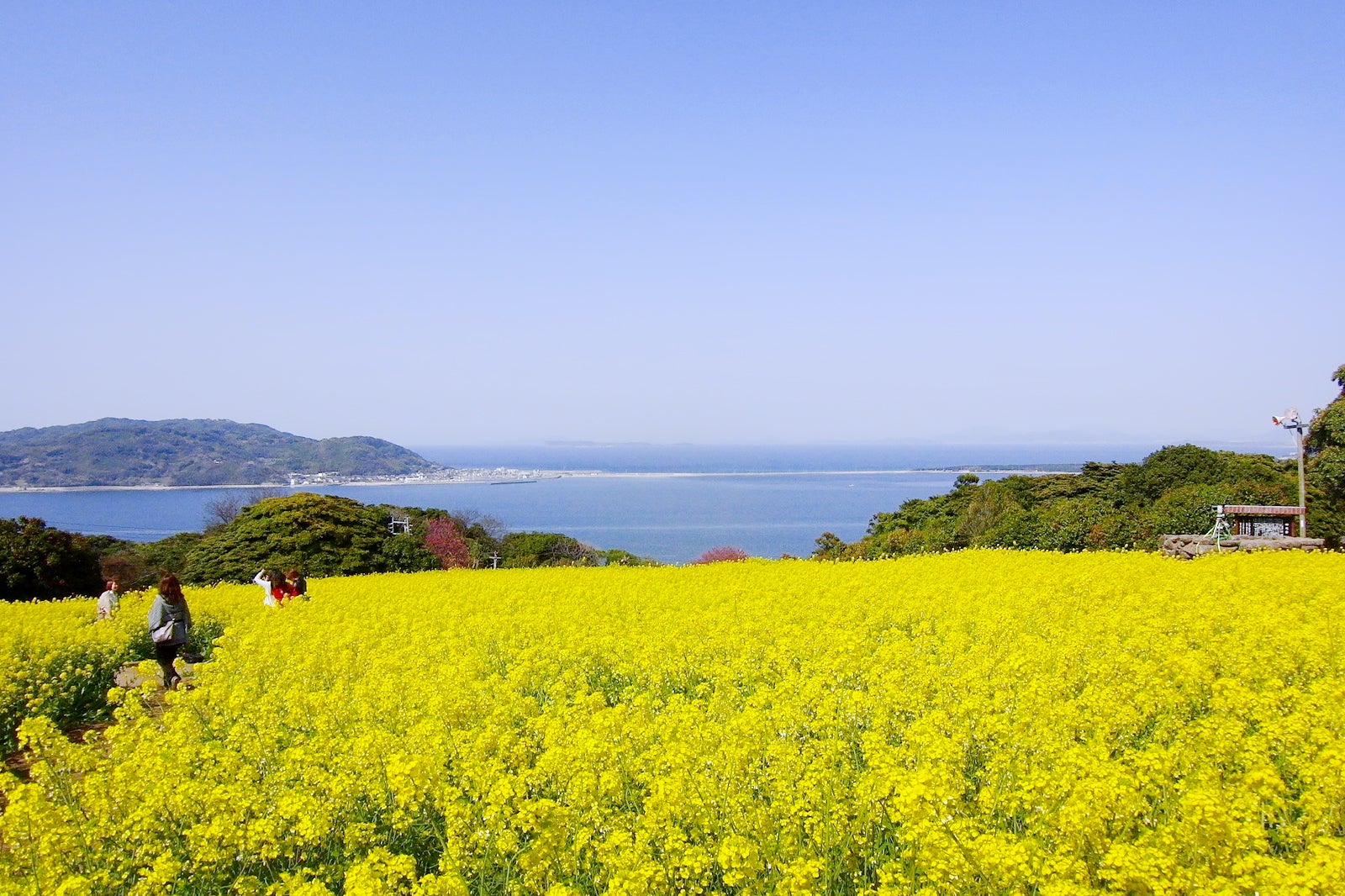 Nokonoshima is a small island that's accessible via a short ferry ride from central Fukuoka. With a circumference of about 1.2 km, this peaceful tourist resort, with blooming flowers and beautiful beaches, is referred to as 'Hawaii in Fukuoka'.
You can stay overnight in Nokonoshima Island Park, where various colorful flowers bloom throughout the year. Check out canola flowers and cherry blossoms in spring, sunflowers and bougainvillaeas in summer, cosmoses and dahlias in autumn, and sasanqua camellias and daffodils in winter. If you want to play on the seashore, head to the palm-lined Nokonoshima Camp Village and Beach. You can enjoy barbecues and camping on the beach from May to September.
Location: Noko, Nishi Ward, Fukuoka, 819-0012, Japan
photo by Momotarou2012 (CC BY-SA 3.0) modified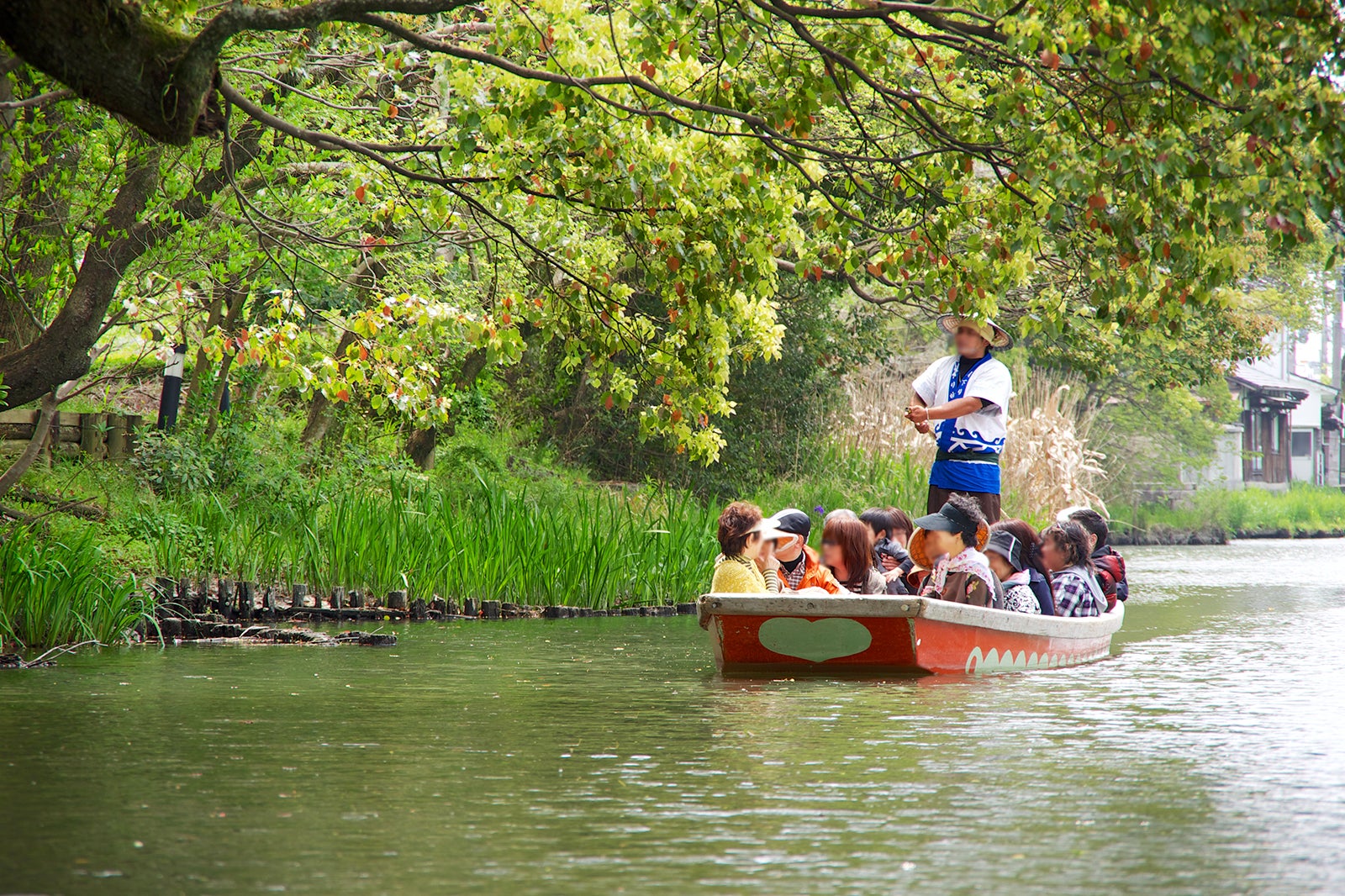 Suigo Yanagawa River Cruise
Yanagawa is a castle town at the mouth of the Chikugo River. In this riverside district, where canals around Yanagawa-jo Castle run like a grid, river cruising is one of its main activities. Enjoy an on-the-water stroll on a donko-bune (small boat) operated by a boatman with a single bamboo pole. Watch out when the boat passes under a bridge, as you'll have to duck! Some boatmen may give performances, like jumping onto the bridge when the boat passes under or entertaining you with smooth talk or singing.
River cruise boats depart frequently, so reservations are basically unnecessary. A river cruise lasting about 1 hour is a great way to time travel. Yanagawa is less than an hour's drive from the center of Fukuoka. If you take a train, the best option is to take the limited express Nishitetsu train from Tenjin Station to Nishitetsu Yanagawa Station.
Location: Mitsuhashimachi, Yanagawa, Fukuoka 832-0822, Japan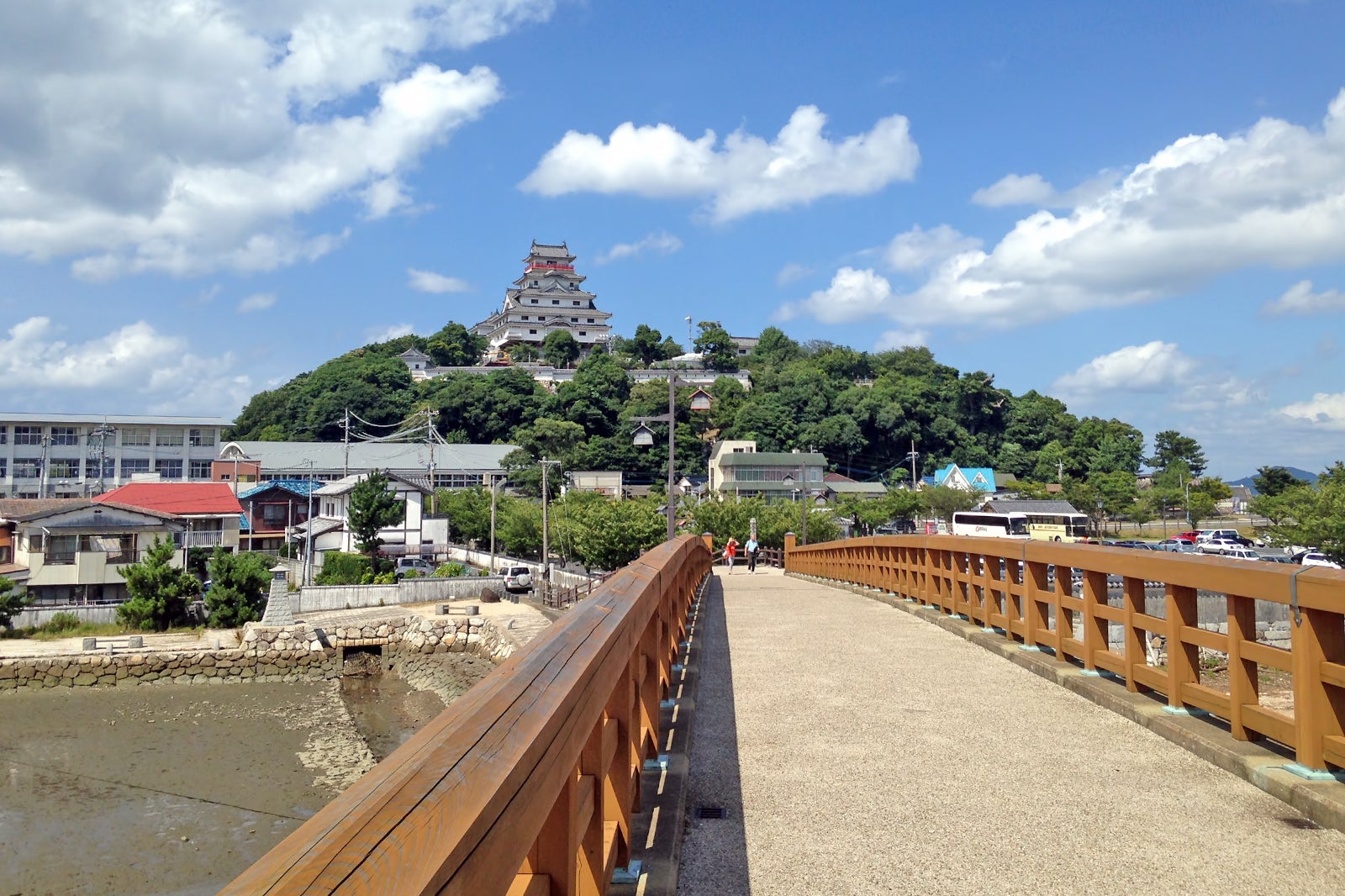 Karatsu is famous as the birthplace of Karatsu wares. It was also a castle town of the former Karatsu Domain, which prospered through trade with continental Asia. Many of the area's well-preserved buildings are the works of local designer Kingo Tatasuno. Must-sees include the Former Karatsu Bank Headquarters, a magnificent red-brick structure, and the Former Takatori Residence, the luxurious residence owned by a successful coal baron in the Meiji period.
One of the best things to do in Karatsu is visiting the pottery workshops. The simple and elegant Karatsu ware is still being produced by about 70 potteries. Nakazato Tarouemon Tobo is a traditional pottery studio where you can purchase your favorite pottery and see works produced by living national treasures. There's a showcase shop operated by the Karatsu Yaki Cooperative on the 2nd floor of Furusato Hall Alpino, in front of JR Karatsu Station. It displays and sells a wide variety of pieces and pottery directly from the pottery studios. Karatsu is within a 1.5-hour-long train ride from JR Hakata Station.
Location: Karatsu, Saga, Japan
photo by そらみみ (CC BY-SA 4.0) modified