10 Most Popular Food & Dining Areas in Kyushu/Fukuoka
Guide to Kyushu/Fukuoka's Restaurant-lined Streets and Local Foodie Areas
Fukuoka is well known as a top destination for street food, having been listed in Asia's 10 greatest street food cities. Hakata has 3 main areas where you can find dozens of yatai (open-air food stands) – Nakasu-Kawabata, Tenshin and Nagahama. Itoshima is particularly popular with women as a highly photogenic sightseeing spot. There are many cafés and restaurants that serve locally produced ingredients in the form of French or Italian cuisine, curry, and international styles.
Check out Mojiko for a romantic dating spot with a retro ambience. Grab a local beer and enjoy it with baked curry (yakikare), a local specialty. Let's visit some of the top foodie spots in Kyushu and Fukuoka to make your trip even more exciting.
1
Food stalls of Nakasu-Kawabata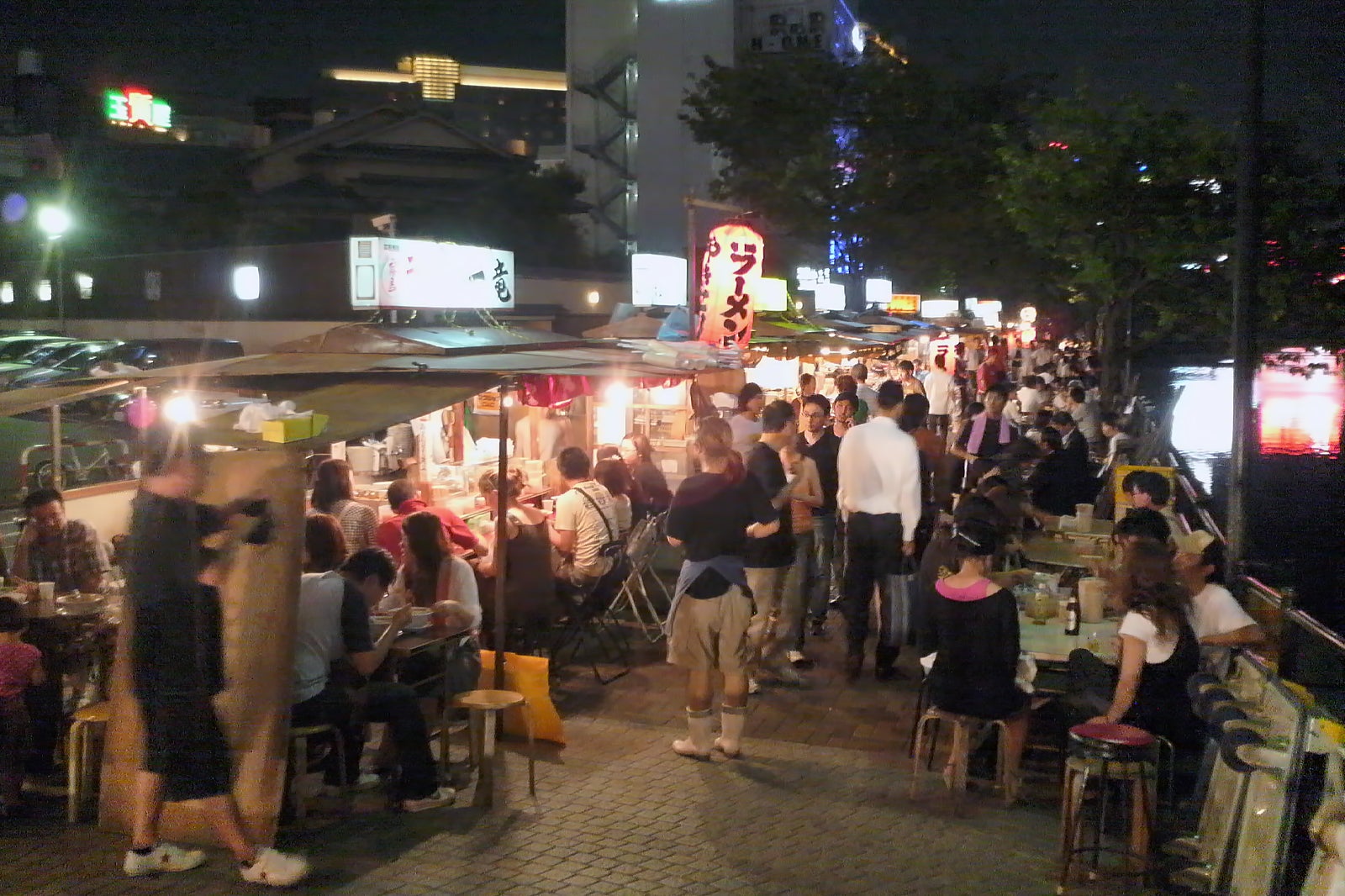 Visitors to Hakata invariably look forward to checking out food stalls that form part of the area's nightlife. One of the 3 major street food areas of Hakata is Nakasu-Kawabata, which has open-air food stalls lining the Naka River. The nearest station is Subway Nakasu-Kawabata Station.
At night, Nakasu has bright neon lights shining next to the river, making it a hugely popular sightseeing spot. It also offers great views of Hakata's emblematic food stall area. Here, you can enjoy all kinds of street snacks, such as tempura, grilled skewered foods (kushiyaki), tonkotsu (pork bone broth) ramen, and French food.
Location: Hakata Ward, Fukuoka 810-0801, Japan
photo by mmry0241 (CC BY-SA 3.0) modified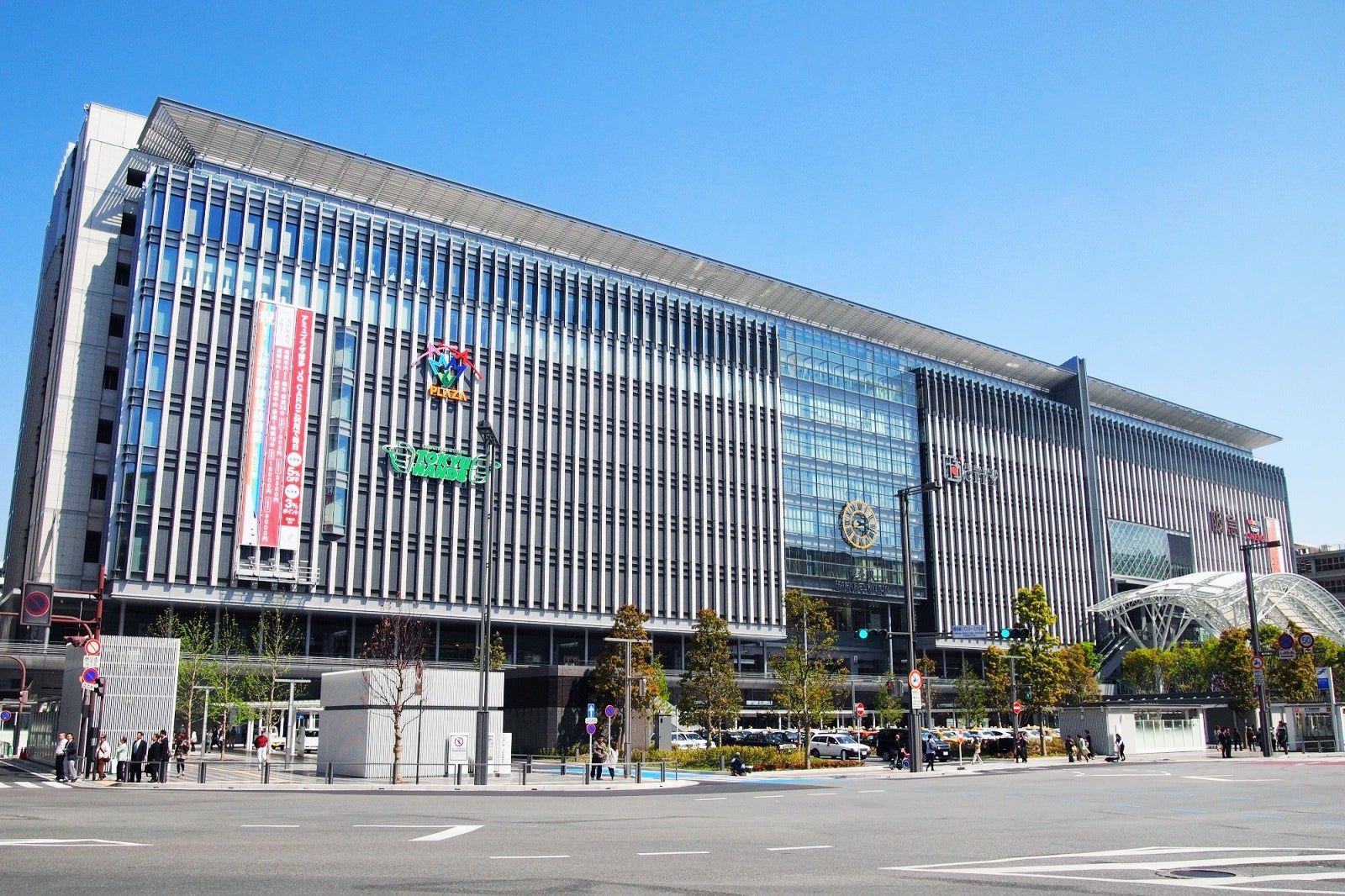 JR Hakata Station was redeveloped with the inauguration of the Kyushu Shinkansen (high-speed railway line). There are many buildings around the station where you won't have any difficulty in finding delicious food. There are more than 40 restaurants in the restaurant area called City Dining Kuten on the 9th and 10th floors of Amu Plaza Hakata in JR Hakata City, one of the biggest station buildings in Japan.
You'll also want to check out KITTE Hakata, which is connected to JR Hakata Station. The 9th and 10th floors, along with the basement floor of this building form a restaurant area called Umaito, where you can find a wide variety of food ranging from local specialties – such as tripe hot-pot (motsu nabe) and tonkotsu (pork bone broth) ramen – to nationwide chain coffee shops. Eki Kara Sanbyappo Yokocho, located on the basement floor of JRJP Hakata Building, is a very popular restaurant area specializing in delicious and quick local dishes.
photo by ぱちょぴ (CC BY-SA 3.0) modified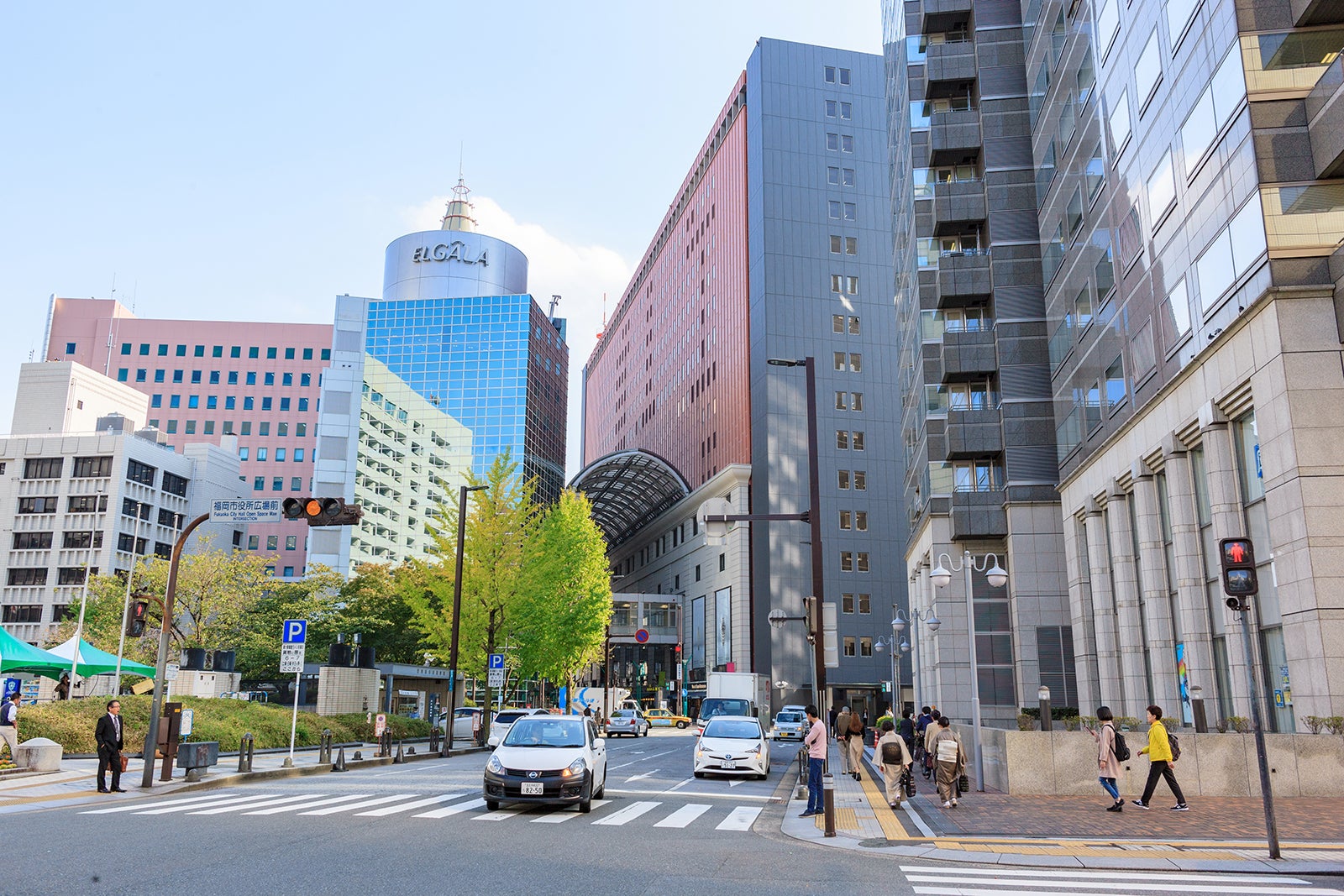 Tenjin is the largest of the 3 street food areas in Fukuoka. It's also a good place for first-time visitors because it's bright even at night, thanks to its department stores and shopping malls. The area is conveniently located within walking distance from Subway Tenjin Station. Dishes on offer include tonkotsu (pork bone broth) ramen, stir-fried ramen (yaki ramen), fried potato croquettes (korokke), Chinese dumplings (gyoza) and grilled skewers (kushiyaki).
There's also a cocktail bar stall and a French food stall, both of which are rather popular among foreign travelers. Make the most out of your visit by buying a stall ticket (yatai kippu) at one of the tourist information centres in Fukuoka.
4
Nagahama Fish Market & Fish Market Center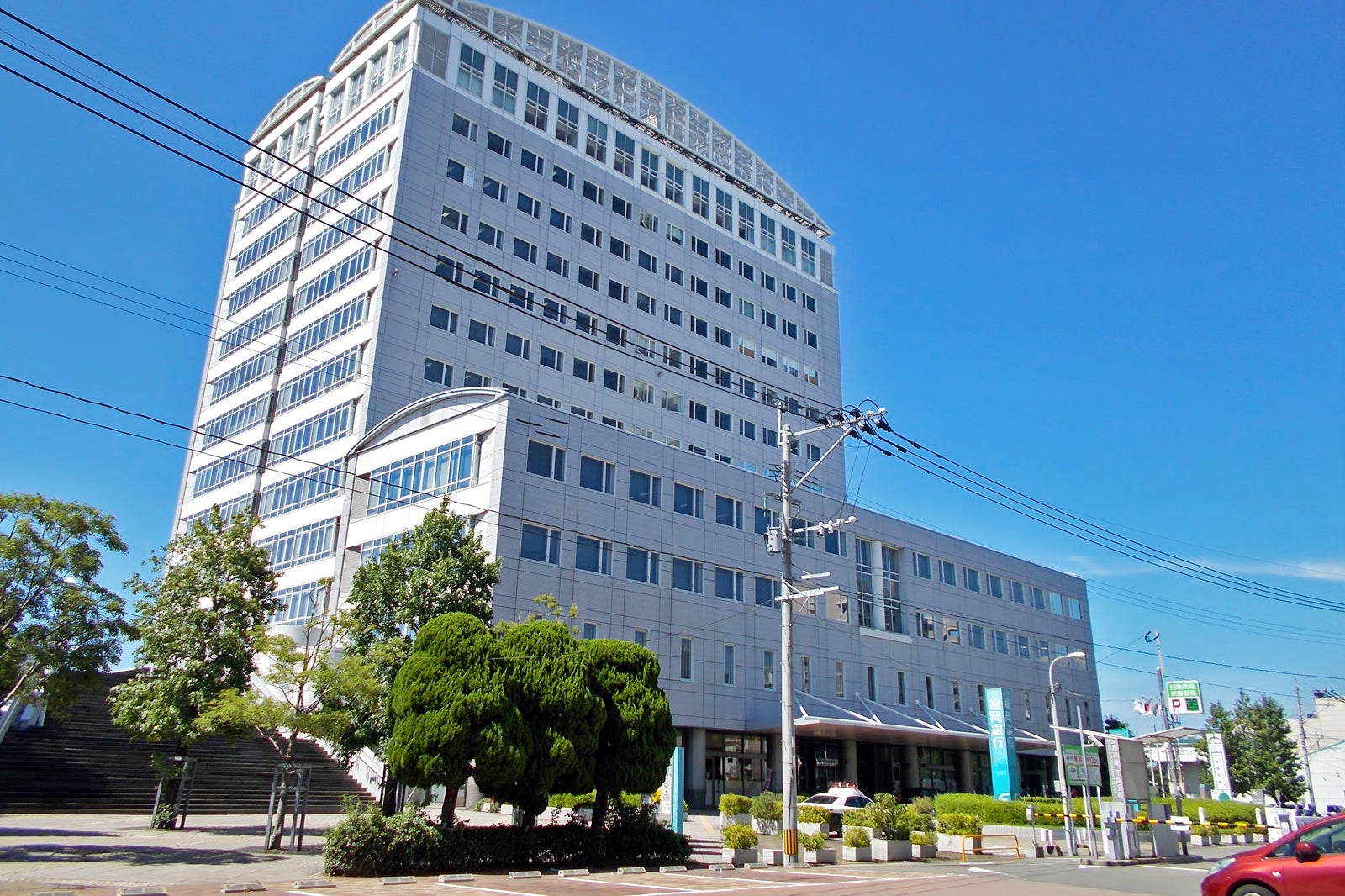 Nagahama Fish Market is where freshly caught fish from the Tsushima Current and Genkai Sea are gathered for distribution. There's a fish market center that's open to the public, which is the largest of its kind in Kyushu. Located just a subway stop away from the downtown area of Tenjin, many travelers visit the market for breakfast or lunch. The closest station to Nagahama Fish Market is Akasaka Station.
There are plenty of specialty dishes using freshly caught seafood on offer, including seafood rice bowl (kaisen don), sushi, sashimi set meals, simmered fish (sakana no arani), and live fish sashimi (ikizukuri). It's a good idea to get to the market early because it quickly gets crowded at lunchtime.
Location: 3-11-3 Nagahama, Chuo Ward, Fukuoka 810-0072, Japan
photo by STA3816 (CC BY-SA 4.0) modified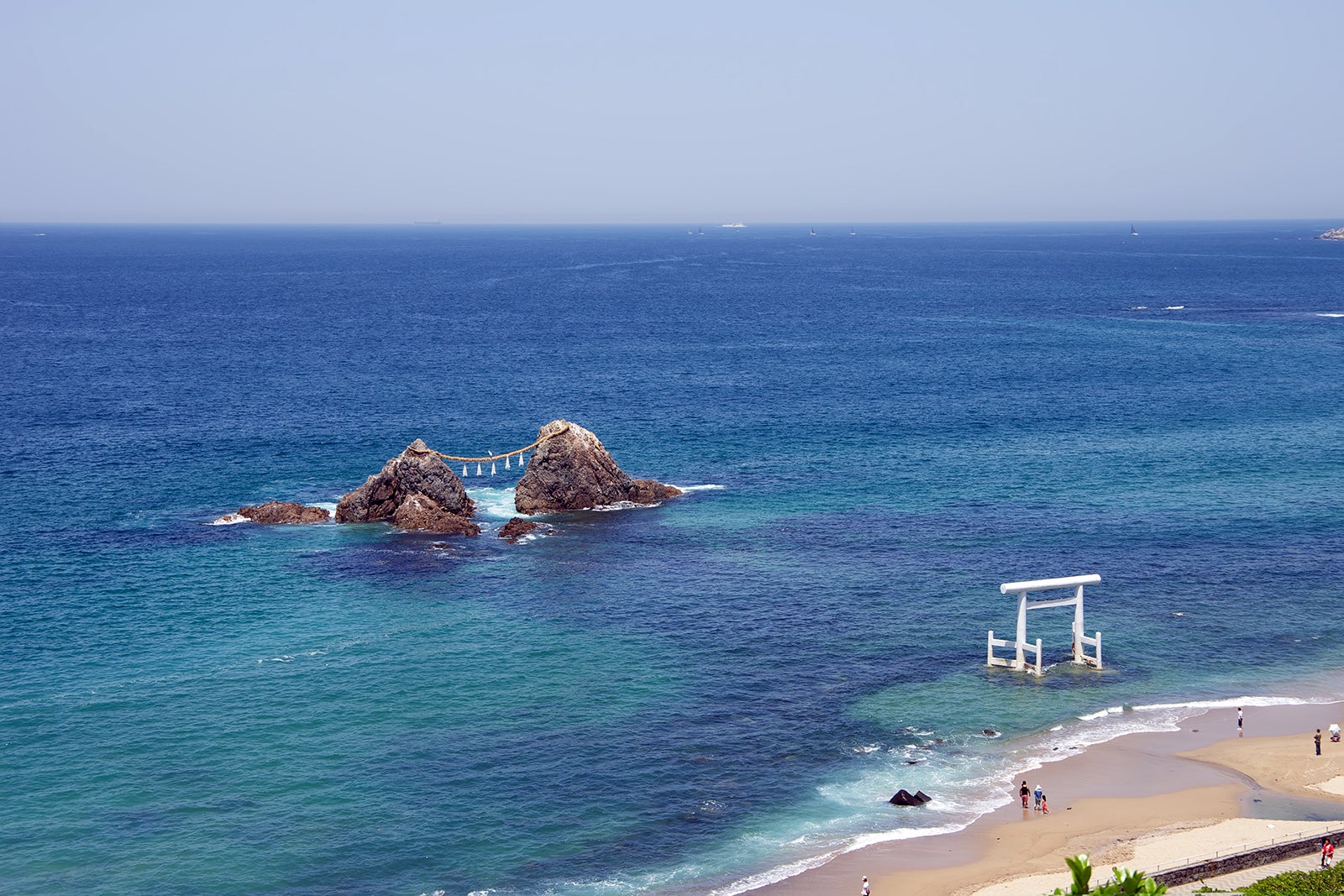 Itoshima is a sightseeing spot that has become increasingly popular in recent years, as the coastline facing the Genkai Sea is lined with international resorts and hotels. This peninsula is a quick drive from Fukuoka's city center. You can also get there by train, getting off at JR Chikuzen-Maebaru Station.
Itoshima has restaurants serving French and Italian cuisine, as well as cafes and bakeries that offer breathtaking sea views. If you prefer Japanese food, it's easy to find restaurants serving seafood rice bowls (kaisen don), fresh sashimi, and handmade soba noodles. In winter, Itoshima is particularly famous for its grilled oysters.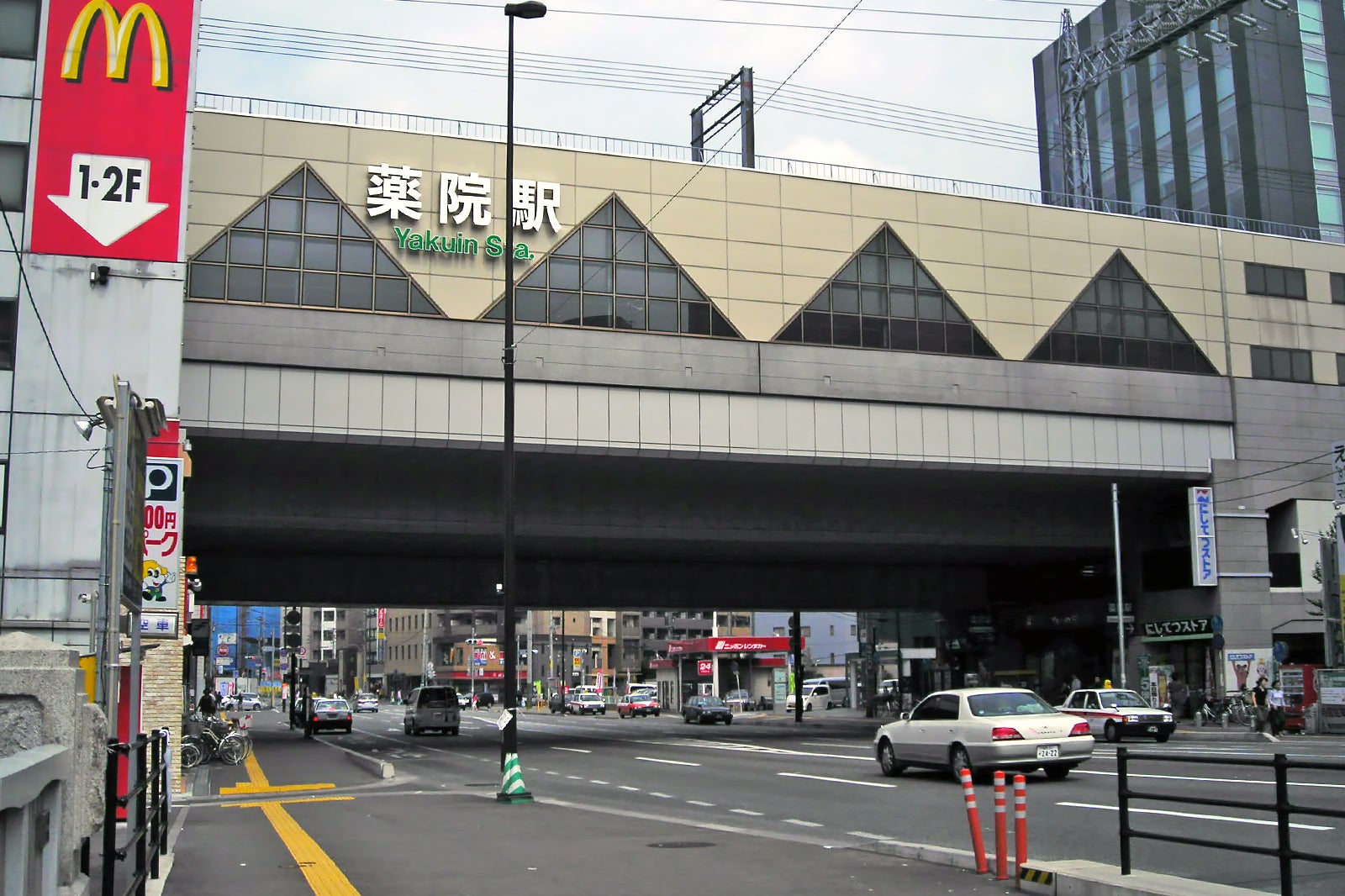 Yakuin is a chic and green area of Fukuoka, located just 1 station away from downtown Tenjin. Fashionable coffee shops abound, serving a wide variety of lunch menus. Dishes served in Yakuin are not only delicious but also photogenic – check out beautiful buckwheat galettes, curry made with whole spices, creative sandwich concepts, and pasta served directly in frying pans. Yakuin is also known for a variety of innovative pancakes.
photo by STA3816 (CC BY-SA 3.0) modified
7
Yanagibashi Rengo Market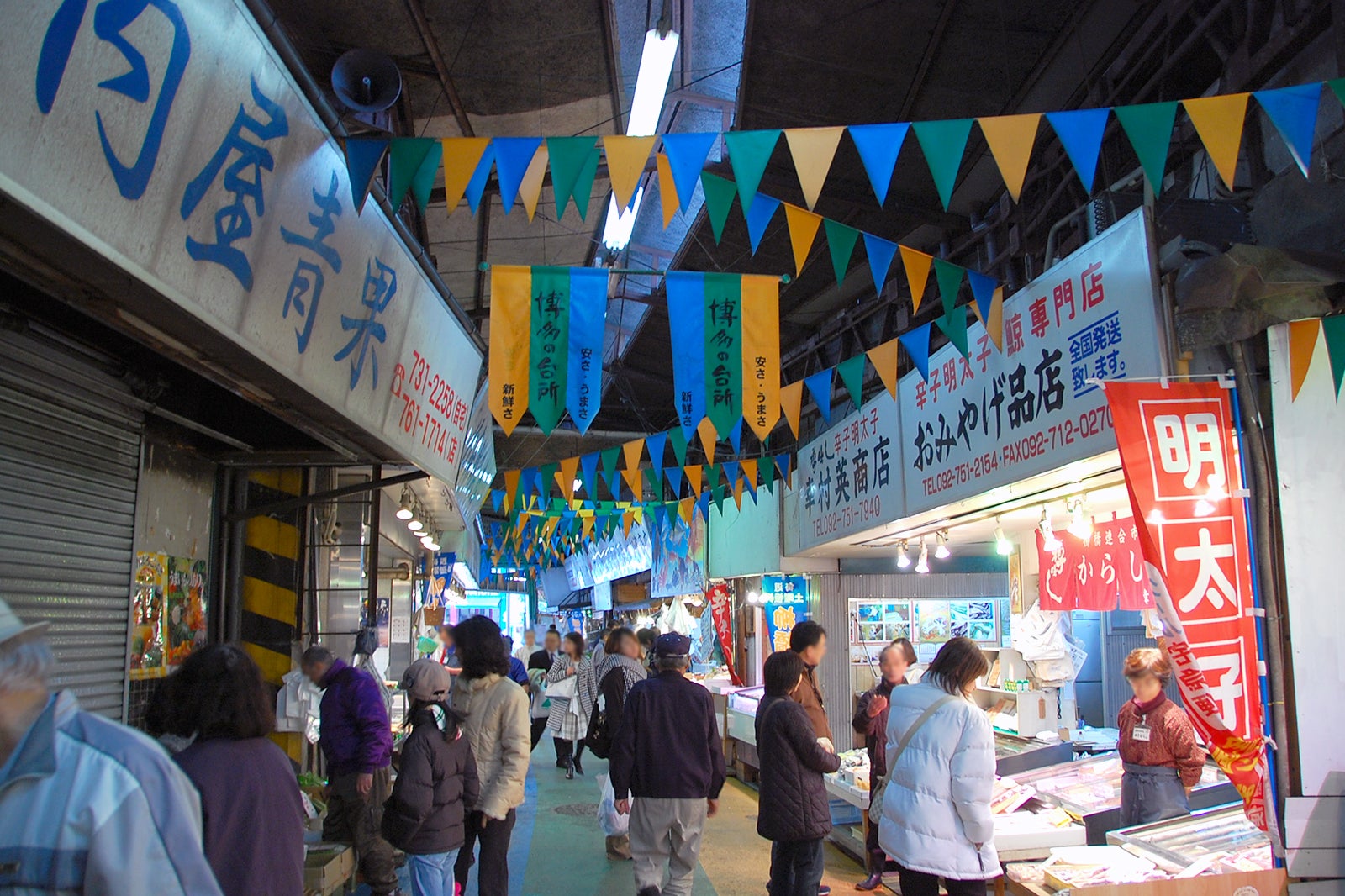 Yanagibashi Rengo Market, also known as Hakata's Kitchen, offers a wide range of fresh ingredients, particularly seafood. You can find around 50 shops lining the 100-meter-long arcade. Founded in the Taisho era, the market was where locals sell fresh fish under a bridge over the Naka River. It still mainly specializes in seafood, though there are several stalls selling vegetables, fruits, dried foods and meat.
You can enjoy freshly fried fish cakes (kamaboko) or dumplings (dango) on the go, or pick up some spicy cod roe (karashi mentaiko) as a souvenir. Yanagibashi Rengo Market's seafood rice bowls (kaisen don) are must-tries if you're looking for a filling meal. You can find these popular and reasonably priced dishes on the upper floors of the fresh market. Yanagibashi Rengo Market is close to the Yanagibashi bus stop on the Nishitetsu Bus Line.
Location: 1 Chome-5 Haruyoshi, Chuo Ward, Fukuoka, 810-0003, Japan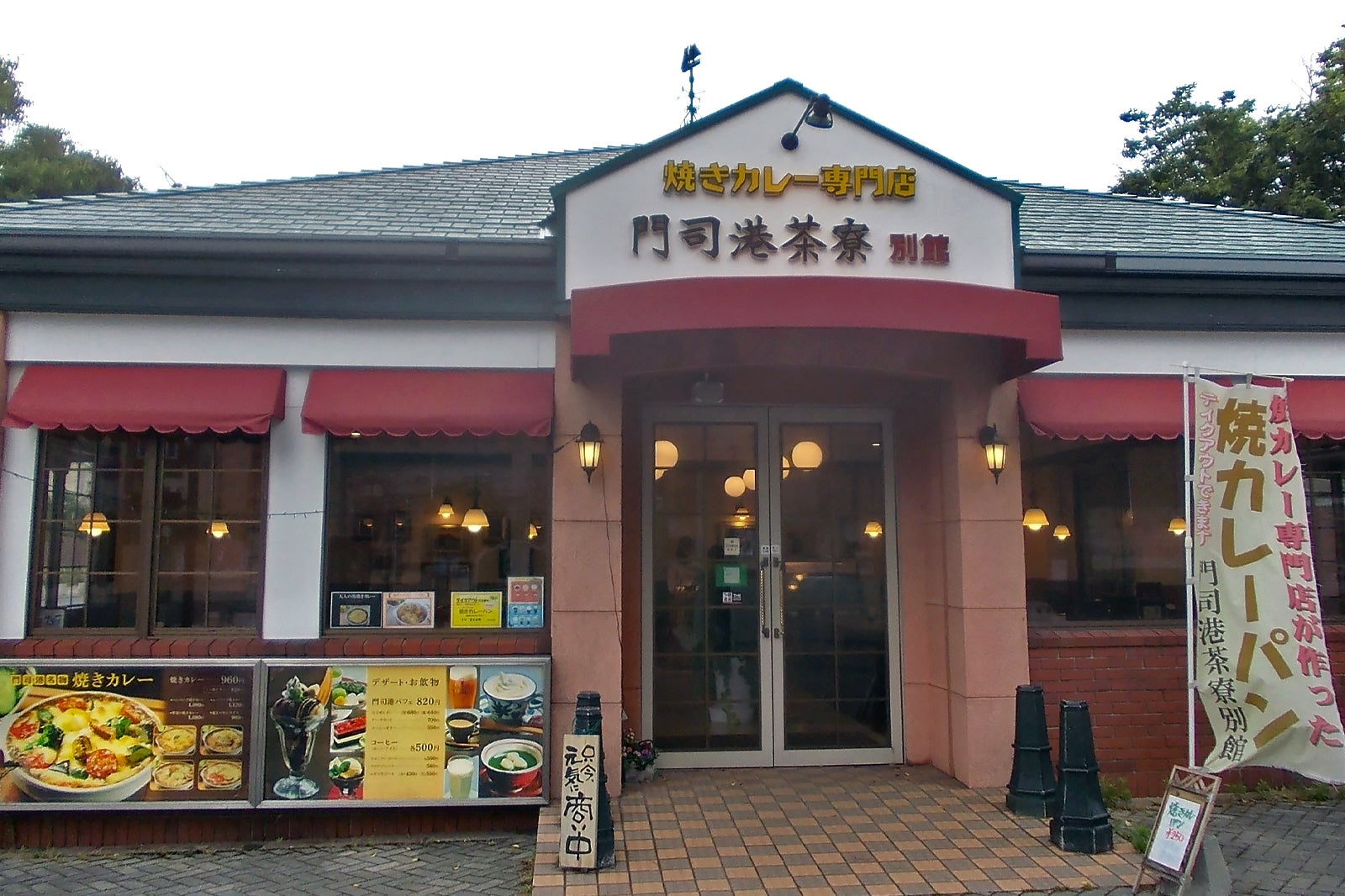 The Moji Port area, which once flourished as a trade port, has many well-preserved buildings from the late-Meiji to Taisho eras. Known as Moji Port Retro Area, this romantic area is ideal as a date-night spot in Fukuoka. A famous delicacy is grilled curry (yaki kare), a fragrant dish of curry sauce and cheese on rice, and grilled like a gratin.
There are more than 20 restaurants that serve yaki kare in the Moji Port area – pick up a free Moji Port Grilled Curry map from a tourist center to navigate your way around the area. Moji Port is easily accessible, as it's within a 2-minute walk from JR Mojiko Station.
Location: Minatomachi, Moji Ward, Kitakyushu, Fukuoka, Japan
photo by STA3816 (CC BY-SA 4.0) modified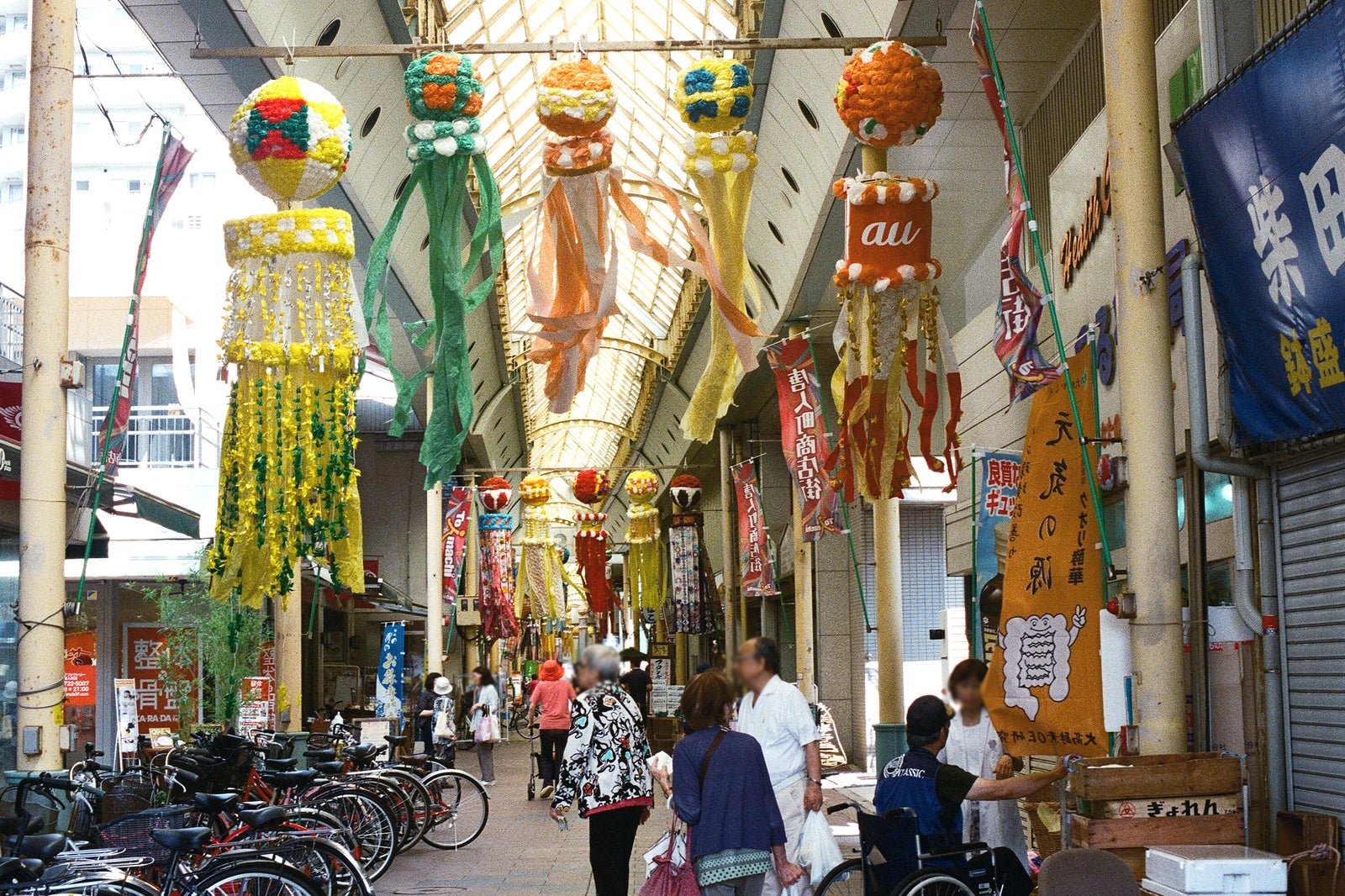 With large parks such as Ohori Park and Nishi Park nearby, Tojinmachi is relatively peaceful despite its proximity to Tenjin – Fukuoka's bustling downtown area. There's also a covered shopping street with old-town vibes. Subway Tojinmachi Station is the closest station to Fukuoka Yahuoku! Dome, the home stadium of Fukuoka Softbank Hawks.
Tojinmachi Shopping Street is a local market where you can find delicious local breads that have people waiting in lines. There are also many reasonably priced restaurants offering affordable set meals and ramen for lunch, as well as casual French, sushi, and skewered chicken (yakitori) restaurants. The shopping street becomes very lively whenever a sports event takes place at the stadium.
photo by Toomore Chiang (CC BY 2.0) modified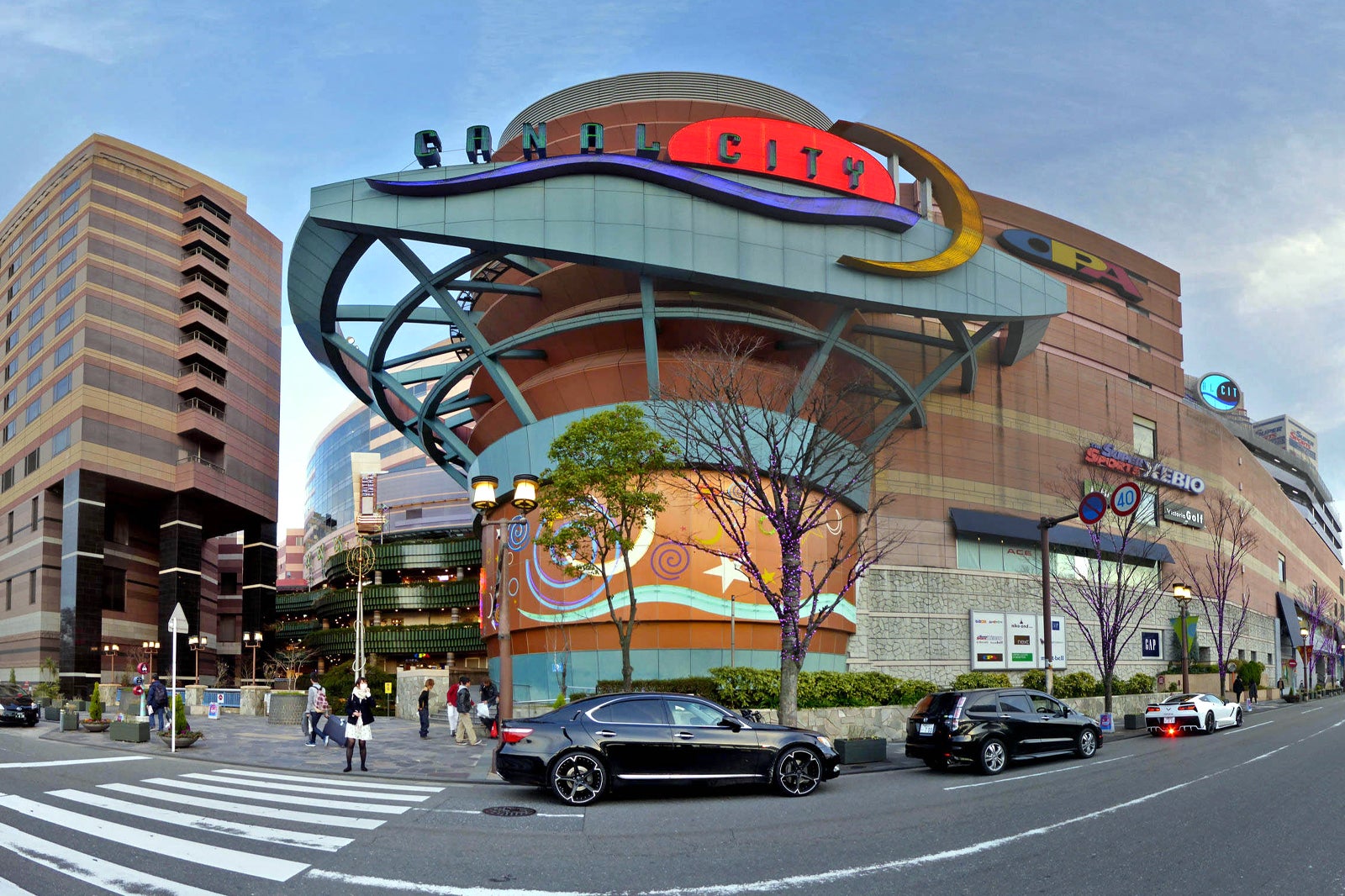 Canal City Hakata is a commercial area that feels like a small town, featuring a shopping mall and entertainment facilities. It's also close to the street food area of Nakasu and within 1 15-minute walk of Hakata and Tenjin Stations. This water-themed complex has a canal flowing through its center, with sculptures and fountains dotting the grounds.
The Ramen Stadium has several popular ramen stalls from all over Japan, including Hakata, Kurume, Tokyo, and Kyoto. If you prefer something different, head to the Grand Building in Canal City to find oyster bars, steakhouses, and restaurants serving authentic Chinese dishes, sushi or hotpot dishes (mizutaki).
Location: 1 Chome-2 Sumiyoshi, Hakata Ward, Fukuoka, 812-0018, Japan
Open: Daily from 11 am to 11 pm (hours may vary)
Back to top