Fukuoka Travel Essentials
Useful Information to Help You Start Your Trip to Fukuoka
Our Fukuoka Travel Essentials guide contains the basics you need to know to enjoy an unforgettable vacation in Kyushu's largest city. In this guide, you'll find details about the local climate, currency, plug styles and emergency phone numbers among other factors. We'll even help you get to your hotel efficiently and find the best ways to travel throughout town once you arrive.
Fukuoka's rich history and culture are best expressed through its local events and landmarks, and this guide will show off some of the best you won't want to miss out on. Take a look at everything you need to get the most out of your trip to Fukuoka.
1
When is the best time to travel to Fukuoka?
The climate in Fukuoka is seasonal, with temperatures in the summer averaging around 28°C and winter temperatures closer to 7°C.
Fukuoka gets the most rainfall in July with 34.5 centimeters on average throughout the month and an average 34% chance of rain daily. June and August tend to get more rain than the other months as well, making summer the rainy season.
The warmest month in Fukuoka is August, with temperatures averaging up to 32.7°C. Highs in June and July tend to average around 30°C.
Summer may be the rainiest season, but it's also the most popular with travelers thanks to the comfortable warm temperatures and range of things to do. However, autumn and spring can be fairly comfortable without having to deal with the crowds.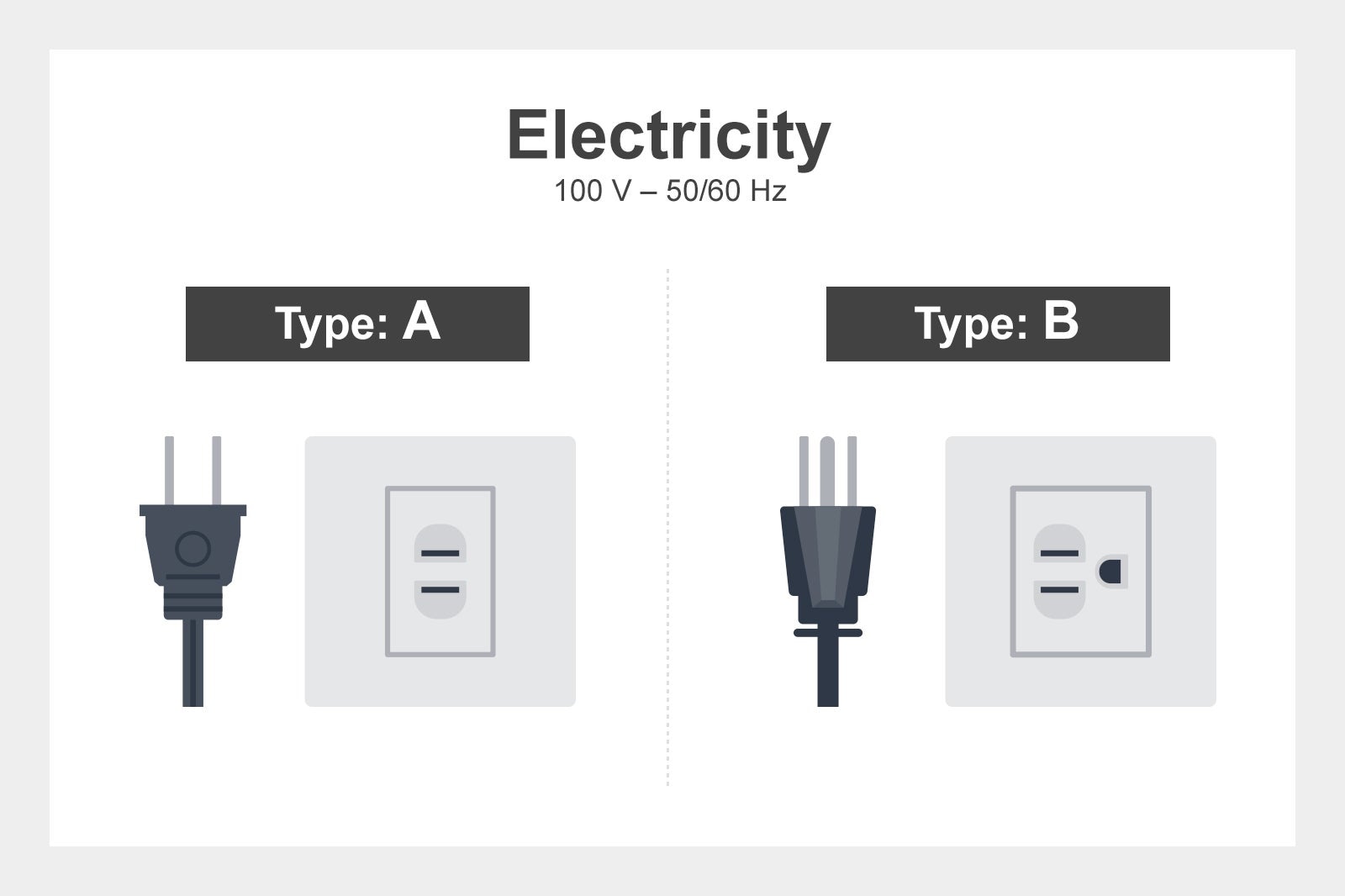 Plug type: Fukuoka uses Type A and Type B plugs like the rest of Japan and North America, so you'll need an adapter for UK devices.
Electricity: Standard voltage in Japan is 100 V with a frequency of 50 / 60 Hz.
Currency: Fukuoka uses the Japanese yen.
International dialing code: The international dialing code for Japan is +81.
Emergency telephone number: For emergencies in Fukuoka, you can call 110 for police and 119 for fire and ambulance services.
3
How to get to my hotel in Fukuoka?
Fukuoka is a busy city in Japan, so getting there is fairly easy if you can make your way to Tokyo. Still, you may even be able to bypass that altogether in some circumstances that can take you directly to Fukuoka when you enter Japan. Just keep in mind that some of the more convenient flights into Japan are seasonal.
Airports
Fukuoka Airport is the closest airport to the city, being just 3 kilometers east of Hakata Station. It has connections to Tokyo as well as several other notable destinations in Japan, China and the South Pacific. You'll even find a seasonal flight from Helsinki available, which is easy to get to if you're starting in the UK.
Major train stations
The major train station in Fukuoka is called Hakata Station, and it has connections all over the country, including places like Tokyo. The Tokaido/Sanyo Shinkansen connects it to Tokyo and only takes about 5 hours in total to complete. If you're using the Japan Rail Pass, however, you'll have to transfer at Shin-Osaka Station, and the journey takes a bit longer.
Ports
The closest major port to Fukuoka is Shin-Moji Port, and ferries come in daily at this location from Tokyo. From there, however, Fukuoka is still about 90 minutes away. If you're in Busan, South Korea, though, there is a ferry that travels between there and Fukuoka directly.
4
How to get around Fukuoka?
Travel tips
Fukuoka's public transportation system is comprehensive, with options to travel via underground and a bus network in addition to car rental. Prepaid cards are available that work on trains and buses in the region, but they won't actually offer any savings. They're just more convenient. The Fukuoka Tourist City Pass, however, offers discounted access to virtually all trains and buses in town along with discounts on some attractions. There's a 1-Day Subway Pass as well that offers unlimited underground rides for a single day at a fixed price of 640 yen.
Underground system
This city has an extensive underground with major stations in Fukuoka Airport, Tenjin Station and Hakata Station. All 3 underground lines intersect at Tenjin Station, the city's most centrally located station. All train announcements are in both Japanese and English, and they run from the early morning to 25 minutes after midnight each day.
Taxi cab and rideshare apps
Taxi cabs are readily available throughout Fukuoka and tend to be most prominent outside of train stations and by the airport. Of course, you can call a taxi cab to wherever you are in town. Tipping isn't customary, so don't worry about leaving behind something extra for the driver. Taxi cab companies in Fukuoka already pay their drivers an acceptable standard. Rideshare apps like Uber are also available, though the most popular locally is the JapanTaxi app.
Bus network
Quite a few buses operate throughout the Fukuoka area, including the 100 Yen Bus. As the name suggests, this bus is always 100 yen per ride, and it runs at least once every 10 minutes. Sightseeing buses are also available, which have a double-decker open-top design to allow you to take in the sights while traveling.
Car rental
Car rental is available throughout the city, and allow you to enjoy the city at your own pace without having to worry about restricted timetables. All you need is to be at least 18 years of age and have an international driver's license. While there's plenty of parking in Fukuoka, parking fees are common.
Bike hire
Cycling trails are prominent throughout the city and the greater Fukuoka prefecture, so it's a handy way to get around. The distances can be vast, however, so this is really only an option for people who are physically capable. Bike hire is available throughout the city, so getting your hands on a bike is simple.
Ferry boats
The Hakata Ferry terminal on the southern edge of the bay near the city centre connects to the Saitozaki terminal on the north side of the bay with ferries regularly taking passengers across the water.
photo by R34SkylineGT-R V-SpecⅡNür (CC BY-SA 3.0) modified
5
What are the main annual events in Fukuoka?
Hakata Dontaku Port Festival
When: May
What: The Hakata Dontaku Port Festival is one of the largest festivals in the country with more than 2 million spectators on average and a tradition that dates back over 800 years. At this festival, you can see parades as well as dancers showing off traditional performances and clothing. It lasts for 2 days and also features stage performances and food stalls.
Where: Around the entire city
Hakata Gion Yamakasa Festival
When:July
What: Hakata Gion Yamakasa Festival is a popular event that features a festival race in which participants see who can be the fastest in pushing parade floats through a course that stretches for 5 kilometers. Some of the larger floats are known as Kazariyama floats and stand more than 10 meters. The tall floats aren't used in the race, however, as their height can be a problem when the race course runs underneath power lines.
Where: Kushida Shrine and greater Hakata District
Hojoya Festival
When: September
What: The Hojoya Festival is a memorial festival dating back more than 1000 years in which participants release living creatures into the surrounding lakes, rivers, forests and mountains. In the modern era, however, the festival is most notable for its food and drink stalls as well as shopping booths that are set up around the shrine from the entrance to the banks of the bay itself.
Where: Hakozaki Shrine
6
What are the main landmarks in Fukuoka?
Kushida Shrine
The Kushida Shrine is an iconic Shinto shrine in town that's dedicated to the goddess Amaterasu and the kami Susanoo. The shrine was originally founded all the way back in 757, but the modern structure is much more recent. In addition to the impressive architecture and tranquil surroundings, travelers can enjoy the Hakata Gion Yamakasa Festival here when visiting in July.
Yoshinogari Historical Park
At Yoshinogari Historical Park, travelers can enjoy a stunning archeological site that showcases a settlement from the Yayoi Period, which covers 300 years before and after the onset of the Common Era. Pit dwellings, tombs and elevated stone houses are available to see here, offering valuable insight into Japanese history in the region.
Hakozaki Shrine
The Hakozaki Shrine is a notable local Shinto shrine founded in 923, though it suffered quite a bit since then through Mongol invasions. Fortunately, it was always rebuilt and stands tall with breathtaking architectural flair venerating the kami Hachiman. This shrine is also home to the Tamaseseri Festival held every January and the annual Hojoya Festival in September.
Fukuoka Castle Ruins
The Fukuoka Castle Ruins are remnants of an Edo period castle that have been preserved by turning it and the surrounding area into Maizuru Park. Ruined walls and a handful of turrets still remain, and surrounding vibrant flora make them stand out in contrast to the greenery or pink of the cherry blossoms in spring. Some reconstructed gates and buildings are around as well.
Back to top