6 Restaurants We Love in Osaka
Where to Eat in Osaka
Osaka is fondly known as the 'kitchen of Japan', and the regional capital of the Kansai region has an abundance of dining options. You can find everything from traditional kaiseki fine dining, to the more home-style cooking of okonomiyaki and sukiyaki. Osaka itself is the birthplace of a number of famous Japanese dishes now available throughout the country.
Okonomiyaki is a savory Japanese pancake made with wheat flour, cabbage, and eggs that is topped with any number of selected items from shrimp and squid to capsicum and even cheese. Yakisoba, fried noodles, also originated in Osaka, as did the iconic takoyaki (octopus balls). Chunks of octopus are enclosed in wheat flour dumplings and cooked in a special griddle pan – you can find stalls selling them on street corners throughout Osaka.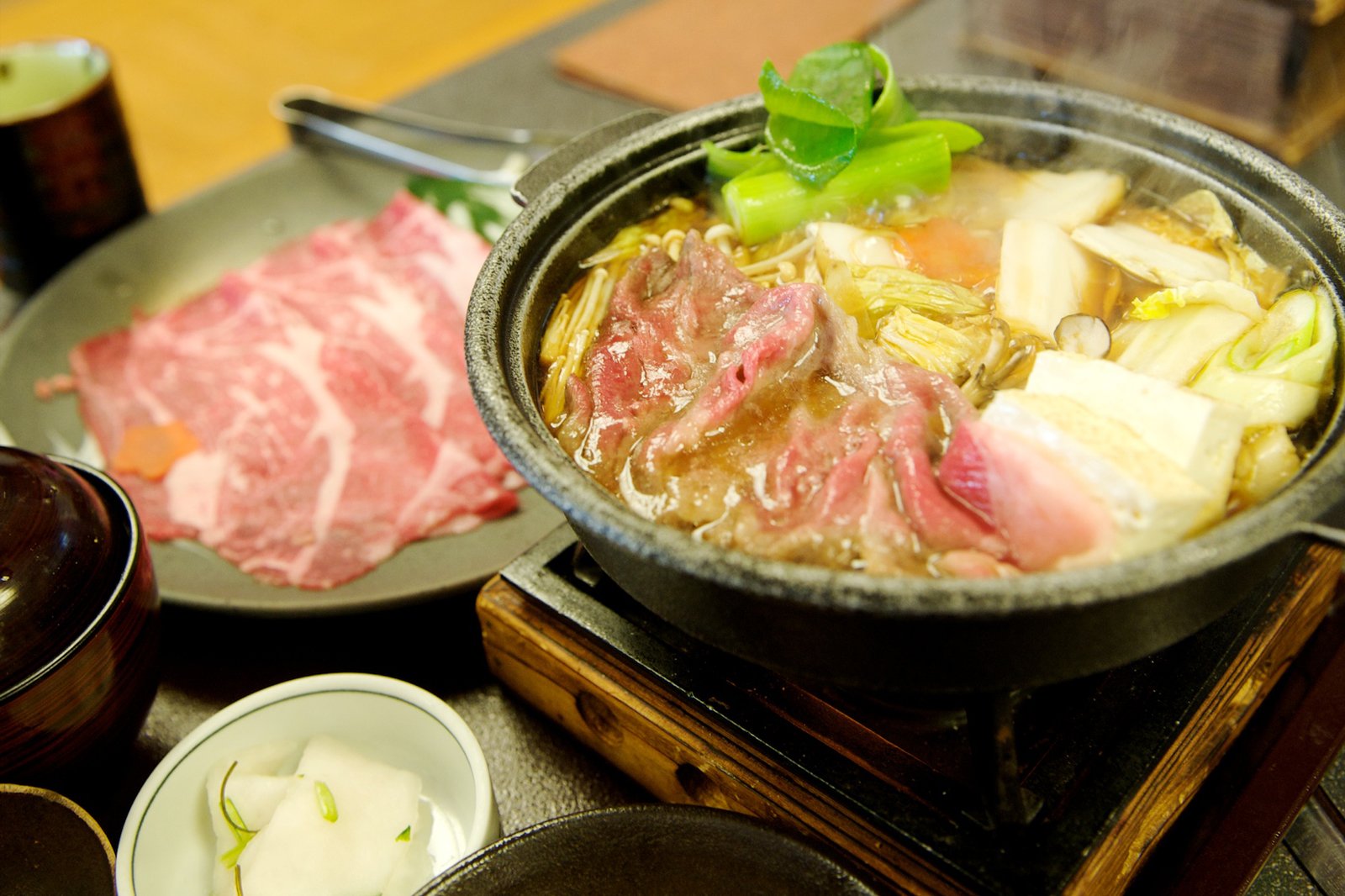 For over 130 years Hon Sekiguchi has served delicious Kansai-style sukiyaki and shabu shabu hotpots to hordes of hungry customers. Made with top quality black cattle beef, the appetizing meals are served in traditional Japanese dining rooms with tatami floor seating or western seating if preferred. This legendary hot pot beef joint is located close to Nippombashi station on the Sennichimae line.
Location: 2-2-7 Sennichimae, Chuo-ku, Osaka, Japan
Open: Daily from 4pm to 11pm
Phone: +81 (0)6 6641 2303
photo by melanie_ko (CC BY 2.0) modified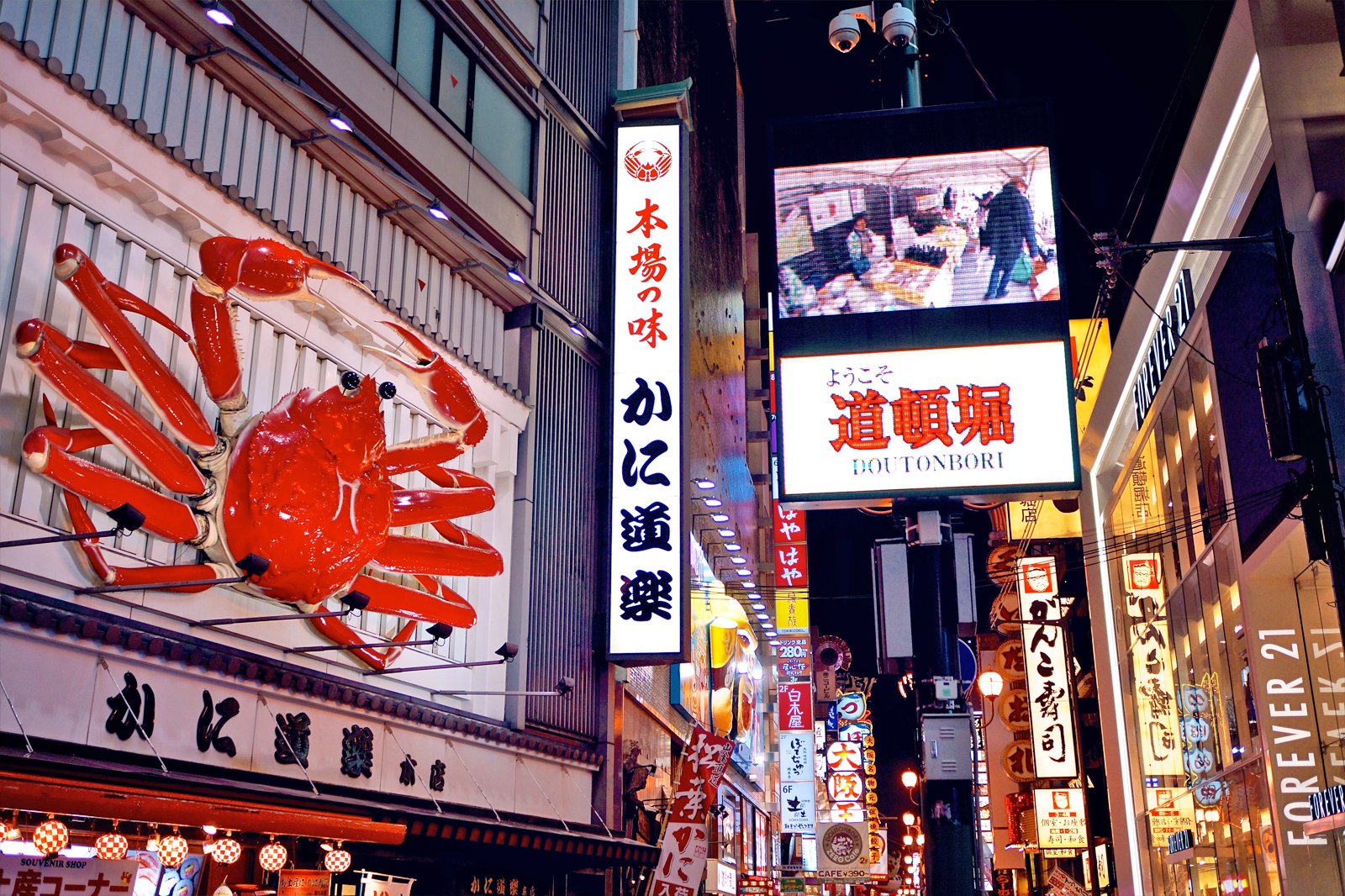 Kani Doraku is a famed crab restaurant that has multiple branches across Osaka and the wider Kansai region. This landmark restaurant is famous for the fantastic crab dishes served in a whole range of styles, and for its iconic 6-meter mechanical crab above the front door, drawing attention outside the restaurant. Despite its commercial appearance, Kani Doraku crab restaurants serves the delicious crustacean in a variety of ways from grilled crab to sushi to salad, and crab hot pot. The original Kani Doraku branch is located on Dotonbori shopping street in central Osaka.
Location: 1-6-18 Dotonbori, Chuo-ku, Osaka, Japan
Open: Daily from 11am to 11pm
Phone: +81 (0)6 6211 8975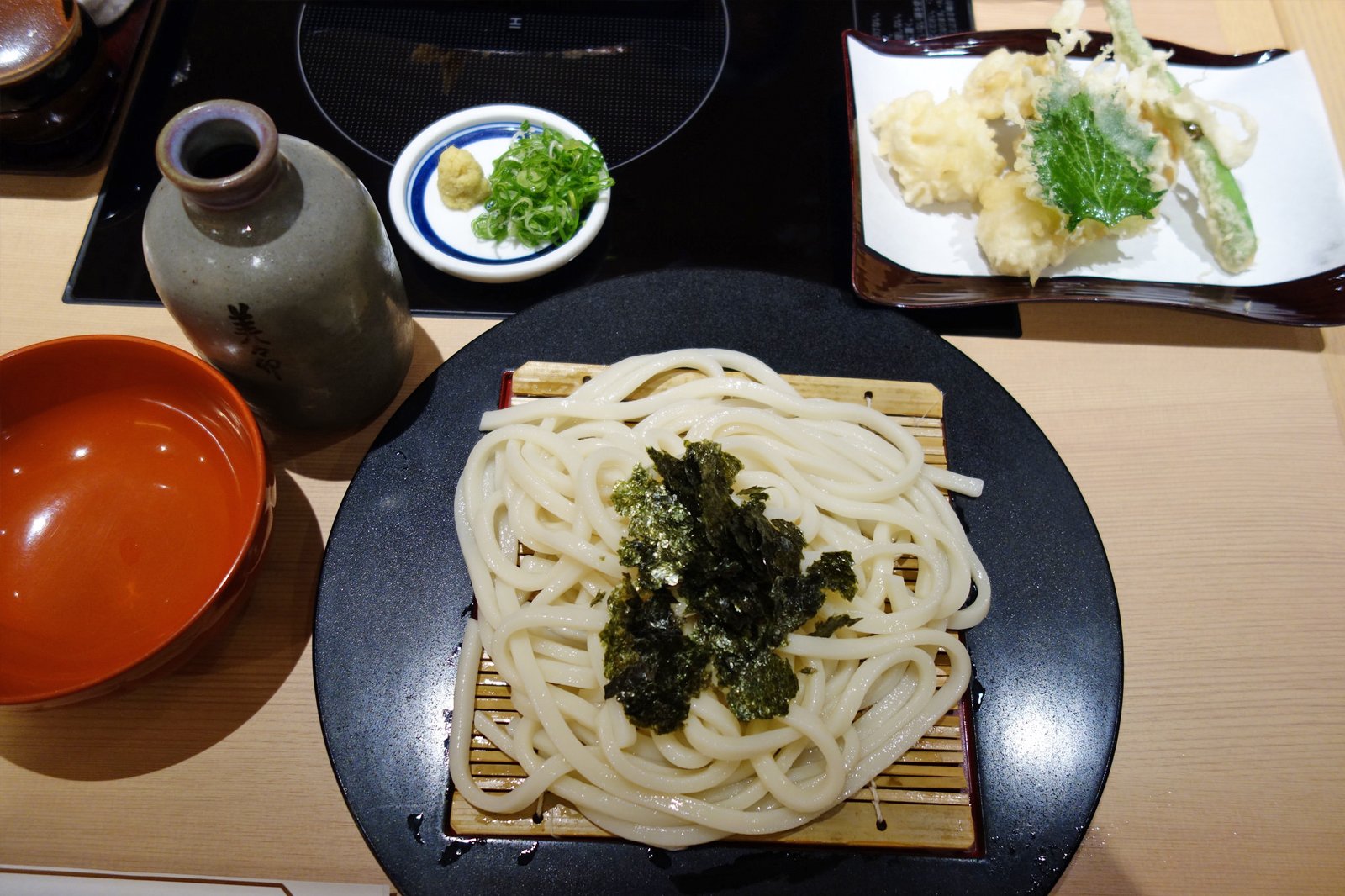 Popular since the 1920s, Mimiu dedicates itself to handmade noodles – soba and udon – as well as other dishes in combination with tempura, seasonal fish and vegetable dishes. The signature udon sukiyaki at Mimiu Honten is a mix of chicken, shrimps, shells and seasonal vegetables is simmered at the table for ultimate freshness and warmth. This restaurant chain now has 14 stores across Japan, but the headquarters is still in Osaka.
Location: 4-6-18 Hiranochomachi, Chuo-ku, Osaka 541-0047, Japan
Open: Monday–Saturday from 11.30am to 9.30pm
Phone: +81 (0)6-6231-5770
photo by pelican (CC BY-SA 2.0) modified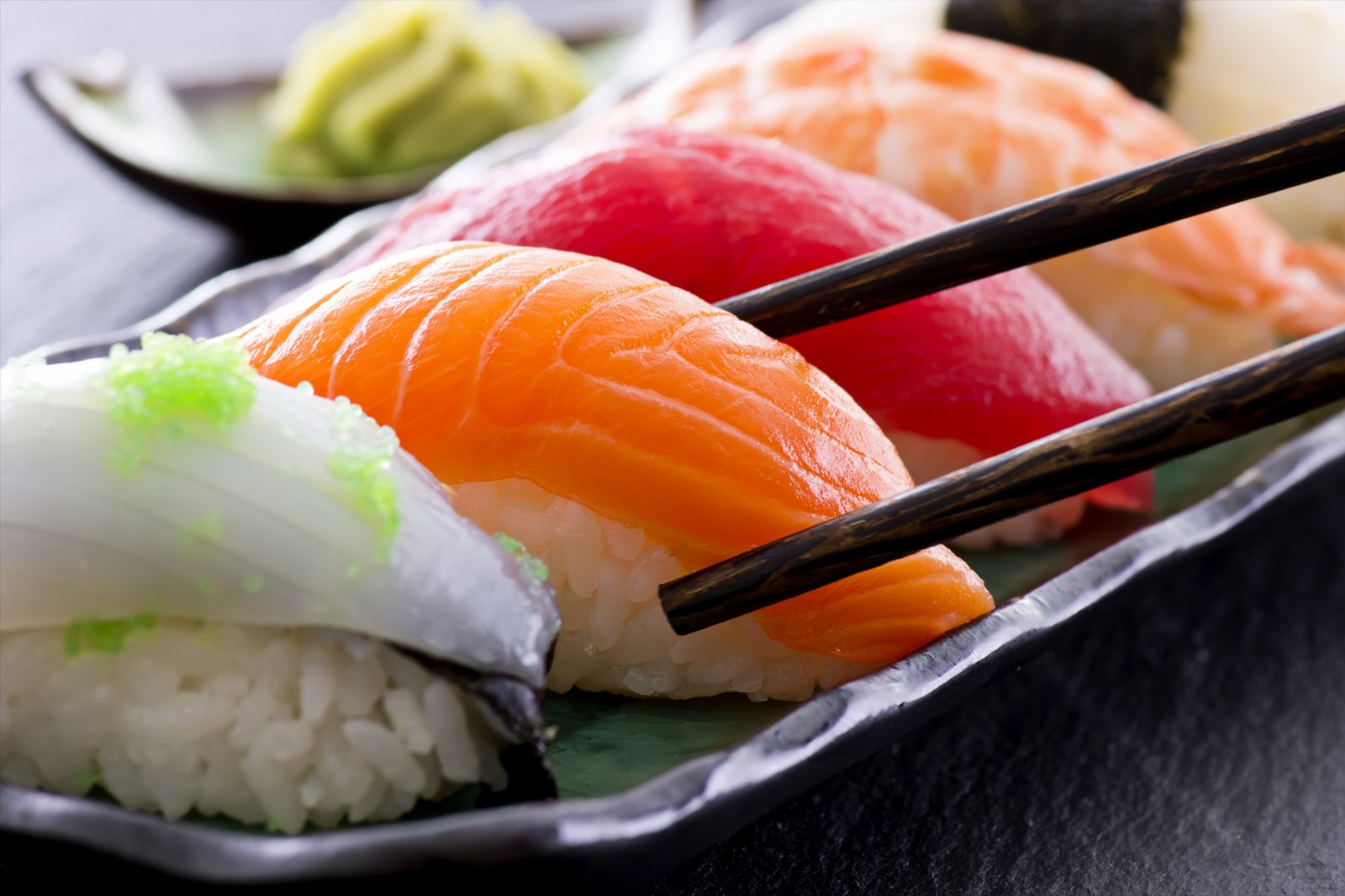 Sushi Issin is a dedicated sushi restaurant that serves up fresh mouthfuls of wonderful fish. Seasonal ingredients dominate the Isshin menu with a great assortment of sashimi, crab, tempura and seafood dishes. The omakase, Chef's recommended menu, is a good way to sample some of the best items. Generous portion sizes and a premium list of sake demonstrate the Osaka fondness for food of good quality and quantity.
Location: 15-12 Doyamacho, Kita-ku, Osaka 530-0027, Japan
Open: Tuesday–Sunday from 3pm to 10pm (closed Mondays)
Phone: +81 (0)6-6311-1616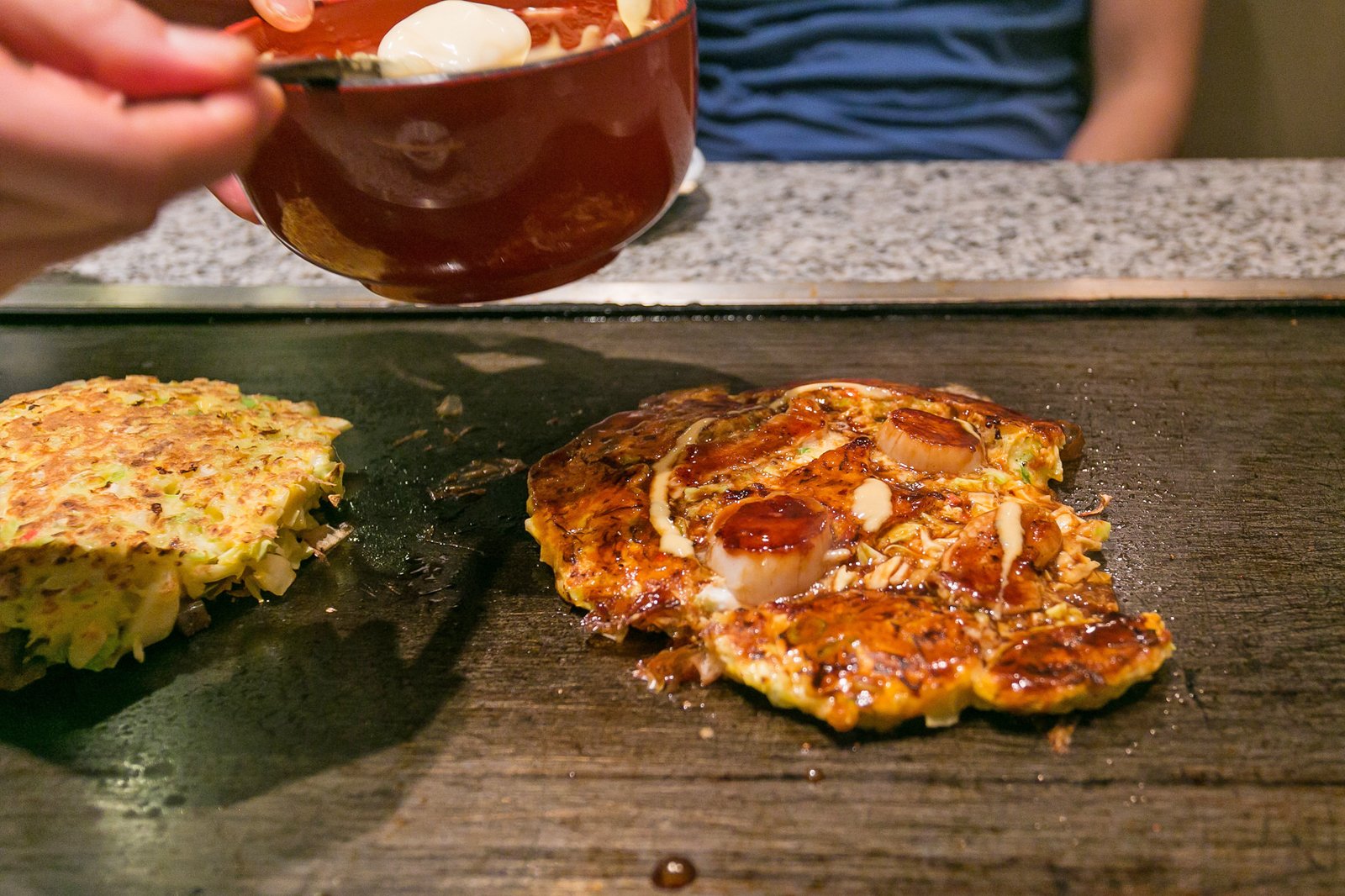 For the real taste of authentic Kansai okonomiyaki head to Mizuno, a family-run restaurant with excellent quality fare. The expert chefs will cook your okonomiyaki for you on a huge iron plate. Choose from many toppings including the freshest shrimp, fish, squid or some with western flair such as cheese or avocado. Okonomiyaki Mizuno has won Michelin stars, which is high praise indeed for this type of casual cuisine. Do note that this small restaurant has limited seats and long queues should be expected. It's located on Dotonbori, close to Namba station.
Location: 1-4-15, Dotonbori, Chuo-ku, Osaka-shi, Osaka, 542-0071, Japan
Open: Daily from 11am to 10pm
Phone: +81 (0)6 6212 6360
photo by City Foodsters (CC BY 2.0) modified
The extensive menu at Maimon presents a tempting array of fresh seafood and grilled chicken, plus a notable list of limited-edition sakes. Enjoy a selection of over 20 kinds of oysters, charcoal-grilled abalone or succulent steamed spiny lobster. The cooking action takes center-stage on a large illuminated counter around which the seating is configured. More private seating is available upstairs. Bishoku Maimon Umeda is walking distance from Umeda station.
Location: 5F Herbis Plaza Ent, 2-2-22, Umeda, Kita-ku, Osaka, 530-0001, Japan
Open: Daily 11am to 3pm and 5pm to 11pm
Phone: +81 (0)6 6456 2388