11 Best Things to Do in Okinawa
What Is Okinawa Most Famous For?
The best things to do in Okinawa take full advantage of the destination's culturally rich urban centres and Asia Pacific's lush, tropical shores. Made up of a string of over 160 islands, Okinawa offers outdoor adventures for the intrepid soul, culinary wonders for the foodie, fun memories for the globetrotting family and more.
Discover the centuries-old temples and kingdoms that influenced Japan's history through the ages, learn the destination's traditional arts and handcrafts through riveting performances and hands-on activities, or dive (literally!) into the islands' natural bounty. In Okinawa, you can have it all.
What are the best things to do in Okinawa?
1
Shurijo Castle
Okinawa's most famous UNESCO World Heritage site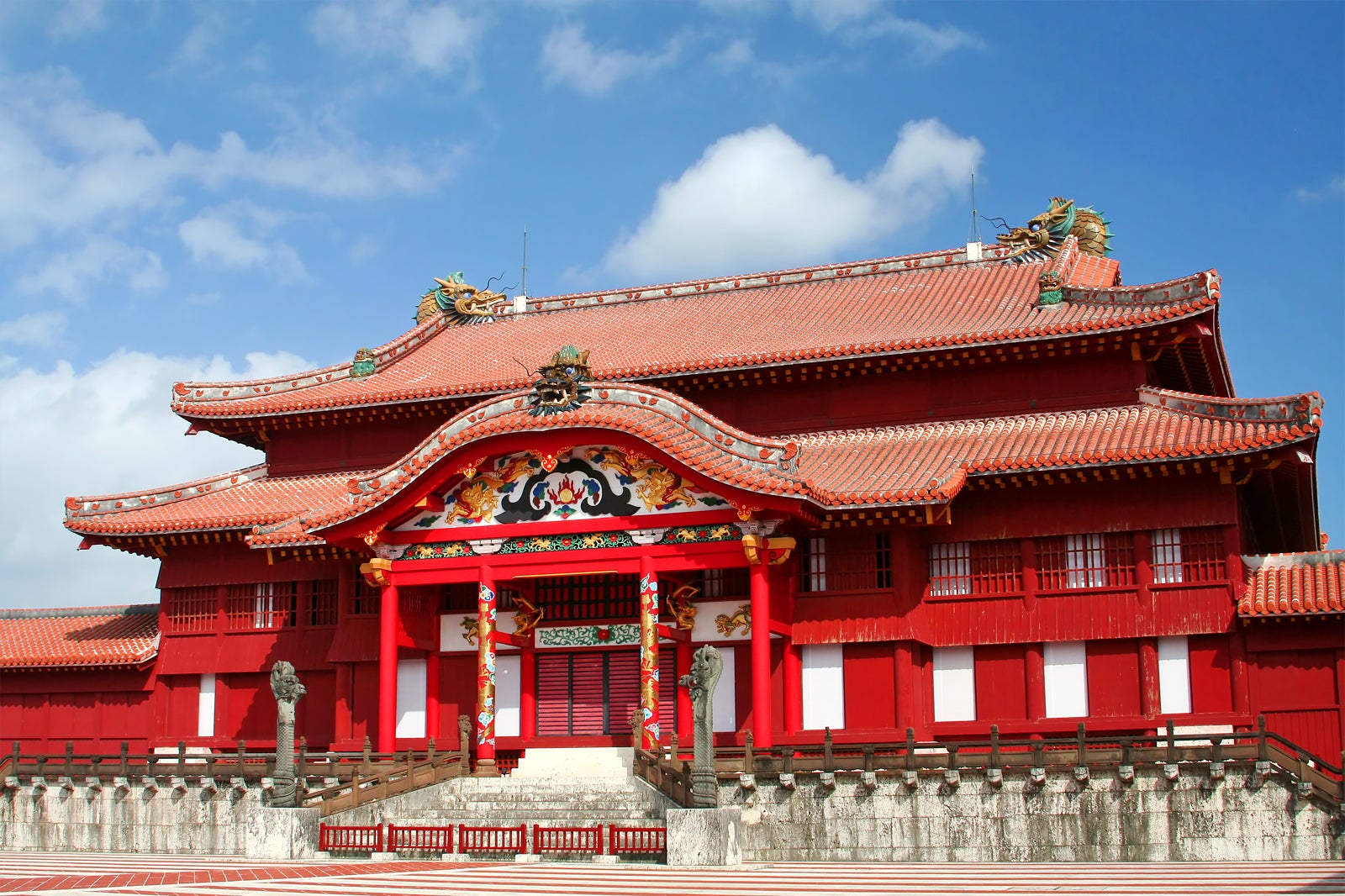 Shurijo Castle sits on a hilltop overlooking Okinawa. Serving a shining reminder of the 15th-century Ryukyu Kingdom, the original castle was unfortunately lost during World War II, specifically during the Battle of Okinawa in 1945, but this rebuild is considered an almost-exact replica of the castle built on the site in the 1700s. The site includes an extensive mausoleum that still contains the remains of royalty, much of which are intact despite the castle's World War II damage.
You'll find that Shuri Castle is one of the most popular attractions in Okinawa, so try to arrive earlier in the day, to avoid the major tourist crowds.
Location: 1 Chome-2 Shurikinjocho, Naha, Okinawa 903-0815, Japan
Open: Daily from 8 am to 8:30 pm
Phone: +81 (0)98-886-2020
2
Okinawa Island beaches
A trip to the beach is a can't-miss activity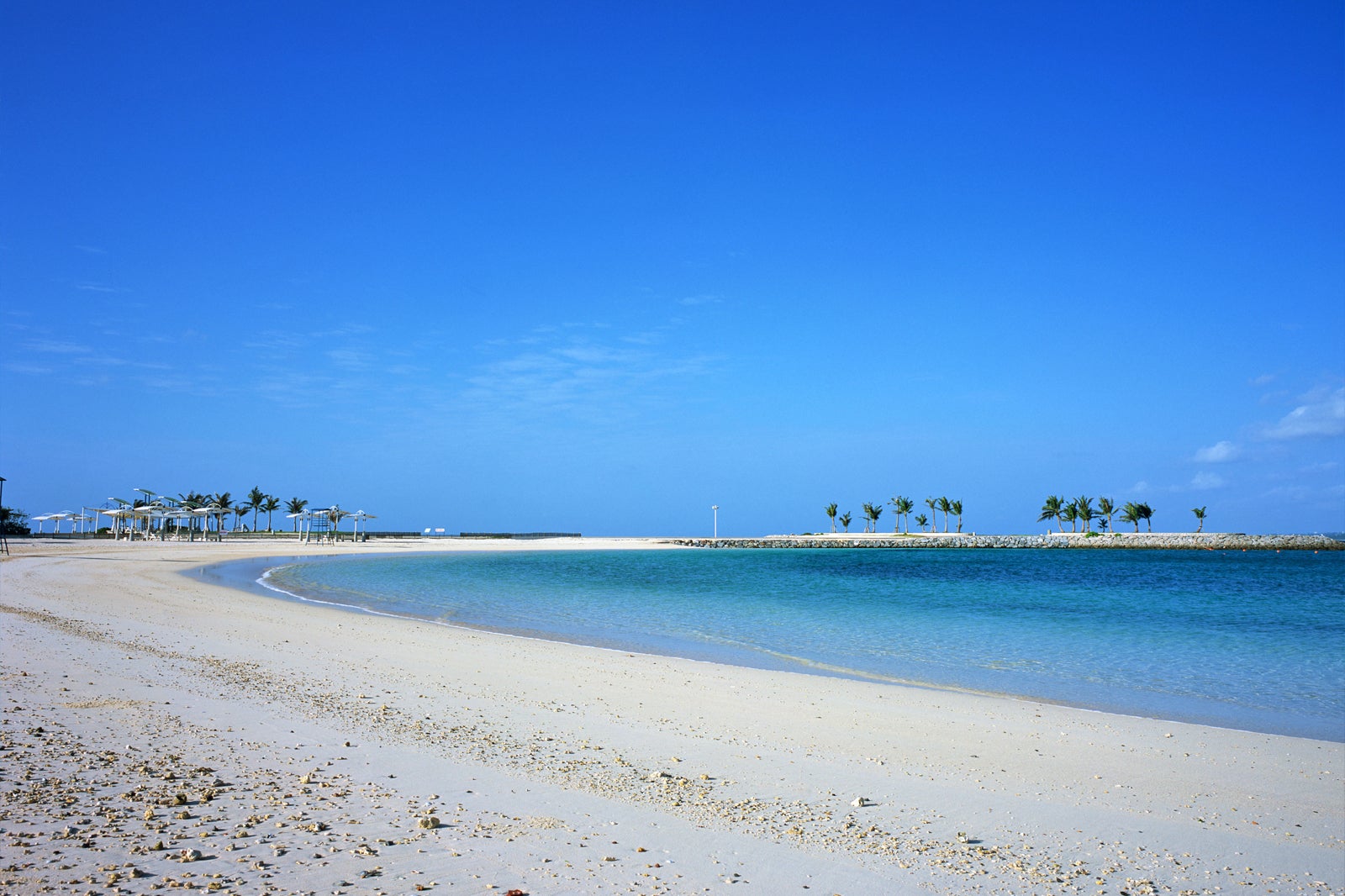 There are so many places across the Okinawa islands to stick your toes in the sand, but doing so on Okinawa's main island is most convenient for most travelers. Manza Beach is near several luxury resorts, such as ANA InterContinental Manza Beach Resort, in case you're looking for a place to stay during your Okinawa trip. Amenities at the beach include water sports rental facilities. One of the most picturesque spots for shore photos, Cape Manzamo, is nearby.
The manmade Emerald Beach is popular with families thanks to its location near Churaumi Aquarium and Ocean Expo Park. Kouri Beach is also a good pick, as it's easily accessible from the main island of Okinawa, but is unique in that it is its own remote island. Okinawa's beaches are known for their hot temperatures year-round, crystalline waters, sugar-white sand and colorful reefs.
3
Futenma Shrine
This 500-year-old shrine gives you a quick hit of Japanese culture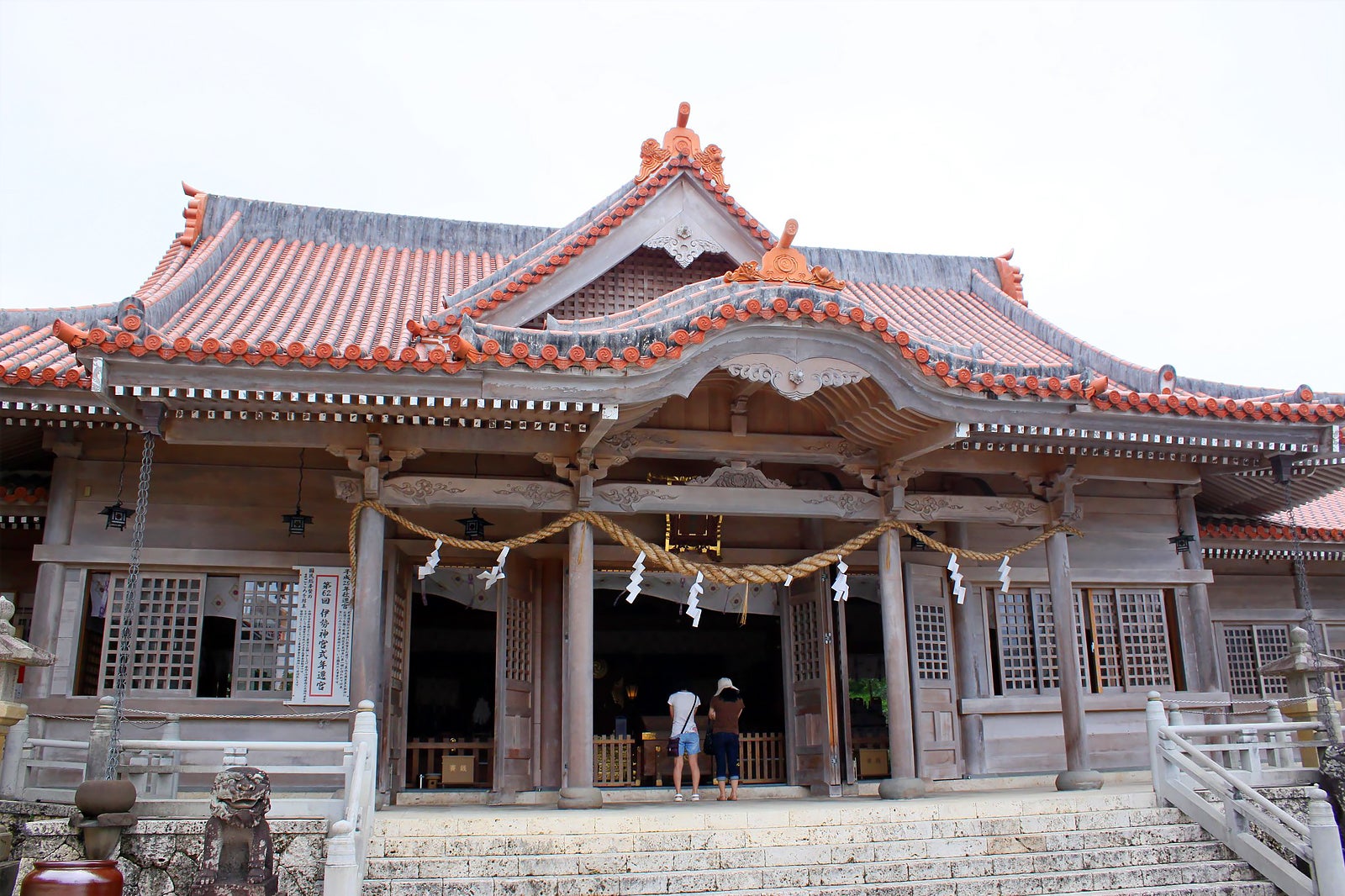 Futenma Shrine is a bit of a hidden gem, plopped down in the middle of Okinawa's otherwise contemporary, cutting-edge architecture. A Shinto shrine, Futenma has been a haven of tranquillity for hundreds of years, made even more special thanks to its survival of World War II, ensuring the preservation of its beautiful Japanese and Okinawan architecture for current generations and those to come.
You're welcome to perform a purification ritual upon entering the shrine and make a donation wish at the entrance to the main hall. If you ask, the staff will also take you on a brief tour of the sacred caves underneath the shrine. Just be respectful of services and worshippers and keep the photos to the exterior of the building.
Location: 1 Chome-27-10 Futenma, Ginowan, Okinawa 901-2202, Japan
Open: Daily from 9.30 am to 6 pm
Phone: +81 98-892-3344
photo by Makoto Nakashima (CC BY 2.0) modified
4
World-class scuba diving
The waters off Okinawa are filled with awe-inspiring sea life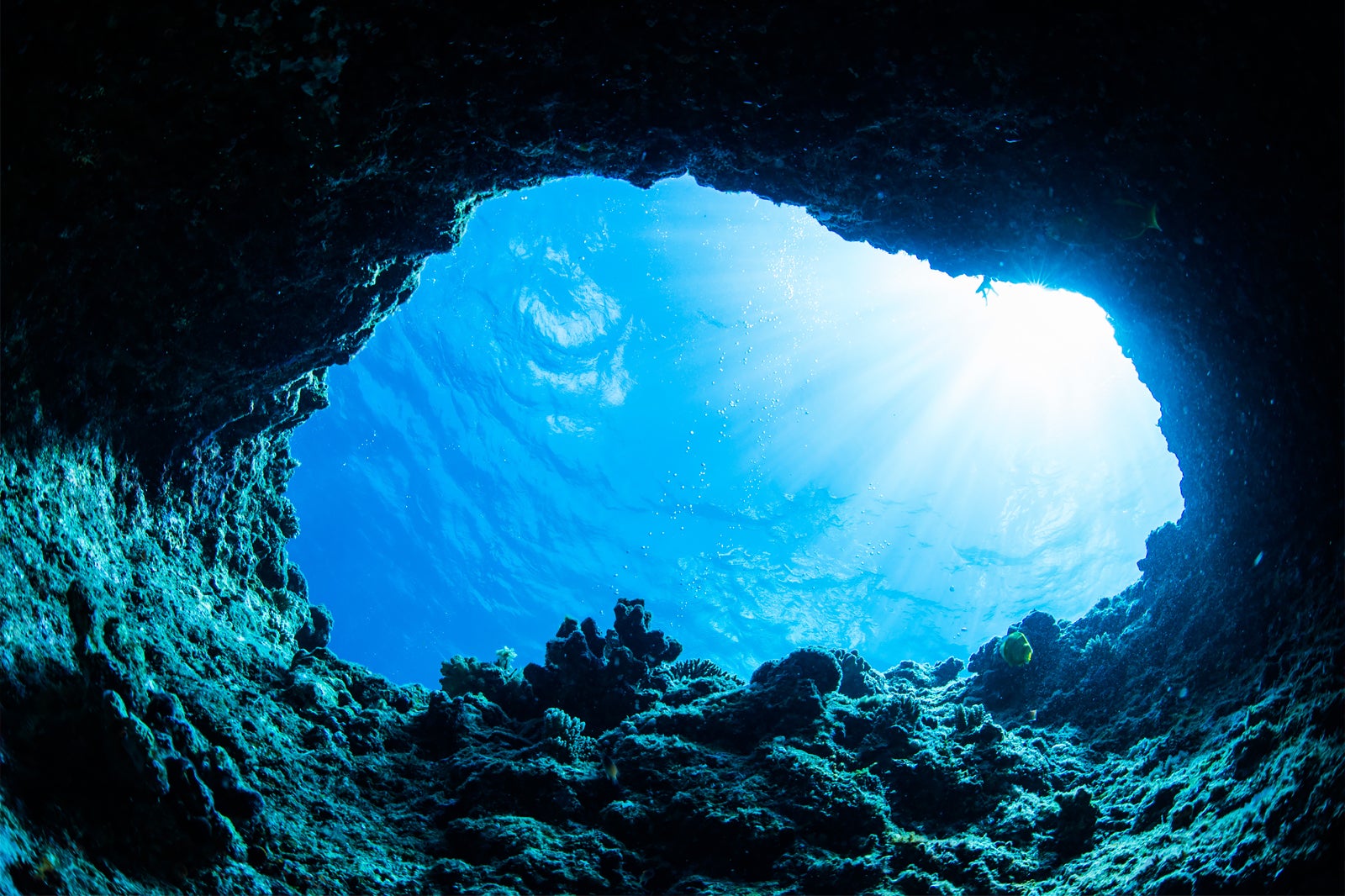 For some travelers, all it takes is one look at the beautiful waters off the coasts of Okinawa to encourage them to dive right in. There are plenteous options for scuba diving excursions off the Okinawa coast. Some of the gorgeous sea life you can expect to see during your excursion? Manta rays, especially around autumn, and sea turtles year-round, alongside loads of vibrant fish, whale sharks and hammerhead sharks.
Beyond the wildlife, if you're in the right spots, you can also see underwater ruins, including the mysterious man-made land formation that was discovered off Yonaguni in the 1980s – could these ruins be a hint at a long-lost Japanese Atlantis?
5
Island hopping in Okinawa
Check out the most beautiful islands in Okinawa
Island-hopping is a great way to explore Okinawa's striking and diverse topography. Okinawa Island is the largest island in the area. It has many amazing sites, including the bustling Naha City and UNESCO-listed Sefa Utaki.
If you're looking for stunning ocean views and adventure, head to Ishigaki, an island known for its picturesque hiking trails and breathtaking beaches. For a traditional Japanese experience, check out Taketomi Island, which is known for its beautifully preserved Ryukyu village with historic red-roof homes.
6
Churaumi Aquarium
Explore one of the largest aquariums in Japan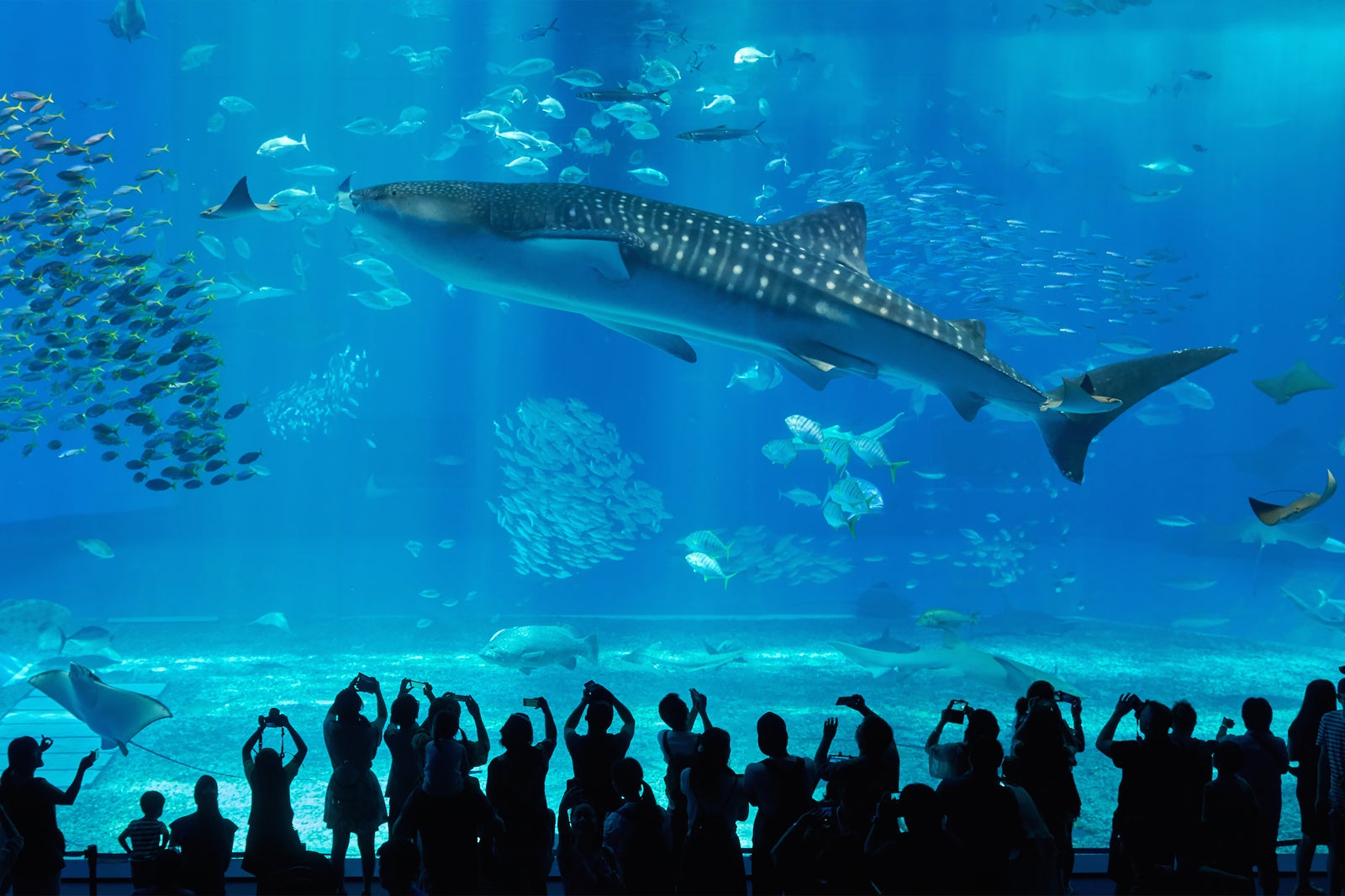 Churaumi isn't just one of the largest aquariums in the country, but also the world. It's also widely considered one of the very best in Japan and, as such, it draws huge crowds. You'll want to spend all day standing in front of the Kuroshio Sea, a huge tank that's home to hundreds of different sea creatures, including behemoth whale sharks.
If you're looking for a way to get out of Okinawa's heat, or even something for the family to enjoy on a rare rainy day, then this is the place to be. Just make sure you pack your walking shoes — in total, the aquarium covers just over 2 hectares.
Location: 424 Azaishikawa, Motobu, Kunigami District, Okinawa 905-0206, Japan
Open: October–February: daily from 8.30 am to 6.30 pm. March–September: daily from 8.30 am to 8 pm
Phone: +81 980-48-3748
7
Okinawa World
Uncover Okinawa's culture in a fun, theme park setting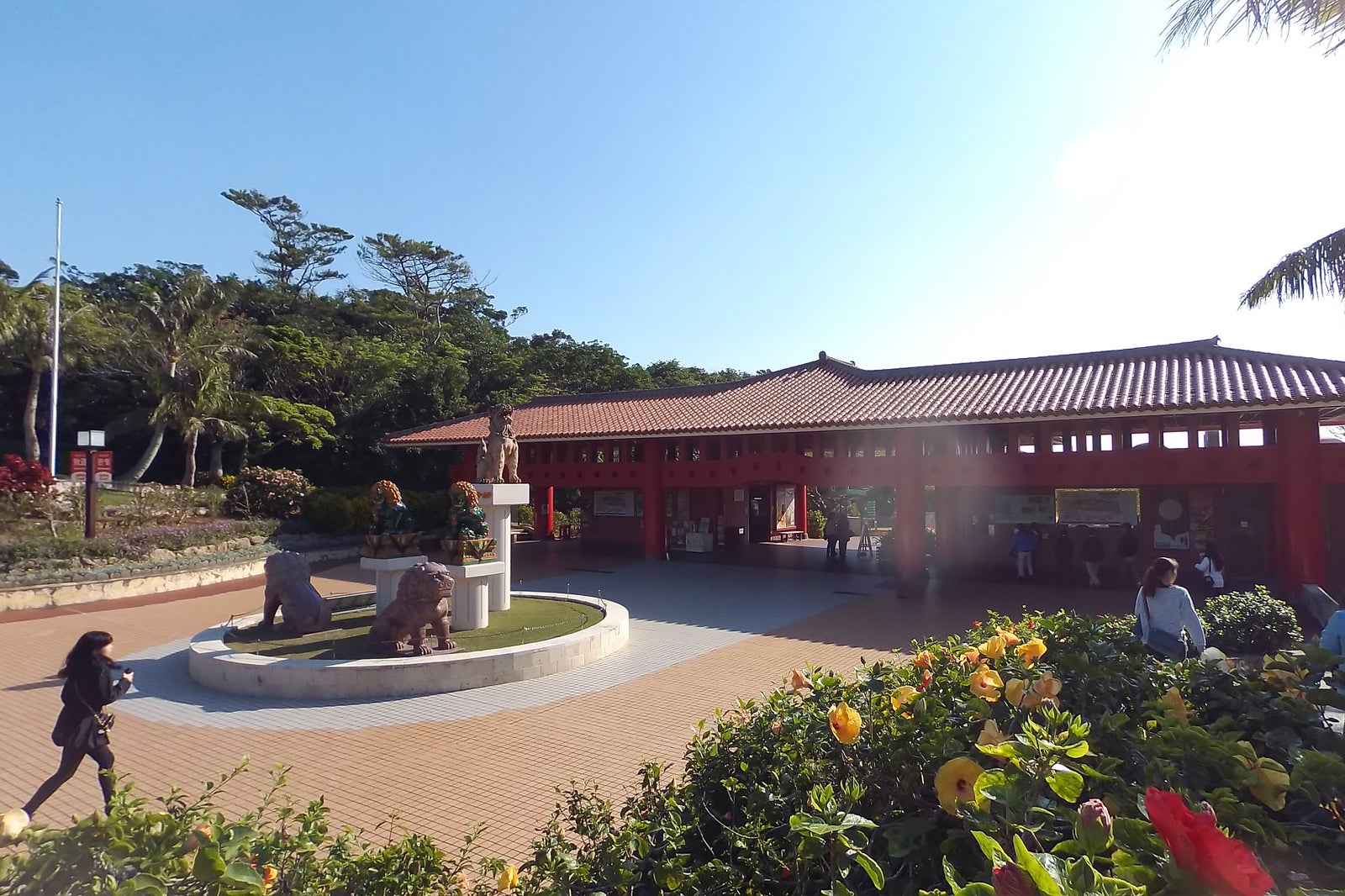 Japan is notable for its many unique theme parks and Okinawa is no different; Okinawa World is a theme park entirely dedicated to the destination's culture and traditions.
Some of the park's primary attractions are the Kingdom Village and Habu Park. The former is a replication of a Ryukyu village, with workshops giving you a glimpse into traditional Okinawa craftsmanship. Learn all about weaving, dyeing, pottery and glass blowing and even get your hands dirty as you try out these art forms for yourself. Habu Park is a snake museum with a snake show and snake display – all in honor of the locally notorious and dangerous Habu snake.
Location: 901-0616 Okinawa, Nanjo, Japan
Open: Daily from 9 am to 6 pm
Phone: +81 98-949-7421
photo by Richard, enjoy my life! (CC BY-SA 2.0) modified
8
Gyokusendo Cave
Get some relief from the Okinawa heat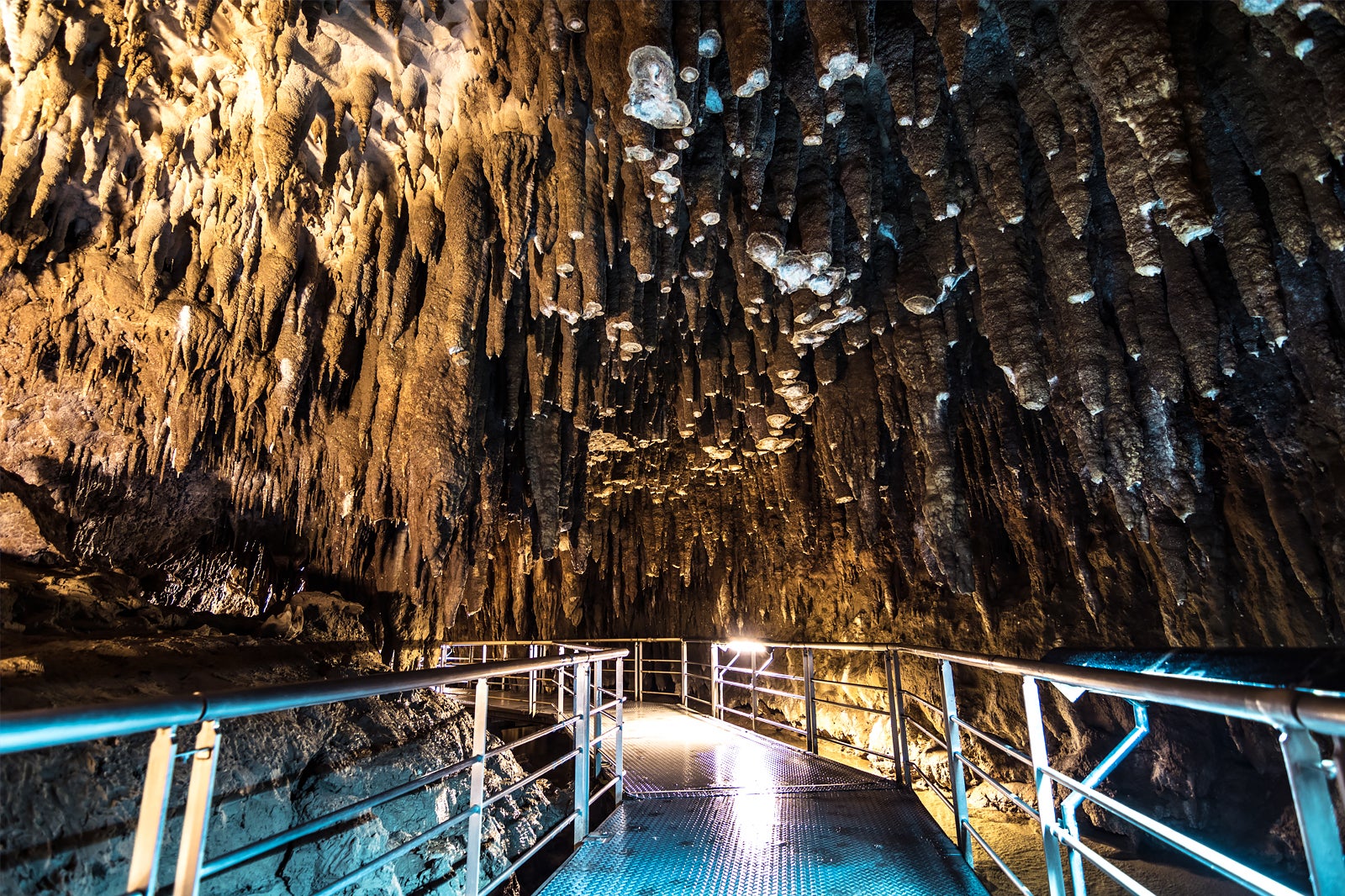 Gyokusendo Cave stretches for 5 km, where you can admire 300,000-years-old limestone structures. After you've had your fill of stalagmites and stalactites, you may want to join the many other visitors who shop the souvenir stalls outside the cave, where one of the most popular items for purchase is an Okinawan delicacy – snake liquor.
Do note that, while the portions of the cave that are open to visitors are outfitted with a steel walkway, there are some steps and narrow squeezes, making this attraction possibly challenging for wheelchair-bound travelers or those suffering from claustrophobia.
Location: Maekawa-1336, Tamagusuku, Nanjo, Okinawa 901-0616, Japan
Open: Daily from 9 am to 5 pm
Phone: +81 98-949-7421
9
Former Japanese Naval Underground Headquarters
Get a glimpse of Japan's side of World War II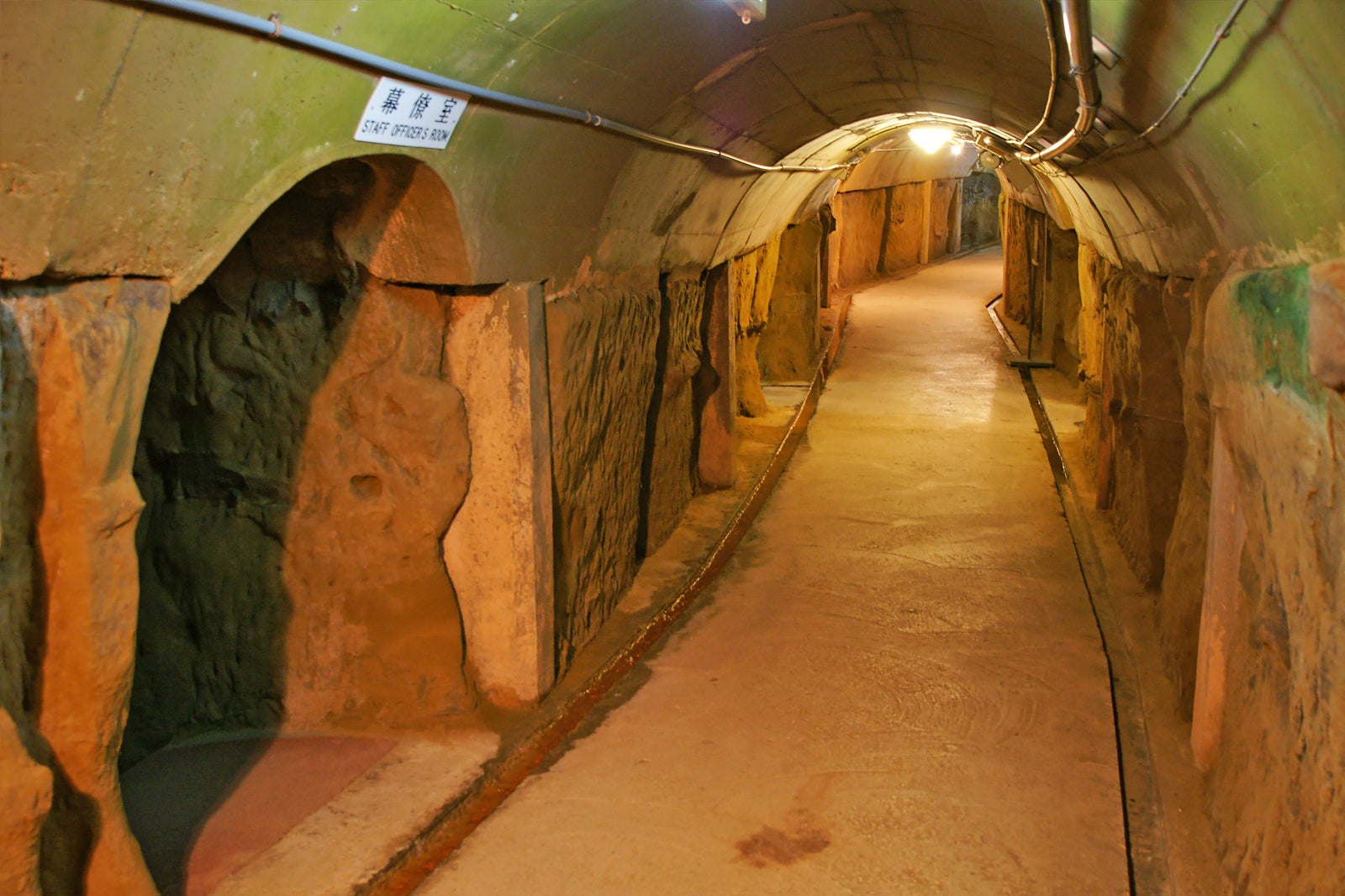 In southern Naha, travelers have the rare opportunity to glimpse an Old Navy Headquarters Bunker used by the Japanese Navy during World War II. This visit is not for the faint of heart, though.
The bunker is infamous as the site of mass suicides when Japanese troops chose to take their own lives rather than risk capture. You can still see the shrapnel marks in the walls from these events. Still, for history aficionados – particularly war history aficionados – the naval underground headquarters is a can't-miss visit in Okinawa.
Location: 236 Tomigusuku, Okinawa 901-0241, Japan
Open: Daily from 8.30 am to 5.30 pm (open until 5 pm from October to June)
Phone: +81 98-850-4055
photo by 663highland (CC BY-SA 3.0) modified
10
Kokusai Dori
Pick up some souvenirs and enjoy the nightlife in Naha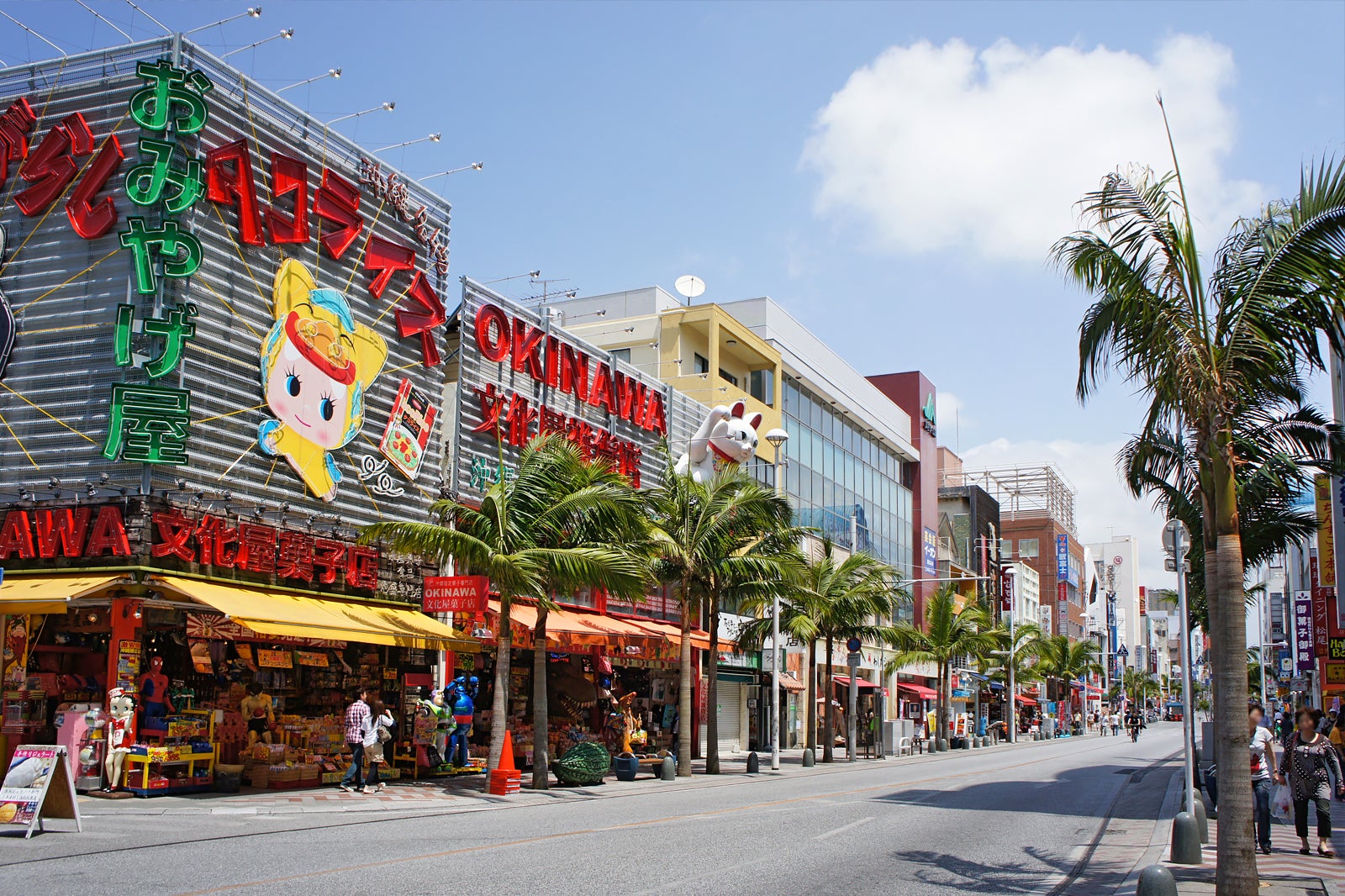 Naha's main shopping thoroughfare is the 2-km Kokusai Dori Street. It could easily be considered the heart of Naha, with its wealth of shopping, hotel, dining and drinking options, many of which are open late, so your fun can extend far into the late evenings. The shopping includes both luxury brands and more touristy boutiques, so you can expect to see a varied clientele roaming the street.
Some of the most popular souvenirs you can pick up in Naha are shisa statues (a Ryukyuan cultural figure that looks like a cross between a lion and a dog) and snacks like chinsuko (a small, shortbread-like biscuit) and beni imo tarts (a pastry boat filled with a cream made from purple sweet potatos). During your shopping excursion, consider dropping into some of Naha's nightlife destinations as well. You'll easily be able to spot a plethora of fun bars and music venues as you stroll around the area.
Location: 3 Chome-2-10 Makishi, Naha, Okinawa 900-0013, Japan
Phone: +81 98-863-2755
photo by 663highland (CC BY-SA 3.0) modified
11
Eat Okinawa ramen with a side of chanpuru
Slurp up some of the local version of ramen, Okinawan soba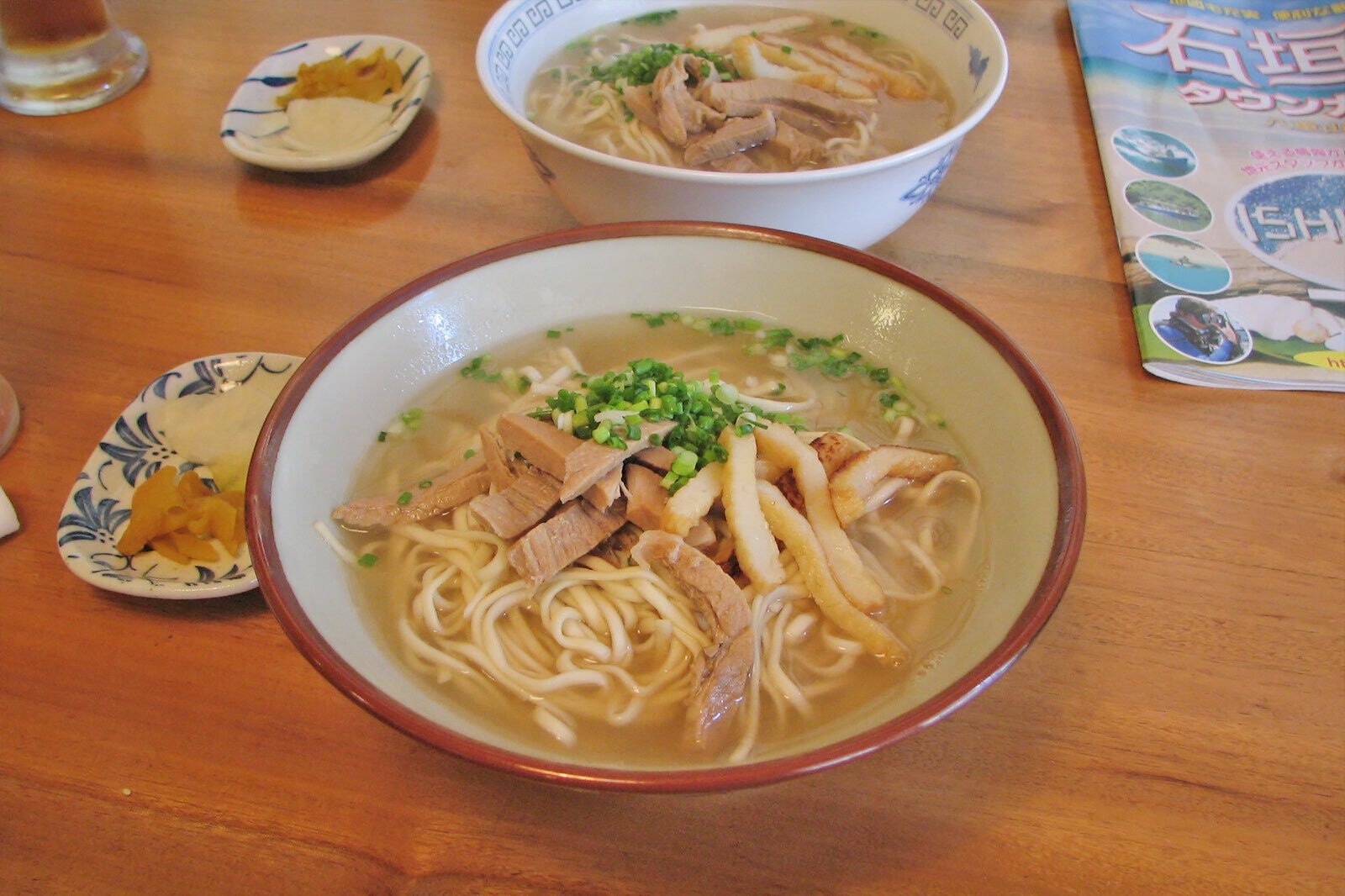 Indulge in a meal of thick, Chinese-style noodles seeped in rich seafood or pork broth, topped with pickled ginger and seasoned to your specifications. Enjoy your ramen with a side of goya champuru – this stir-fry typically includes bitter melon, tofu, meats, veggies, and occasionally egg. Don't forget the drinks! Okinawa's signature sprite is awamori, made from long-grain rice. If you're seeking something a little weaker, try Orion, a popular Japanese rice lager.
You can enjoy these Okinawan dishes at Makishi Market in central Naha. You can even purchase raw ingredients on the market's main floor, before taking them upstairs to the second-floor food court to have them cooked. The market has approximately 400 shops, so you definitely won't be left wanting for options.
Location: 2 Chome-7-10 Matsuo, Naha, Okinawa 900-0014, Japan
Open: Daily from 8am to 9pm
Phone: +81 98-867-6560
photo by pelican (CC BY-SA 2.0) modified
Back to top