25 Best Things to Do in Kyoto
Kyoto Attractions
Kyoto is the place to experience the 'real' traditional Japan. Just a simple walk along the narrow streets will show that the many old wooden shops, stores, teahouses and private homes of the past are still very much in business and are ready to draw you back into the rich history of Japan.
The sliding doors and scents of local restaurants, plus the old-style advertisements and shop displays along the way, are part of the everyday Kyoto charm. There is a long list of 'must-visit places' in this ancient capital that includes the Imperial Palace and shogun castles as well as temples, shrines, Zen gardens, cherry blossom-filled parks and Buddhist temples. We've listed many of the best things to do in Kyoto below.
What are the best things to do in Kyoto?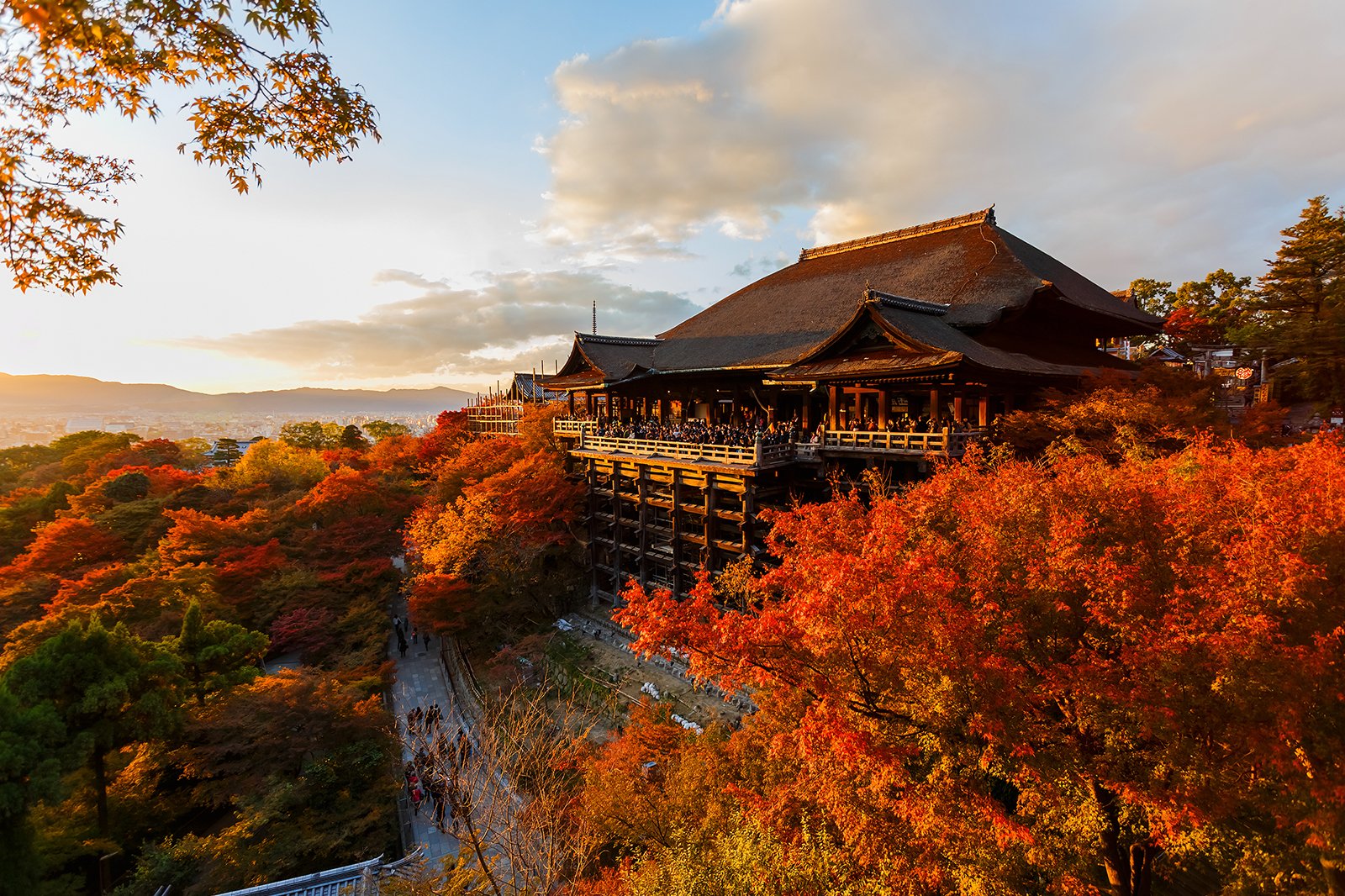 To visit Kyoto and not explore the city's best temples and shrines is unthinkable – they number in the thousands. Some of them are dedicated to Buddhism, while others are Shinto shrines (Japan's ancient religion that believes that everything has a spirit and should be respected). It's incredible how the authentic and serene some of Kyoto's best temples are, despite their convenient location in and around the city center. Read more...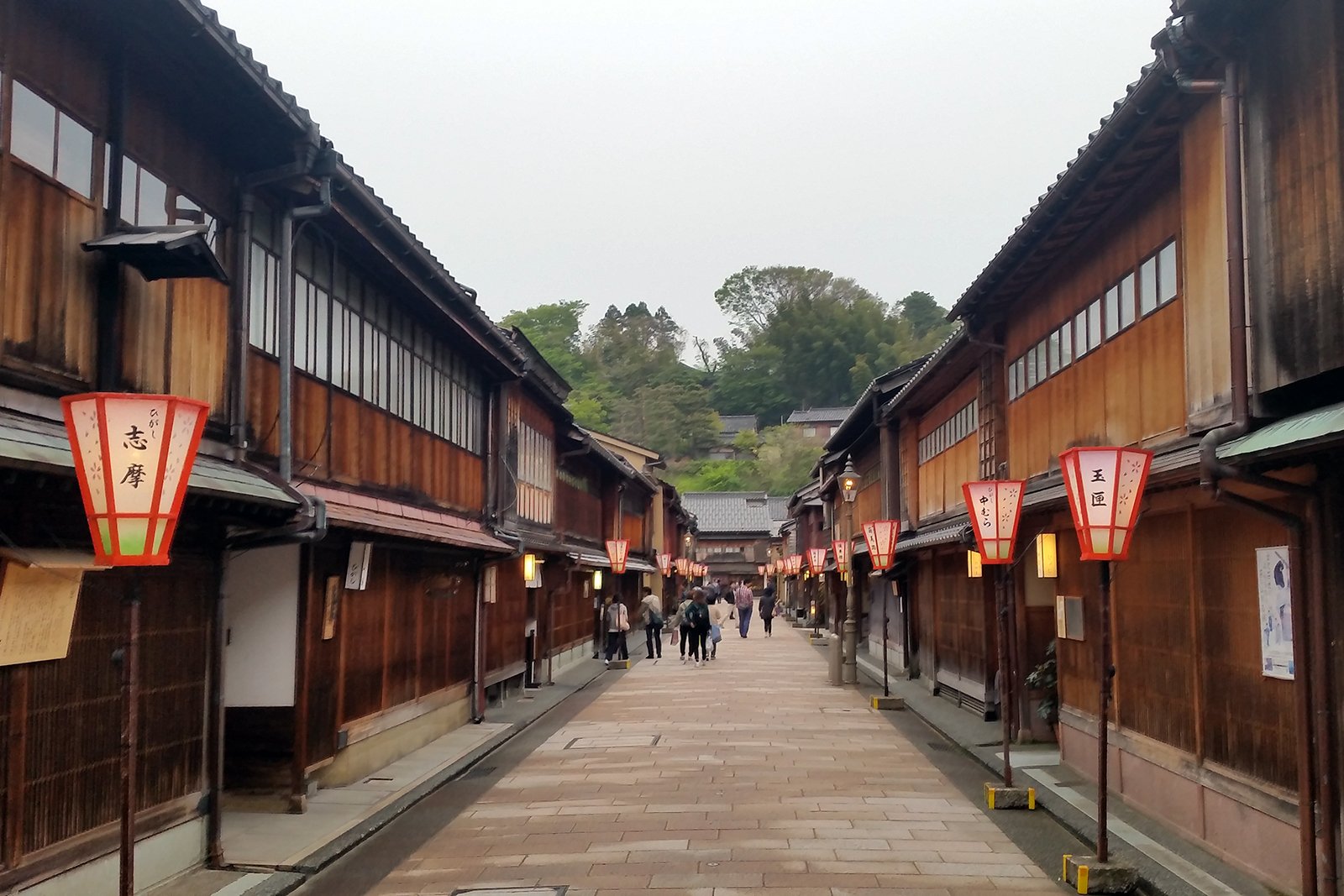 'Geisha' is probably one of the first words that spring to mind when thinking about Japan. Kyoto used to be a major center for geishas but things change rapidly and nowadays it is said that there are less than 500 left in the old capital. In Kyoto, geisha and maiko (apprentice geisha) frequent Gion, a traditional neighborhood east of the Kamo River. Come early one evening to see these beautiful women hurrying to work at the elite and costly teahouses. They are dressed in elegant and expensive traditional silk kimonos with their hair up and wearing chalk-white makeup as they walk along in their wooden geta clogs and white socks. These young and friendly women sometimes slow down and turn to tourists' cameras with lovely smiles. Their job is to sing, dance, play traditional instruments and entertain their guests, and the cost of their company is not cheap.
Location: Gionmachi Minamigawa, Kyoto, 605-0074, Japan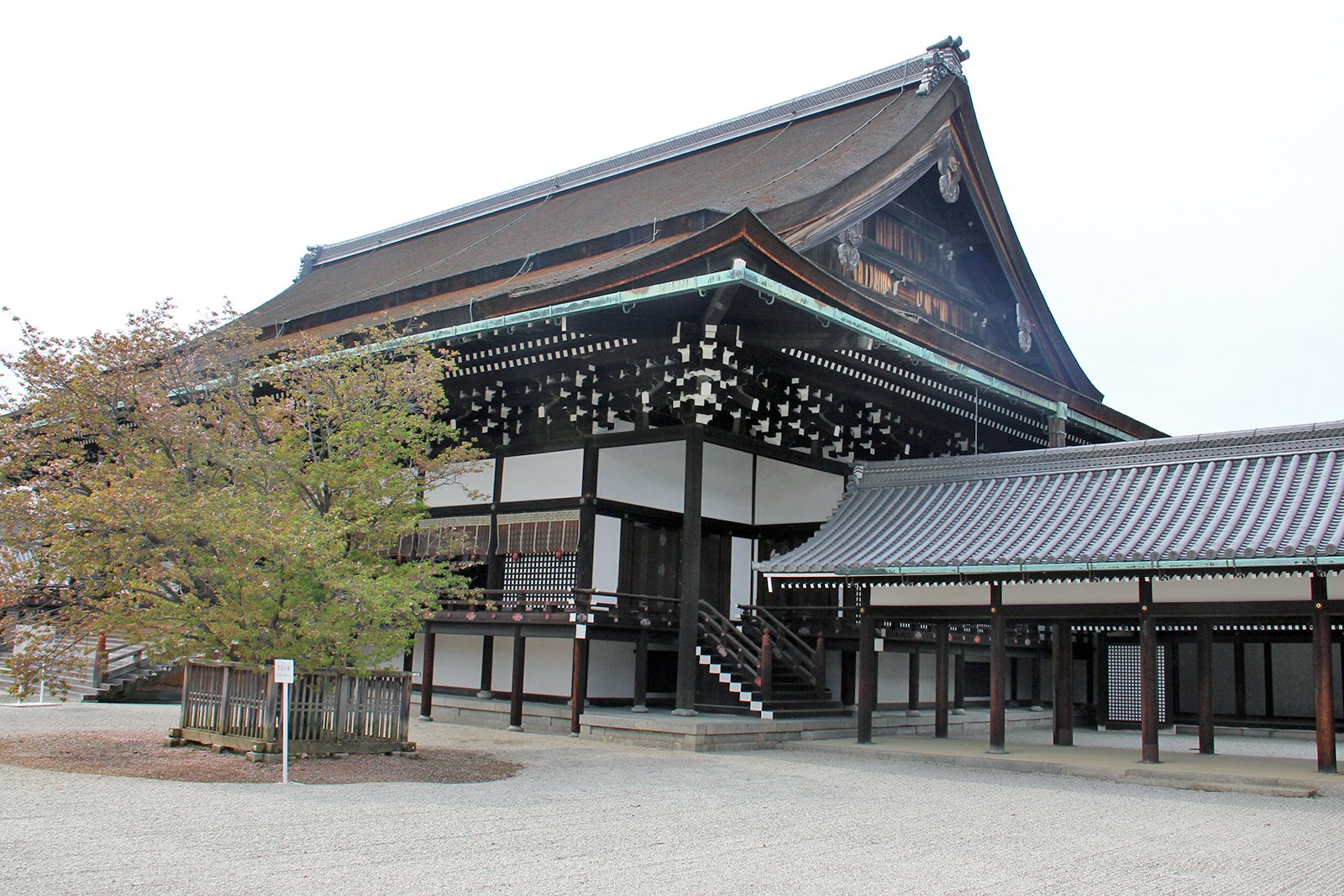 Kyoto has a wealth of museums for you to explore, which display many of the country's most revered relics. Spending some time exploring museums can add a deeper layer of meaning to your time in the city. There's so much history and heritage in Kyoto thanks to its place at the center of Japanese culture for over 1,000 years. You can learn about the ancient samurai culture, find out about the country's traditional arts like tea ceremony, or even get a glimpse into Kyoto's history of producing sake rice wine. Read more...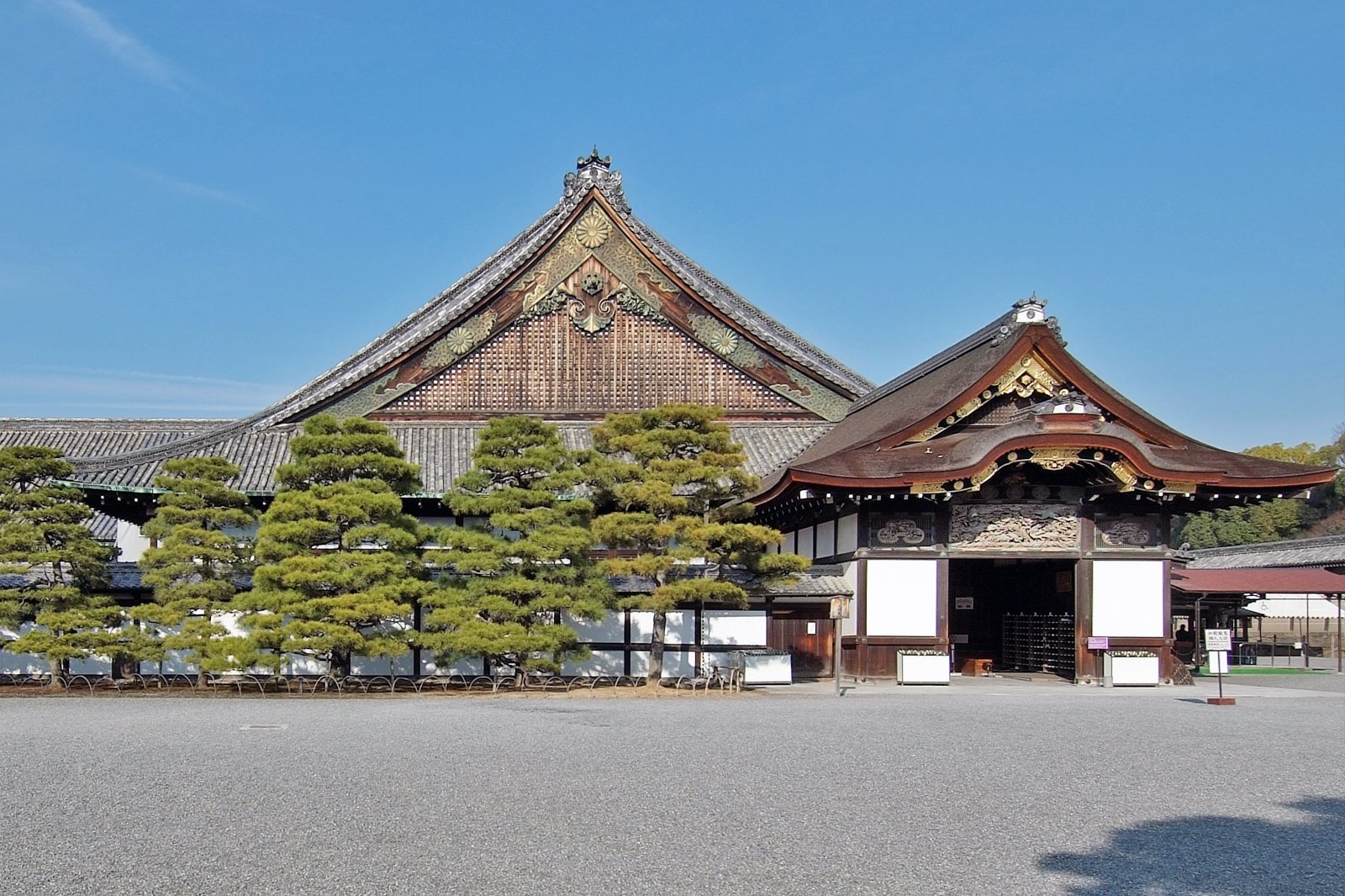 Nijo Castle is a must when visiting Kyoto. The Kyoto Residence of the Tokugawa Shogun was built in 1603, and is somewhat unique in Japanese cultural heritage sites as it has never been reconstructed; everything about the castle is original, including the interior. A favorite for many visitors is the 'nightingale floor' leading to the grand chambers. It got its name from the squeaking floorboards that made it difficult for intruders to sneak in. Rich in interior, with beautiful woodcarvings and paintings by the top artists of that period, Nijo Castle is where many major Japan historical events took place including the last Tokugawa shogun, handing power over to the Emperor in 1867 and thus ending the Tokugawa shogunate's 250 year rule. Nijo Castle is listed as an UNESCO World Heritage site.
Location: 541 Nijojocho, Nakagyo, Kyoto, 604-8301, Japan
Open: Daily from 8.45am to 5pm (closed on Tuesdays during Jan, Jul, Aug and Dec)
Phone: +81 (0)75 841 0096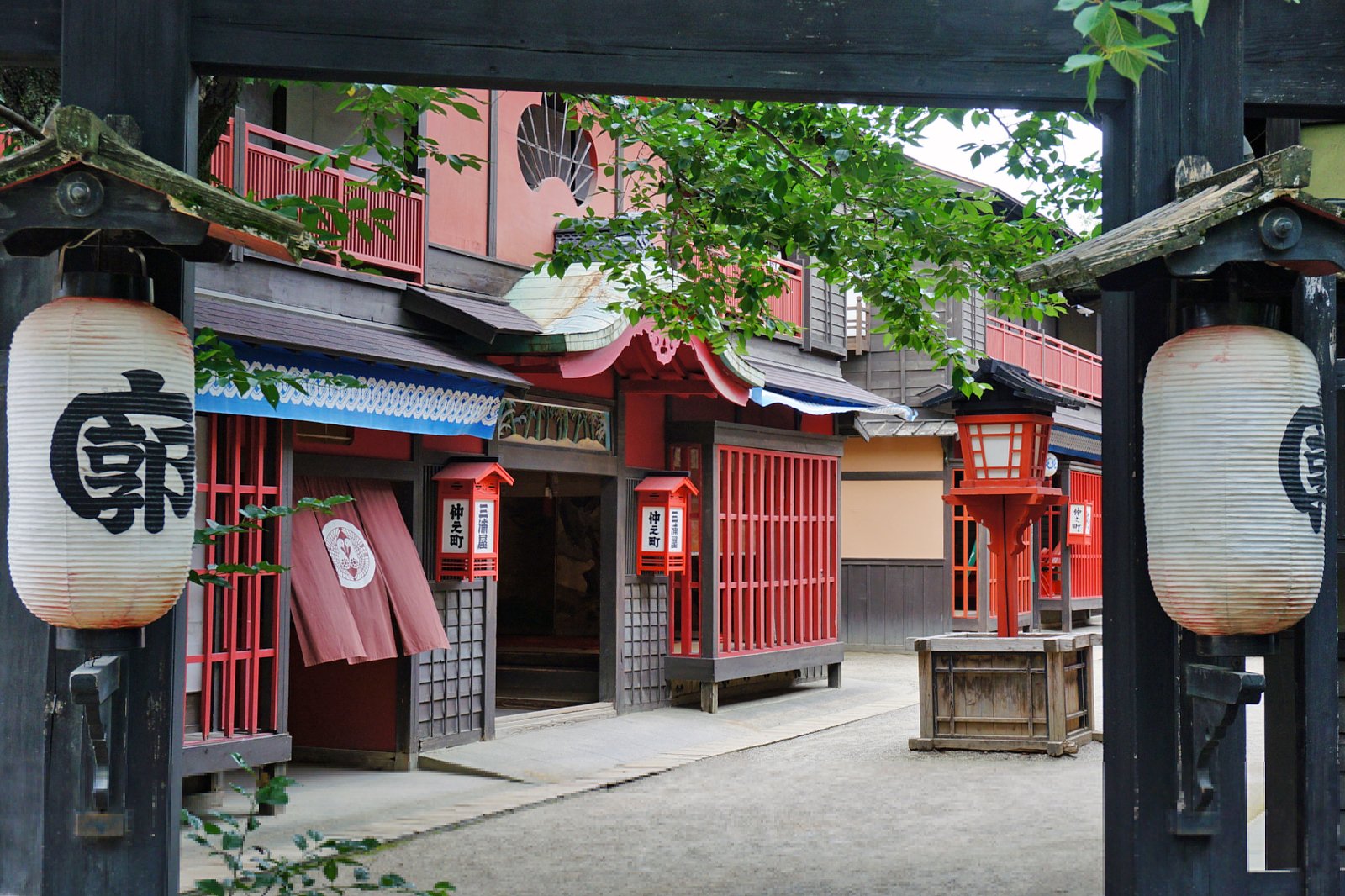 One of the most fascinating draws in Kyoto is Toei Kyoto Studio Park, a film set where many samurai and period movies were filmed. It features interesting open-air and indoor sets like old houses, barns and rooms. You can explore the park like a living museum, enjoy a ninja show, and try on traditional costumes to become a princess, warlord, samurai, ninja or geisha for a short while being photographed. The whole village is well maintained and has an unmistakable air of olden day Japan. Don't miss the haunted house, which is filled with acting students trying their best to scare you.
Location: 10 Uzumasa-Higashihachigaokacho, Ukyo, Kyoto, Japan
Open: March–November 9am to 5pm. December–February 9.30am to 4pm
photo by 663highland (CC BY-SA 4.0) modified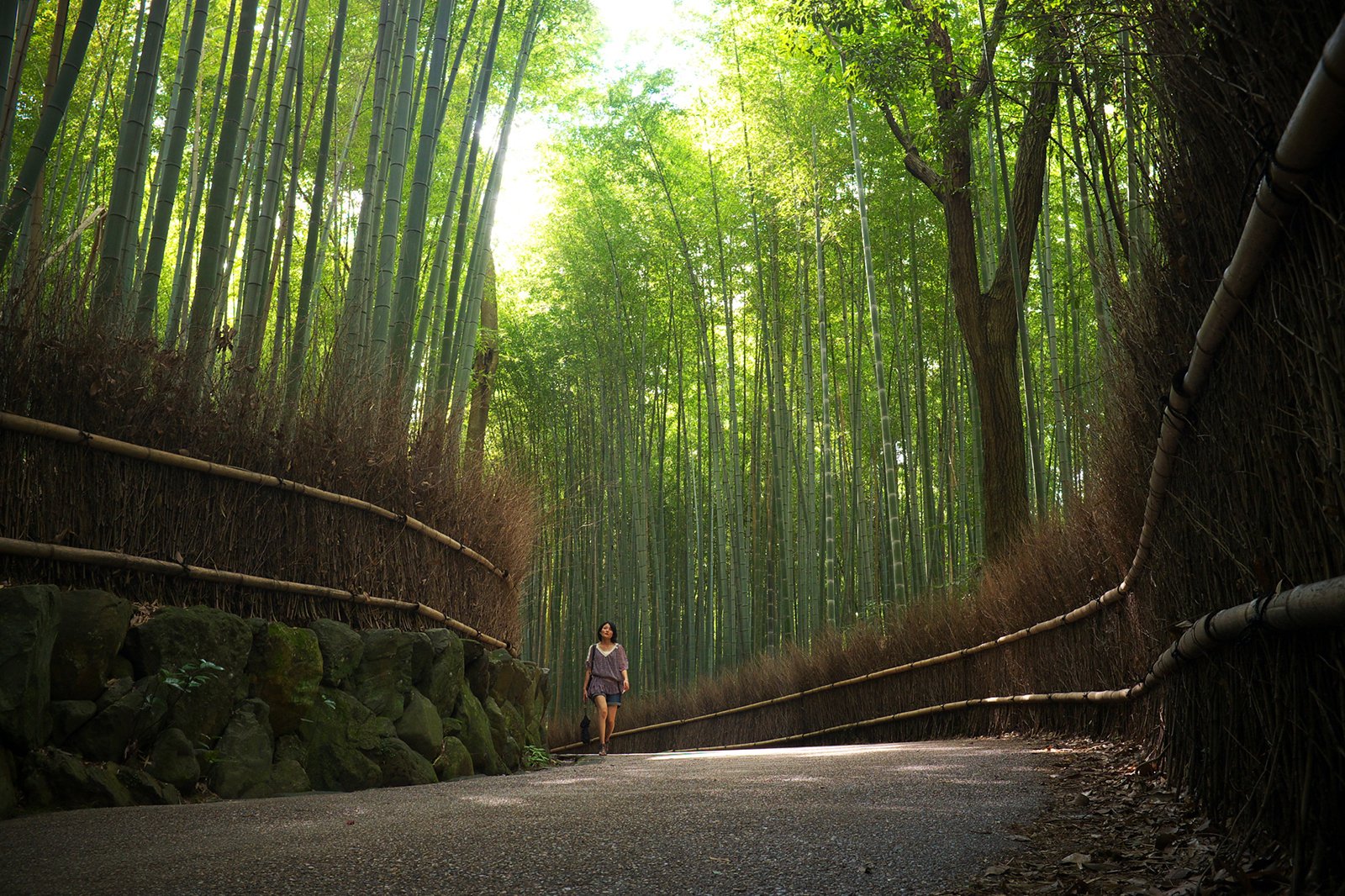 Located just behind Tenryuji Temple in central Arashiyama sits this extraordinary bamboo forest. For centuries Japanese artists, poets and writers have been inspired by the sound of the wind blowing through the bright green leaves and the gentle knock of the trunks touching each other. Indeed, these dense bamboo forests are as culturally significant as the temples and shrines they encircle. This forest leads from Tenryuji to Okocho Sanso villa with well marked pathways.
Location: 68 Saga Tenryuji Susukinobaba-cho, Ukyo, Kyoto, Japan
Couples
Families
Photo
Budget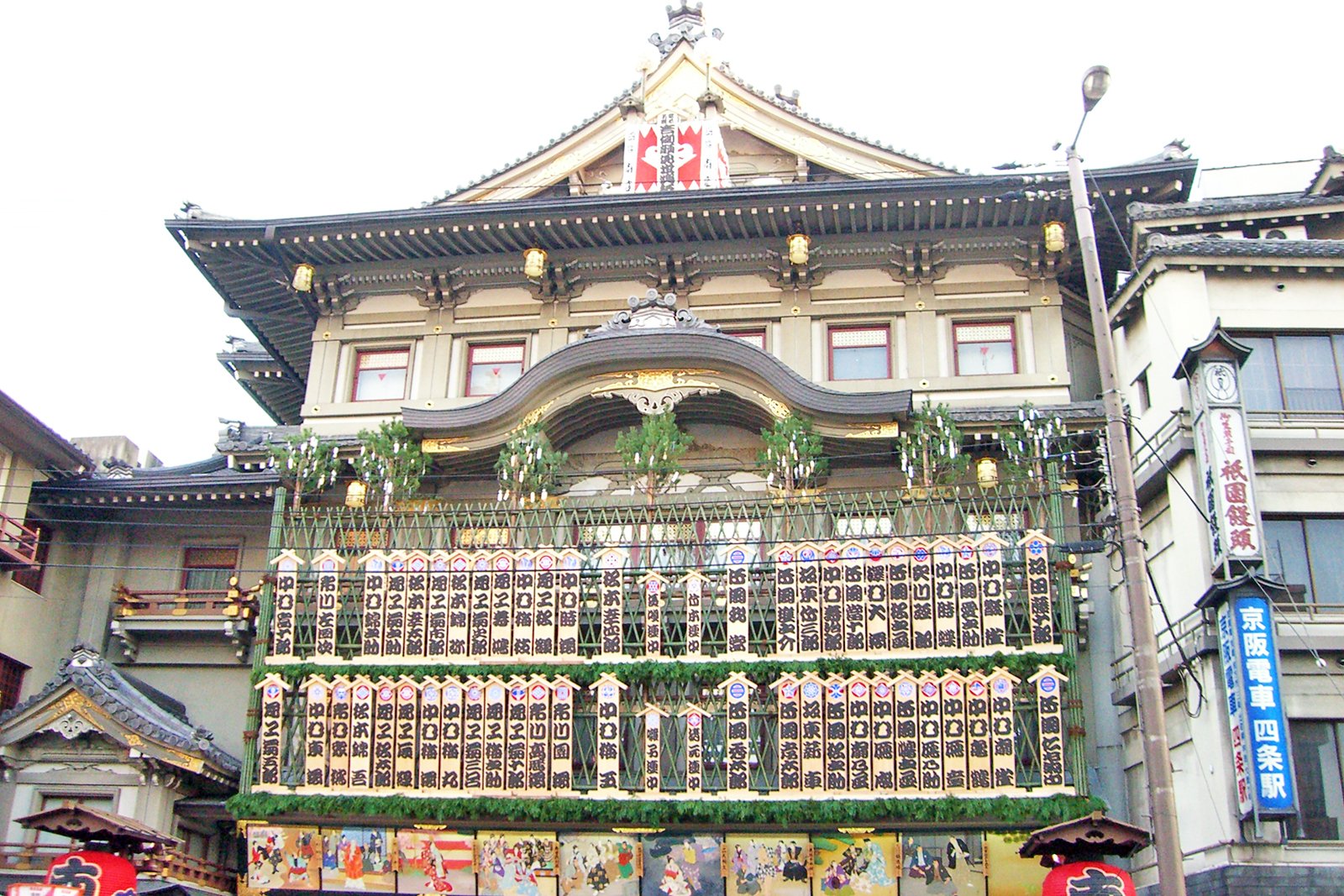 Traditional Japanese theatre
Kyoto is a perfect place to catch a taste of the traditional Japanese theatre, including popular stage drama like Kabuki and Noh. Kabuki was started by women and has long history dating back to the 1600s. Nowadays it's performed exclusively by men. It really is quite fascinating to see women's roles performed so gracefully by male actors. Kyoto Minami-za is the best place Kabuki theatre in the city. It's close to Gion-Shijo subway station on the eastern bank of the Kamo River.
Another classic stage performance to see when in Kyoto is Noh, which also has an all-male cast. The slow movements and the use of masks as part of the performance are very interesting. If time allows, visit a unique theatre called Gion Corner which offers seven of Kyoto's professional performing arts – kyogen classical comedy, kyomai dance, gagaku (music of the imperial court), koto harp, bunraku puppet theatre, tea ceremony, and flower arrangement.
photo by Nullumayulife (CC BY 2.0) modified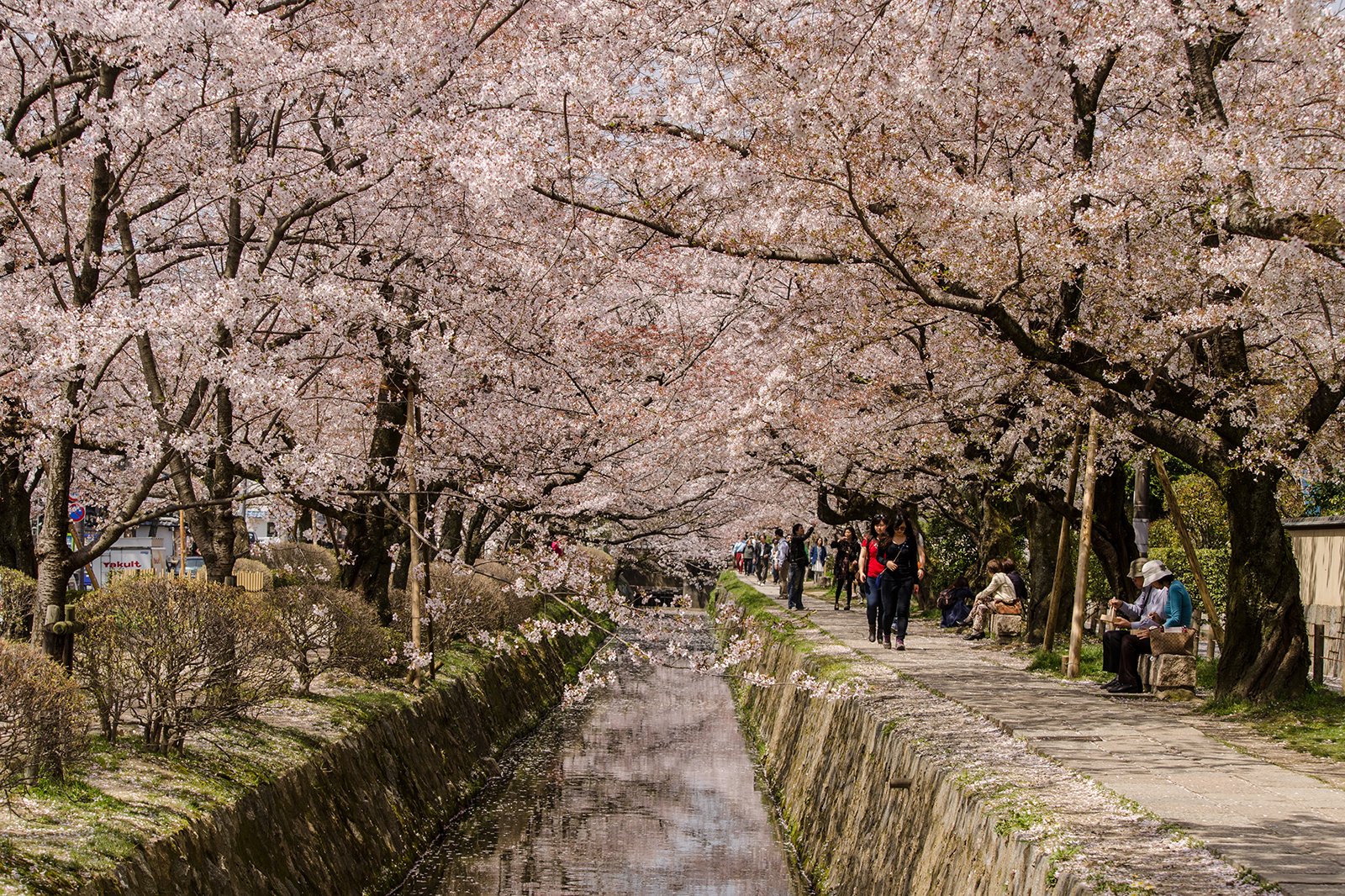 The Philosopher's Walk is a scenic route that got its name from the famous Kyoto University scholar, Ikutaro Nishida, who used to take his daily walk through the area to keep fit, to contemplate and to ponder. The walk follows a cherry-tree-lined canal leading from Ginkaku-ji, along the base of the Higashiyama Mountains, south to Nanzen-ji. Quaint cafes and craft shops, as well as restaurants, now line the Philosopher's Walk. During the cherry blossom season in April and May it's a busy promenade as couples from across the country converge here. The 2-km route should take no more than 30 minutes to walk, but there's lots of interesting things to make you stop along the way.
Couples
Families
Photo
Group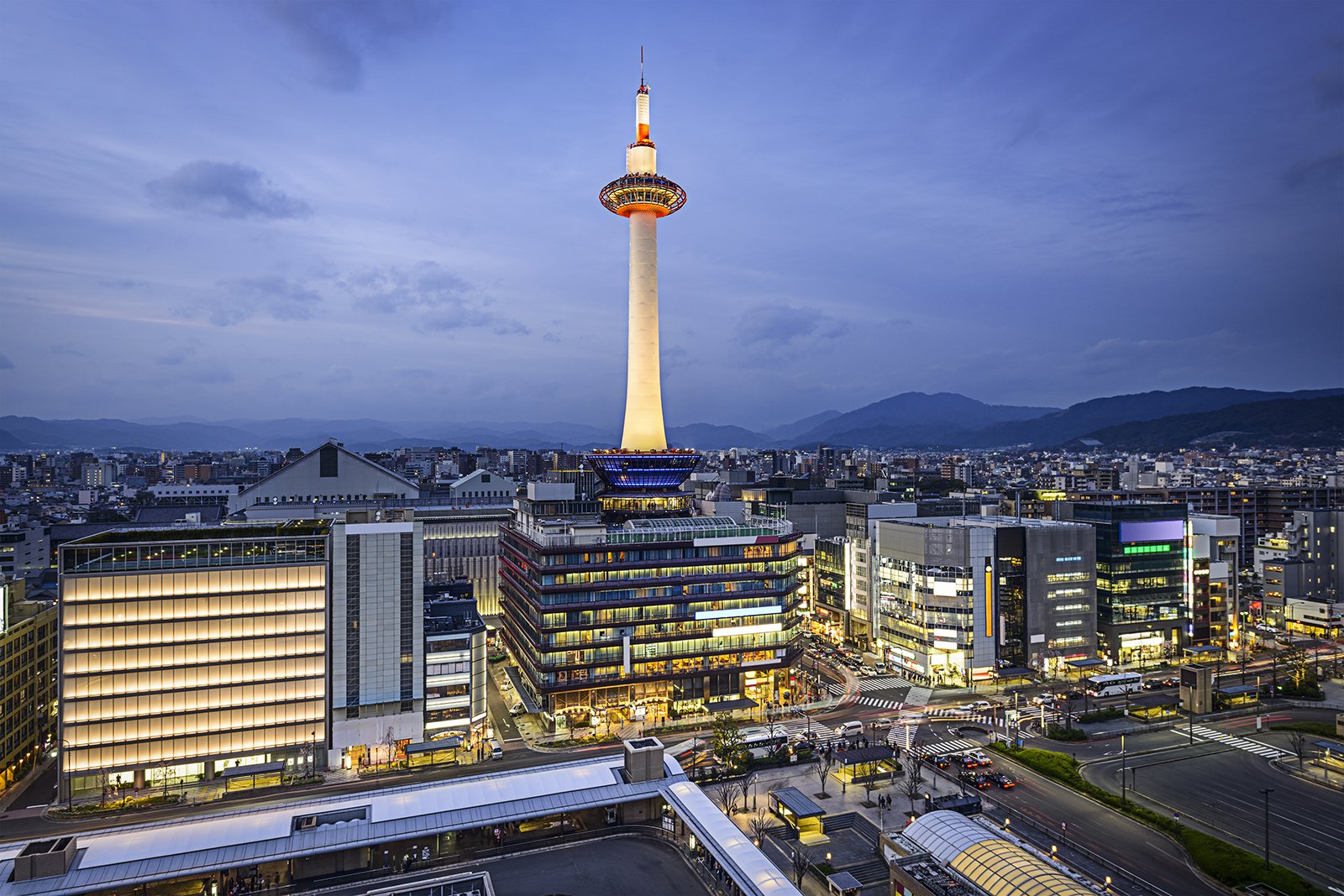 Opened in 1964, Kyoto Tower stands 131m above the city. From the observation decks, on a clear day you can see all the way to Osaka Bay. You'll find a 4-star hotel, a shopping arcade, a cocktail bar and several restaurants housed within the tower. The modern structure is seemingly incongruous to the rest of the ancient capital, however being the tallest building in Kyoto it has been a major icon since its completion. Kyoto Tower is next to Kyoto Station and can be seen from far and wide.
Location: Karasuma-dori, Higashishichijo-sagaru, Shimogyo, Kyoto, Japan
Open: Daily from 9am to 8.40pm
Phone: +81 (0)75 361 3215
Kyoto has many hidden temples that most tourists miss, but they are still magnificent. If you have already been to the biggest and most famous sites, then seek out these lesser-known religious sites. One of the most beautiful thing about visiting secret temples in Kyoto is that you will enjoy the mystic aura and austere surroundings almost to yourself. Thanks to Kyoto's excellent public transportation, even getting out to the outskirts of the city is hassle free. Read more...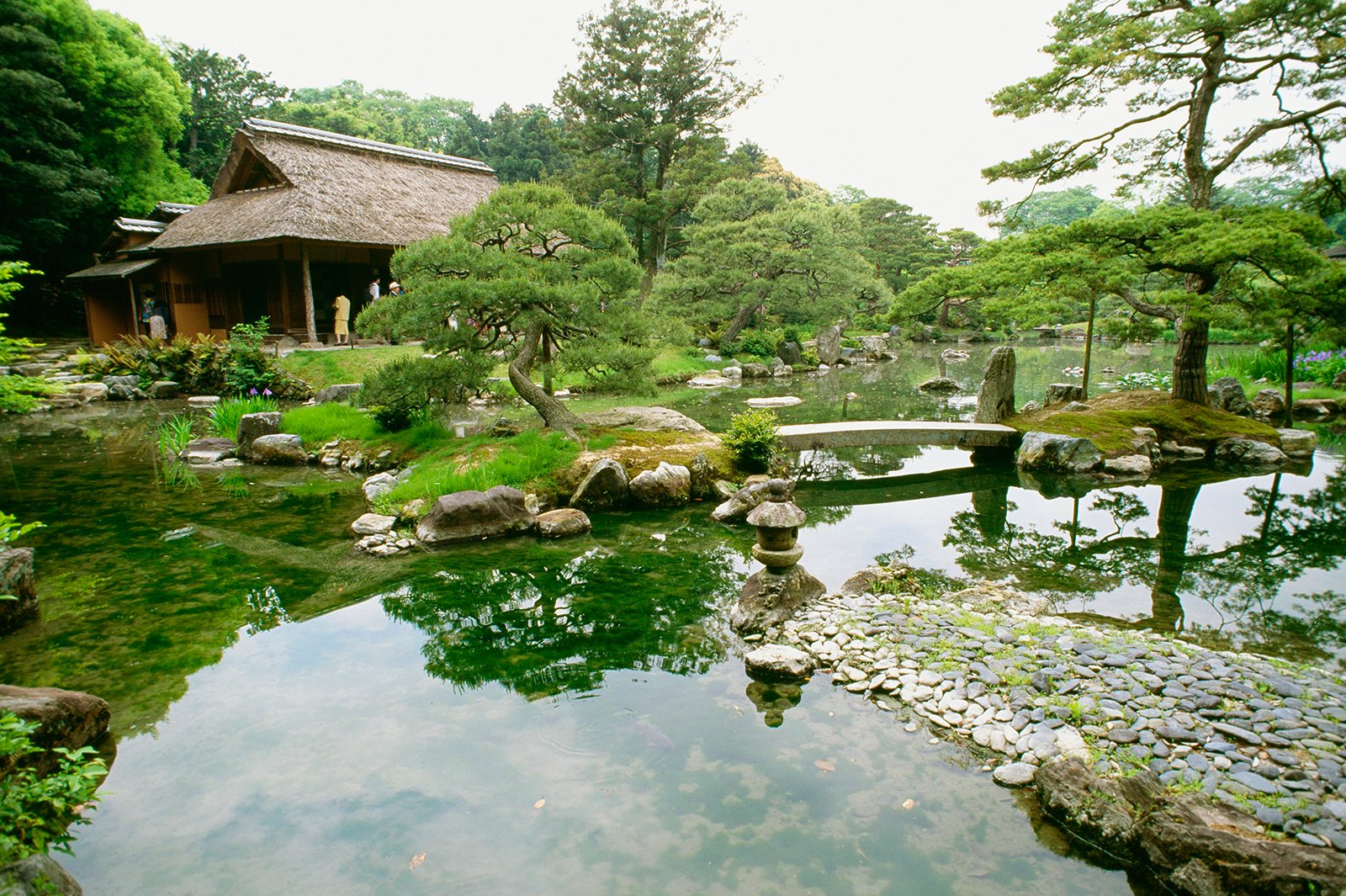 Katsura Rikyu Imperial Villa
One of Japan's most significant large-scale treasures, and a truly distinguished example of pure Japanese architecture and gardens, the Katsura Imperial Villa was built primarily for moon viewing and features a spacious platform extending from a veranda to do so. The strolling gardens at the villa have been called a work of art, incorporating water from the Katsura River for a central pond around which sit quaint tea houses and a Buddhist hall. The Imperial Household Agency administers the Imperial Villa and accepts visitors by appointment only. There are several free tours daily, but tours aren't held on Sundays or public holidays. Tours must be booked in advance with your passport at the Imperial Household Agency's office. To reach the villa, take the Hankyu line to Katsura station.
Location: Katsuramisono, Nishikyo, Kyoto 615-8014, Japan
Open: Imperial Household Agency office open Monday–Friday, 8.45am to midday, 1pm to 5pm
Phone: +81 (0)75 211 1215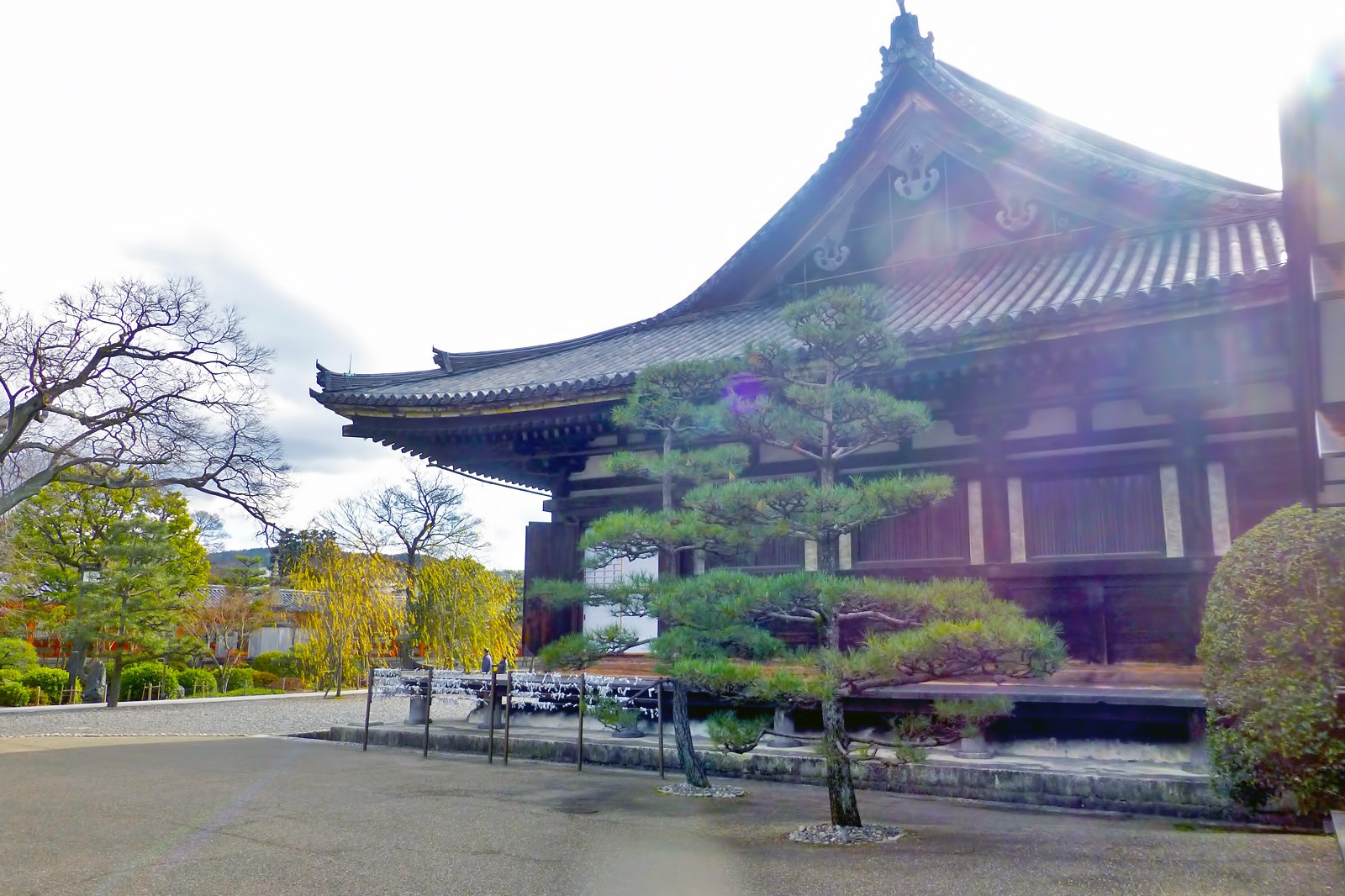 This imposing grand hall is famous for its 1,001 life-sized statues of Kannon (the Buddhist goddess of mercy) from the 12th and 13th centuries, all beautifully carved from Japanese cypress wood and covered with gold leaf. Other interesting statues include 28 Buddhist deities and two temple guardians. This 100-meter hall is considered Japan's longest wooden structure. Every January people gather for the famous centuries-old archery contest held behind the temple.
Location: 657 Sanjusangendomawari, Higashiyama Ward, Kyoto, Kyoto Prefecture 605-0941, Japan
Open: April – November from 8am to 5pm, November – March from 9am to 4pm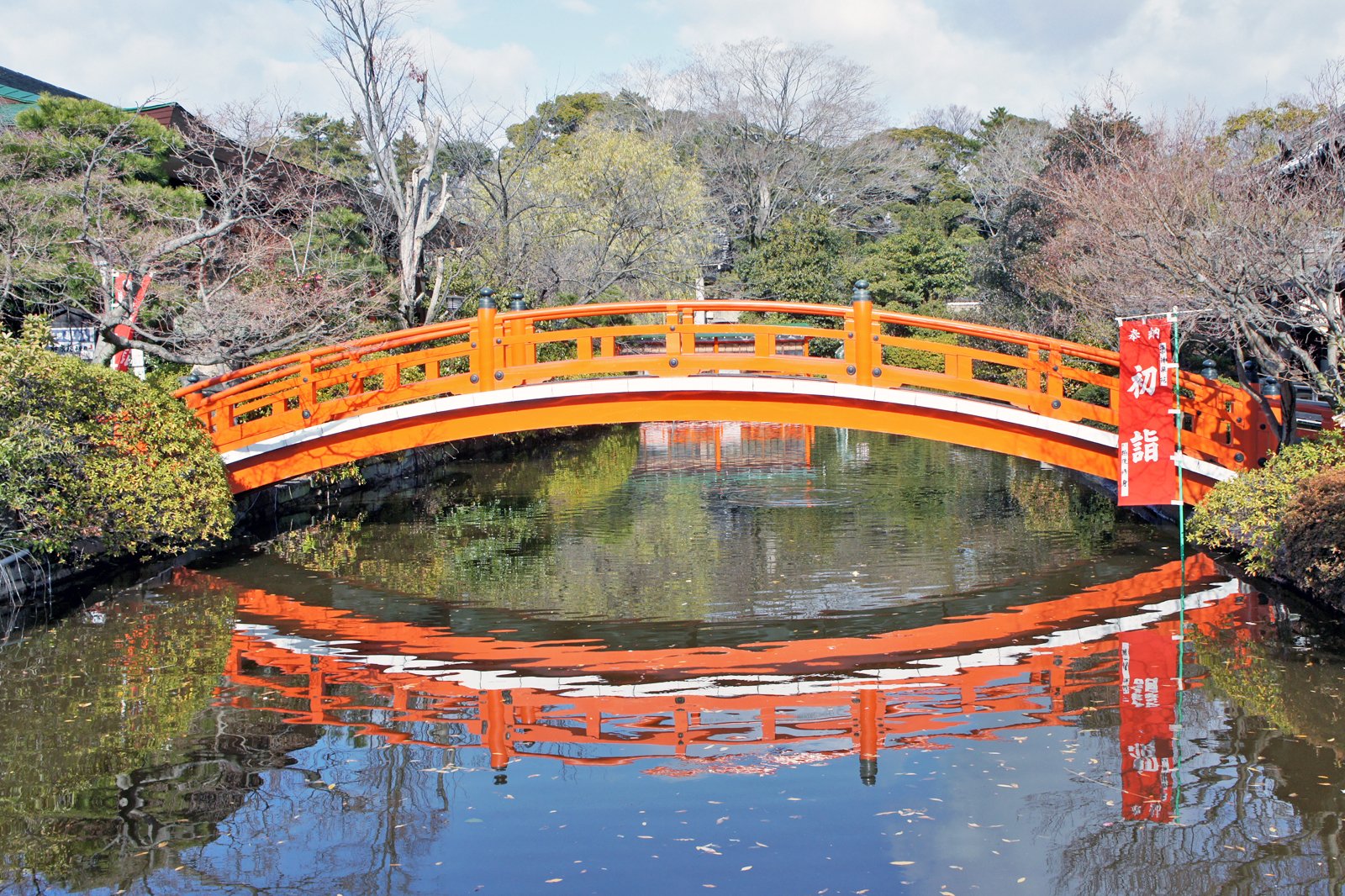 Once an extensive Chinese garden, only small sections of the original landscaping remain at Shinsen-en Garden. The most notable feature of the garden is the pond called the Garden of the Sacred Spring which has been an important ceremonious site for centuries. The water is believed to have restorative and protective powers. This garden is easy to find, close to Nijo Castle.
Location: 167 Monzen-cho, Oike-dori Shinsenen-cho Higashi-iru, Nakagyo, Kyoto, 604-8306, Japan
Open: Daily from 9am to 5pm
Phone: +81 (0)75 821 1466
photo by 663highland (CC BY-SA 3.0) modified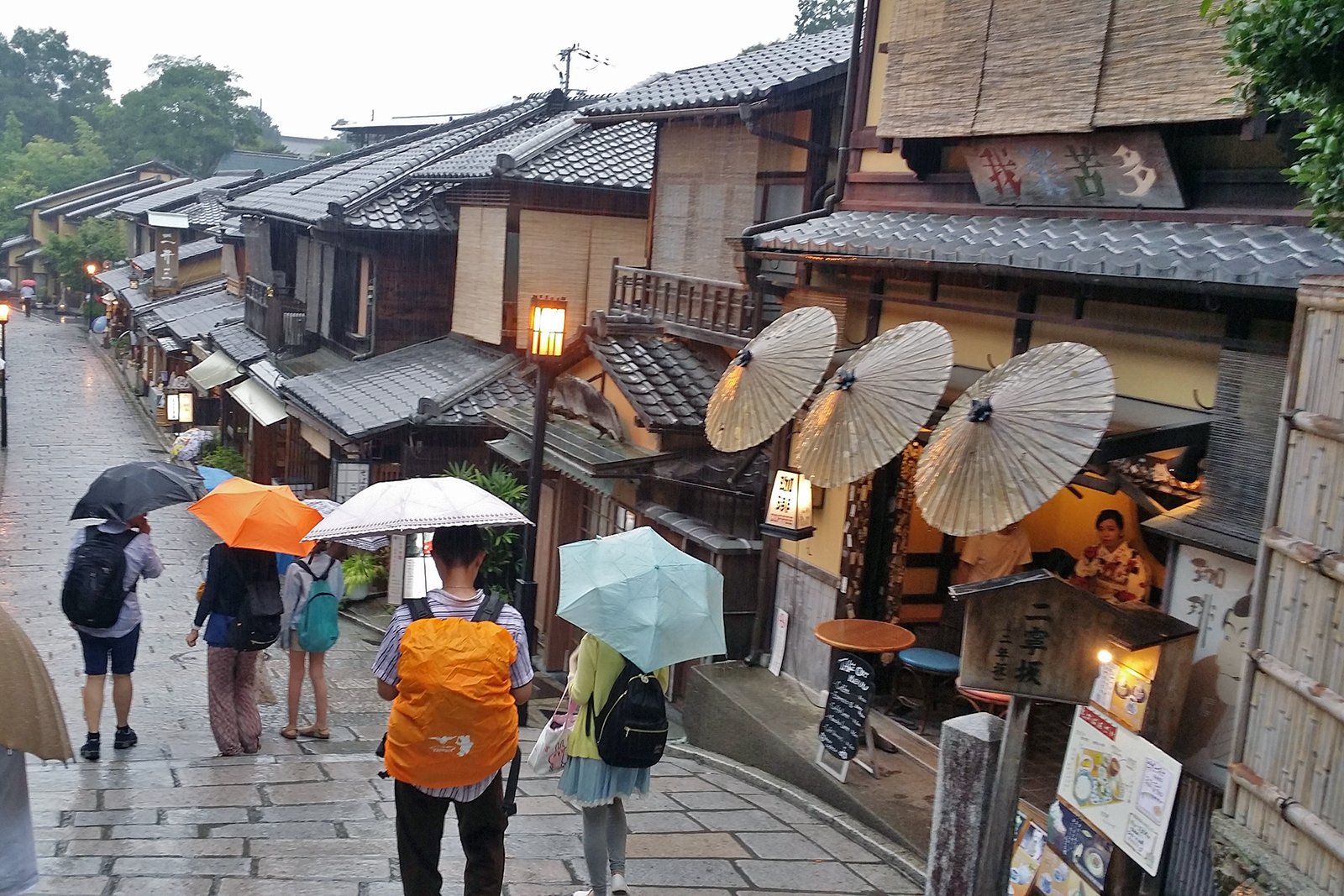 Ninenzaka and Sannenzaka historic streets
These flagstone-paved roads are one of four preservation areas in Kyoto, retaining all the charm of a bygone era. The names Ninenzaka and Sannenzaka translate as 'Two Year Slope' and 'Three Year Slope' respectively. A stroll through the streets will reveal exquisite wooden buildings, tiny gardens and cozy tearooms. Local folklore holds that if, while walking on the steps, you happen to trip you will suffer two or three years bad luck, so watch your step! Both of these these streets are found in the east of Kyoto, on the way to Kiyomizu-dera Temple.
Nijo Jinya was originally a merchant's house which was later used as an inn for feudal lords while they visited the Emperor. The structure has many amazing features such as trapdoors, false walls, secret tunnels and soundproofing, constructed in an era when espionage and deception where the order of the day. Built in the 17th century, Nijo Jinya retains its original layout, though it was thoroughly renovated in 2013. Tours are held in Japanese only.
Location: 137 Sanboomiyacho, Nakagyo Ward, Kyoto, 604-8316, Japan
Open: Daily from 10am to 3pm
Phone: +81 (0)75 841 0972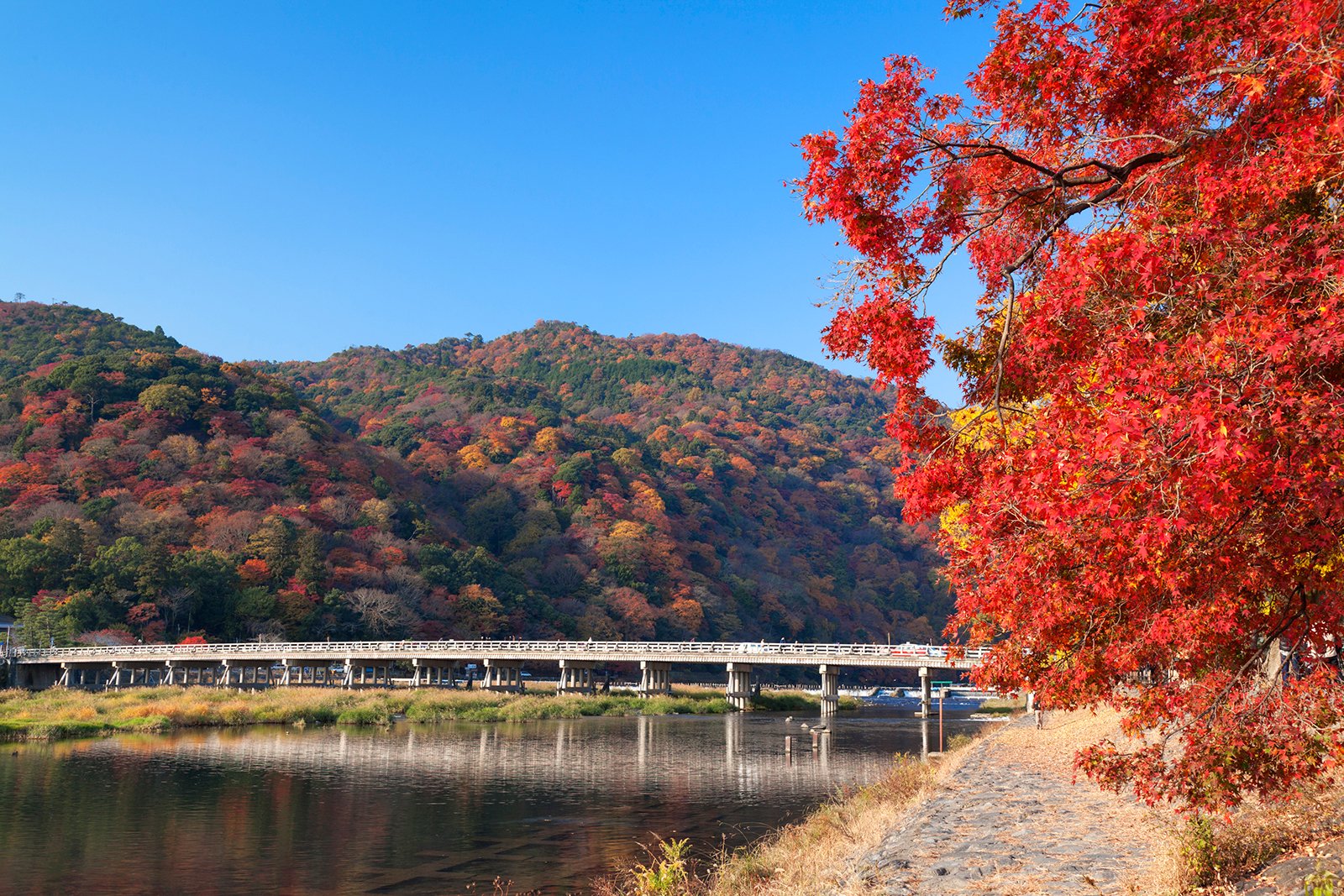 Arashiyama and Togetsukyo Bridge
Arashiyama is a verdant riverside area in the suburbs of Kyoto where you can see the pink cherry blossoms of spring, the bright greens of summer, the fiery reds of autumn and the stillness of a white winter. The hillsides are full of hiking trails, viewpoints and picnic spots providing a nice natural break from Kyoto's man-made marvels.
Completing the image of the quintessential Japanese countryside, the Togetsukyo Bridge (the Bridge to the Moon), gently spans the Oigawa River and is as much an attraction as the brilliant nature around it. Every year on 13th April, 13-year-old children are brought to Togetsukyo Bridge for an important rite of passage. After paying respect at the nearby Horin-ji shrine, the kids must walk across the bridge without looking back, not even for a moment, for it is believed that to look back will bring a lifetime of bad luck.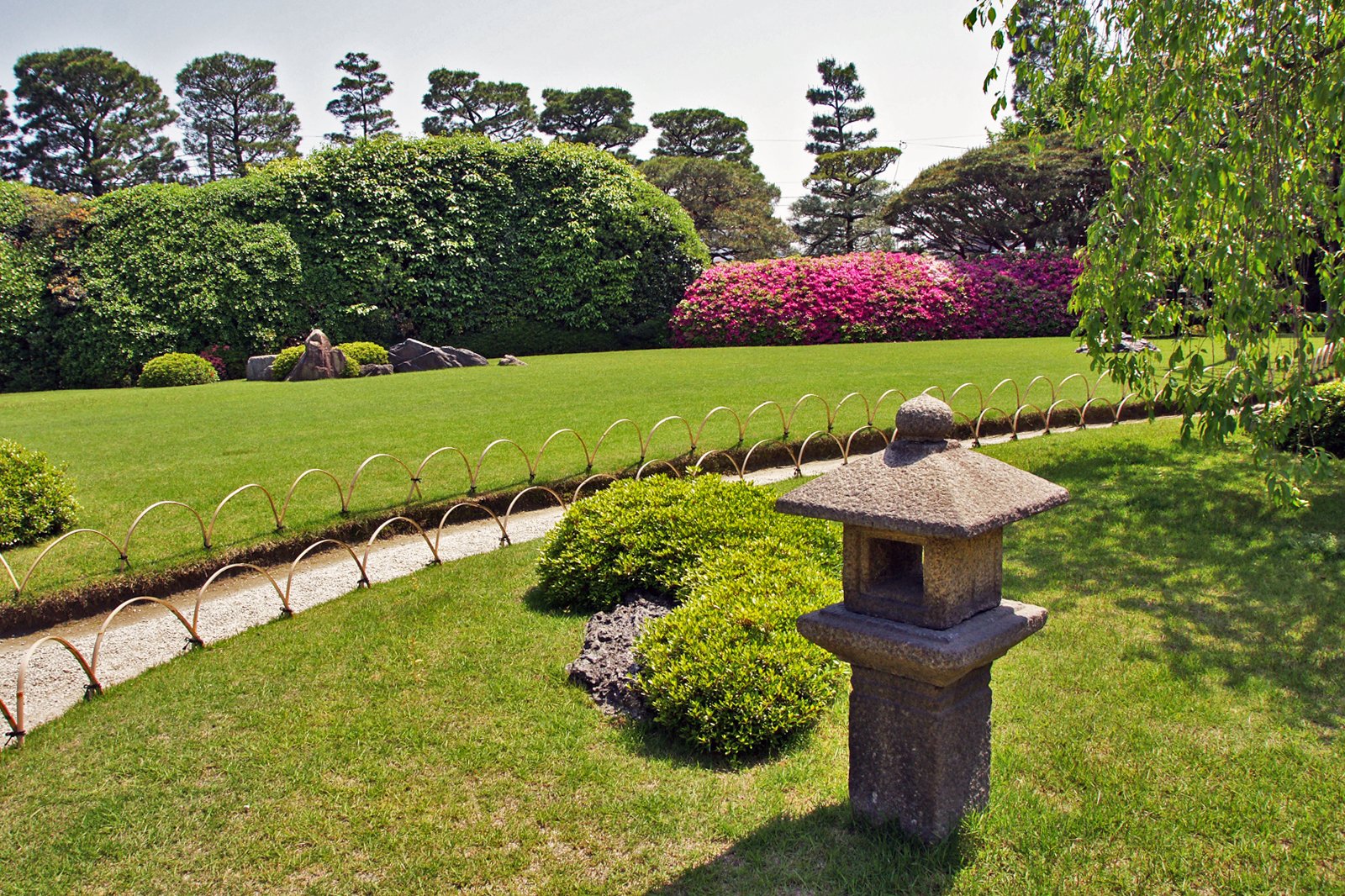 The fertile east bank of the Kamo River nurtures the five wonderful gardens that make up Jonangu. Designed by award-winning landscape architect Nakane Kinsaku in the late seventies the gardens present the wealth of Japanese flora and the elegant features of Japanese design with ponds, rocks, bridges and water features. Rarely visited by foreigners, it's a good place for nature lovers to escape the crowds of tourists in central Kyoto.
Location: 7 Nakashima Tobarikyu-cho, Fushimi-ku, Kyoto
Open: Daily from 9am to 4.30pm
Phone: +81 (0)75 623 0846
photo by 663highland (CC BY-SA 3.0) modified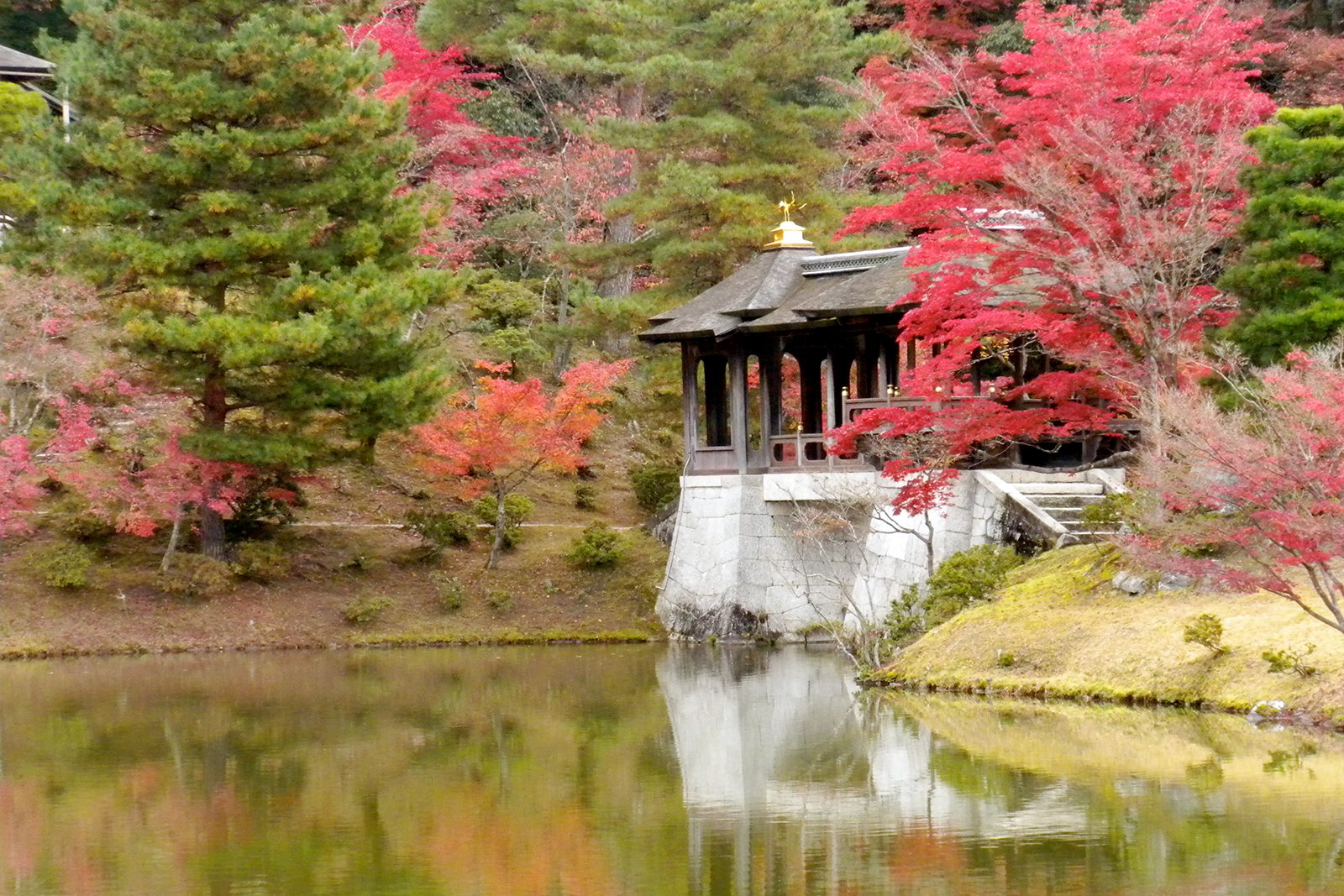 This splendid summer retreat was built for the Imperial family in 1659. The villa gardens are spectacular, comprised of upper, middle and lower gardens laid out before the majestic backdrop of Mount Hiei. The villa complex also houses a number of tea-houses and summer cottages that were used by the Kyoto upper class during summer breaks. Free tours of Shugakuin Imperial Villa are conducted daily in Japanese, but there are audio guides in several languages. Tours last around 1 hour. To book a tour, you must apply in advance online or at Kyoto Imperial Park.
Location: Shugakuin-yabuzoe, Sakyo, Kyoto, Japan
Phone: +81 (0)75 211 1215
Couples
Families
Photo
Group
photo by np&djjewell (CC BY 2.0) modified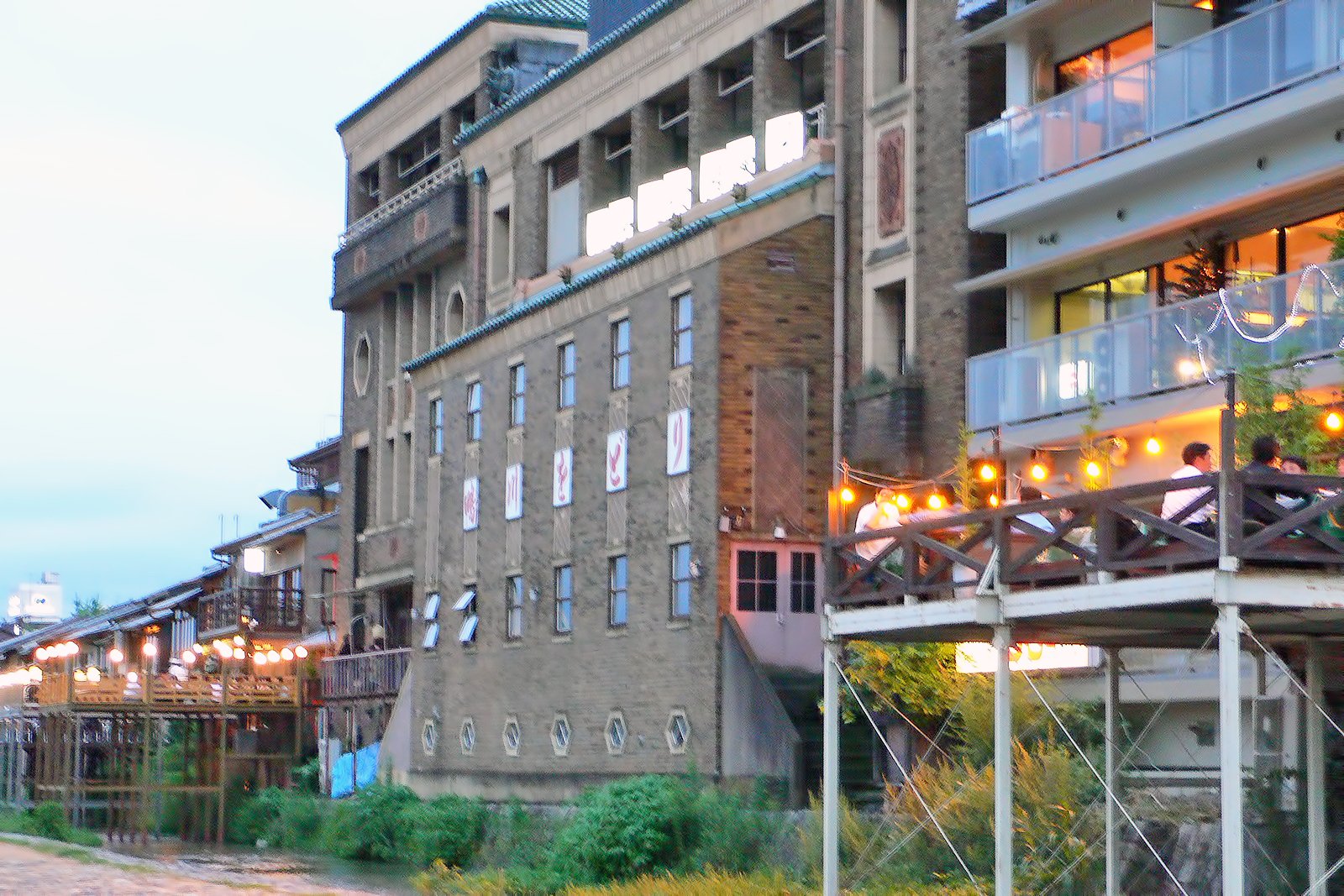 Kamogawa Odori at Pontocho Kaburenjo Theatre
Witness the gentle elegant grace of the geisha during this biannual event held in May and October. Both geiko (accomplished geisha) and their trainees (maiko) perform brilliant classical dances and musical recitals during 3 daily shows, at 12.30pm, 2.20pm and 4.10pm. With exquisite costumes, make up and props, these public geisha performances are extremely popular, drawing crowds from across the globe. The show will be fully in Japanese, but you can still enjoy the spectacle.
Location: 130 Hashishitacho, Nakagyo, Kyoto, 604-8003, Japan
Open: 2 weeks in May and 2 weeks in October. Showtimes:12.30, 2.20, and 4.10
Phone: +81 (0)75 221 2025
photo by Herry Lawford (CC BY 2.0) modified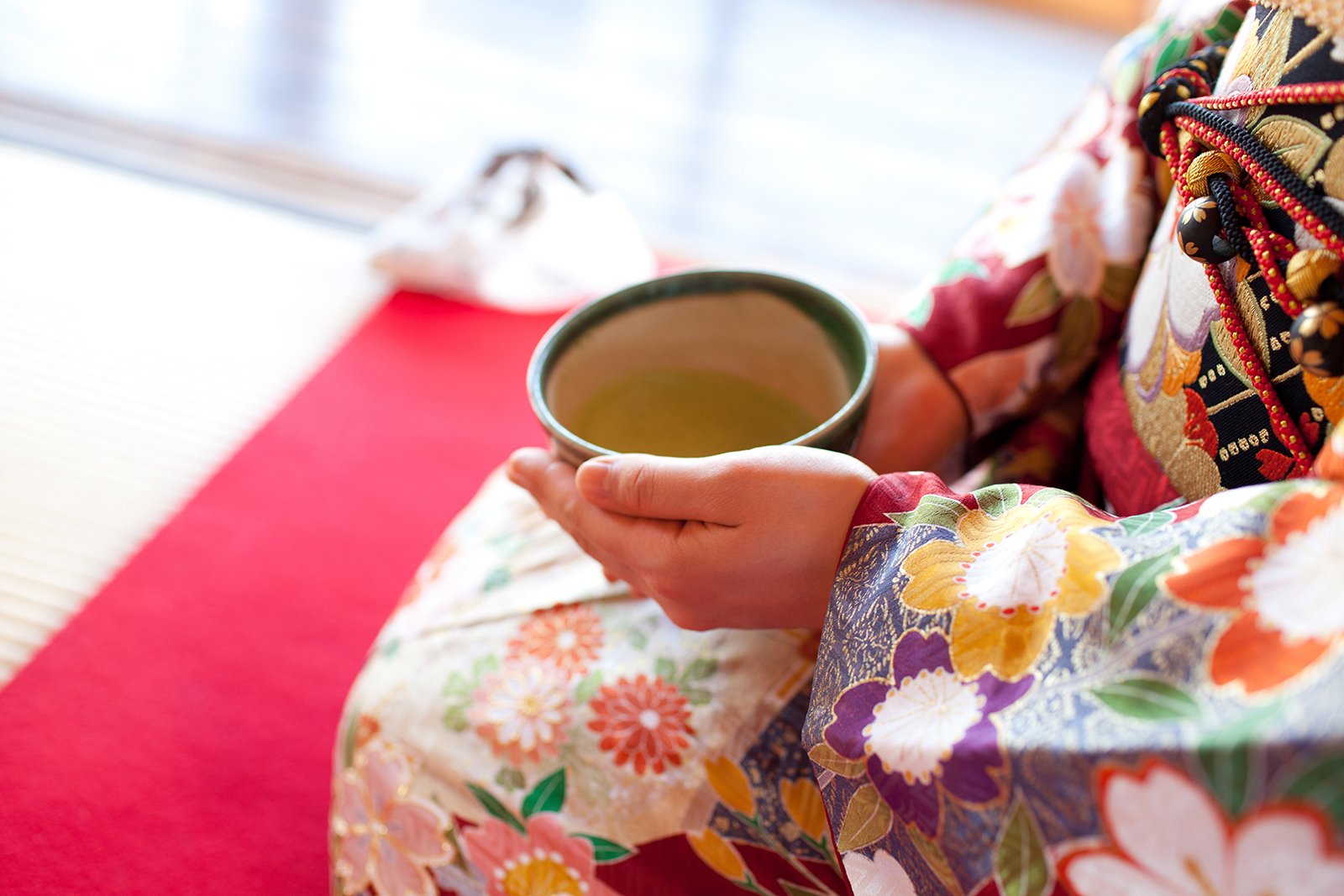 WAK JAPAN is an excellent center of traditional Japanese arts where visitors can partake in study courses or observe masterful demonstrations by some of Kyoto's most skilled craftspeople. WAK JAPAN founder, Michi Ogawa, aims to promote grass-root level international culture exchange as well as offering Japan's highly skilled housewives an arena to demonstrate their talents. Tea ceremony, flower arrangement, calligraphy, origami, taiko drum beating, Japanese cooking, Japanese dance, Kimono wearing, and sake tasting are among the traditional arts that are included. Bookings in advance are recommended for inclusion in daily classes. Take the Karasuma subway line to Marutamachi station.
Location: 761 Tenshucho, Nakagyo Ward, Nakagyo-ku, Kyoto, 604-0812, Japan
Open: Daily from 9am to 5pm
Phone: +81 (0)75 212 9993
Couples
Families
History
Group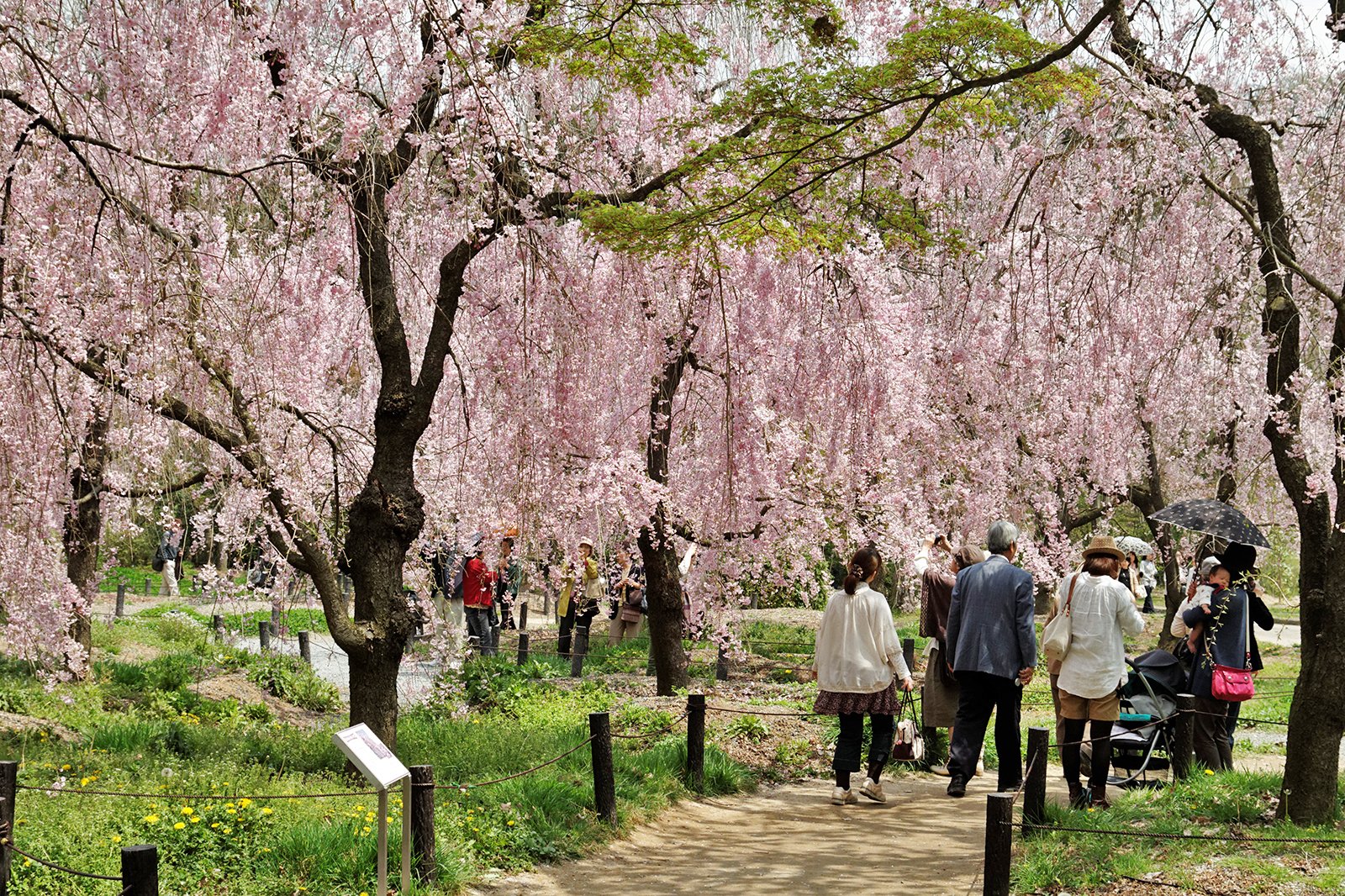 Kyoto Botanical Garden, in the north of the city, was created in 1924 next to the Kamo River. It was abandoned in 1946 and revived again in 1961 to become a major botanical garden with a conservatory. The garden now contains in excess of 120,000 plants spanning 12,000 species organized into specific gardens for bamboo, cherry trees, hydrangeas, bonsai, camellias, Japanese irises and native plants, lotus and an immaculate European style garden. The conservatory is built with cast iron frames and plate glass to resemble Kinkaku-ji and houses more than 25,000 varieties from 4,500 species.
Location: Shimogamo Hangicho, Sakyo, Kyoto, 606-0823, Japan
Open: Daily from 9am to 4pm
Phone: +81 (0)75 701 0141
Couples
Families
Photo
Budget
Group
photo by Kimon Berlin (CC BY-SA 2.0) modified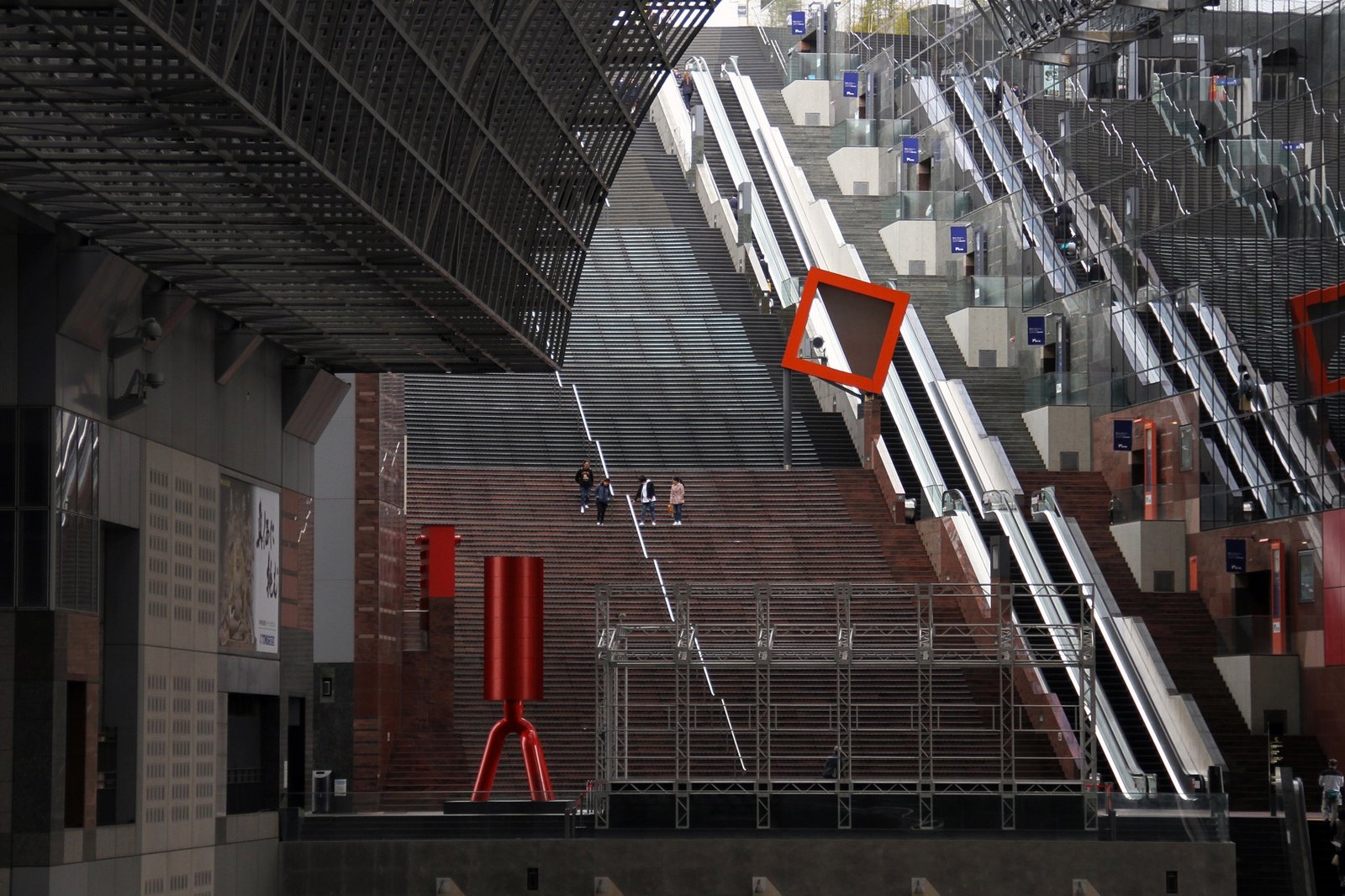 Kyoto Station is a glorious example of modern Kyoto. The futuristic 15-storey station building features impressive and imposing architecture; steel frames and irregular cubic plate glass cover the 238,000 sq m interior, which houses not only the regular trains and shinkansen (bullet trains) but also a shopping mall, a hotel, a movie theatre and a department store. The main hall is 70 meters in height and stretches for 470 meters from east to west. Designed by architect Hiroshi Hara, the station was opened in 1997 to commemorate the 1,200th anniversary of Kyoto.
Location: Higashishiokoji Kamadonocho, Shimogyo Ward, Kyoto, Japan
Phone: +81 (0)75 361 4410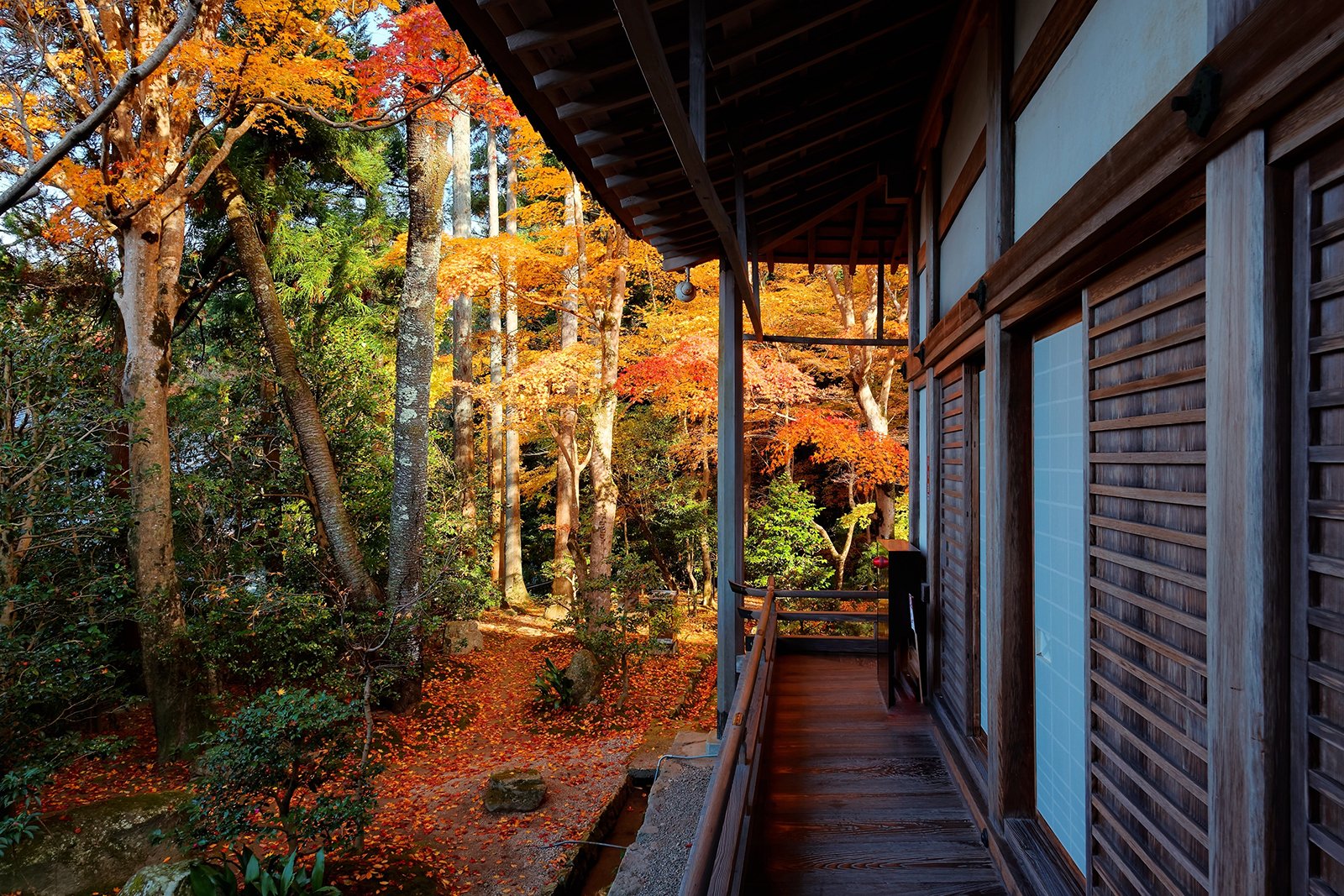 Autumn leaves at Sanzen-in
If you're lucky enough to be in Kyoto in autumn, don't miss seeing the maples ablaze in red, orange and yellow at Sanzen-in Temple on the outskirts of the city. Dating back to 784, Sanzen-in is a Tendai temple that's famous for its atmospheric mossy gardens, in particular the vivid blue hydrangeas and cherry blossoms.
Location: 540 Ohara Raigoin-cho, Sakyo, Kyoto, 601-1242, Japan
Open: March – November from 8.30am to 5pm and December – February from 8.30am to 4.30pm
Phone: +81 (0)75 744 2531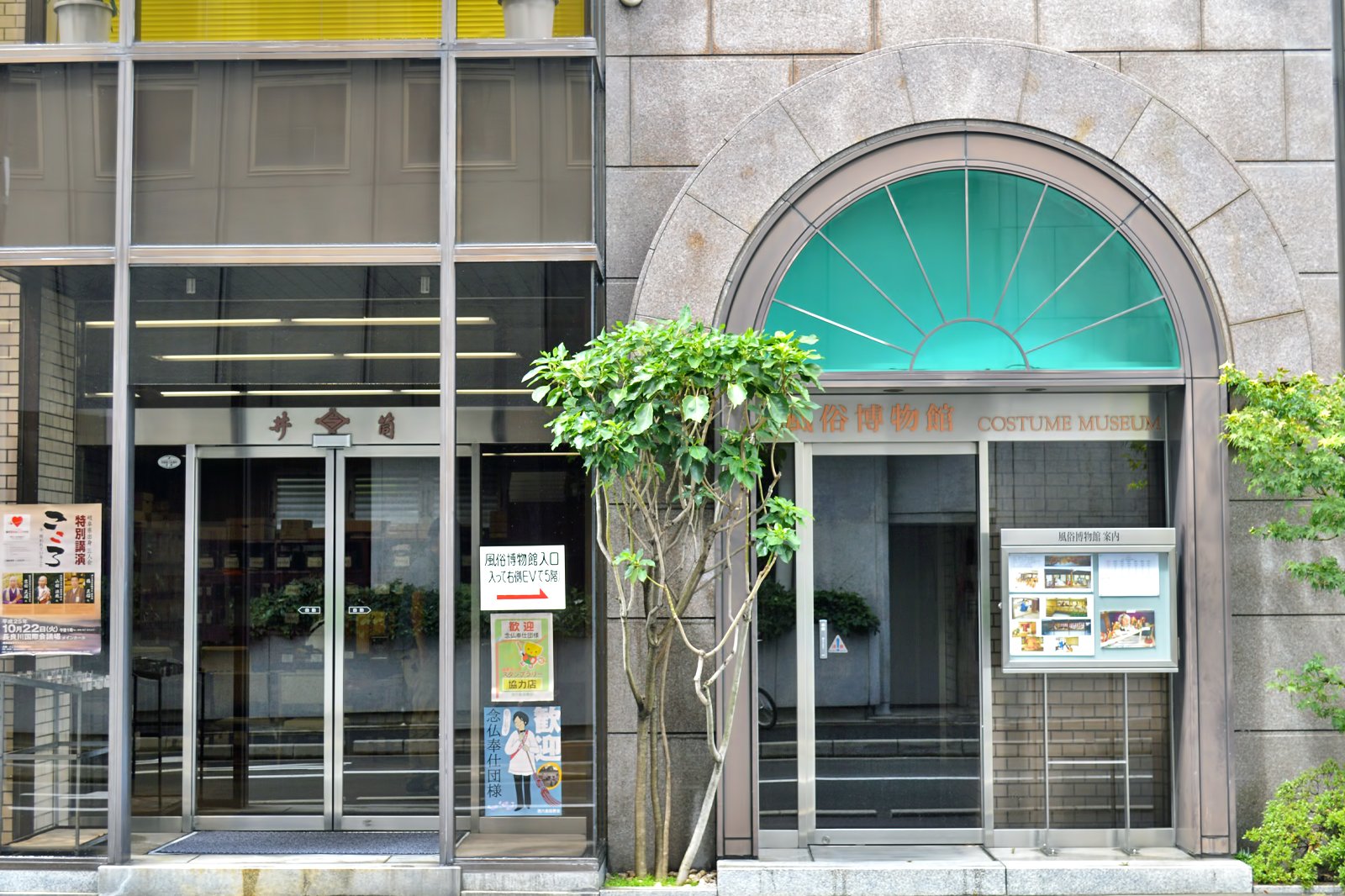 This often over-looked museum has wonderful exhibits of the various Japanese costumes throughout the ages – from royal dresses to samurai armor and exquisite geisha kimonos. The museum aims to endow visitors with insight into the world of nobility during the Heian Period (794 to 1185) of Japanese history. Fans of the world's first ever novel, The Tale Genji Monogatari, will appreciate the ¼ scale model of the Haru-no-Goten (Spring Palace) on display, offering a 3D portrayal of the story. It's located on the 5th floor of an office building close to Kyoto Station.
Location: Fifth Floor Izutsu Building, Shinhanayacho-dori, Horikawa Higashiru Shimogyo, Kyoto, 600-8468, Japan
Open: Monday–Saturday from 9am to 5pm
Phone: +81 (0)75 342 5345
photo by At by At (CC BY-SA 3.0) modified
Hakusan-yu is an authentic Japanese sento or public bath where you can experience this most Japanese of leisure activities. Here, you will be privy to a side of Japanese family life that few outsiders get to see. There are separate male and female indoor baths, a heated waterfall that gives a strong pummel of a back massage, an electric bath and a beautifully landscaped outdoor bath. Remember to wash yourself thoroughly before entering the baths.
Location: 893 Ushitoracho Rokujo, Shinmachi-dori, Shimogyo, Kyoto, 600-8304, Japan
Open: Thursday–Tuesday from 3pm to midnight (open from 7am on weekends and holidays)
Phone: +81 (0)75 351 2733