15 Best Secret Temples in Kyoto
Kyoto's Lesser-Known Temples and Shrines
Kyoto has many hidden temples that most visitors never see, but they are still magnificent. If you have already been to the biggest and most famous sites, then this list is for you. One of the most beautiful thing about visiting secret temples in Kyoto is that you will enjoy the mystic aura and austere surroundings almost to yourself. You certainly won't have to contend with rows of souvenir shops or crowds of tourists.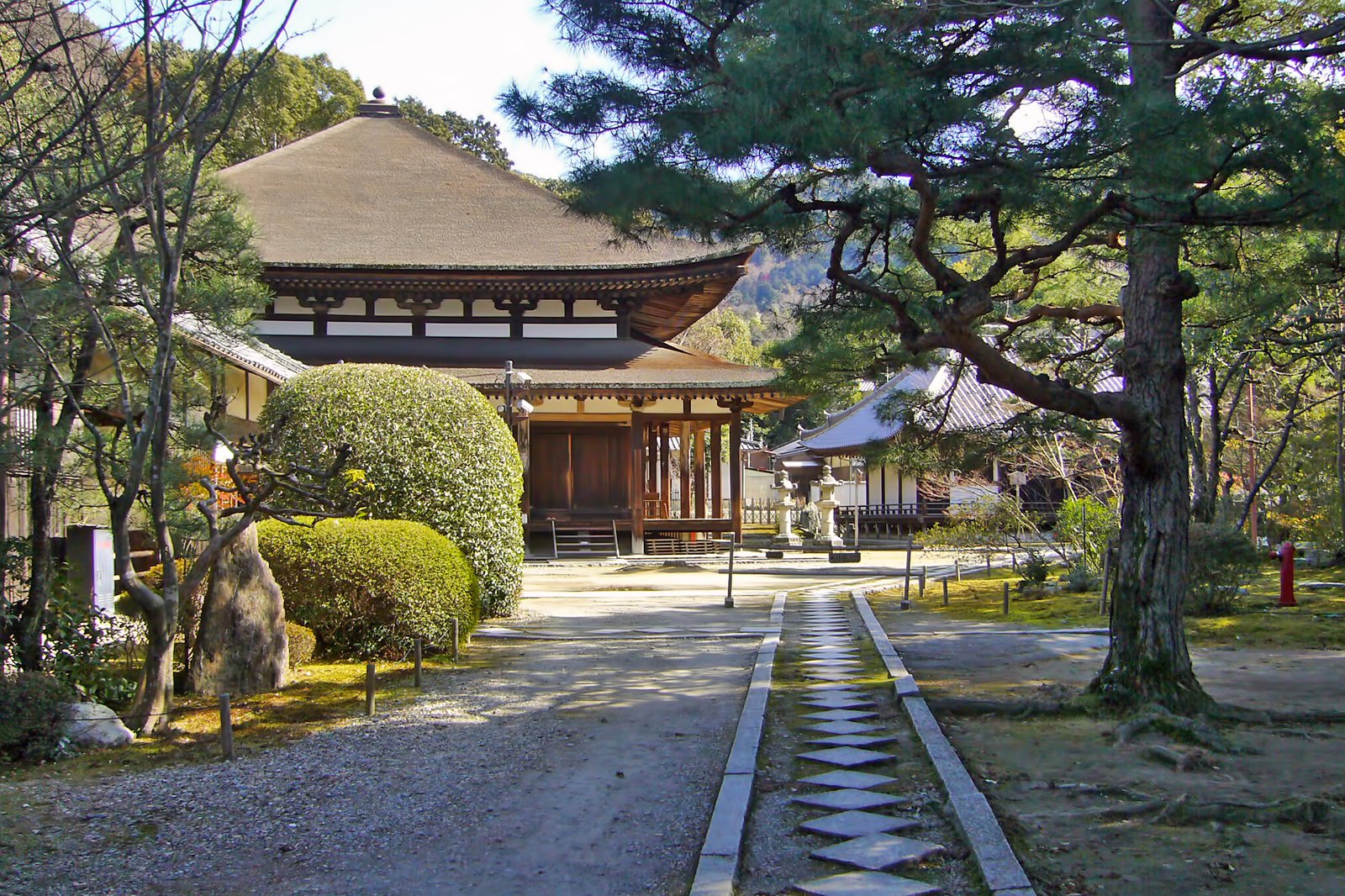 The priest who built Hokai-ji Temple back in 1051 was a descendant of the Fujiwara family and was devoted to the deity Yakushi, which is still widely believed to help nursing mothers produce plentiful milk for their babies. The shrine shelters the Yakushi and an Amida image in its nationally treasured altar. To reach this temple, take the Keihan Line to Rokujizo Station.
Location: 19 Hino Nishidaido-cho , Fushimi-ku, Kyoto
Open: Daily from 9am to 5pm
Phone: +81 (0)75 571 0024
photo by 663highland (CC BY-SA 3.0) modified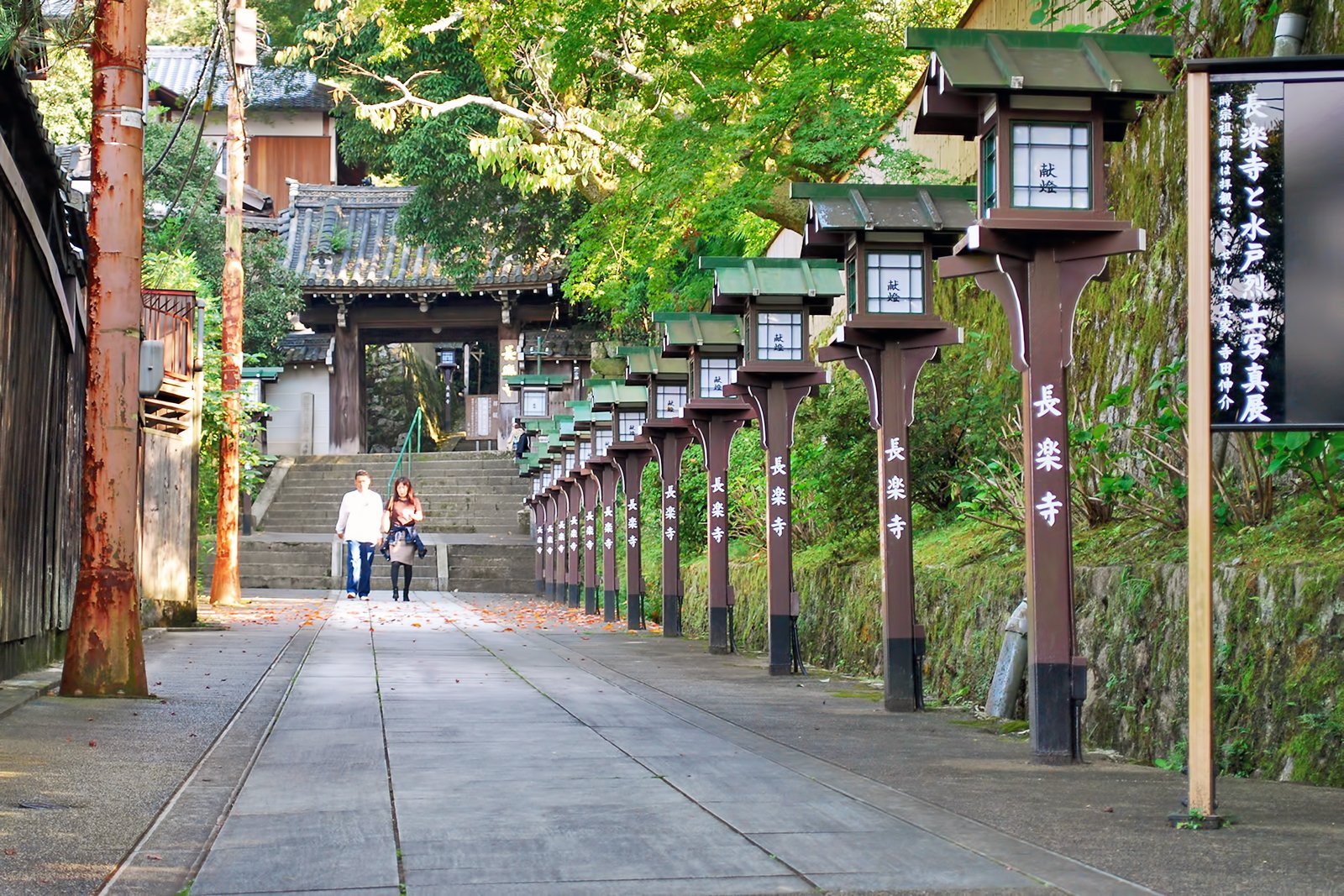 The steep uphill climb to Choraku-ji Temple is not for the faint-hearted, but the panoramic Kyoto views from the top is a fitting reward. The path leading to the temple is lined with stone lanterns that, when lit during the summer months, create an amazing sight. The temple dates back to the 9th century. This quaint temple is in the east of Kyoto, close to Gion district.
Location: 626 Maruyamacho, Higashiyama Ward, Kyoto, Kyoto Prefecture 605-0071, Japan
Open: Daily from 9am to 5pm
photo by Aapo Haapanen (CC BY 2.0) modified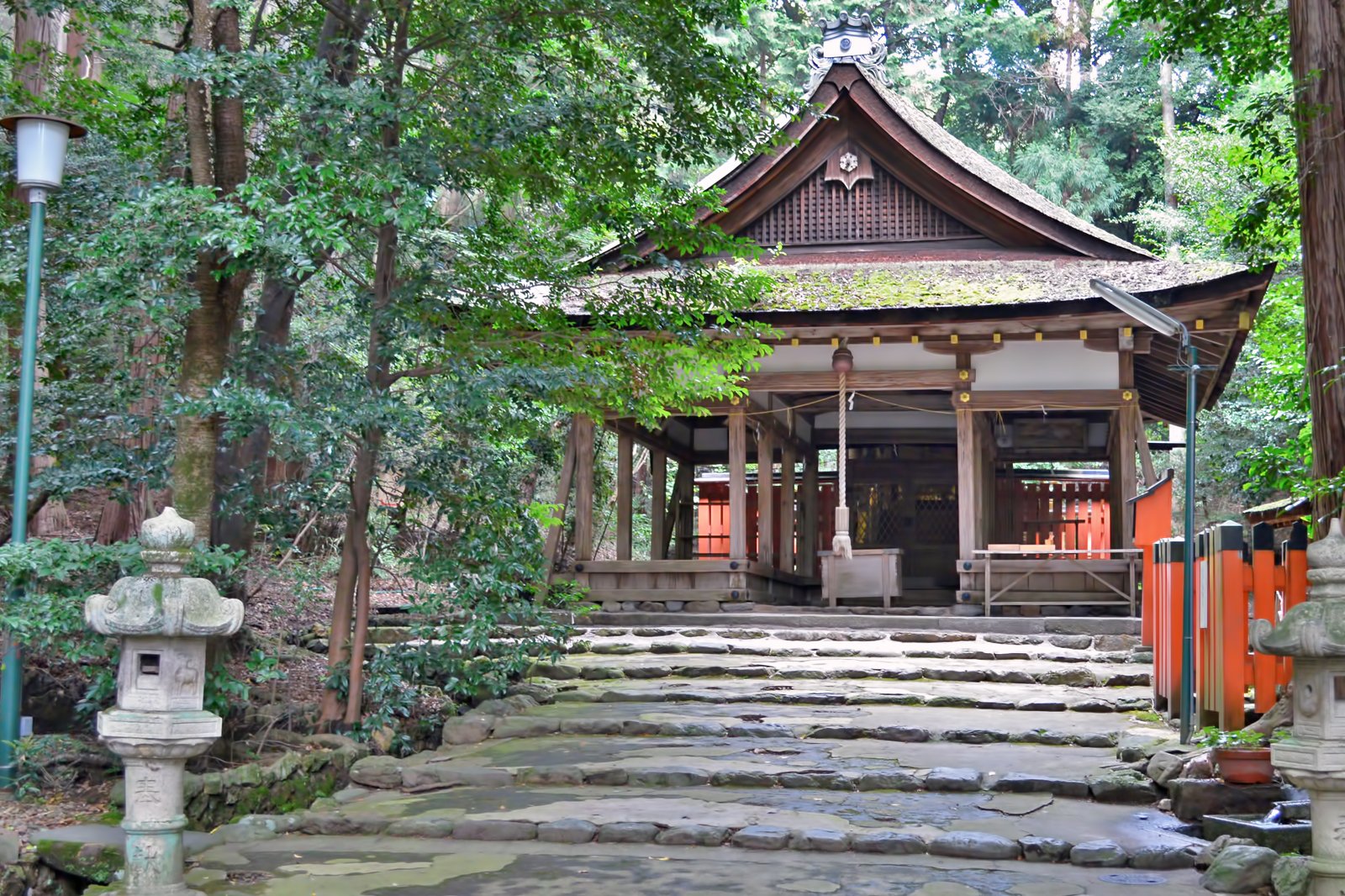 Ota-jinja, also known as the Purple Iris Shrine, is notable for the bright flowers that over the grounds. In May and June, this peaceful site explodes with color when the iris flowers are in bloom. The shrine is devoted to the god of plentiful harvests and fittingly has been an important shrine for farmers since its beginning.
Location: 340 Kamigamo Motoyama, Kita, Kyoto, 603-8047, Japan
Phone: +81 (0)75 781 0907
photo by Saigen Jiro (CC0 1.0) modified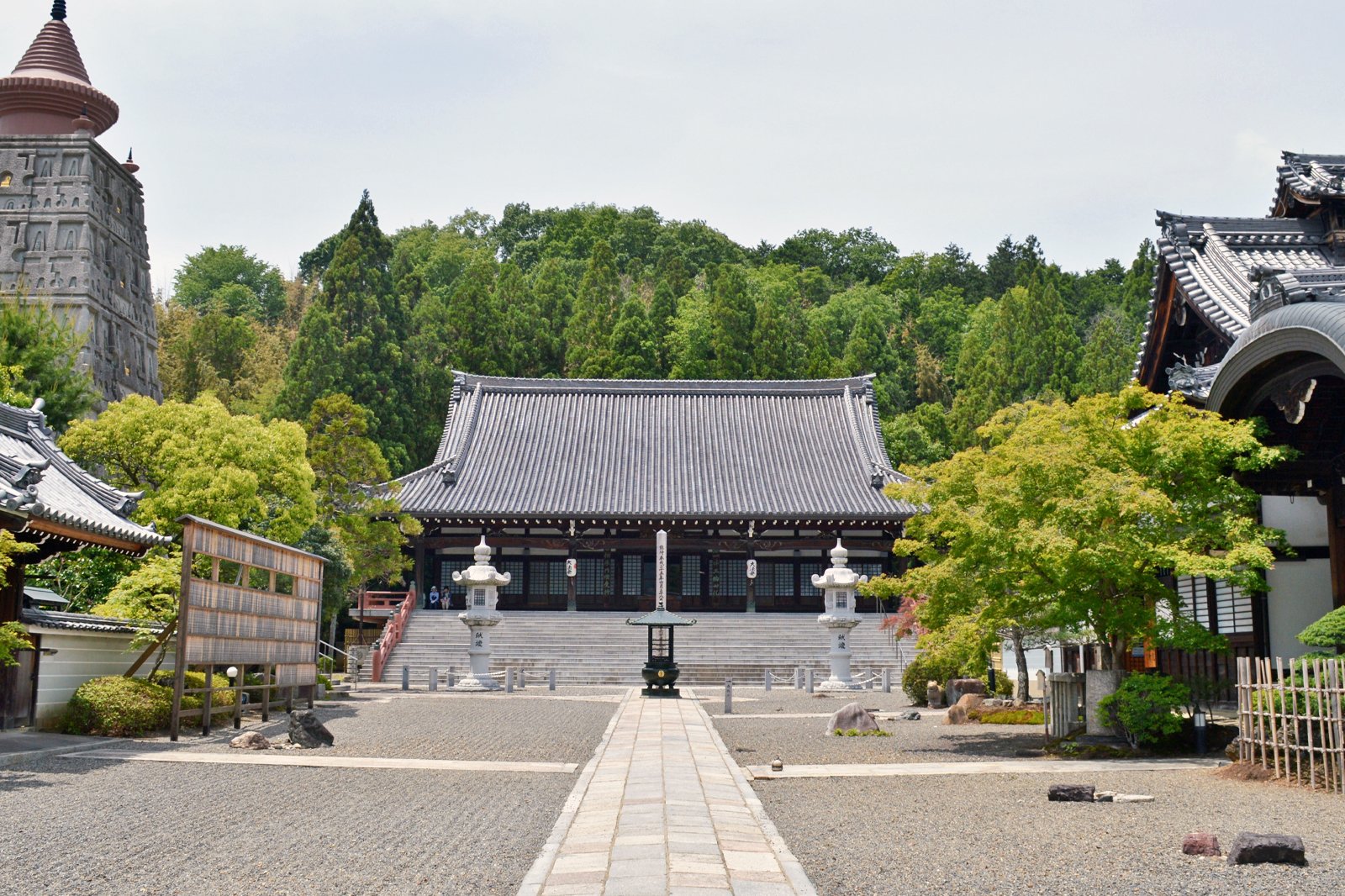 Enjoy superb views of Mount Hiei from this temple originally constructed in the 14th century and moved to this location after World War II. In honor of the Buddha's enlightenment, Myomanji Temple has a scale replica of the Bodh Gaya stupa in India within serene gardens of conscientiously raked sand and gravel.
Location: 91 Iwakura Hataedacho, Sakyo, Kyoto, 606-0015, Japan
Phone: +81 (0)75 791 7171
photo by telier Verde (CC BY-SA 3.0) modified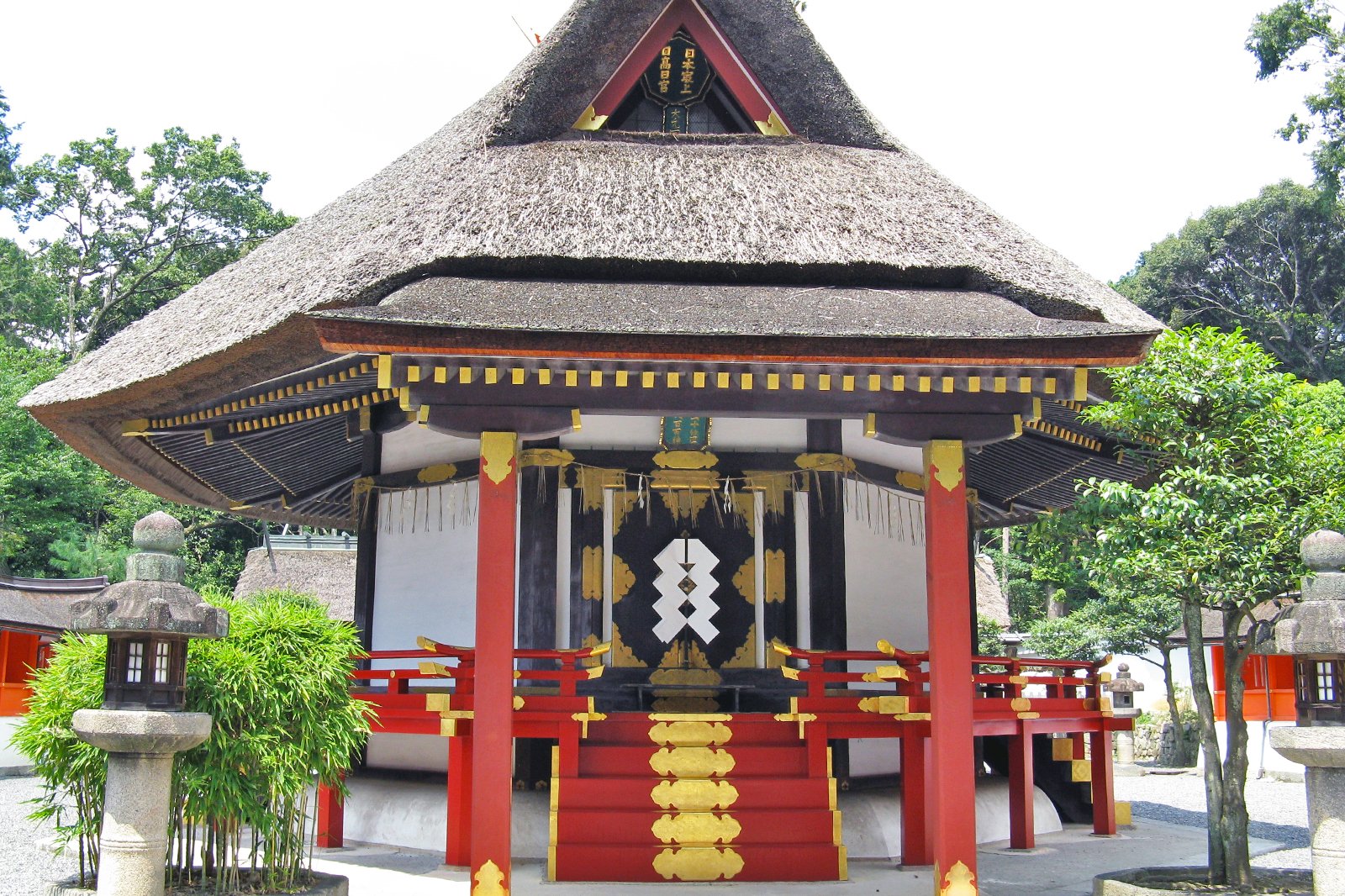 Built in 859 and recognized as one of Japan's 22 elite shrines in 1081, this protector of Kyoto was founded by the powerful Fujiwara family. Here, during the 15th century, scholar and priest Kanetomo Yoshida launched the arm of the Shinto religion known as Yoshida Shinto. The shrine remains an important Shinto site today. Annually, on 3rd January, the shrine hosts the setsubun (Chinese New Year) bonfire and celebrations. Encircled by lush forest the shrine sits peacefully within an air of tranquility.
Location: 30 Yoshidakaguraokacho, Sakyo, Kyoto, 606-8311, Japan
Phone: +81 (0)75 771 3788
photo by KENPEI (CC BY-SA 3.0) modified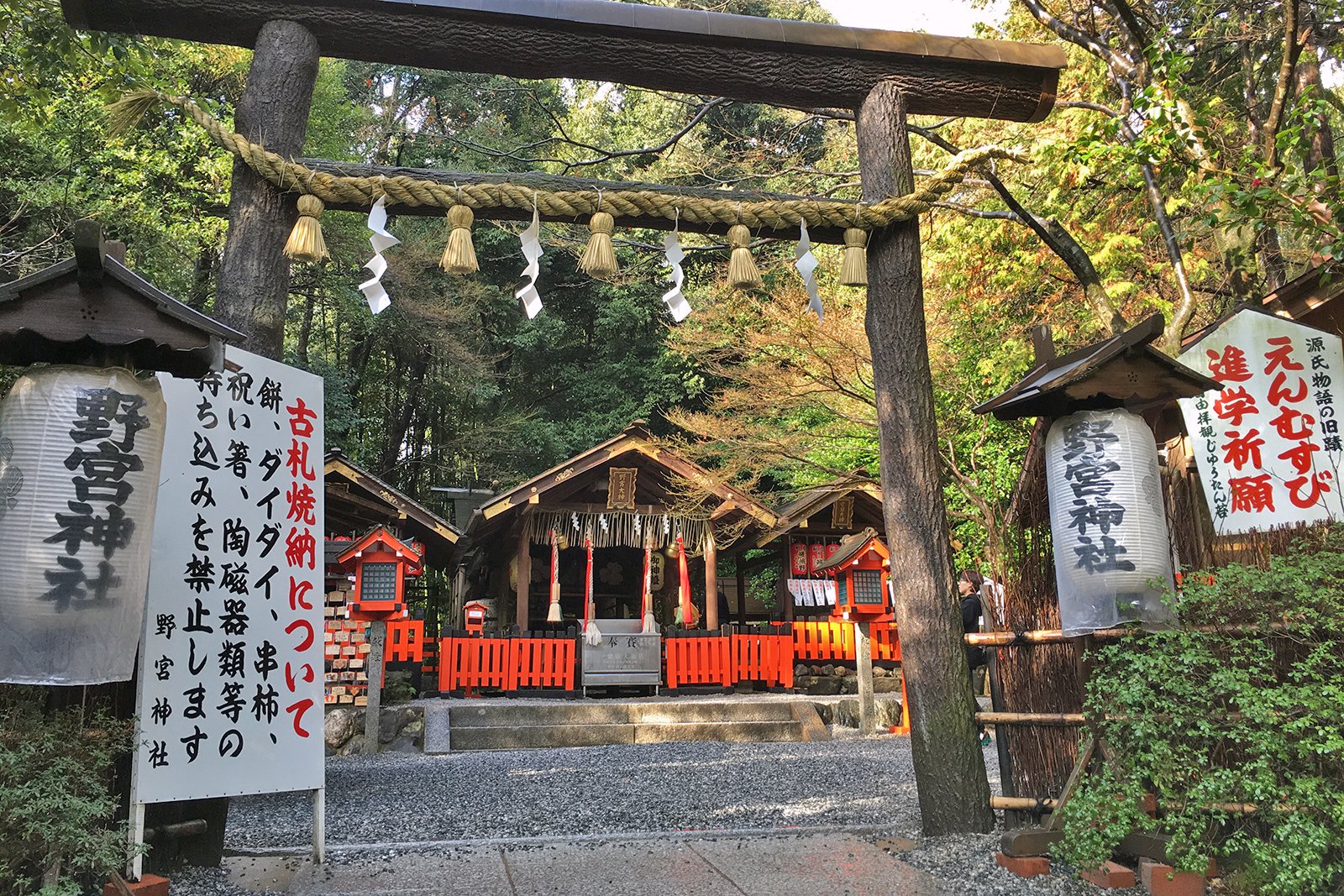 A lush bamboo forest surrounds this shrine where, during the Heian Period, imperial princesses lived for at least a year as an act of purification before they went on to represent the imperial family. The shrine is devoted to the god of relationships and learning, so many single Japanese women come seeking a good match while students pray to pass their exams. As you go through the distinctive black torii gates you will see the Kame no Ishi stone. It's believed that if you stroke the stone your wish will come true within a year. The shrine is within walking distance of Saga-Arashiyama station on the JR Sagano line.
Location: 1 Nonomiya cho, Sagano, Ukyo, Kyoto, 616-8393, Japan
Open: Daily from 9am to 5pm (Office closes at 4.30pm)
Phone: +81 (0)75 871 1972
photo by bryan... (CC BY-SA 2.0) modified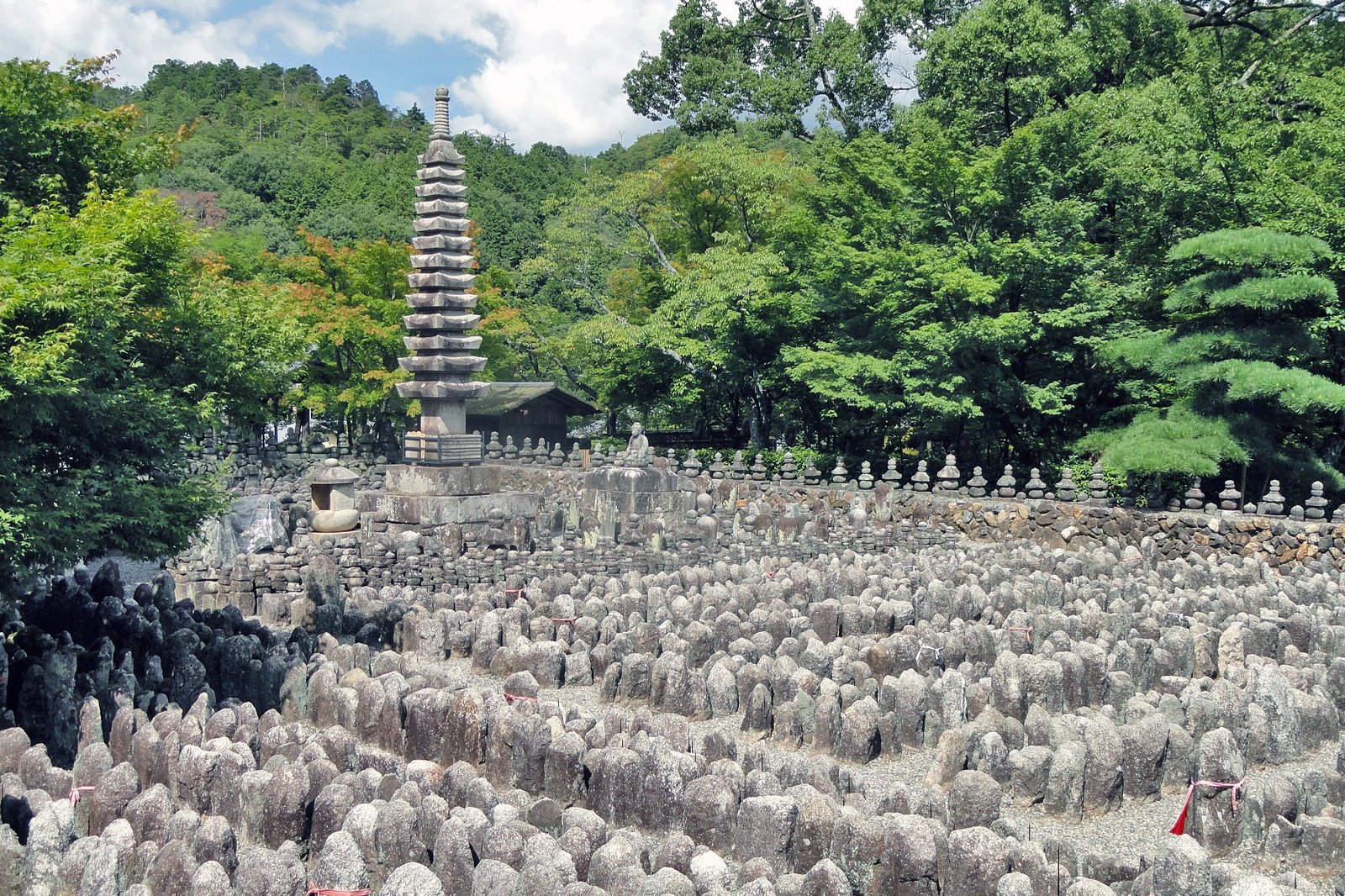 This small temple hidden on a hillside in Arashiyama is home to 8,000 stone Buddha statues, all sitting together forming a dramatic sight for those with the energy to walk the half hour or so up the hill. You can also take a local bus up the hill from near Tenryuji Temple. Adashino Nembutsu Temple is thought to be devoted to the impoverished peoples whose ashes were scattered in the area during the Heian and Edo periods.
Location: 17 Adashino-cho, Toriimoto, Ukyo, Kyoto, 616-8436, Japan
Open: March–November from 9am to 4.30pm. December–February from 9am to 4pm
Phone: +81 (0)75 861 2221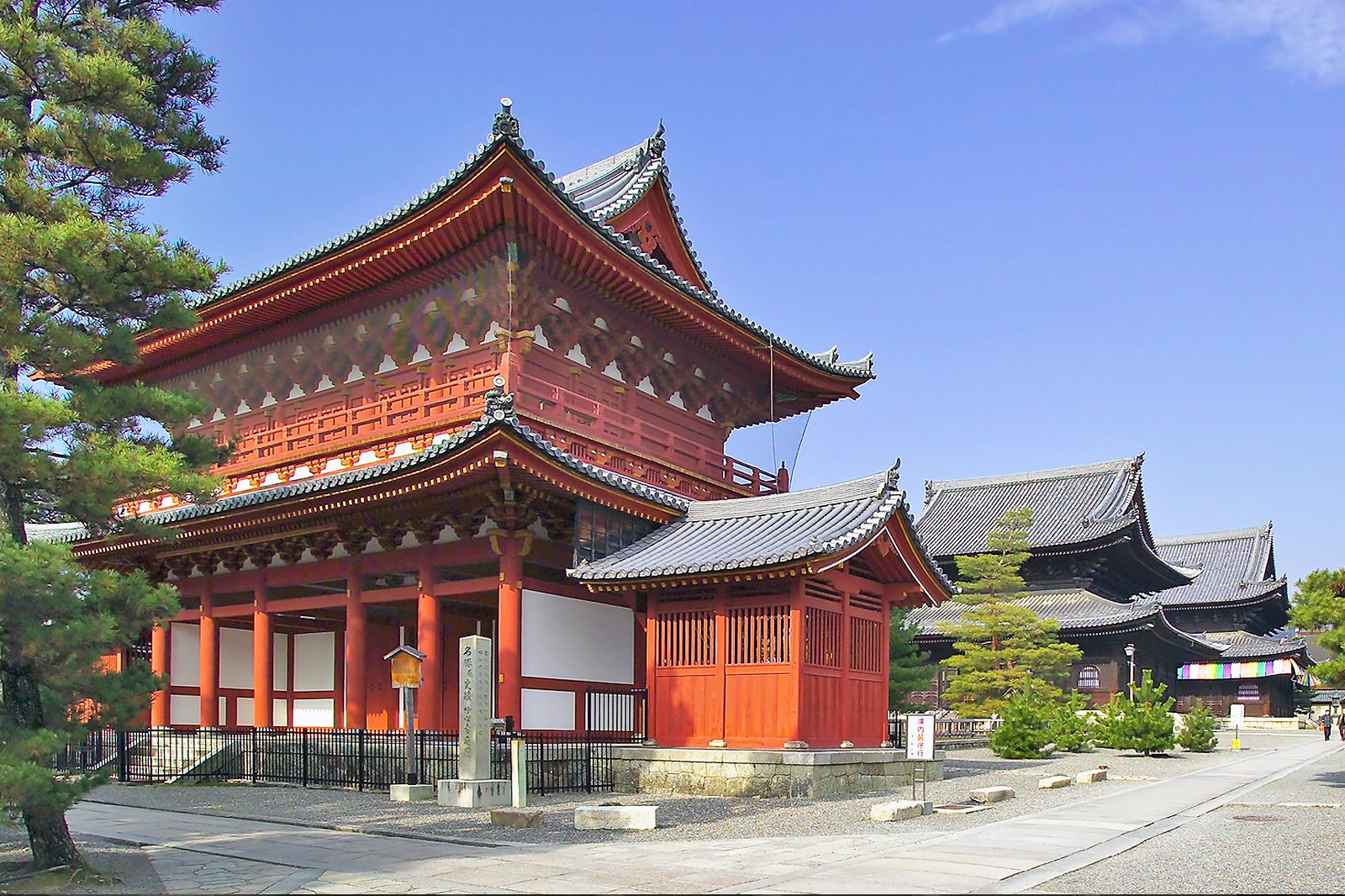 This 14th century temple is home to Japan's oldest bell, cast in 698, and it is still used daily by the monks. The site was once the villa of Emperor Hanazono, but once he became enlightened after many years of strict Zen Buddhist practice the villa was converted into a temple. The Lecture Hall has an amazing painted ceiling of a dragon glaring in 8 directions that stares at you wherever you stand. The easiest way to reach the temple is by Kyoto City Bus 61, 62, or 63 to Myoshinji-mae stop.
Location: 64 Hanazono Myoshinji-cho, Ukyo, Kyoto, 616-8035, Japan
Phone: +81 (0)75 461 5226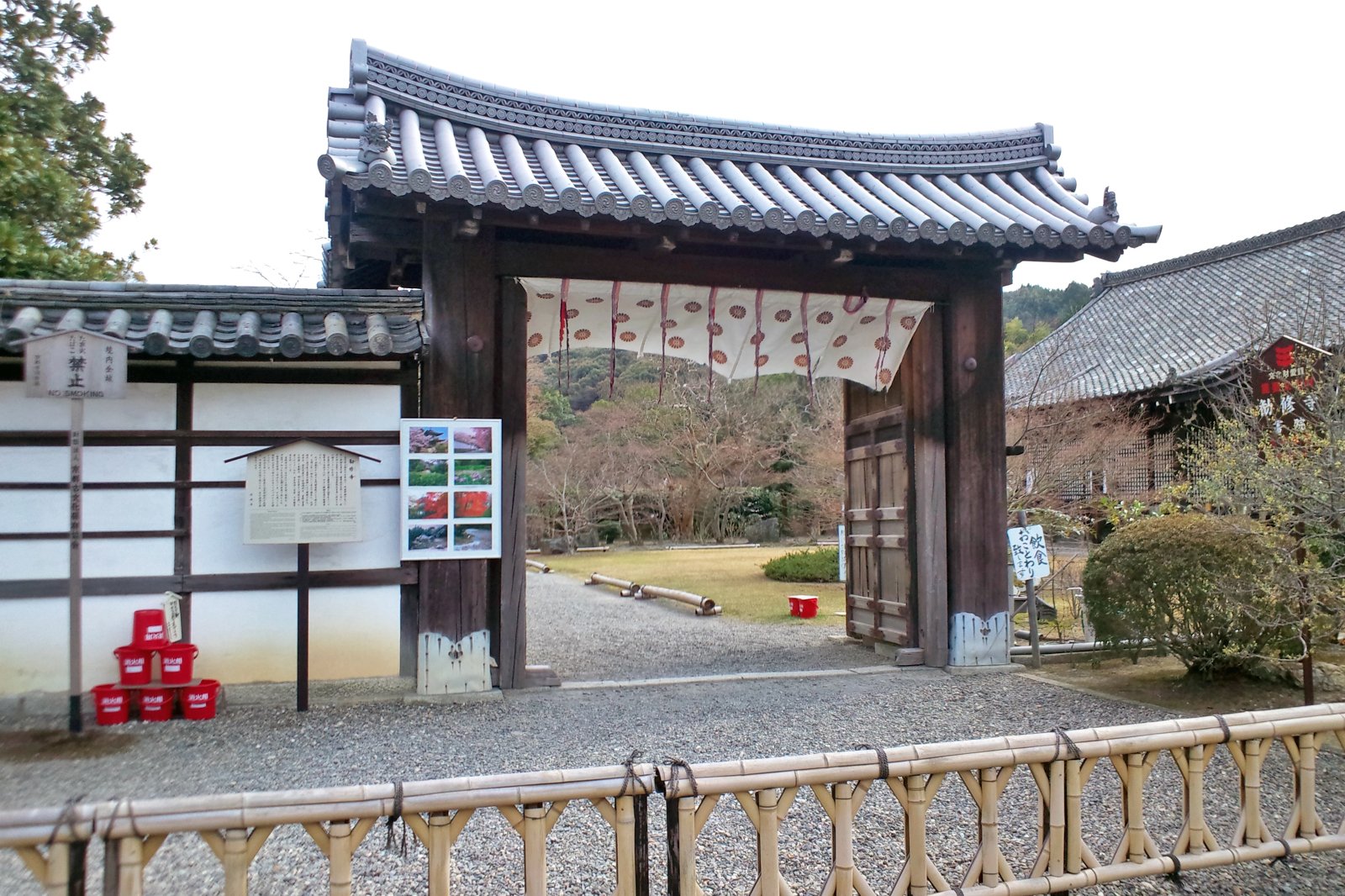 Kajuji Temple was built by Emperor Daigo to venerate his mother in the after-life. Another victim of Kyoto's earthquake-prone position and the Onin Wars, by the late 17th century the temple had fallen into disrepair, until the shogunate channeled funds to restore its former glory. Today, the temple is distinguished by its ancient strolling garden which has been kept in much the same state as it was 1,000 years ago. To reach Kajuji Temple, takr the Tozai subway Line to Ono station.
Location: 27-6 Kanshuji Niodocho, Yamashina, Kyoto, 607-8226, Japan
Open: Daily from 9am to 4pm
Phone: +81 (0)75 571 0048
photo by Yanajin33 (CC BY-SA 3.0) modified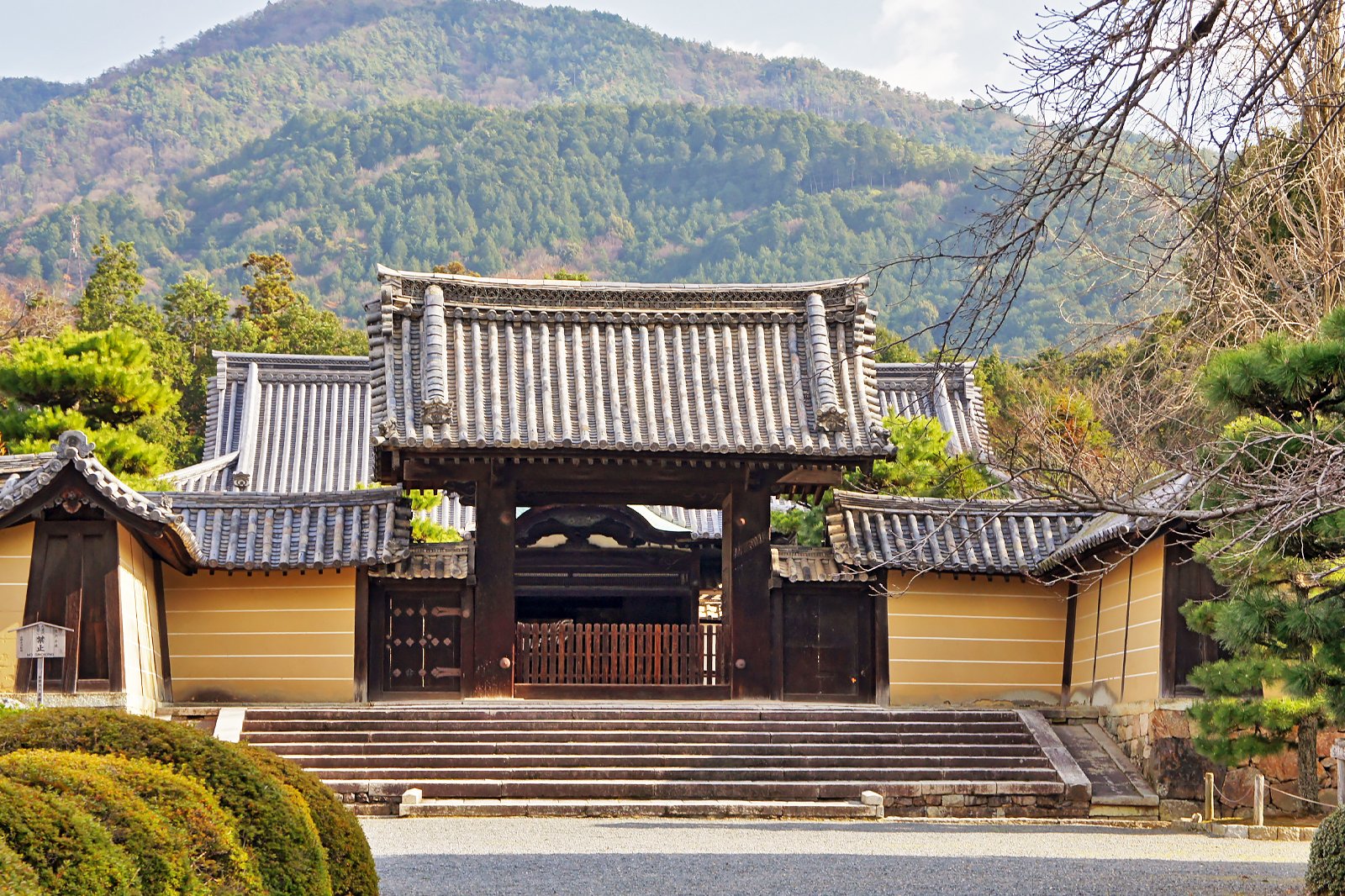 This beautiful temple is famous for its thick canopy of plum blossom trees that explode with color in spring. The temple houses many priceless artifacts including items belonging to famous female poet, Ono Komachi. A dance is staged here annually to honor Komachi. Few tourists have even heard of Zuishin-in so it is a good place to escape the crowds. Zuishin-in Temple is east of downtown Kyoto, in Yamashina district. Take the subway to Ono subway station.
Location: 35 Onogoryocho, Yamashina, Kyoto, 607-8257, Japan
Open: Daily from 9am to 4.30pm
Phone: +81 (0)75 571 0025
photo by 663highland (CC BY-SA 3.0) modified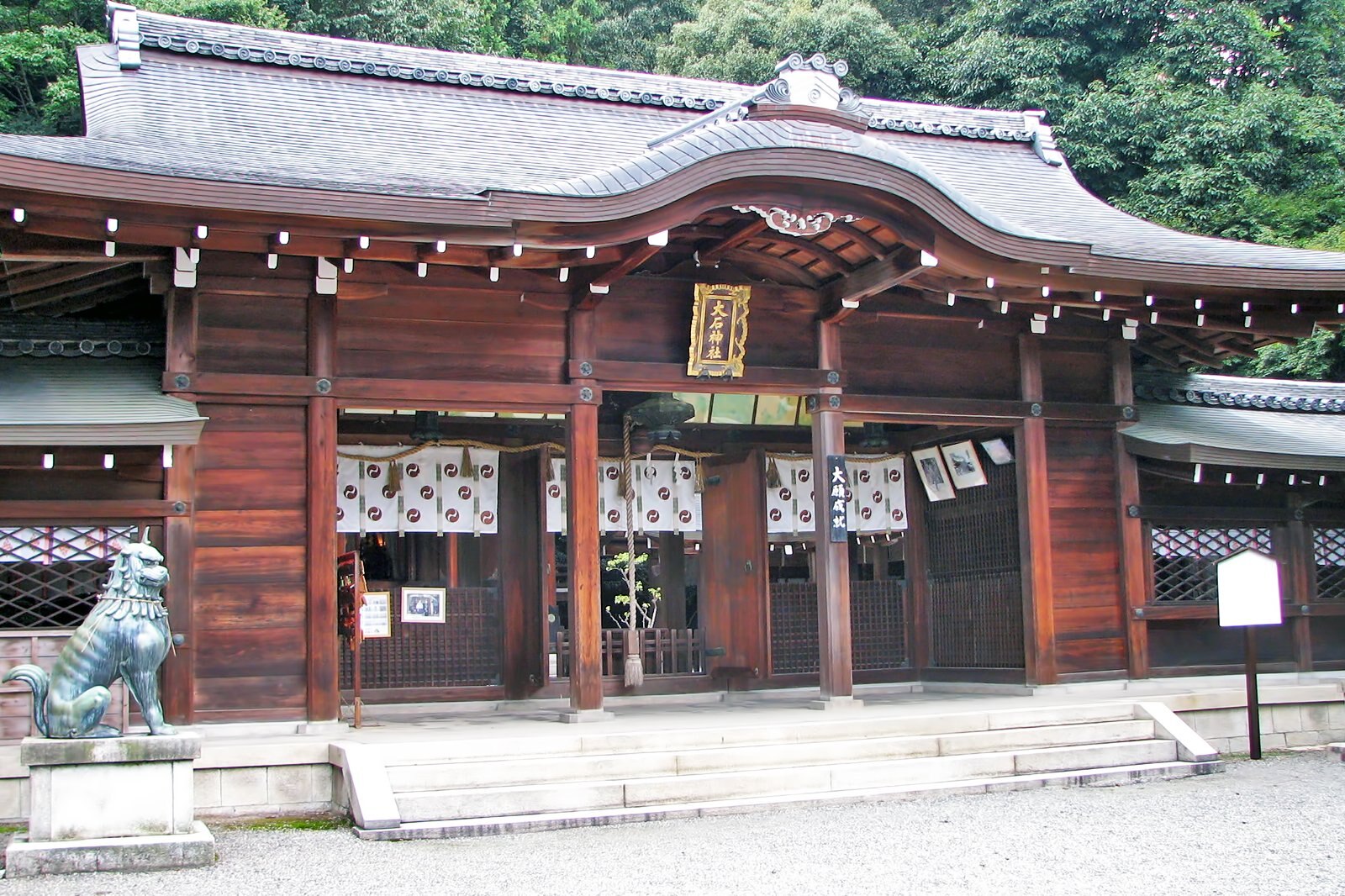 A large statue of the Samurai lord Yoshio Oishi watches over Oishi Shrine, a quiet temple in Yamashina. The main hall stands behind a tall concrete torii gate and is the quintessential Japanese temple scene with cascades of cherry blossoms lining the path towards the hall. Shishi statues appear around the temple, open mouthed to ward off bad spirits and closed-mouth to keep the good luck. The annual Sakura Festival (cherry blossom season) is held here in the first week of April.
Location: 16 Nishinoyama Sakuranobabacho, Yamashina-ku, Kyoto 607-8308, Japan
Phone: +81 (0)75 581 5645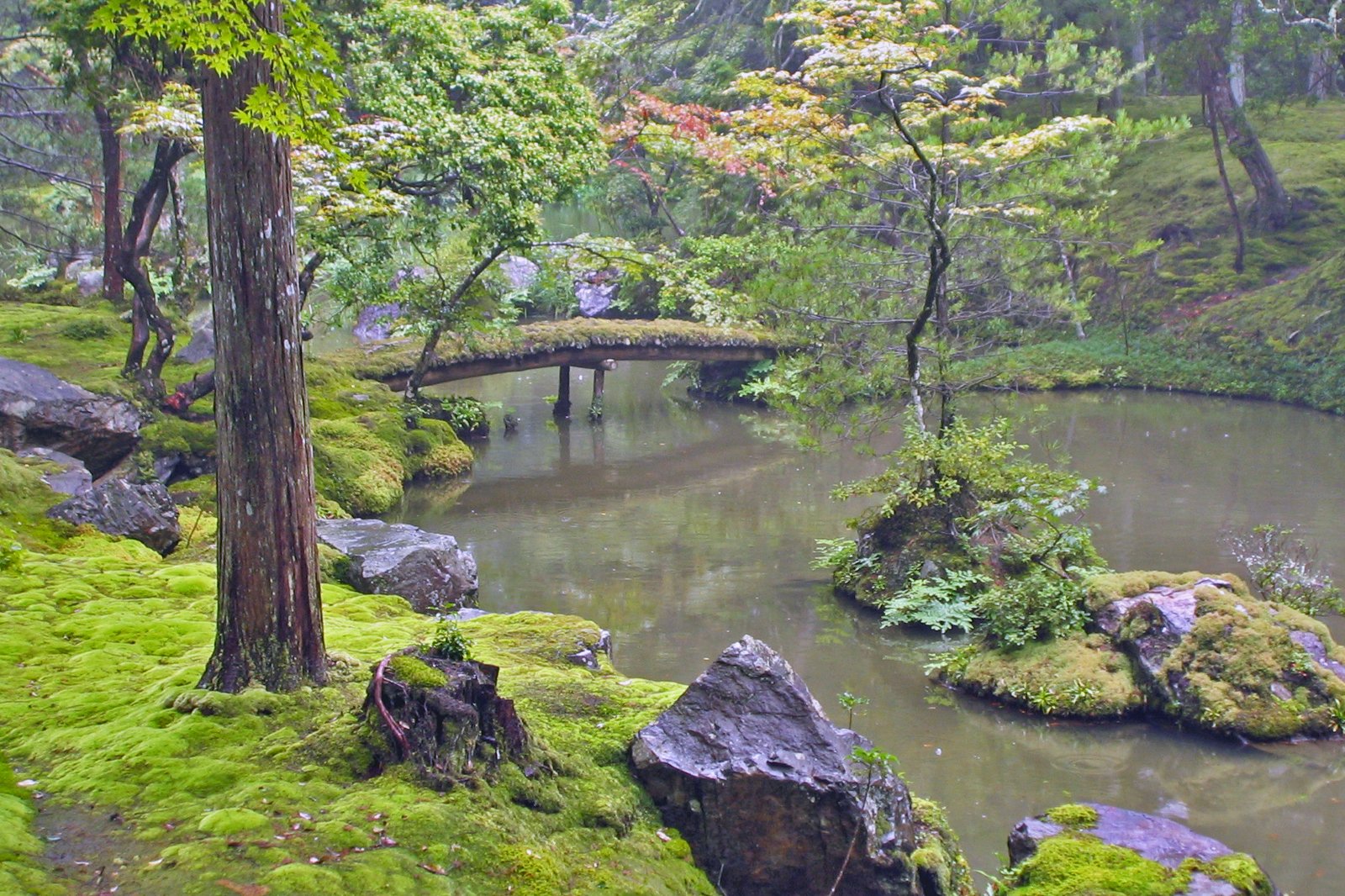 Saihoji (The Moss Temple)
Thought to be one of the oldest gardens associated with Zen philosophy, Saihoji Temple was established during the Nara Period by a monk named Gyoki. The temple was converted to Zen in 1339 and it wasn't until it fell into disrepair in the Meiji Period that its famous moss started to grow. Now said to contain over 120 types of moss, the temple is called Kokedera, literally The Moss Temple. A UNESCO World Heritage Site since 1994, the gardens have been designated a special place of scenic beauty especially the area around the pond which is shaped like the Chinese character for 'heart'. The garden has influenced designers throughout its history. To view the temple and its amazing moss garden you must apply in writing with your name, number of people, preferred date and mailing address to the address below. It costs ¥3,000 to enter Saihoji Temple, payable on the day.
Location: 56 Jingatani-cho, Matsuo, Nishikyo-ku, Kyoto, 615-8286, Japan
Phone: +81 (0)75 391 3631
photo by Ivanoff~commonswiki (CC BY-SA 2.5) modified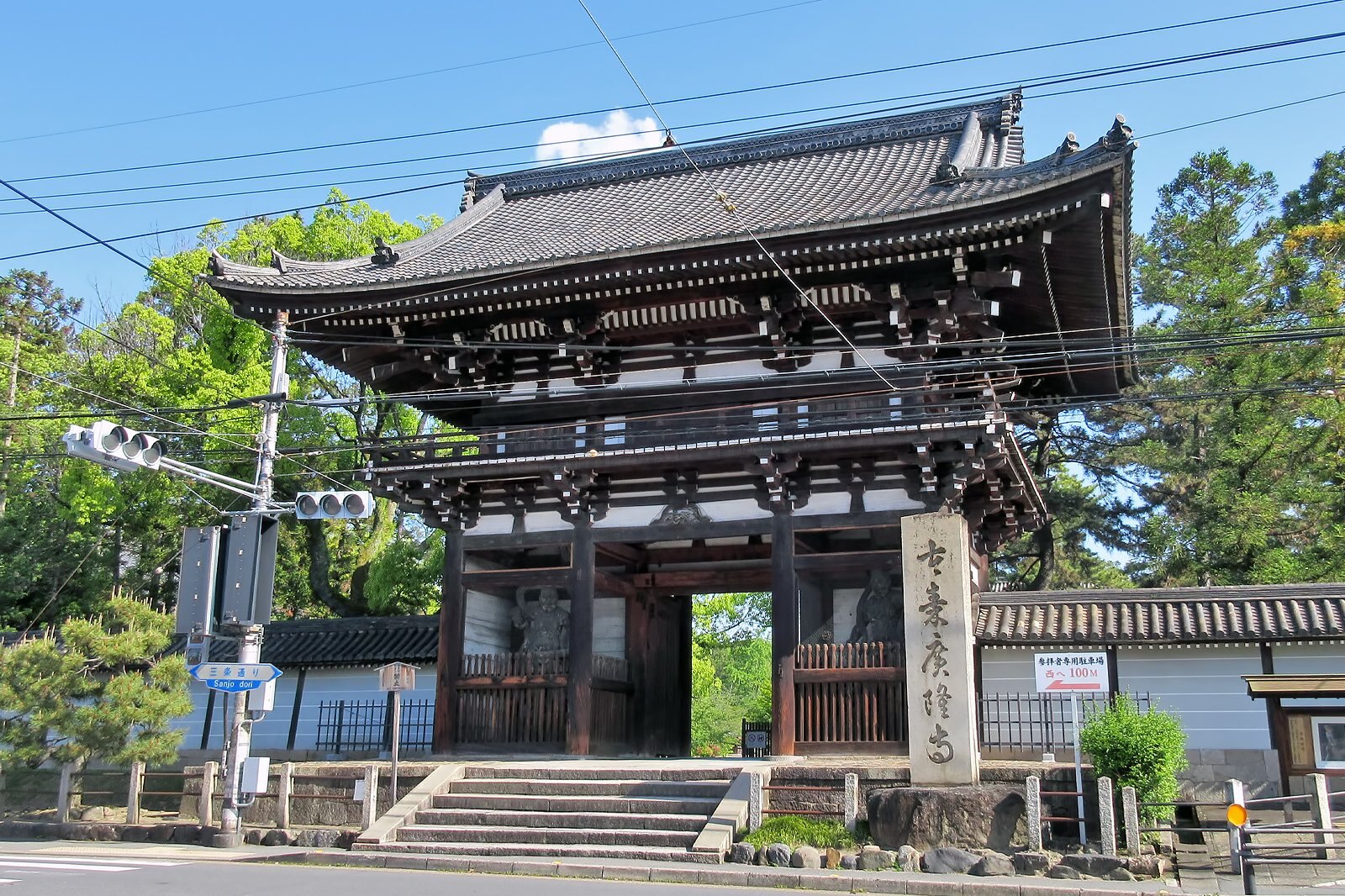 Many believe Koryuji to be the oldest temple in Kyoto dating back to 603, but devastating fires in 818 and 1150 saw the temple rebuilt each time. The Reiho-den hall protects many ancient documents, paintings and writings, all of which are cherished as National Treasures. Of particular interest to most visitors is the wooden sculptures in the temple grounds. Koryuji is well off the toursit trail in Uzumasa, but is interesting if you find yourself in the western suburbs.
Location: 32 Uzumasa-hachioka-cho, Ukyo, Kyoto, 616-8162, Japan
Open: Daily from 9am to 5pm
photo by KishujiRapid (CC BY-SA 4.0) modified
If you happen to be pregnant or know someone who is, then a trip to Waratenjin Shrine may just insure a healthy bundle of joy! This old Shinto shrine is dedicated to protecting babies and mothers during childbirth. It is also believed that by procuring a special charm from the shrine you will be able to predict the sex of your baby. This ancient shrine is close to Ritsumeikan University in the north of Kyoto and is popular with students praying before exams.
Location: 10 Kinugasa Tenjinmoricho, Kita, Kyoto, 603-8375, Japan
Phone: +81 (0)75 461 7676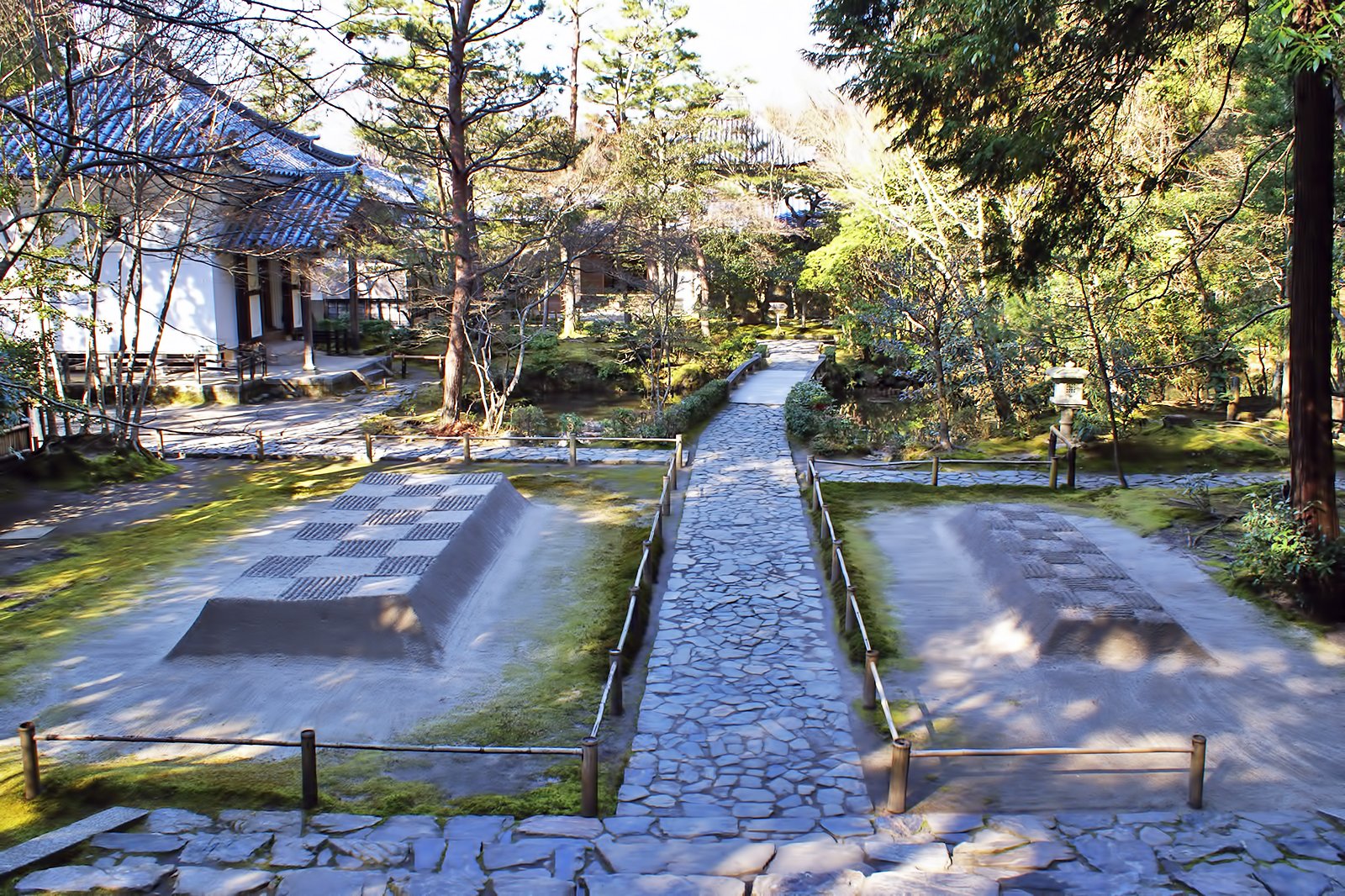 A short detour from the Philosopher's Walk pathway will bring you to Honen-In; a small yet stunningly scenic temple of the Jodo-sect. With a rustic thatched gate and raked-stone gardens that the monks regularly redesign, it's a lovely place to visit and take respite along the historic promenade. Through the rear of the temple, a classic Japanese bridge leads to a peaceful koi carp pond, which then gives way to a remarkable statue of Kannon the Bodhisattva of mercy.
Location: 30 Shishigatani, Goshonodan-cho, Sakyo, Kyoto, Japan
Open: Daily from 5am to 4pm
Phone: +81 (0)75 771 2420
photo by ERIC SALARD (CC BY-SA 2.0) modified