10 Best Things to Do in Naples
What is Naples Most Famous For?
Naples is a dazzling city located on the southeast coast of the Italian Peninsula. Established since the Bronze Age, Naples historical center is a UNESCO World Heritage Site and the city and its immediate surroundings feature unique archeological sites such as Pompeii and Herculaneum.
Get to Naples to enjoy the dolce vita (sweet life), Italian style. With an all-year-round warm climate, one of the most beautiful bays in the world, delicious food specialties – including pizza – and wines, plus the typical lively Italian way of life, Naples is the perfect destination for a memorable vacation.
What are the best things to do in Naples?
1
Piazza del Plebiscito
Walk around a popular gathering spot in Naples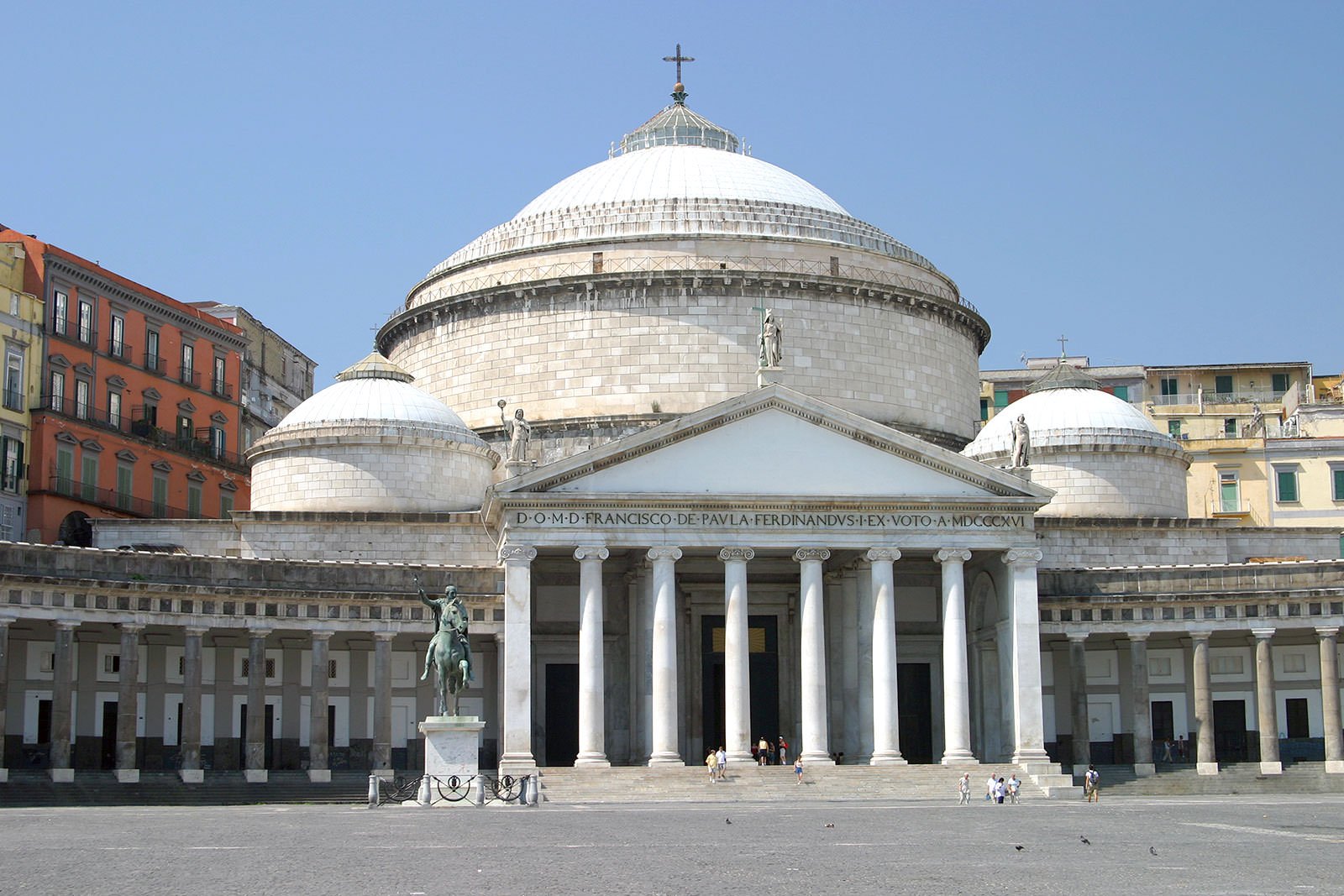 Couples
Budget
History
Photo
Piazza del Plebiscito is a historical square located just west of the port of Naples. Built in the early 19th century, it's adjacent to the Royal Palace and surrounded by splendid palazzos (stylish mansions), a church and the Prefecture Palace. As the largest square in Naples, it's a popular gathering spot. The nearby bars and restaurants, including the famed Gran Caffè Gambrinus, offer pleasant places to grab a snack and drink of the local favorite, caffè stretto, before exploring the nearby Naples Old Town.
Location: 500 meters southwest of the Port of Naples
2
Museo Cappella Sansevero
Go to See one of the quirkiest museums in Naples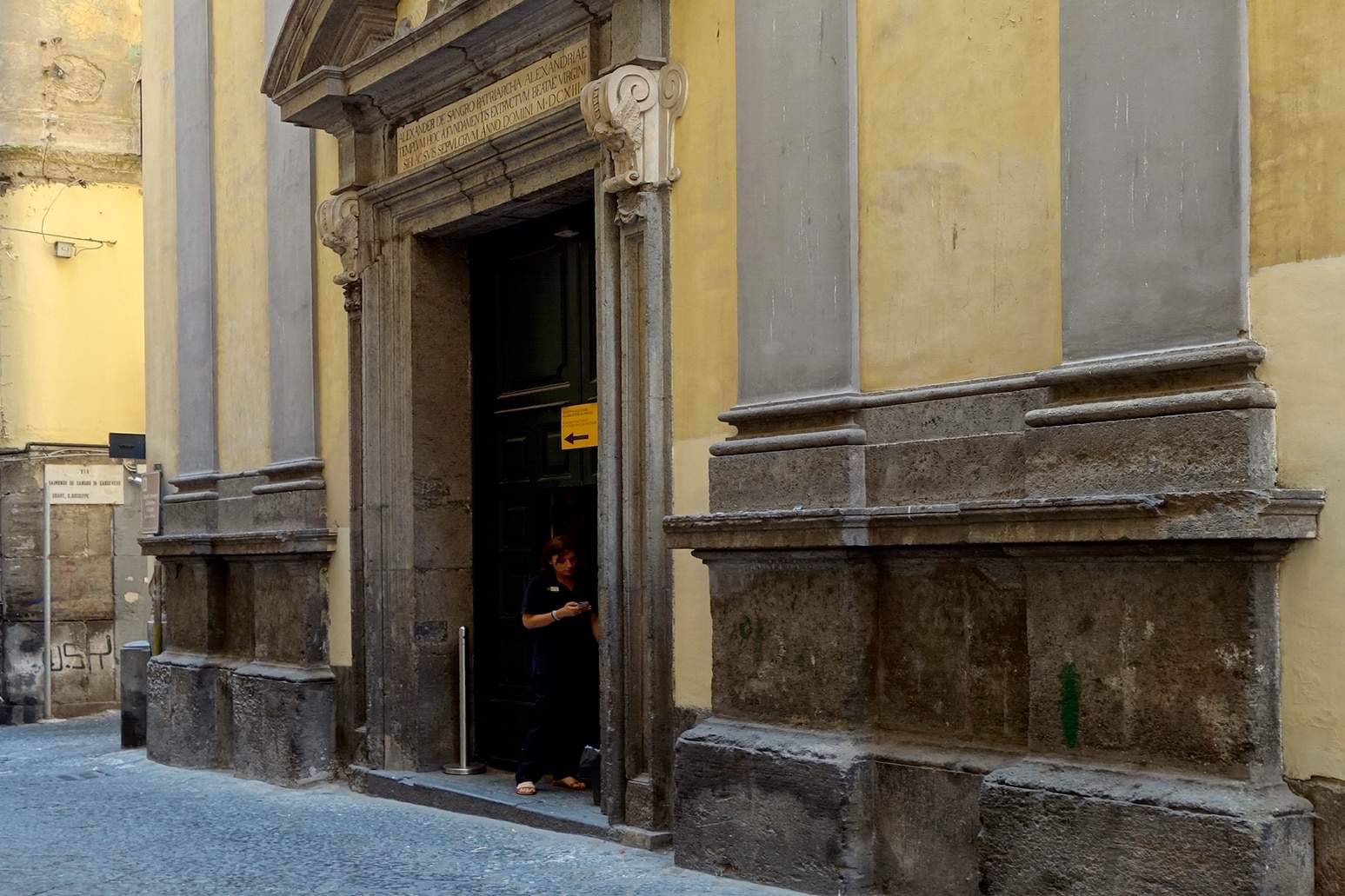 Museo Cappella Sansevero (Sansevero Chapel Museum) is one of the most striking museums to visit in the city. From the unique and magnificent Veiled Christ marble statue to the mysterious Anatomical Machines, the museum hosts an impressive collection of somehow disturbing works of arts from 18th-century Italian artists. Despite the fact photographing is not allowed inside, it's one of the most visited museums in Naples, and certainly a place that will trigger your interest. The museum is 800 meters north of the Port of Naples.
Location: 800 meters north of the Port of Naples
Open: Daily from 9 am to 7 pm
photo by Velvet (CC BY-SA 3.0) modified
3
Via Toledo
Browse along one of the liveliest shopping streets in Naples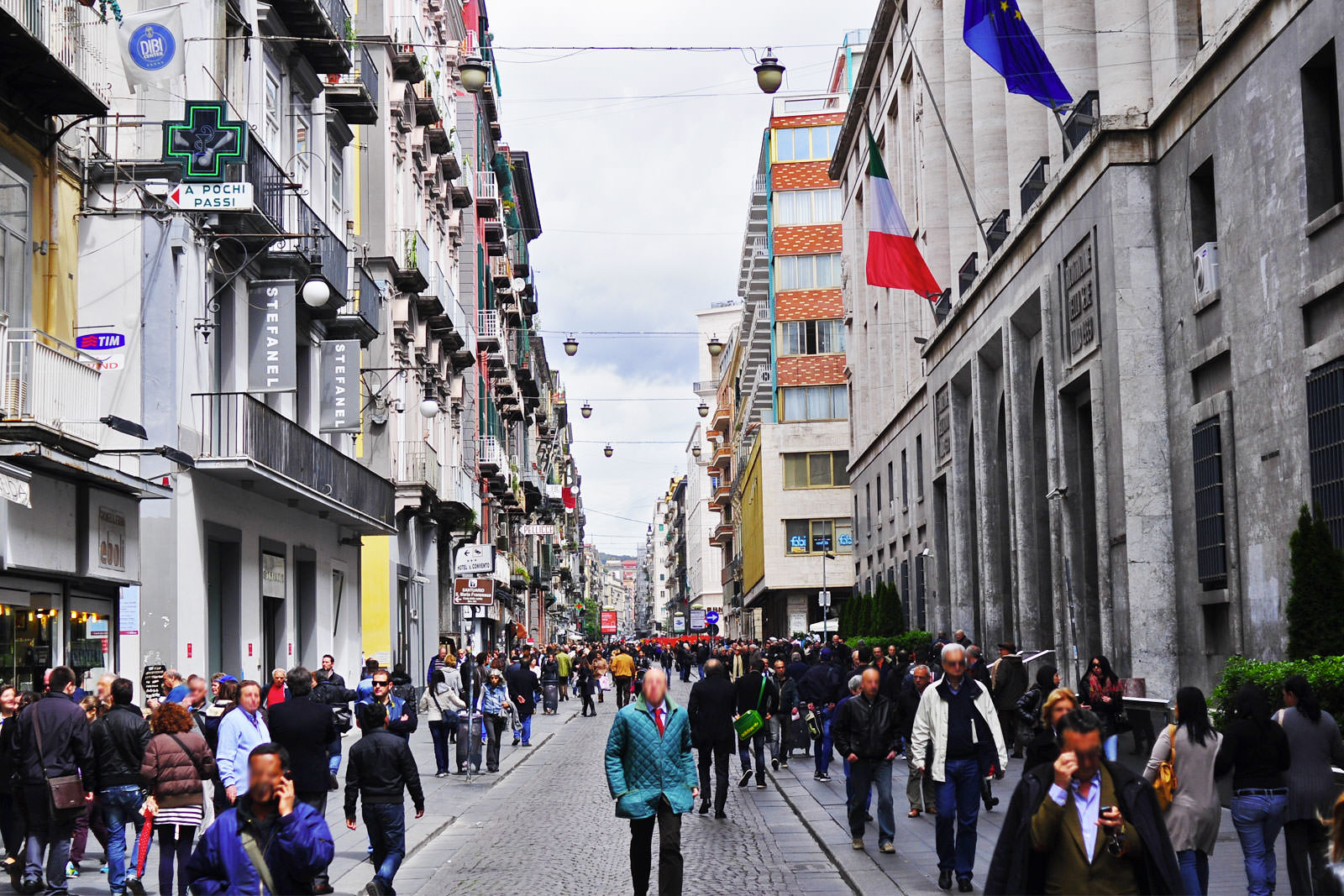 Stretching between Piazza Dante to the north and (near) Piazza del Plebiscito to the south, Via Toledo is one of the buzziest shopping streets in the heart of Naples. From cheap souvenirs shops to high-end fashion designers' boutiques, you mostly can find anything on Via Toledo. The upside is that even in the upscale stores, prices are generally lower than in Milan and Rome. You can make pauses in the many bars and restaurants interspersed between the myriad of shops that line this 1-kilometer-long lively commercial street.
Location: Via Toledo starts 60 meters north of the northeast corner of Piazza del Plebiscito
photo by Mstyslav Chernov (CC BY-SA 3.0) modified
4
Spaccanapoli - Naples Old Town
Take a walk in Naples historical district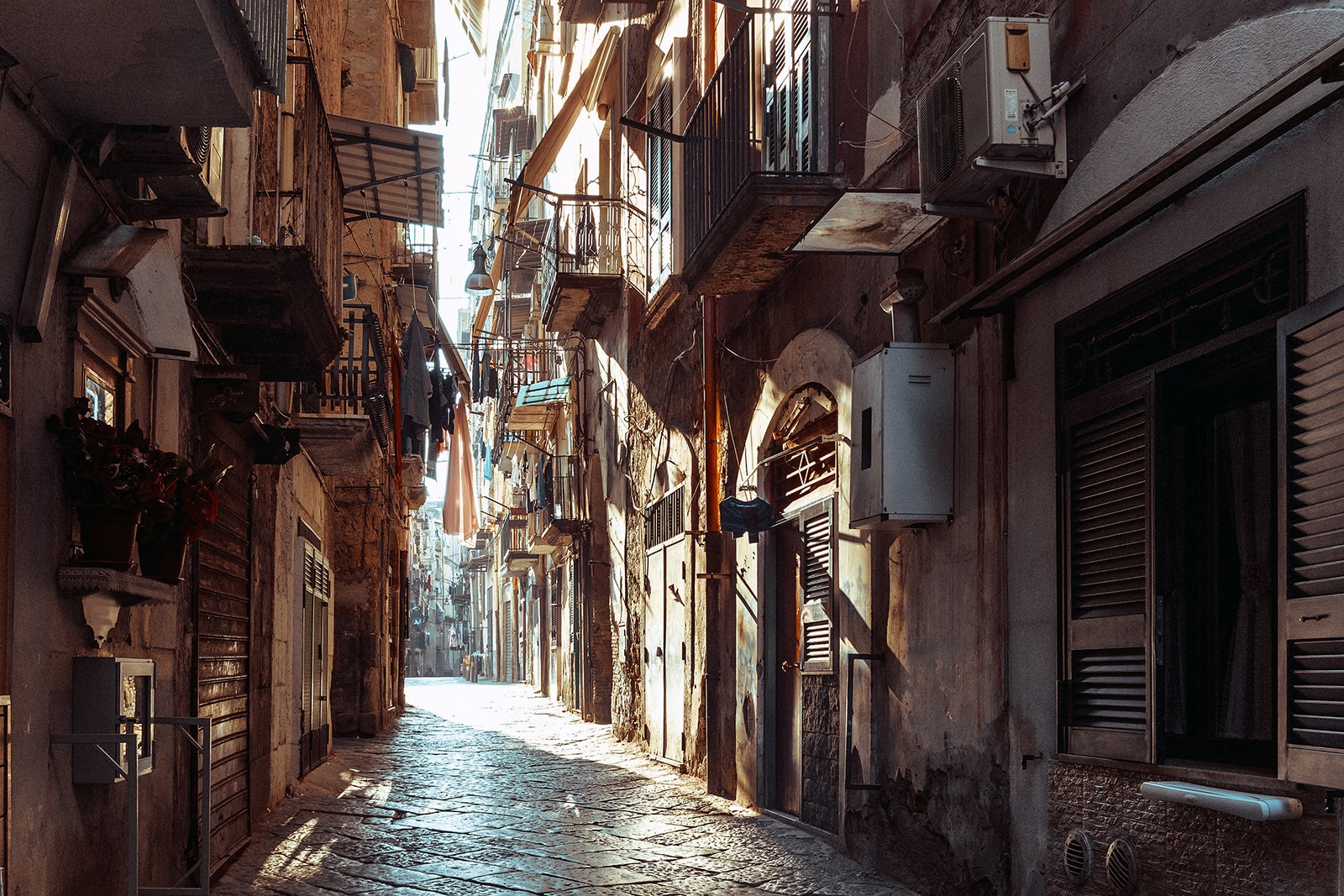 Couples
History
Photo
Luxury
The oldest part of Naples historical center is located around Spaccanapoli, a street that stretches between Piazza del Gesù Nuovo and Via Duomo. It's 600 meters north of the Port of Naples. Spaccanapoli is like a 5-meter-wide paved corridor, lined with tall vintage houses, boutiques, bars and restaurants. This historical neighborhood is the typical Neapolitan cliché; it's like a maze filled with beautiful palazzos, religious buildings, and lively small squares busy until late at night. There's no better place to experience the flavors and tempo of Naples.
Location: 1.1 km north of Piazza del Plebiscito
5
Pompeii Archeological Park
Stroll in a bygone unique city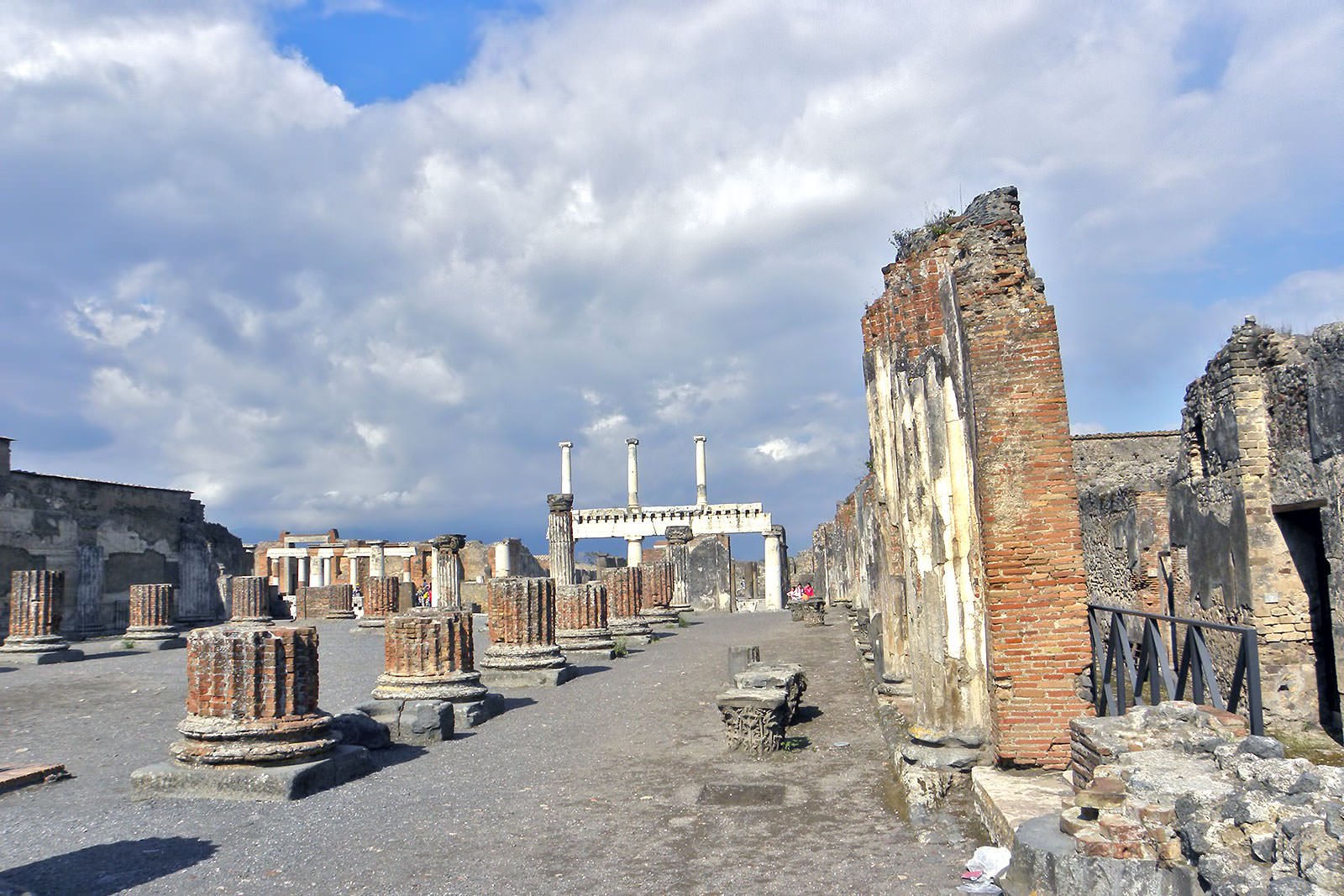 Couples
Budget
History
Photo
Located a 30-minute drive southeast of Naples Old Town, Pompeii Archeological Park is a UNESCO World Heritage Site and an iconic attraction of Naples. This Roman city engulfed under 4 to 6 meters of ashes by the eruption of Mount Vesuvio in 79 AD, was literally frozen in time. You can rental a guide or join a tour to visit this huge site, but you can also visit it at your own pace with an audio guide available at the ticket desk.
Location: 25 km east of the Port of Naples
Phone: +39 (0)081 8575 347
6
Naples Underground
Wander through 2,500 years of history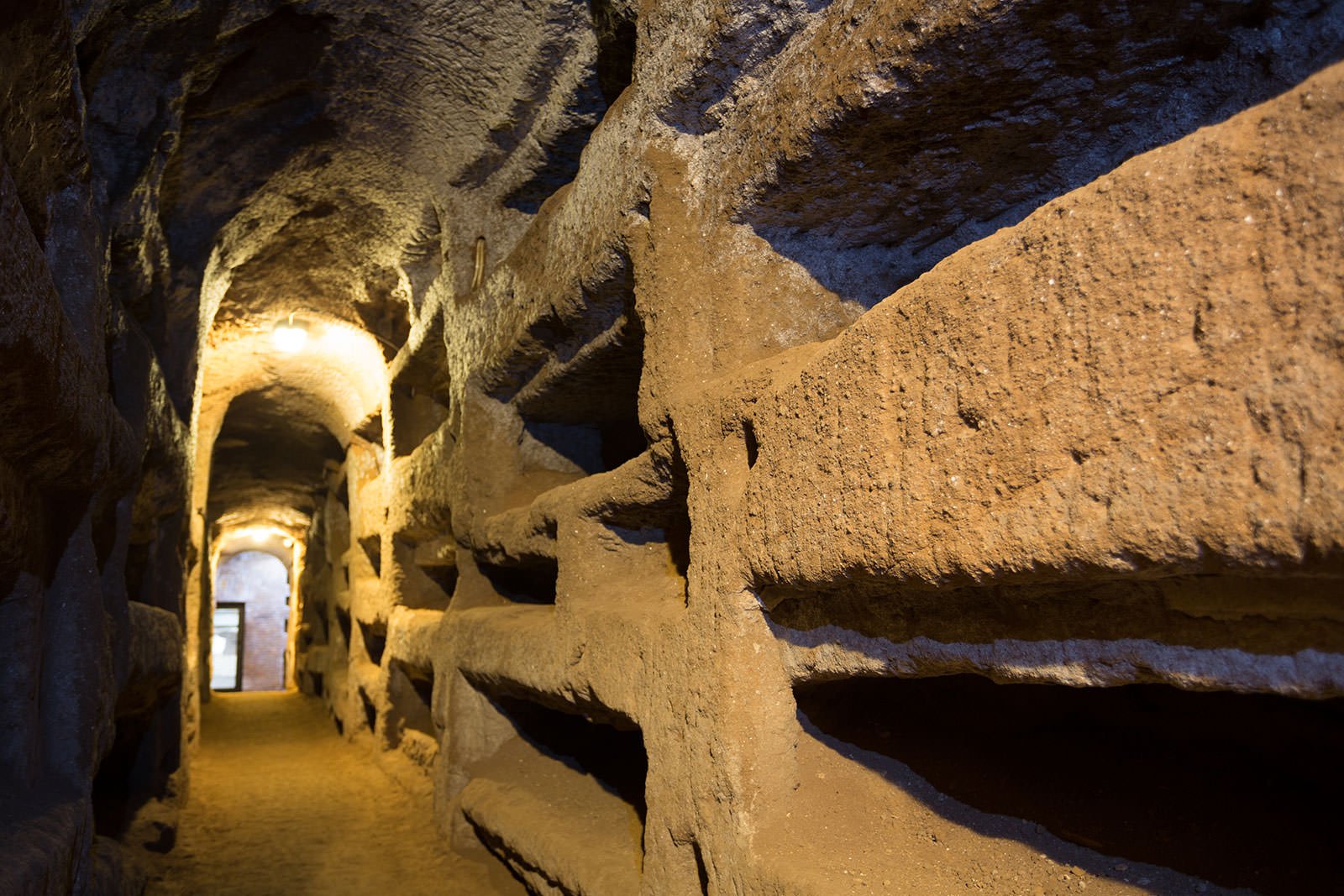 From a Greek-Roman aqueduct to a Roman theatre, Naples Underground takes you for a unique ride through history, 40 meters below the narrow lanes of the Old Town. Featuring many different entrance ways all around the historical center of the city, Naples Underground is a labyrinth of tunnels carved in the volcanic rocks on which the city is built. Head to Piazza San Gaetano, one of the most famous entries to this splendid underground site. The visit also includes a look at air raid shelters from WWII.
Location: Piazza San Gaetano, 1 km north of the Port of Naples
Open: Daily from 10 am to 6 pm
Phone: +39 (0)081 019 0933
7
Piazza Bellini
Roam around Naples Old Town after dark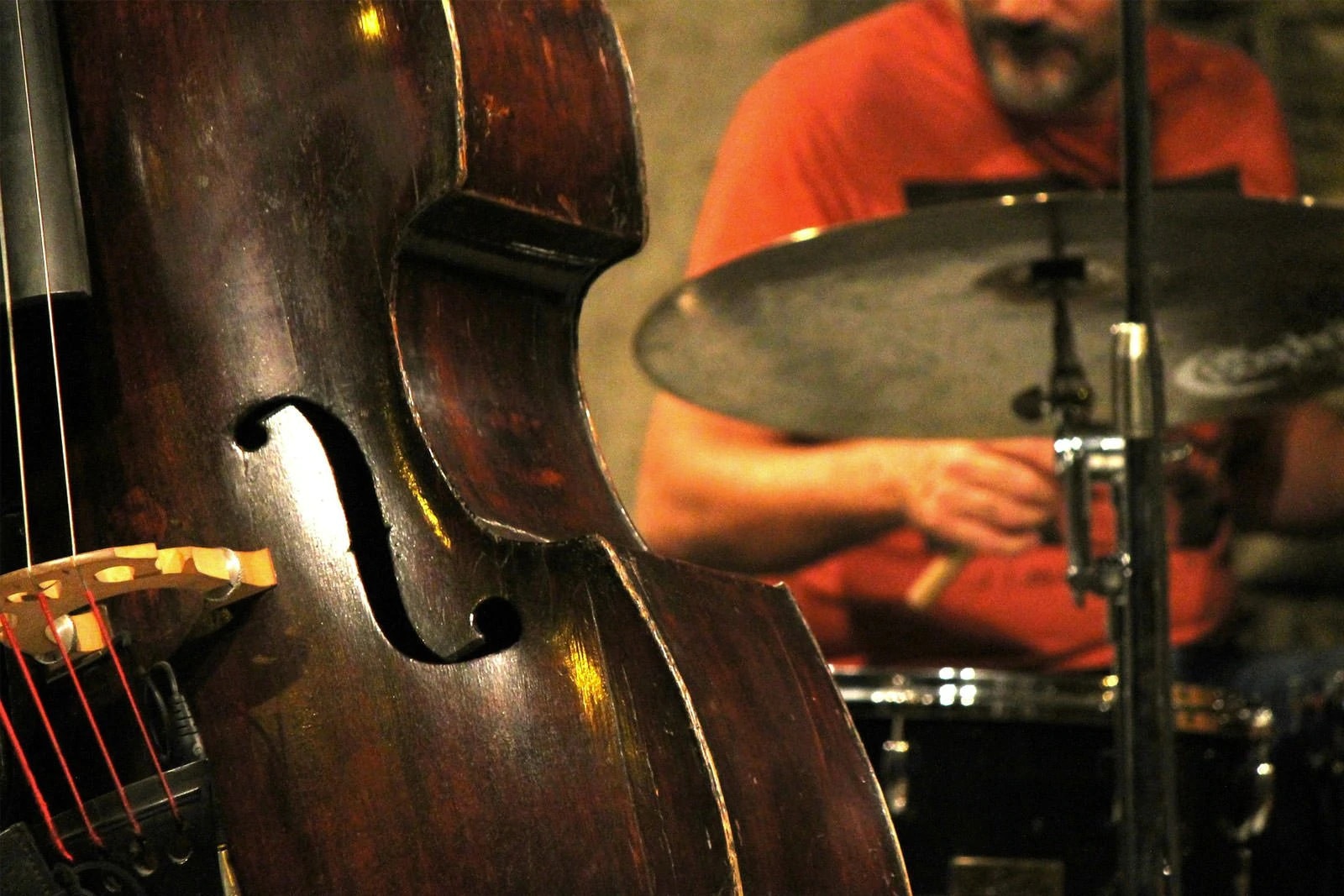 Piazza Bellini is a popular spot by day and by night. Located 1 km north of the port, the square and nearby streets are lined with quaint bars and restaurants, many of them with terraces offering great people-watching spots. A popular gathering place for students, you can spend the night in a movie-like décor with views of the 4th-century ruins of the Greek city wall, stone paved streets, and the vintage buildings of the Old Town. It's the right place to mingle with locals and to get a close look at the lively local life after dark. Have a drink at Bar Lemmelemme on Piazza Bellini for a start, before moving to Bourbon Street, a cool Jazz club on Via Vincenzo Bellini.
Location: Naples Old Town, 1 km north of Naples Port
8
Posillipo Market
Get a glimpse of local life at a street market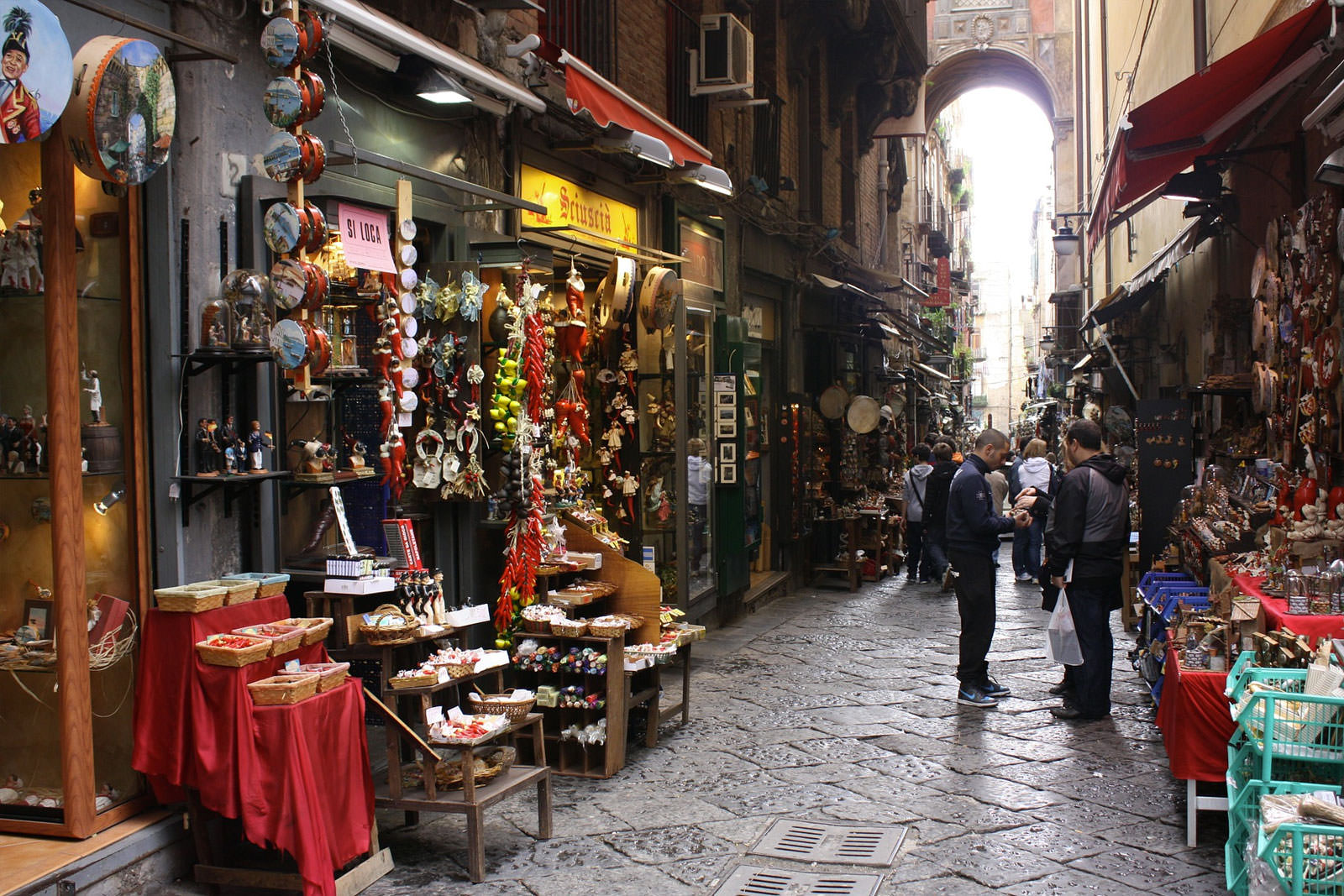 Held every Thursday morning on Viale Virgilio, 4 km southwest of Naples Old Town, Posillipo Market is an outdoor market with a good choice of fashion clothing, shoes, household articles and second-hand clothes at bargain prices. Situated in a charming district of Naples, a stroll away from a park offering panoramic views of the bay and Capri Island, a stroll through Posillipo Market gives you the opportunity to mingle with locals and get a glimpse of the passionate and loud way to make a deal in southern Italy.
Location: 4 kilometers southwest of the Port of Naples
9
Pastas and wines of Campania
Dine on authentic Neapolitan cuisine
Surrounding the Port of Naples, the Old Town hosts an impressive choice of top-notch trattorias where you can sample genuine Neapolitan cuisine. Local specialties include spaghetti alle vongole (spaghetti with clams) and gnocchi alla sorrentina (potato dumplings baked in tomato sauce and mozzarella).
You can sample these specialties at popular restaurants like Trattoria Da Nennella on Vico Lungo Teatro Nuovo or Il Ristorantino dell'Avvocato on Via Santa Lucia. Make the experience even greater by accompanying these dishes with a local wine such as a red Lacryma Christi del Vesuvio or a white Fiano di Avellino.
10
Pizza
Sample a genuine Neapolitan dish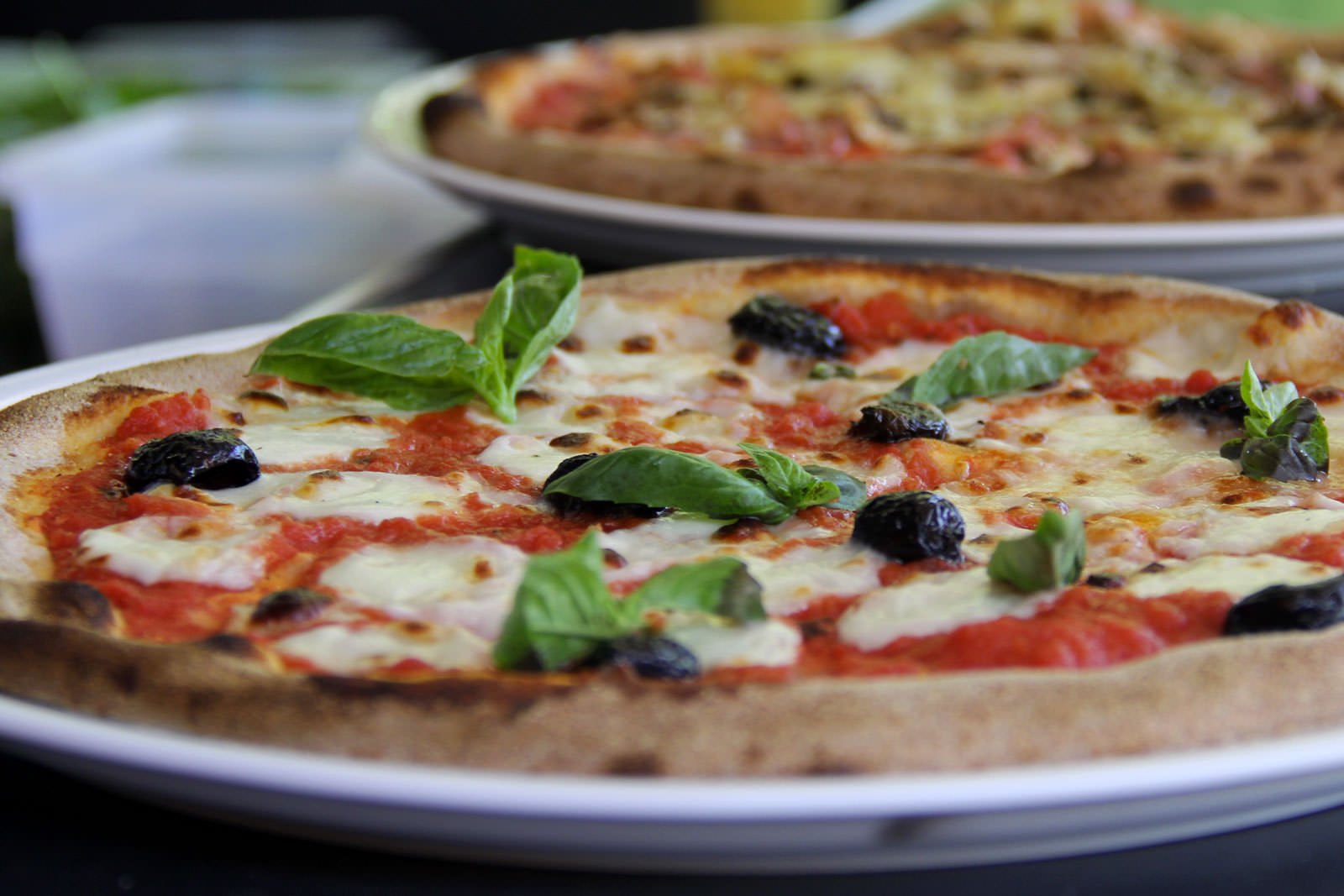 As Naples was the birthplace of the pizza, you can't come to the city and not try a slice. It was during the 18th century that the addition of tomato sauce on top of a Roman bread was formally recognized. Neapolitan pizza is a 'must try' delicacy. Made with San Marzano tomatoes and genuine Mozzarella di Bufala Campana, it's even listed as a UNESCO Intangible Cultural Heritage. Obviously, you'll find excellent pizzerias all around Naples, but one recommendable address is Pizzeria Brandi on Salita Santa Anna di Palazzo. Located just north of Piazza del Plebiscito, it's the place where the classic pizza margherita was created in 1889... or so the myth goes, anyway.
Location: 120 meters northwest of Piazza del Plebiscito
Phone: +39 (0)081 416928
Back to top