10 Things to Do in Genoa in a Day
What is Genoa Most Famous For?
Genoa is home to some of Europe's most impressive structures and palaces, many of which date back to the Middle Ages. A thriving seaport in Northern Italy, its pedestrian-friendly historical district features winding alleyways that lead to Renaissance palaces, Roman Catholic cathedrals, art museums, and picturesque piazzas.
Genoa also has an eclectic dining scene, with old-fashioned restaurants and taverns serving fresh seafood and regional specialties like pesto and vermouth. Just a short drive outside the city center is a picturesque fishing village, where you can enjoy a sun-soaked day by the beach. Read on for our guide of the best things to do in Genoa City.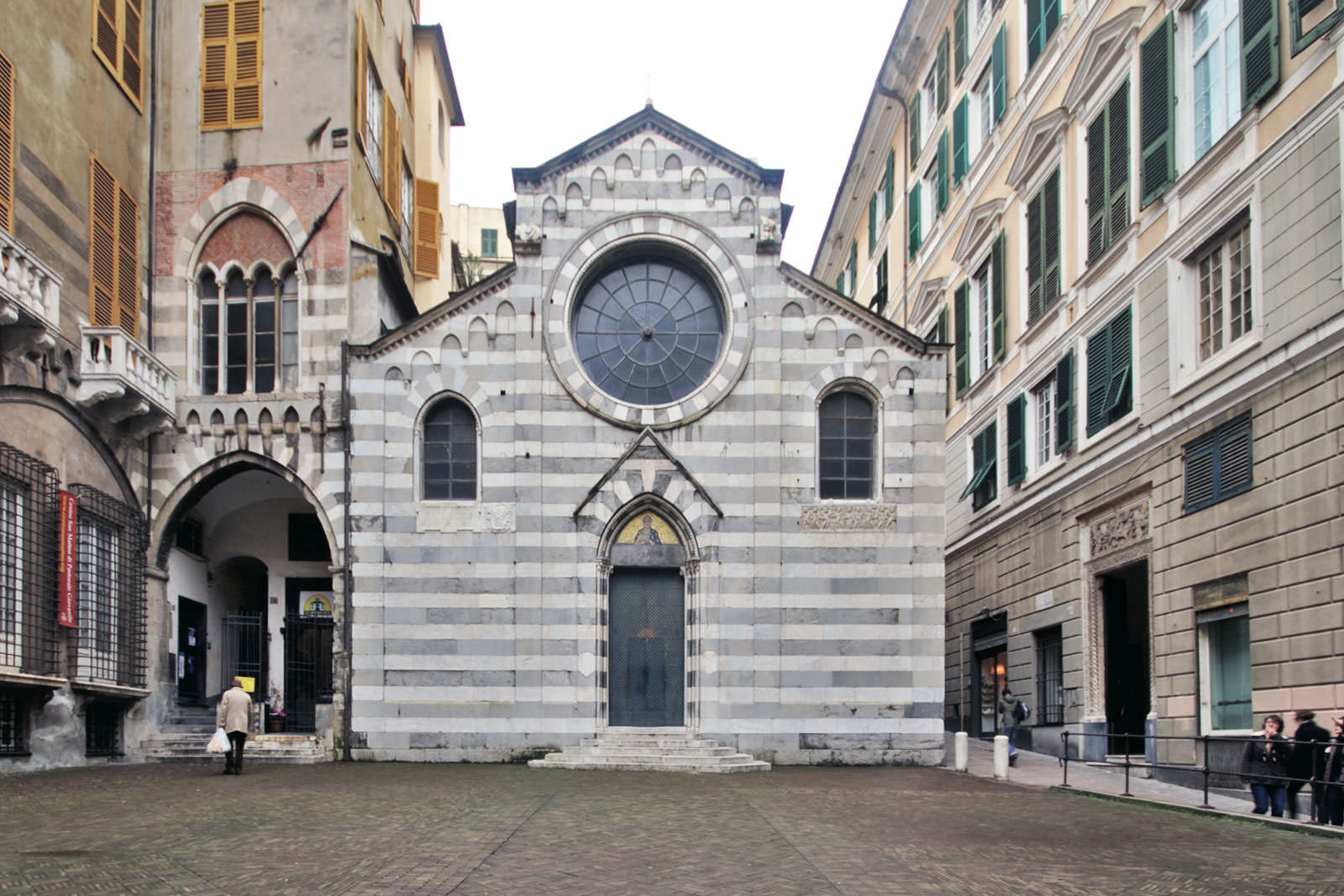 Start the day at Piazza San Matteo
See relics of Italian nobles at San Matteo Church
Piazza San Matteo is home to a church dating back to the 12th century. Located within Genoa Old City, this small square is widely known as the base of operation for the Doria family. Today, it houses many palaces owned by the Italian noble family, all of which feature distinctive black-and-white stone façades and friezes decorated with bas-reliefs. San Matteo Church is the family's burial chapel that houses many relics, artifacts and tombs. While you're here, be sure to visit Santi Ambrogio e Andrea Cathedral, one of the oldest churches in Genoa. It was built in the 6th century, featuring Baroque marble, sculptures, paintings, and an impressive gilded ceiling fresco.
Location: Piazza San Matteo, 5, 16123 Genoa, Italy
photo by José Luiz Bernardes Ribeiro (CC BY-SA 3.0) modified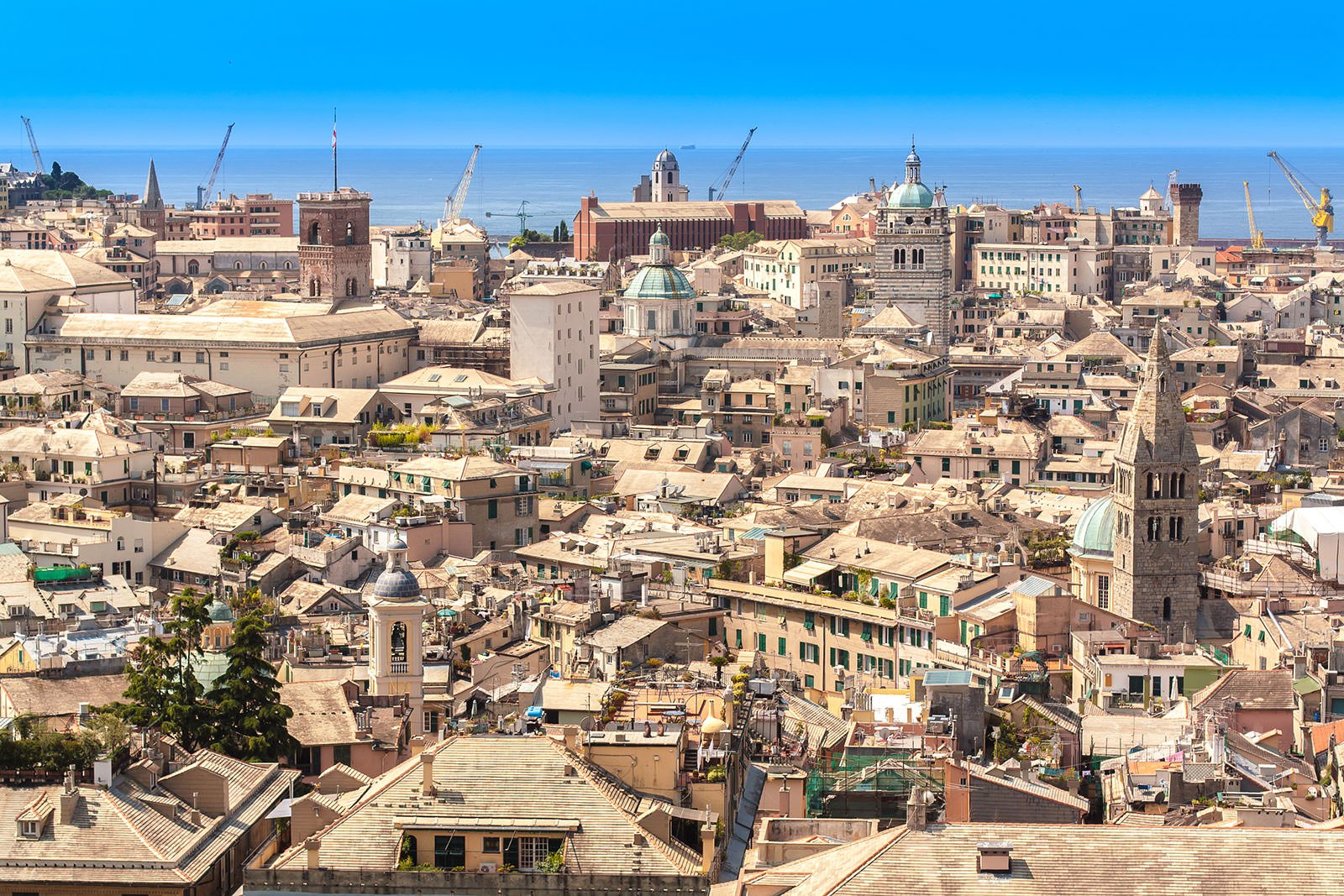 Explore Old City Genoa
Check out wall frescoes and reliefs of Genoa's patron saint
A stroll in Old City Genoa almost feels like you're reliving Italy's grand Renaissance era. One of the largest historical districts in Europe, the city is flanked by medieval city gates – the Porta dei Vacca and Porta Soprana. Inside, you can find large piazzas (public squares) with grand palaces, cathedrals, arch ruins, and narrow lanes dating back to medieval times. Giving you plenty of memorable snapshots, many ancient walls and doorways of the buildings within the Old City have intricate reliefs of St George. Accommodations wise, there are many luxurious hotels located near the Old Port.
Location: Piazza San Matteo, 16010 Genoa, Italy
Couples
History
Photo
Budget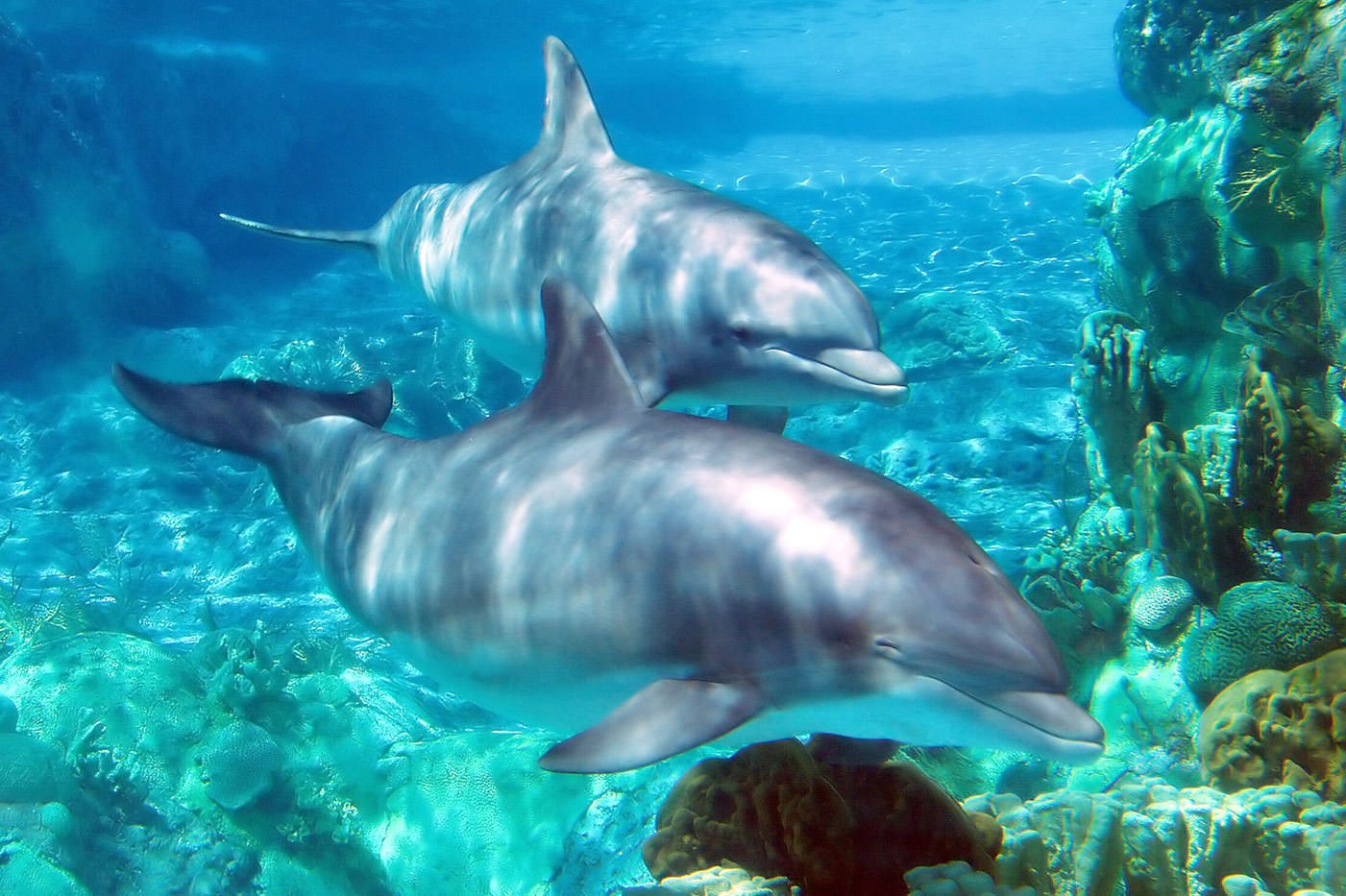 Must-See: Acquario di Genova
Ride the panoramic lift for aerial views of Genoa
Acquario di Genova, located in the Old Port of Genoa, is one of the largest aquariums in Europe. Spanning over 3,000 sq m, its massive tanks house over 12,000 animal and plant species from all over the world, including dolphins, penguins, sharks, and the endangered manatees. Entrance to Acquario di Genova start from about €26 for adults and €18 for children. You can get the Aquarium Village pass for about €48, which gives you access to all attractions surrounding the aquarium. One standout ride is the 40-meter-tall Bigo lift, which gives you panoramic views of Genoa City. For a hotel in a prime location, choose one close to the aquarium.
Location: Area Porto Antico, Ponte Spinola, 16128 Genoa, Italy
Open: Daily from 9am to 8pm
Phone: +39 010 234 51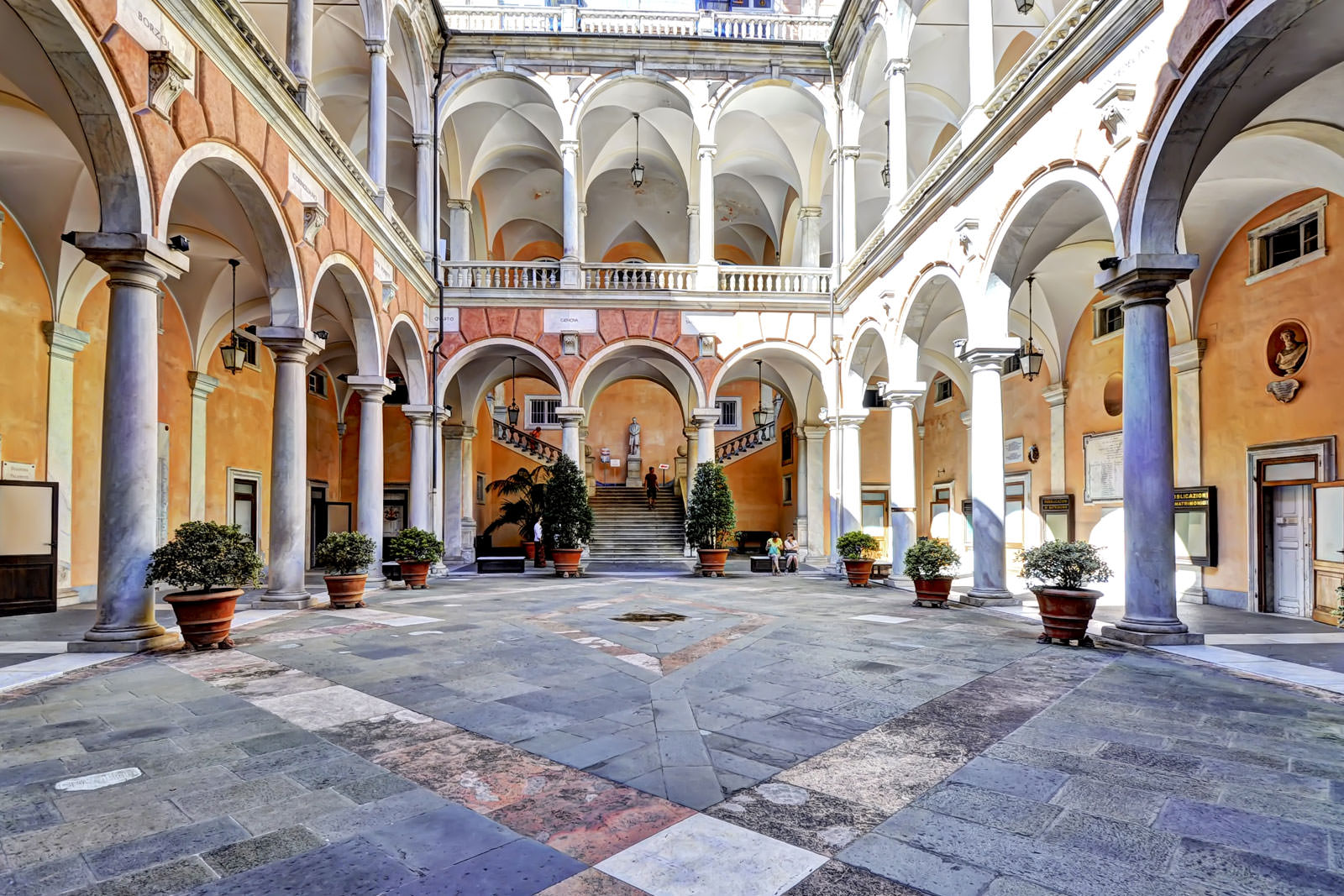 Museum-hop at Musei di Strada Nuova
Check out 18th-century clothing at Palazzo Bianco's Civic Textile Collections
Musei di Strada Nuova (Strada Nuova Museums) consists of 3 UNESCO-listed palaces of Genoa, namely Palazzo Rosso, Palazzo Bianco, and Palazzo Doria Tursi. Set along Strada Nuova (New Street), these historical sites display an impressive collection of Italian art, fashion, culture, and history. Tickets cost about €9, which include admission all 3 palaces and exhibitions. Containing decorative art, valuable tapestries, and 16th-century Ligurian pottery, the Palazzo Tursi houses the city council of Genoa and is the venue for many cultural events and festivals. A walk along Strada Nuova gives you plenty of memorable snapshots, thanks to the museums' grand exteriors and landscaped gardens.
Location: Via Garibaldi, 18 - 16124 Genoa, Italy
Open: Tuesday - Friday from 9am to 6.30 pm, Saturday – Sunday from 9.30am to 6.30pm
Phone: +39 010 557 2193
photo by Tassiano Daniele (CC BY-SA 3.0) modified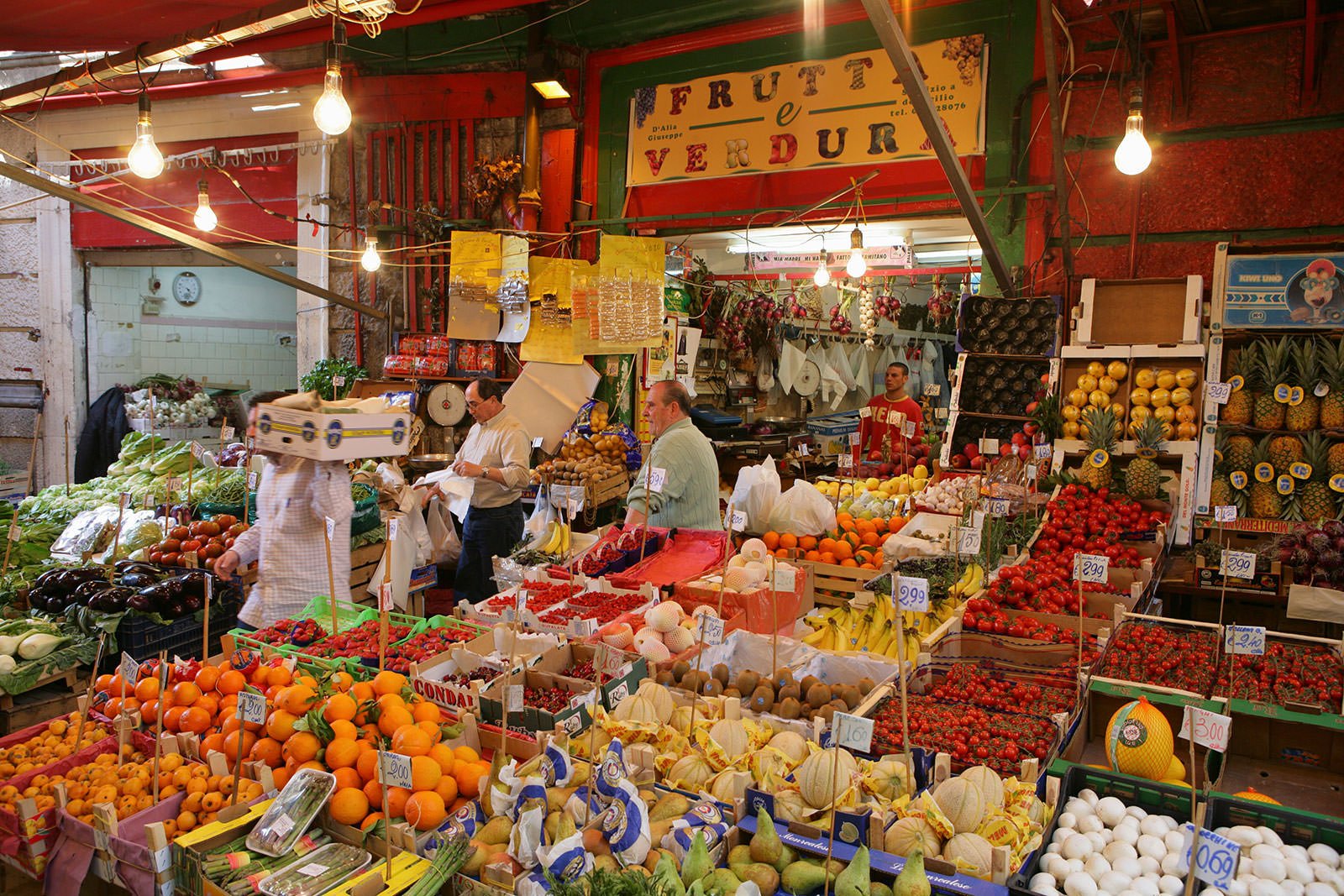 Snack at Mercato Orientale
Eat Italian specialties at this 19th-century marketplace
Mercado Orientale (Eastern Market) is an historical marketplace with hundreds of stalls selling fresh produce and Italian specialties. Founded in 1899, it's known as one of the oldest shopping venues in Genoa City. Here, you can find plenty of vendors specializing in cheese, fresh and cured meat, pastries, pesto, and handmade pasta. Mercado Orientale is usually buzzing with a lively crowd during the weekends, so visit on a weekday if you prefer a more relaxing atmosphere.
Location: Via XX Settembre, 75r, 16121 Genoa, Italy
Open: Monday – Wednesday from 7.30am to 1pm, Thursday – Saturday from 3.30pm to 7.30pm
Families
Shoppers
History
Food
Budget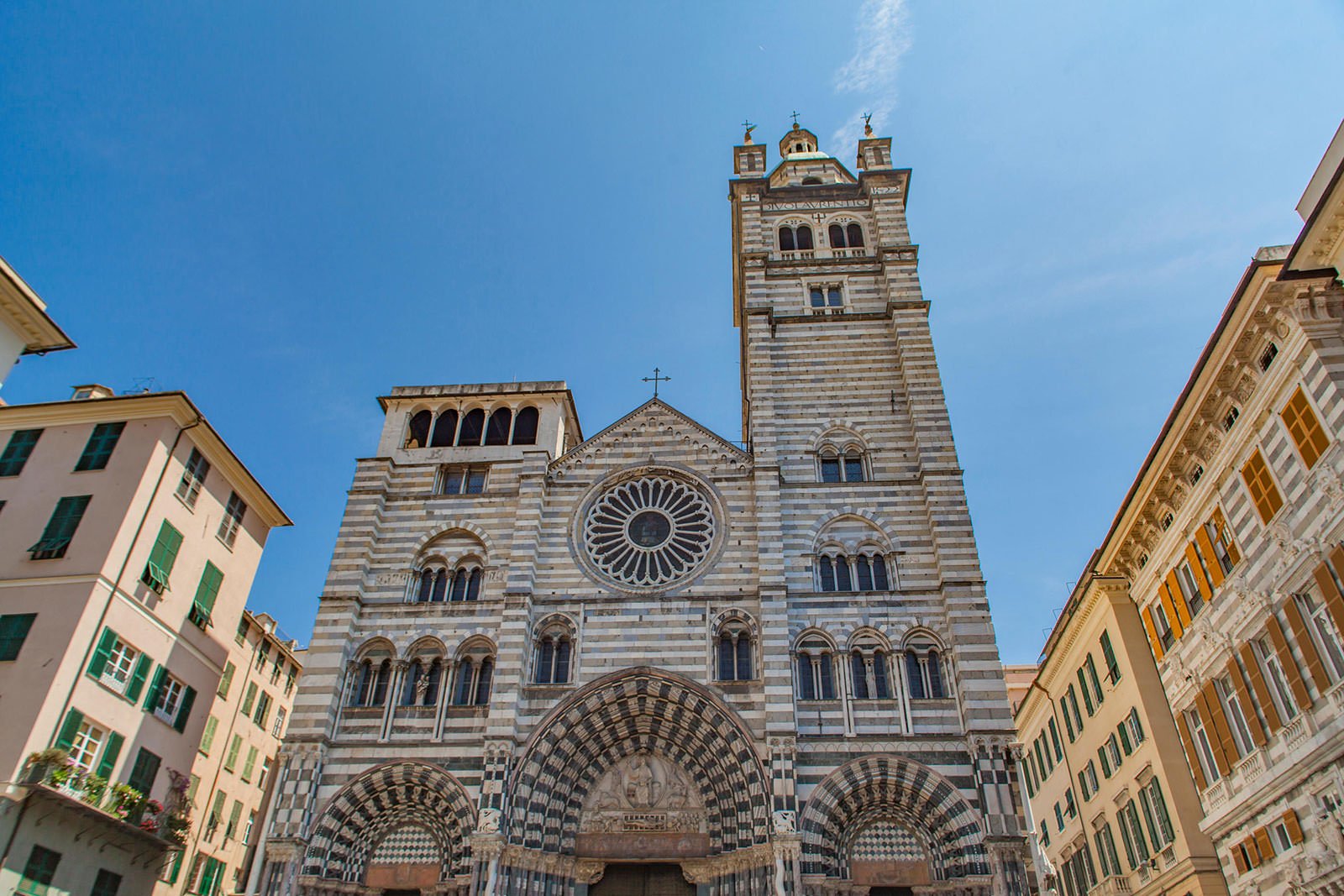 Must-See: Cattedrale di San Lorenzo
See the Holy Grail in this Gothic cathedral
Cattedrale di San Lorenzo, located in Piaza San Lorenzo, is one of Genoa City's oldest cathedrals. Built in 1098, its structure is a mix of Gothic, Byzantine, Romanesque, and Renaissance architectural styles. Inside are several 14th-century chapels and altars, including one that houses the ashes of St. John the Baptist. Visit the underground Museo del Tesoro to see silverware, jewelry, and artifacts such as gold crucifixes, the supposed Holy Grail, and the platter of St. John. Admission to the cathedral is free of charge, while museum tickets cost about €6. The accommodations options near the San Lorenzo Cathedral are recommendable.
Location: Piazza San Lorenzo, 16123 Genoa, Italy
Open: Cattedrale di San Lorenzo: Daily from 9am to 12pm and from 3pm to 6pm (Museo del Tesoro is closed on Sundays)
Phone: +39 010 265 786
Couples
Families
History
Photo
Watch classical performances in Piazza De Ferrari
Classical dance and music performances at Genoa's principal opera house
Piazza De Ferrari is the main square of Genoa City, housing 19th-century buildings with Neo-Baroque and Art Nouveau architectural designs. The center of the square has a Gothic-style fountain that's popular for beautiful photos, especially at dusk. Looking for accommodations nearby? There are many hotels in the vicinity of Piazza de Ferrari. If you're a fan of classical music, Teatro Carlo Felice is Genoa's principal opera house and hosts many orchestral music and ballet performances throughout the year. Art lovers can visit the Accademia Ligustica di Belle Arti, a fine arts academy and museum displaying works by renowned Italian artists such as Fiasella, Borzone, and Nomellini.
Location: Piazza Raffaele de Ferrari, 16121 Genoa, Italy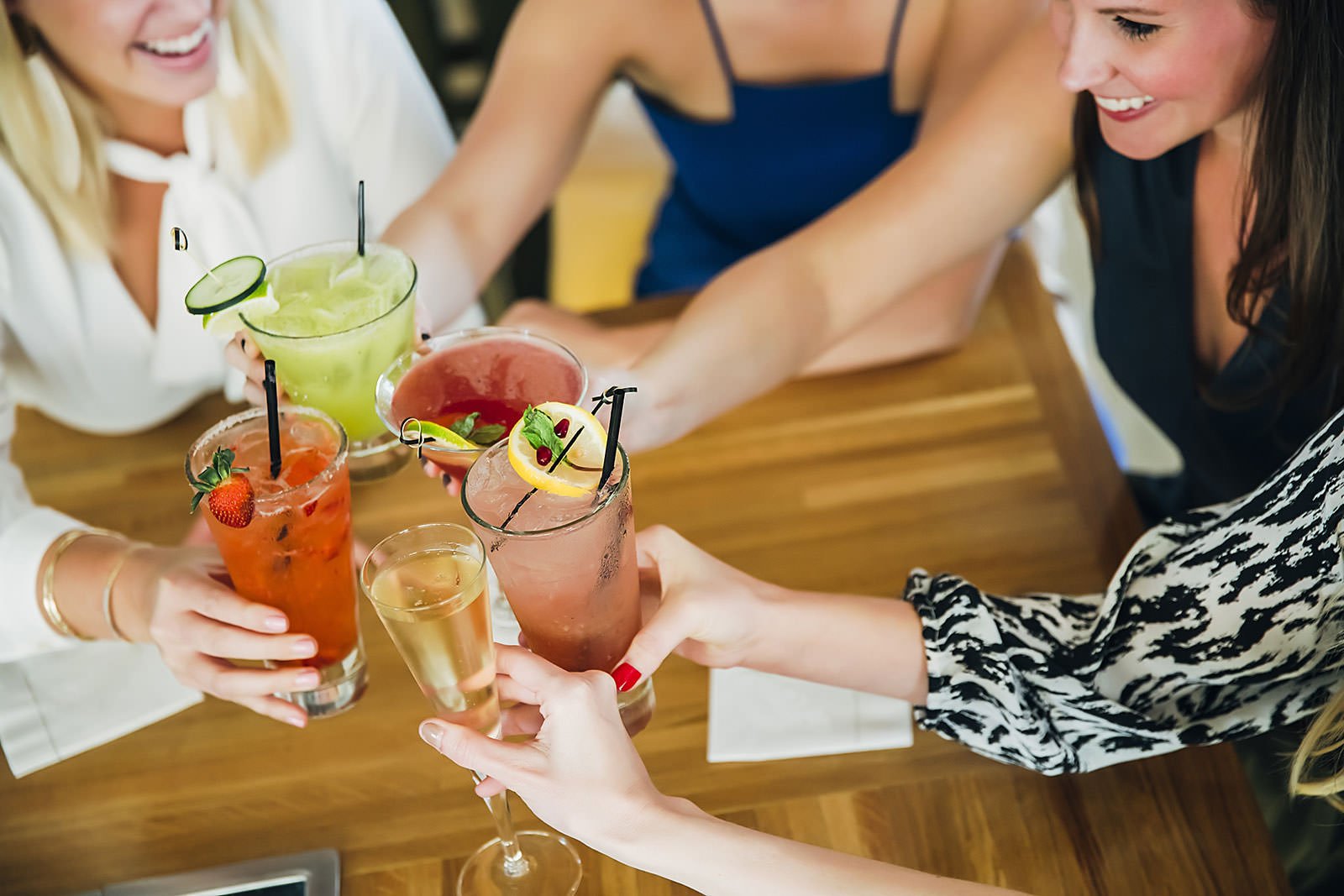 Enjoy an aperitivo in Piazza delle Erbe
Try baxeichito, a mojito cocktail made with Genoese basil
Aperitivo is a classic Italian culture that's all about socializing with friends over drinks and appetisers. Also known as cocktail hour, it takes place after office hours, usually between 7pm and 9pm. Drinks are typically wine, prosecco, vermouth, or cocktails paired with small bites such as focaccia, cheese, cured meat, and quiches. Come sundown, locals often gather at old-fashioned pubs and open-air bars within Genoa Old City, especially in Piazza delle Erbe. Grab a seat outside to enjoy views of 19th-century buildings in this historical city square.
Location: Piazza dell'Erbe, 16123 Genoa, Italy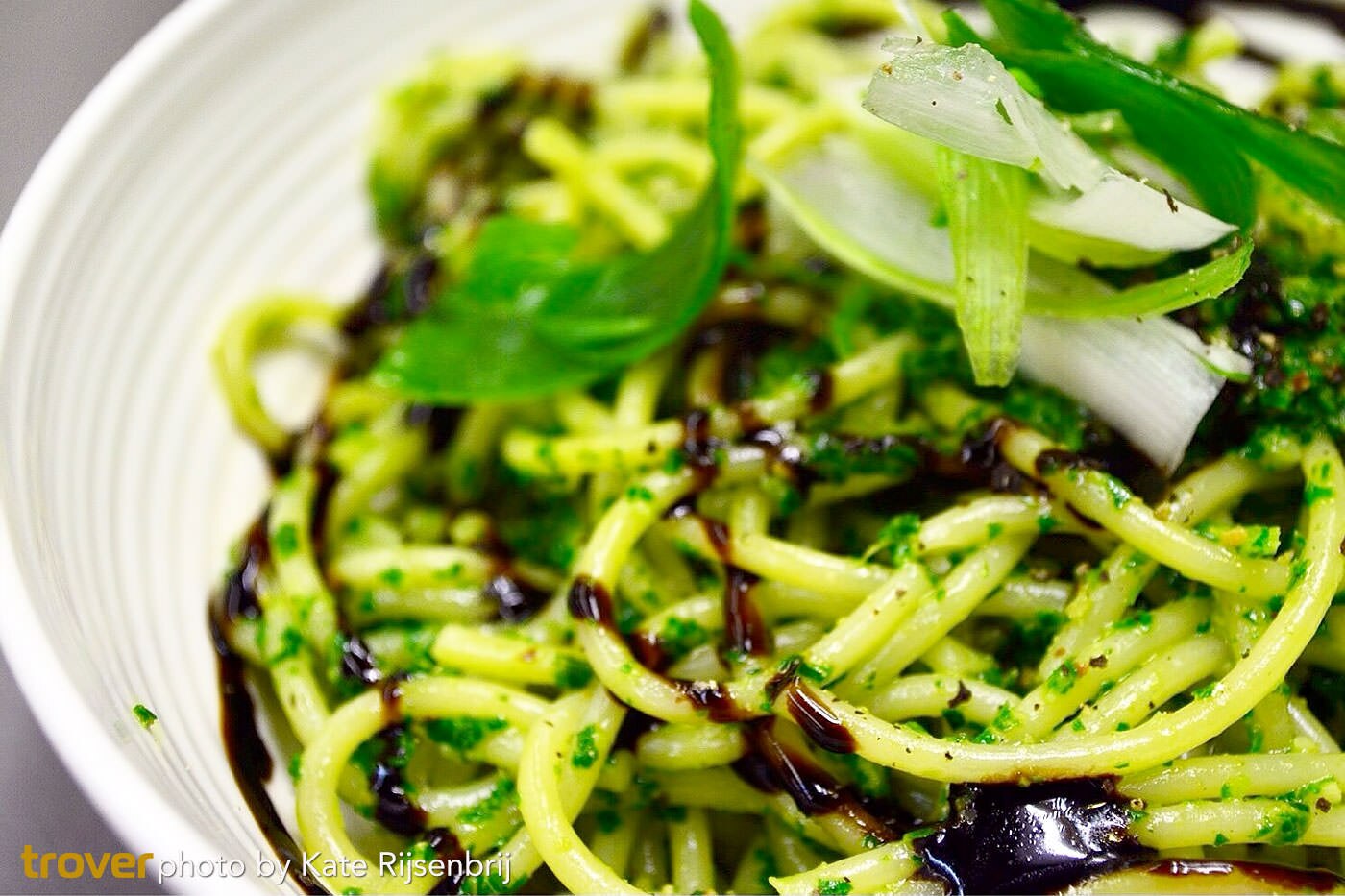 Try Genoa's iconic pesto
Order the signature trenette avvantaggiate at Trattoria della Raibetta
Genoa is the birthplace of pesto, and it's found in just about every restaurant in this Italian city. It's traditionally made by blending Pecorino Sardo cheese, aged Parmesan cheese, garlic, olive oil, Genoese basil, pine nuts, and coarse salt. In mid-March, Genoa hosts a Pesto World Championship at the historical Palazzo Ducale in Piazza San Marco. Here, 100 participants from all over the world gather to prepare pesto alla genovese (Genoese pesto) using only traditional methods. Trattoria della Raibetta is an 18th-century restaurant that's known for its trenette avvantaggiate, a hearty dish made with whole-wheat pasta, pesto, potatos and green beans.
Location: Trattoria della Raibetta, Vico Caprettari 10R, 16123 Genoa, Italy
Open: Tuesday – Sunday from 12pm to 2.30pm and from 7.30pm to 10.30pm (closed on Monday)
Phone: +39 (0)10 246 8877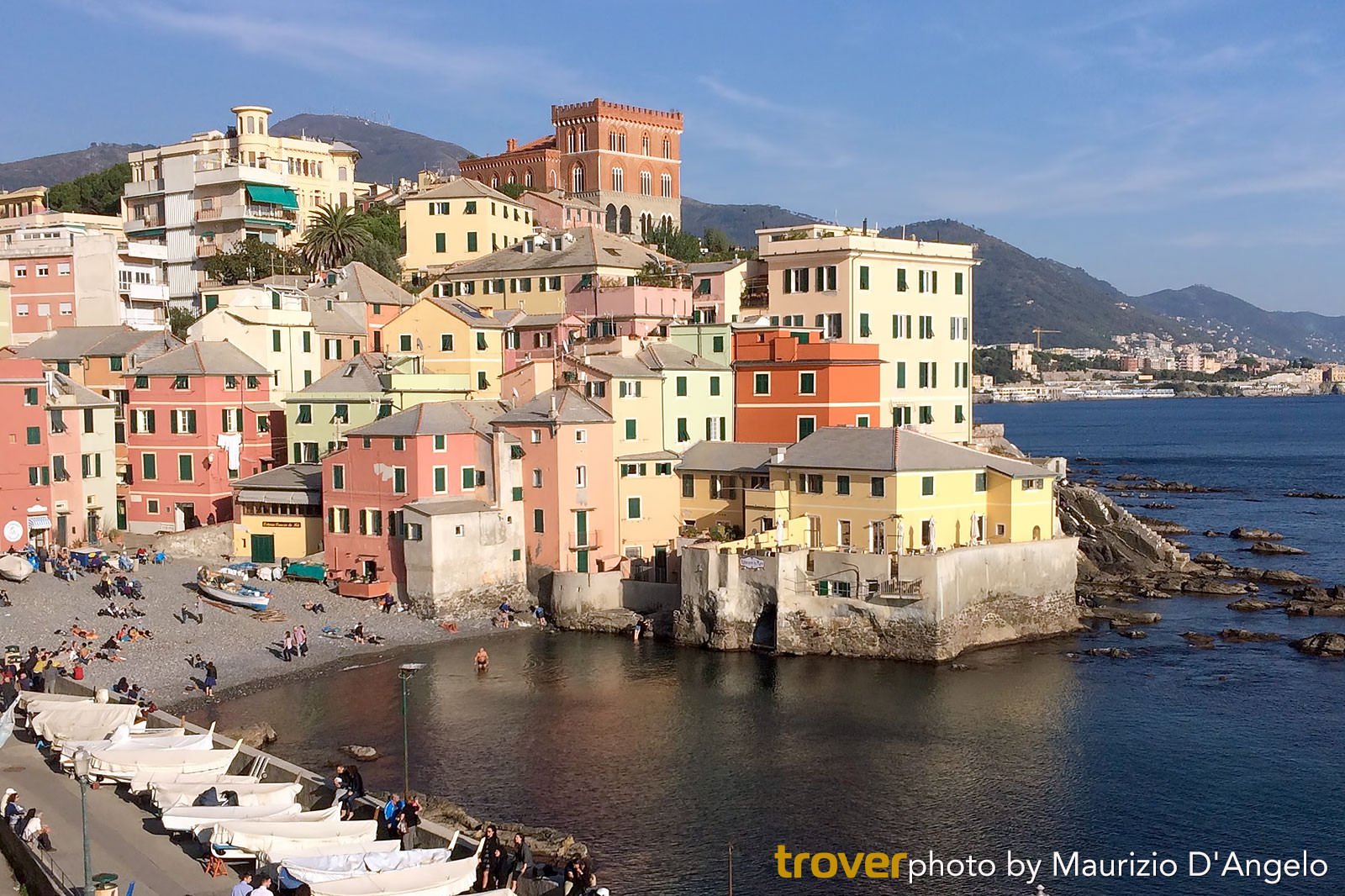 End the day at Boccadasse
Enjoy beautiful views at this fishing village
Boccadasse is a traditional fishing hamlet about 3 km east of Genoa City. One of its most distinctive landmarks is the cluster of pastel-colored homes overlooking the sea. Its promenade is set on the pebble beach, where you can find many seafood restaurants, cafés, bars, and gelateria (ice cream parlors). Thanks to its close proximity to Genoa, many locals visit Boccadasse during the weekend to enjoy a relaxing city break. Visit the beach at dusk to catch spectacular sunset views.
Location: 3km east of Genoa, Italy
Couples
Families
History
Photo