10 Best Markets in Rome
Bargain Shopping at Roman Flea Markets
Rome is a shopping paradise, with some of its cobblestone streets abuzz with local vendors selling fresh produce, as well as used items and antiques that can make for great keepsakes. Most of the best markets in Rome happen to be regular flea markets, while others open weekly in rows or clusters of tents set up over the weekends.
Here's a collection of the best Roman flea markets and street markets in and around the city, where you can go souvenir hunting and put your haggling skills to the test. We also added a few of Rome's best weekly farmers' markets; vibrant places that offer you a unique shopping sensation, with booths full of exotic produce and typically Italian goods.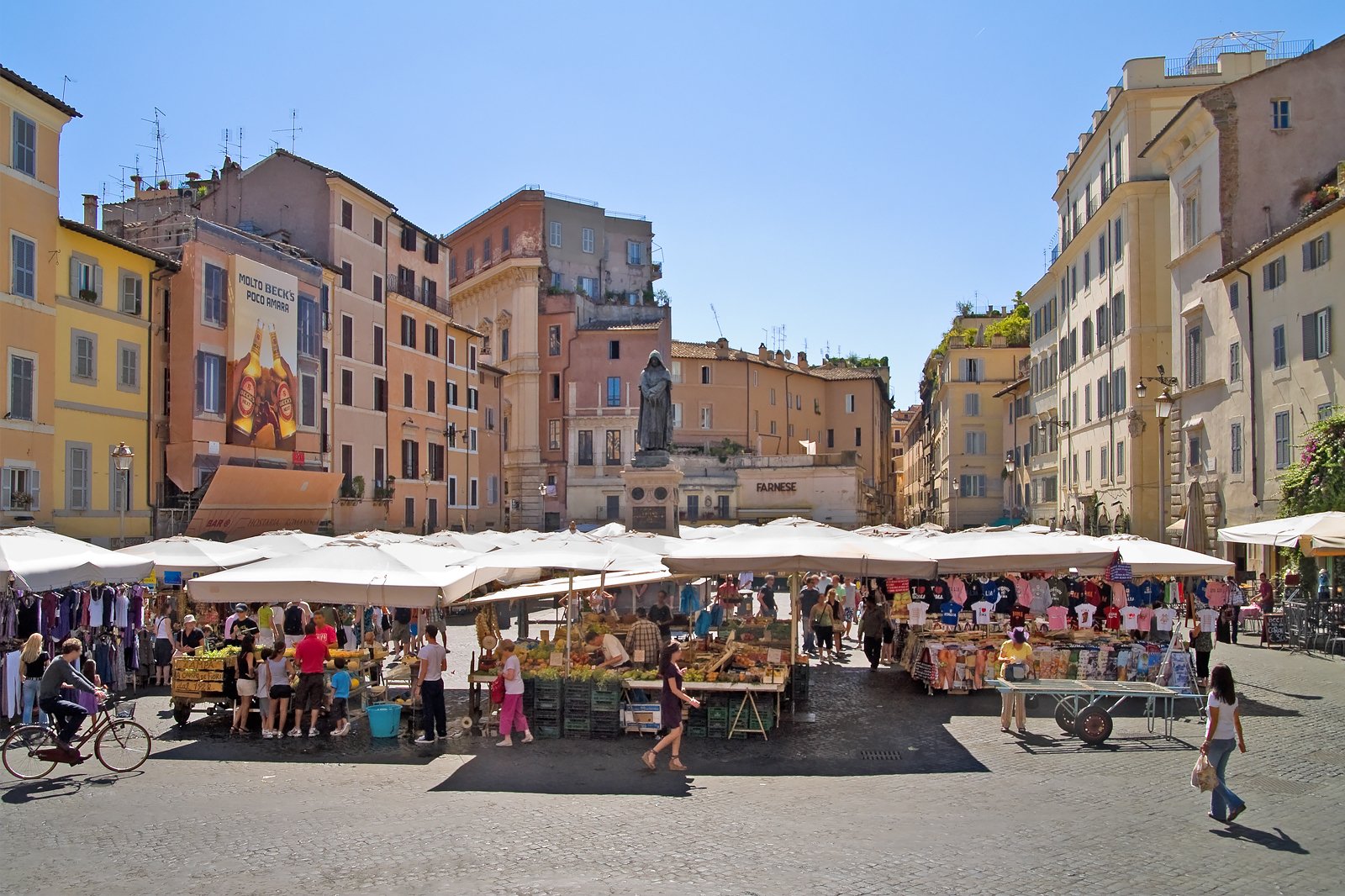 Campo de' Fiori
Shop through Rome's "field of flowers"
Let Piazza Campo de' Fiori attack your senses. The place bustles with locals and visitors in the mornings. It's surrounded by neo-classical buildings, with the statue of executed Italian philosopher Giordano Bruno looming over the huge variety of tented vendors. You'll find all sorts of souvenirs, like T-shirts and tiny bottles of liquor, but most sell flowers and exotic fruits and vegetables, as well as meats, fish and cheese. Though it may seem too touristy compared to Rome's other mercato, it's a good starting point. Have fun watching the lively haggling banter before you try for yourself. Cash in Euros only.
Location: Piazza Campo de' Fiori, Rome, Italy
Open: Monday – Saturday from 7.30am to 3pm
photo by Myrabella (CC BY-SA 3.0) modified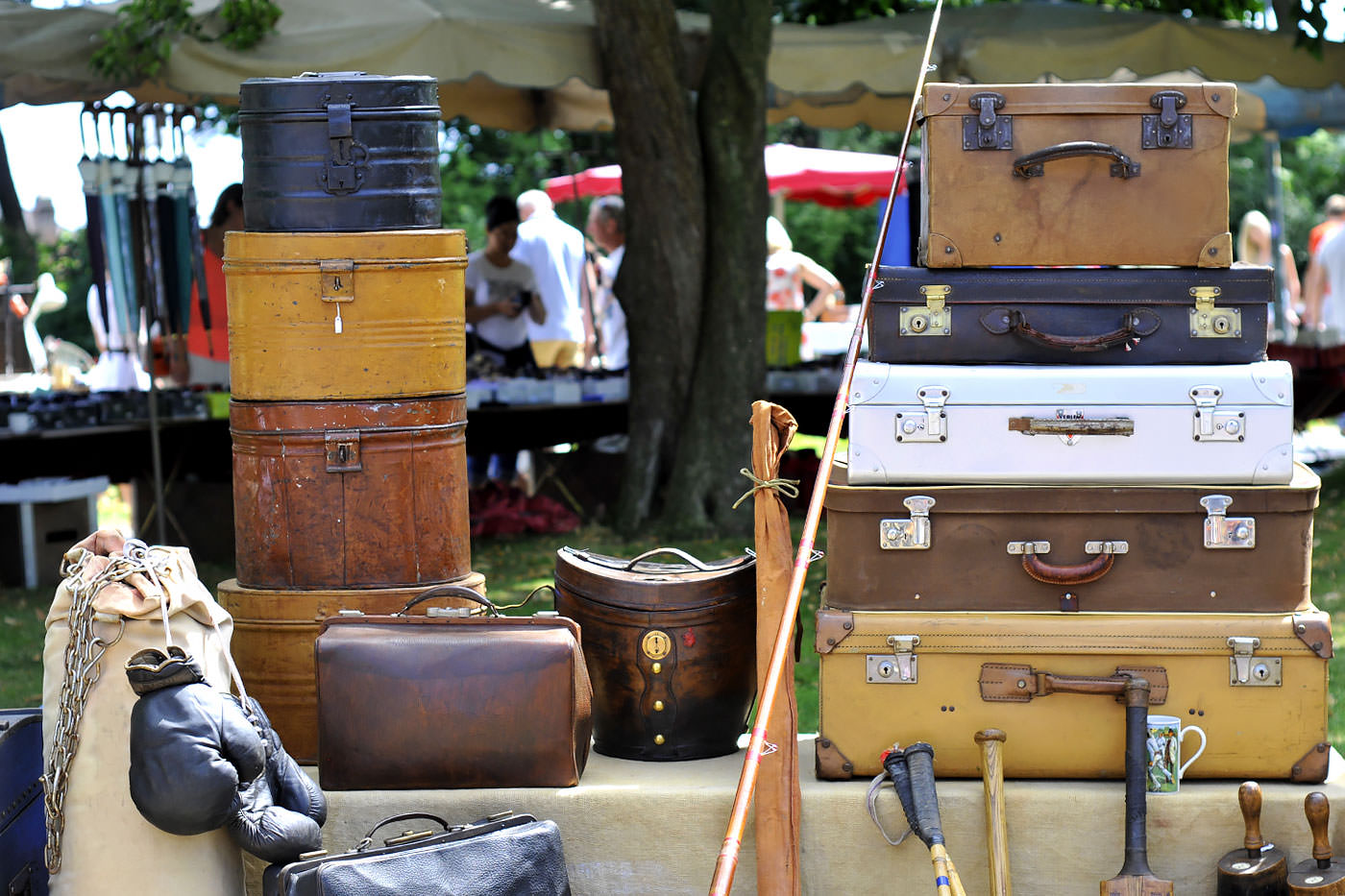 Porta Portese
Dig deep for rare items
Porta Portese flea market is among Rome's biggest. It's mostly vintage items sold here, such as used clothing and antiques (good Italian quality and rare, nevertheless). You might come across some aged Chinese porcelain or Middle-Eastern jewelry pieces among the lot – there's plenty of imported items, but all at bargain prices. A section sells only new local Italian stuff, such as coats and handbags. The market's vast, so you'll need to dig deep beyond the surface of the common knick-knacks to get to the real deals. Though it's not so touristy, get here early to avoid the crowds, and beware of pickpockets.
Location: Piazza di Porta Portese, Rome, Italy
Open: Tuesdays from 5am to 5pm, Thursdays from 5am to 3pm, Friday – Saturday from 5am to 5pm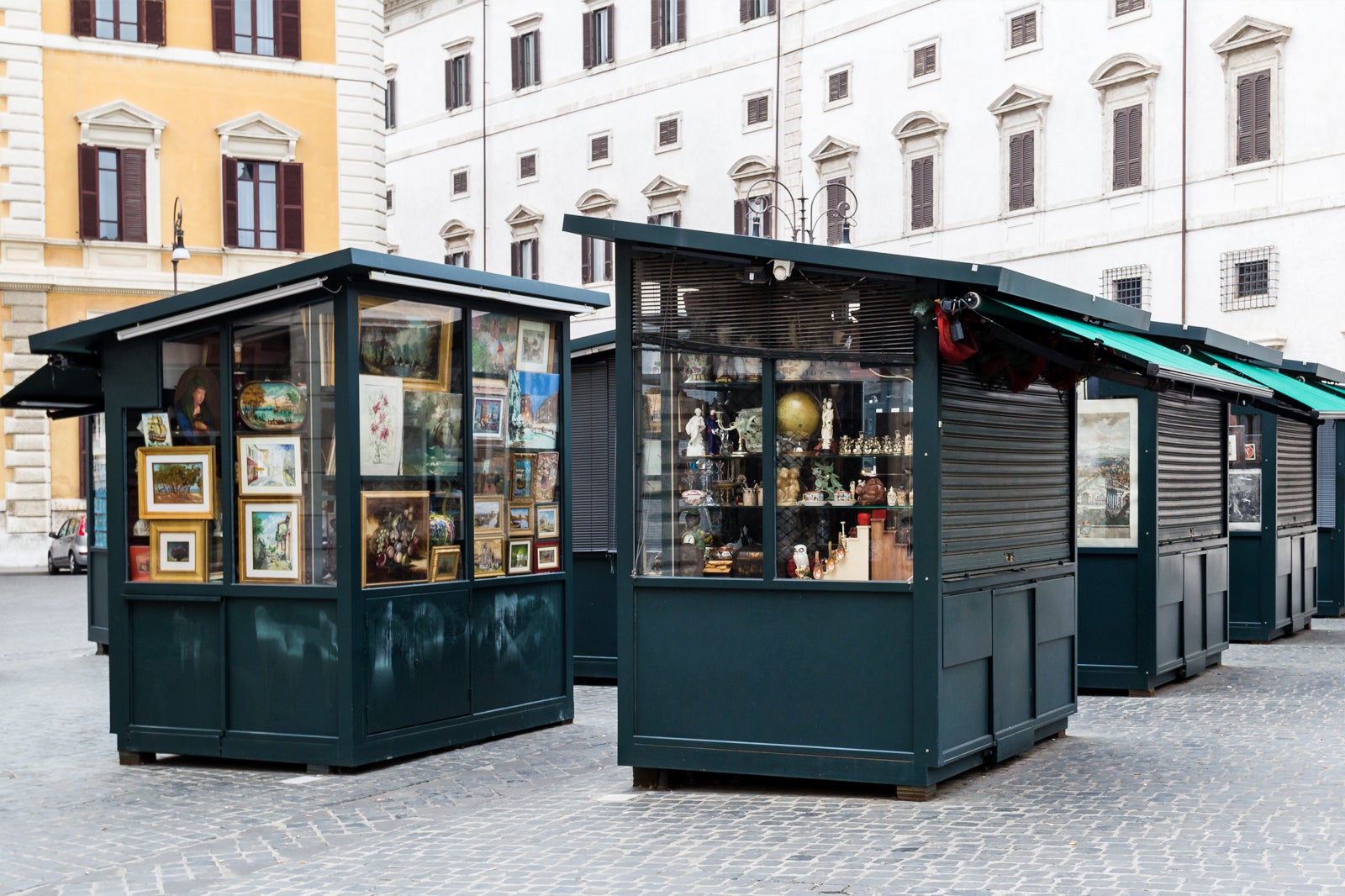 Mercato delle Stampe
Stumble upon rare vintage prints at Rome's specialty market
By its name, Mercato delle Stampe (Stamp Market) comes across as a philatelist's heaven. Also known as Fontanella Borghese, this open-air space on Largo della Fontanella di Borghese goes beyond stamps, with a huge variety of permanent boxy, dark gray booths of local collectors showcasing a variety of old prints and back editions. You might stumble upon some old magazine editions or comics, or even old Roman maps and classical musical scores among their troves. Some of the sketches and paintings are worth a look, and you can bargain directly with the artists or collectors.
Location: Largo della Fontanella di Borghese, Rome, Italy
Open: Daily from 7am to 1pm
photo by Dietmar Rabich (CC BY-SA 4.0) modified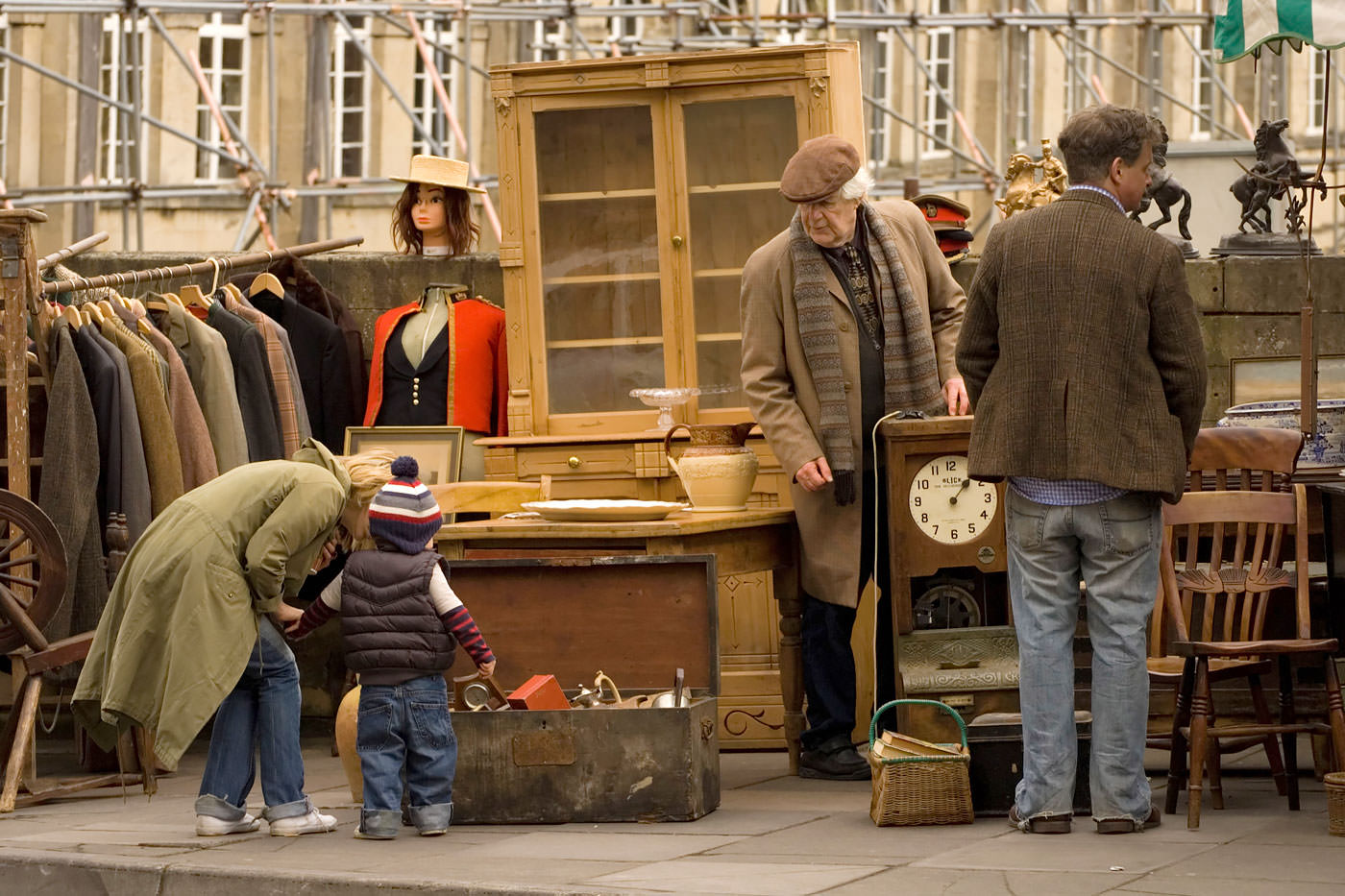 Borghetto Flaminio
Bargain for vintage Chanel at a Sunday flea market
As one of the less crowded Sunday flea markets in Rome, Borghetto Flaminio is a short stroll south from the Flaminio station along Via Flaminia. For around €1.50, you can enter this market space to explore and try your bargaining at the various stalls selling mostly second-hand goods and vintage souvenir items (some of which are "good-looking knock-offs"). You'll especially see table-top décor, some designer label bags and ladies' fashion. It's worth a browse even if you don't intend to buy anything, and is a great spot for a leisurely Sunday walk. For accommodations, look for hotels in the Flaminio neighborhood.
Location: Via Flaminia, 32, Rome, Italy
Open: Sundays from 10am to 7pm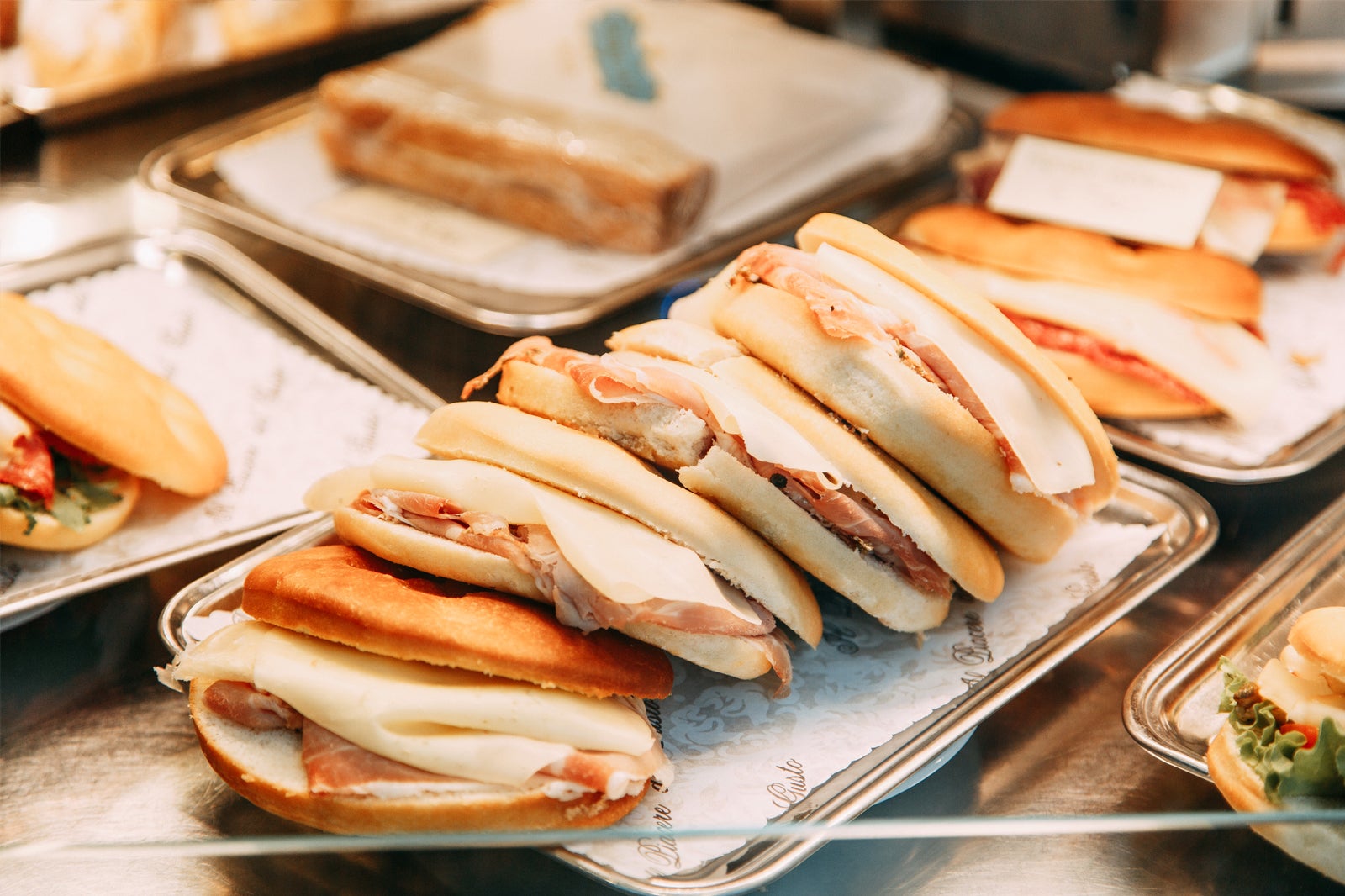 Mercato di Testaccio
Shop and eat like a Roman local
Now referred to as Nuovo Mercato di Testaccio since its revamp, Mercato di Testaccio is where you can shop and eat like a local in Rome, slightly away from the more touristy parts of the city. There's several metro stations nearby, for easy transportation, if you are staying in the city center, however.
Various stalls feature fresh produce, while others offer a wide range of delicious street foods that you can enjoy from around €3, such as pizzas, cured meats, cheeses, pastas and breads. Some wine bars complement the experience, from which you can sample before your purchase. Settle down at a table setup and enjoy people watching while nibbling your purchases.
Location: Via Beniamino Franklin, Rome, Italy
Open: Monday – Saturday from 7am to 3.30pm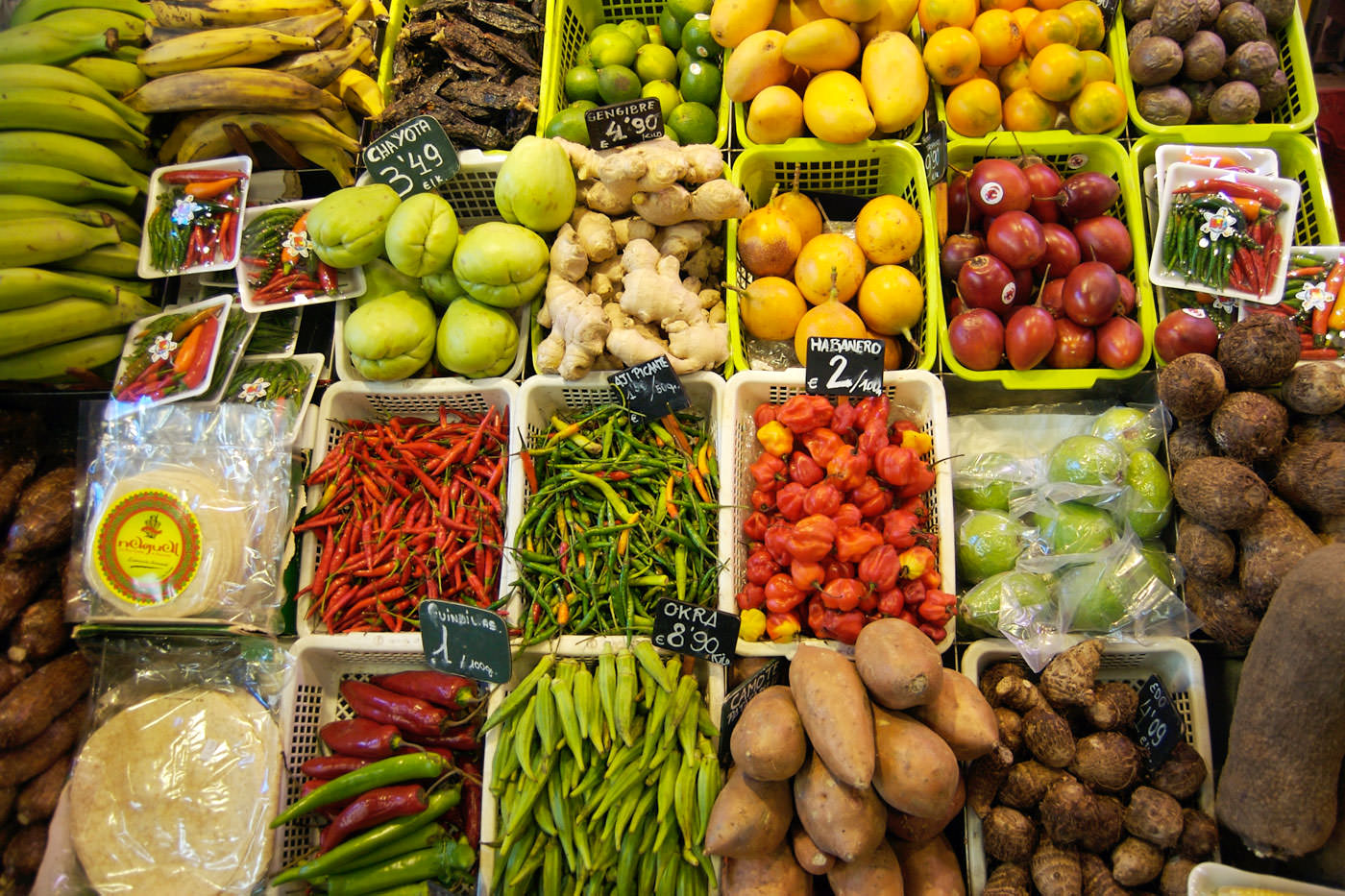 Campagna Amica
Find fresh goods at a farmers' weekend market
Known by locals as Mercato Campagna Amica al Circo Massimo, this friendly neighborhood marketplace just north of the Circus Maximus is one of Rome's authentic farmers' markets. It's open only on the weekends and features many local vendors under one roof. Fresh fruits, vegetables, herbs, potted plants, jams and cold cuts are all available at local prices. Even if you're not a local looking for groceries, it's a great experience to witness the traders at work. You can get a homemade gelato (around €3 a serving), fresh juices or ripe cherries to snack on while you watch.
Location: Via di S. Teodoro, 74, Rome, Italy
Open: Saturday – Sunday from 8am to 3pm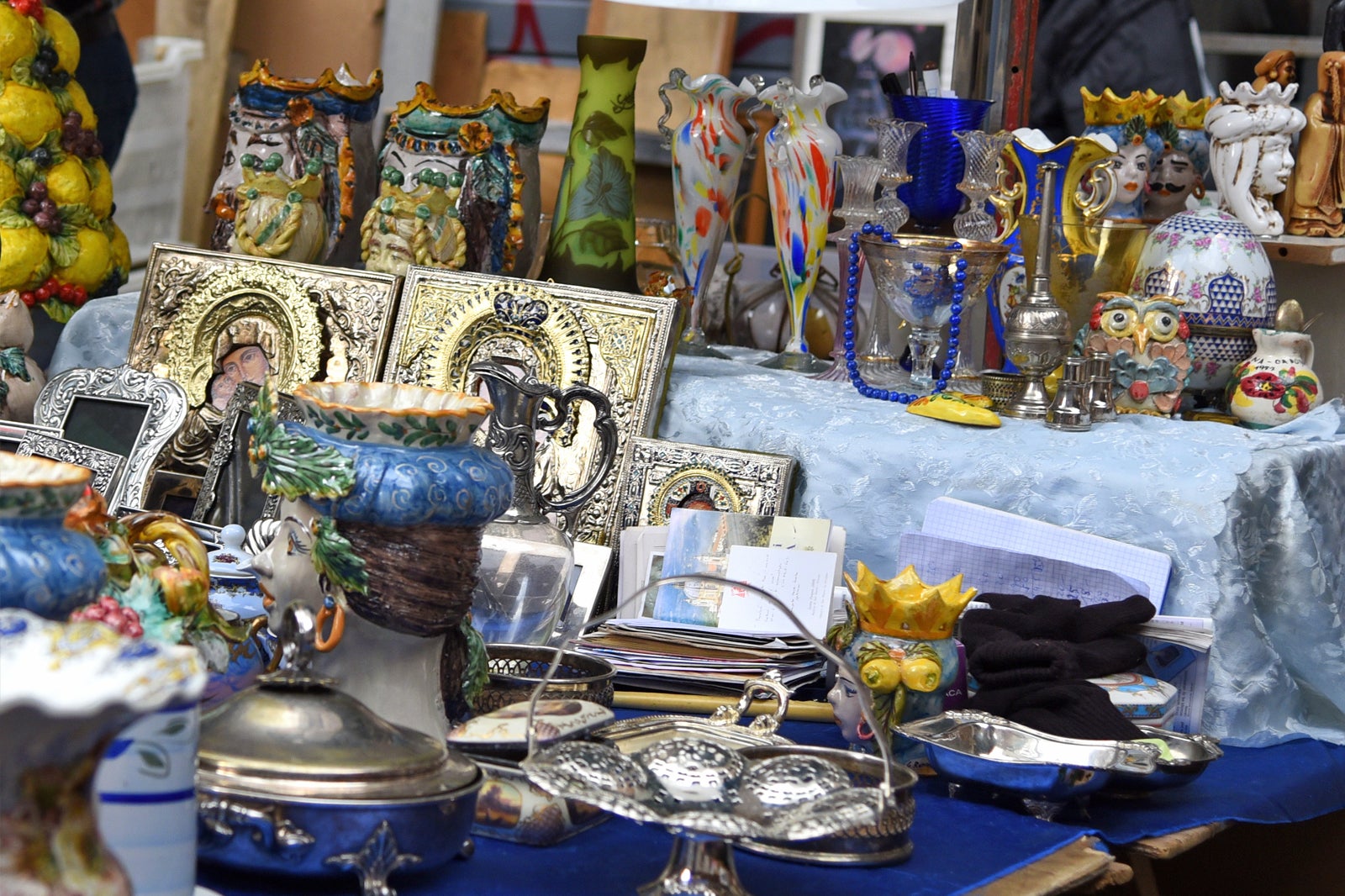 Mercatino di Ponte Milvio
Browse through a wealth of antiques
For a walk back in time, head to Rome's ancient bridge that crosses over the Tiber. It's home to the Mercatino di Ponte Milvio (Milvian Bridge Market), which is an antique lovers' paradise, open every second Sunday of the month. Rows of booths along the tree-shaded riverside sell antiques ranging from a variety of Roman statuettes, desk lamps, grand clocks and Venetian mirrors, which can brighten up the living room back home. Some of the paintings aren't real antiques, but their classical styles are worth a look.
Location: Ponte Milvio, Rome, Italy
Open: Every second Sunday from 9am to 7pm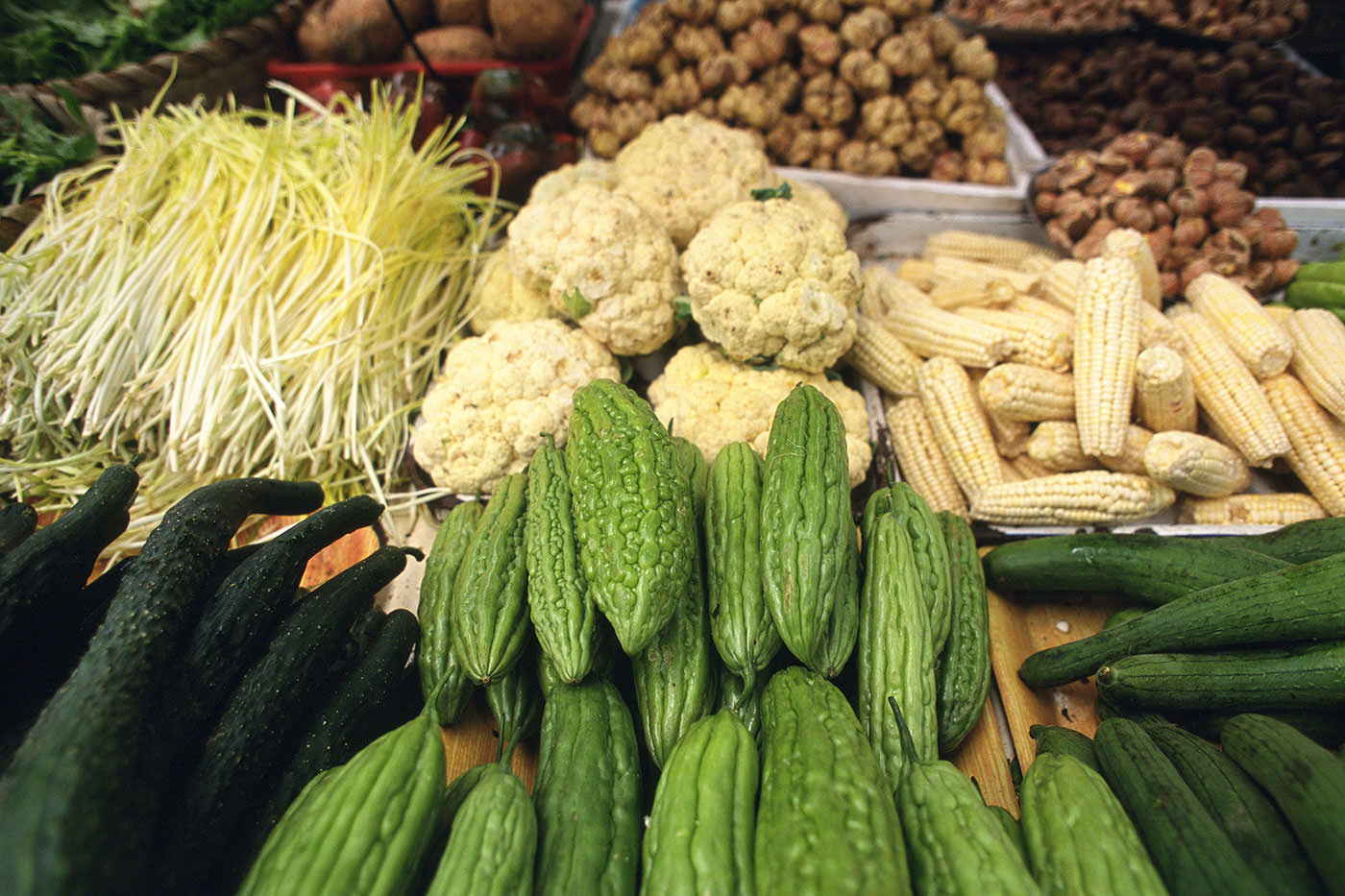 Mercato Esquilino
See where Rome's international community source their fresh produce
Some of Italy's historical markets have undergone major revamps. Rome's Mercato Esquilino is one of them, previously known as Piazza Vittorio after the adjacent city park. Now called Nuovo Mercato Esquilino, the market is modernized, with vendors and stalls under one roof. It still channels its historic charm through the colorful fresh produce on display, with exotic fruits and vegetables, spices, meats and fish, and a full array of Italian cheeses, all at local prices. The market attracts a mixed crowd, and it's where many of Rome's immigrant communities source their home ingredients from Chinese to Middle Eastern vendors.
You'll find cheap hotels in the neighborhood of Esquilino, home to Termini station.
Location: Via Filippo Turati, 160, Rome, Italy
Open: Monday – Saturday from 5am to 3pm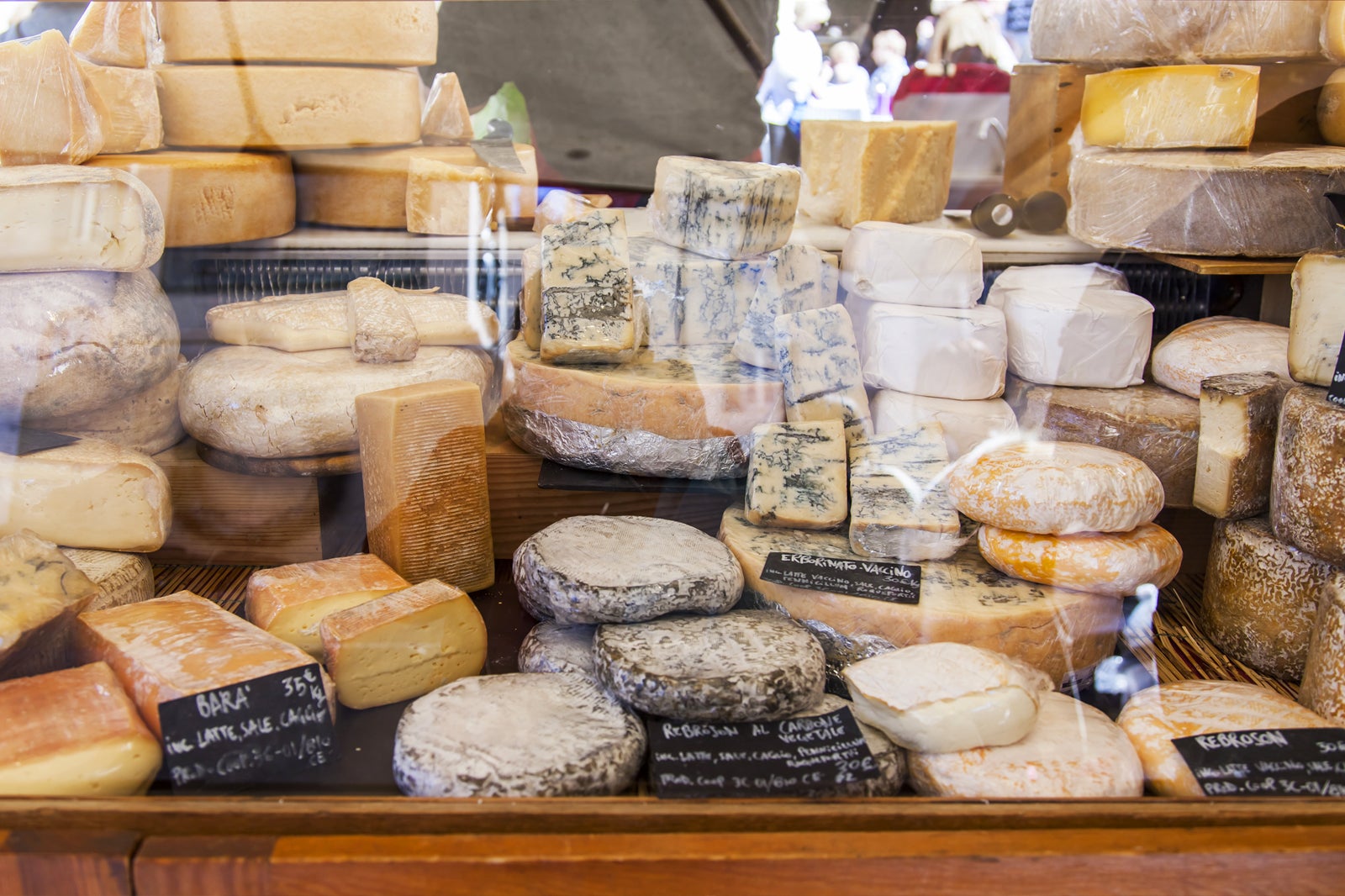 Mercato Trionfale
Source local fresh goods near the Vatican
Mercato Trionfale is a fresh morning market housed inside a large single building a few minutes' walk north of the gates to the Vatican Museums. Get here early in the morning, before your museum visits, to witness a less touristy market scene. It features mostly stalls of local vendors selling fresh grocery items, cheeses and wines (poured into disposable bottles for each purchase) at reasonable prices. If you're staying at an apartment or hotel room with a kitchenette and plan to try cooking for yourself, this is a great spot to source your ingredients. Fresh pastas are from around €20 per kilogram.
Location: Via la Goletta, 1, Rome, Italy
Open: Monday – Friday from 7am to 2pm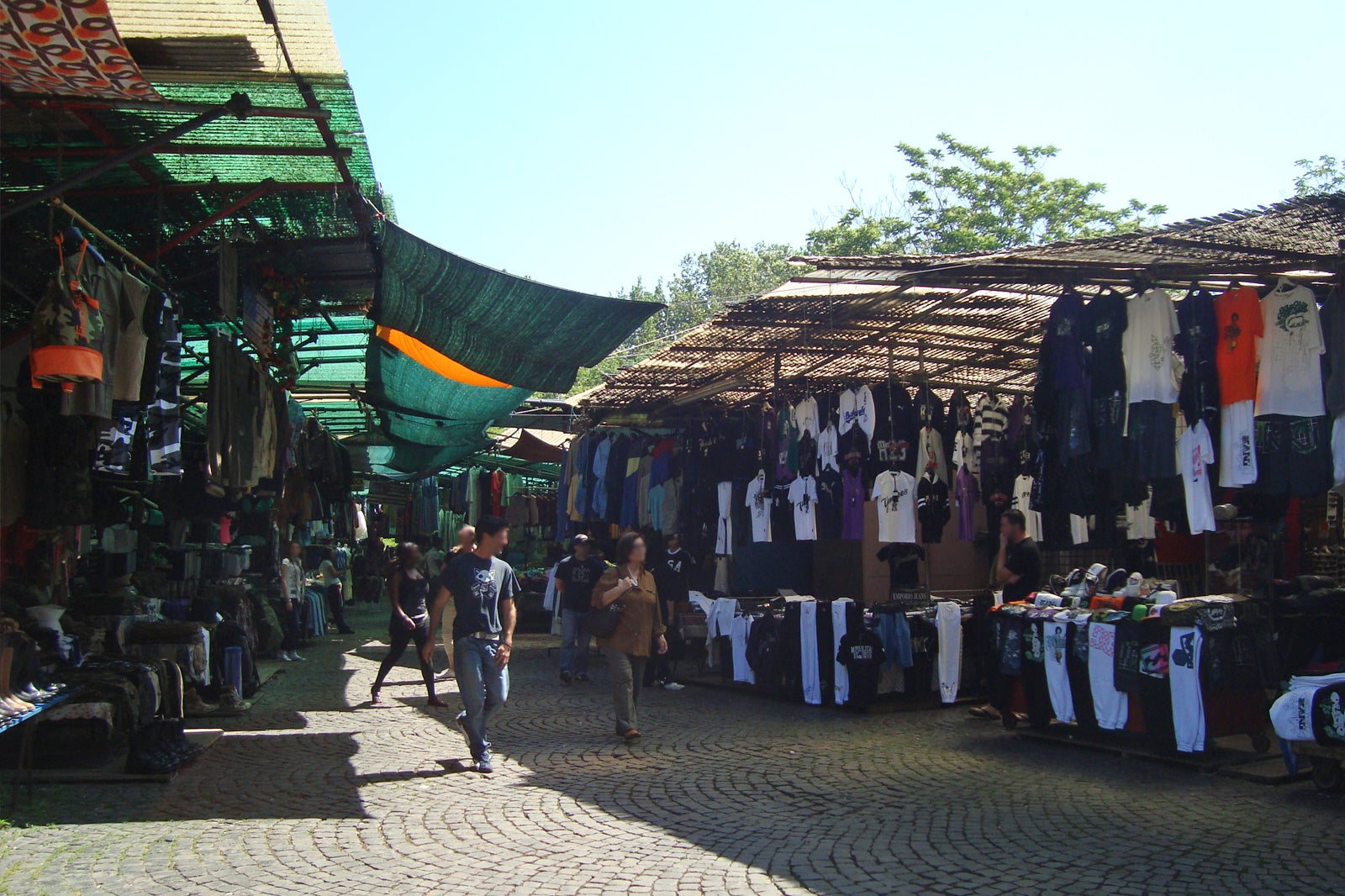 Mercato di Via Sannio
Put your Roman bargaining skills to the test
This street market is a good practicing ground for haggling. It's right outside the San Giovanni station and behind the namesake basilica. Most of the vendors sell souvenirs and clothing items, with some good quality goods worth searching for, if you're up for a challenge. They're known to be pushy and persistent, and even rude to the unaccustomed, but you can usually get your way around to a good deal by being insistent with your best price.
Location: Via Sannio, Rome, Italy
Open: Monday – Saturday from 8am to 2pm
photo by LPLT (CC BY-SA 4.0) modified