5 Best Places to Go Shopping in Nusa Dua
Where to Shop in Nusa Dua
The 5-star luxury resort enclave of Nusa Dua is home to a select group of shopping locations offering fashion, art, spa products and souvenirs to take back home. While not as eclectic as Bali's other resort destinations, visitors will still find plenty of ways to put their credit card to work in Nusa Dua.
Though you may find art and fashion boutiques within your hotel, for a shopping adventure, you can take a leisurely walk down Jalan Pantai Mengiat. The street is lined with small art shops where you can find paintings, carvings, traditional garments and unique knick-knacks. Here's a selection of the best shopping options in Nusa Dua to get you started.
Bali Collection is the main shopping and entertainment complex within the Nusa Dua Bali Tourism Development Complex. It comprises an expansive open-air arcade lined with 37 fashion stores, 11 art shops, 17 specialty stores, 3 convenience stores, 7 spa and reflexology centres and a selection of 21 food and beverage outlets.
A weekly roster of live entertainment includes a traditional orchestra every Friday from 6pm onwards, providing fun times for children. Other bands play Top 40 hits, and you can also enjoy fashion shows from the respective fashion boutiques. Free shuttle transfer services from hotels within Nusa Dua add to the convenience.
Location: Komplek ITDC Nusa Dua, Benoa, South Kuta, Badung, Bali 80363, Indonesia
Open: Daily from 10am to 10pm
Phone: +62 (0)361 771 662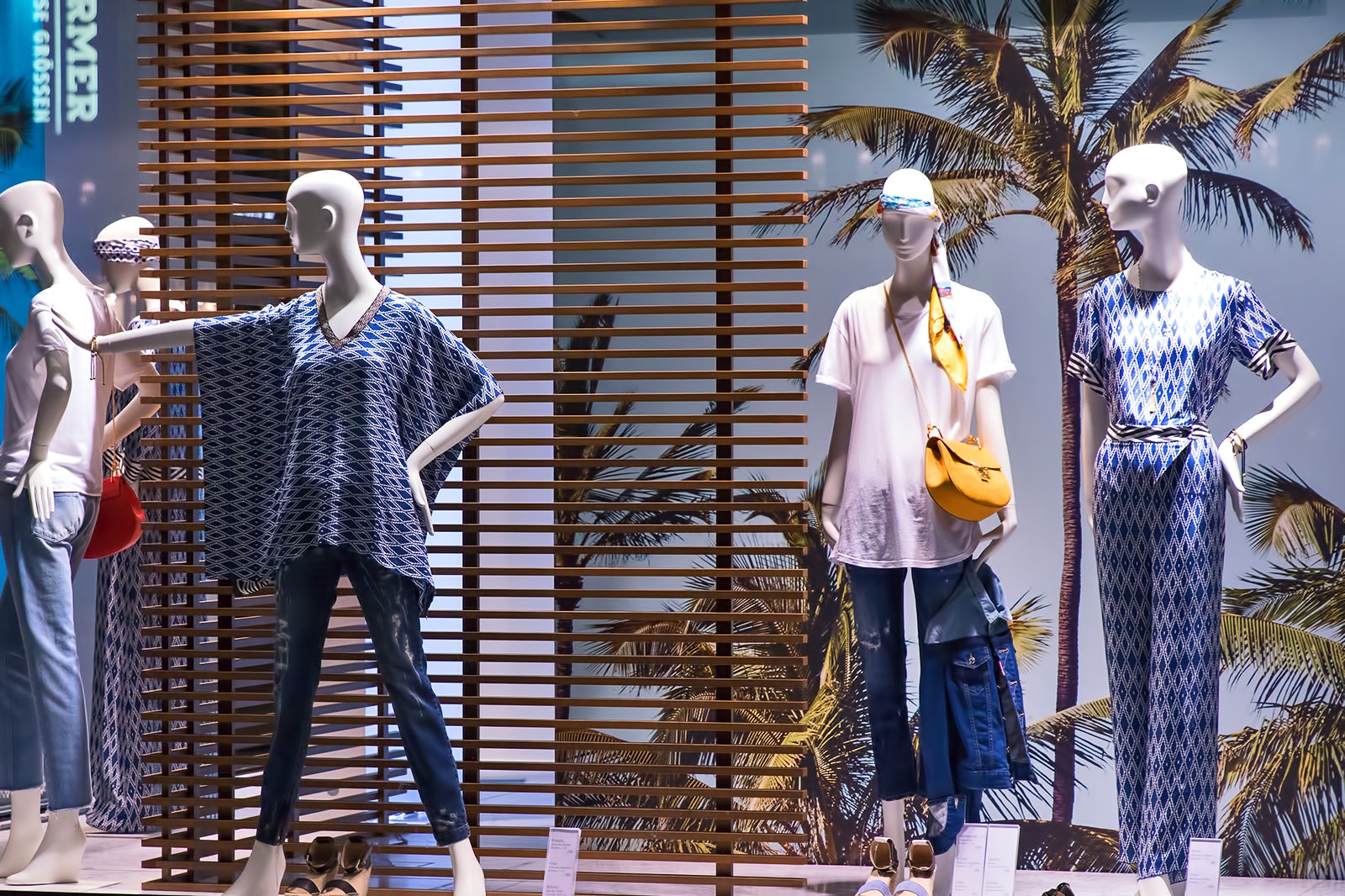 Sogo Department Store is an expansive department store occupying a considerable space on the outer perimeter of Nusa Dua's Bali Collection shopping complex. Inside you'll find a mix of international and local fashion brands under a single roof.
Air-conditioned throughout, Sogo provides a cool and enjoyable shopping experience with various brands presenting an eclectic range of items, such as cosmetics, fragrances, ladies' and menswear, a full range of fashion accessories, children's toys and clothing, and homeware and furniture. There's a Starbucks within the department store if you need a coffee break, too.
Location: Kawasan BTDC Area Bali Collection, Nusa Dua, Benoa, South Kuta, Badung, Bali 80363, Indonesia
Open: Daily from 10am to 10pm
Phone: +62 (0)361 771 662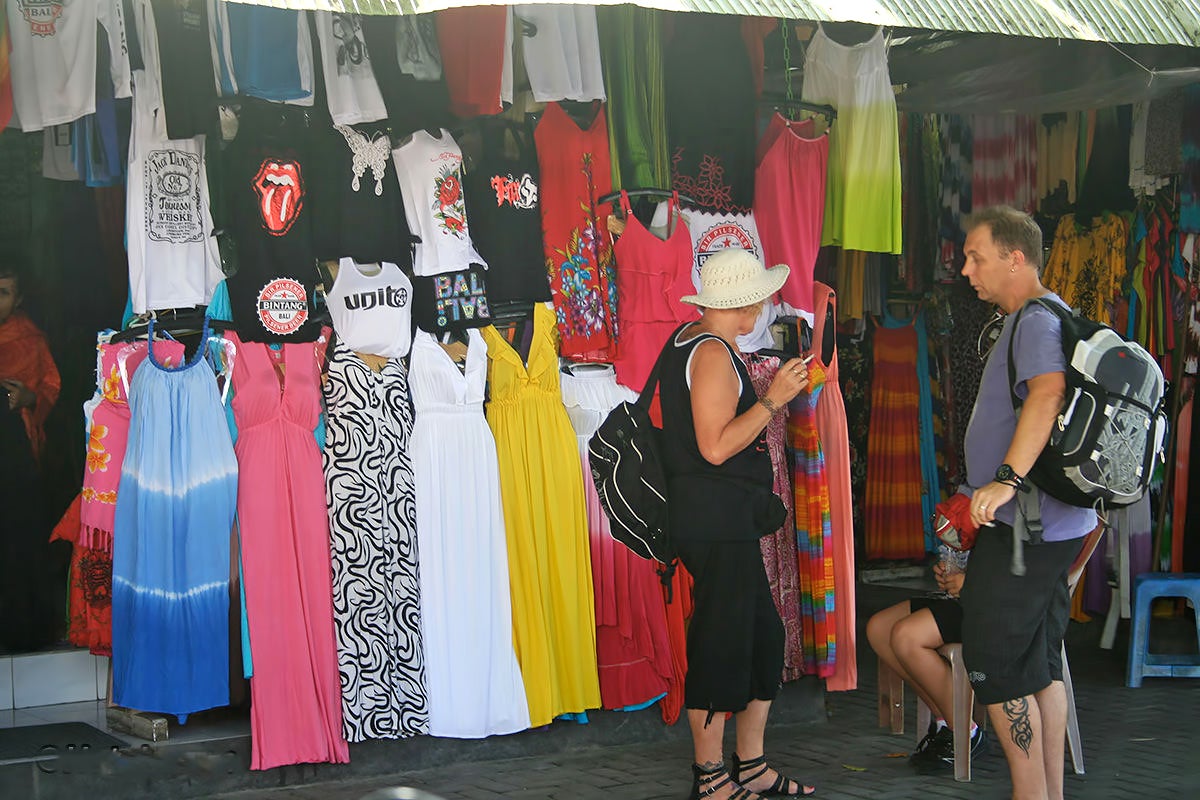 Art Shops on Jalan Pantai Mengiat
Jalan Pantai Mengiat offers a street shopping experience with various art shops lining both sides of the street. Approaching from the BTDC area, you'll find this 500-meter road south of the main gates past the Dewa Ruci statue. It's within walking distance from the Bali Collection, providing a great street shopping alternate. The rows of small traditional art shops are similar to those you'd find at Poppies Lane in Kuta or the beach art markets of Sanur.
And yes, the goods on offer are all similar, from batiks and sarongs to tropical T-shirts with various prints, wooden statues, kites, keychains, and many other items to bring back home. Prices vary but in Nusa Dua are generally higher than other areas, though bargaining is very welcome and encouraged.
Location: Jalan Pantai Mengiat, Nusa Dua, Badung, Bali, Indonesia
Hardy's Nusa Dua Plaza is a great source for groceries if you happen to be staying in a villa resort with a kitchen facility. You'll find a supermarket as well as a clothing store and sale outlets offering items such as electronics and daily household items.
Part of an island-wide network of supermarkets, Hardy's Nusa Dua Plaza is located right outside the main entrance gates of the Nusa Dua BTDC complex. Marketed at local residents, you can be sure of very reasonable prices here. The lower floor houses a food corner of Indonesian dishes, kids' fun zone, and the supermarket. The upper floor has a stationery store, a toy store, and a fashion department store.
Location: Jalan By Pass Ngurah Rai No.77, Benoa, Kec. Kuta Sel., Kabupaten Badung, Bali 80361, Indonesia
Open: Daily from 8am to 10pm
Phone: +62 (0)361 774 639
Oakley Vault Nusa Dua is the official store of Oakley in Bali, featuring the largest range of discounted Oakley products in Indonesia. Inside 'the vault' you'll discover a great range of official Oakley products, including the latest eyewear editions, sporty apparel, footwear, watches, action gear and accessories, and you can even check for prescription lenses to match the high-tech frames on offer. Look out for the periodical sales, offering up to 70% discounts on select items. There are cool Oakley items for both men and women.
Location: By Pass I Gusti Ngurah Rai No. 774, Nusa Dua, Benoa, South Kuta, Badung, Bali 80361, Indonesia
Open: Daily from 9am to 9pm
Phone: +62 (0)361 3700396