Bali Festivals and Events Calendar
Highlight Events and Festivals in Bali
The Bali festivals and events calendar includes some of the most colorful local celebrations and festivals in Bali. Most observances follow the Balinese calendar system called pawukon, which rotates every 210 days. Besides governing the daily chores and elaborate rites of passage that a Balinese goes through throughout their lives, the calendar system also charts major temple anniversaries.
Some Bali events are rare and unique. The Saka New Year, for example, uses another different lunar calendar system and is a turn of the year that's celebrated in total silence – the whole island of Bali literally shuts down from dusk to dawn. Cultural events can be a big part of your vacation experience. Check out our Bali events calendar below to see if any matches your plans.
1
Chinese New Year in Bali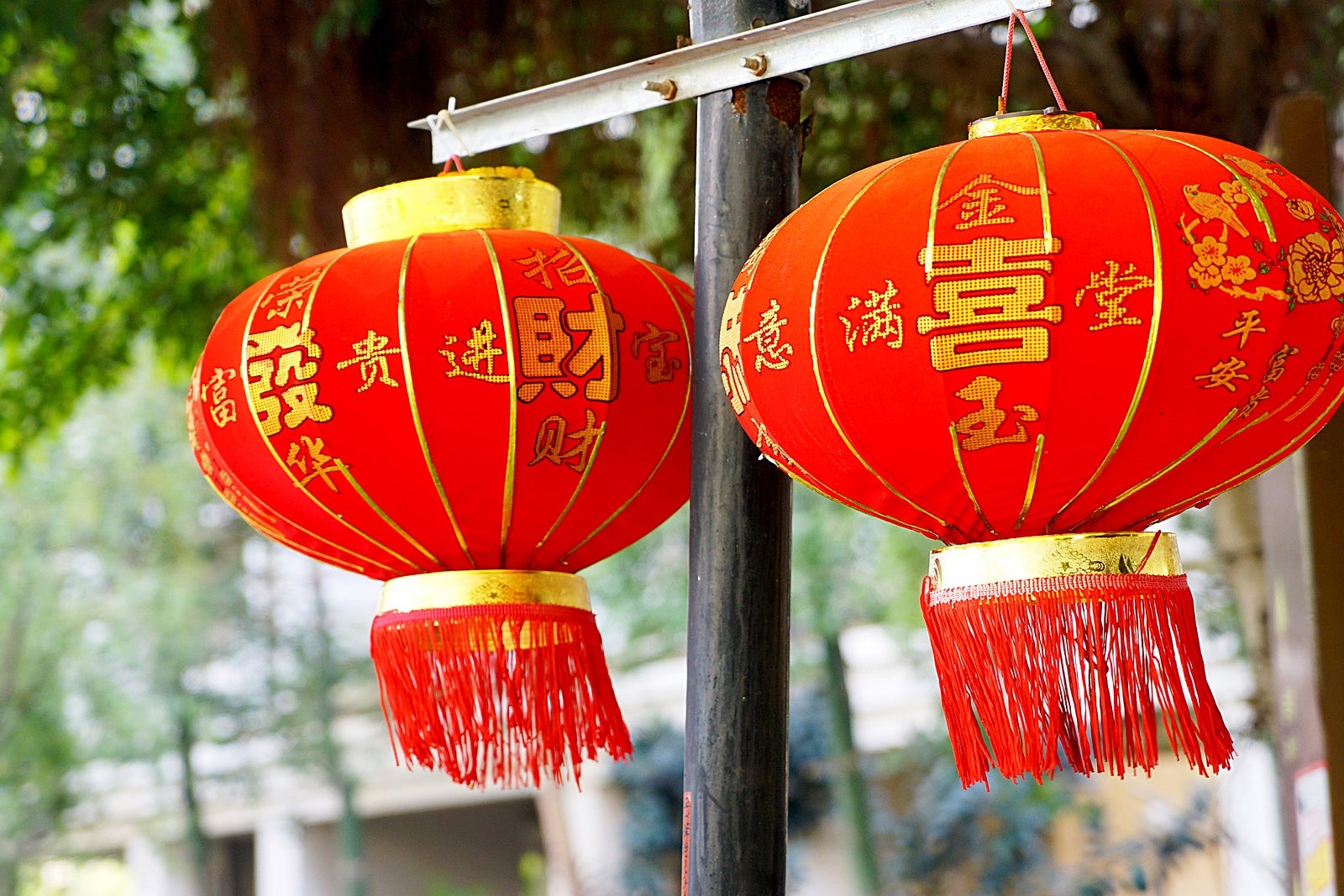 Chinese New Year in Bali takes place around late January or mid-February each year and is observed by Balinese of Chinese descent. Examples of Bali's Chinese cultural influences include Balinese temples bearing Chinese architectural features, the use of ancient Chinese coins in rituals, and early settlements in the Kintamani highlands where legend tells of the marriage between a Balinese king and a Chinese princess.
Chinese temples around the island become truly festive during the Chinese New Year celebrations. Chinese barongsai lion and dragon dance troupes, together with their drum and cymbal wielding entourage, carry out wushu performances and acrobatics to cheering crowds on the street and within temple courtyards. Chinese restaurants also promote their specialty cuisines for the occasion.
2
Saka New Year - Nyepi day of silence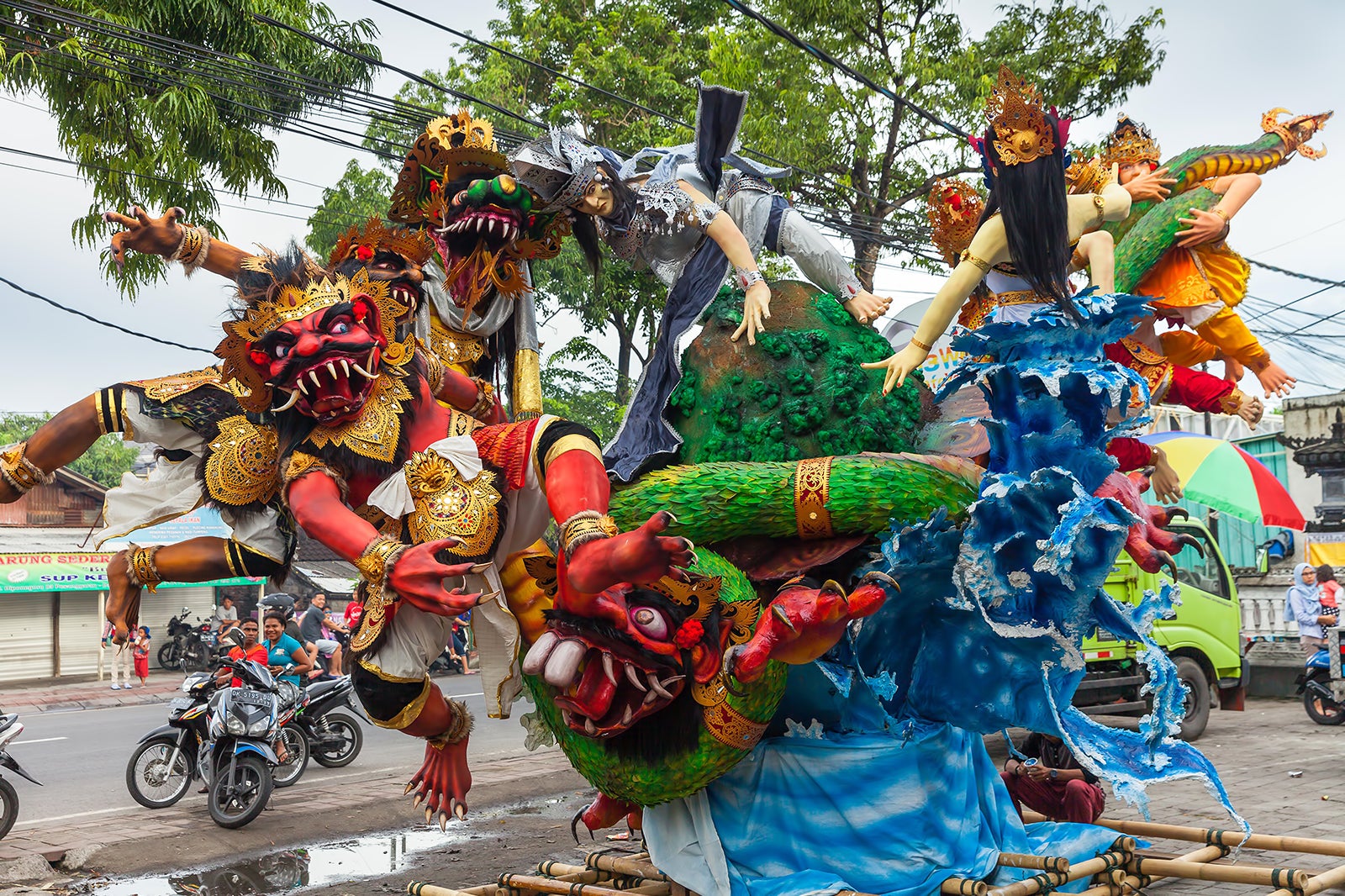 Nyepi marks Bali's lunar new year based on the Saka calendar. It usually comes around in March. It's ultimately the quietest day in Bali. The Melasti processions take place around 3 days prior to Saka New Year when pilgrims take heirlooms in long walks from temples towards the coastlines for purification rituals.
Saka New Year Eve is loud and festive. In the evening, fire torches and firecrackers are lit to rid the land of malevolent forces and grotesque ogoh-ogoh papier-mâché effigies are paraded throughout the streets. From 6am the following morning, the new year is celebrated in total silence and seclusion. There's no activity, no traffic, no amusement, and no fires or lights may be lit.
3
Ngembak Geni and omed-omedan
Ngembak Geni is the day after Nyepi (the day of silence). The silence of the Saka New Year celebration 'breaks' with the morning sun at 6am sharp. This is a local vacation in Bali when family visits and travel across the island are commonplace. But there's one rare and unique event to be seen on the day after Nyepi, known as omed-omedan.
Omed-omedan is celebrated exclusively by the Banjar Kaja community of Sesetan village in Denpasar. Youths and all members of the Banjar Kaja community take to the streets and water is splashed and sprayed – the highlight being 2 sides of the crowd in a tug-o-war-like scene, and with a pair in the middle smooching at each push and shove.
Location: Jalan Raya Sesetan No.54, Sesetan, Denpasar, Bali 80114, Indonesia
photo by Yohana Afrita (CC BY-SA 4.0) modified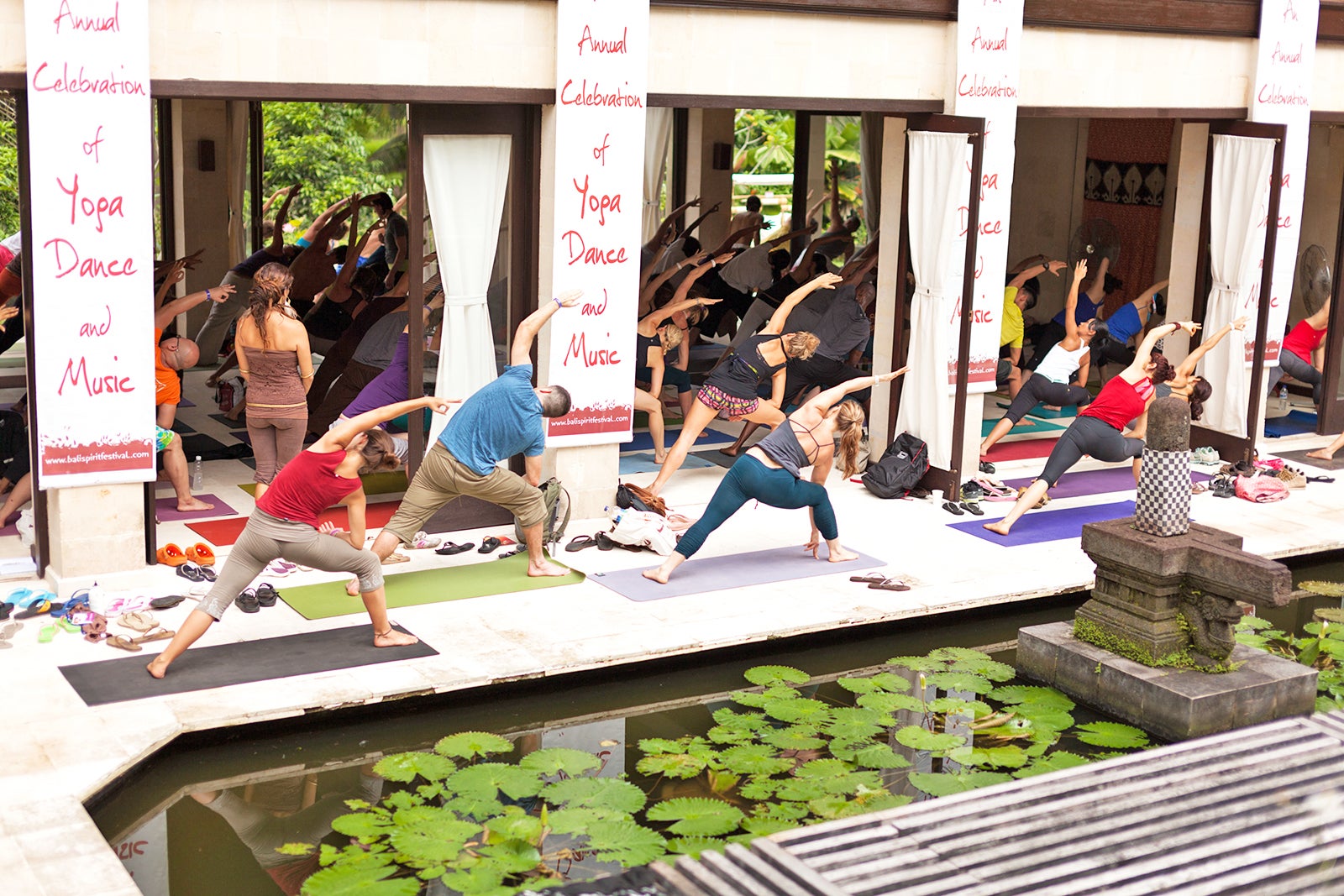 Bali Spirit Festival usually takes place in March or April, gathering like-minded yoga instructors and practitioners from around the world. The festival is also a celebration of world arts, dance and music. You can enjoy colorful concerts and performances as part of the festival. A packed agenda features numerous health and well-being workshops which are held in various yoga centres in Ubud and around Bali.
Read more
Location: Jalan Gunung Abang, Banjar Penataran, Negara, Batuan, Batuan, Sukawati, Gianyar, Bali 80571, Indonesia
Phone: +62 (0)361 970492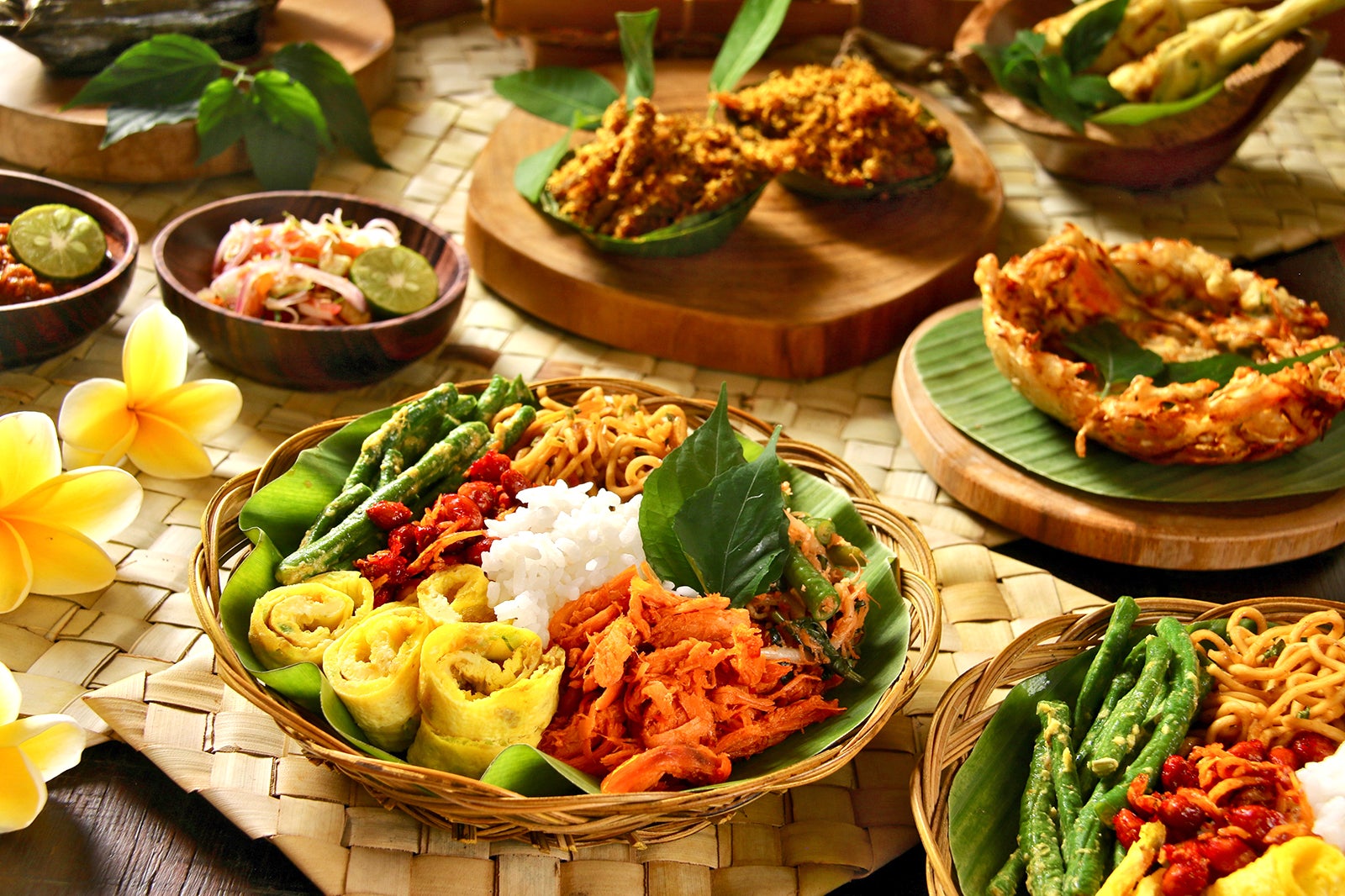 Ubud Food Festival is an exciting culinary extravaganza that's usually held for several days in mid-April in Ubud. The festival was born from the success of The Kitchen programs at the Ubud Writers & Readers Festival. The organizers and the committee came up with a dedicated festival for gastronomy, driven by the passion to share the rich heritage of Indonesian cuisine to the world. The festival regularly features local and international chefs from across the archipelago, with talks and workshops as part of the festival program.
Location: Jalan Raya Sanggingan No. 88X, Kedewatan, Gianyar, Bali 80571, Indonesia
Phone: +62 (0)361 977408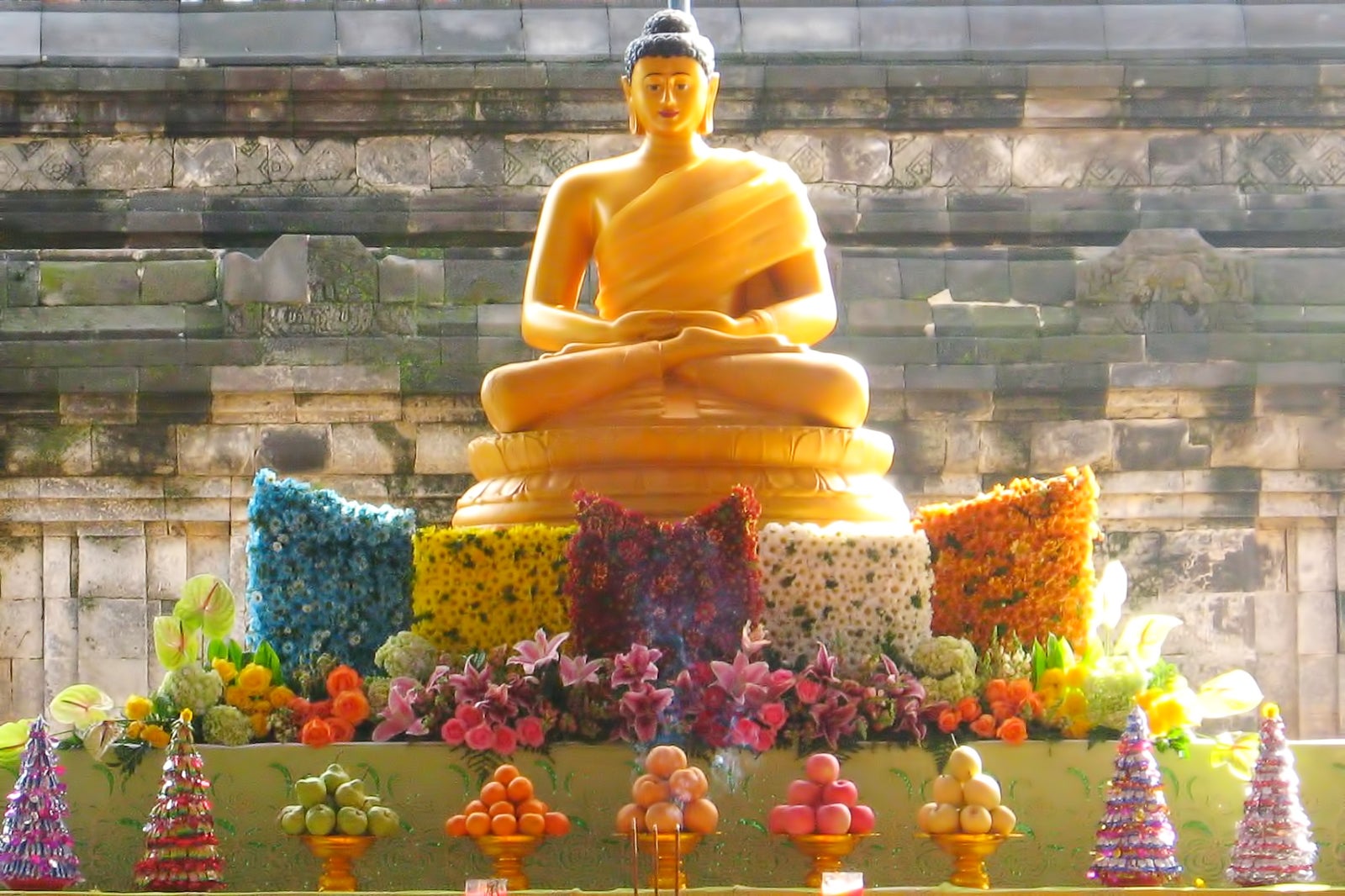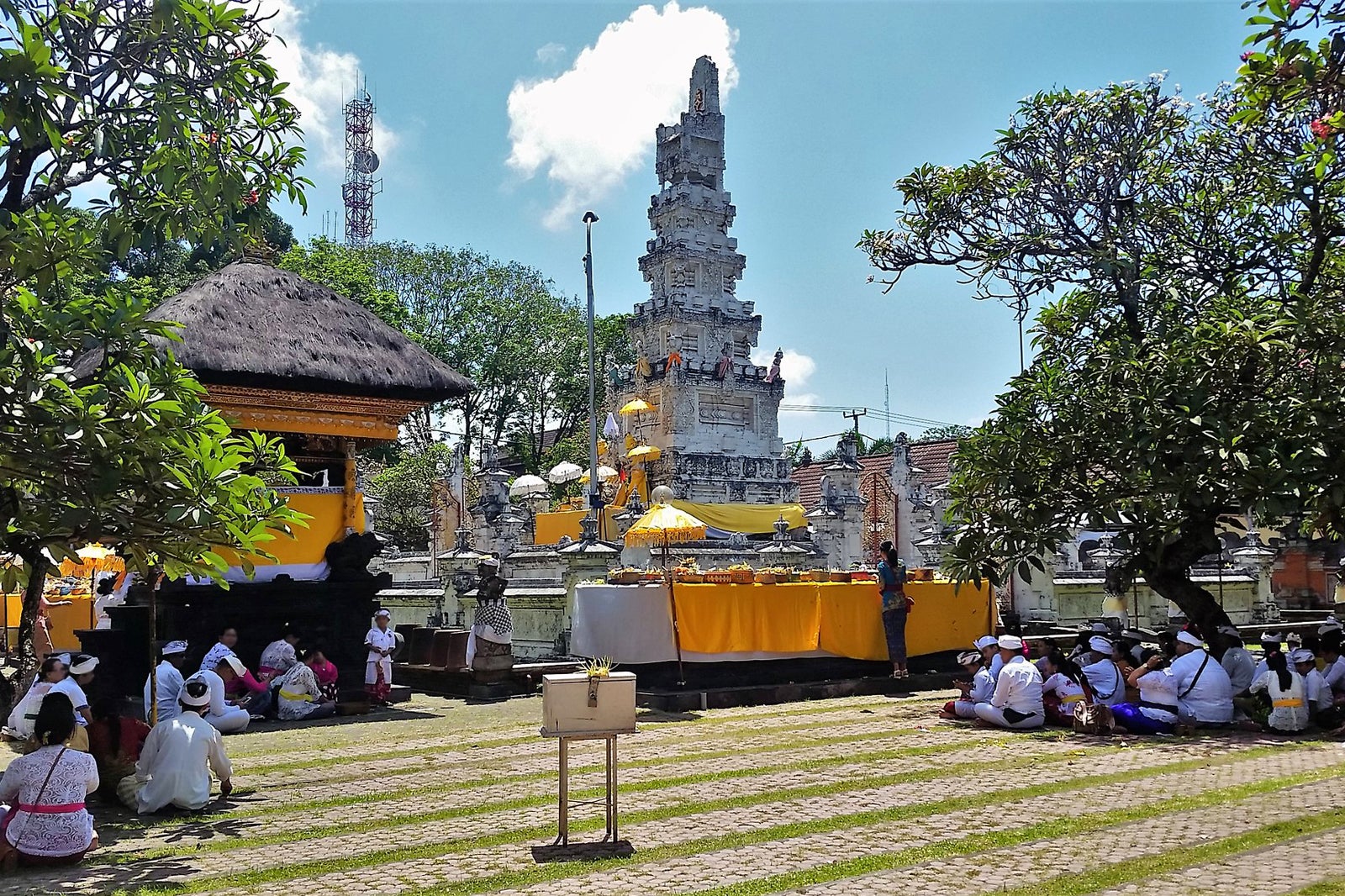 Galungan is one of Bali's most celebrated holidays. It follows the 210-day pawukon calendar, so it's held twice a year with different small holidays leading up to the day. During this 10-day period, gods and ancestors are believed to descend to earth for the festivities.
Galungan essentially celebrates the victory of Dharma (Good) over Adharma (Bad). The festivities are made extra special by the fitting of penjor poles at the entrance to every house. The poles are decorated with harvests from nature such as young coconut leaves, fruits and flowers. The last day of the 10-day festivity is Kuningan, a day for prayer and honoring ancestors.
photo by Mike (CC BY-SA 2.0) modified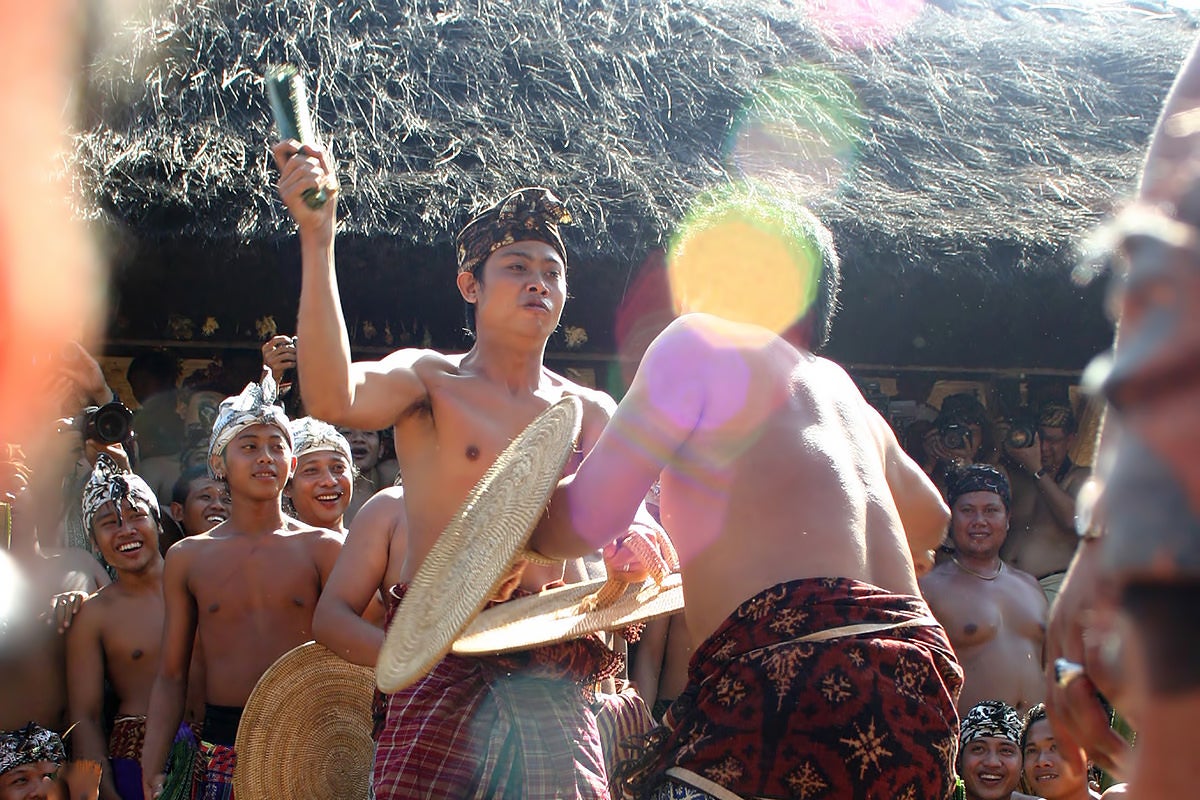 Perang Pandan, also referred to by locals as mekare-kare, is a ritual blood sport that's part of the age-old traditions of the Tenganan Dauh Tukad village in Karangasem. It can also be regarded as a coming-of-age rite among village youths, held in conjunction with the village's annual Ngusaba Desa purification ceremonies.
The remote village of Tenganan Dauh Tukad is an approximate 78 km east of Denpasar. The Ngusaba Desa has many different ceremonial highlights, but Perang Pandan attracts spectators the most to its arena where bare-breasted village boys take turns in duelling. They're armed only with rattan shields and a tied packet of thorny pandanus as weapons. Perang Pandan usually takes place in June.
Location: Tenganan, Manggis, Karangasem, Bali 80871, Indonesia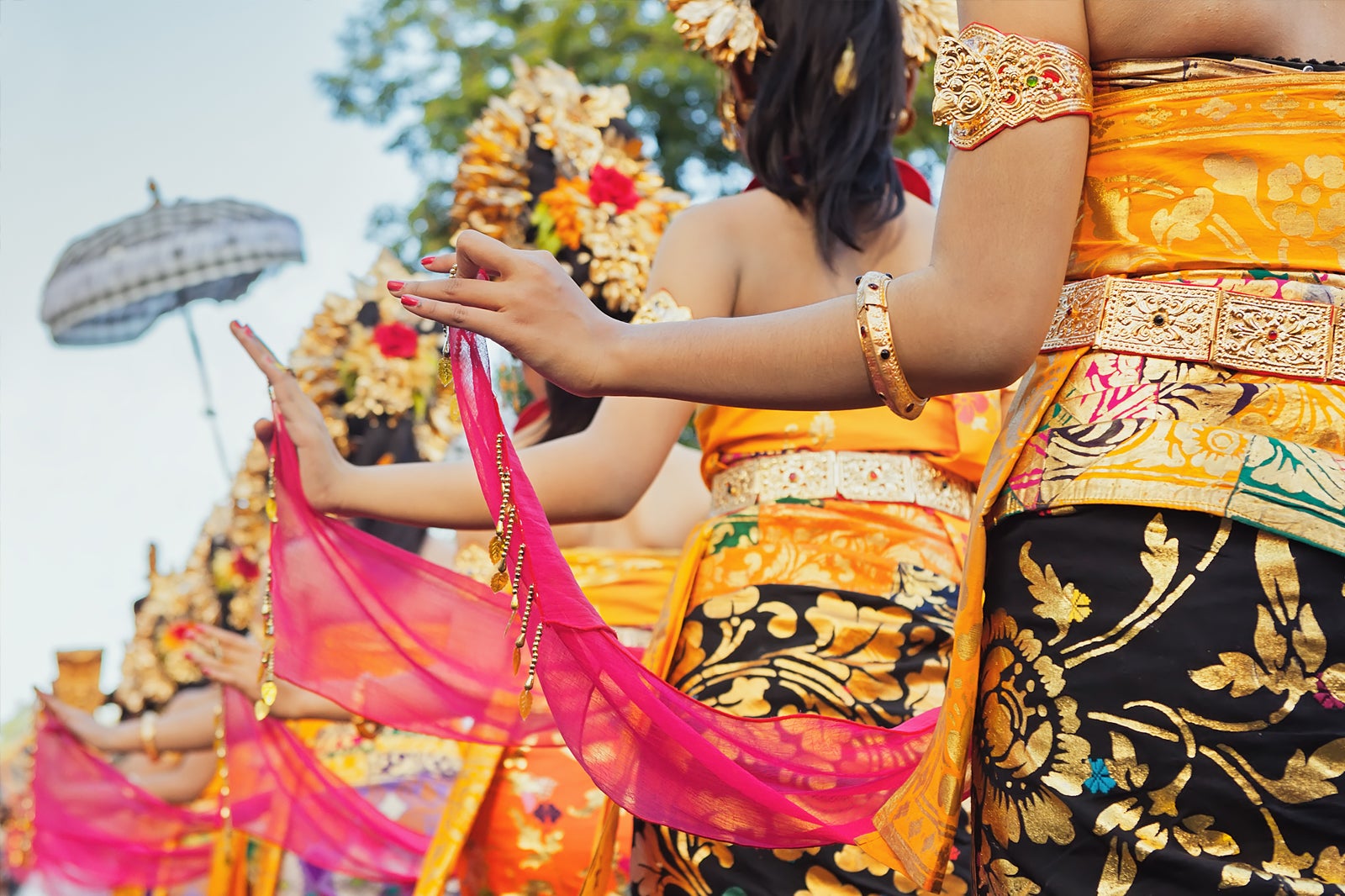 The Bali Arts Festival, locally known as Pesta Kesenian Bali, takes place every year from mid-June to mid-July. It's a yearly celebration that showcases a colorful variety of exhibitions and performances as well as various kinds of artworks and cultural achievements.
The festival invites the public to the Niti Mandala Renon square for the lavish opening with street parades. Then, the Denpasar Arts Center features daily performances and exhibitions throughout the remaining duration of the festival.
Location: Denpasar Arts Center (Taman Werdhi Budaya), Jalan Nusa Indah, Denpasar
Phone: +62 (0)361 245294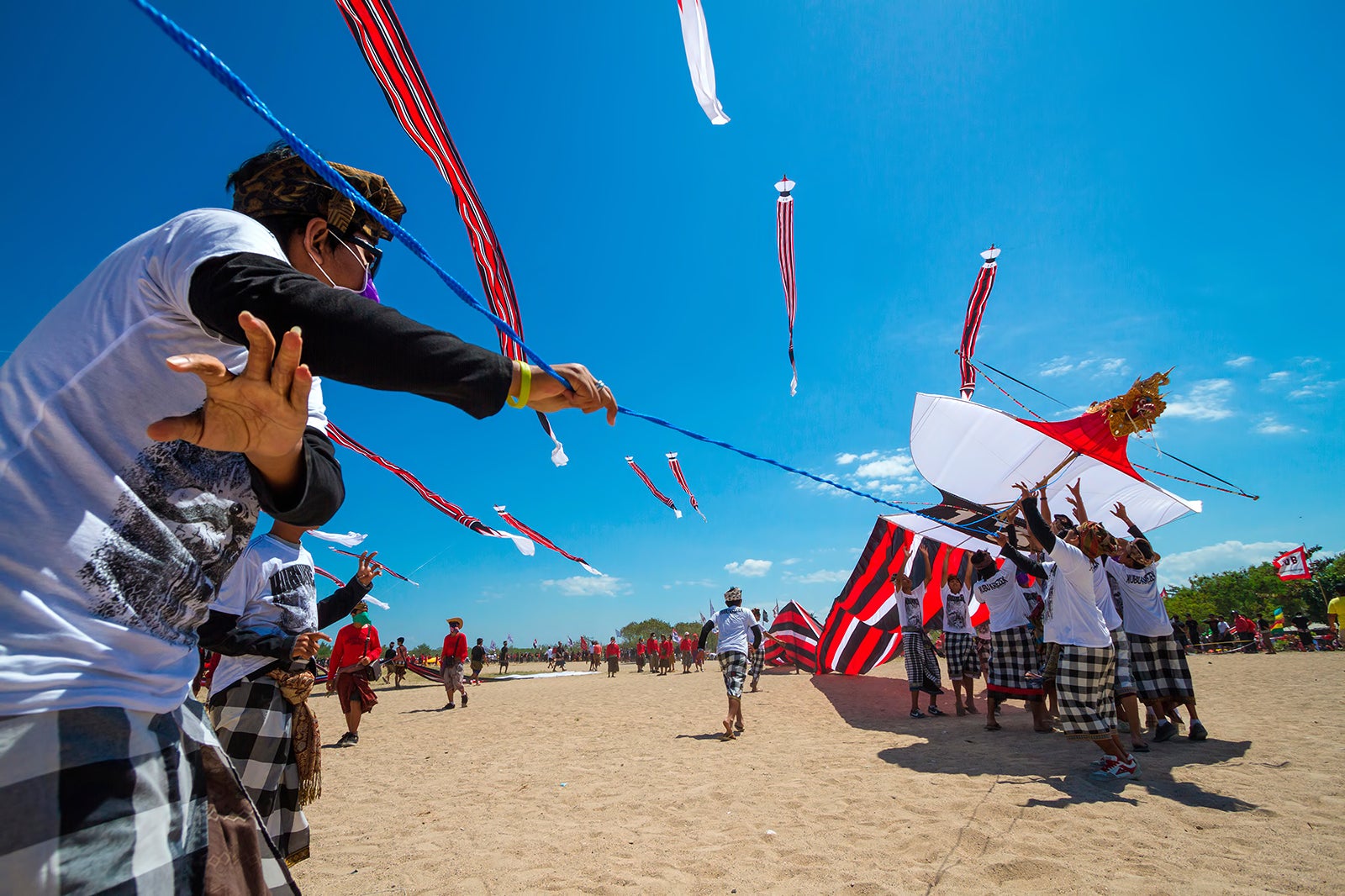 The Bali Kite Festival or Pesta Layang-Layang Bali is an annual celebration of one of the cultural icons of Bali, the traditional Balinese kite. Bali's traditional kites come in a few varieties but often built in gigantic wingspans. The kite festival serves as a preservation effort of the art form and is anticipated by the international community and usually involving village kite troupes from all over the island.
These youthful troupes take part in showcasing their gigantic traditional creations as well as contemporary designs. The festival usually takes place around the start of the windy season, between the months of June and August, with dates confirmed following favorable weather conditions.
Location: Padanggalak Beach, Jalan Padanggalak, Kesiman, Denpasar, Bali, Indonesia
Open: June–August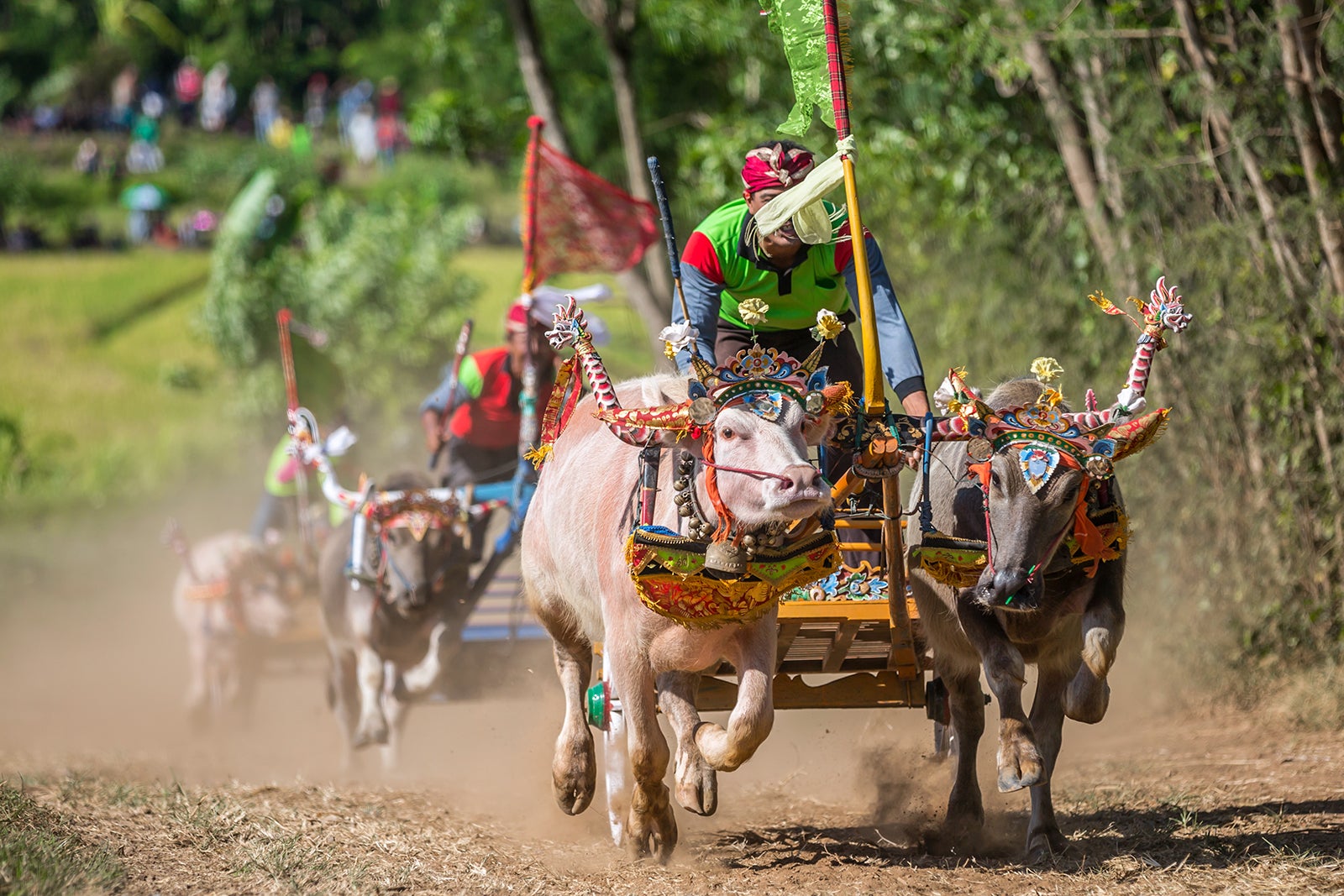 Makepung is Bali's famous bull race that's traditionally held by farmers and their groups in the regency of Negara, West Bali, every year. Various harvested paddy fields around the town of Jembrana are turned into simple race courses – the rushing hooves pounding into loose soil fresh from harvesting usually adds to the dramatic effect.
The official Makepung grand prix of buffaloes is designated as the 'Governor's Cup' or Piala Bupati, which is scheduled every year around the month of July. The series of events culminate into the finals and main celebrations which usually take place around the month of November.
Location: Negara, Jembrana, Bali, Indonesia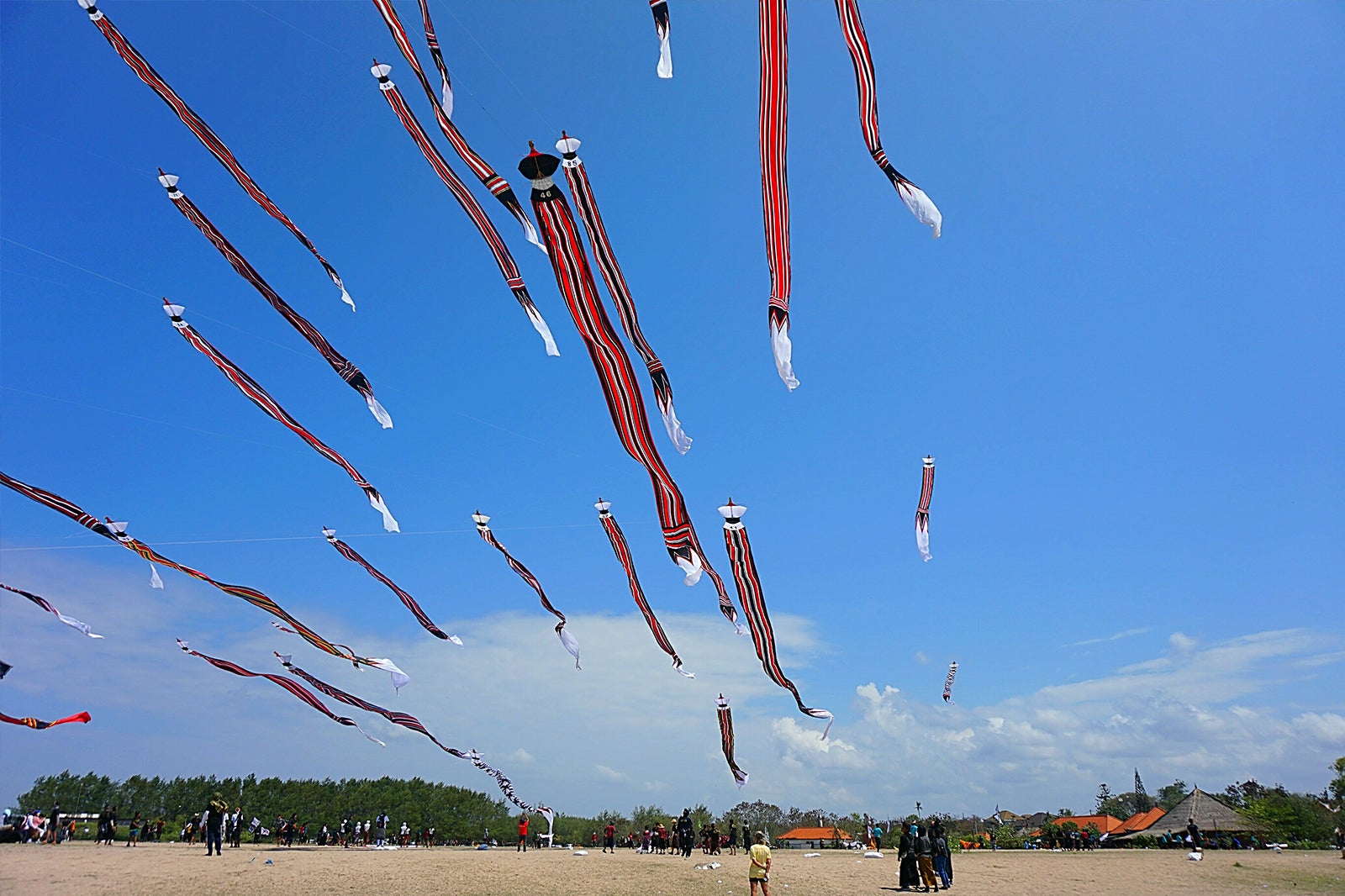 Sanur Village Festival is an annual celebration of arts and culture by the Sanur beach community. The festival usually features a week full of cultural highlights as well as food, water sports and environmental-awareness events. The festival's week-long calendar is usually focused in the Maisonette area of the Inna Grand Bali Beach Hotel in Sanur.
Over the years, the festival features additional events that involve the food and beverage industry, fashion, yoga and wellbeing, sports and environmental campaigns. Creative expos and a Sanur Run marathon were also featured in previous years. The festival often takes place in August, and cultural street parades usually mark the festival opening, held along the main streets of Sanur village.
Location: Yayasan Pembangunan Sanur (YPS), Jalan Danau Buyan III No.2, Sanur, Denpasar, Bali 80227, Indonesia
photo by Johannnindito Adisuryo (Yohanes Nindito Adisuryo) (CC BY-SA 4.0) modified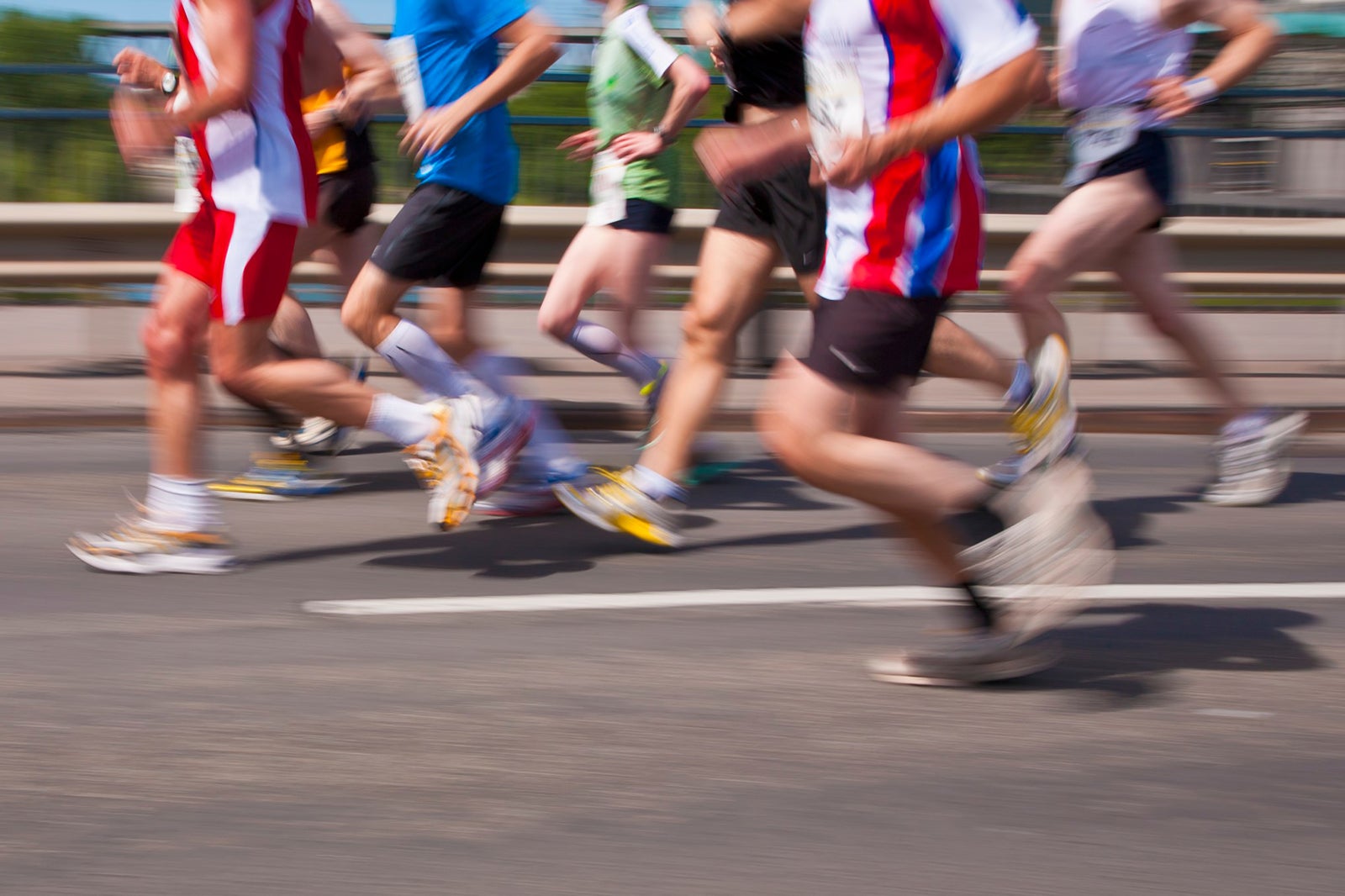 The annual Bali Marathon traverses the flat road and rolling hills through several villages within the Gianyar regency in East Bali. The races are often held in August and comprise several categories: a Full Marathon (42.195Km), a half marathon (21.0975Km), a 10K, and a fun sprint category for kids.
Bali Marathon's course chiefly runs through the main bypass road of Jalan Ida Bagus Mantra, traversing the villages of Saba, Pering, Belega and Bona, then back down via the villages of Keramas and Medahan.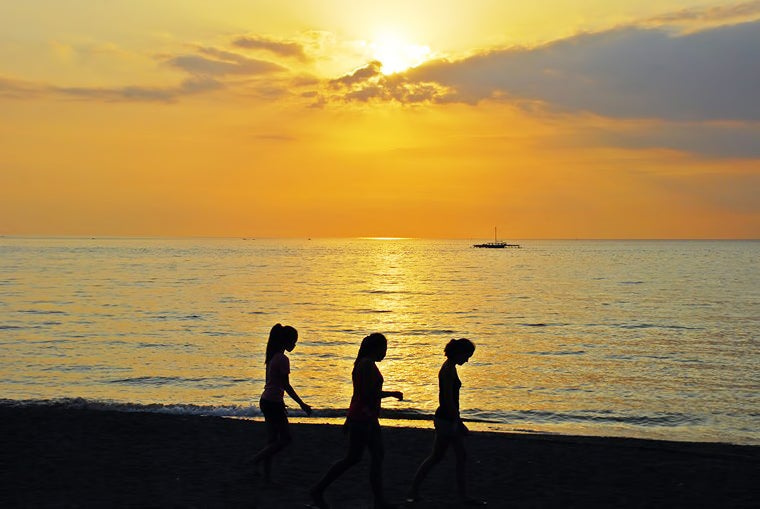 Lovina Festival is held annually around September or October in the village of Kalibukbuk Beach, North Bali. Among the festival's highlights are handicraft exhibitions and an afternoon opening ceremony that features a traditional Balinese marching band called baleganjur and a towering fruit and flower offering or gebogan parade.
Unique performing arts that you can see during the event include traditional performing arts from the North Bali region, such as the Gong Kebyar and Ki Barak Panji Sakti dance.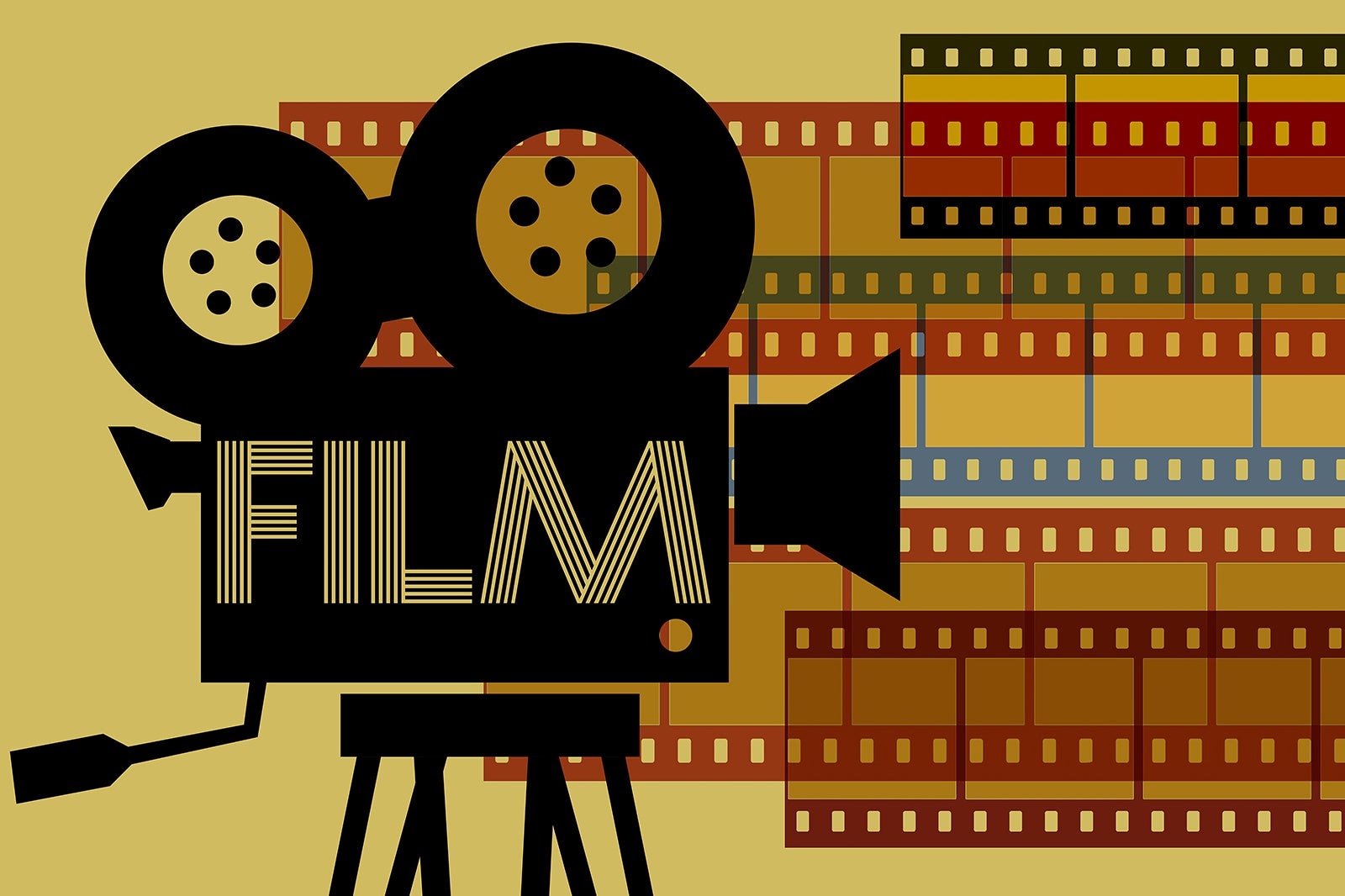 Bali International Film Festival, also known and registered as Balinale, offers a diverse event program that comprises Indonesian and international independent films. These range from award-winning fiction, documentaries, feature-length and short films.
The main screenings of the Balinale indie films are often shown at select movie theaters on the island. Some of the screenings are also often paired with talks by writers and directors. The festival itself is usually held in September.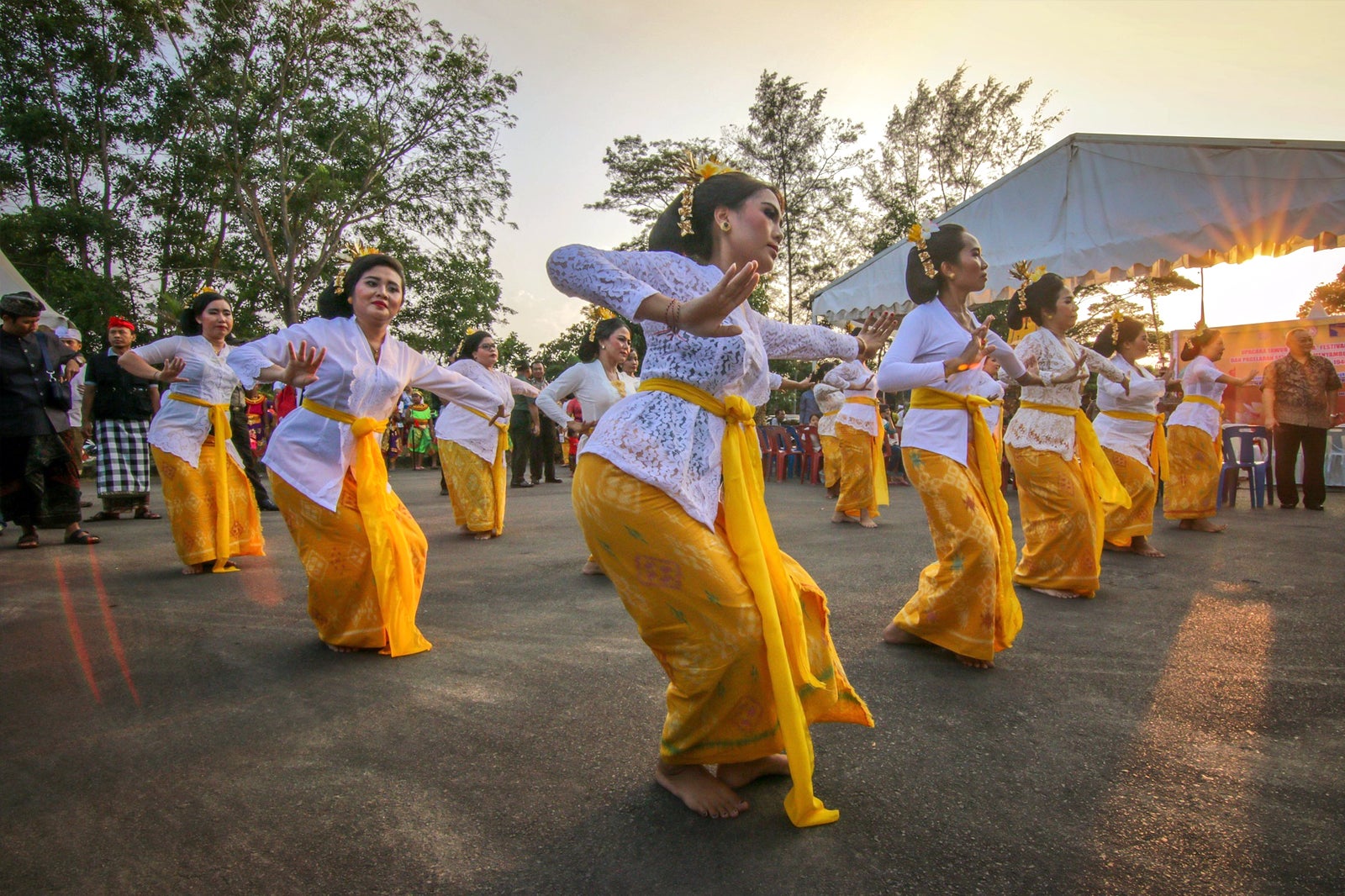 Nusa Dua Fiesta is an annual festival that presents a week-long agenda filled with arts, culture, sports, music and exhibitions. The festival takes place in and around the peninsula in Nusa Dua. The festival usually takes place in October, around the ITDC complex in Nusa Dua.
You'll be able to visit exhibits throughout the festival and even take home an attractive memento offered at bargain prices. Foodies should look out for culinary side events such as cooking competitions held by the local chef associations, as well as a mixology competitions where you can sample cocktails from the island's best bartenders.
17
Bali International Triathlon
The annual Bali International Triathlon is one of the most prestigious sporting events in Bali. The race has changed title sponsors several times over a decade since it was first held together with various new features added to its events agenda and race course. The triathlon is usually held in October or November.
Among other significant changes, the race destination shifted from Jimbaran Bay to the Sanur beach area. The race regularly features an Olympic distance course with male and female divisions, as well as a sprint distance course and a 5 km Fun Run that accommodates casual runners, families, and visitors to Bali looking for a fun and healthy way to spend their vacation on the island.
18
Ubud Writers & Readers Festival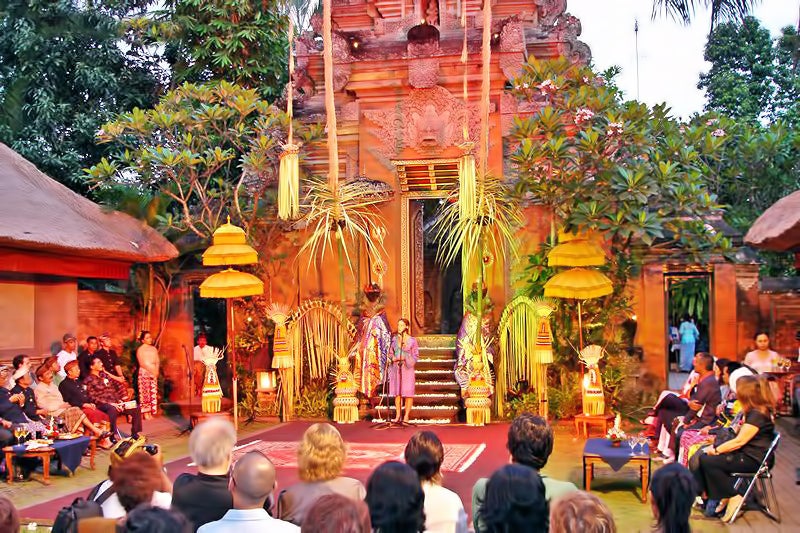 The Ubud Writers & Readers Festival is an annual literary festival that gathers speakers and writers from all over the world to Ubud. The agenda is filled with special literary workshops, book launches, youth's programs, as well as showcasing Bali arts and culture.
Main sessions usually take place at Indus restaurant and Neka Museum – all of which are located in Sanggingan, Ubud. Over the years, fringe events have also taken place as part of the festival in other venues outside Ubud, and a variety of other associated literary events have also gone beyond Bali, with talks and workshops held in Jakarta, Sulawesi, Sumatera and Papua.
Back to top