10 Best Markets in Hong Kong
Hong Kong's Best Markets
Markets in Hong Kong are among the best places to pick up fashionable yet cheap clothing, accessories, jewelry, electronics, souvenirs, and toys. Fake goods are common in most markets, but you can also find local designers who are just making their way through the fashion world. In Hong Kong, there's a market for every style and taste.
These traditional marketplaces are often very crowded, so be prepared for a bit of jostling to find what you're looking for. Kowloon, with more space and cheaper rents than Hong Kong Island, is home to many of Hong Kong's finest markets. You can find markets all over Hong Kong, all of which make a good alternate to swanky malls and department stores.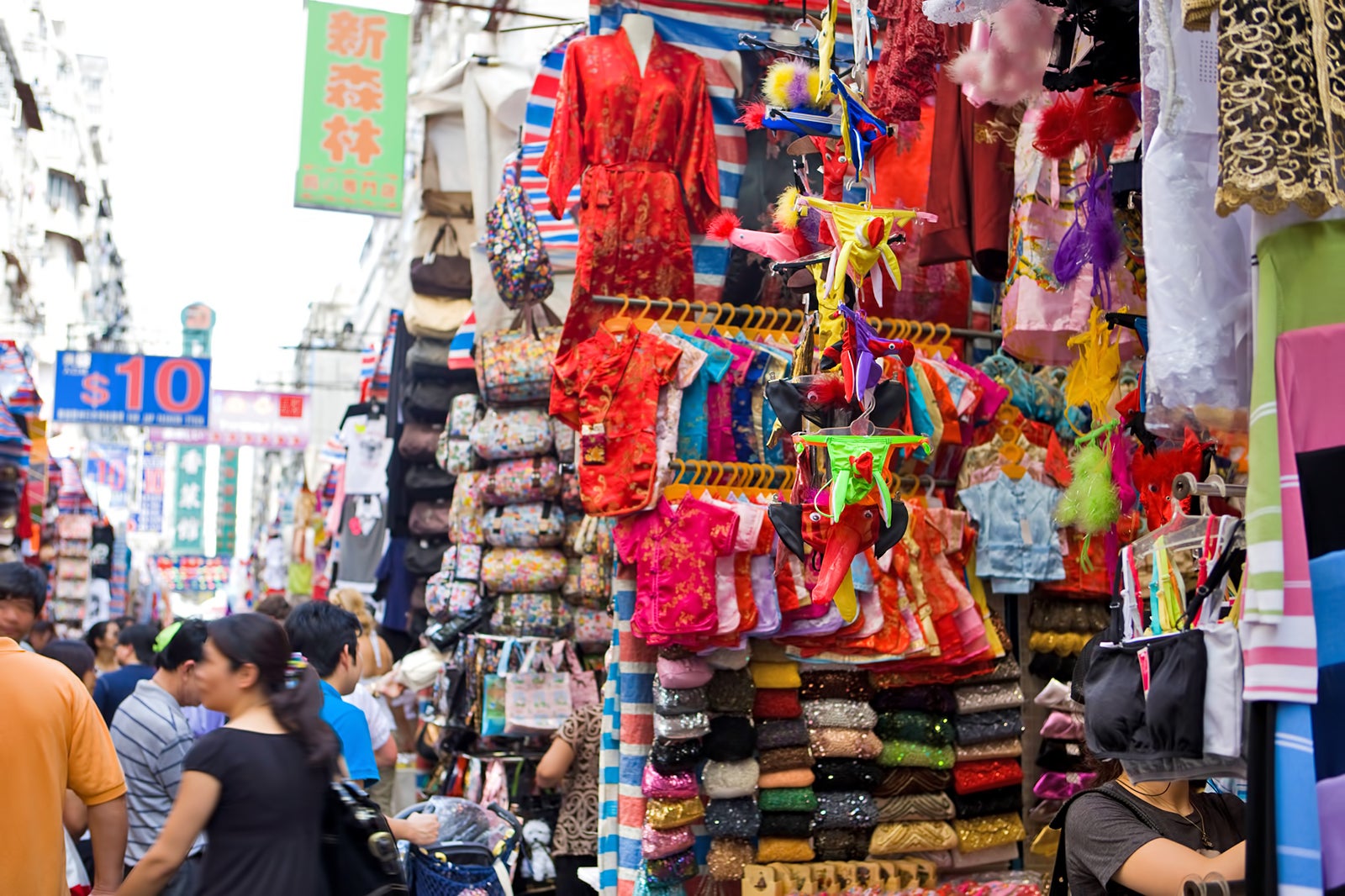 Ladies Market is a popular place to shop for affordable fashion goods and accessories in Hong Kong. This long, narrow market runs the length of Tung Choi Street in Mong Kok. At its southern end, closest to Mongkok MTR Station, you'll find fashion stalls selling fake designer goods, while further north there are many traders selling plants, animals (it's nicknamed Goldfish Street by the locals), and homeware.
Despite the name, Ladies Market has plenty of options for guys, along with kids clothing, fashion jewelry, shoes, bags, and typical Chinese souvenirs such as tea and snacks. Don't forget to browse the permanent stores behind the market stalls on both sides.
Location: Tung Choi Street, Mong Kok, Hong Kong
Open: Daily from 11am to 11.30pm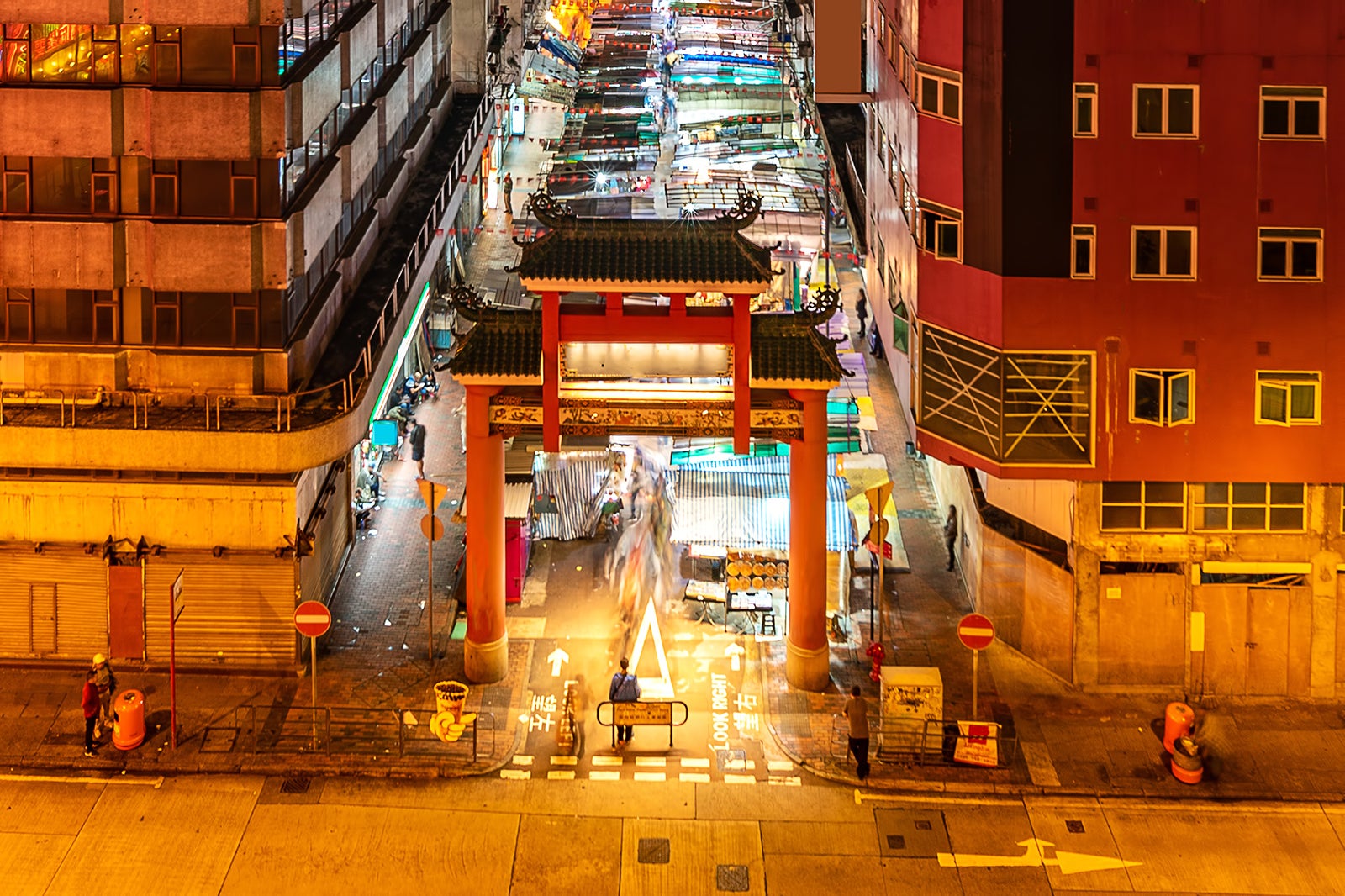 Temple Street Market
Kowloon
Temple Street is the largest night bazaar in Hong Kong, attracting mostly tourists with its extensive range of goods and lively atmosphere. Most vendors speak English at this 1-km-long marketplace, and you'll find plenty of things to eat during your visit.
The thoroughfare is wider than most Hong Kong markets, making it easy for you to browse for just about everything – clothes, electronics, local art and souvenirs, just to name a few. You can even have your fortune told by a tarot card reader during your visit at Temple Street.
Location: Temple Street, Yau Ma Tei, Kowloon, Hong Kong
Open: Daily from 2pm to midnight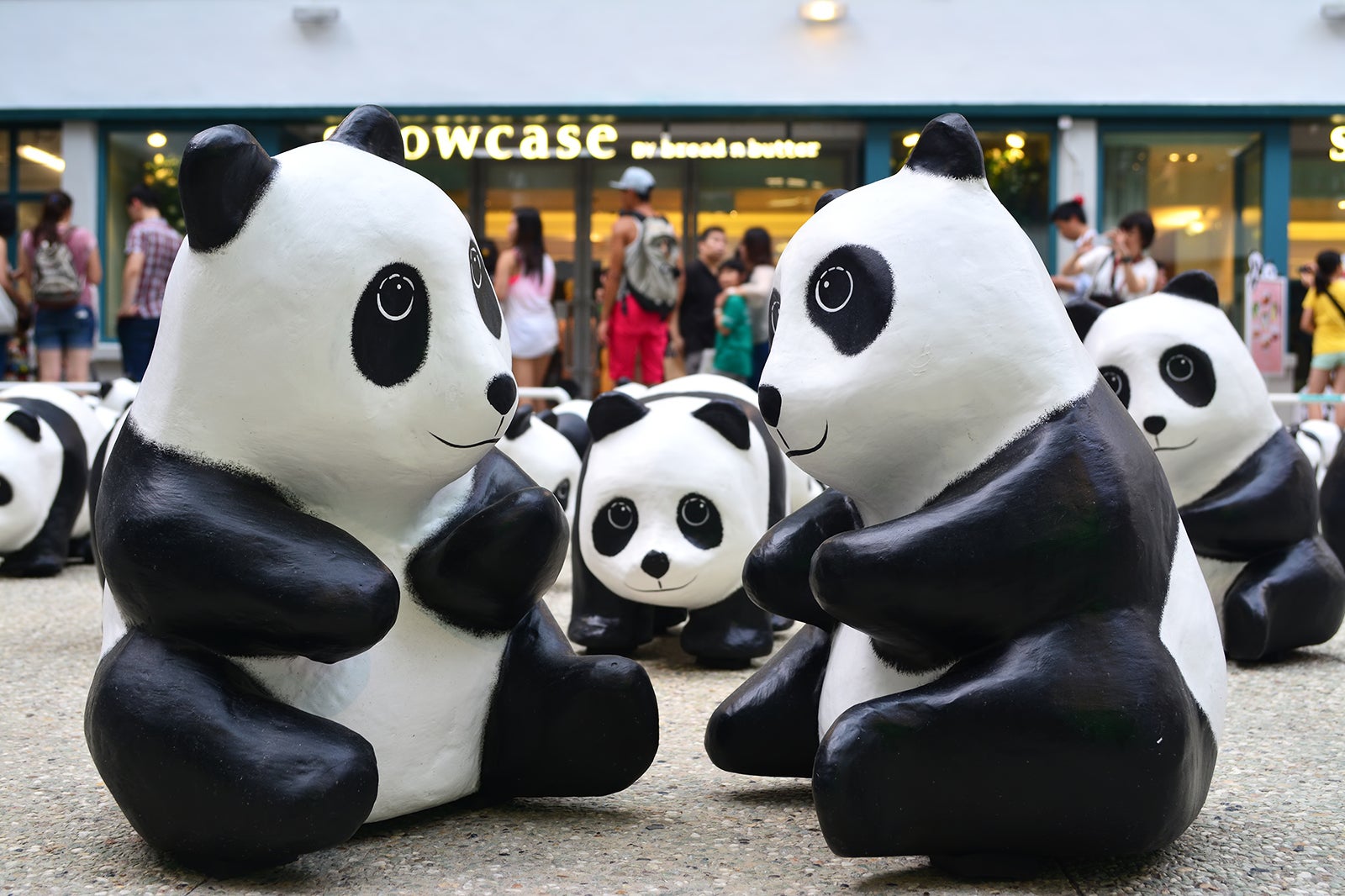 PMQ Hong Kong
Central (SoHo)
PMQ Hong Kong may not be a market in the traditional sense of the word, but it has dozens of crafts shops, boutiques, and galleries. The building spans 7 floors of retail space, together with occasional pop-up markets and live events in its large courtyard.
Popular items to buy here include art pieces, fashion jewelry, and independent fashion brands you won't find elsewhere in Hong Kong. PMQ serves as a hub for over 100 creative and design entrepreneurs, who use this space to showcase their latest designs to an international market.
Location: 35 Aberdeen Street, Central, Hong Kong Island, Hong Kong
Open: Daily from 7am to 11pm
Phone: +852 2870 2335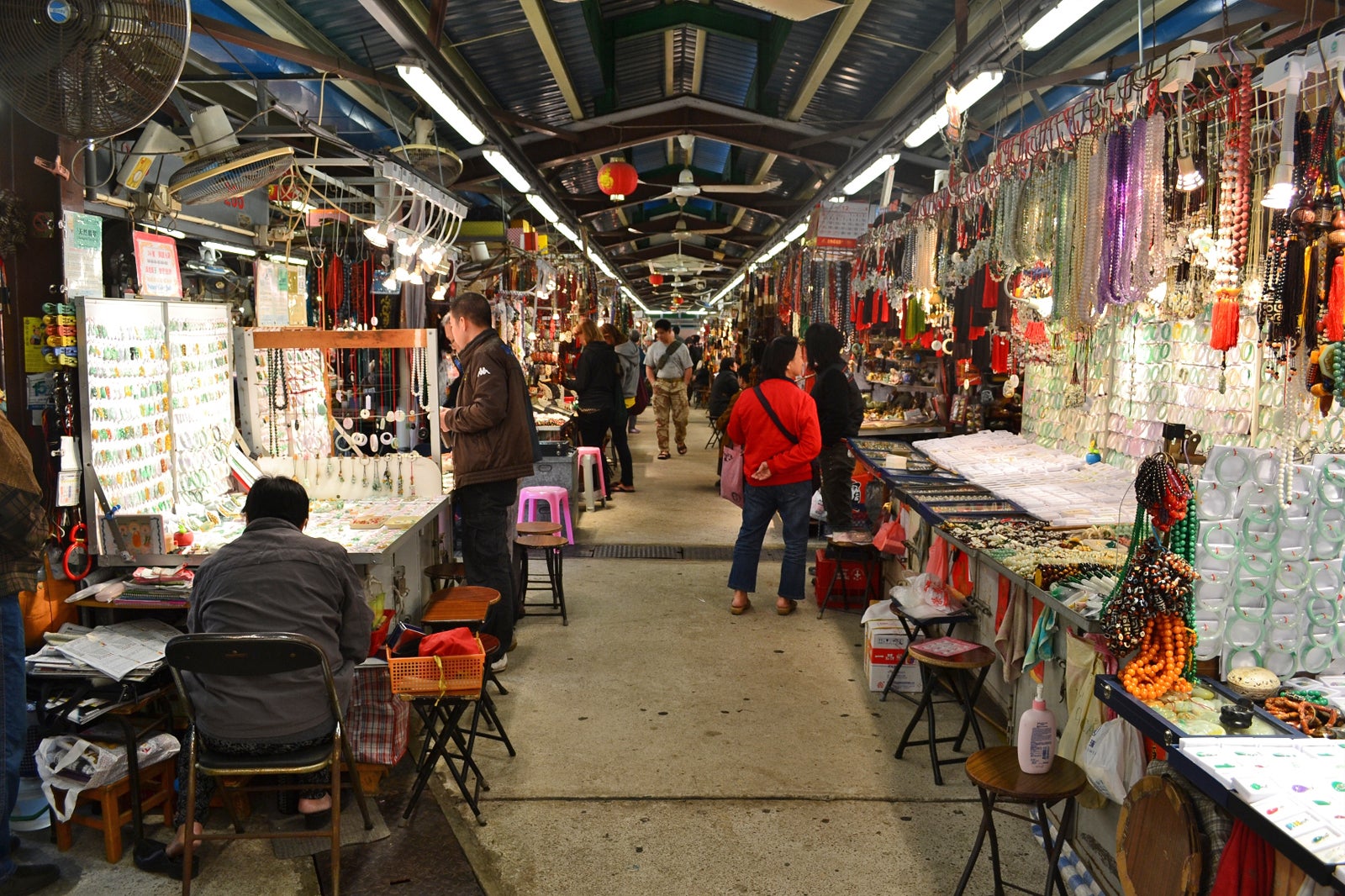 Jade Market hosts hundreds of jewelers selling precious stones, pearls, and jade of all shapes and sizes. While the stalls carry many of the same goods, prices vary radically depending on the quality of the item. Jade is believed to bring good luck to its owner, so you'll often see locals (especially the elderly) wearing pendants, bangles, rings, and earrings made with this stone.
The traders at Jade Market drive a hard bargain, but can generally be trusted that their items are as they claim. The market stocks mostly mid-range jewelry and semi-precious stones, so if you're looking for more high-end jade items, there's an entire street of permanent shops right next door.
Location: Junction of Kansu Street and Battery Street, Yau Ma Tei, Kowloon, Hong Kong
Open: Monday–Saturday from 11am to 5.45pm (closed on Sundays)
photo by David Boté Estrada (CC BY-SA 2.0) modified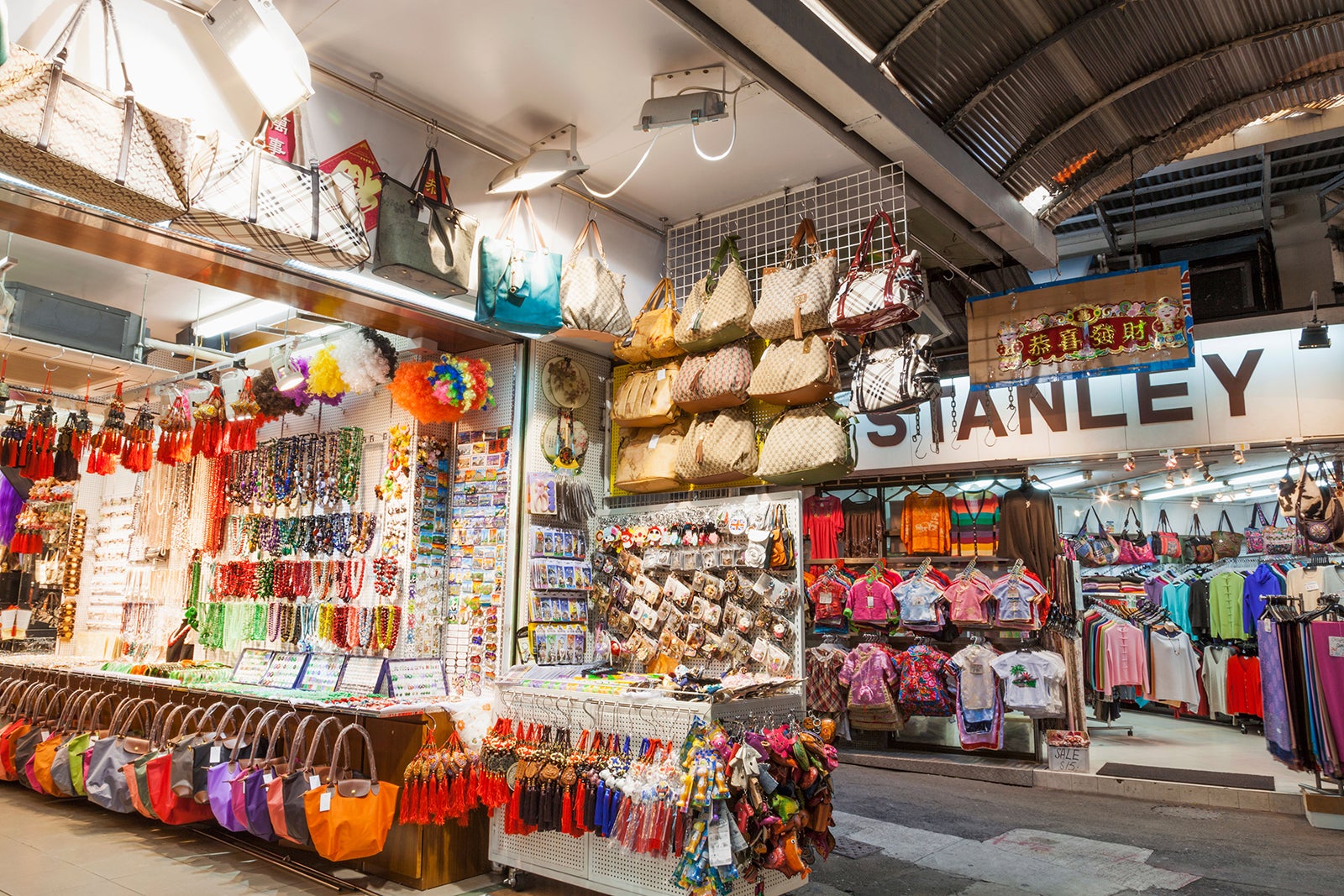 Stanley Market lies on Hong Kong's southern coast, which is known for its heritage charm. Stanley is a quaint fishing village that looks and feels the complete opposite of Hong Kong's northern shore.
The local market is where you'll find art and crafts, faux antiques, and calligraphy paintings. You can find a collection of shops and restaurants in Murray House, a Victorian-era building about 400 meters southwest of Stanley Market.
Location: Stanley Municipal Services Building, 6 Stanley Market Rd, Stanley, Hong Kong
Open: Daily from 10am to 7pm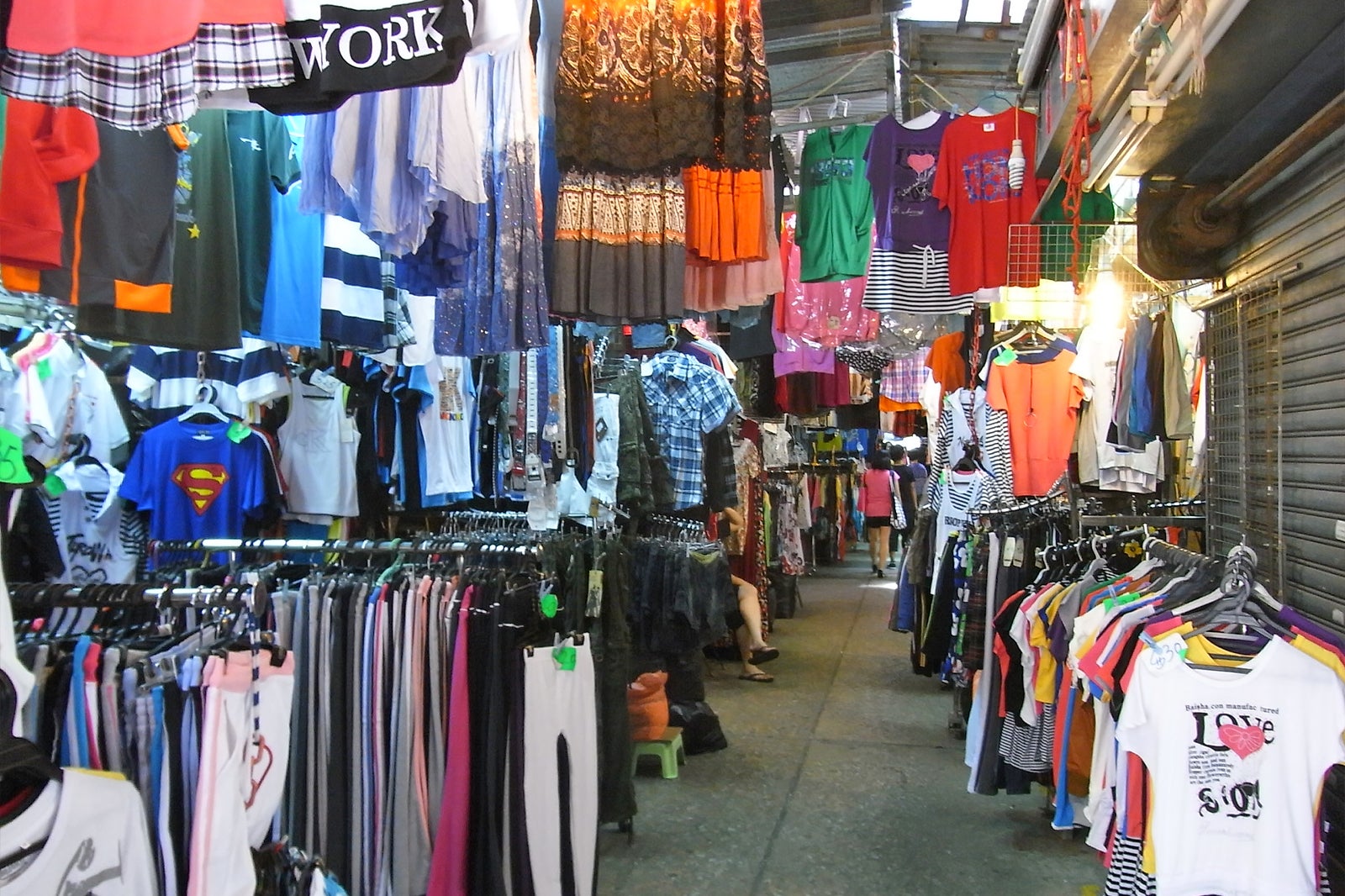 Jardine's Crescent Market
Causeway Bay
Jardine's Crescent Market is an open market that features affordable fashion brands that mostly appeal to Hong Kong's teens and young adults. Located in Causeway Bay, it's often referred to as the equivalent of Ladies Market in downtown Hong Kong.
Many of the stalls sell pretty much the same items (usually bought in bulk from mainland China), so check carefully and bargain hard to get a good price. The best time to visit Jardine's Crescent Market is after 6pm when it's cool enough to explore this outdoor market.
Location: 16-36 Jardine's Cresent, Causeway Bay, Hong Kong
Open: Daily from 11am to 9.30pm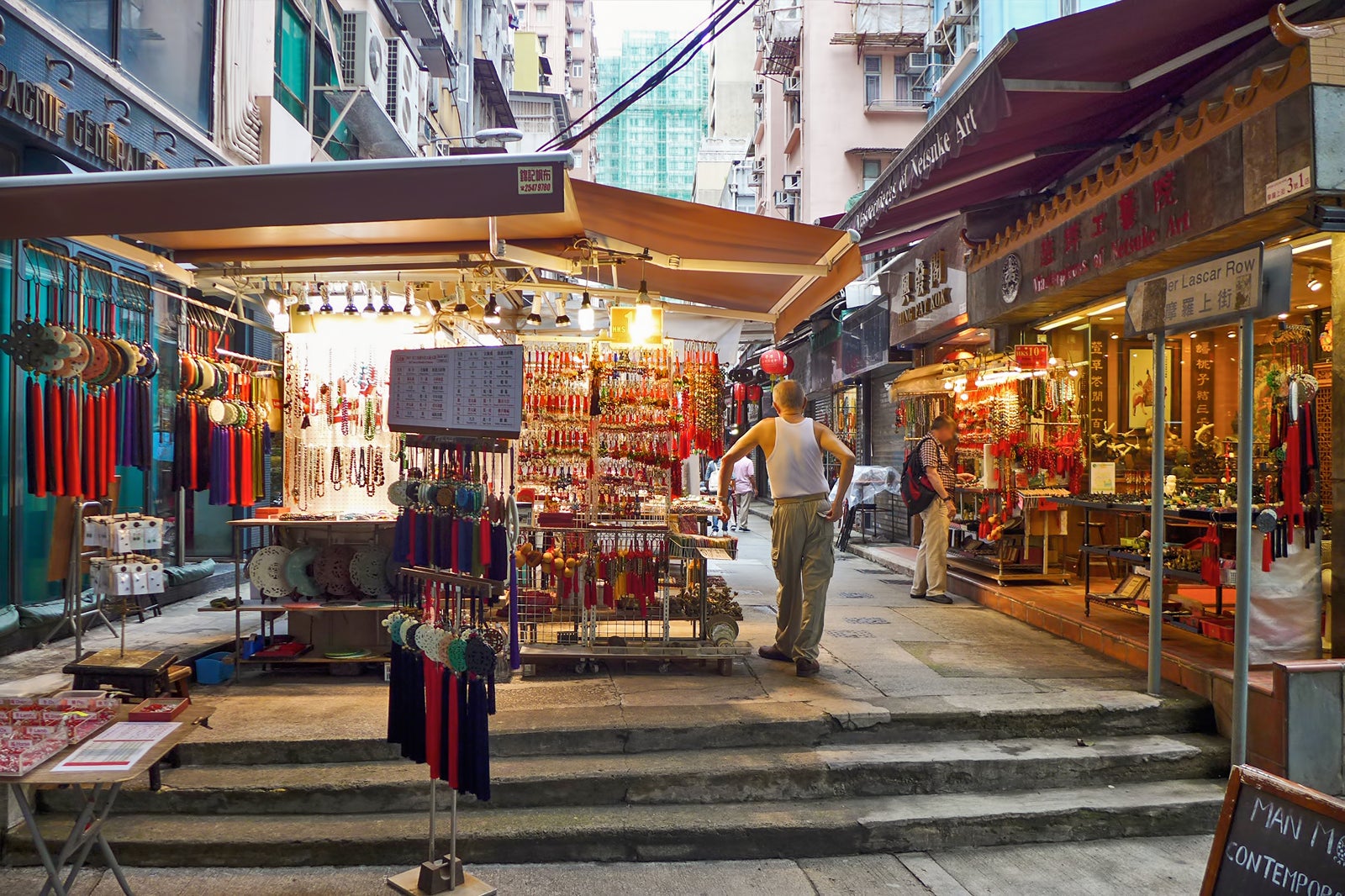 Cat Street is a row of intriguing antique shops on Causeway Bay's Upper Lascar Row. You never really know what you'll find, and that is basically part of the charm. This popular shopping area stretches from Man Mo Temple to the Central District Police Station.
Antique dealers here usually specialize in traditional homeware, from Chinese pottery and Buddhist images to silk and jade accessories. If you're not planning on buying anything, you can still spend a couple of hours at Cat Street's many art galleries.
Location: Upper Lascar Row, Sheung Wan, Hong Kong
Open: Daily from 11am to 5pm
photo by Wpcpey (CC BY-SA 4.0) modified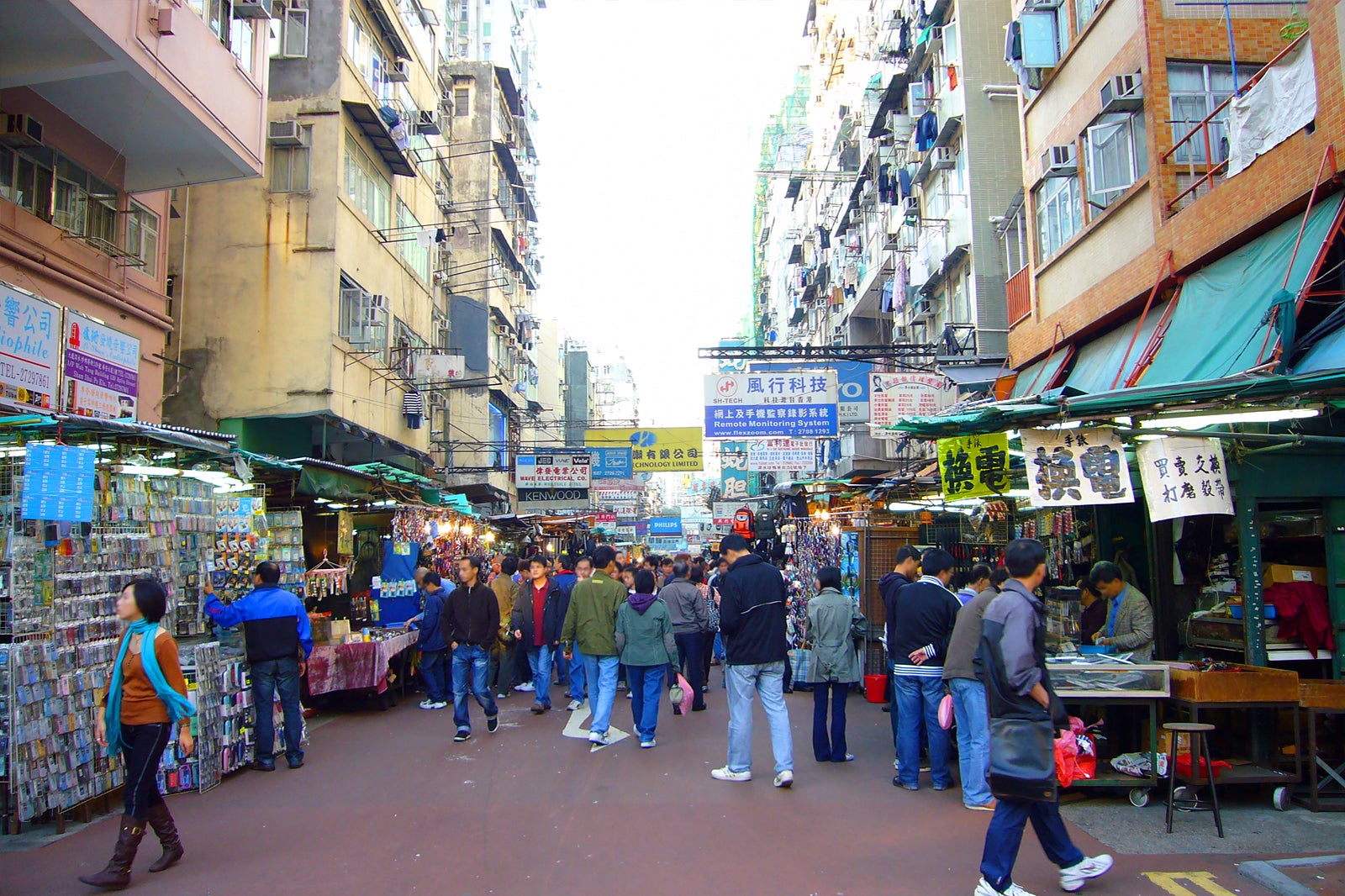 Apliu Street Market
Kowloon
Apliu Street Market specializes in cheap and preloved electronics, including laptops, TVs, computers, tablets, and radios. Many would argue that this more local-feeling market is a much better place to grab a bargain, even if there isn't as much on sale.
Some stalls sell cheap clothing, watches, accessories and antiques – meaning this flea market isn't only reserved for those looking to snap up a bargain on technology. Located in Kowloon, Apliu Street Market is about 1.2 km south of the Lei Cheng Uk Han Tomb Museum.
Location: Apliu Street Flea Market, Apliu Street, Kowloon, Hong Kong
Open: Daily from 9am to 5pm
photo by Pathogenhk (CC BY-SA 4.0) modified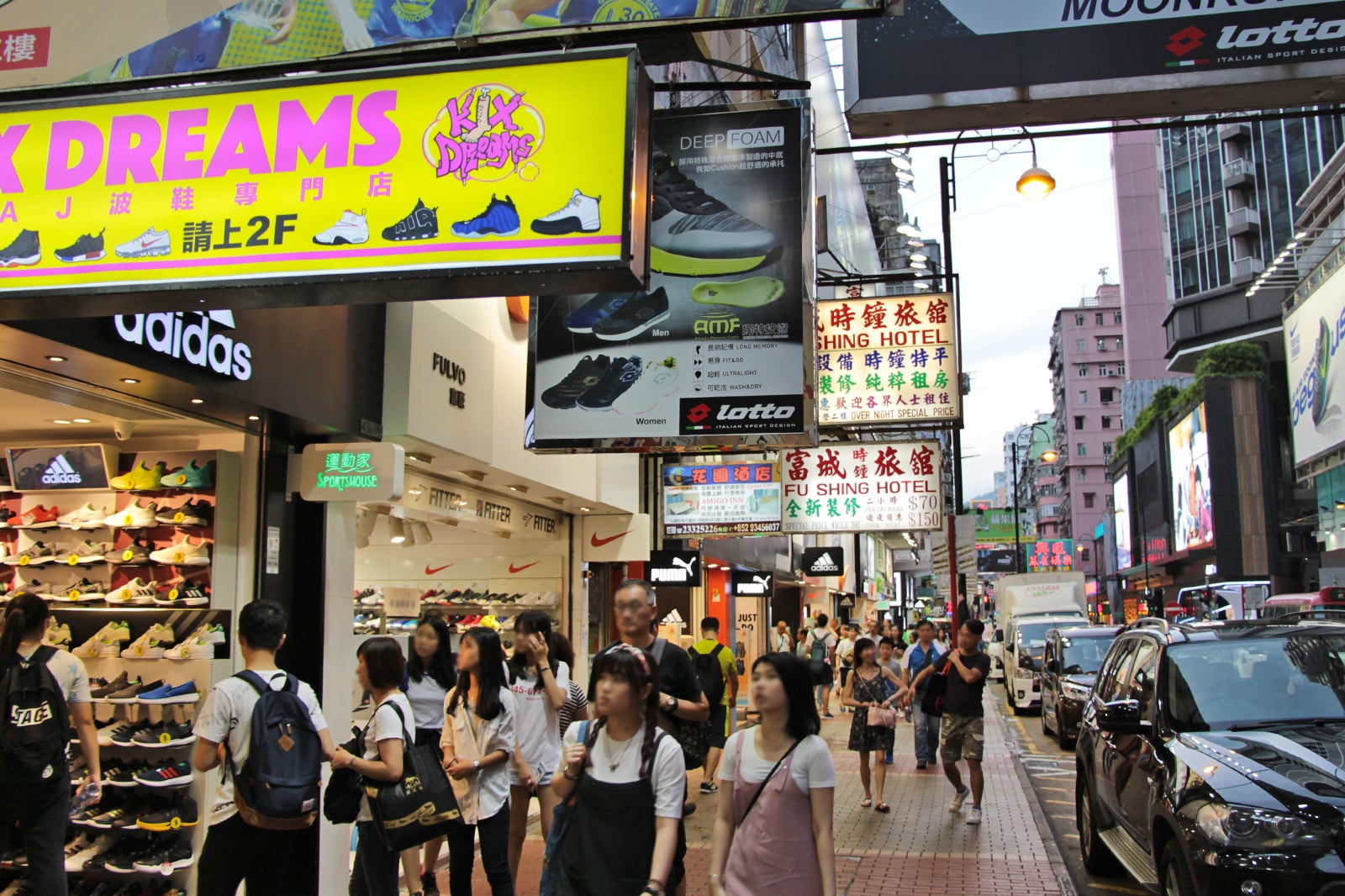 Fa Yuen Street Market
Kowloon
Fa Yuen Street Market has been around since the 1980s and is one of the best places in Hong Kong to shop for sneakers and sportswear. Attracting mainly locals and expats, you'll also find lots of fashion items, watches, shoes, bags and accessories.
Head north along Fa Yuen Street and the street stalls turn into lines of sports shops, which is why it's also called Sneaker Street. Located in Mong Kok, Fa Yuen Street Market runs between the Prince Edward MRT and Mongkok MRT stations.
Location: 75 Fa Yuen Street, Mong Kok, Hong Kong
Open: Daily from 11am to 11pm
photo by ThomasMomas (CC BY-SA 4.0) modified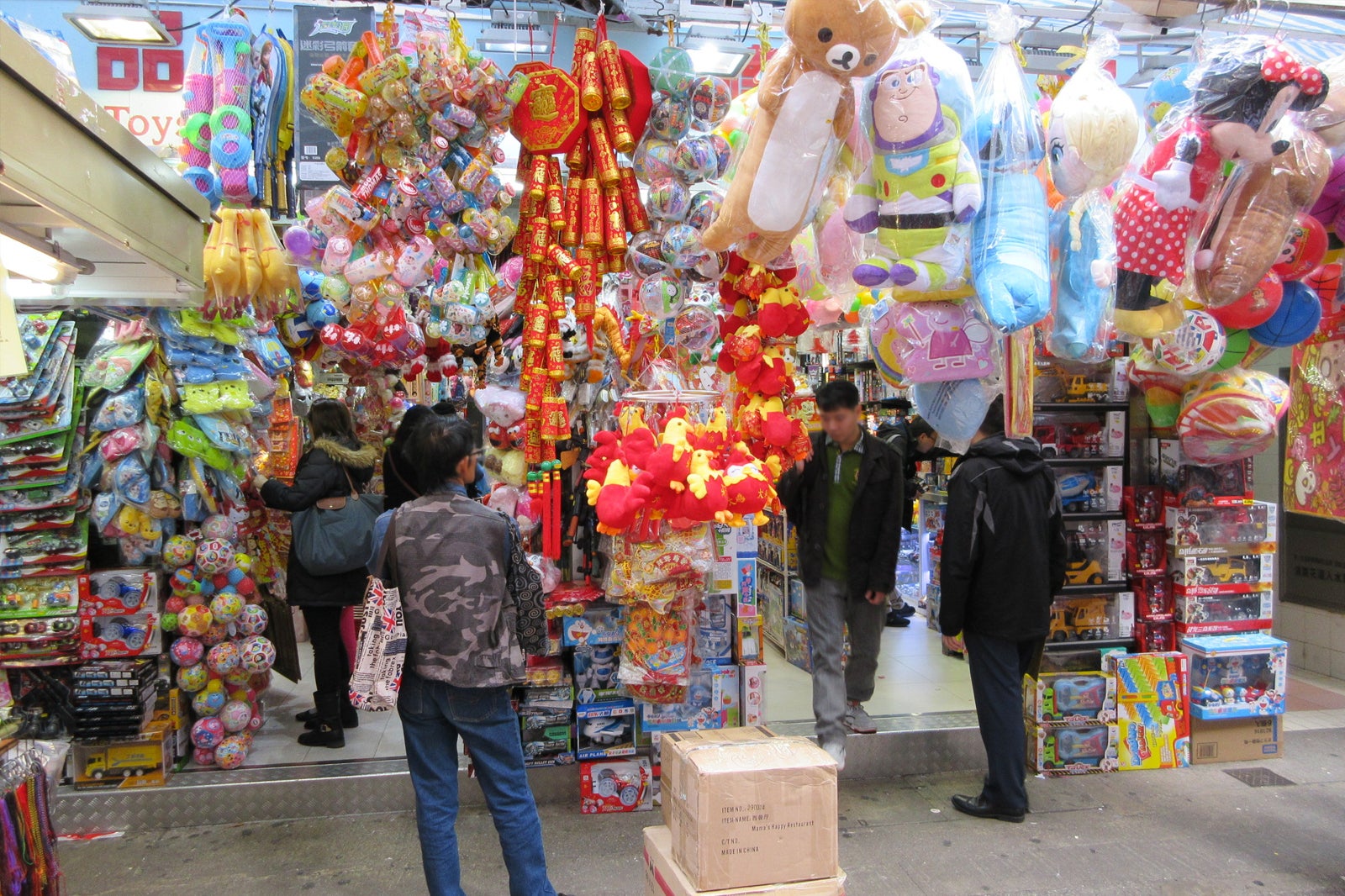 Tai Yuen Street Market (Toy Market)
Wan Chai
Tai Yuen Street Market is where you can check out dozens of toy shops in Hong Kong. Selling everything from Barbie dolls to Lego bricks and board games, locals usually refer to it as the Toy Market.
There are stalls selling kids' stationery, clothes and souvenirs, so it's great for a browse even if you're not in the market for a Buzz Lightyear or Mr Men puzzle. While you're in the area, check out the factory outlet stores on Spring Garden Lane, which runs parallel to Tai Yuen Street.
Location: 1 Tai Yuen Street, Wan Chai, Hong Kong
Open: Daily from 11am to 7pm
photo by Lai Ho Bao Minga (CC BY-SA 4.0) modified