5 Best Beaches in Hong Kong
Hong Kong's Best Beaches
The best beaches in Hong Kong have been selected from a surprisingly long list of sandy bays found throughout the region. There are well over 50 beautiful beaches to enjoy in Hong Kong and its surrounding islands. Whether you're seeking big waves for surfing, a secluded camping spot or family-friendly weekend escapes, these are the finest beaches in Hong Kong to sink your toes into.
We have also included beaches on Lantau and Cheung Chao islands, so you don't have to confine yourself to just the main island when choosing your perfect spot in the sun.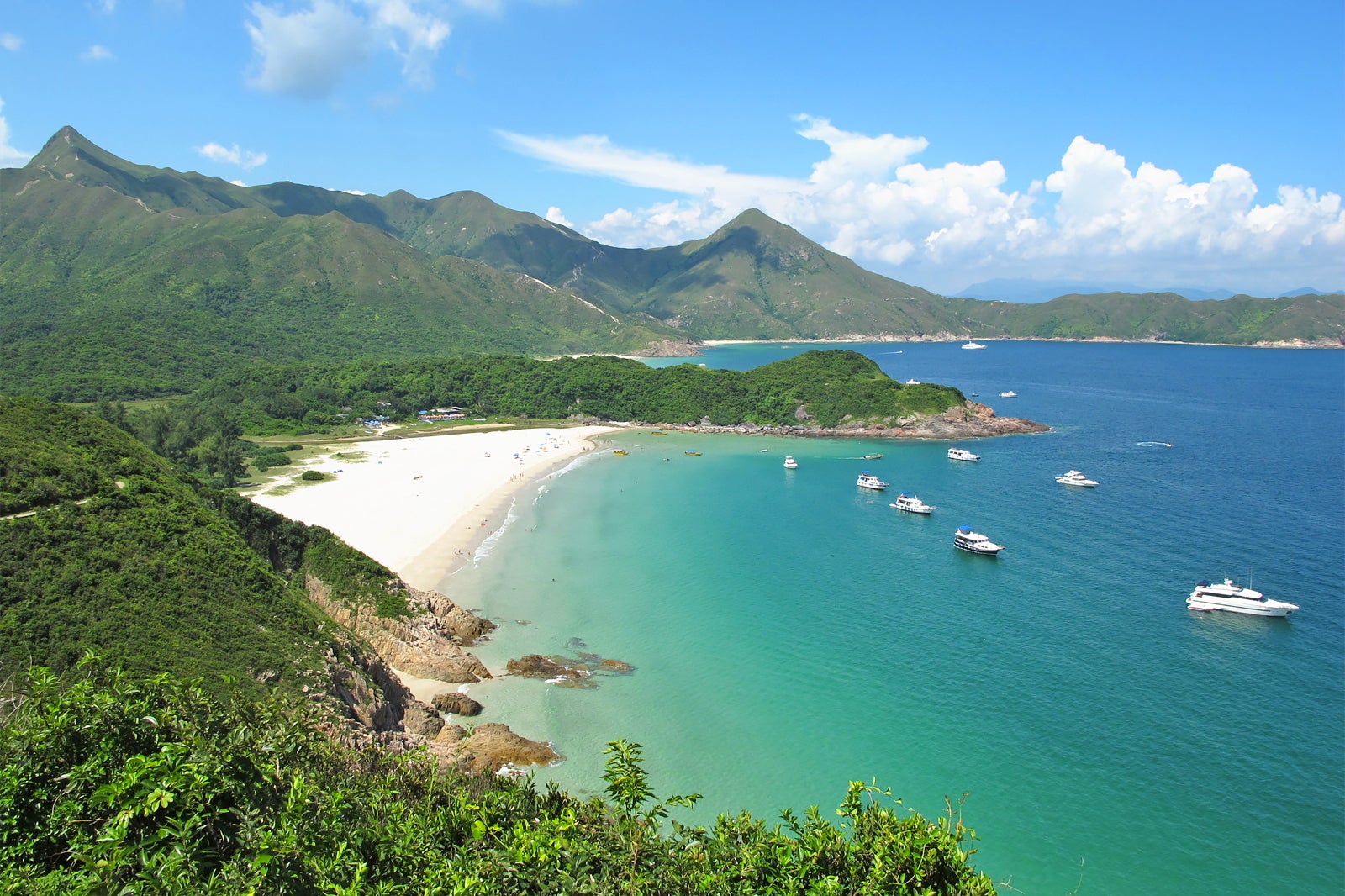 Tai Long Wan (Big Wave Bay)
New Territories
Soft sandy coves, plenty of space and some of the cleanest water for miles around, Tai Long Wan is surely the best beach in Hong Kong. Add the great surf breaks and nature trails dotted around and that should convince you to brave the inconvenient journey out onto Sai Kung peninsula on the eastern edge of the New Territories. In fact, there are 4 beaches separated by short trails over headlands: Tai Wan is the most popular as there are simple facilities for surfboard rental and a restaurant, but it also includes Sai Wan, Ham Tin Wan and Tung Wan.
It takes a couple of hours hike to reach Tai Long Wan, though you can also rental a private speedboat from Sai Kung town to shuttle you straight there if hiking is not in your DNA. You can camp here and equipment is available.
photo by WiNG (CC BY-SA 3.0) modified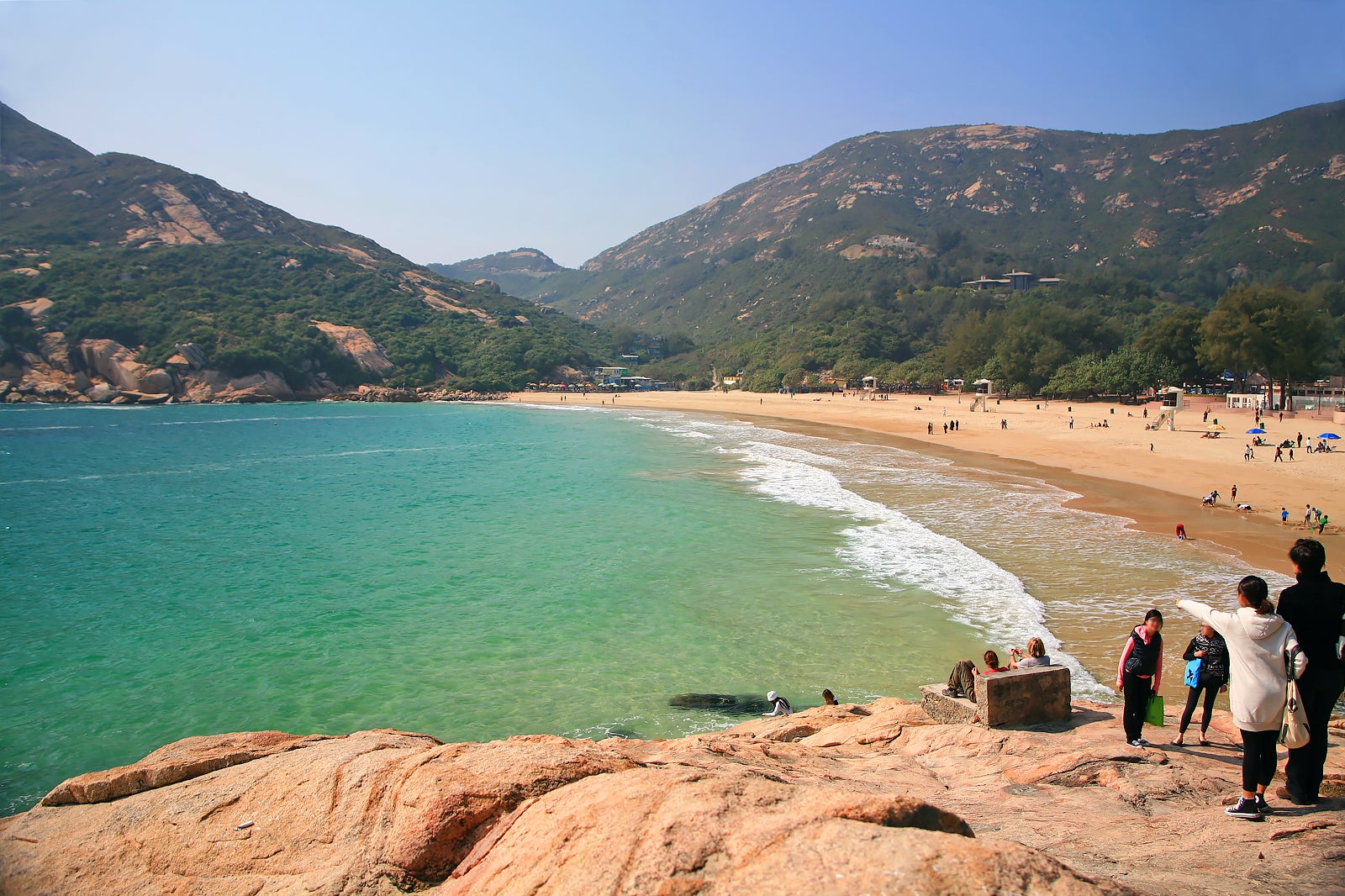 Shek O Beach (Big Wave Bay)
South-eastern shore of Hong Kong Island
Shek O Beach is a spacious beach spot on the south-eastern shore of Hong Kong Island, attracting mostly expats with its clean sand, convenient restaurants and relaxed vibe. Not to be confused with Big Wave Bay in New Territories, this beach is also a popular windsurfing and hiking spot in Hong Kong. Shek-O Village still retains the vibe of a quaint fisherman's village, though fancy summer homes dot the hillsides above the coastline these days.
photo by LASZLO ILYES (CC BY 2.0) modified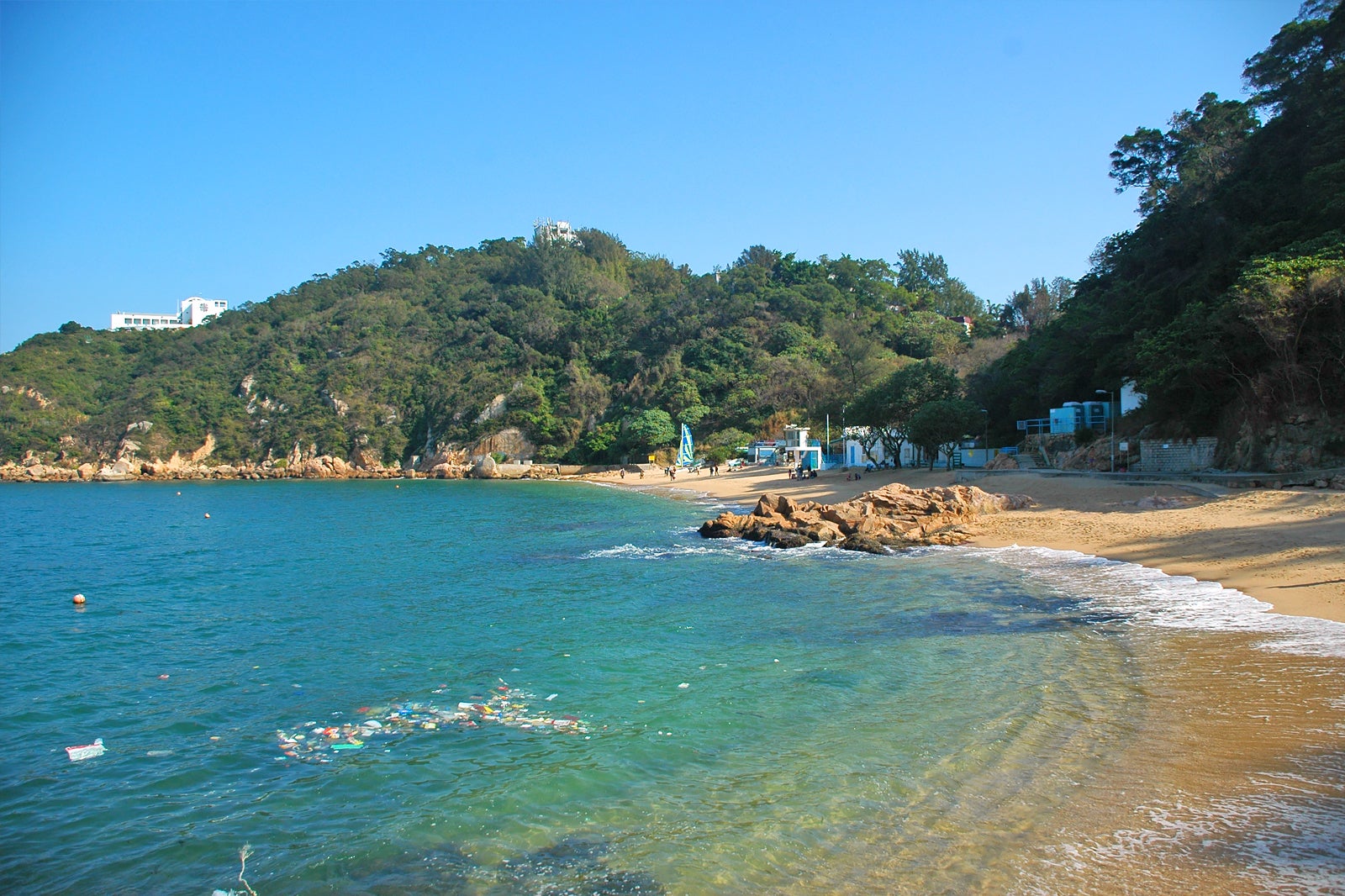 Kwum Yan Beach (Cheung Chau Windsurf Beach)
Cheung Chau Island
Kwum Yan Beach is where locals and expats come to enjoy water sports. It actually consists of 2 beaches, Tung Wan Beach and Kwum Yan Beach, which are separated by a small headland. Famous as the place where Hong Kong's first ever gold medal winner first trained (Lee Lai-Shan won a gold medal in the 1996 Olympic Games in Atlanta), Kwun Yam Beach is home to the Cheung Chau Windsurfing Center which offers windsurfing, surfing and kayaking equipment for rental.
From Tung Wan Beach, you can see Aberdeen and Lamma Island in the distance which look particularly attractive around sunset time. To reach Cheung Chau Island from downtown Hong Kong take the ferry from Central Pier 5 (40–60 minutes depending on the type of ferry).
photo by Mk2010 (CC BY-SA 4.0) modified
Cheung Sha Beach
Lantau Island
Cheung Sha Beach is a secluded stretch of soft white sand that stretches on unto the horizon. It is the perfect Hong Kong beach to escape the hustle of the city. The water stays clean year-round, and even on weekends you'll be able to find your own patch of solitude away from the restaurants and changing rooms. A unique sight some people are able to enjoy is a herd of water buffalo who like to cool themselves in the gentle waves on Cheung Sha Beach.
The area surrounding Oui O Beach has a wide range of accommodations if you're planning to stay on Lantau Island. You can get to Cheung Sha Beach by ferry from Central Pier 6 to Mui Mo. From there, a bus can take you to the beach. The entire journey should take about 1.5 hours.
photo by WiNG (CC BY-SA 3.0) modified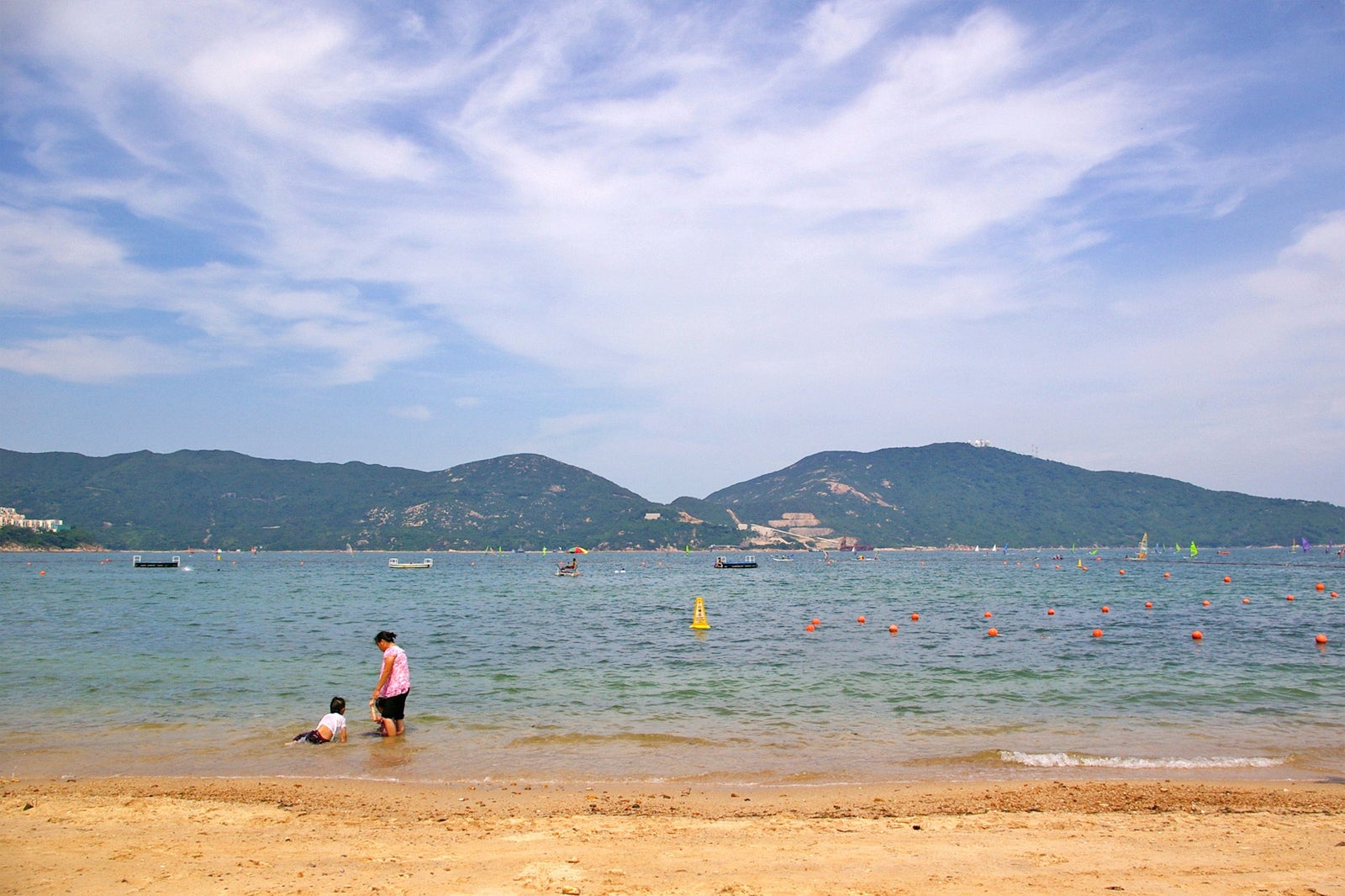 Stanley and St Stephen's Beaches
Southern shore of Hong Kong Island
Stanley Beach is very popular with day-trippers who come for the relaxed vibe of this colonial seaside town. Charming restaurants and a central market complement the beach, both of which offer a more traditional Hong Kong experience.
Stanley Beach is located on the eastern edge of the town, while St. Stephen's Beach lies on the west. Both sandy bays have barbecue pits, changing facilities, and netted areas for swimming. Stanley Beach is also one of the easiest to reach from downtown Hong Kong - bus 6X or 260 depart from Exchange Square in Central. The journey takes around 30 minutes.