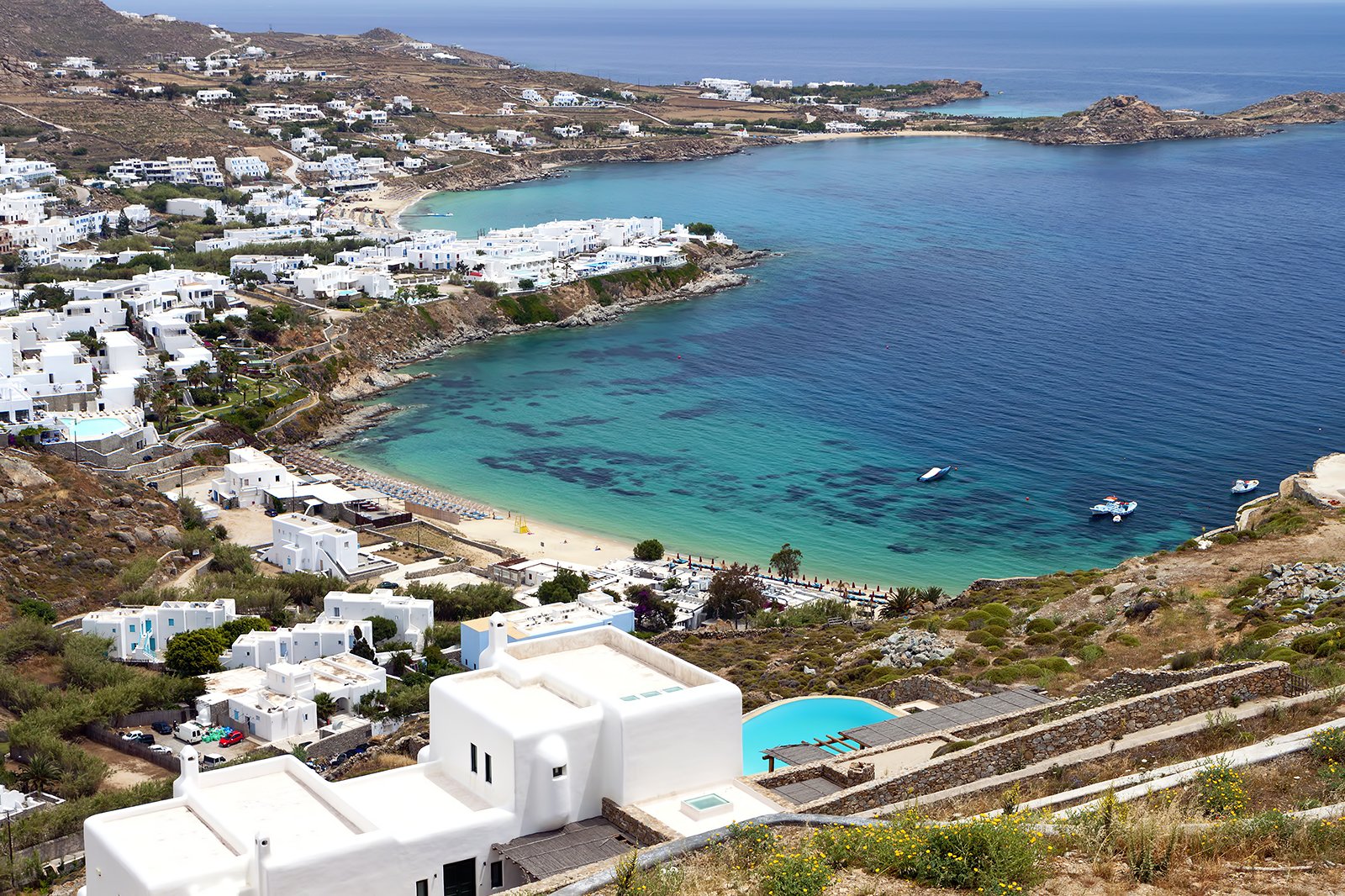 10 Best Things to Do in Mykonos
What is Mykonos Most Famous For?
Our list of the best things to do in Mykonos showcases the diverse offerings of this remarkable destination. While the island has become increasingly popular for its beach bars and summer party atmosphere, the island charms history buffs and soul searchers alike with its vast array of whitewashed churches, shops and museums. Many of the island's structures date back to the 16th century, when its distinctive hilltop grain windmills made it a thriving port and agricultural economy.
Listen to the beats of world-renowned DJs, meander the idyllic lanes of Charo and tour the island's numerous beaches while staying in Mykonos. Sleepy is the last thing we could call this island when it bursts into life over summer, but there's no better time to visit because that's when all its attractions are open.
What are the best things to do in Mykonos?
1
Paradise Beach
Get your all-over tan before partying after nightfall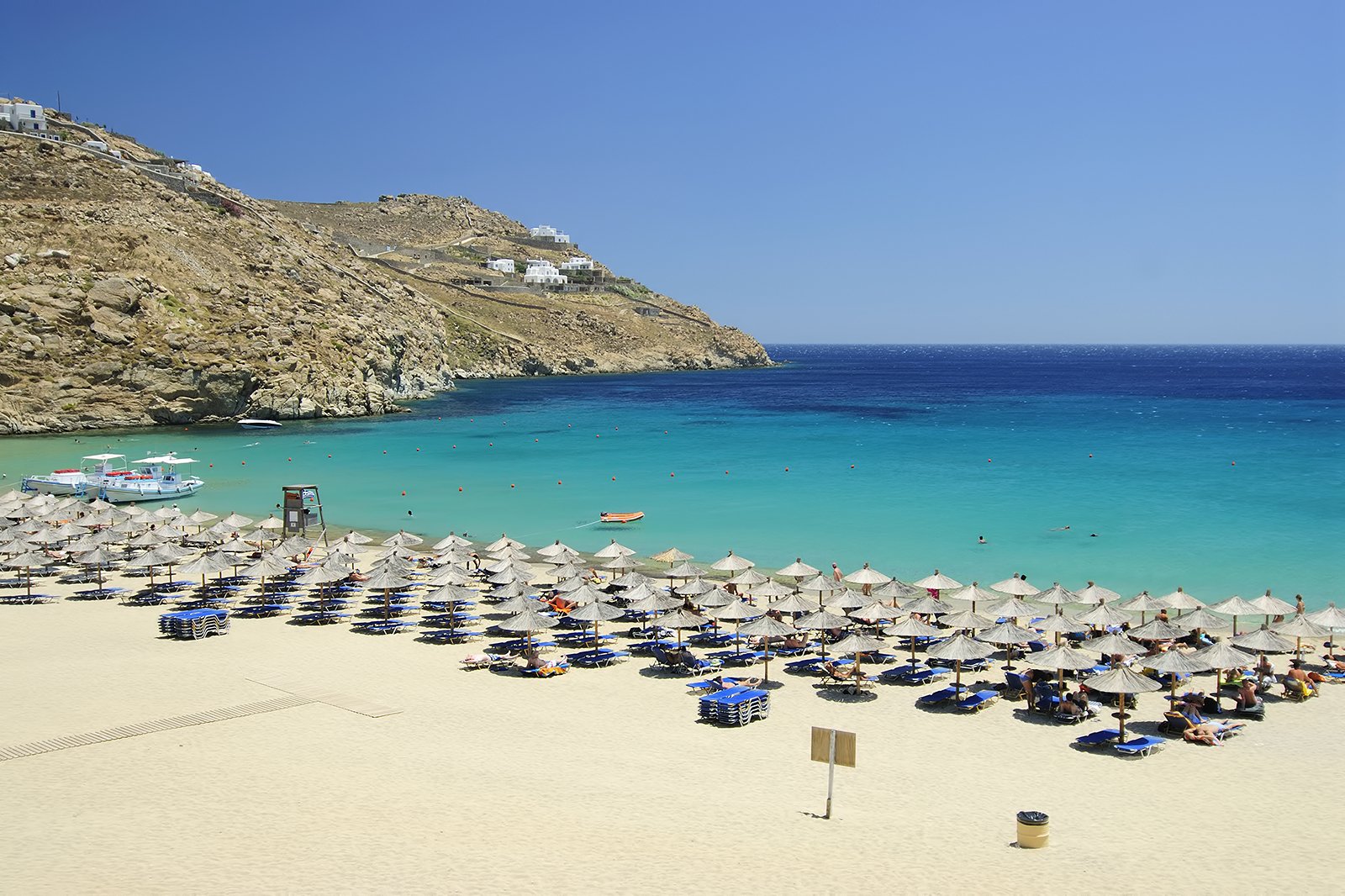 Couples
Nightlife
Luxury
Single
Paradise Beach is one of the original nudist beaches on Mykonos, and it's now lined with dozens of restaurants, bars and nightclubs that extend onto the soft sand. A short walk east along the coast takes you to Super Paradise Beach, which is popular with the LGBT community and a little less crowded.
Award-winning Tropicana Club is one of the loudest nightclubs on Paradise Beach, attracting thousands of partygoers, world-renowned DJs and celebrities annually. While the beach itself has no lounging fees, you'll need a spare few euros for when your cocktail glass runs empty.
Location: Paradise Beach, Mykonos, Greece
Open: April–November: daily from 4.30 pm until late
Phone: +30 22890 23582
2
Chora
Check out whitewashed taverns, homes and windmills in the island's capital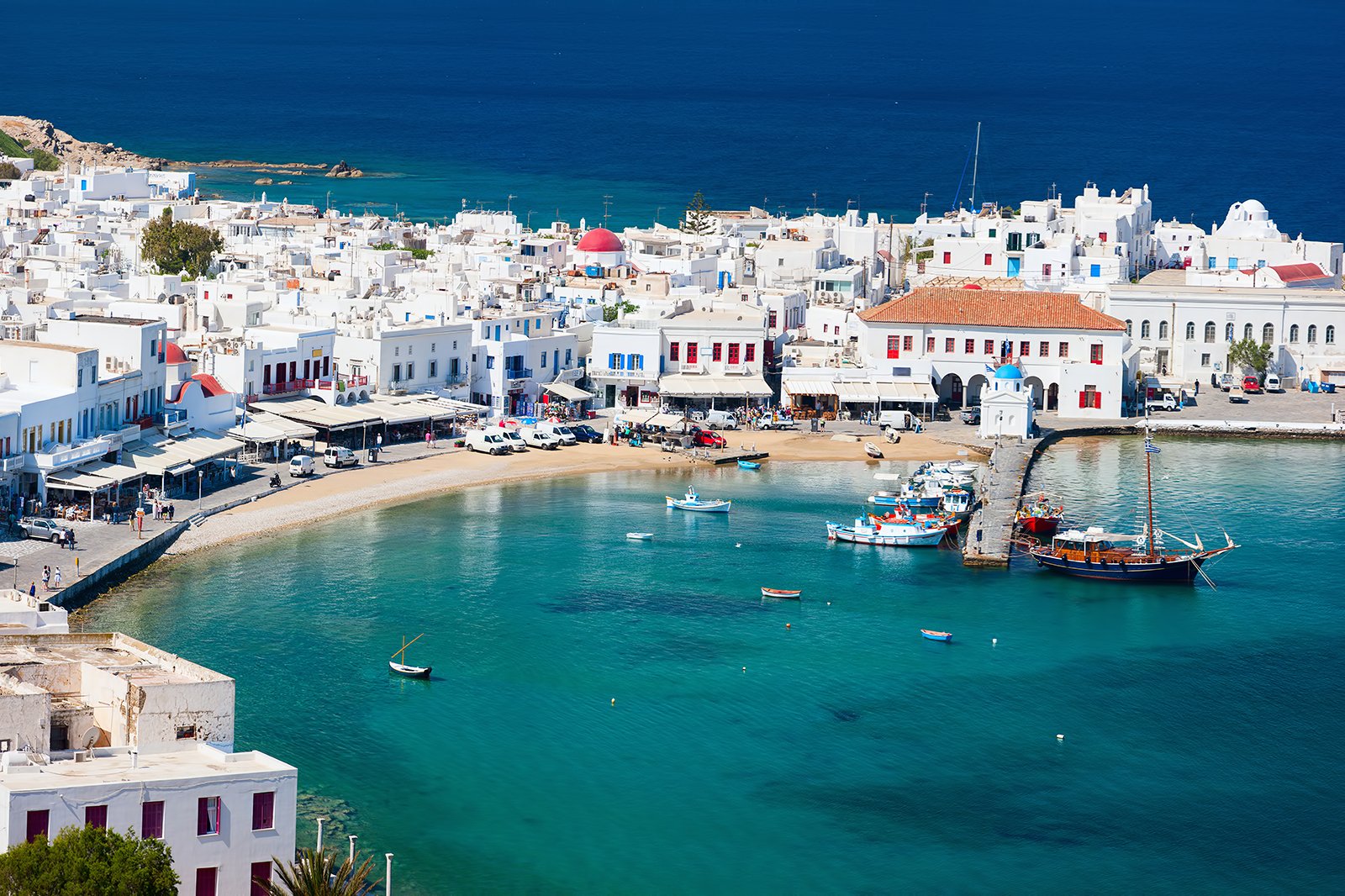 Chora (also known as Hora and Mykonos Town) is the largest and busiest settlement on the island of Mykonos. The jumble of whitewashed structures that line the hill are typical of the Cycladic architecture that dominates the island, and it's narrow, winding lanes are free of traffic, but be prepared for the crowds of tourists.
In the morning, you can get a sense of local life and buy seafood delights at bargain prices by visiting the fish market, which is near the Old Port of Mykonos Town. If you just want to relax in the sun while enjoying the cool sea breeze, taste some local appetizers and sip a glass of wine by the waterfront – most restaurants have plenty of available seats during the day.
3
Kato Myli Windmills
Some of the oldest structures on Mykonos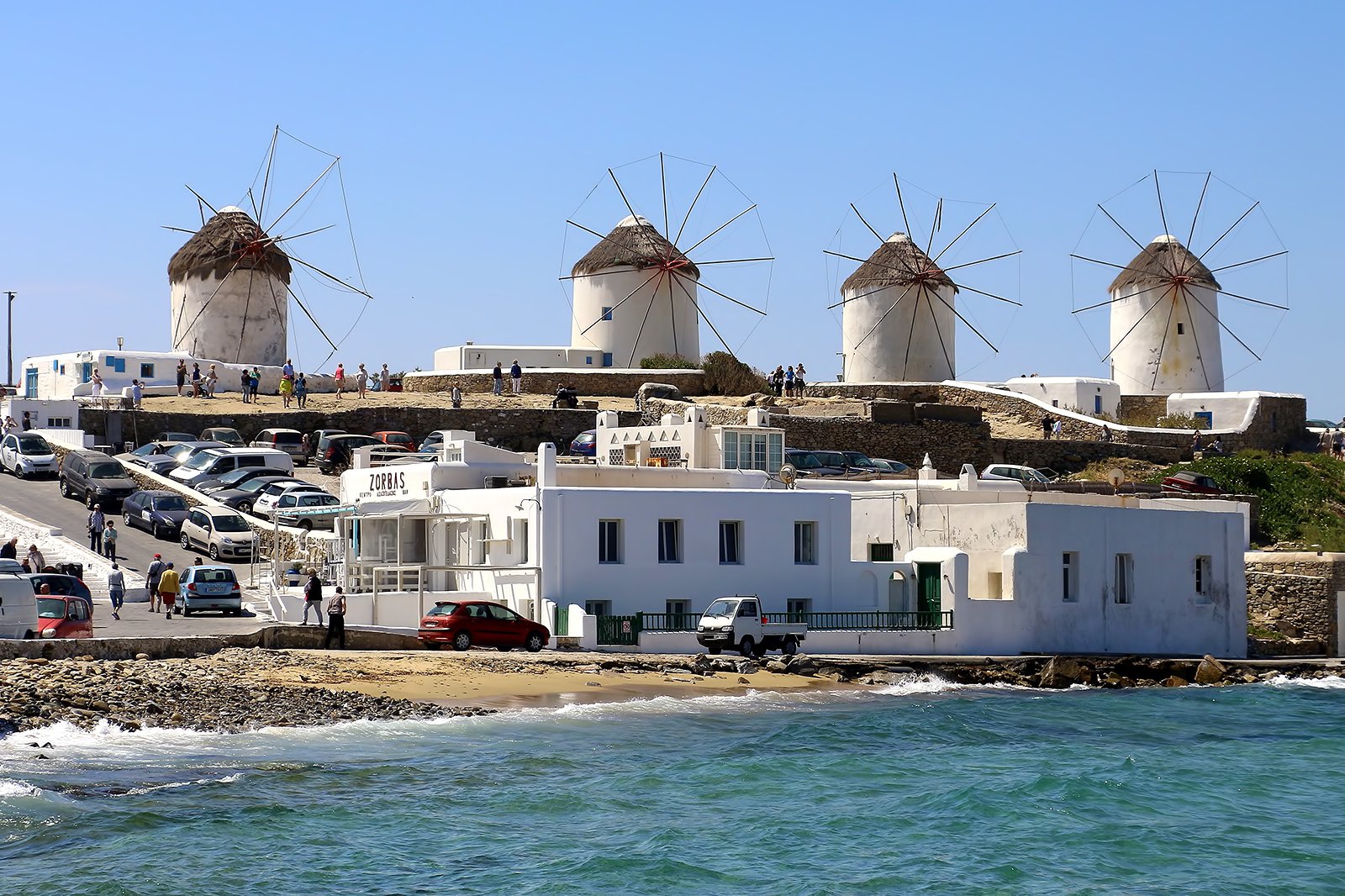 The iconic Kato Myli grain windmills overlook Little Venice and date back to the 16th century. All have a distinctive round shape, are colored white and have thatched wooden roofs. 6 of these windmills can be seen from almost any street in Chora, though if you intend to climb the hill for a closer look, be wary of strong winds.
Just 600 meters east of the Kato Myli windmill cluster lies Boni's Windmill, which is open to tourists from July until September. If you're interested in learning about these early innovations and their inner-workings, you should visit Mykonos during the harvest festival, which takes place on the second Sunday of September.
4
Panagia Paraportiani Church
One of the Greece's most photographed sights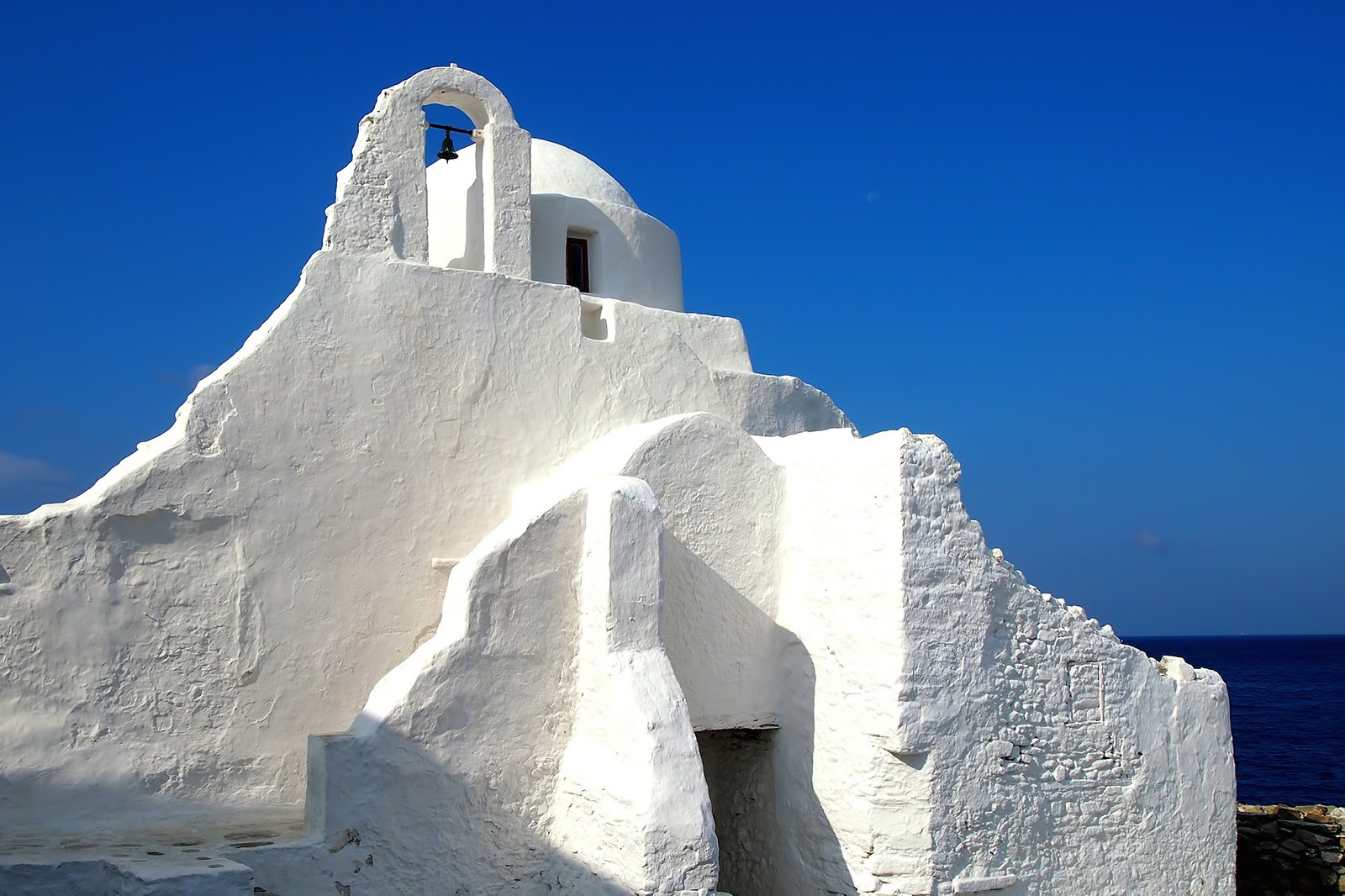 Mykonos locals will tell you the island has 365 churches, one for each day of the year, but none are more famous than the whitewashed church of Panagia (Virgin Mary) Paraportiani. The complex actually contains 5 churches, the Panagia being the only one to occupy the second level. Built gradually during the 14th, 16th and 17th centuries, the complex is located at the entrance to the Kastro neighborhood of Chora.
One of the ground-floor chapels is open to tourists and remains a place of worship. Be respectful, especially during prayer time, but don't miss this stunning icon of Mykonos during your stay.
Location: Mykonos 846 00, Greece
Open: Daily from 6 am to 6 pm
5
Agrari Beach
Escape the crowds by heading to this remote sand strip
Couples
Families
Budget
Single
Agrari Beach remains less developed than most other beaches on Mykonos, and because it's nudist-friendly, it's a relaxing hideaway where you can complete your 'all-over' tan. Umbrellas and sunbeds occupy about half of this long stretch, and the remainder is just golden sand that meets crystal-clear water.
The easiest way to reach Agrari Beach is to take a bus to Elia Beach and then cross over the rocks on foot, which takes about 5 minutes. In return for making the journey, you'll be rewarded with one of the most relaxing daytime experiences Mykonos has to offer.
Location: Agrari Beach, Mykonos 846 00, Greece
photo by karlygr (CC BY-SA 3.0) modified
6
Little Venice
Feast on Greek cuisine by the waterfront
Little Venice is famous for its 18th-century fishing houses that overhang the sea, though most of the houses are now occupied by restaurants, cafes, bars and shops. You'll find plenty of spare seats during the morning, but be prepared to jostle with eager tourists during afternoons and evenings.
Booking a table in advance comes highly recommended, particularly if you want to taste authentic Greek cuisine while enjoying the pink and orange colors of the sunset. If you're staying in Mykonos Town, the easiest and most fun way to reach Little Venice is to meander the narrow lanes that lead to the sea.
Location: Mykonos 846 00, Greece
7
Armenistis Lighthouse
Enjoy panoramic views of land, sea and nearby islands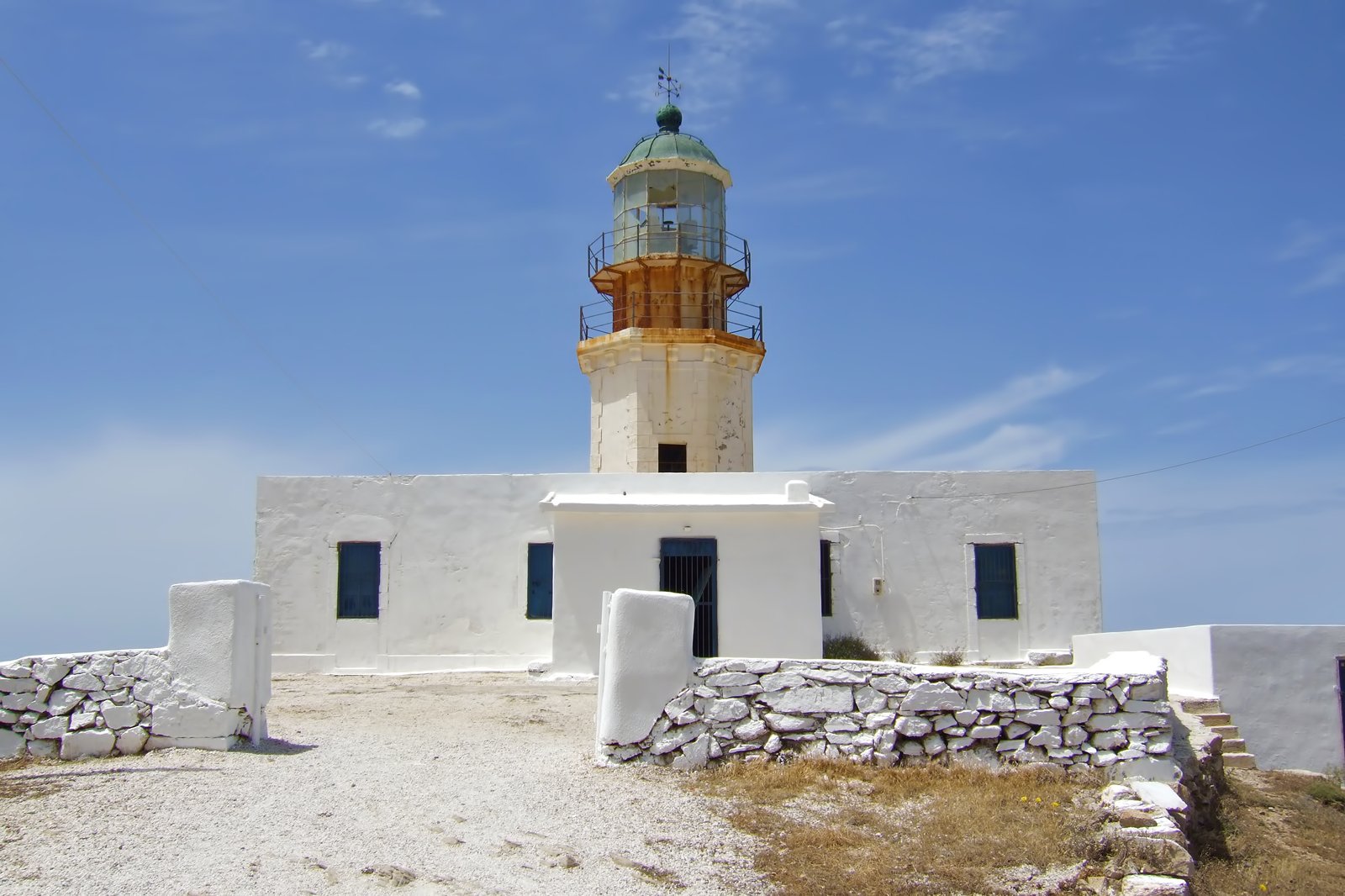 On the north-western tip of Mykonos, you'll find the 19-meter tall Faros Armenistis lighthouse, which was constructed in 1891. While tourists aren't allowed inside the building, the site offers panoramic views of the Aegean Sea and neighboring island of Tinos, making sunset the best time to visit. The easiest way to reach the lighthouse is to rent a car or go on a guided tour, which cost around 18 euros and depart from Mykonos Town frequently.
We recommend arriving just before sun down to relish the sights so that you can be back in Mykonos Town just before the bars start bursting with tourists.
Location: Fáros Armenistís 846 00, Greece
photo by Francesco Fallica (CC BY-SA 2.5) modified
8
Delos
Explore the ancient ruins of Greece's holy island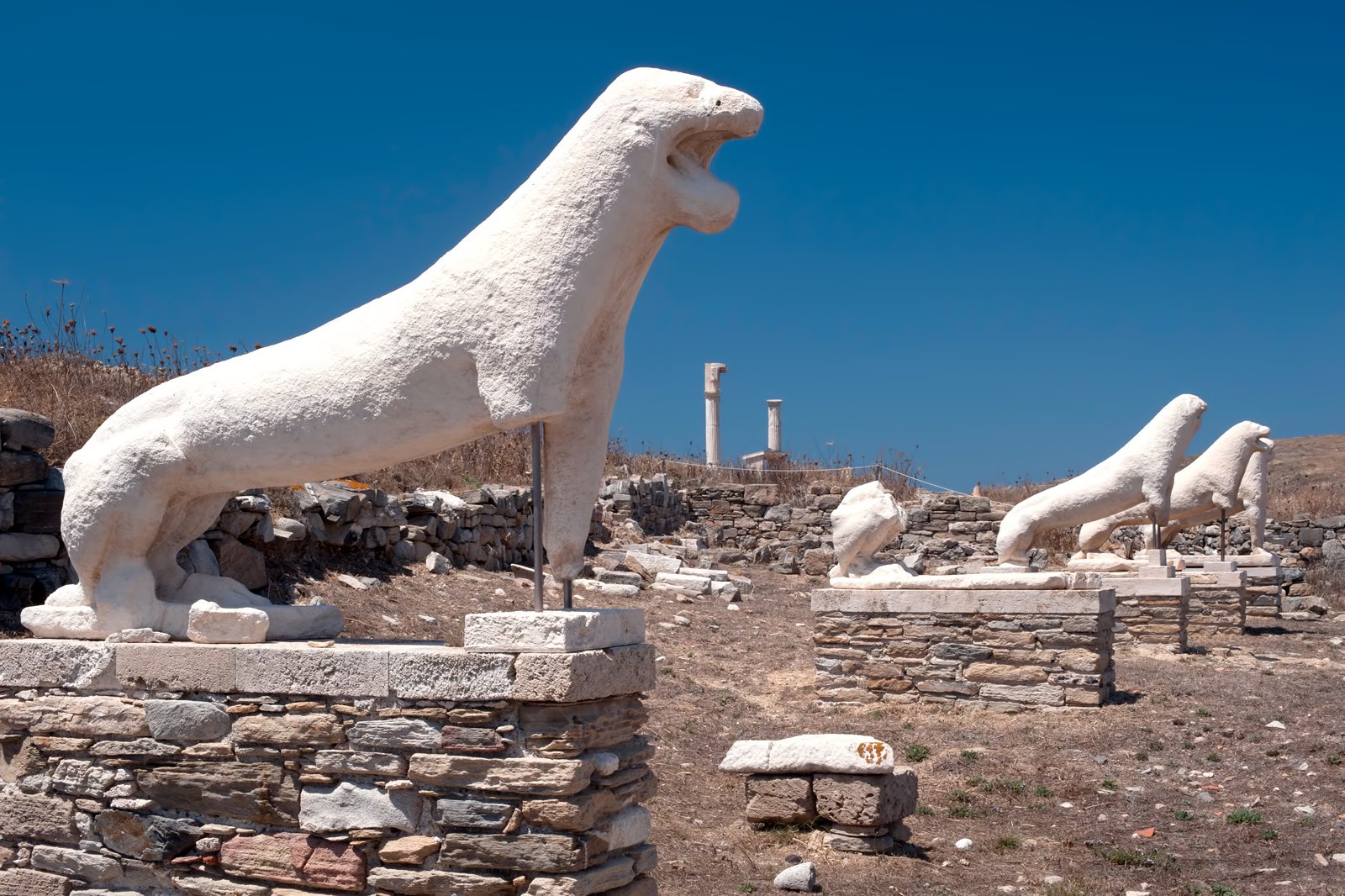 Couples
Families
History
Adventure
Just a short ferry ride from Mykonos is Delos, the holy island of ancient Greece and birthplace of Artemis and Apollo (according to Greek mythology). Just over 2,000 years ago, around 30,000 Greeks occupied what are now the relatively well-preserved ruins of theatres, temples, homes and other monumental structures. The entire island of Delos has been a protected UNESCO World Heritage Site since 1990.
It takes about 30 minutes to reach Delos from Mykonos, and crowded ferries make several trips daily during summer. If you'd prefer a more exclusive experience, you can charter a yacht to the island, but expect to pay a steep price.
Open: Daily at 10 am and 5 pm (additional ferries are available from May to October)
photo by Ggia (CC BY-SA 3.0) modified
9
Matogianni
Enjoy a bit of window shopping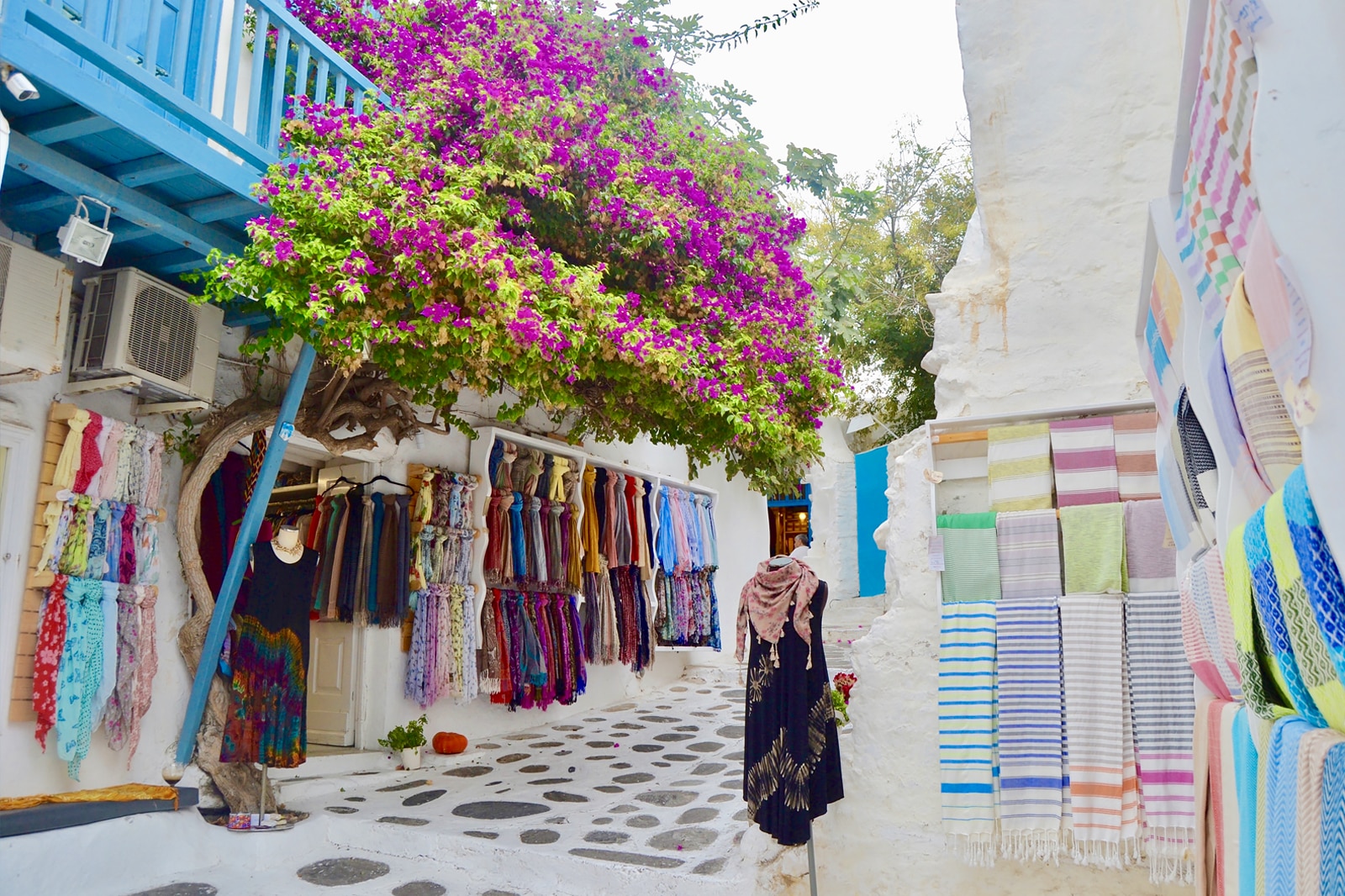 Matogianni is Mykonos's busiest alley, but battling through the crowds is well worthwhile thanks to its assortment of shops, restaurants and even the odd late-night bar. While all the shops retain the island's traditional Cycladic architecture, they sell goods ranging from luxury items of clothing to cheap souvenirs.
If you'd rather avoid the crowds, we still recommend forcing yourself to have a quick walk down the alley for a spot of window shopping. You can give your feet a rest in between shops by enjoying local cuisine and a coffee or beer in a café or tavern.
Location: Matogianni, Mykonos 846 00, Greece
10
Psarou Beach
Enjoy the stunning scenery at this popular beach
Couples
Families
Photo
Budget
Psarou Beach is set among some stunning scenery and it's no surprise that things can get very crowded here during the summer. Popular with locals, visitors, and the well-heeled jet-setter crowd, this beach offers all the amenities you'd expect of a renowned beach destination and it comes with a price tag to match. There are sun loungers aplenty here and they get pricier the closer they are to the water. There are also several nearby restaurants serving up delicious, but pricey, fare.
Due to Psarou Beach's popularity, it can be difficult to find a parking spot nearby, especially during the high season. However, regular buses run from Mykonos town and the beach is also within walking distance of several other nearby beaches including Paradise Beach and Paraga.
Location: Psarou Beach, 846 00, Greece
Phone: +30 2289 025822
Back to top