Business Travel in Berlin
How to Make the Most of Your Free Time on a Berlin Business Trip
Berlin is one of the main business hubs in Europe, as well as being a great tourist destination. Finding out that you're being sent on a business trip to the German capital can be both exciting and a little overwhelming – there's so much to see and do, but so little time!
We're business travelers too, so we know the challenges you're going to face in planning for the gaps between meetings. From that experience, we've created this guide to give you some tips of how to make the most of your free time on a Berlin business trip.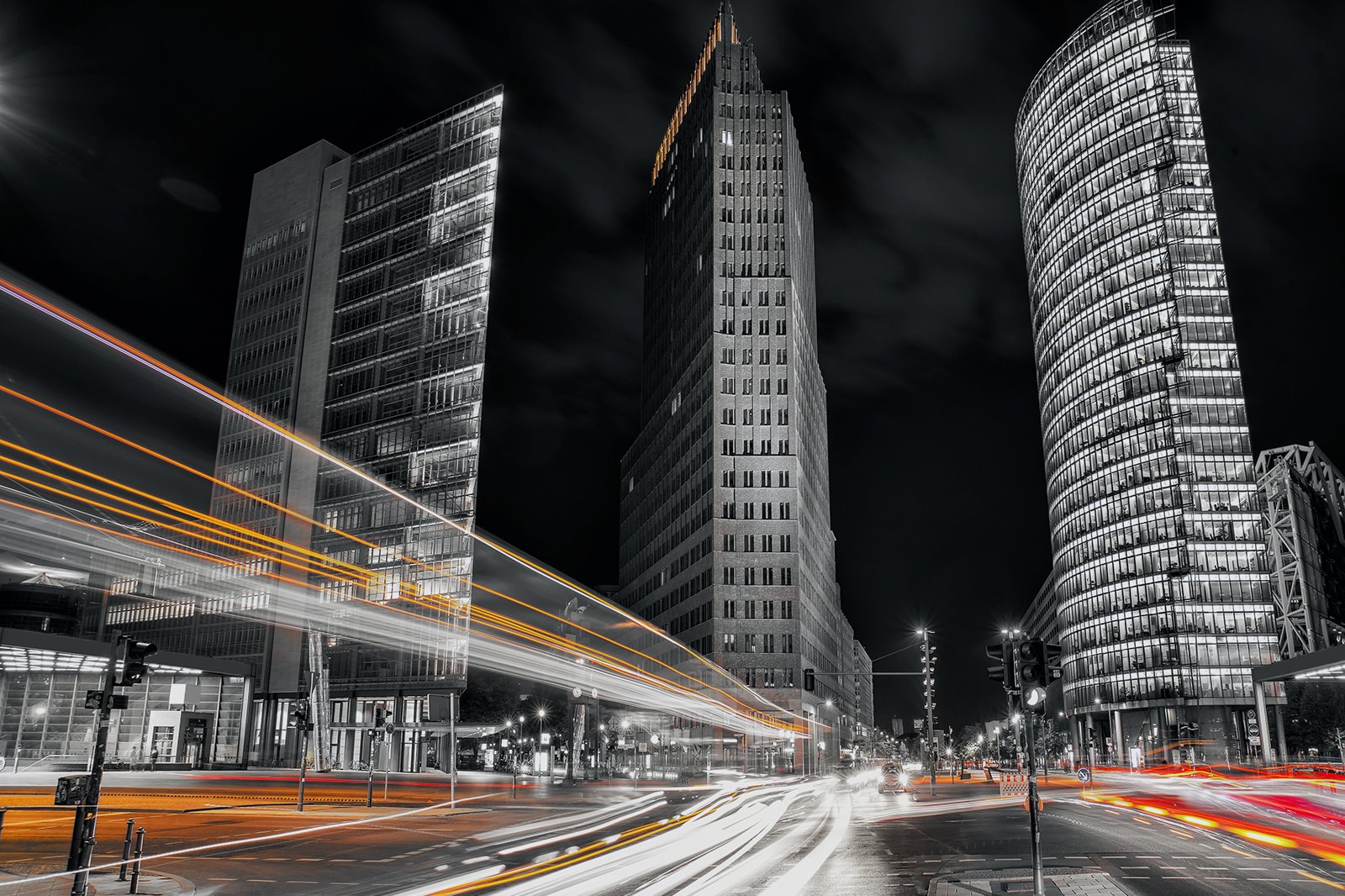 Potsdamer Platz
A popular meeting place
Potsdamer Platz has historically been the heart of Berlin. While it didn't fare well during the 20th century (being flattened by aerial bombings and then divided by the Berlin Wall), the 21st century has seen it return to its old, bustling self.
Surrounded by major government buildings, offices, malls, shops and restaurants, it's a convenient spot to meet at. The Sony Center, in particular, has a lot to offer, including a striking glass-and-steel dome that lights up in vivid colors every evening. The square is served by both the U-Bahn and the S-Bahn, so getting there is easy.
Location: Potsdamer Platz, 10785 Berlin, Germany
Families
Shoppers
Photo
Budget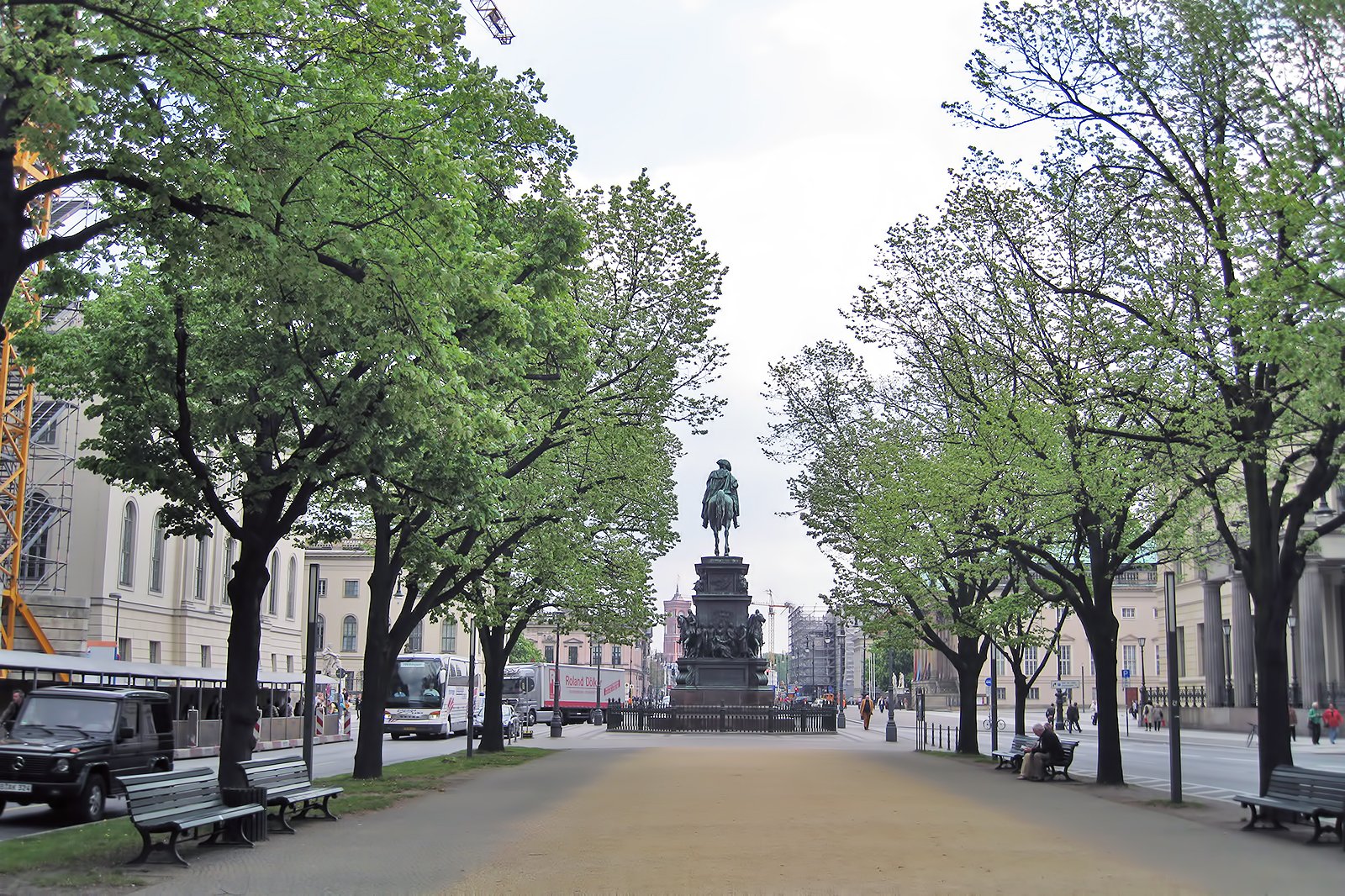 Unter den Linden
A starting point to explore on your own
Unter den Linden is to Berlin what the Champs-Élysées is to Paris or The Mall is to London – a long, tree-lined boulevard linking some of the most interesting parts of the city. It takes its name from the linden trees which line the route. At the western end, you'll find Pariser Platz, which is home to the iconic Brandenburg Gate. At the other end is the Crown Prince's Palace.
The street runs though Berlin's cultural hub, and is surrounded by galleries, museums, theatres and historical buildings. Bebelplatz is a focal point of that culture as it contains the opera house, with the German Historical Museum just over the road.
Location: Unter den Linden, 10117 Berlin, Germany
Couples
Families
History
Photo
Budget
photo by Cyril Doussin (CC BY-SA 2.0) modified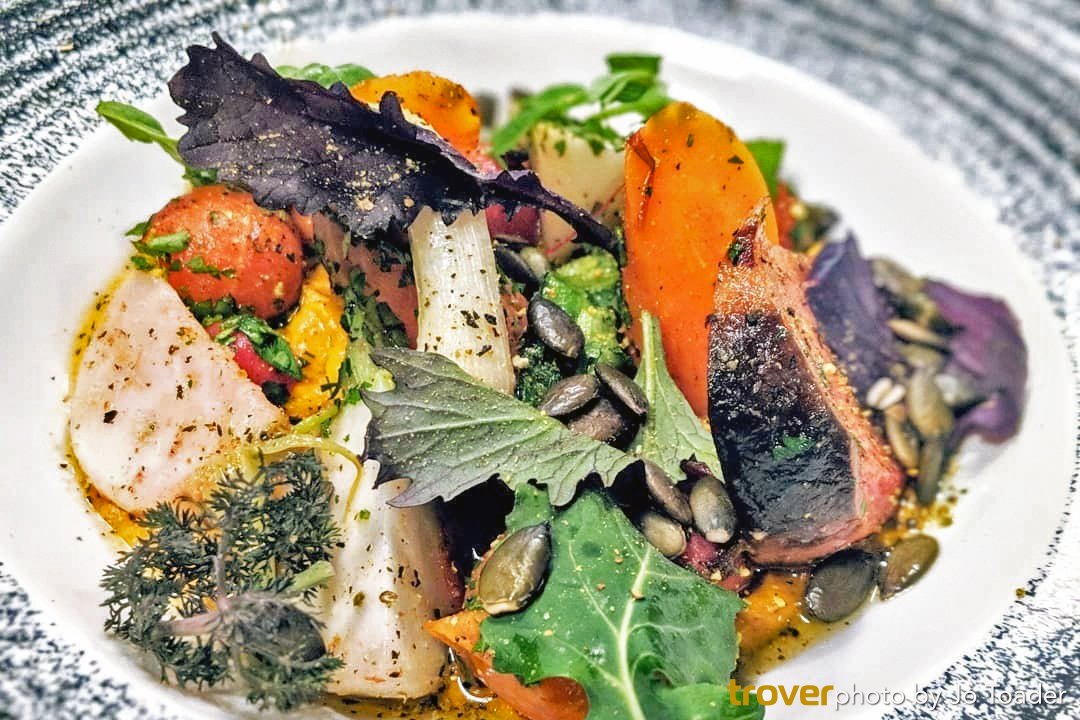 acht&dreissig
Good for a business lunch
acht&dreissig is a cozy, modern restaurant serving some innovative takes on typical German cuisine in an industrial chic setting. While the number of dishes on the menu is quite small, each packs a flavorful punch. The German tapas is particularly creative while the more traditional dishes, like schnitzel and ox cheeks, are well-presented and skilfully prepared.
The restaurant is well-suited to business lunches because of its convenient location near the Oranienburger Tor U-Bahn station, just north of the city center. The service is friendly, and it contributes towards a great atmosphere. However, being a busy place, meals can take a bit of time coming during peak periods.
Location: Oranienburger Str. 38, 10117 Berlin, Germany
Open: Monday–Friday from midday to 11pm, Saturday from 5pm to 11pm (closed on Sundays)
Phone: +49 (0)30 37465031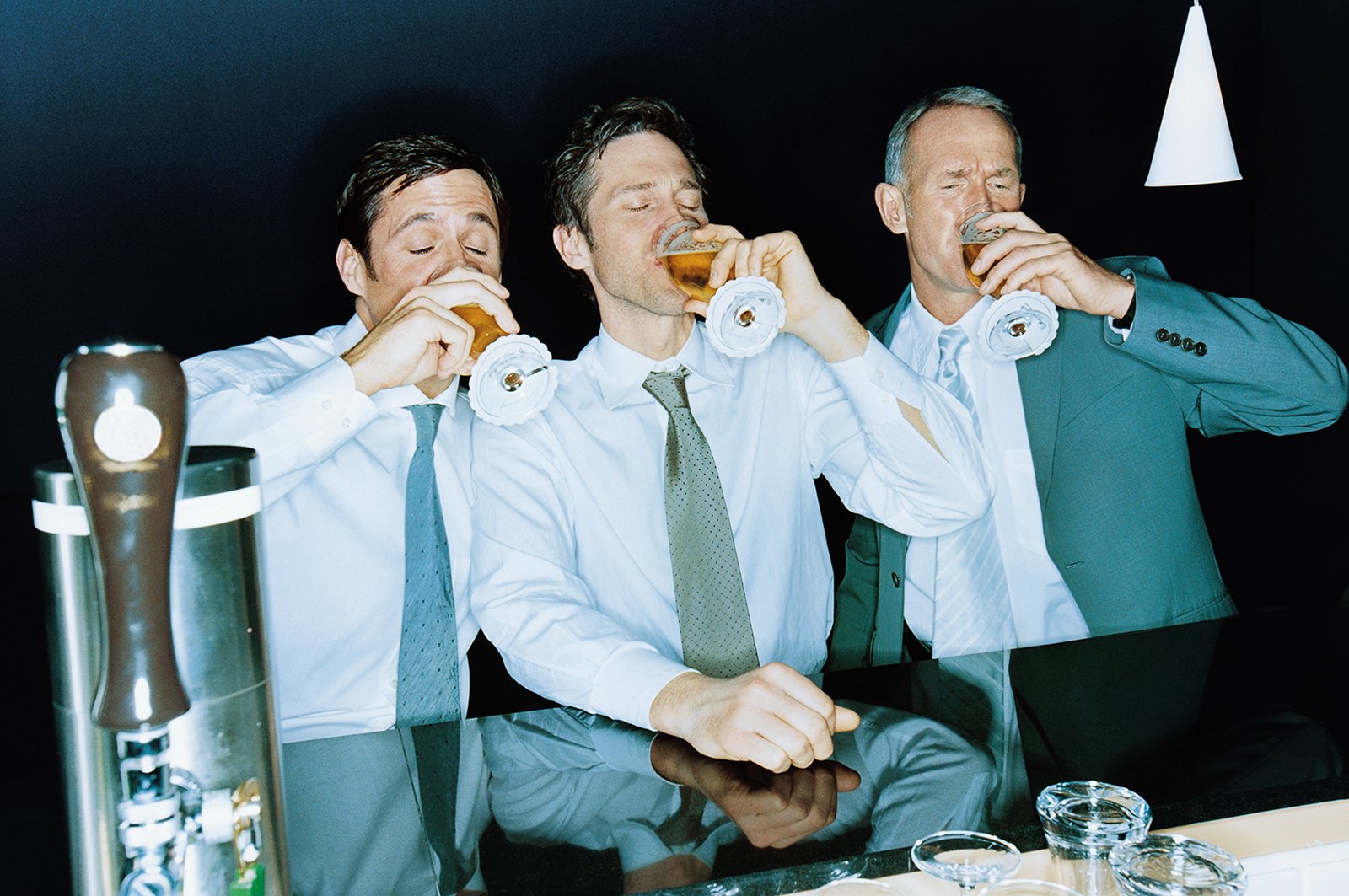 Charlottenburg
After-work drinks with colleagues
When it comes to Feierabendbier (the German word for after-work drinks) in Berlin, the western borough of Charlottenburg is both convenient and classy. The area around the zoo and Tiergarten park was once among the top party spots of West Berlin. While the fall of the Berlin Wall has seen the clubs move further east, they've been replaced with swanky lounges and cocktail bars, such as Monkey Bar and House of Gin. Head further west, towards Savignyplatz, and you find a more bohemian vibe, with Das Schwarze Café and Dicke Wirtin among the standout joints.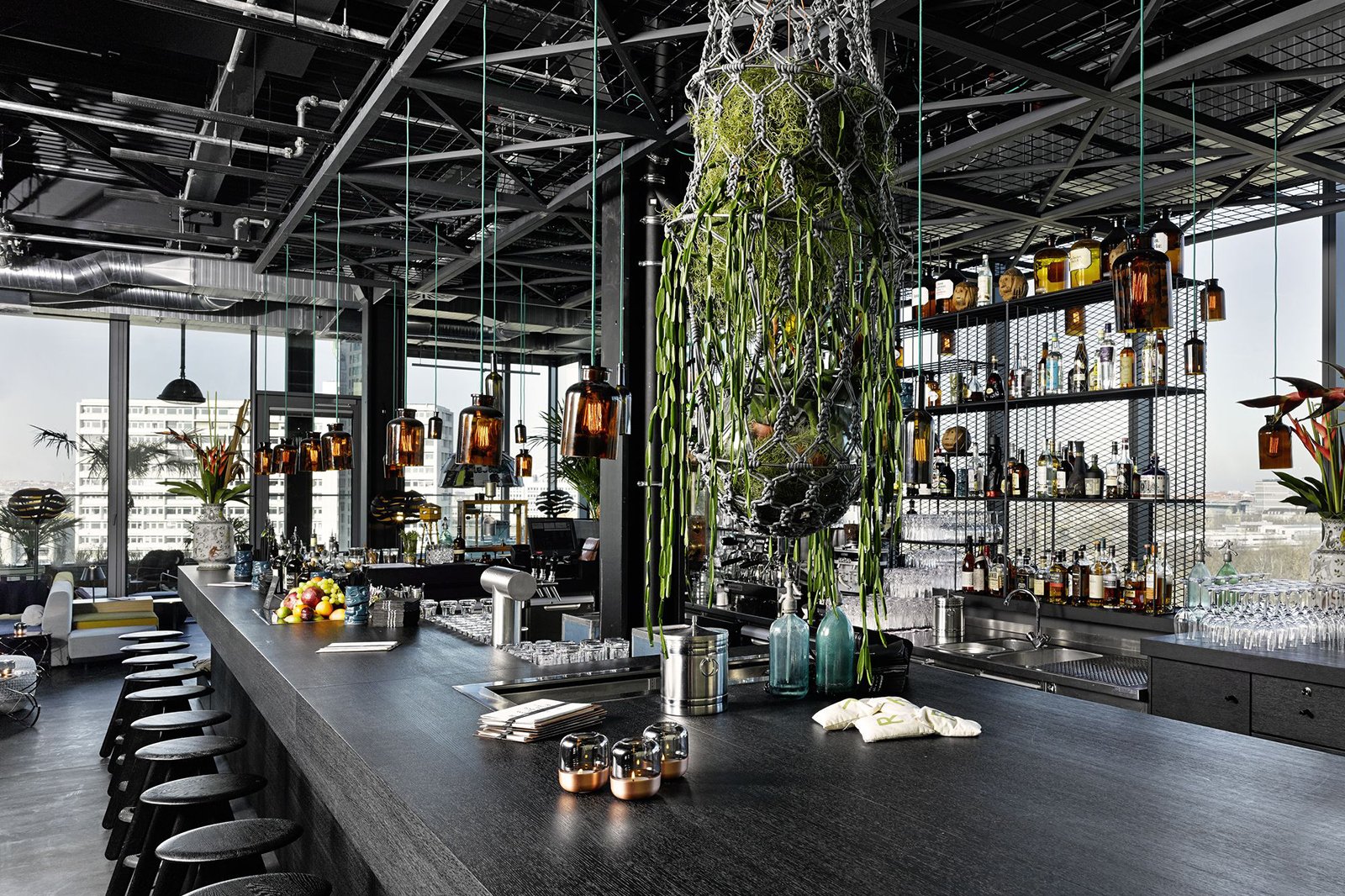 Monkey Bar
A recommended rooftop bar
Monkey Bar is at the top of 25hours Hotel, overlooking the Berlin Zoological Garden and Tiergarden park. Being on the 10th floor, it's far from the highest of the city's rooftop bars, but its fantastic views, great atmosphere and exotic cocktails make it a firm favorite. The Monkey Mulata is especially worth a try. It's made with Mulata rum, lime, syrup and chocolate foam, which combine to create a very complex flavor.
While there is an outdoor terrace, most of the bar is indoors, behind floor-to-ceiling windows, making it comfortable at any time of year.
Location: 25hours Hotel Bikini Berlin, Budapester Str. 40, 10787 Berlin, Germany
Open: Daily from midday to 2am
Phone: +49 (0)30 120221210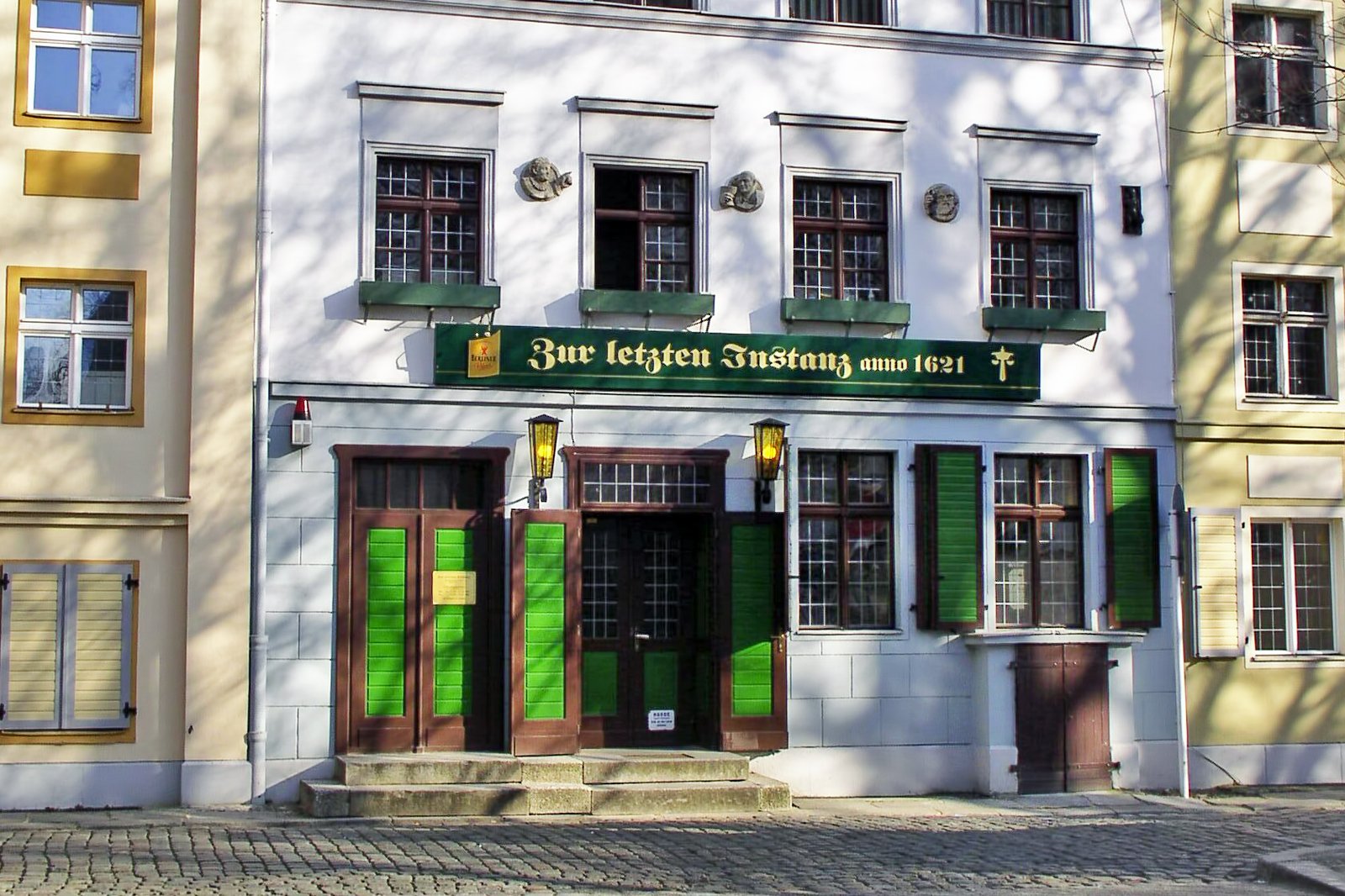 Zur letzten Instanz
A good German restaurant on the casual end of the scale
Said to be the oldest restaurant in Berlin, Zur letzen Instanz serves hearty German dishes in the sort of traditional setting that you can't convincingly fake. While the restaurant has been in exactly the same location since 1621, the current version opened in 1924 – still long enough ago to give it plenty of olde worlde cred.
The cozy, 2-storey restaurant has a reputation for outstanding traditional German cuisine. The star of the menu is the grilled pork knuckle with honey-glazed red cabbage, but other great dishes include the lamb sausages and wild boar.
Location: Waisenstraße 14-16, 10179 Berlin, Germany
Open: Tuesday–Saturday from midday to 1am, Sundays from midday to 10pm (closed on Mondays)
Phone: +49 (0)30 2425528
photo by Achim Raschka (CC BY-SA 3.0) modified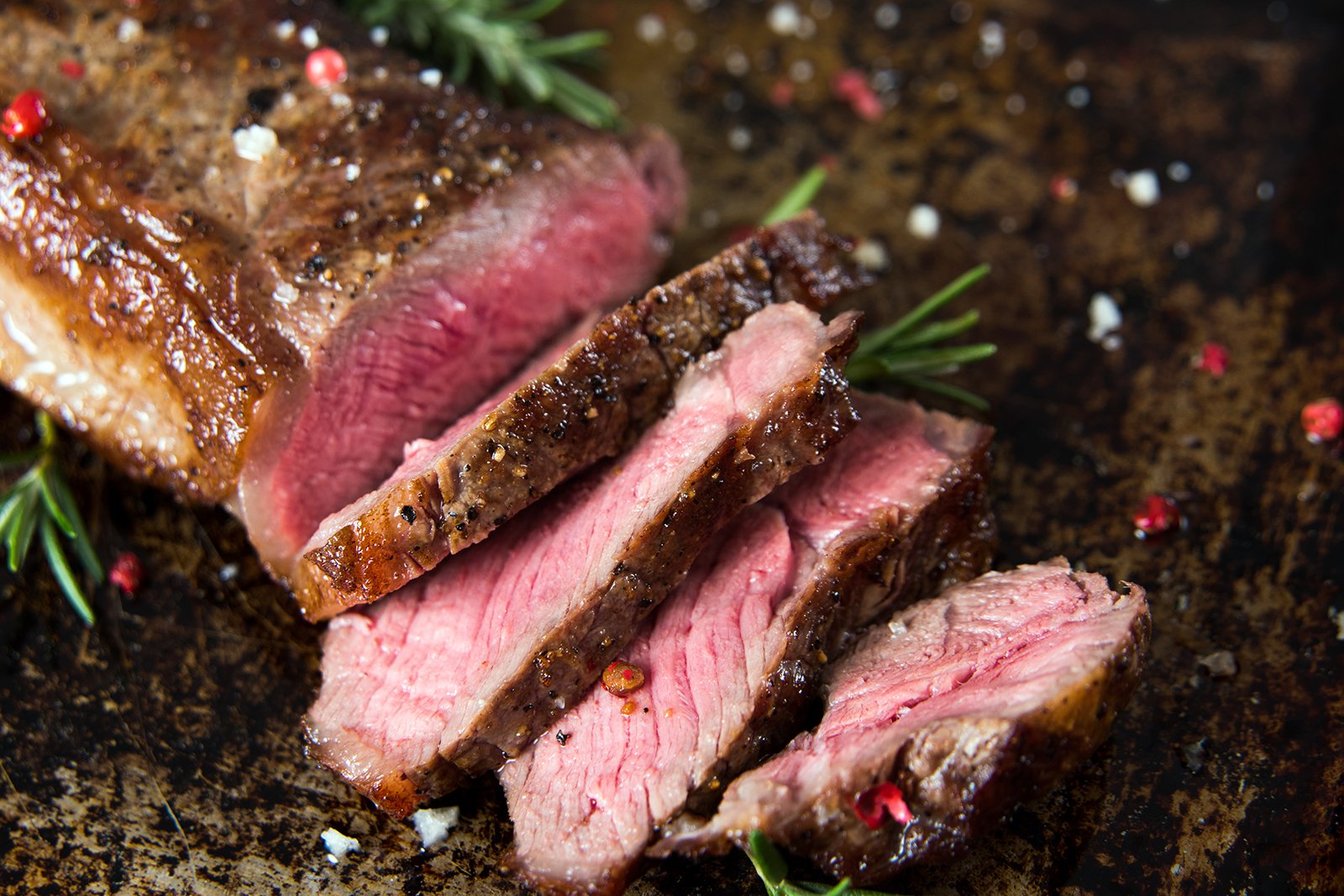 Grill Royal
A good steak restaurant on the fancy end of the scale
Grill Royal on Friedrichstaße is perhaps the best-known Berlin restaurant, having served plenty of local and international celebrities with excellent steaks and seafood. Situated right by the River Spree, it's naturally a popular choice for romantic couples, too. It's the sort of place where reservations are practically essential.
Grill Royal isn't just popular for its Hollywood clientele, though. The menu has one of the widest meat selections in Berlin, including ingredients flown in from Argentina, Australia, the USA and France. The seafood is equally well-traveled, featuring Chinese caviar, French oysters, and lobsters from Canada and Norway.
Location: Friedrichstraße 105b, 10117 Berlin, Germany
Open: Daily from 6pm to late
Phone: +49 (0)30 28879288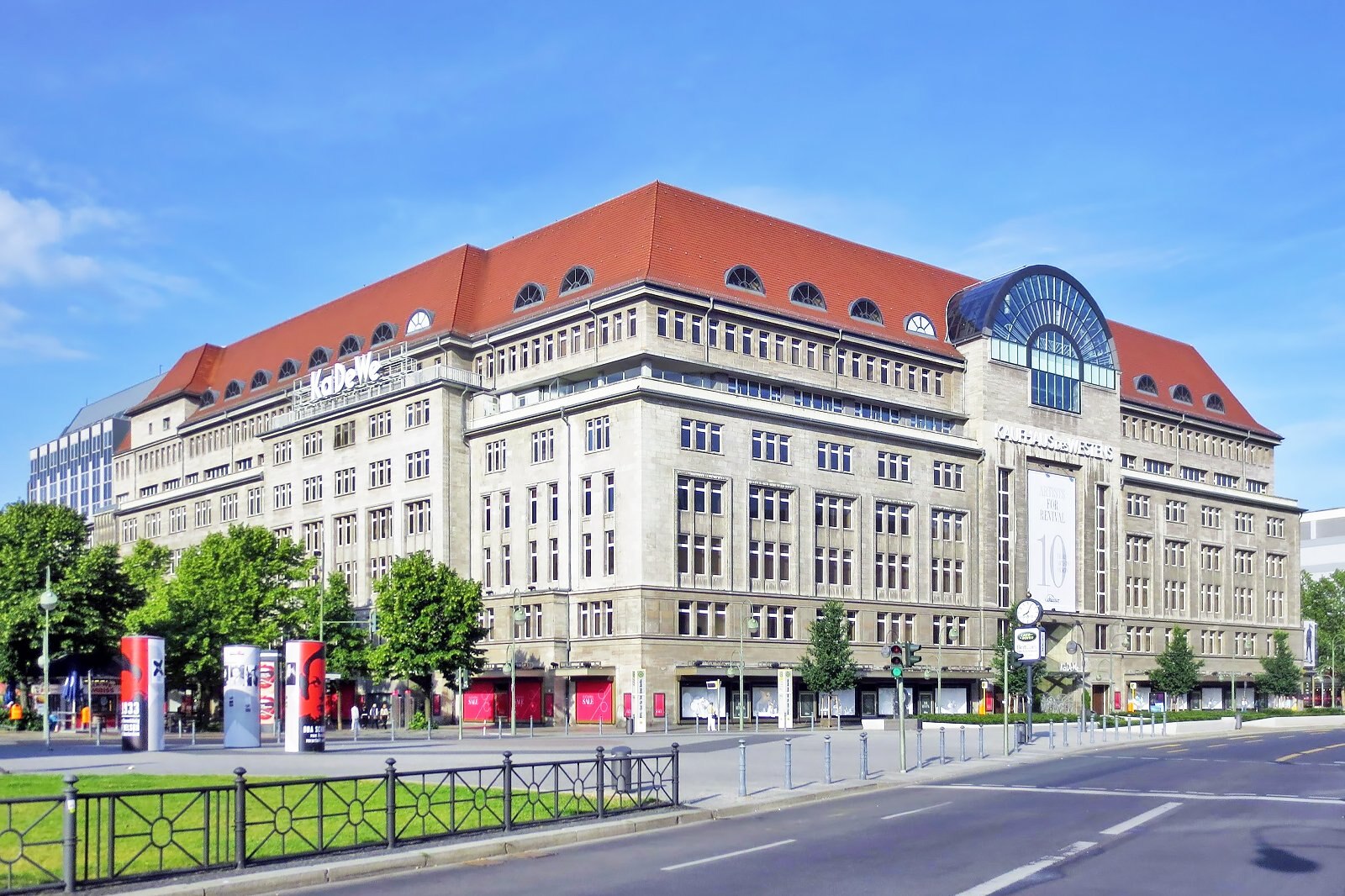 Kaufhaus des Westens (KaDeWe)
Where to pick up souvenirs (other than the airport)
Kaufhaus des Westens (or KaDeWe for short) is the largest department store in continental Europe, with over 380,000 items for sale across 8 floors. It's the star attraction on Tauentzienstraße, a major shopping street just south of Tiergarten park.
You'll find souvenirs on the 5th floor, along with arts, books, electronics. A Berlin Buddy Bear makes a fun and unique gift, or you can get a gift basket of German sweets and deli treats. Fashion takes up most of the lower floors, with 1 for men's clothes and 2 for women's, if you include shoes and accessories. The top 3 floors are mostly for food, including a massive food hall and a 1,000-seat winter garden restaurant.
Location: Tauentzienstraße 21-24, 10789 Berlin, Germany
Open: Monday–Thursday from 10am to 8pm, Fridays from 10am to 9pm, Saturdays from 9:30am to 9pm (closed on Sundays)
Phone: +49 (0)30 21210
photo by Jörg Zägel (CC BY-SA 3.0) modified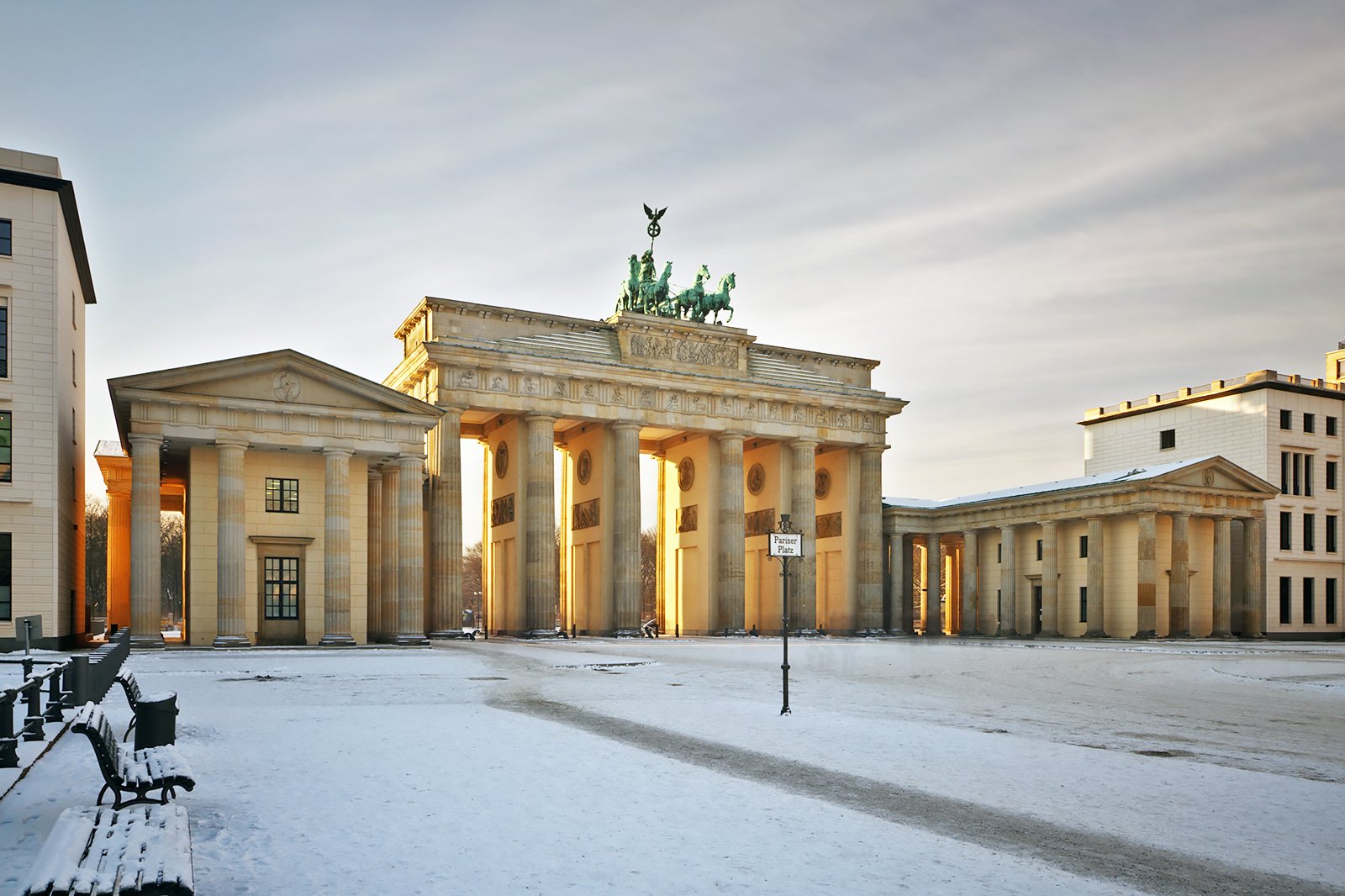 Brandenburg Gate
A landmark for quick and easy sightseeing
When you think of Germany, the structure that symbolizes it best is almost certainly the Brandenburg Gate. The iconic neoclassical structure was originally built to celebrate the end of the Batavian Revolution in the 18th century and continues to be a symbol of peace and unity.
The design was based on the gateway to the Acropolis in Athens, Greece, but has the Roman goddess Victoria (goddess of victory) riding in the chariot on top. It has appeared in the background of some of the most significant events of the 20th century and the sense of history and importance is palpable around it. Be sure to check out the museum dedicated to the gate, on the other side of Pariser Platz.
Location: Pariser Platz, 10117 Berlin, Germany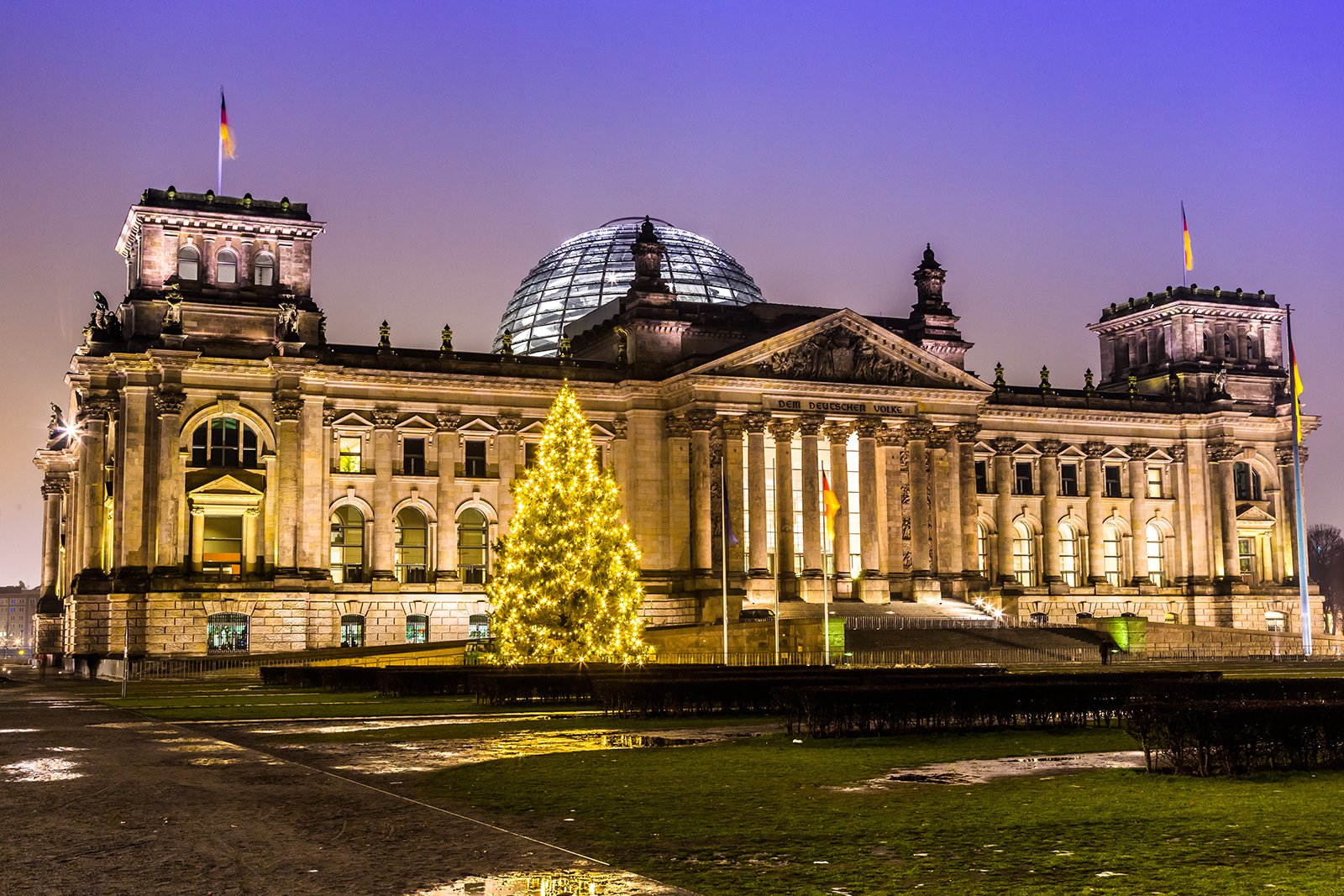 Reichstag Building
If you want to see something else
The iconic Reichstag building is the seat of the German government (the Bundestag) and an extremely impressive building in the heart of Berlin. A beautiful glass dome was added to the roof in 1999 and gives unrivaled views of the surrounding city. It was built as part of a promise that the German government would be open to constant scrutiny from the people being governed, and lets you see down into the debating chamber. Access to the dome is free (it wouldn't be very democratic if they charged for it!), but you need to book a place in advance on the building's website.
Location: Platz der Republik 1, 11011 Berlin, Germany
Open: Daily from 8am to midday
Phone: +49 (0)30 22732152