10 Best Things to Do in Saint-Malo
What is Saint-Malo Most Famous for?
Saint-Malo is one of the most popular vacation destinations in Brittany. This is due to its historical importance and its charismatic aura, both of which gave it the nickname: The City of Corsairs. Birthplace of legendary sailors and privateers such as Jacques Cartier – the man who discovered Canada – and Robert Surcouf, Saint-Malo is a city boasting a strong and independent character.
Walk around the ramparts that surround the Old Town, visit Fort National, snack on crêpes and galettes, or discover the Great Aquarium. Saint-Malo offers what seems to be an endless choice of things to see and do in its unique historical setting and atmosphere.
What are the best things to do in Saint Malo?
1
Start the day at Chateaubriand Square
Take in the atmosphere of Old Saint-Malo in this lively square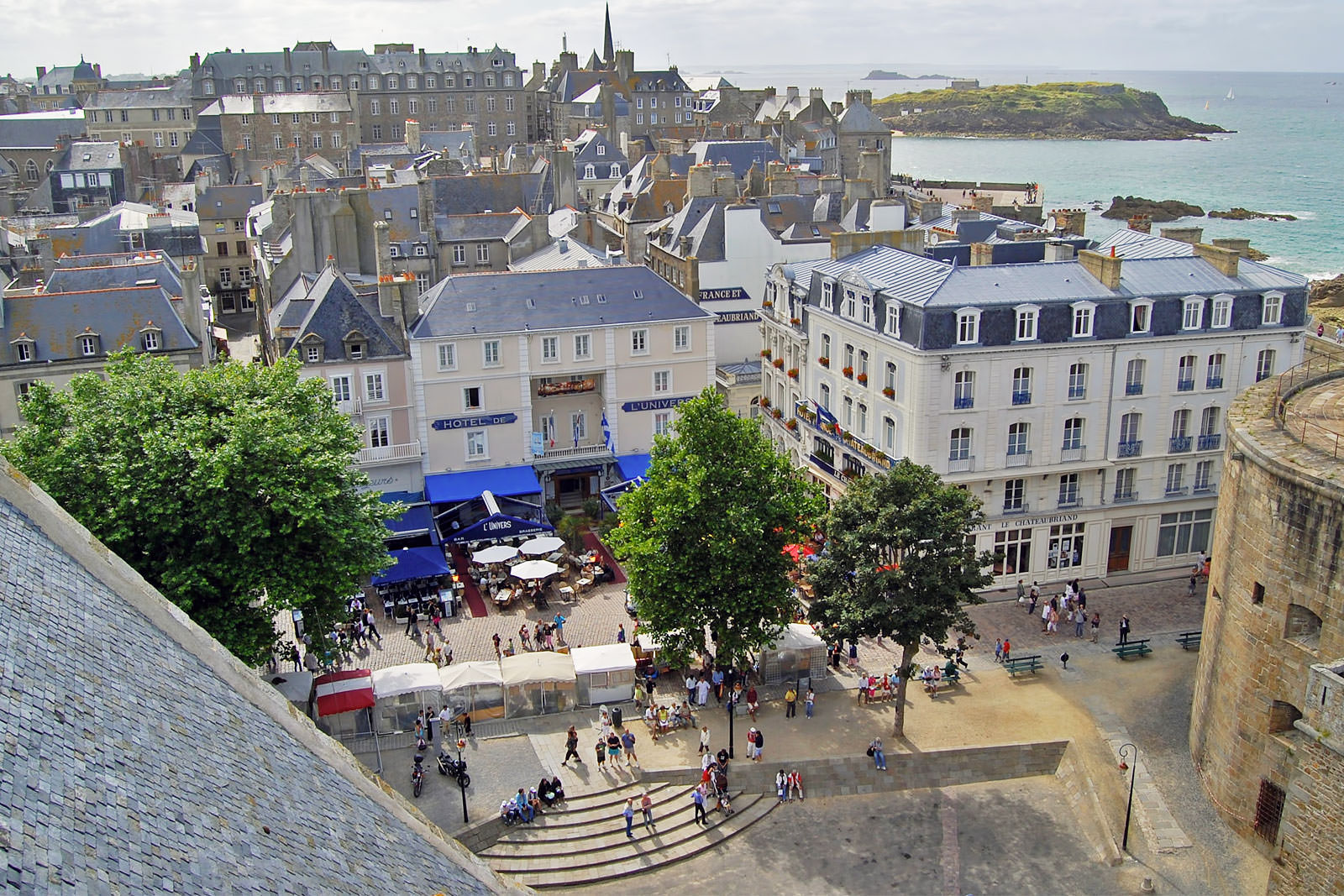 Chateaubriand Square is a great place to start your stay in Saint-Malo. This paved square, right next to the entrance of the Old Town through Saint-Thomas Gate, teems with the welcoming outdoor terraces of bars, restaurants and hotels including Hôtel de l'Univers, Café des Voyageurs and Brasserie Le Chateaubriand. A few stalls sell souvenirs and paintings on the other side of the square, just in front of the Saint-Malo Castle, which hosts the History Museum of the city and the country of Malo.
Location: Place Chateaubriand, 35400 Saint-Malo, France
photo by Pline (CC BY-SA 3.0) modified
2
Saint-Malo Old Town
Take a walk in a reconstructed historical district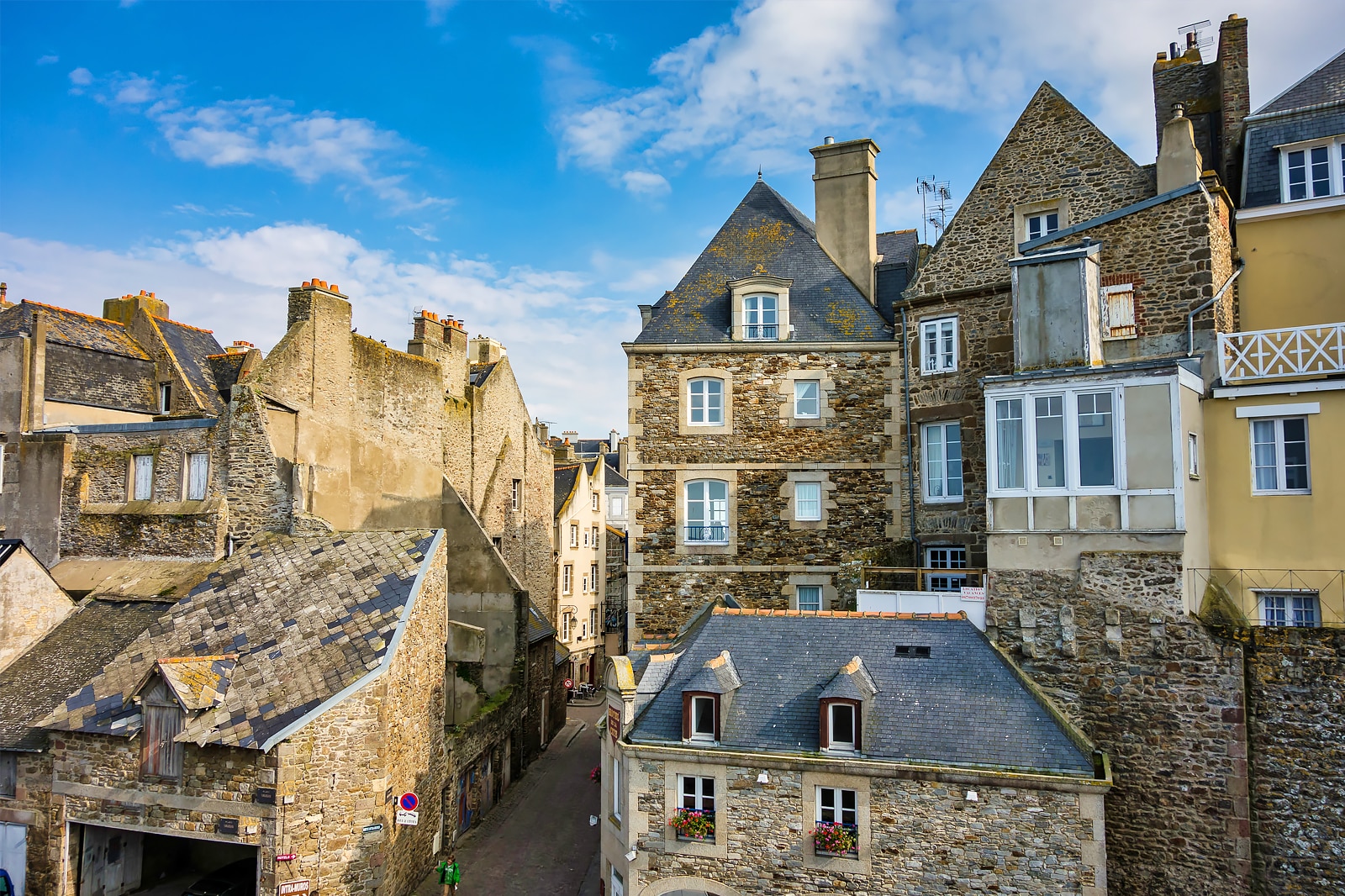 Dated back the 6th century, Saint-Malo Old Town was almost entirely rebuilt after WWII. Today, its cobblestoned narrow streets and its splendid houses made of gray granite give you a very pleasant journey back in time. From the 13th-century Saint-Vincent Cathedral to the 18th-century corsair mansions, the Old Town is filled with historical sites to visit, but also lined with arts and crafts boutiques and quaint bars and restaurants. Pick up a guide map at the Tourist Office on Esplanade Saint-Vincent and go explore Saint-Malo Intra Muros (within the walls).
Location: 35400 Saint-Malo, France
3
Saint-Malo Ramparts
See the Old Town, beaches and nearby islands from a different angle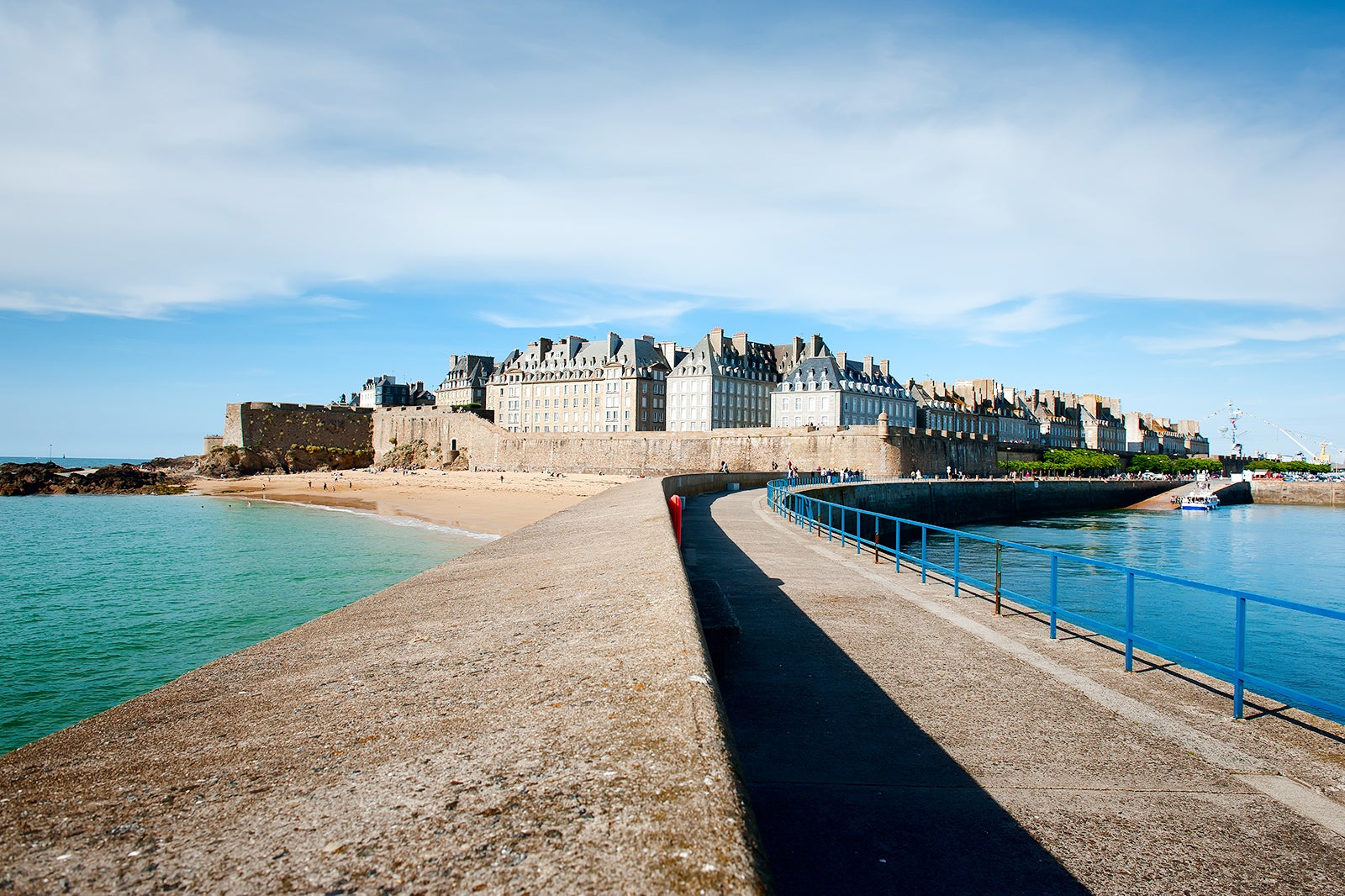 A walk on the Saint-Malo Ramparts gives you the opportunity to see Saint-Malo and its surroundings from a different angle. Just south to the castle, Saint-Vincent Gate is the place to start a tour of the Ramparts. Along the 2 km walkway that overlooks the city, you'll see the houses and statues of famous Saint-Malo shipowners and privateers, 3 of the beaches of Saint-Malo (the Môle, Bon-Secours and l'Éventail), Petit and Grand Bé islands, and many more interesting sights.
Location: 35400 Saint-Malo, France
4
Bon-Secours Beach
Swim, dive and sail at the foot of Saint-Malo Ramparts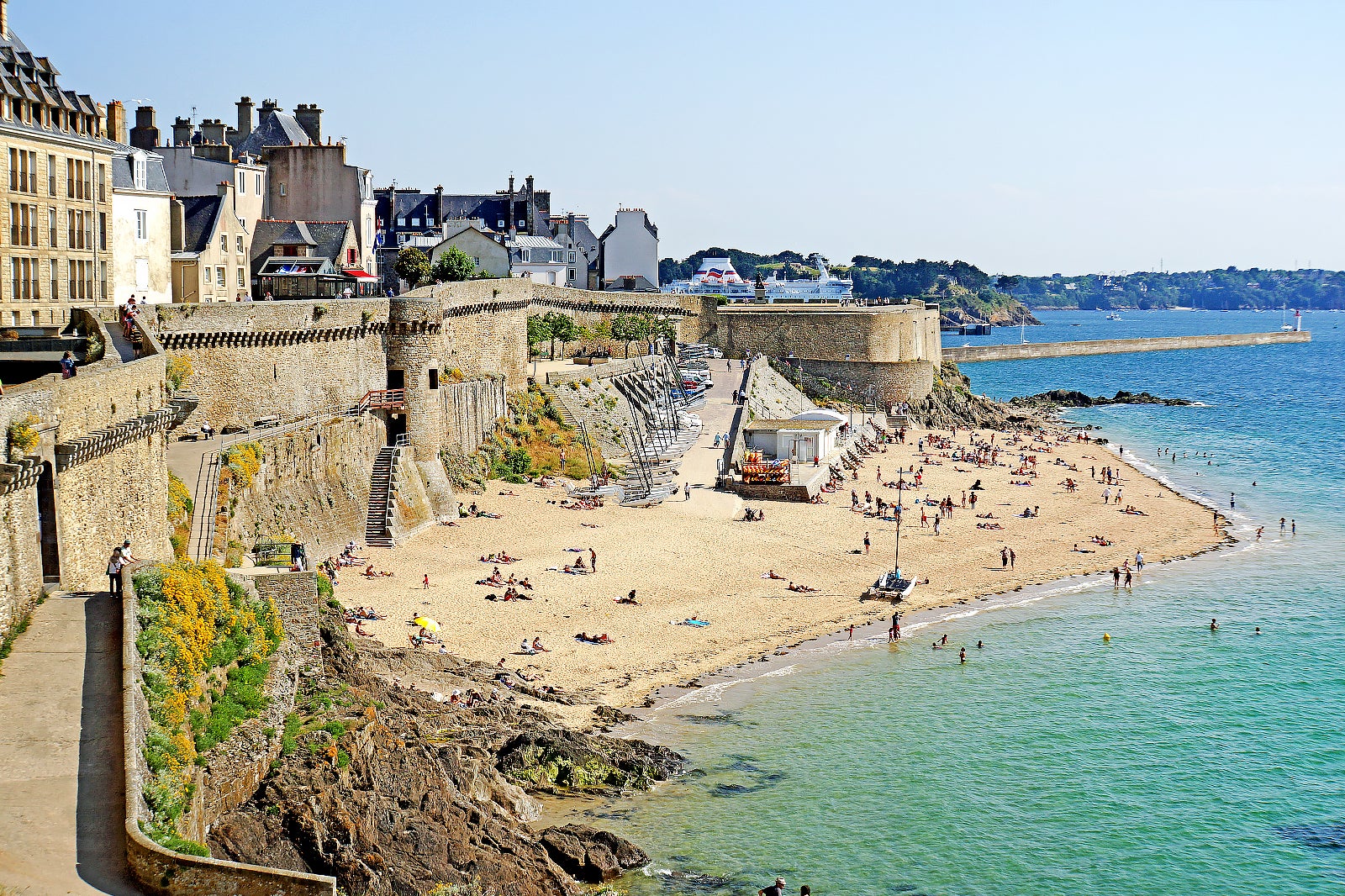 Just west of the Old Town and reachable through Saint-Pierre Gate, Bon-Secours Beach offers a great range of fun activities. The simplest of these is simply enjoying the warm summer sun. The beach has a seawater swimming pool which allows you to bath even at low tide. There's also a 3- and 5-meter diving board. A friendly sailing club rents out sea kayaks, Hobie Cats and sailing dinghies. Bon-Secours is the beach from which you can reach Petit and Grand Bé islands on foot, at low tide.
Location: 4 Rue de la Crosse, 35400 Saint-Malo, France
photo by Dennis Jarvis (CC BY-SA 2.0) modified
5
Must-See: The Great Aquarium - Saint-Malo
Take a ride in a yellow submarine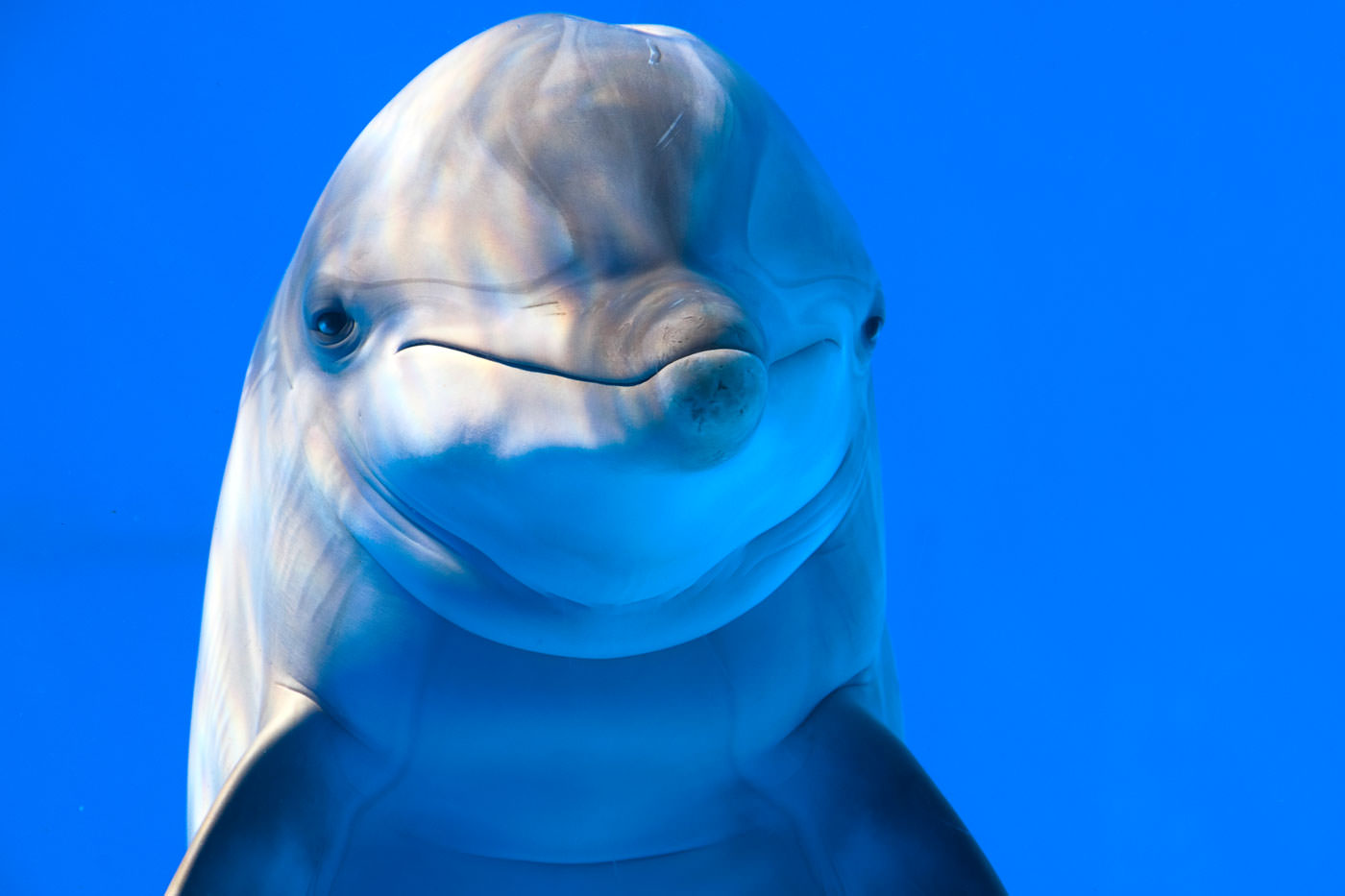 A visit of the Great Aquarium in Saint-Malo is highly recommended. From the abyss to the mangrove, 9 rooms introduce you to over 600 sea species in a fun and informative way. From the large circular tank that hosts sharks and turtles to the 'Nautibus' – a yellow submarine that takes you for an exciting underwater tour – The Great Aquarium is aptly named. A restaurant/crêperie as well as a souvenirs shop are at hand in the aquarium's compound which covers no less than 4,000 sq m.
Location: On the southern outskirts of Saint-Malo City
Open: Daily from 10 am to 7 pm
Phone: +33 (0)2 99 21 19 00
6
Paramé
Discover the pleasant seaside resort of Saint-Malo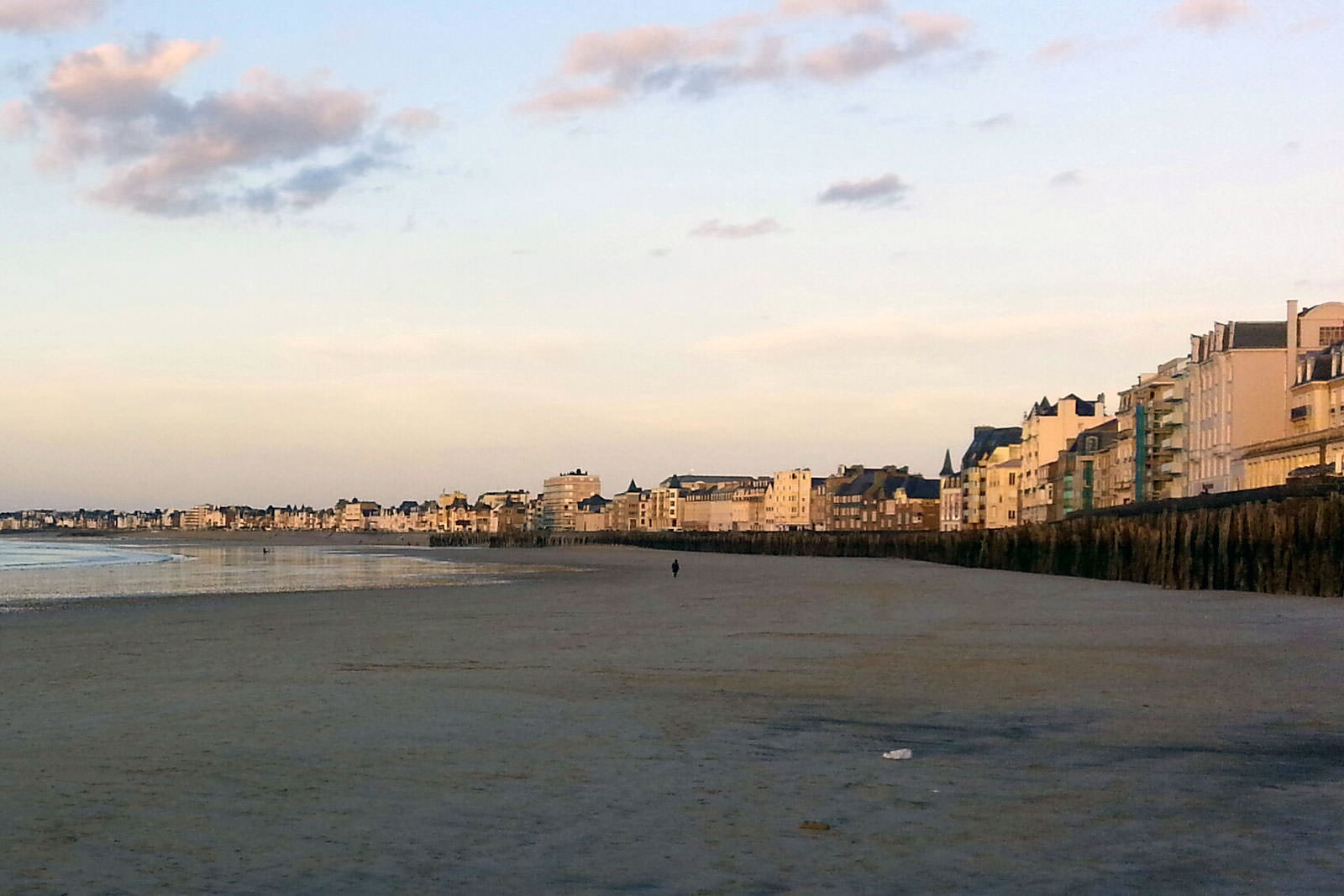 Couples
Families
History
Photo
Budget
Paramé is the seaside resort of Saint-Malo. Located about 3 km northeast of the Old Town, it's famous for its long sandy beaches (Plage du Sillon and de la Hoguette), for its sea spa (Les Thermes Marins de Saint-Malo), and for the 19th-century hotel and villas. You'll see these decorative buildings on the beachfront, as well as on Boulevard Hébert and boulevard Chateaubriand, helping to make Paramé a pleasant place for a late-afternoon stroll. You'll also find a few seaside restaurants, such as Les Chaumette and Les Terrasses des Thermes, for a restoring pause.
Location: Paramé, 35400 Saint-Malo, France
photo by TCY (CC BY-SA 3.0) modified
7
Fort National
Explore a 17th-century stronghold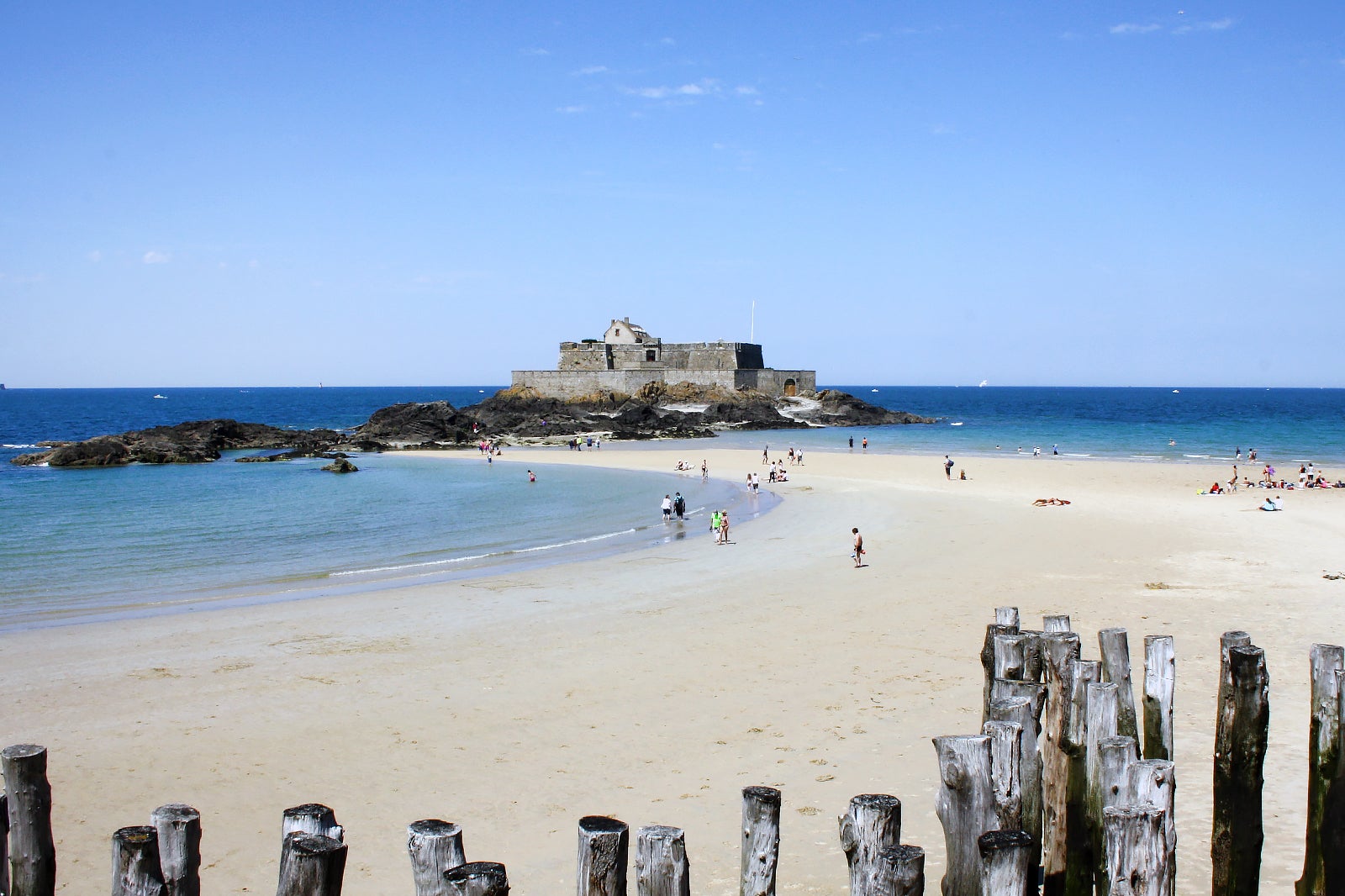 Built at the end of the 17th century by Vauban, one of the most celebrated French military engineers, Fort National is a stronghold that sits on the tiny Rock Islet, 300 meters north off Saint-Malo Old Town. Only opened for visitors from June to September, Fort National is worth the trip for the beautiful views it offers of the coast and of Saint-Malo Old Town. Ask for the guide booklet (available in English) at the entrance as it relates the whole history of the fort.
Location: 60 Chaussée du Sillon, 35400 Saint-Malo, France
Open: Depend on the tides, but usually from 10 am to 5 pm
photo by Marco Usan (CC BY-SA 3.0) modified
8
Le Chalut
Indulge yourself in a Michelin-starred restaurant
You can't stay in Saint-Malo without feasting on seafood at least once. Head to Le Chalut, a 1-star Michelin restaurant located in the heart of the Old Town. You can't miss its bright blue wooden front, which conceals a warm atmosphere that hits you as soon as you enter the place. Scallop, crab, langoustine or lobster – whatever's your seafood of choice, you'll find expertly concocted preparations by the talented Chef Jean-Philippe Foucat here. Despite its fame, prices remain affordable.
Location: 8 Rue de la Corne de Cerf, 35400 Saint-Malo, France
Open: Wednesday–Sunday from 12.15 pm to 1.15 pm and from 7.15 pm to 9.15 pm (closed on Mondays and Tuesdays)
Phone: +33 (0)2 99 56 71 58
9
Old Town's bars and pubs
Hop from bar to bar in Saint-Malo's historical district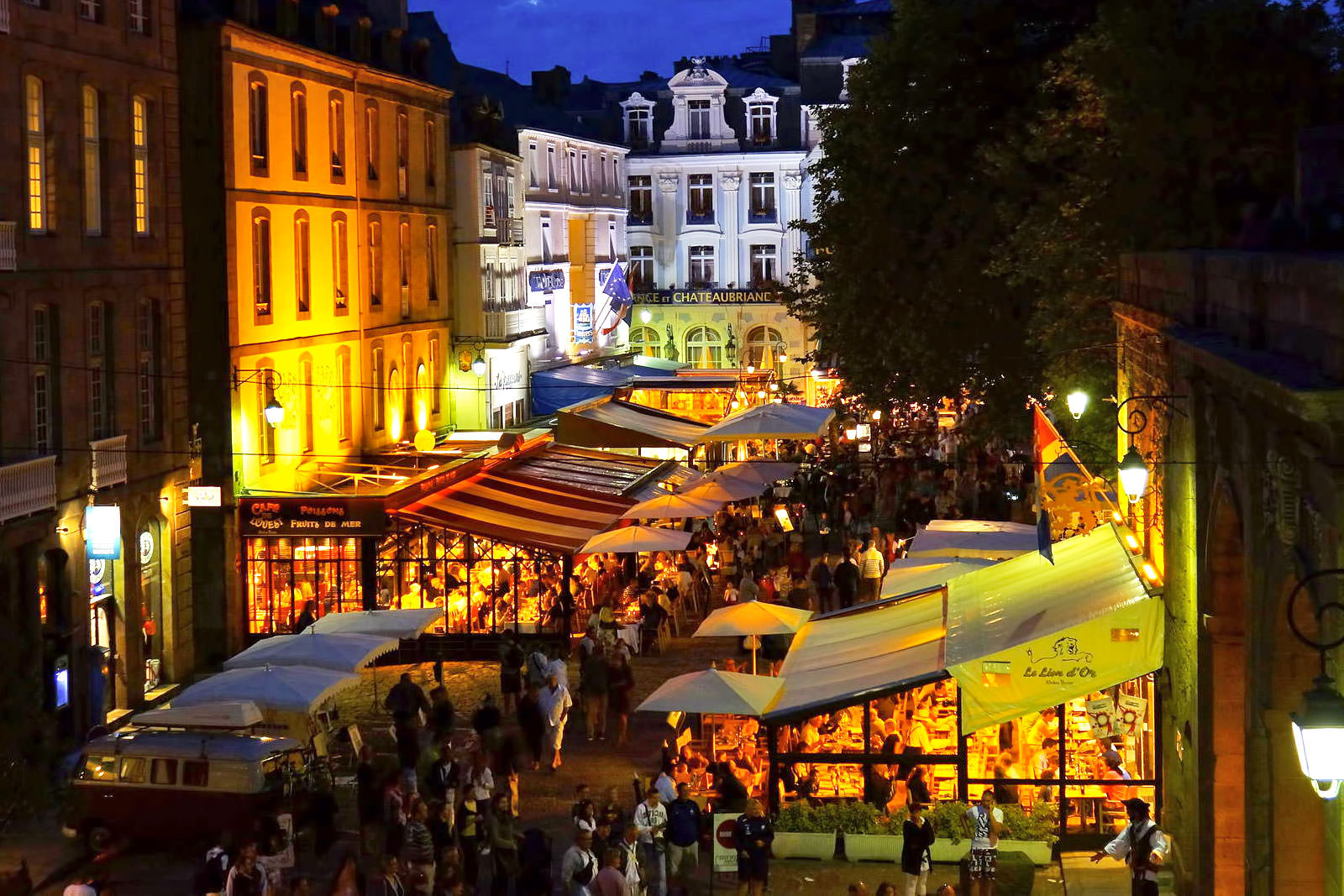 Saint-Malo Old Town is teeming with cool bars at which you can enjoy a night cap (or two). Among the favorite venues at hand is La Belle Époque on Rue de Dinan – a friendly bar serving locally brewed beer and homemade rums around a fire log in winter. If you want to sample original cocktails in a well-thought-out décor, go to La Fabrique on Rue de Chartres. Last but not least, Ar Koad on Rue du Boyer is the place you should not miss if you love whiskey. You'll find whiskeys from all around the world, including the locally distilled Naguelann.
Location: 35400 Saint-Malo, France
10
Crêpes and galettes
Sample traditional delicacies from Brittany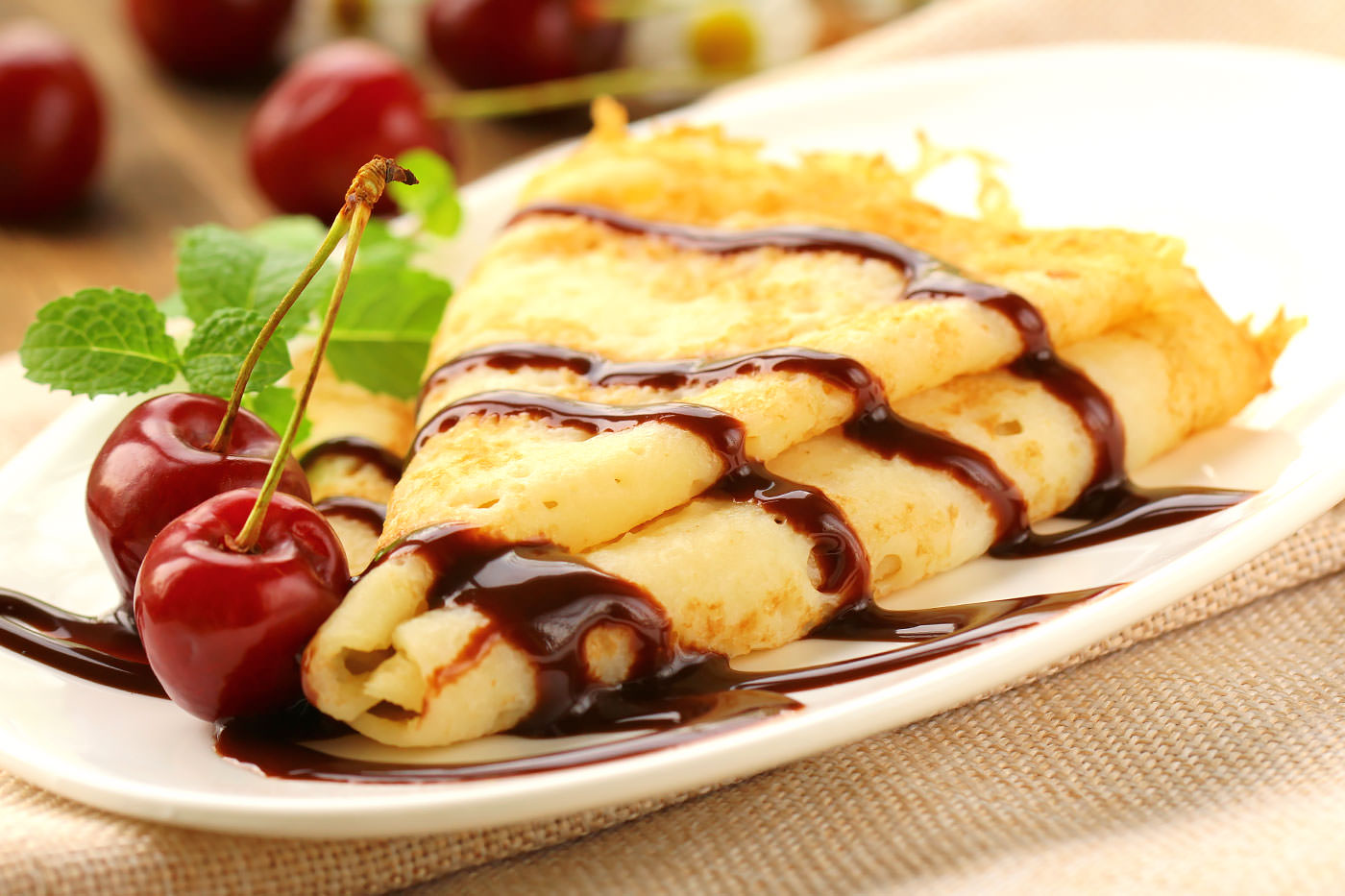 Originated from Brittany, crêpes (thin sweet pancakes) and galettes (thin salty pancakes) are a must-try snack while you roam Saint-Malo Old Town. Served with a variety of fillings such as sugar or jam for crêpes and butter with pork sausage for galettes, they offer a hearty lunch, traditionally washed down with a flavorful local apple cider.

Crêperies abound in the Old Town, but Crêperie Le Tournesol on Rue des Marins and Crêperie Margaux on Place du Marché aux Légumes are especially recommended.
Back to top