Les Corniches on the French Riviera
A Scenic Road Trip in the South of France
Les Corniches (The Cliff Roads) has 3 scenic routes that run along the French Riviera in south-eastern France. One of its most popular routes is Basse Corniche (Lower Corniche), where you'll travel along a 30-km-long coastal road which starts in Nice and ends in Menton.
Les Corniches connects you to many pristine beaches, hilltop villages, and luxurious resort towns, giving you superb coastal views of both the French and Italian Rivieras. From Nice's medieval structures to the modern casinos of Monte-Carlo, embark on a scenic road trip in France with our guide to where and what to see on Les Corniches.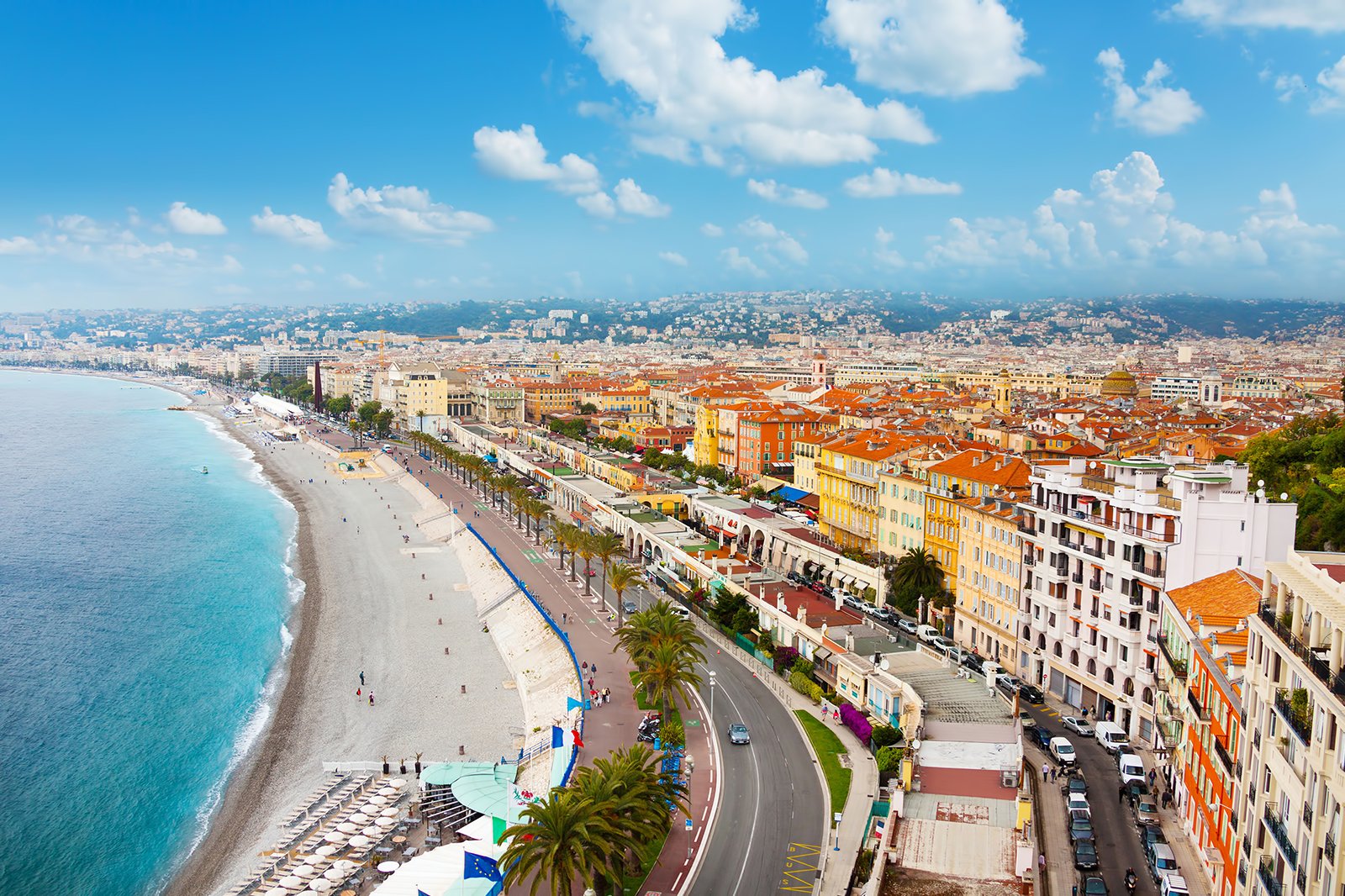 Nice
One of France's most popular seaside cities
Nice, on the French Riviera, is a combination of old-world opulence, artistic charm, and Mediterranean beaches. Nicknamed 'Nissa La Bella' (Nice the Beautiful), this seaside city also benefits from an all-year-round warm and pleasant climate, attracting those looking to enjoy beach activities and sightseeing.
Located at the eastern end of the Bay of Angels, Nice Old Town features narrow, cobblestoned streets, red-roofed houses, and historical sites such as the Nice Opéra and Lascaris Palace. Hike up to Castle Hill for views of beautiful gardens and the Bay of Nice.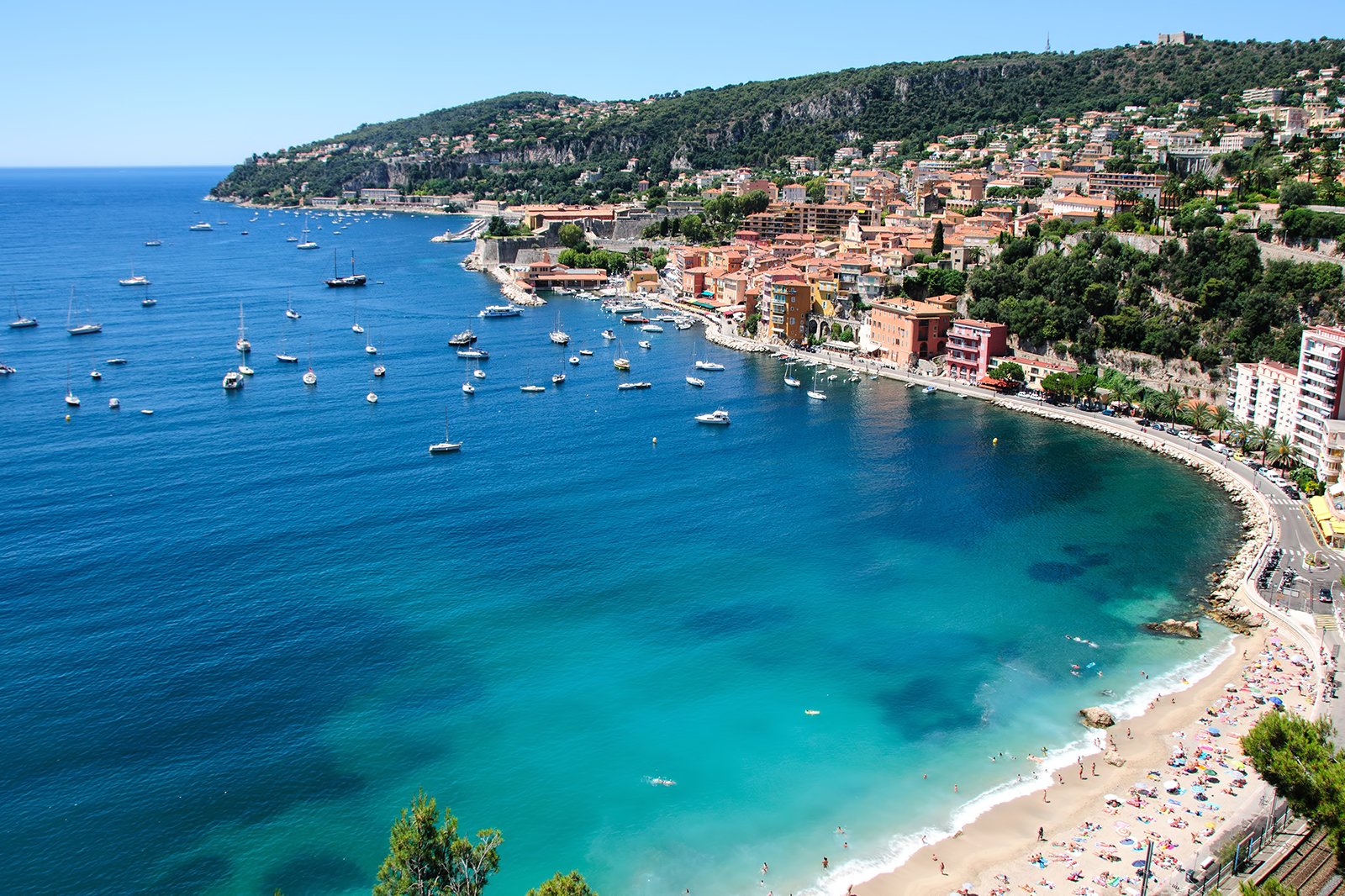 Villefranche
Family-friendly fun at Marinières Beach
The bay of Villefranche lies around 7 km east of Nice, on the French Riviera. You'll find a colorful old town, pristine beaches and a busy promenade overlooking one of the largest marinas in France. In the summer (May–September), families flock to the shallow waters of Marinières Beach (Plage des Marinières) for swimming and beachside activities. Experienced swimmers can head further offshore to find fish-filled rock hollows that are great for snorkeling.
Go for a stroll through the old town of Villefranche-sur-Mer, where you can see Provençal houses with balconies and red-tile roofs, as well as 12th- and 13th-century structures like Saint-Michel church and Saint-Pierre chapel.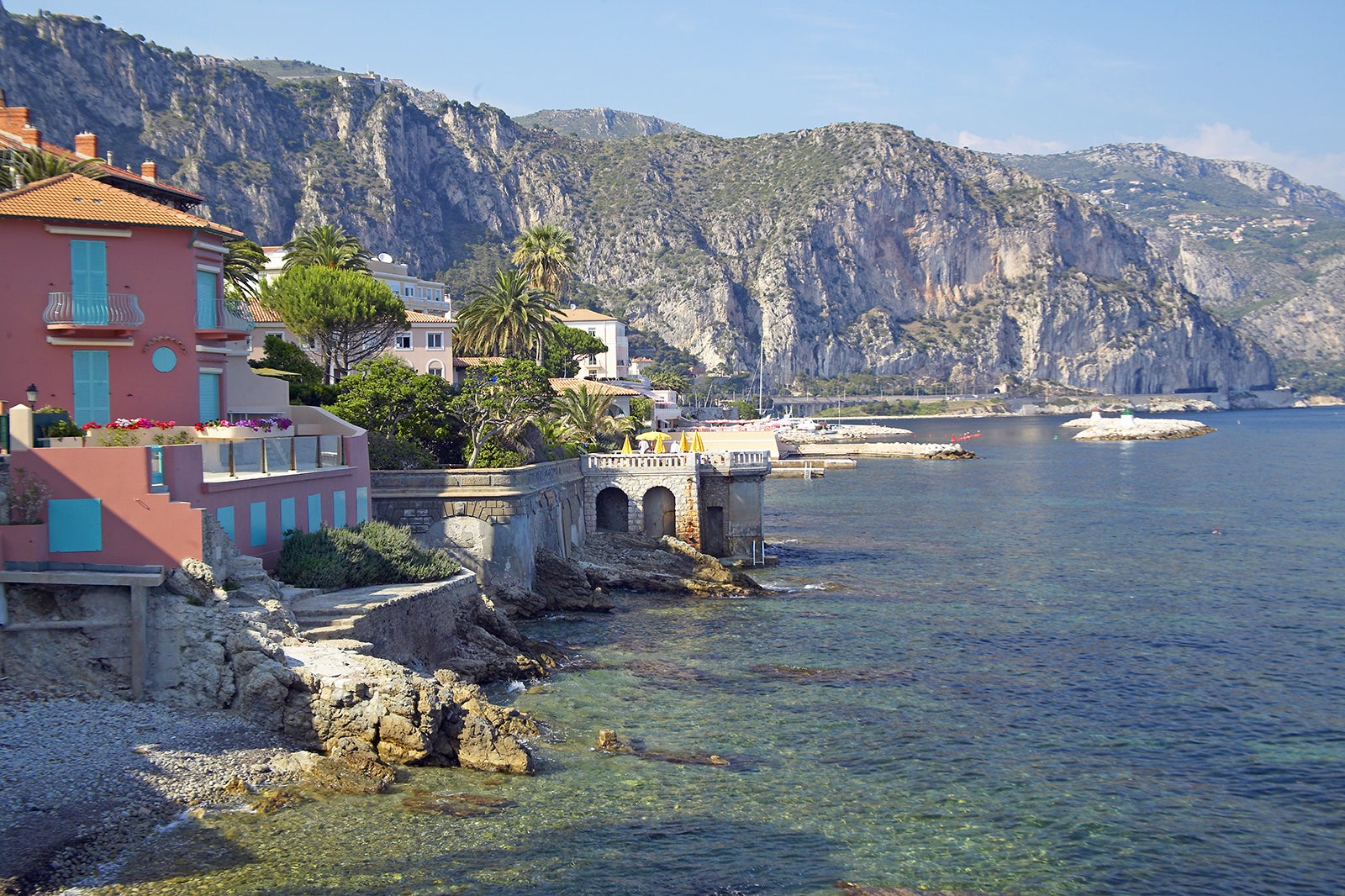 Beaulieu
Exclusive villas and restaurants overlooking Saint-Jean-Cap-Ferrat
Beaulieu-sur-Mer is a seaside village between Monaco and Nice, where upmarket villas, manicured parks and gardens, as well as exclusive restaurants and boutiques offer views of the Mediterranean and Saint-Jean-Cap-Ferrat peninsula. Come summertime, the town's curved beaches are often packed with luxury travelers, while the marinas are lined with dozens of private yachts.
East of central Beaulieu-sur-Mer lies Palge de la Petite Afrique, a palm-shaded pebble beach with a beach club, play area for kids, and a beach volleyball court. With lifeguards patrolling the beach, you can enjoy activities such as swimming, water-skiing, wakeboarding, and paddle boarding.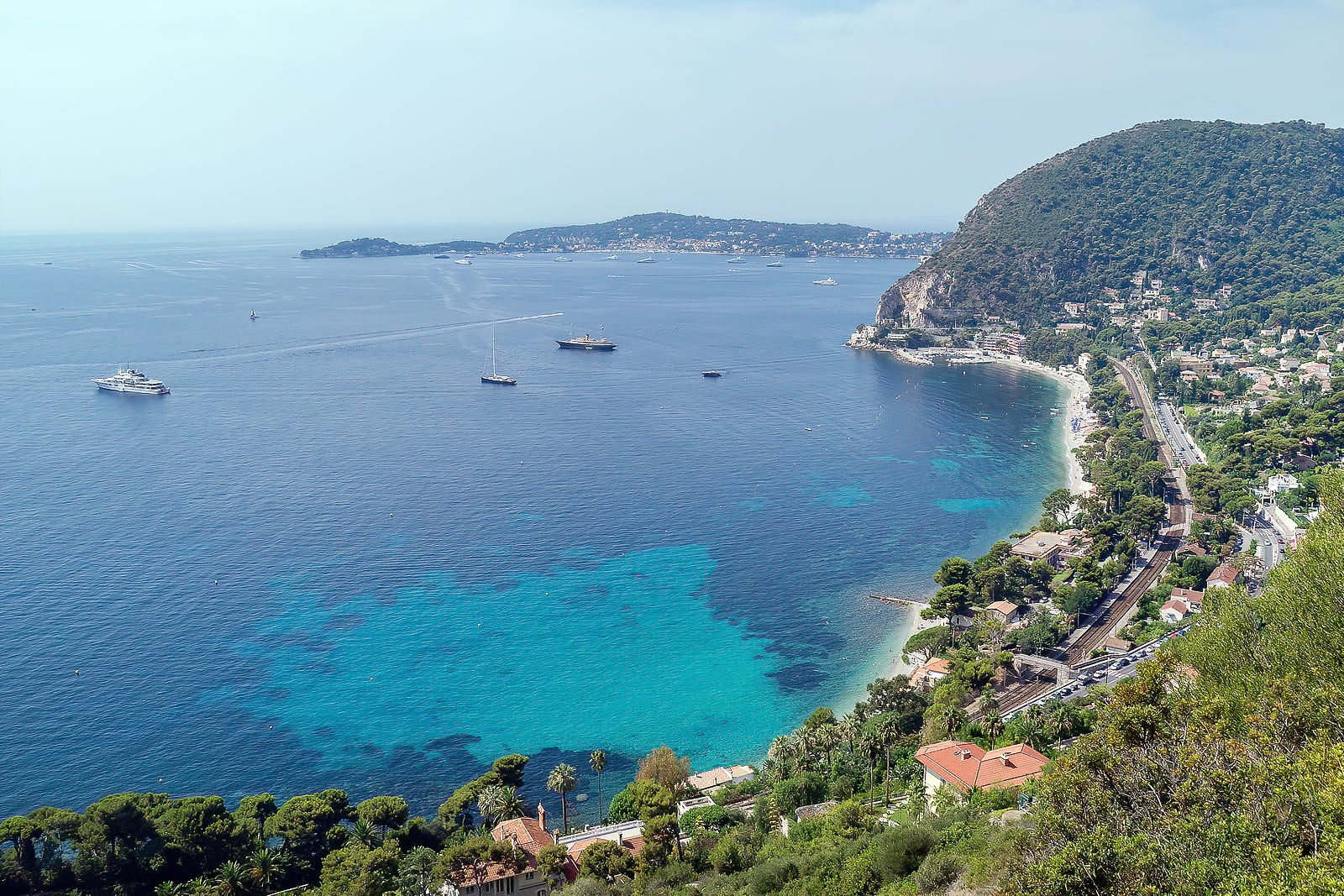 Eze-sur-Mer
A secluded beach on France's south coast
The secluded beach of Eze-sur-Mer in south-eastern France features a scenic mountainous backdrop. Its clear waters are popular with swimmers and snorkelers, but you can also take in the view from the beach, where there are several restaurants offering sunbeds.
Eze-sur-Mer is relatively quiet year-round, even though there are tours to this area from neighboring towns such as Nice and Monaco. There's a rocky pathway leading to a small Provencal village of the same name, but the uphill climb can be rather steep, so wear proper footwear.
photo by Solundir (CC BY-SA 4.0) modified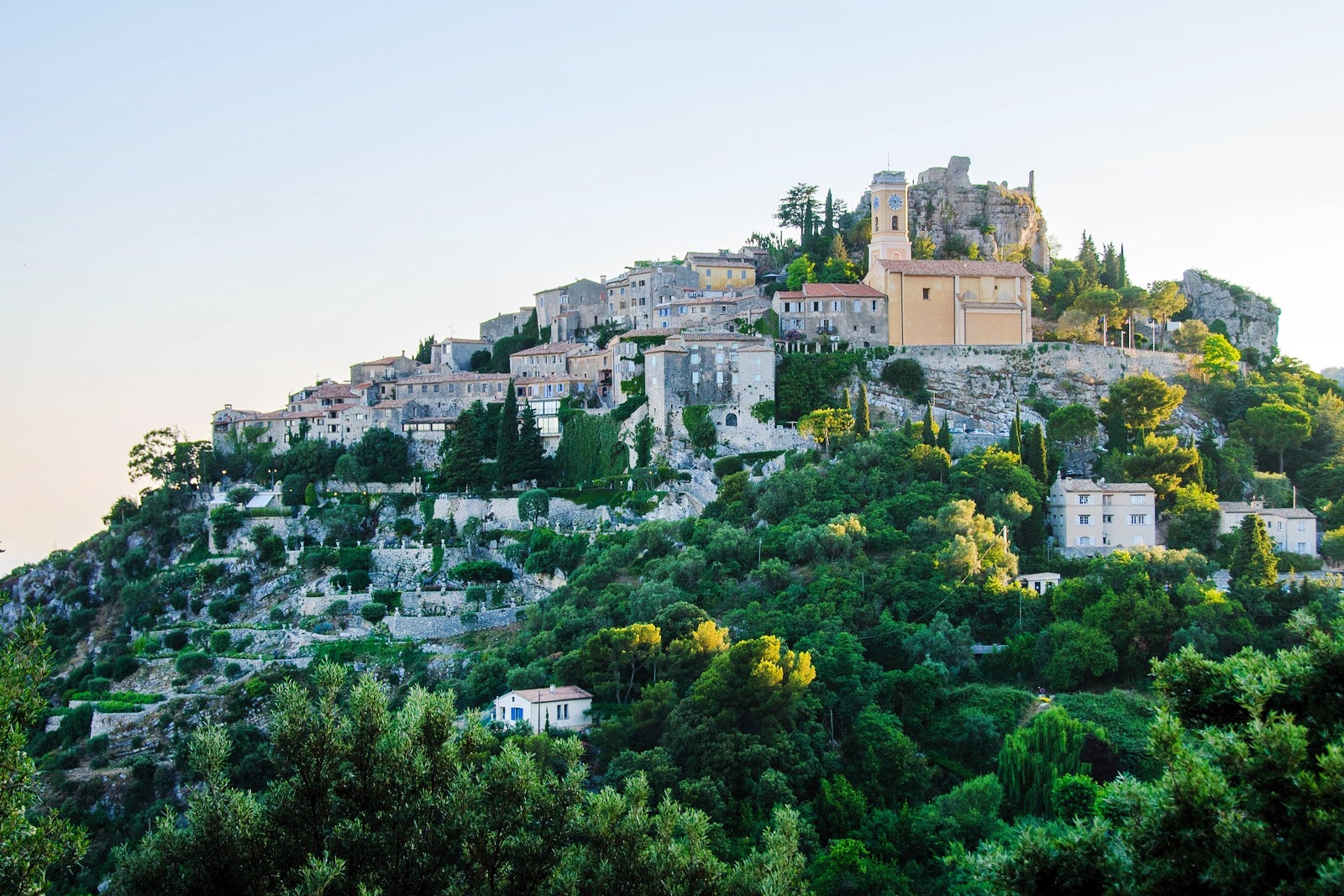 Eze
A hilltop village overlooking the sea
Eze is a charming hilltop village perched 427 meters above Cap Roux and the Mediterranean Sea. You can get here from Eze-sur-Mer via the Nietzsche Path, which requires a bit of stamina due to its steep incline. The village itself is very walkable as motorized vehicles aren't allowed on the narrow streets.
You'll find medieval archways and stone houses, open-air squares with fountains, as well as charming art galleries and souvenir shops throughout the village. Check out Jardin Exotique d'Èze's extensive collection of cacti, succulents, and rare vegetation surrounding the ruins of a chateau.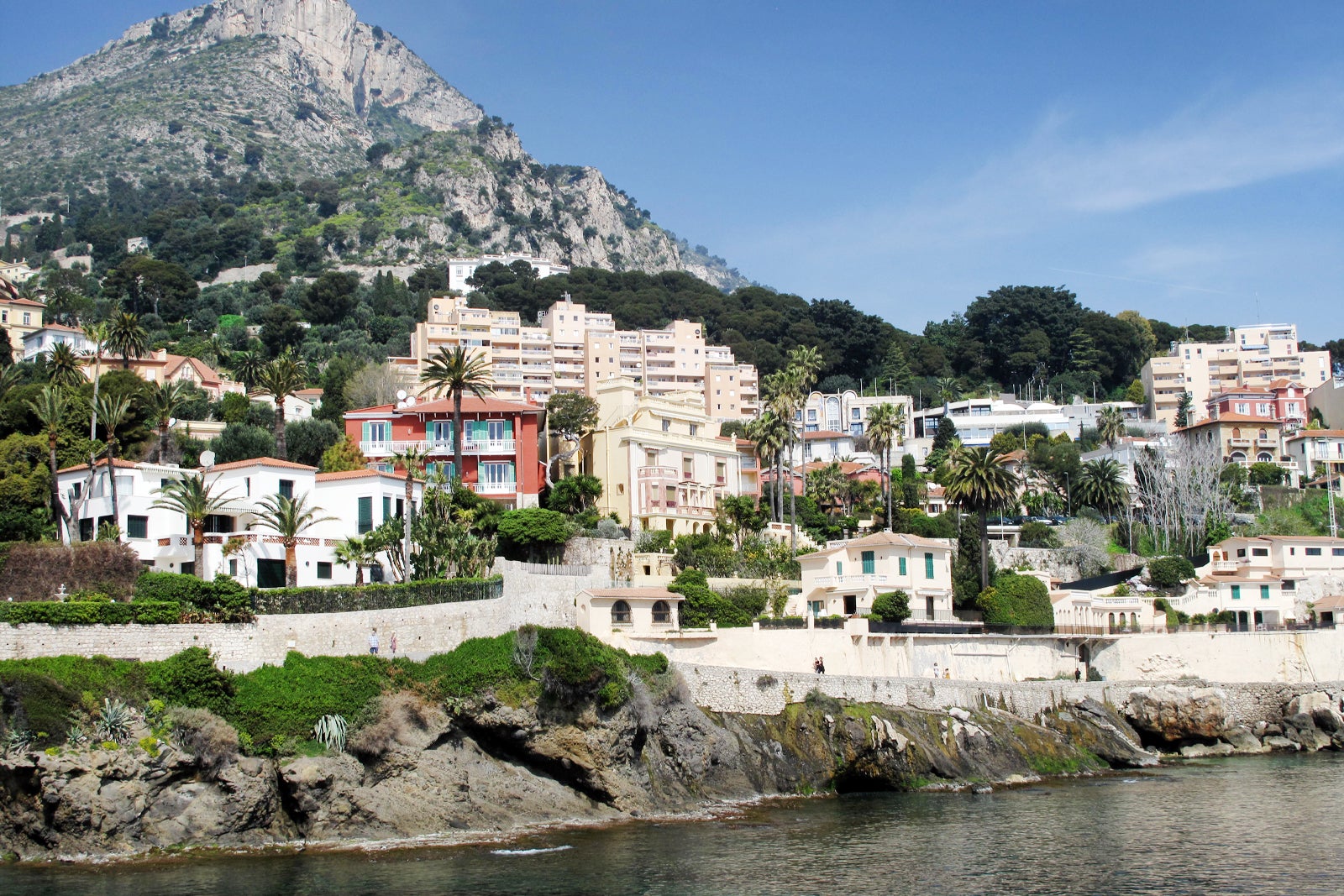 Cap d'Ail
Fine pebble beaches and a viewing point overlooking the Var coastline
Cap d'Ail is a modern seaside town bordering Monaco and Nice in south-eastern France. It's known for its unspoiled pebble beaches, including Plage de la Mala, Plage des Pissarelles, and Plage Marquet.
There's a busy shopping district on Basse Corniche, together with a boardwalk leading you to Monaco. You'll pass by plenty of late 19th-century Belle-Epoque villas, lush gardens, and parks such as Sacha Guitry. Cap d'Ail has a second coastal pathway that stretches 4 km from Marquet to Mala, offering views of pine trees and the Mediterranean Sea throughout your walk. Hike to the Tete de Chien viewpoint for a superb view of the Var coastline.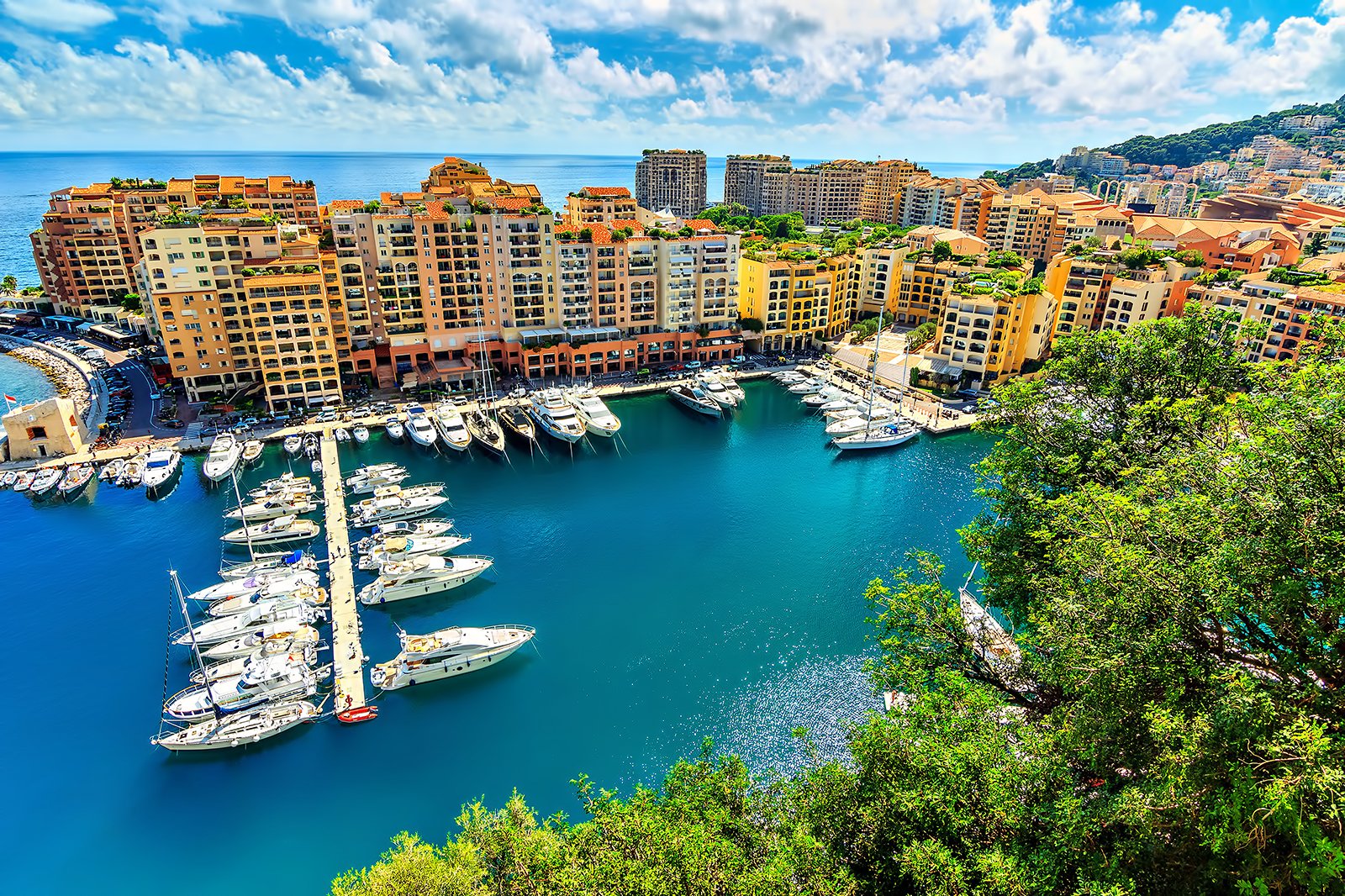 Monaco/Monte Carlo
France's summer resort for the rich and famous
The Principality of Monaco is often associated with glitz and glamor, thanks to its grand casinos, designer boutiques, 5-star resorts, and sports cars cruising down the narrow streets. Monte Carlo is one of its most popular districts – luxurious shops, cafés and restaurant can be found along Boulevard des Moulins.
Must-sees include the Casino Monte-Carlo, Hôtel de Paris, and Cathédrale de Monaco, all of which date back to the late 19th-century. Le Palais des Princes de Monaco is a 12th-century palace that serves as the Prince of Monaco's official residence. Its lavish staterooms are open to the public during the summer. The palace courtyard hosts open-air concerts by the Monte-Carlo Philharmonic Orchestra.
Cap-Martin
Walk along the promenade to Monaco and Menton
The picturesque Cap-Martin peninsula overlooks France's Monaco and Menton, as well as the Italian Riviera. Located southeast of Roquebrune-Cap-Martin, it's accessible via Promenade Le Corbusier. This pedestrian footway stretches 7 km along the coastline, alongside secluded beaches, Belle Époque villas, and gardens dating back to the late 19th century.
The walk will lead you to Monaco if you head west, and Menton to the east. Northeast of Cap-Martin is where you'll find plenty of resorts, restaurants, and bars. There's also the Gare de Carnolès station, where trains run between Italy and Nice regularly.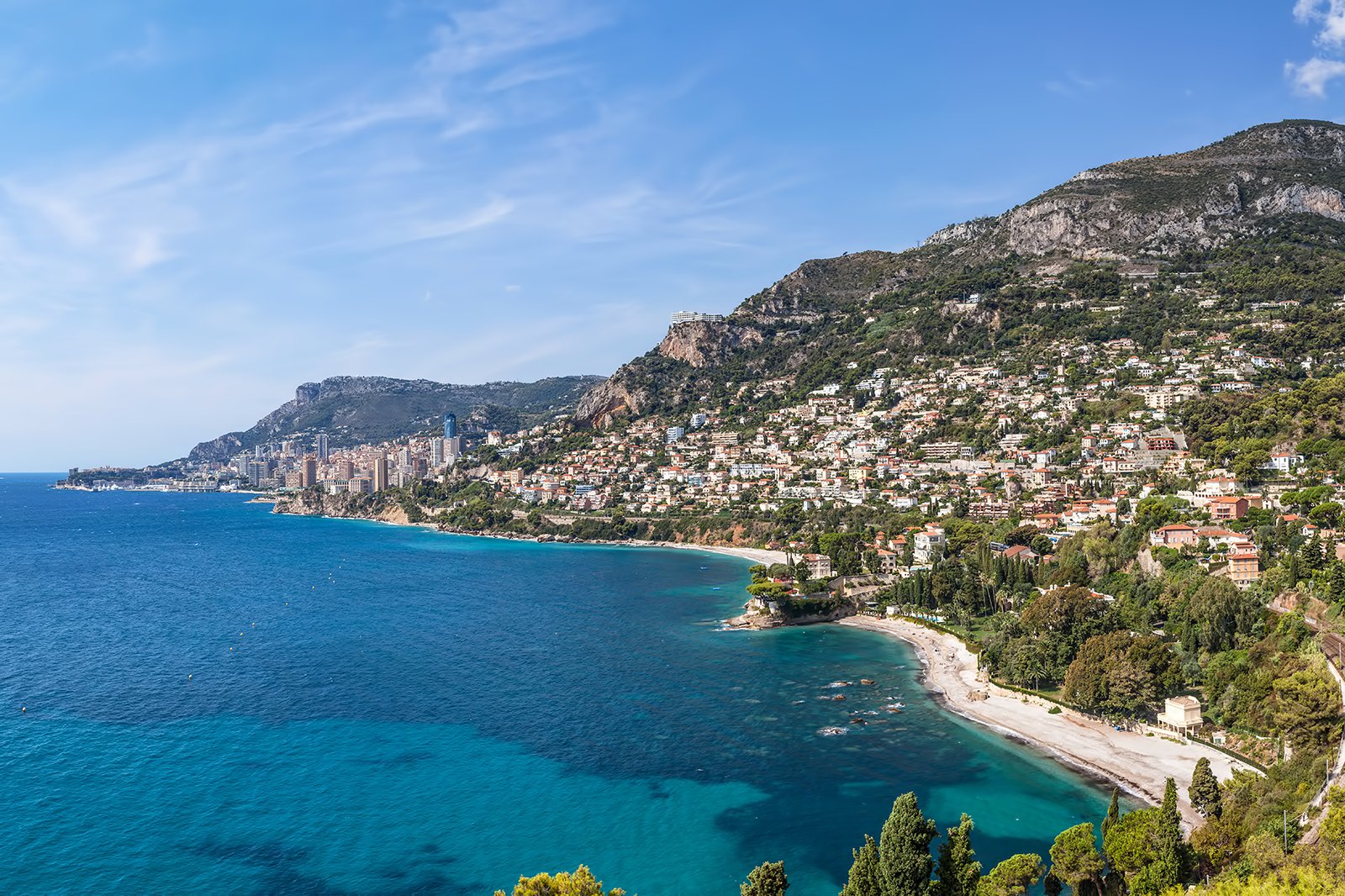 Roquebrune-Cap-Martin
A hilltop village housing one of France's oldest keeps
Roquebrune-Cap-Martin, located between Monaco and Menton, has a hilltop village overlooking the French Riviera coastline. Explore the narrow streets on foot to find restored Provençal houses, small squares with lush gardens, and stone archways. Historical structures include the 12th-century Church of Sainte-Marguerite and Château de Roquebrune-Cap-Martin. This fortified castle spans 26 meters in height and is one of the oldest keeps in France.
The medieval village of Roquebrune is connected to the Cap-Martin peninsula via Promenade Le Corbusier, a 7-km-long coastal walkway that passes by luxurious villas and lush gardens.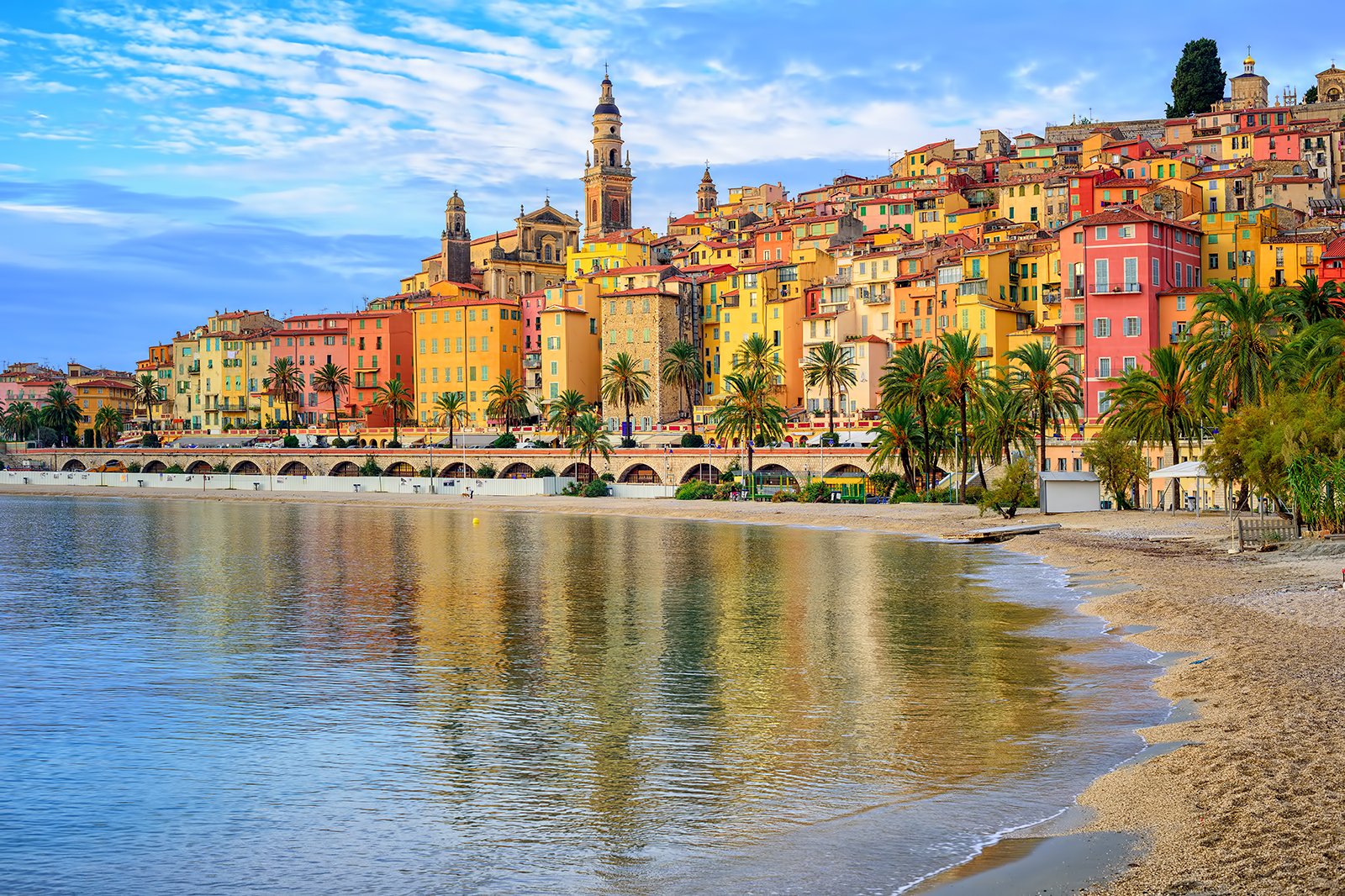 Menton
Home to notable art galleries and gardens
Menton is a sleepy town on the French Riviera with a climate that's among the warmest of any city in France. You can explore pristine gardens such as Serre de la Madone, Parc du Pian, and the Val Rahmeh-Menton Botanical Gardens. East of Menton lies its medieval old town, where the must-sees include the 17th-century Basilique Saint-Michel and Chapelle des Pénitents Blancs.
If you're an art fan, check out the Bastion Museum and the Jean Cocteau Museum. If food's more your thing, savor Menton's regional dishes such as socca (chickpea flatbread), barbajuan (fritter stuffed with Swiss chard and ricotta), and pichade Mentonnaise (a kind of cheese-free pizza).