10 Best Nightlife Experiences in London
Where to Go and What to Do at Night in London
As the UK's capital, it's no surprise that London has every kind of nightspot you can imagine. Energetic late-night partygoers will find an abundance of clubs, while gig lovers will be treated to an array of concerts and live music venues. If you feel like a refined evening out, there's plenty of snazzy cocktail bars too.
Many of the best spots in London don't need the sun for you to have fun, so nighttime may be among the best times to explore what London has to offer, whether you're interested in pubs, theatres or pretty much anything else. Here are some of the best nightlife experiences in London you can enjoy once the sun goes down.
1
British pub crawls
Visit London's top pubs in a single night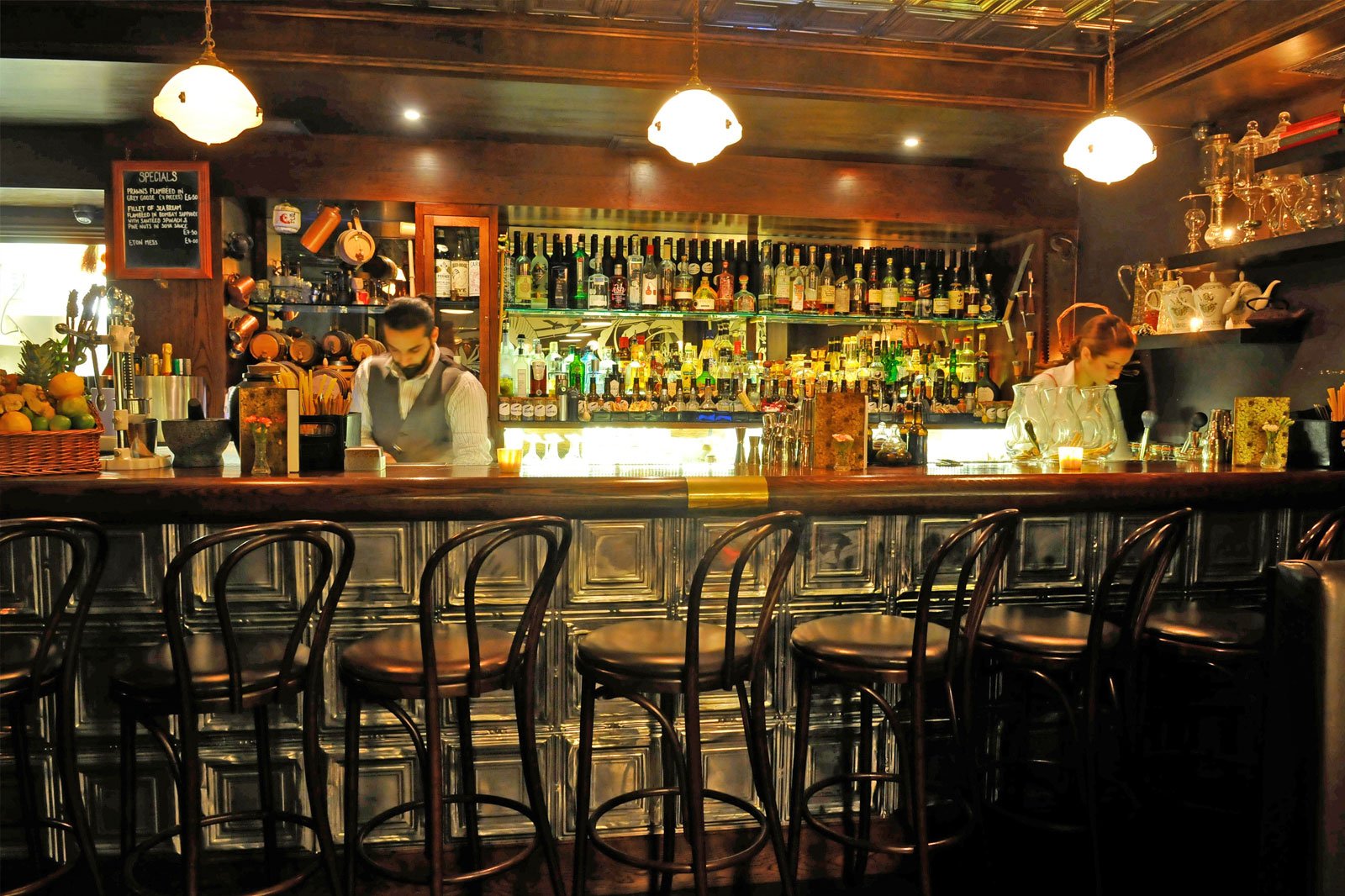 British pub crawls are among the most popular ways to spend the evening in London. Given that there's a pub practically on every street corner in town, you won't have to go far to visit some of the best establishments. One of the best options, however, is the Circle Line Pub Crawl in Victoria.
There are 27 stops in total, so no one will judge you for not making it through the entire night, but the pubs you visit are some of the best around. This crawl is particularly famous as it covers the area Karl Marx once got so drunk, he started hurling slabs of the sidewalk at streetlamps.
Location: 99 Buckingham Palace Road, London SW1W 0RP, UK
Phone: +44 (0)20 7828 4913
2
Get scared on a ghost tour
Explore the dark side of London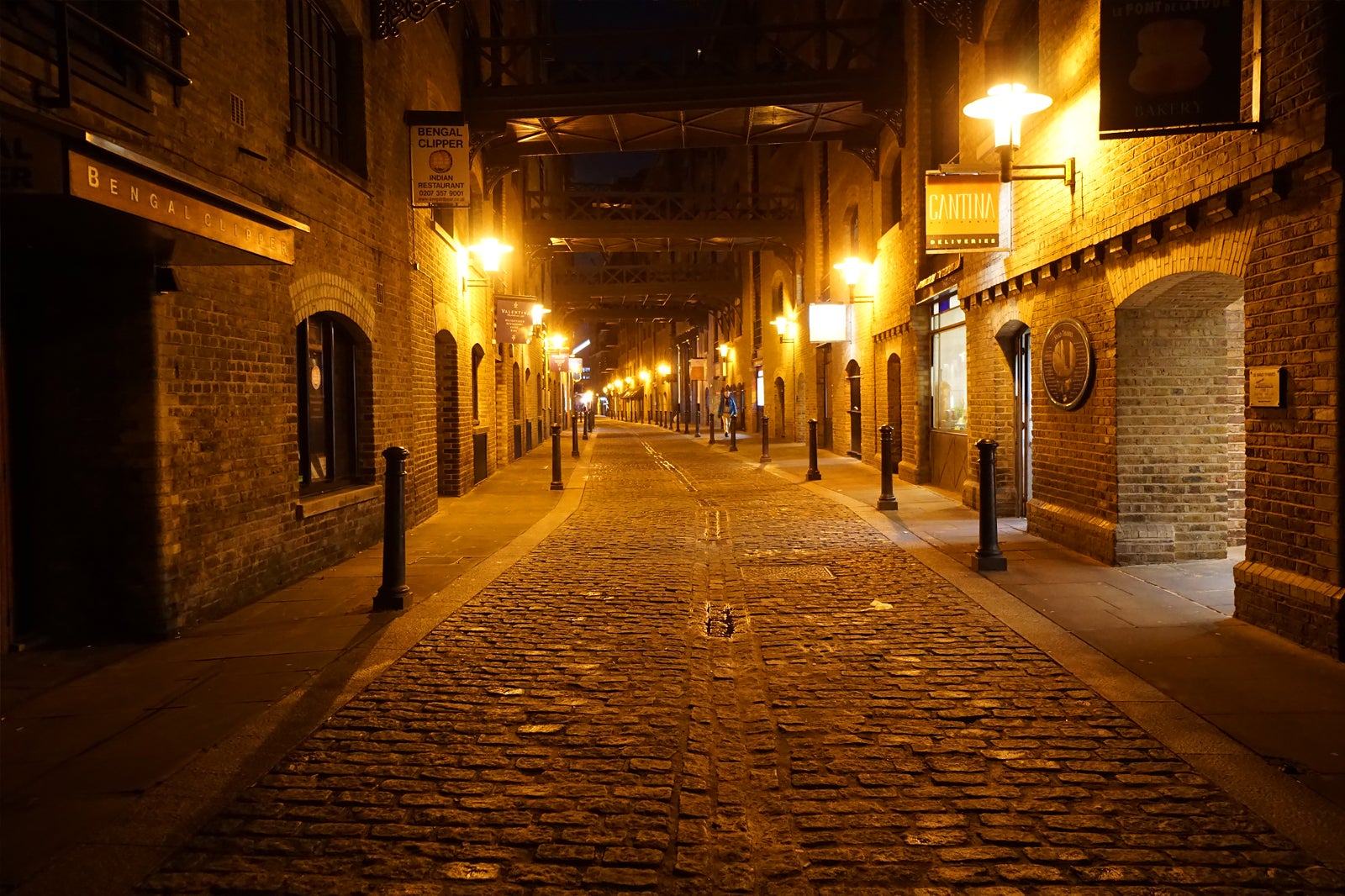 London has a long and rich history, and not all of it is pretty. In fact, the city is known to be one of Europe's spookiest places to explore at night, provided you know where to go. Fortunately, there are all sorts of ghost tours available that can offer thrilling frights and valuable insight into the city's history.
London Ghost Walks offer several ghost tours in which Richard Jones, the master of the macabre, will take you through the spookiest spots in town. He literally wrote the book on London hauntings, so you know you're in good hands.
Phone: +44 (0)20 8530 8443
3
Watch a London comedy show
Enjoy good old British humor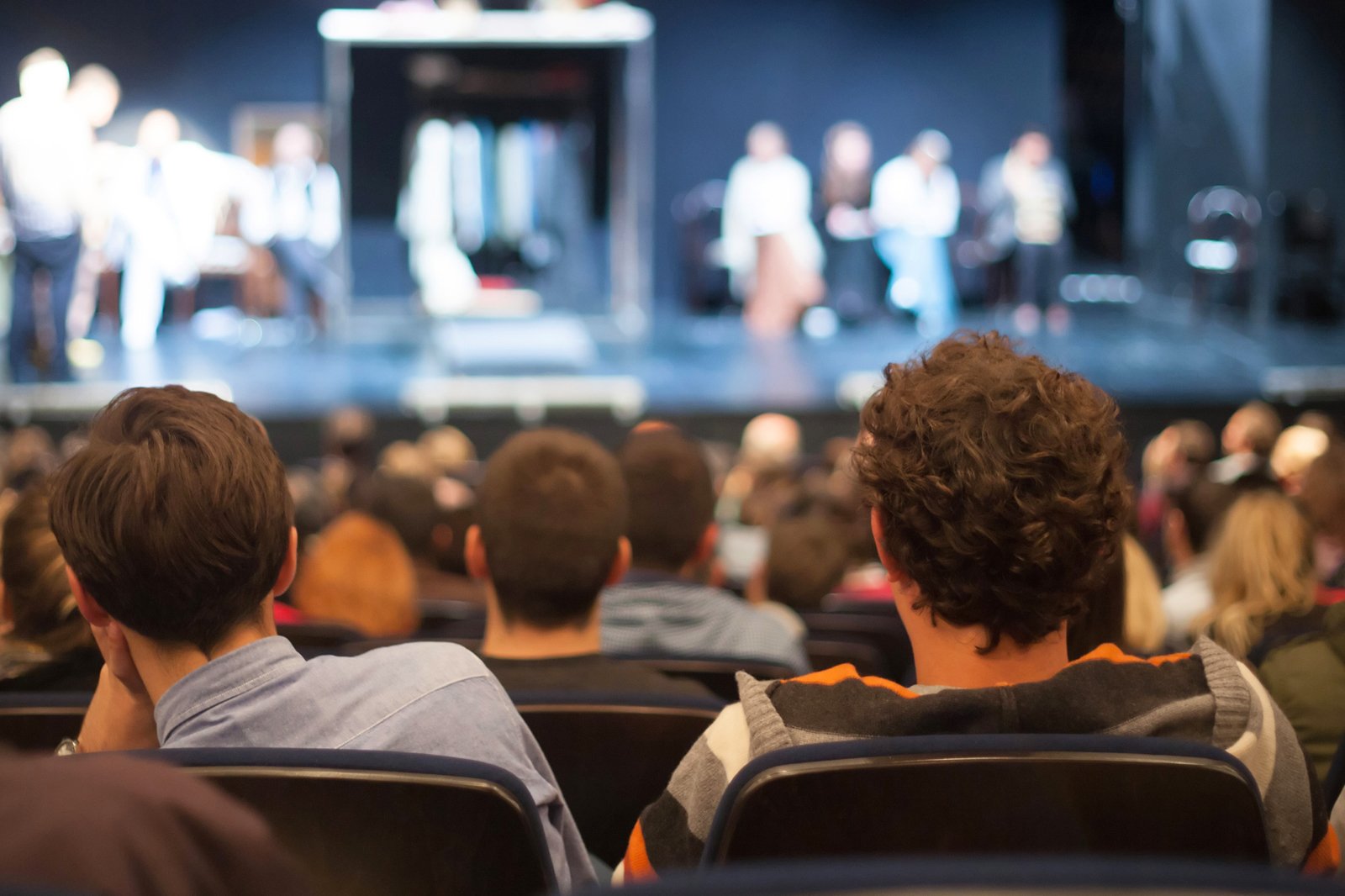 Various comedy shows take place virtually every night in London. There are dozens of comedy clubs and theatres around town that host talented comedians giving side-splitting performances. There are so many venues available that it's fairly easy to customize your experience as you see fit, whether you're looking for a more intimate gathering or something with a larger crowd.
Among the best options in London is The Comedy Store, operating since 1979. A staple of the London comedy scene, it hosts around 6 to 7 performances a week, including standup and improv.
Phone: +44 (0)20 7024 2060
4
West End theatres
Enjoy an immersive musical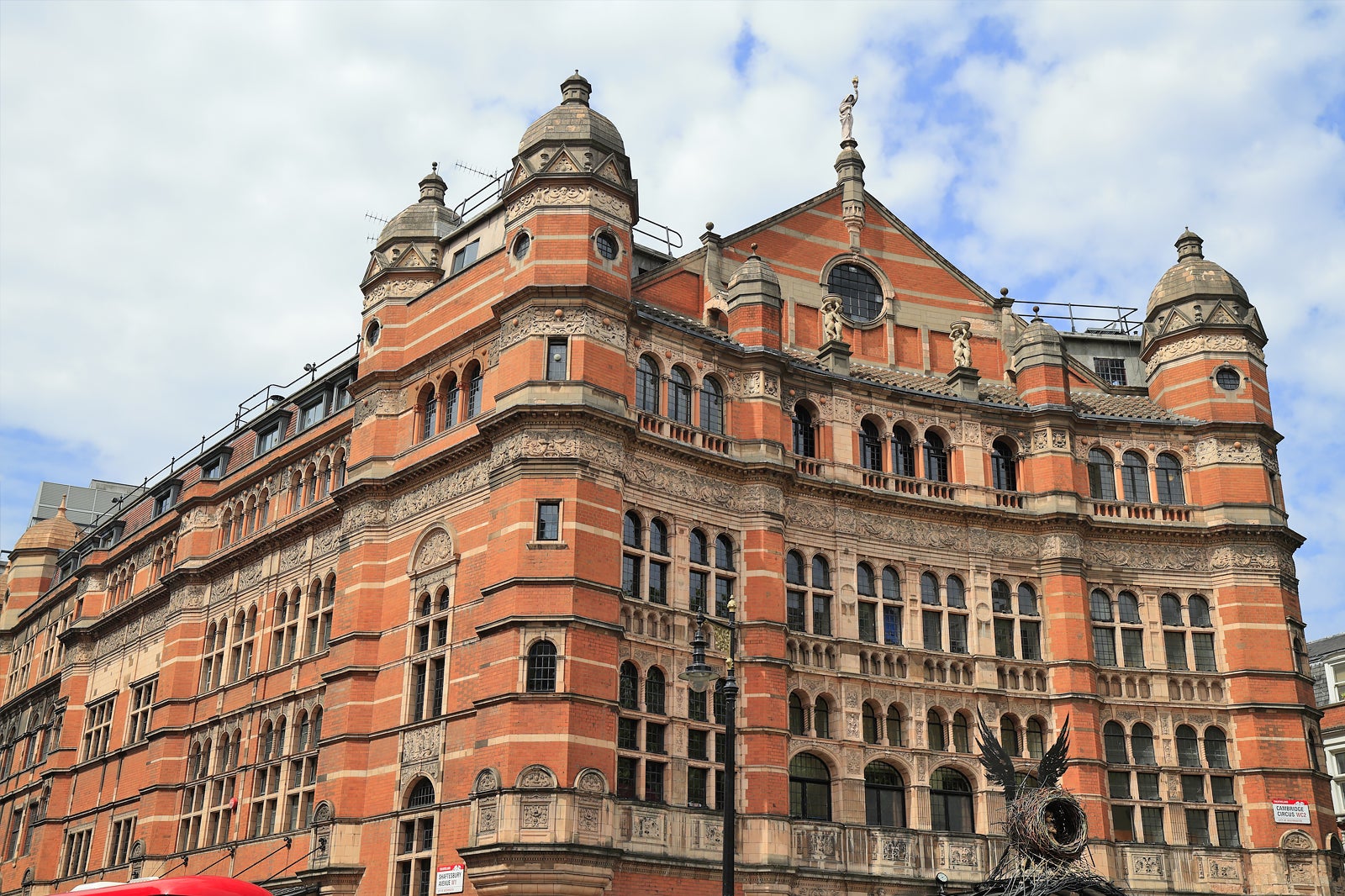 West End theatres are among the most iconic staples of London culture. Similar to Broadway theatres in New York City, West End theatres represent the best of the commercial theatre productions in the UK. You'll find large and small theatres alike offering plays and musicals.
Given the quality of the performances, you can expect an immersive musical experience that will evoke emotions as no other performance can. Among the most famous venues is the Palace Theatre, an opera house that dates back to 1891.
Location: Shaftesbury Avenue, London W1, UK
5
Visit a museum at night
Plan an evening of museum-hopping in London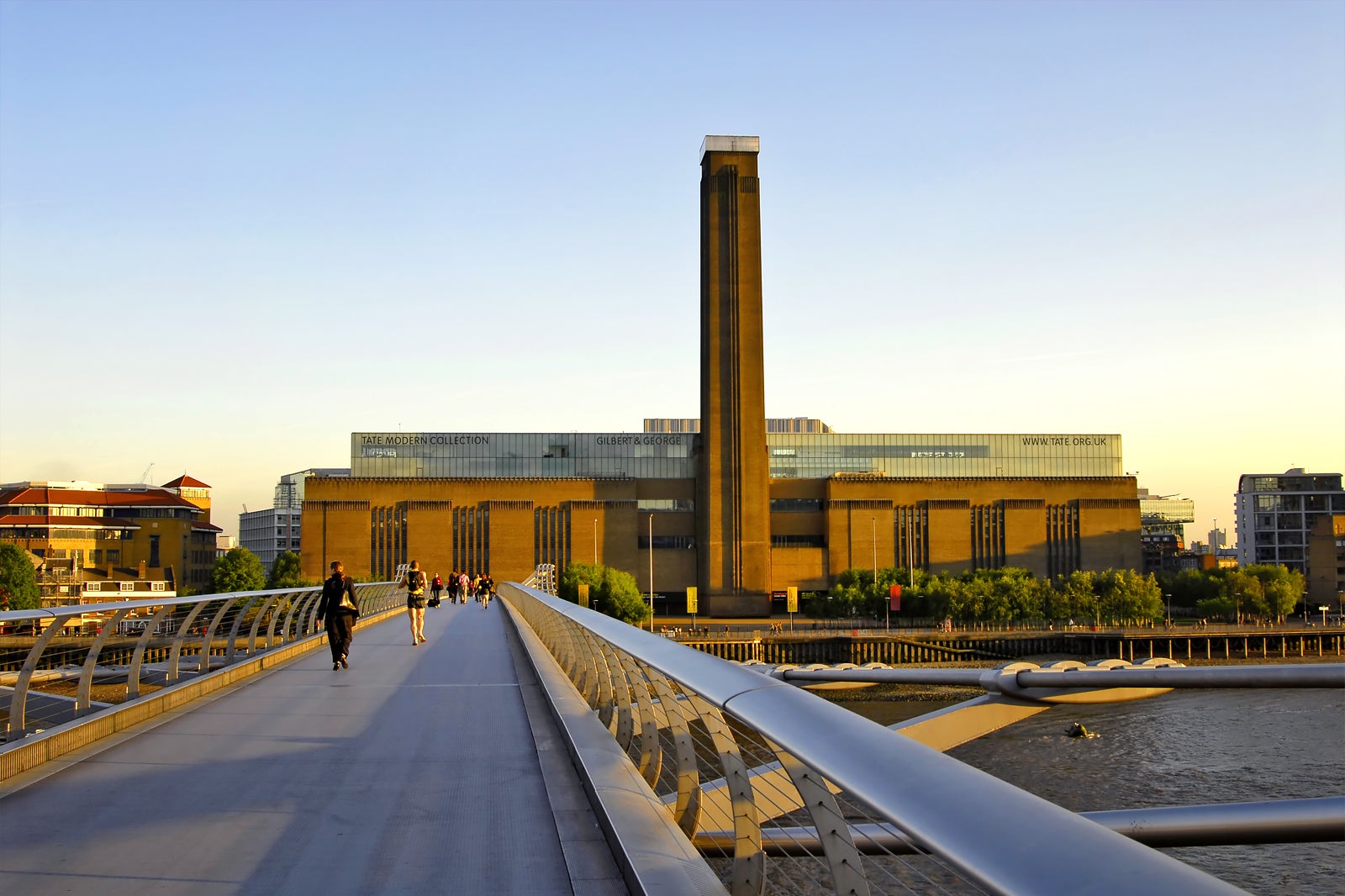 Most people see museums as a daytime experience, but several establishments open late in London. Friday nights are especially popular for museums to operate past sundown, including Tate Modern and the V&A. In fact, it's somewhat common for art museums and galleries. The Science Museum in South Kensington opens until 10 pm on the last Wednesday of every month, letting you explore this massive scientific playground after normal hours.
6
Join an open-top bus tour of London
See the city at night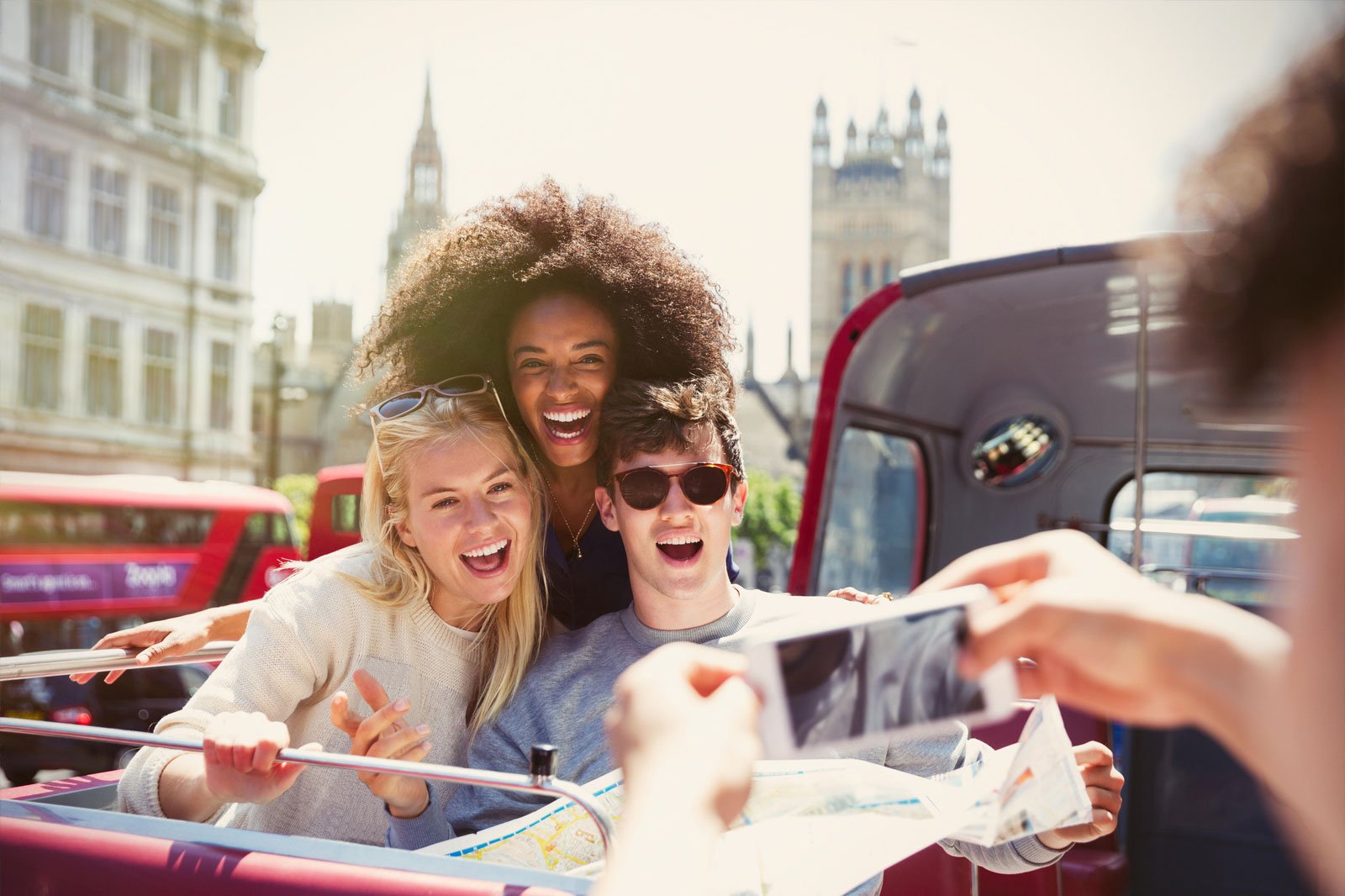 London lights up at night – both literally and figuratively – and there are few ways to experience it quite like an open-top bus tour. London by Night is among the most popular options, thanks to its convenience and comfort. Its itinerary shows off some of the best that London has to offer.
During the tour, you'll be able to see landmarks like the Tower of London and Buckingham Palace brightly shining against the night sky. There's also a guide who will describe what you're seeing throughout the tour, allowing you to learn the most important facts about the city as it comes alive after dark.
Location: 4 Fountain Square, 123-151 Buckingham Palace Road, London SW1W 9SH, UK
Open: Daily from 6.45 pm to 8.45 pm
7
Catch a film screening
A family-friendly activity in London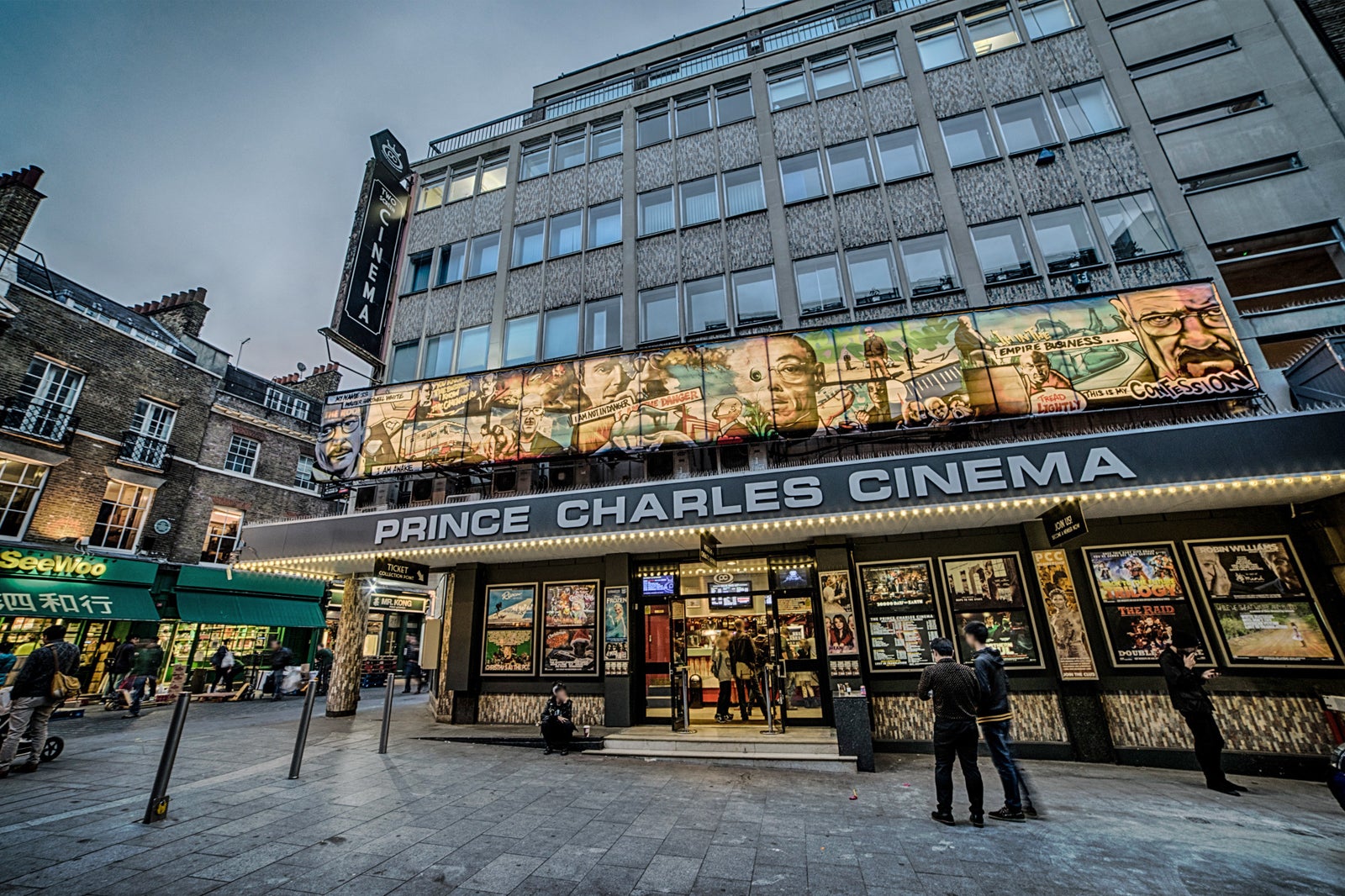 Watching a film is an excellent way to spend a night in London, especially with kids in tow. Not only will you find the latest releases in a lot of local movie theaters, but cult classics are often played as well. At some establishments, such as Prince Charles Movie theater, you can even take part in 'Sing A Long' screenings in which you're encouraged to sing along with some classic musicals.
The movie theater also has some of the best offerings in town, showing everything from Disney musicals to remastered classics like Blade Runner and 2001: A Space Odyssey. Studio Ghibli animated films are also commonly shown here, along with the entire catalog of James Bond films dating back decades.
Location: 7 Leicester Place, London WC2H 7BY, UK
Open: Daily from 12 pm to 1 am
Phone: +44 (0)20 7437 7003
photo by Robert Dimov (CC BY-SA 3.0) modified
8
Hippodrome Casino
Try your luck at the casino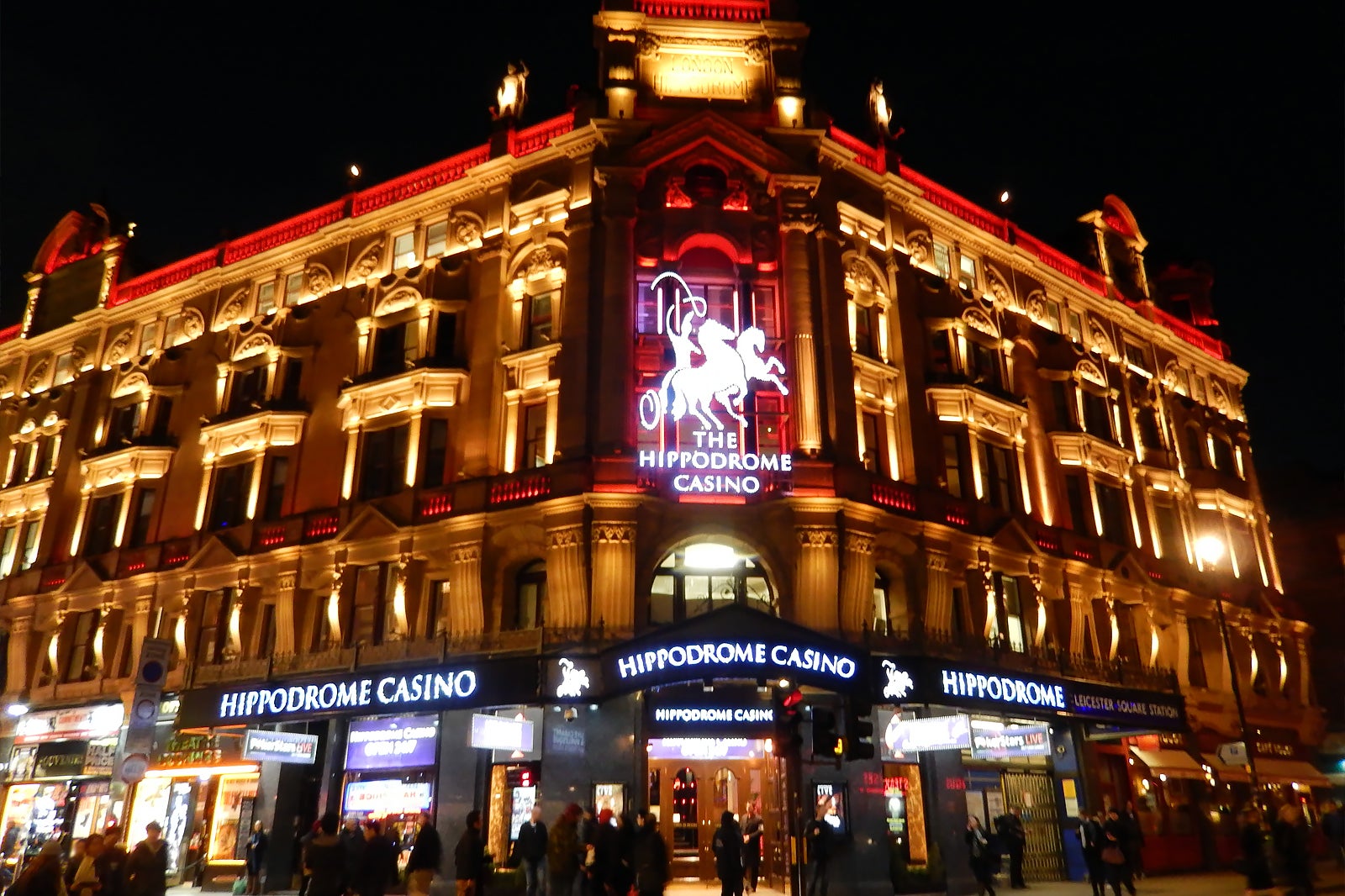 Hippodrome Casino is the largest and most popular casino in the UK. You don't need a membership, and you're welcome at any time, making it one of the best spots for night owls in London. There's quite a bit on offer within, including 3 floors of gambling, a cabaret theatre, a steakhouse, and 6 bars.
It abides by international Vegas-style regulations and features NFL games showcasing a bit of American influence. Given the popularity of this casino, it's not uncommon to see big-name performances here either – Prince played his final UK show here in 2014.
Location: Cranbourn Street, Leicester Square, London WC2H 7JH, UK
Open: 24/7
Phone: +44 (0)20 7769 8888
photo by Bohao Zhao (CC BY 3.0) modified
9
Soho Theatre
Get risque with a cabaret performance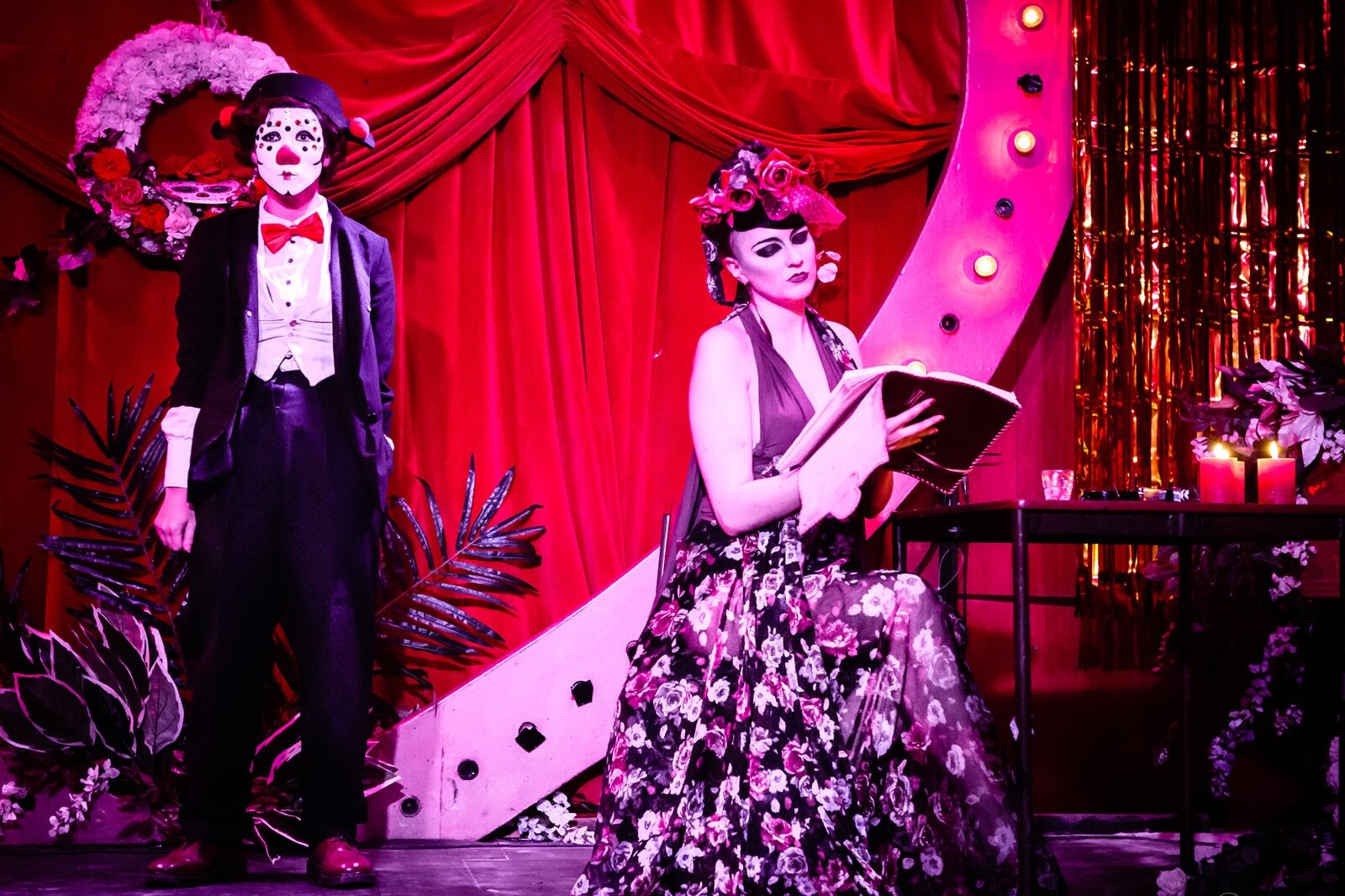 Cabaret is a unique form of theatre that's incredibly popular throughout London at night. While there are plenty of places where you can see these incredible shows, nothing has offerings quite like the famous Soho Theatre. It's known for its vibrancy and proclivity for modern styles of theatre, so you may see something that isn't shown anywhere else in the world.
While Soho Theatre's program lineup expands beyond cabaret with comedy and traditional theatre performances, its cabaret offerings are what made it such a prominent spot in London's nightlife and cultural scene.
Location: 21 Dean Street Soho, London W1D 3NE, UK
Open: Monday–Thursday from 9 am to 11.30 pm, Friday from 9 am to midnight, Saturday from 10 am to midnight
Phone: +44 (0)20 7478 0100
photo by Martin SoulStealer (CC BY 2.0) modified
10
Mercato Metropolitano
Enjoy a late-night meal at this market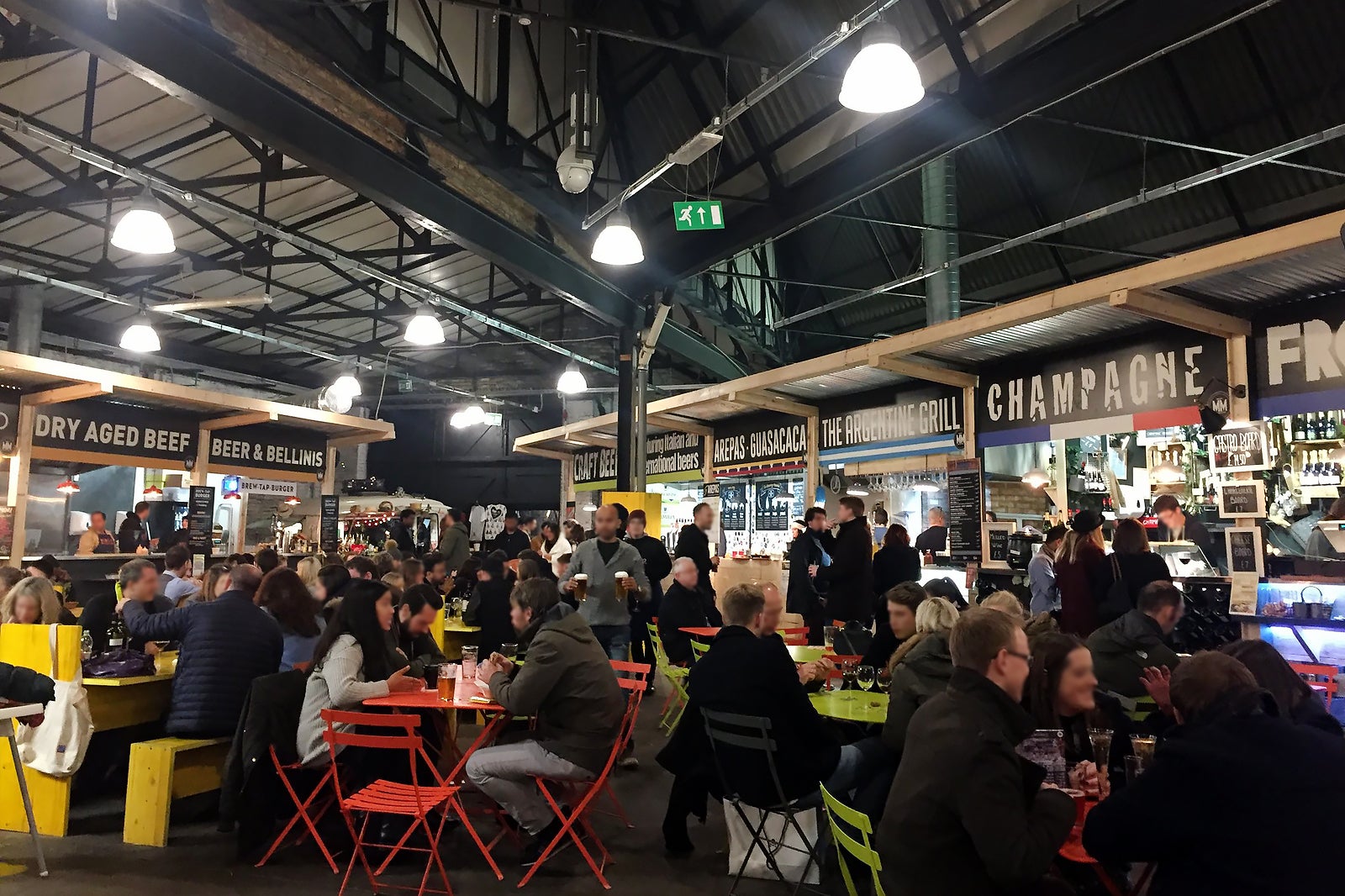 Mercato Metropolitano is a sustainable market excellent for foodies who can't get enough of fresh ingredients, delicious eats and craft brews. More than 40 food and beverage businesses have a place here, but that's just the beginning. You'll also find a communal kitchen and even a movie theater experience, so there's much more than solely food on offer.
The market was created to help revitalize London's neighborhoods and protect the environment, so you can take comfort in knowing that doing business there will help make the surrounding area a better place.
Location: 42 Newington Causeway, London SE1 6DR, UK
Open: Monday–Wednesday from 9 am to 9 pm Thursday: 9 am – 11 pm Friday: 9 am – 11 pm Saturday: 9 am – 11 pm Sunday: 11 am – 8 pm
Phone: +44 (0)20 7403 0930
photo by Bex Walton (CC BY 2.0) modified
Why book with Hotels.com?