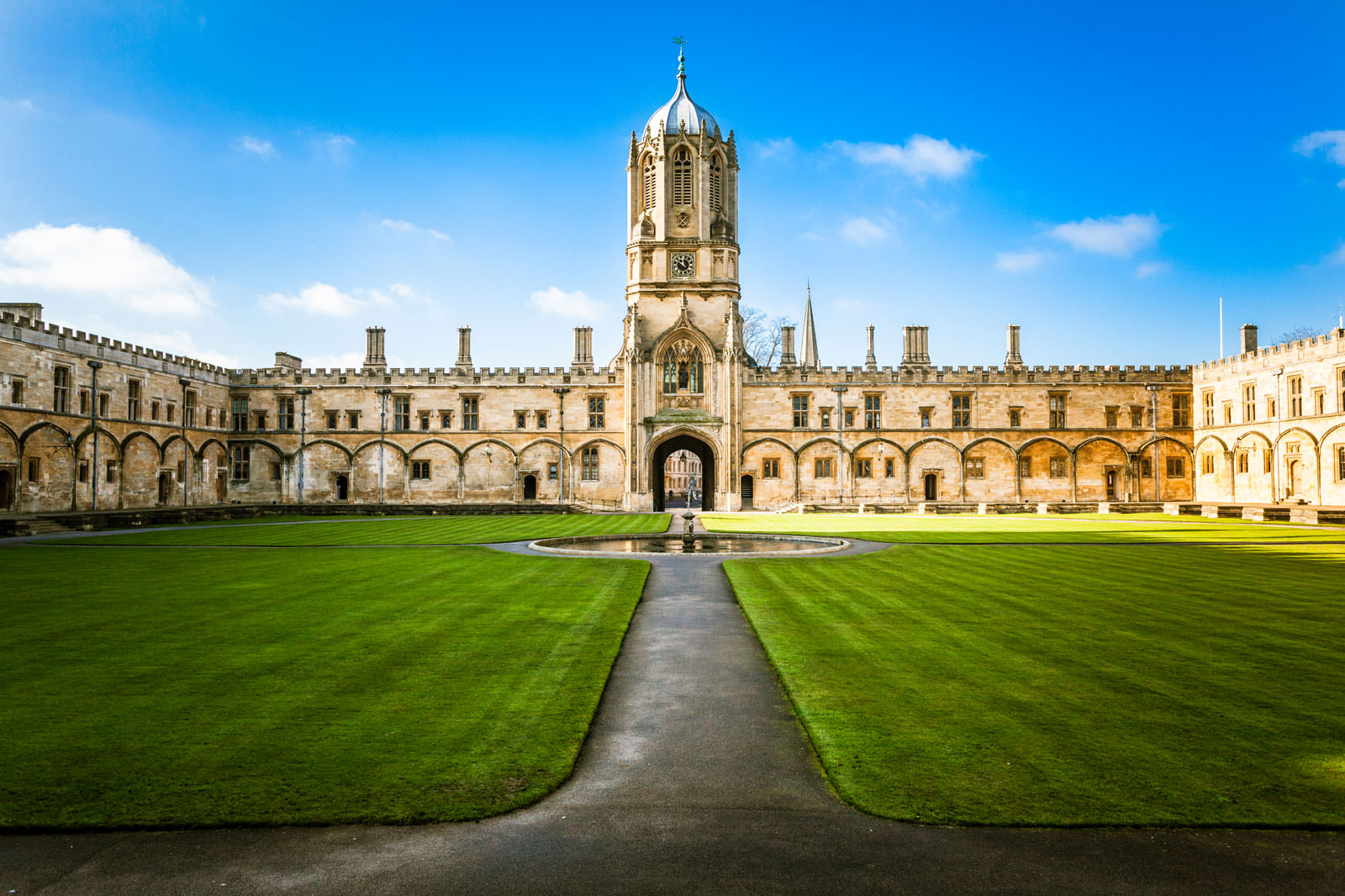 10 Best Things to Do in Oxford
What is Oxford Most Famous For?
Oxford is among England's most famous cities, with its ancient university, beautiful buildings and iconic "Dreaming Spires". It's renowned for the friendly and lively atmosphere which pervades every nook and alley of the pedestrianized city center. The parks and surrounding countryside have inspired many great writers, not least of which is Lewis Carroll – creator of Alice's Adventures in Wonderland.
Exploring the historical wonderland of Oxford is extremely easy as it's quite a compact, cycle-friendly place. Even in a relatively small space, there's a lot to see and do, from punting along the winding waterways to shopping in centuries-old markets. It's a place of immense history and culture, all waiting to be discovered.
What are the best things to do in Oxford?
1
University of Oxford
Check out the iconic historical buildings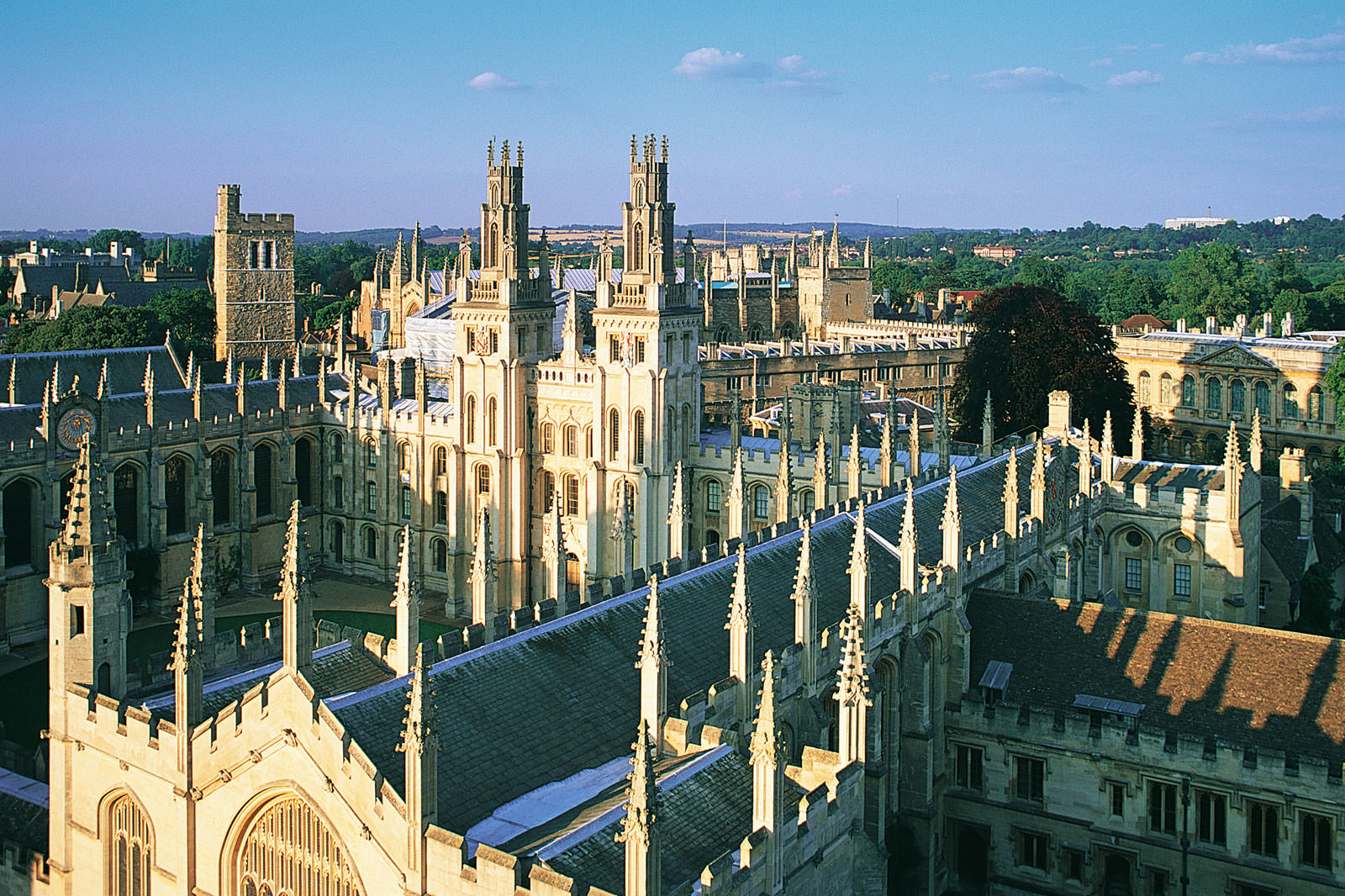 One of the world's oldest universities, the University of Oxford dominates about a quarter of the city. It's made up of 38 colleges, attended by over 22,000 students. Many of the grand old buildings are attractions in their own right and give Oxford its nickname of 'the City of Dreaming Spires'. Standouts among the many include the Sheldonian Theatre and the Radcliffe Camera. Don't forget to take a walk around the university's botanic gardens and, if you're a Harry Potter fan, be sure to visit the Bodleian Library, which starred in three of the movies. Stay near the University of Oxford if this sounds like something you'd like to do during your visit.
Location: Oxford OX1 2JD, UK
Phone: +44 (0)1865 270000
2
Take a punt
It's especially romantic at sunset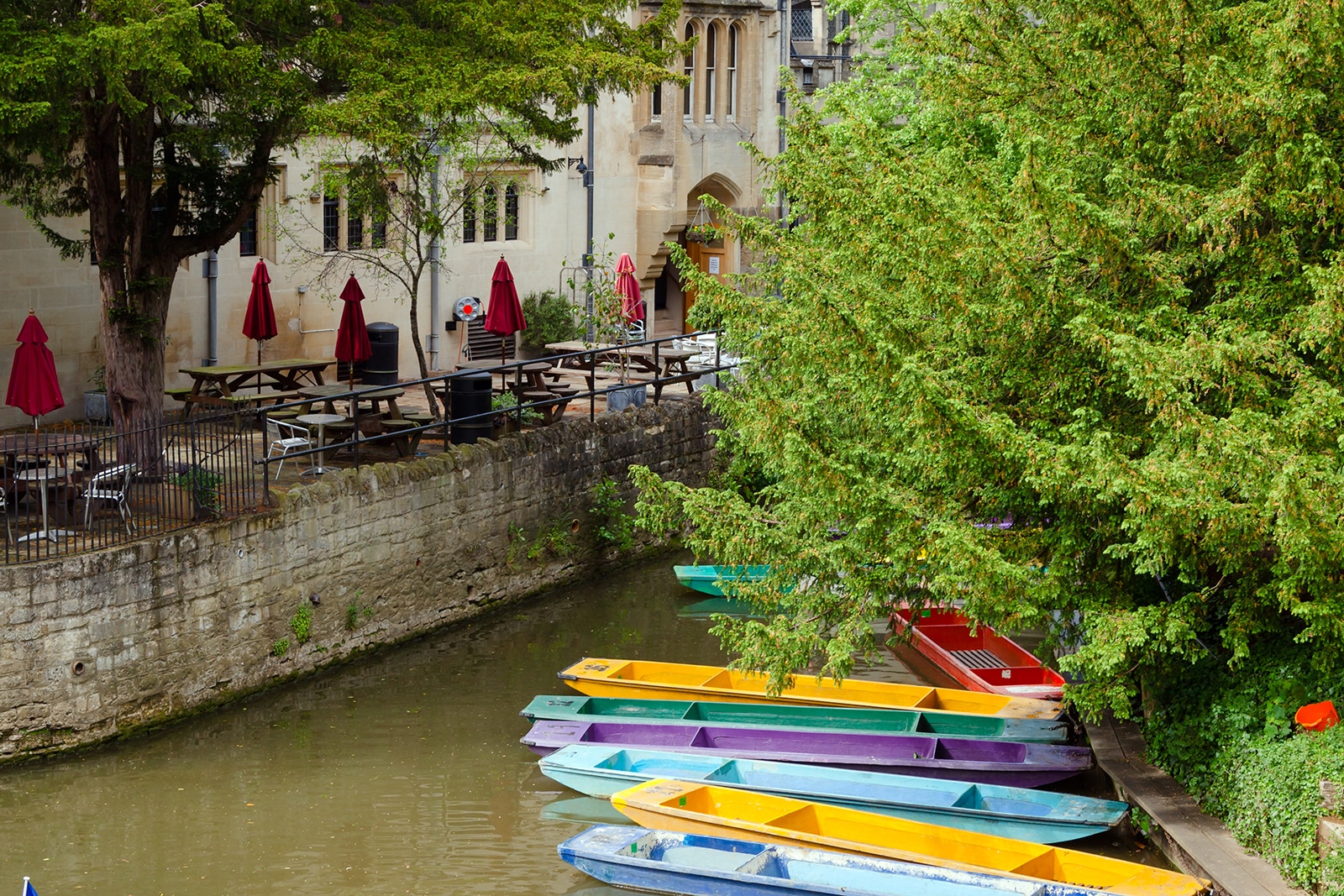 There is perhaps no more iconic sight in Oxford than a punt. It's a flat-bottomed boat which is basically the English version of the Italian gondola, but propelled with a long pole instead of an oar. You can find them available for rent by the Magdalen Bridge, at the eastern end of High Street. You can either rental a punter to do the hard work for you, or get a quick crash course and try it yourself. Head out onto the River Cherwell and you get some unique views of many of the university buildings and grounds, as well as several of the city's beautiful meadows and parks.
Location: Magdalen Bridge, Oxford OX1 4AU, UK
Open: Daily from 9.30 am to 9 pm
3
Oxford Castle
From the Saxon tower to the 900-year-old crypt
Oxford Castle has had a very lively history and parts of it are still in use today, though others were ruined by the English Civil War. St George's Tower stands firm as one of the oldest structure in the city and still provides excellent views across the city center. The crypt is a similar age and has a ghostly beauty to it. Several parts of the castle were formerly a prison, but have been redeveloped as a hotel. The whole area is something of a hodgepodge of English history and a guided tour of some of the remarkable events of the last 1,000 years is highly recommended.
Location: New Road, Oxford, UK
Open: Daily from 10 am to 5.30 pm
4
Gloucester Green Town Square
Check out the weekly markets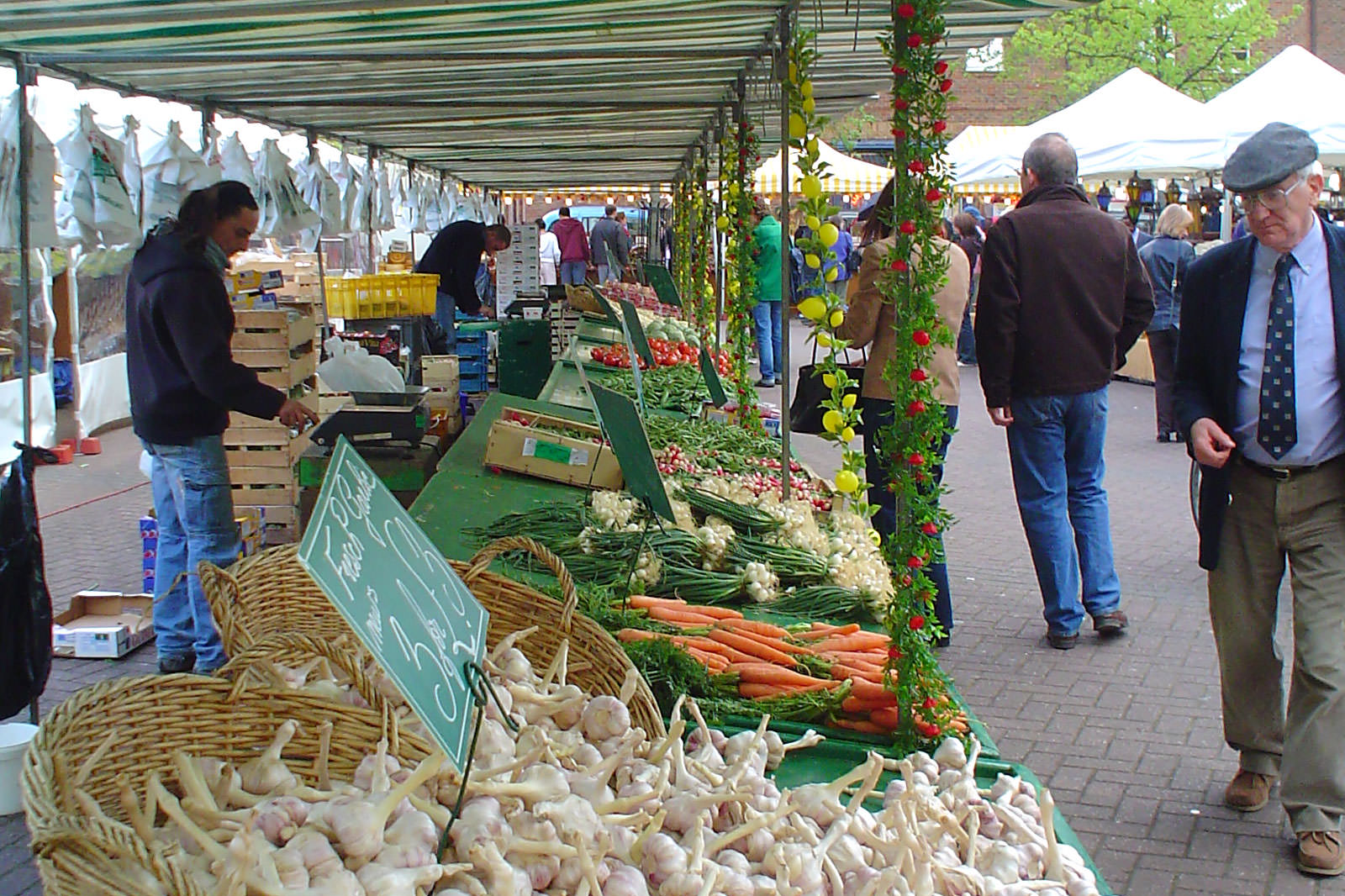 Conveniently close to the long-distance bus station, Gloucester Green Town Square is a good introduction to Oxford's famously pedestrian-friendly city center. The tree-lined paved area is surrounded by an interesting selection of attractions, including a few of cafés, pubs and restaurants, an old fire station turned cultural center, and a movie theater. Come on a Wednesday, Thursday or Saturday for the Gloucester Green market.
Location: Gloucester Green, Oxford OX1 2DF, UK
photo by Adam Hopkinson (CC BY-SA 2.0) modified
5
Ashmolean Museum
See Guy Fawkes' lantern and Michelangelo's sketches
The Ashmolean Museum is among the oldest museums in the world, having first opened its doors in about 1682. It started when antiques collector Elias Ashmole gave his collection to the University of Oxford and it snowballed into multiple galleries and departments. Like London's British Museum, the Ashmolean Museum is free and covers quite an eclectic range of subjects, including antiquities from across ancient Europe, Africa and the Near East, as well as classical artworks from around the globe and an impressive coin collection. You can stay closeby to the Ashmolean Museum, which is also a stone's throw away from Oxford Station.
Location: Beaumont Street, Oxford OX1 2PH, UK
Open: Tuesday – Sunday from 10 am to 5 pm (Closed on Mondays)
Phone: +44 (0)1865 278000
photo by Remi Mathis (CC BY-SA 3.0) modified
6
Port Meadow
Escape to the country, within a short walk of the city center
Port Meadow is a 30-hectare piece of wild English countryside barely outside Oxford city center. Expect to see wild horses, a wide array of birds and plenty of locals enjoying a picnic there on a sunny day. If you haven't already stocked up on picnic snacks at The Covered Market, you can pick your own fruits at Medley Manor Farm, during the summer months. Alternately, take your pick of the cozy country pubs which surround the park.
Location: Walton Well Road, Oxford OX2 6ED, UK
7
New Theatre Oxford
Enjoy big-name performances in an Oxford institution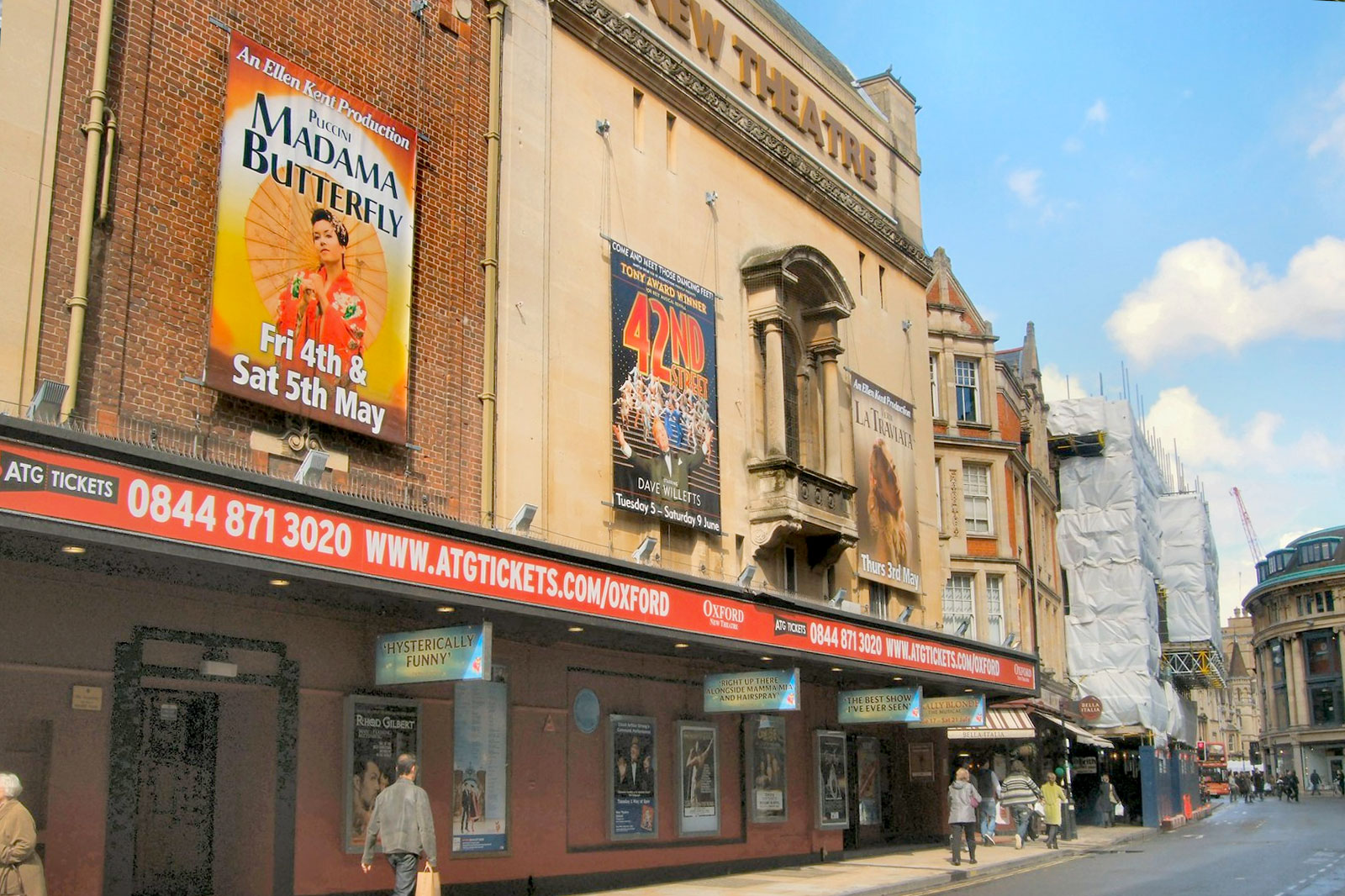 As you might expect of a town with centuries of culture behind it, Oxford has quite a busy theatre scene. Some venues specialize in contemporary drama and even student shows, for those seeking something a little different. However, the New Theatre is the main attraction. Formerly the Oxford Apollo, it has a packed schedule of major productions throughout the year, including drama, comedy, ballet, opera and concerts. Tickets start at around £15, but it's money well spent for a splendid evening. Many popular hotels are situated near the New Theatre Oxford, too.
Location: George Street, Oxford OX1 2AG, UK
Open: Box Office open Monday – Saturday from 10 am to 5 pm, Sundays from about 2 hours before show time
Phone: +44 (0)844 871 3020
photo by Paul Gillett (CC BY-SA 2.0) modified
8
Oxford's pub scene
See if you can beat the record for downing a yard of ale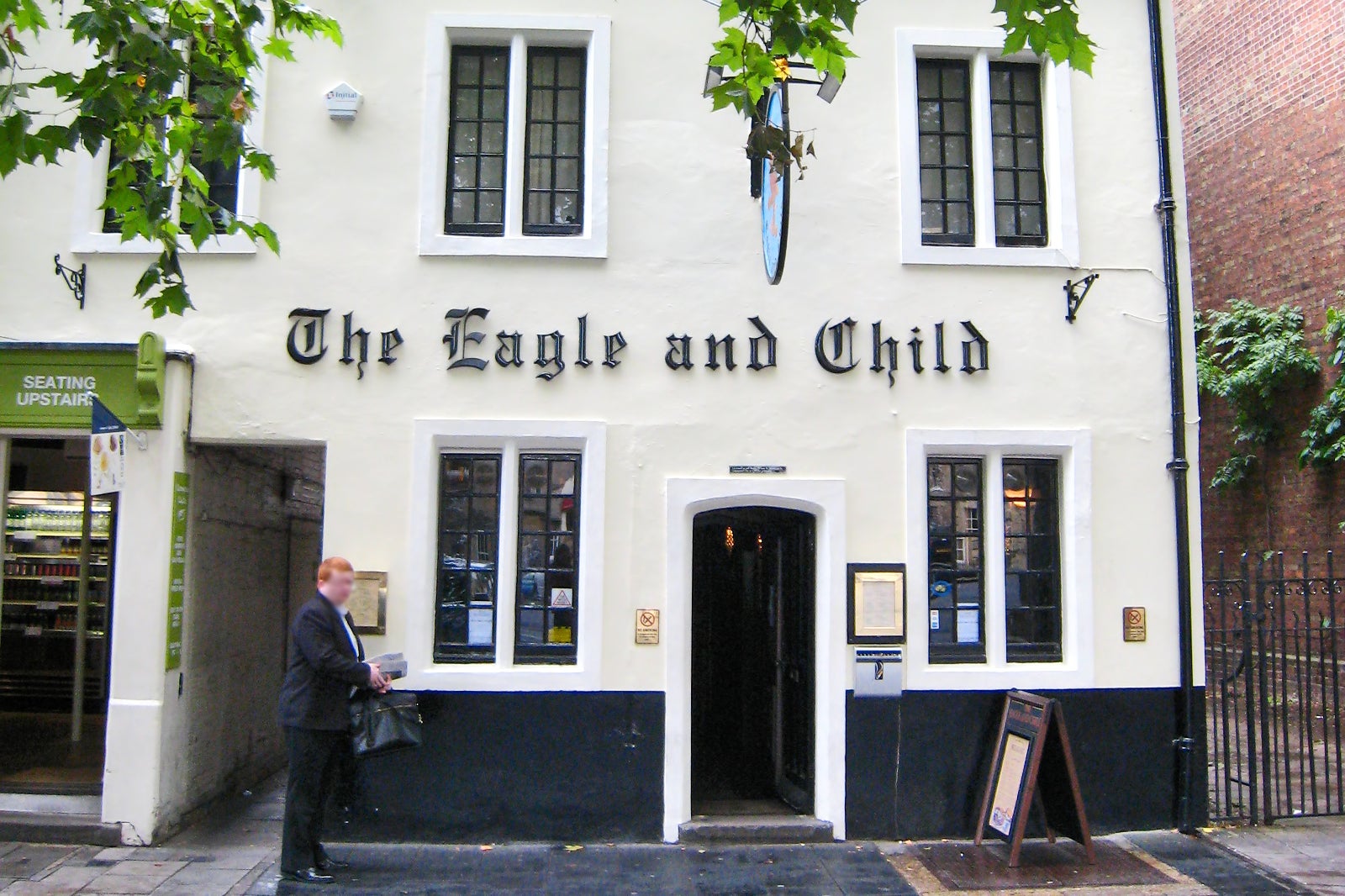 Oxford has quite a mixed pub scene, with landlords and owners often clearly distinguishing between "town and gown" (catering either to locals or students, but rarely both). However, there are some standout venues, chief among them being rather disturbingly named Eagle and Child. It was said to be a favorite boozer of literary giants CS Lewis and JRR Tolkien. If you're looking for a wilder time, The Turf Tavern is said to be where former Australian Prime Minister Bob Hawke downed a yard of ale in a record-breaking 11 seconds, and where former US President Bill Clinton smoked marijuana, but "did not inhale".
Location: The Eagle and Child, 49 St. Giles', Oxford OX1 3LU, UK
Open: Daily from 11 am to 11 pm
Phone: +44 (0)1865 302925
photo by manray3 (CC BY-SA 2.0) modified
9
The Covered Market Oxford
Take a bite of an Oxford sausage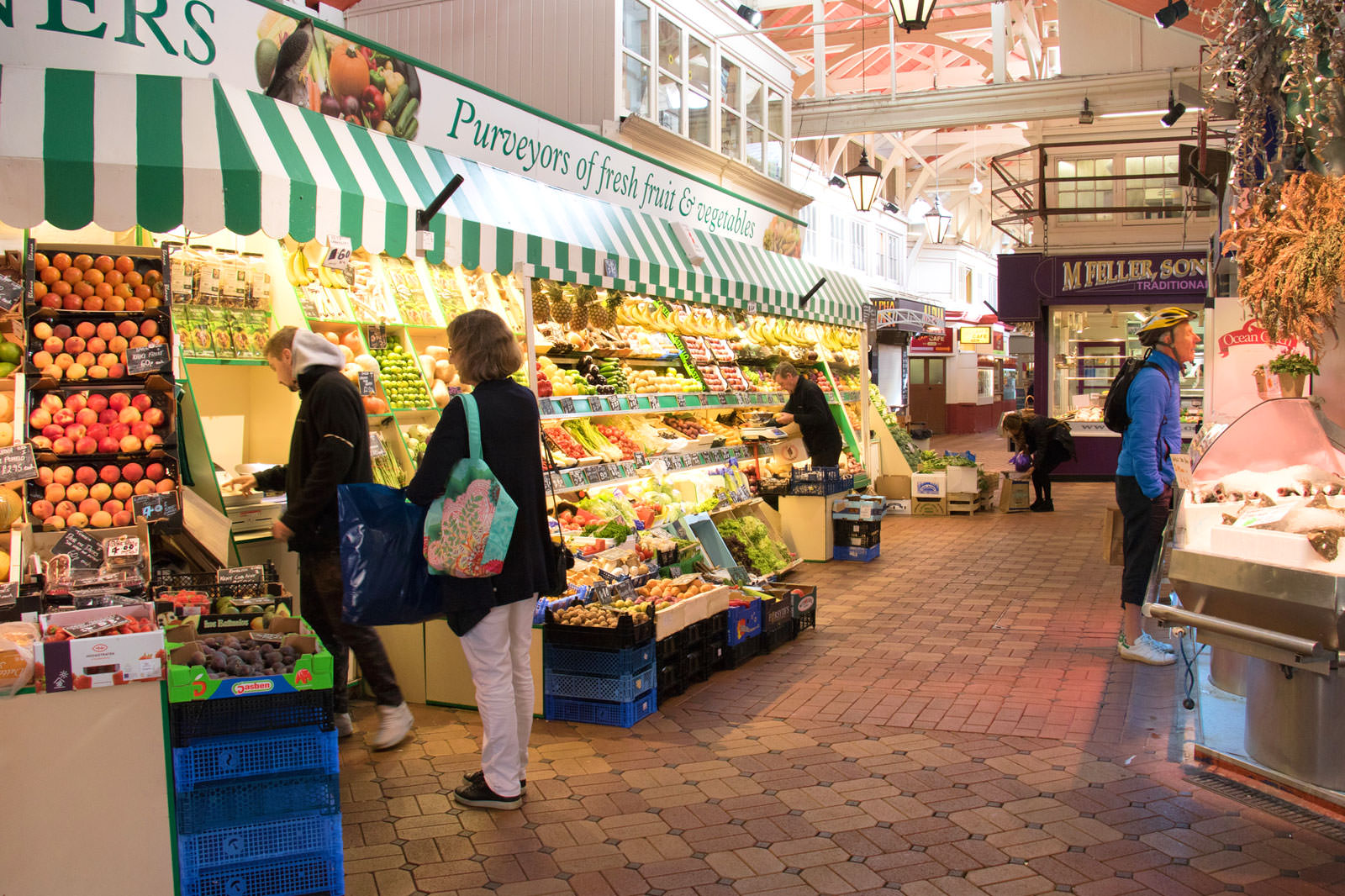 The Covered Market has been right at the heart of Oxford's shopping scene since 1774, and is located between High Street, Market Street and Cornmarket Street – each also renowned for their shops. Nowadays, the grand old structure houses over 40 stalls. It's a great place to find gifts, souvenirs, fashion and food.
Look out for local butchers selling Oxford sausages, with their distinctive spicy kick. The market's narrow halls get particularly packed on Saturday afternoons, so go early or pick another day for a more enjoyable experience.
Location: Market Street, Oxford OX1 3DZ, UK
Open: Monday–Saturday from 8 am to 5 pm, Sunday from 10 am to 4 pm
10
Oxford University Museum of Natural History
Families
History
Photo
Budget
With spectacular Neo-Gothic architecture, featuring high arched ceilings and intricate carved stone, the Oxford University Museum of Natural History is an impressive free museum with a rich history. As a former scientific center for the university, the building held many key debates on evolution, and its exhibits are now dedicated to the natural world, from dinosaur bones to gemstones.
Location: Parks Road, Oxford OX1 3PW, UK
Open: Daily from 10 am to 5 pm
Phone: +44 (0)1865 272950
Back to top