Bournemouth Travel Essentials
Useful Information to Help You Start Your Trip to Bournemouth
Our Bournemouth Travel Essentials lays out the essential information you need to help you plan your trip to one of the most popular destinations in the County of Dorset, England. No matter how frequently you travel, some questions will always need answers: What's the weather like? How can I get from Bournemouth International Airport to my hotel? What currency and type of plug do I need?
We have all these answers plus other basic info about the best time to go, getting there, getting around, and a few useful travel tips. You'll also learn about the city's most popular landmarks, such as Bournemouth Pier, Mary Shelley's grave at St Peter's Church, and the Russell-Cotes Art Gallery & Museum. It's all compiled in this Bournemouth Travel Essentials. After going through this short and easy-to-read guide, you'll be a little more prepared to start your trip to Bournemouth.
1
When is the best time to travel to Bournemouth?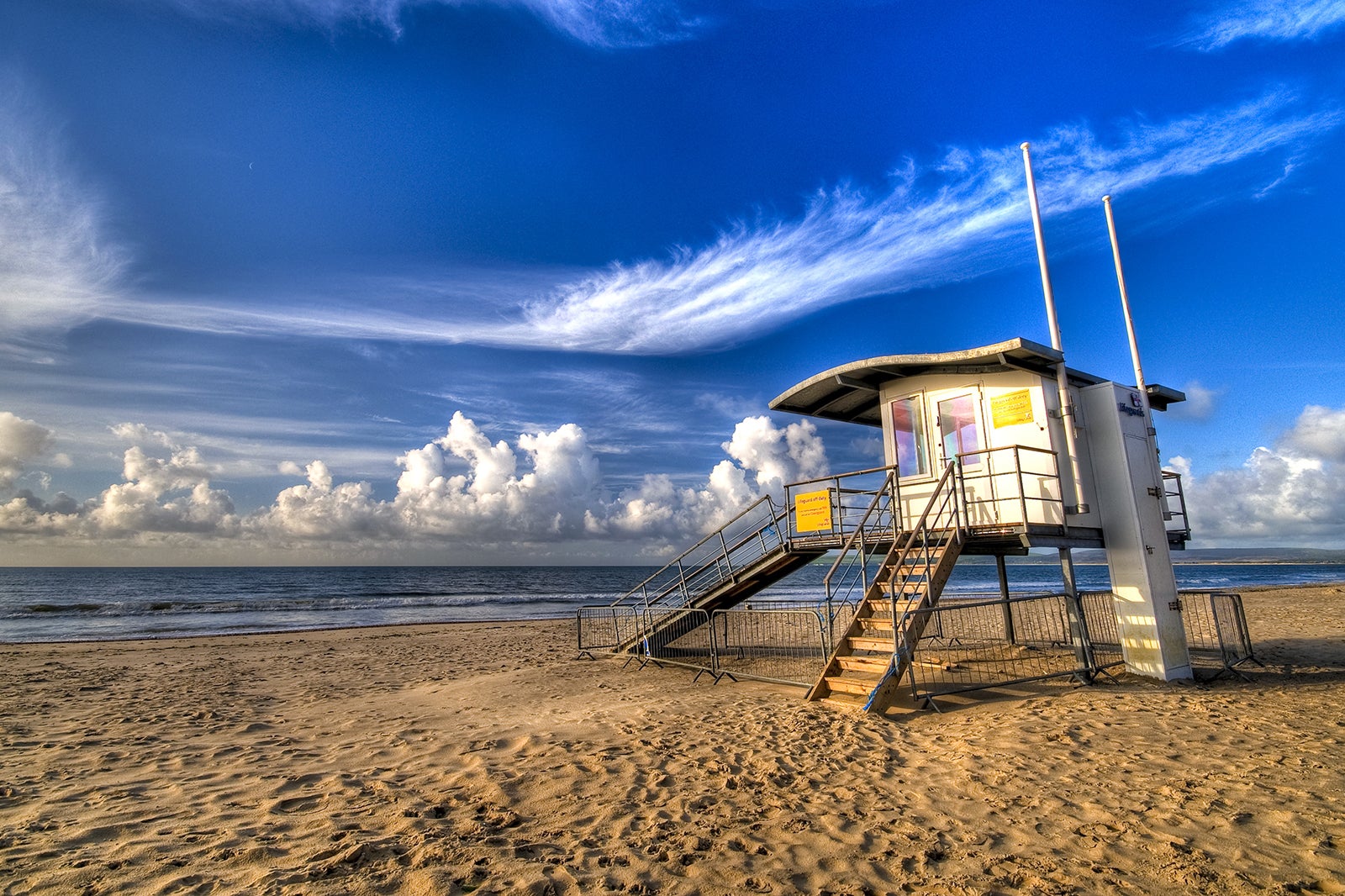 Bournemouth has a temperate oceanic climate, which is mild in summer and cool in winter. Average temperatures range between 5°C in winter and 18°C in summer.
There's no significant contrast in the number of rainy days between the wettest months and the driest months. October–January has an average of 12 rainy days while February-September has about 8.
The warmest time of the year is in summer, between mid-June and September. August had the highest record temperatures of around 34°C. The warmest time of the year in Bournemouth coincides with its peak tourist season.
For cheaper accommodations rates and less crowded attractions, while still enjoying decent weather, the best times to visit Bournemouth are in spring, May–June, and in autumn, September–October.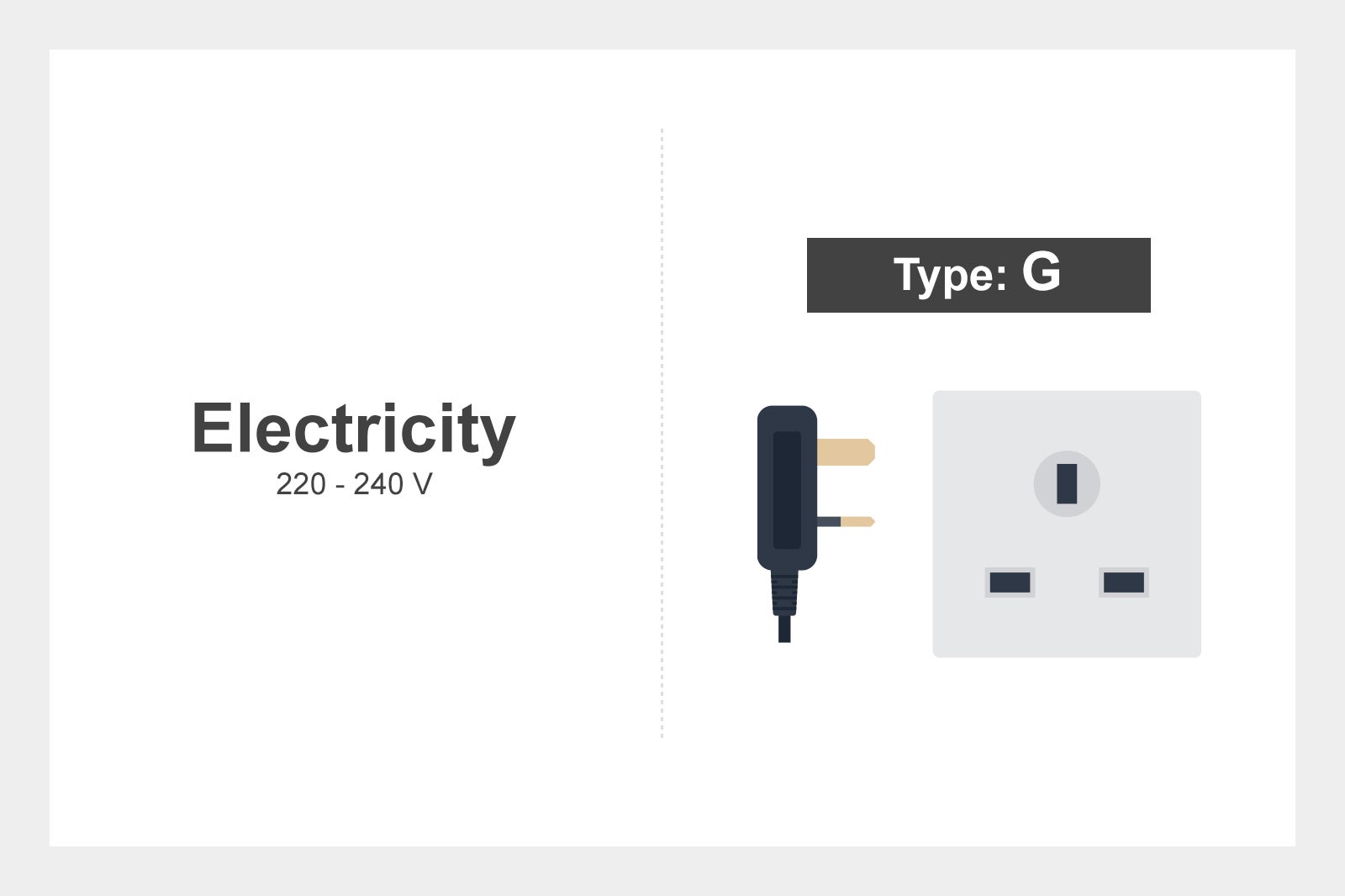 Plug type: G
Electricity: 220 - 240 V
Currency: Pound Sterling (£)
International dialing code: +44 (0)1202
Emergency telephone number: 999
3
How to get to my hotel in Bournemouth?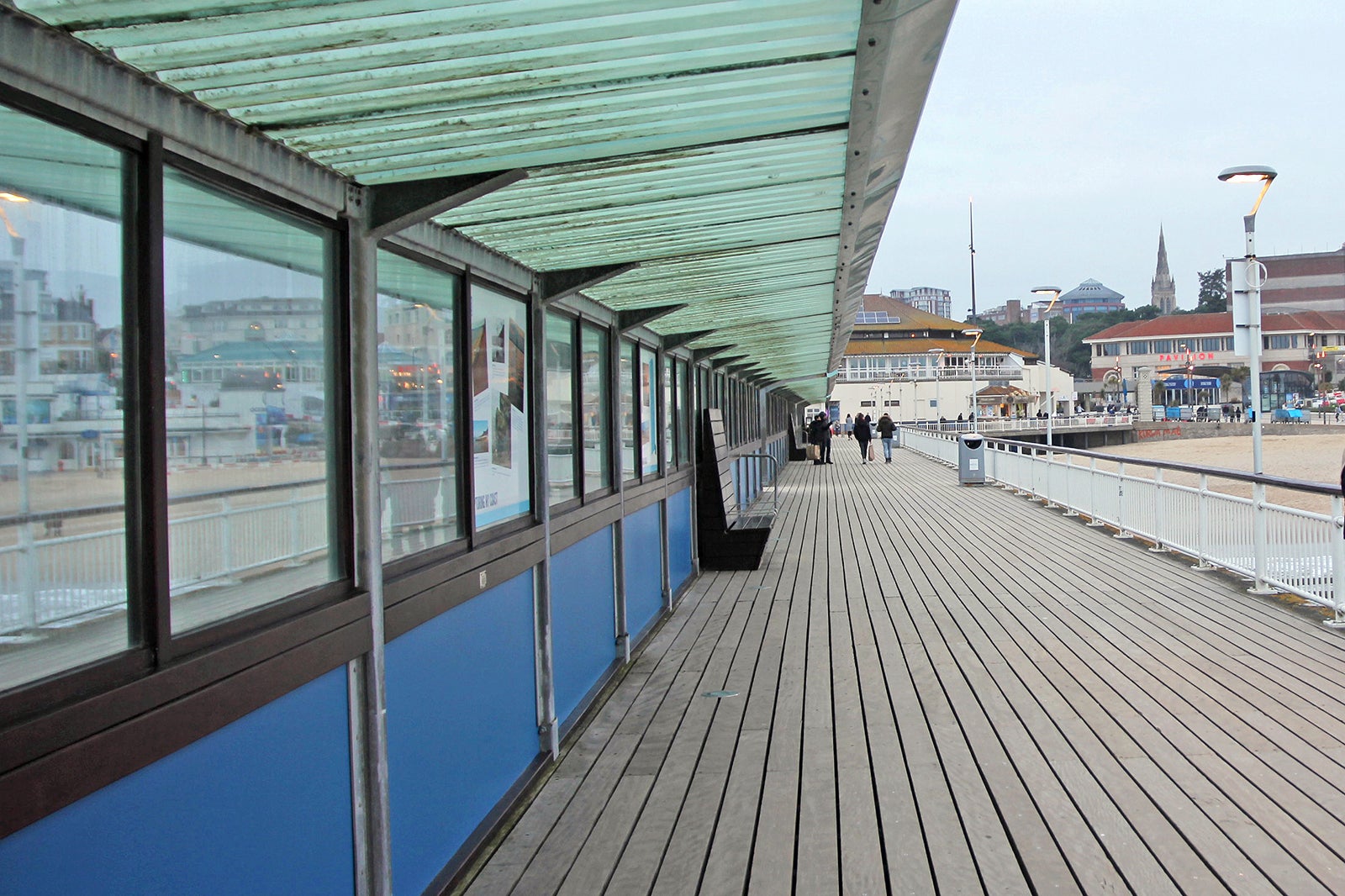 Bournemouth is fairly easy to get to – the popular resort town on the south coast of England is only a 2-hour drive from London. You can get there even faster by flying directly to Bournemouth International Airport or enjoy a relaxing journey by train from London Waterloo station. Travelers on a budget can get there by motorcoach. And, last but not least, you can get here by ferry from France via Poole.
Landing in London or Bournemouth?
Heathrow (LHR) and Gatwick (LGW) are the 2 main international airports in London, so chances are you'll land at one of them if you come from abroad. Free Wi-Fi is available throughout the airports. Ground transportation options that can take you to Bournemouth are as follows:
By taxi cab: it's certainly the fastest way to get there – in around 2 hours – but it's not the cheapest. Uber is also available to make the trip.
By train: you need to get to London Waterloo station to take the train run by South Western Railroad. The whole journey takes around 2 hours for at least half the price of a taxi cab.
By motorcoach: it's the cheapest way to reach Bournemouth from London. Expect at least a 3-hour trip.
Renting and driving a automobile is also a great way to get to Bournemouth from one of the London airports.
You can also fly directly to Bournemouth International Airport (BOH). It's served by many airports in the UK and a few airports throughout Europe. The driving time from Bournemouth Airport to the city centre is only 15 minutes. From here, ground transportation options for getting to Bournemouth are as follows:
Yellow Buses operates a transfer shuttle – route 737 – 7 days a week from 6 am to 7 pm. It serves Bournemouth Square and other small towns in Dorset.
PRC Streamline is the taxi cab company licensed to operate at Bournemouth Airport. It has vehicles that can accommodate up to 8 passengers. You can book a taxi cab in advance by calling +44 (0)1202 37 37 37.
Hertz is the licensed automobile rental operator with a desk at the airport.
Bournemouth railroad and motorcoach station
Opened in 1885, Bournemouth railroad station is 1 mile northeast of the city centre. The station is on the South Western Railroad line that links London Waterloo to Weymouth. The station is also the Bournemouth motorcoach terminal. It's served from London by the 2 main intercity motorcoach companies in the UK: National Express and Megabus. Transportation options to get to your hotel from here include taxi cabs, rideshares, and public buses. There's also a British Rental Automobile agency right next to the station.
Bournemouth by ferry
Poole, 6 miles away from Bournemouth, is the closest ferry port served from the continent. Southampton and Portsmouth are respectively a 1- and 2-hour drive away. These 3 ferry terminals are served from St Malo and Cherbourg in France.
4
How to get around Bournemouth?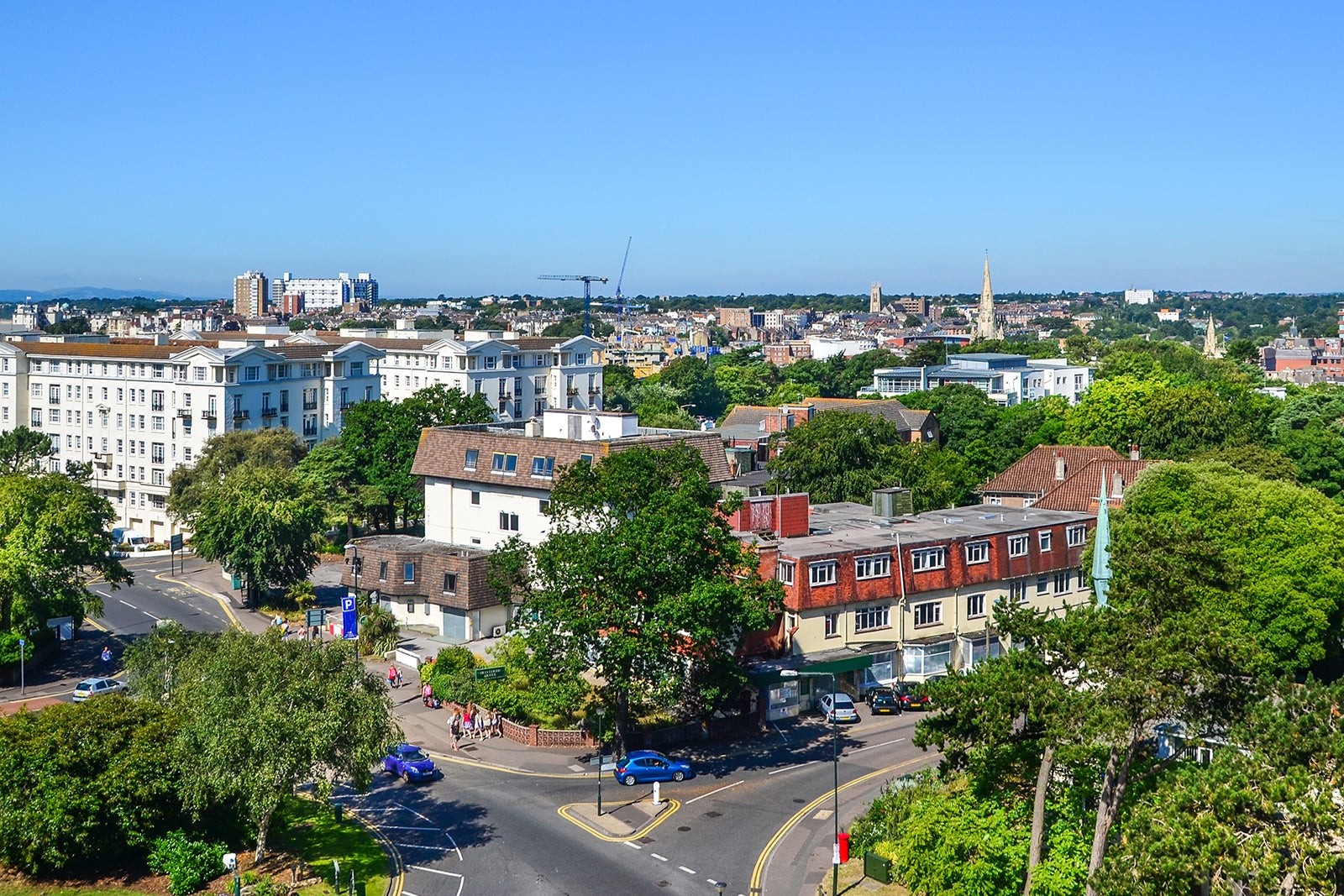 Travel tips
Bournemouth city centre is easily walkable, covering only a square mile and filled with landmarks and iconic buildings. Among the landmarks are the Oceanarium, Russell Cotes Art Gallery & Museum, and St Peter's Church, to name a few. Downtown Bournemouth is also home to a great range of dining and shopping options, as well as cool bars for enjoying a nightcap.
Cycling is also a popular way of exploring the city in favorable weather. For longer distances, Yellow Buses and Morebus run extensive networks of buses that cover the entire county.
How does the bus system work?
Yellow Buses and Morebus are the 2 companies running bus services in Bournemouth. From city to inter-urban and rural services, you can get anywhere in Bournemouth, Poole, and in the county of Dorset by bus. Single tickets, day tickets, and other options are available. Both these companies have mobile apps with which you can buy tickets and passes in advance. Check out their websites for further information.
More touristy and better used on sunny days, open-top hop-on-hop-off buses run by City Sightseeing Bournemouth allows you to discover Bournemouth and Poole. The bus has 23 stops at landmarks and attractions along its circuit. These include Bournemouth Pier, Sandbanks Beach, Poole Quay, Poole Old Town, and Ashley Cross, among others. Tickets valid for 24 hours and 48 hours are available.
Taking a taxi cab
From United Taxi cabs (+44 (0)1202 556677) to PRC Streamline (+44 (0)1202 373737) to Mobile Radio Automobiles (+44 (0)1202 518000) and many more, getting a taxi cab in Bournemouth is easy. Taxi stands are found in front of hotels and at Pier Approach, the Square, Lansdowne, and other places in the town center. You can also hail cabs on the street.
Convenient yet rather expensive, getting around Bournemouth by taxicab is not your best option if you're on a budget, although a taxi cab ride may be your only option to get back to your hotel if you're a night owl. Note that tipping for taxi cabs in the UK is usually around 10% of the fare. Most taxi cab drivers accept credit cards, though sometimes reluctantly.
Is it a good idea to rent a automobile in Bournemouth?
Renting a automobile is a good option if you plan to explore the region and get to landmarks such as Stonehenge, Old Wardour Castle, and Highcliffe Castle, among others.
Automobile rental companies are available at the airport and throughout Bournemouth. Foreigners can use their country-issued driving license for up to 12 months in the UK.
Cycling around Bournemouth
On sunny days, Bournemouth is a very pleasant city to explore by bicycle. Some segments of the promenade such as Bournemouth Pier Approach, Solent promenade access, and Boscombe Pier, among others, are open to cyclists and are especially pleasant to explore on 2 wheels. Keep in mind though, that pedestrians have priority. A wide range of cycling routes for all levels can be found around Bournemouth. You can easily find maps online or at the bike rentals listed below.
Front Bike Hire (+44 (0)1202 373280), Kool Cycle Hire (+44 (0)7594 505776), and OnYerBike (+44 (0)1202 315855) are just a few of the shops where you can rent a bicycle in Bournemouth.
5
What are the main annual events in Bournemouth?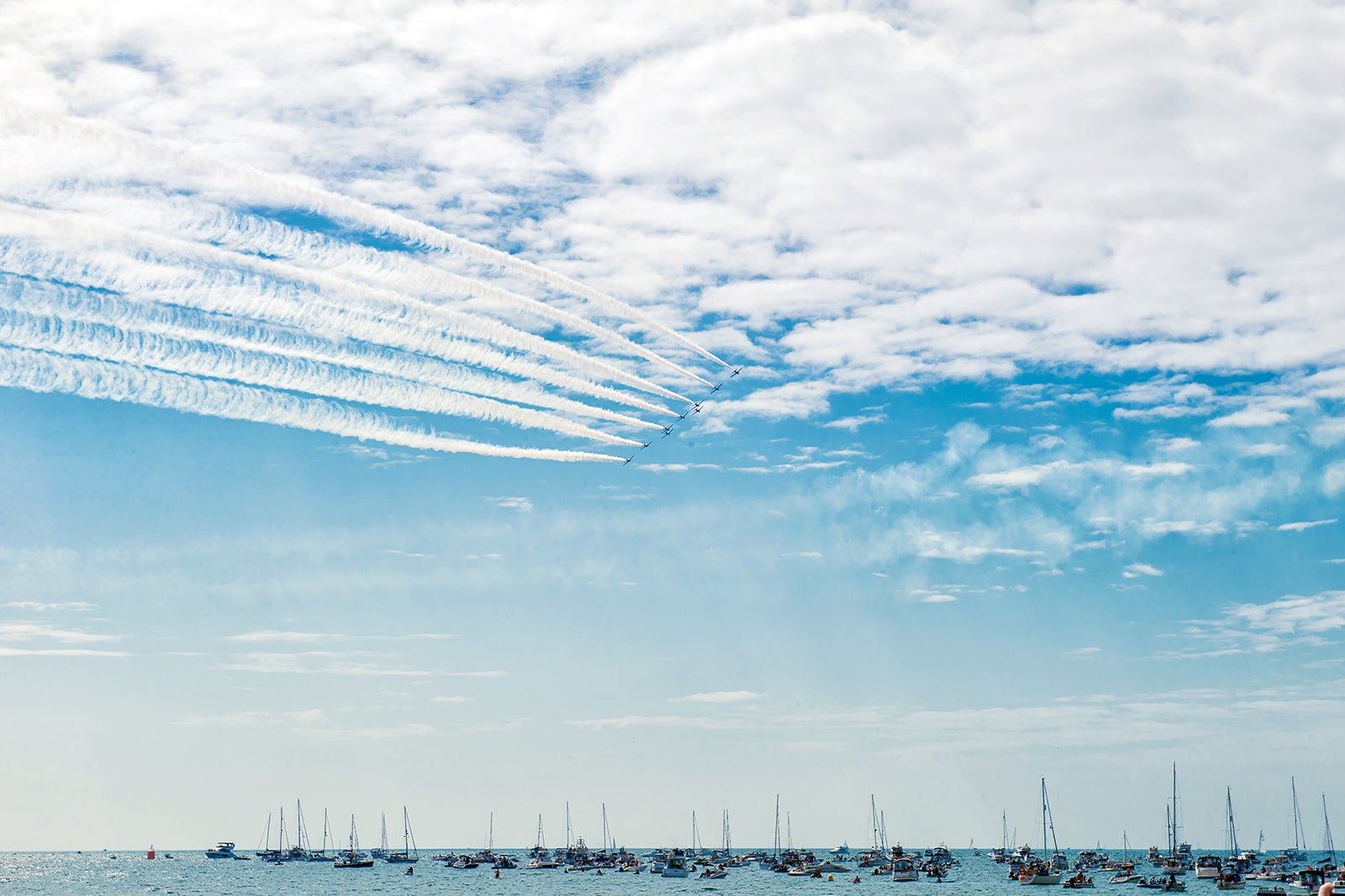 Shake and Stir Vintage Festival
June
Celebrate vintage bikes, automobiles, music, and fashion at this popular festival. It takes you for a trip down memory lane between the '20s and the '70s through live performances and exhibitions.
Where: Southbourne (4 miles east of Bournemouth)
Bournemouth Air Festival
Late August/early September
One of the largest airshows in the UK, the festival features impressive flight demonstrations by the Royal Air Force and the Royal Navy, as well as civil aviation pilots.
Where: Bournemouth Beach Neighborhood, Bournemouth Gardens
Bournemouth Arts by the Sea Festival
October
Showcasing over 100 art performances, exhibitions, and workshops for 2 days, this festival features anything from live music to dancing and from walkabout puppets to quick-witted poetry, and much more.
Where: Various venues in Bournemouth town center
6
What are the main landmarks in Bournemouth?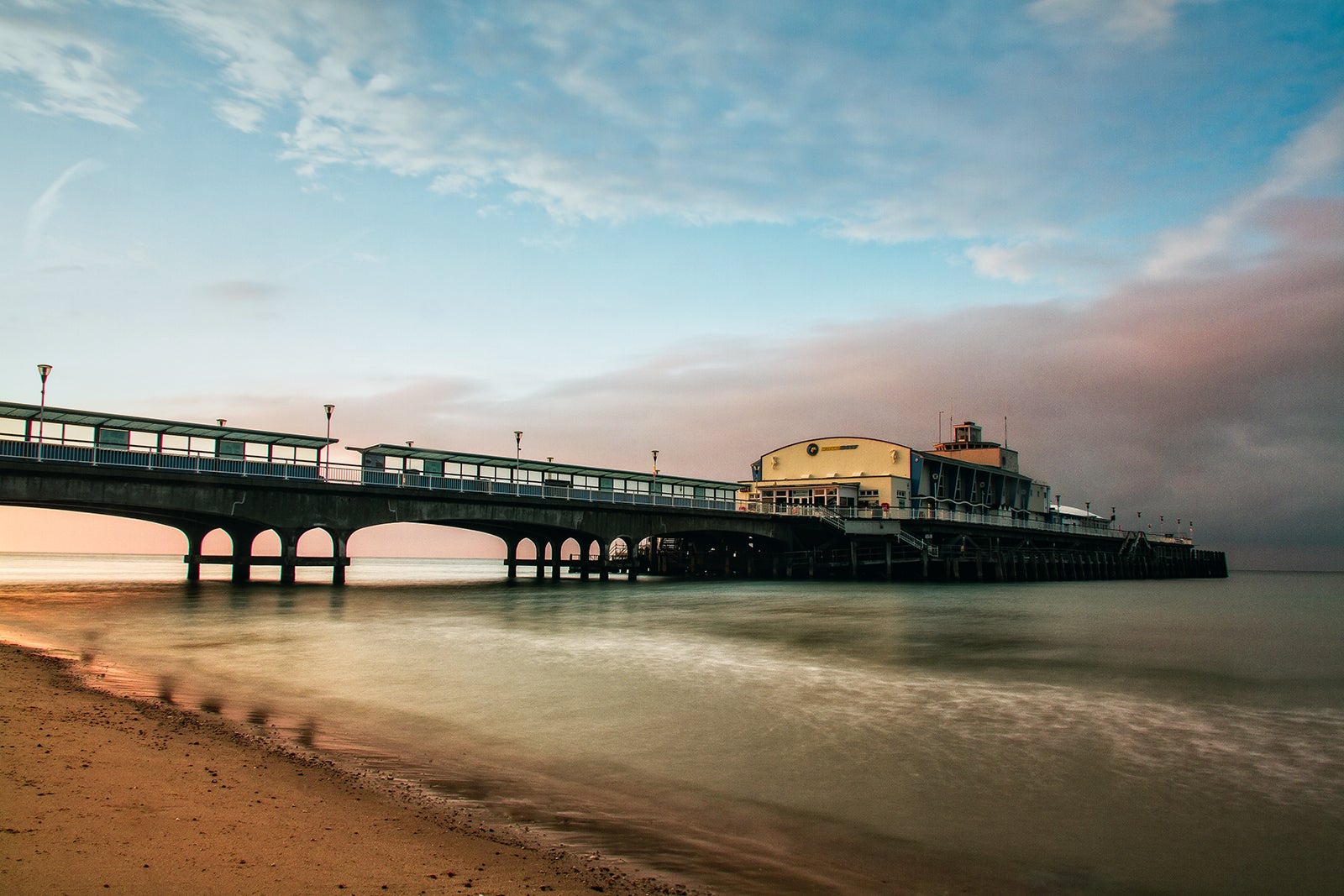 Bournemouth Pier
Bournemouth's Victorian-era pier is now one of its best attractions. The old theater has been converted into an indoor climbing center and there's a modest selection of shops, restaurants, and a little funfair at the very end.
Mary Shelley's grave at St Peter's Church
St Peter's Church isn't only noteworthy for being a very beautiful Gothic Revival building. Its graveyard is also the last resting place of Mary Shelley, the author of the Gothic horror novel, Frankenstein.
Russell-Cotes Art Gallery & Museum
Built in 1901, Russell-Cotes Art Gallery & Museum is quite a grand and eclectic place. It combines all sorts of architectural styles in its construction and artistic styles in its collection.
Brownsea Island
Accessible by a scenic 10-minute ferry trip from the Sandbanks Jetty, here you'll find several verdant walking trails to explore, as well as historic churches and houses – most of them built on the seafront.
Back to top