10 Best Things to Do for Couples in Manchester
Manchester's Most Romantic Places
Manchester is a great destination for couples thanks to its quirky nature and unusual array of attractions. Its long and remarkable history has helped to create a cityscape of outstanding shopping, dining and nightlife, as well as an interesting selection of things to see and do.
If you're looking for a typical romantic dinner, you're certainly spoilt for choice. There's no shortage of places for a few beverages afterward, too. However, for some inspiration in arranging a date with a difference, check out the items on our list of the best things to do for couples in Manchester.
1
Take a stroll by the canal
Or even a cruise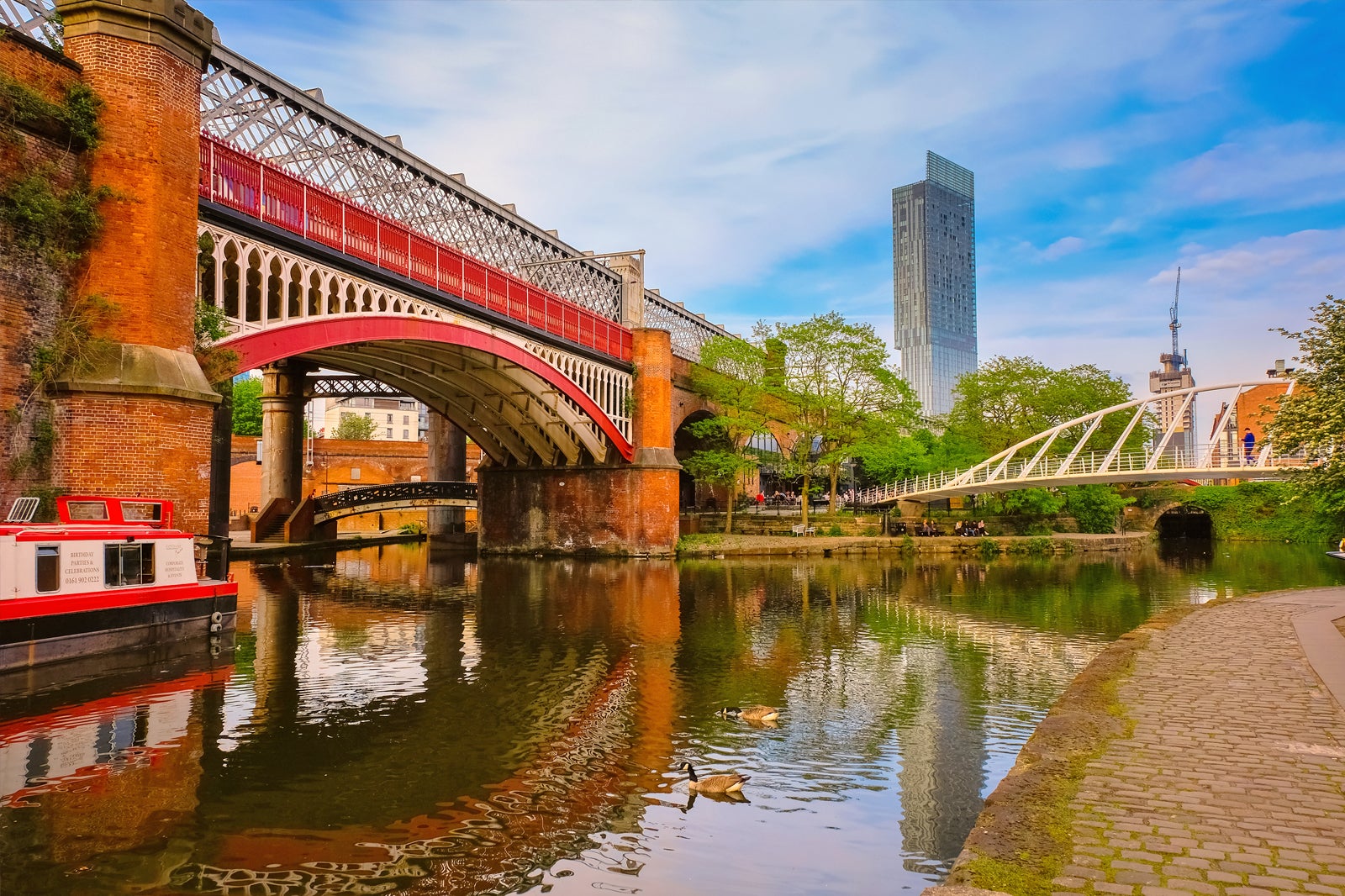 Manchester has some 10 miles of canals running right through the city centre, a vestige of Manchester's past as one of the world's foremost industrial hubs. Many have towpaths running alongside them, where you can enjoy a peaceful walk in pleasant surroundings, away from the hubbub of the city. The Castlefield or Ancoats neighborhoods are especially suitable.
If you'd rather enjoy the scenery without all the exercise, you can take a cruise along the Manchester Ship Canal. The 36-mile-long waterway was built in the late 1800s to link the city with Liverpool and the coast, allowing oceangoing cargo ships to reach Manchester's many mills and factories. There are now several services cruising along the canal, some offering meals, views, beverages and more.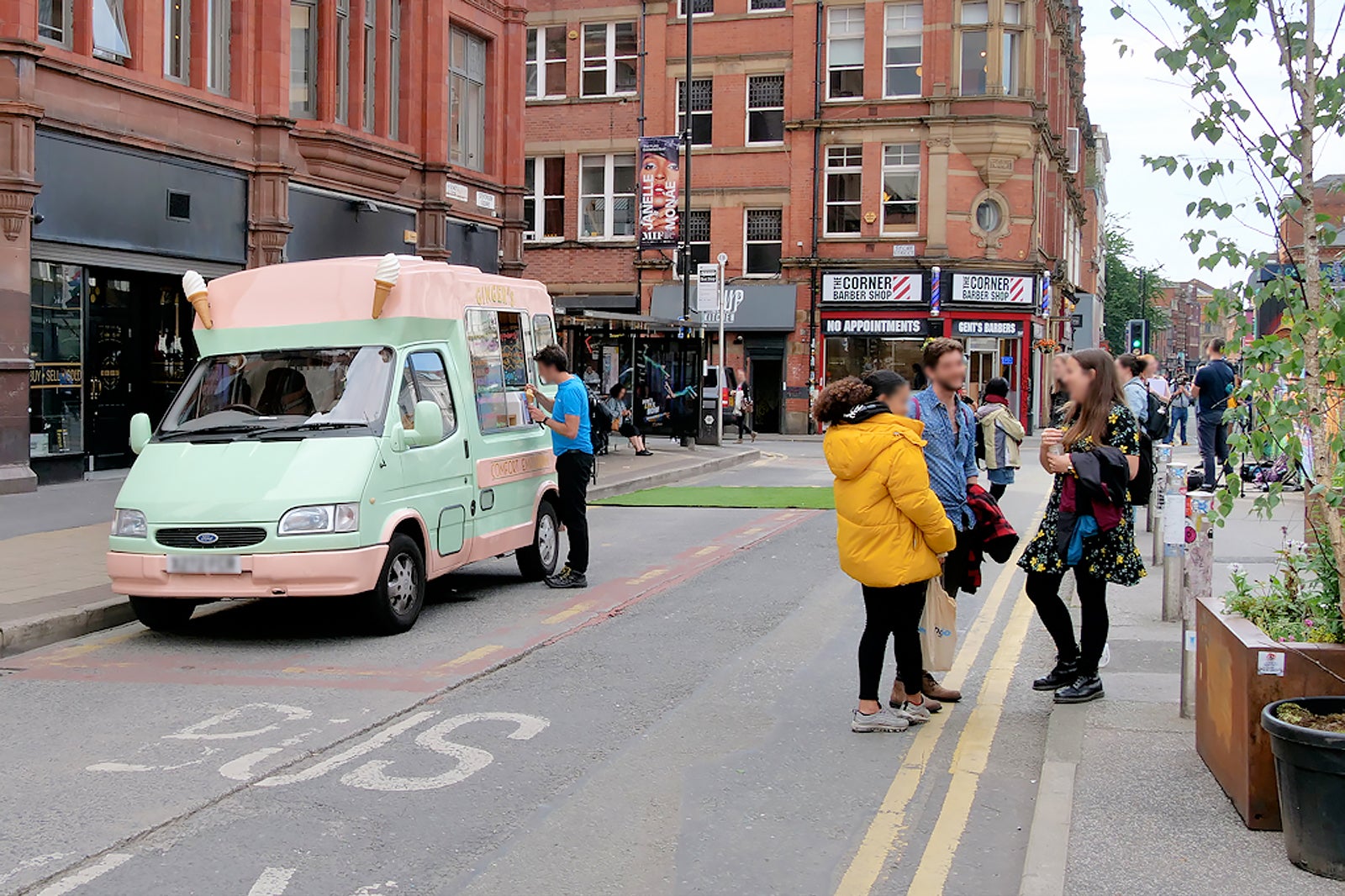 Ginger's Comfort Emporium is an outstanding ice cream parlor on the top floor of Affleck's. It's known for its 1950s-style décor and some very unusual concoctions. Marmalade on Toast or Olive Oil & Sea Salt may not sound like particularly appetizing desserts, yet they're among the top sellers.
Ginger's Comfort Emporium has several British Street Food Awards to its name, a recipe book and an ice cream van that makes regular appearances at summer markets and festivals. The unique setting of their home address and the menu items will certainly give you plenty to talk about.
Read more
Location: Affleck's, Church St, Manchester M4 1PW, UK
Open: Monday–Saturday from 10.30 am to 6 pm, Sunday from 11 am to 5 pm
Phone: +44 (0)7980 628868
photo by David Dixon (CC BY-SA 2.0) modified
3
Relax at a spa
Enjoy a little peace and pampering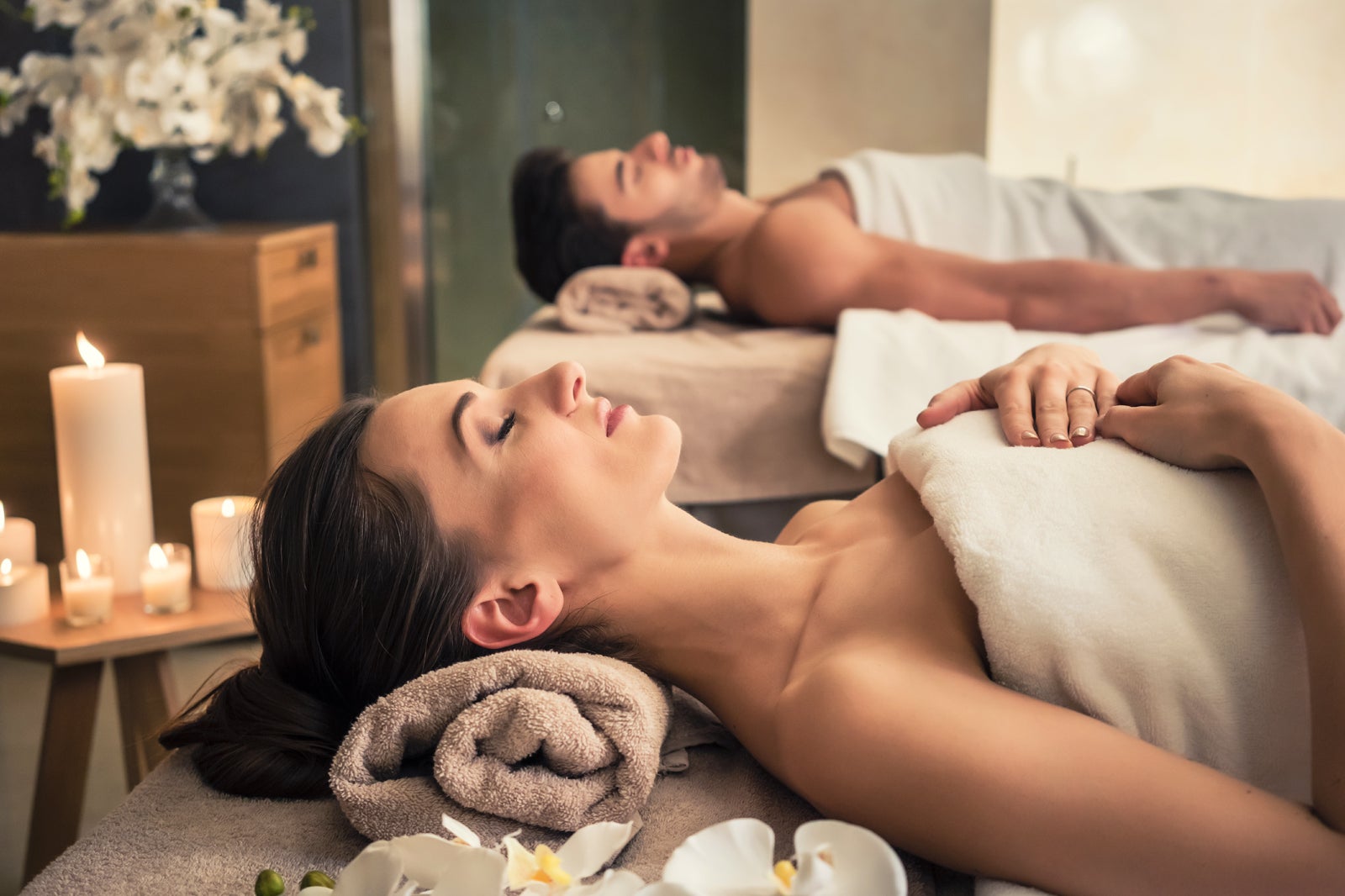 A relaxing spa session is a great way to chill out during your visit to Manchester, with many places offering couples' treatments and packages. Some of the city's best spas are found in hotels, such as the Urban Oasis Spa in the Hilton Manchester Deansgate. However, there are some noteworthy standalone spas, too.
The Youth Sanctuary on Oldham Road is certainly worth considering. It's noted for its exceptional service and great value for money. The award-winning Bali Health Lounge on George Street, meanwhile, prides itself on its highly trained therapists and provides a little place of tranquillity in the heart of the city. In all cases, booking in advance is advised as it can help reduce the cost.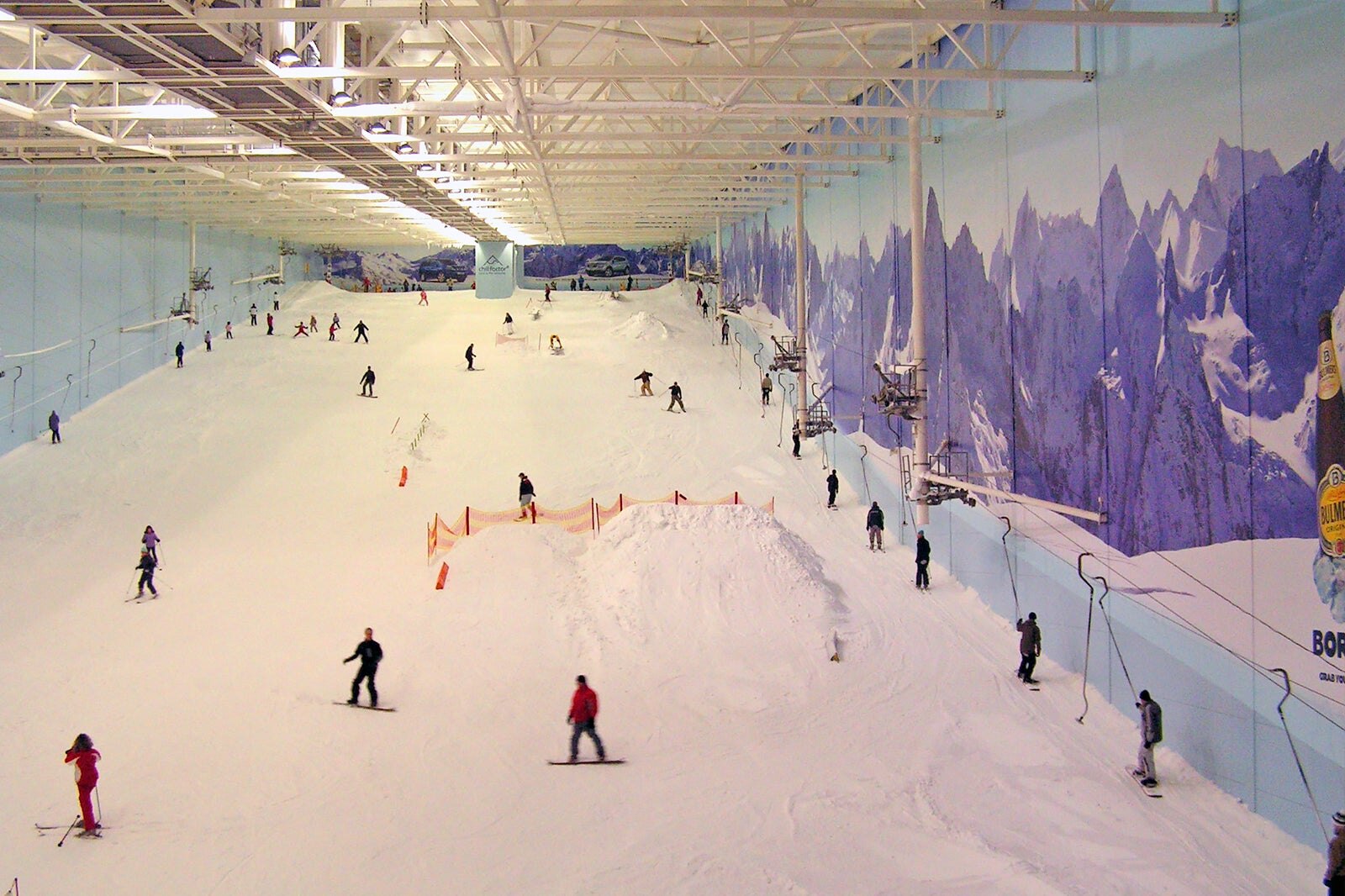 Chill Factore offers you the chance to hit the slopes for some skiing and snowboarding action in Manchester. The real snow center in Trafford Park had the widest indoor slope in the world when it opened in 2007, reaching 330 ft across at its widest point. The main slope has a total length of 590 ft, but there are smaller and shorter slopes for different skill levels and unique challenges.
Between attempts on the slopes, you can enjoy snacks from a modest range of big-brand and boutique outlets. There's also a good choice of shops nearby, a large amount of which sell outdoor and sportswear. The center also has a climbing wall, for when you want to challenge other parts of your body.
Read more
Location: Beyond Shopping Center, 7 Trafford Way, Trafford Park, Stretford, Manchester M41 7JA, UK
Phone: +44 (0)1617 492222
photo by Vwozone (CC BY-SA 3.0) modified
5
Cocoa Cabana Chocolatier
Try the chocolate-themed afternoon tea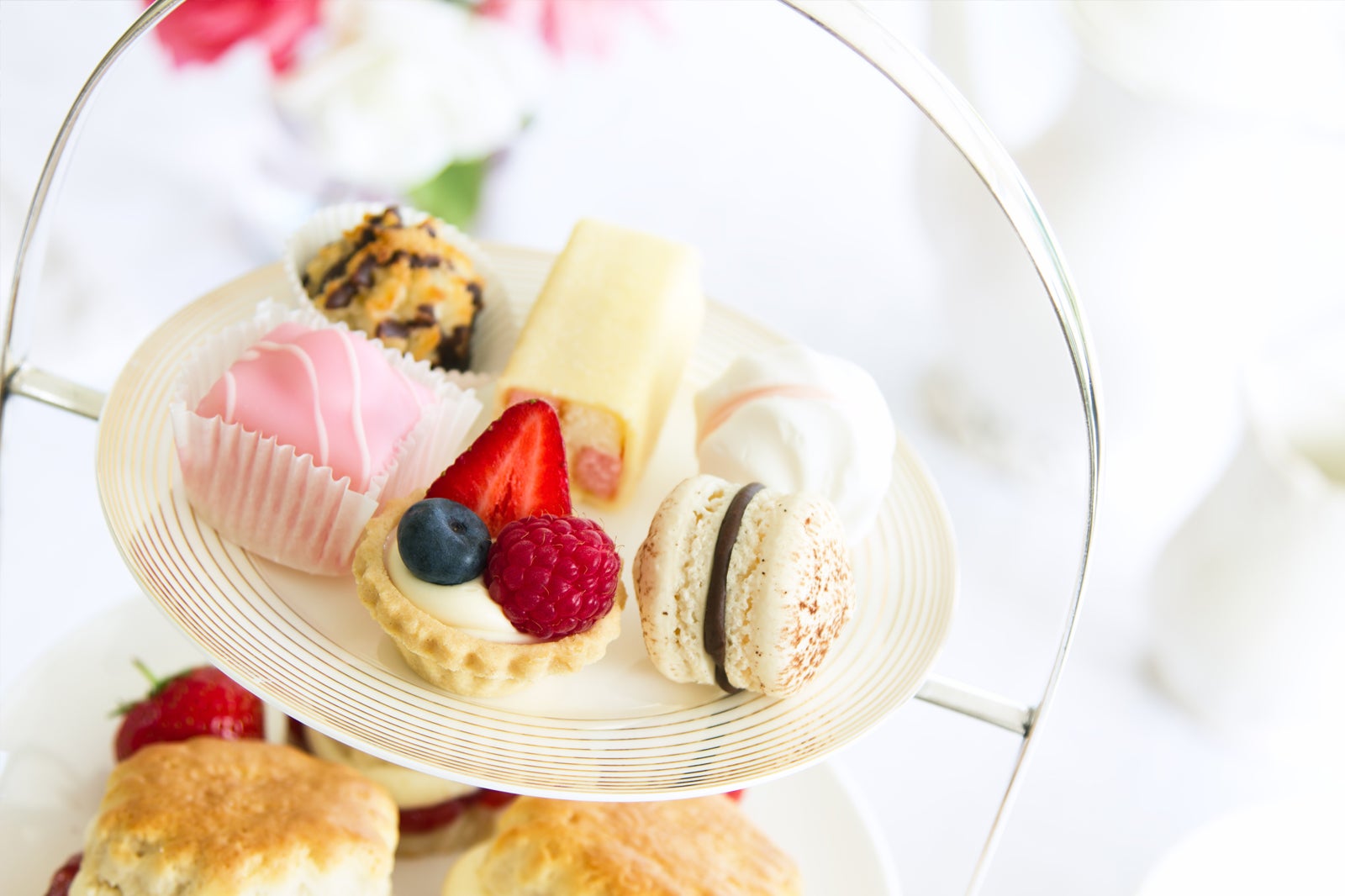 When it comes to candies for your sweet, you can't go far wrong with Cocoa Cabana. Their hand-tempered treats are made from high-quality ingredients, which they transform into some really creative, award-winning candies. Sure, you could buy a plain old chocolate slab or shard, but you could also get a chocolate skull, chocolate Buddha statue or chocolate pineapple. Some are even vegan-friendly.
For something a little more special, you could have a chocolate-themed afternoon tea. This includes all of the appropriate nibbles like sandwiches and scones, but also a chocolate tart, chocolate brownie, macaron, chocolate strawberry and your choice of tea, coffee or hot chocolate.
Location: 168 Burton Rd, West Didsbury, Manchester M20 1LH, UK
Open: Monday–Saturday from 10.30 am to 6 pm (Wednesday until 9 pm), Sunday from 11 am to 5 pm
Phone: +44 (0)1612 825700
6
Manchester Cat Café
Have a purr-fect coffee date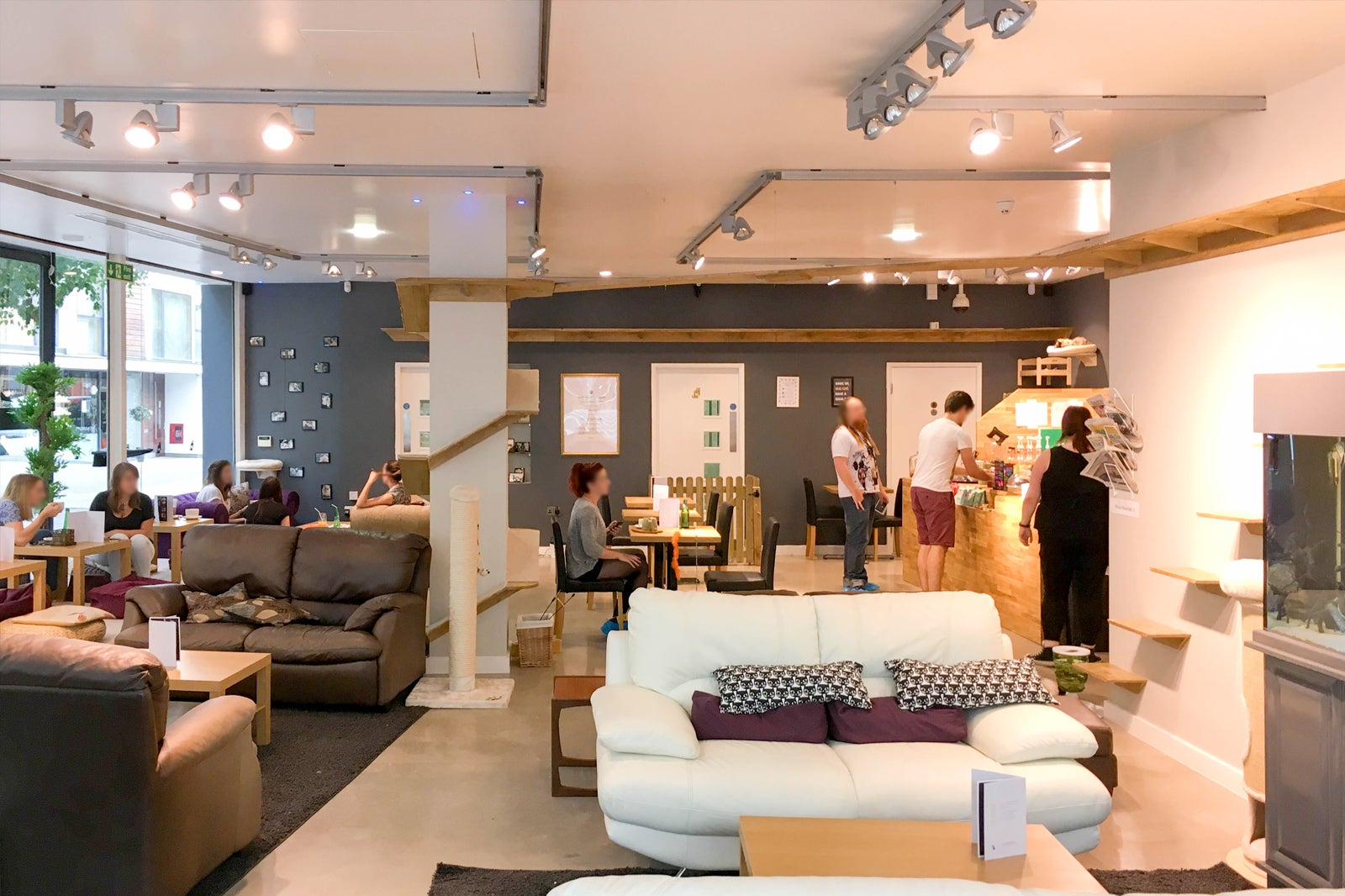 Manchester Cat Café is a café that contains cats... in Manchester. Having a nice cup of coffee and a cake while you chat with your partner is certainly a pleasant way to spend an hour or 2, but you can ramp up the cuteness of the experience by being surrounded by friendly felines throughout.
Hanging out at Manchester Cat Café is charged by the time you spend there, not by the drink. You pay per 5 minutes and the price isn't too expensive. During that time, you can enjoy unlimited hot and cold beverages, though snacks cost extra. Gluten-free, nut-free and vegan options are available.
Location: 103 High St, Manchester M4 1HQ, UK
Open: Monday, Wednesday–Saturday from 10 am to 7 pm, Sunday from 11 am to 6 pm (closed on Tuesdays)
Phone: +44 (0)1612 224960
photo by Mike Peel (CC BY-SA 4.0) modified
7
Harvey Nichols
Taste the champagne lifestyle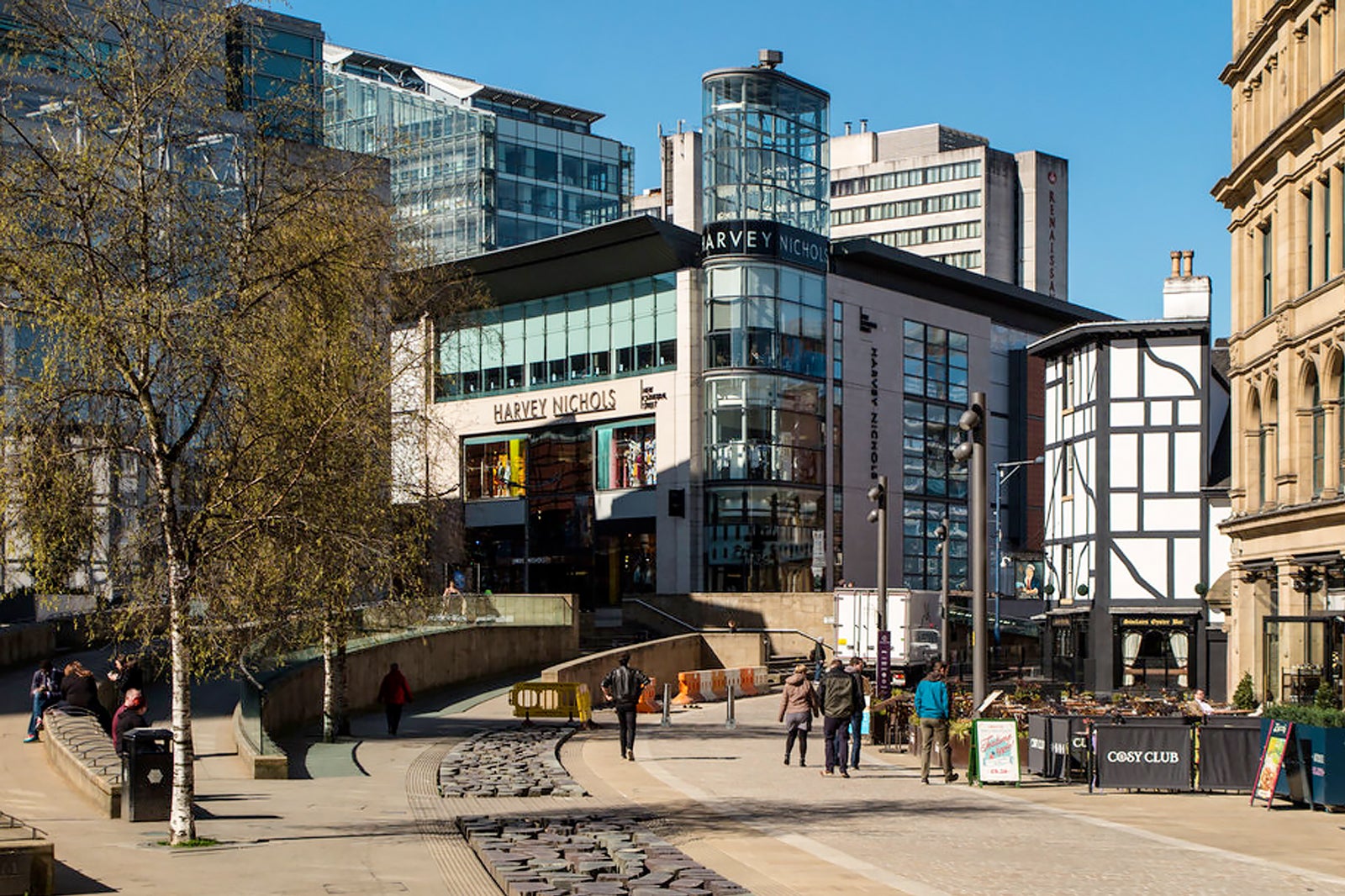 Harvey Nichols is an iconic British department store, best known by its flagship store in Knightsbridge, London. The Manchester branch isn't quite as big but is no less packed with luxury designer fashion. Expect to find brands from Armani to Zimmermann, with dozens of high-end British and international names in between.
It's worth taking a trip up to the top floor and the bar and brasserie there, if you're feeling peckish. The eggs benedict with champagne is a brunch with a bit of bite! The cocktails are also highly regarded.
Location: 21 New Cathedral St, Manchester M1 1AD, UK
Open: Monday–Saturday from 11 am to 7 pm, Sunday from 11.30 am to 5.30 pm
Phone: +44 (0)1618 288888
photo by Peter McDermott (CC BY-SA 2.0) modified
8
Cloud 23
First-class cocktails with a view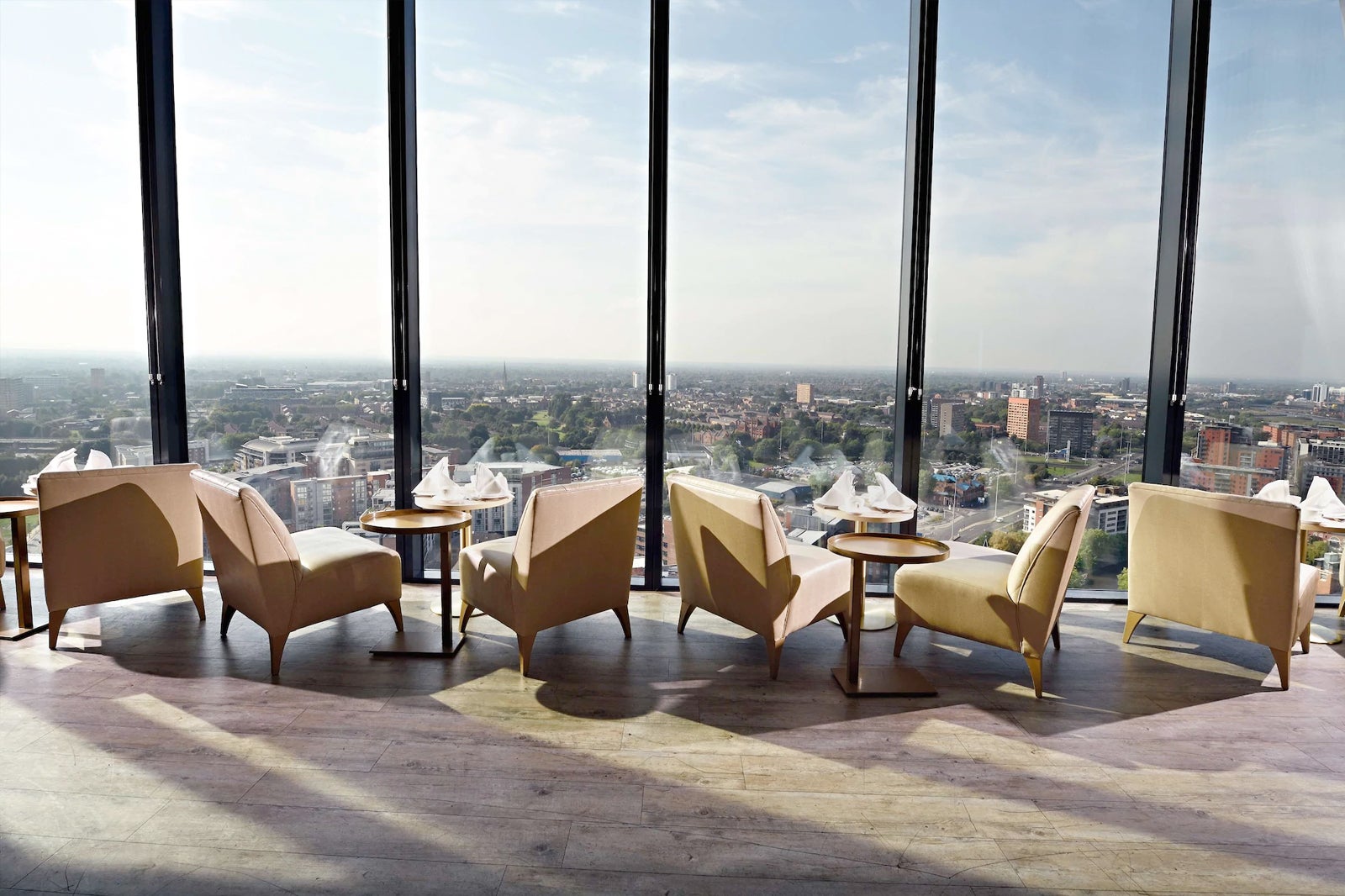 Manchester is famous for its nightlife, but Cloud 23 stands out as one of the most romantic. Located on the 23rd floor of the Beetham Tower, the views across the city from its floor-to-ceiling windows are fantastic. Inside, it's gotten a luxurious contemporary design where you can relax with stylish music and exclusive cocktails.
Other than the view, it's the cocktail menu that makes Cloud 23 worth the visit. It's inspired by Manchester's long history, with names going from AD 79 (containing vodka, bergamot and soda) to the 2010 Graphene (with vodka, sherry, almond syrup, black pepper and maple foam). There's also a good choice of beers, wines, champagnes and sodas, as well as tasty snacks.
Location: Hilton Manchester Deansgate, Beetham Tower, 303 Deansgate, Manchester M3 4LQ, UK
9
Twenty Twenty Two
Try a little friendly competition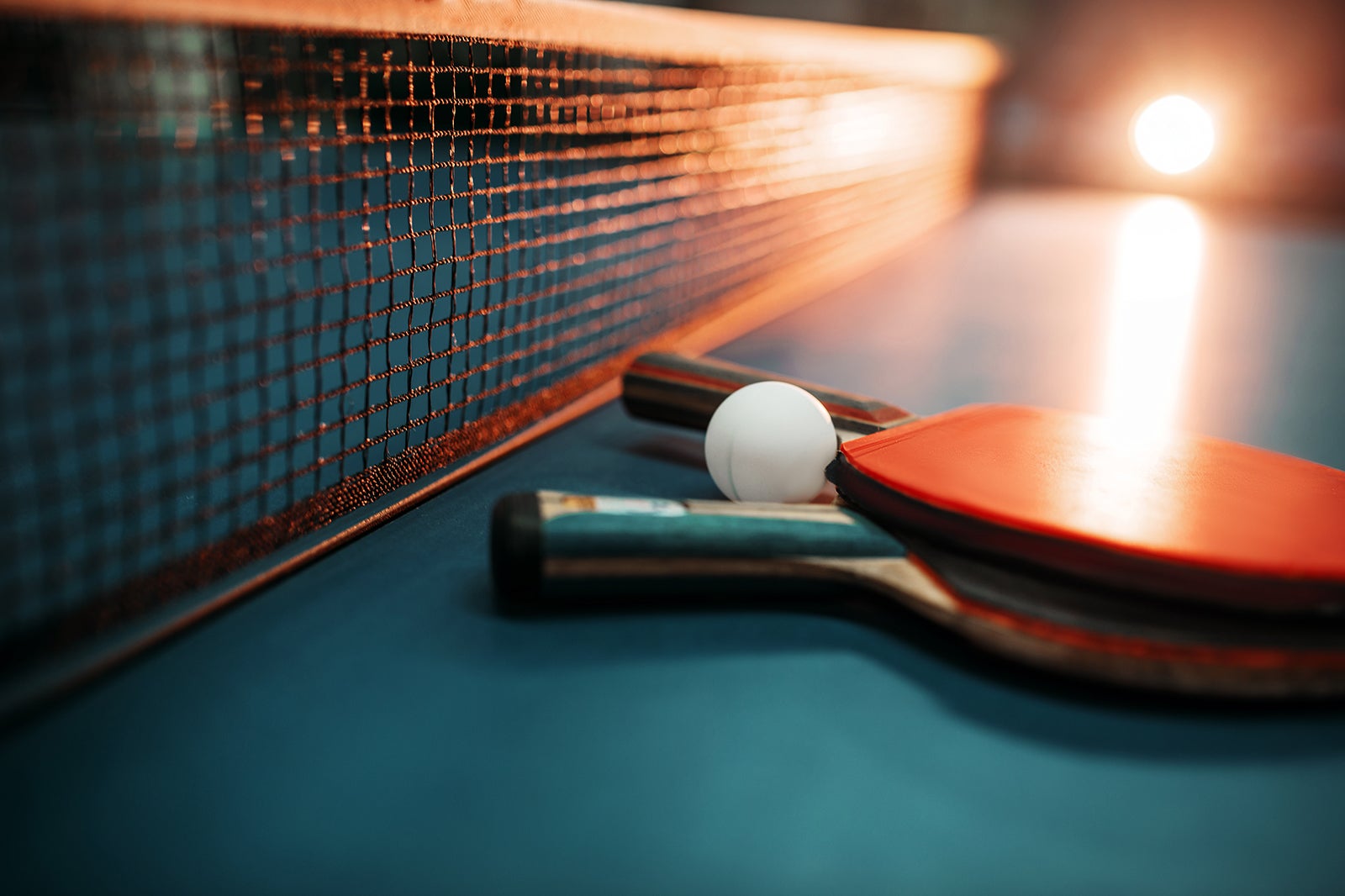 For Manchester nightlife with a bit of a difference, Twenty Twenty Two certainly fits the bill. Its underground entrance and tiled walls give it the feel of a grungy bar or club. While it certainly has a good beverages selection and some great tunes, it's the ping pong tables in the back room that most attract people.
Use of the tables is charged by the half-hour to make sure no one hogs them for too long, but the price is pretty reasonable. A little friendly competition certainly adds a new dynamic to a date, as well as a few laughs, making this a popular spot for couples.
Location: The Basement, Little Lever St, Manchester M1 1EZ, UK
Open: Monday–Wednesday from 4 pm to 12 pm, Thursday from 4 pm to 1 am, Friday from 4 pm to 3 am, Saturday from 1 pm to 3 am, Sunday from 1 pm to 10 pm
Phone: +44 (0)1612 379360
10
HOME Manchester
Experience Manchester's finest modern art, theater and independent movie theater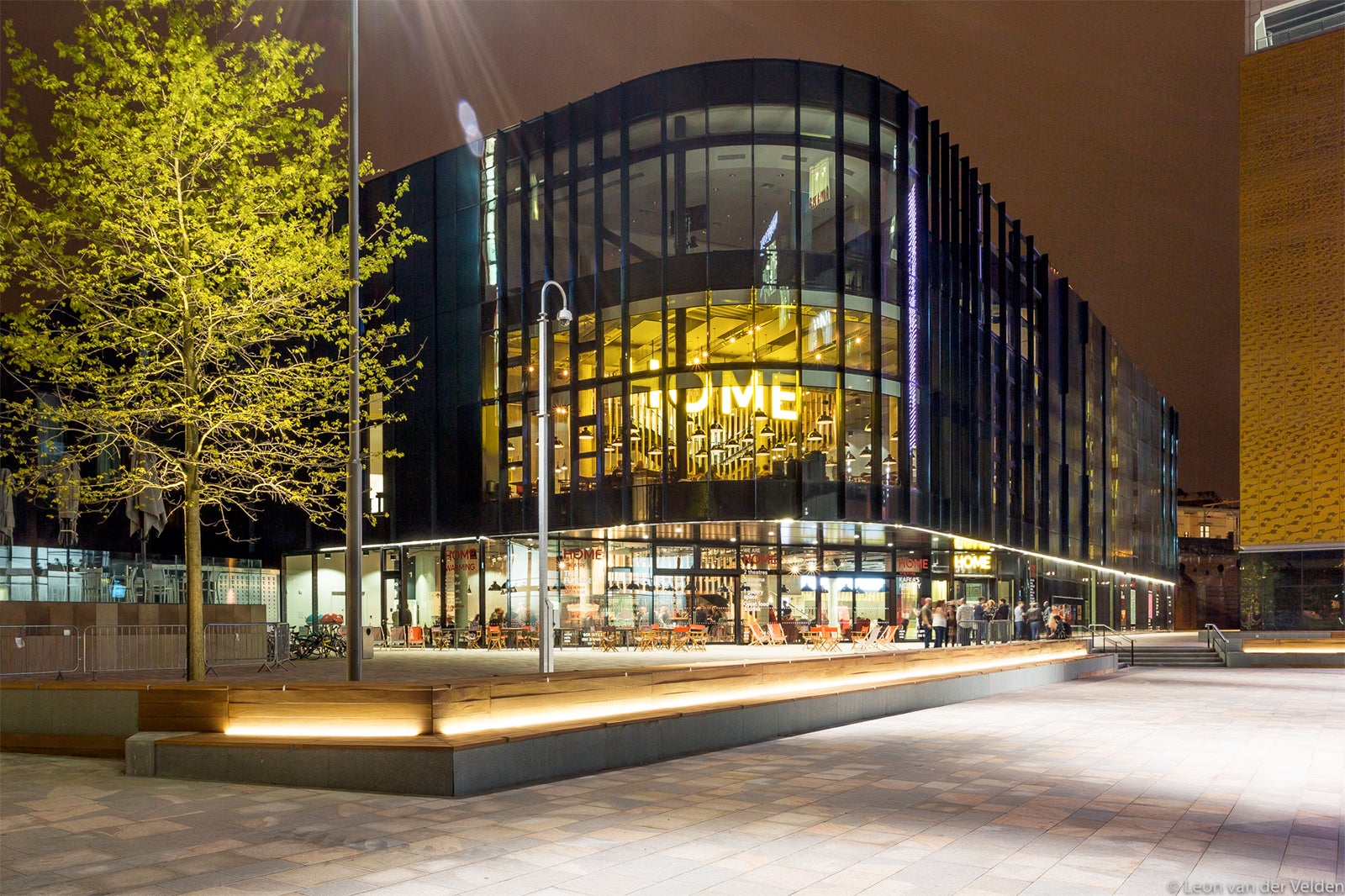 HOME is where the art is in Manchester – specifically contemporary art, music, theater, dance shows and independent movies. The city is known for its lively arts scene, and HOME has among the best facilities for showcasing it. This includes 5 movie theaters, 2 theaters, 2 galleries, a general events space and rehearsal rooms.
You'll also find an excellent restaurant at HOME, a couple of bars and a bookstore on site. There's a busy calendar of events and performances all year round and ticket prices are very reasonable.
Location: 2 Tony Wilson Place, Manchester M15 4FN, UK
Open: Monday–Thursday from 10 am to 11 pm, Friday–Saturday from 10 am to 12 midnight, Sunday from 11 am to 10.30 pm
Phone: +44 (0)16 1200 1500
photo by Leonv010 (CC BY-SA 4.0) modified
Back to top