10 Best Things to Do in Aarhus in a Day
What is Aarhus Most Famous For?
As Denmark's second capital, Aarhus is Copenhagen's cool little sister – and she shows promise. The city was elected the European Cultural Capital back in 2017 and spent years beautifying itself for its turn in the spotlight. Nestled into the craggy Jutland Peninsula, we can't help gushing about the city's charming streets and hygge cafes and shops. In fact, we're confident in saying the city represents a fine balance of small-town charisma and big-city sophistication.
With over 10% of the population being students, the atmosphere in Aarhus is laidback and youthful. The city boasts impressive museums and cultural spaces, as well as pristine outdoor spaces which live up to Scandinavia's reputation for immaculate cleanliness. Below is a revised list of the best things to do around the city in a day.
What are the best things to do in Aarhus?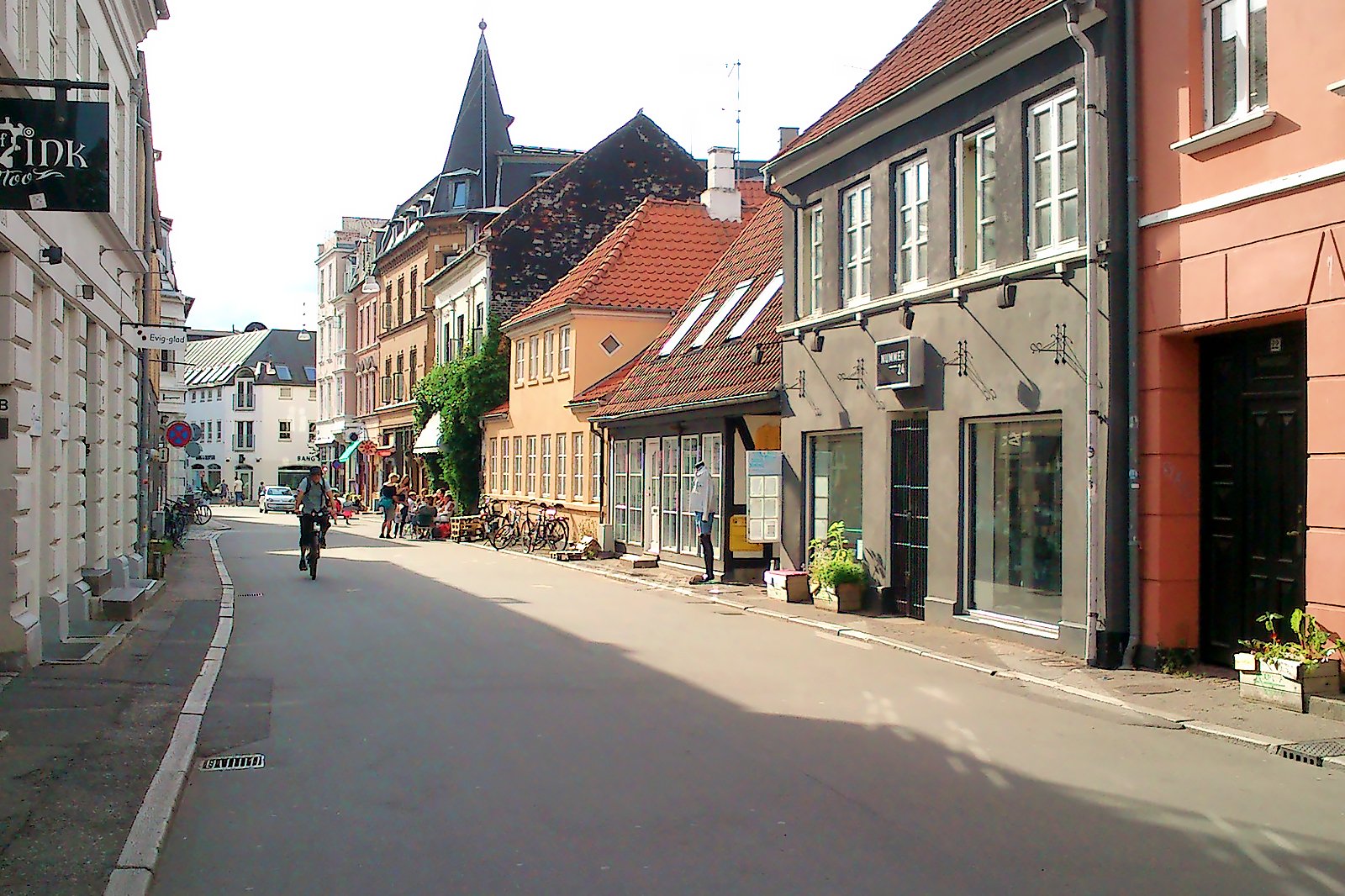 Start the day on Graven in the Latin Quarter
With a coffee and Danish pastry in hand
Cute little flower pots and wooden benches make Graven a cute spot that is great for people-watching. Pop into La Cabra – an award-winning coffee shop that serves up a cozy atmosphere and fluffy pastries – or grab an organic fruit juice at Café Ganefryd. The Latin Quarter is one of the oldest quarters in the city and with that, also one of the most charming places to wander around. This historic district's name reflects the area's similarities with the Latin Quarter in Paris. As you leisurely walk down these stone pathways lined with colorful houses, you'll notice a few which show some age. Some of the houses are very old - dating back to the 16th century.
Location: Graven, Latinerkvarteret, 8000 Aarhus, Denmark
photo by RhinoMind (CC BY-SA 3.0) modified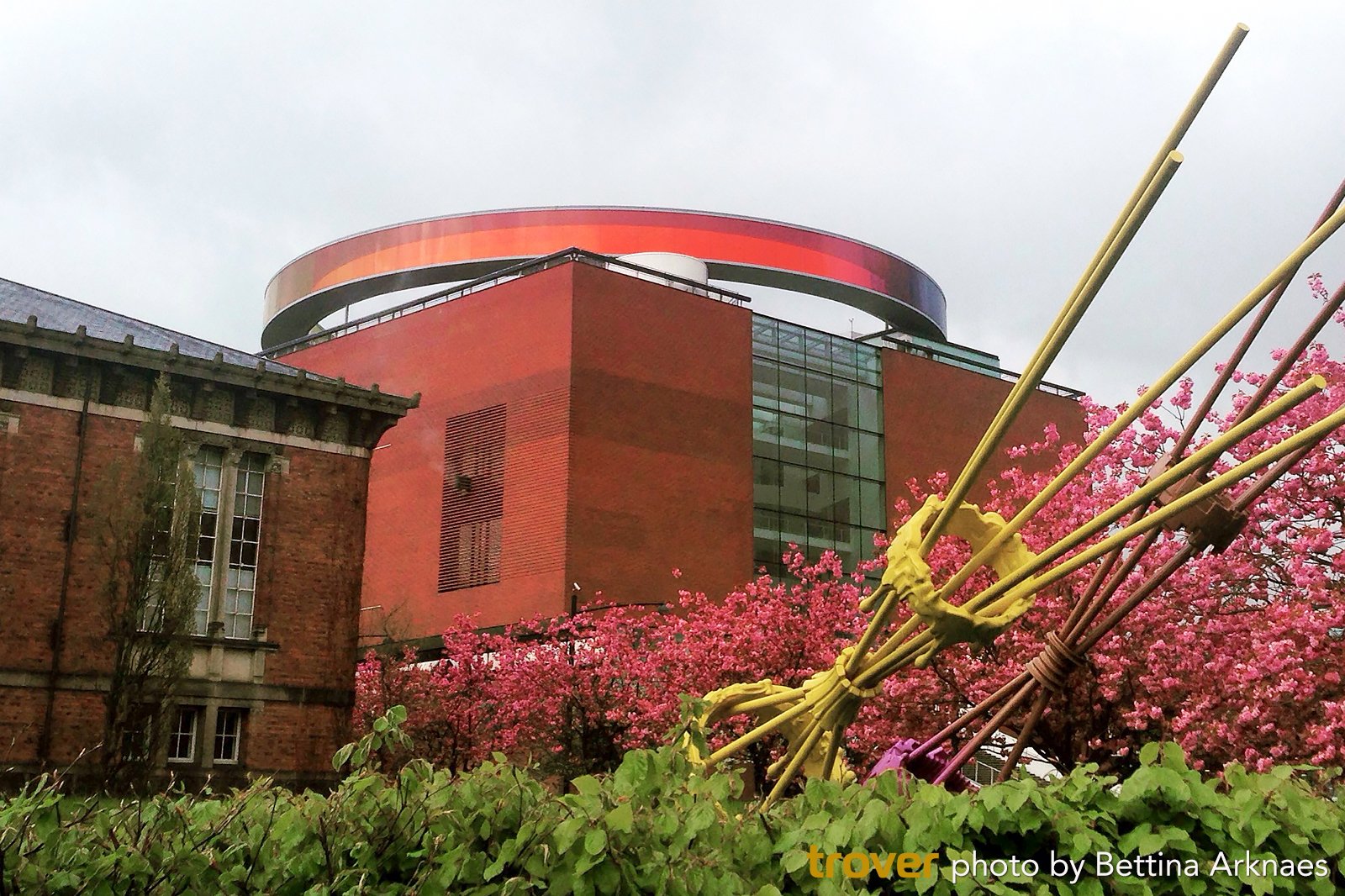 Must-See: ARoS Aarhus Kunstmuseum
Art inside a rainbow setting
ARoS Aarhus Kunstmuseum is one of Europe's largest art museums, and the only one with a rainbow rooftop. The colorful walkway attracts hundreds of visitors to the museum and sits at the top of the building. The view from the top offers lovely panoramas of the city. Find yourself mesmerized by the glowing colors of the walkway and bask in multi-color light as you walk in circles. The museum's exhibitions focus on modern and contemporary art with themes ranging from human nature to satanic conversations. One of the landmarks of the museum is Ron Mueck's 'Boy', which is an impressive 4.5m-high sculpture of a crouching youth. The museum is closed on Mondays.
Location: Aros Allé 2, 8000 Aarhus, Denmark
Open: Tuesday–Friday from 10am to 9pm, Saturday–Sunday from 10am to 5pm (closed on Mondays)
Phone: +45 87 30 66 00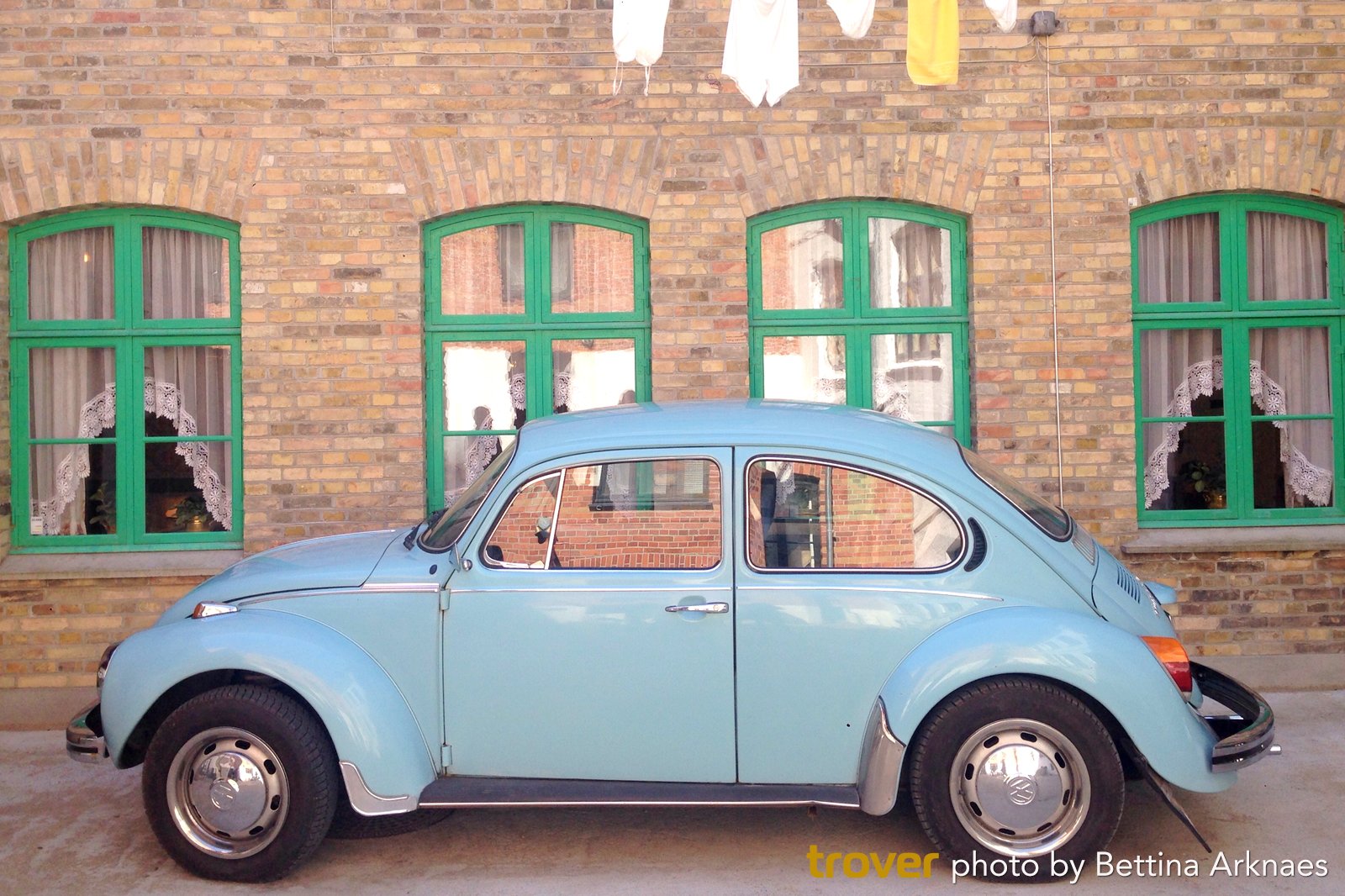 Step back in time at Den Gamle By
Learn about Danish history
Den Gamle By is named the Old Town museum of Aarhus, with buildings dating back as far as the mid-1500s. It's an open-air museum made up of ancient buildings that reek of history. This area puts on a fascinating display of Danish life over the centuries and is a must-see for first-timers to the city. The area covers three main time periods: 1700s, 1900s and the 1970s. The museum really allows visitors to explore and immerse themselves in the experience; you can enter almost every building and each café and shop has period-accurate foods and goods. History fanatics will definitely love this attraction. Look out for staff all dressed up in period-style clothing and in character.
Location: Viborgvej 2, 8000 Aarhus C, Denmark
Open: Hours vary by season
Phone: +45 86 12 31 88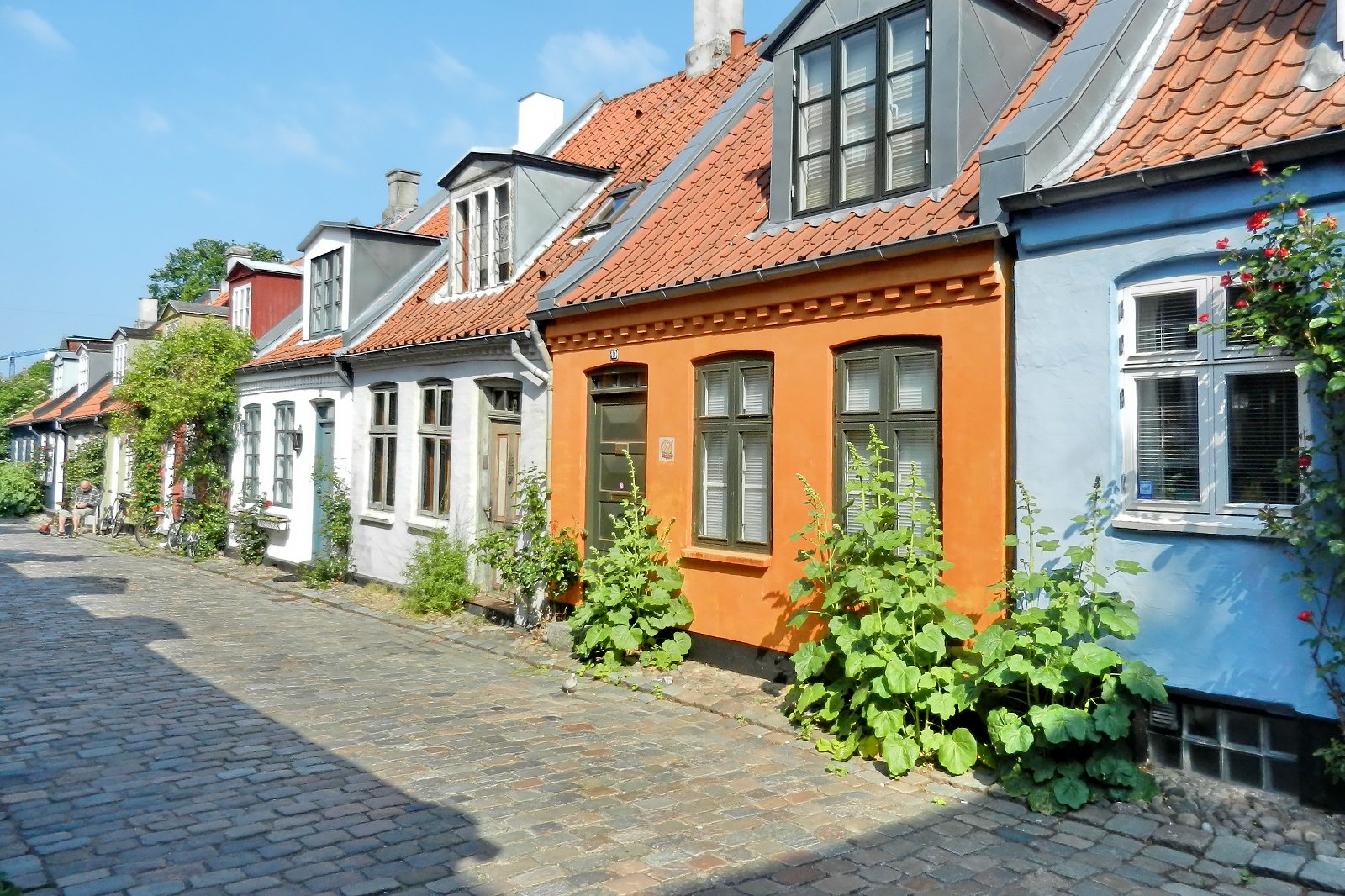 Take a walk down Møllestien
One of the city's most beautiful lanes
Møllestien is an old, picturesque lane adorned with gorgeous hollyhocks and ambling roses, which grow up the exteriors of the tiny half-timbered houses. On a sunny day, stand in adoration of this idyllic lane and watch the sunlight gleam off its cobbled street and the small-paned windows of the colorful houses. With the houses dating back to the 18th century and the street itself back to Viking times, there's an undeniable ancient charm in the atmosphere. You'll find yourself taking pictures at an alarming rate, with every corner of this street as attractive as the next. If you're lucky, snap a picture of a cyclist riding down the lane – a quintessential Danish setting.
Location: Møllestien, 8000 Aarhus, Denmark
photo by Tanya Dedyukhina (CC BY 3.0) modified
Aarhus Central Food Market
An indoor food Mecca
The Aarhus Central Food Market is the ideal place to refuel yourself for the second half of the day. The market features 20 food vendors set in the heart of the city, only 2 minutes' walk away from Aarhus Central Station. The market has an understated exterior with only a black and white sign marking its location and simple wooden benches ahead of the entrance. The food stalls offer visitors a Nordic experience as they cook up fusion dishes as well as more traditional foods. At Liege, you'll find crispy waffles and at Bangkoch, Nordic Asian-fusion dishes. In winter, the outdoor setting sees high levels of hygge, with dim-lighting, blankets and heaters.
Location: Sankt Knuds Torv, 8000 Aarhus C, Denmark
Open: Monday to Thursday from 11.30am to 8pm, Friday to Saturday from 11.30am to 9pm and Sunday from 11.30am to 6pm
photo by RhinoMind (CC BY-SA 4.0) modified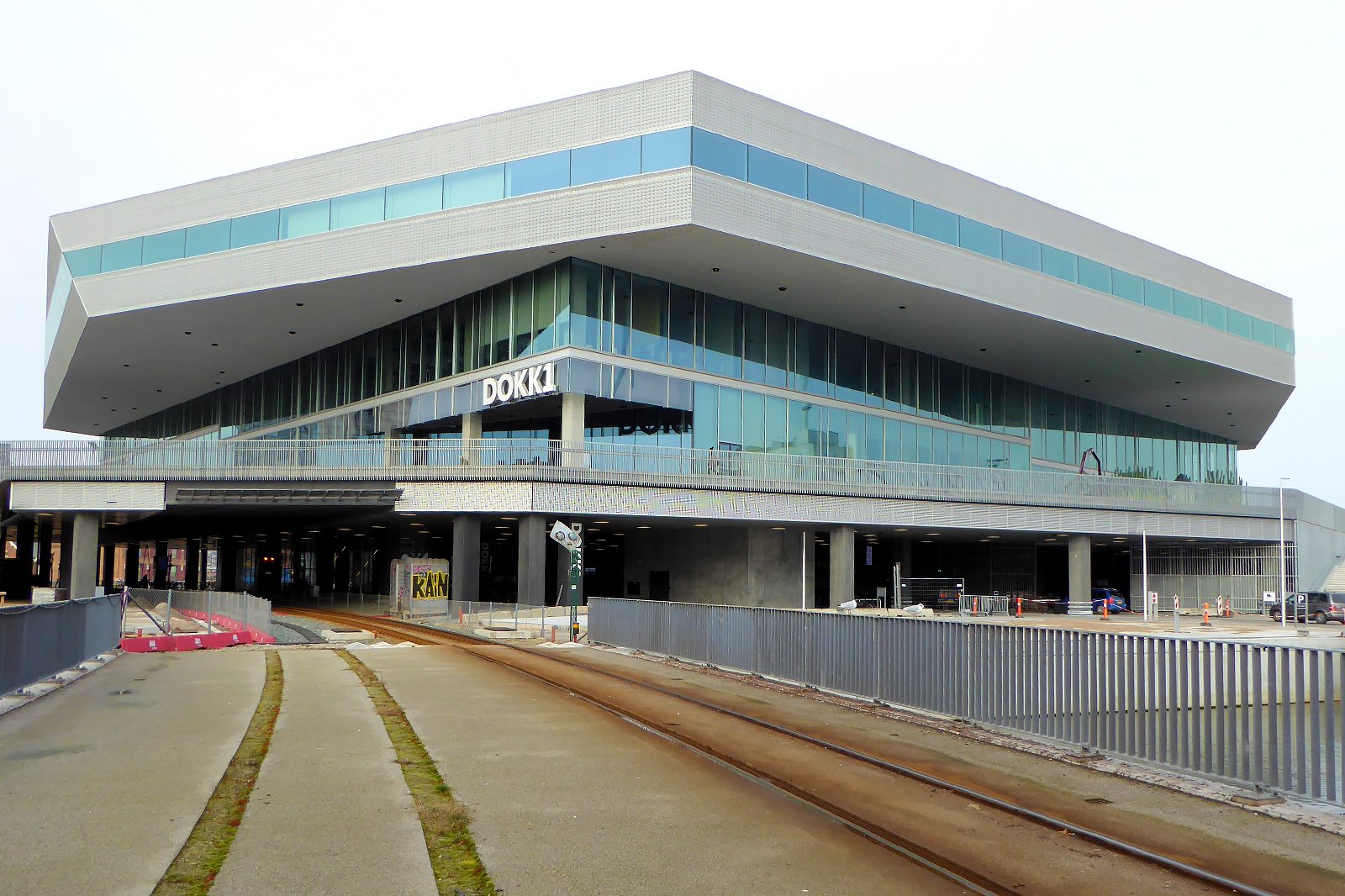 Dokk1
Danish architecture at its best
Dokk1 is a public library and cultural center found in the city center, along the waterfront. The structure is impressive in all respects, appearing as a sleek, modern spaceship. This stunning glass building holds Scandinavia's largest library. Now, you may be thinking – I didn't come to Denmark to look at a library – but this structure is so cutting-edge, it's been named the best public library in the world. Explore the futuristic grounds of the building, grab a book or a refreshment and relax on the waterfront. Come nightfall, enjoy the dazzling view of Dokk1 illuminated in light and reflected in the waters of the Aarhus Bay. Dokk1 also hosts the main tourist center of the city.
Location: Hack Kampmanns Plads 2, 8000 Aarhus, Denmark
Open: Monday to Friday from 8am to 10pm, Saturday to Sunday from 10am to 4pm
Phone: +45 89 40 92 00
photo by Leif Jørgensen (CC BY-SA 4.0) modified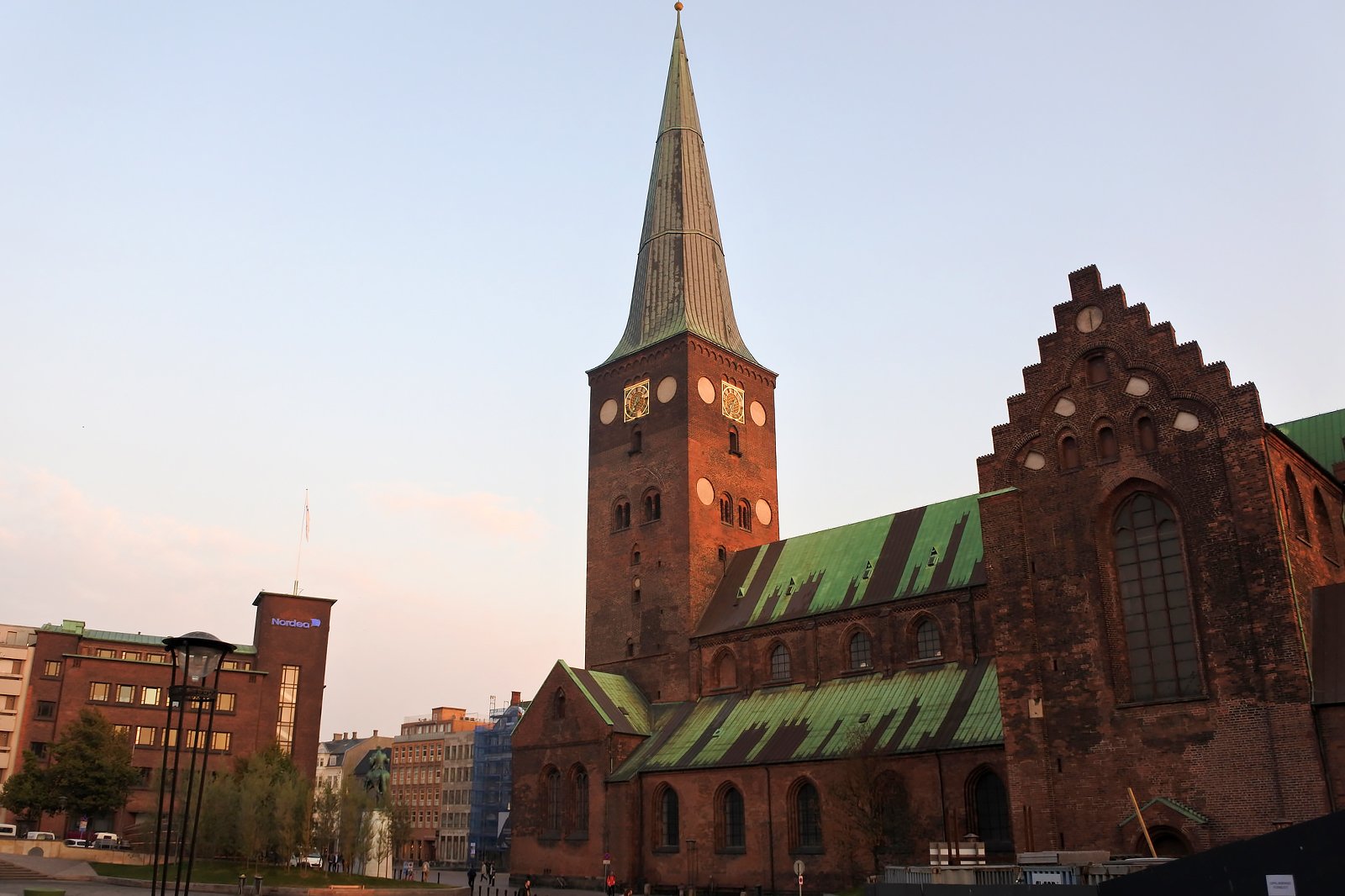 Aarhus Domkirke
Denmark's largest church
Aarhus Domkirke, otherwise known simply as Aarhus Cathedral, was founded in the last decades of the 12th century. The cathedral appears in a Gothic style with green-pointed skinny towers and beautiful brown brickwork on the outside and entrances of the cathedral. Inside, there are well-preserved murals and wall paintings, an intricate altarpiece from the 15th century and a grand baroque organ. For a small fee, you can climb the spiral stairs of the bell tower to a great viewpoint of the city. If you want to venture a little higher, the bell tower is open for viewing as well. Services are on Sundays at 10am and 5pm, and Wednesdays from 12pm to 12.30pm.
Location: Store Torv, 8000 Aarhus, Denmark
Open: May–September from 9.30am to 4pm and October–April from 10am to 3pm daily (extended hours on Sundays)
Phone: +45 89 40 92 00
photo by Luke McKernan (CC BY-SA 2.0) modified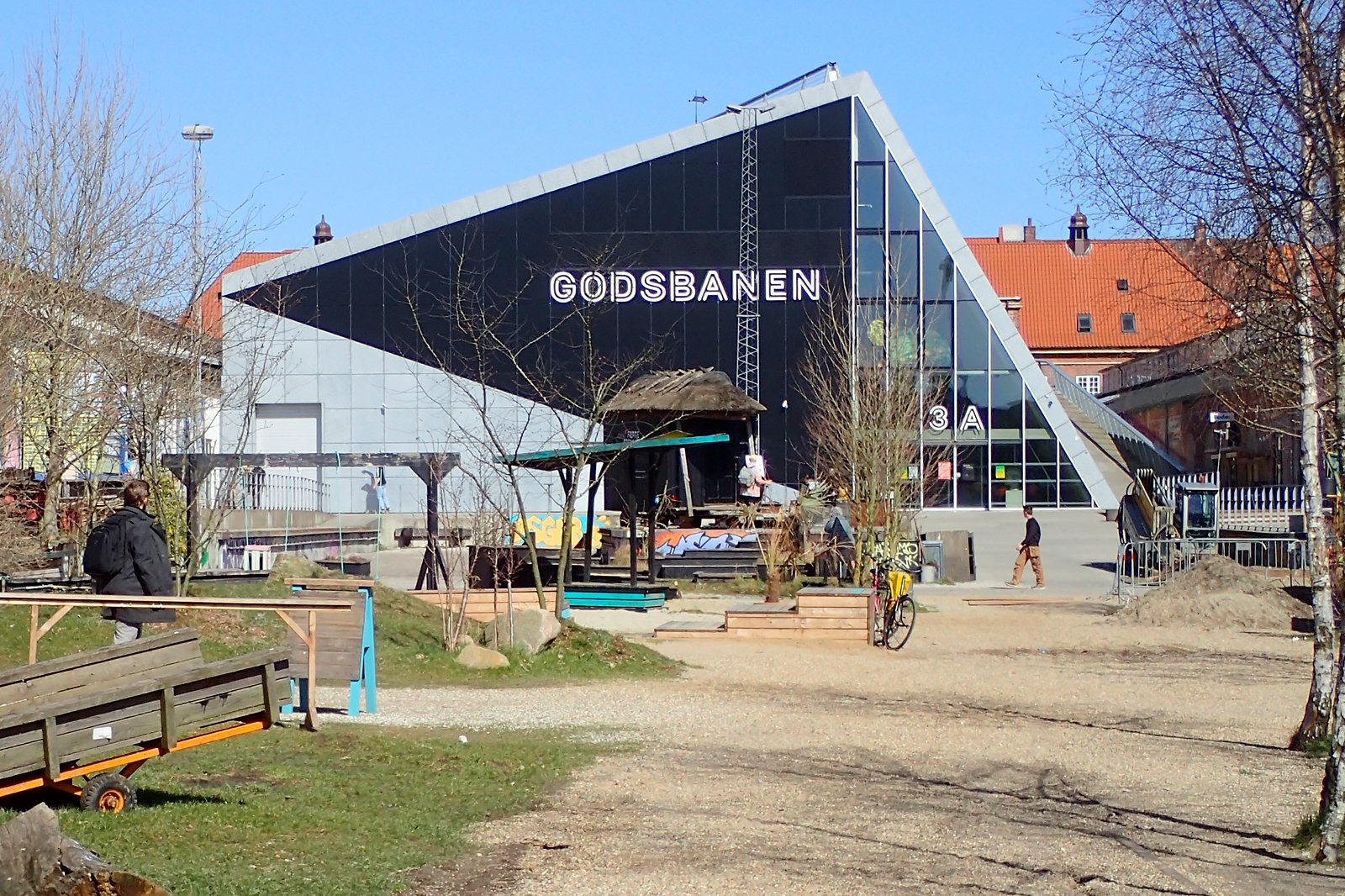 Vesterbro's Godsbanen
Home to flea markets and pop-ups
Godsbanen, located in the neighborhood of Vesterbro, provides Aarhus' creatives with all the space and opportunity they could imagine. Made up of open workshops, studio spaces, project rooms, auditoriums, theatre stages, dance halls and much more, the center represents the city's burgeoning creative scene. Previously an area for Denmark's largest freight train yards, the space is now filled with flea markets and pop-up stalls, some of which sell Danish street-food like hot dogs. Check out the website for any events during your stay. If you'd rather a hearty meal, pop into Spiselauget for a sit-down dinner – they serve Nordic gastropub food.
Location: Skovgaardsgade 3, 8000 Aarhus C, Denmark
Open: Daily from 10am to 10pm
photo by RhinoMind (CC BY-SA 4.0) modified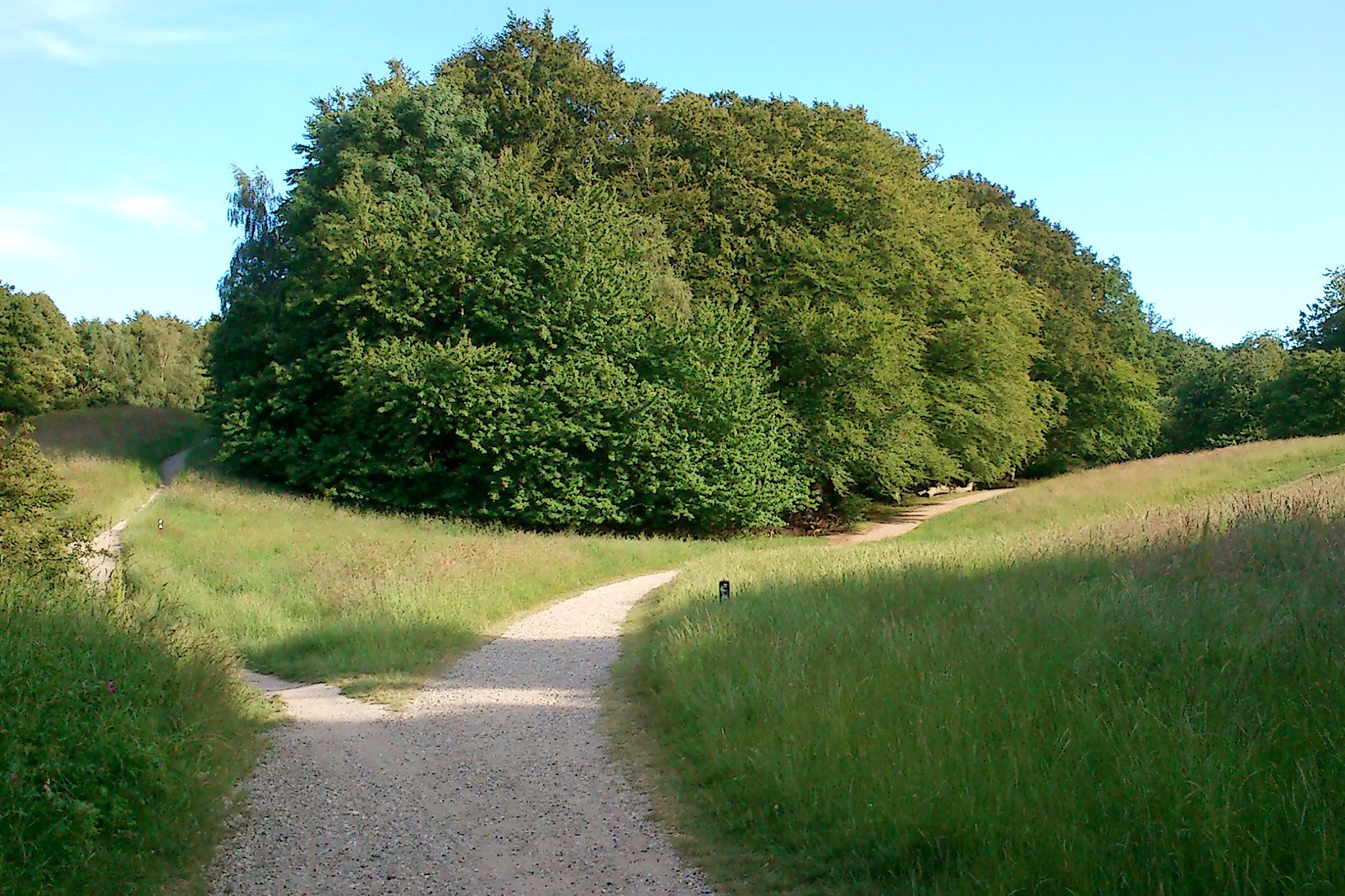 Marselisborg Forests
Enjoy a picnic in the woods
Spread over 1,300 hectares of lush, enchanting woodland, Marselisborg Forests is found south of Aarhus. Find yourself among a typical Danish fairytale setting, with towering oak trees glittering in faint light and the occasional deer (visitors from the neighboring Marselisborg Deer Park). Also found within the woodlands are anemone fields and rare plants, such as bleeding corals and the poisonous Satan's mushrooms. The grounds are hilly with deep green slopes, so wear walking shoes and find a cozy spot among the trees to relax in. Spread around the forest there are a number of 200- to 300-year-old beech trees.
Location: Marselis Skoven, 8000 Aarhus, Denmark
photo by RhinoMind (CC BY-SA 3.0) modified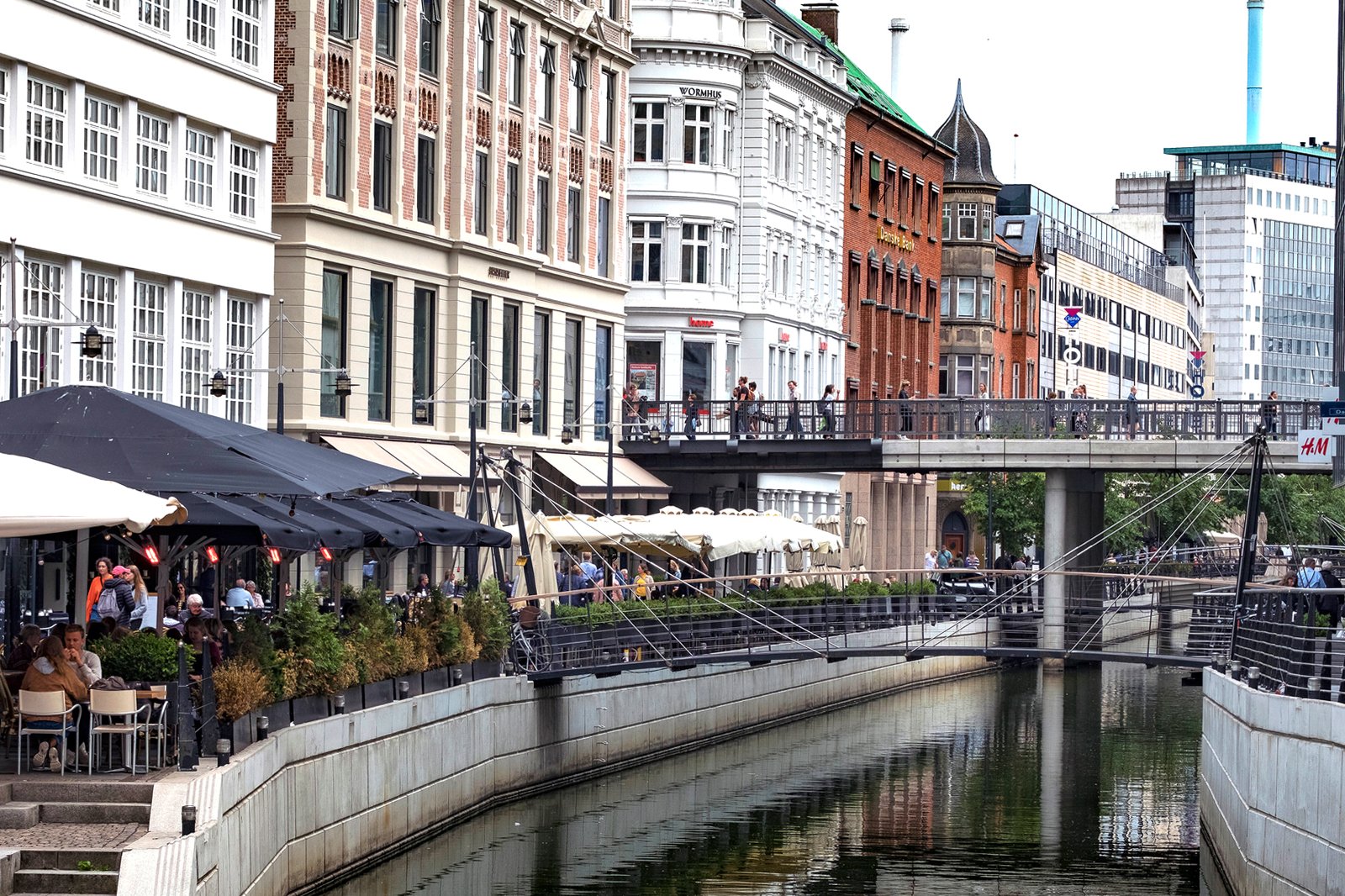 End the day at Åboulevarden
Bar-hop along the riverfront
Åboulevarden is a lively street and promenade meandering through the Indre By neighborhood, which is a popular thoroughfare for tourists and locals. Sat along the Aarhus River, sunny days on the street are particularly pleasant as crowds flock to enjoy the sunshine and the attractive views of the glistening river. Åboulevarden is the ideal place to end your day with bustling bars and exciting cafes. Check out Cross Café, which serves Danish and international beers and colorful cocktails, and Lava for a more relaxing atmosphere.
Location: Åboulevarden, 8000 Aarhus, Denmark
photo by News Oresund (CC BY 2.0) modified