10 Best Beaches in Cyprus
Which Cyprus Beach is Right for You?
There are many things that make Cyprus such a popular vacation destination, from its fascinating ancient history to its year-round sunshine and oh-so-delicious local cuisine. But one thing in particular that Cyprus really knows a thing or two about what makes a great beach. The island has its fair share of beaches – a staggering 64 of them carry the coveted Blue Flag award for safety and cleanliness.
So, what do you look for in a beach? There are big ones, little ones, open shores, sheltered coves, sandy beaches, party beaches, and even beaches with a rich history. From secluded conservation areas to bustling family-friendly bays, you'll be able to find a Cyprus beach that's right for you.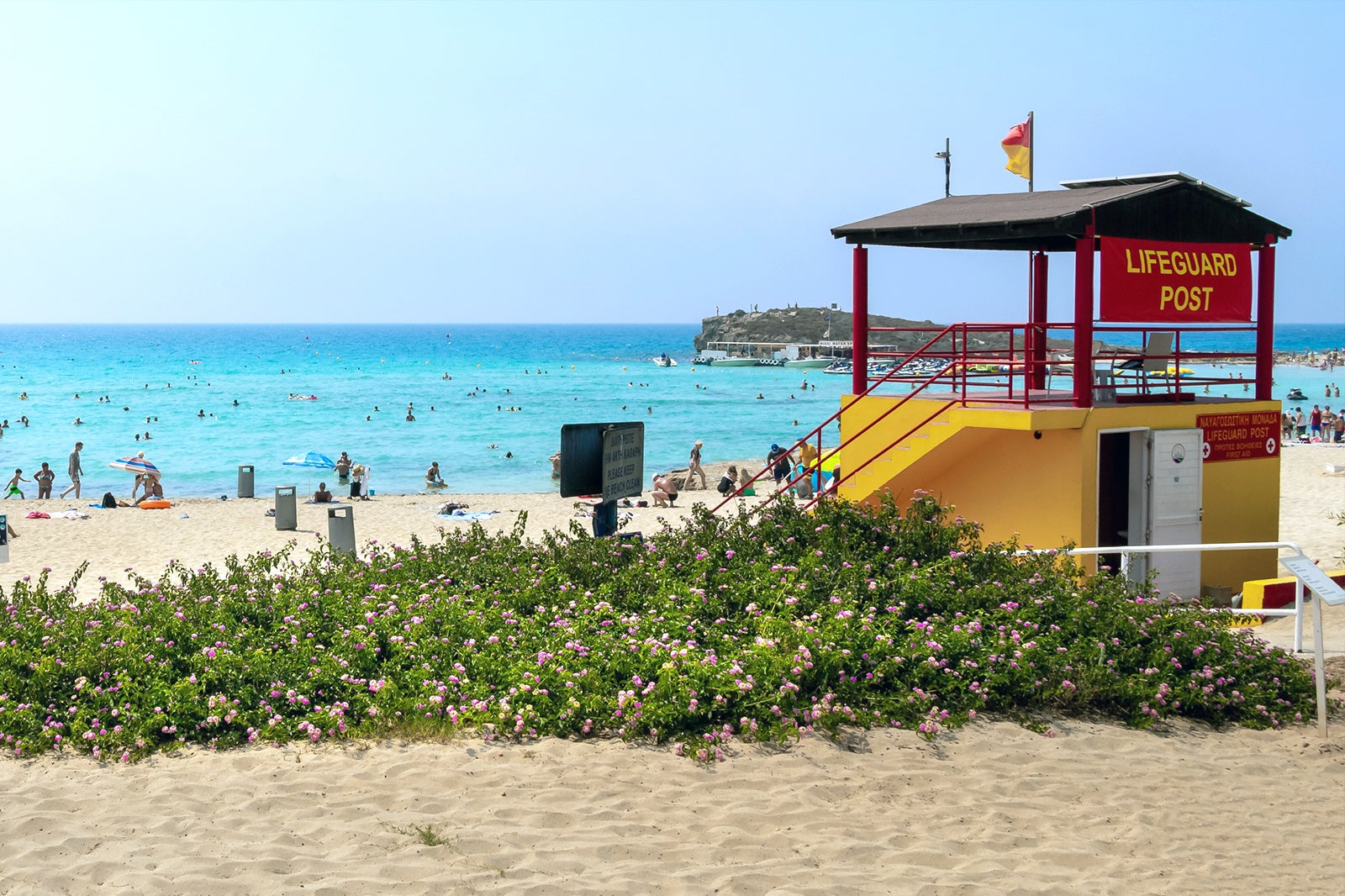 Nissi Beach
Best for partygoers
Nissi Beach is where weary partygoers choose to recharge their batteries during the day before embarking on another lively night on the town. Spanning 500 meters of fine, white sand and transparent waters reflecting bright shades of blue, it's wholly deserving of its Blue Flag status. Just a stone's throw from Cyprus' nightlife capital, Ayia Napa, the beach is easily accessible by foot or car.
Nissi Beach also offers ample parking spaces, toilets and changing facilities, along with bars and restaurants with views of the ocean. It's a popular spot for water sports, and organized events such as beach parties and DJ sets often take place on the beach. Visit when the tide is low, as you'll get to walk out to the small islet of Nissi, where the beach gets its name from.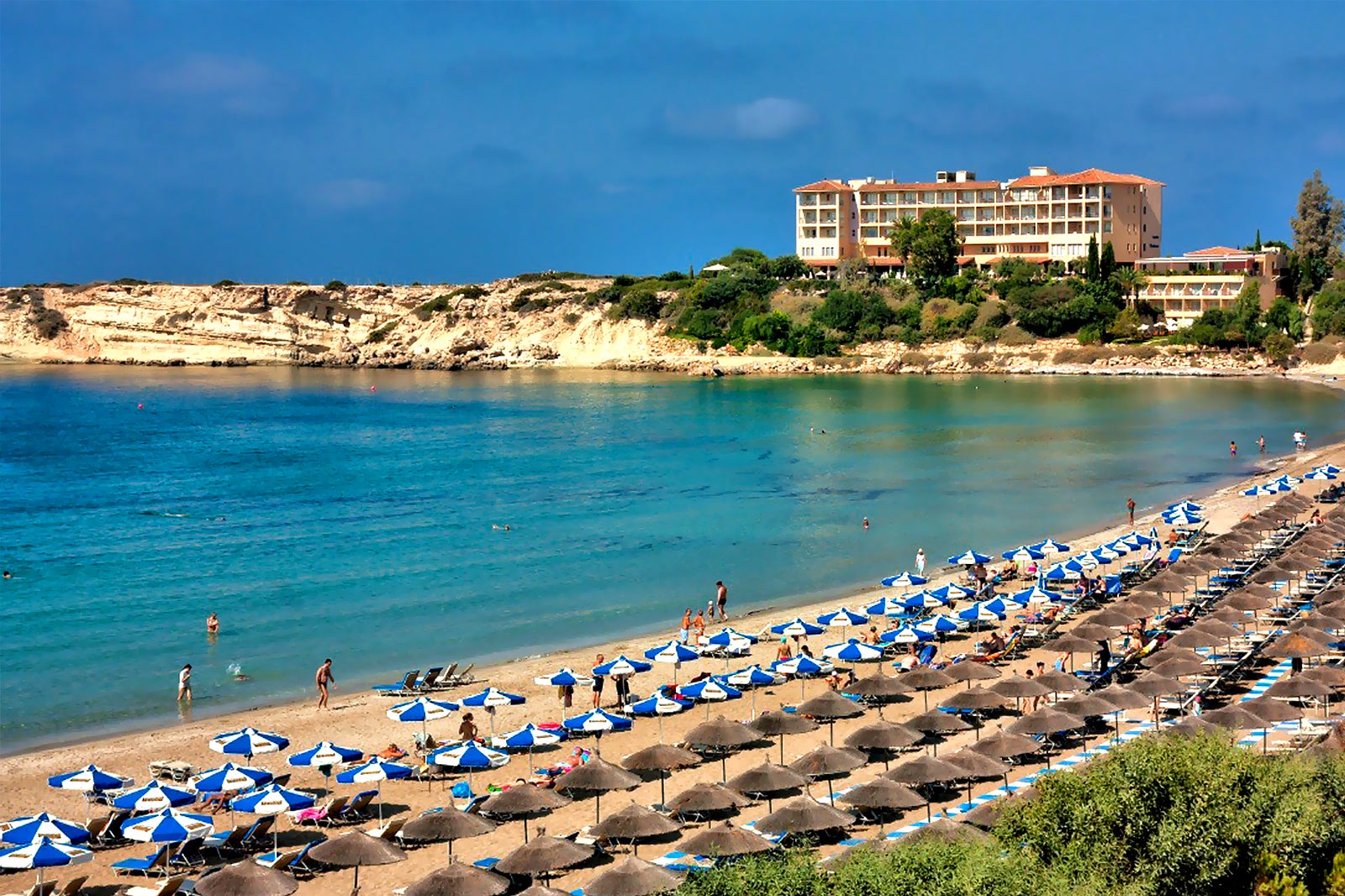 Coral Bay
Best for swimming
Coral Bay is the most popular beach for those staying in the Peyia municipality. Located just a 20-minute drive along the coast from Paphos, the horseshoe bay has soft, golden sands that makes it a prime choice for families who looking to escape the pebbly beaches around Paphos. The tall headlands surrounding the 600-meter-long beach keep it well sheltered. Pair that with the calm, shallow waters and you've got the ideal beach for swimming. The water tends to always be a few degrees warmer than that around Paphos too.
There are plenty of water sports equipment for rent, along with loungers and umbrellas for those looking for a more relaxing day. Coral Bay's main strip is lined with restaurants and bars, some of which spill out onto the beach. There's parking by the beach if you drive. Alternately, there are regular buses from Paphos, or you can cycle along the coastal path to get to Coral Bay.
photo by Paul Lakin (CC BY 3.0) modified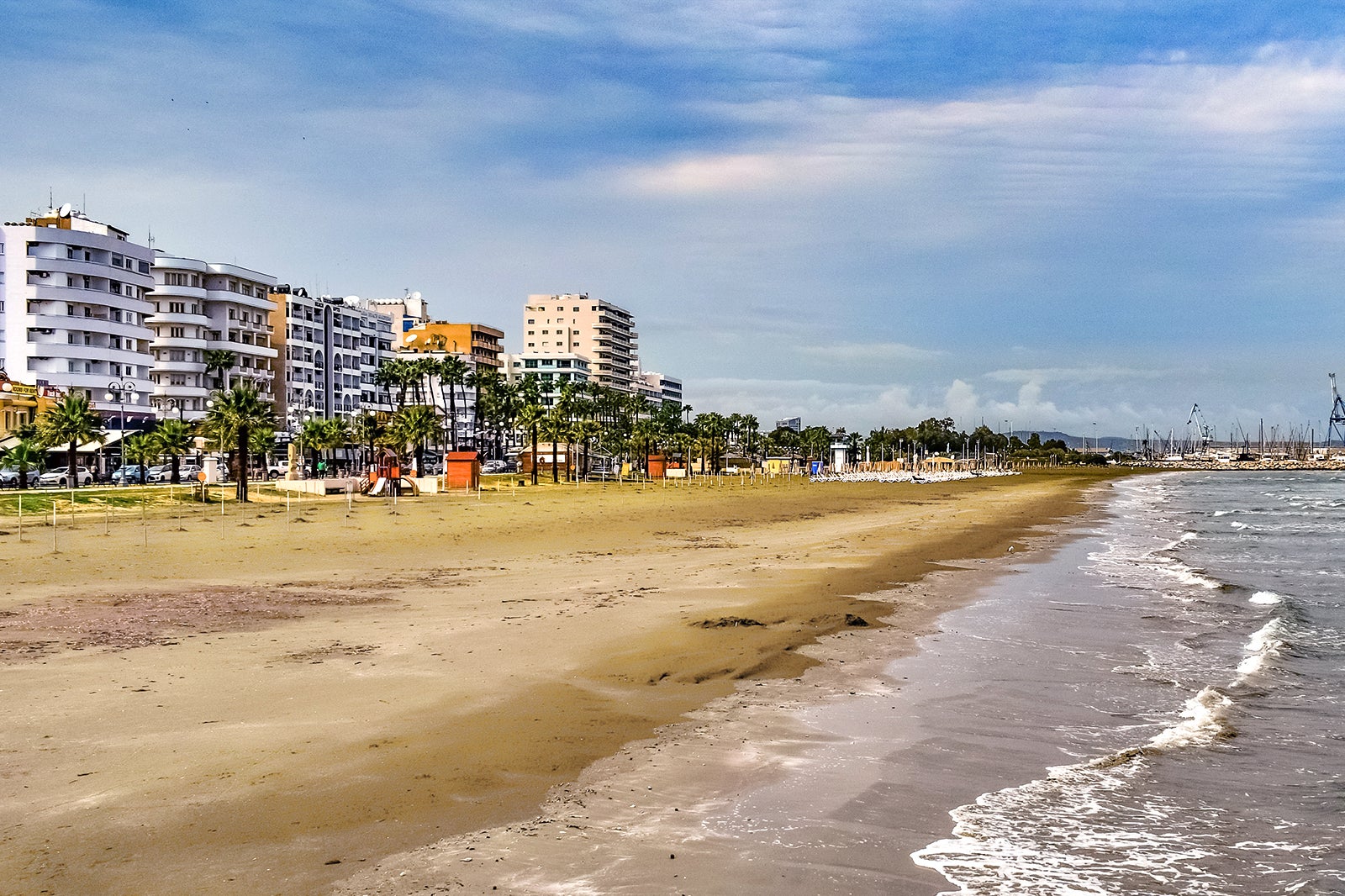 Mackenzie Beach
Best for entertainment
Mackenzie is one of Larnaca's go-to beaches, thanks to its extensive entertainment options. Located close to the city's international airport, the 1-km-long stretch of fine, brown sand has plenty of loungers and umbrellas where you can lie back and watch the planes passing overhead. The whole stretch is lined with bustling bars and restaurants. Diverse events often take place on the seafront stage, including art fairs, market stalls, late-night parties, and concerts.
Mackenzie Beach also has toilets, showers and changing rooms, together with children's play areas and plenty of water sports for adults and older kids. The Zenobia shipwreck is nearby, too, if you're up for diving. The beach is easily accessible by foot or car, as it's just a short distance from the center of Larnaca.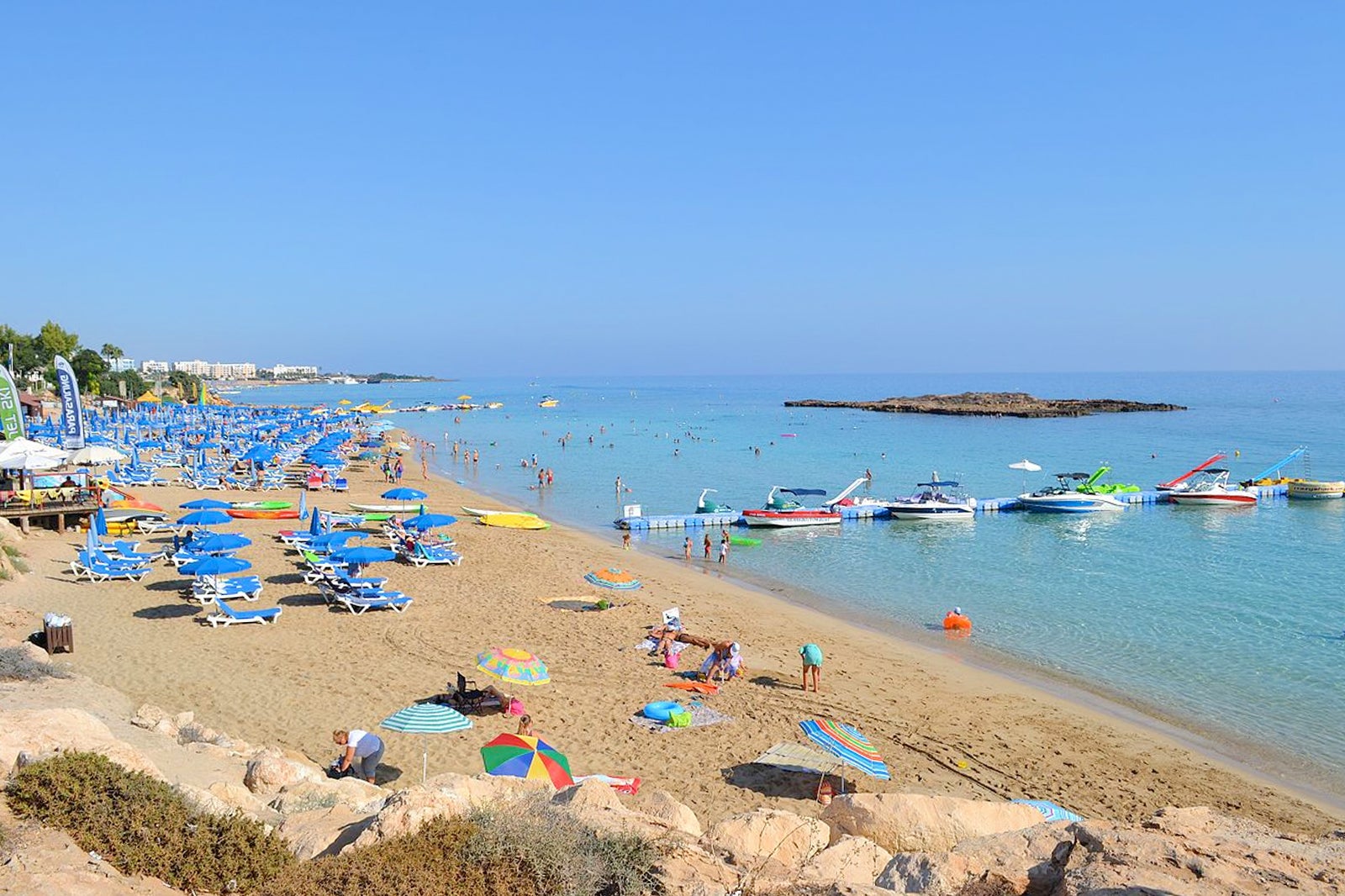 Fig Tree Bay
Best for families
Fig Tree Bay, located in the peaceful resort of Protaras, is ranked as one of the best beaches in Europe. Taking its name from the solitary, centuries-old fig tree which stands on the shore, the Blue Flag beach has clean, soft sands and shallow, azure waters – suitable for paddling with the little ones. A tiny islet just off the shore is near enough to swim to and is great for snorkeling.
Fig Tree Bay has all the necessary facilities for a day at the beach, from toilets to hireable loungers. Restaurants run along the promenade, and lifeguards are on duty during the summer months. There's excellent disabled access, both onto the beach and into the water.
photo by Catauggie (CC BY-SA 4.0) modified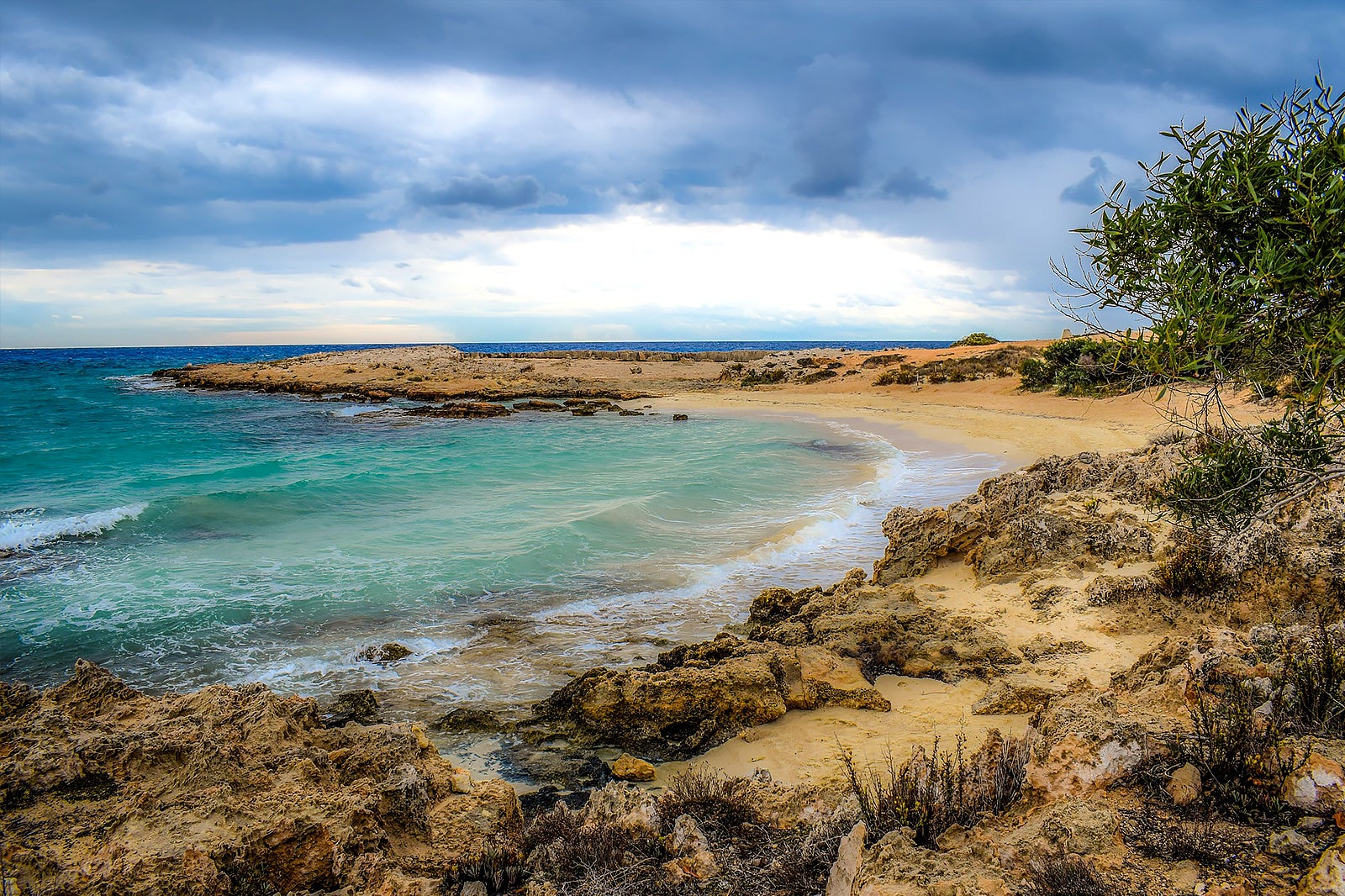 Makronissos Beach
Best for water sports
Makronissos Beach is made up of 3 separate bays jutting out on a peninsula that resembles a dolphin's tail. Surrounded by rocky plateaus, this secluded beach is less crowded than the neighboring Nissi Beach, meaning that a great selection of water sports is more readily available here. From water-skiing and banana boats to parascending and diving, there's plenty to enjoy on Makronissos Beach.
The southwestern area of the peninsula is part of the protected Natura 2000 network. There's a fascinating archeological site to explore as well. Makronissos Beach is about 7.5 km west of the Mediterranean resort town of Ayia Napa. You can reach the beach on foot if you're up for the walk. Alternately, there is parking for those driving, or there are regular buses from Ayia Napa.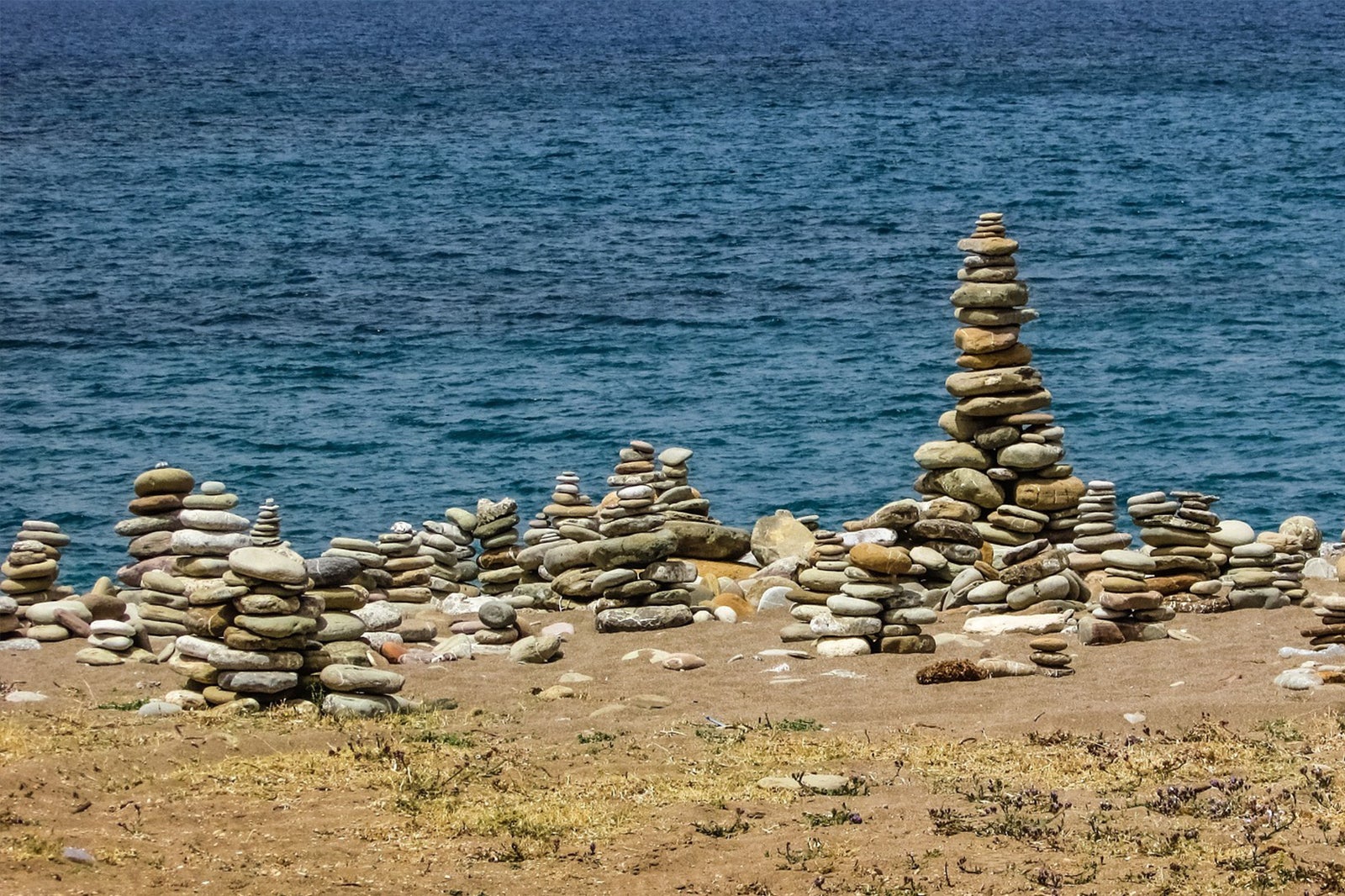 Lara Bay
Best for nature lovers
Lara Bay is a protected area for turtles, thanks to its rather remote location in Cyprus. It's one of the best beaches to be at one with nature due to the lack of facilities and restaurants. You'll need to pack essentials if you're planning a visit to Lara Bay, but don't let that put you off. Its near-deserted location, away from artificial light, means it's a bustling breeding ground for green and loggerhead turtles. Head there in the summer months if you want to see them laying their eggs.
Lara Bay is situated off-road, so it's best to rental a 4x4 to get there. Located in the Paphos area, on Cyprus' west coast, drive first to Peyia, then on to Agios Georgios. You'll find the beach on the Akamas Peninsula.
Kourion Beach
Best for ancient history
Kourion Beach is known for its rugged natural beauty, with staggering clifftops and multicolored layers of pebbles and sand. Unlike most beaches in Cyprus, it experiences rather strong winds and waves, which actually makes it popular for windsurfing. There are loungers, changing facilities, toilets and showers at the beach, as well as seafood taverns.
One of the biggest draws to this beach is the Kourion archeological site, perched on the cliffs above. Dating back to 12th century BC, it's worth exploring remnants of the ancient kingdom of Cyprus. Must-sees include Kourion Amphiteatre and the house of Achilles. You'll also enjoy great views of the beach below.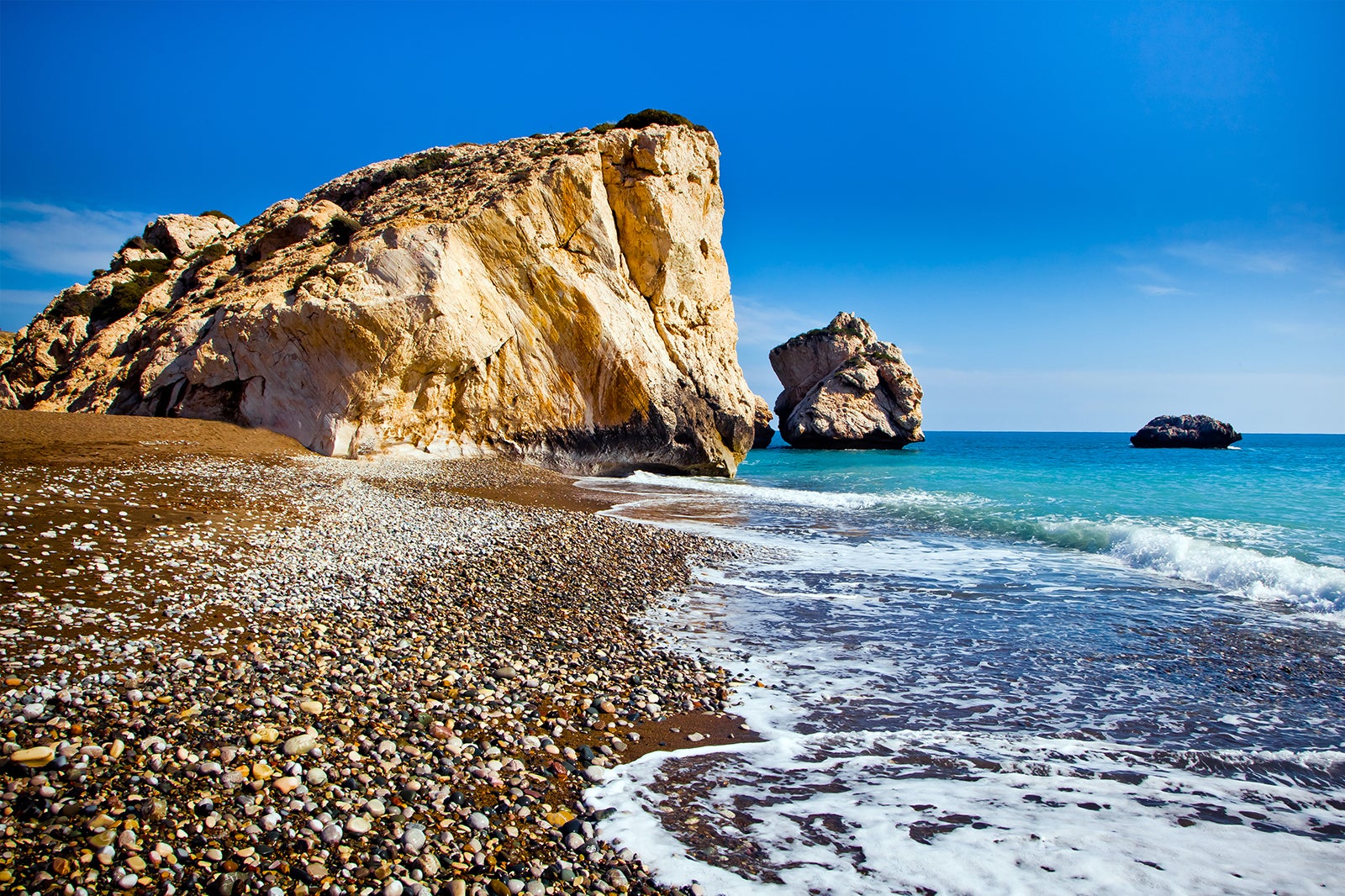 Aphrodite Beach
Best for famous views
Aphrodite Beach is the site of the mythic Petra Tou Romiou, otherwise known as Aphrodite's Rock. Legend has it that the goddess of love emerged from the bubbling waters and began her life as a human. Since then, thousands of people flock to the area each year to catch a glimpse of the rock and, of course, capture that all-important Instagram shot.
There aren't many facilities here, other than a parking lot and viewing pavilion. The water is too choppy for swimming, but the pebbly beach offers ample space for relaxation. Aphrodite Beach is connected to Paphos and Limassol via a long coastal road.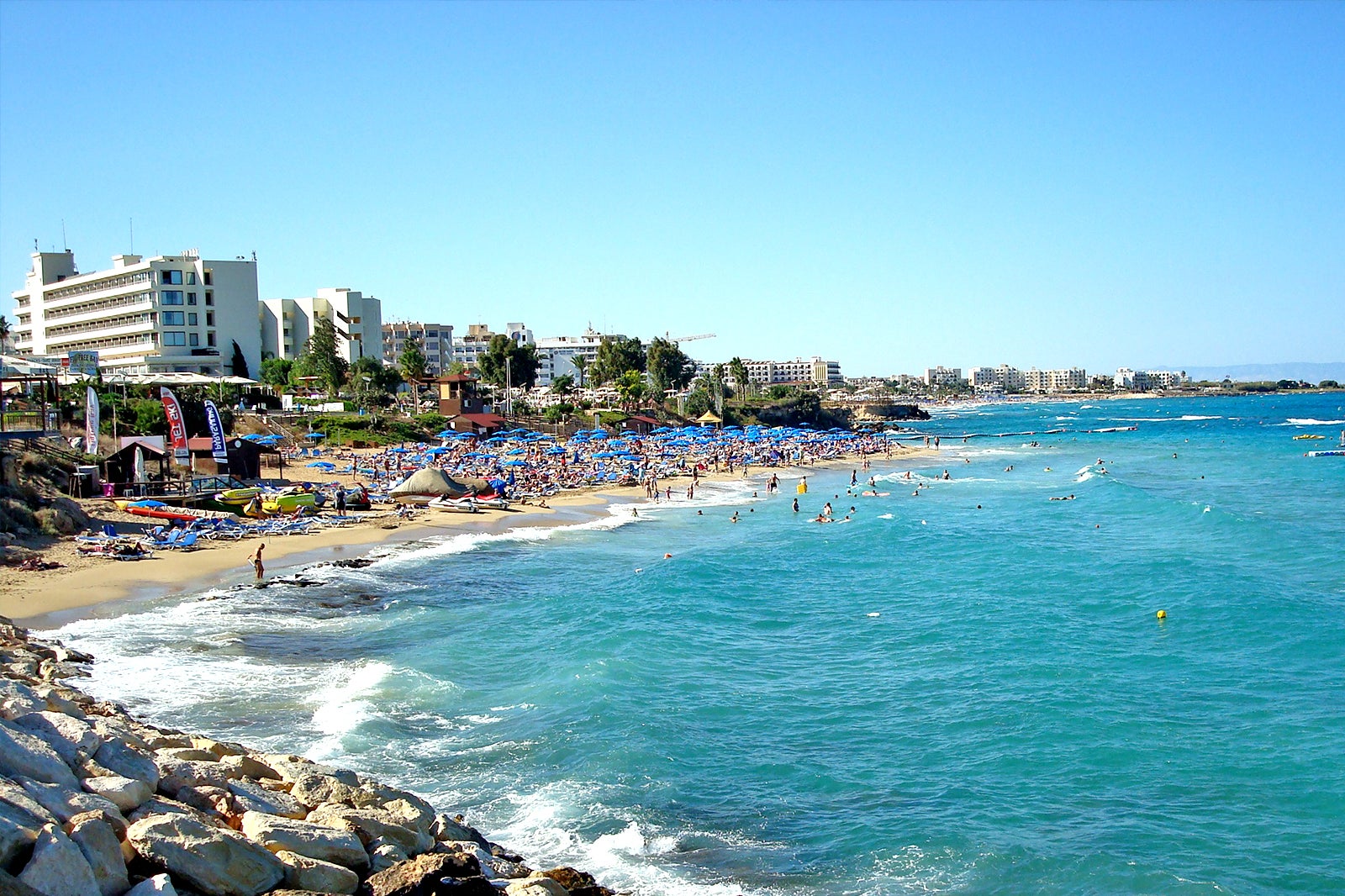 Finikoudes Beach
Best for convenience
If you're looking for a Cyprus beach that's easy to get to and has everything you need within a short distance, Larnaca's Finikoudes Beach is a good choice. Most beaches don't get much more accessible than this, as this Blue Flag beach is right in the center of town. Its clear, calm water is great for swimming, and you'll be surrounded by shops, bars and restaurants.
Lined by palm trees (finikoudes in Greek), Finikoudes Beach has sunbeds and umbrellas along its 600-meter stretch of soft sand. You'll also find proper facilities on the beach and along the town's main strip, as well as water sports, a small park, and arcade.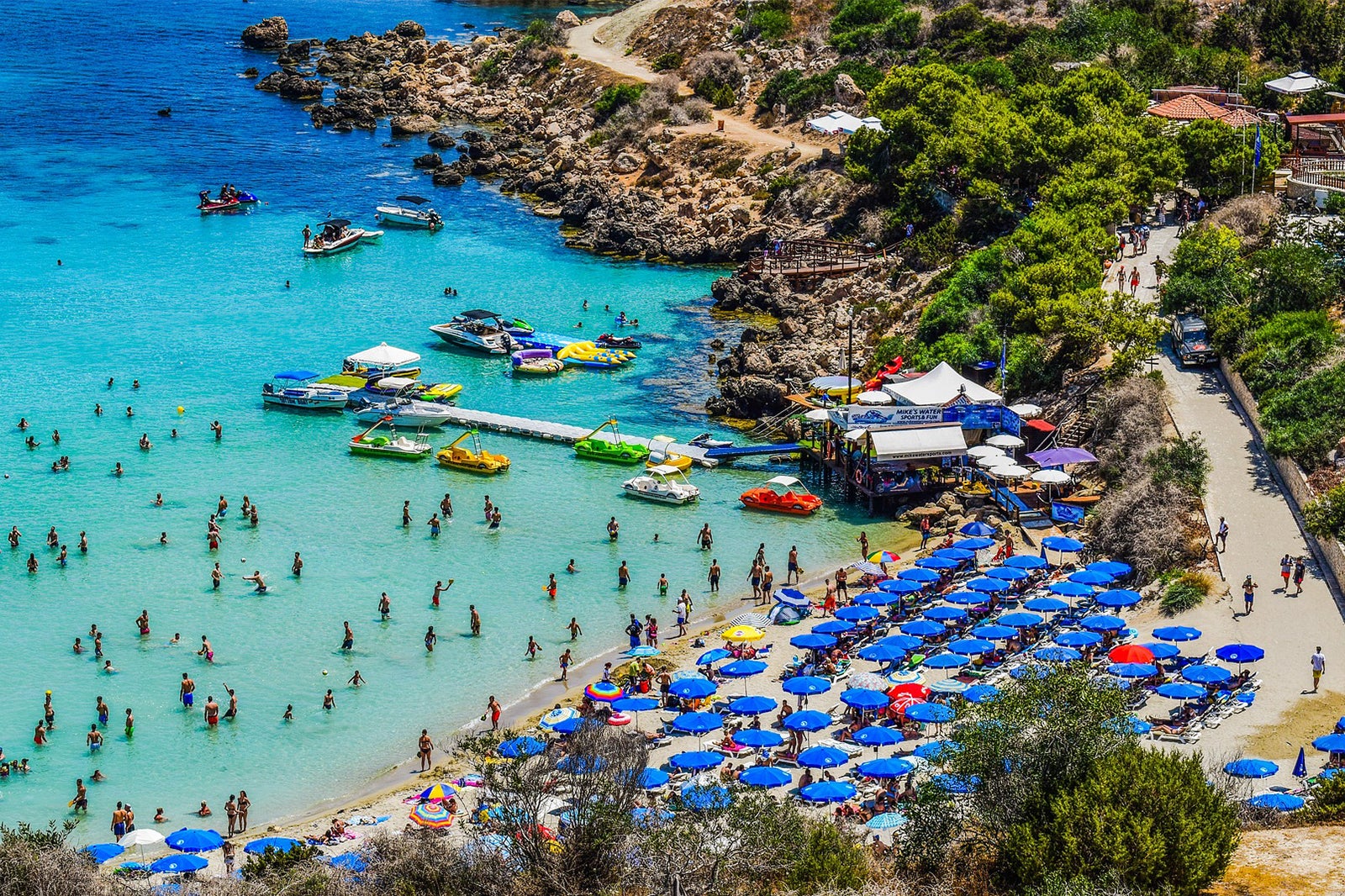 Konnos Bay
Best for scenery
Konnos Bay is what many consider as a slice of paradise in Cyprus. Hidden off the main road between Ayia Napa and Protaras, the beach is surrounded by lush green hills, sheltering it from strong winds. The golden sands and iridescent waters provide a nice setting for you to relax and unwind, while an onsite beach bar serves a wide range of drinks throughout the day.
There are toilets, changing rooms, loungers and umbrellas on the beach. Water sports are available if you're in the mood for adventure. It's best to drive to the Konnos Bay – park your vehicle at the beach's designated spot and follow a footpath that passes through the pine trees onto the shore.