Siem Reap Area Guide
Everything You Need to Know About Siem Reap Areas
Known as the gateway to Angkor Wat and other ancient sacred sites around it, Siem Reap is a major tourism hub for Cambodia. It is also one of the fastest-growing cities in the country.
Siem Reap has everything to offer visitors, including hotels of all ranges from upscale and trendy hotels to budget accommodations. A good start for enjoying Siem Reap might be near the town center around the Old Market Area as well as along the road No.6. The Old French Quarter is also an attractive part of town with its rows of preserved colonial buildings. Below, we show you some of the highlight areas of this popular Cambodian resort town.
The Old Market Area (aka City Center)
The Old Market area, which includes Pub Street and the alley off Pub Street, is a very touristic area in the city center. As its name suggests, the area covers the area around the Old Market. Many visitors to Siem Reap treat it as a base for exploring the city as well as Angkor Wat thanks to the convenience it offers – you can find plenty of shops, restaurants, bars and pubs around.
Popular venues in the Old Market area include Smateria (presenting unique fashion items created from recycled products) and the Angkor What? Bar. Most businesses in this neighborhood open from about 10am onwards. There are some night markets around, too, where food is sold from afternoon until late.
Location: Siem Reap, Cambodia
photo by Francisco Anzola (CC BY 2.0) modified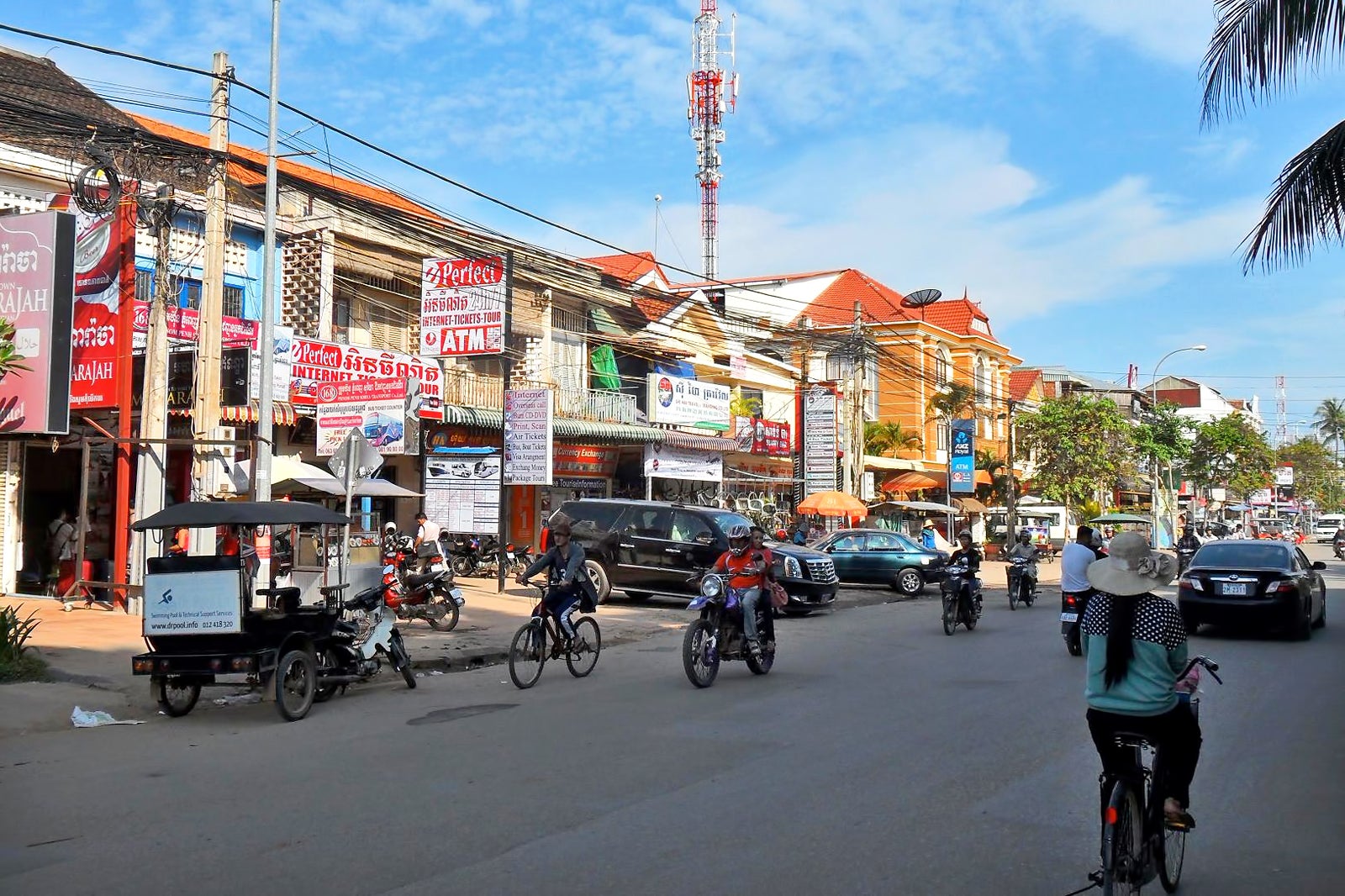 Sivatha Boulevard and the Old French Quarter
Sivatha Boulevard, part of the Old French Quarter in Siem Reap, is a lovely area where you can find vintage and charming colonial buildings that still stand strong. These buildings remain a showcase of the area despite recent developments.
As Siem Reap's main street, Sivatha Boulevard is known for its collection of luxury accommodations such as the stylish Hotel de la Paix and the Prince d'Angkor Hotel & Spa. The famous Foreign Correspondents Club (FCC) Angkor Restaurant is also located in the area, together with many upmarket restaurants and trendy shops and boutiques.
Location: Siem Reap, Cambodia
photo by Milei.vencel (CC BY-SA 3.0) modified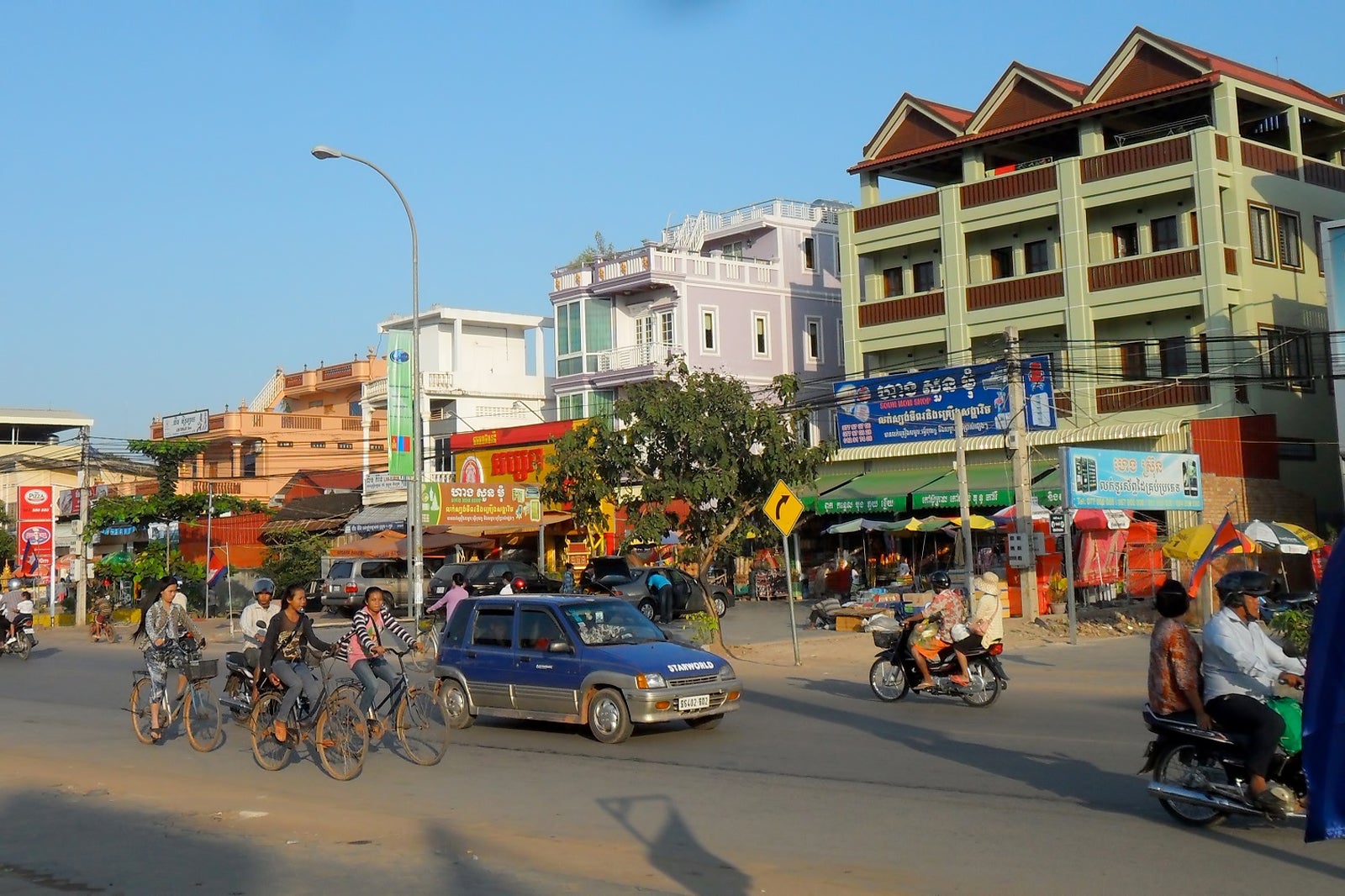 The Siem Reap Airport Road is part of National Highway 6 that cuts across the northern section of town. It passes one of the local markets called Psar Leu in the east of town and the Raffles Grand Hotel d'Angkor in the center and then heads to the airport.
The Airport Road area is an up-and-coming area with a good range of large hotels such as La Palmeraie d'Angkor. You can enjoy traditional Khmer performances set in a big cultural village-themed park and museum known as Cambodian Cultural Village, which is only about 3 km from the airport.
Location: Siem Reap, Cambodia
photo by Milei.vencel (CC BY-SA 3.0) modified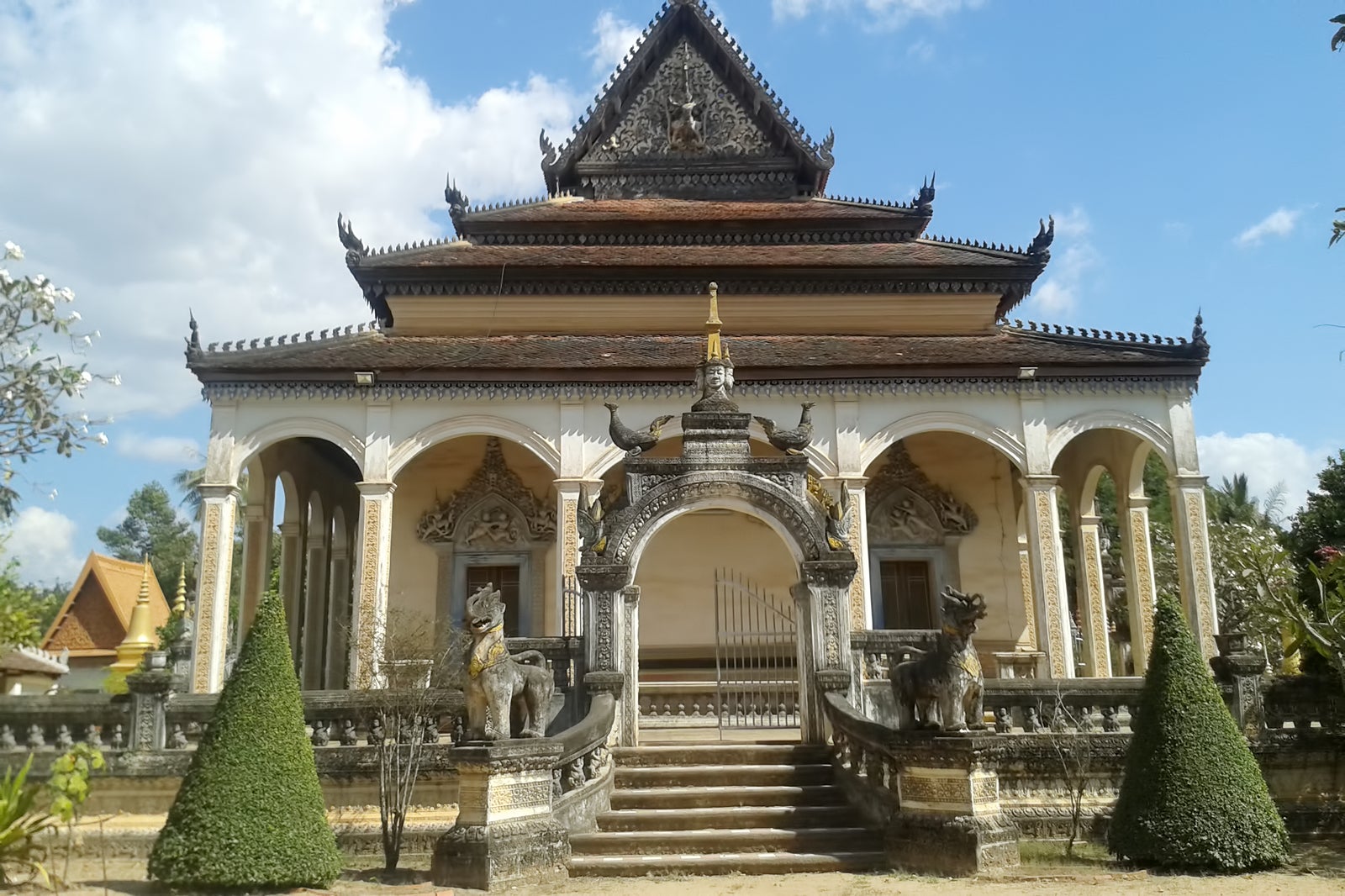 Located on the east side of the Siem Reap River, Wat Bo Road was once popular with budget travelers. Things have changed, though, as Wat Bo Road nowadays plays host to boutique hotels such as the Frangipani Villa Hotel, upmarket restaurants, garden-style restaurants and hip bars.
Foodies and locals who take their dining seriously come to this area for the city's newest restaurant ventures. The main attraction of the lovely and quiet area is Wat Bo, one of the province's oldest temples (other than Angkor Wat). Wat Bo Road is only about a 10-minute walk to the famous Old Market Area.
Location: Siem Reap, Cambodia
photo by Disthan (CC BY-SA 4.0) modified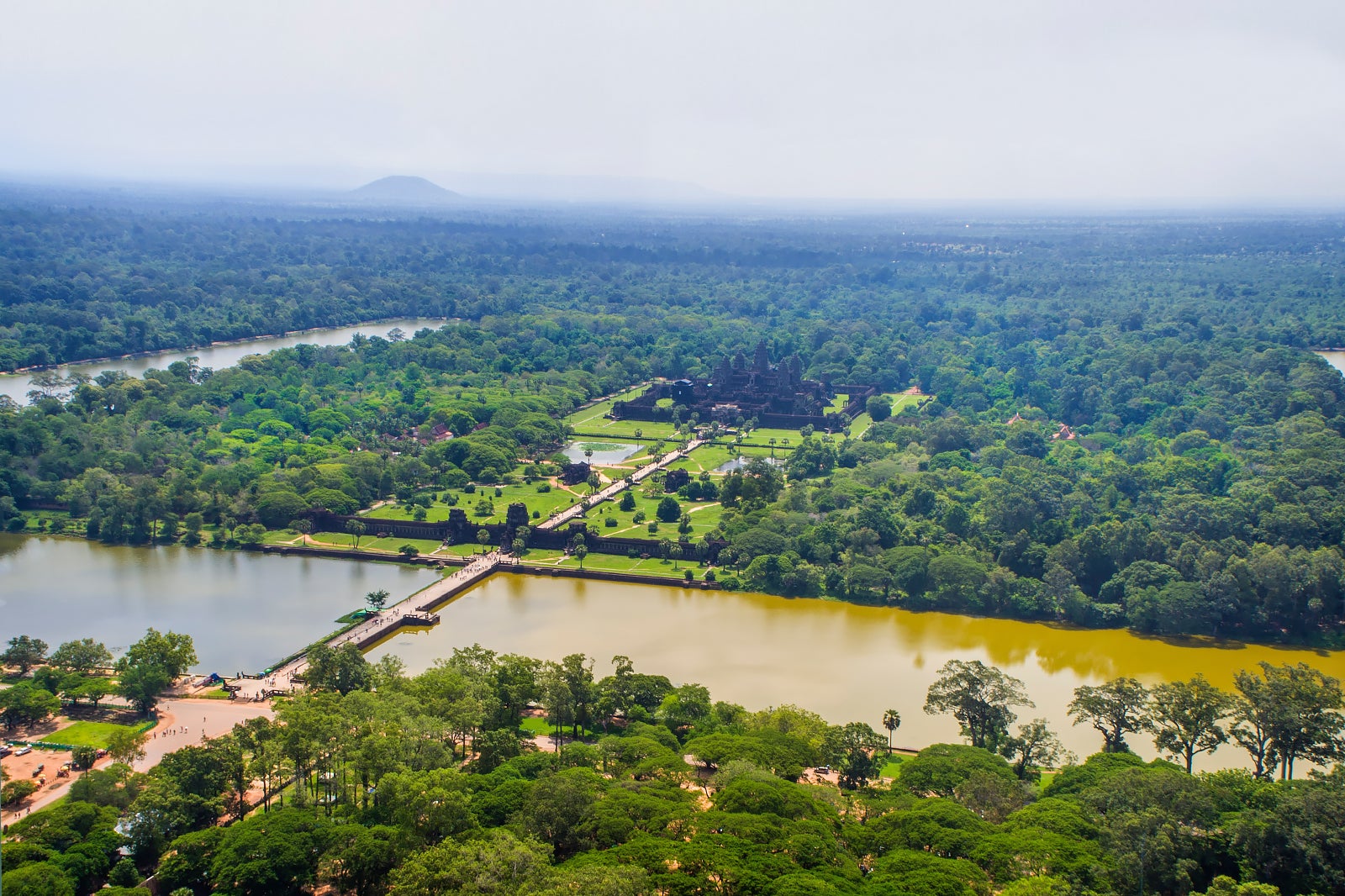 The main road to Angkor is officially called Charles de Gaulle Boulevard. It's the main route that connects the center of Siem Reap with the Angkor Archeological Park. It has several restaurants, shops and high-end accommodations including Raffles Grand Hotel d'Angkor, Le Meridien Angkor and Tara Angkor Hotel.
A must-visit venue along the road is the Angkor National Museum where over 1,300 items of Angkorian-era artifacts are displayed together with multimedia presentations of the Angkorian period.
Location: Siem Reap, Cambodia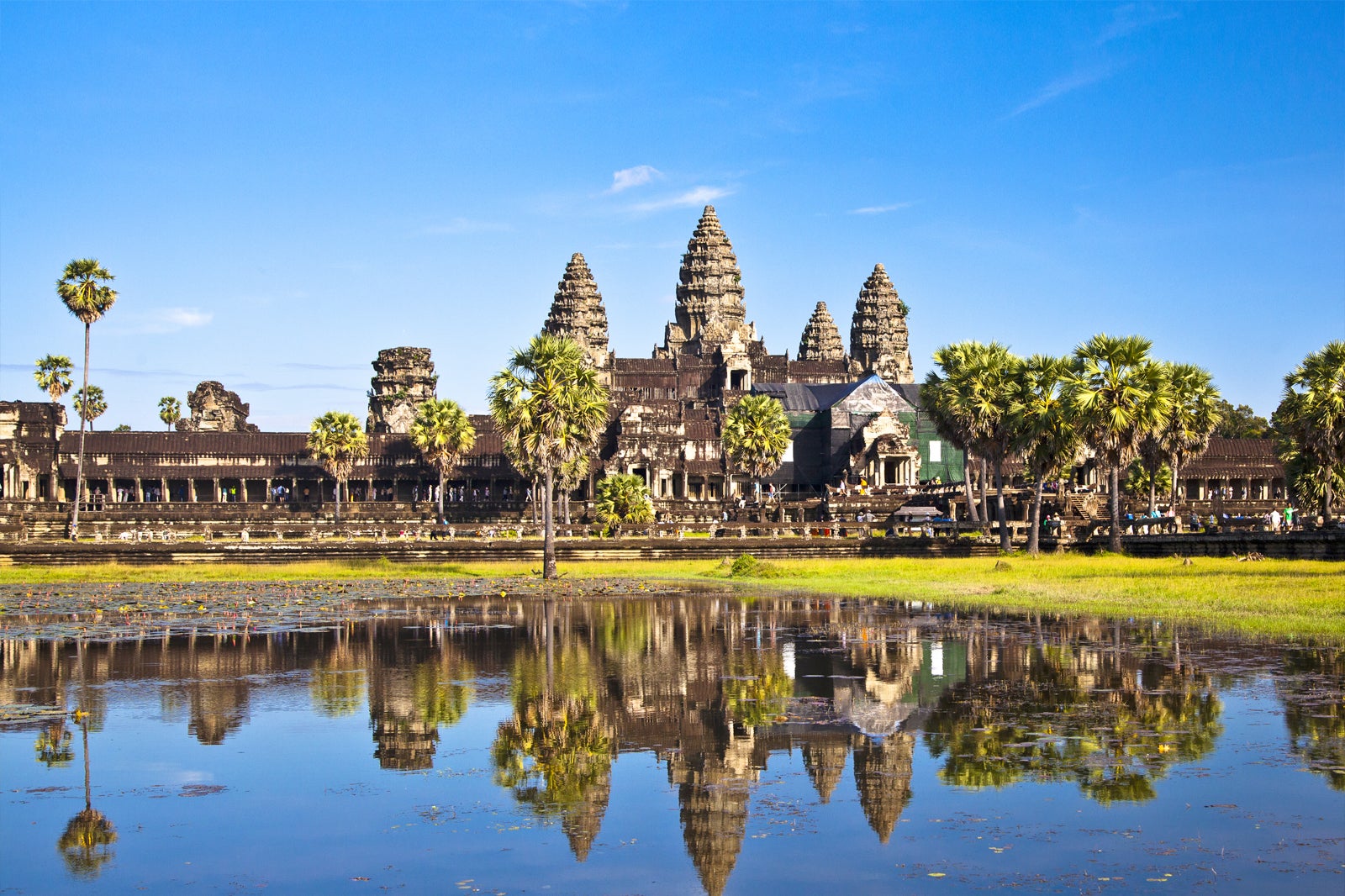 Angkor Archeological Park
The ruins of Angkor Wat are inside Angkor Archeological Park. With its 5 lotus-like towers rising 65 meters into the sky, it is truly a monumental and awe-inspiring sight. The structure as a whole is best viewed in soft light and the best lighting conditions are after 2pm. Still, many prefer to come early before sunrise to admire the amazing colors as the sun rises over the horizon.
Enjoy rides on a horse-drawn carriage or electric buggies within the park. There are local food and drink stands in front of most ruins but head outside the park's main entrance for a real dining experience. You can reach the site about 20 minutes by car or motorbike from central Siem Reap.
Location: Siem Reap, Cambodia
Open: Daily from 5am to 6pm