5 Great Angkor Temples in 3 Days
Angkor Wat Tour
You can explore 5 great Angkor temples in 3 days on an eye-opening tour. A must-see is Angkor Thom, 'The Great City', built by King Jayavarman VII in the 12th century. It's not too far away from town and is quite an impressive place at 10 sq km with 5 monumental gates and a 100-meter wide moat plus surrounding walls.
Here, we visit the Terrace of Elephants, the Terrace of the Leper King and Phimeanakas (the Celestial Palace) with the Royal Enclosure. A tour like this is so rich in cultural gems that it's really worthwhile taking a video camera along with you. Declared a World Heritage Site by UNESCO in 1992, the whole city of Angkor is an impressive sight.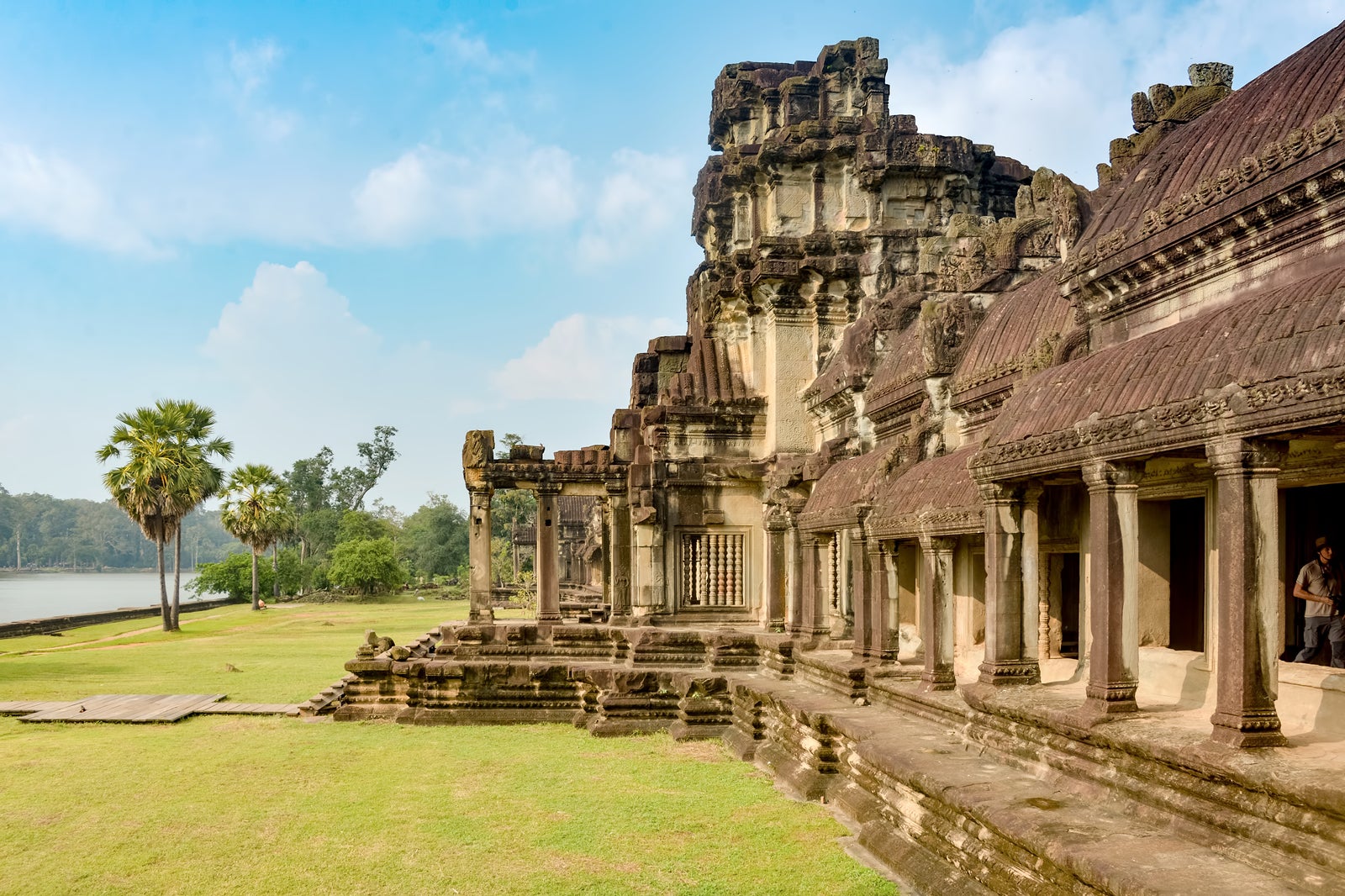 Angkor Wat is a temple dedicated to the Hindu god Vishnu by King Suryavarman II, who reigned between 1131 and 1150. In those days, Indian cultural and religious influence was strong in Southeast Asia and like almost all the temples in Angkor, it was originally Hindu and was 'converted' to Buddhism later on.
It took over 30 years and thousands of pairs of hands to build and is world-famous for its beauty and for having the longest continuous bas-relief in the world, which runs along the outer gallery walls, narrating stories from Hindu mythology.
Angkor Wat is the most photographed of all Angkor's holy places and is instantly recognizable because of its centrally located quincunx of towers. It's also unique as it is the only western-facing temple in Angkor. All the others face the east.
Location: Siem Reap, Cambodia
Open: Daily from 5am to 6pm
photo by xiquinhosilva (CC BY 2.0) modified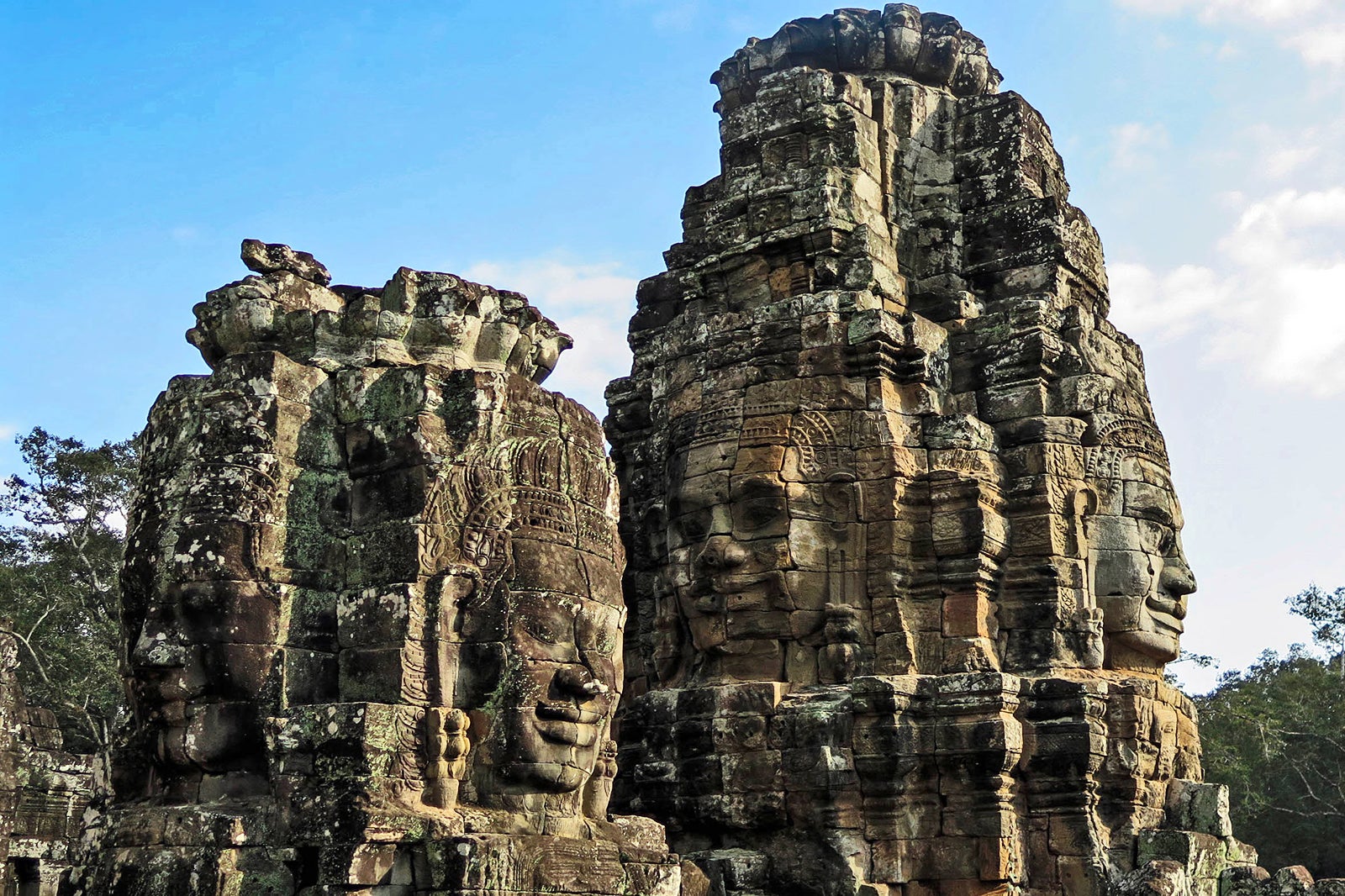 Bayon is Jayavarman's temple that's located in the center of the Angkor Archeological Park. It has many complicated and exquisite bas-reliefs with scenes depicting land and naval warfare, market scenes and others depicting the construction of the temple itself. Scholars agree that the uniform shape of the faces throughout the temple depicts a likeness of the king himself.
This is one of Angkor's most popular locations and is rich in historical pickings. It's also quite strenuous as the tour involves lots of narrow corridors, steep flights of stairs and towers and we can't help thinking of Lara Croft in Tomb Raider.
Location: Angkor Archeological Park, Siem Reap, Cambodia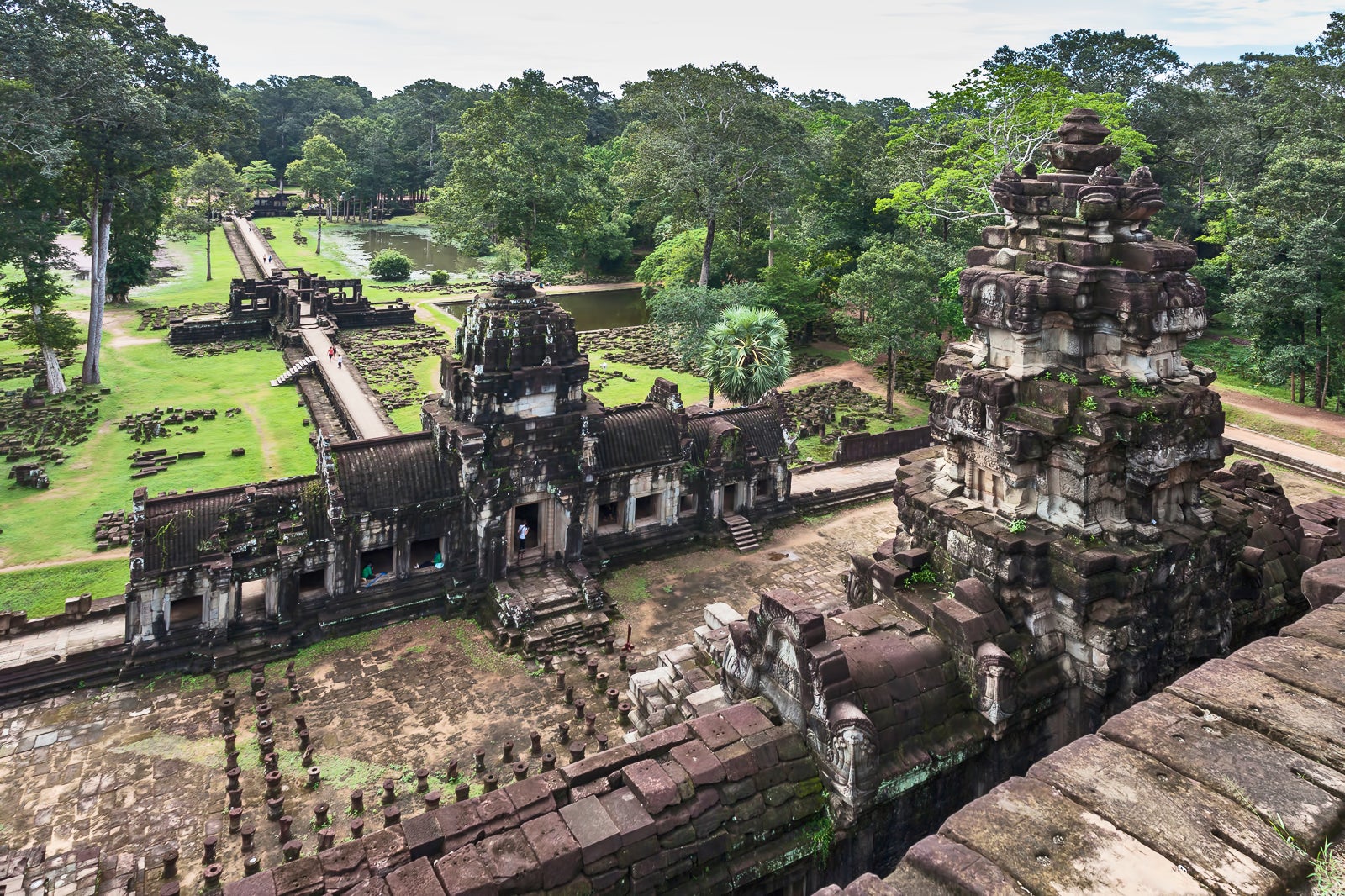 Baphuon is around 400 meters northwest of Bayon Temple. The temple's pyramid shape represents the mythic Hindu Mount Meru and marks the center of the city that was here before Angkor Thom. It's seriously big, and only Angkor Wat is larger than Baphuon. A lot of it has collapsed in on itself because of hasty and overambitious planning and building, but it's a hugely impressive sight and not a little scary to see the crocodiles in the moat. Settle in on the upper layers of the temple to watch the sunset over the beautiful Cambodian countryside.
Location: Angkor Archaelogical Park, Siem Reap, Cambodia
Phone: +855 63 765 577
photo by Diego Delso (CC BY-SA 3.0) modified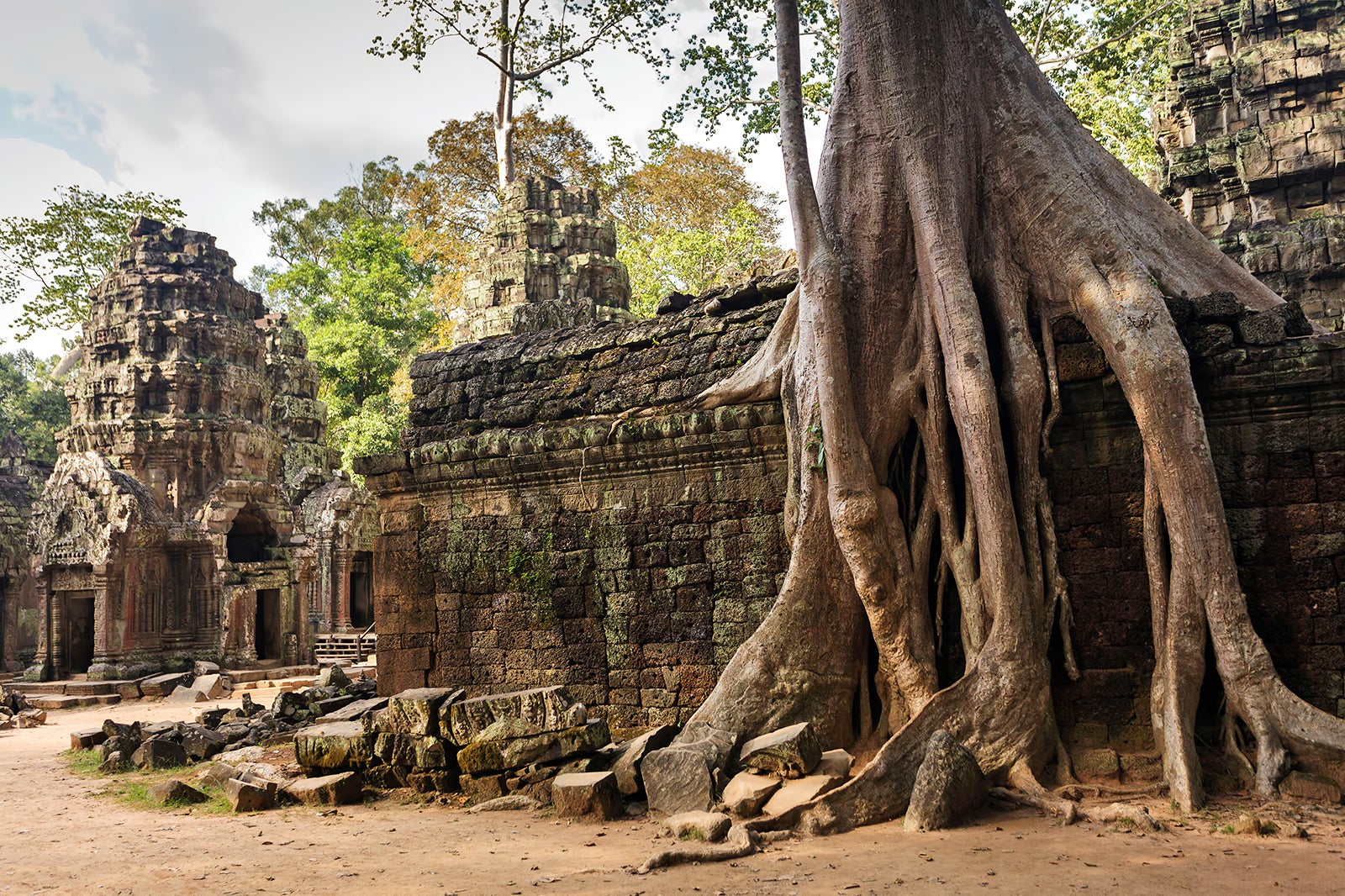 Ta Prohm Temple comes as a complete surprise because it's pretty much the only building in Angkor that has not been reclaimed from the jungle. As a result, it's like stepping back in time to when the first Western explorers 'discovered' Angkor. Huge silk cotton trees and strangler figs grow over and through the buildings, their roots like solidified lava and the effect are almost scary when we consider the power of Nature.
You can see just why this temple is one of the most popular of Angkor's many fabulous sights as it is eminently photogenic. Indeed, this was the only temple in Tomb Raider that was faithfully replicated.
Location: Angkor Archeological Park, Siem Reap, Cambodia
Couples
Families
History
Photo
Single
Group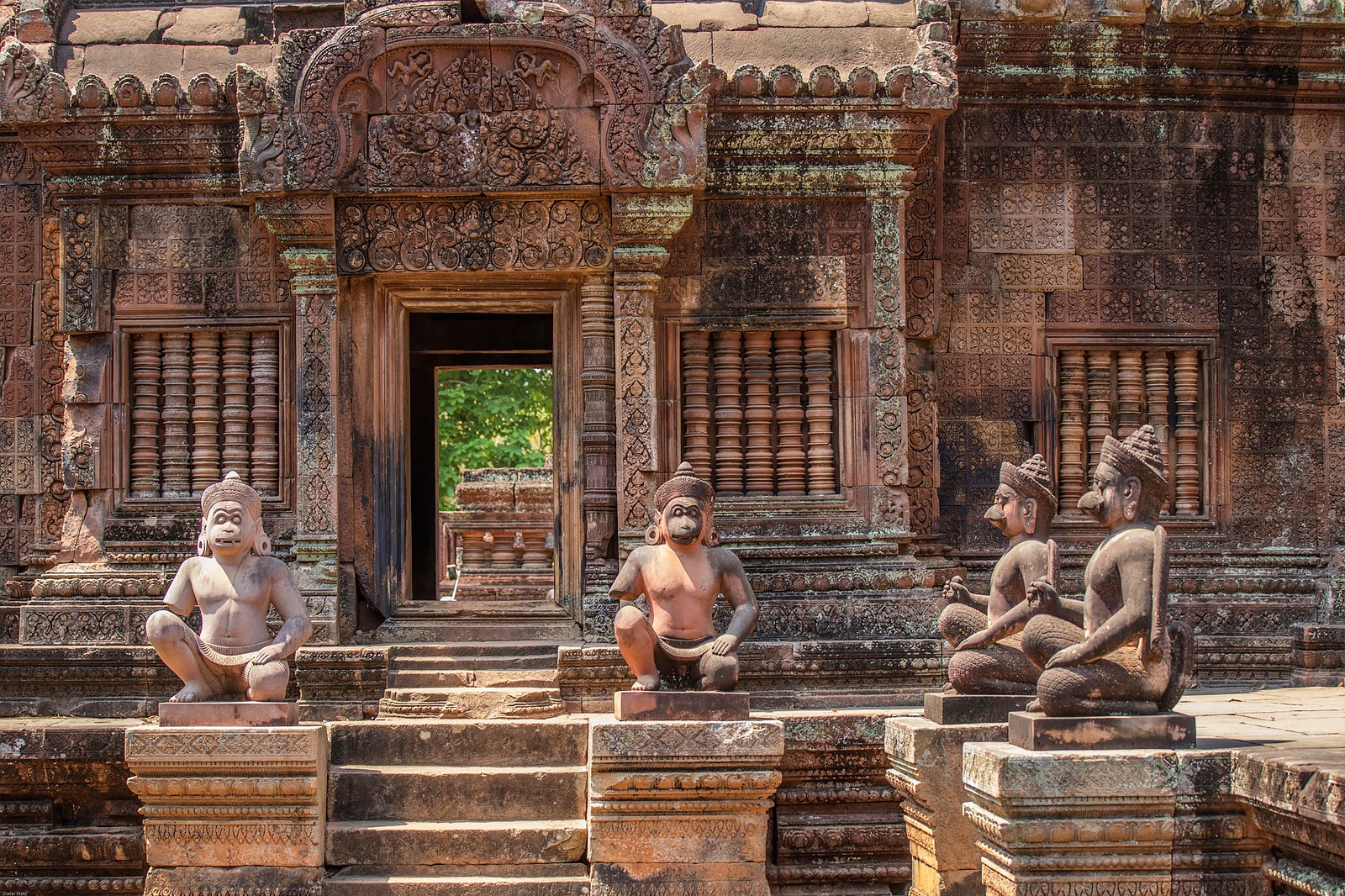 After a 25-km drive from Angkor Archeological Park, we arrive at this distinctive-looking temple made out of red sandstone. Sandstone is ideal carving material and this makes Banteay Srei Temple a popular place as its intricate carvings are a wonder to behold.
Established in the late 10th century, Banteay Srei was originally a Hindu temple dedicated to Shiva and its diminutive size as well as the many carved female figures has led many scholars to speculate whether it was built by women laborers. After all, 'Banteay Srei' translates as the 'citadel of women'.
Location: Siem Reap, Cambodia